This recipe for ginger cookies with white chocolate is made with crystallized ginger, which adds a ton of ginger flavour, while the white chocolate adds a sweet creamy taste to smooth it all together. These white chocolate ginger cookies the best chewy ginger cookies, still a little soft middle, and with that signature crackled finish.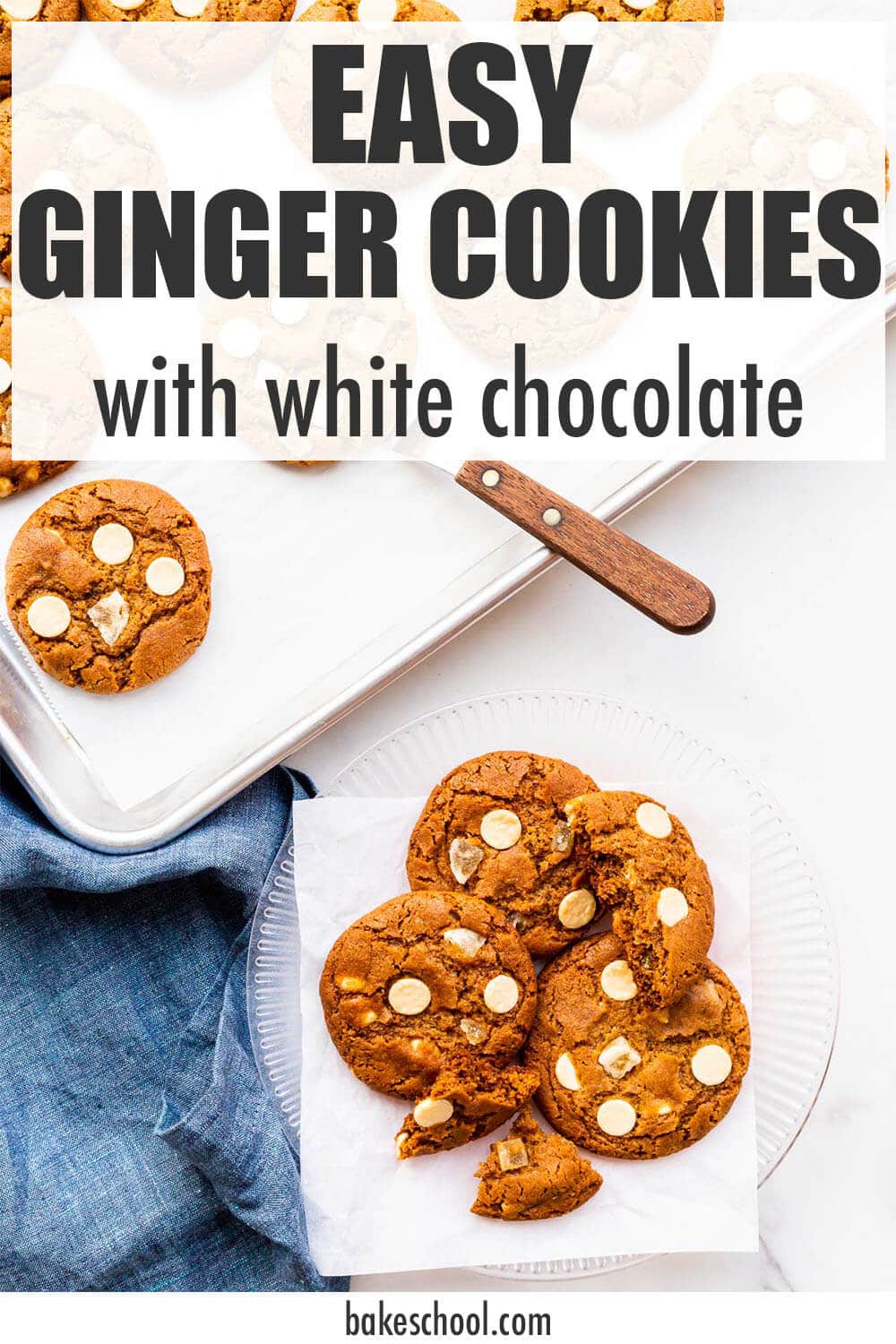 Disclosure: As an Amazon Associate, I earn from qualifying purchases.
Jump to:
What are ginger cookies made of
If you want to make ginger cookies, you will need the following ingredients:
butter, preferably unsalted butter because you will add salt to the dough, but if you have salted, it will work. Just adjust the salt in the recipe accordingly, otherwise your cookies may be too salty
granulated sugar though brown sugar would also work here and would add to the molasses flavour. Brown sugar may also lead to a slightly thicker cookie
molasses, specifically Fancy molasses or baking molasses. Do not use blackstrap molasses, which is too bitter for this recipe
large eggs, don't use smaller eggs because your cookie dough may be too dry and your cookies won't spread enough, but don't use extra large eggs because they could cause the cookie dough to puff too much as it bakes, leading to a more cake-y cookie
all-purpose flour is needed to bind all the ingredients together and give the cookies structure, contributing to the chewiness of the cookies as well. If you don't use enough flour, your cookies may spread too much as they bake
baking soda is a base (alkaline) and contributes to that signature cracked finish that we expect of the best ginger cookies. You need baking soda for the cookies to spread properly and to crack. Do not use baking powder. Read up on baking soda vs baking powder if you are unsure
ground ginger and cinnamon are added to the dough to make these cookies very flavourful.
salt is really important to balance out the sweet molasses flavour. Don't skip it. I like to use Diamond Crystal fine kosher salt, but table salt will work, though the cookies will be saltier and you may want to halve the salt in that case.
crystallized ginger is the secret to the best ginger cookies because they add a ton of potent ginger flavour to really bring it up a notch.
white chocolate chips or chunks are optional in this recipe, but the white chocolate does provide a creamy sweet flavour that pairs really nicely with the spicy ginger, especially the crystallized ginger.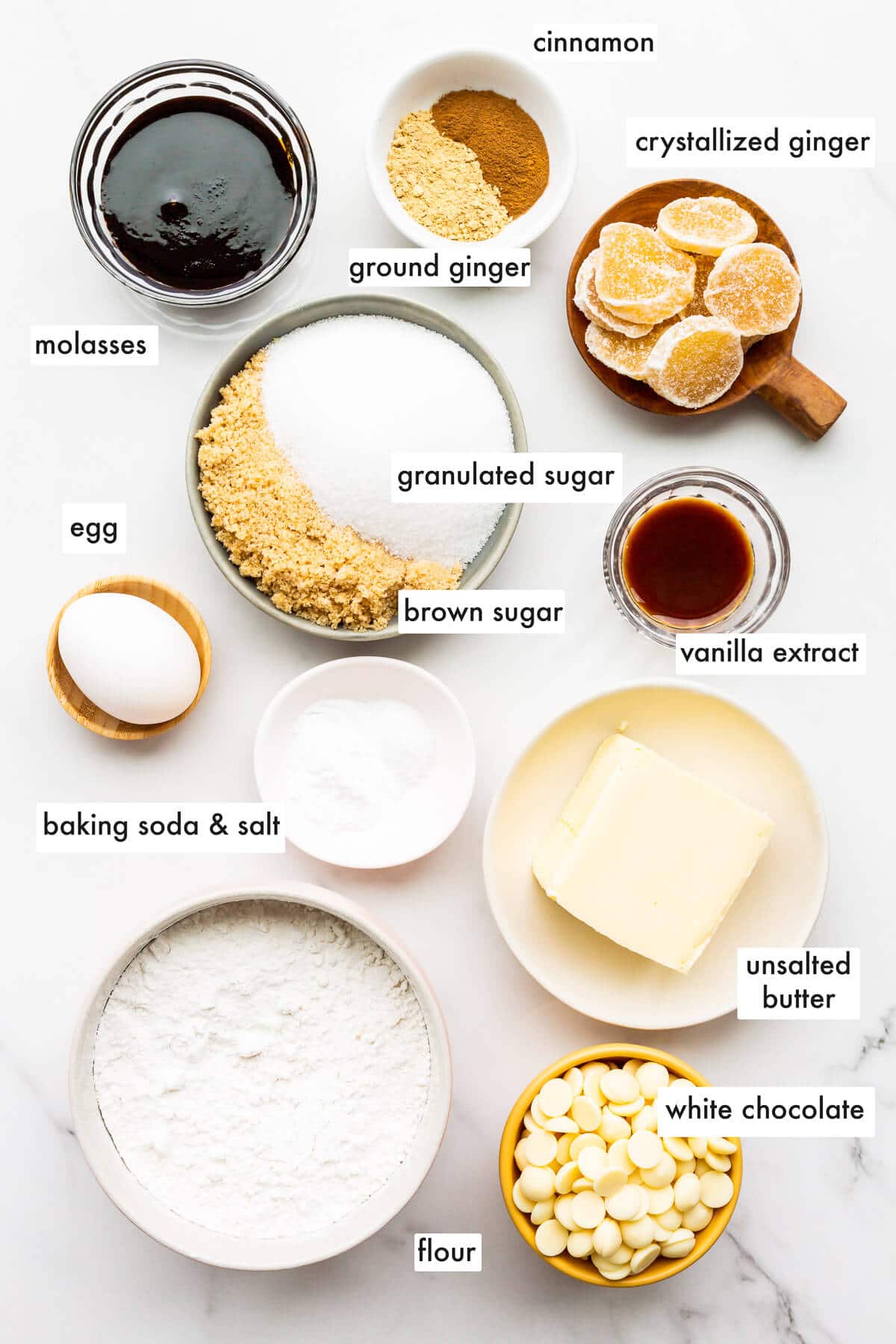 Ways of incorporating white chocolate
For this recipe, I decided to incorporate white chocolate chips in the cookie dough and also to press a few extra on top of each scoop of cookie dough before baking to make sure you can see the chocolate.
I used Cacao Barry Blanc Satin, which is a white chocolate with 28 % cocoa content that tends to hold its shape as the cookies bake, without melting. For more gooey white chocolate chips, try using chopped bars of white chocolate, like this white chocolate from Lindt.
Instead of using white chocolate chips, you could also dip the ginger cookies in melted white chocolate, setting the dipped cookies on parchment paper or a silicone baking mat until the chocolate sets and crystallizes. This is what I did for these chocolate cookies dipped in white chocolate. The effect is very pretty.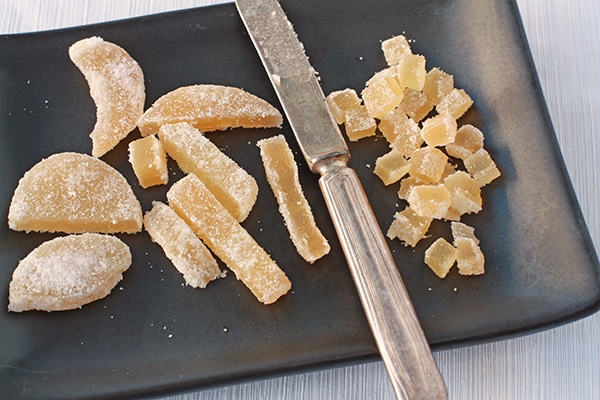 Type of molasses and substitutions
In this recipe, we are baking with Fancy molasses (which you can find on Amazon), which is sometimes called baking molasses or original molasses in the US (available on Amazon). Mild molasses also works.
Another option worth exploring would be black Treacle, which I used in these soft gingerbread cookies. Lyle's Black Treacle is very popular in Great Britain and it's used to bake instead of molasses. You can also order it on Amazon.
Do not use blackstrap molasses. Blackstrap molasses is very dark and has a more bitter taste, whereas Fancy molasses has a milder taste that is more suited for Christmas cookies.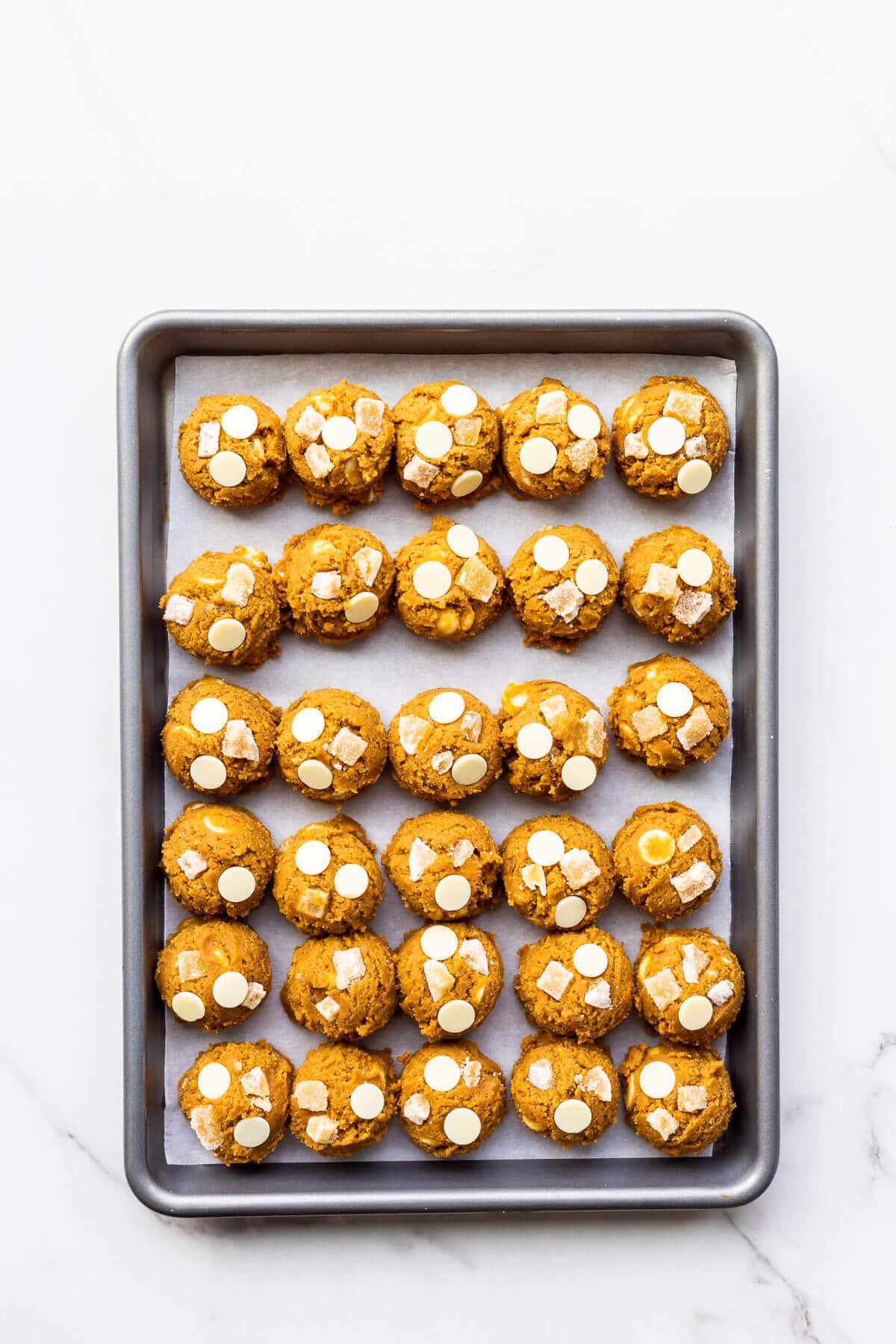 Baking thicker ginger cookies
These cookies are thicker than these soft ginger cookies, which spread out a little more but are still soft. If you want to bake thicker ginger cookies, below are some tricks you can try. Please read about the reasons cookies spread, which will also guide you on how to control this.
Replace butter with shortening
If you want to bake thicker ginger cookies, one substitution to try would be to replace the butter with vegetable shortening, like butter-flavoured Crisco.
Butter has a melting point of 32–35 ºC (90–95 ºF), whereas Crisco has a melting point of 47–48 ºC or 117–119 ºF. This means that cookie dough made with butter will spread faster and at a lower temperature than cookies made with shortening.
I prefer to bake with butter because it's what I always have in my fridge. So I make these cookies with butter. Still, if want to bake a thicker cookie, you may want to try baking the same recipe with shortening.
Chill the cookie dough
Another trick to stop cookies from spreading as they bake (or slow it down) is to chill the cookie dough before baking it. Cold butter takes more heat and/or more time to melt than room-temperature butter.
To chill it before baking, scoop the cookie dough and form it into balls. Store them in an airtight container or a freezer bag.
When you are ready to bake, roll the balls in sugar, then bake the cold balls of cookie dough as written. Note it may take a few more minutes to bake cold cookie dough.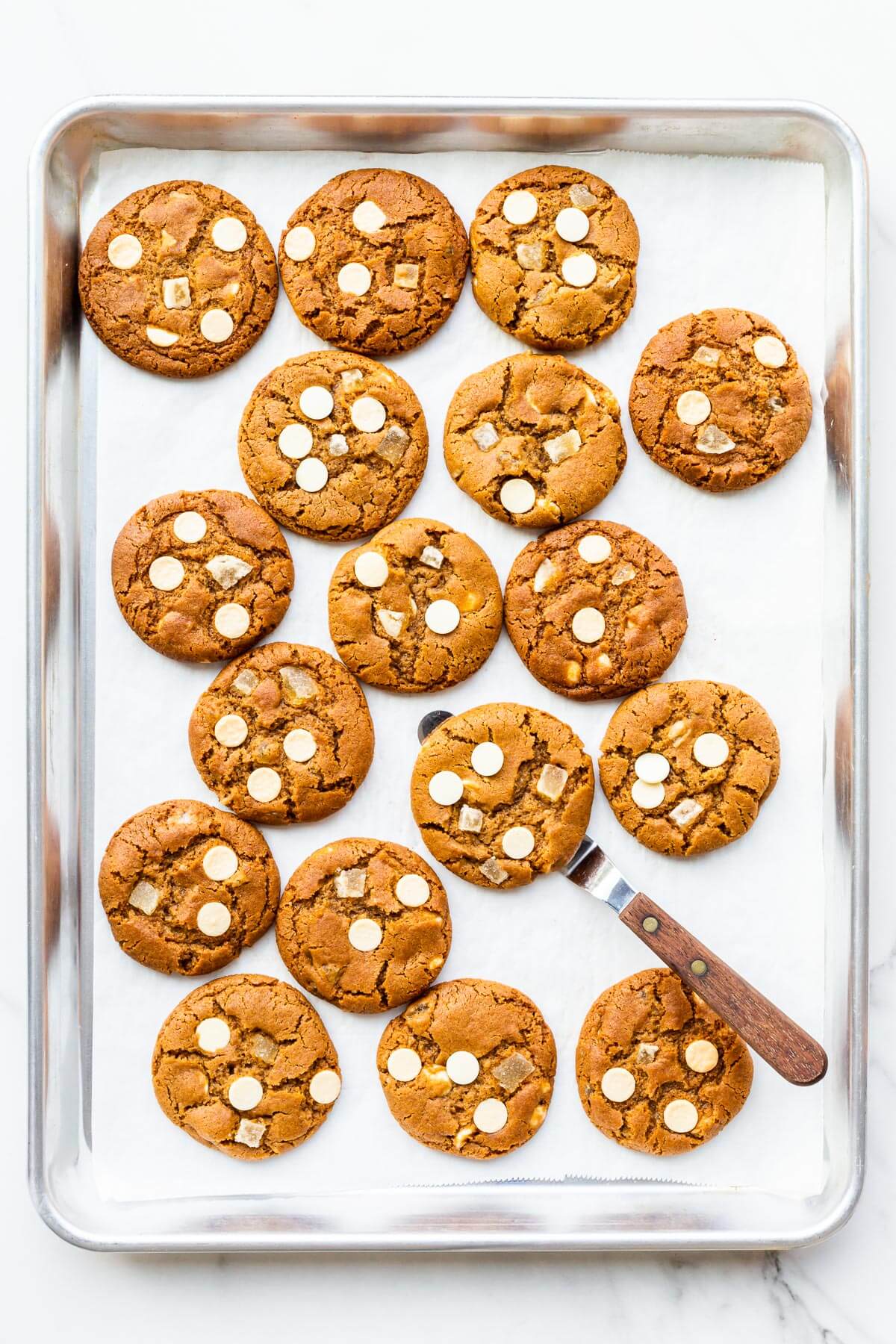 Add more flour
This is the trick we used in the recipe below. If you want to bake thicker, chewier cookies, adding more flour is another option to consider. This is a good option if you are short on time or if you need cookies fast. These cookies have 30 grams (¼ cup) more flour and are chewy without chilling the dough, especially compared to this ginger cookies recipe, which makes softer cookies and may require some chilling.
Reduce the butter and/or the sugar
Both the butter and the sugar contribute to cookies spreading thin. Cookies that are higher in one or both of these ingredients tend to spread out more as the butter melts and sugar absorbs moisture and liquifies. Adjusting either of these will have an impact on the texture and thickness of the baked cookies.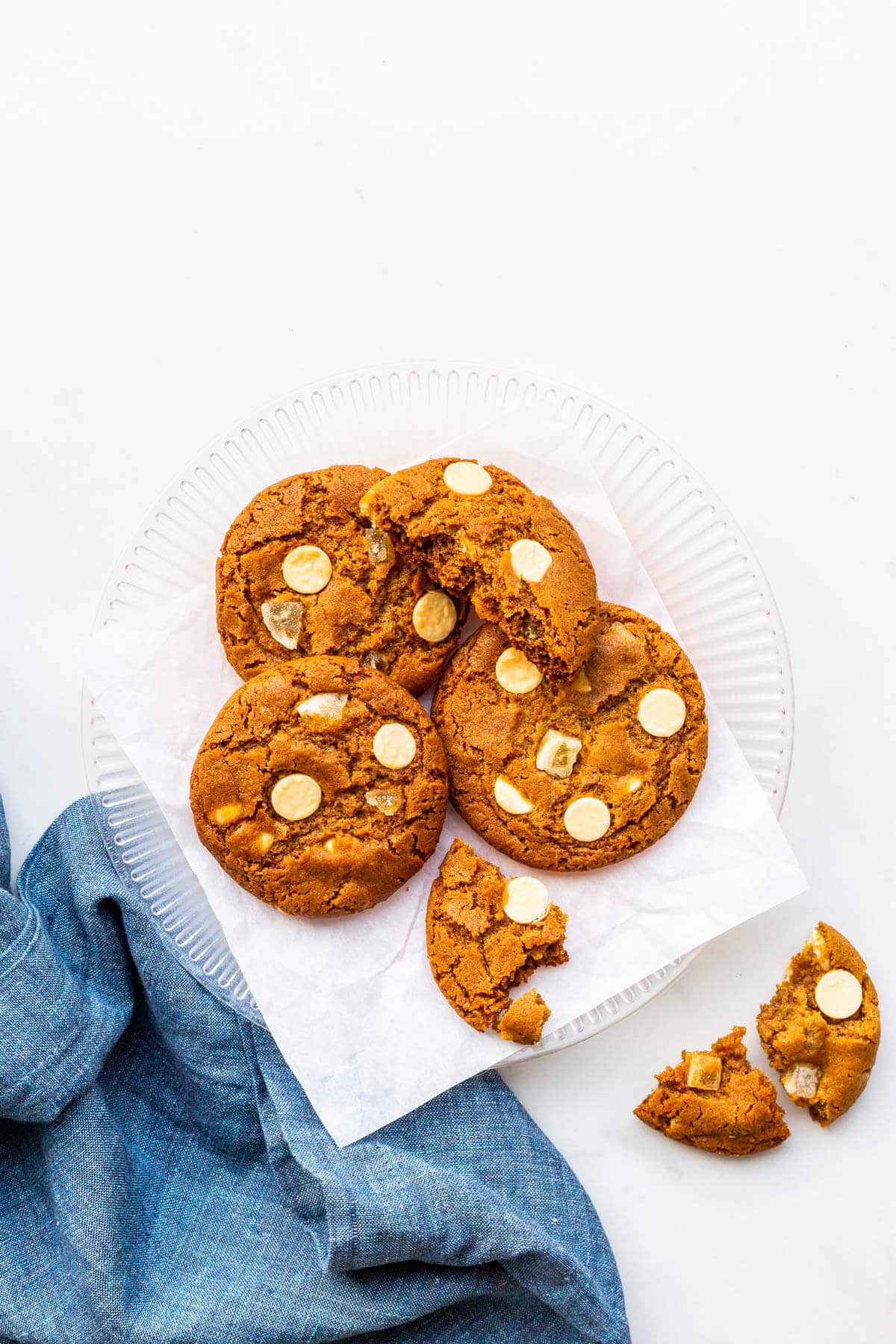 This recipe yields thick, chewy ginger cookies with white chocolate. They will definitely satisfy the ginger and gingerbread-obsessed who are tight on time. The addition of crystallized ginger adds a punch of flavour to the cookies, and the white chocolate makes them a little decadent. Other options if you are in the mood for ginger cookies and gingerbread variations:
📖 Recipe
Ginger cookies with white chocolate
These ginger cookies are chewy with a soft middle, made with crystallized ginger and chopped white chocolate!
Ingredients
310

grams

(

2½

cups

)

bleached all-purpose flour

10

mL

(

2

teaspoon

)

baking soda

10

mL

(

2

teaspoon

)

ground ginger

5

mL

(

1

teaspoon

)

ground cinnamon

2.5

mL

(

½

teaspoon

) Diamond Crystal fine kosher salt

170

grams

(

¾

cup

)

unsalted butter

,

room temperature

100

grams

(

½

cup

)

granulated sugar

100

grams

(

½

cup

) light brown sugar

60

mL

(

¼

cup

)

molasses

1

large egg(s)

,

room temperature

5

mL

(

1

teaspoon

) pure vanilla extract

½

cup

(

125

mL

) chopped crystallized ginger

115

grams

(

¼

lb

)

Cacao Barry white chocolate

,

chopped, plus more for garnishing
Instructions
Preheat the oven to 375°F. Prepare a couple baking sheets by lining them with parchment or a silicone liner.

In a medium bowl, whisk together the flour, baking soda, ground ginger, cinnamon, and salt. Set them aside for later.

In the bowl of an electric mixer fitted with the paddle attachment, cream the butter, the granulated sugar, and the brown sugar.

Add the egg, and then the molasses, being sure to scrape down the bowl as needed and mixing well between each addition. Mix in the vanilla.

With the mixer on low, slowly add the whisked dry ingredients, then the chopped crystallized ginger and the white chocolate.

Form the dough into 1–1.5 inch balls, and roll each in the extra granulated sugar.

Place them on the prepared baking sheets (8 per sheet pan) and lightly press a few extra pieces of white chocolate into each ball (don't squish too much!).

Bake the cookies for about 12 minutes or until they just start to crack. Let them cool for a couple minutes before transferring them to a wire rack.
Give back
If you enjoy the free content on this website, say thank you!
Nutrition
Calories:
131
kcal
|
Carbohydrates:
18
g
|
Protein:
1
g
|
Fat:
6
g
|
Saturated Fat:
4
g
|
Polyunsaturated Fat:
1
g
|
Monounsaturated Fat:
2
g
|
Trans Fat:
1
g
|
Cholesterol:
18
mg
|
Sodium:
132
mg
|
Potassium:
63
mg
|
Fiber:
1
g
|
Sugar:
10
g
|
Vitamin A:
151
IU
|
Vitamin C:
1
mg
|
Calcium:
20
mg
|
Iron:
1
mg