This recipe for ginger cookies is made with crystallized ginger, which adds a ton of ginger flavour, making the best ginger cookies with chewy edges, a soft middle, and a crackled finish. Soft ginger cookies are very popular at bake sales and are a must-make on fall baking lists. Learn how to make ginger cookies with this easy recipe.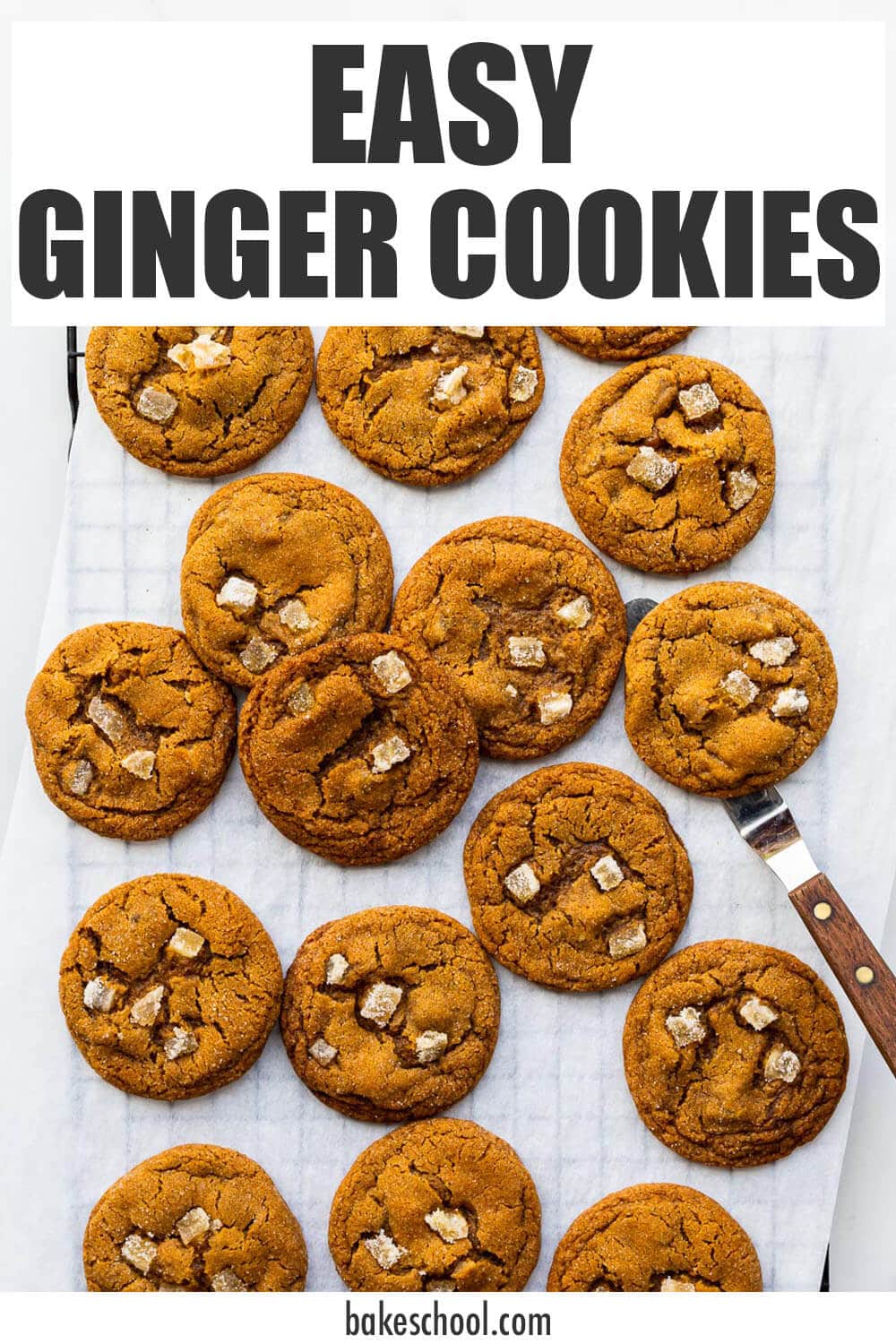 Disclosure: As an Amazon Associate, I earn from qualifying purchases.
Jump to:
Ginger cookies versus gingersnaps versus gingerbread
These ginger cookies are not to be confused with gingersnaps, which are thin brittle cookies sweetened with molasses and flavoured with ginger, according to the Merriam-Webster dictionary. While both are made from the same ingredients and have the same flavour profile, the texture is different: ginger cookies are thicker and softer than gingersnaps.
Gingerbread cookies are also made from essentially the same ingredients. With gingerbread, recipes may include other warm spices in the dough, often heavy on cinnamon, ginger, nutmeg, and cloves. These are spices we associate with Christmas holidays as a rule. Gingerbread cookie dough can be rolled out and cut using cookie cutters to make festive gingerbread cutout cookies, or shaped into a log for slice-and-bake gingerbread cookies.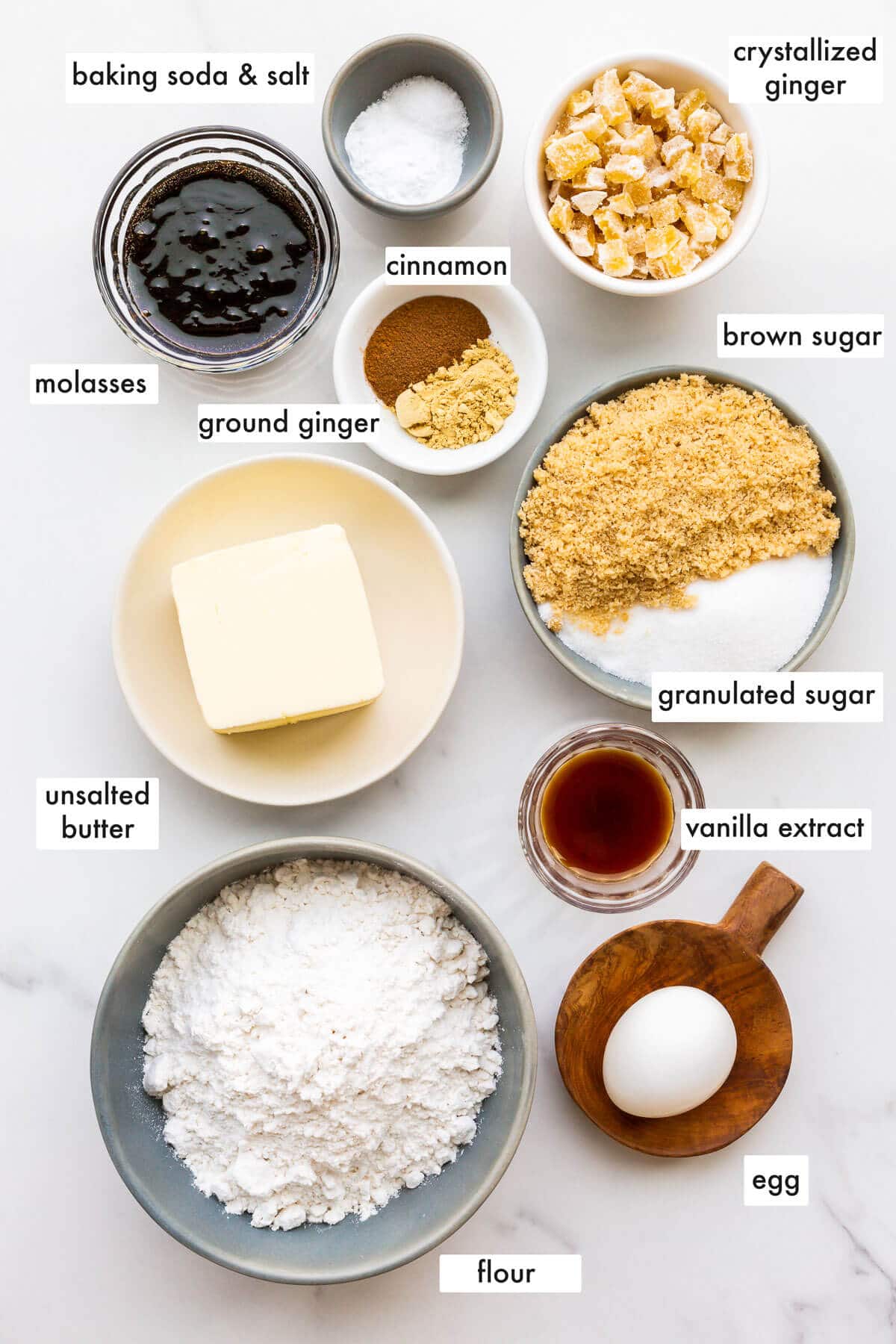 What are ginger cookies made of
If you want to make ginger cookies, you will need the following ingredients:
butter, preferably unsalted butter because you will add salt to the dough, but if you have salted it, it will work. Just adjust the salt in the recipe accordingly, otherwise, your cookies may be too salty
sugar, both granulated brown sugar work here and we are using both to add texture and a little molasses flavour. Brown sugar may also lead to a slightly thicker cookie that is softer
molasses, specifically Fancy molasses or baking molasses. Do not use blackstrap molasses, which is too bitter for this recipe
large egg, don't use smaller eggs because your cookie dough may be too dry and your cookies won't spread enough but don't use extra large eggs because they could cause the cookie dough to puff too much as it bakes, leading to a more cakey cookie
all-purpose flour is needed to bind all the ingredients together and give the cookies structure, contributing to the chewiness of the cookies as well. If you don't use enough flour, your cookies may spread too much as they bake
baking soda is a base (alkaline) and contributes to that signature cracked finish that we expect of the best ginger cookies. You need baking soda for the cookies to spread properly and to crack. Do not use baking powder. Read up on baking soda vs baking powder if you are unsure
ground ginger and cinnamon are added to the dough to make these cookies very flavourful
salt is really important to balance out the sweet molasses flavour. Please don't skip it. I like to use Diamond Crystal fine kosher salt, but table salt will work, though the cookies will be saltier and you may want to halve the salt in that case
crystallized ginger is the secret to the best ginger cookies because they add a ton of potent ginger flavour to really bring it up a notch.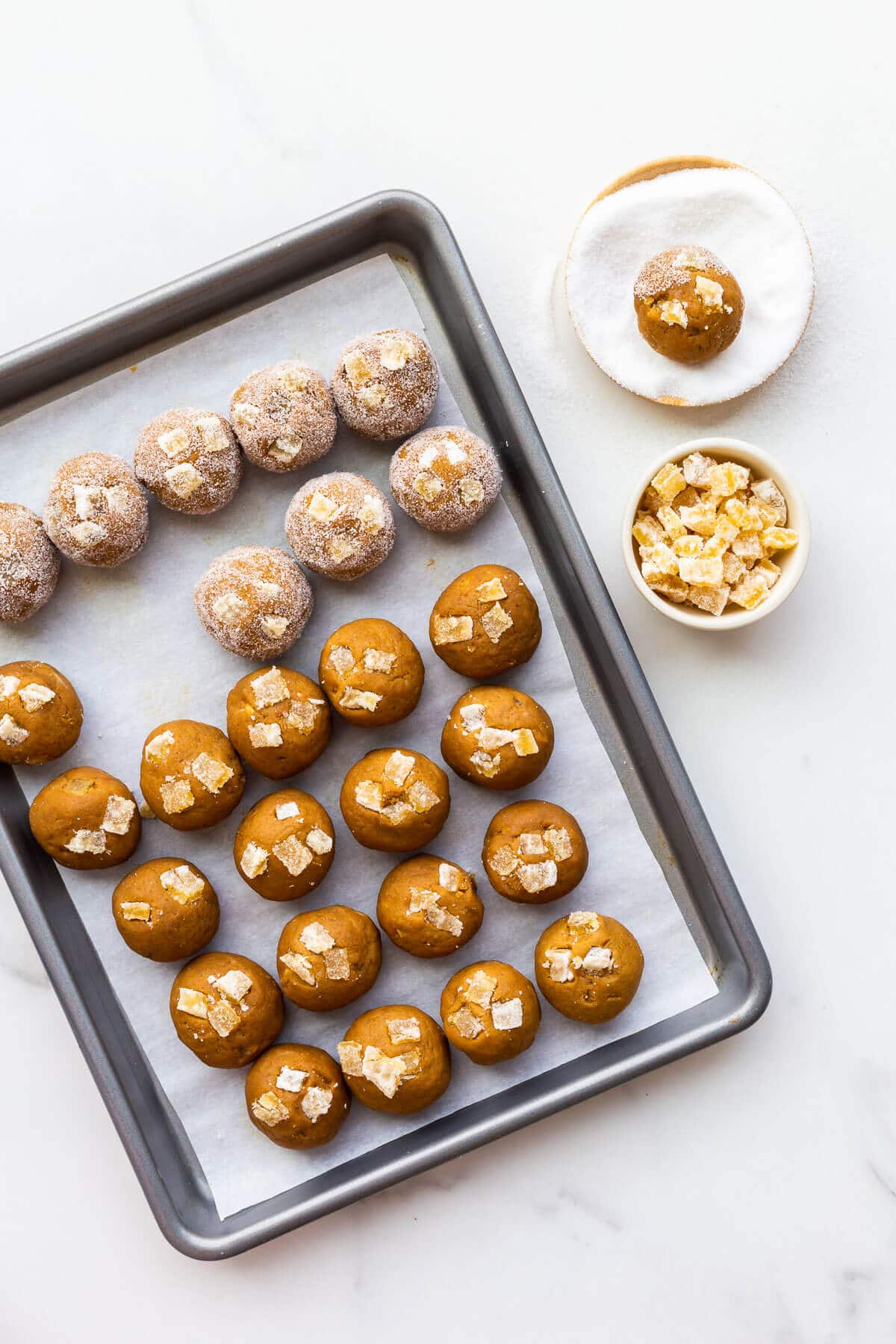 Baking with ginger
To make cookies with the boldest ginger flavour, we are incorporating ground and crystallized ginger in this recipe. Dried ginger gives the dough a mild flavour, while chopped crystallized ginger adds pops of intense ginger flavour. Try it and you'll be amazed at how great the flavour is when you combine both types of ginger.
If you've never seen crystallized ginger in your grocery store, you may find it at bulk stores or scoop shops. It's sold sliced or already cubed. You can also order it from Amazon.
This recipe does not include fresh ginger because fresh ginger has a lot of water, making it difficult to incorporate into cookie dough. Fresh ginger is better suited for cooking recipes or infusing it into panna cotta, puddings, and custards.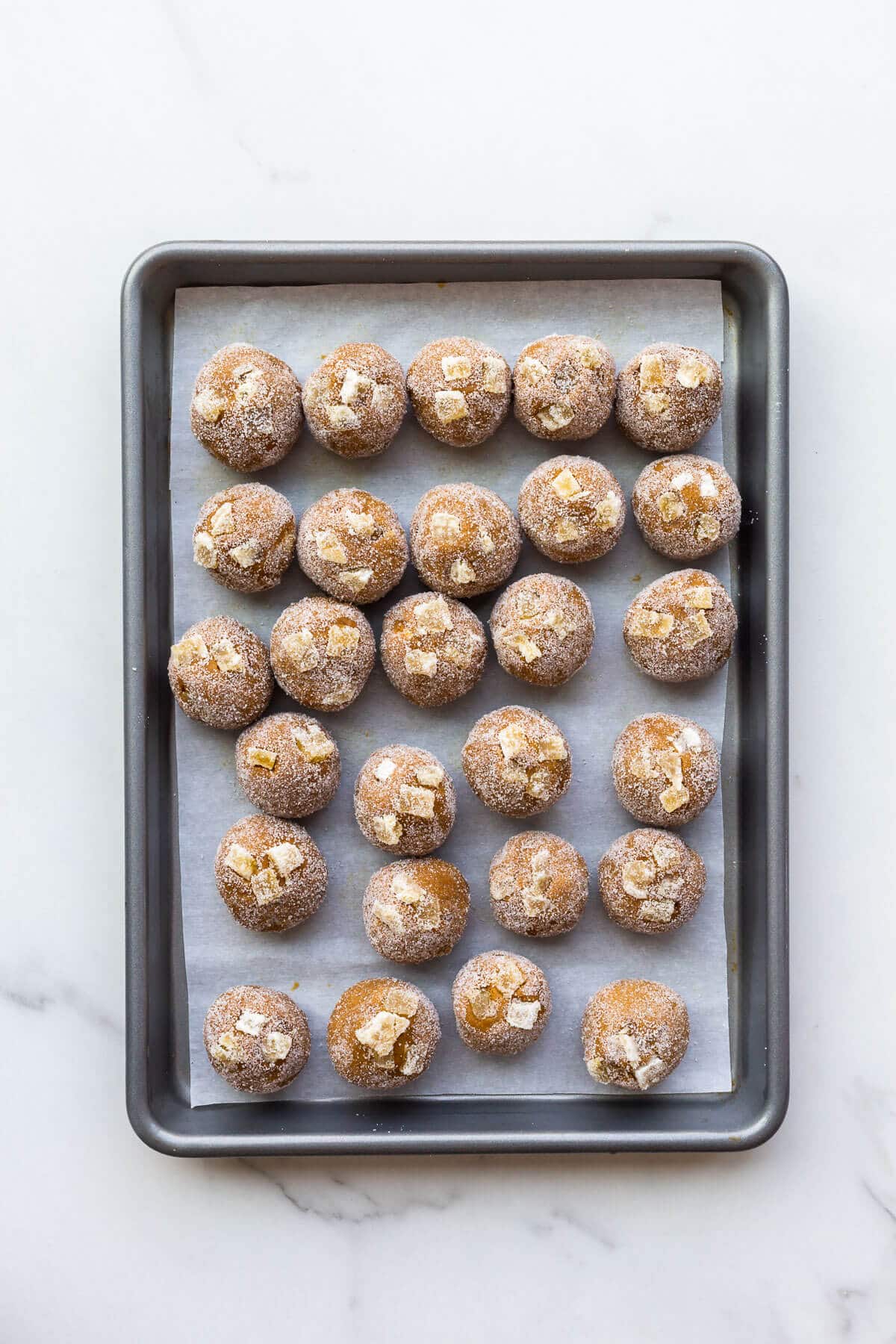 Type of molasses and substitutions
In this recipe, we are baking with Fancy molasses (which you can find on Amazon), which is sometimes called baking molasses or original molasses in the US (available on Amazon). Mild molasses also works.
Another option worth exploring would be black Treacle, which I used in these soft gingerbread cookies. Lyle's Black Treacle is very popular in Great Britain and it's used to bake instead of molasses. You can also order it on Amazon.
Do not use blackstrap molasses. Blackstrap molasses is very dark and has a more bitter taste, whereas Fancy molasses has a milder taste that is more suited for Christmas cookies.
Baking soft ginger cookies
This recipe yields soft ginger cookies that stay soft. There are a few tricks to baking soft ginger cookies and keeping them that way when you store them:
use less flour: these soft ginger cookies have 30 grams (¼ cup) less flour than these ginger cookies with white chocolate and 63 grams (½ cup) less flour than these molasses cookies
underbake them: the key to soft cookies is to never over-bake them. Do not let them brown too much in the oven. Ginger cookies need to be slightly underdone in the middle when you pull the cookies out of the oven. Let them cool for several minutes on the sheet pan to set them before transferring them to a cooling rack because they will be soft but also, the residual heat will help the cookies continue to bake a little.
add a marshmallow to the storage container: the tricks for keeping a container of brown sugar moist are the same as the tricks for keeping cookies soft, which means you can add a marshmallow, a piece of white sandwich bread, a slice of apple, or a moistened terra cotta disk to keep these ginger cookies soft.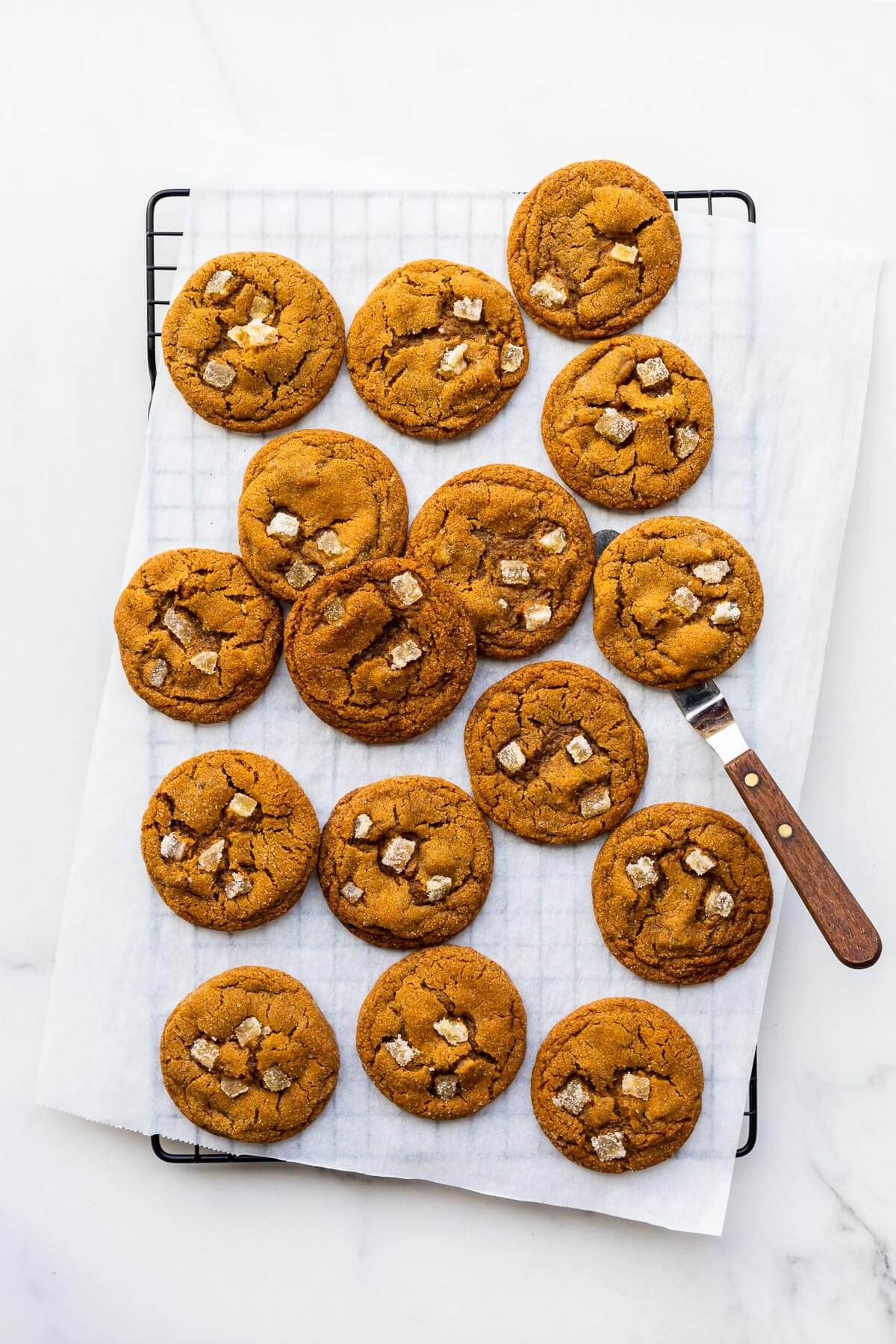 These ginger cookies with crystallized ginger are soft and flavourful and make a great cookie during the fall and winter months. For a thicker, chewier version, try this version of ginger cookies with white chocolate! If you struggle with cookies that are too thin and flat, read about the reasons cookies spread and remember, sometimes chilling the cookie dough for just 30 minutes can make a world of difference!
📖 Recipe
Ginger cookies
These ginger cookies are chewy with a soft middle, made with crystallized ginger for the best ginger cookies ever!
Instructions
Preheat the oven to 375 °F. Prepare a couple of baking sheets by lining them with parchment paper.

In a medium bowl, whisk together the flour, baking soda, ground ginger, cinnamon, and salt. Set them aside for later.

In the bowl of an electric mixer fitted with the paddle attachment, cream the butter, the granulated sugar, and the brown sugar.

Add the egg, and then the molasses, being sure to scrape down the bowl as needed and mixing well between each addition. Mix in the vanilla.

With the mixer on low, slowly add the whisked dry ingredients, then the chopped crystallized ginger.

Form the dough into 1–1.5 inch balls (roughly 26 to 28 equal scoops).

Place them on the prepared baking sheets and lightly press a few extra pieces of chopped crystallized ginger into each ball (don't squish too much!). If the dough is too soft to roll into smooth balls, chill the portioned dough on the parchment-lined baking sheets for 30 minutes to an hour (or even overnight if you have time)

Bake the cookies for about 12 minutes or until they just start to crack. Let them cool for a couple minutes before transferring them to a wire rack.
Give back
If you enjoy the free content on this website, say thank you!
Nutrition
Calories:
118
kcal
|
Carbohydrates:
17
g
|
Protein:
1
g
|
Fat:
5
g
|
Saturated Fat:
3
g
|
Polyunsaturated Fat:
1
g
|
Monounsaturated Fat:
1
g
|
Trans Fat:
1
g
|
Cholesterol:
19
mg
|
Sodium:
137
mg
|
Potassium:
56
mg
|
Fiber:
1
g
|
Sugar:
9
g
|
Vitamin A:
161
IU
|
Vitamin C:
1
mg
|
Calcium:
13
mg
|
Iron:
1
mg