Many home bakers struggle with flat cookies and have trouble baking thick cookies that don't spread too thin. In order to fix this problem, we need first to explore the reasons why cookies spread as they bake. Understanding this will help you fix your cookie recipes so that you bake cookies with perfect texture and thickness.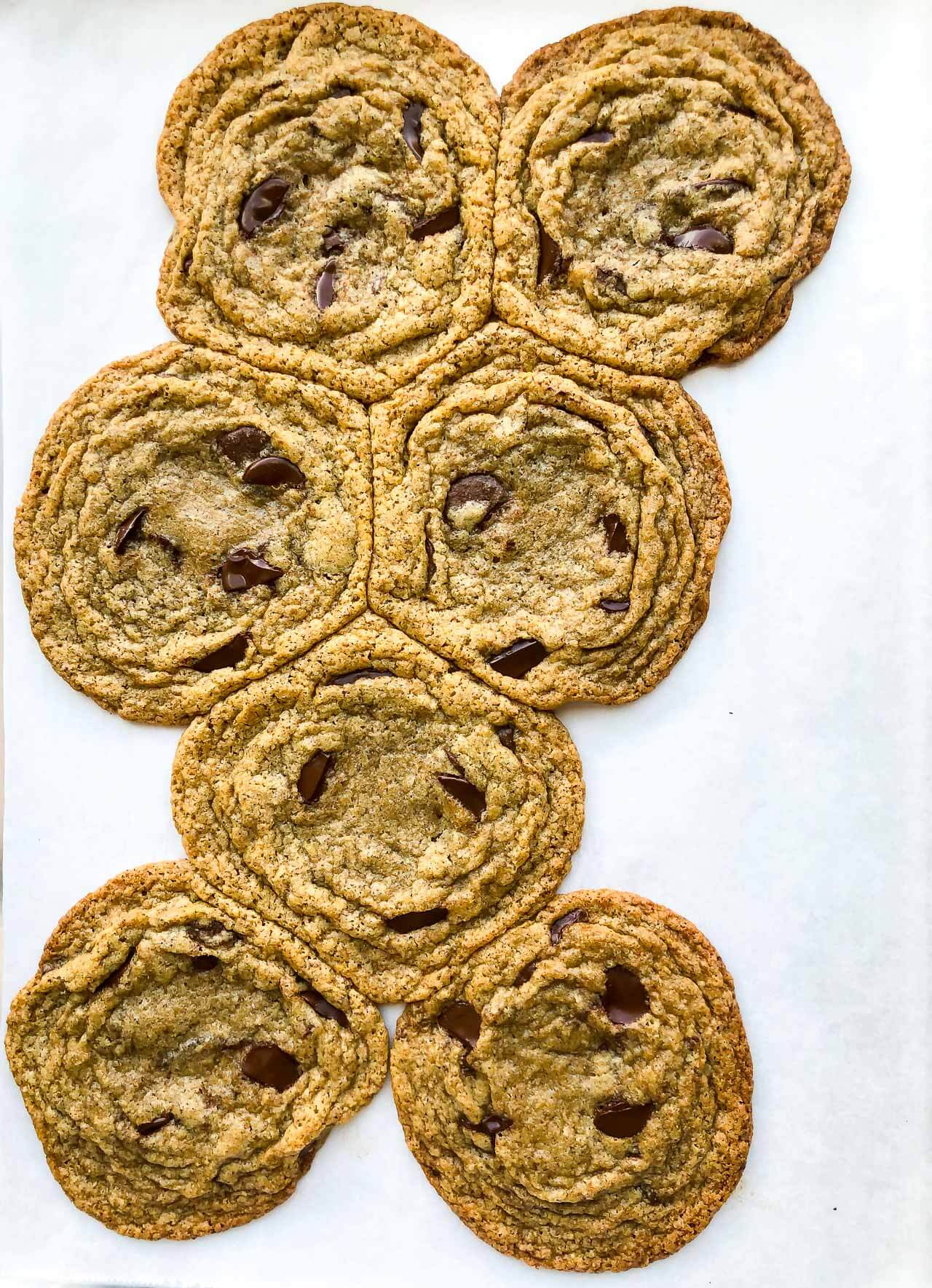 Disclosure: As an Amazon Associate, I earn from qualifying purchases.
If you are struggling to bake the best chocolate chip cookies, just how you like them, read about why cookies spread flat when they bake. You'll also find out ways to troubleshoot this problem and rectify it.
If you have the opposite problem and your cookies are always too thick, read about the reasons why cookies don't spread.
Jump to:
Reasons cookies spread
too much of certain ingredients relative to others will cause spreading:

too much butter, which melts and causes the dough to flatten out thin
too much sugar in the dough will cause spreading and thinner cookies
too much egg relative to other ingredients can lead to a cakey cookie and cause the edges to spread out more
too much baking soda raises the pH of the dough and this can disrupt the gluten network, leading to thinner cookies with less structure.

not enough of certain ingredients relative to others will cause spreading:

not enough flour will cause cookies to spread because flour provides structure to hold the ingredients together
not enough add-ins (inclusions) in the case of chocolate chip cookies and other drop cookies will cause cookies to spread. For example, if you are following this recipe for spelt flour chocolate chip cookies with chopped walnuts in the dough or these chocolate chip cookies with pecans, if you omit the nuts, your cookies will spread out more. The nuts prevent the dough from spreading out too quickly. You need to replace them with another inclusion to maintain the desired thickness.

white sugar versus brown sugar:

white sugar can lead to flatter cookies
brown sugar can make cookies thicker because it may cause some of the baking soda to react, forming carbon dioxide, a gas that will help cookie dough rise up.

using baking soda instead of baking powder—in cookie dough, baking soda tends to promote spreading, whereas baking powder promotes puffing and rising. If you replace baking powder in a crinkle cookie with baking soda, your cookies may spread thin and might not crack the way you expect them to. Read about baking soda versus baking powder if you aren't sure what the difference is.
the temperature of the ingredients: if the ingredients, especially butter, are too warm, they can cause the dough to spread while baking, especially if you don't chill the dough before baking your cookies. Read about why you should chill cookie dough sometimes.
using a different type of flour: in some cookie recipes, you may swap one type of flour for another. But most of the time, it's not a simple substitution, gram-for-gram. For example, replacing all-purpose flour in a chocolate chip cookie recipe with spelt flour. You will have to do several test batches to find out how much flour you need to achieve the texture you are seeking. For these spelt chocolate chip cookies, I discovered that I needed 60 grams (½ cup) more spelt flour compared to my best chocolate chip cookie recipe made with all-purpose.
over-mixing the dough, especially when combining the butter and sugar(s), and eggs. Too much air incorporated at this stage can cause cookies to spread
baking sheet material: The type of baking sheet and how it is prepared can also affect cookie spread. Lighter cookie sheets or insulated sheets (with air in them) can cause cookies to spread more. Silicone baking mats which reduce the browning of cookies can also cause cookies to spread more as they bake. To understand the role of your bakeware, read about baking pans and also why cookies end up dark on the bottom
oven temperature: If the oven is not hot enough, it can cause cookies to spread too quickly and become thin. The butter melts faster than the edges set, leading to a thinner cookie. Read all about what happens when we bake to better understand the role of the oven temperature.
oven rack position: baking cookies on the top rack when your oven is set to "bake" can mean that the cookies take longer to bake than if you set the pan in the middle of the oven. Read about oven rack positions to find out why the middle rack is best for cookies.
overcrowding the cookie sheet: recall the French baking term "quinconce" which refers to the staggered placement of cookie dough scoops on a sheet pan. If you don't leave enough room between scoops of cookie dough on a cookie sheet, there is a greater risk that the hot airflow around the cookies will be impeded and therefore the cookies may melt further out, spreading into each other before the edges have a chance to set.
baking on a cookie sheet that is warm: if you set your cookie dough on a hot or warm sheet pan, that residual warmth will melt the butter too fast and will cause your cookies to spread out too quickly.
not preheating your oven sufficiently: remember it can take 30 minutes for an oven to preheat to the set temperature and to stabilize. If you put your cookies to bake in an oven before that, the oven temperature may be too low, leading to the dough melting and spreading out faster than the edges set.
opening the oven door too frequently leading to a drop in the oven temperature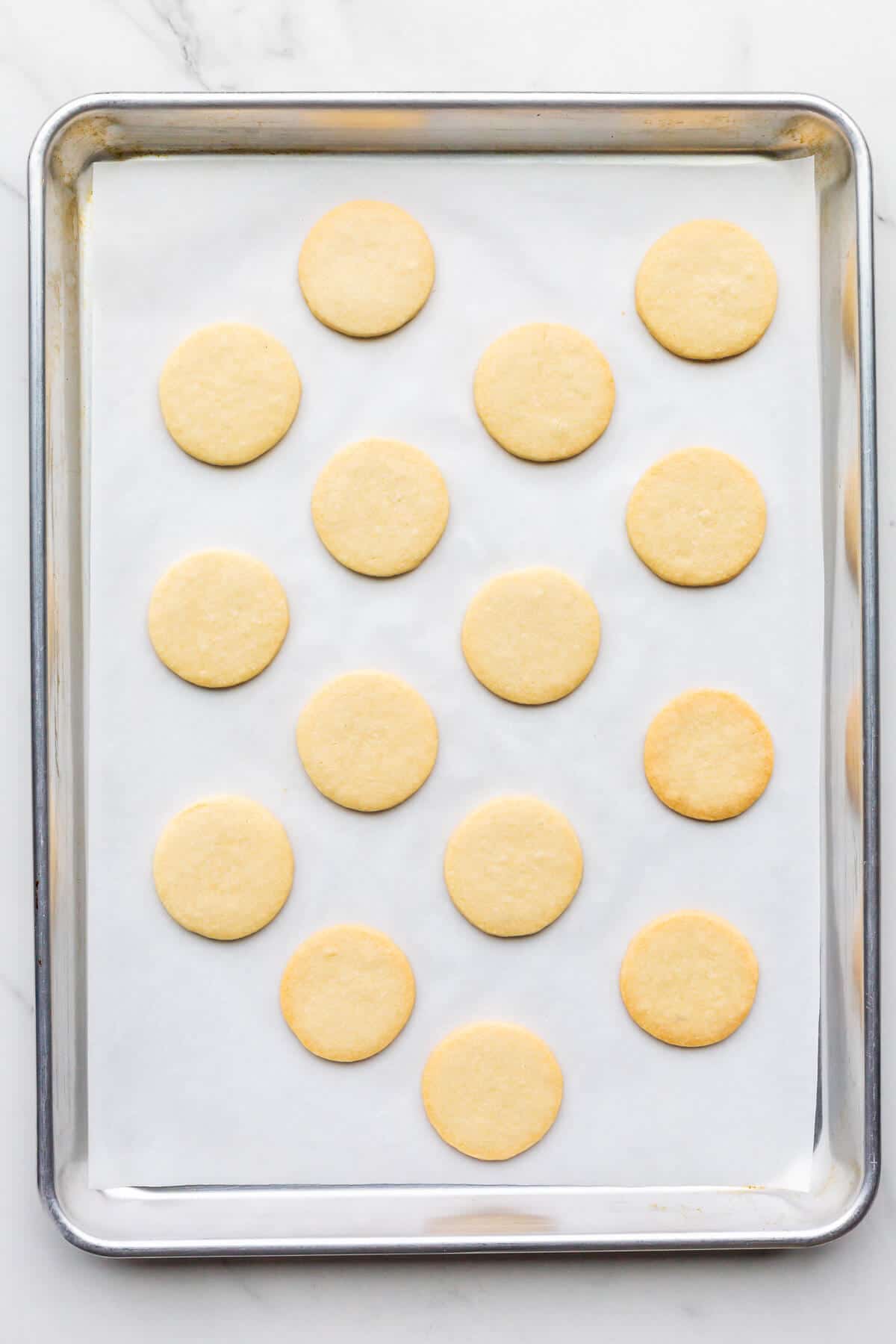 Ways to stop cookies from spreading in the oven
If you struggle with flat cookies that bake thinner than you want them or spread out too much in the oven, here are some tricks you can try to fix your recipe and improve your baking techniques.
Like with any tweaks to a recipe and baking techniques, you may have to do a few tests to make cookies with the desired texture and thickness. Some of these are easy fixes and others are a little more complicated. Here are a few tweaks that you can test out to find what works for you and your cookie recipes:
Don't overwhip the butter and sugar and eggs when you first begin to make your cookie dough—too much air can cause the cookies to expand in the oven as they heat up, and then they collapse more.
Chill your cookie dough—even just 30 minutes in the refrigerator can minimize spreading for some cookie recipes! This is the first step I would take if a cookie is spreading too much.
Preheat your oven for at least 20–30 minutes to ensure it's hot and the temperature is more stable.
Always bake on a cooled sheet pan and let your sheet pan cool completely between batches before placing scoops of dough on it.
Reduce the sugar in your dough recipe—sometimes cutting out as little as 50 grams (¼ cup) of sugar from a cookie dough will reduce the spread and lead to thicker cookies
Increase the flour in your recipe—sometimes just 30–60 grams (¼–½ cup) more of flour can improve the texture of your cookies
Switch from baking by volume to baking by weight, especially when it comes to flour! Get a kitchen scale if you don't already own one and this baking ingredient conversion chart to help you convert your recipes quickly and easily.
Reduce the baking soda—if your cookie dough has a large amount of baking soda and no obvious acid (or not enough acid) to balance it out, consider reducing the baking soda slightly. For example, instead of using 5 mL (1 teaspoon) of baking soda in your dough, try using 2.5 mL (½ teaspoon) instead and see the impact it has on the baked cookies.
Bake cookies at a higher oven temperature—I like thick, chewy drop cookies, so I tend to bake most of my drop cookies at 375 °F or even 400 °F. This is a personal preference, but if you like the taste of your cookie recipe, but the cookies are too thin, try baking them at a higher temperature and see if you get thicker cookies.
Bake only a few cookies at a time on a half-sheet pan and make sure to leave enough room between them.
Bake cookies on a parchment-lined aluminum sheet pan
Don't flatten mounds of cookie dough before baking—leave the scoops of cookie dough as is to ensure they don't melt too fast.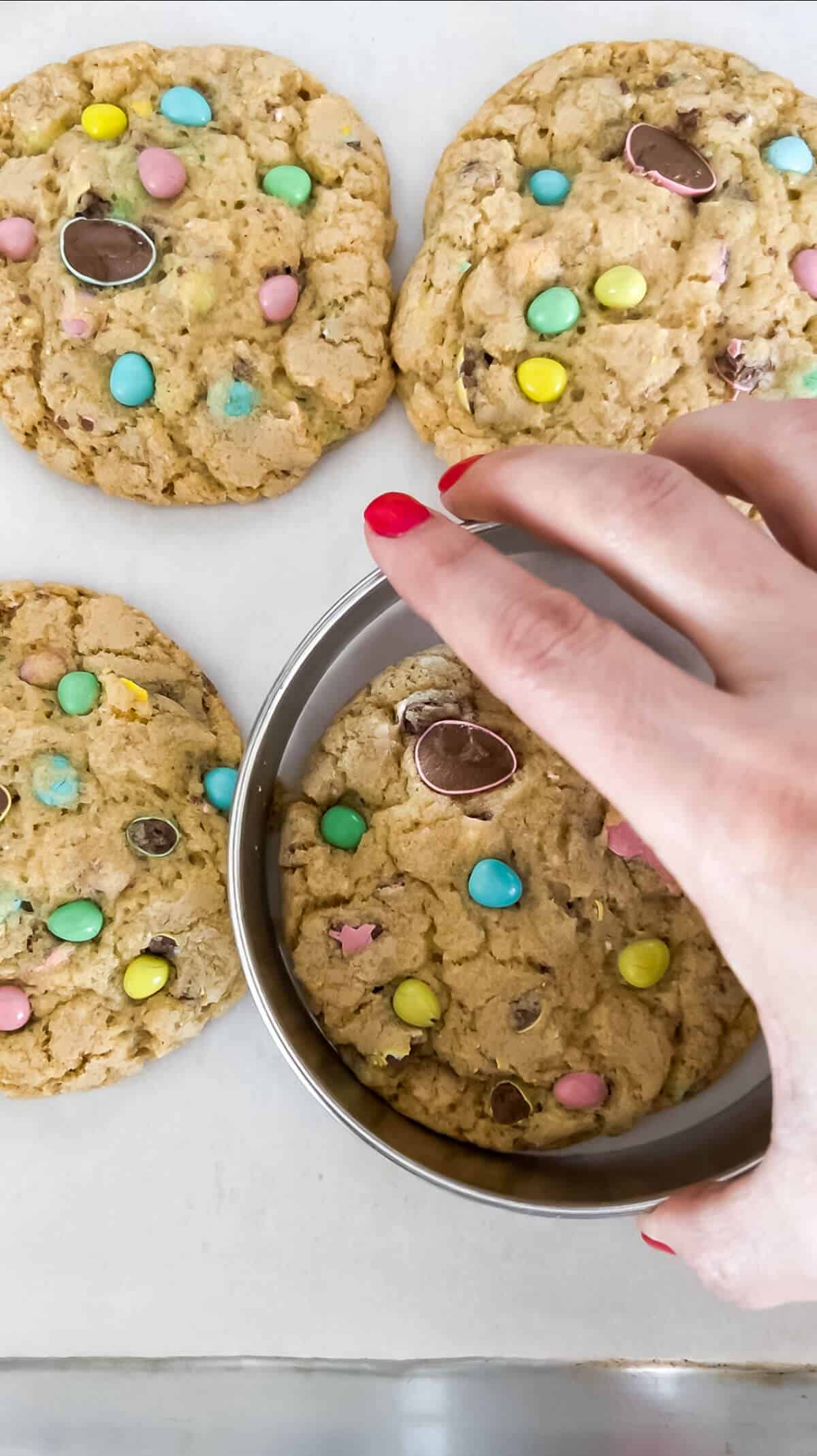 Tricks for fixing thin cookies
There's no magical solution to fix your cookies if you've baked an entire batch and they are thin. You can't undo that. But if you catch them at the right time, you can nudge them into being thicker. Here's how:
take a spoon, a mini offset spatula, or a large round cookie cutter with a diameter that is larger than your cookies
use your chosen tool (whether a spoon, an offset spatula, or a cookie cutter), and nudge the edges toward the centre of the cookie

Use the back of the spoon or the flat side of the offset spatula to carefully push the edges toward the centre
Place the cookie cutter around the hot cookie and using a swirling motion, the edges will naturally pull inwards
This method will only work if the cookies are still hot and soft. You have to do this when the cookies are still pliable and too delicate to lift off the sheet pan, so before they've had a chance to cool down. Some bakers will use this trick mid-bake, when the cookie edges haven't set at all. Try it out and find the timing that works best for you!
If your cookies are too firm, this trick will not work. You can try popping the sheet pan back in the oven, but even then, you might not be as successful if the edges have set hard. For this trick to work, act fast as soon as you take the cookies out of the oven or when they are slightly underbaked.
This trick works better for drop cookies. Sugar cookies and cutout cookies are too firm. In the case of cutout cookies, you can take the cookie cutter you used and trim the edges that spread out. This is a technique that is used for gingerbread houses to ensure the edges are straight and flat, and also for decorated cutout sugar cookies to ensure the shape is perfect before decorating with royal icing.