Learn how to make raspberry financiers with this easy recipe. You will also learn how to replace almond flour with coconut for a twist on these classic little French cakes.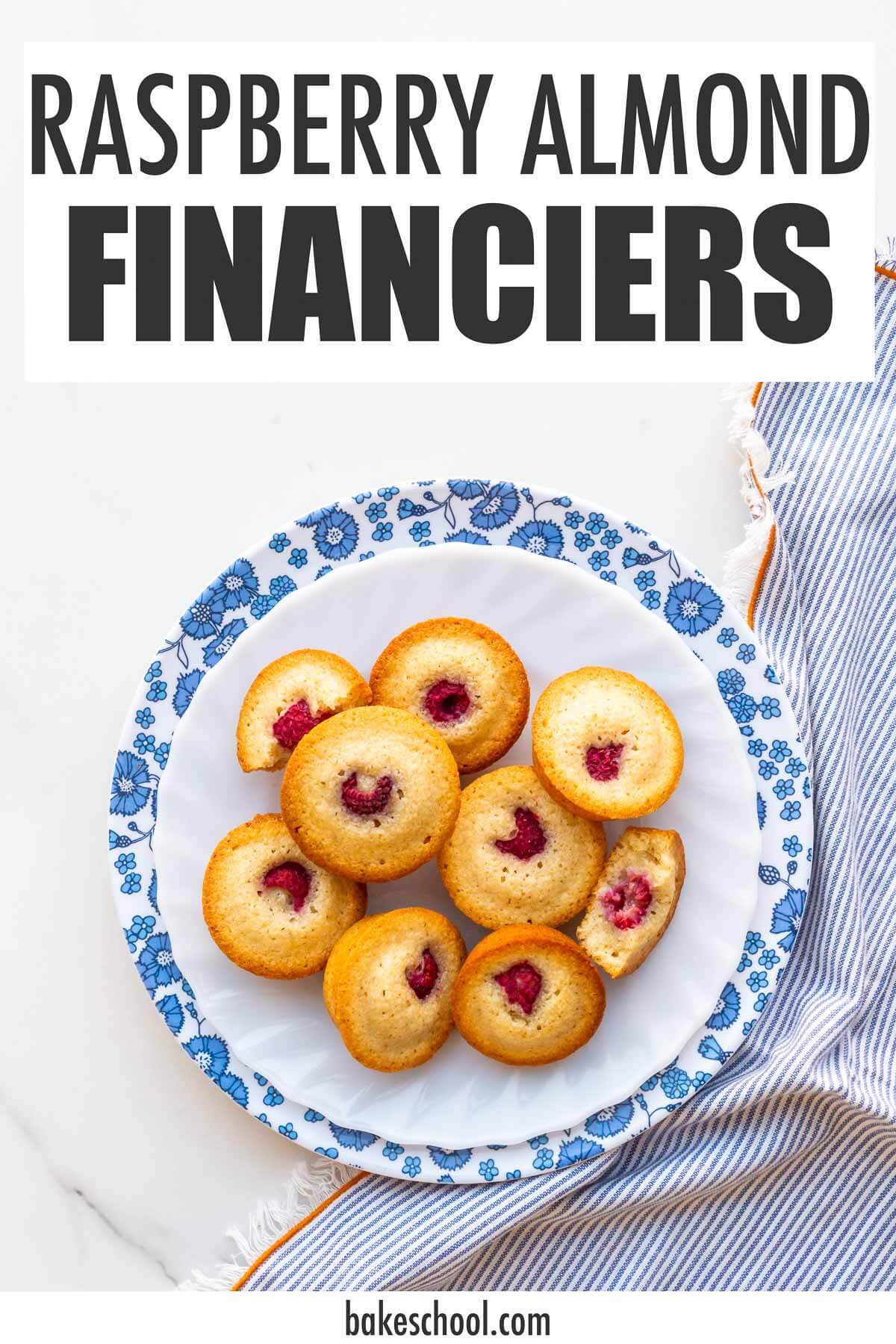 Disclosure: As an Amazon Associate, I earn from qualifying purchases.
Financiers are little almond cakes made with egg whites. They have a sweet, nutty flavour from ground almonds and brown butter. Traditionally, they are baked in small, rectangular moulds and they get their name because their shape is reminiscent of bars of gold and money.
I developed this basic almond financiers recipe with the hope that it could be used as a jumping-off point to get creative. They are great plain, but also can be garnished with berries or a small piece of fruit before baking. In this case, I've tested topping them fresh raspberries and fresh blueberries, but I've also made cranberry financiers and even coconut financiers topped with slices of kiwi! Financiers taste great topped with a small piece of fruit or berries before baking.
Jump to:
What you need to make raspberry financiers
For this recipe, you will make classic almond financiers and top them with fresh raspberries before baking. To do so, you will need basic ingredients you likely have on hand in your pantry and fridge if you bake semi-regularly. Here's what you need to make them!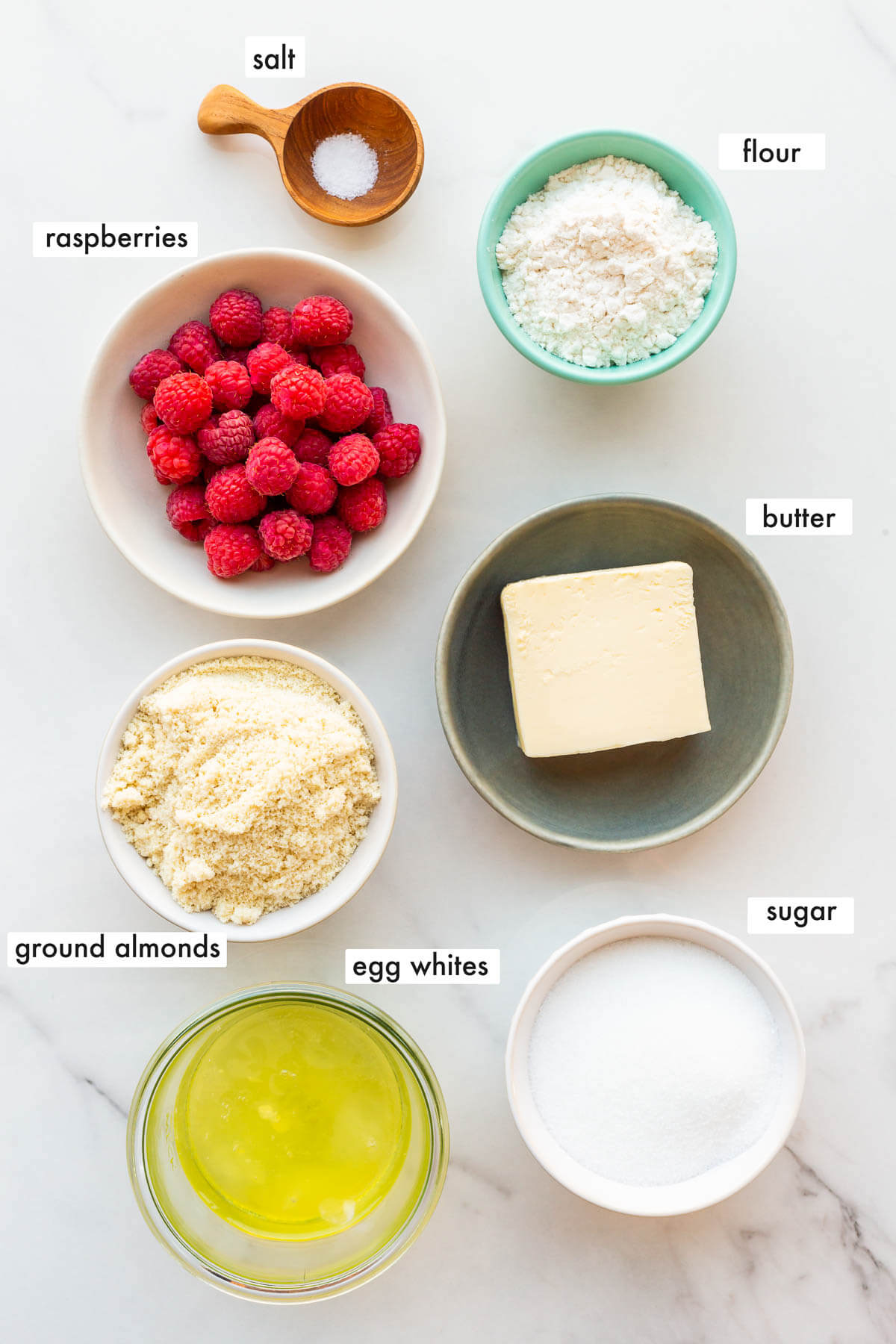 butter—I baked this recipe with unsalted butter and then added my own salt to the batter for these cakes. If you use salted butter, you might want to skip the salt to avoid these almond cakes being too salty!
sugar—almond is a delicate flavour so I baked these with granulated sugar, though brown sugar can work here, but the flavour and colour will overpower the nuts
ground almond or almond flour—I used blanched almond flour (so the skin of the almonds is removed prior to grinding them into flour)
flour—I used bleached all-purpose flour, but unbleached will also work fine. You can also use alternative flour, like chestnut flour and white rice flour. Even millet or sorghum should work well here
egg whites—I bake with large eggs, so each egg white weighs 30 grams (approximately) and it takes about 4 eggs to get to the weight needed (or darn close!). If you bake with smaller eggs, you will need to crack open more eggs to get to the weight of egg whites to make this recipe
salt—I use Diamond Crystal fine kosher salt, which is less salty. If you are using table salt, you may halve the amount in the recipe
berry garnish (optional)—I prefer fresh raspberries, but blueberries also work great. You can also skip the garnish and bake them without a garnish or topping, as they do in classic French pastry.
See recipe card for quantities.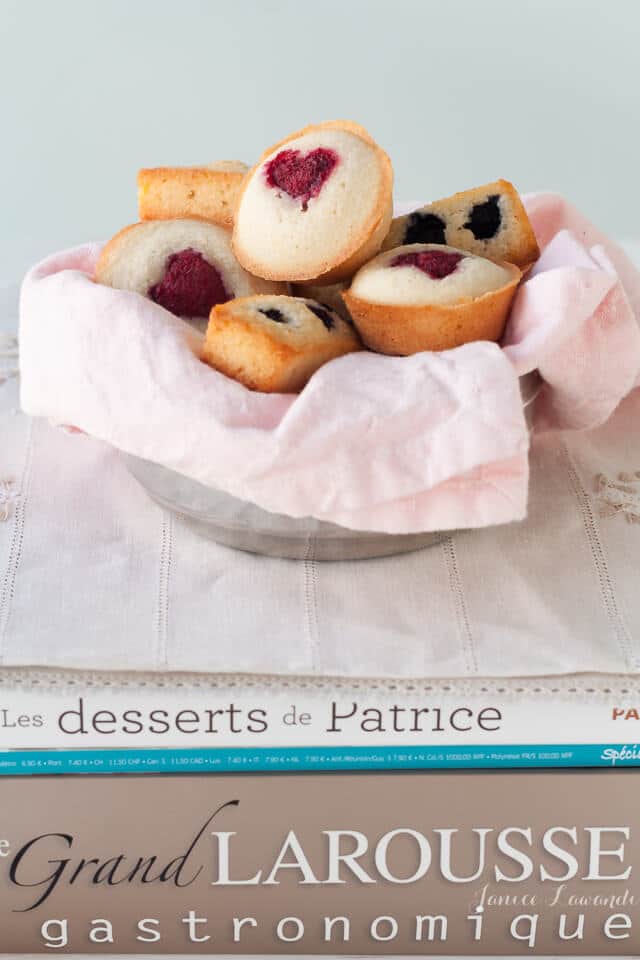 Substitutions and variations
Coconut—I tested this recipe with ground almonds (almond flour) and also shredded coconut, which I ground in a food processor to achieve a finer texture. This worked very well. You can use sweetened or unsweetened coconut
Chocolate—replace half the flour with the same weight of cocoa powder, preferably Dutch-processed to make chocolate financiers with raspberries
Gluten-free—this recipe works with white rice flour, chestnut flour, and most alternative flours, like sorghum or millet.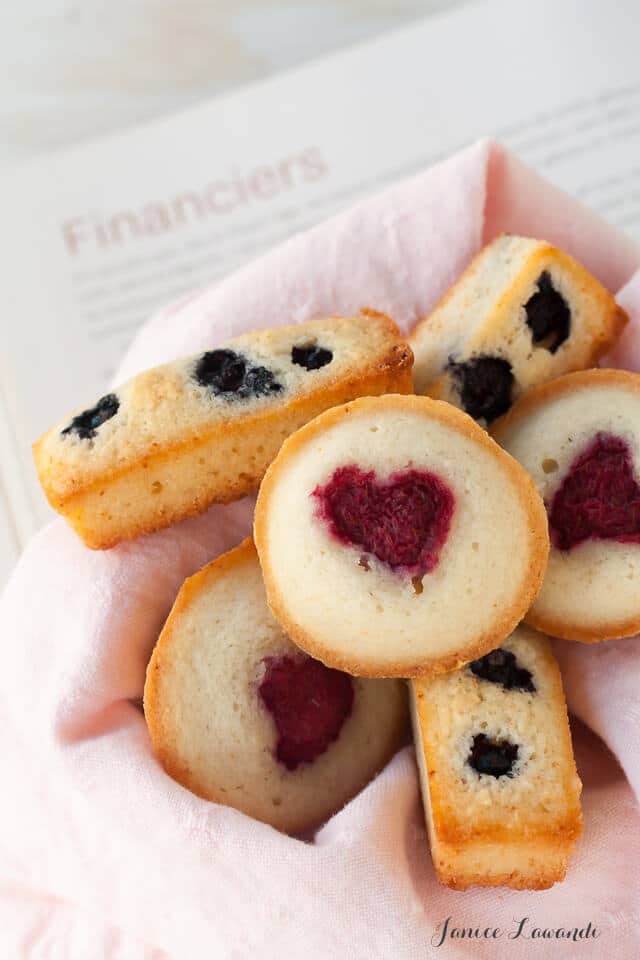 Pan prep to avoid sticking
To bake these financiers, use a mini muffin pan and take the time to prepare the muffin pan properly before dividing the batter between the cups because financiers are high in sugar and can stick to cake pans. You can either butter and flour the cups of the muffin pan or you can use parchment paper liners.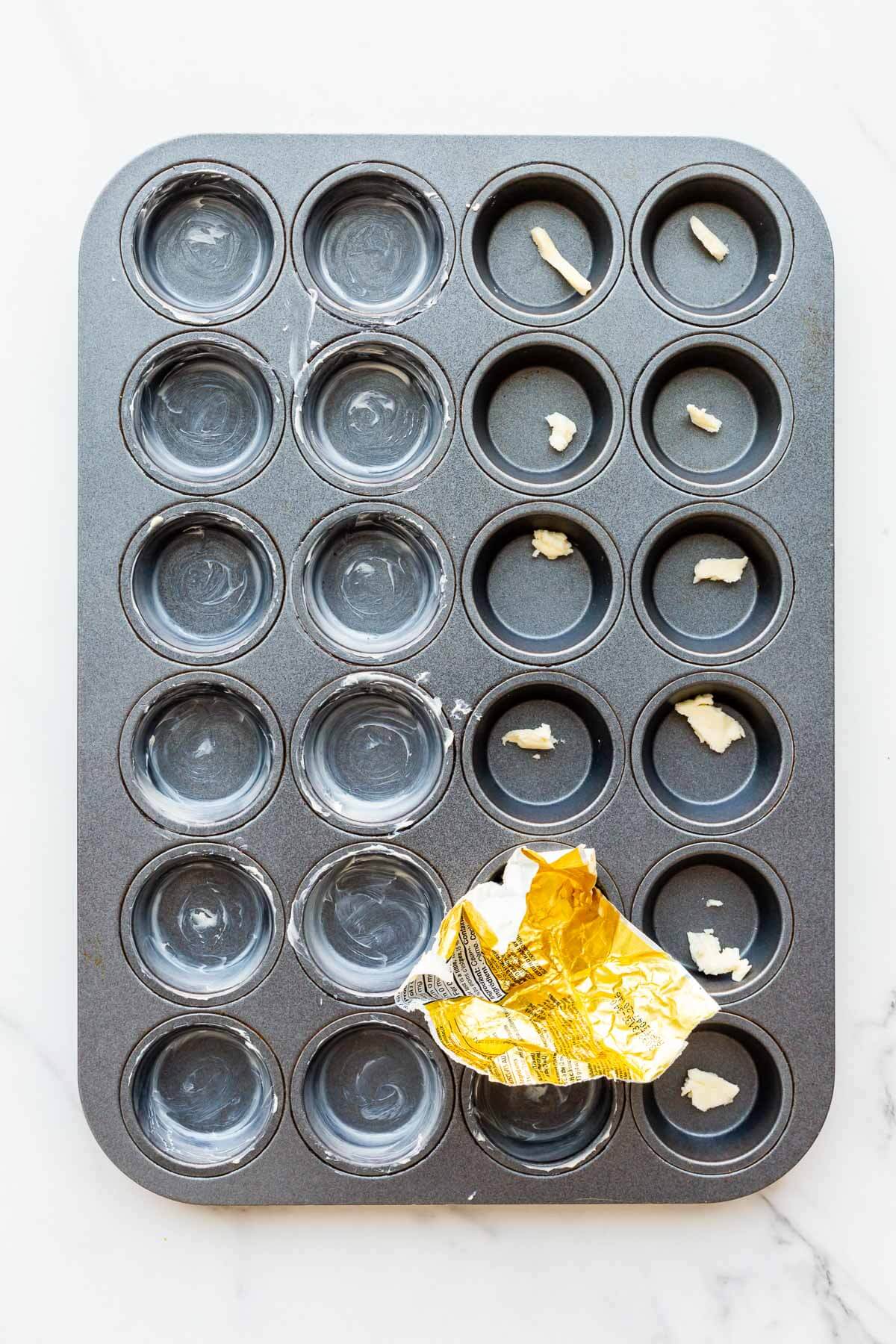 For this recipe, I used a non-stick mini muffin pan (buttered) or a regular mini muffin pan (not non-stick) (greased and floured). Both work. If you are unsure about the type of pan you are using, better safe than sorry! Grease and flour the pan before scooping the batter to ensure your almond financiers don't stick.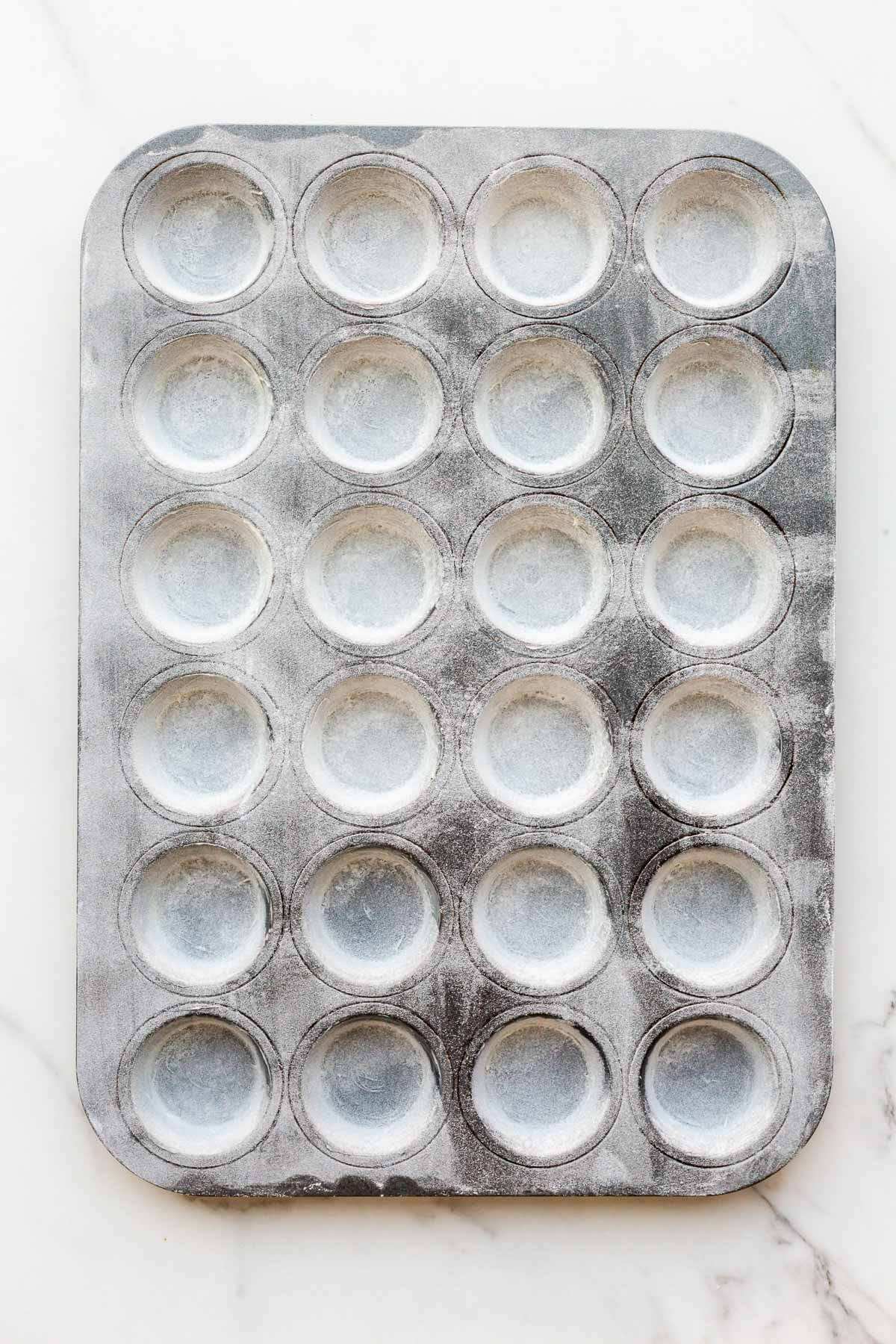 Another option would be to bake this recipe in silicone bakeware. Pastry chefs often favour silicone because it makes unmoulding easy. They always recommend greasing the silicone pans to ensure the cakes unmould cleanly, especially financiers which tend to have sticky edges.
Steps to make French almond cakes
Almond financier cakes might be the easiest cake you make. No equipment is required! The longest part of the process is chilling the batter before baking.
There are two key steps to making financiers: browning the butter and whipping the egg whites. Most desserts with egg whites would have you make a meringue or whip the egg whites to stiff peak, then fold them into the dry mixture.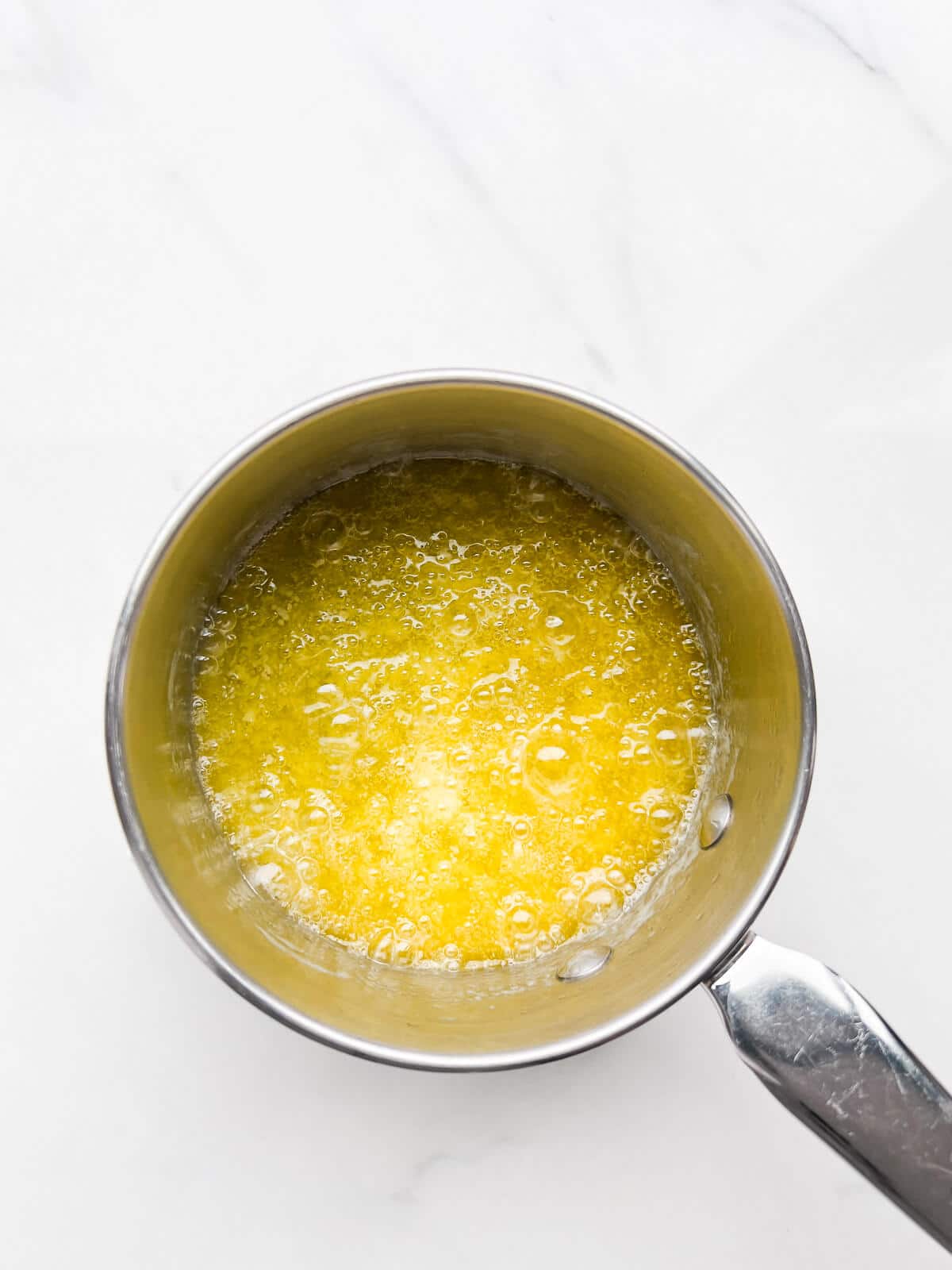 Before doing any of the other steps, start by melting the butter in a small saucepan.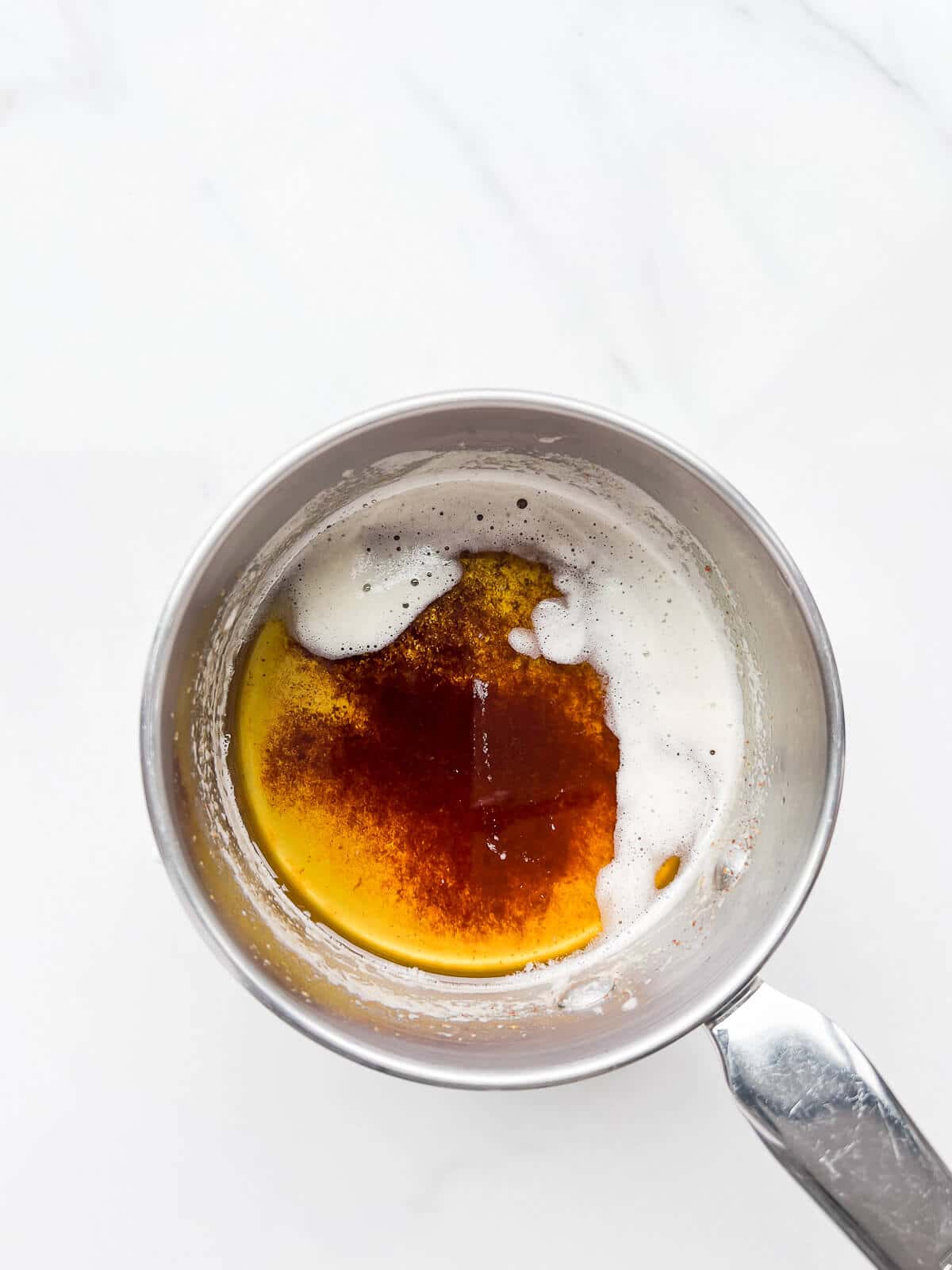 Continue cooking the melted butter until the milk solids begin to brown and release a delightful nutty aroma. Once this happens, take the brown butter off the heat and transfer it to a small bowl to cool before using.
Whipping the egg whites incorporates air and water, which is why egg whites are considered a leavening agent. But with financiers, all you have to do is whip the whites until they are frothy. It's faster and easier, and you still end up with a spongy, light texture!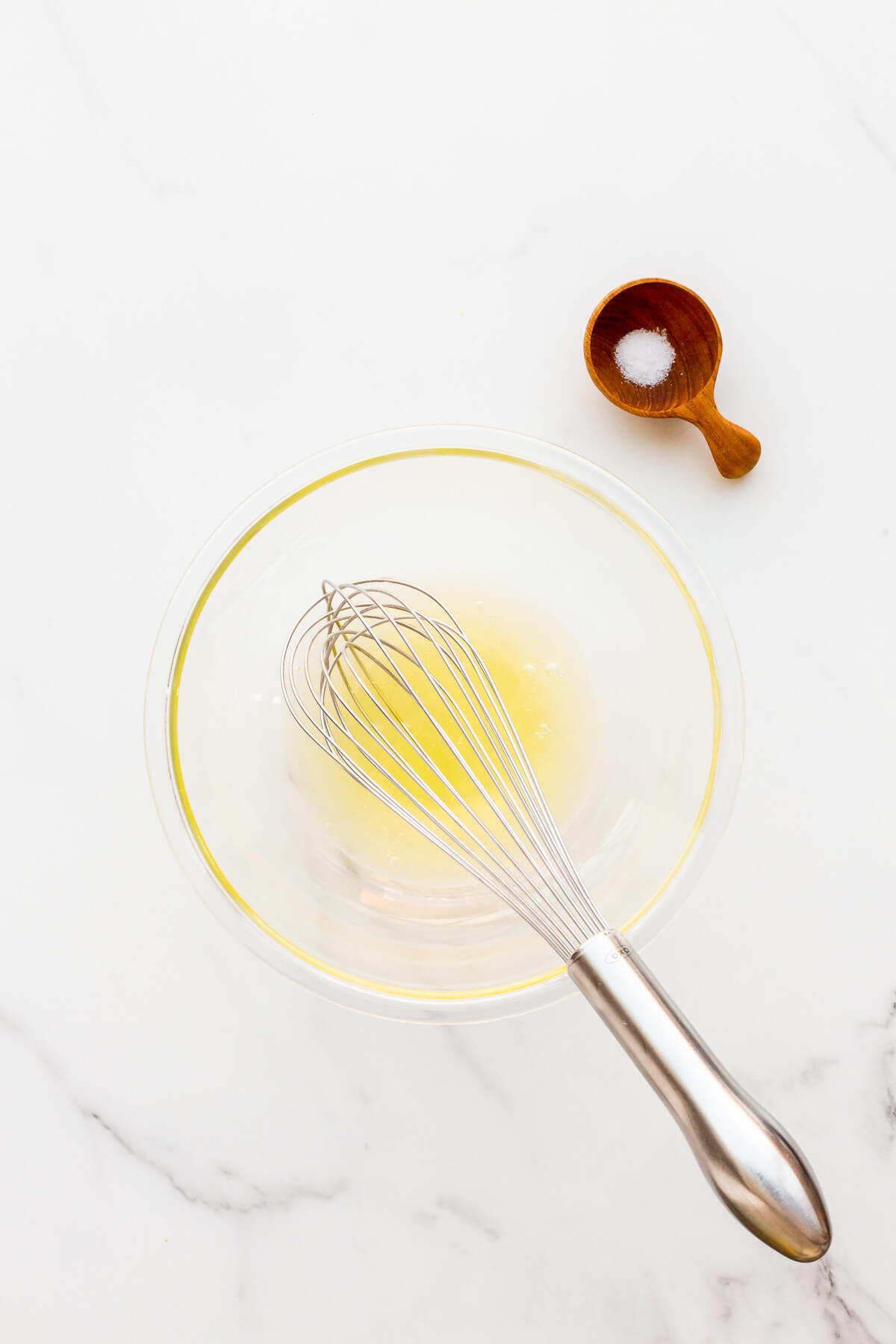 Combine the egg whites and the salt. The salt will help you break up the globular egg white proteins.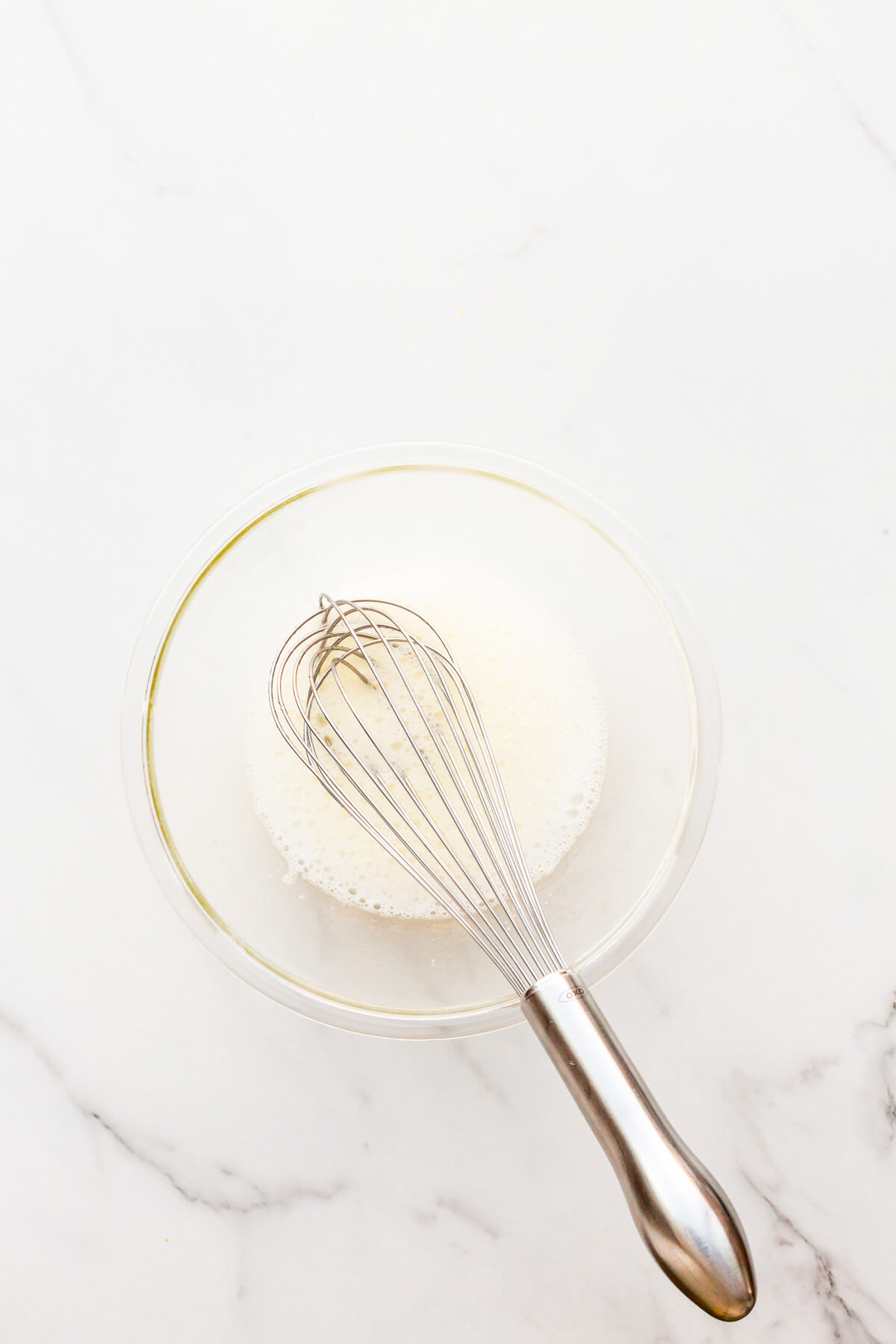 Whip the egg whites until they are very frothy and thick with a balloon whisk.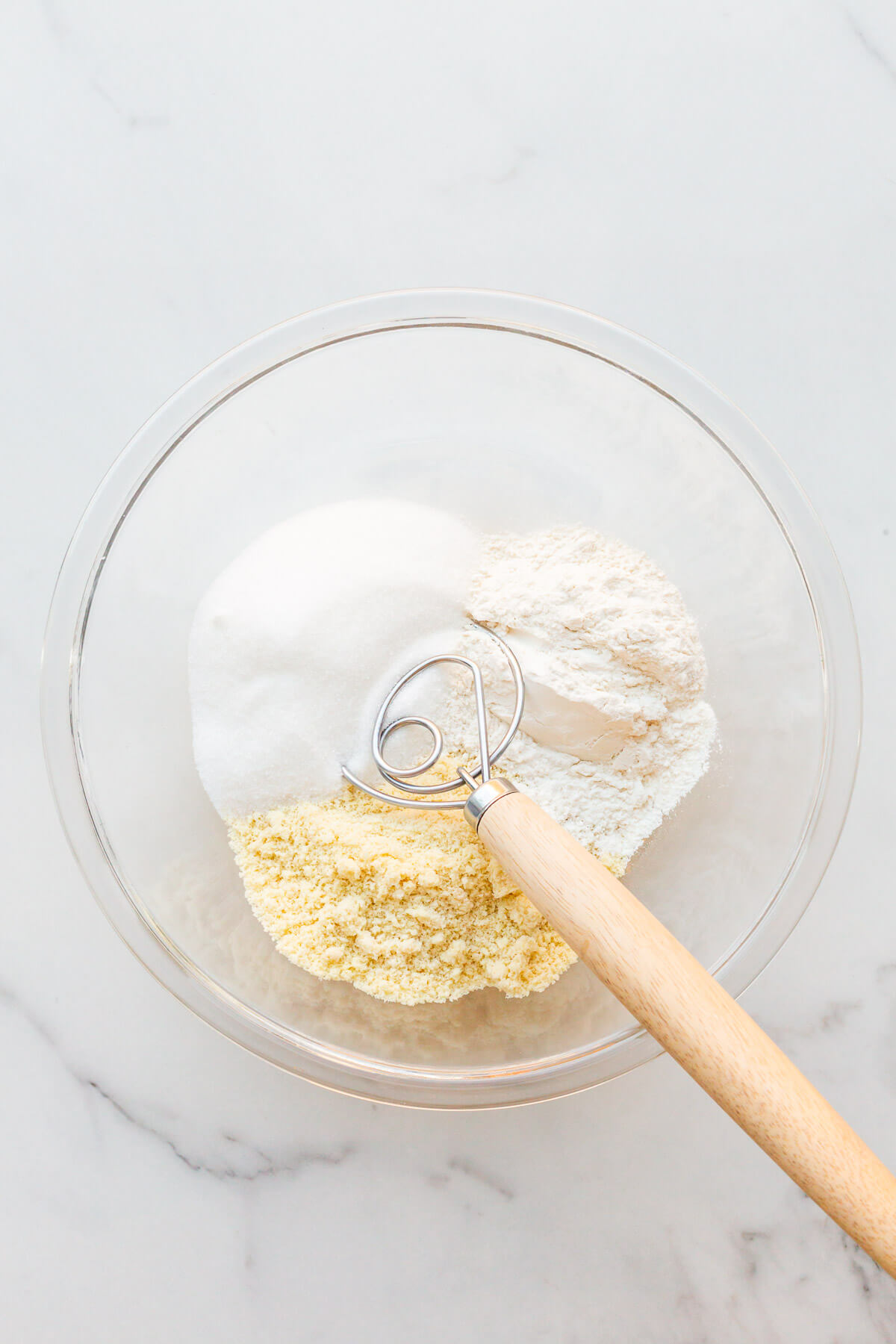 Combine the dry ingredients in a medium–large bowl.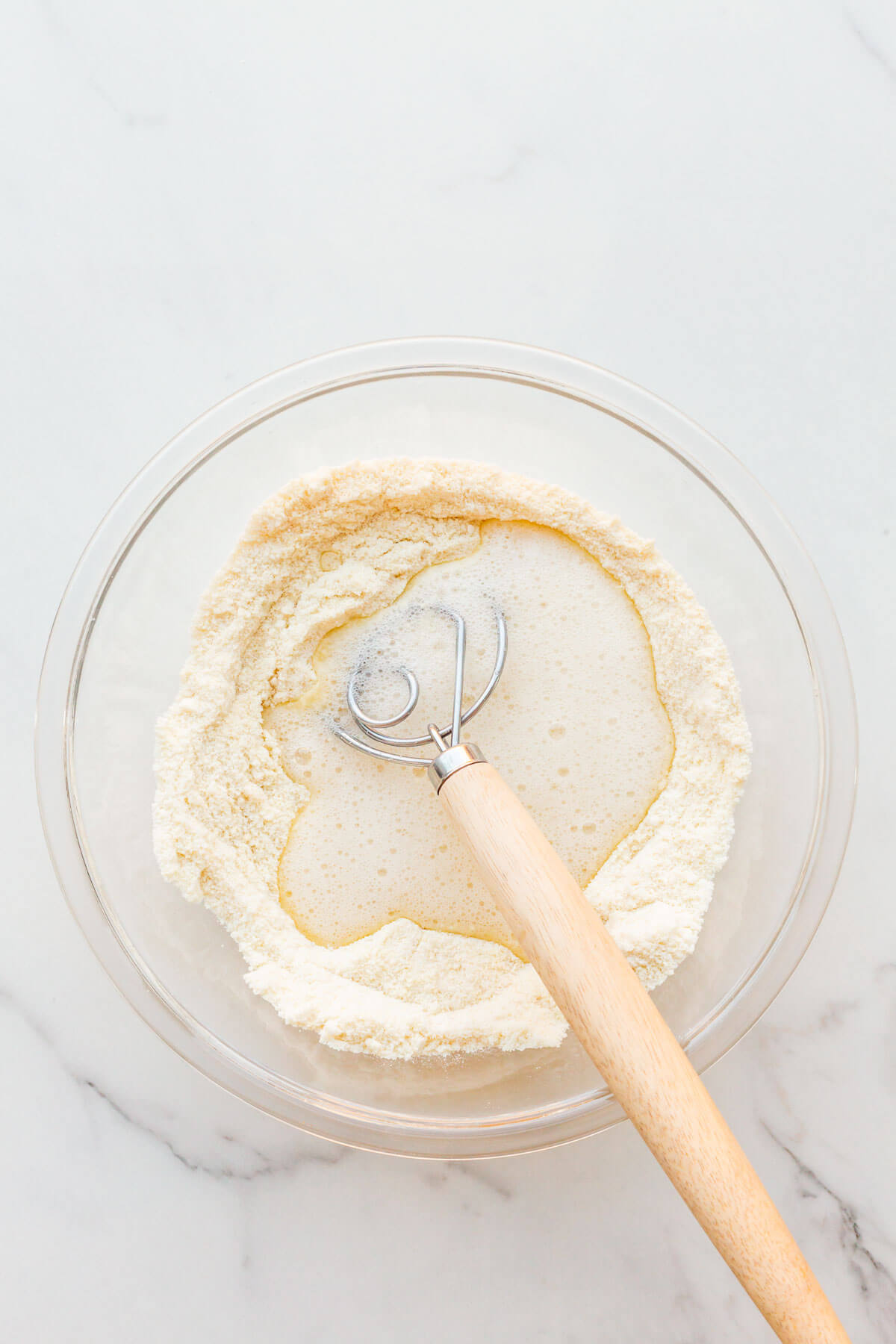 Stir the frothy egg whites into the dry ingredients.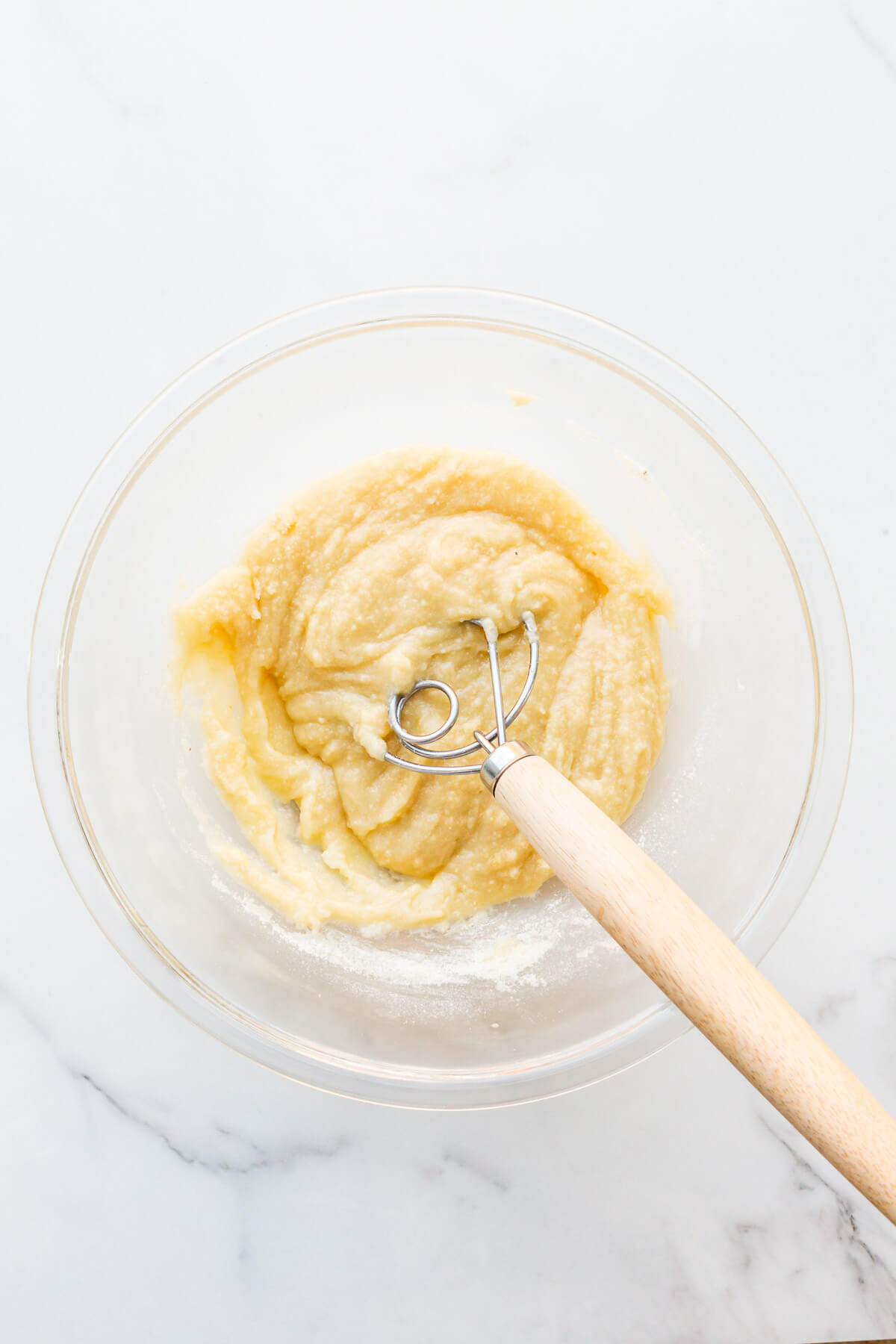 The batter will be fairly thick at this stage.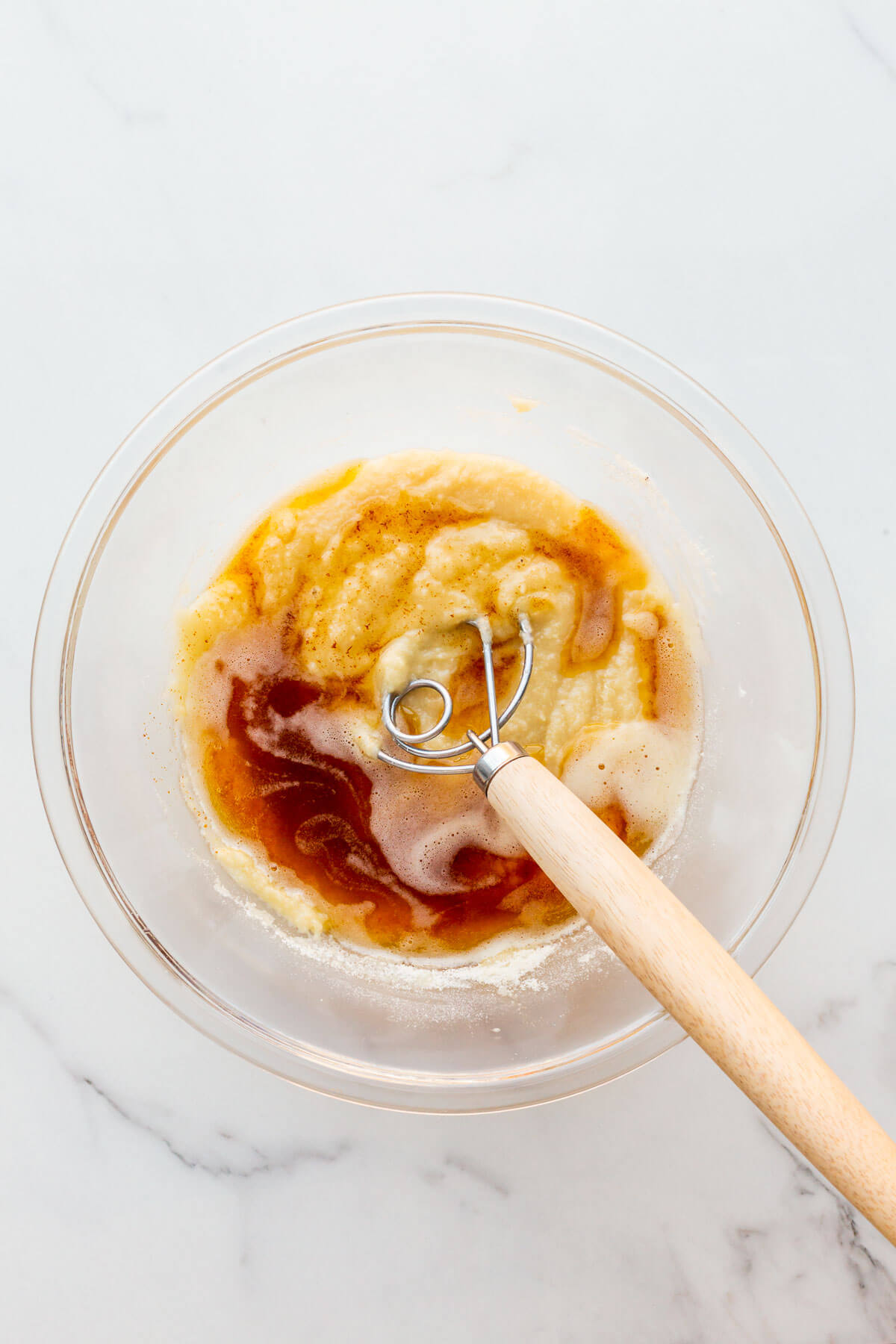 Add the browned butter to the batter and stir it in.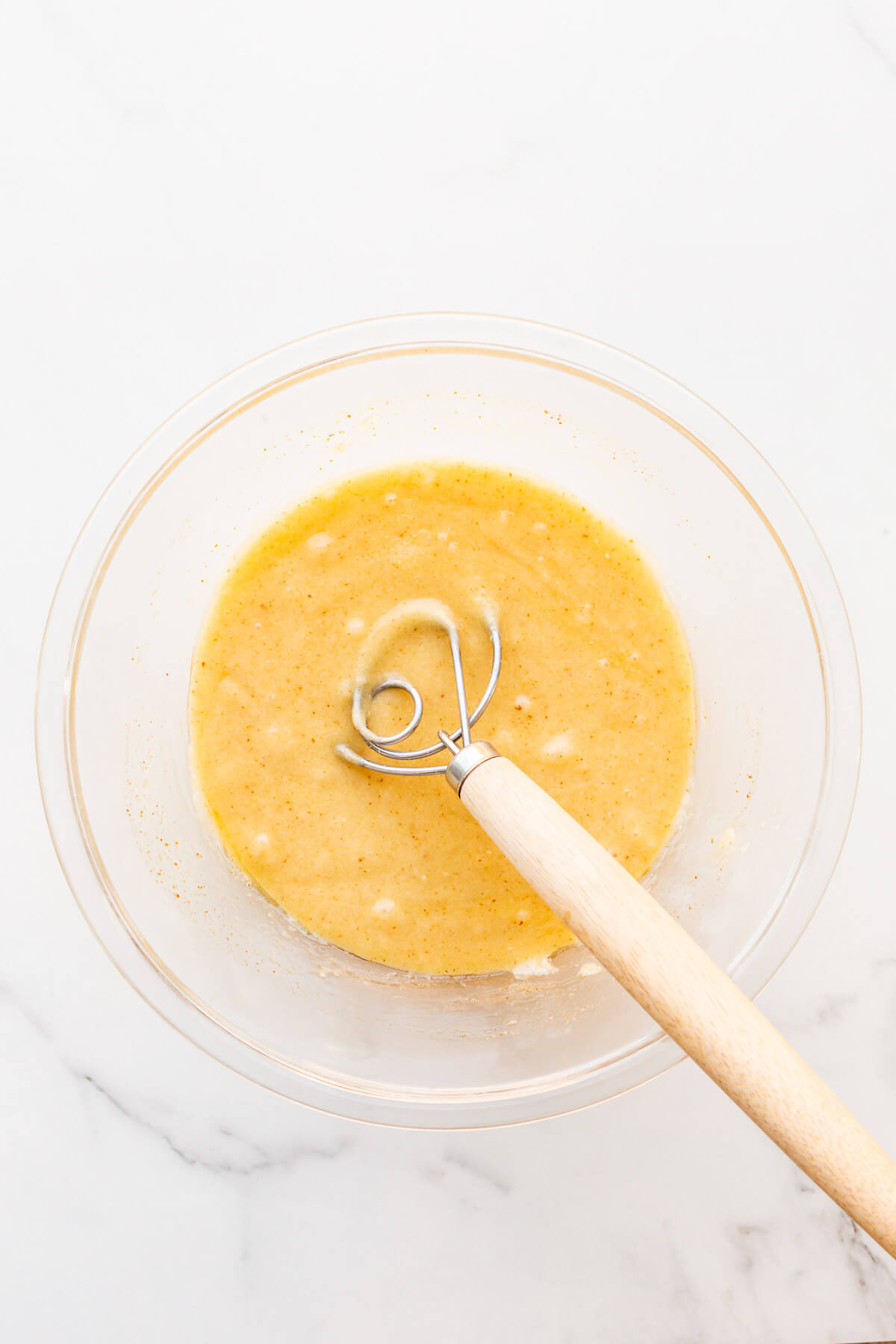 The batter will be quite soft, especially if the brown butter was still warm.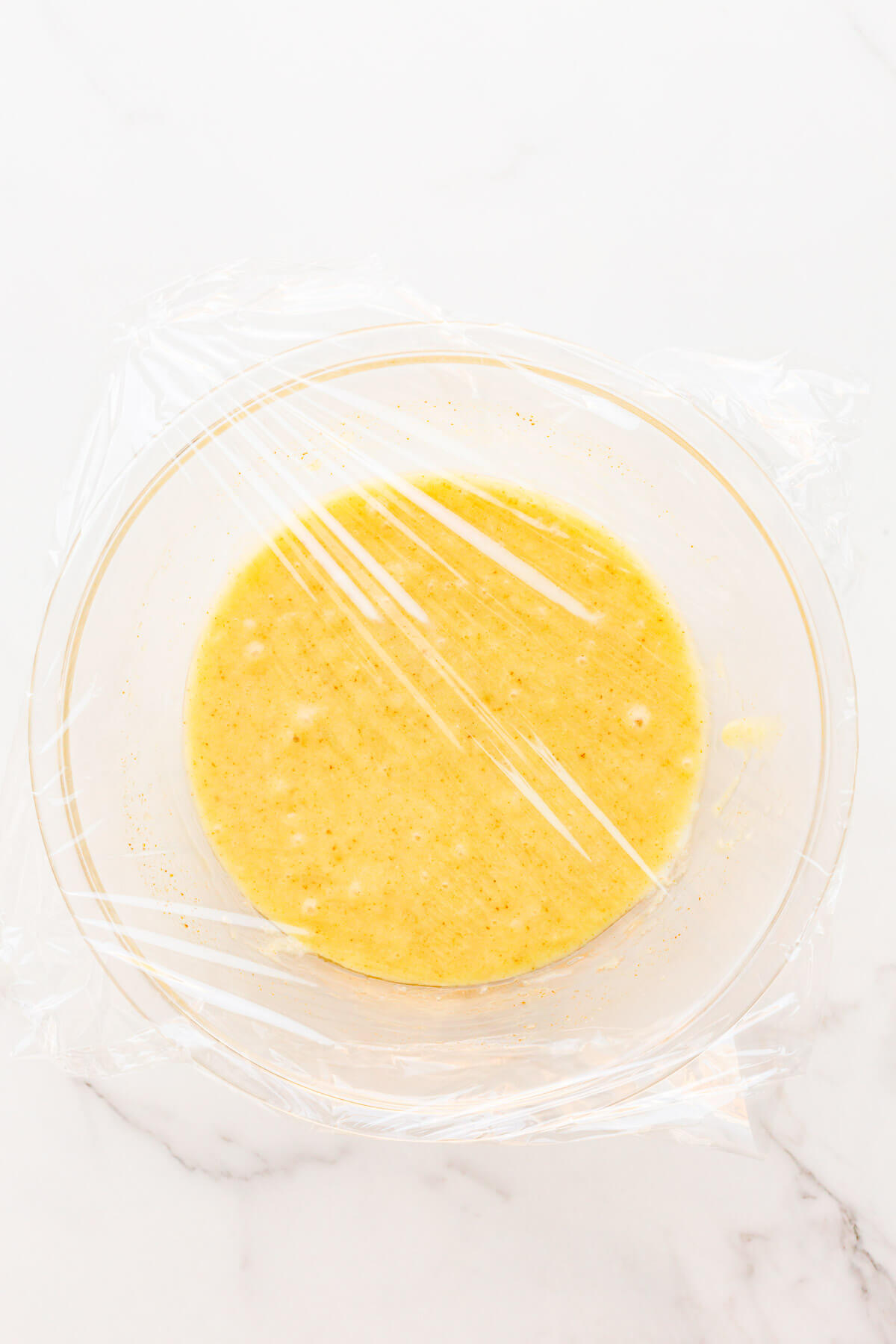 Wrap the bowl of batter and chill it for about one hour to firm it up before baking.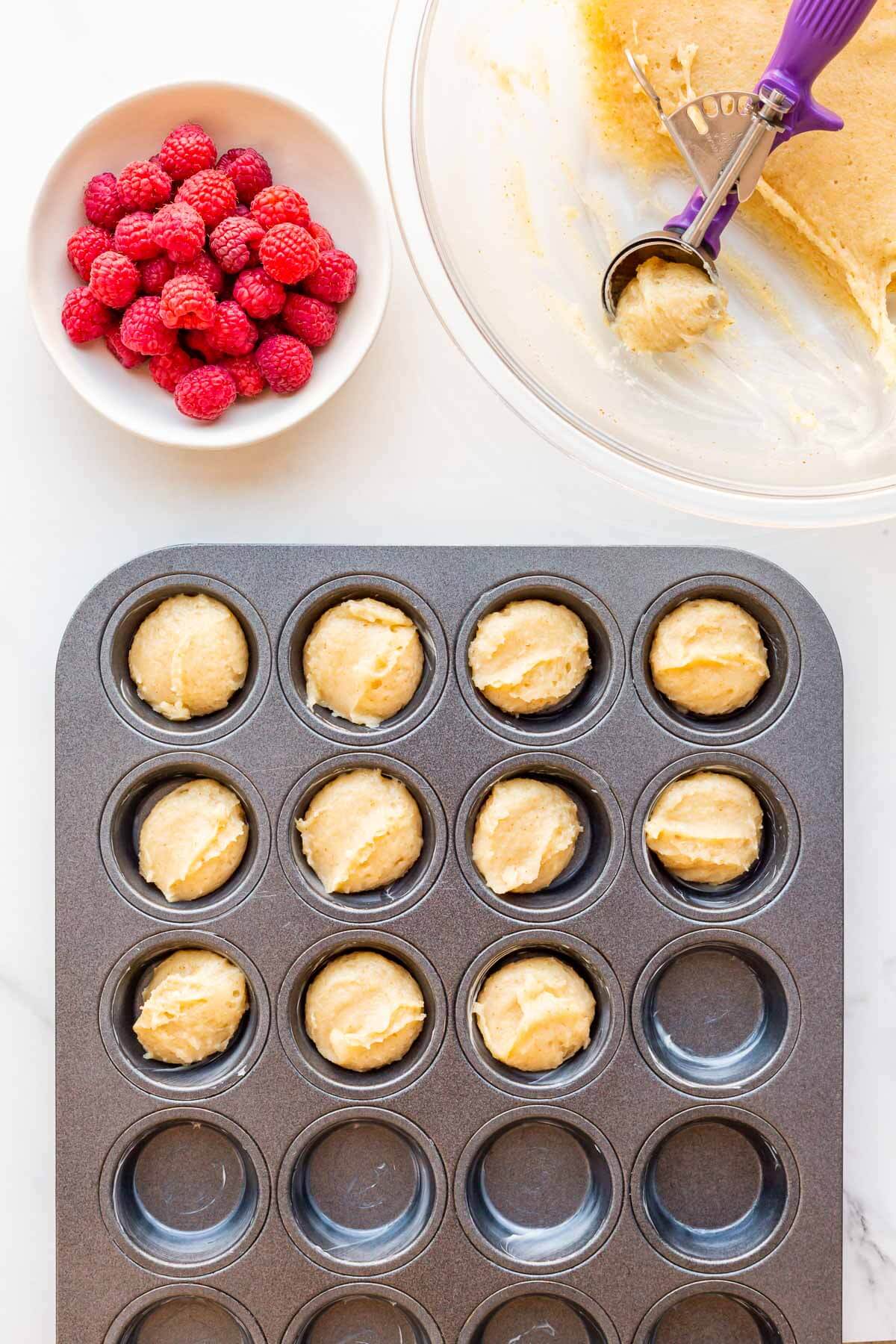 Use a ¾ ounce disher to divide the batter evenly between the cups of a mini muffin pan.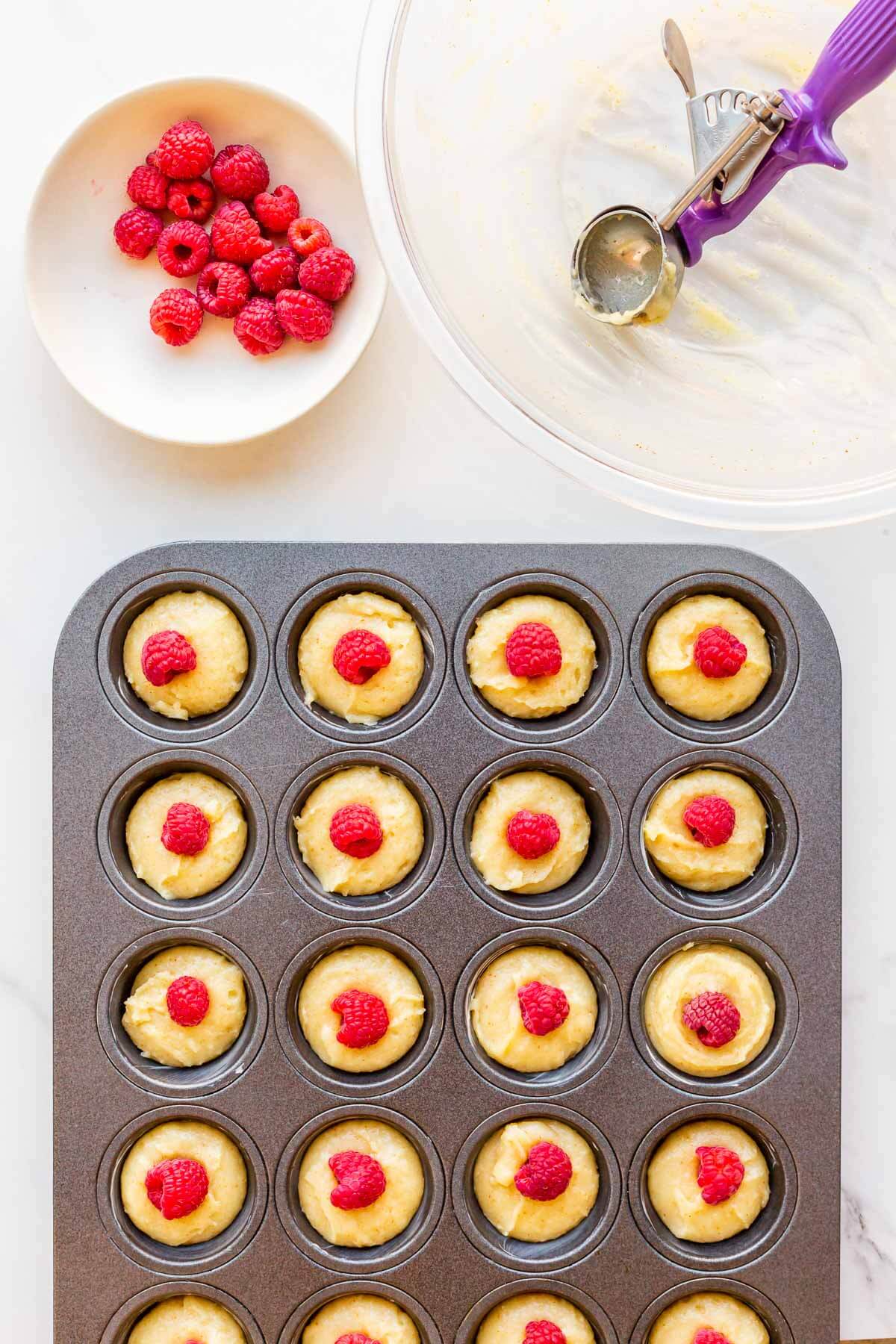 You can top almond financiers with fresh raspberries or blueberries before baking.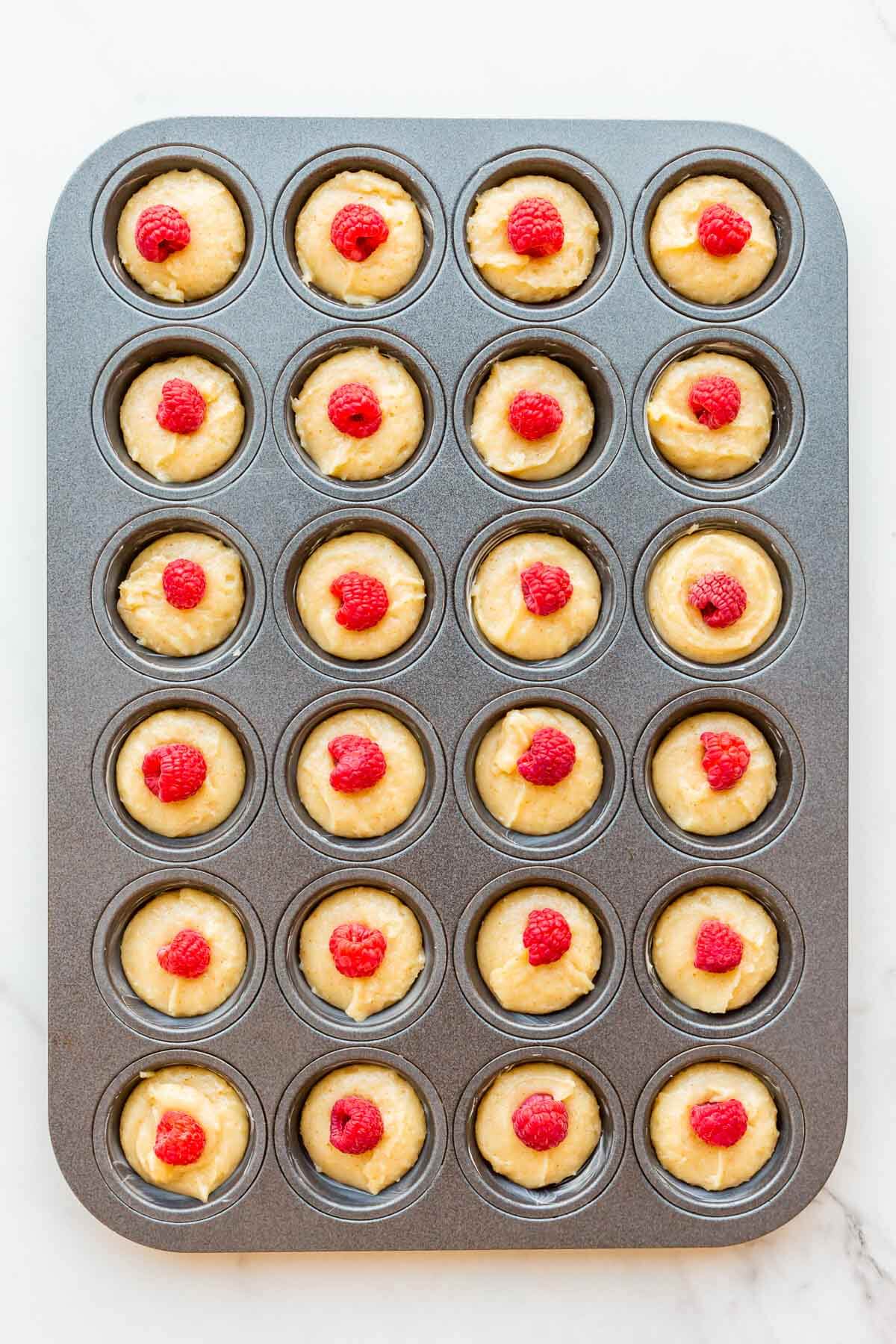 Raspberry financiers before baking in a 350 °F preheated oven on the middle rack.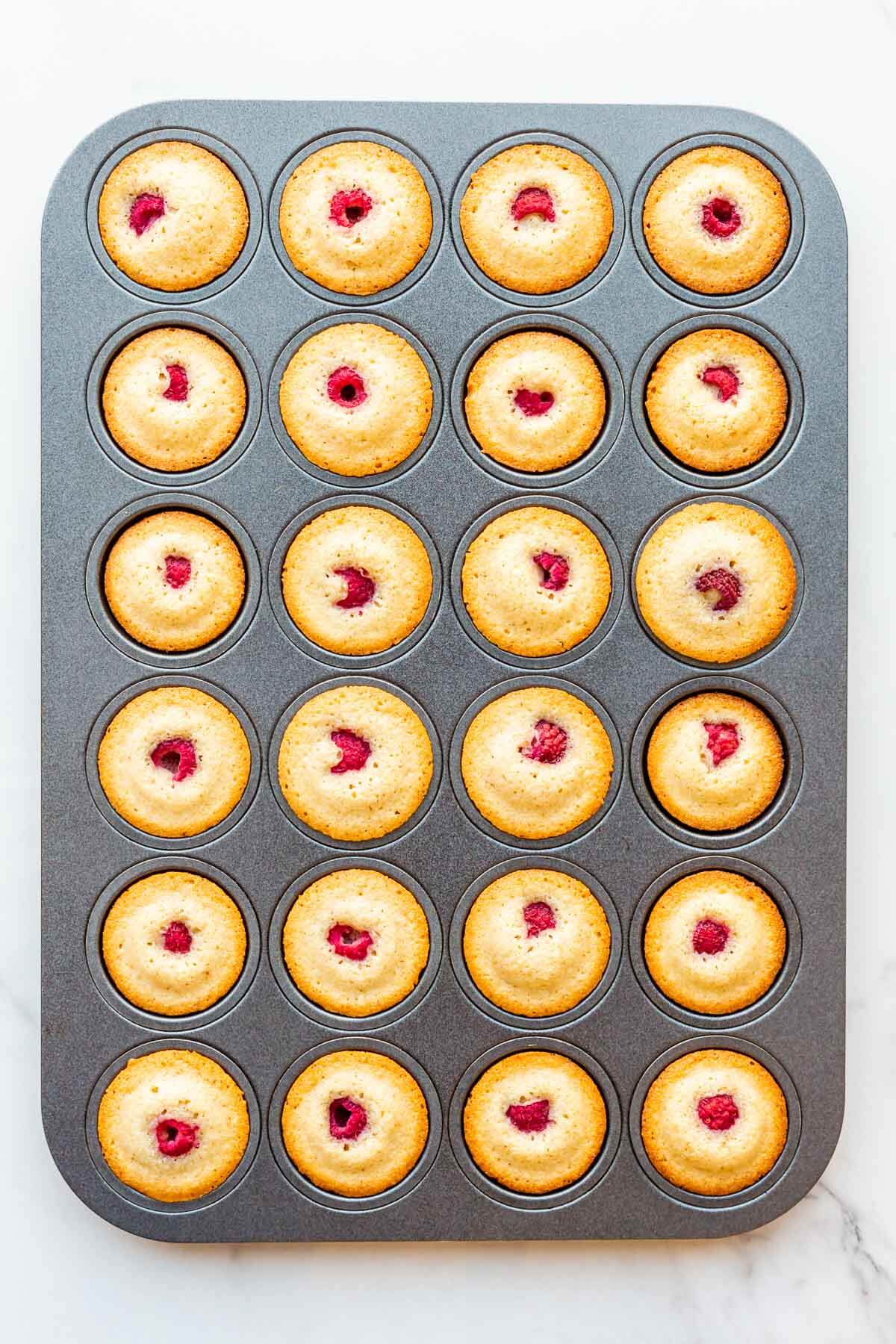 Bake the financiers until the edges are golden brown and pull away from the sides. Verify the centres are baked with a cake tester inserted next to the fruit (not through the fruit).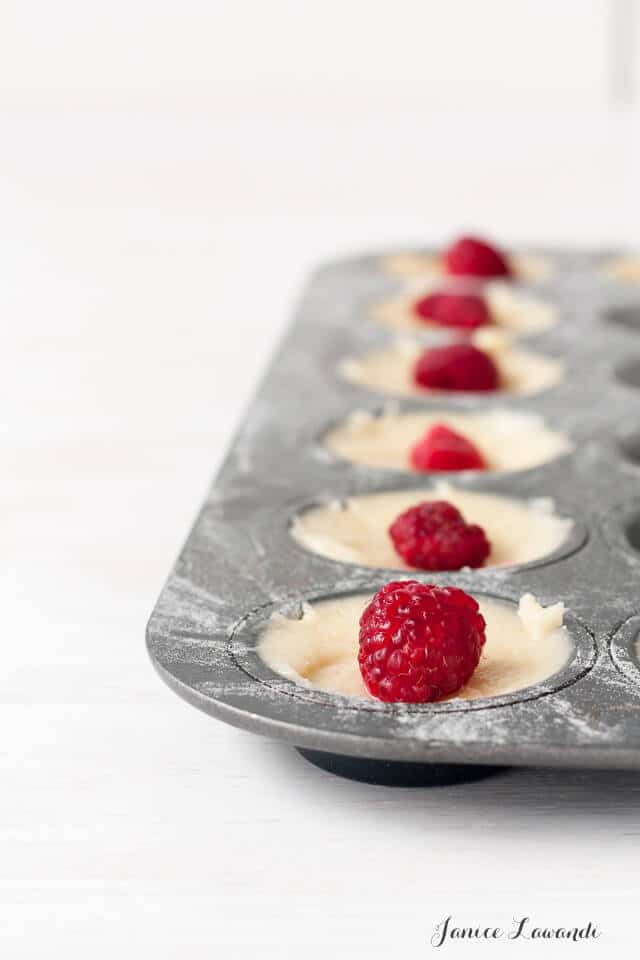 I love topping financiers with fresh raspberries before baking. Blueberries also work great, especially if you make coconut financiers.
Another option would be to top with pitted Bing cherries (or half a cherry per financier cake if they are large), or even blackberries.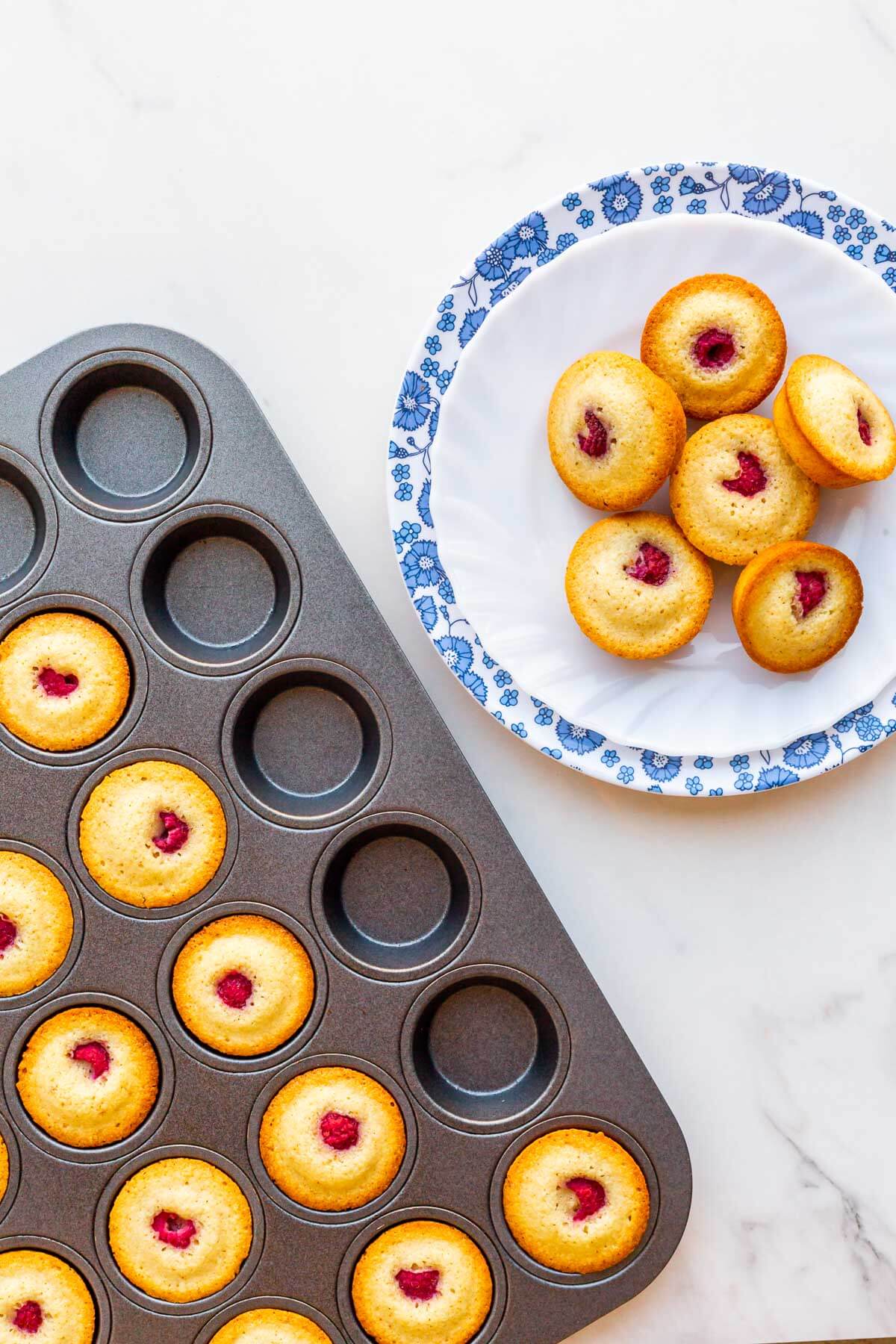 Garnishes and other financiers recipes to try
You can make plain financiers or you can top them with garnishes, like berries. The raspberries bake into sweet little heart shapes. And if you don't love berries, try these coconut financiers topped with sliced kiwi. Or if you need a gluten-free recipe, try these pistachio financiers (which I've tested with all-purpose flour and rice flour) or cranberry chestnut financiers (made with chestnut flour). You can also make chocolate financiers by incorporating a little cocoa powder (replacing some of the all-purpose) and topping with cocoa nibs.
Storage
Financiers have the best texture a few hours after they are baked: these French tea cakes are slightly chewy and crunchy on the outside on the day they are baked and have a soft crumb inside. Store them in an airtight container or wrapped tightly in foil. The edges will lose their crunchy texture but will stay chewy for a day or two. The flavour improves with time.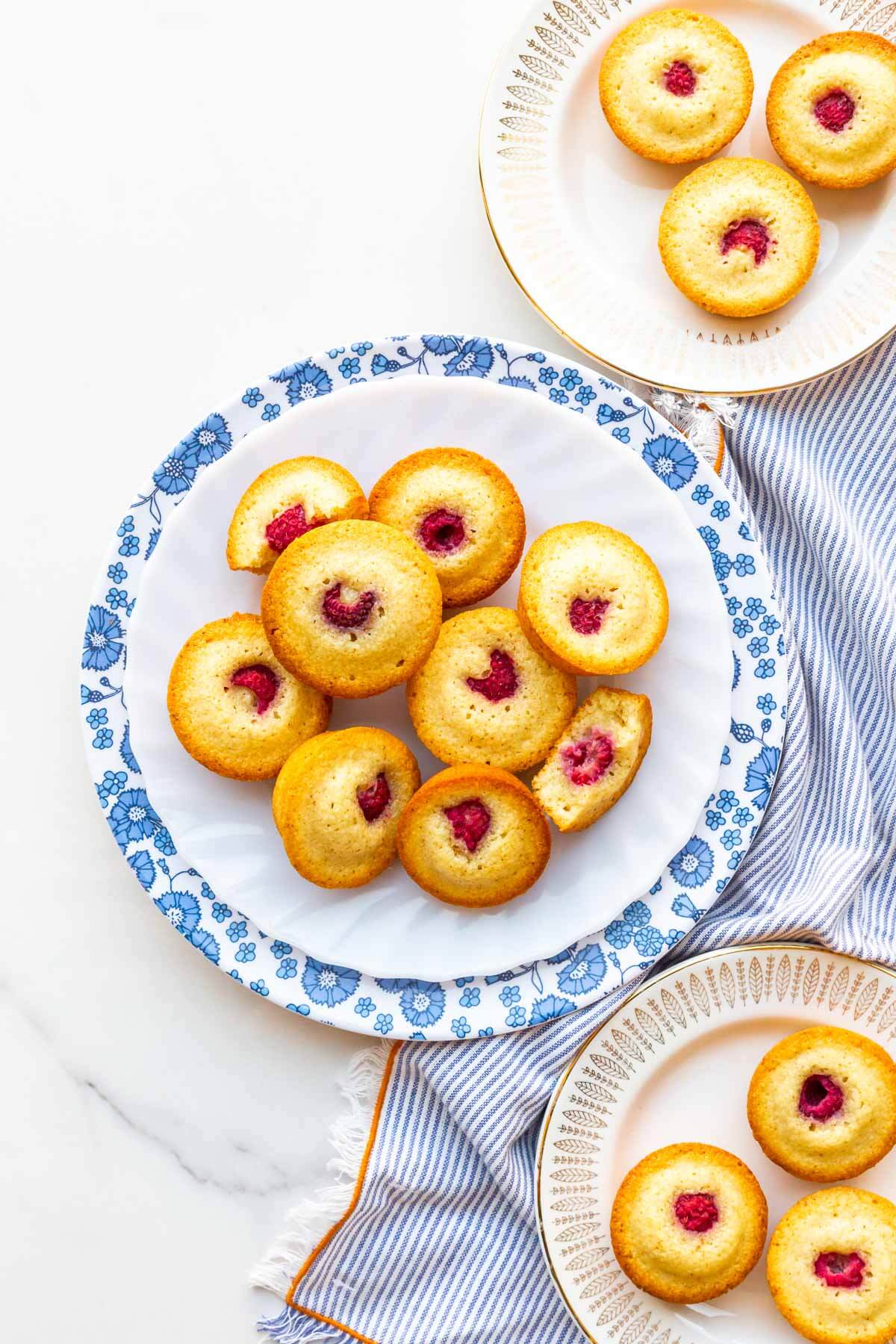 You can also freeze them. Unwrap and defrost overnight in the refrigerator to avoid any condensation or moisture build-up on the surface of the cakes. You can actually take a few out and place them on a plate at room temperature to defrost. It takes about 30 minutes and this works quite well if you need them in a hurry!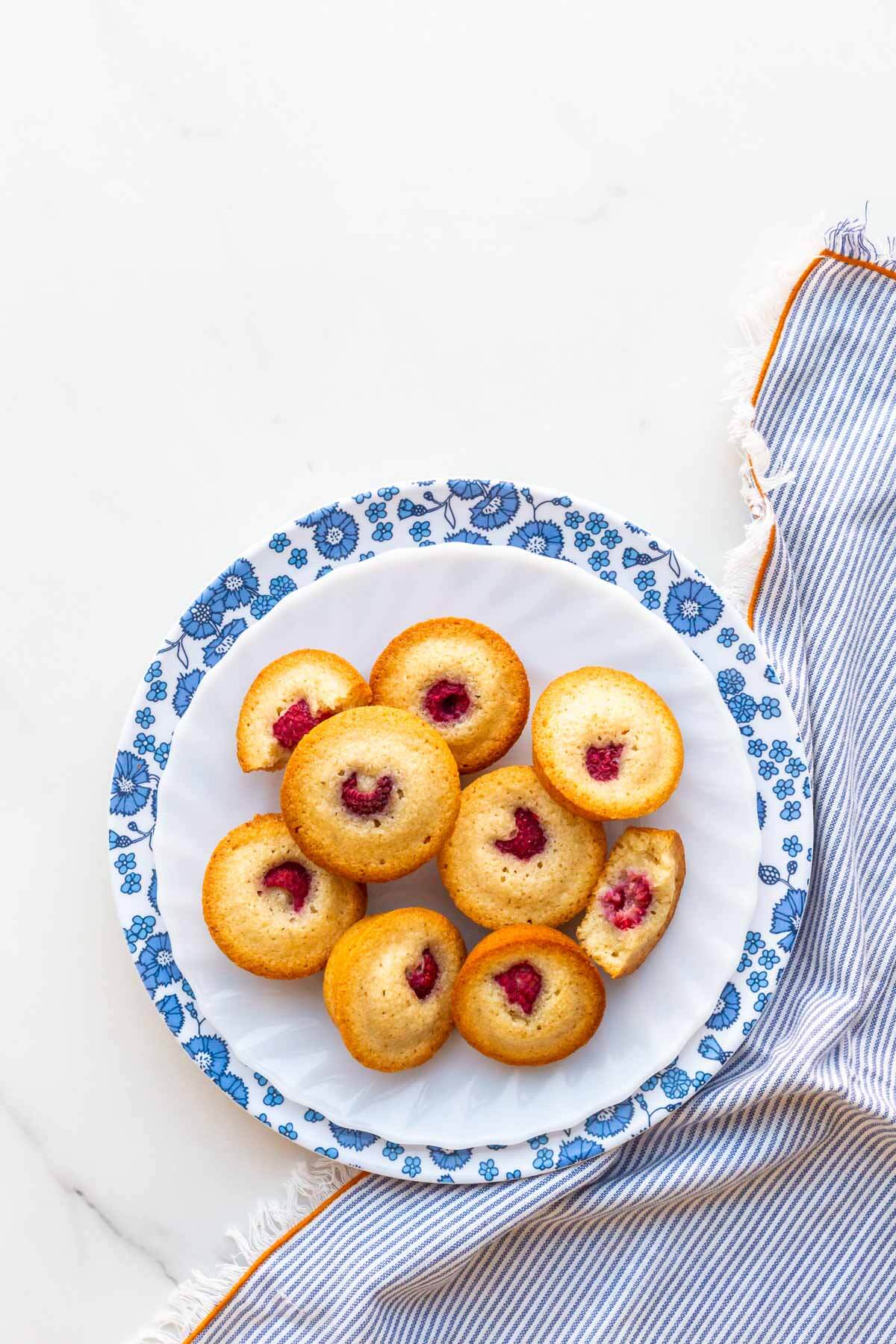 📖 Recipe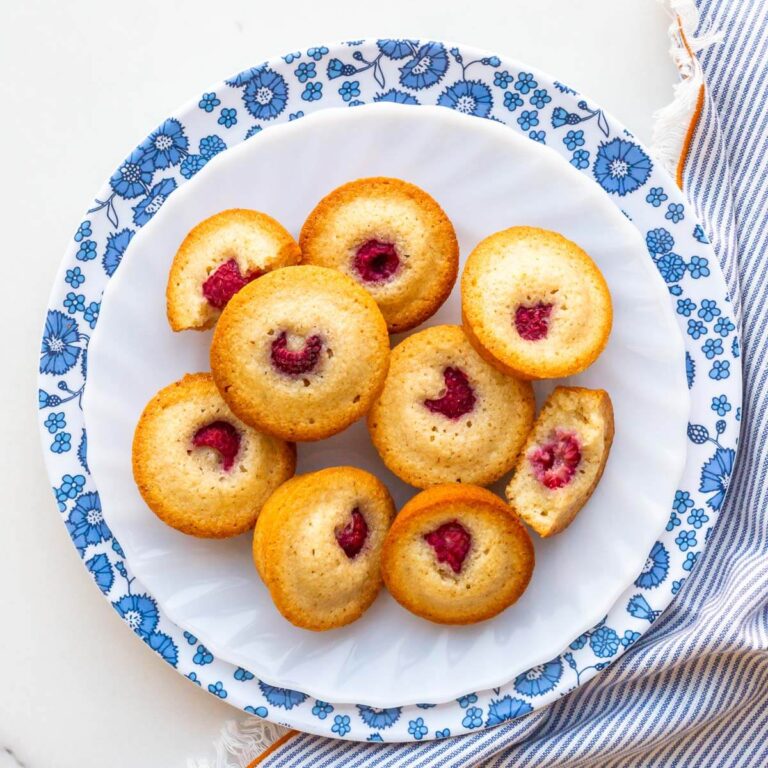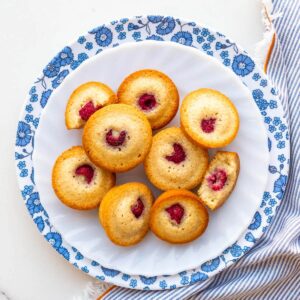 Raspberry Almond Financiers
Almond financiers are a lovely sweet treat to serve with afternoon tea or a hot cup of coffee. I like to add a few summer berries which pairs well with these almond cakes. 
Ingredients
115

grams

unsalted butter

150

grams

granulated sugar

63

grams

bleached all-purpose flour

90

grams

ground almonds

OR finely shredded unsweetened coconut

120

grams

large egg white(s)

1.25

mL

Diamond Crystal fine kosher salt

24

Fresh raspberries

OR 48 blueberries
Instructions
In a small saucepan, heat the butter over medium-high heat to brown it (the milk solids brown at the bottom and release a nutty scent). Transfer to a small bowl and set aside to cool slightly.

Whisk together the sugar, flour and ground almond OR shredded coconut.

In a medium bowl, beat the egg whites with the salt until they form a thick froth.

Dump the egg whites over the dry ingredients and whisk them in to incorporate.

Add the browned butter and mix again until everything is just combined.

Cover the batter with plastic wrap and chill for 20 minutes.

Preheat the oven to 350ºF.

Bake for about 15 to 20 minutes until the edges turn golden brown.

Transfer to a rack to cool after a minute.
Nutrition
Calories:
93
kcal
Carbohydrates:
9
g
Protein:
2
g
Fat:
6
g
Saturated Fat:
3
g
Polyunsaturated Fat:
0.2
g
Monounsaturated Fat:
1
g
Trans Fat:
0.2
g
Cholesterol:
10
mg
Sodium:
34
mg
Potassium:
15
mg
Fiber:
1
g
Sugar:
7
g
Vitamin A:
120
IU
Vitamin C:
1
mg
Calcium:
10
mg
Iron:
0.3
mg