This recipe for pistachio financiers is gluten-free, made with white rice flour, instead of all-purpose flour, poppy seeds, and ground cardamom, which add so much flavour.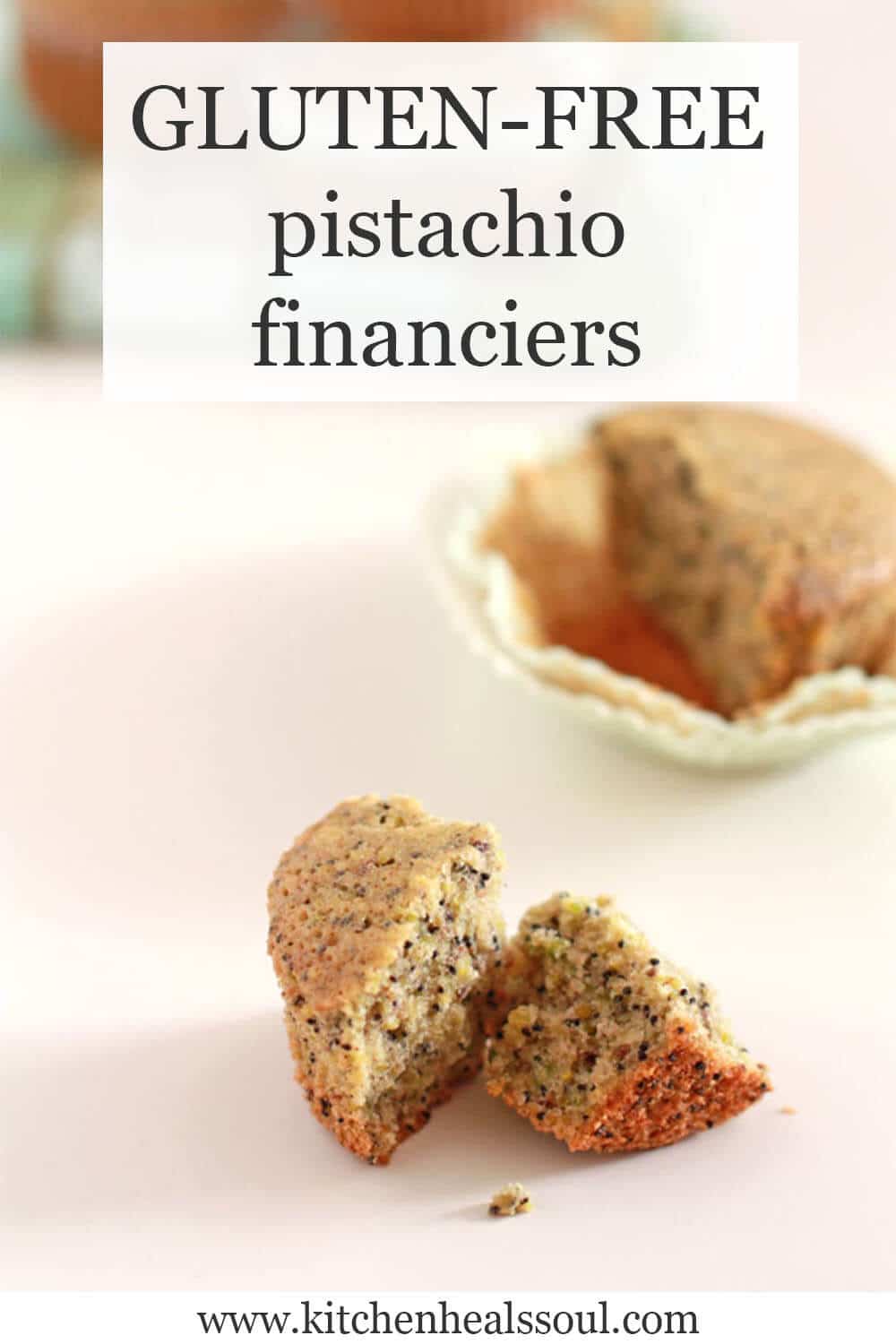 Financiers are little cakes, usually made with ground almonds, sugar, brown butter, and egg whites. They are very simple to make, with a short list of ingredients, and the mixing method is pretty forgiving.
Most desserts with egg whites would have you make a meringue or whip the egg whites to stiff peak, then fold them into the dry mixture. Whipping the egg whites incorporates air, which is why egg whites are actually considered a leavening agent. But with financiers, all you have to do is whip the whites until they are frothy. It's a lot less work and you still end up with a spongy, light texture!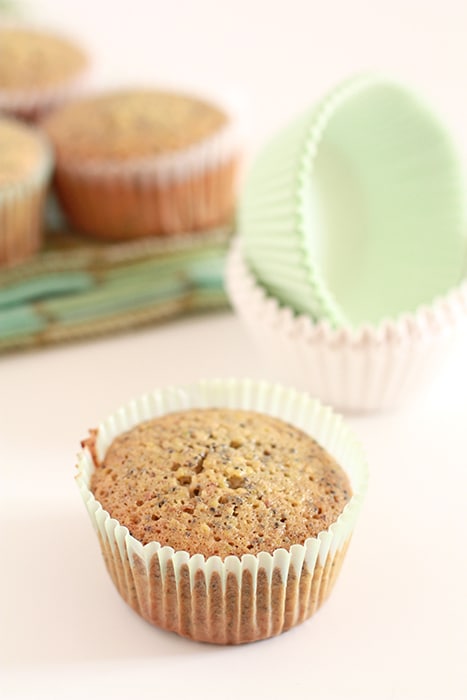 Disclosure: As an Amazon Associate, I earn from qualifying purchases.
Financiers are very versatile and are a great canvas for playing with flavours and also for baking with fresh fruit: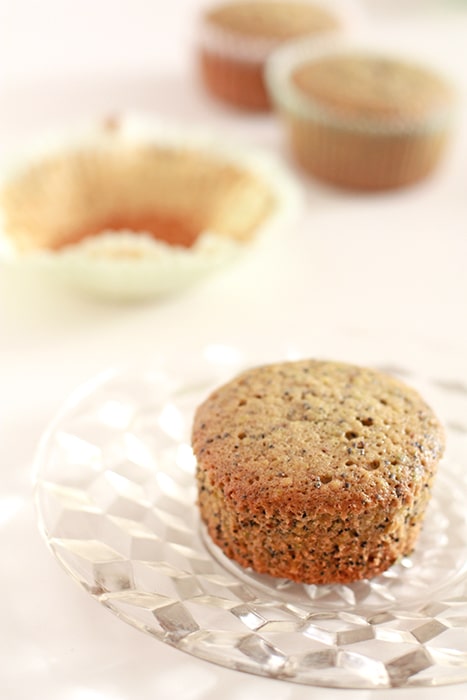 This recipe comes from Béeatrice Peltre's book La Tartine Gourmande: Recipes for an Inspired Life (available on Amazon). The recipes and photography are drool-worthy and inspirational. The recipes in the book are gluten-free and health-conscious. But, don't worry: there's definitely butter in the baking section where it belongs. Without exaggerating, I want to make everything in this book, both the savoury and the sweet.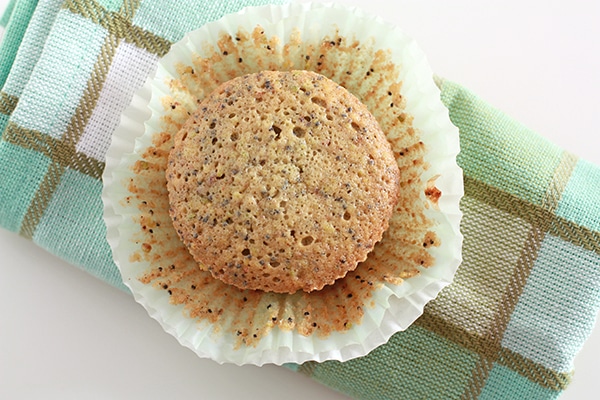 This gluten-free financiers recipe comes from the "Everyday Baking" section of the book because they are so fast to make. This pistachio financiers recipe is a fabulous twist on a classic, and perfect for those looking to make their first foray into gluten-free baking because it calls for only one gluten-free flour: rice flour. It's super simple and yields just the right amount of financiers without them taking over your life and every meal (the recipe makes just 8 financiers. Perfect!).
They are moist and light, and most importantly, they taste fantastic: almost like creamy, sweet pistachio ice cream with delightful pops of texture from the poppy seeds and ground nuts. If you want to make greener pistachio financiers, try peeling the pistachios first, also make sure to buy greener pistachios, which usually are imported from Iran.
You really should check out Béa's blog, buy the book on Amazon, and in the meantime, make these. They will bring a peaceful happiness to your Friday night baking, and an inspirational read.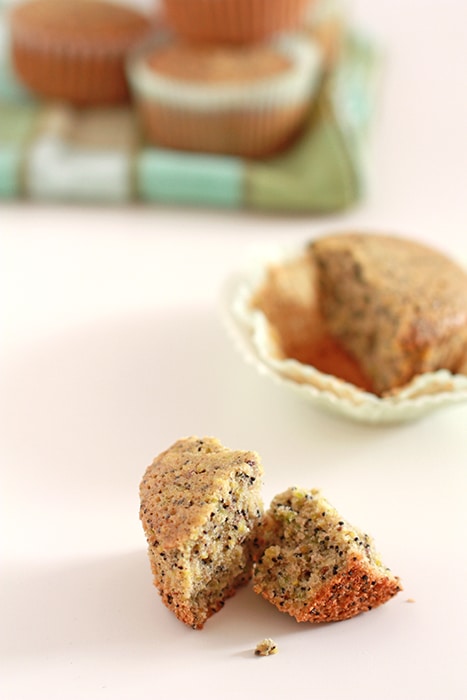 Pistachio financiers
Ingredients
90

grams

(

⅔

cup

) shelled unsalted pistachios

100

grams

(

7

tablespoon

)

unsalted butter

5

(

5

)

cardamom pods

,

crushed

1

(

1

) vanilla bean,

split open and seeds scraped out

60

grams

(

⅓

cup

)

white rice flour

1

tablespoon

(

1

tablespoon

)

poppy seeds

100

grams

(

½

cups

)

granulated sugar

¼

teaspoon

(

¼

teaspoon

) Diamond Crystal fine kosher salt

4

(

4

)

large egg white(s)

,

beaten lightly until foamy
Instructions
Preheat the oven to 350°F. Line your muffin pan(s) with 8 paper liners. Set aside.

Using a mini food processor or coffee grinder, grind the pistachios to a fine powder. Set aside.

In a small saucepan, melt the butter over medium heat and continue cooking it until it turns light brown in color. Remove the pan from the heat and immediately add the crushed cardamom pods and vanilla bean and seeds. Let the mixture rest for 10 minutes to infuse the butter, then strain it and set it aside.

In a medium bowl, combine the ground pistachios, rice flour, poppy seeds, sugar, sea salt and frothy egg whites. Whisk vigorously to mix everything together, then add the melted butter and whisk the batter more to completely incorporate it.

Divide the batter among the 8 muffin papers and bake the financiers for about 20 minutes or until a cake tester inserted into the middle of one of them comes out clean. Let cool completely.
Give back
If you enjoy the free content on this website, say thank you!
Nutrition
Calories:
248
kcal
|
Carbohydrates:
23
g
|
Protein:
5
g
|
Fat:
16
g
|
Saturated Fat:
7
g
|
Cholesterol:
27
mg
|
Sodium:
100
mg
|
Potassium:
166
mg
|
Fiber:
2
g
|
Sugar:
14
g
|
Vitamin A:
342
IU
|
Vitamin C:
1
mg
|
Calcium:
36
mg
|
Iron:
1
mg