If you are a fan of financiers and sesame, you are going to LOVE these sesame kumquat financiers. I think I might like these even more than plain financiers. The sesame flavour is fantastic and so great paired with cute orange kumquats.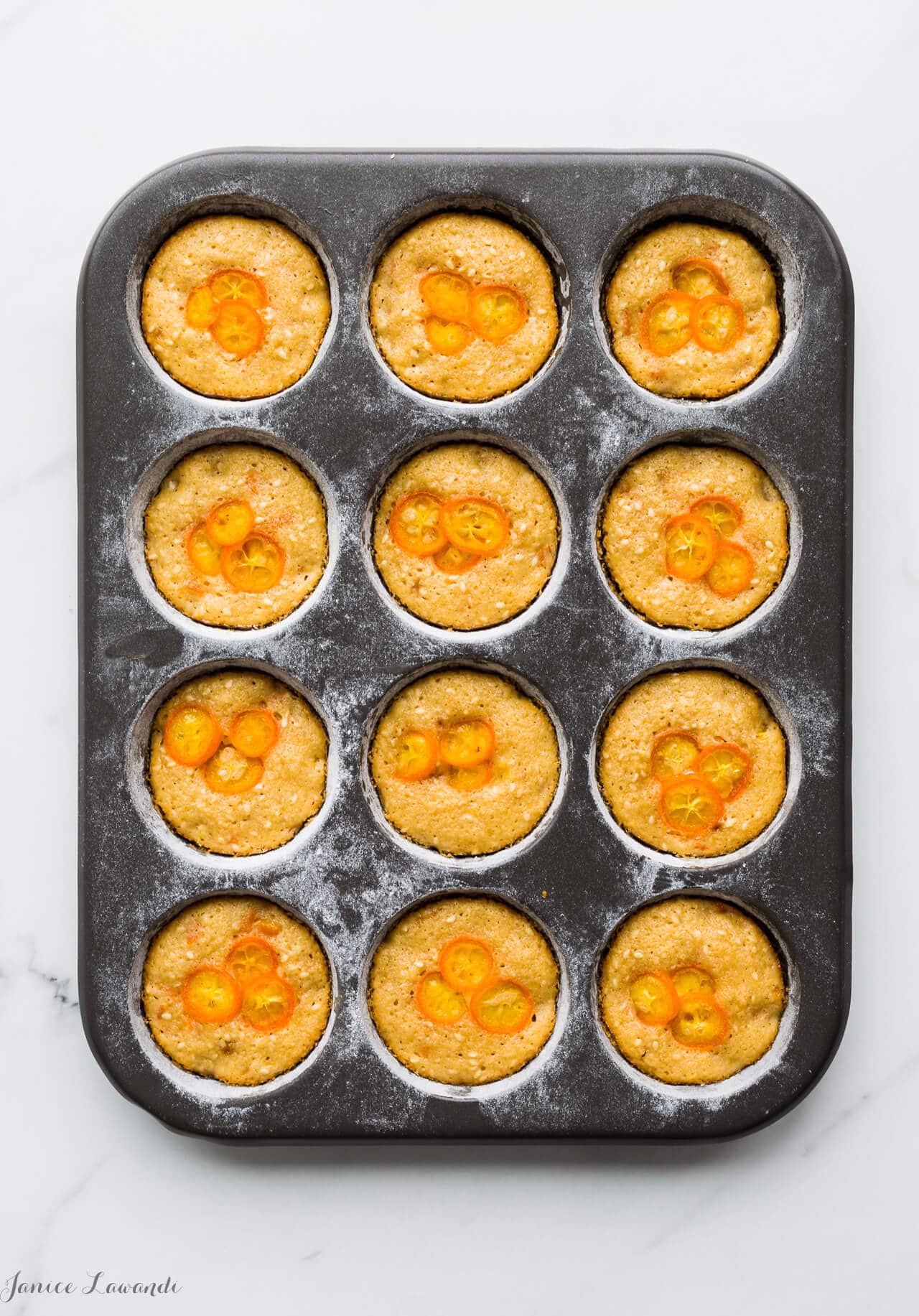 Disclosure: As an Amazon Associate, I earn from qualifying purchases.
Every recipe I tried from Marie Asselin's book Simply Citrus (Amazon) was fun and unique, but I think these sesame kumquat financiers might be my top pick (page 118). You know I am a huge fan of financiers and I love to bake them because they are so versatile, allowing you to incorporate so many different dry ingredients, alternative flours, and even fresh fruit. If sesame and kumquats aren't your thing, you have other options for financiers where you can either add to the base recipe or make some careful baking substitutions:
I tested this sesame kumquat financiers recipe both with and without the kumquats, and of course, the recipe works both ways, but the kumquats are such a treat in these little tea cakes. Don't be fooled: the kumquats don't just make a cute little garnish. They add so much flavour, a deeply orange taste because you use the whole fruit, which balances out the sweet sesame in these cakes. I won't tell you how many I scarfed while typing up this post. So good!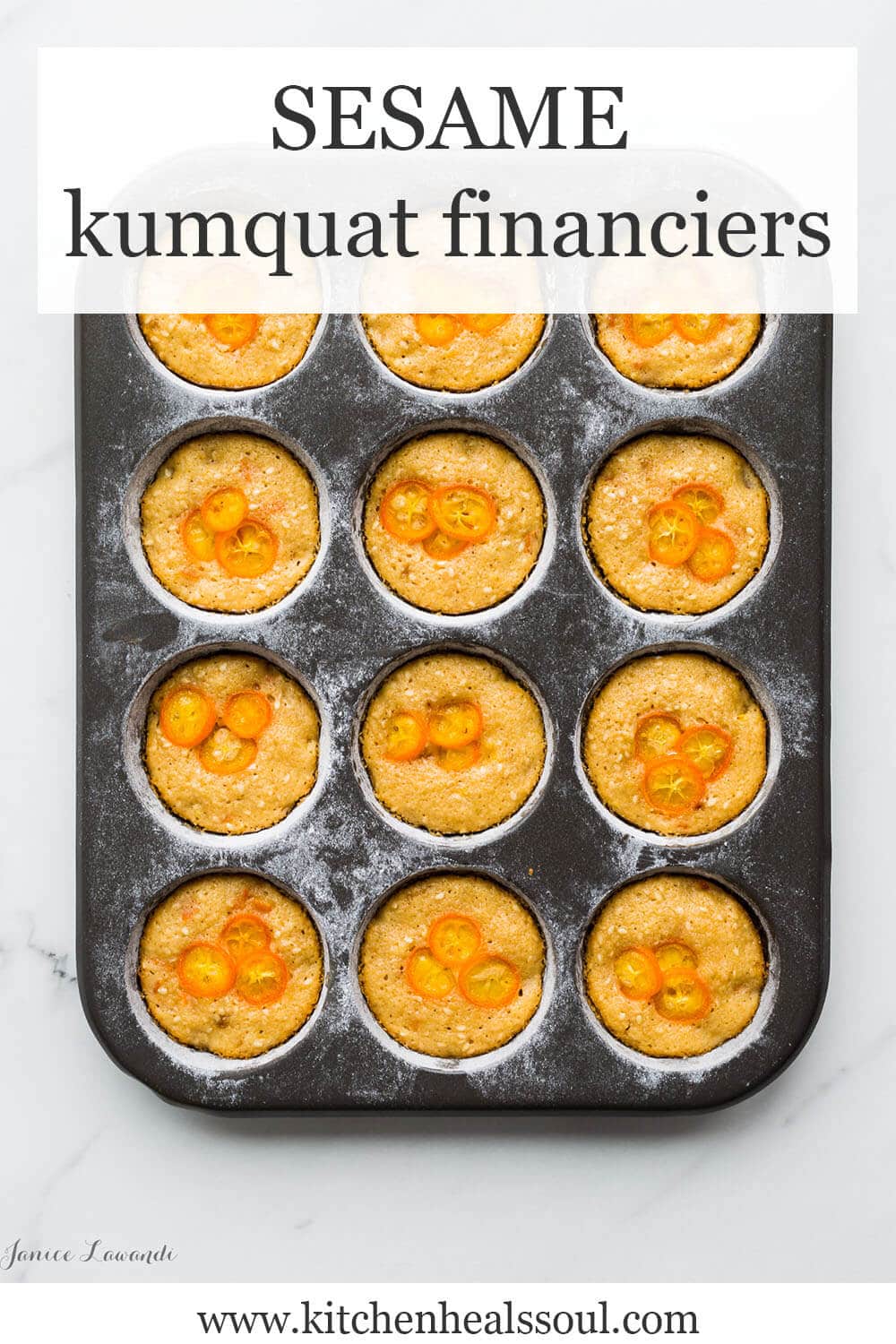 The beauty of kumquats is that you can eat the whole fruit, skin and all. Give it a try during the winter months when they're in season. Some do have seeds, so you should slice them open to remove them before blending them into a cake batter or garnishing cakes. You can also candy kumquats.
To bake these financiers, use a muffin pan and take the time to prepare the muffin pan properly before dividing the batter between the cups because financiers are high in sugar and can stick to cake pans. You can either butter and flour the cups of the muffin pan or you can use parchment paper liners.
You can buy a copy of Marie Asselin's book Simply Citrus on Amazon and be sure to follow her blog, Food Nouveau.
📖 Recipe
Sesame kumquat financiers
This is a super fun twist on financiers! This recipe is flavoured with tahini and chopped kumquats, but feel free to use orange zest! These super flavorful financiers are the perfect treat to serve with afternoon tea.
Ingredients
24

(

24

)

kumquats*

58

grams

(

¼

cup

)

unsalted butter

60

grams

(

¼

cup

) tahini (sesame butter)

85

grams

(

¾

cups

) ground almonds,

or finely ground almonds

63

grams

(

½

cup

)

bleached all-purpose flour

100

grams

(

½

cup

)

granulated sugar

100

grams

(

½

cup

) light brown sugar

40

grams

(

¼

cup

)

toasted sesame seeds

½

teaspoon

(

½

teaspoon

)

baking powder

5

(

5

)

large egg white(s)

,

freshly separated, or from a carton
Instructions
Slice off both ends of each kumquat. Thinly slice 6 kumquats, seeding as you go, and set aside. Seed and mince the remaining kumquats, and set aside separately.

Set a rack in the upper third of the oven, and a second rack in the lower third. Preheat to 350°F. Generously grease 2 (12-cup) muffin pans.** Sprinkle with flour and tap out the excess. Alternatively, you can line the muffin pans with parchment paper cups.

Warm the butter and tahini together just until the butter is melted. Stir until combined.

In a large bowl, whisk together the almond flour, all-purpose flour, granulated sugar, brown sugar, sesame seeds, and baking powder. Add the egg whites and whisk until fully incorporated and the mixture is thick and sticky. Whisk in the butter-tahini mixture. Fold in the minced kumquats.

Drop 1 tablespoonful of dough into each prepared muffin cup. Arrange a few kumquat slices over each financier. Place the first pan on the upper rack and the second one on the lower rack. Bake for 16 minutes, swapping and rotating the pans halfway through, until the financiers are golden brown around the edges. Let cool for 10 minutes in the pan. Run a sharp knife around each financier and carefully pull them out of the pan. Transfer to a wire rack to cool completely.

Financiers are at their very best when freshly baked, but you can refrigerate them in an airtight container for up to 3 days. Return to room temperature before eating.
Give back
If you enjoy the free content on this website, say thank you!
Notes
This recipe comes from Simply Citrus by Marie Asselin. You can purchase the book on Amazon.
Please note that the measurements I've listed her in grams are what I used to make this recipe and not from the author's recipe in the book.
** I tested greasing & flouring the pan vs using regular paper liners vs using parchment paper liners and by far, the parchment paper liners worked best for me. You can order parchment liners on Amazon.
Nutrition
Gibbs Smith and Marie Asselin offered me a copy of Simply Citrus, as I was a recipe tester of the book. As always, please know that I wouldn't work with a sponsor nor recommend a product if it wasn't worth it.
Please note this post contains affiliate links to Amazon. If you buy a product I recommend, I will get a small commission, and the price you have to pay will not change in any way.