These mini brioche buns are sweetened with maple sugar and shaped into flowers to make these soft brioche buns. The dough is kneaded in the mixer to make it easier!

Disclosure: As an Amazon Associate, I earn from qualifying purchases.
The reward for a hectic week is homemade maple brioche. The trick to fresh homemade brioche and a leisurely stress-free weekend morning baking session is to make the dough the evening before. If you want fresh brioche in the morning, I suggest making the dough when you first get in from work on Friday evening.
Make the dough and then let it rise, slowly on the counter for 3 hours. Punch it down and put it in the fridge before bed. Then in the morning, you just have to shape the dough into simple brioche buns, or for a different look, you can roll out the dough with a rolling pin, and cut out circles to form these brioche flowers (see step-by-step photos). Make sure you use pure maple sugar (like this one on Amazon and Amazon Canada).
How to shape mini brioche buns
You can shape brioche dough into most any shape you want, whether that be a loaf, or a brioche à tête baked in a traditional fluted brioche tin. The easiest way to shape brioche into buns is to divide the dough into equal pieces, roll into balls, and bake in a muffin tin for individual buns, as I did for my recipe for easy brioche made in a mixer, or combine the balls of dough in a loaf pan to make a brioche loaf.
You can also shape brioche dough into swirled brioche "flowers." Roll out the dough into a big rectangle and cut out lots of circles. Stagger the circles to bunch 3 together at a time and roll the 3 circles of dough together. Cut in half and stand up so that you have 2 brioche flowers.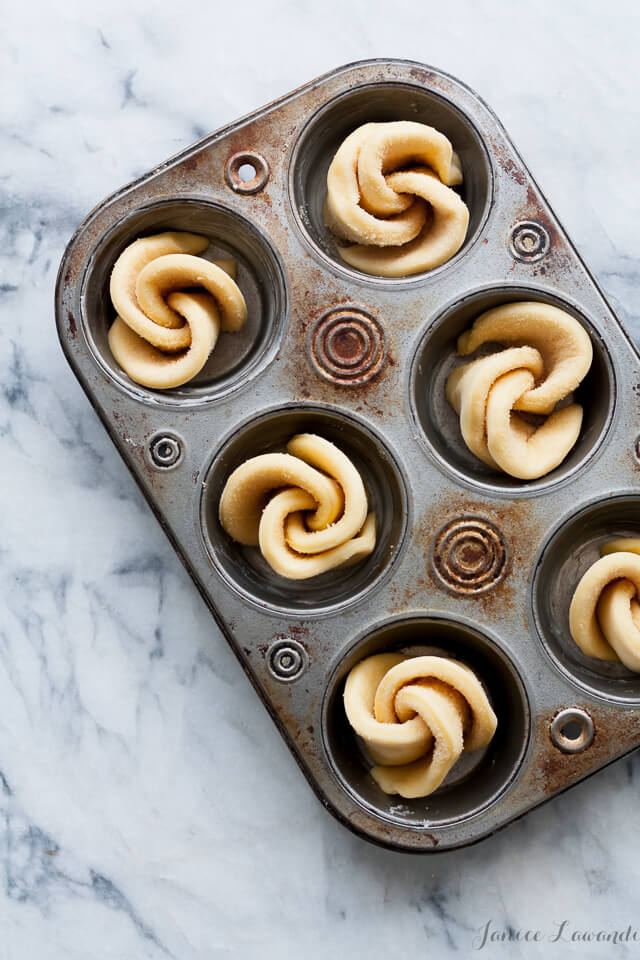 There are a few steps to buttery brioche, but it's all worth it, and really quite easy when you do it all in the mixer. Just understand that it is important to first form a nice, smooth dough before adding in the butter. Once the butter is added, the gluten network completely breaks down, so you have to go through another long kneading process to get back that structure.
Patience is important. Just let the mixer do the work. It's not stressful; it's just bread. And having freshly baked buttery maple brioche for breakfast in the morning is the best. I suggest eating as much of it as you possibly can once they have cooled slightly because honestly, they are best eaten the day they are baked.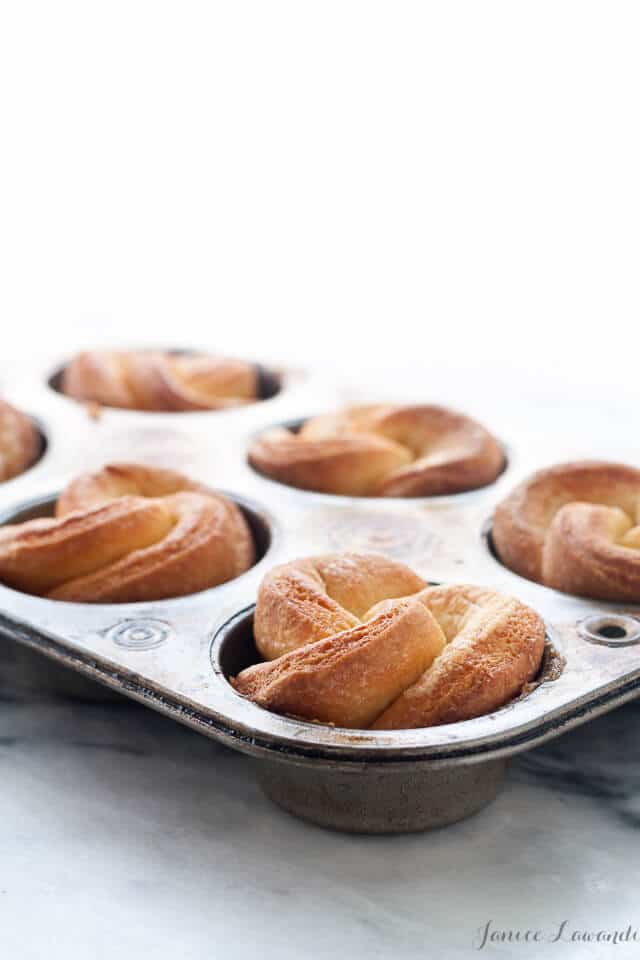 For these mini maple brioche buns, I used maple sugar, the secret ingredient used in this maple apple pie. Maple sugar is crystallized maple syrup so baking with maple sugar allows you to add tons of maple flavour without the water in maple syrup. You can buy maple sugar on Amazon and use it in many other maple recipes or spread it thinly inside rolled crêpes.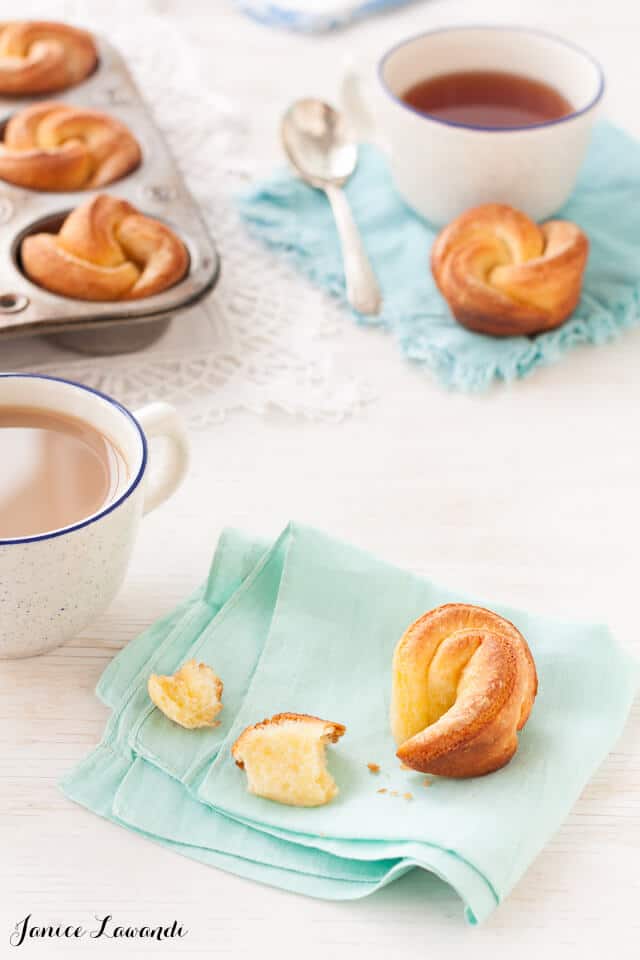 Maple brioche buns recipe
📖 Recipe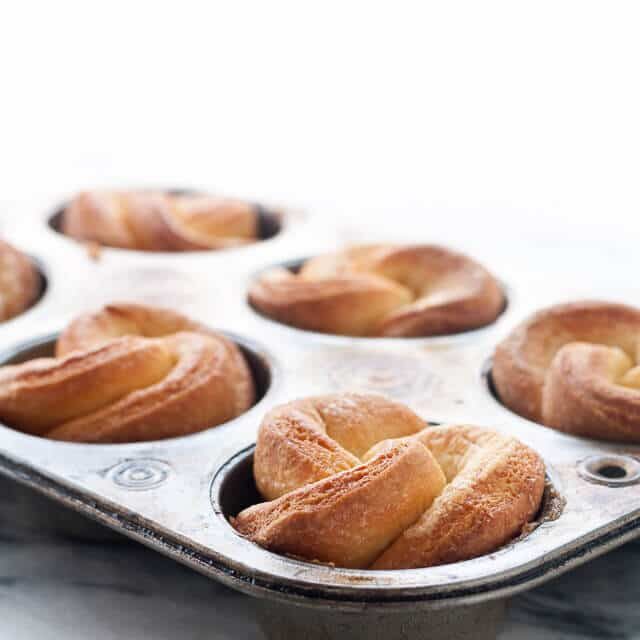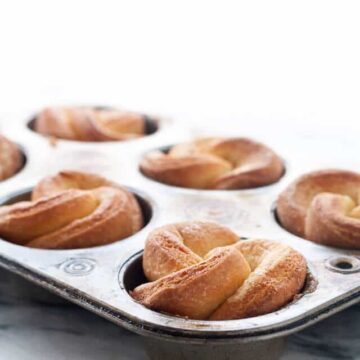 Maple Brioche Buns
These maple brioche buns are made from a buttery brioche dough and sweetened with maple sugar and maple syrup.
Ingredients
63

mL

whole milk (3.25 % fat)

¼ cup, 100ºF

2

teaspoon

active dry yeast

250

grams

bleached all-purpose flour

2 cups

1

teaspoon

Diamond Crystal fine kosher salt

2

large egg(s)

2

tablespoon

maple sugar

130

grams

unsalted butter

½ cup + 1 tbsp, cubed, cold

14

grams

unsalted butter

1 tbsp, melted

2

tablespoon

maple sugar

28

grams

unsalted butter

2 tbsp, melted

2

tablespoon

pure maple syrup
Instructions
Combine warm milk and yeast in the mixer bowl. Let sit 10 minutes.

Mix in flour and salt with paddle attachment of mixer (you will have a shaggy dough), then work in the eggs, one at a time, along with 2 tablespoon maple sugar.

Knead the mixture to form a smooth, elastic dough for about 10 minutes with the dough hook.

Switch back to the paddle, and beat in the cubes of butter. When the dough starts to take shape again, you can switch back to the hook and knead for about 8 minutes. You will regain that smooth, elastic dough that stretches thin without tearing.

Transfer the dough to a buttered bowl and let sit for 3 hours, covered with saran wrap. The dough will double in size.

Punch down the dough, cover the bowl again and refrigerate overnight.

Roll the dough out on a lightly floured surface to a 12x12" square. Brush with 1 tablespoon melted butter and sprinkle with ~2 tablespoon maple sugar.

Cut out sixteen circles (about 3–3.15 inch diameter)

Place 3 of the circles side-by-side, overlapping them as in the step-by-step photo above. Roll the circles together into a log and cut in half. Place each half into greased muffin tins, cut-side down. Repeat with remaining circles. This way you will make 10 buns. For the last two brioche buns, you will have to cut out half circles from the leftover rolled out dough fitting the cookie cutter where you can and repeat the rolling process. I saved the dough scraps and placed them in a greased mini loaf pan because one should never waste brioche dough.

Cover the buns with clean tea towels and let proof at room temperature for about an hour to puff a little. Meanwhile, preheat the oven to 350 °F (175 °C).

Combine the 2 tablespoon melted butter with 2 tablespoon maple syrup and brush this over all the buns, generously. Bake in the preheated oven for about 23 minutes. Unmold quickly so they don't get stuck in the pan!

Eat them all straightaway.
Notes
Make sure you use pure maple sugar (like this one on Amazon)
Nutrition