Here's a recipe for crêpes with fresh strawberries and homemade vanilla bean pastry cream. Strawberry crêpes are the perfect brunch dish to make in the summer and you can swap the berries for whatever is in season.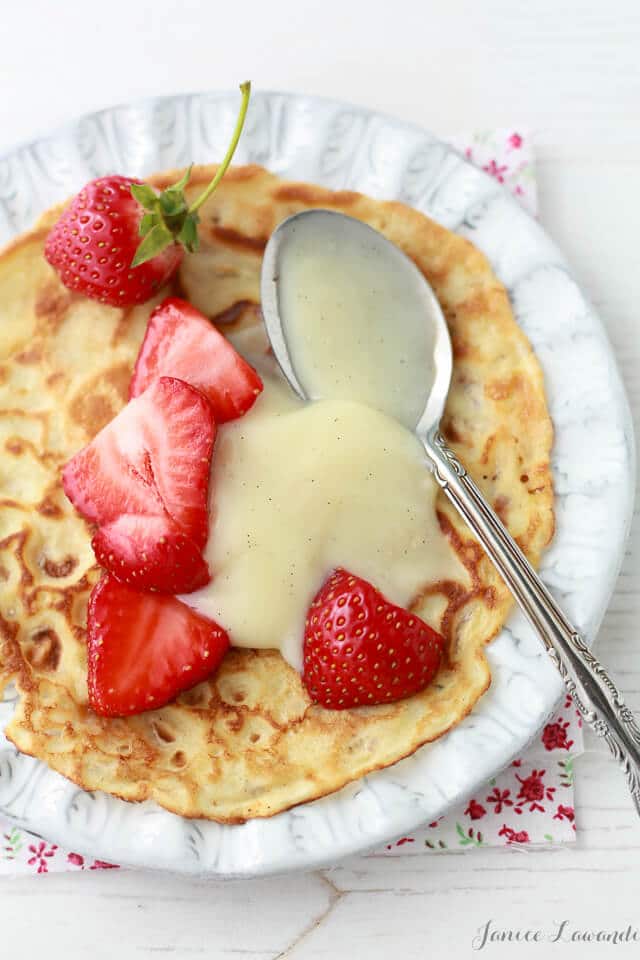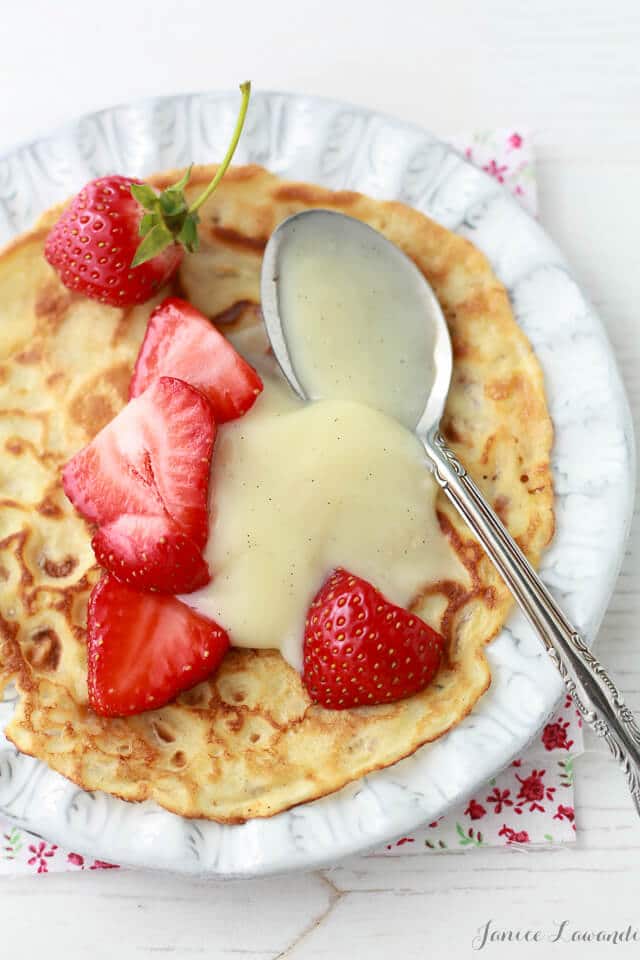 Disclosure: As an Amazon Associate, I earn from qualifying purchases.
Quebec strawberries are petite and so flavourful. I much prefer to keep them bright and fresh in recipes, rather than baking them. This recipe for strawberry crêpes with vanilla bean pastry cream is a simple way to feature the strawberries and really let them shine!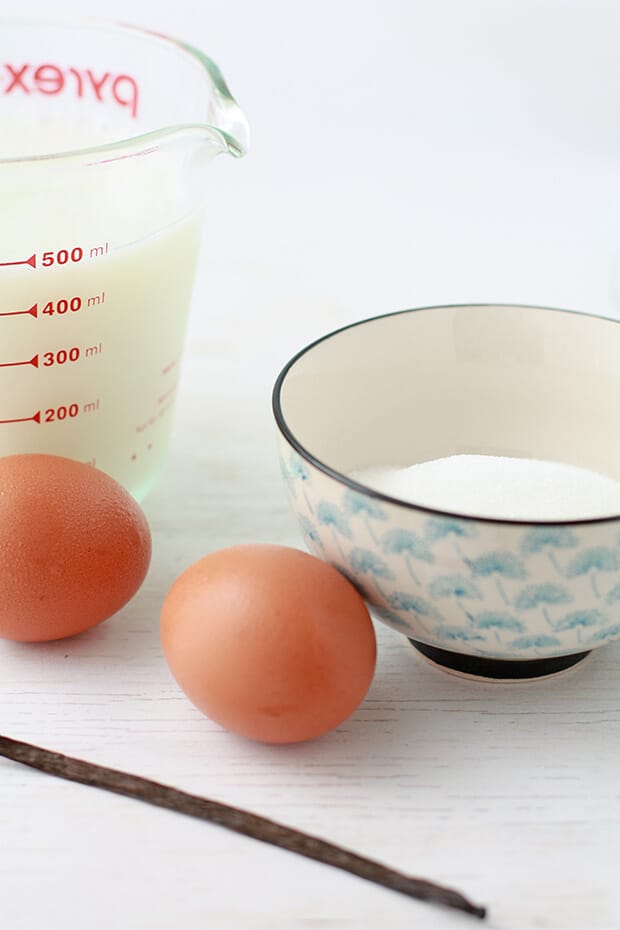 This recipe could easily work for either breakfast or dessert. The vanilla bean pastry cream is lighter and less sweet than most because I cut back on the sugar, and made it with skim milk and whole eggs. I couldn't be happier with the results. Of course, the pastry cream is optional, but highly recommended. The French prefer to sprinkle crêpes with lemon sugar before serving, or even granulated sugar and a squeeze of lemon juice.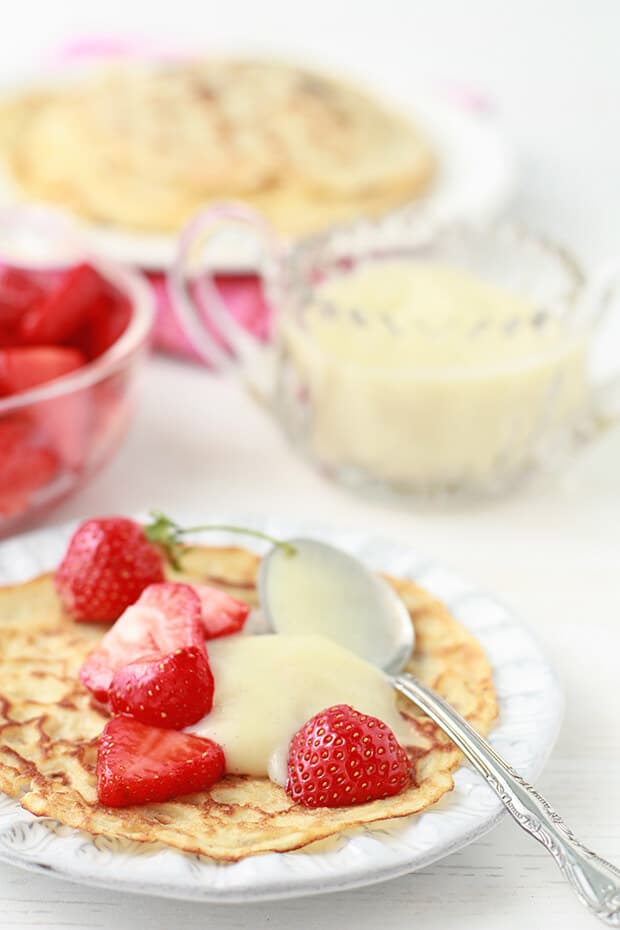 I scraped the beans from a vanilla bean pod to make the pastry cream, but you can also replace the vanilla bean with some vanilla bean paste (which will give you the flecks of the vanilla seeds as well as the extract) or pure vanilla extract also works. While the vanilla bean is added before cooking the pastry cream, were you to replace it with an alternative, you would add either vanilla extract or vanilla bean paste after cooking the cream because extracts are more delicate and prone to breaking down with heat.
Cornstarch versus flour in pastry cream
For the pastry cream, you'll notice I used a combination of cornstarch and flour. I find that pastry creams made with only cornstarch tend to be quite thick, too goopy for my linking. Pastry creams made with cornstarch are also a little more complex to make because when the thickener starts to gel, you have to act fast, whisking constantly, otherwise your pastry cream may end up lumpy.
On the other hand, pastry creams made with flour are looser and thinner, which could work here. Flour-based pastry creams are easier to handle when you are cooking them, slower to thicken, which is good for beginner bakers.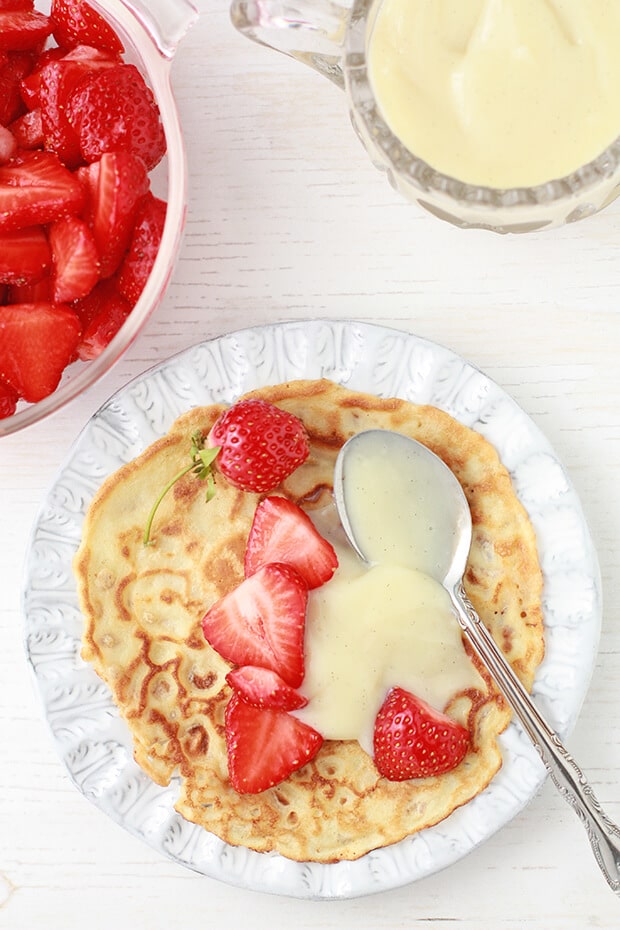 Still, I find that combining both cornstarch and flour yields the best pastry cream with a perfect texture, not too thick and not too thin.
The crêpe recipe I used is one that my mom used to make for me. It might be from an old copy of the Fannie Farmer Cookbook, but I'm not even sure of that. Feel free to thin it out with a little water after you make your first crêpe if you find it too thin. Alternatively, you can also add an extra spoonful of flour if you find the batter too thin.
Remember to always cook your crêpes in a buttered pan. The milk solids in the butter will brown as it heats up, adding a light toasty nut flavour to the crêpes and the edges will become delightfully crispy. I cook my crêpes in a small crêpe pan which is shallower than most fry pans, making it easier to manoeuvre the crêpes to flip them. I use the Nordic Ware crêpe pan, which you can purchase on Amazon.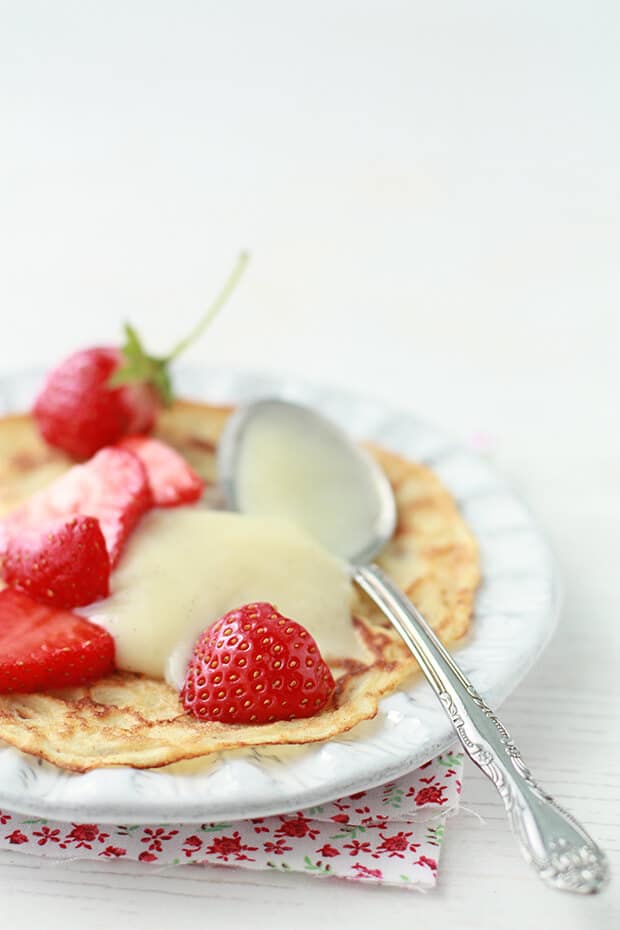 If you have more berries than you know what to do with, I suggest also making these strawberry rhubarb crumbles sweetened with honey. Of course, there's always strawberry rhubarb muffins with a crumble topping. You really can't go wrong with any of these. Make the crêpes for breakfast with the first strawberries, then bake away the day with the rest!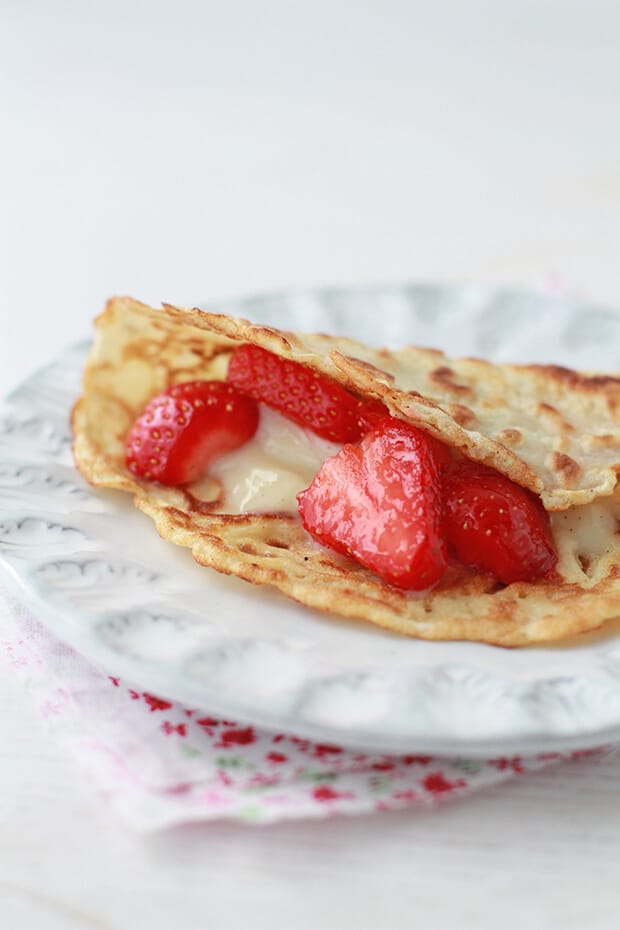 If you like this recipe, take crêpes one step further with these matcha crêpes served with black sesame pastry cream and raspberries!
📖 Recipe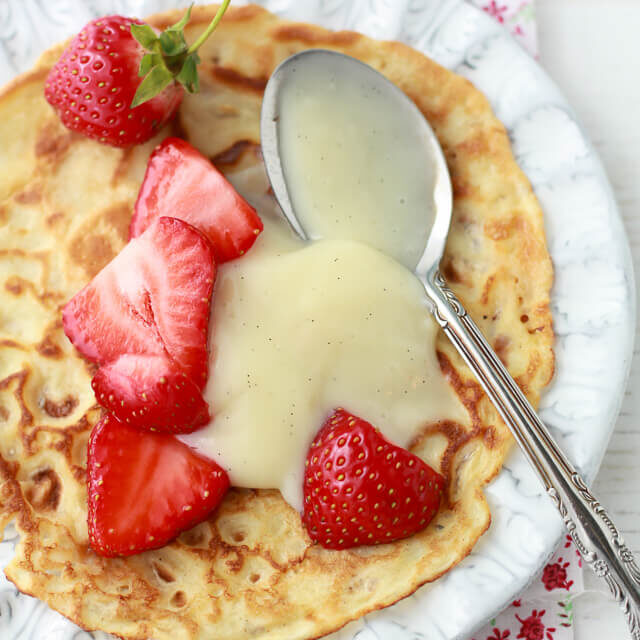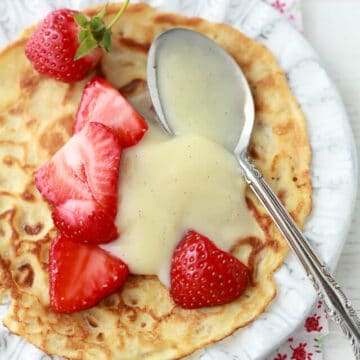 Strawberry Crêpes with Vanilla Bean Pastry Cream
A recipe for the perfect summertime brunch: strawberry crêpes filled with fresh strawberries and vanilla bean pastry cream. So simple and so satisfying.
Ingredients
Pastry cream
500

mL

skim milk (fat free)

100

grams

granulated sugar

divided

1

vanilla bean

split and scraped

45

mL

bleached all-purpose flour

15

mL

cornstarch

2

large egg(s)

2.5

mL

pure vanilla extract
Crêpes
125

mL

skim milk (fat free)

125

mL

water

63

grams

bleached all-purpose flour

2

large egg(s)
Finishing touches
1

L

fresh strawberries

hulled, sliced and mixed with a touch of sugar to bring out the fruit juices
Instructions
Vanilla bean pastry cream
Start by making the pastry cream ahead of time because it has to cool. Heat the milk on medium heat in a medium saucepan with a sprinkling of the sugar and the split vanilla beans (seeds scraped into the pot).

Meanwhile, beat the eggs with the remaining sugar in a medium bowl til the mixture has lightened in color, then add in the flour and starch, and whisk again to combine. Scrape down the sides of the bowl.

When the milk is steaming and almost boiling, pour the hot milk over the eggs, whisking continuously til the mixture is homogeneous. Transfer the mixture back to the saucepan, removing the vanilla beans, and continue whisking constantly until the mixture has thickened and boiled for a good minute.

Take the mixture off the heat and stir in the vanilla. Transfer to a plastic-wrap lined rimmed sheet, and top with another piece of plastic wrap. Transfer the pan to the fridge and let cool completely, at least 3 hours or overnight.
Crêpes
Prepare the crêpe batter by whisking together all the ingredients.

Cook the crêpes in a buttered, preheated cast-iron pan (or a non-stick pan) on medium-low heat. I cooked mine in a 7 inch pan, yielding smaller crêpes.

When you are ready to eat, transfer the pastry cream to a bowl and whip it using a whisk to smooth it out and loosen it.

Top each crêpe with a generous dollop of pastry cream and lots of strawberries, roll it (or fold it) and enjoy.
Nutrition
Calories:
205
kcal
Carbohydrates:
38
g
Protein:
8
g
Fat:
3
g
Saturated Fat:
1
g
Cholesterol:
83
mg
Sodium:
67
mg
Potassium:
358
mg
Fiber:
3
g
Sugar:
23
g
Vitamin A:
293
IU
Vitamin C:
74
mg
Calcium:
128
mg
Iron:
2
mg