Learn how to make cinnamon rolls with raisins with this easy recipe, topped with cream cheese icing. You will use instant yeast and a stand mixer, shortening the whole process significantly. The bulk of the time for this recipe is the rising time, which is completely hands off, so you can do something else while the dough does its thing!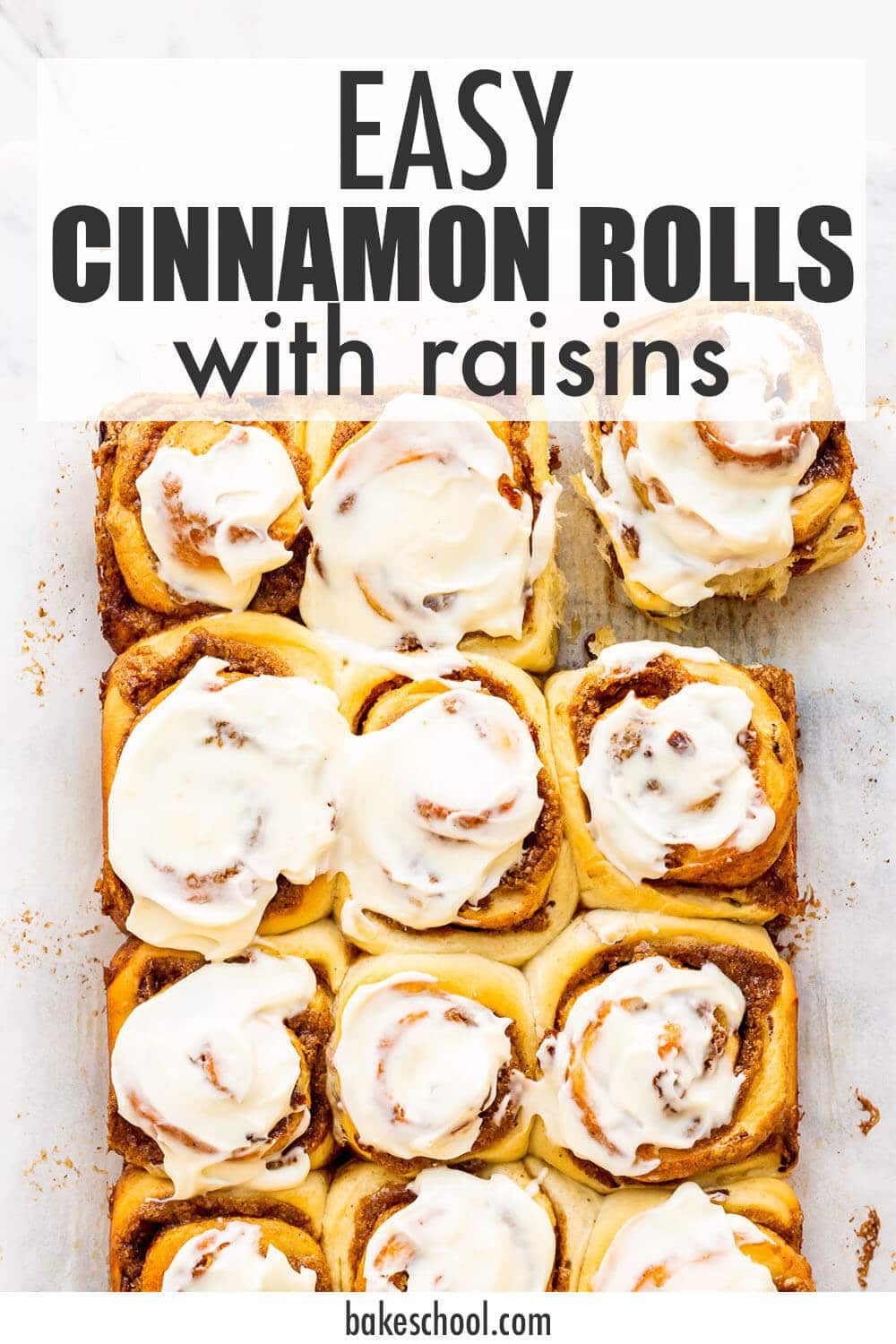 Disclosure: As an Amazon Associate, I earn from qualifying purchases.
I love raisin bread and these cinnamon rolls with raisins are my ode to that bread. You will start with an enriched dough to make these, just like the fruit bread and stollen.
Jump to: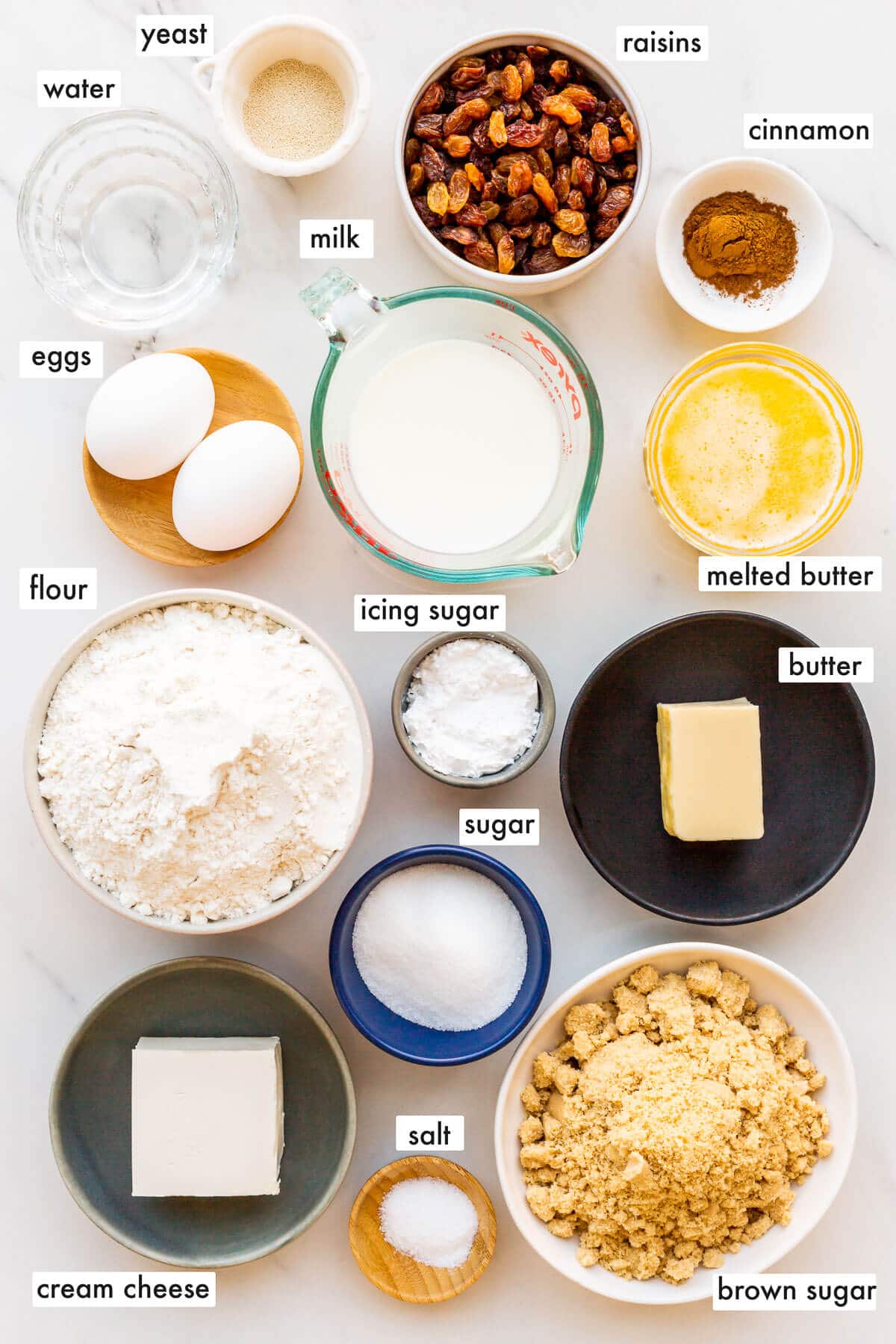 Ingredients
If you have a well-stocked pantry (use the pantry checklist as your guide), you likely have all ingredients to make these cinnamon raisin buns! Here's what you need:
butter, preferably unsalted butter because you will add salt to the dough, but if you have salted, it will work. Just adjust the salt in the recipe accordingly, otherwise your bread may be too salty
milk, either 2 % or whole milk works fine in this recipe. I've even tested skim milk! Combined with the butter, sugar, milk, and eggs, these ingredients contribute to a softer crust and crumb
large eggs, don't use smaller eggs because your bread dough may be too dry and will require more liquid. Don't use extra large eggs either because you may need to add more flour to compensate
all-purpose flour is needed to bind all the ingredients together and give the dough structure through gluten. Don't use cake flour here, which has more starch and less protein
granulated sugar sweetens the dough just slightly, but also helps tenderize it along with the fat in the recipe, leading to a softer texture
brown sugar is used in the filling for cinnamon rolls, and light or dark brown sugar will work fine
yeast is a leavening agent that helps your bread rise so that the crumb is open and light. I've tested this recipe with instant yeast (also called rapid rise) and with active dry yeast (which is slower to act), and it works well with both
ground cinnamon is added to the sweet butter filling
salt is really important to balance and bring out the flavour. Don't skip it. I like to use Diamond Crystal fine kosher salt, but table salt will work, though the bread will be a little saltier and you may want to halve the salt in that case
raisins are kneaded into the dough, but you could also hold them back and instead add them to the filling in these buns
See recipe card for quantities.
Instructions
There are four major steps to making cinnamon rolls:
Make the enriched dough and let it rise
Make the filling to then form the buns
Bake them
Frost them (optional but highly recommended!)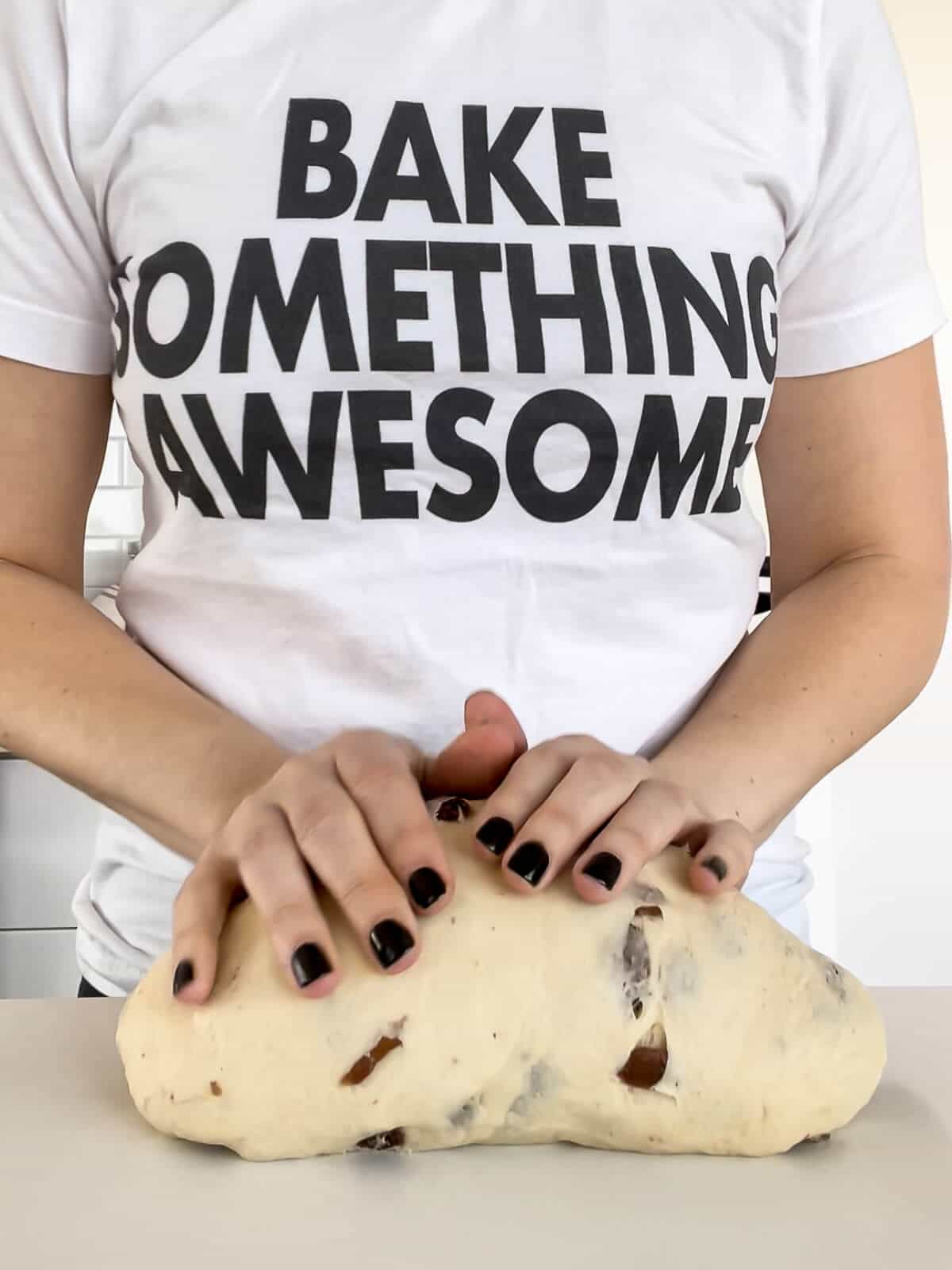 To make the enriched dough
All the dry ingredients are combined in the stand mixer, using the paddle attachment. I like to use the paddle first before kneading with the dough hook because I find the paddle does a better job of evenly mixing the ingredients, which is important before proceeding with developing the gluten. Even though I use a stand mixer to knead the dough, I always give the dough a quick knead by hand on a clean surface, in this case, to make sure that the raisins are evenly dispersed in the dough.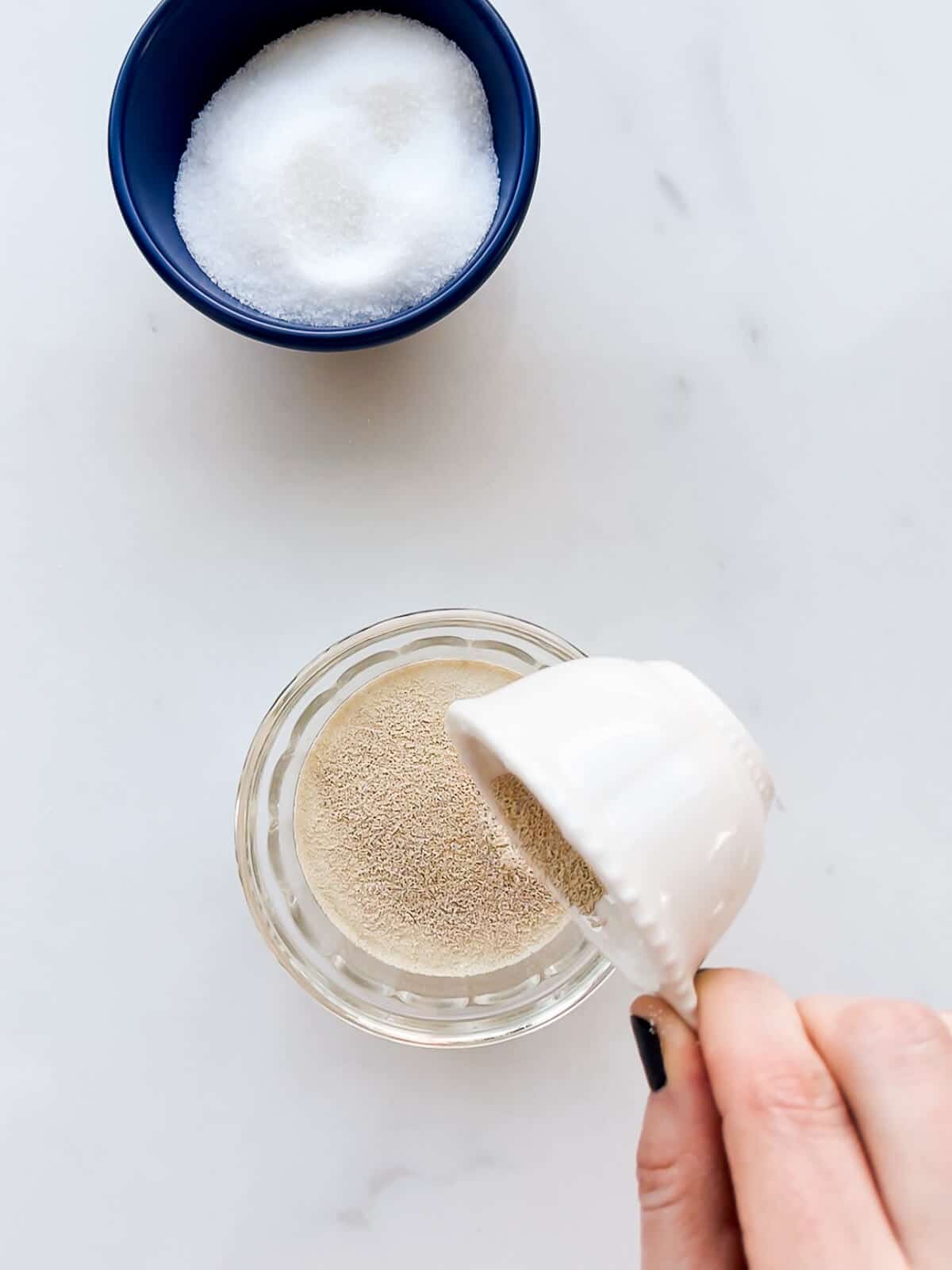 Remember that yeast (whether instant, active dry, or fresh) is a living organism. When you buy a packet of yeast at the grocery store, it is dormant. Dissolving it and combining it with sugar and flour (feeding it) brings it back to life.
You need to monitor temperatures, especially if you add warm milk and melted butter. You don't want these ingredients to be too hot because they will kill the yeast. Conversely, if the temperatures of your ingredients are too cold, the yeast will not die, but they will take longer to thrive and to do their job as a leavening agent.
Hint: use a digital thermometer like a Thermapen One to verify the temperature of all your ingredients before combining them with the yeast!
Shaping cinnamon rolls
The beauty of working with enriched doughs is that they are easy to roll out without too much struggle. The dough is smooth and a little elastic, but not so much that it bounces back when you try to roll it out.
Once you've rolled out the dough into a large rectangle, you smear the cinnamon sugar filling from edge to edge. If you can't be bothered to cream together the filling ingredients, here's another option: melt the butter and brush it onto the rolled dough, then sprinkle with cinnamon and sugar. All roads lead to cinnamon buns!
Like all cinnamon rolls and rolled doughs (including dark chocolate babka), you roll the rectangle of dough plus filling into a fairly tight, even log. You can cut the log and shape it any way you like, but for this recipe, we divide it into 12 equal-sized buns.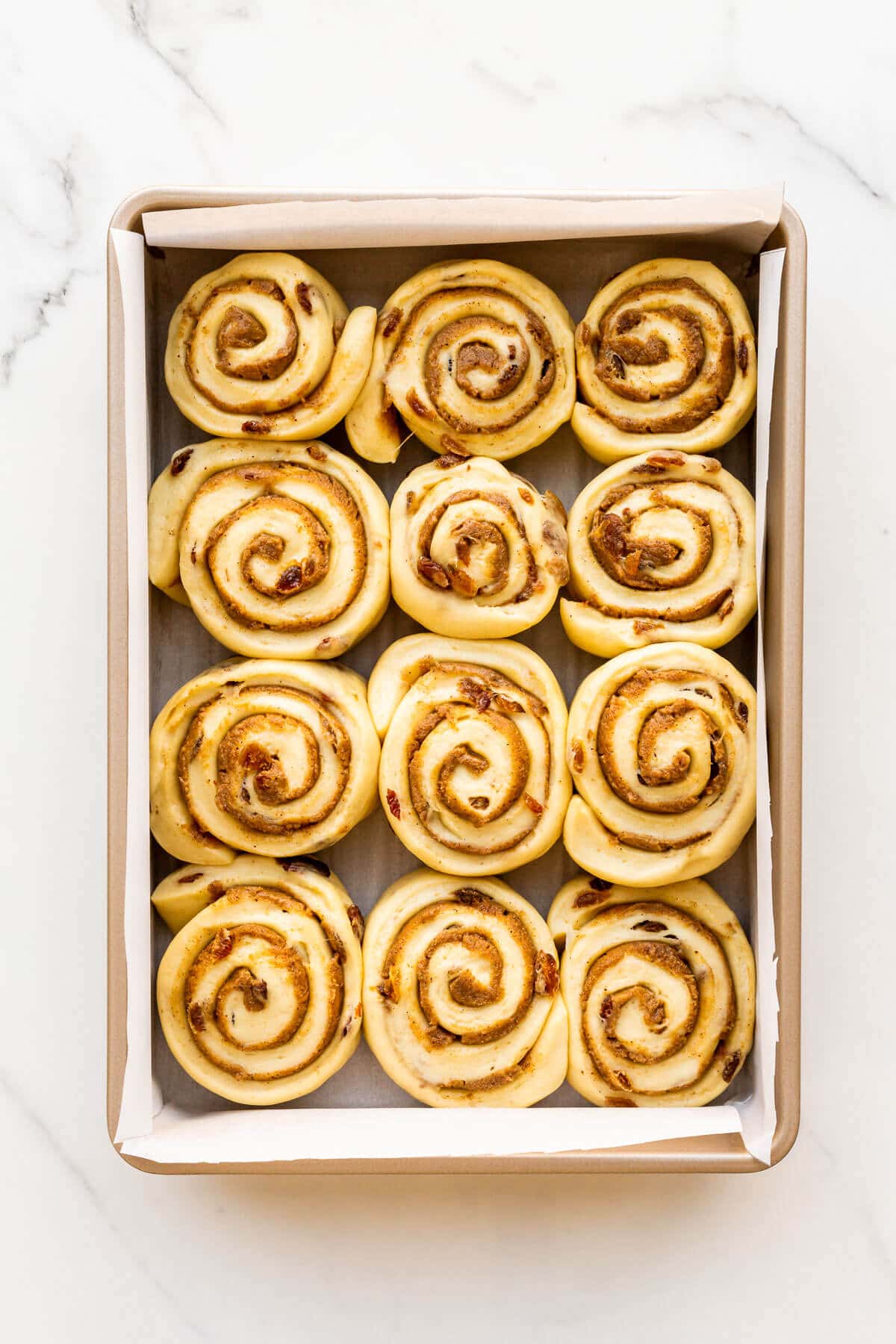 Baking the buns
Although with some types of dry yeast, you don't have to proof the dough before baking, I still tend to do it, especially if the kitchen is on the cooler side. The yeast will continue to grow and the dough will aerate and grow even more, leading to fluffy buns in the end.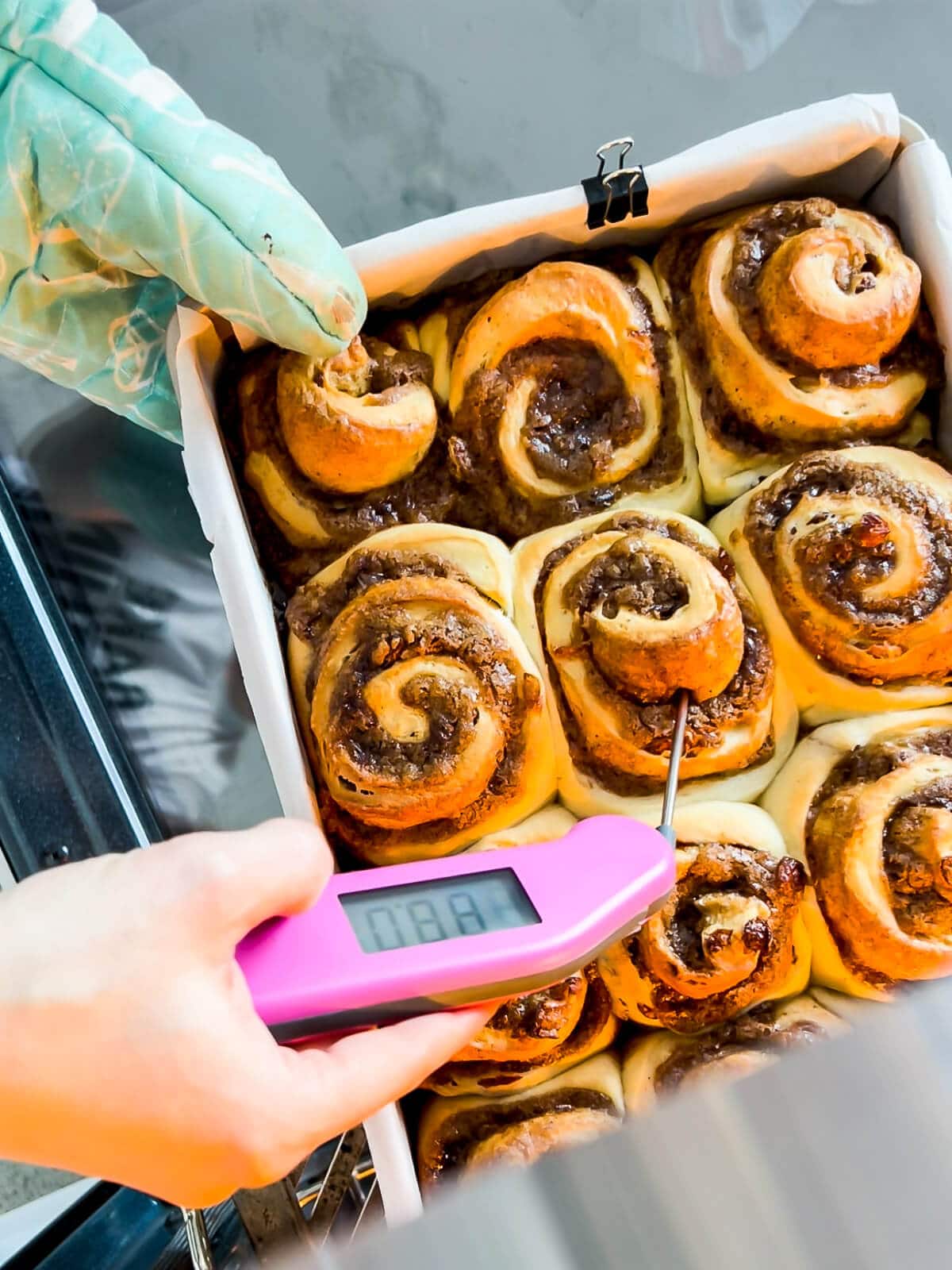 Bake the buns until golden brown. You can use an instant read, digital thermometer to check the internal temperature of the middle buns to make sure they are baked. It should be at least 88 °C or 190 °F.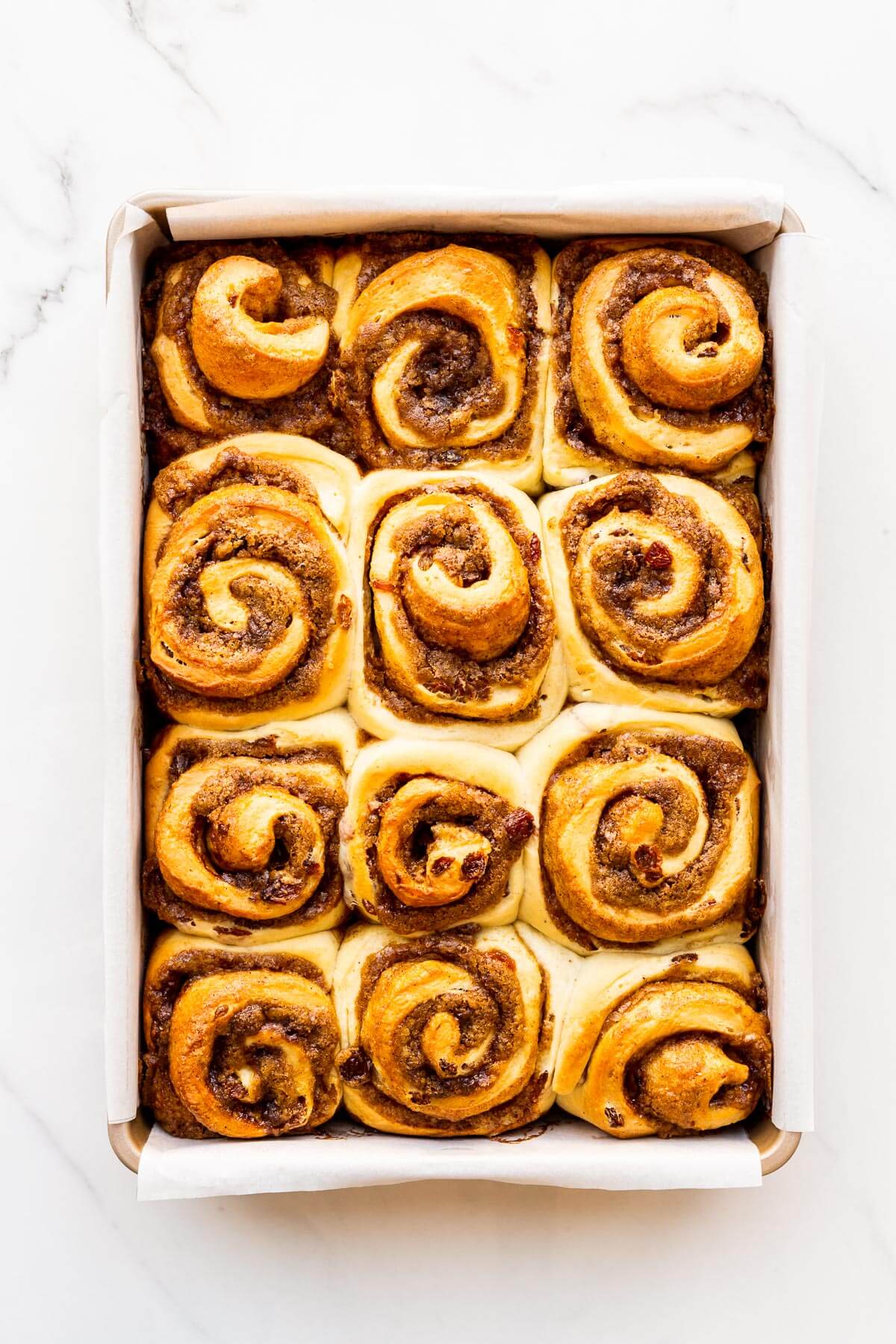 Frosting the buns is optional, but what's a cinnamon roll without icing? If you want to skip the icing, may I suggest generously brushing the hot, freshly baked buns with real maple syrup. This will lead to a shiny, sticky finish that will also soften the edges of the buns. Or if you want, you can brush them with maple syrup AND frost them. That would be even better!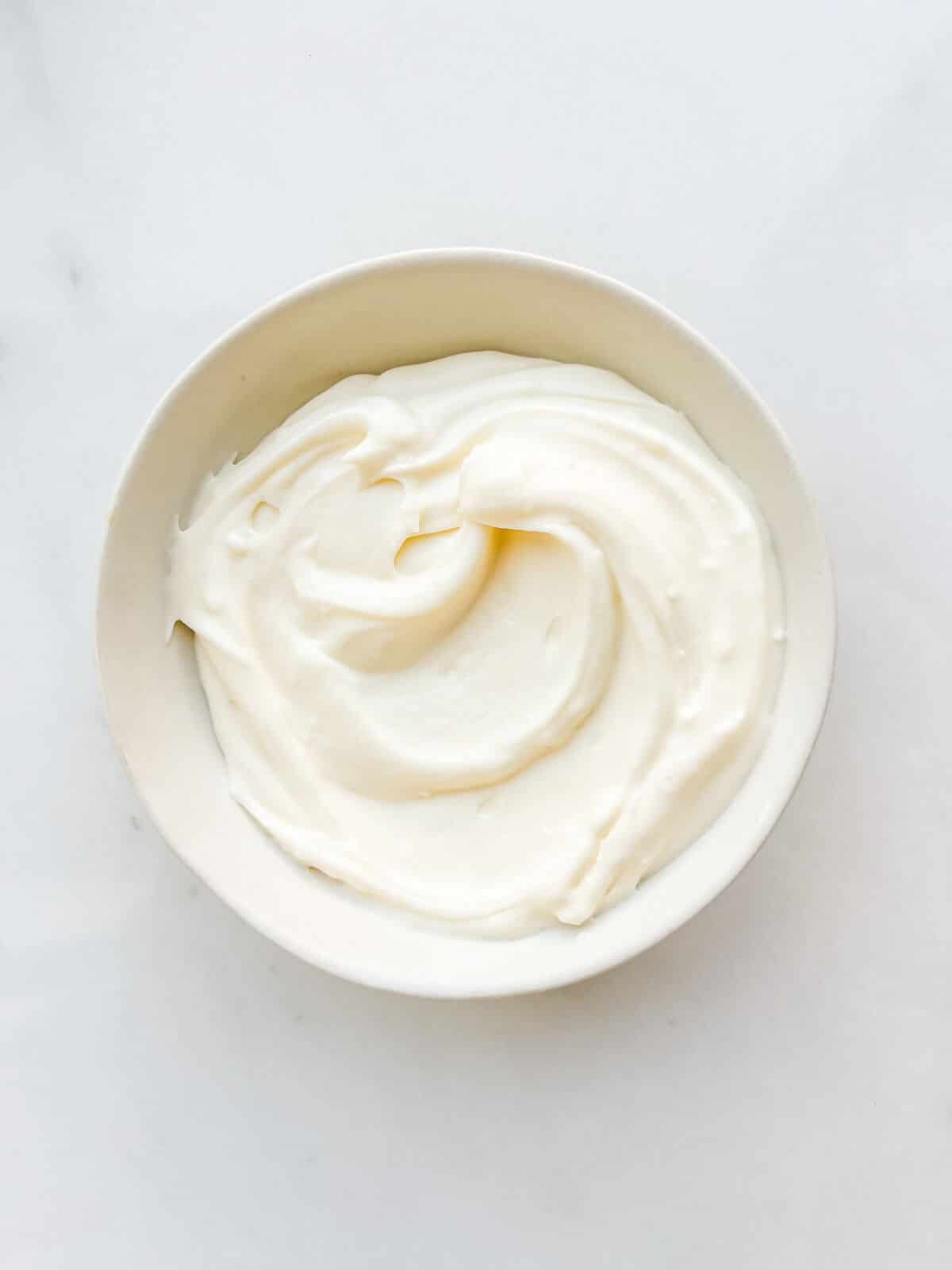 Substitutions
There are a few substitutions you can make fairly safely without too many repercussions:
Yeast - use dry yeast, either instant or active dry. I've written the recipe in such a way that both will work, but note that active dry yeast is generally slower to grow, so your rise times will be longer, especially if your kitchen is on the cool side
Milk - use whole milk, low fat, or even fat-free milk. You could also try lactose-free milk or a non-dairy milk substitute. I haven't tried non-dairy options, but I'd imagine these would work just fine.
Raisins - use any dried fruit you like, like chopped pitted dates, dried figs, dried apricots, or whatever you prefer. Dried currants would also work well. You could also try chocolate chips. I bet that would be amazing!
Remember that making baking substitutions is a combination of science and baker's intuition. Any changes may require some additional recipe testing and tweaking.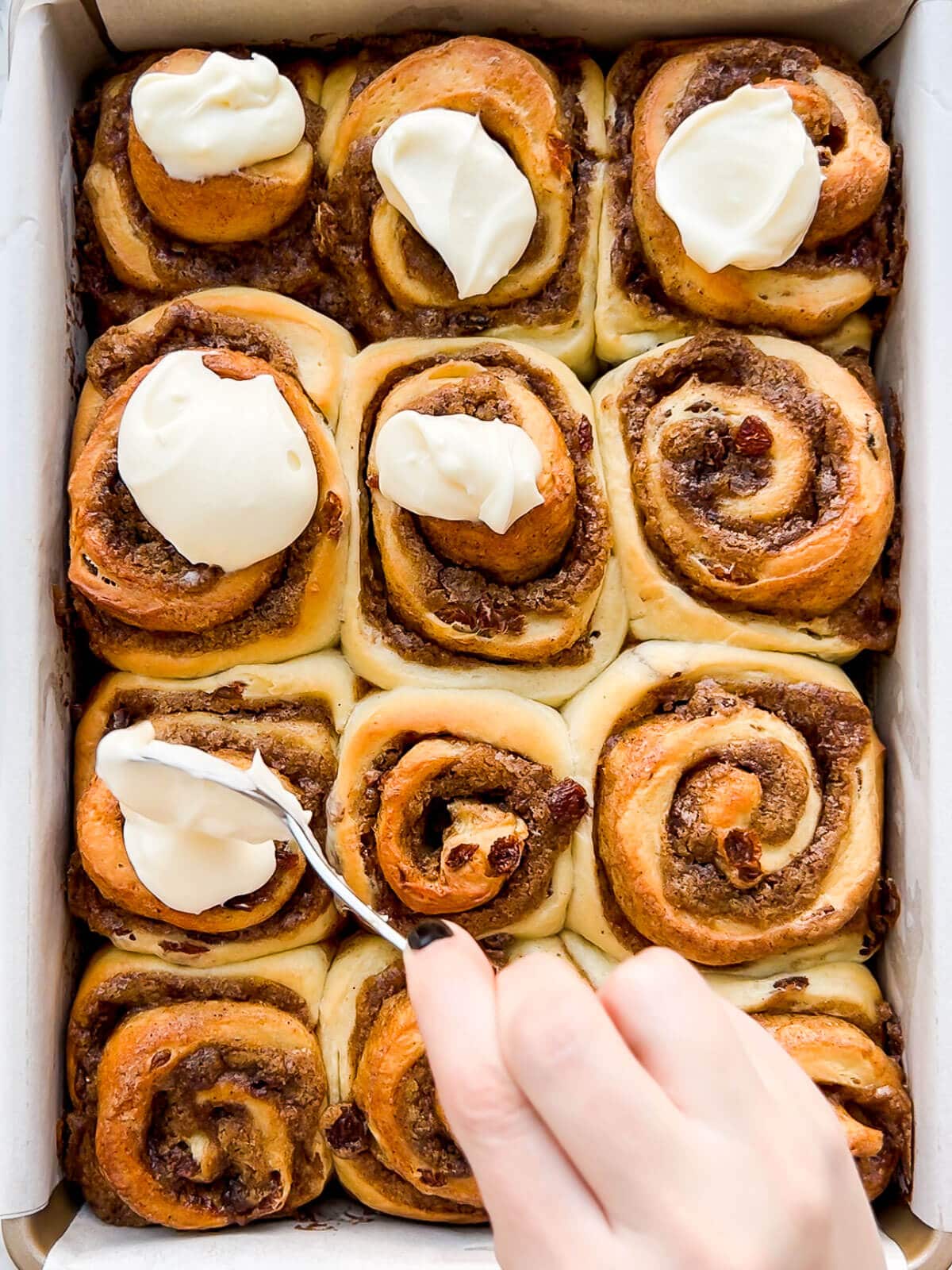 Variations
I usually bake cinnamon rolls in the oven, but I have developed a slow cooker version of cinnamon rolls baked in a Crock-Pot! It works great and for that recipe, you will notice that the rising times are skipped almost entirely and you still get big, fluffy buns!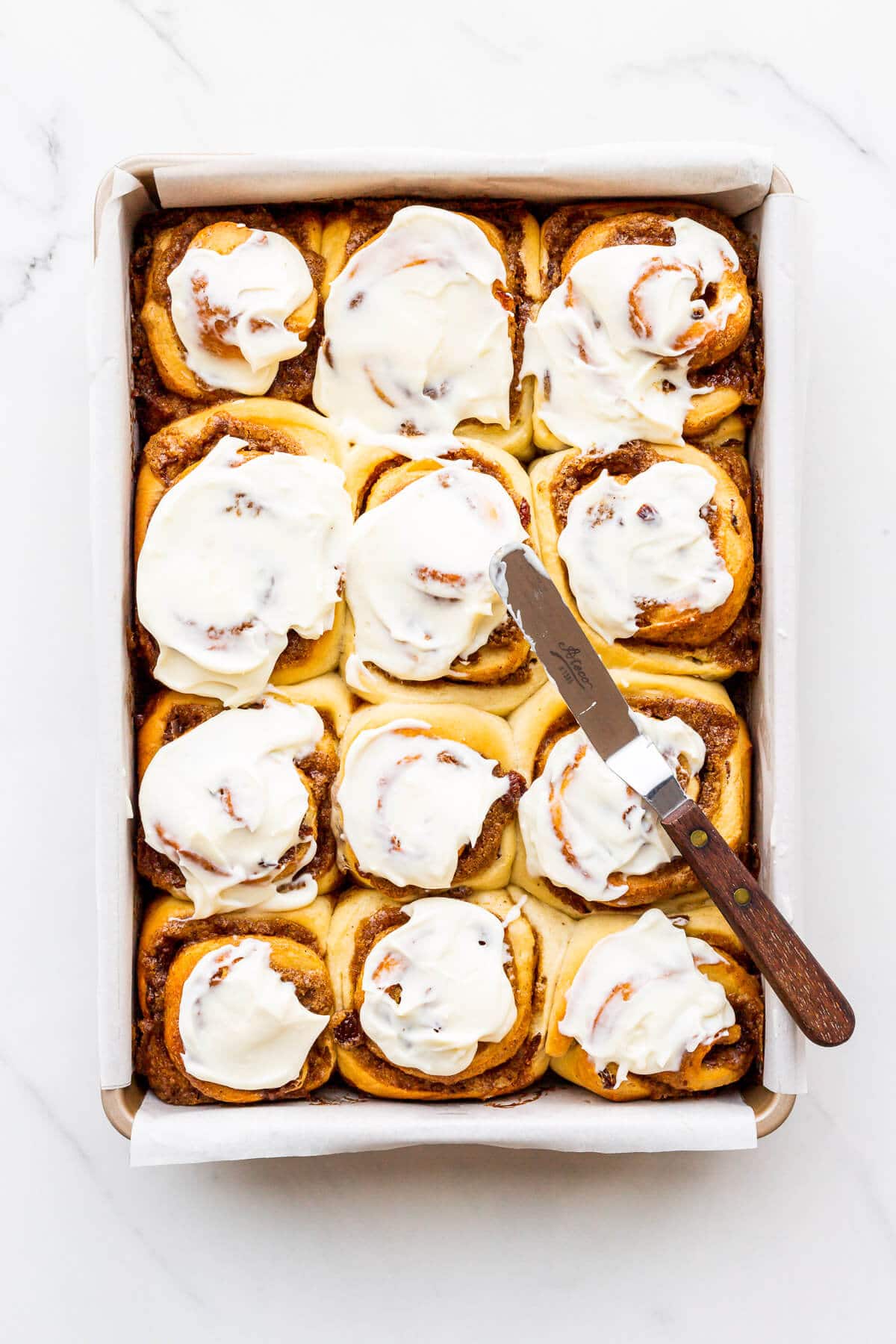 Equipment
Bread baking can seem a little daunting at first. Here are the tools I use to make the task a lot easier:
stand mixer: either a 5 quart Artisan or a bigger 6 quart Pro mixer can accommodate this recipe
a 2 L Cambro is the perfect vessel for rising doughs because it's made of a clear plastic. You can monitor what is happening as the dough rests and grows
bench scraper (also called a pastry cutter) to cut out the buns
measuring tape: yes, the kind from the hardware store is what I use—I keep one in the kitchen to be used exclusively for food and nothing else
9x13 metal baking pan, though a glass pan will also work
Thermapen to check the temperature of the ingredients and also to check if the buns are baked through in the centre
mini offset spatula for smearing cream cheese icing
Tip: I highly recommend investing in a clear Cambro container with graduated markings on the side so that you can follow the dough as it rises and see the progress!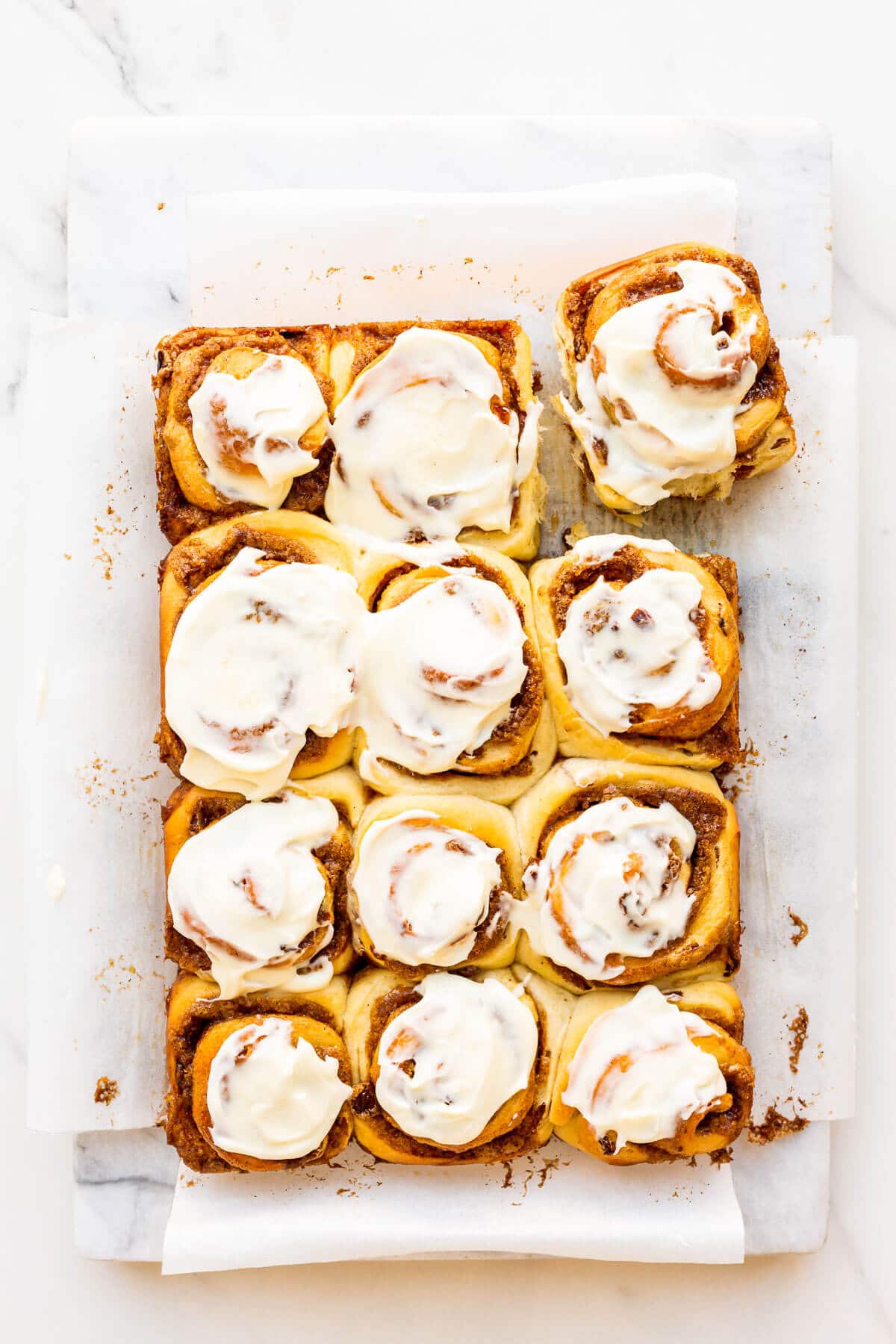 Storage
Store the cooled cinnamon buns in the pan, wrapped tightly. They last up to 4 days. The edges may dry out a little but the middles will still be soft.
You could also make and shape the rolls and refrigerate overnight before baking them. In that case, I would bring the buns back up to room temperature to proof before baking.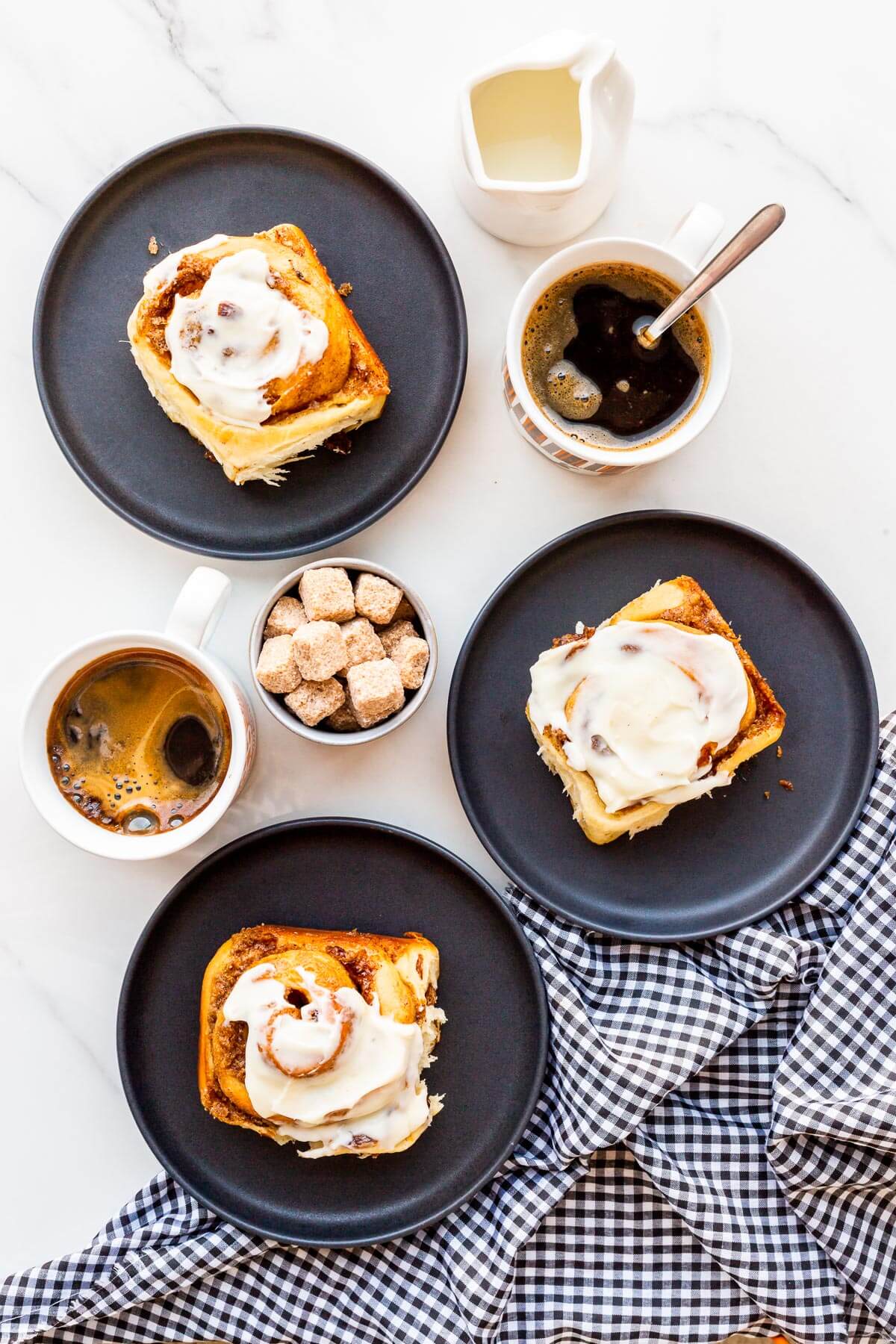 📖 Recipe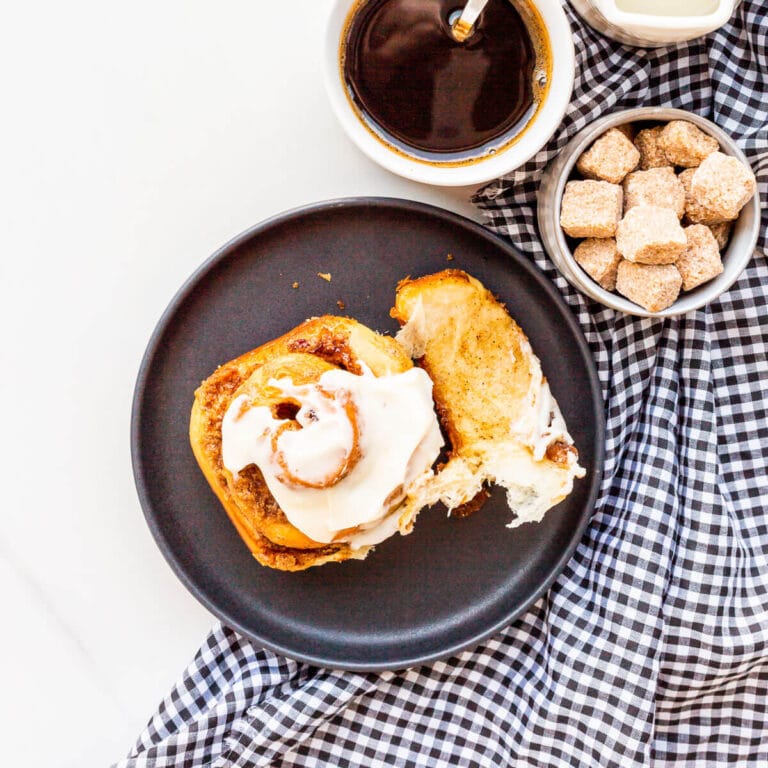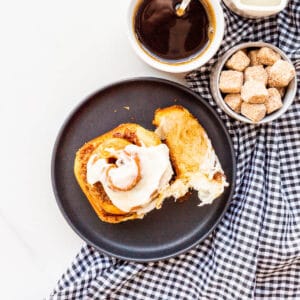 Cinnamon Rolls With Raisins
Learn how to make cinnamon rolls with raisins with this easy recipe. The dough is kneaded in the stand mixer, simplifying the whole process!
Ingredients
Cinnamon bun dough
500

grams

bleached all-purpose flour

70

grams

granulated sugar

30

mL

warm water

make sure the temperature is around 38–40 ºC (100 ºF)

0.625

mL

granulated sugar

8

grams

instant dry yeast

1 packet

170

mL

whole milk (3.25 % fat)

warmed to 38 °C

80

grams

unsalted butter

melted and cooled so it's not too hot

2

large egg(s)

160

grams

raisins
Filling for cinnamon rolls
Cream cheese frosting
125

grams

Philadelphia cream cheese (full fat, regular)

35

grams

icing sugar

more or less to achieve the desired taste and texture

15

mL

whole milk (3.25 % fat)

more or less to thin out the frosting
Instructions
Prepare a large bowl or a Cambro, spraying it lightly with cooking spray or brushing a thin layer of oil. Set aside.
To make the dough
Place the flour, 70 grams (⅓ cup) sugar, and fine kosher salt in a stand mixer fitted with the paddle attachment. Stir them together for a few seconds on low just to get everything evenly mixed.

In a small bowl, place the warm water (the temperature of the water should be around 38–40 ºC or 100 ºF). Stir in the ⅛ teaspoon of sugar and sprinkle the yeast over top. Stir everything together and let rest for 10 minutes. The mixture should develop a thick foam on top.

When all the components are ready, add the milk and butter mixture to the dry ingredients, along with the foamy yeast mixture and the two eggs. Stir them together on low speed to form a shaggy, evenly mixed dough.

Add the raisins and mix them in, then turn off the mixer, cover the bowl with the towel and let the dough rest for 10 minutes.

Switch to the hook attachment to begin kneading on low speed. If the dough seems too wet, add up to 30 grams (¼ cup) of all purpose flour. The dough should not be so sticky and it shouldn't stick to the bowl. It should feel tacky.

Knead the dough for 10 minutes in the mixer, then dump it out on the counter and knead it by hand for a minute or so to form a smooth round ball of dough.

Transfer the dough to the greased bowl, cover with a towel or plastic wrap, and let it rise until doubled in size (for about 45 minutes to an hour).
To make the filling
In a bowl, cream together the softened butter, the sugars, and the cinnamon until you have a thick brown paste. Set aside.
Assemble the rolls
When the dough has risen, remove the towel. Lightly flour your counter and transfer the dough to roll it out into a big rectangle of at least 12x16 inches (don't worry too much if it's bigger or smaller).

Spread the filling over the entire surface of the dough, then roll tightly into a long 12 inch log.

Cut the dough into 12 equal buns (you don't have to trim the ends) and place them in the prepared baking pan. Cover with plastic wrap or a towel.
Let the rolls rise
Let the rolls rise until they have puffed and until proofed (if you lightly press your finger into the side of a roll, the indent should very slowly fill out and disappear).

Preheat the oven to 350 °F (175 °C).

Bake the buns until golden brown and internal temperature is at least 190 °F (88 °C) measured with an instant-read thermometer. This takes about 25 to 30 minutes.
Make the frosting
Cream together the cream cheese, icing sugar, and milk. Use a spatula to make sure to mash any lumps of cream cheese.

Dollop a little spoonful of icing on each bun and use an offset spatula (or the back of a spoon), spread the frosting on the top. Serve warm.
Notes
Feel free to double the cream cheese icing if you want more frosting! 
Nutrition
Calories:
446
kcal
Carbohydrates:
70
g
Protein:
7
g
Fat:
16
g
Saturated Fat:
10
g
Polyunsaturated Fat:
1
g
Monounsaturated Fat:
4
g
Trans Fat:
1
g
Cholesterol:
68
mg
Sodium:
222
mg
Potassium:
239
mg
Fiber:
3
g
Sugar:
26
g
Vitamin A:
541
IU
Vitamin C:
1
mg
Calcium:
73
mg
Iron:
3
mg