Learn how to make a fruit bread, which is an enriched bread with raisins and candied peel. This is much like a Christmas bread or stollen, but without the marzipan. You can bake this recipe in a loaf pan and slice it like sandwich bread. Or you can shape it into a braided boule to bake on a sheet pan.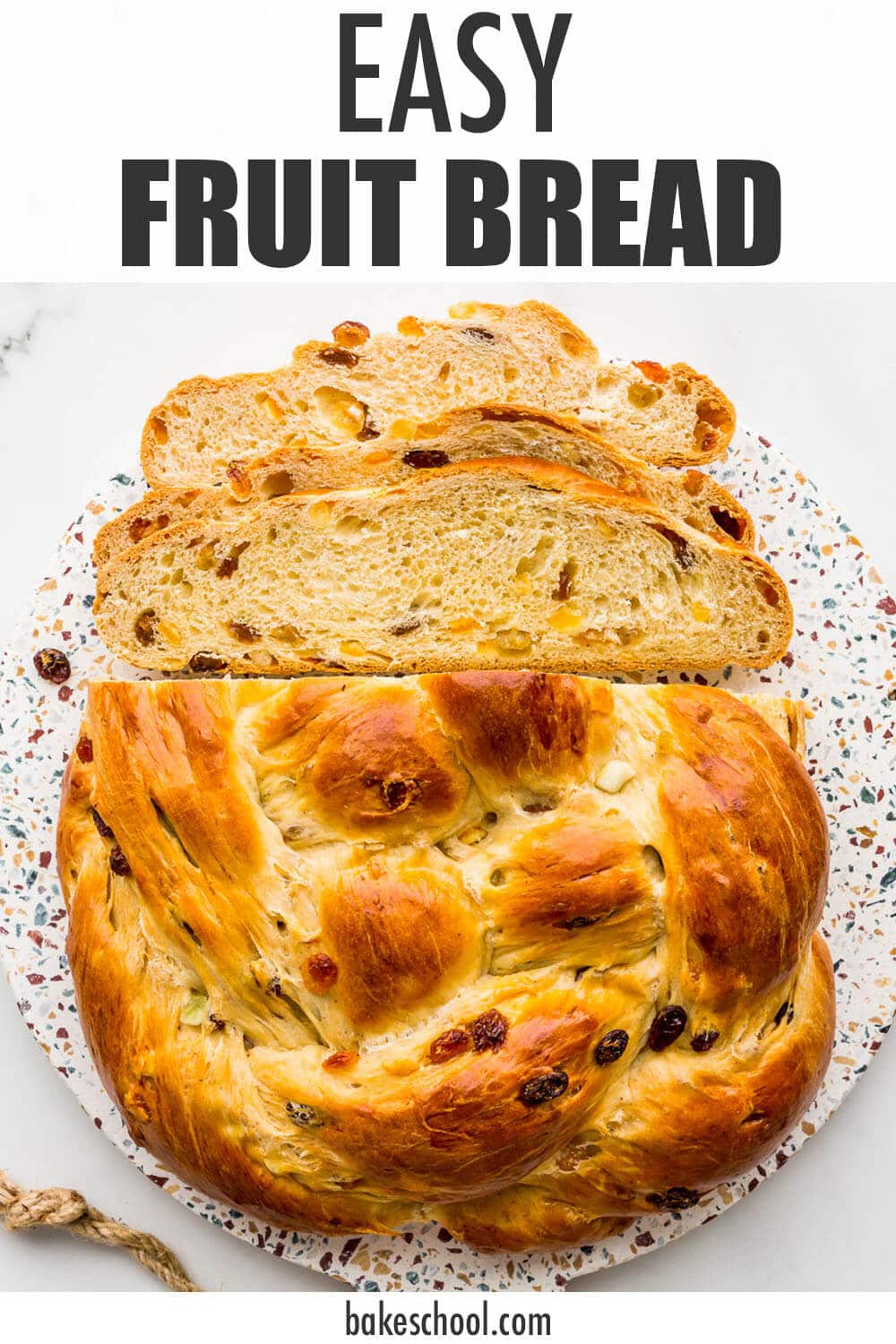 Disclosure: As an Amazon Associate, I earn from qualifying purchases.
Fruit bread is made from an enriched bread dough, meaning it contains eggs, milk, butter, and a little sugar. This creates a tender bread that is great for breakfast and toast! This bread is a festive bread, served around the holidays like a Christmas bread or an Easter bread. It gets its name because it's loaded with dried and candied fruit, anything from raisins and dried cherries to candied citrus peel or even glacéed cherries. It's a very similar taste to hot cross buns.
Jump to: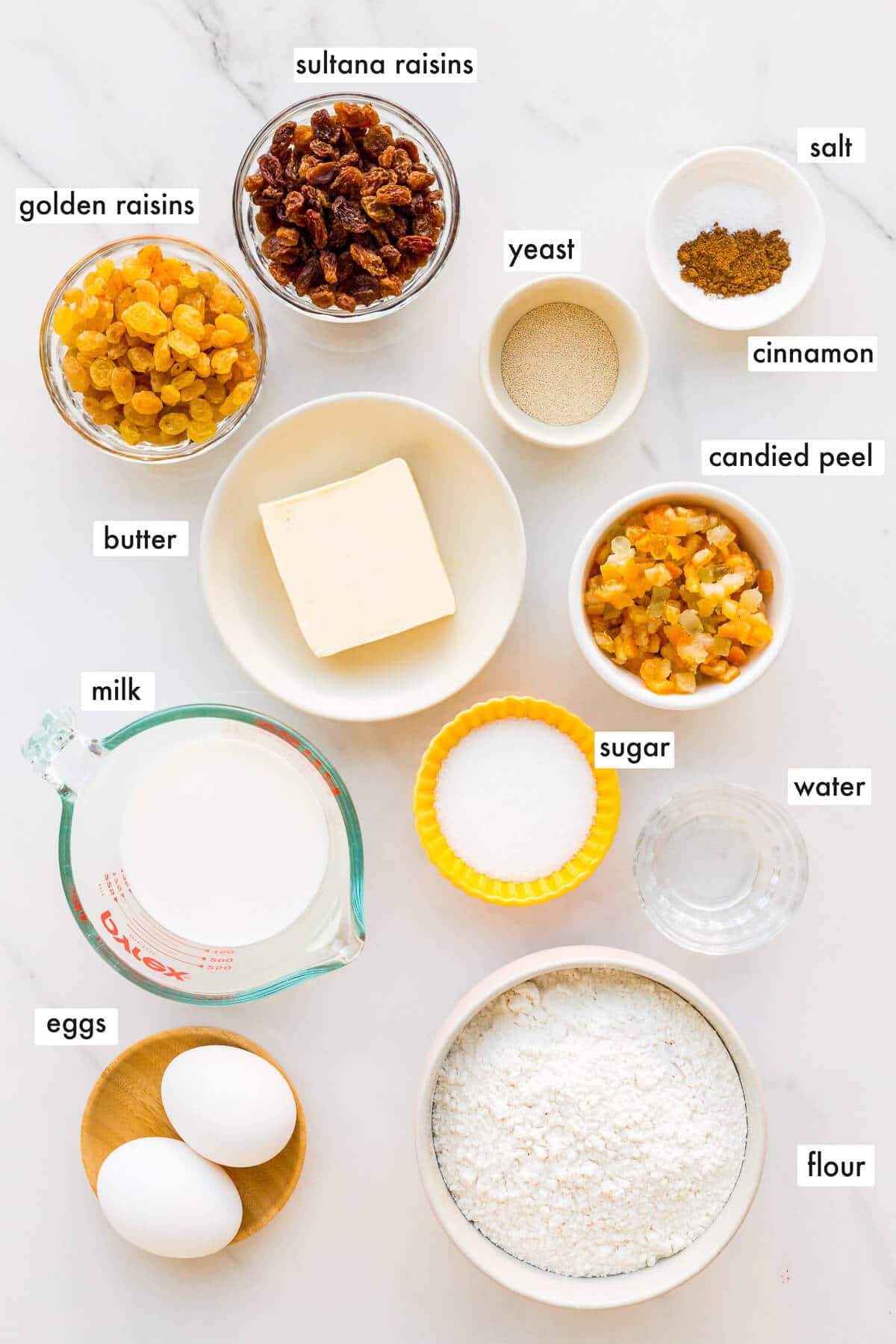 What is fruit bread made of
If you want to make this fruit, you will need the following ingredients:
butter, preferably unsalted butter because you will add salt to the dough, but if you have salted, it will work. Just adjust the salt in the recipe accordingly, otherwise your bread may be too salty
milk, either 2 % or whole milk works fine in this recipe. I've even tested skim milk! Combined with the butter, sugar, milk, and eggs, these ingredients contribute to a softer crust and crumb
large eggs, don't use smaller eggs because your bread dough may be too dry and will require more liquid. Don't use extra large eggs either because you may need to add more flour to compensate
vanilla extract adds a little flavour and sweetness to the bread dough, without overpowering. It's not essential to the recipe and you can skip it if you don't want it in your bread
all-purpose flour is needed to bind all the ingredients together and give the dough structure through gluten. Don't use cake flour here, which has more starch and less protein
granulated sugar sweetens the dough just slightly, but also helps tenderize it along with the fat in the recipe, leading to a softer texture
yeast is a leavening agent that helps your bread rise so that the crumb is open and light. I've tested this recipe with instant yeast (also called rapid rise) and with active dry yeast (which is slower to act), and it works well with both
ground cinnamon is added to flavour the dough but you can skip it if you don't like cinnamon
salt is really important to balance out and also bring out the flavour. Don't skip it. I like to use Diamond Crystal fine kosher salt, but table salt will work, though the bread will be a little saltier and you may want to halve the salt in that case
dried and/or candied fruit is where the bread gets its name. You can use raisins, dried cranberries, chopped dried fig, candied citrus peel (orange, lemon, and/or citron), chopped dried apricot, dried or candied cherries (chopped if they are big), chopped dates, etc. Use the type of dried fruit you like to eat. Just stick to the same amount listed in the recipe.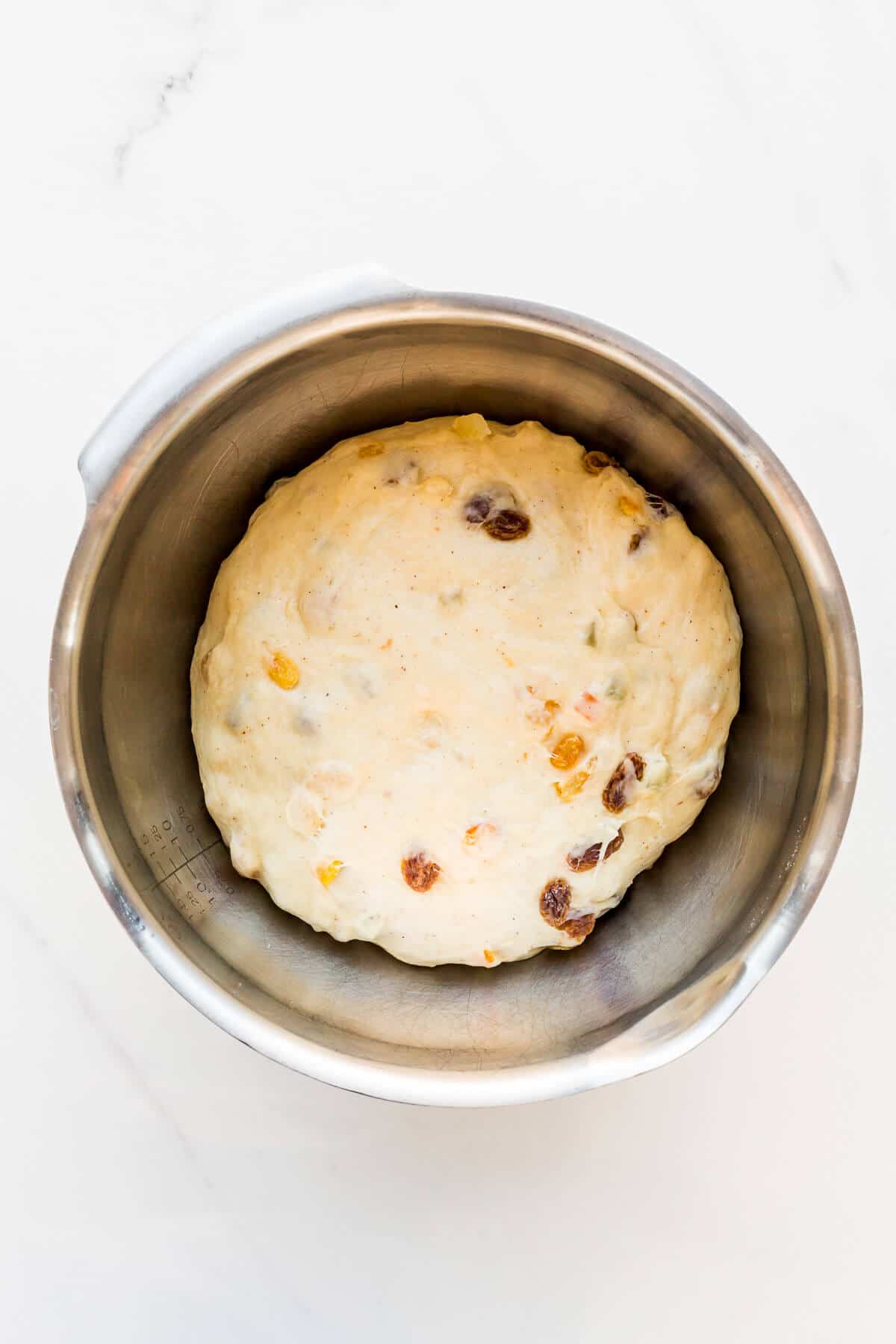 Special equipment
To make yeasted doughs like this, I highly recommend using a stand mixer to make it easier. This bread will fit in a 5 quart or a 6 quart mixer. I've made it in a KitchenAid Artisan 5 quart mixer and the 6 quart pro mixer.
You have to knead it for 5 to 10 minutes to form a smooth, pliable dough, which is why a stand mixer is best. Of course, you can knead it by hand, but that could take 10 to 20 minutes of work to achieve the same result.
For baking this bread:
if you want a loaf, bake it in a large 1 pound loaf pan (9" x 5")
for a braided boule, I baked it on a sheet pan lined with parchment paper. It would likely also fit in a 9 inch cake pan, which would prevent the bread from spreading outward as it bakes. Baking in a cake pan will yield a taller bread, if that's what you want. Line the cake pan with parchment.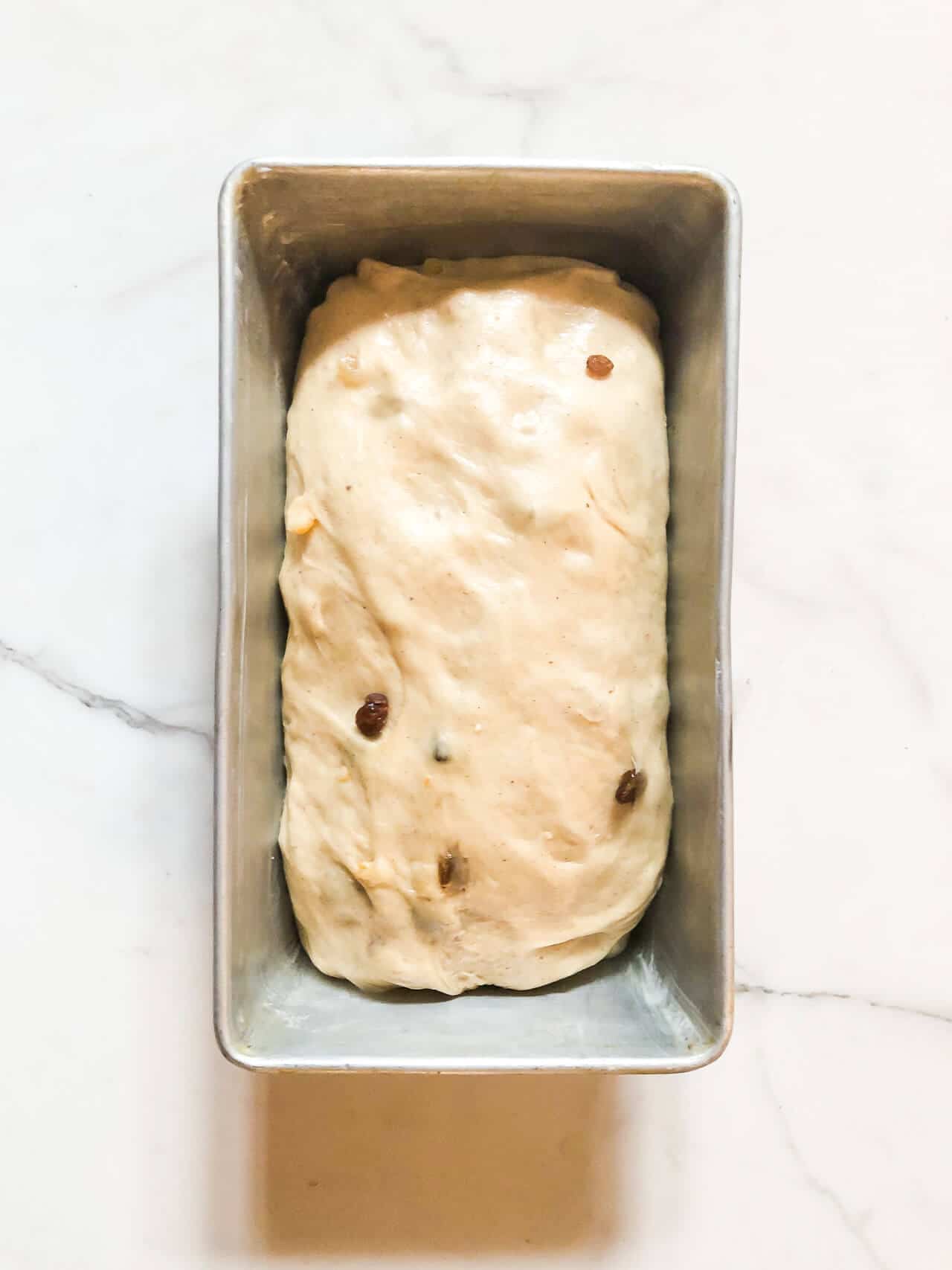 Ways to shape fruit bread
A traditional fruit bread is breaded, like a challah bread or other enriched breads. You can shape it as a loaf, or divide the dough into equal portions and braid it. I've baked this recipe in:
a large 1 pound loaf pan (like this Nordic Ware loaf pan) to make a big sandwich loaf
on a half sheet pan, lined with parchment, shaped as a braided boule made with 4 strands of dough.
It honestly doesn't matter how you shape the bread. Do what you can!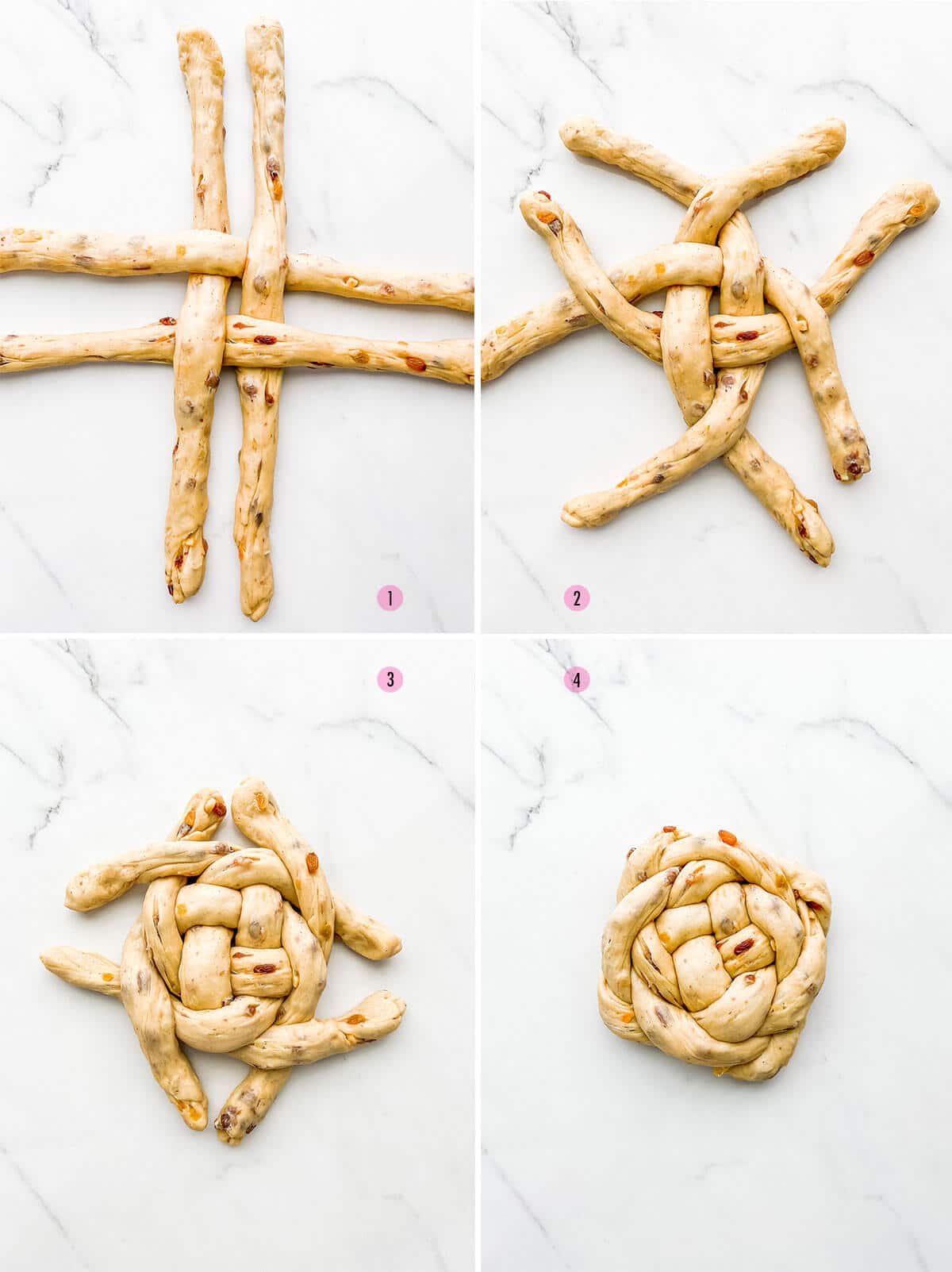 Tips for success
Yeast is alive and likes to be warm
Don't kill your yeast! Yeast is a leavening agent that is alive, which means it thrives at a certain temperature, but could die if you go too far beyond that. Make sure that your liquids are around 100–110 ºF (38 ºC) to ensure they grow at a good rate and are happy.
The times are just suggestions
If the ambient temperature of your kitchen is too low, like if you are making this bread during the winter months, your bread may take double the time to rise and proof properly. Conversely, in summer months, if it's hot out, your bread may rise in half the time. Experienced bread bakers have a saying: "watch the bread dough, not the clock!" Look for signs that the dough has risen sufficiently. The times in this recipe are just a guide.
Make sure to give your bread dough enough time to rise and also to proof before baking. If you don't, your bread may be a little more dense and firm, and the crumb won't be as fluffy. If it's not proofed enough, the bread will still taste great and make excellent toast, so don't stress too much about this.
Substitutions
Though I would not encourage you to vary too much with the ingredients for the bread dough, there are a few substitutions you can try:
replace the instant yeast with active dry yeast, which is coarser and slower to grow, so you will need to give more time for the dough to rise and proof
replace the milk with a lactose-free milk or a non-dairy beverage, using the same volume
replace the unsalted butter with a vegan butter substitute, but read the labels carefully to make sure they aren't adding a lot of salt!
replace the raisins and candied citrus peel with your favourite dried fruit, for example, dried cherries, dried cranberries, or even dried blueberries would be great in this bread recipe!
replace the cinnamon with a different spice (cardamom would be fantastic!) or skip it altogether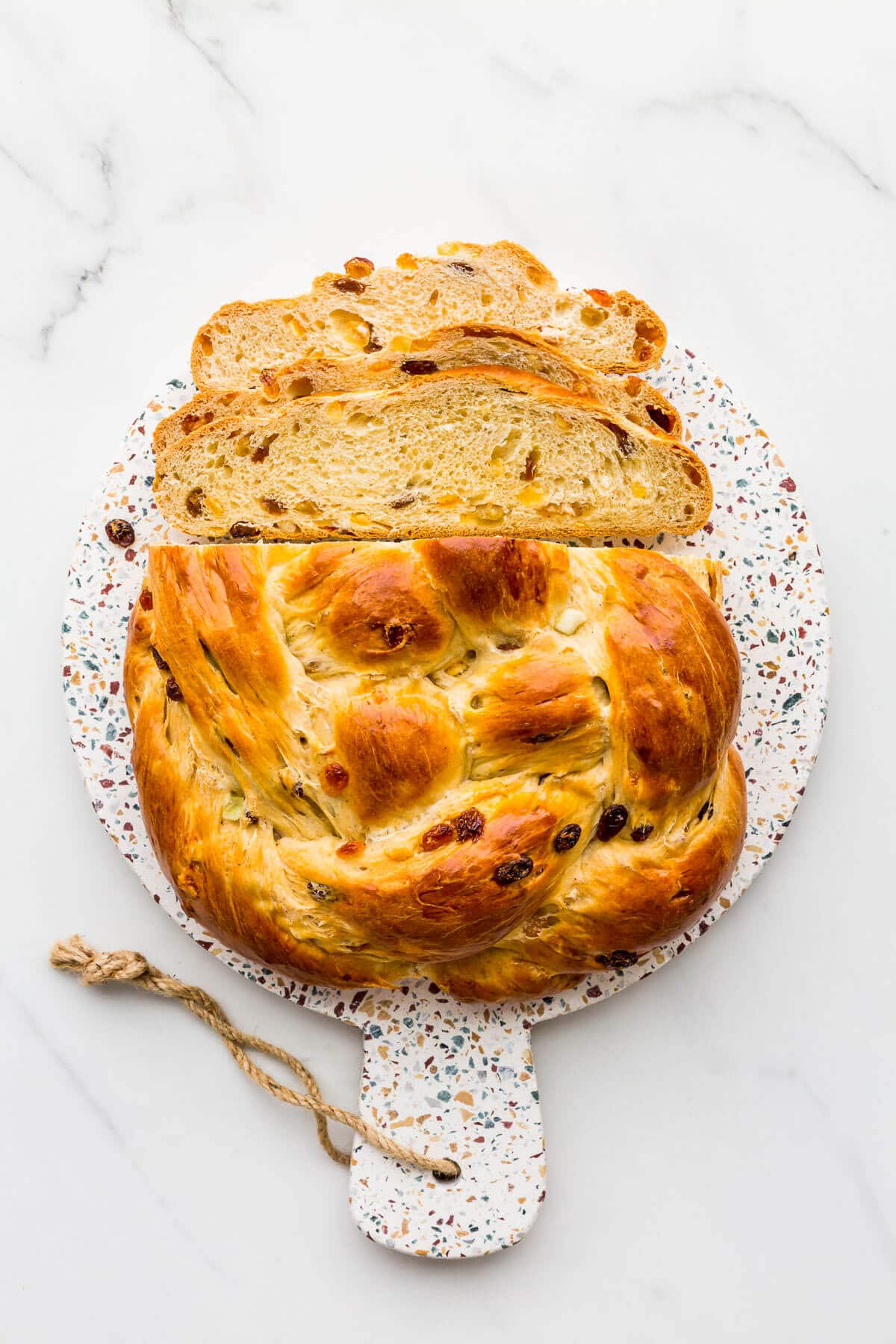 Serving suggestions
If you are wondering how to serve fruit bread, it's great sliced, served at breakfast or brunch with salted butter and homemade jams, especially orange marmalade. I personally like to sprinkle buttered slices with a little extra flaky sea salt, but you can enjoy it however you like!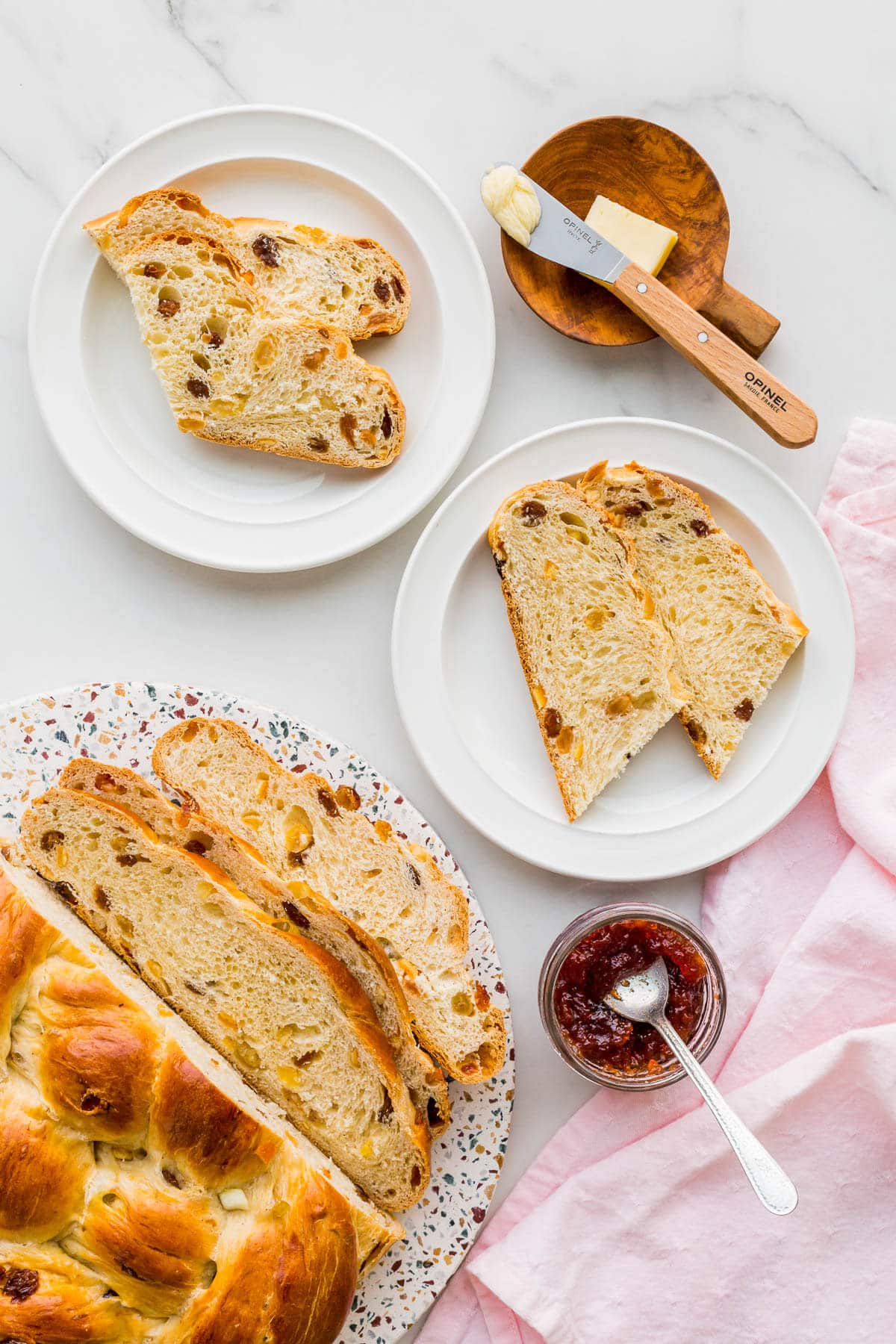 Storage
This bread stores well and can last up to a week. Wrapped tightly in aluminum foil, it won't dry out for several days. I recommend that you slice the loaf of fresh fruit bread after it's cooled at room temperature for a full day. Then, store the sliced bread in the freezer in an airtight freezer bag. You can toast the frozen slices for breakfast whenever you want and it will taste as fresh as the day it was baked.
📖 Recipe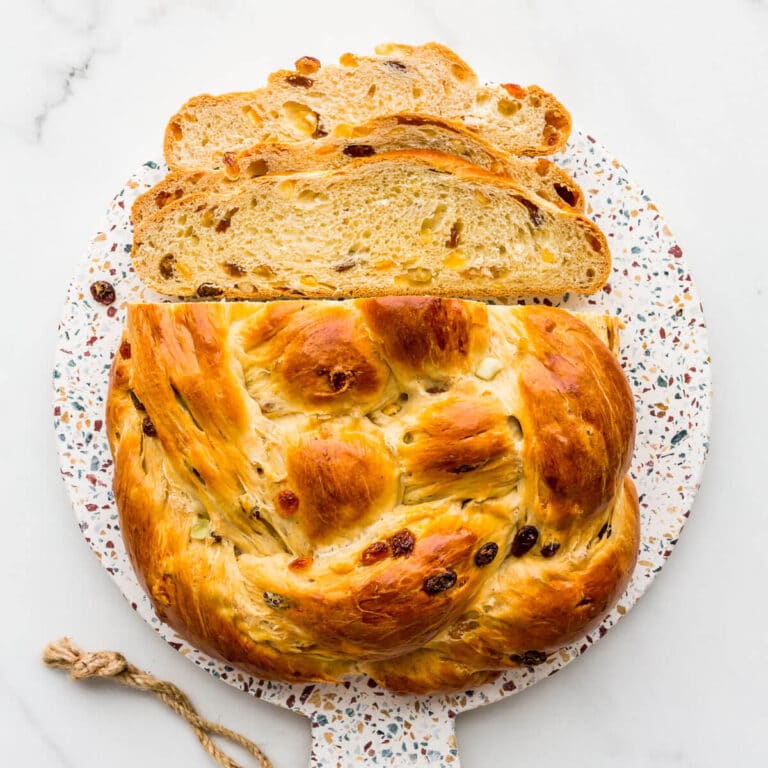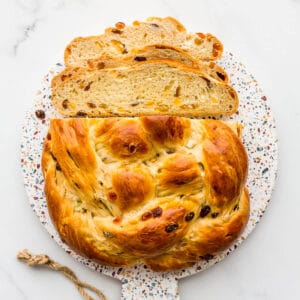 Fruit Bread
Fruit bread is an enriched bread flavoured with candied peel and raisins, similar to stollen but without the marzipan. Fruit bread tastes great toasted and served with salted butter. 
Ingredients
Dried fruit
160

grams

sultana raisins

or a mix of golden raisins and Sultanas

120

grams

candied citrus peel

chopped

15

mL

water
Enriched dough
30

mL

warm water

around 38 °C–42 °C (100–110 °F)

0.625

mL

granulated sugar

basically a big pinch

8

grams

instant yeast

also called rapid rise yeast

125

mL

whole milk (3.25 % fat)

or 2 % milk

70

grams

unsalted butter

375

grams

bleached all-purpose flour

you may need up to 60 grams extra to achieve a smooth dough

50

grams

granulated sugar

2.5

mL

ground cinnamon

2

large egg(s)

5

mL

pure vanilla extract
Instructions
Prepare the dried fruit
Mix the raisins and the chopped candied peel with the 15 mL (1 tbsp) water. Warm in the microwave for 30 seconds to 1 minute to help soften the fruit. The fruit should absorb most of the liquid. Set aside to soak at room temperature while you prepare the rest.
Make the enriched dough
Pour the 30 mL (2 tbsp) warm water into a small bowl. Add a pinch of sugar and sprinkle with yeast. Stir and let stand 5 minutes. The yeast will get foamy (that's how you know it's good!).

In a microwave safe bowl, combine the milk and butter and microwave to heat/melt the butter. Let stand until lukewarm, about 5 minutes.

Then add the yeast/water mixture, eggs, vanilla, and the lukewarm milk/butter mixture. Mix for about 2 minutes. The dough should be a soft, but not sticky ball.

When the dough comes together, cover the bowl with either plastic wrap or a tea towel and let rest for 10 minutes.

Uncover the bowl and add the soaked fruit. Mix on low speed to incorporate. If the dough seems wet, add in a little extra flour until it comes together again.

Switch from the paddle to the dough hook, and knead the dough for approximately 6 minutes. The dough should be soft and satiny, tacky but not sticky. The full six minutes of kneading is needed to distribute the dried fruit and other ingredients and to make the dough have a smooth consistency.

Lightly oil a large bowl and transfer the dough to the bowl, rolling around to coat it with the oil. Cover the bowl with plastic wrap. Let rise in a warm, dry place for one to two hours or until doubled.
Shape the bread
If you are baking a loaf, shape the risen dough into a loaf, and fit it in a greased 9×5-inch loaf pan that has been fitted with a rectangle of parchment at the bottom. Let it rest while the oven is preheating. If you are baking a braided boule, divide the dough into four equal pieces, then roll them out into 14 inch ropes. Weave the ropes together to make a braided round boule. Transfer it to a parchment-lined sheet pan.

Cover the bread with a tea towel and let it proof at room temperature for 30 to 45 minutes.

Preheat oven to 325°F (165 °C) with the oven rack on the middle shelf. Remove the top shelf if you are baking in a loaf pan because the bread is quite tall.
Egg wash
In a small bowl, whisk the extra egg with a pinch of sugar to make an egg wash. When the oven is preheated and you are ready to bake the bread, brush it evenly with the egg wash. You won't use it all.

Bake the fruit bread for 50–60 minutes. The bread will bake to a deep golden brown colour, and you will know it is done when the internal temperature measures 190°F (88°C) in the centre of the loaf.

Remove the fruit bread from the oven and let it cool completely out of the pan, on a wire rack, then wrap in foil to store or slice and freeze in a freezer bag.
Nutrition
Calories:
232
kcal
Carbohydrates:
40
g
Protein:
5
g
Fat:
6
g
Saturated Fat:
3
g
Polyunsaturated Fat:
1
g
Monounsaturated Fat:
2
g
Trans Fat:
1
g
Cholesterol:
41
mg
Sodium:
101
mg
Potassium:
177
mg
Fiber:
2
g
Sugar:
5
g
Vitamin A:
203
IU
Vitamin C:
1
mg
Calcium:
28
mg
Iron:
2
mg