Here's an easy recipe for homemade Irish soda bread made with rolled oats and raisins that you can mix in one bowl! This soda bread recipe is great for those who want to make homemade bread, but are a little scared. I suggest you start with this Irish soda bread with raisins. Try it and let me know what you think in the comments section below!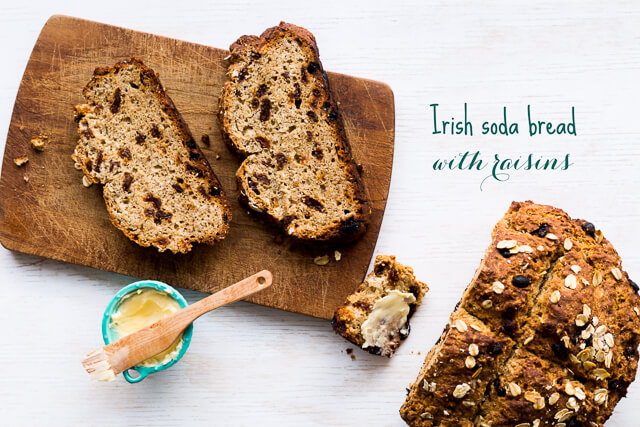 What is Irish soda bread?
Irish soda bread is a traditional quick bread made from just a few ingredients: flour, baking soda (a chemical leavener), salt, buttermilk. Some will add whole wheat flour (to make a brown soda bread) and oats (for a heartier bread). You can flavour the bread with caraway seeds or add raisins for a quick raisin bread. This is a no-knead bread that can be mixed in one bowl and baked right away.
Can you use baking powder instead of baking soda in Irish soda bread?
When considering to use baking soda vs baking powder, remember these two leaveners are not directly interchangeable. Baking soda is pure sodium bicarbonate, while baking powder is sodium bicarbonate, acid(s), and cornstarch.
You can't replace 2 teaspoons of baking soda with 2 teaspoons of baking powder in this recipe because of the quantity of buttermilk. There's so much acid present in the buttermilk, the baking powder would react quickly with the buttermilk, leaving behind the acids from the baking powder, which are slower acting (like monocalcium phosphate) and there's a risk these leftover acids from baking powder may impart an off-flavour to the bread.
Stick to baking soda when making this Irish soda bread recipe or otherwise, you will have to make other changes to the recipe (like replacing the buttermilk with straight milk, for example...).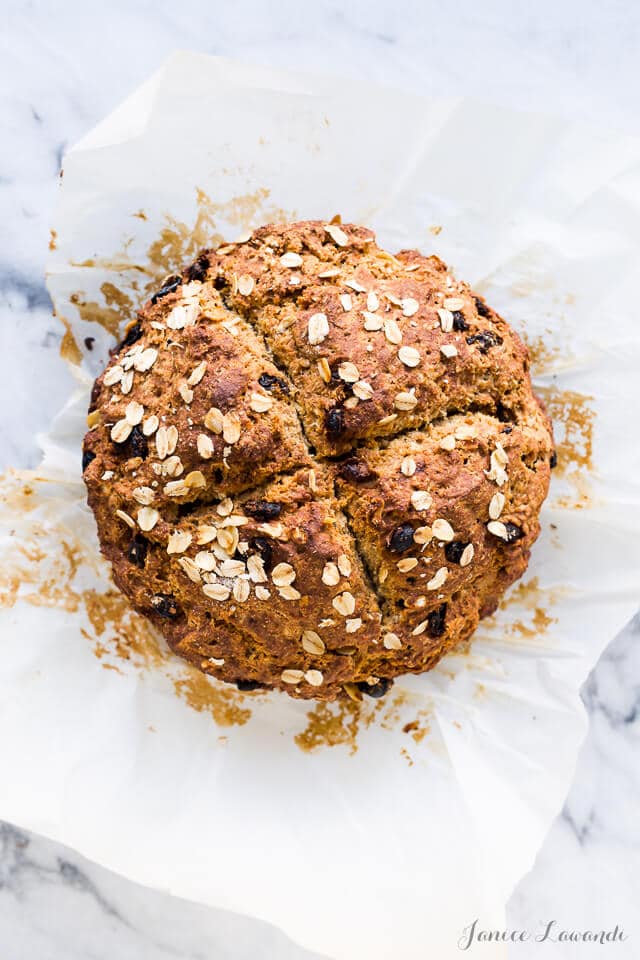 Can you make Irish soda bread without buttermilk?
Traditionally, Irish soda is made with buttermilk, an acidic cultured milk product, but if you don't have any buttermilk in the fridge, yes, you can still make Irish soda bread.
To replace buttermilk in Irish soda bread, you will use the same volume of acidified milk, made by mixing milk with a little vinegar or lemon juice. As a rule, add 1 tablespoon (15 mL) of vinegar for every cup of milk (any milk works, whether whole milk, low fat, or skim milk). Adding an acid is key in order for the bread to rise so if you want to replace the buttermilk, you must replace it with another acidic ingredient.
Quick cooking oats versus rolled oats
This Irish soda raisin bread was developed using large flake oats, also called rolled oats or old fashioned oats. If you want to try a baking substitution for them, you might think of using quick cooking oats or minute oats. Unfortunately, the recipe as written won't work as well with quick cooking oats and you will have to make adjustments because rolled oats are able to absorb more liquid than minute oats, which have a finer texture. You have two options:
increase the amount of flour in the recipe to help absorb some of that moisture
decrease the amount of buttermilk in the recipe so that the dough is less wet
I haven't tested the substitution of quick oats versus rolled oats in this recipe, so I can't tell you how much less buttermilk or more flour you will need to add. You'll have to do some testing or go through some trial and error to get the texture just right.
What do you put on Irish soda bread?
Serve freshly baked Irish soda bread slathered with unsalted or salted butter. It also makes a great accompaniment to serve with winter stews and soups. Many serve soda bread with marmalade or jam as well, for a sweet treat, and you can even use it to make sandwiches, just like regular yeasted breads.
How do you store Irish soda bread?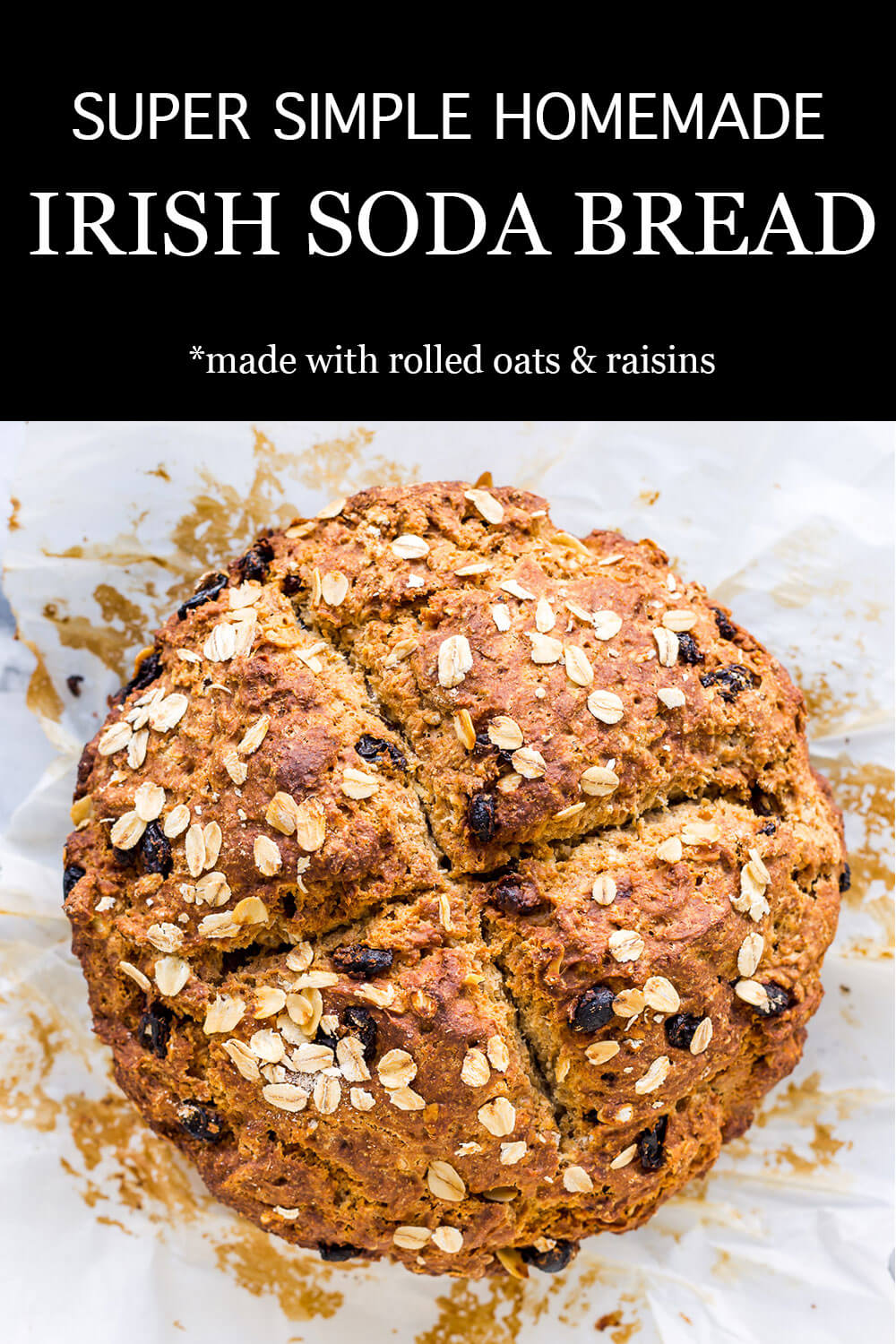 Just like any homemade bread, soda bread can go stale and dry out very quickly. Be sure to wrap it very tightly once it's completely cooled. I like to wrap it in foil, if not a layer of plastic wrap followed by a layer of foil. Some will freeze the sliced bread for convenience. This means that you can toast it as needed, straight from the freezer.
Other examples of no-knead bread
There's a whole world of no-knead breads to explore. Besides soda bread, you could also try my recipe for no knead cinnamon raisin bread, which uses yeast as a leavening agent. With typical yeast no-knead breads, the rest time is much longer while Irish soda bread has no rest time so it's much faster! For another quick bread, ty this homemade Boston brown bread baked in a coffee can.
For this recipe below, I used my favourite Nordic Ware 3 quart Dutch oven (available on Amazon). I've used it for no knead bread, and this soda bread recipe. I'm probably supposed to use it for stews and such, but I guess mine is dedicated to baked goods, and specifically breads. Figures! There are a million and one Irish soda bread recipes on the internet. Some of them are very heavy handed with the baking soda. This one is less so.
The loaf can be sliced and enjoyed with salted butter. I added some whole wheat flour and oats to this bread. I bet you could actually make the entire recipe in the food processor, then give it a few quick kneads by hand before baking. I haven't tried that yet, but I have a very good feeling that this sort of recipe is quite forgiving.
I'd also like to see what would have happened had I melted the butter to add it. Guess I have no choice but to eat more bread. Sound familiar? Remember that time I made that grape focaccia? I have no control or will power when it comes to fresh bread! But I digress... Since St-Patty's Day is coming up, I thought this was a good time to share this easy Irish soda bread with raisins recipe. Enjoy!
Irish soda bread with raisins (no yeast)
Irish soda bread is the easiest bread you can make. Make it plain or add in some raisins. This is a simple bread that just requires a mixing bowl and a spoon to make, and still it's a great bread. It's a no-knead bread recipe you can make in minutes.
Ingredients
85

grams

(

1

cups

)

rolled oats (or large flake oats)

250

grams

(

2

cups

)

bleached all-purpose flour

250

grams

(

2

cups

)

whole wheat all-purpose flour

2

tablespoon

(

2

tablespoon

)

granulated sugar

1

teaspoon

(

1

teaspoon

) Diamond Crystal fine kosher salt

1

teaspoon

(

1

teaspoon

)

baking soda

58

grams

(

¼

cup

)

unsalted butter

softened

1

cup

(

1

cup

)

sultana raisins

1

(

1

)

large egg(s)

500

mL

(

2

cups

)

buttermilk (1 % fat)
Instructions
Preheat the oven to 425°F. Blitz together the oats and flours to chop the oats a little (optional). Transfer to a large bowl, then add the sugar, salt, and baking soda. Whisk everything together.

Work the butter into the flour mixture with your fingers until it resembles a coarse crumble, then stir in raisins.

In a separate bowl, whisk together the egg and the buttermilk.

Make a well in the centre of the flour mixture. Pour the beaten egg and buttermilk into the well and mix in with a wooden spoon until dough is too stiff to stir. Dust hands with a little flour, then gently knead dough in the bowl just long enough to form a rough ball. Transfer the dough onto a large piece of parchment and then shape it into a round loaf. Pick up the parchment corners to gather it together and plop everything (paper and all) into a Dutch oven. Using a serrated knife, score top of dough about 1⁄2'' deep in an "X" shape. Sprinkle with a few more oats if you have some. Transfer to oven and bake until bread is a deep brown all over, about 40 minutes. Transfer bread to a rack to let cool briefly. Serve bread warm, at room temperature, or sliced and toasted.
Give back
If you enjoy the free content on this website, say thank you!
Notes
Calories calculated for one slice assuming loaf yields 12 slices.
I like this Nordic Ware 3 quart Dutch oven available on Amazon
Nutrition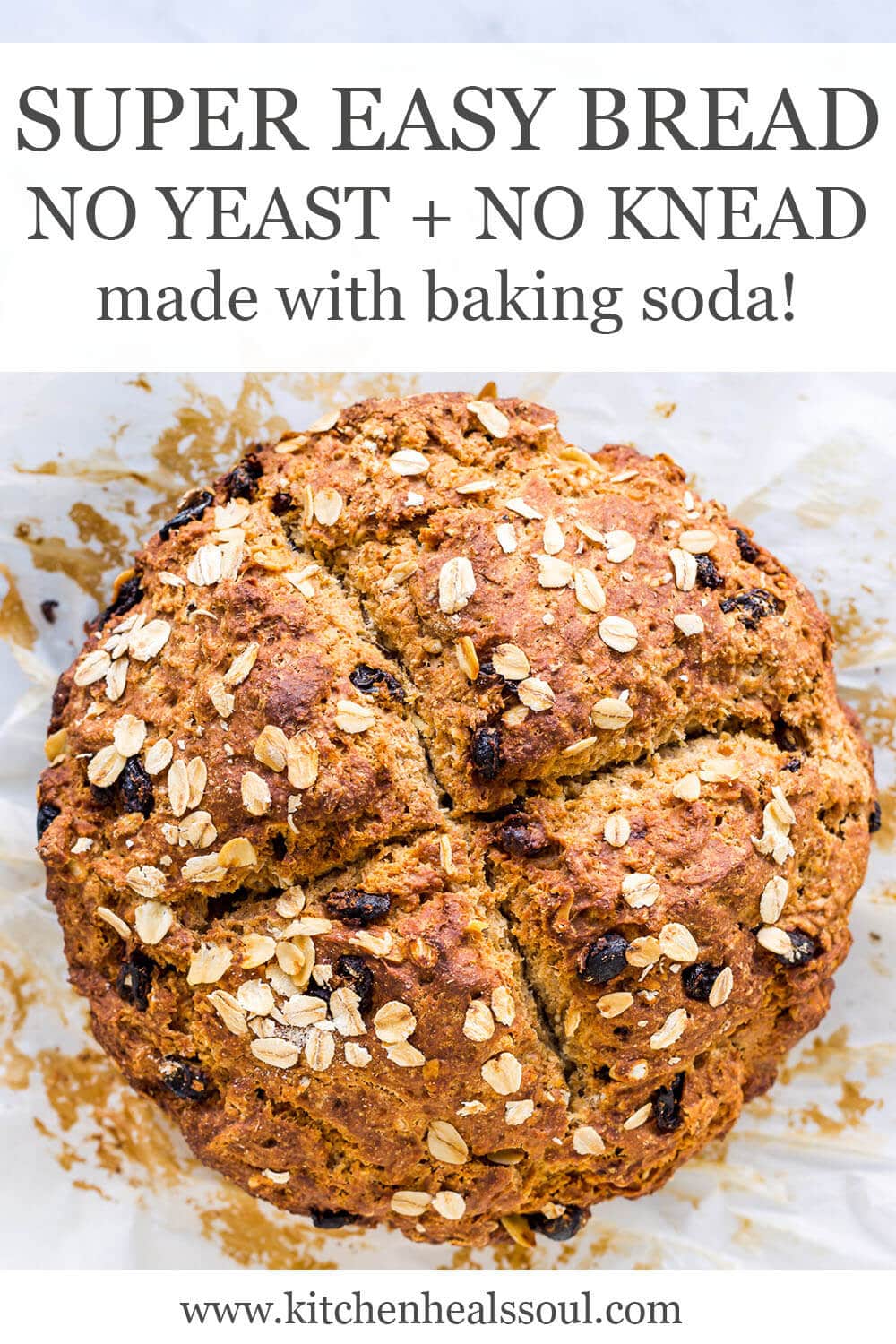 Adapted from Saveur.