These spiced stollen swirl buns are made ahead of time and shaped the night before you bake them, so the next morning, all you have to do is proof and bake them!
As an Amazon Associate I earn from qualifying purchases.
One of my favourite recipes from the Simple Bites Kitchen, which I've made many times, are these spiced stollen swirl buns. I love making loaves of stollen from this Christmas stollen and fruit bread every winter to enjoy toasted with lots of salted butter. I'd never thought to turn the dough into swirly buns. Genius! And the bonus is that you can make them ahead and bake them on Christmas morning.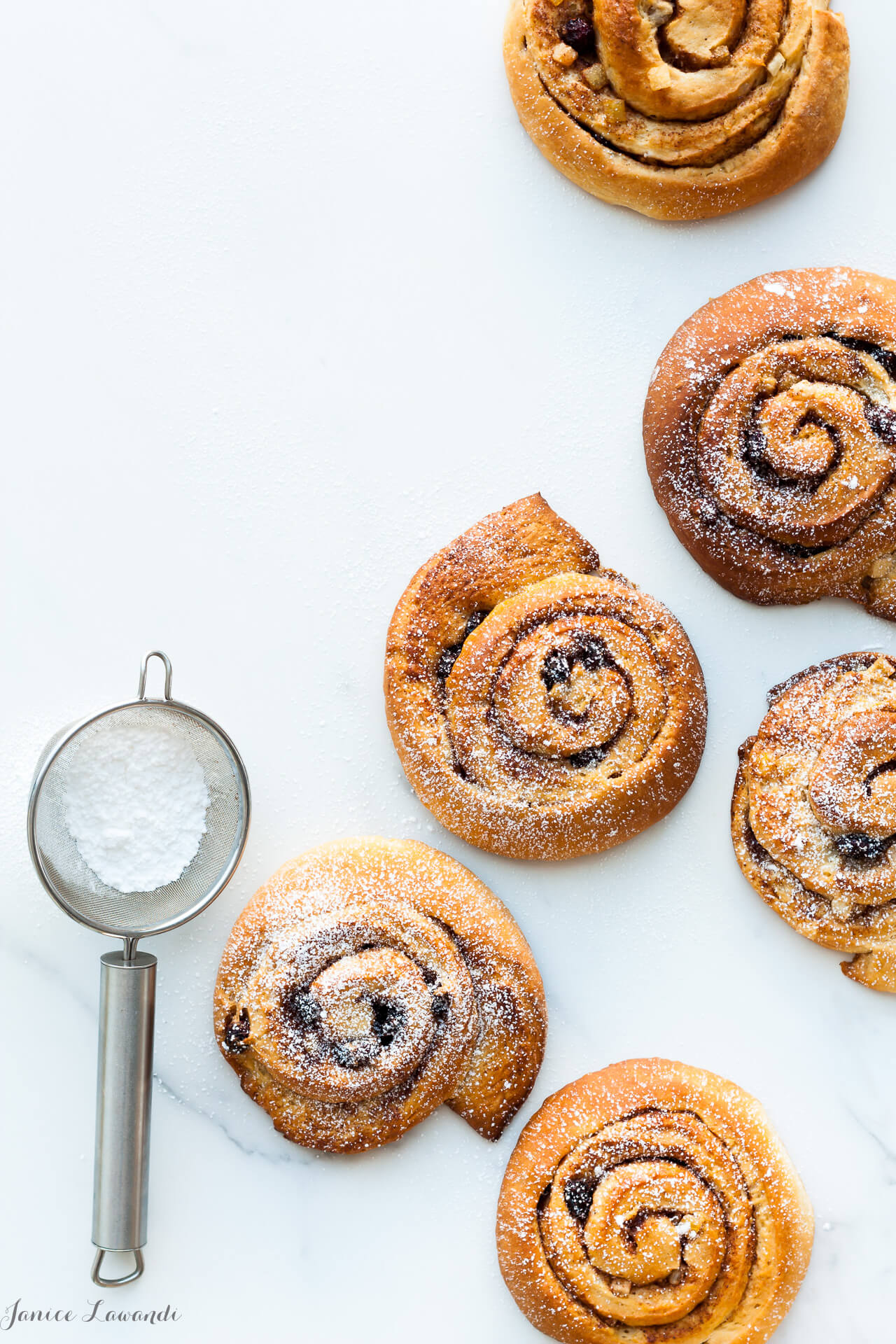 Buy The Simple Bites Kitchen for the bagel recipe (trust me!), and stay for Aimee's take on the classic stollen recipe with these spiced stollen swirl buns (page 37). Aimee will also teach you life essentials like how to organize your fridge, which most of us could use a little help with (or is it just me?). The recipes in The Simple Bites Kitchen are approachable, but a little more sophisticated with a few twists on flavour that make things extra exciting.
Get your copy of The Simple Bites Kitchen on Amazon. It would make a great gift!
And you can also snatch up a copy of Brown Eggs and Jam Jars if you haven't already, over on Amazon too!
📖 Recipe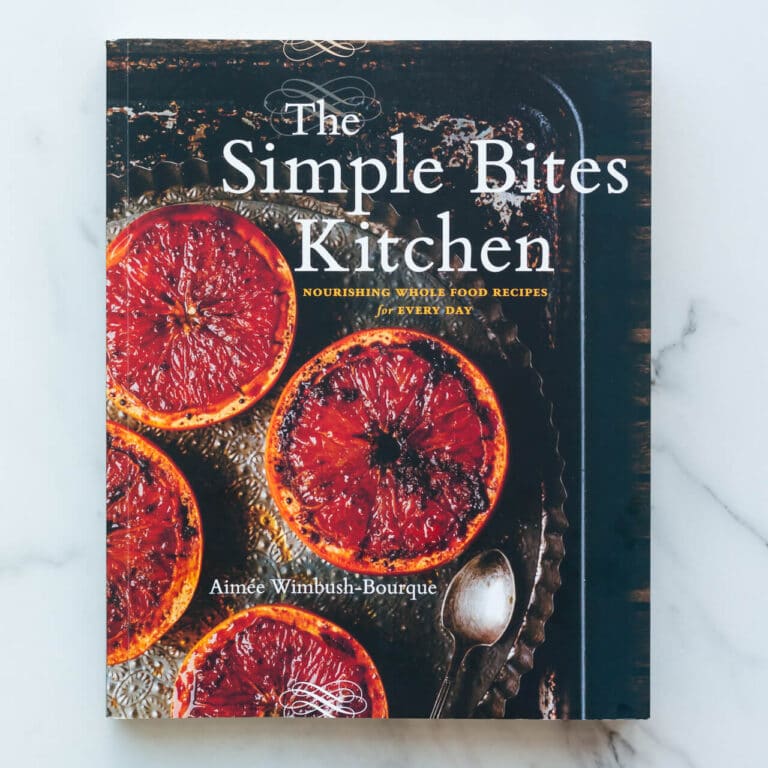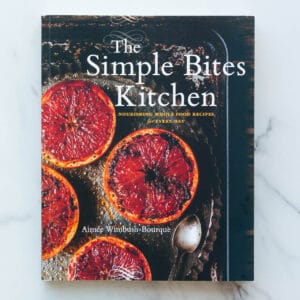 Disclosure: As an Amazon Associate, I earn from qualifying purchases.
Overnight Spiced Stollen Swirl Buns
Make these spiced stollen swirl buns the day before so that you can bake them in the morning and serve them fresh!
Ingredients
170

mL

whole milk (3.25 % fat)

2

teaspoon

active dry yeast

405

grams

bleached all-purpose flour

60

grams

dried cranberries

3

tablespoon

candied orange peel

1

tablespoon

spiced or dark rum

175

grams

unsalted butter

softened and divided

2

large egg(s)

½

teaspoon

Diamond Crystal fine kosher salt

½

teaspoon

ground cardamom

1

teaspoon

ground cinnamon

½

teaspoon

ground allspice

icing sugar

for dusting
Instructions
Heat the milk in a small saucepan over medium-high heat until scalded, then cool to wrist warm or around 110 °F (43 °C). Pour into a medium bowl and whisk in the yeast. Beat in ½ cup of the flour, then cover the bowl with a tea towel and let stand in a warm place while you prepare the rest of the ingredients.

In the same saucepan, combine dried cranberries, candied orange peel and rum. Warm gently, then turn off heat and let soak.


In the bowl of a stand mixer fitted with the paddle attachment, cream ½ cup (8 tablespoons) of the soft butter with ½ cup of the sugar until light and fluffy. Beat in the eggs, one at a time, followed by the salt and cardamom. Tip in the yeast sponge and add ½ cup of the flour. Mix on low speed until the dough comes together.


Switch to the dough hook and add the remaining 2¼ cups flour, ½ cup at a time, mixing on low speed until a soft dough forms. Knead on low speed for 5 minutes. Remove the dough hook, cover the dough with a tea towel and let rise in a warm place for 1 hour or until doubled in size.

On a lightly floured counter, roll out dough to a 12 x 16-inch rectangle. Spread the remaining ¼ cup soft butter in an even layer over the dough, going right to the edges. Mix the remaining ¼ cup sugar with cinnamon and allspice, then sprinkle evenly over the butter. Evenly scatter soaked fruit over the buttered dough. Starting from a short end, tightly roll the dough into a log. Using a sharp knife, cut the dough into 12 buns, each 1-inch thick. Gently reshape them into rounds if they get overly squashed.

Butter two 13 x 18-inch rimmed baking sheets. Place 6 buns on each sheet and cover loosely with plastic wrap. Refrigerate overnight.


In the morning, allow buns to rise in a warm place for about 1½ hours or until doubled in size. You can do this step in the oven, with the oven turned off but the oven light turned on. If you do this, make sure to remove them before preheating the oven.

Preheat oven to 350 °F (175 °C) and position oven racks in the upper and lower thirds of the oven. Remove plastic wrap and bake buns for 22 to 24 minutes, rotating once, until golden brown. Dust with powdered sugar and serve warm.
Notes
Original recipe calls for slivered almonds, but I didn't have any. Use ½ cup if you want to add them, scattered over dough along with rum-soaked fruit.
Recipe from page 37 of The Simple Bites Kitchen: Nourishing Whole Food Recipes for Every Day by Aimee Wimbush-Bourque, published by Penguin. Get your copy of the book on Amazon.
Nutrition