Learn how to make mincemeat cookies with this easy recipe. These cookies are similar to classic chocolate chip cookies, but with mincemeat added to the raw cookie dough and dolloped onto the scoops before baking so that the cookies bake with a pool of mincemeat on top.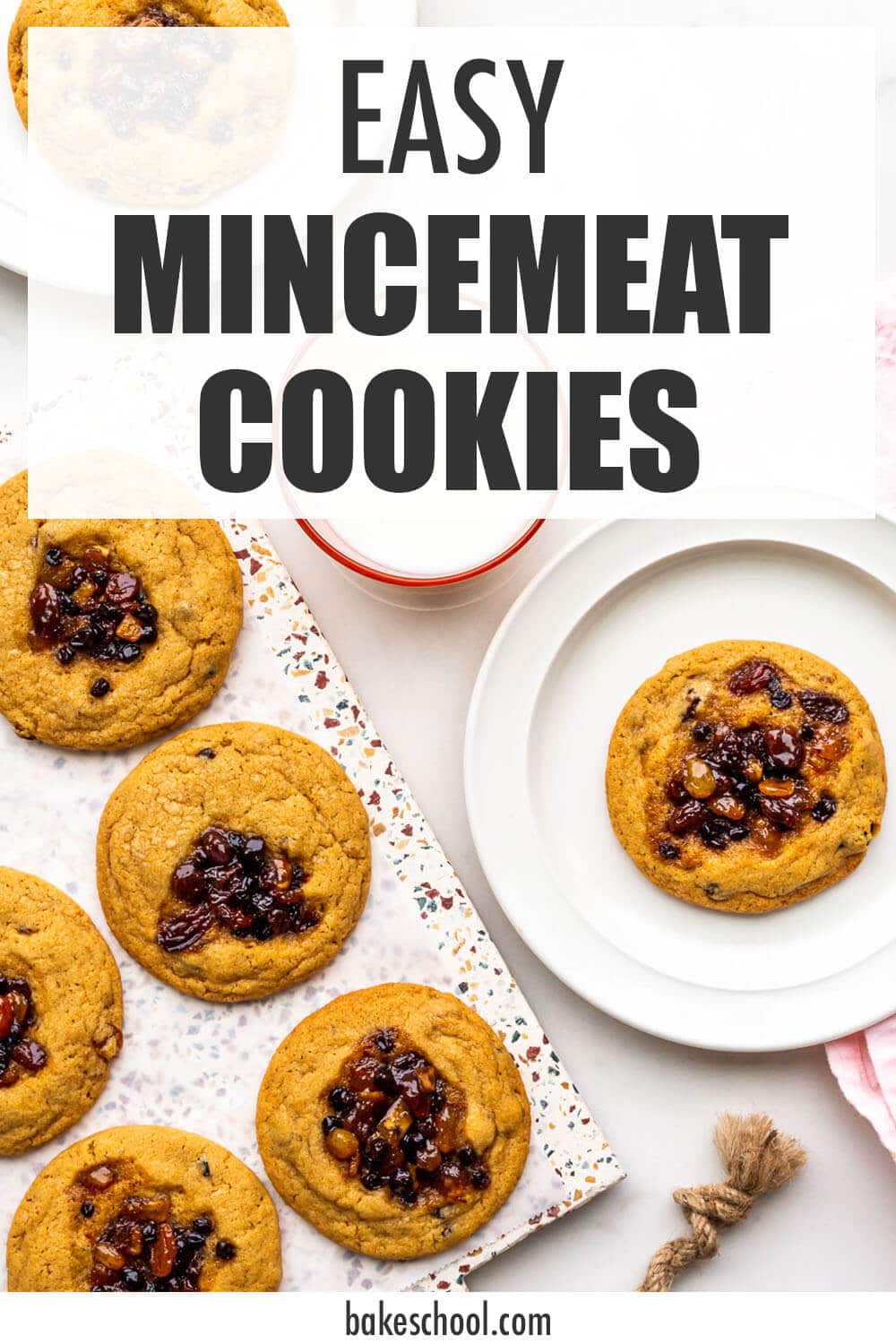 Disclosure: As an Amazon Associate, I earn from qualifying purchases.
When I developed this cookie recipe, I had visions of a soft but chewy cookie that had a pool of mincemeat baked onto it. The reason for the pool is that mincemeat has a delicate flavour profile that can get lost when you mix it into a cookie dough.
The mincemeat is the star in these Christmas cookies adding so much flavour from the raisins, currants, candied citrus peel, and warm spices. They are a crossover between a thumbprint cookie and a classic chocolate chip cookie.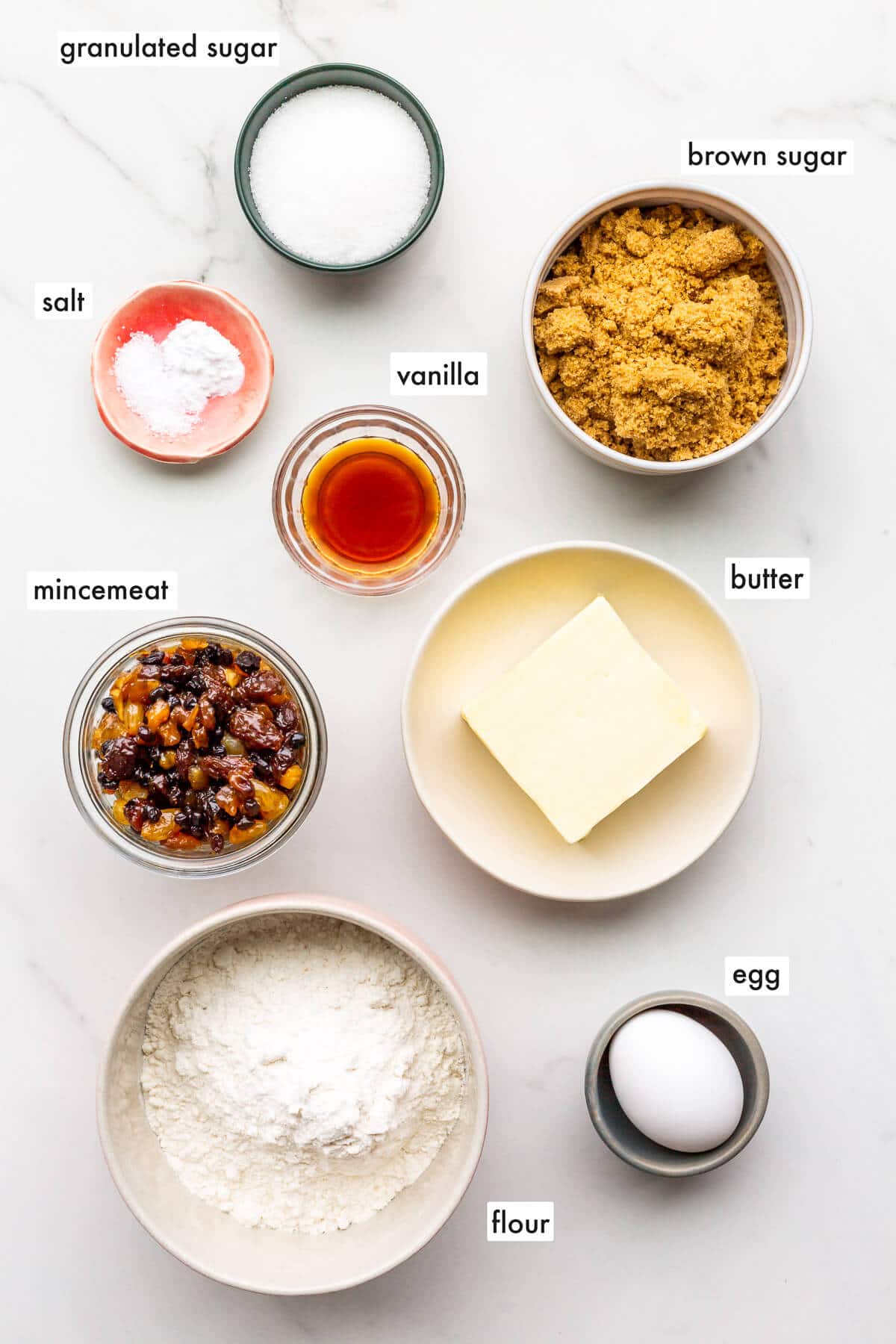 What you'll need to make these Christmas cookies
These mincemeat cookies are made just like the best chocolate chip cookies with mincemeat stirred into the dough instead of chocolate chips. Here is a rundown of the ingredients that you will need to make these:
butter, preferably unsalted butter because you will add salt to the dough, but if you have salted, it will work. Just adjust the salt in the recipe accordingly, otherwise your cookies may be too salty
granulated sugar and brown sugar (preferably dark brown sugar which has a stronger flavour but light brown will also work fine)
large eggs, don't use smaller eggs because your cookie dough may be too dry and your cookies won't spread enough, but don't use extra large eggs because they could cause the cookie dough to puff too much as it bakes, leading to a more cake-y cookie
vanilla extract is optional but helps add more flavour to the dough itself
mincemeat or mince, which is the same filling you use to make mincemeat tarts (also called mince pies). I used homemade mincemeat but a jar of mincemeat from the grocery store will also do the trick as long as you like the taste of it!
all-purpose flour is needed to bind all the ingredients together and give the cookies structure, contributing to the chewiness of the cookies as well. If you don't use enough flour, your cookies may spread too much as they bake and if you use too much, they will be hard and dry and won't spread enough when they bake
baking soda is a base (alkaline) and helps the cookies brown and gives a little flavour too. You need baking soda for the cookies to spread properly. Do not use baking powder. Read up on baking soda vs baking powder if you are unsure
salt is really important to balance out the sweet molasses flavour. Don't skip it. I like to use Diamond Crystal fine kosher salt, but table salt will work, though the cookies will be saltier and you may want to halve the salt in that case.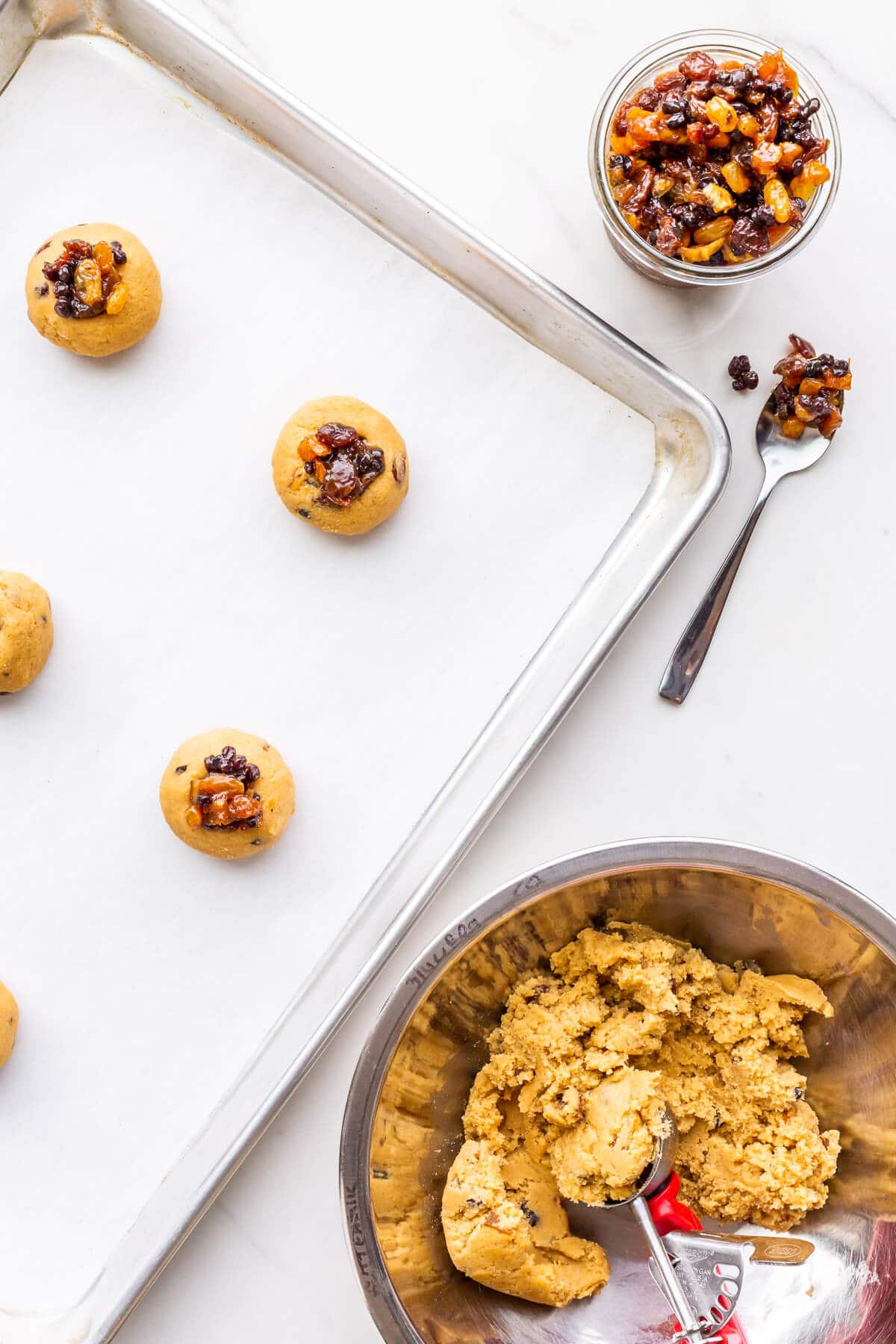 Special equipment
You don't need any special tools to make this recipe. It can be difficult to make cookie dough by hand in a bowl with a wooden spoon, so I prefer to use an electric hand mixer or even a stand mixer. Besides a mixer, you will need: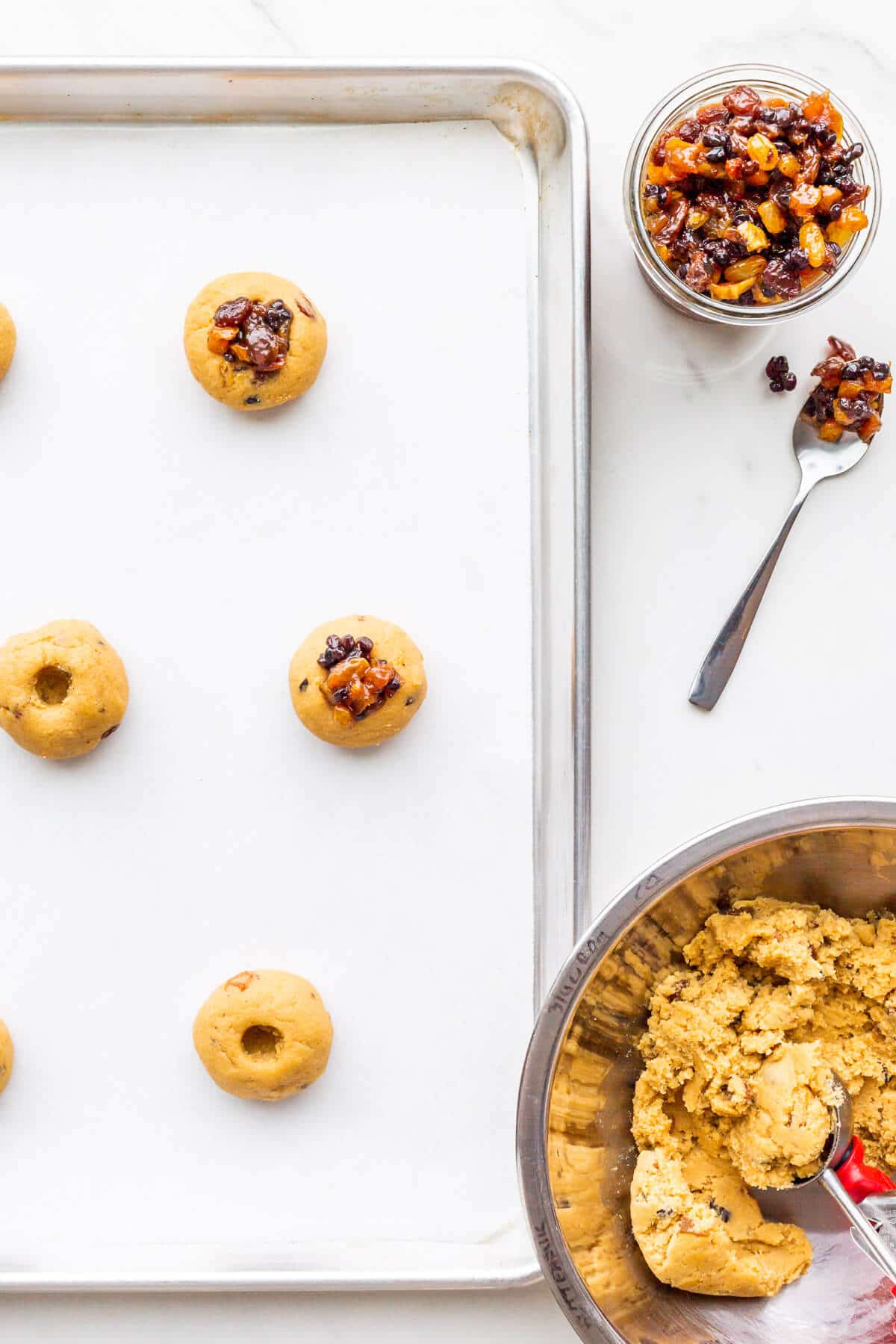 Method
Like most drop cookies, you will use the creaming mixing method to make these. Make sure to take the time to properly mix the butter and sugars for several minutes to lighten the mixture and to create a homogenous mixture before incorporating the egg and vanilla. Otherwise, you may end up with streaks of sugar that crystallize randomly on the cookie.
Before baking these cookies, I highly recommend you use your thumb (or the handle of a wooden spoon) to create an indentation on the top of each cookie. This allows you to stuff a teaspoon of mincemeat onto these cookies, creating a pool when the cookies spread and the mincemeat melts as they bake in the oven. If you struggle with cookies baking too flat and thin, read about why cookies spread and also chilling cookie dough.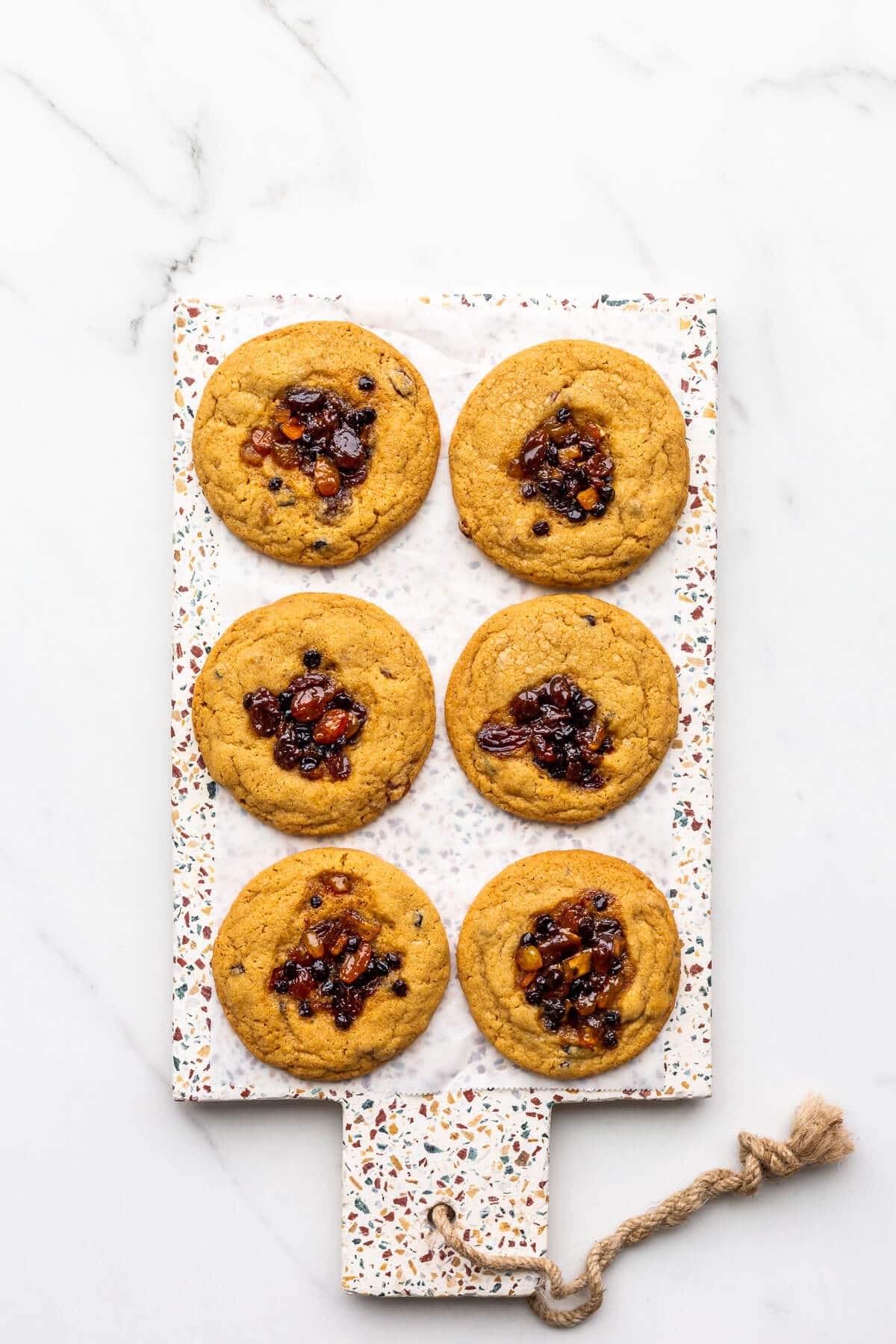 I was inspired by the look of the Marks & Spencers mince pie cookies when I made these. Though I've never tried them, I feel like this might be a pretty good copycat version of the M&S mince pie cookies sold in the UK. If you like mincemeat tarts, you will love these cookies!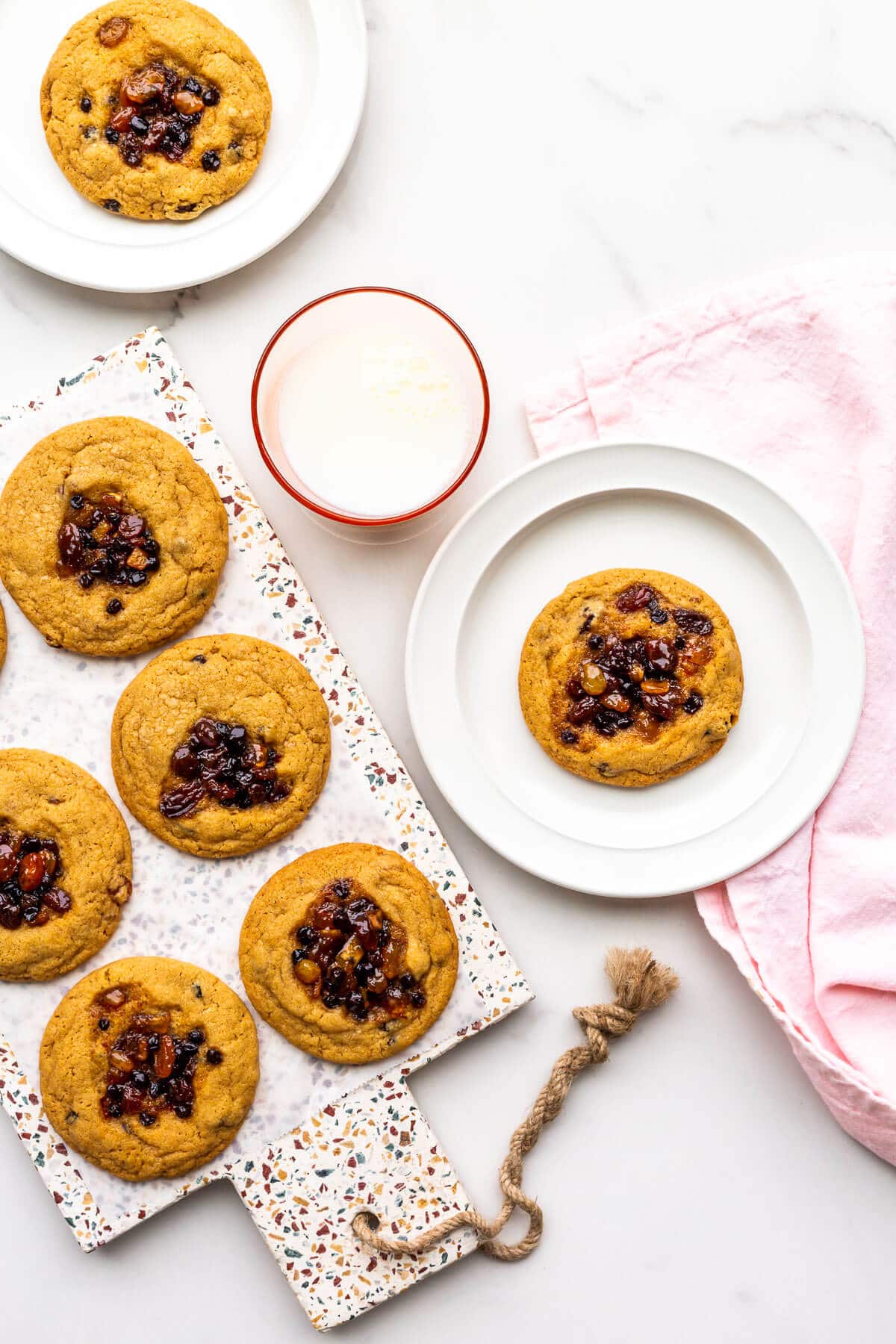 📖 Recipe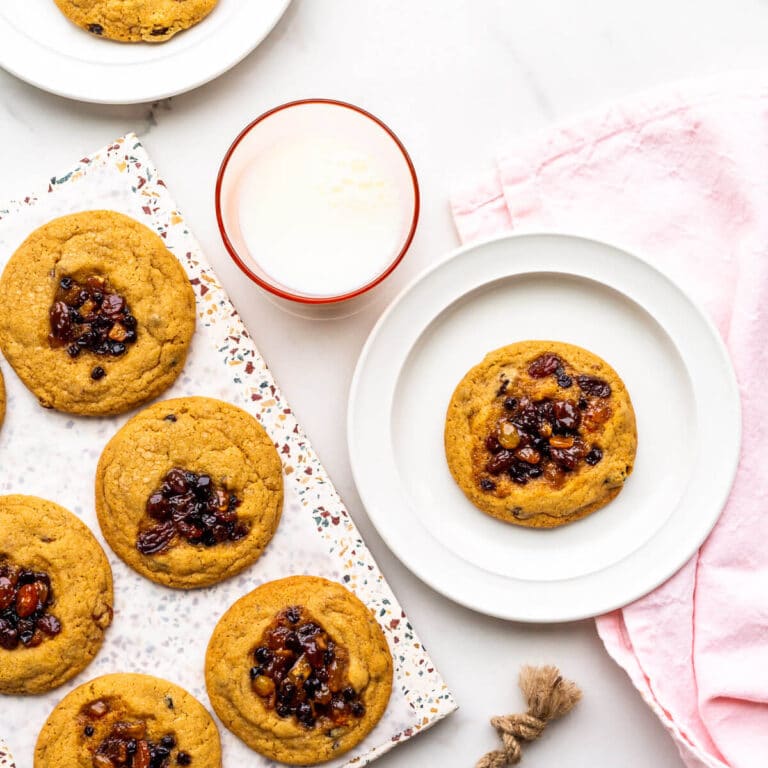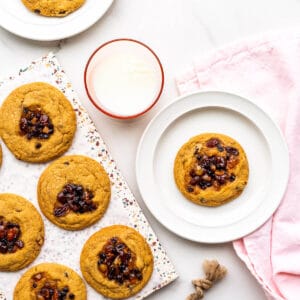 Mincemeat Cookies
Learn how to make mincemeat cookies with this easy Christmas cookie recipe. This makes cookies very similar to the M&S mince pie cookies, soft and chewy with lots of mincemeat flavour.
Instructions
Preheat the oven to 375 ºF (190 °C). Line two large sheet pans with parchment paper.

In a medium bowl, whisk together the flour, salt, and baking soda. Set aside.

In a large bowl, using an electric hand mixer or in the bowl of a stand mixer with the paddle attachment, cream together the butter, the granulated sugar, and the brown sugar until it's very light and fluffy.

Add the egg and the vanilla, and mix well until the mixture is light and fluffy again. Make sure to clean down the sides of the bowl as needed with a big spatula.

Stir in 100 grams (⅓ cup) of mincemeat to incorporate it.

Dump in the whisked dry ingredients, and incorporate them with the mixer on low.

Scoop approximately 50 gram portions of the dough, rolling them into balls.

Place 6–7 cookies per cookie sheet, being sure to space them apart and stagger them to allow for air circulation and spreading.

Using your thumb or the handle of a wooden spoon, create an indentation in the centre of each cookie. Fill with mincemeat, being sure to gently press it into the indentation to pack it in.

Bake the cookies, one sheet pan at a time, until the edges just begin to brown (this takes about 16 to 18 minutes). You might want to rotate the pan partway through the baking to make sure the cookies brown evenly.

Let the cookies cool completely on the sheet pan while you bake the second pan.

Store in an airtight container.
Nutrition
Calories:
213
kcal
Carbohydrates:
35
g
Protein:
2
g
Fat:
7
g
Saturated Fat:
4
g
Polyunsaturated Fat:
1
g
Monounsaturated Fat:
2
g
Trans Fat:
1
g
Cholesterol:
29
mg
Sodium:
195
mg
Potassium:
38
mg
Fiber:
1
g
Sugar:
22
g
Vitamin A:
222
IU
Calcium:
15
mg
Iron:
1
mg