Learn how to make homemade mincemeat tarts from scratch with this easy recipe. This recipe will work with store-bought or homemade mincemeat which is baked in tart shells made from all-butter pie crust. This is a festive Christmas dessert to serve over the holidays!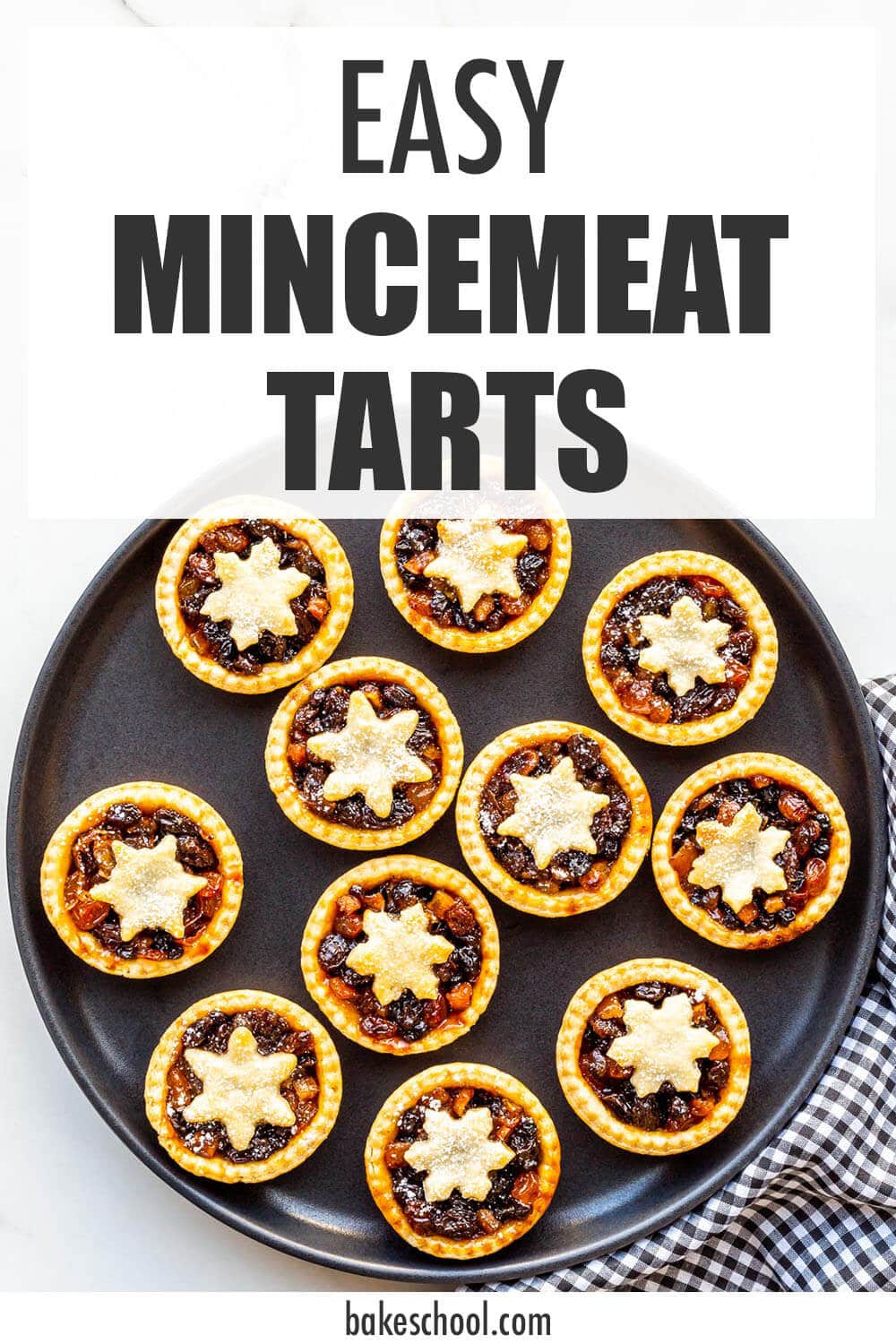 Disclosure: As an Amazon Associate, I earn from qualifying purchases.
Mincemeat tarts, also called mince pies or mincemeat pies, are miniature single-serve pies made with a pie dough and a rich mincemeat filling made from dried fruit and candied citrus peel, butter or suet, brown sugar, and warm spices like cinnamon, nutmeg, cloves and allspice. They are often served warm or at room temperature around Christmas time.
Though the name might suggest otherwise, mincemeat tarts are not made with meat, though they can be made with suet or butter.
Jump to: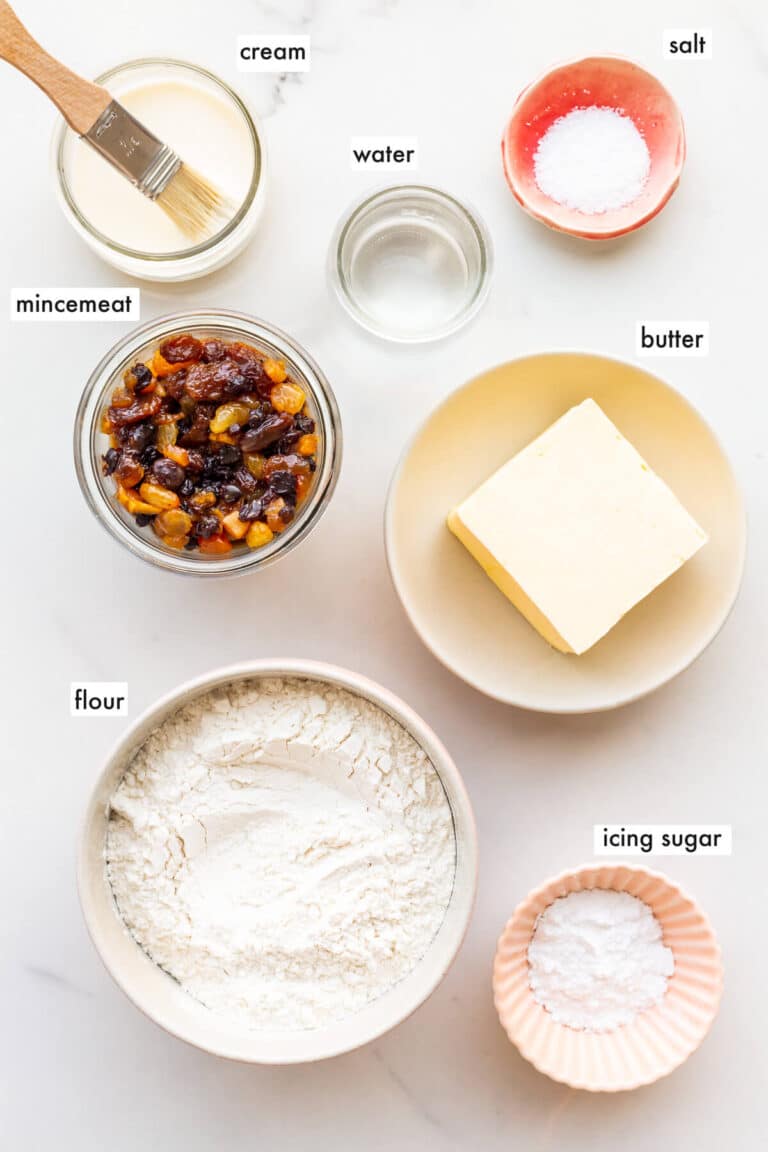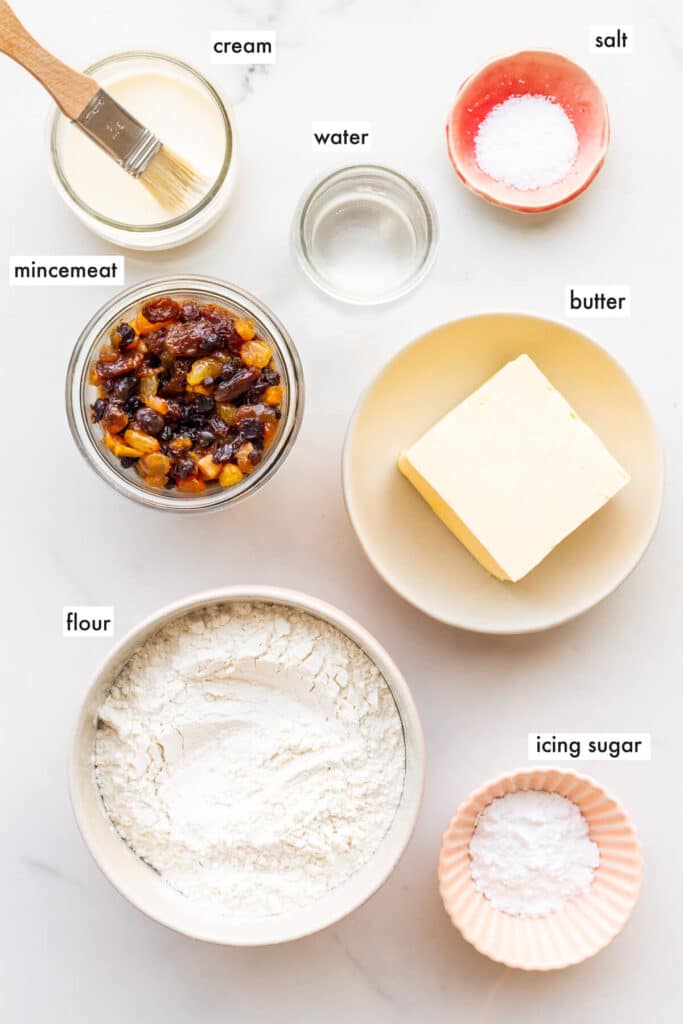 What ingredients you'll need to make these
Mincemeat pies are quite easy to make from scratch. Here's what you'll need:
The pie dough can be made in the food processor in under 5 minutes. The longest part of this recipe is chilling the pie dough and the tart shells before filling and baking them.
This recipe works with homemade mincemeat or store-bought. Don't feel obliged to make mincemeat if you don't want to. But do make the crust if you can! Or if you don't want to make the crust then make the mincemeat. See what I'm saying? Once the mincemeat is made and in the fridge, it's a matter of making a simple pie dough and cutting it to fit mini muffin pans.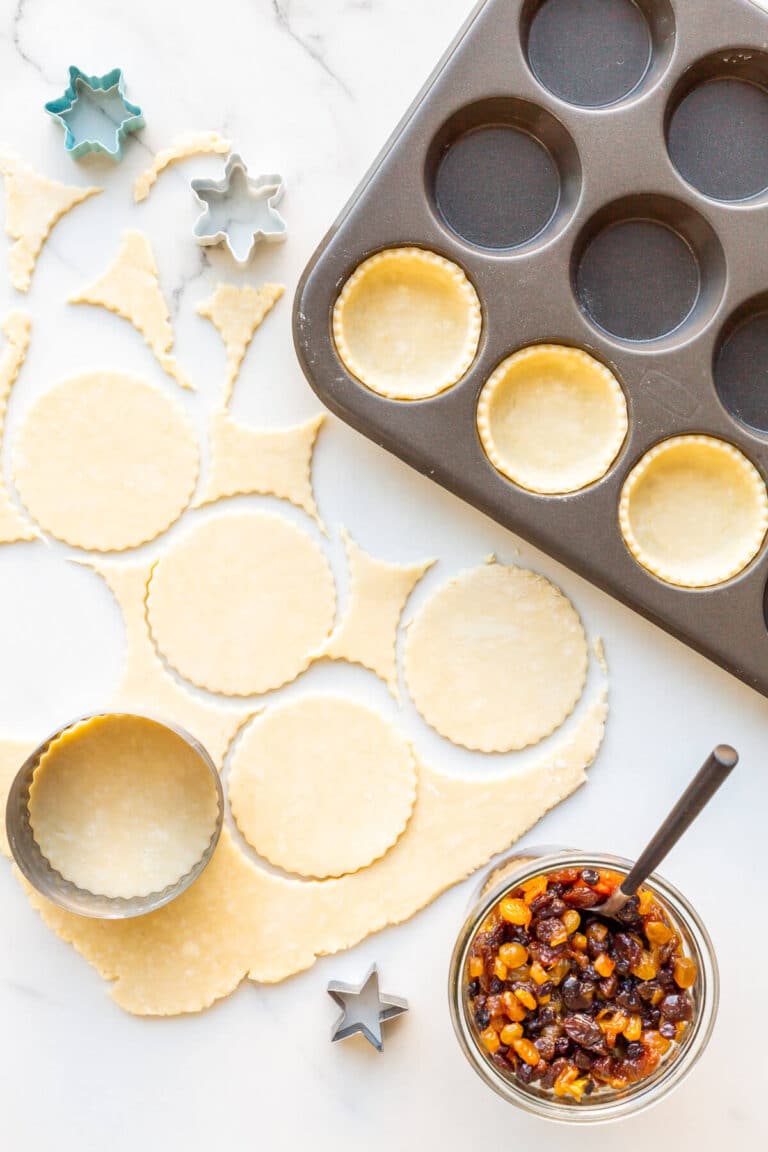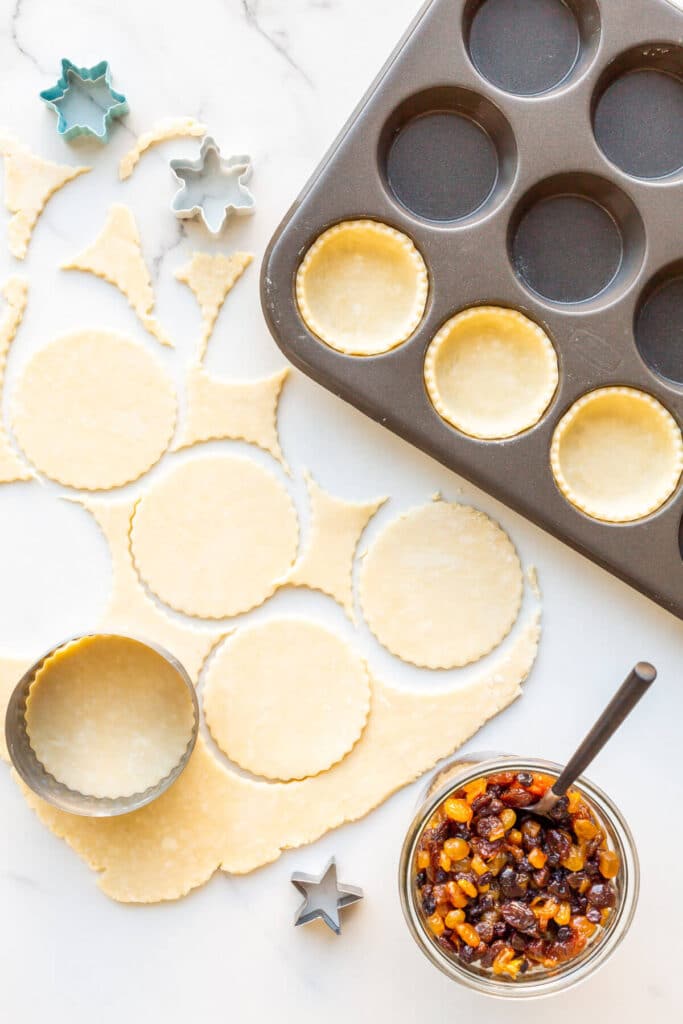 Toppings for mince tarts
When it comes to mince pies, you have options for how you finish them before baking:
Top each tart with a snowflake cutout of pie dough: it makes these extra festive, especially with a sprinkle of powdered sugar.
Top each pie with another round of pie dough, pinching the edges together to seal them, and cutting a slit in the top crust to vent them. They will look just like miniature double-crust pies.
Top each pie with almond cream or frangipane, and a few sliced almonds before baking. The almond cream paired with the mincemeat will be out of this world!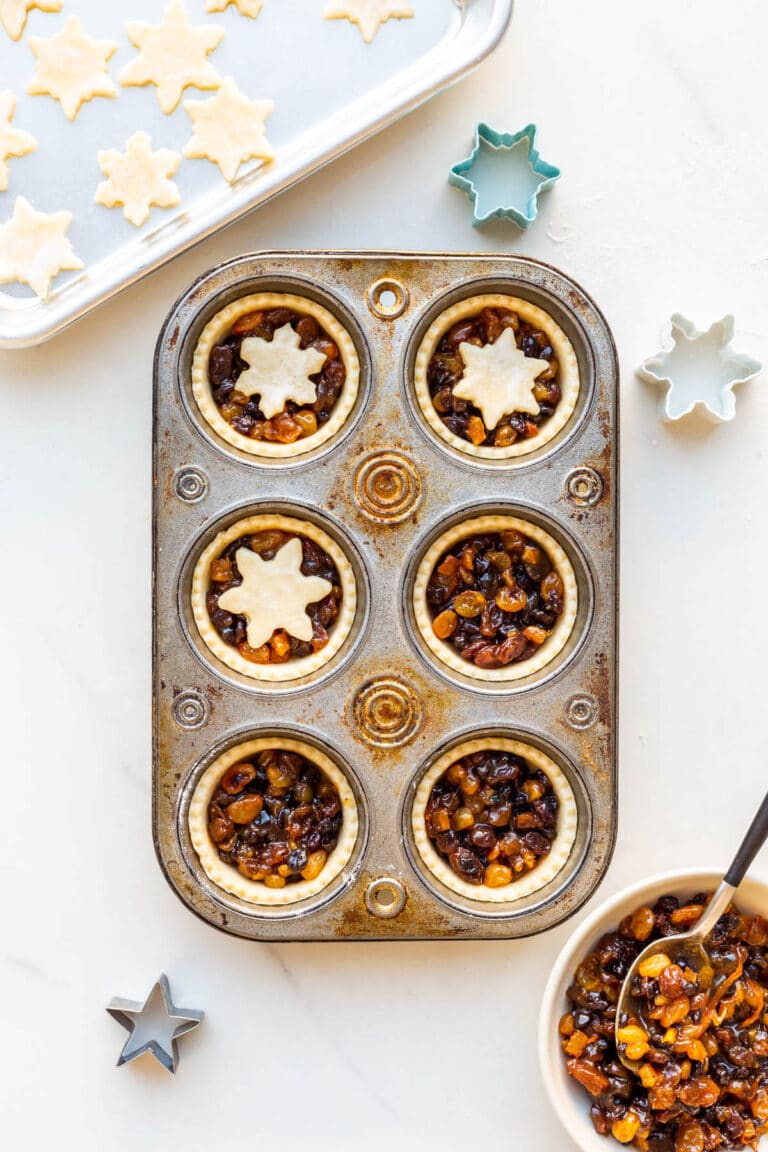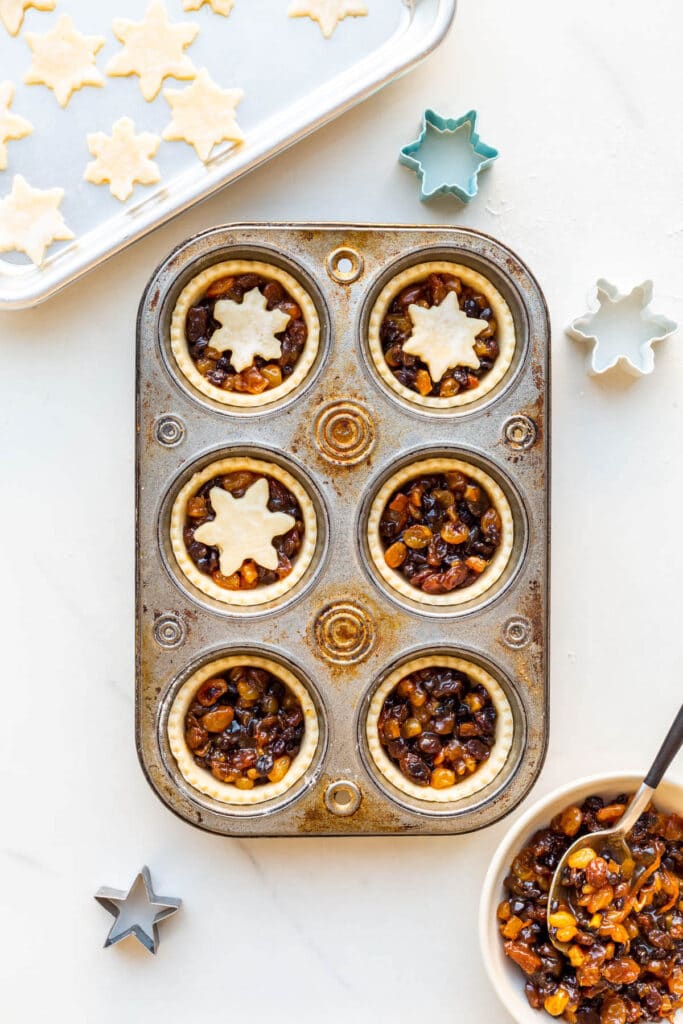 Special bakeware to make these
Like any pie or tart recipe, you will need a rolling pin to roll out the dough. You will also need round or fluted-edge cookie cutters to cut the dough to make 22 tarts.
Although these are called tarts/pies, we are using neither pie nor tart pans for this recipe. To bake mincemeat tarts just like these, all you need is a regular size muffin pan! The rolled dough is cut into 3.5" diameter circles (8.9 cm) and carefully fitted into each muffin cup. Note that the dough won't come up to the edge of the pan and only fills two-thirds of the height of the pan.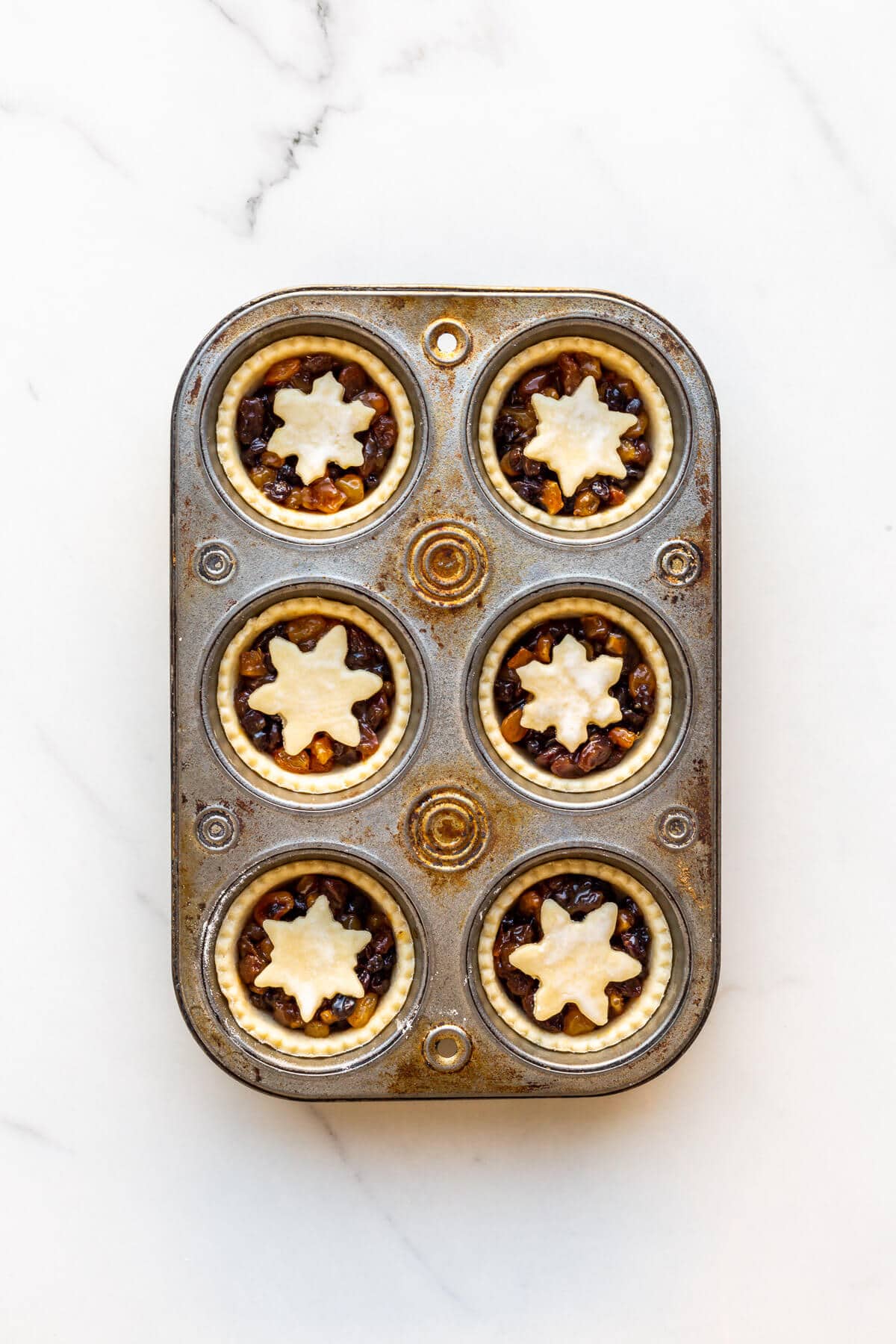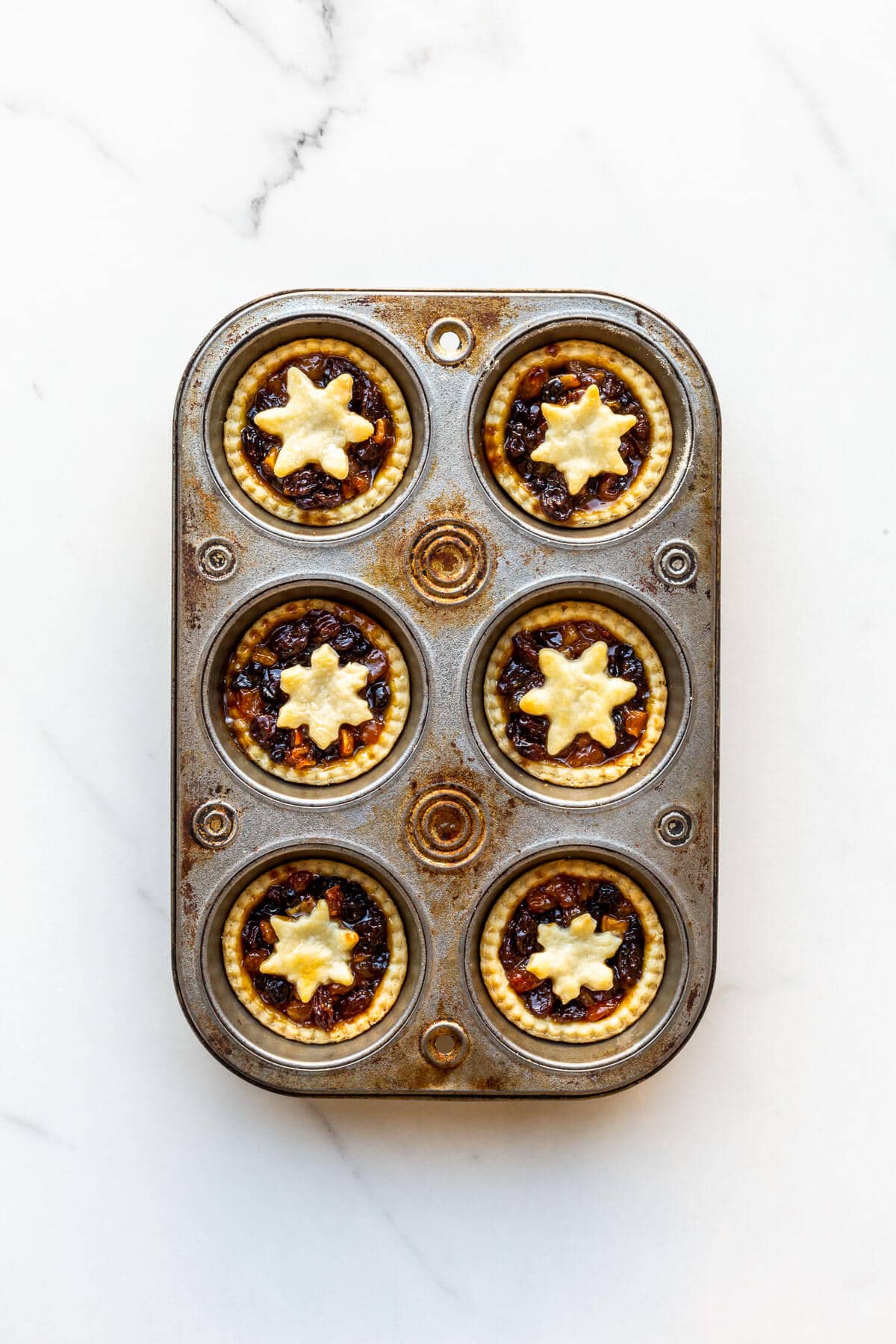 Personally, I like to top mince pies with snowflake-shaped cutouts of pie dough, so if you go that route, make sure you have a mini star or snowflake cookie cutter to make the decor.
You can also top the pies with a full top crust if you prefer. Just remember to cut a slit in the top crust to vent them and allow the vapour to escape so that the filling doesn't burst out the sides.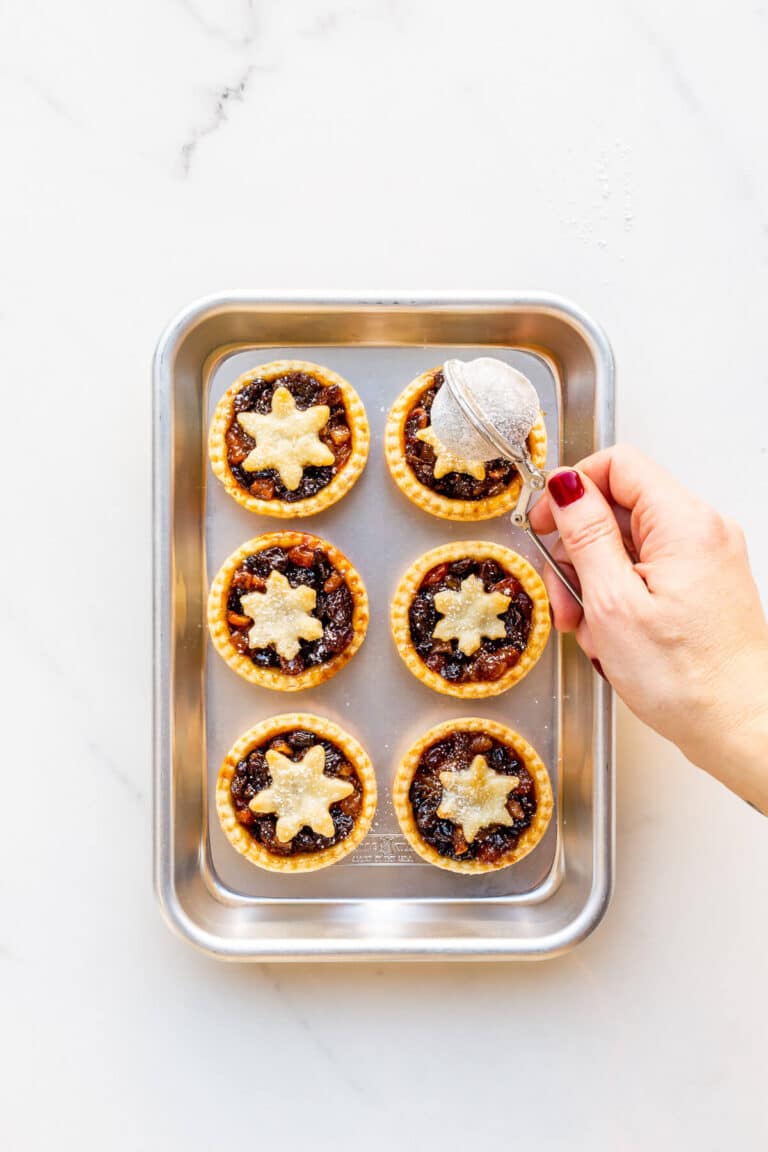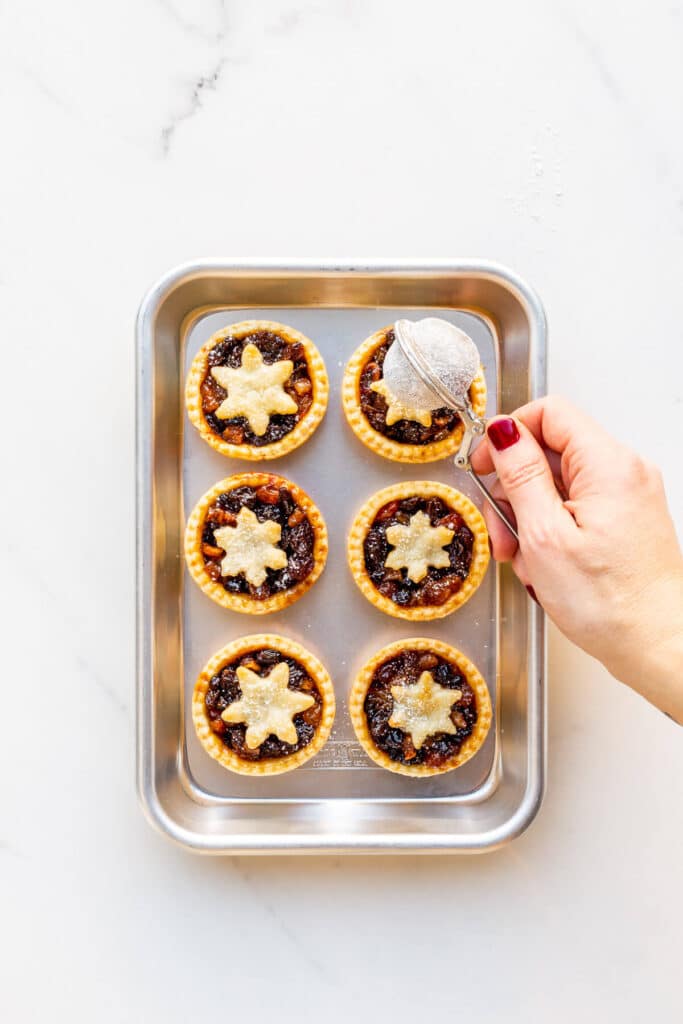 Frequently asked questions
Do mincemeat tarts need to be refrigerated
Once baked, you can store mincemeat tarts at room temperature in an airtight container. They don't need to be refrigerated. If your "room temperature" is quite warm, then store them in the fridge or freezer, and reheat them when you want to eat them.
Can you freeze mincemeat tarts?
You can definitely freeze mincemeat tarts before or after baking. I prefer to freeze them after baking. Once the tarts have cooled down to room temperature, you freeze them on a parchment-lined sheet pan until frozen solid, then transfer to a freezer bag for long term storage. Then when you want a tart, you can bake them in a low oven (300 ºF) to defrost/warm them up! Sprinkle with powdered sugar after defrosting, not before.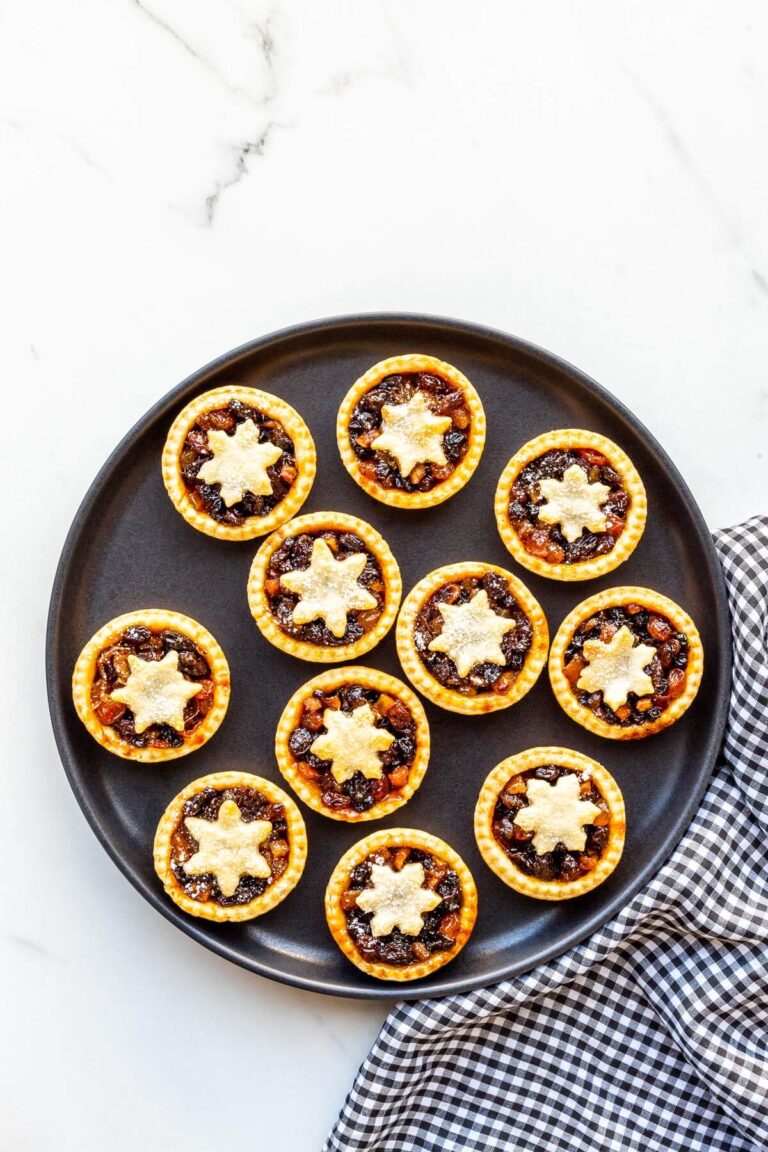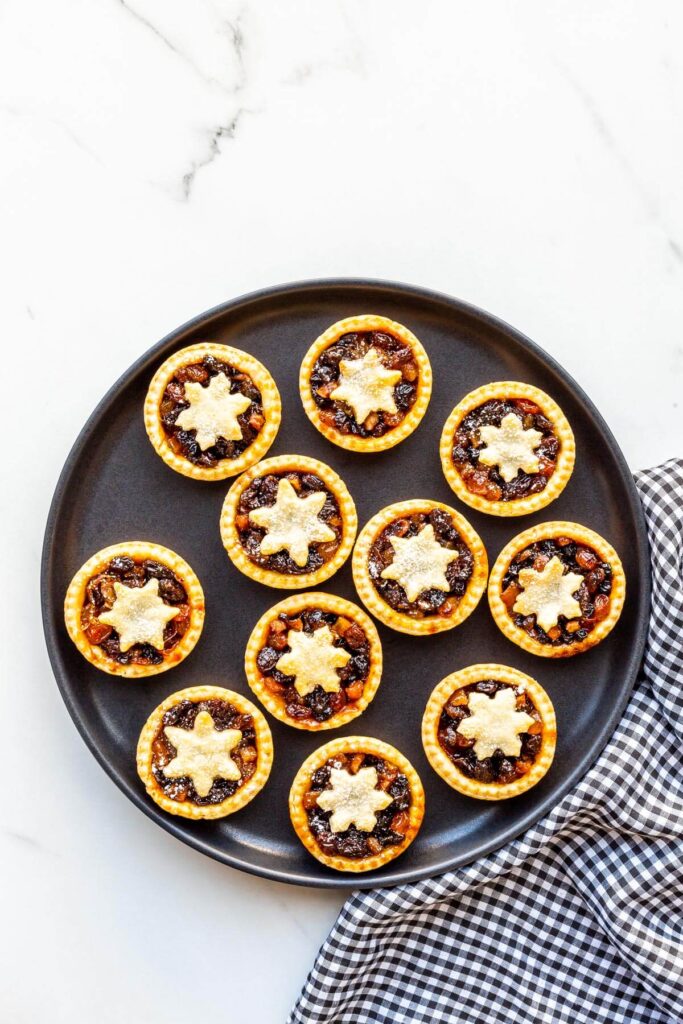 Served warm, these tarts taste absolutely luxurious because of the bitter, boozy, buttery filling. If tarts aren't your thing around Christmas time, you can always try traditional shortbread, cardamom crescent cookies, and these slice-and-bake fruitcake cookies (which are the easiest of all). Or if you just want cake, you cannot go wrong with this fruitcake recipe. It is THE BEST, which you can use to make these boozy Christmas cake balls if you have leftover cake.
📖 Recipe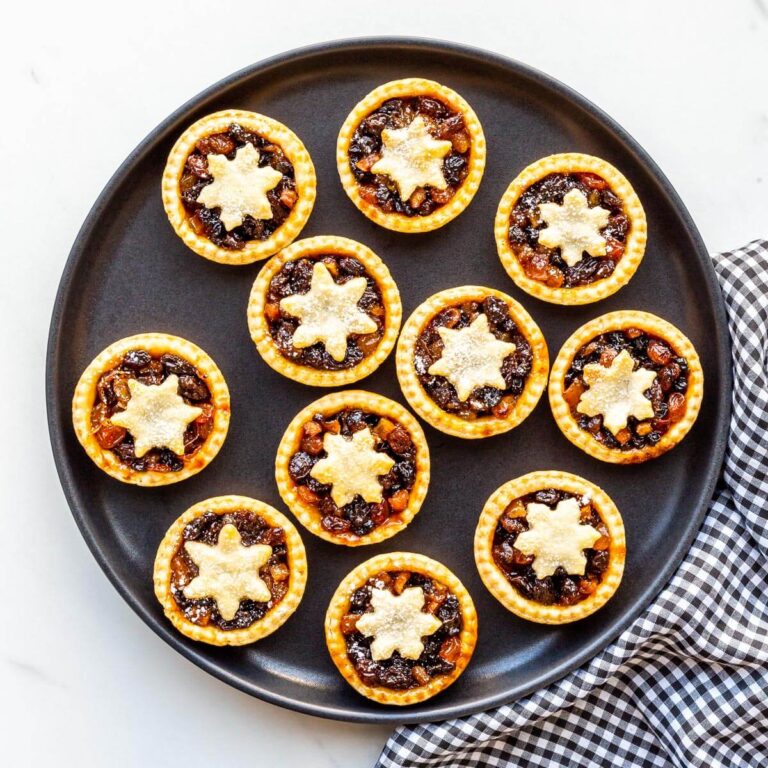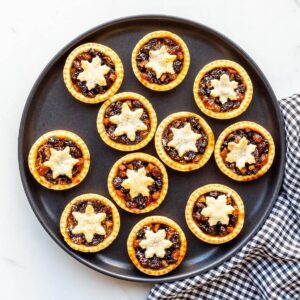 Mincemeat Tarts
Learn how to make mincemeat tarts with this easy recipe. They are a traditional British treat around Christmas-time. 
Ingredients
For the crust
312

grams

bleached all-purpose flour

173

grams

unsalted butter

cut into small chunks, cold

105

mL

cold water
Instructions
First make the crust. In the bowl of a food processor, combine the flour and salt.

Drop in the cold butter chunks and pulse until the mixture resembles coarse almond meal. Add the cold water and pulse until the mixture forms a dough.

Divide the dough into two, pat into disks and wrap in plastic. Refrigerate for 45 minutes.

Preheat the oven to 400 ºF (200 °C).

Roll one disk of dough at a time fairly thin. Cut out 3.5" circles and small snowflakes. You will use all the dough to cut out 22 circles and 22 snowflakes. Make sure to re-roll scraps.

Fit the circles into the wells of regular size muffin tins. Fill each tart shell with 1-½ tablespoon (22 mL) of mincemeat filing per tart. Top each with a snowflake.

Bake until they begin to brown and the filling is bubbling (20–25 minutes). Let cool slightly before carefully un-moulding.
Nutrition
Calories:
177
kcal
Carbohydrates:
28
g
Protein:
2
g
Fat:
7
g
Saturated Fat:
4
g
Polyunsaturated Fat:
1
g
Monounsaturated Fat:
2
g
Trans Fat:
1
g
Cholesterol:
17
mg
Sodium:
216
mg
Potassium:
17
mg
Fiber:
1
g
Sugar:
15
g
Vitamin A:
197
IU
Calcium:
4
mg
Iron:
1
mg