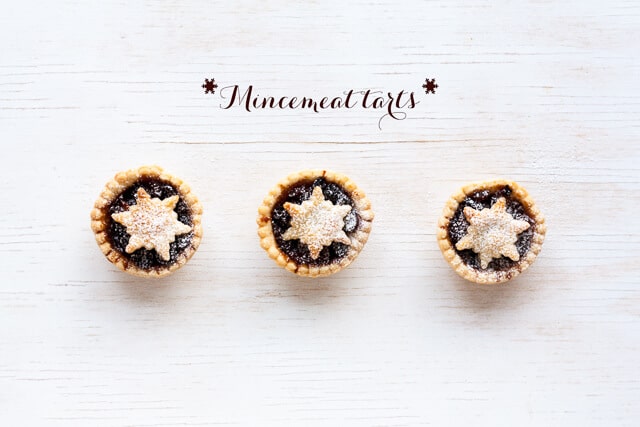 Here's the thing about making mincemeat: in my family, we tend to make the mincemeat after the holidays are over. We ALWAYS have leftover raisins, dried currants, candied peel, and even suet (from the plum pudding), and so when all the holiday baking is over (or accounted for), that's when Mom makes the mincemeat. And then we store it 'til the next Christmas, packed tight in a jar kept cold in the refrigerator. The jar doesn't leave the fridge until the next Christmas, when we make the tarts. It's a great way to use up all the ingredient odds-and-ends and honestly, it stores just fine in the fridge. I know, it seems really weird, but it works. One year, we made the mincemeat just a couple weeks before Christmas and that worked too, but we are convinced that the longer you store it, the more the flavours develop.
The mincemeat recipe we follow is from David Lebovitz. It's really good. And once the mincemeat is made and in the fridge, it's a matter of making a simple pie dough and cutting it to fit mini muffin pans. Topping each tart with a snowflake of pie dough is optional, but it makes these extra festive, especially with a sprinkle of powdered sugar. Served warm, these tarts taste absolutely luxurious because of the bitter, boozy, buttery filling. If tarts aren't your thing around Christmas time, you can always try traditional shortbread, cardamom crescent cookies, and these slice-and-bake fruitcake cookies (which are the easiest of all). Or if you just want cake, you cannot go wrong with this fruitcake recipe. It is THE BEST, which you can use to make these boozy cake truffles if you have leftover cake.
Mincemeat tarts
This mincemeat recipe comes from David Liebovitz. It stores really well in the fridge in a clean, air tight jar, and actually gets better with age. Make it earl to get a head start on the holiday baking.
Ingredients
225

g

sultana raisins

225

g

currants

110

g

golden raisins

1

Gala apple

peel on!, cored and diced into small pieces

55

g

candied orange peel

chopped

110

g

suet

grated

215

g

light brown sugar

½

teaspoon

ground cinnamon

½

teaspoon

ground cloves

½

teaspoon

ground nutmeg

½

teaspoon

ground allspice

1

lemon

zest and juice

1

navel orange

zest and juice

3

tablespoons

brandy
Instructions
Combine all the ingredients in a pot, except for the brandy.

Heat until the suet has completely melted and the mixture is heated through.

Remove the pot from the heat, and let cool before you stir in the brandy. Pack into a jar and refrigerate.
Nutrition
Mincemeat tarts
Mincemeat tarts are a traditional British treat around Christmas-time.
Ingredients
For the crust
312

grams

all-purpose flour

2½ cups

173

grams

unsalted butter

¾ cup, cut into small chunks, cold

1

teaspoon

Diamond Crystal fine kosher salt

105

mL

cold water

7 tablespoon
Instructions
First make the crust. In the bowl of a food processor, combine the flour and salt.

Drop in the cold butter chunks and pulse until the mixture resembles coarse almond meal. Add the cold water and pulse until the mixture forms a dough.

Divide the dough into two, pat into disks and wrap in plastic. Refrigerate for 45 minutes.

Preheat the oven to 375ºF.

Roll one disk of dough at a time fairly thin. Cut out four-inch circles and small snowflakes. You will use all the dough to cut out 22 circles and 22 snowflakes. Make sure to reroll scraps.

Fit the circles into the wells of regular size muffin tins. Fill each tart shell with 1 ½ tablespoon mincemeat per tart. Top each with a snowflake.

Bake for about 20 minutes until they begin to brown evenly. Let cool slightly before carefully unmolding.
Nutrition