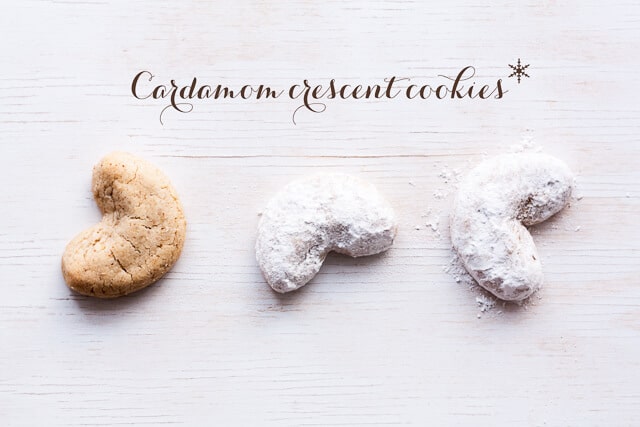 Every year, when I put together my holiday cookie baking list, crescent cookies are on the list. Every year that I bake my way through my holiday cookie list, I skip the crescent cookies. There's something about cookies that have to be formed by hand. I just can't muster up the courage most of the time. There was this one time, years ago, I made pretzel cookies with my mom, and obviously, the tiny pretzels had to be formed by hand. Turns out, I can't shape a tiny pretzel for the life of me. I just can't. They looked terrible. On the other hand, my mom could. Maybe I have a mental block. I see exactly how they should be done, but somehow the clear, easy steps don't make it to my hands. Oh well.
All that to say, I finally faced the crescent cookie, and I trusted Sweet Paul Magazine for my first attempt, not just because they look beautiful, but also because they are flavoured with cardamom, and we all know how much I love cardamom. Crescent cookies aren't actually hard to make. In fact, it's quite the opposite. And to be honest, crescents are much easier to form than tiny pretzels. Nothing to fear here, really. If you want to challenger yourself a little more, try these cranberry rugelach or these mincemeat tarts with homemade mincemeat. And if you prefer cutout cookies, try my gingerbread!
This recipe is adapted from Sweet Paul Magazine.
Cardamom crescent cookies
These crescent cookies are made with ground almonds and flavoured with cardamom and cinnamon, for a lightly spiced cookie that is perfect for the holidays and Christmas
Ingredients
313

grams

all purpose flour

2 ½ cups

¾

tsp

ground cardamom

¾

tsp

ground cinnamon

230

grams

unsalted butter

1 cup, room temperature

125

grams

icing sugar

1 cup, plus ~250 grams more for coating the cookies

1

tsp

pure vanilla extract

2

cups

ground walnuts
Instructions
Preheat your oven to 350ºF. Line a couple cookie sheets with parchment and set aside.

Whisk together the flour, salt, and the spices in a medium bowl.

In the bowl of an electric mixer fitted with the paddle attachment, cream together the butter and 125 grams icing sugar. Add the vanilla. Scrape down the sides of the bowl.

Dump in the flour mixture and mix it in just until it's incorporated, then add the walnuts and mix again to combine.

Form crescents with 1 tbsp of dough at a time, spacing them about 2 inches apart.

Bake, one sheet at a time until the cookies start to turn light golden brown (about 15 minutes).

Let the cookies cool for 10 minutes (or until cool enough to handle), then toss them in the remaining 2 cups of icing sugar. Transfer back to the rack to finish cooling.

You can roll them again in icing sugar to give the crescents a thicker coating.
Nutrition