This easy recipe for rhubarb muffins with sour cream is topped with a streusel topping before baking, yielding a moist muffin with a crunchy crumble topping. You can use fresh or frozen rhubarb for this rhubarb streusel muffin recipe.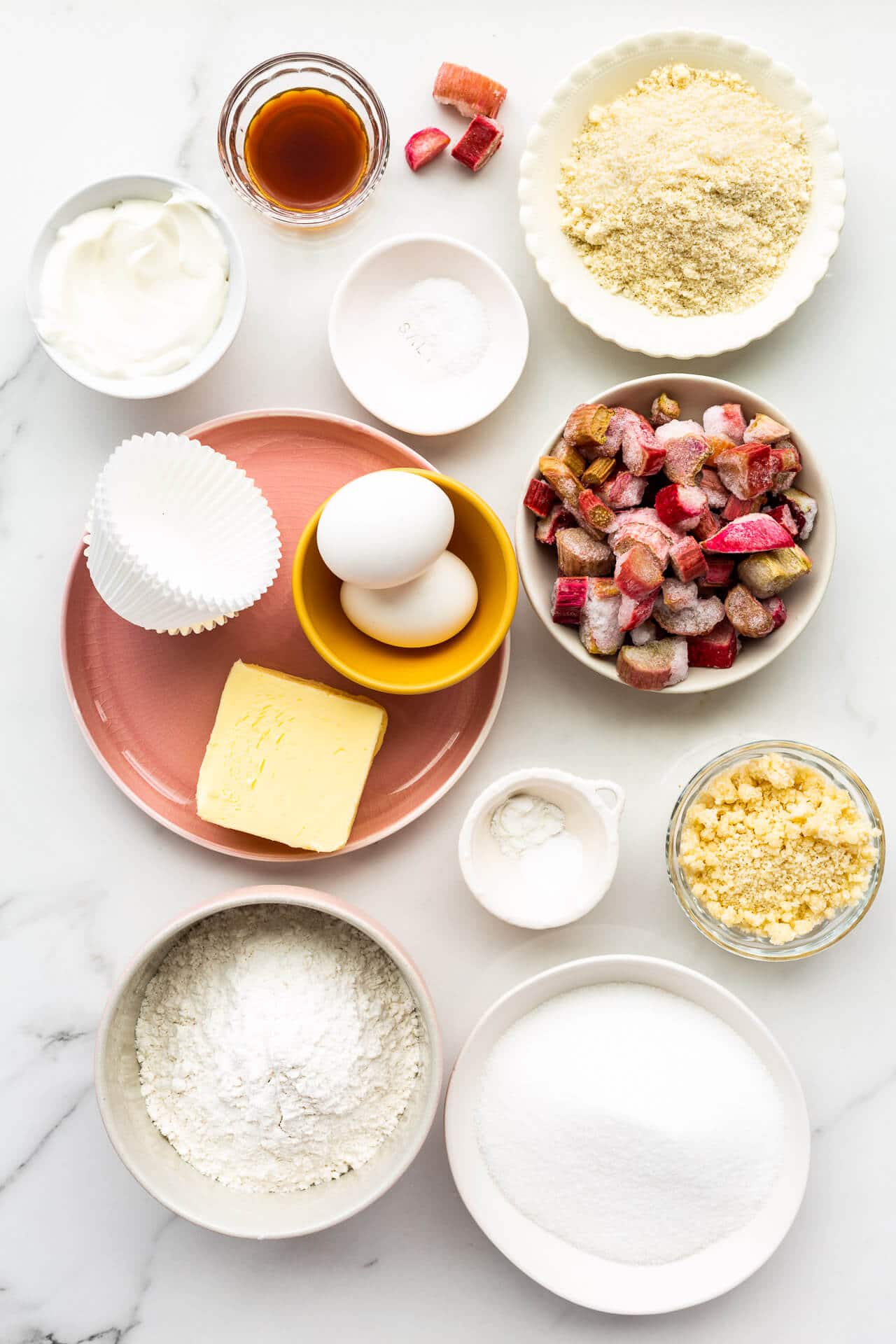 Disclosure: As an Amazon Associate, I earn from qualifying purchases.
If you ever wished that your strawberry rhubarb muffins had more rhubarb and less strawberry, this rhubarb muffin recipe is for you! I came up with this variation because I was tired of the strawberry-rhubarb pairing and I want the rhubarb to shine!
Jump to:
Making muffins less tough—the type of flour
To bake cakes and muffins that are more tender, one easy option to consider would be to use cake flour instead of all-purpose flour:
Cake flour is a finer flour, coming from a finer-milled soft variety of wheat, so it has a lower protein content, more starch, and a finer, softer texture. This leads to softer, more tender baked goods
All-purpose flour has a high protein content and some brands of all-purpose may come from a blend of a couple of wheat varieties, both hard and soft, which give it its "all-purpose" properties
A common baking substitution for cake flour is to replace it with all-purpose mixed with cornstarch. This is another way of reducing the protein content slightly and adding a little more starch to cake batters.
Knowing this, I kept that cake flour substitution in mind when I came up with this rhubarb muffin recipe: instead of using 250 grams (2 cups) of all-purpose flour, like I did in the honey blueberry muffins recipe, I used slightly less all-purpose flour and replaced it with ground almond. This substitution produces slightly denser, more moist muffins that are quite impressive.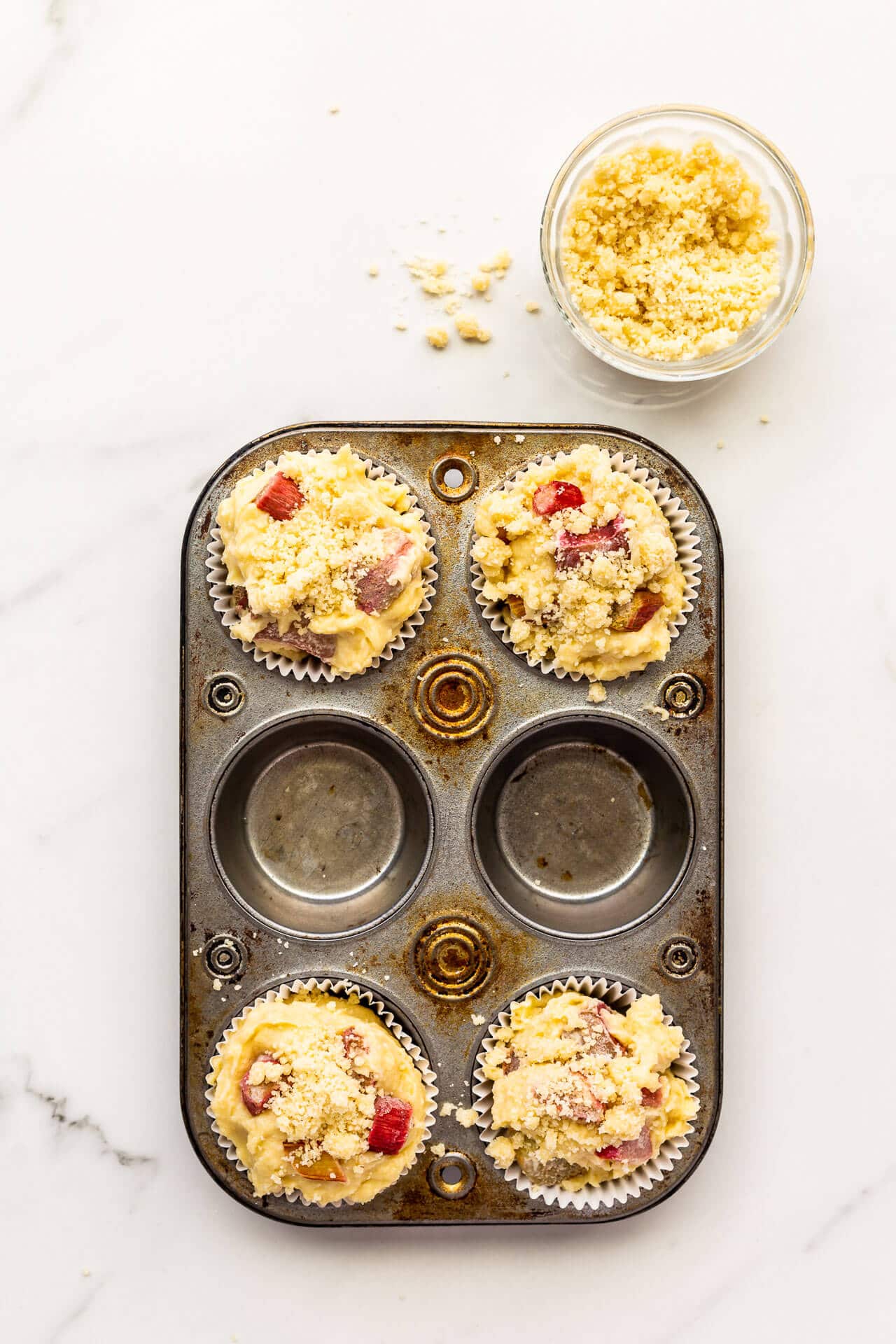 The ingredients
This recipe is based on my best fruit muffin recipes, and the ingredients are as follows
flour mixed with ground almond to reduce the gluten protein in the recipe making a slightly denser, but also more tender muffin
large eggs—don't use small eggs as the muffins may end up dry
sugar—sometimes I use a little less, and other times, I may substitute a portion of sugar for liquid sugar, like honey
butter—I prefer baking with butter, but if you must make a baking substitution here, use 80 mL (⅓ cup) of canola oil, for example. You could use up to 125 mL (½ cup) oil, but this might lead to a more delicate muffin. It all depends on what you are going for!
sour cream—you could use buttermilk, but sour cream adds so much flavour and richness to the muffin batter. I'm obsessed!
both baking powder and baking soda are the chemical leaveners I add to this muffin recipe. You need the baking soda in this recipe because these muffins have sour cream, an acidic ingredient in the recipe. The baking soda helps neutralize the acid so that the baking powder can do its job
rhubarb: in this case, we are working with chopped rhubarb, fresh or frozen, but you can use a mix of strawberries and rhubarb to make these strawberry rhubarb muffins with streusel topping. Remember too much fruit can lead to muffins that are wet, hard to eat, that may collapse when they cool, and that lack structure and fall apart.
Tip: read about baking soda versus baking powder if you aren't sure what the difference is between them!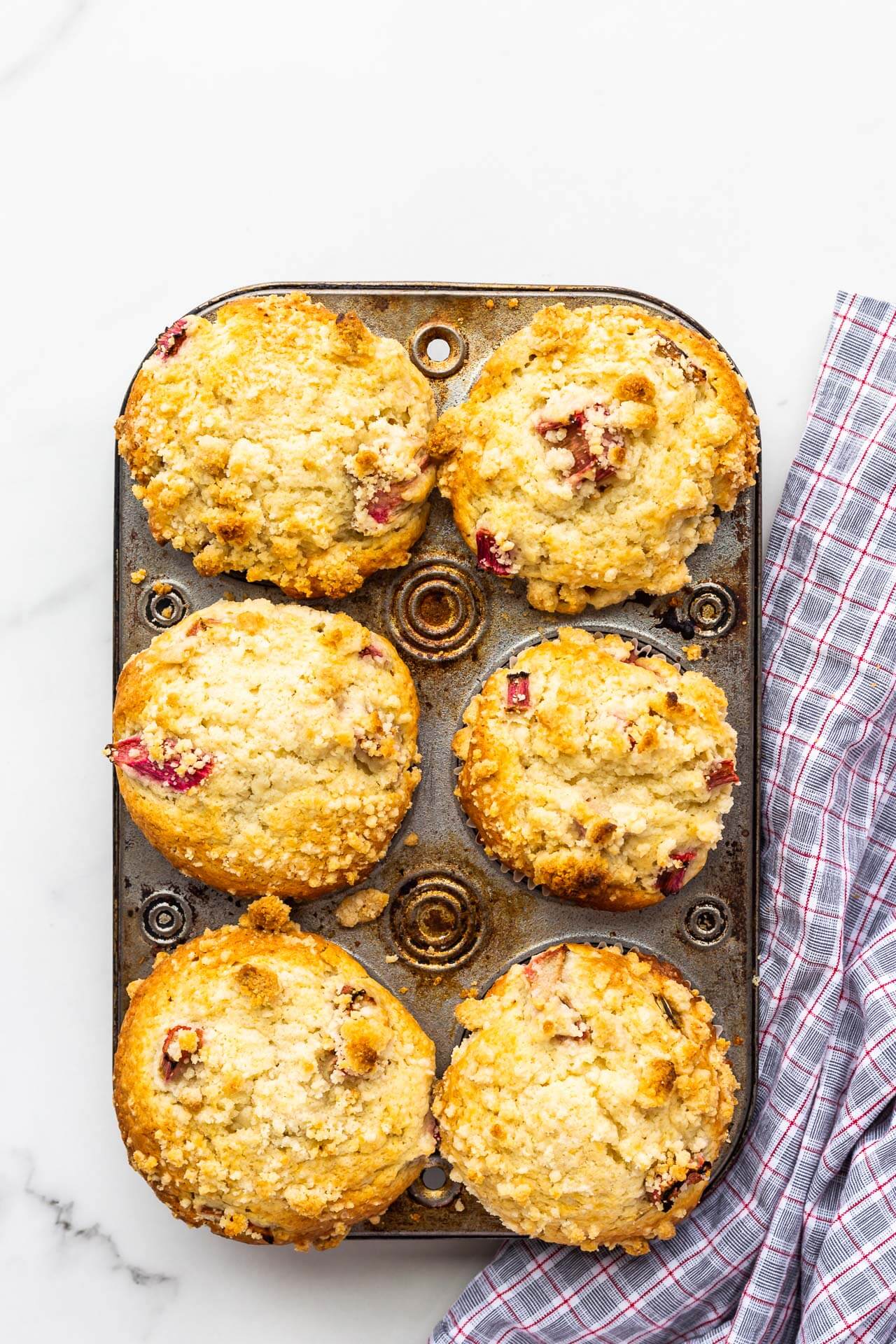 This recipe for rhubarb muffins with streusel topping is almost identical to the honey blueberry muffins I mentioned earlier, but with a few key differences:
I reduced the all-purpose flour by 60 grams (½ cup) in the batter and replaced it with the same portion of ground almonds, adding 50 grams (½ cup)
I used sour cream instead of buttermilk. Both are acidic ingredients commonly used in baking, but remember, that cultured buttermilk has virtually no fat, while sour cream has 14 %, so sour cream leads to a rich, more tender muffin. I added 125 mL (½ cup) of sour cream, but you can use 80 mL (⅓ cup) of buttermilk if you prefer
I used slightly more fruit, by weight, because I wanted to make sure there was enough rhubarb in almost every bite, without adding so much that the batter becomes wet. If you want to make strawberry rhubarb muffins, replace half the weight of rhubarb with strawberries, and you can follow this recipe for strawberry rhubarb muffins with streusel topping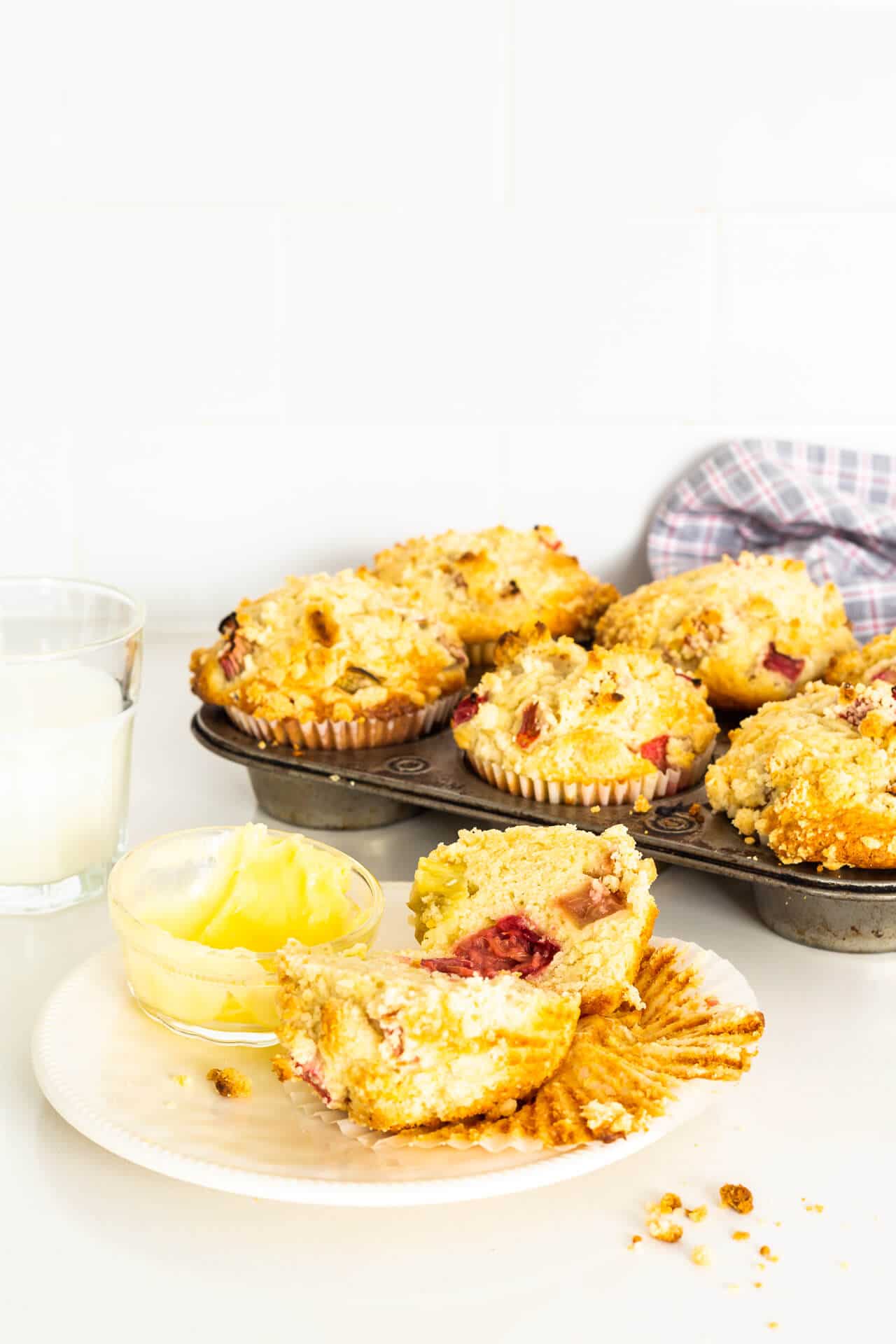 Useful tools for making muffins
Sure, muffins are easy to make and I like to mix them by hand, so no special electric mixers are required! Still, there are a few tools that will make your muffin-baking sessions a little easier:
Baking big muffins
Lately, when I've been making muffins, I've been baking "bigger" muffins, so scooping more batter per muffin cup. So while you could easily make 10 or even 12 regular or small-sized muffins with the recipe below, this time, I opted to divide the batter between 8 muffin cups to yield big, bakery-style muffins with impressive muffin tops. 
When baking bigger muffins, I wondered if the muffins would bake more evenly if you leave a few empty muffin cups in the tray. So I tested baking 8 big muffins in two pans that could accommodate 6 muffins each: I only filled 4 muffin cups out of 6 in each pan to bake the 8 muffins.
While I assumed this would allow for more air circulation and for the pan to heat up more evenly underneath and faster, without having the batter slow it down. I noticed no difference whether I filled a 6-cup pan with the batter for 6 muffins or 4.
Some may fill empty muffin cups with water, but I don't think this is necessary either. The water would slow the heating of the muffin cups and perhaps even out the heat, but again, I haven't noticed anything different from doing this extra step. That being said, if you have a preferred method for evenly baking muffins, I'm all ears! Let me know in the comments!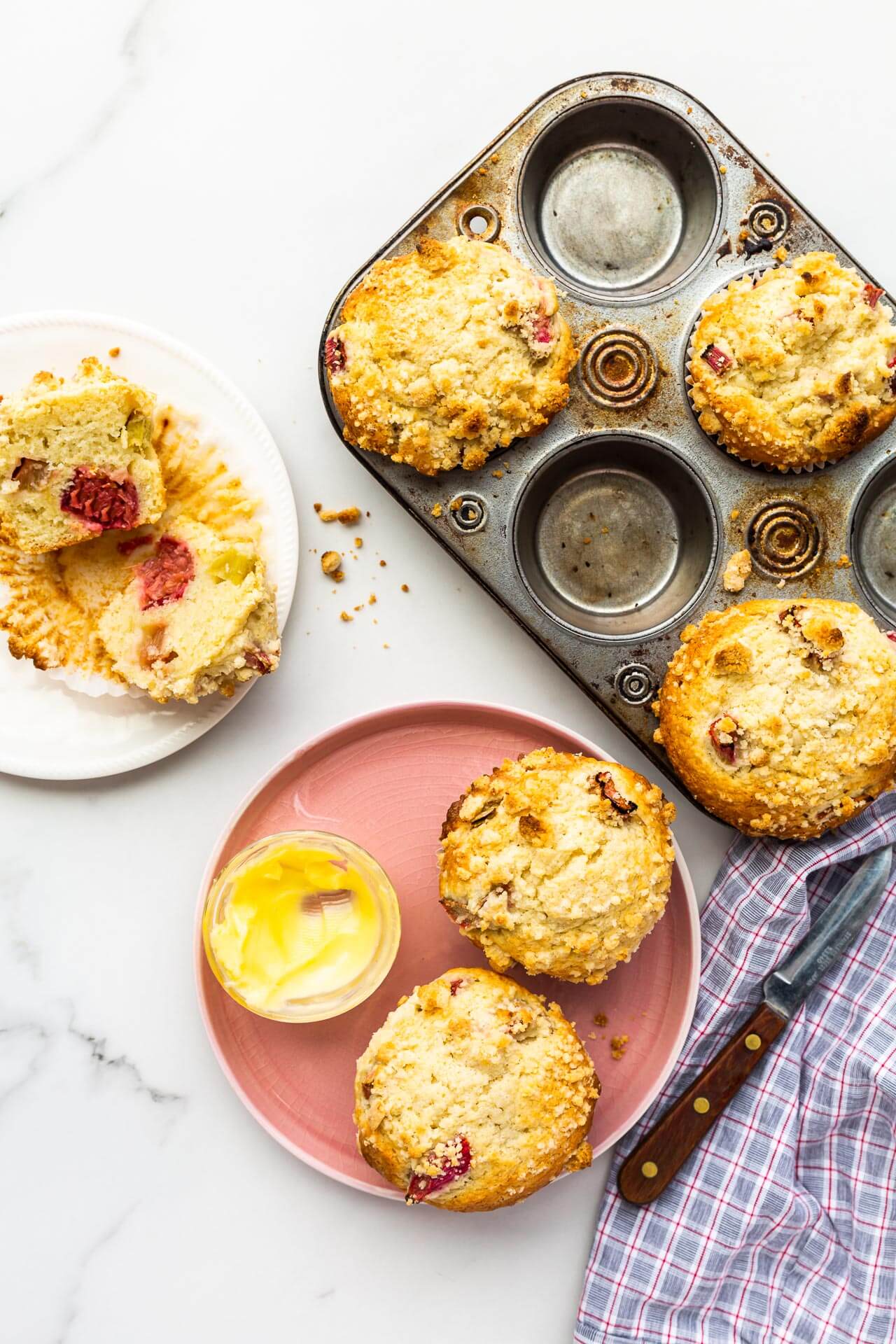 These big rhubarb muffins with sour cream and streusel are perfect, if you ask me: super moist, super flavourful, with a lovely texture that isn't too heavy, nor too light. This recipe yields hefty bakery-style muffins, but feel free to divide the batter to make more "smaller" muffins and just reduce the baking time accordingly. A smaller rhubarb muffin would take about 20 minutes to bake through at such a high temperature, so you'll need to keep an eye on them.
Remember, regardless of the size of the muffins you are baking, make sure to check that they are done baking before taking the pan out of the oven. Nobody likes a gummy, under-baked muffin.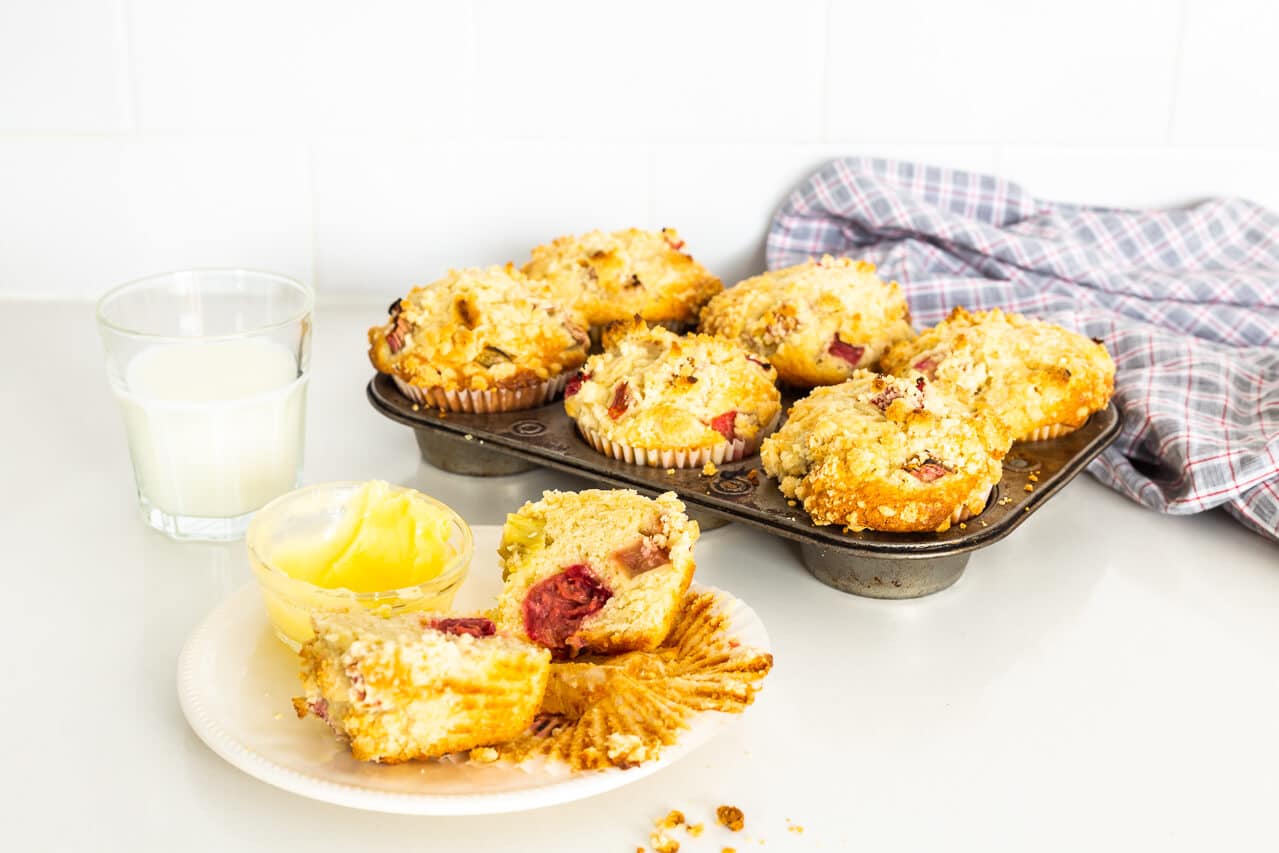 📖 Recipe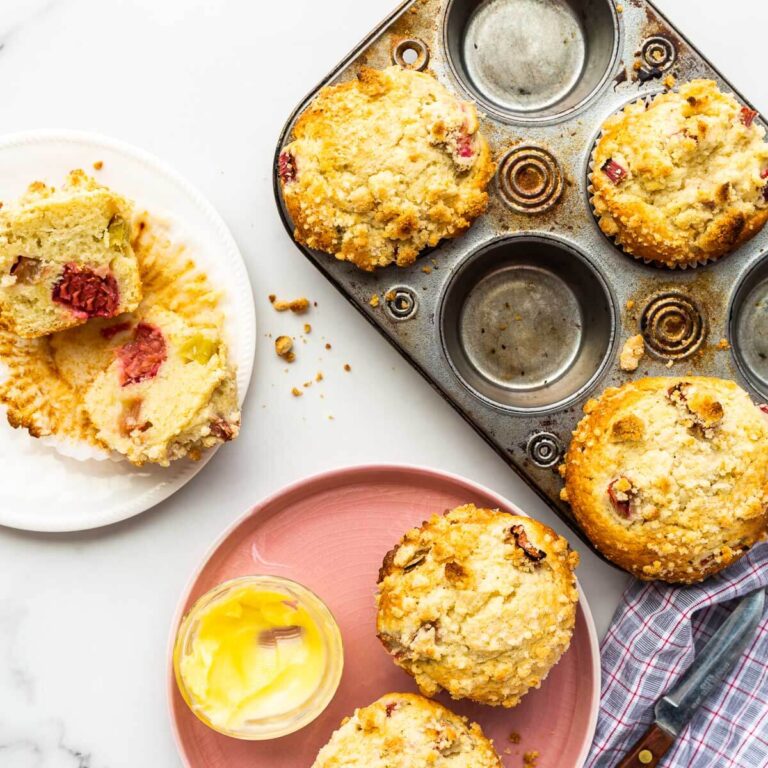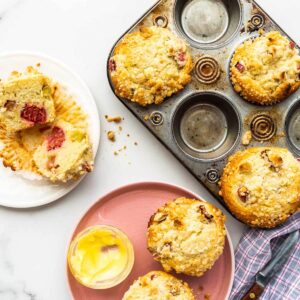 Rhubarb Muffins with Sour Cream and Streusel Topping
This easy recipe for rhubarb muffins is made with sour cream and has a sweet streusel crumbled on top for the perfect spring-summer muffin. These big rhubarb muffins are tender, moist, and have a cake-like texture that is perfect. 
Ingredients
For the muffin batter
200

grams

granulated sugar

190

grams

bleached all-purpose flour

50

grams

ground almonds

2.5

mL

baking soda

2.5

mL

baking powder

115

grams

unsalted butter

room temperature, cut into small pieces

125

mL

sour cream (14% fat)

2

large egg(s)

5

mL

pure vanilla extract

225

grams

fresh rhubarb

washed and trimmed, and cut into ½-inch pieces, or you can use frozen! OR use half rhubarb, half chopped strawberries

8

grams

bleached all-purpose flour
Instructions
Preheat the oven to 425 ºF (220 °C). Line two muffin pans with 8 to 10 muffin paper liners being sure to space them out between the two pans to allow better air flow.
Make the streusel topping
In a small bowl, whisk together the flour, ground almond, sugar, salt, and cinnamon (if using).

Add the melted butter and stir it in with a fork until the mixture forms a crumble.

Cover and store in the refrigerator until you are ready to use it.
Make the muffin batter
In a large bowl, whisk together the flour, sugar, ground almond, baking powder, baking soda, and salt.

Add the softened butter and work it in with your hands, rubbing it in until the mixture resembles coarse sand.

In a separate bowl, whisk together the sour cream, eggs, and vanilla.

Add the wet ingredients to the flour mixture and stir it in (takes about 20 stirs to get the batter mixed).

When the batter is ready, in a medium bowl, toss the rhubarb with the 8 grams (1 tbsp) of flour. Stir so that the the fruit pieces are evenly coated with flour.

Fold them into the batter gently with a wooden spoon or spatula to evenly distribute them.

Divide the batter between 8 to 10 paper-lined wells of two muffin pans. If you want big muffins, you'll need 8, if you want regular-sized muffins, you'll need 10. Sprinkle with streusel.

Bake at 425°F (220 °C) for 20 minutes, then use a cake tester inserted into the middle of a muffin to check if the muffins are baked. If you are baking 8 muffins, they probably aren't baked through, so rotate the pans and drop the temperature setting to 350°F (175 °C) for the last 5 to 10 minutes or as much as necessary.
Notes
For a "regular" muffin top:
bake at 350°F for 25 to 30 minutes.
For a "domed" muffin top:
bake at 425°F for 20 minutes, then rotate the pans and drop the temperature setting to 350°F for the last 5 to 10 minutes.
For a "puffy" muffin top:
refrigerate the batter overnight, then scoop the batter into 8 to 10 muffin paper-lined wells of a muffin pan, sprinkle with streusel topping, and bake them at 350°F for about 30 minutes.
Nutrition
Calories:
431
kcal
Carbohydrates:
52
g
Protein:
7
g
Fat:
22
g
Saturated Fat:
11
g
Cholesterol:
85
mg
Sodium:
244
mg
Potassium:
175
mg
Fiber:
2
g
Sugar:
29
g
Vitamin A:
607
IU
Vitamin C:
2
mg
Calcium:
90
mg
Iron:
2
mg