Learn how to make vanilla extract with this easy recipe. Find out what the difference between single fold and double fold extract is, the quantity of beans required to be considered real vanilla extract, the type of alcohol to use, the techniques, and additives that you can use to enhance the extract.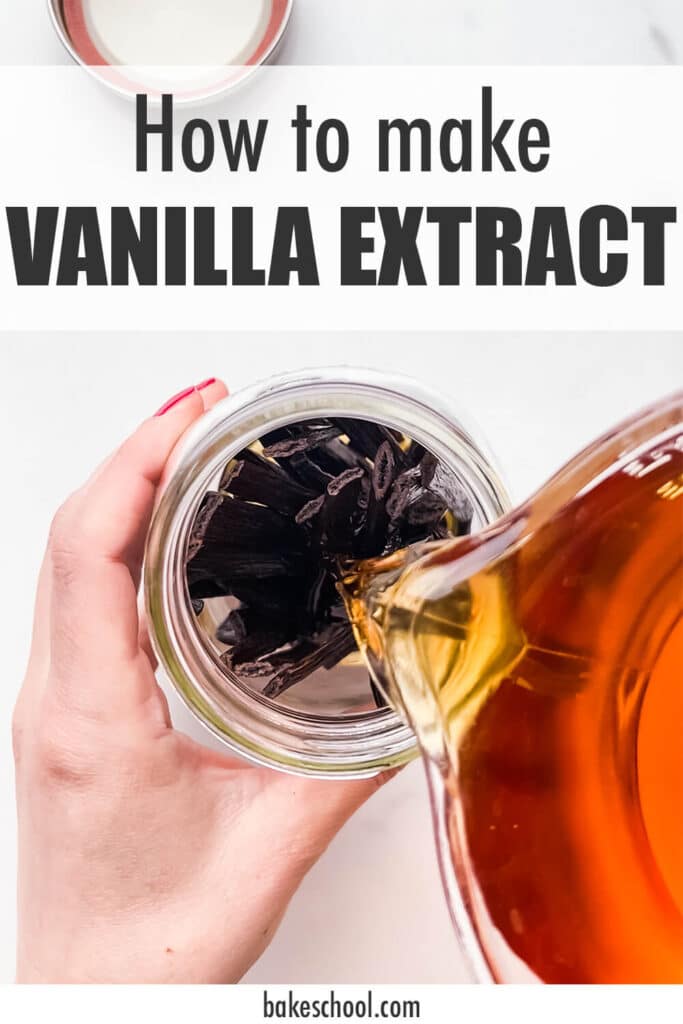 Disclosure: As an Amazon Associate, I earn from qualifying purchases.
It's surprisingly easy to make vanilla extract from vanilla beans. It can be an affordable alternative to products sold in grocery stores! Patience is a must though: it can take a year or more to extract vanilla beans so plan ahead!
Jump to:
What you need to make vanilla extract
Like homemade vanilla sugar, you only need two ingredients to make homemade extract:
vanilla beans
80 proof alcohol (40 % alcohol content), either a neutral alcohol like vodka, or something more flavourful like bourbon
Some people will also use oak wood blocks to enhance the flavour and to dull the taste of the alcohol used. That's entirely optional.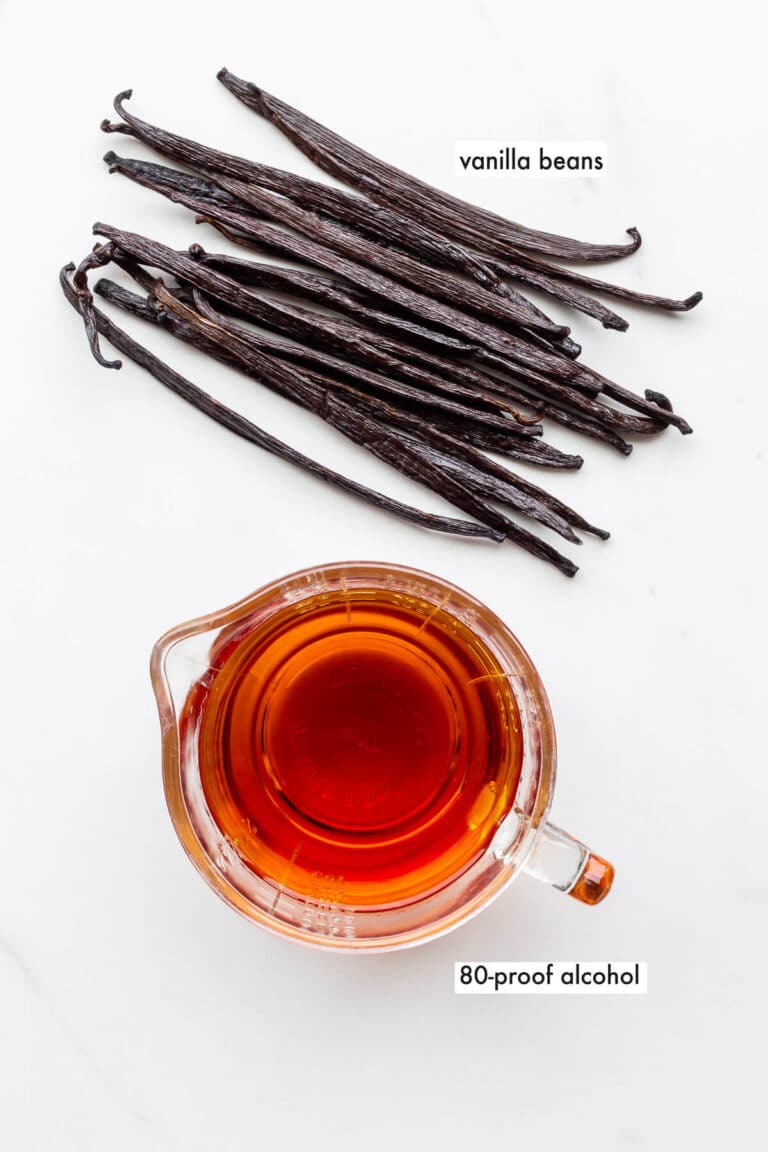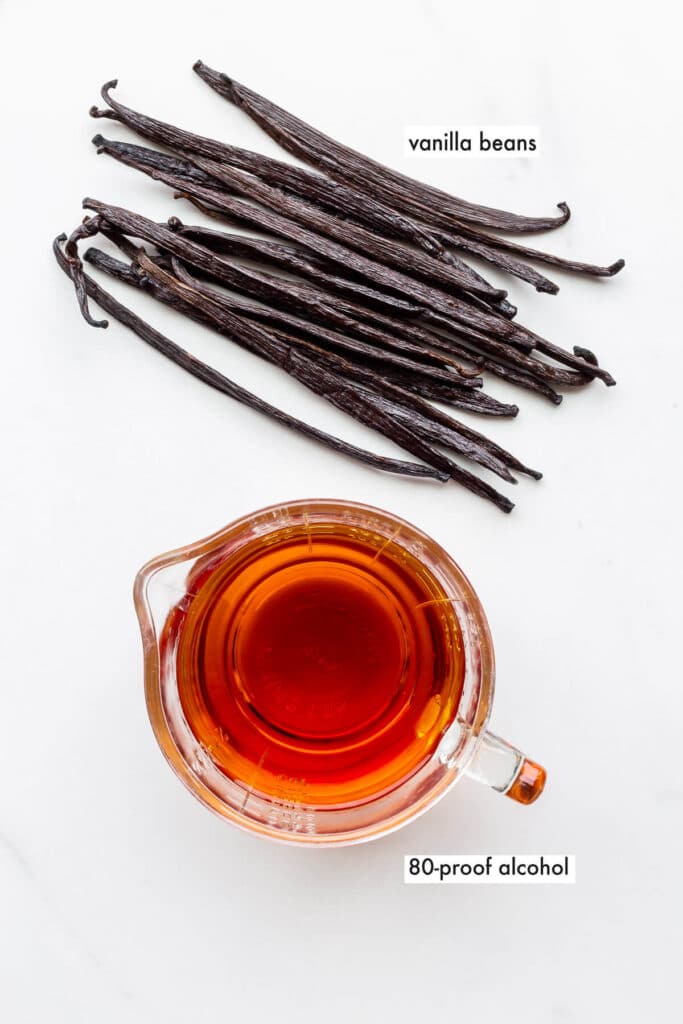 Special tools
You don't need anything special to make homemade extract. All you need is a bottle or a Mason jar that has a lid with a good seal to minimize evaporation.
Different ways of making it
From fresh beans
It's a common misconception that the seeds (also called caviar) of the vanilla bean hold all the flavour. Actually it's the pod itself, the skin and the flesh of the bean, that have all the flavour. The seeds are actually flavour-less.
Many vanilla extract makers will make a first batch of extract from whole beans, without splitting them open even. Then after completing a first batch of extract, the pods are reused to make a second batch. Or split them open to use in other recipes. You can make vanilla bean paste or dry them to grind into a powder to make vanilla sugar.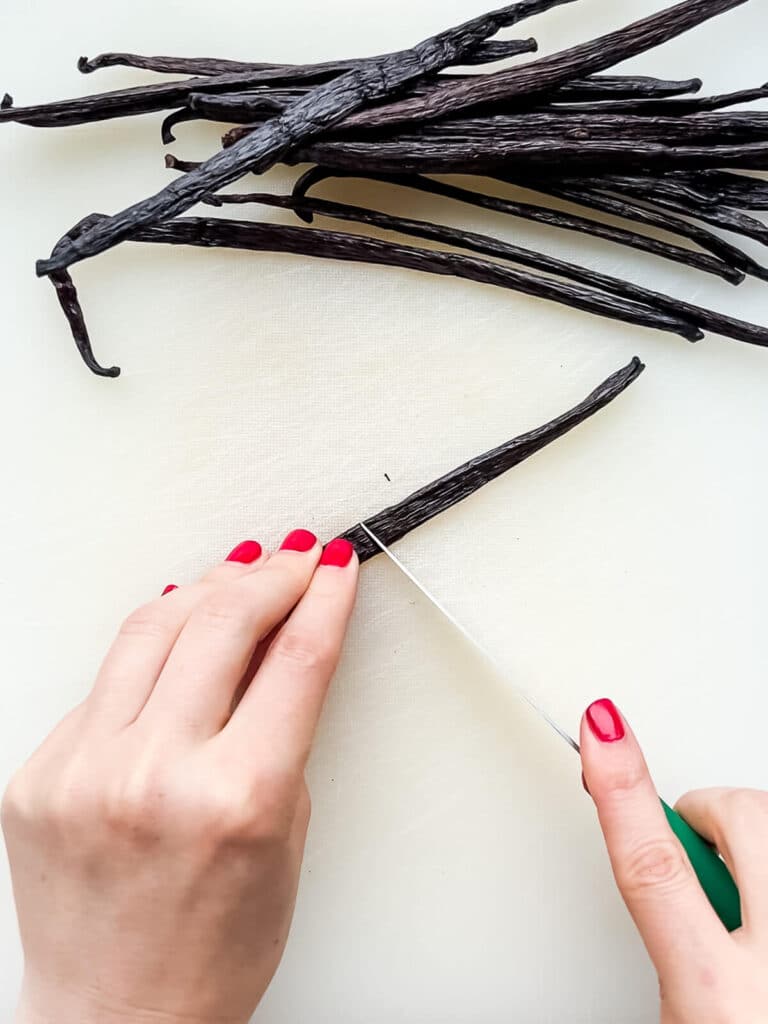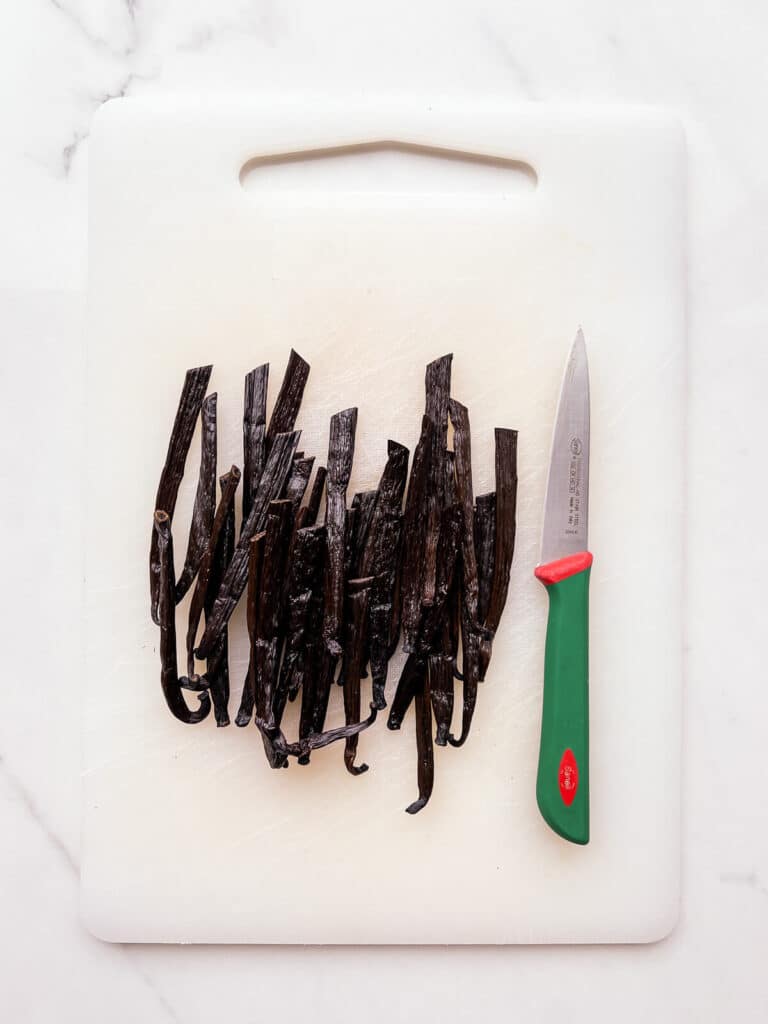 If your working with vanilla beans that are larger than the jar you plan to use to make extract, you will have to either fold them, knot them, or cut them in half. It's important that you completely immerse the beans in the alcohol.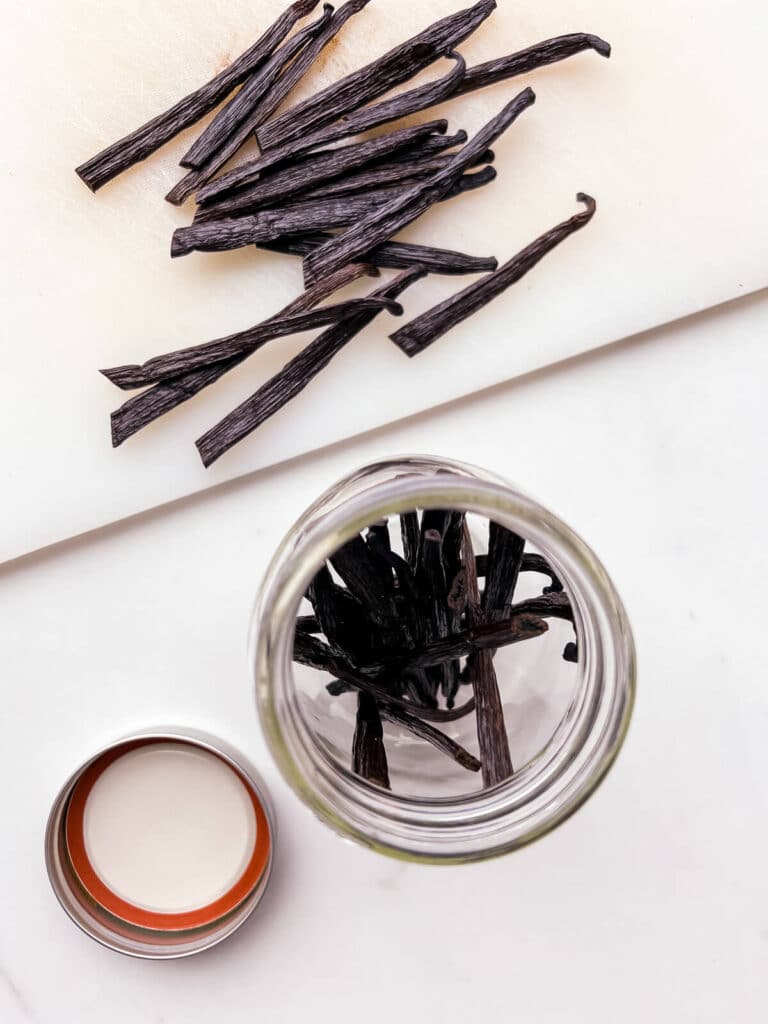 If the beans aren't fully immersed, you need to be extra diligent to shake the jar every week or so. Of course, the bean will soak up the alcohol. The alcohol will travel up the bean so that even the part above the liquid will eventually get extracted.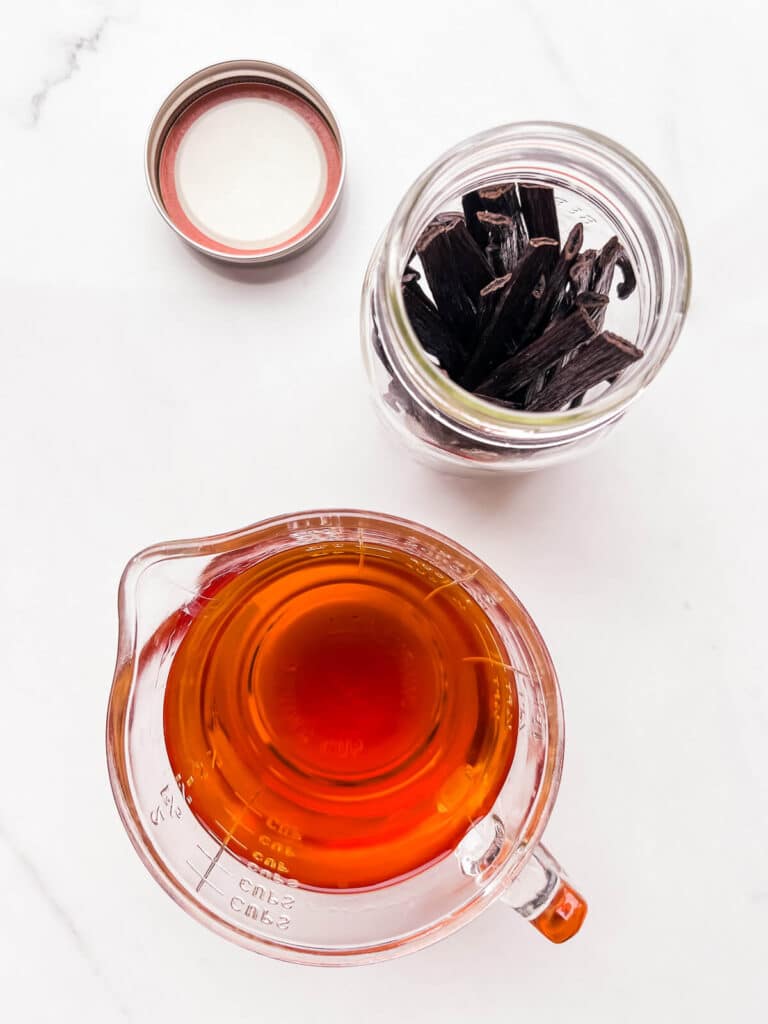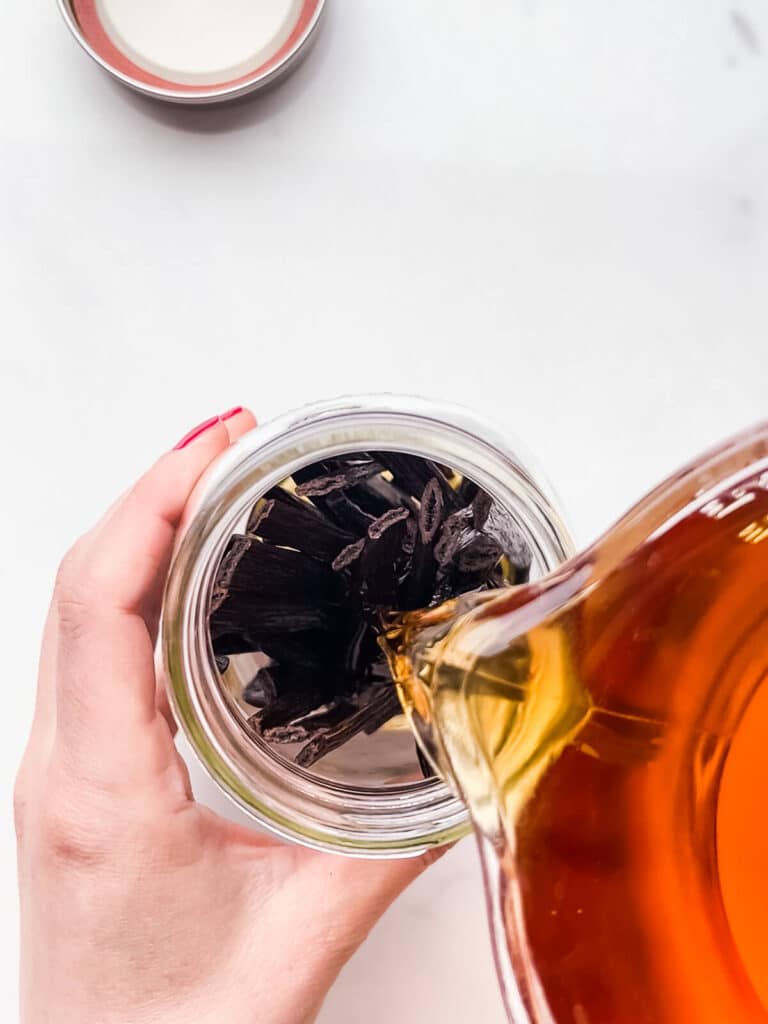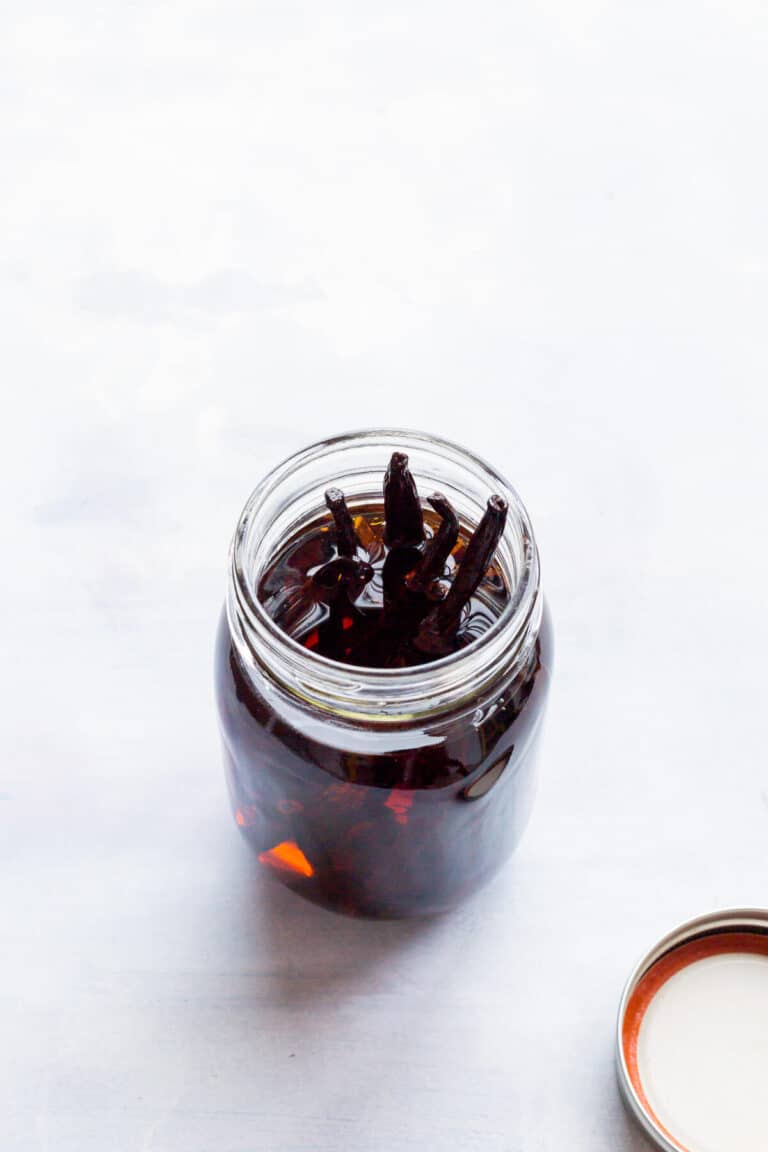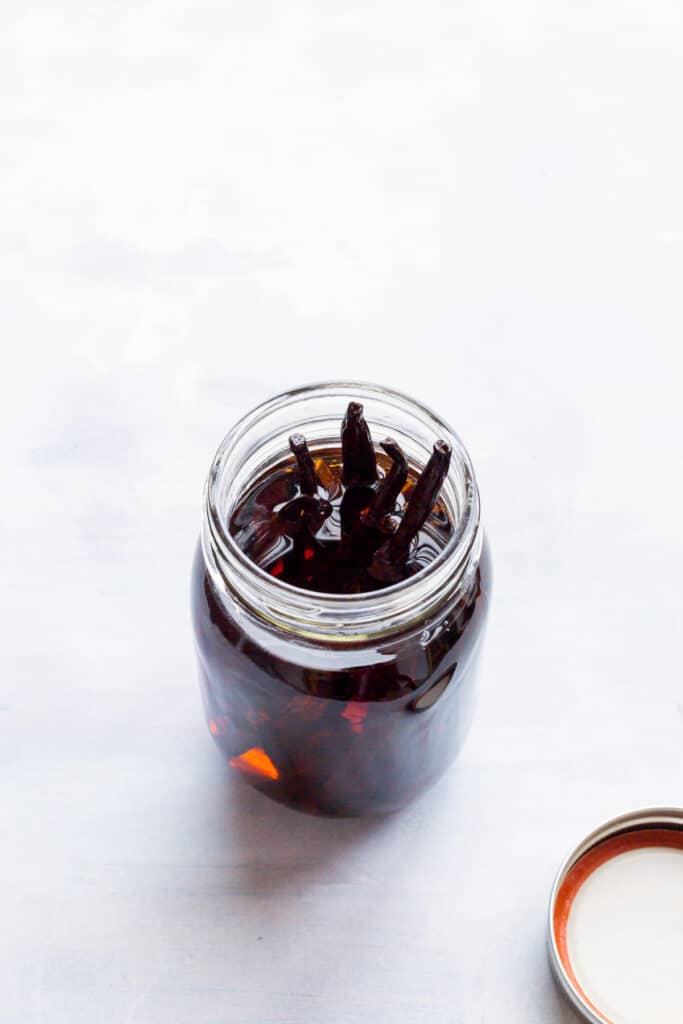 From dry beans
The beauty of making homemade extract is that you can use dried vanilla beans. Since you have to soak them in alcohol, the alcohol will rehydrate them.
From used beans
You can also reuse whole beans to make a second batch of extract. To do so, you may split them open to expose more of the flesh of the bean and improve extraction. You should also use 2 ounces of used whole beans per cup of alcohol (making a double fold extract). They are not potent enough for single fold extract.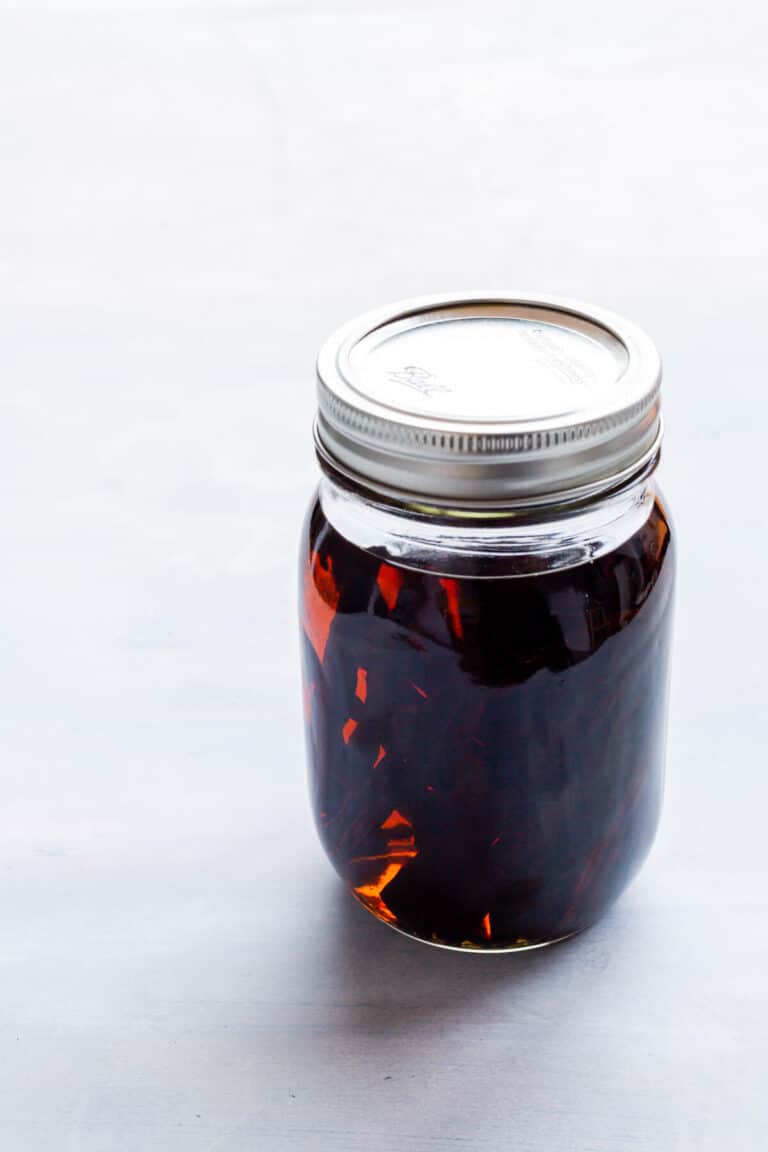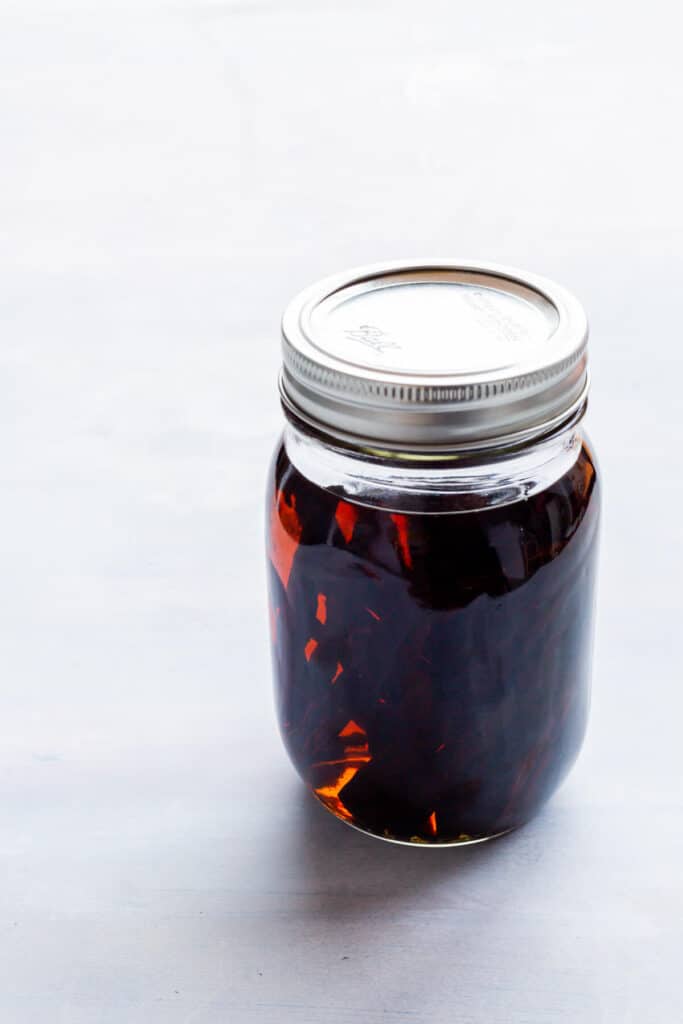 Different types of vanilla beans
There are different varieties of vanilla beans to choose from. Each has its own unique flavour profile:
Vanilla Planifolia—often labelled as "Bourbon" or "Java" because of the island of origin
Vanilla Tahitensis—commonly sold under the name Tahitian vanilla beans
Vanilla Pompona—Peruvian vanilla beans are this variety
Most orchid plants that produce vanilla beans came from Mexico. These were transplanted into different parts of the world. Like with grapes for wine and the influence of terroir on the flavour profile, the same goes for vanilla beans. The place where the beans are grown will influence the flavour of the vanilla produced. The orchid plants grow on trees and so the flavour profile can be correlated to the types of trees. A vanilla planfolia bean grown in Madagascar and one from Indonesia will produce different tasting vanilla extracts.
Single fold versus double fold
Governing bodies that regulate food have rules for what is vanilla extract and what can be labelled as such:
The alcohol used has to be at least 35 % alcohol. You need to use 80 proof alcohol to make vanilla extract.
The amount of vanilla bean per gallon or litre of alcohol is divided into two categories:

vanilla beans containing more than 25 percent moisture
vanilla beans containing less than 25 percent moisture
According to the Federal Drug Administration (FDA), to be considered single fold vanilla extract, it has to be made with:
13.35 ounces of vanilla beans per gallon of alcohol if you use beans containing more than 25 percent moisture
15 ounces of vanilla beans per gallon if you use beans containing 33.25 percent moisture
Canadian regulations state that to be labelled as vanilla extract or essence, it must contain:
not less than 10 g of vanilla beans, where the beans contain 25 per cent or less moisture
not less than 7.5 g of vanilla beans on the moisture-free basis, where the beans contain more than 25 per cent moisture
Rule of thumb:
For single fold vanilla, use 25 grams (1 ounce) of beans per 250 mL of 35–40 % alcohol (80 proof).
For double fold vanilla, use 50 grams (2 ounces) of vanilla beans per 250 mL of alcohol.
Many websites will tell you how many beans to use per cup of alcohol. This is inaccurate and can lead to a very weak vanilla extract. It may taste just like booze with no depth of flavour. Vanilla beans vary in size greatly. Some are longer and some are shorter. Some are more plump and some are less plump. It depends on the country of origin, the variety, the weather during the growing season, etc. Using a number of beans to create a vanilla extract recipe is pointless. Weigh your beans!
You can use a clear alcohol that imparts little flavour, like vodka. Or you can use something with more character. Try bourbon, rum, or whiskey.
Ways to check if your vanilla extract is ready to use
The minute you put vanilla beans in alcohol, the extract will start to smell like vanilla, even if it's still not fully extracted. So your nose can't be your guide here. Here are three ways to test your homemade extract:
Make sweetened whip cream—add it to whipping cream with a little sugar and then to judge how it tastes. If all you taste is alcohol and sweet cream, it's likely you need to let the extract sit for longer.
Add it to milk—combine 2-3 drops of your extract with 30 mL (2 tablespoons) of milk in a glass. Stir and let sit for a couple of minutes, then take a sip
Use a sugar cube—place 2 or 3 drops of your homemade extract on a sugar cube, then suck on the sugar cube. If it just tastes like boozy sugar, you probably need to extract the beans for longer.
Substitutions
With only two ingredients, you are limited in terms of substitutions. Obviously, there's no way to replace the vanilla beans. We need bean pods to make extract!
Still, you can explore making 40 % (80 proof) alcohol from everclear and water. Some vanilla bean makers prefer to use dilute everclear. The flavour is cleaner and won't interfere with the flavour of the vanilla in any way.
Do not use pure everclear to make vanilla extract without diluting it. It's too strong a solvent. You will end up breaking down the beans and the extract won't be as clear or as nice. It's just too strong.
How to dilute everclear to make extract
Everclear is 95 % alcohol. You need to dilute it with water to make 40 % alcohol (80 proof) to make vanilla extract. Assuming you want to make a total of 500 mL of 40 % alcohol from 95 % alcohol, you need to do a cross-multiplication:
| % alcohol | volume (in millilitres) |
| --- | --- |
| 95 | ? |
| 40 | 500 |
Calculating dilution of everclear to make 80 proof (40 % alcohol)
Cross multiplication: 500 mL of 40 % alcohol x 95 % alcohol / 40 % alcohol = 211 mL of 95 % alcohol diluted to 500 mL total using water
So perform this dilution to turn 95 % everclear into 40 % alcohol: place 211 mL of 95 % everclear into a 500 mL liquid measuring cup and fill up to the 500 mL (2 cup) marker with water. Stir well. The resulting liquid will be 40 % alcohol (80 proof).
Variations
Don't feel limited by this two-ingredient recipe. There are actually many ways to change up this recipe:
Try different varieties of vanilla bean from different countries. Remember that Tahitensis beans have a different flavour profile than Planifolia and Pompona beans. Make separate extracts from the different types of beans to compare and see which you prefer!
Test out different alcohols to find your favourite. Some vanilla extract makers choose to extract with Smirnoff vodka, others will even use different types of gin as their booze of choice to make vanilla. You can make vanilla extract using any alcohol, as long as it has 80 % alcohol content. I like to use Woodford Reserve, a bourbon with a flavour profile that complements the type of beans I use.
Make a mother jar
The idea of a mother jar is that you constantly have a big jar of alcohol that you keep topping up with more beans and more booze. Then you decant a portion into a smaller bottle that you use in your baking, while you continue to extract more beans in the mother jar.
You can think of the mother jar of vanilla extract as a jar of starter that you store in the fridge. You refresh it every so often to keep it going, and you take a portion whenever you need it.
Of course, sourdough starter needs to be used and refreshed a little more often. The idea is the same. Just like starter, when you top your mother jar with more alcohol, you have to restart the extraction clock.
Some vanilla makers will make a mother jar with the leftover vanilla beans that were removed after making a first batch of extract. Instead of throwing out those soaked, used beans, they place them in the mother jar to extract a second time. In this case, it's less about making extract with a certain concentration of beans, but rather more about not wasting precious beans.
How to reuse extracted beans
After making a first batch of extract from your vanilla beans, you can remove them from the jar and transfer them to a new jar to make another batch. For your second batch, you may split the beans lengthwise to expore more of the flesh of the bean to the alcohol to ensure you draw out as much flavour from the spent beans.
You can use spent beans to make a mother jar, adding any and all used vanilla beans to the jar whenever you have some. Or you can use the used vanilla bean to make vanilla sugar or even vanilla bean paste!
Storage
Store homemade vanilla extract in a cool, dry place, away from the light. I store it in a closed pantry. While your beans are extracting, I find it is easier to do this in a Mason jar because vanilla beans are long, even when cut in half.
I prefer to make extract in a glass jar because plastic tends to absorb odours and flavour.
📖 Recipe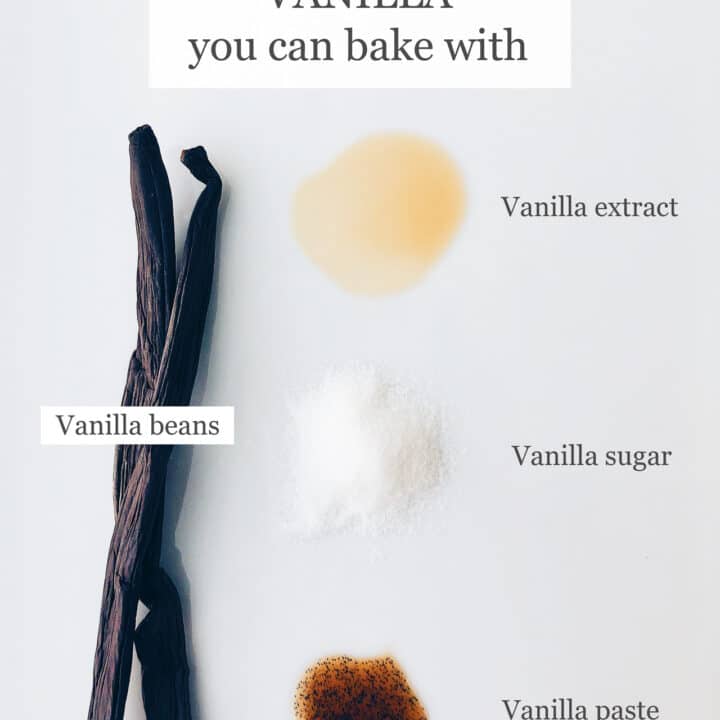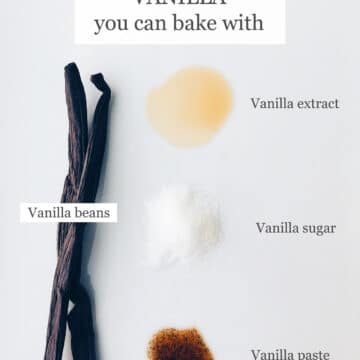 Homemade Vanilla Extract from Vanilla Beans
Make homemade vanilla extract from vanilla beans. This recipe yields a single fold vanilla extract.
Ingredients
30

grams

vanilla bean

Tahitian vanilla beans or Madagascar Bourbon vanilla beans would be great

250

mL

40 % alcohol (80 proof)

You can use vodka, brandy, whiskey, or even rum
Instructions
Split the vanilla beans in half, lengthwise, with a pairing knife.

Use the back of a knife to remove the seeds.

Place the seeds and the split beans in a clean half-litre jar or bottle.

With the help of a funnel, pour the liquor over the beans in the jar. Use chopsticks to make sure the vanilla beans are submerged.

Close the jar tightly to seal it and store the jar in a cool, dark place, like a cellar or a cold-storage room or pantry.

Let the vanilla extract infuse for 3 to 6 months.
Notes
Note that after about a year of extraction, the vanilla beans may begin to disintegrate, so you may have to strain the extract to use it.
For larger batches, increase the number of beans and alcohol.
To test the flavour of your homemade vanilla, mix a drop or two it with a spoonful of whipping cream. Otherwise, you may not be able to appreciate the flavour of the extract and determine if it needs more time.
Some avid vanilla extract makers add oak wood blocks to their extract to develop other flavours in the extract. 
For double fold extract (a more flavourful extract), use 60 grams (2 ounces) vanilla beans per 250 mL (1 cup) of alcohol.
Nutrition
Serving:
5
mL
Calories:
13
kcal
Carbohydrates:
1
g
Fat:
1
g
Sodium:
1
mg