Though it's tempting to cut sugar from baking recipes, it plays an essential role. Find out everything you need to know about sugar, including what it is, the different types of sugar used in baking, what it does, and tips and tricks for reducing the sugar in baking, if need be.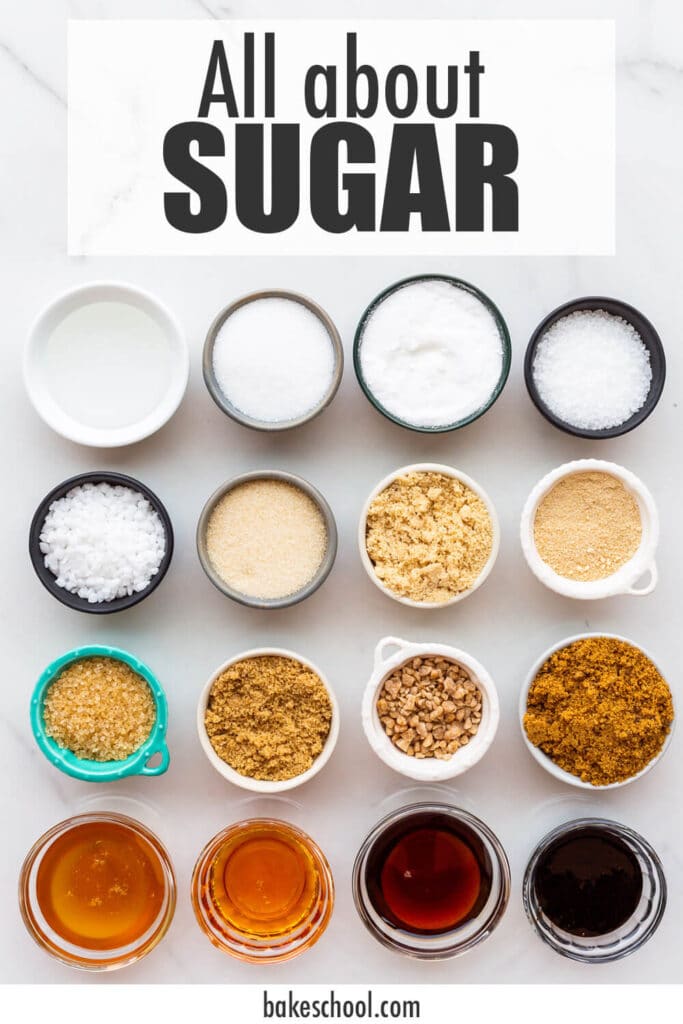 Disclosure: As an Amazon Associate, I earn from qualifying purchases.
Sugar is an essential building block for life. It's a source of energy for most living organisms through glycolysis of glucose and it's a way of storing energy through gluconeogenesis, from glucose to glycogen. Sugar is even a building block for DNA nucleotides and RNA ribonucleotides. Basic biology aside, sugar is also essential in baking and sugar does more than just make your baked goods taste sweet. Here's everything you need to know about sugar in baking.
Jump to:
What sugar is
When we talk about sugar in baking, usually we are referring to sucrose. Other sugars you may hear about and use in baking include glucose, fructose, maltose, and lactose, among many others.
All sugars are carbohydrates, also called saccharides, and they can be simple or complex. Simple carbohydrates include monosaccharides and disaccharides or simple chains of sugars bound together.
Here's a rundown of the simple sugars you will often hear about and/or use in baking:
Glucose, a monosaccharide with the formula C6H12O6
Fructose, a monosaccharide with the formula C6H12O6
Sucrose, a disaccharide of glucose and fructose bound together—this is what we commonly refer to as "sugar" when we bake, usually in the form of granulated white sugar
Maltose, a disaccharide of two glucose molecules bound together—this is the sugar in corn syrup, along with glucose
Lactose, a disaccharide of glucose and galactose bound together—this is the sugar in milk and dairy products that many people have trouble digesting because they lack the lactase enzyme.
Sucrose, maltose, and lactose are all examples of small oligosaccharides (made up of two sugars). Oligosaccharides can have anywhere from 2 to 10 sugars bound together in a simple chain.
Complex carbohydrates are longer chains of sugars that have a more branched or intricate structure. Complex carbohydrates fall under the polysaccharide category and are much larger than oligosaccharides. Starches are a great example of complex carbohydrates because they are longer, more complex chains of glucose molecules bound together.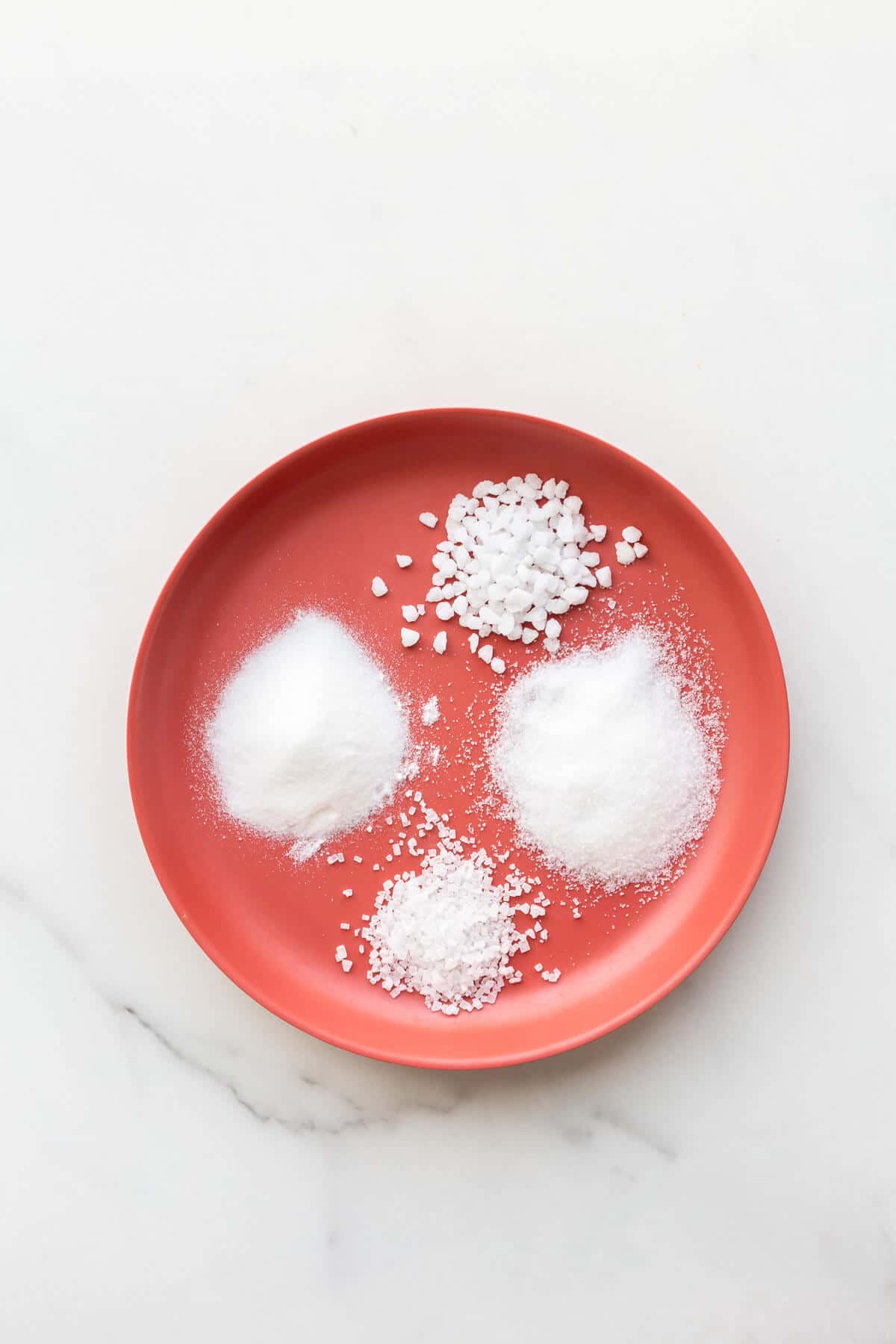 Types of sugar to bake with
We can divide the sugars we bake with in two big categories: crystallized sugars and the sugars that are in the forms of syrups.
Crystalline sugars
Most sugars crystallize when they are refined and purified. Some sugars are pure sucrose, while others may contain molasses, starches, or other ingredients. The colour differs depending on how pure they are, as does the size of the crystal (which also varies depending on the process).
White sugar
White sugar is made up of sucrose, a disaccharide of glucose and fructose bound together. You can rank white sugars according to their grain size or particle size, from largest crystals to smallest crystals as follows: coarse sugar > granulated sugar > superfine sugar > powdered sugar > fondant sugar.
Pearl sugar resembles rocks of white sugar. It's so coarse and big that it doesn't melt readily when heated, nor does it dissolve as easily as other sugars. Pearl sugar is used to sprinkle on baked goods before baking, especially chouquettes (made of pâte à choux) and brioche buns (like this chocolate cranberry bread)
Coarse sugar is finer than pearl sugar, but the crystals are still quite large. 700 to 1400 µM
Sanding sugar is used as a finishing sugar, like sprinkles.
Granulated sugar 450 to 650 µM
Superfine sugar is especially useful for making meringues and pavlova because the finer crystals dissolve more readily in the egg whites, leading to a better texture of meringue with more lift. Superfine may also be labelled as ultrafine sugar. 150 to 450 µM,
Caster's sugar (same as superfine sugar)
Powdered sugar (also called icing sugar or confectioner's sugar) is sold in two forms, 6X and 10X, where 6X is more coarse than 10X. Both are much finer and more powdery than caster, superfine, and granulated sugar. Powdered sugar is mixed with up to 3 % cornstarch or tapioca starch before packaging. The starch absorbs moisture and reduces clumping. 10 to 40 µM
Fondant sugar is an even finer form of powdered sugar and has the finest grain on the list of sugars. Fondant sugar doesn't usually have a starch added to avoid the starchy mouthfeel powdered sugar may give. It's often used for glazes and therefore may have maltodextrin to improve shine in donut glazes or 3–10 % invert sugar added to help glaze adhere without running off (like on donuts).
On this list, anything more coarse than powdered sugar will have a grittier texture. That texture may reveal itself in your baked goods. Think of shortbread made with icing sugar versus granulated sugar: using granulated sugar leads to a more gritty texture.
The coarsest sugars are not usually incorporated into baked goods. Instead, they are used as a garnish or finishing element. They are sprinkled on just before baking on the surface of doughs, usually. So pearl sugar, turbinado sugar, and sanding sugars are a garnish, as a rule.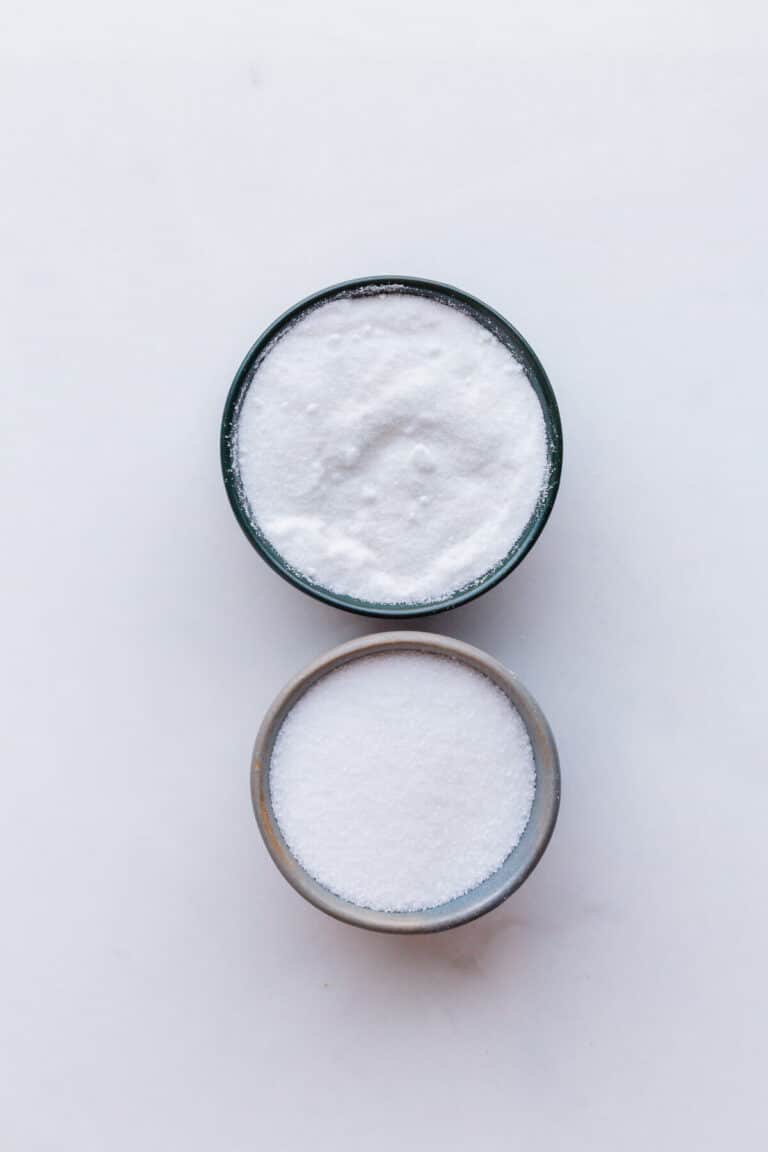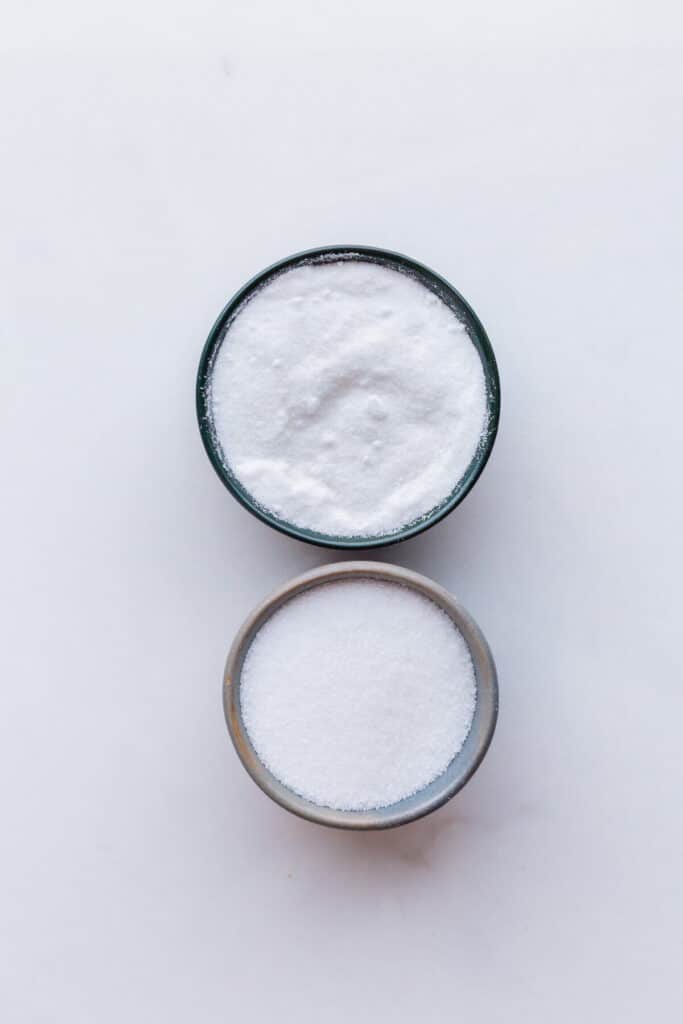 Note that jam sugar would fall under this category of white sugars, but jam sugar is made of superfine sugar plus pectin. You use this type of sugar to ensure jams made with low-pectin fruit will achieve the perfect set. Of course, if you boil jams for long enough and to a high enough temperature, you will hit the jam setting point regardless of the pectin content of the fruit. For this reason, I feel like using jam sugar isn't critical or necessary.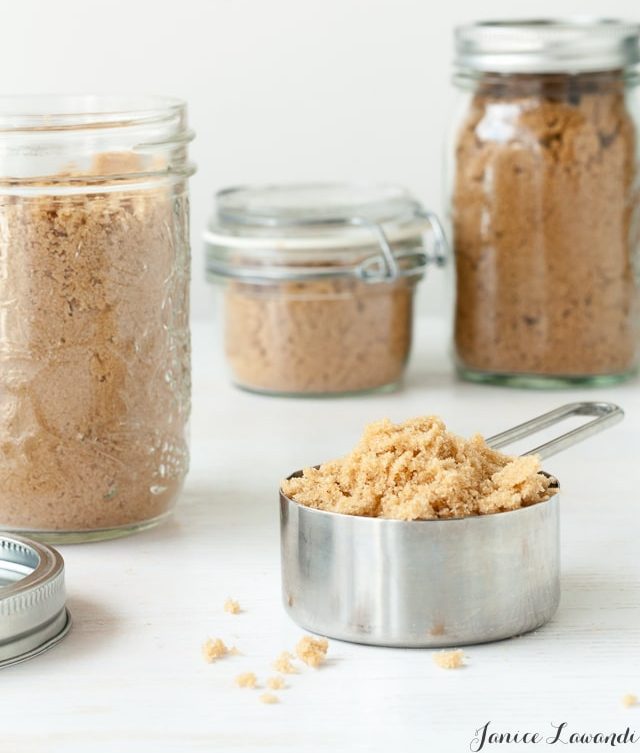 Brown sugar
There's a very common misconception about brown sugar: many bakers think it is less refined than white sugar because of its golden-brown hues. That's false. Most brown sugars are white sugar mixed with a little molasses, to add back some of the colour and flavour lost during processing. This is an easier way for manufacturers to create a consistent product from one batch to another. The exception is muscovado, as you can see on this list of brown sugars:
Yellow, golden or light brown sugar are lighter and more golden in colour, as the names suggest, and have a milder flavour.
Dark brown sugar has more molasses added to it and therefore a more pronounced flavour. It works really well in these chocolate chip cookies with pecans, lending them a more complex flavour than white sugar alone can
Muscovado sugar is less refined than dark brown sugars. For this reason, you may notice it has a more noticeable flavour, perhaps a little more earthy.
Coconut sugar is made from the sap of flower buds of coconut palm trees. It is very dark in colour and has a very pronounced flavour that can be overpowering. Like maple syrup, the sap is boiled down to concentrate it. The concentrated syrup is then crystallized.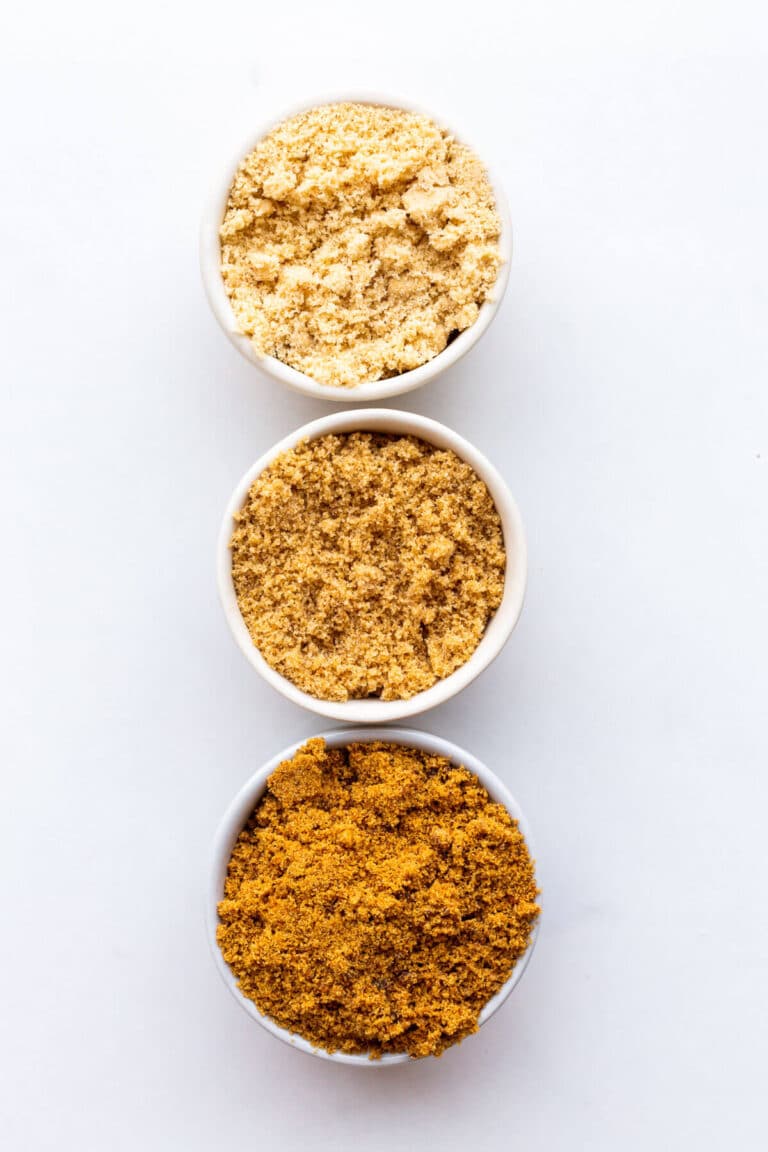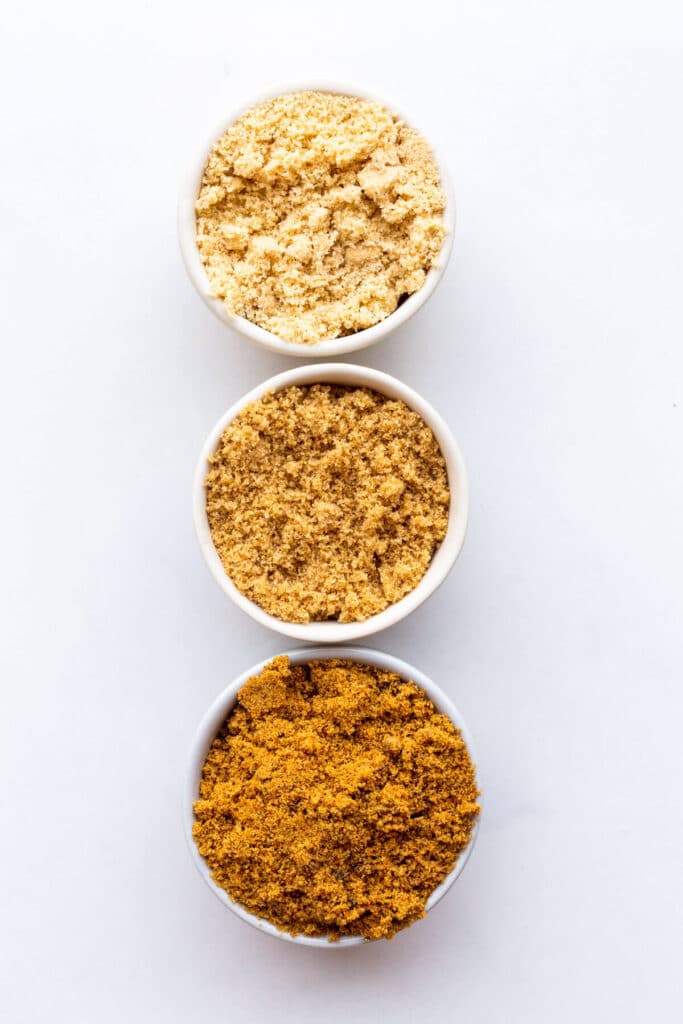 You can replace any of the brown sugars in this category for another in the same category, gram for gram, and cup for cup. But remember that some of these are much more flavourful than others, so make sure the substitution you are making is appropriate for the result you want in terms of colour and flavour.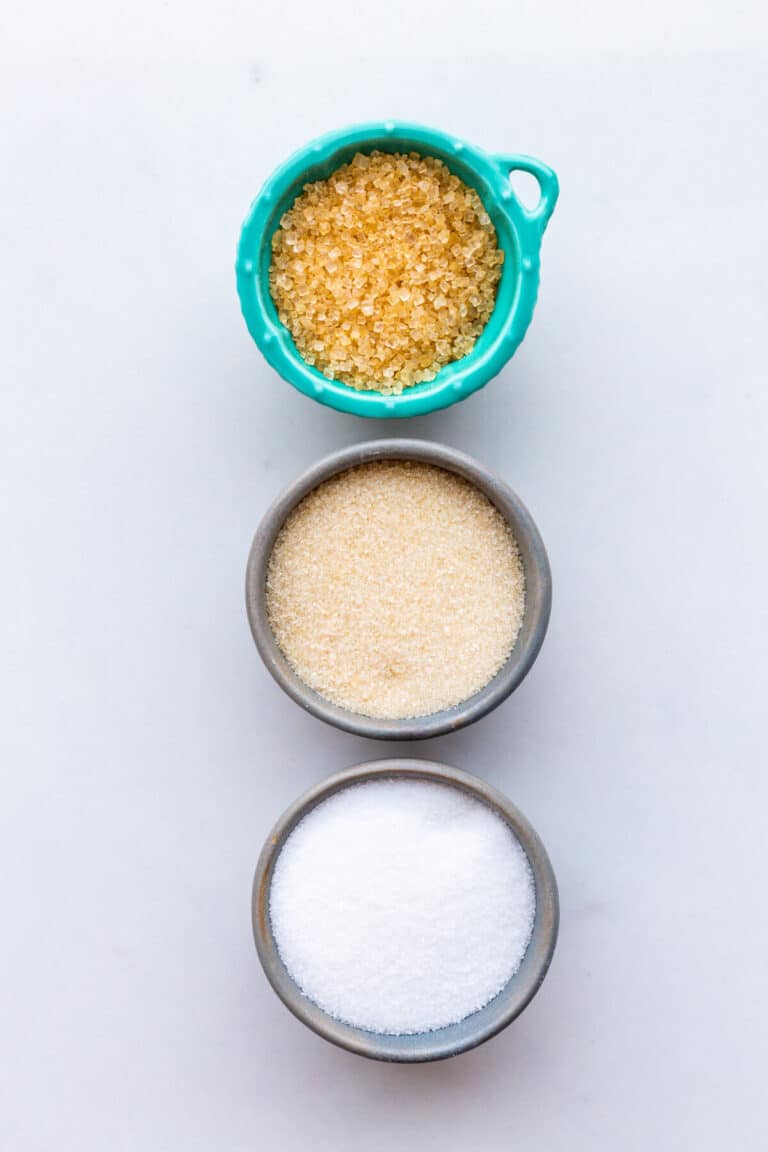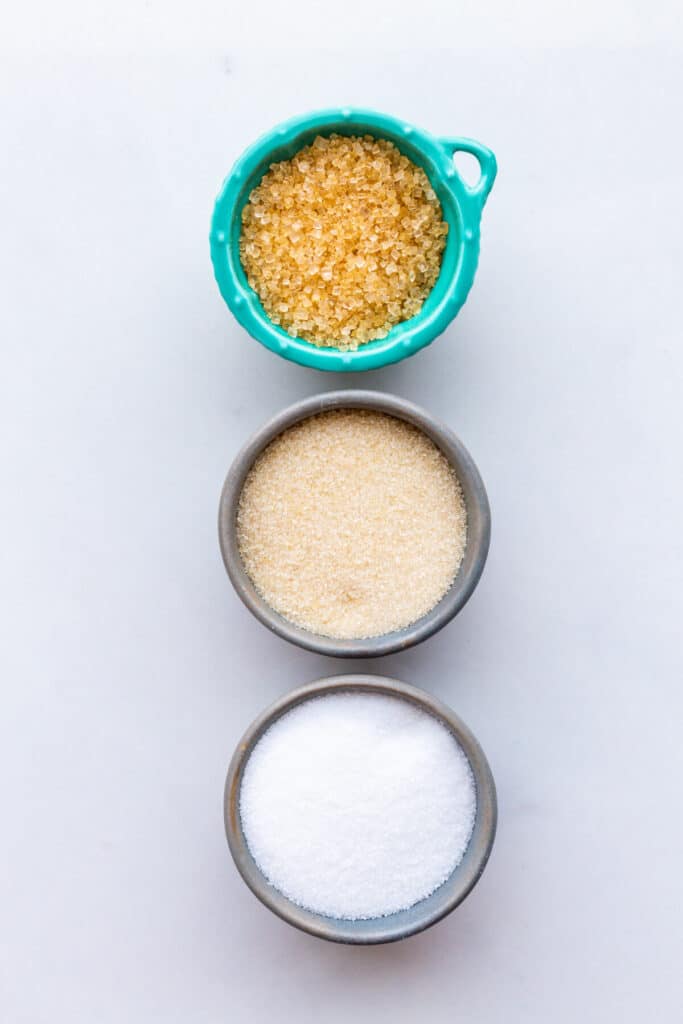 Raw sugar
Marketers will claim raw sugar is less refined. It is still refined up to a point in order for it to crystallize and taste good. These sugars generally haven't been decolourized:
Turbinado sugar: a coarse golden crystalline sugar with large crystals
Demerara Sugar: popular in the UK and similar to turbinado
Golden cane sugar (also called evaporated cane juice or natural cane sugar): similar to granulated sugar but slightly less refined.
Turbinado and demerara sugars fall under the category of finishing sugars. You use them to garnish baked goods, like the top crust of a pie before baking, or the outer edge of a log of slice-and-bake cookie dough.
This type of granular, coarse sugar doesn't melt as easily as regular granulated sugar and therefore imparts more texture if you use it in doughs or cakes. For this reason, it isn't recommended in most recipes, except as a textural and visual garnish.
You can use golden cane sugar instead of granulated sugar, replacing one for the other, gram for gram.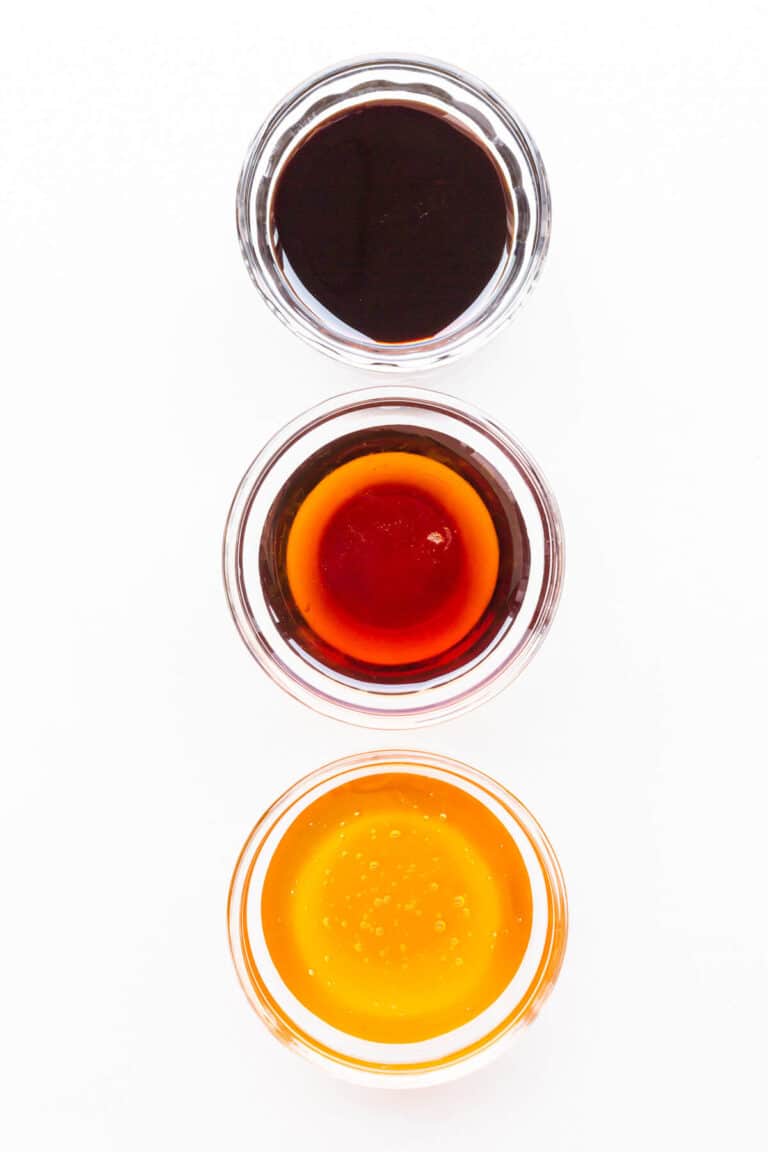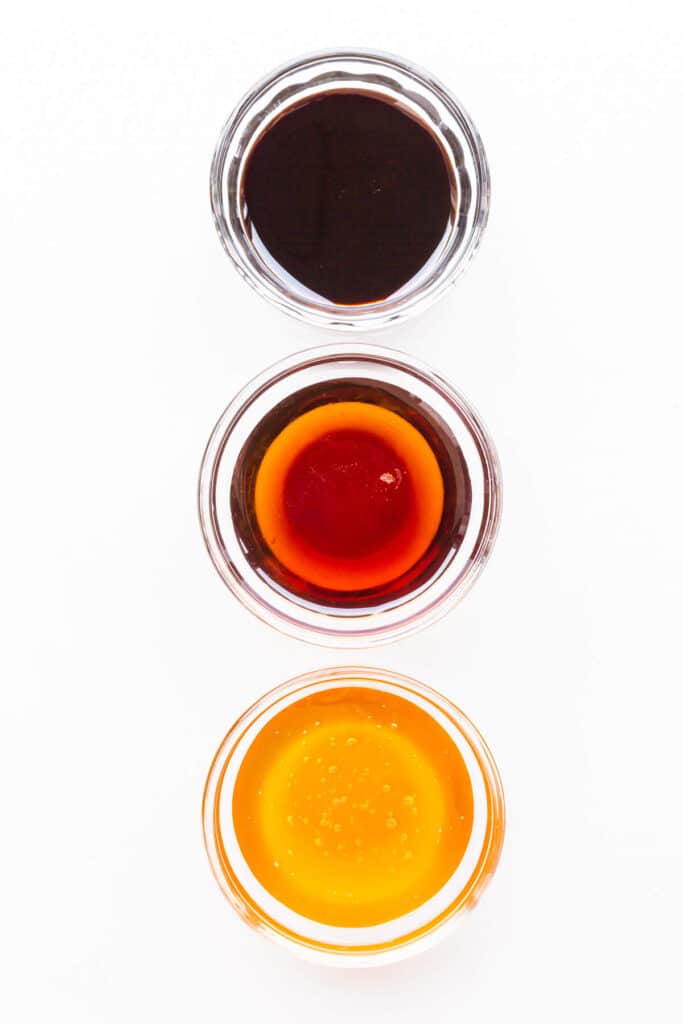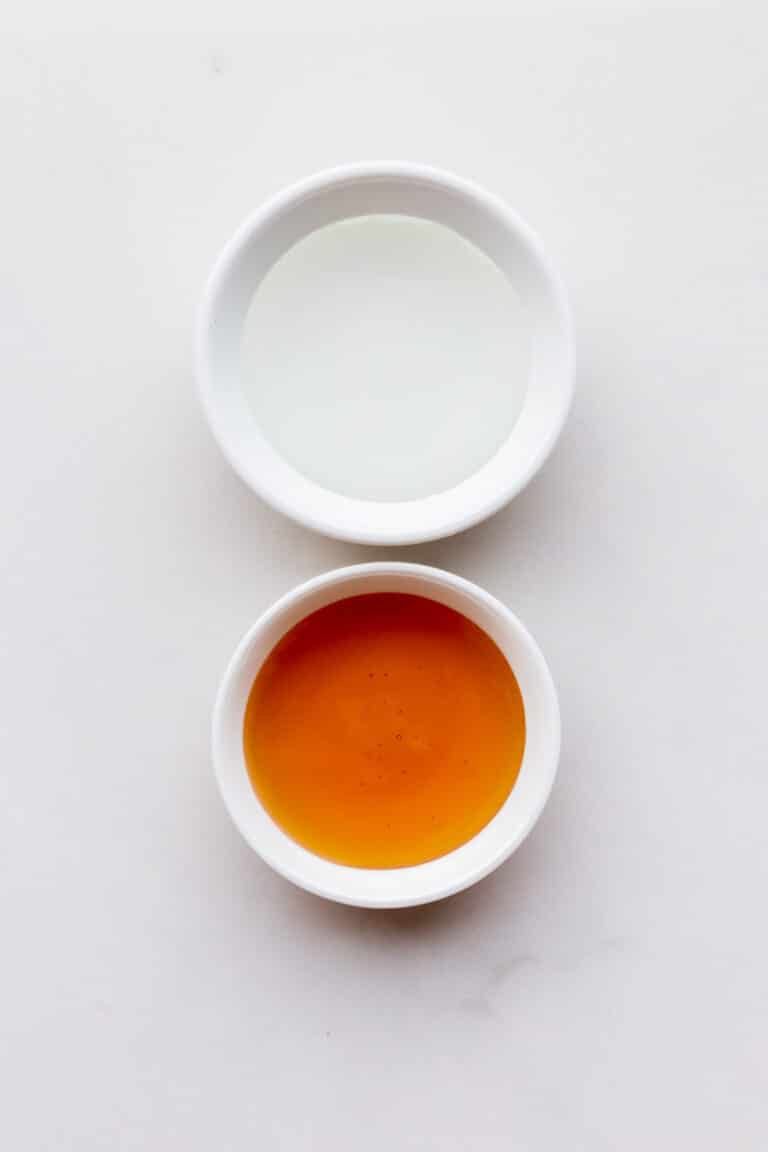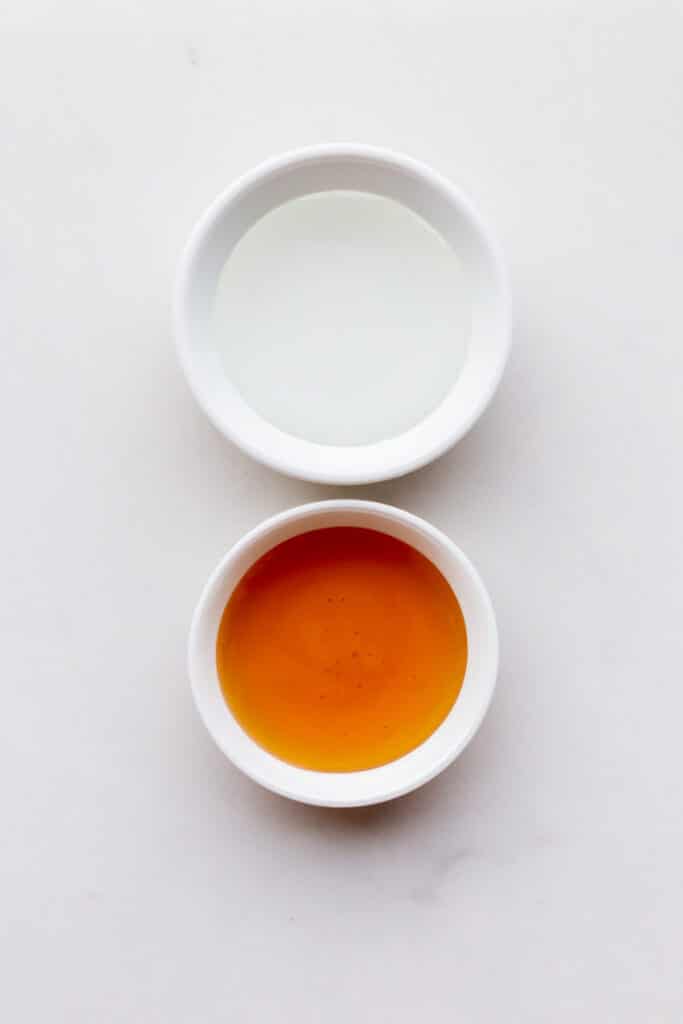 Syrups and liquid sugars
Liquid sugars have water in them, which is why they aren't crystalline. Over time, many of these may and will crystallize, creating a gritty texture. Crystallization is most common in honey and maple syrup, though you may observe it in glucose too, which becomes more solid with time.
Honey—bees produce honey, which beekeepers harvest. The bees eat flower nectar, digesting the sucrose in it, "inverting it" with their saliva to the building blocks, glucose and fructose. Honey is more acidic than other sugars, with a pH around 3.5, minimum.
Maple syrup is sucrose syrup that comes from the sap of the maple tree during late winter and early spring months. Maple producers collect the fluid, watery sap of maple trees and boil it down to form a syrup. Producers grade maple syrup and label it according to how concentrated the product is and the colour ranges from very light to amber and even dark (almost black).
Corn syrup (light or dark), also called glucose corn syrup is mostly glucose and maltose. It's made from the hydrolysis of starches (complex carbohydrates of glucose molecules). The flavour of light and dark corn syrup is different and therefore used in different circumstances.

Light corn syrup is flavoured with vanillin
Dark syrup has a very small amount of molasses.

Glucose syrup is a colourless syrup that is very viscous and therefore hard to handle. Professional pastry chefs will wet a spoon with water to help remove glucose from a big tub, without having it pull and form strings that stick everywhere. Glucose is clear and colourless but will darken with time. The colour doesn't affect it. Glucose syrup will also become thicker and even dry out or crystallize if stored for a long time. Glucose syrup comes from starch: starch molecules are long chains of glucose molecules bound together and hydrolyzing starch breaks down the chain into the monosaccharide building block that is glucose.
Molasses is a produced in the early stages of sugar cane refinement. It is a dark (practically black), thick, sweet, slightly bitter syrup, mostly made of sucrose. It's made by concentrating sugarcane juice
Treacle is a syrup made during the sugar cane refinement process.

Black treacle is another type of molasses.
Golden syrup is also called light treacle and it is a cane syrup, but much lighter in colour than black treacle and molasses (as the name suggests). Golden syrup has a milder, very light taste. It's also known as pancake syrup.
Fun fact: invert sugars are sweeter than the sugars they come from. For example honey (an invert sugar syrup made of glucose and fructose) is sweeter than sucrose. If you think about it a little, it makes sense because the bees turn one sucrose molecule into two sugars, so logically you would expect the product with two monosaccharides to be sweeter than the nectar with a single disaccharide.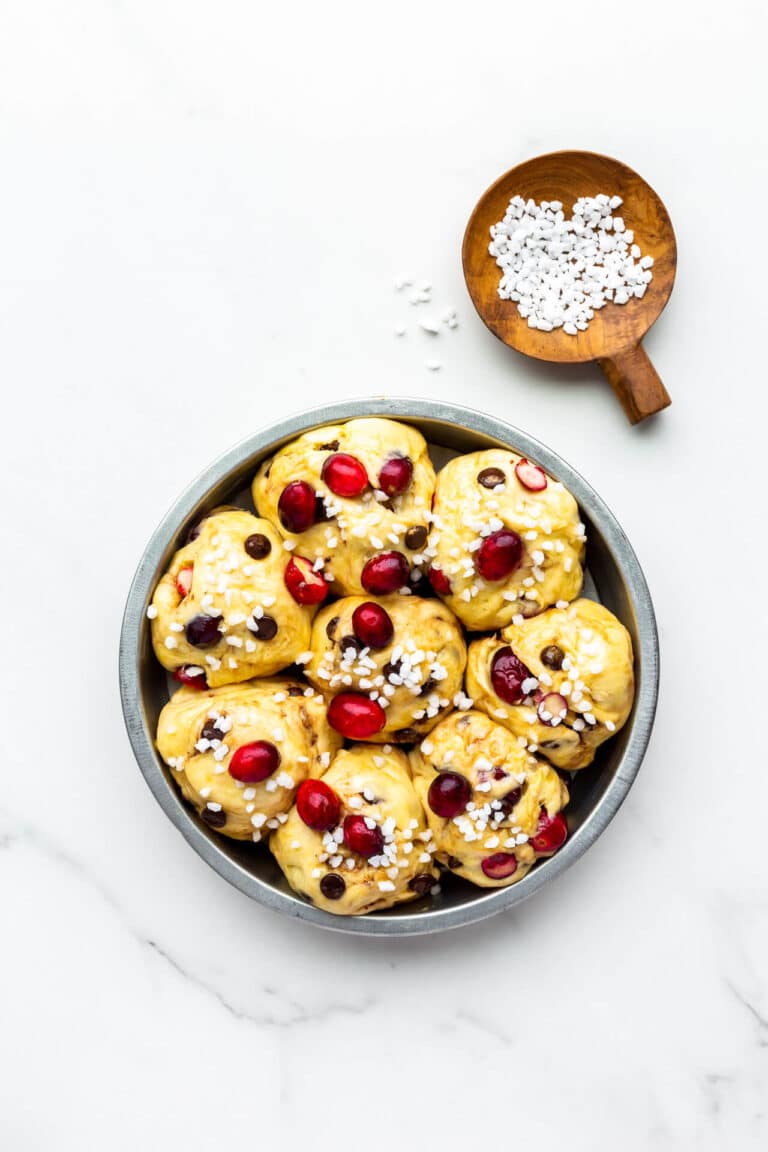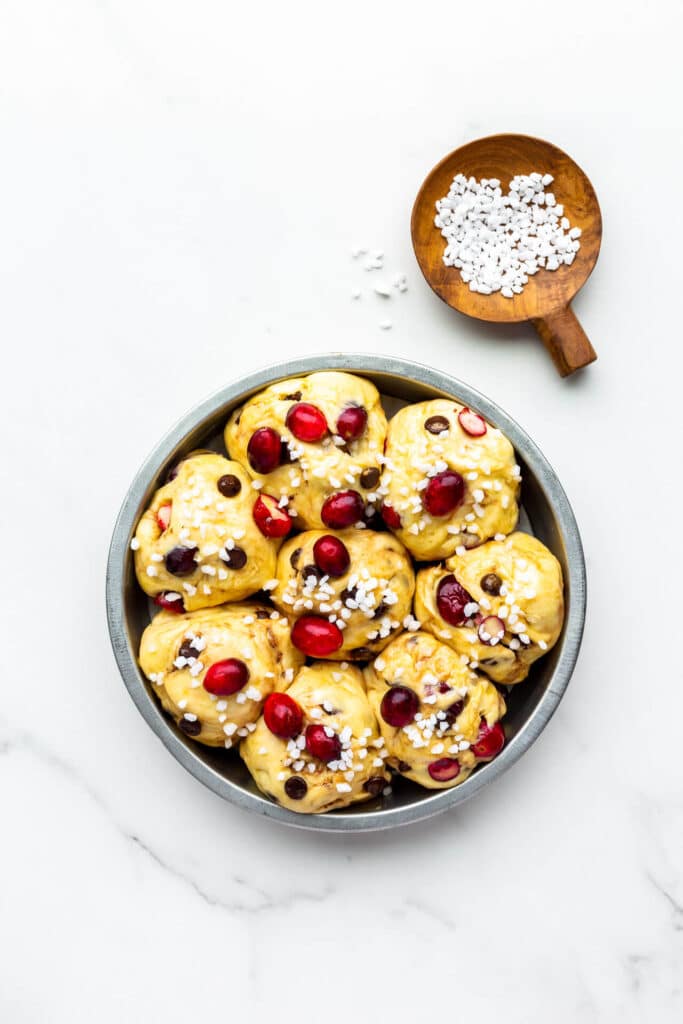 The many roles of sugar in baking
Sugar plays many roles in baking and some of them are hard to replace if you want to make a subsititution or eliminate sugar from your recipes:
Adds flavour and sweetness
Tenderizes
Retains moisture
Improves shelf-life
Contributes colour
Helps aerate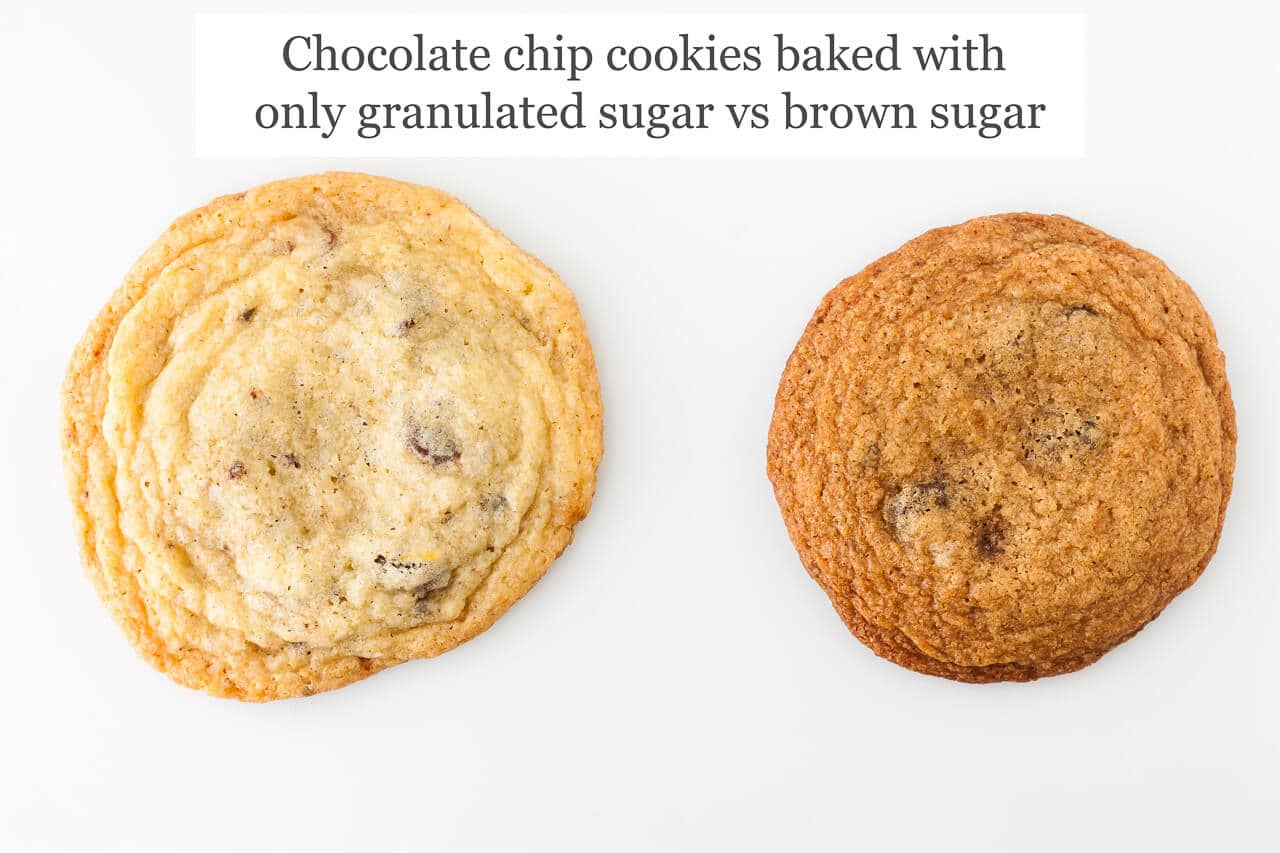 Flavour
Sugar can impart a flavour to baked goods because:
the sugar itself is flavourful: for example maple syrup, honey, and coconut sugar have very distinct flavours and these will come through when you bake with them instead of granulated sugar
the sugar caramelizes when heated, developing flavourful compounds so even white sugar can contribute a flavour if it's heated for long enough.
Think of adding sugar, not only to impart sweetness, but also to contribute flavour. Use different types of sugar in your recipes to give a more complex flavour to baked goods.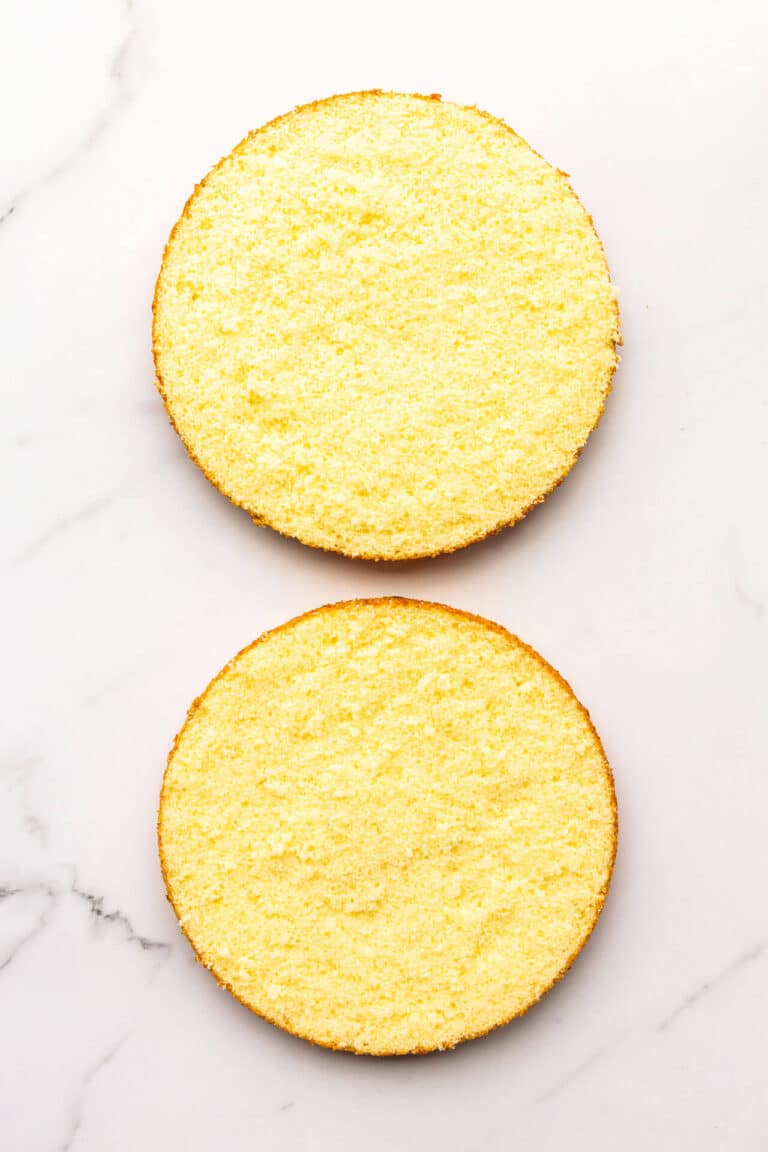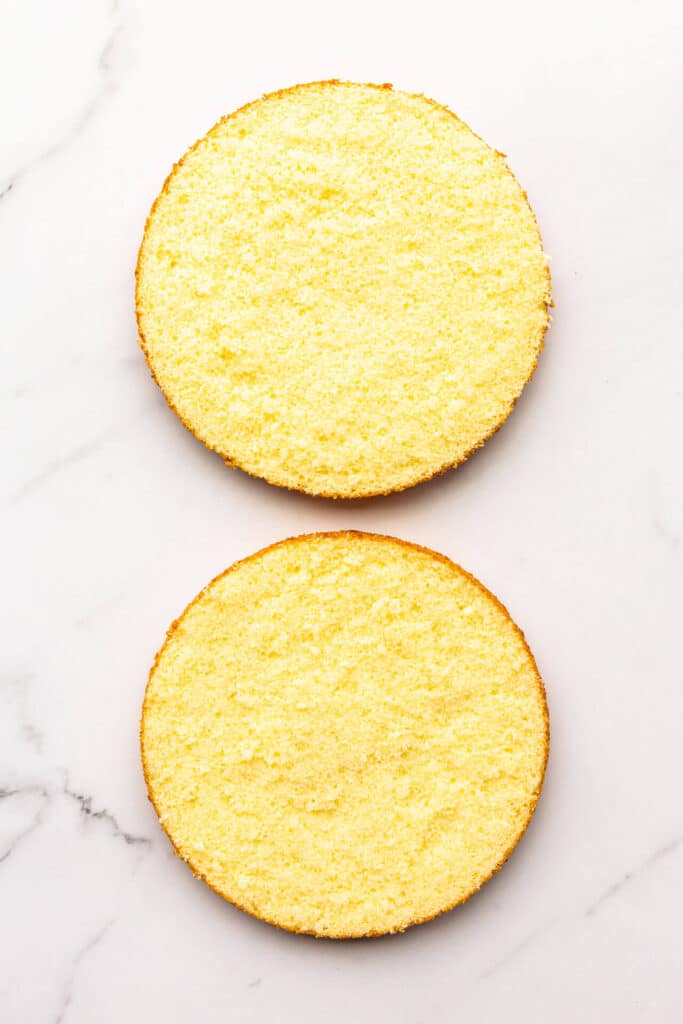 Texture
Sugar disrupts gluten formation when they dissolve. Adding sugar to baked goods means that the proteins that make up gluten are less likely to assemble and will not assemble so easily. This means your baked goods will be more tender than without.
Sugar also disrupts protein coagulation and starch gelatinization, increasing the temperature at which these structure-building activities happen. This delay leads to a more tender product.
Of course, if you add too much sugar to a recipe, it may disrupt the structure so much that your cake collapses or can cause a more crumbly texture.
On the other hand, sugar can also lend a crunchy or crispy texture in recipes like cookies. Rolling cookies in sugar can draw out moisture on the surface of the cookie. This dries them out, leading to cracks and a crunchier texture. Examples of this include these sugar cookies with sprinkles, ginger cookies with crystallized ginger, chocolate sugar cookies, and chocolate crackle cookies.
You may also sprinkle the surface of baked goods with turbinado or coarse raw sugar before baking. This contributes a lovely sweet crunch texture to the surface of scones and biscuits, to the edges of slice-and-bake cookies that were rolled in sugar before slicing, and to the top crust of pies.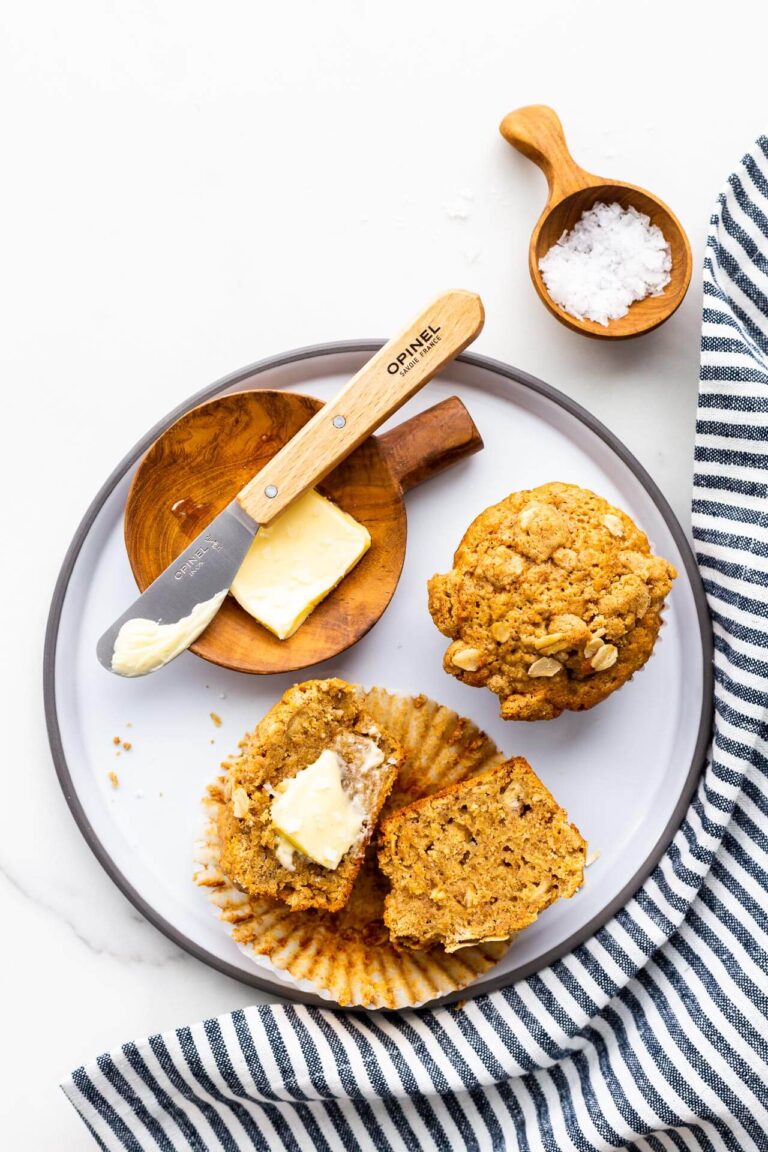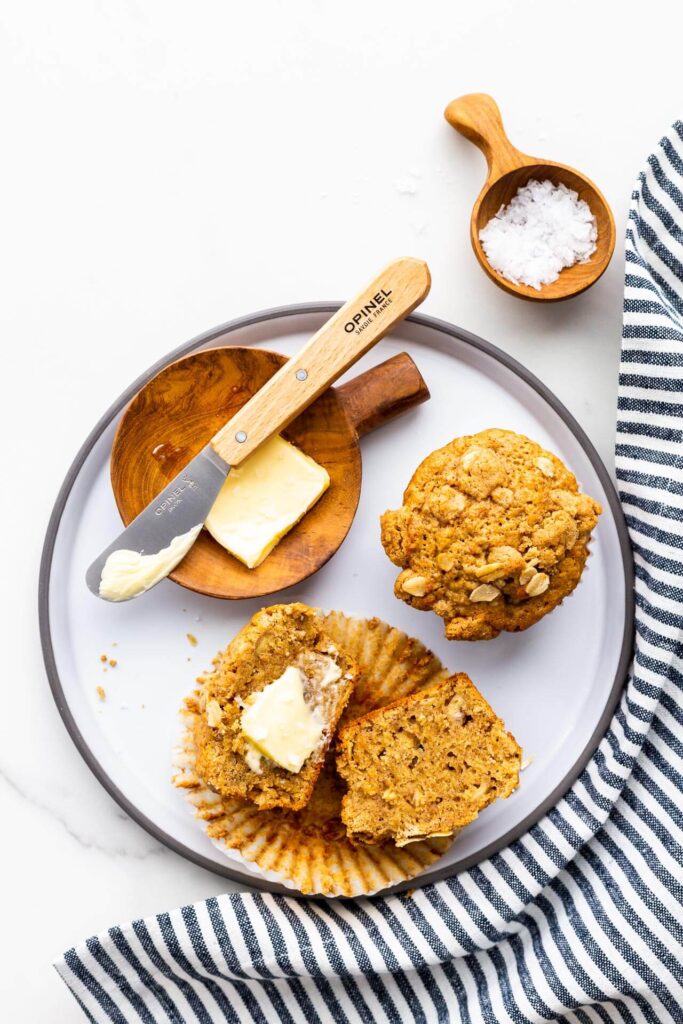 Moisture
Sugar is hygroscopic, meaning it absorbs water from its surroundings. More sugar in a cake recipe contributes to a more moist texture and mouthfeel. By trapping water, sugar actually slows the drying out process of baked goods.
The hygroscopic nature of sugar means that it dissolves, turning into a syrup and so it contributes to cookies spreading when baked.
Shelf-life
Sugar improves the stability and shelf-life of baked goods. Remember that sugar is hygroscopic, meaning that it absorbs moisture from its surroundings. Sugar slows drying out in baked goods, giving you more time to enjoy them before they become stale and dry.
For this reason, recipes with reduced sugar often have to compensate with more moisture and/or more fat to improve perceived moistness and mouthfeel, but also to prevent baked goods from drying out too quickly.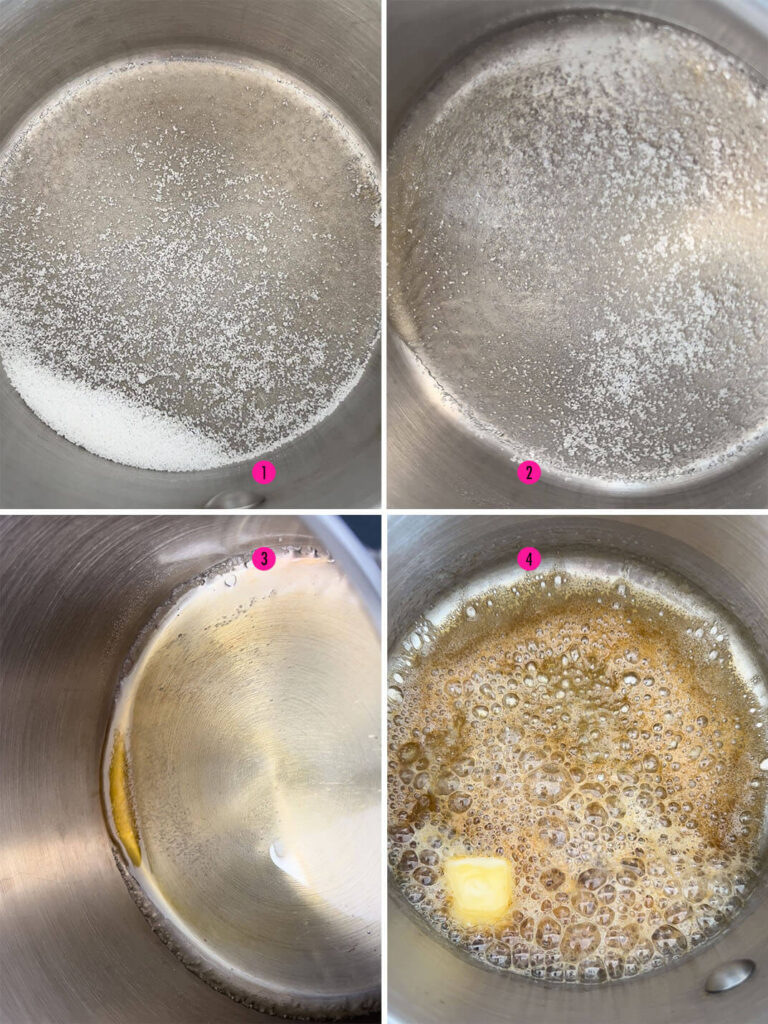 Colour and caramelization
There are two ways that sugar contributes colour in baking: caramelization and Maillard browning. With caramelization, you have to heat sugar above 150 °C (300 °F) to colour and caramelize it. On the other hand, Maillard browning occurs much more readily, even at room temperature, especially in the presence of proteins and at high pH.
Tip: if you want to improve browning in baked goods that don't take long to bake, like cookies, try adding a little baking soda! You'll notice with my chocolate chip cookie recipe, I add 2.5 mL (½ teaspoon) of baking soda for 195 grams (1-½ cups) of flour. This not only has an impact on the spread but also the browning of the cookie.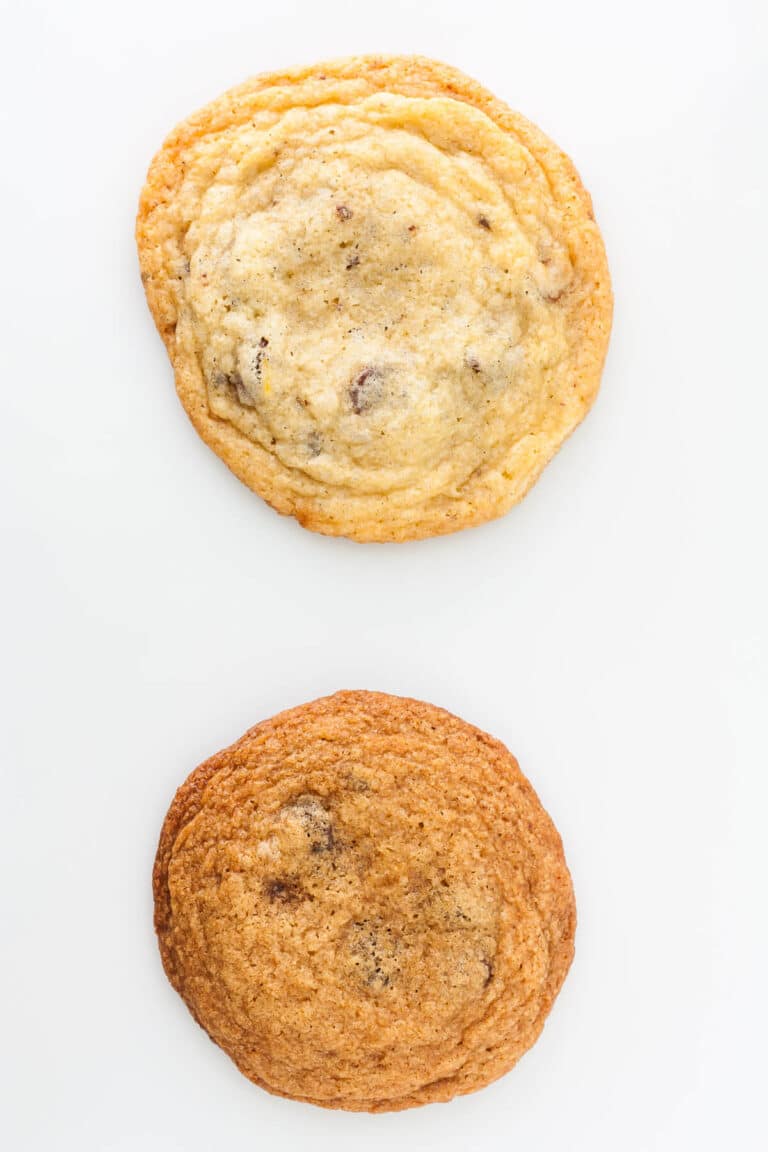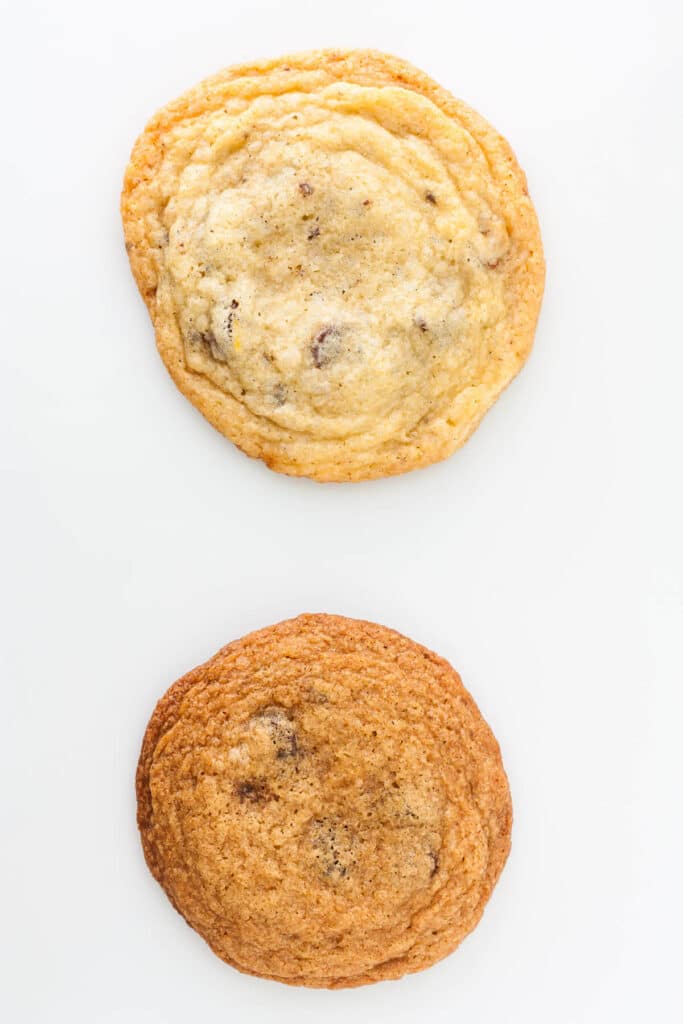 Aeration
Recall that with the creaming mixing method often used for cakes and cookies, the first step involves beating together the softened butter and sugar until light and fluffy. This takes several minutes. This is a mechanical way for bakers to incorporate air in baked goods and is one of the reasons that this step is considered a method of leavening that people often skip over.
Actually if you don't spend enough time on this step, your baked goods may end up dense.
The same goes with meringue and egg-white based desserts. Dissolved sugar stabilizes whipped egg whites so that they can hold their shape and hold air.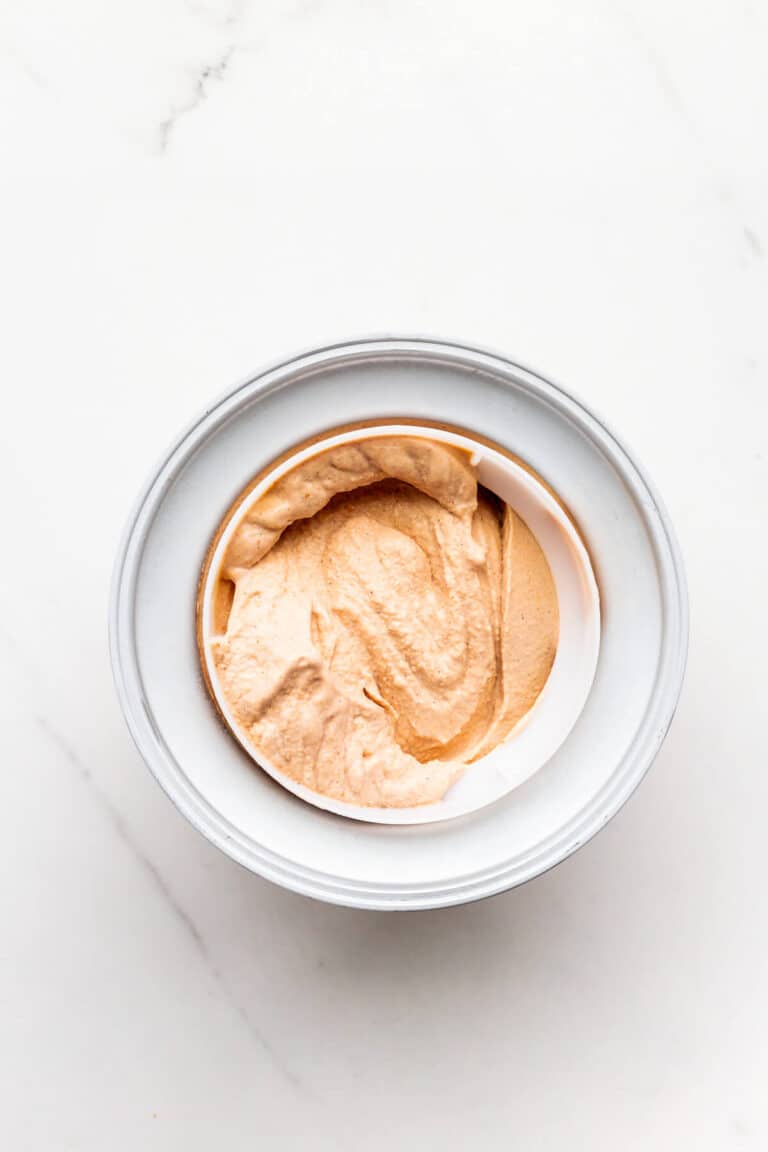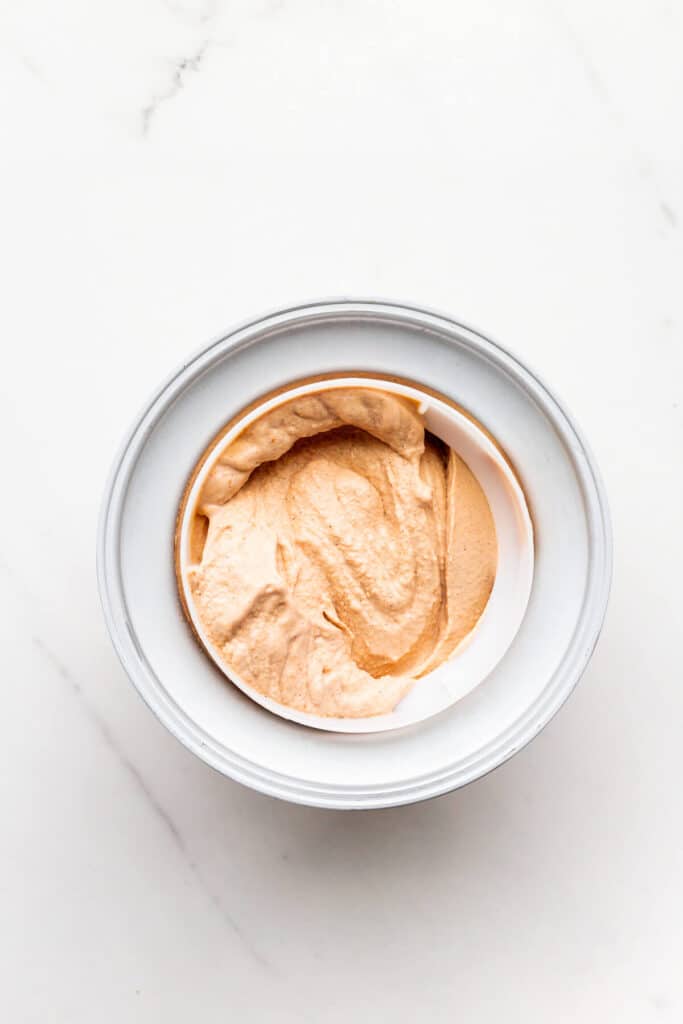 Other roles of sugar
Sugar plays a role even in recipes that aren't baked:
In ice cream, sugar traps water, reducing ice crystal formation, leading to a smoother mouthfeel and a softer texture
In homemade preserves, sugar

is essential to achieving the perfect set when making homemade jams. In fact, if you reduce the sugar in a jam recipe, you may never get the jam to set.
traps water thereby increasing shelf-life and preventing the growth of microorganism. Again, this is because sugar is hygroscopic and so traps water. Water is essential for microorganisms to grow, so high quantities of sugar will delay the growth of mold and bacteria.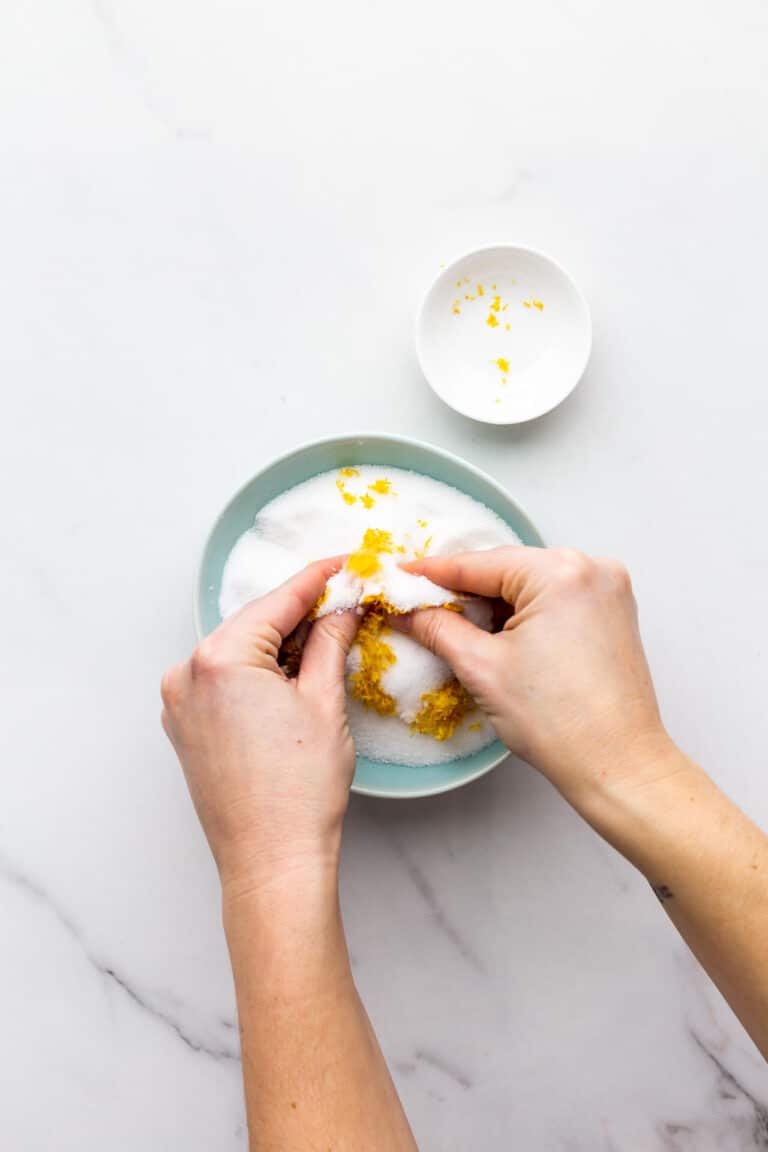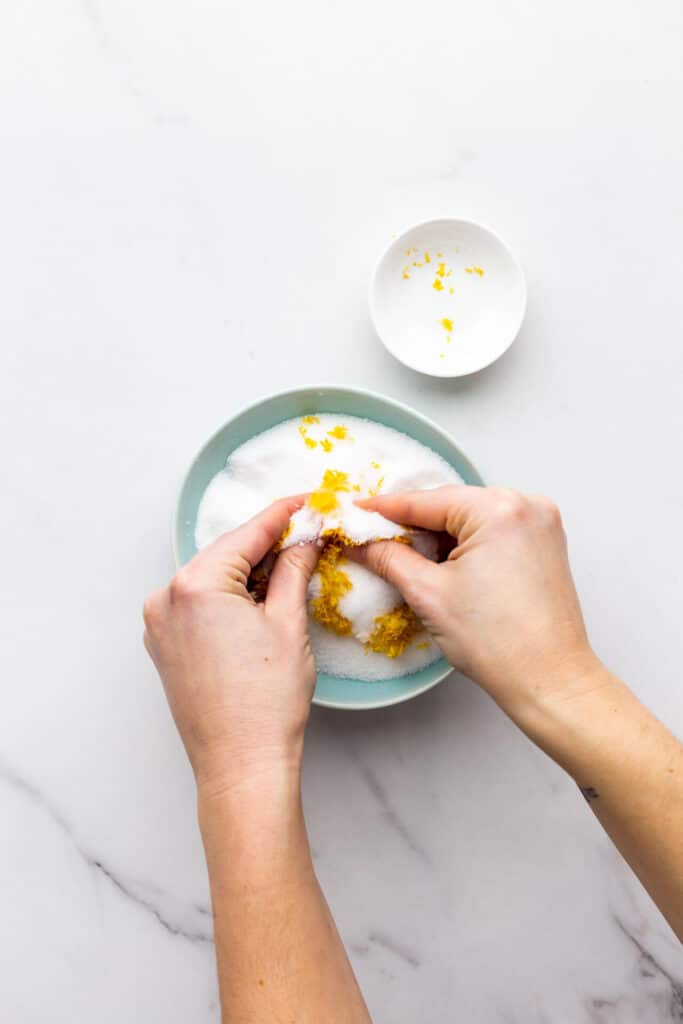 Substitutions with sugar
Use the weight not the volume
Because the size of the particles and crystals varies so greatly from fondant sugar to coarse sugar, replacing one sugar for another is tricky. You will need to consider weight, not volume, to make substitutions without having an impact on flavour.
Consult the baking ingredients conversion chart to see for yourself: 1 cup of powdered sugar weighs 125 grams, whereas 1 cup of granulated sugar weighs 200 grams. That's a big difference. It becomes even greater as you scale up a recipe or work on larger batch sizes. If you want to substitute one type of sugar for another, use the weight as your guide. Replace them gram for gram.
Consider the texture
You need to understand the role and impact of each type of sugar in order to replace one with another. You also need to have a clear goal in mind in order to make smart substitution decisions.
Granulated sugar will give cookies a more crispy edge. Brown sugar will lead to a softer or more chewy texture. Brown sugar may reduce the spread of cookies ever so slightly. Superfine sugar will increase the spread because it dissolves into a syrup faster.
Pearl and coarse sugars like turbinado don't dissolve readily and resist melting even at high temperatures. It would be a terrible idea to replace granulated sugar with a coarse sugar. This would make your baked goods very gritty and add a crunchy texture from undissolved sugar.
Consider the flavour difference
You also need to consider taste when swapping one sugar for another: granulated sugar is a white sugar that has no flavour except for sweetness. Muscovado sugar adds a lot of earthiness to a recipe through it's molasses and mineral content. You may want to replace a portion of white sugar with muscovado or brown sugar, instead of all of it.
Replacing granulated sugar with maple syrup or honey in baking
maple syrup and honey are both liquid. You may have to reduce the quantity of other liquids in your recipe when replacing sugar with either of these. Or if there aren't any liquids in the recipe, increase the flour: add an extra 1 tablespoon of flour for every 60 mL (¼ cup) of maple syrup or molasses added)
maple syrup is mostly sucrose, just like granulated sugar, so it's as sweet. This means you can substitute one for the other, cup for cup.
honey is sweeter than regular granulated sugar so you may need to make adjustments from the extra sweetness honey brings.
Replacing granulated sugar
Replace 200 grams (1 cup) granulated sugar (or cane sugar) with either of the following:
200 grams (1 cup) of caster sugar (also known as super fine sugar or special fine sugar)
200 grams (1 cup) of brown sugar (light or dark doesn't make a difference but these will impart some caramel colour to baked goods, as well as some extra flavour)
190 mL (¾ cup) of honey
250 mL (1 cup) of maple syrup
Remember that you may have to adjust liquid quantities in your recipes if baking with sugar syrups.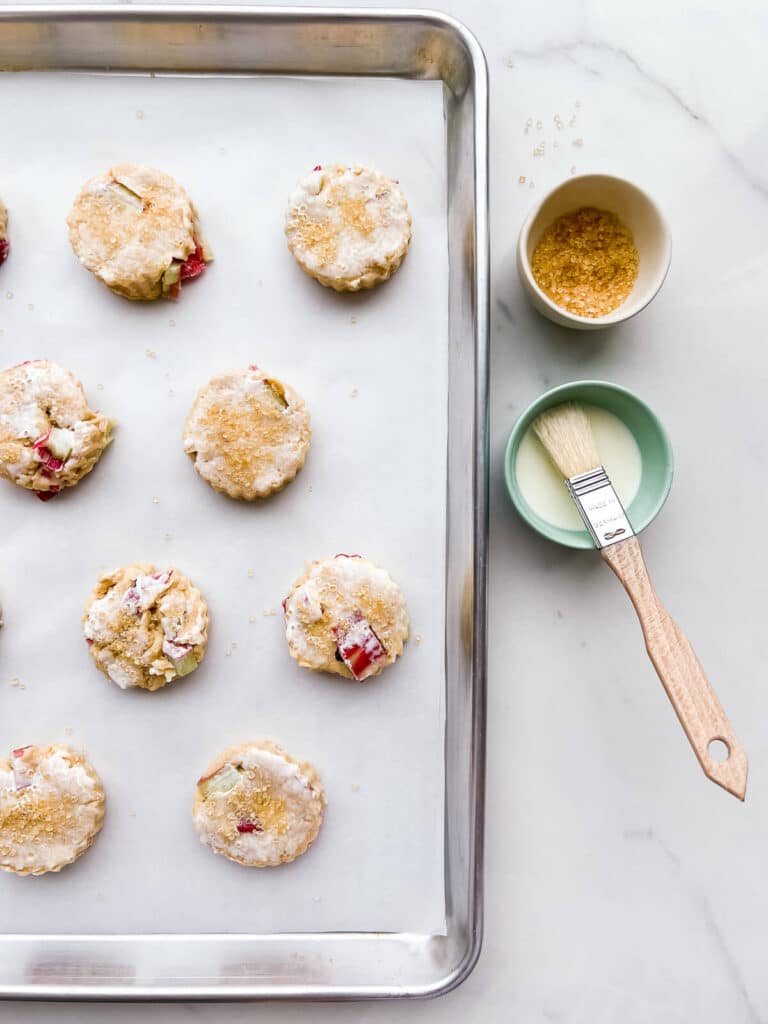 Frequently asked questions
Are demerara and brown sugar the same?
Demerara and brown sugar are not the same thing. Demerara sugar is raw sugar, and may have a rather coarse, crystalline texture, whereas brown sugar is white sugar with molasses added to it to create a coloured sugar with some flavour. Because demerara has a more coarse texture, it is better suited for garnishing the top crust of pies or the outer edge of a roll of slice-and-bake cookies
Are brown sugar and muscovado the same thing?
Brown sugar and muscovado sugar are quite similar, though made through different processes. Brown sugar is white sugar that is mixed with molasses to impart a colour and flavour to the product. On the other hand, muscovado is a less refined sugar and therefore has slightly more nutrients and a more earthy, less bland flavour. You can easily replace one with the other in most baking recipes. Note that muscovado is darker than light brown sugar and even dark brown sugar, so therefore may impart more colour to baked goods.
Can I use blackstrap molasses instead of baking molasses or fancy molasses?
Blackstrap molasses doesn't have the same flavour as fancy molasses (also called baking molasses). Baking molasses is milder and more appropriate for sweet recipes, whereas blackstrap molasses has a more earthy, savoury quality. These two types of molasses cannot be interchanged without making other adjustments to a recipe.
Storage
If stored properly, the shelf-life of sugar is forever, meaning it won't spoil or go bad.
For syrups with water, storage varies:
maple syrup must be stored in the refrigerator to slow the growth of mold and yeast cells
glucose syrup shouldn't be refrigerated because it may crystallize. You may notice corn syrup or glucose will start to turn golden with age, but this has no impact on its properties. If this happens, you may not want to use it in a recipe where it could impart an undesired colour though.
honey doesn't have to be refrigerated because of its acidity combined with a high concentration of sugar, it's not going to mold. You may notice it crystallize over time, but the sugar can be redissolved with gentle heating.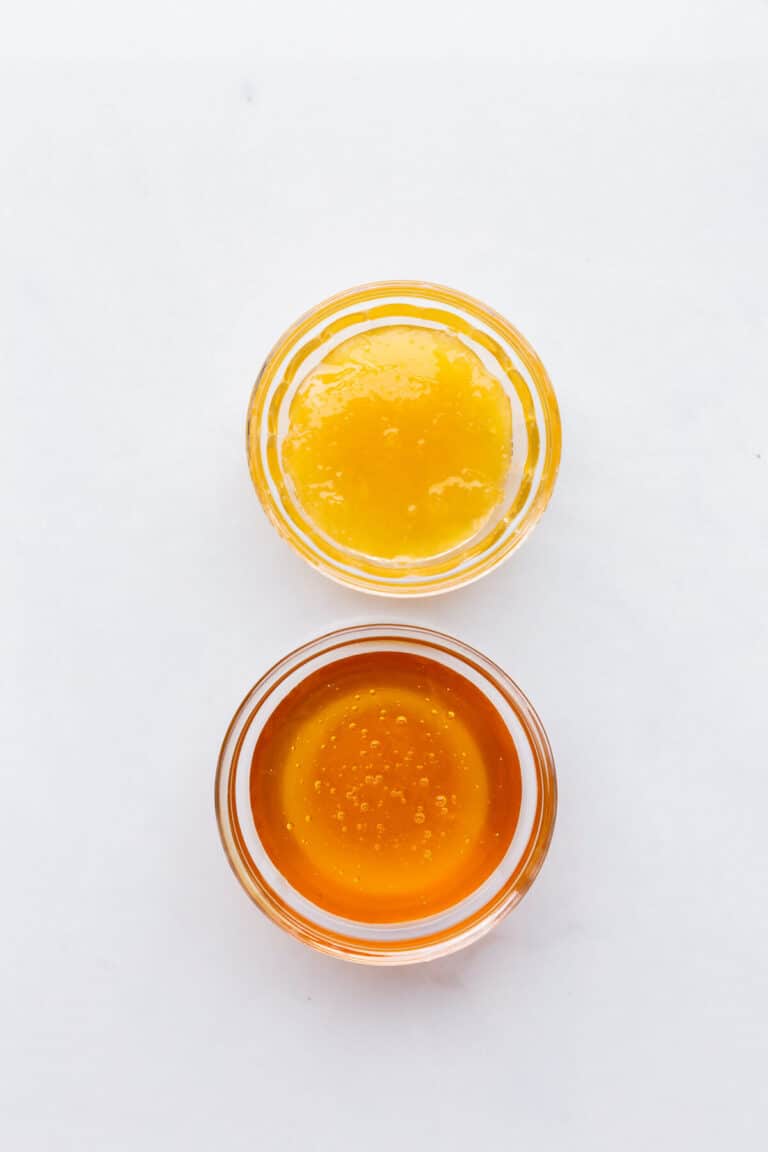 Recipes made with different types of sugar
Recipes made with molasses
Recipes made with dark brown sugar
Dark brown sugar contributes to a chewy texture in cookies and a richer flavour. Here are some baking recipes that feature dark brown sugar:
Recipes made with maple syrup
If you are interested in baking more with maple syrup, try these maple recipes:
Recipes made with honey
Honey gives baked goods a distinct flavour. If you'd like to bake more with honey, try these recipes:
Recipes made with icing sugar
Icing sugar is essential in many frostings and glazes, but also used for decor in pastry. Here are some recipes that feature icing sugar:
Recipes made with treacle
Treacle is darker and has a more pronounced flavour than molasses nad honey. Here are some recipes baked with treacle:
Further reading
If you would like to learn more about ways of baking with less sugar, I highly recommend the book Baking with Less Sugar by Joanne Chang. I really enjoy her book and I published a review of Joanne Chang's book a few years ago so you can read my thoughts on it.
For more information about how to replace one sugar with another and all the things you need to consider, read my guide to baking substitutions.
If you are interested in diving deep into sugar and the science of baking, please read How Baking Works by Paula Figoni, a book that I have included in my list of best baking science books and references.
If you want to learn more about baking, I highly recommend you explore the baking 101 page and especially the series on baking ingredients! Within you will find a deep dive on the ingredients you need to bake.