Learn everything you need to know about sprinkles, including the different types you can buy, what each type is used for, and even how to make them (if you dare).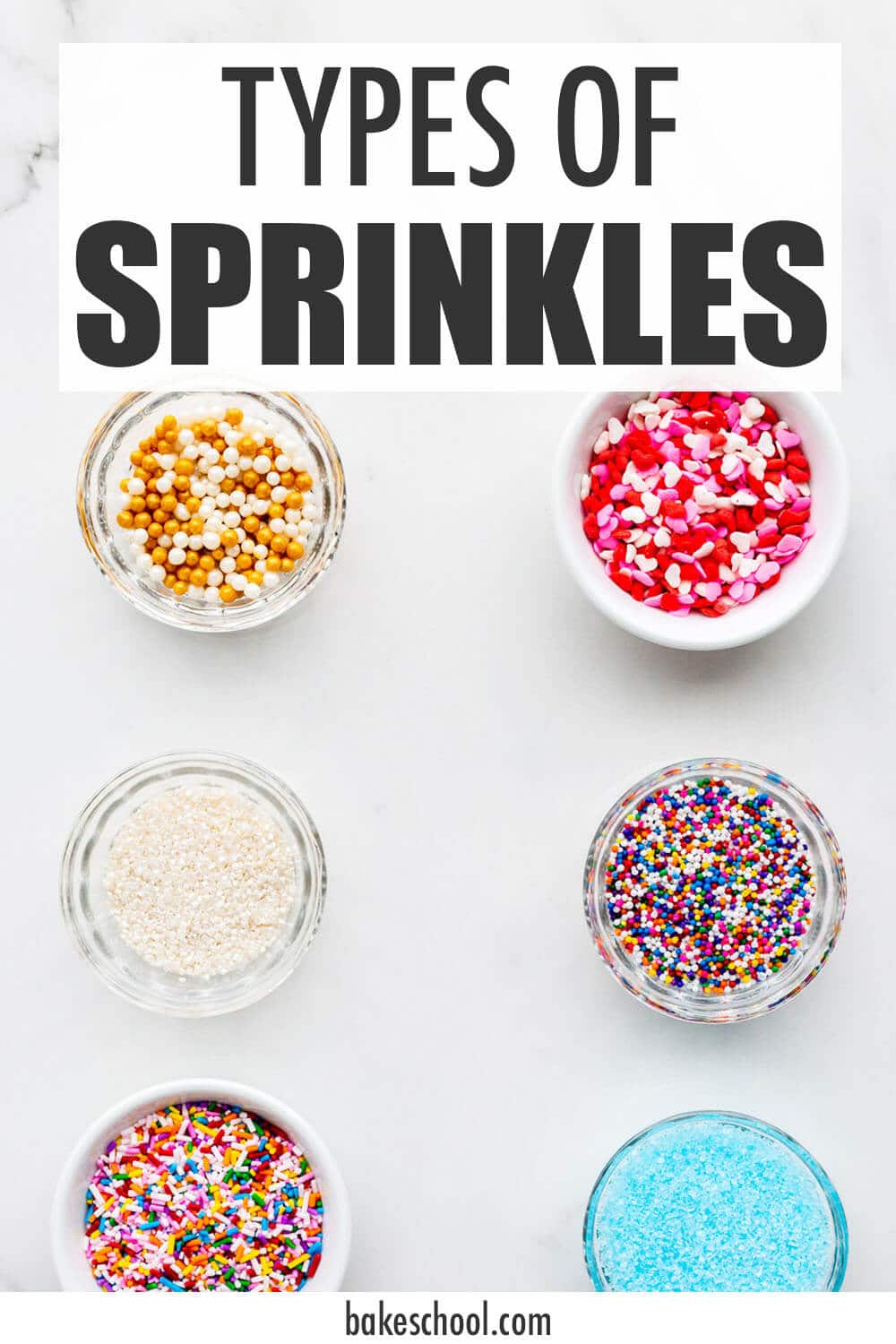 Disclosure: As an Amazon Associate, I earn from qualifying purchases.
Who doesn't love to decorate baked goods with sprinkles? Sprinkles are the easiest way for a baker to make a dessert look cute or finished without having to put much effort into it. Sprinkles can hide a lot of "defects" too. Find out all about the different types of sprinkles, what to use them for, and even how to make them!
Jump to:
Types of sprinkles
There are 6 basic types of sprinkles that you can buy:
Jimmies, also called sugar strands because they look like broken pieces of spaghettini. They come in all colours
Nonpareils, also called 100s or 1000s, tiny round, and colourful, roughly the size of seed beads
Quins, also called shaped sprinkles or confetti, are matte, colourful, and flat, like sequins (thus the name), but they come in a variety of shapes (stars, hearts, snowflakes, etc.)
Dragées or sugar pearls also called edible pearls, very hard, smooth, round pearls with a very hard texture (they can be very difficult to bite through) and they are larger than nonpareils
Sanding sugar, is fine, sparkly, and basically looks like colourful fine sugar crystals
Sugar crystals are slightly larger than sanding sugar, with a pearly, opaque colour.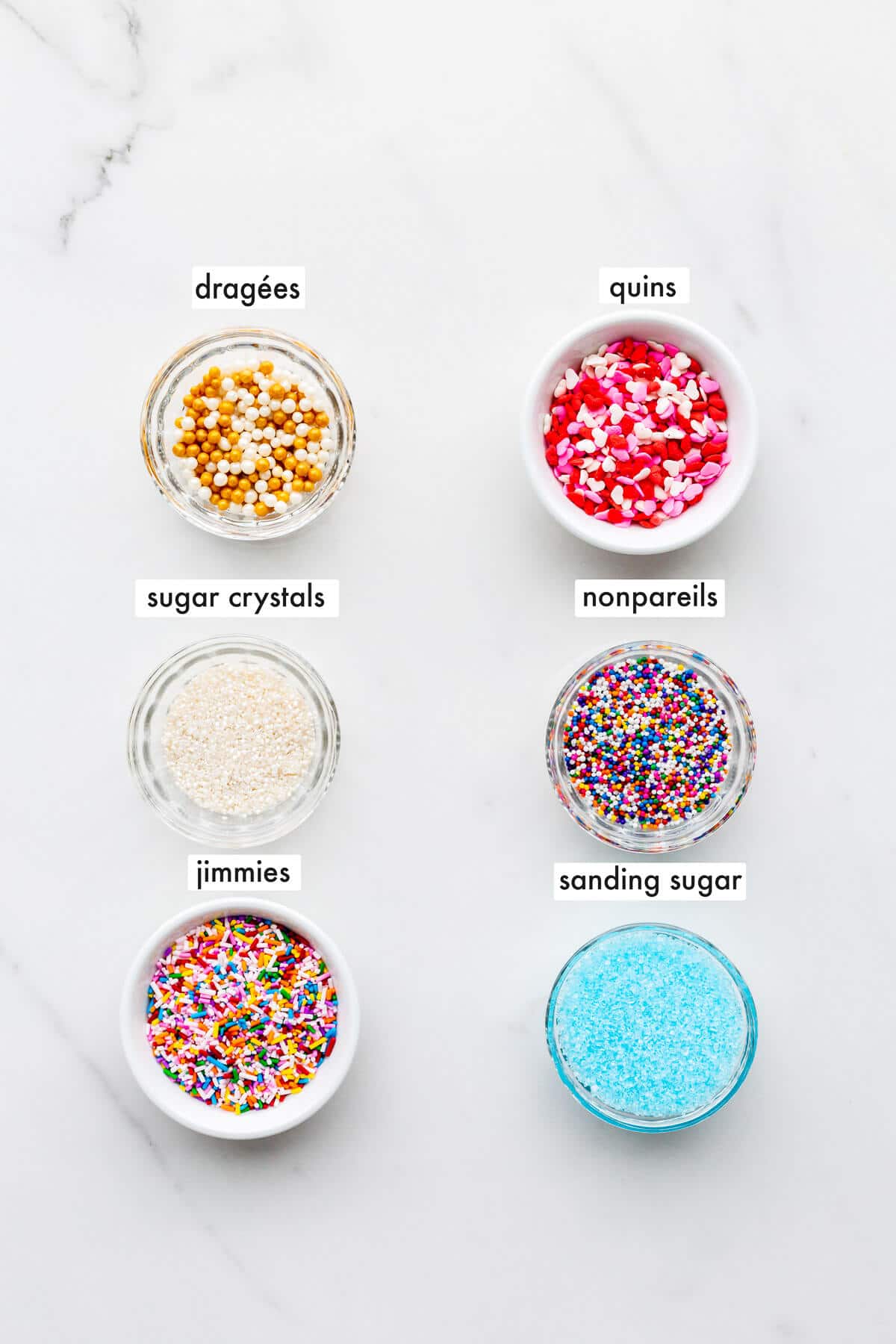 What's in them
As you can probably guess, sprinkles are mostly made of sugar. Sugar is the primary ingredient on sprinkle labels and so it is listed first. Other ingredients in commercial sprinkles include wax, food dyes, oil (vegetable and/or palm), cornstarch, flavours (natural and/or artificial).
The wax is a coating on some sprinkles which makes them shine and can also stops them from absorbing moisture and prevents (or slows) colour leeching and bleeding into batters. If you've ever seen a sprinkle cake where the sprinkles are more like splotches of colour throughout the cake, it's likely that the sprinkles were unwaxed or the batter was just very wet. The wax could also prevent (or slow) clumping.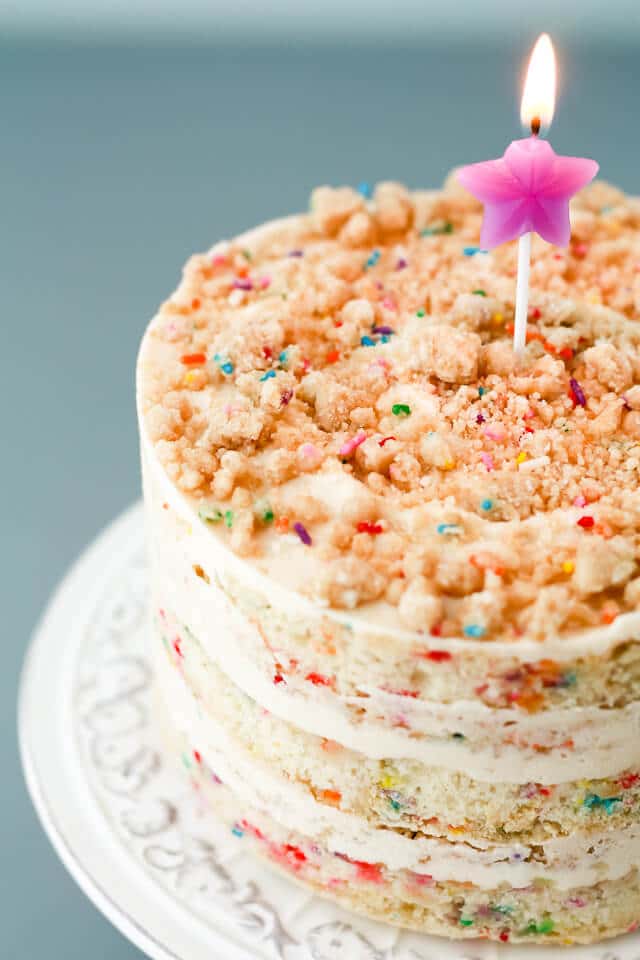 Imitation versus real chocolate sprinkles
With chocolate sprinkles, beware of imitation chocolate sprinkles that contain no chocolate nor any cocoa products whatsoever. These are often sugar sprinkles dyed brown. Again, there's nothing wrong with artificial colour and flavour, but artificial chocolate sprinkles taste nothing like chocolate, and worse: they tend to melt into a pink puddle.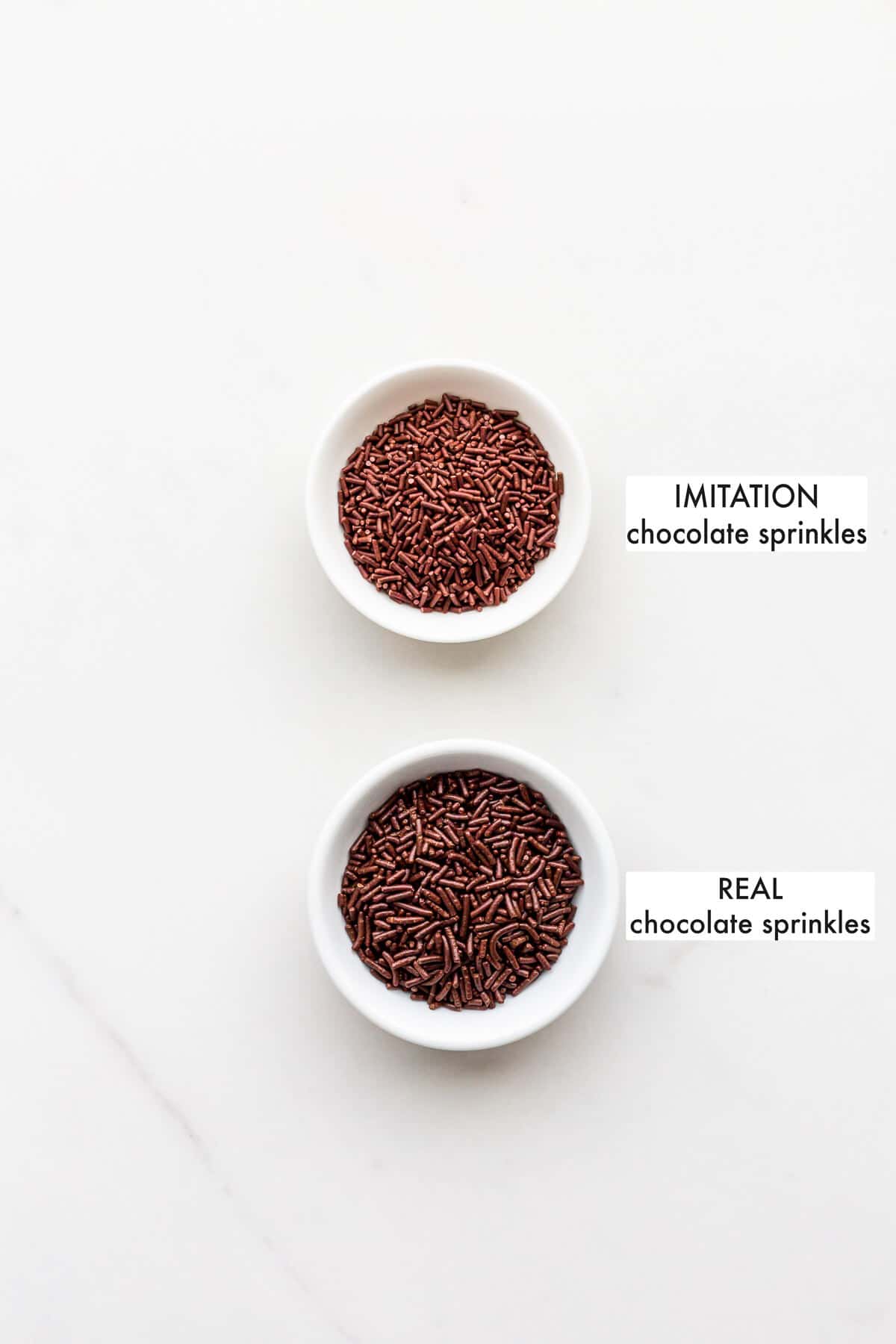 I now buy Dutch chocolate sprinkles, which is the main ingredient in fairy toast (buttered toast sprinkled with chocolate sprinkles). The Dutch chocolate sprinkles are made with real cocoa powder so they taste better. Honestly though, I would pick chocolate shavings over chocolate sprinkles if I had a choice...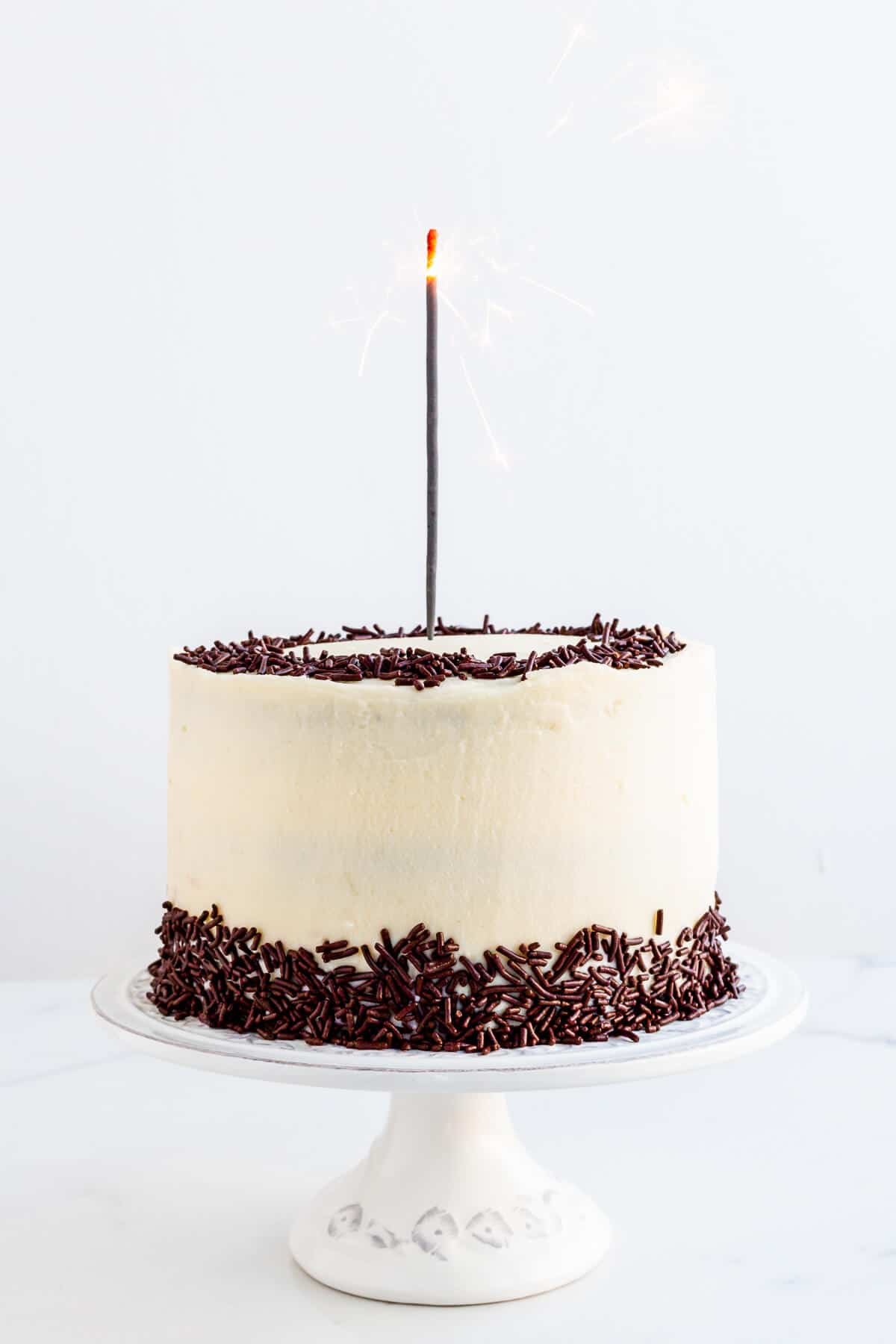 Where to buy them
If you want to buy sprinkles, they usually have the basics at grocery stores, and some stores will carry a variety of seasonal Wilton sprinkles and sprinkle mixes. Try your local craft shop, which might have a baking section. Michael's stores carry a few fun mixes of Wilton sprinkles, for example. Here are some brands to seek out when you are shopping for classic sprinkles: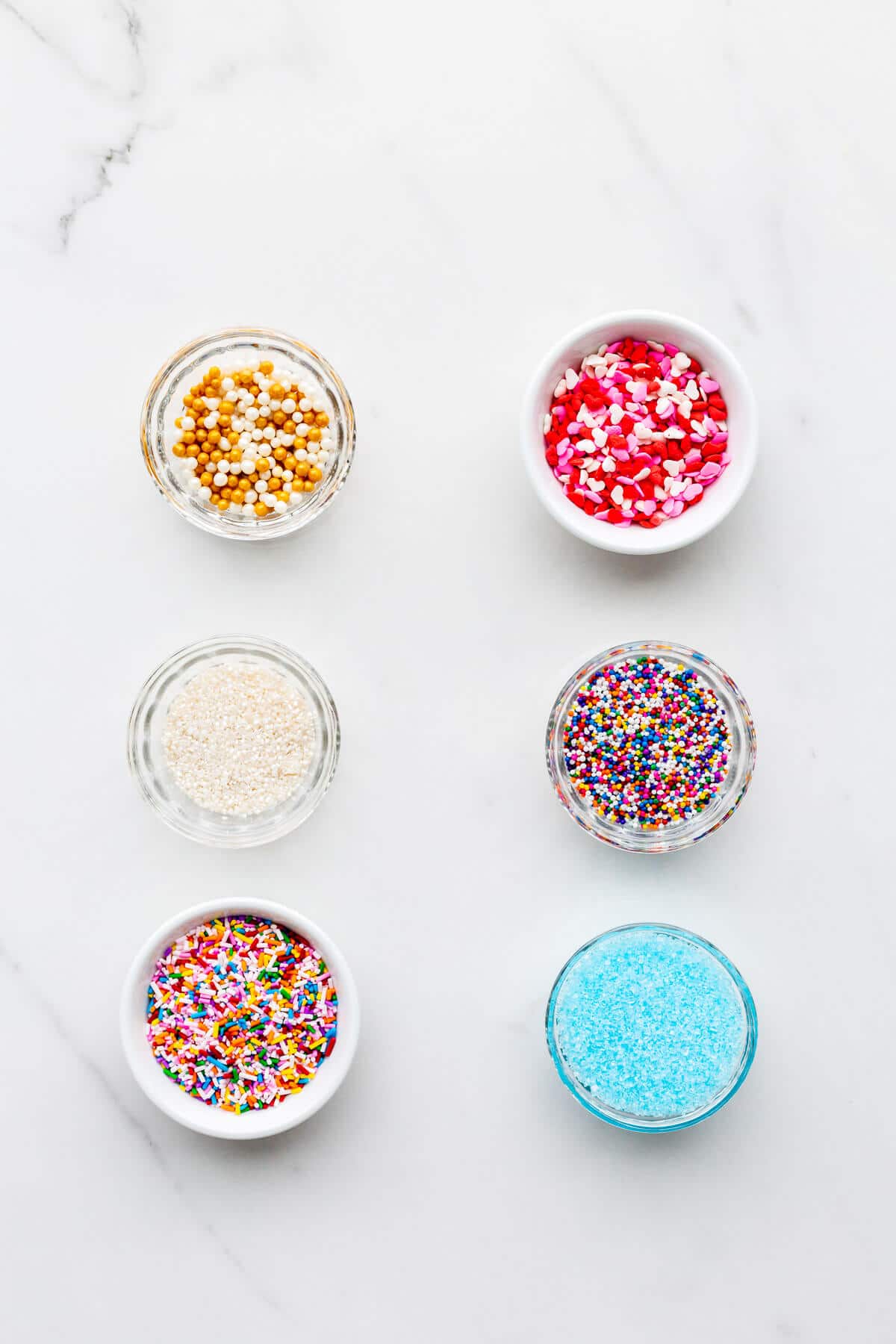 If you want the option of buying a greater variety of sprinkles that go beyond the basics, try these sources. They offer sprinkles in every size, shape, and colour: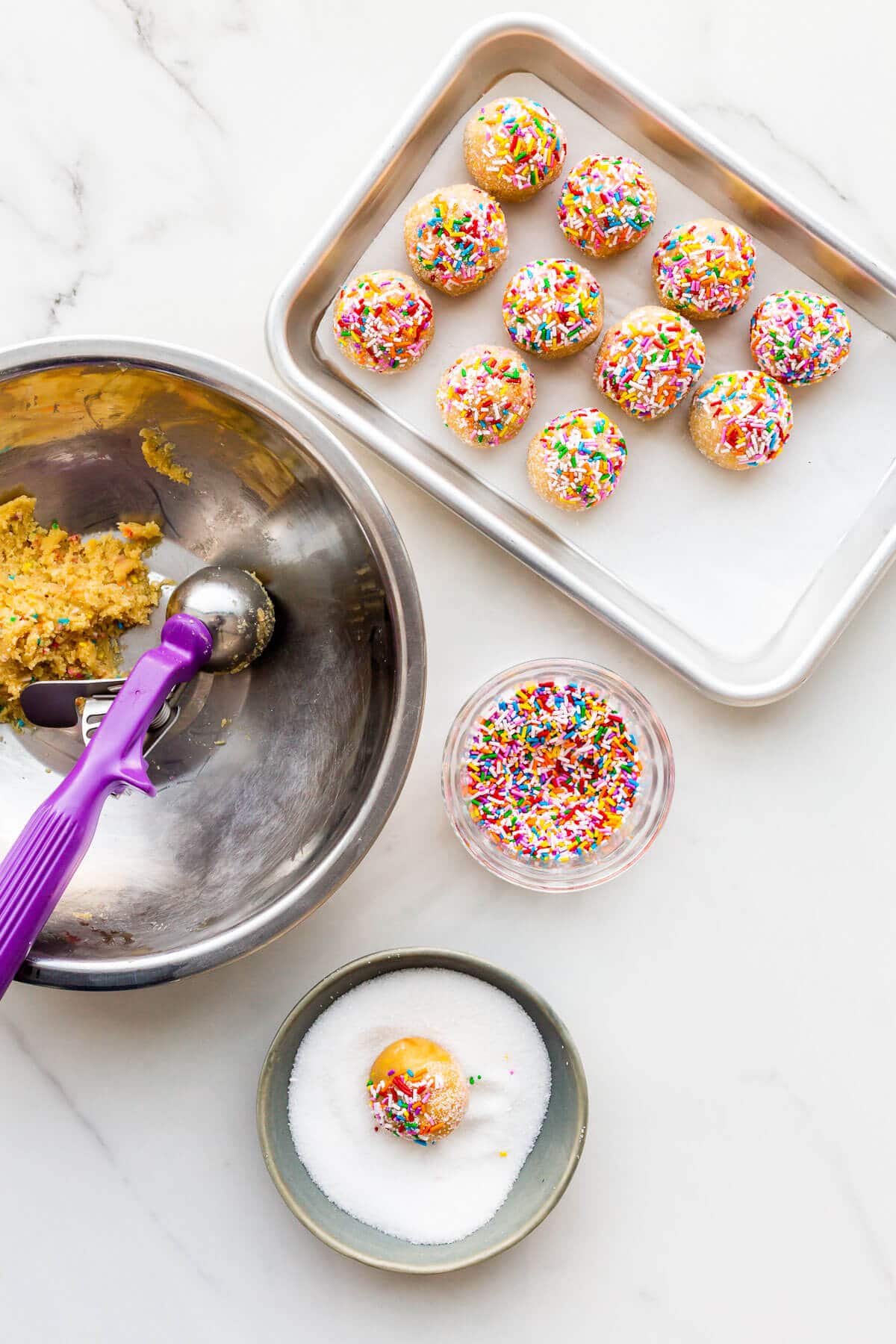 How to use them
Sprinkles are used as decor on cakes and cookies, but they can also be added into doughs and batters, providing pops of colour. These sugar cookies with sprinkles are made with rainbow jimmies, which are mixed into the cookie dough, but you can also garnish the dough with more sprinkles before baking.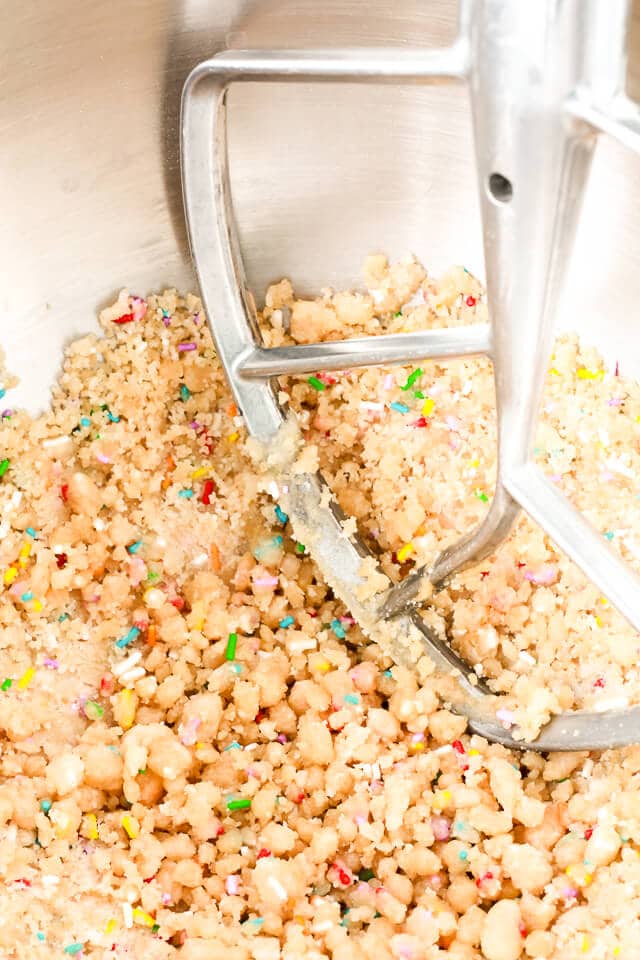 You can use rainbow jimmies or nonpareils to make:
Use sanding sugar to decorate:
Use chocolate sprinkles to garnish: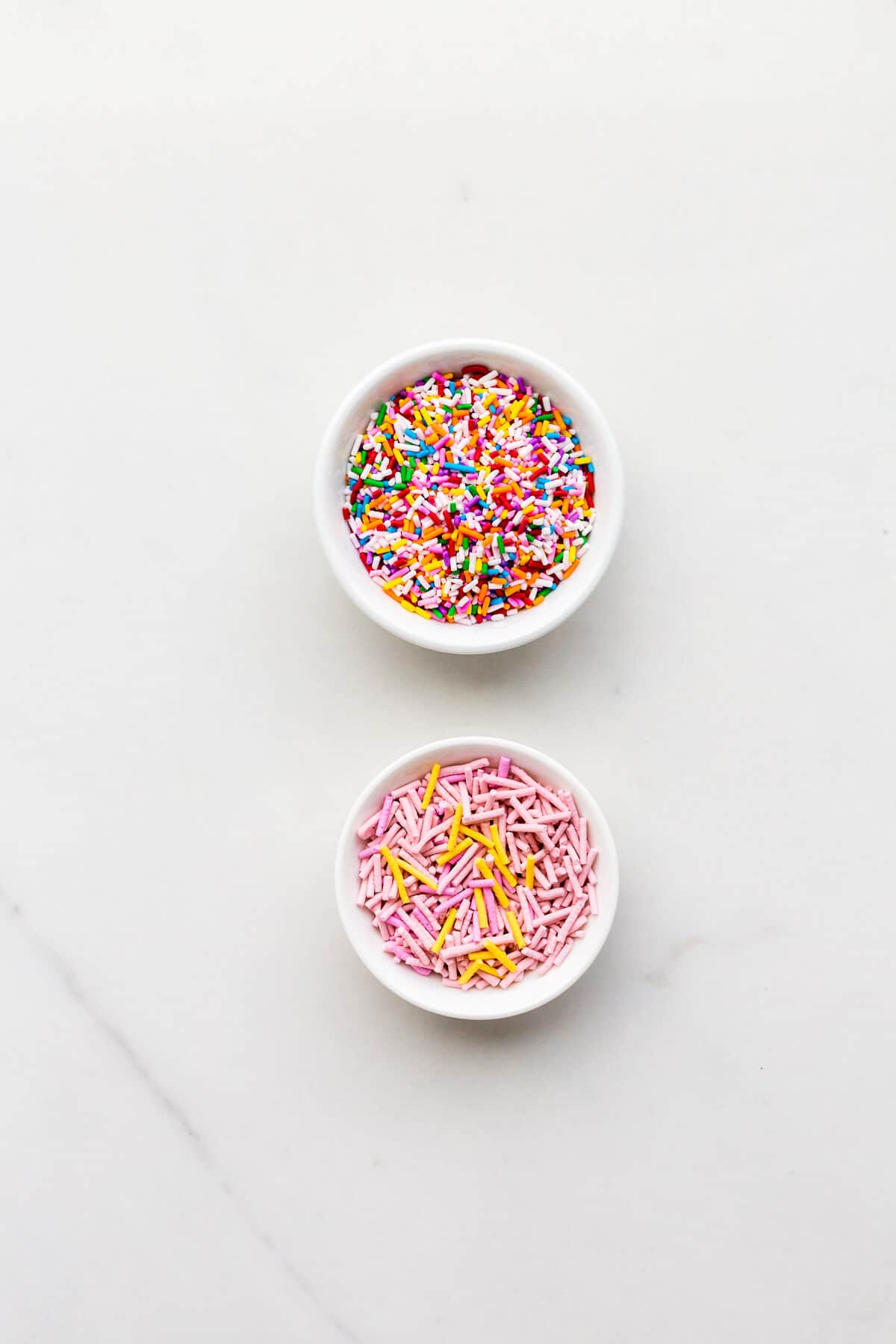 How to make homemade sprinkles
At home, you can make sprinkles simply by mixing the sugar with water and meringue powder (or even egg whites), like for royal icing. You can colour the thick icing with food dyes and pipe it into lines. The lines are then dried out and broken up to make rainbow jimmies.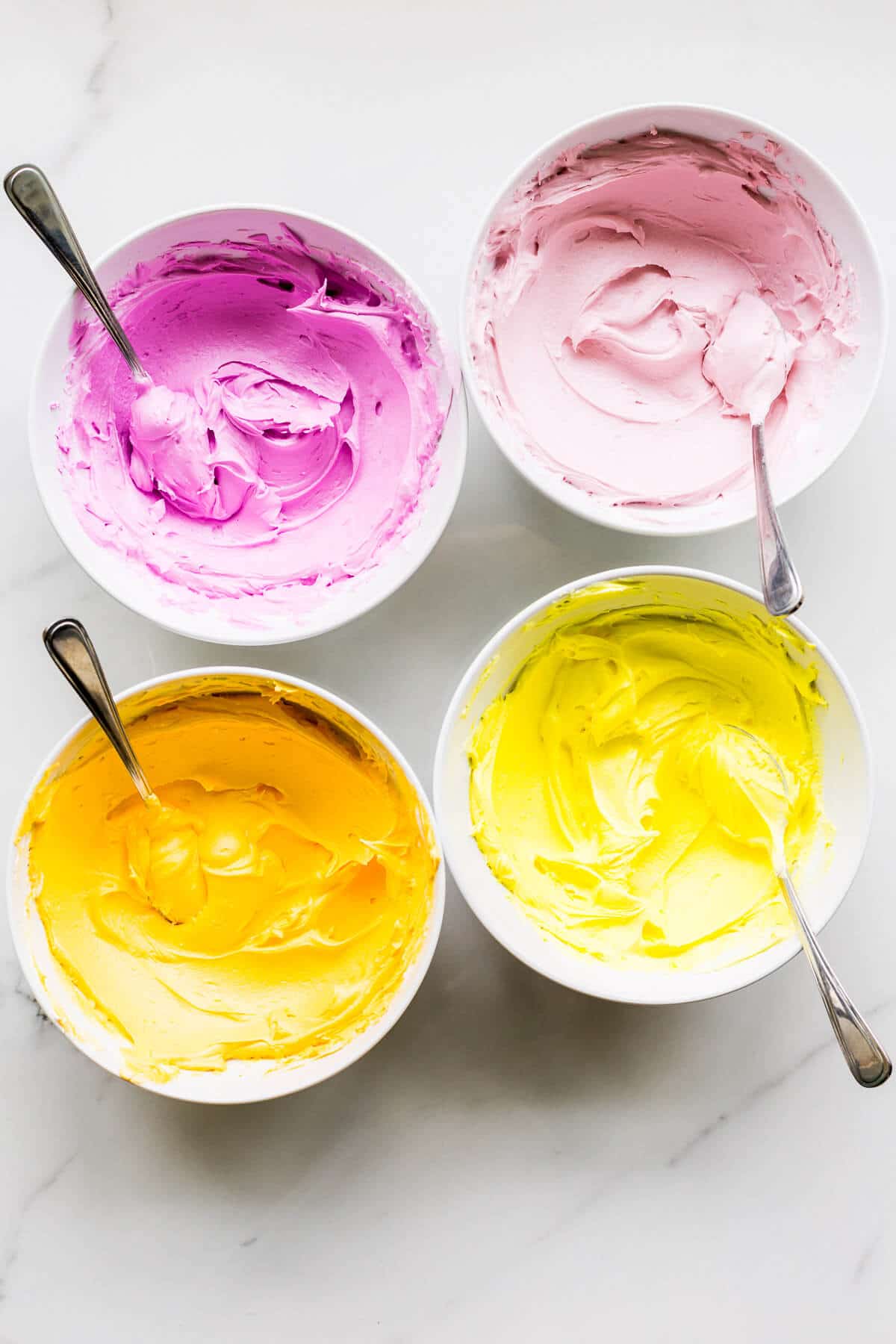 Full disclosure: Yes, you can make homemade sprinkles and it's not difficult, but I don't recommend making sprinkles at home. I find the job a little tedious, it's a lot of work, and not very rewarding.
The resulting homemade sprinkles aren't as striking as commercial or store-bought sprinkles. Plus you can buy fancy sprinkles at a relatively affordable price.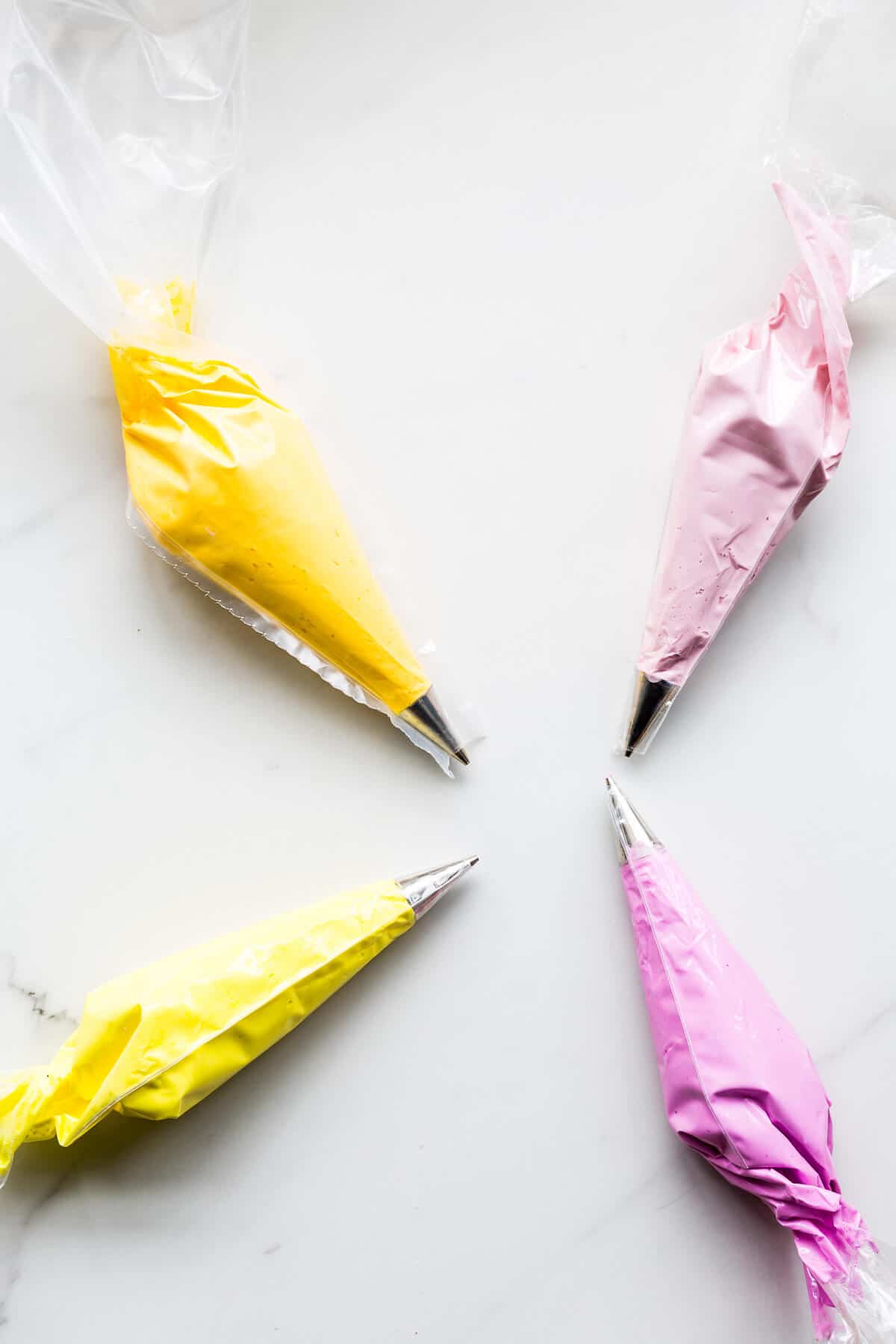 With homemade sprinkles, the colours may not be as vibrant as commercial sprinkles, unless you add a lot of gel food colour. Otherwise, they turn out pastel. Furthermore, some colours are harder to achieve than others. Deep yellows work well, but pinks tend to all look the same when the sprinkles dry.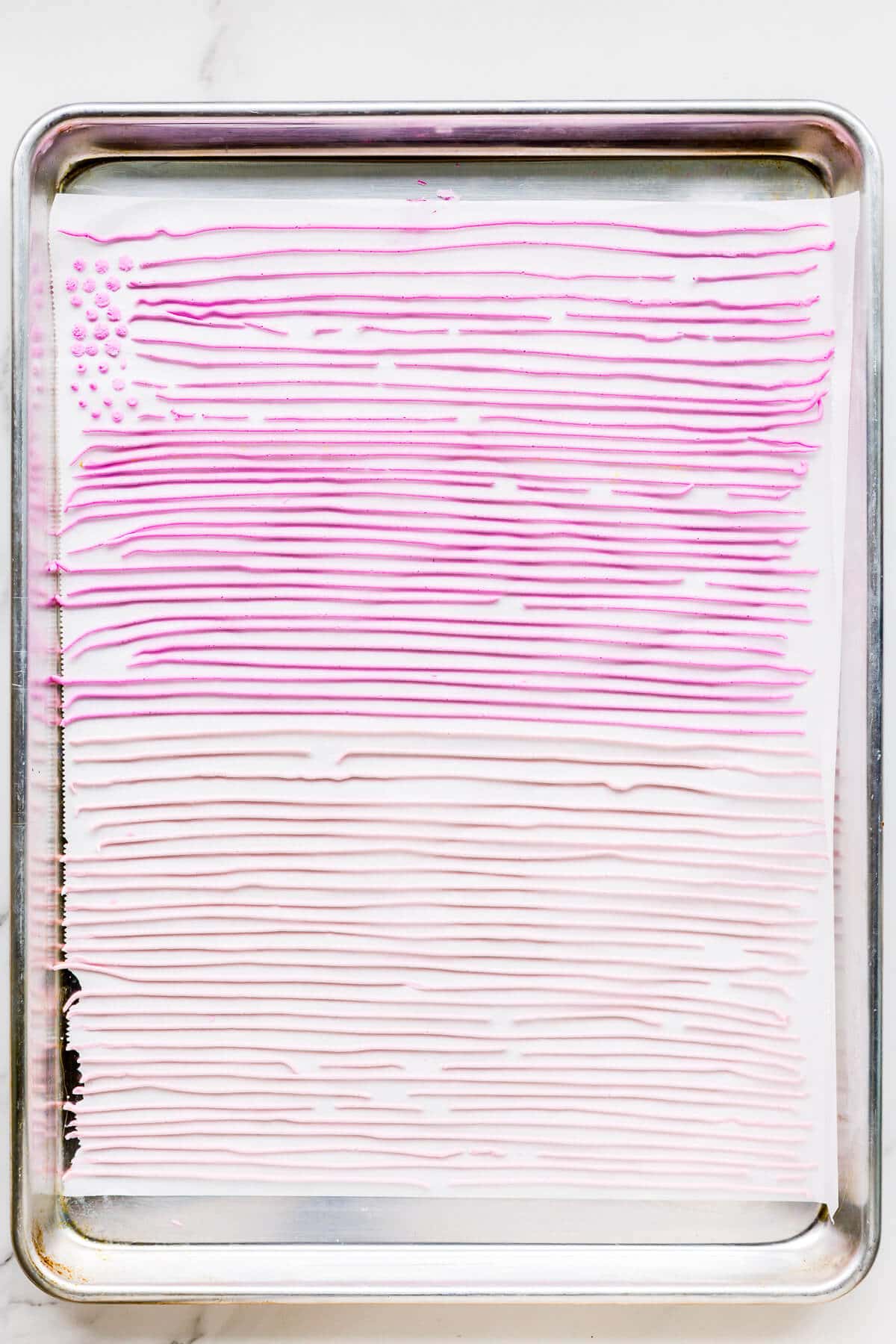 I'd rather buy them then make them but if you feel like experimenting with homemade sprinkles, try this recipe to make them. You may want to experiment with different amounts of water to achieve a piping consistency that is thick enough to hold its shape but thin enough that you don't break your hand trying to squeeze the mixture through a piping bag with a fine tip.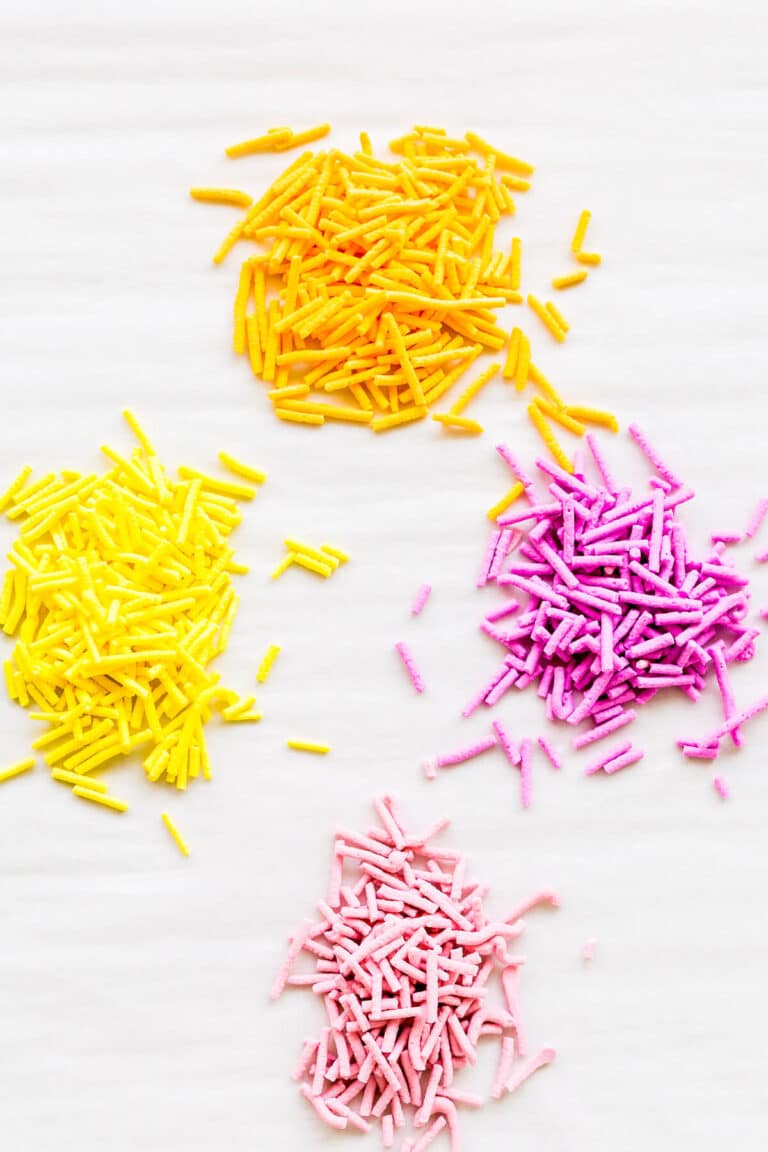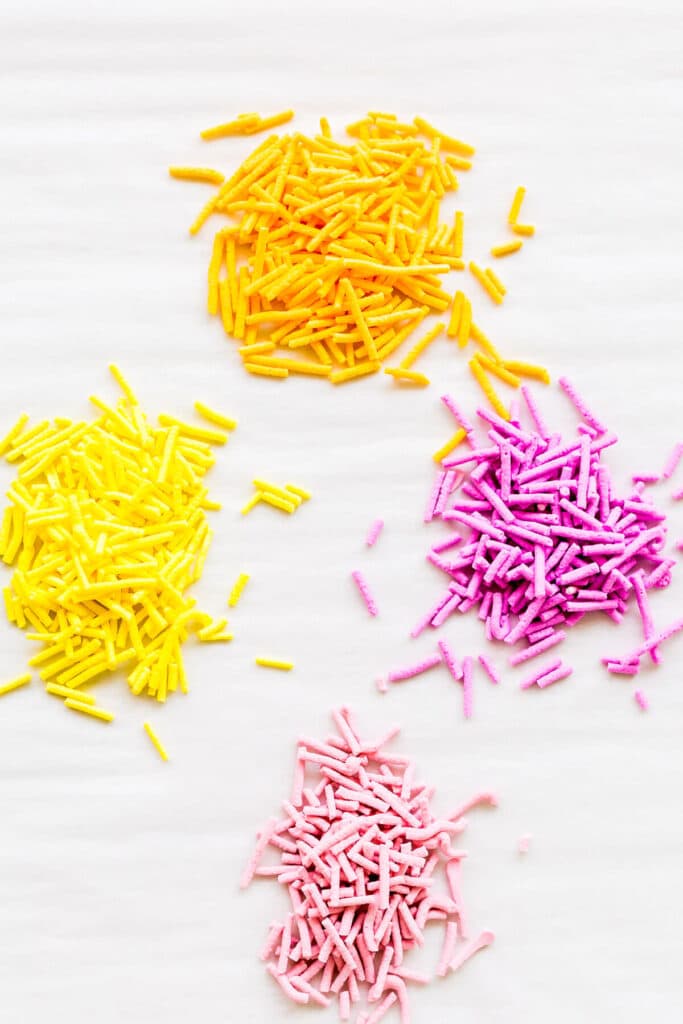 📖 Recipe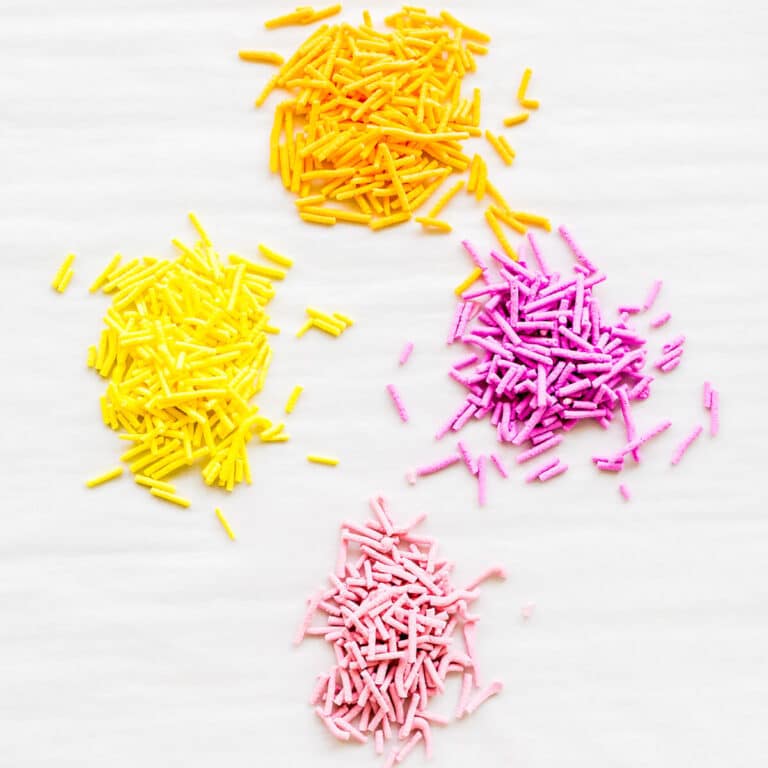 Sprinkles
Learn how to make sprinkles, specifically rainbow jimmies, though you could also try to pipe different shapes and sizes to make other types of sprinkles.
Instructions
Line a couple of sheet pans with parchment paper and set aside. Prepare piping bags with fine round tips. If you are making multiple colours of sprinkles, you will need a few bags and tips to avoid having to clean in between each colour.

Combine all the ingredients in a stand mixer fitted with the whisk attachment. Beat all ingredients until stiff peaks form (about 10 minutes).

Let icing sit for a few minutes to let air bubble rise. If you are in a hurry, sometimes, running a spatula through the mixture can help push out air bubbles.

Divide the icing into separate small bowls and add gel food colours until you achieve the desired colours.

Fill each piping bag with a different colour and twist shut. Pipe colours in thin lines on the parchment lined sheet pans.

Let the lines of icing dry completely, then break up into smaller pieces. Store in closed airtight containers.
Notes
If you only have one piping bag and one tip, cover the bowls of remaining icing with a damp paper towel to prevent drying.
Nutrition
Calories:
32
kcal
Carbohydrates:
8
g
Protein:
1
g
Sodium:
9
mg
Potassium:
8
mg
Sugar:
7
g
Calcium:
1
mg
Iron:
1
mg