Want to make these super cute cookies? Click here to find my recipe for white chocolate-dipped chocolate cookies.
As an Amazon Associate I earn from qualifying purchases.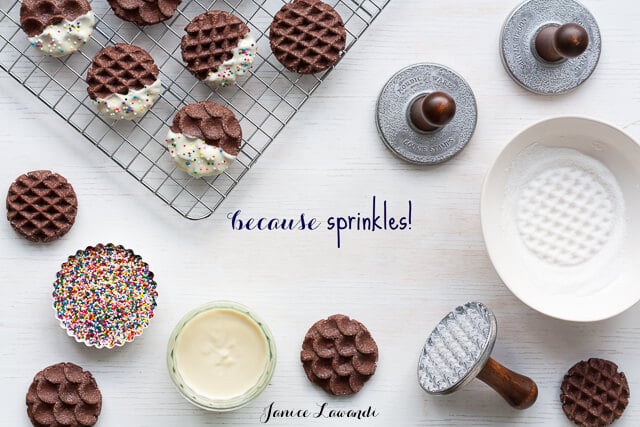 Disclosure: As an Amazon Associate, I earn from qualifying purchases.
I have suffered from cookie stamp envy for years because they make cookies look so pretty, and polished, and professional. I have eyed Made With Love cookie stamps on Amazon. And then, the best thing happened: Nordic Ware sent cookie stamps to us bakers attending the Food Bloggers of Canada conference. No more cookie stamp envy for this baker, thank you very much!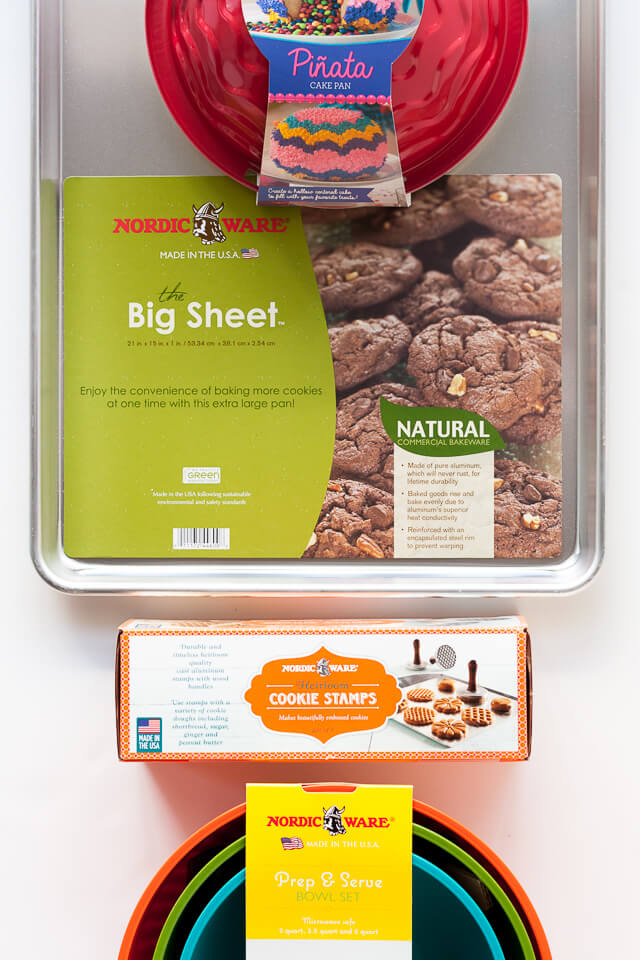 Along with their Heirloom cookie stamps, Nordic Ware sent a set of prep bowls , a piñata cake pan, and the biggest baking sheet my kitchen has ever seen—they call it "The Big Sheet" for a reason!—(Amazon). I appreciate the prep bowls because no matter how many bowls I own, I never seem to have enough when I'm baking OR they are all in the dishwasher, waiting to be washed, which then forces me to handwash a couple only to dirty them again 5 seconds later. And the cookie sheet allowed me to easily bake half of a batch of these cookies on one pan (20 some cookies), and quite frankly, I could have filled them with even more cookies than that.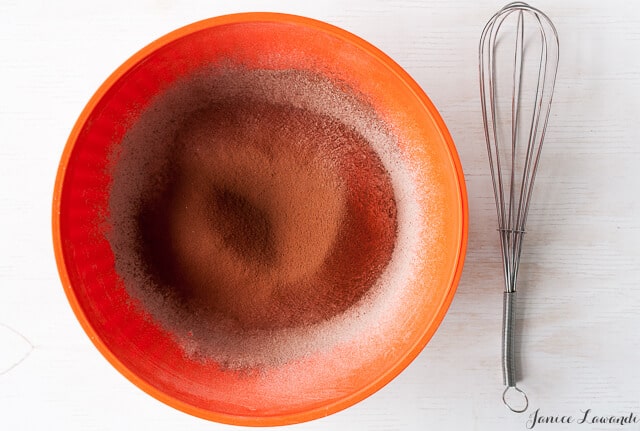 All the items Nordic Ware sent me were awesome but, of course, I'm obsessed with the cookie stamps. They are solid (cast aluminum) and with nice handles (wood). These are the stamps of my dreams. I want to stamp all my cookies from now on. The important thing to know is that not all cookie doughs should be used to make stamped cookies: you have to use a dough that yields cookies that don't spread or puff too much, if at all when they bake. You want a firm dough that doesn't budge, which is exactly what I was looking for when I developed this recipe. My only issue with the Heirloom cookie stamps was the pattern of the 3rd cookie stamp: the flower. I don't think it fits in with the 2 other cookie stamps in the kit, which pressed out geometric patterns that I adore. I felt kinda "meh!" about the flower stamp, so I didn't use it for this post. I guess I'm just not really a floral cookie-stamp kind of girl.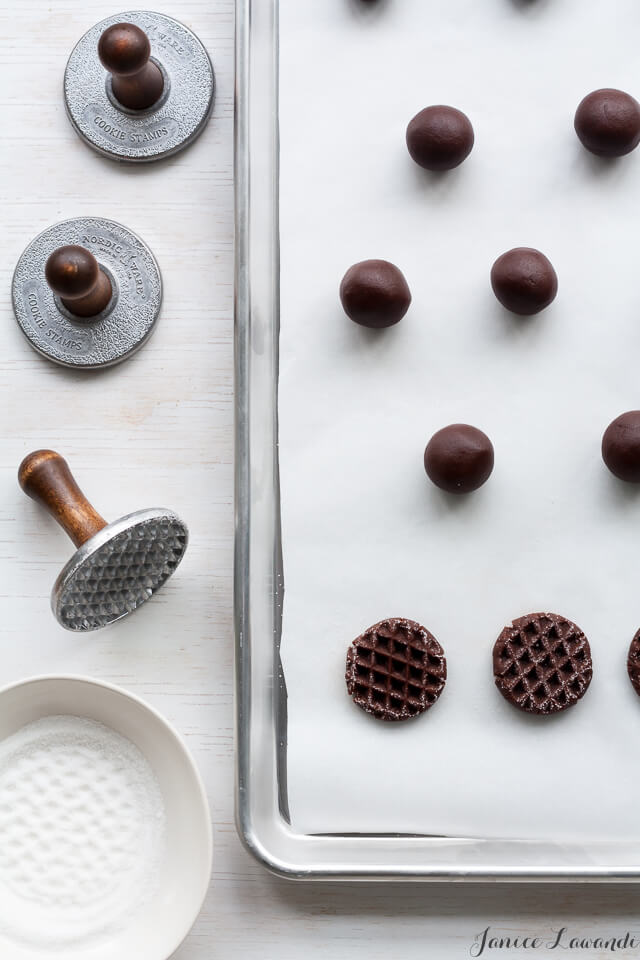 So I am obsessed with these cookie stamps (well 2 out of 3 in the set) and I am in love with the cookies I made with them. Aren't they cute? These stamped chocolate cookies have a deeply chocolaty flavour on their own (much like chocolate sablés in flavour and texture), but I decided there weren't nearly enough recipes with sprinkles on my blog, so I dipped these cookies in white chocolate and topped them with sprinkles because sprinkles are awesome and I really can't imagine anybody saying no to a little extra white chocolate and sprinkles on these chocolate cookies, right? Of course, if you are anti-sprinkle (who are you and why are you so grumpy?), then you can have these plain too, but just so you know, I will judge you severely.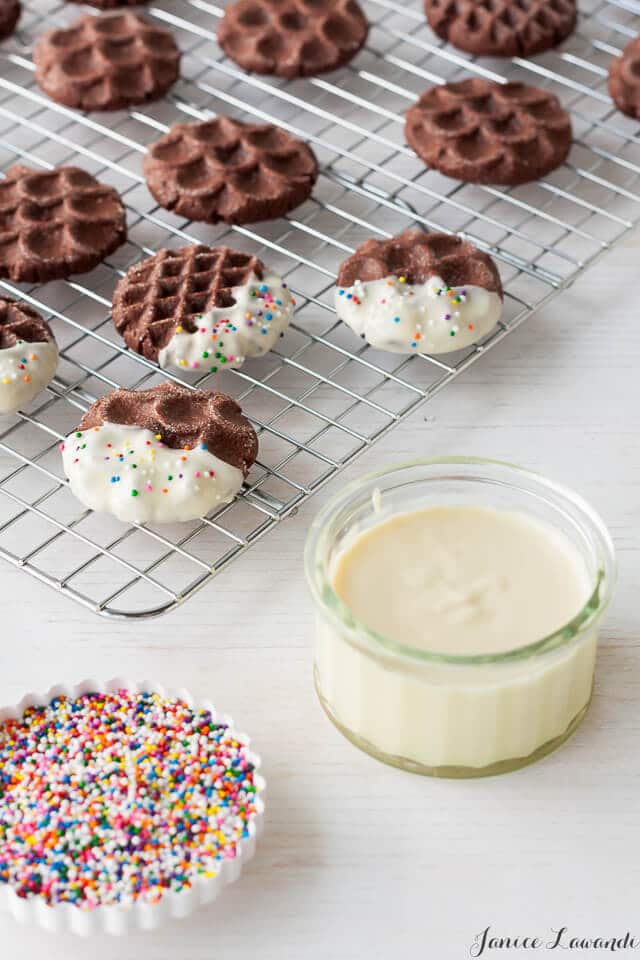 If you love to bake with other types of sprinkles, these sugar cookies with sprinkles are made with rainbow jimmies.
📖 Recipe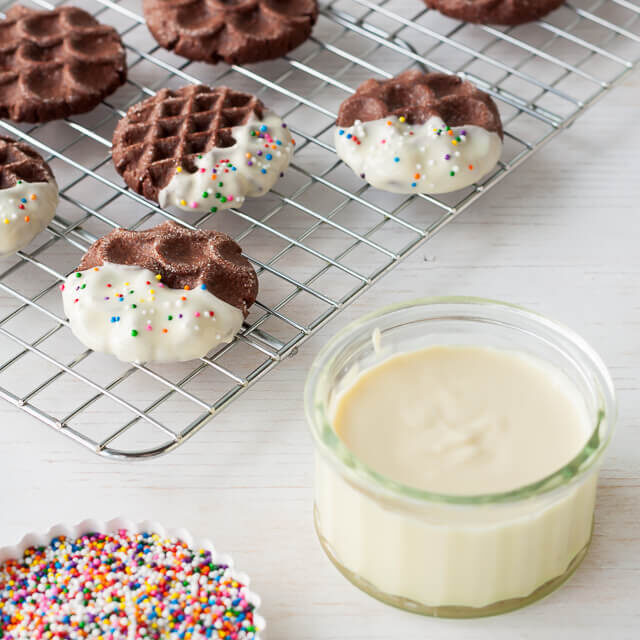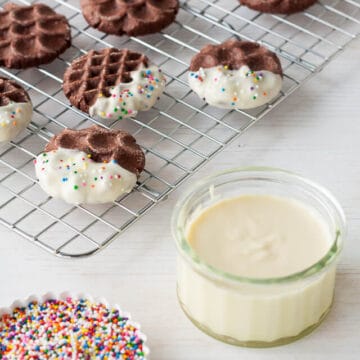 White Chocolate-Dipped Stamped Chocolate Cookies
These Sprinkle cookies are a stamped chocolate cookie dipped in white chocolate and sprinkles
Ingredients
For finishing
175

grams

Cacao Barry white chocolate

melted

50

grams

sprinkles
Instructions
To make the cookies
Preheat the oven to 350 °F (175 °C). Line a large cookie sheet with parchment.

In a large bowl, sift together the flour and cocoa. Add in the salt and set aside.

In the bowl of an electric mixer fitted with the paddle attachment, cream together the butter and sugar for several minutes, then add the egg and vanilla. Beat together, scraping down the bowl as needed, until the egg has disappeared.

With the mixer on low, slowly add in the flour mixture, and beat the cookie dough until all the flour is thoroughly mixed in.

Transfer to a clean surface, and knead a couple times before dividing the dough in 2 and wrapping with plastic wrap to chill for 30 minutes in the fridge.

Rub the surface of the cookie stamps in the dough to grease them up. Scoop out tablespoon (20 g) balls of cookie dough and place on the parchment lined baking sheet. Dip the cookie stamp in granulated sugar to coat it, then stamp each of the cookies to press and emboss them.

Bake the cookies for 16–18 minuntes until they look dry on the surface.

Let cool 2 minutes before transferring to a wire rack to cool completely.
To decorate
Dip half of each cookie in the white chocolate, shaking off excess, then top with sprinkles and place on a rack or a parchment lined sheet to set.
Nutrition
In honour of the Food Bloggers of Canada conference, Nordic Ware sent me the bakeware featured in this post to try out. My opinion is my own and those cookie stamps rock! Thanks, Nordic Ware!