Many home bakers struggle with their chocolate chip cookies coming out too thick. If you are baking drop cookies and the scoops of dough don't spread at all in the oven, something is wrong with your recipe or technique. In order to fix thick cookie problems, we need first to explore the reasons why cookies don't spread as they bake. Understanding this will help you fix your cookie recipes so that you bake cookies with perfect texture and thickness.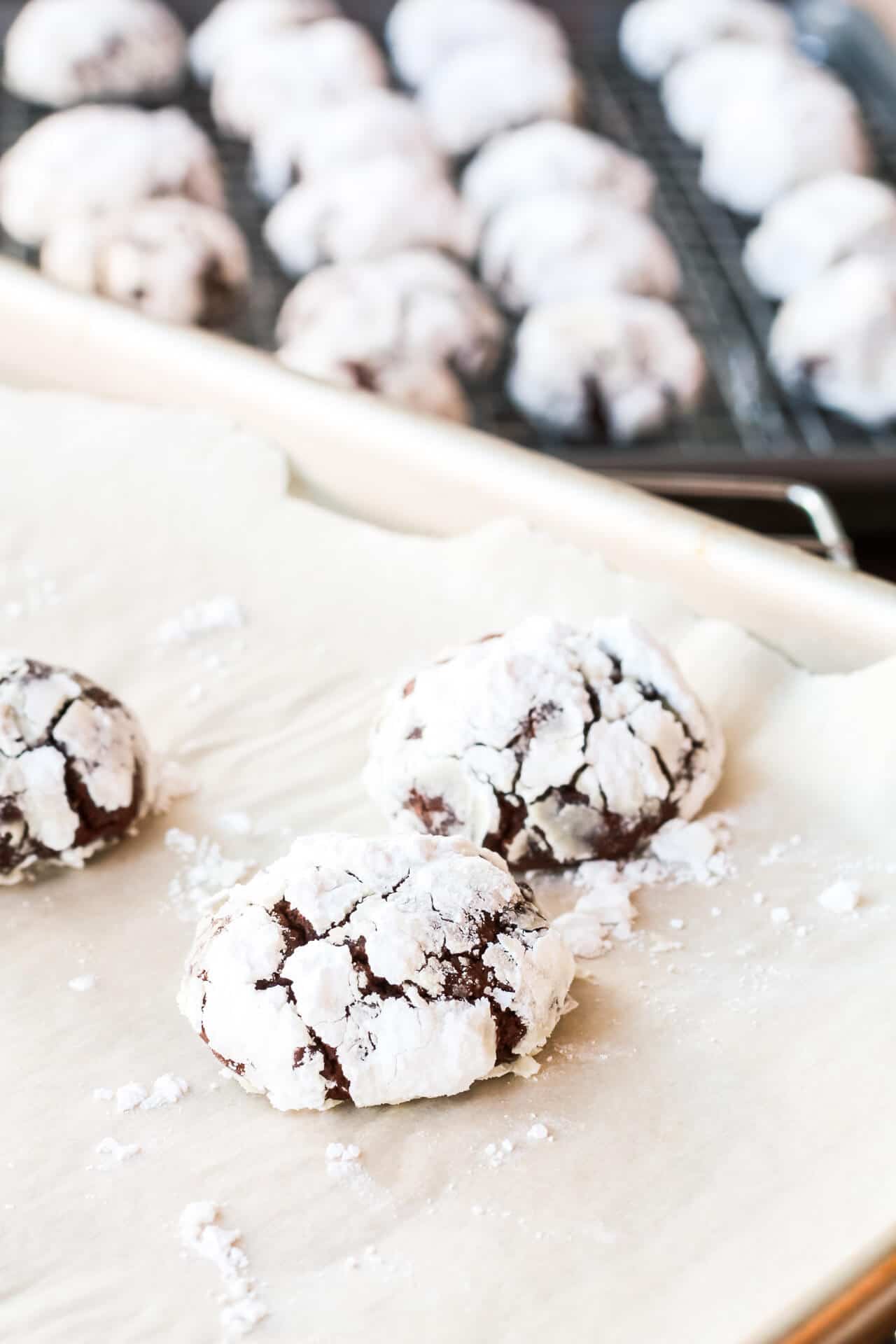 Disclosure: As an Amazon Associate, I earn from qualifying purchases.
If you are struggling to bake the perfect chocolate chip cookie, just how you like it, read about why cookies end up too thick and don't spread when they bake. You'll also find out ways to troubleshoot this problem and rectify it.
If you have the opposite problem, read about the reasons why flat cookies spread out too thin.
Jump to: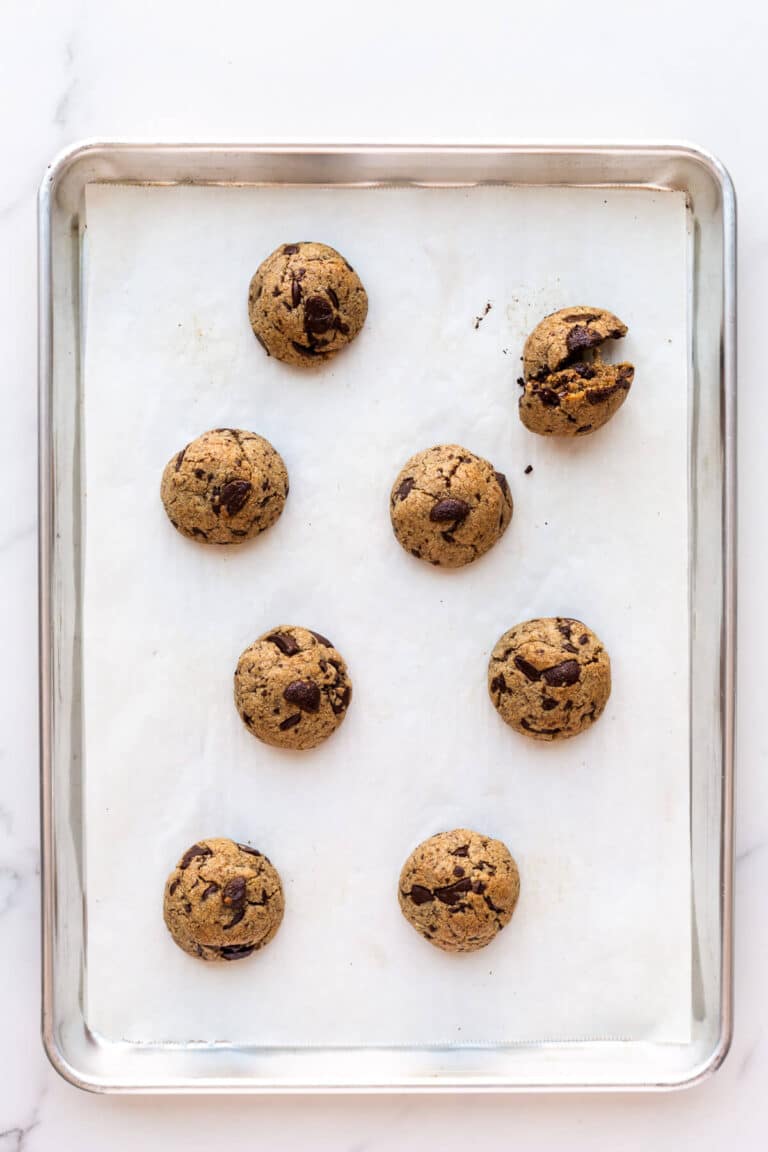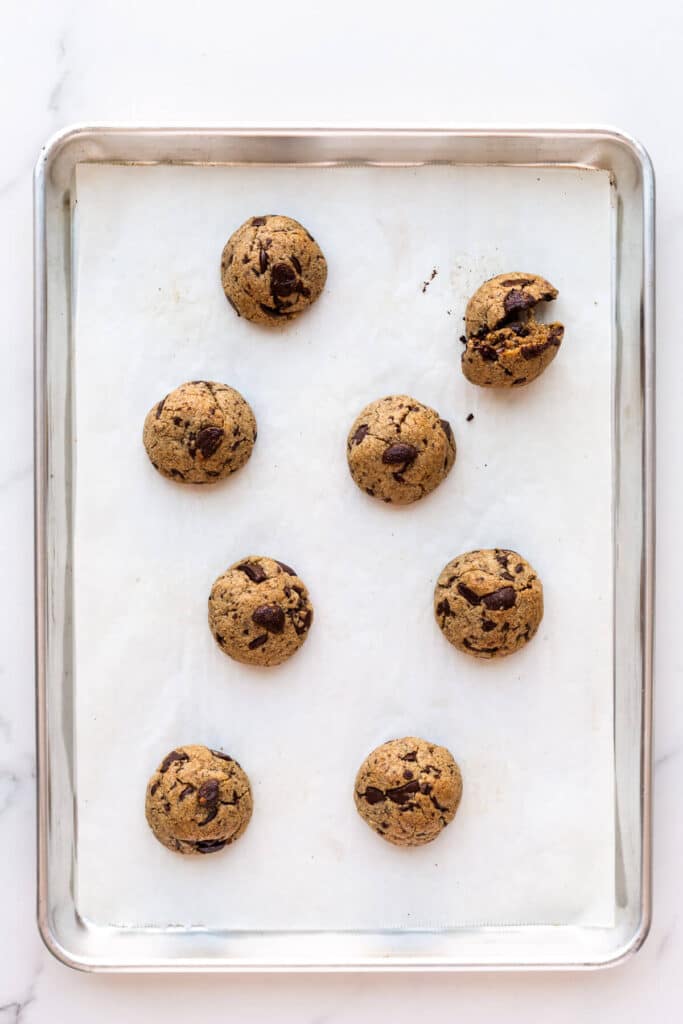 Reasons cookies don't spread
too much of certain ingredients relative to others:

too much flour
too many inclusions or add-ins (especially chopped chocolate and nuts in cookies can stop cookies from spreading)

not enough of certain ingredients relative to others will prevent spreading:

not enough sugar (like if you cut or reduce the sugar in a recipe) will reduce spreading
not enough liquid
not enough eggs

using the wrong type of flour (or another ingredient): for example, replacing all-purpose flour with whole grain rye flour, gram-for-gram, can lead to very fat, thick cookies that don't spread at all when you bake them. Be very careful when making baking substitutions like this
over-mixing the dough once the flour is added could cause too much gluten to develop, giving the dough the ability to better hold its shape and more structure—this is unlikely in cookie doughs with high amounts of fat and sugar, but overmixing at this stage still isn't recommended
insufficient baking soda: in cookie doughs, baking soda tends to promote spreading and if you omit it, your cookies may be thicker than anticipated.
using baking powder instead of baking soda: baking powder promotes puffing and rising. Read about baking soda versus baking powder if you aren't sure what the difference is.
using a dark metal sheet pan can create thicker cookies because the dark metal heats up much faster and therefore the bottom and edges of the cookies will set faster before the cookies have a chance to spread out. To understand the role of your bakeware, read about baking pans and also why cookies end up dark on the bottom
oven temperature: If the oven is too hot, it can cause the edges and outside of the cookies to set too fast. Then as the inside heats up, the cookies can't spread out at all, and they may even crack. Read all about what happens when we bake to better understand the role of the oven temperature.
oven rack position: baking cookies on the bottom rack when your oven is set to "bake" can mean that the cookies bake too fast if you set the sheet pan on the bottom rack of the oven. Read about oven rack positions to find out why the middle rack is best for cookies.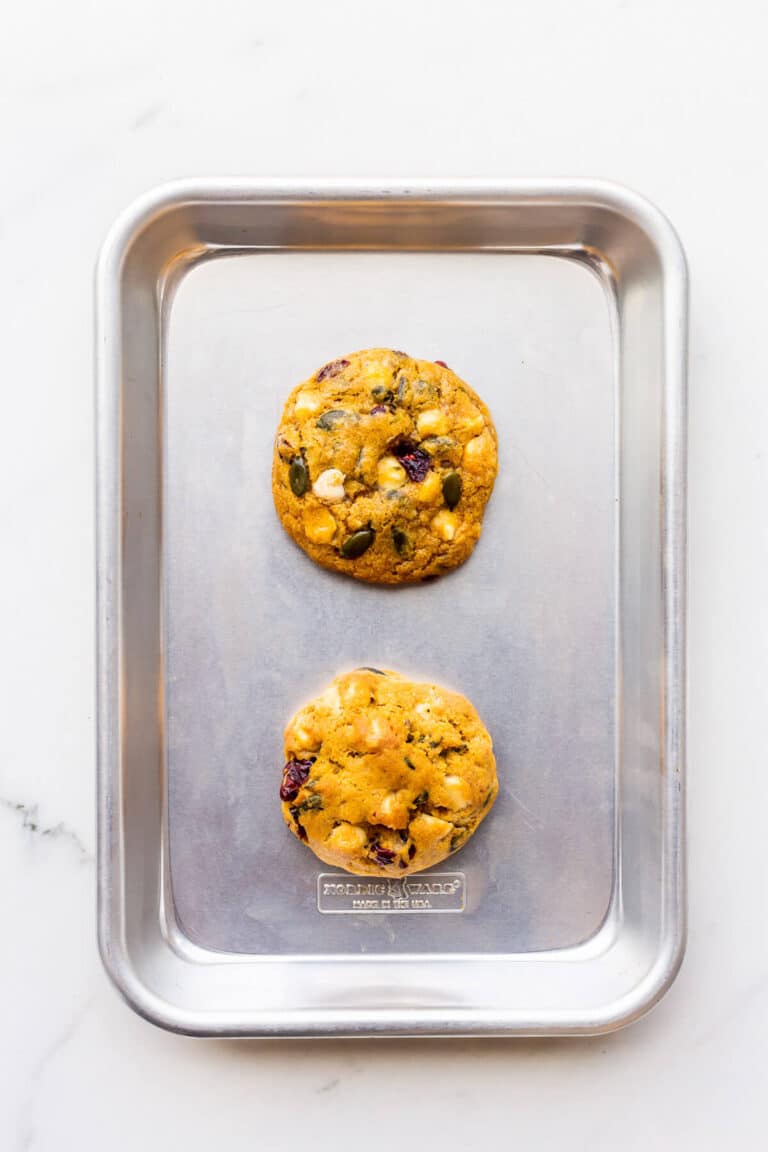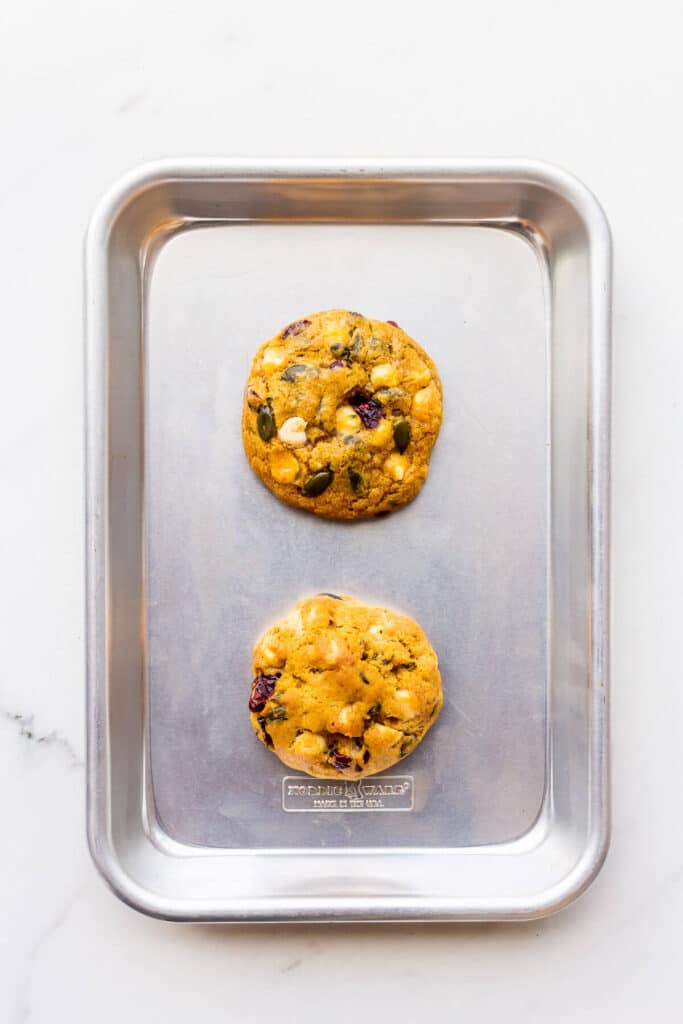 Ways to make thinner cookies
Some people love thin, flat cookies, and others like thicker cookies. If you like the taste of your cookies, but you wish they weren't so thick, here are some tricks to try on your favourite cookie recipes to make them thinner:
Cream the butter and sugar and eggs well when you first begin to make your cookie dough—more air can cause the cookies to expand in the oven as they heat up, and then they may collapse more.
Warm your cookie dough—even just 10–20 minutes out of the refrigerator can warm the cookie dough enough to promote spreading for some cookie recipes! This is the first step I would take if a cookie dough is cold (or frozen) and not spreading enough.
Preheat your oven for at least 20–30 minutes to ensure it's hot and the temperature is more stable. Placing your cookies in the oven too early can cause the edges to set too fast as the temperature may spike more often.
Increase the sugar in your dough recipe—sometimes adding as little as 50 grams (¼ cup) of sugar to a cookie dough recipe will increase the spread and lead to thinner cookies
Decrease the flour in your recipe—sometimes just 30–60 grams (¼–½ cup) less flour can create thinner cookies
Switch from baking by volume to baking by weight, especially when it comes to flour! Get a kitchen scale if you don't already own one and this baking ingredient conversion chart to help you convert your recipes quickly and easily.
Increase the baking soda—if your cookie dough has no baking soda (or very little), consider increasing the baking soda slightly. For example, instead of using 1.25 mL (¼ teaspoon) of baking soda in your dough, try using 2.5 mL (½ teaspoon) instead and see the impact it has on the baked cookies.
Bake cookies at a lower oven temperature—I like thick, chewy drop cookies, so I tend to bake most of my drop cookies at 375 °F or even 400 °F. This is a personal preference, but if you like the taste of your cookie recipe, but the cookies are too thick, try baking them at a lower temperature and see if you get thinner cookies.
Bake cookies on a parchment-lined aluminum sheet pan
Flatten mounds of cookie dough before baking—leave the scoops of cookie dough as is to ensure they don't melt too fast.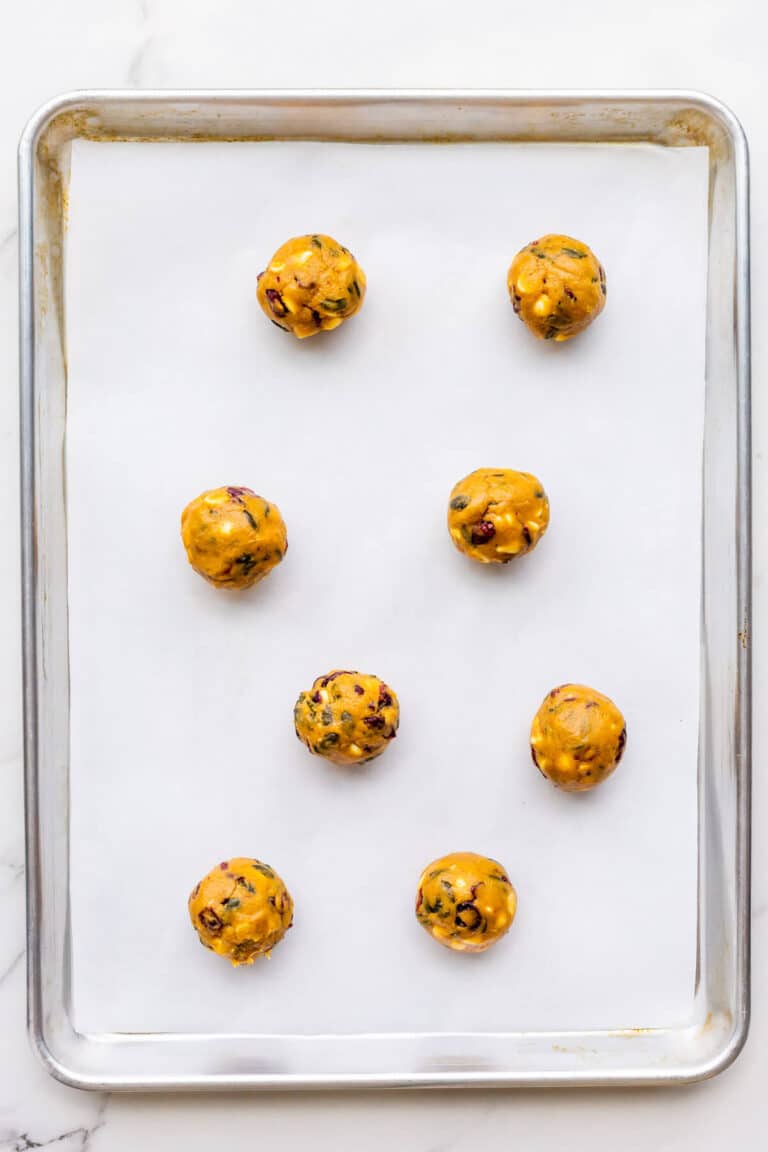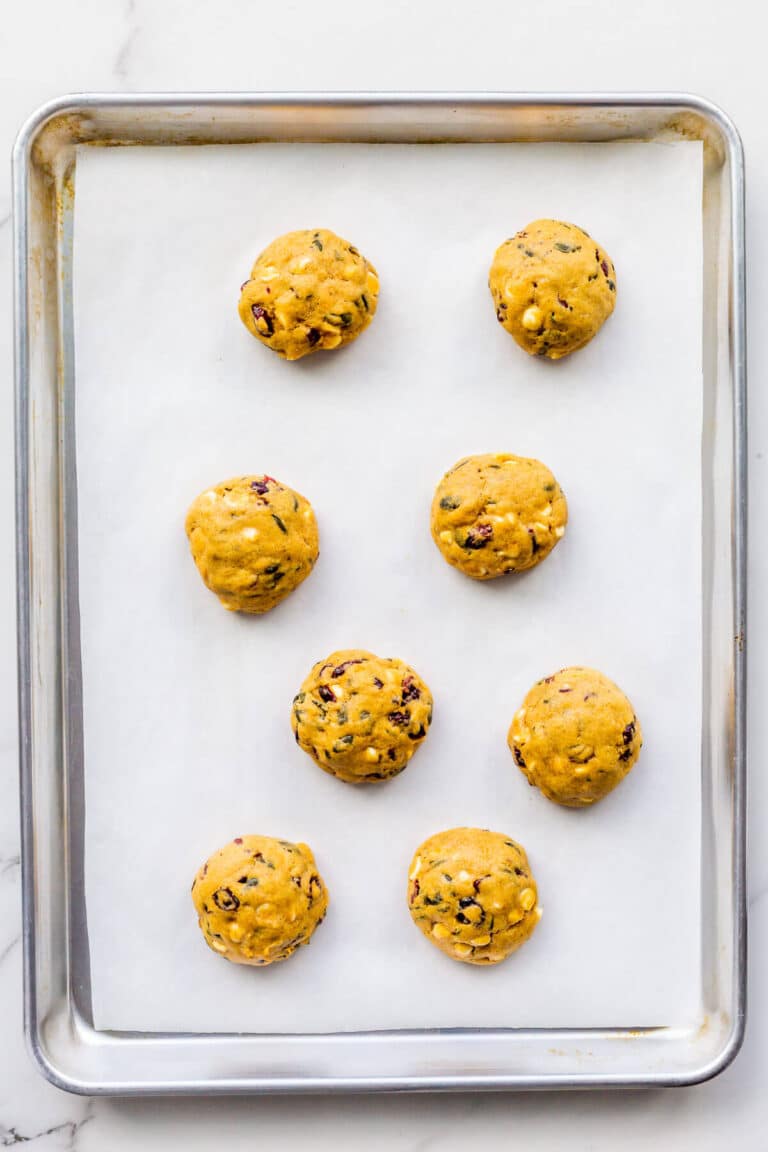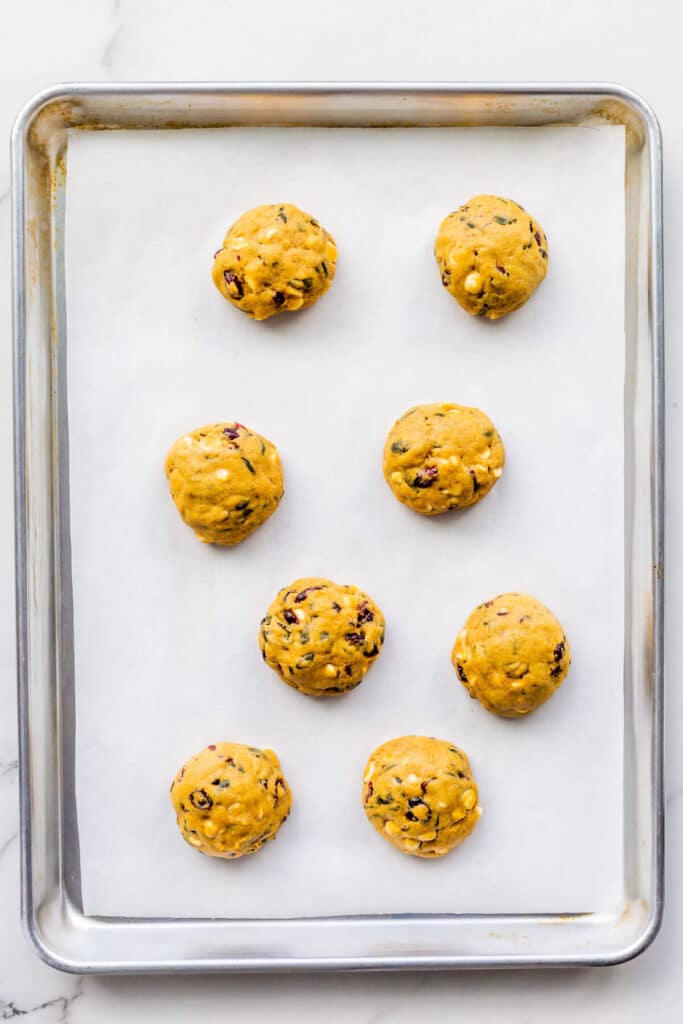 Unfortunately, you can't fix the problem after the fact if you've baked a cookie recipe and the cookies didn't spread out enough as they baked. The edges have set and there's no going back. If they taste good nonetheless, you can still eat and enjoy them, or chop them up and add them to a batch of cookie ice cream. I highly recommend investing in a small eighth-sheet pan so that you can bake one test cookie to verify how your cookie dough behaves when it's baked.
Though it's hard to make adjustments to a mixed dough, it is possible. I have added more sugar to mixed cookie dough to promote spreading and it has worked. It's not ideal and it's difficult to mix certain ingredients into cookie dough evenly, but it is possible if you are faced with a dough that isn't baking the way you want it to!