Learn how to make this gorgeous chocolate cake with cream cheese frosting with this easy recipe. The layers of chocolate cake are made without eggs and easily mixed, just like cake mix. And the frosting is a thick cream cheese frosting that calls for less sugar than most recipes, so it's tangy and smooth.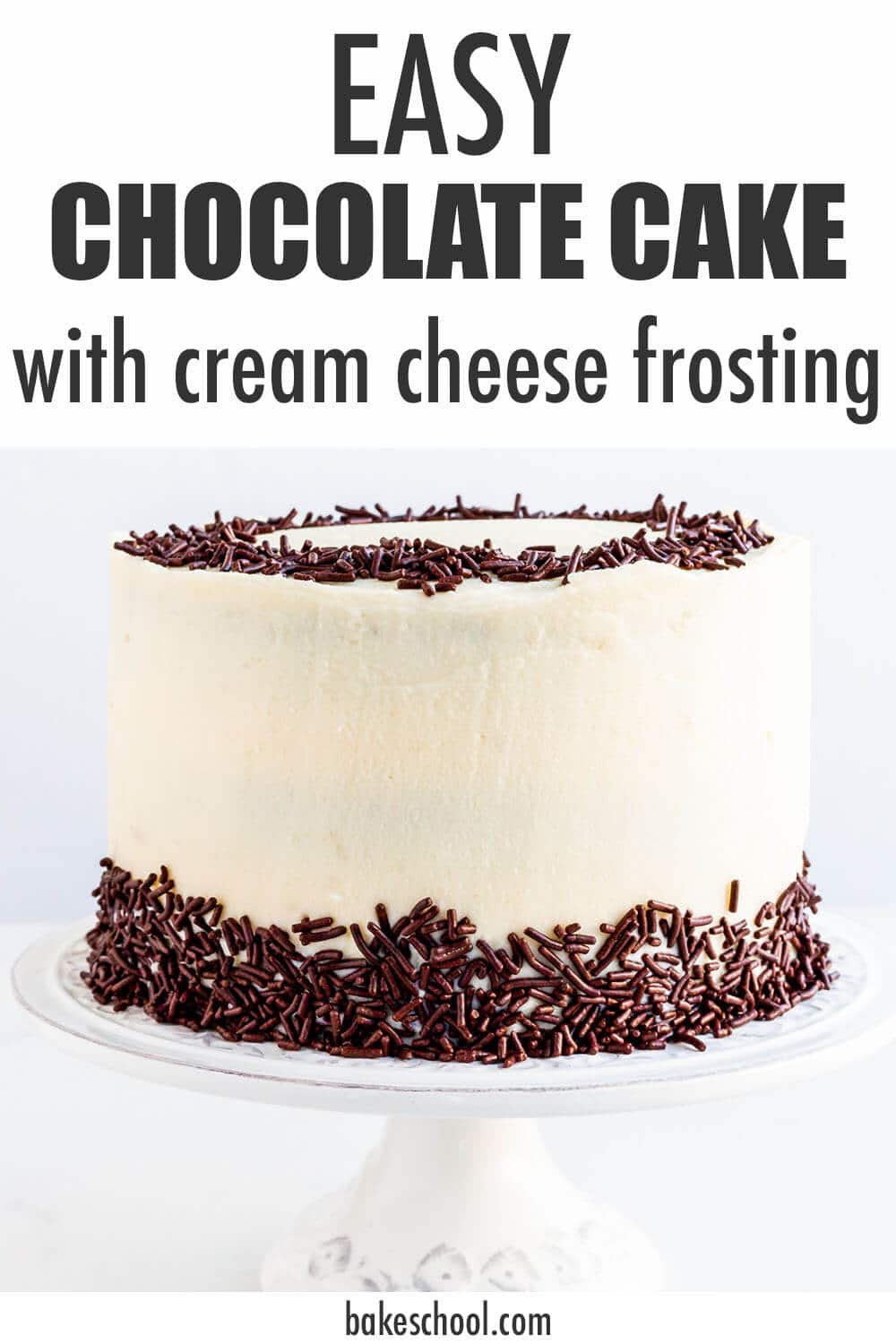 Disclosure: As an Amazon Associate, I earn from qualifying purchases.
Everybody needs an easy chocolate layer cake recipe that you can stir together in minutes. This chocolate cake is made without eggs, and yields three layers of fluffy cake, perfect for making a chocolate birthday cake.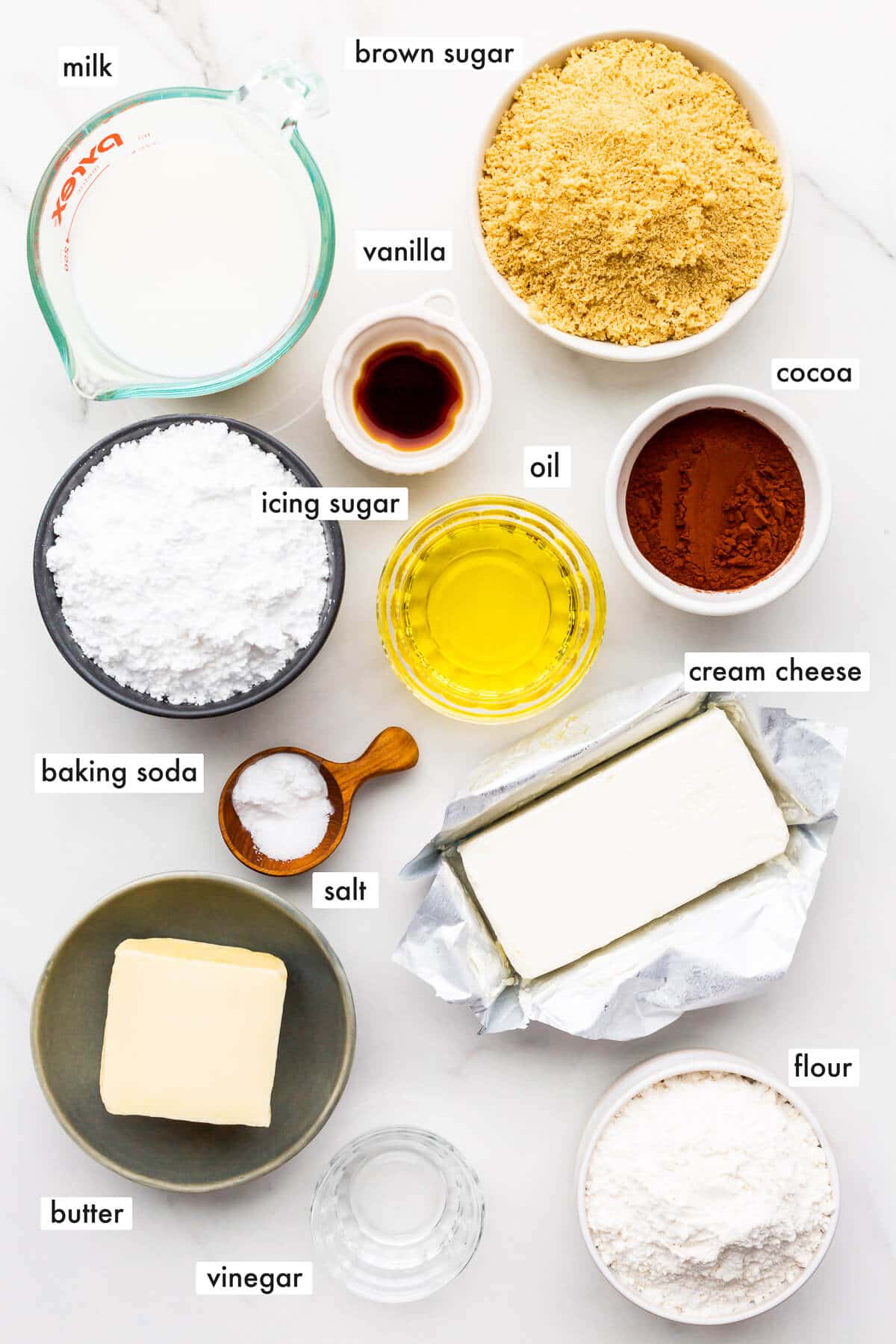 What you need to make this recipe
To tackle this recipe, you will need two sets of ingredients to make the two components: the eggless chocolate cake and the thick cream cheese frosting. While the list of what you need seems long, you actually don't need anything special, and you likely already have all (or most) of the ingredients in your pantry and fridge!
For the chocolate cake without eggs:

milk, non-dairy beverage (like soy milk), or even water will work in this recipe
vinegar, either plain white vinegar or cider vinegar, to react with baking soda to help the cake rise as it bakes
all-purpose flour to give the cake structure
baking soda to help the cake rise. Do not use baking powder here.
cocoa powder, preferably a high quality Dutch-processed cocoa powder like Cacao Barry extra brute cocoa powder, which is my favourite
salt, preferably Diamond Crystal fine kosher salt
sugar, specifically brown sugar, either light or dark, or even granulated sugar
neutral-tasting oil like canola oil, vegetable oil, or a very light-tasting olive oil. Don't use extra virgin olive oil which has too much flavour for this cake
vanilla extract to enhance the flavour

For the cream cheese frosting:

butter, preferably unsalted butter since the cream cheese in the recipe has enough salt
icing sugar, also called powdered sugar
cream cheese, specifically full-fat Philadelphia brand cream cheese. If you want to use a different brand of cream cheese, I can't make a suggestion because I've found the texture and taste of Philadelphia brand cream cheese is unmatched.
vanilla extract to enhance the flavour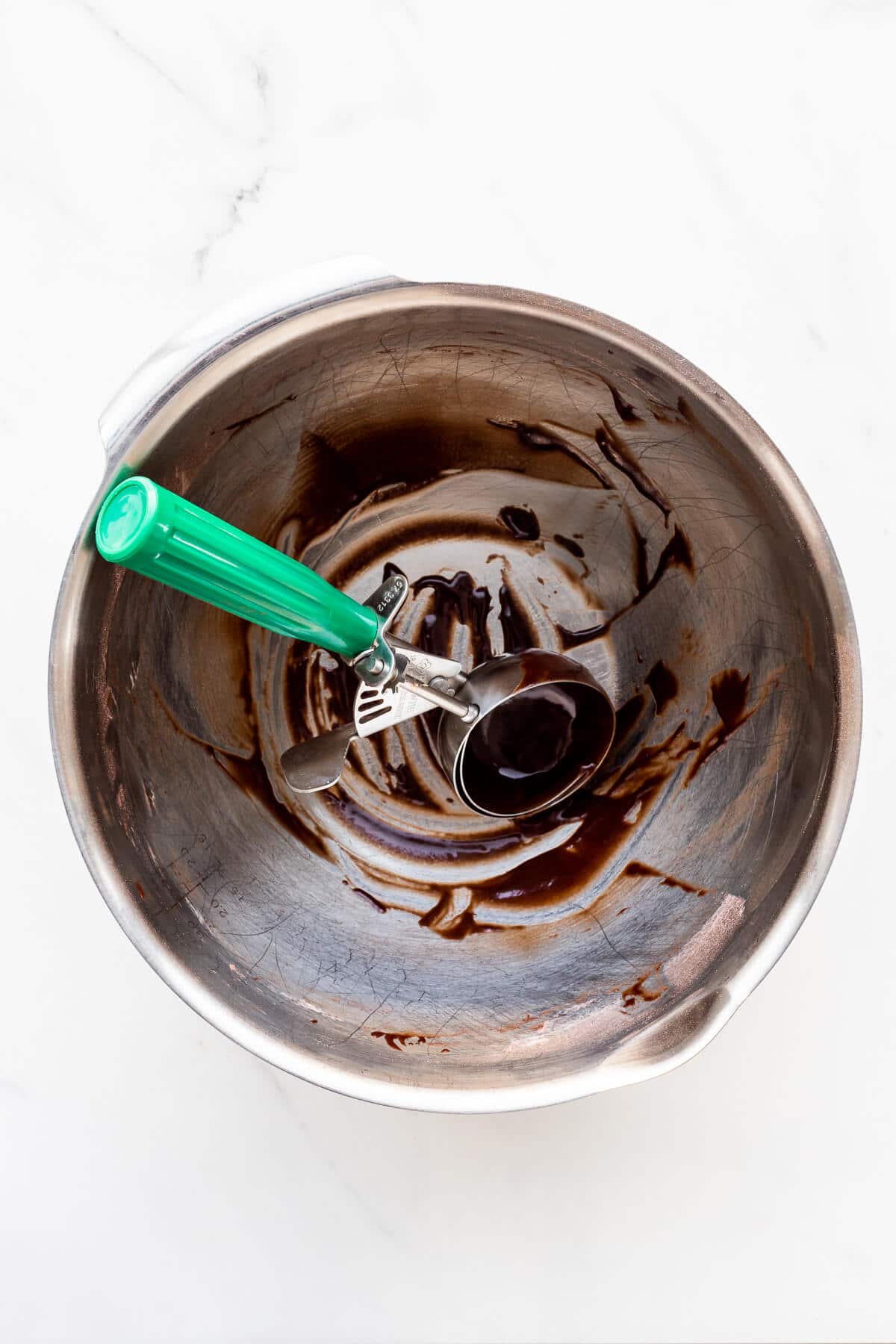 Substitutions
This eggless chocolate cake recipe is made with milk, but you can easily replace the cow's milk with your favourite non-dairy beverage, like soy milk, almond milk, or oat milk, if you want a vegan chocolate cake. Water would even work.
The brown sugar can be replaced with regular granulated sugar or granulated cane sugar. Either will work great! Do not use turbinado or a coarse sugar, which won't dissolve properly and will have a negative impact on taste and texture.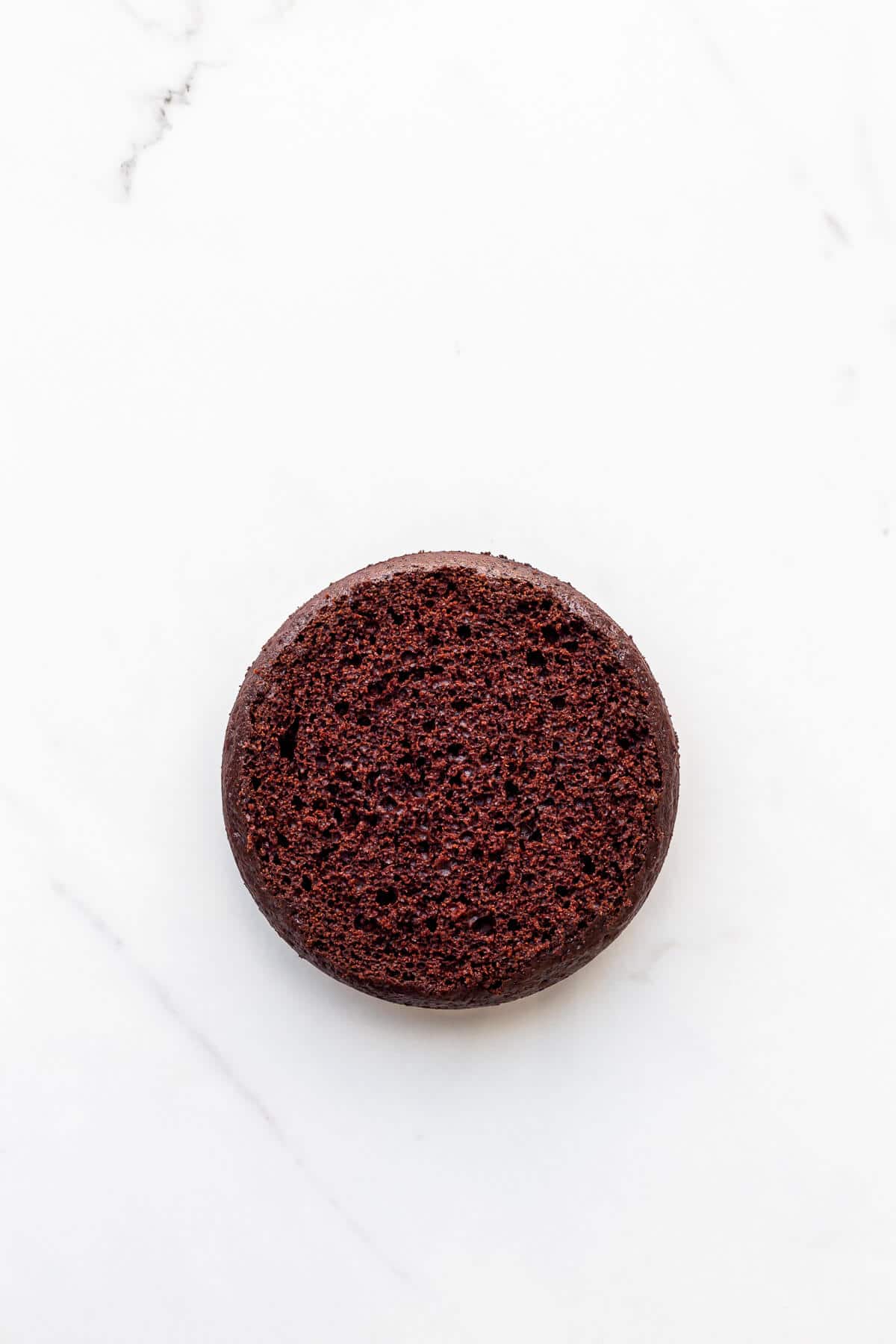 For the frosting, I can only recommend Philadelphia brand full-fat cream cheese. If you want to use a different brand of cream cheese, I can't make a suggestion because I've found the texture and taste of Philadelphia brand cream cheese is unmatched. Other brands I have tried had an impact on taste and texture, so I only recommend Philadelphia.
If you have a brand of cream cheese you like to eat, it will work in this frosting. Make sure to buy the cream cheese in block format that is firmer than the whipped kind.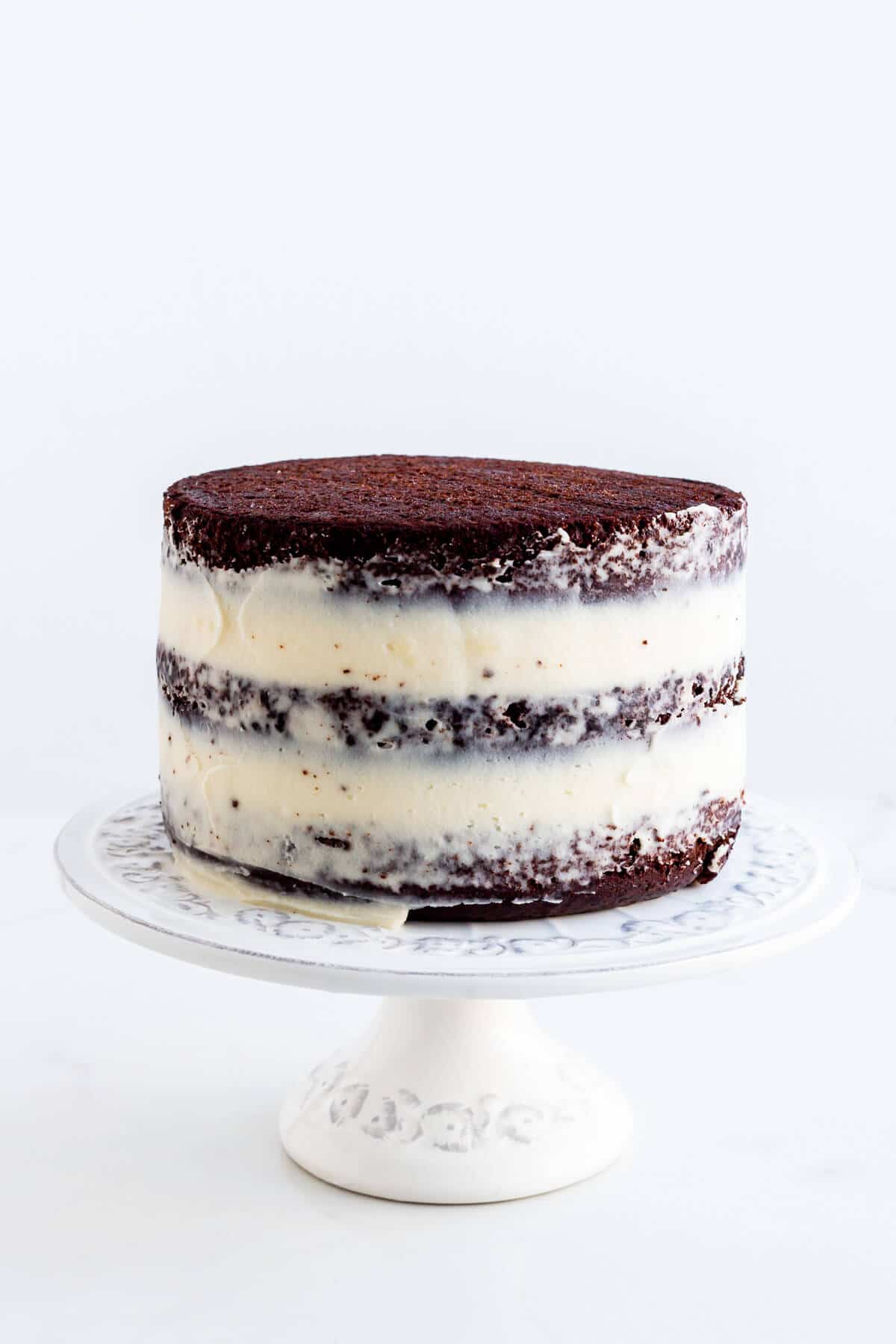 Special equipment
You don't need anything special to make the chocolate cake layers. This recipe fits three 6-inch round cake pans, or you can use two 8- or 9-inch cake pans, if you prefer. Take the time to prepare the cake pans before baking, by buttering the pans, lining the bottom with parchment, and dusting the sides with flour or cocoa powder. This way your cakes will slide right out of the pan, without any resistance.
For levelling the cake layers, use a large serrated knife, like a bread knife. And for frosting, I like to use a large reusable piping bag, without a tip, to apply an even thickness of frosting between each layer of cake, and I smooth it all out with a mini offset spatula.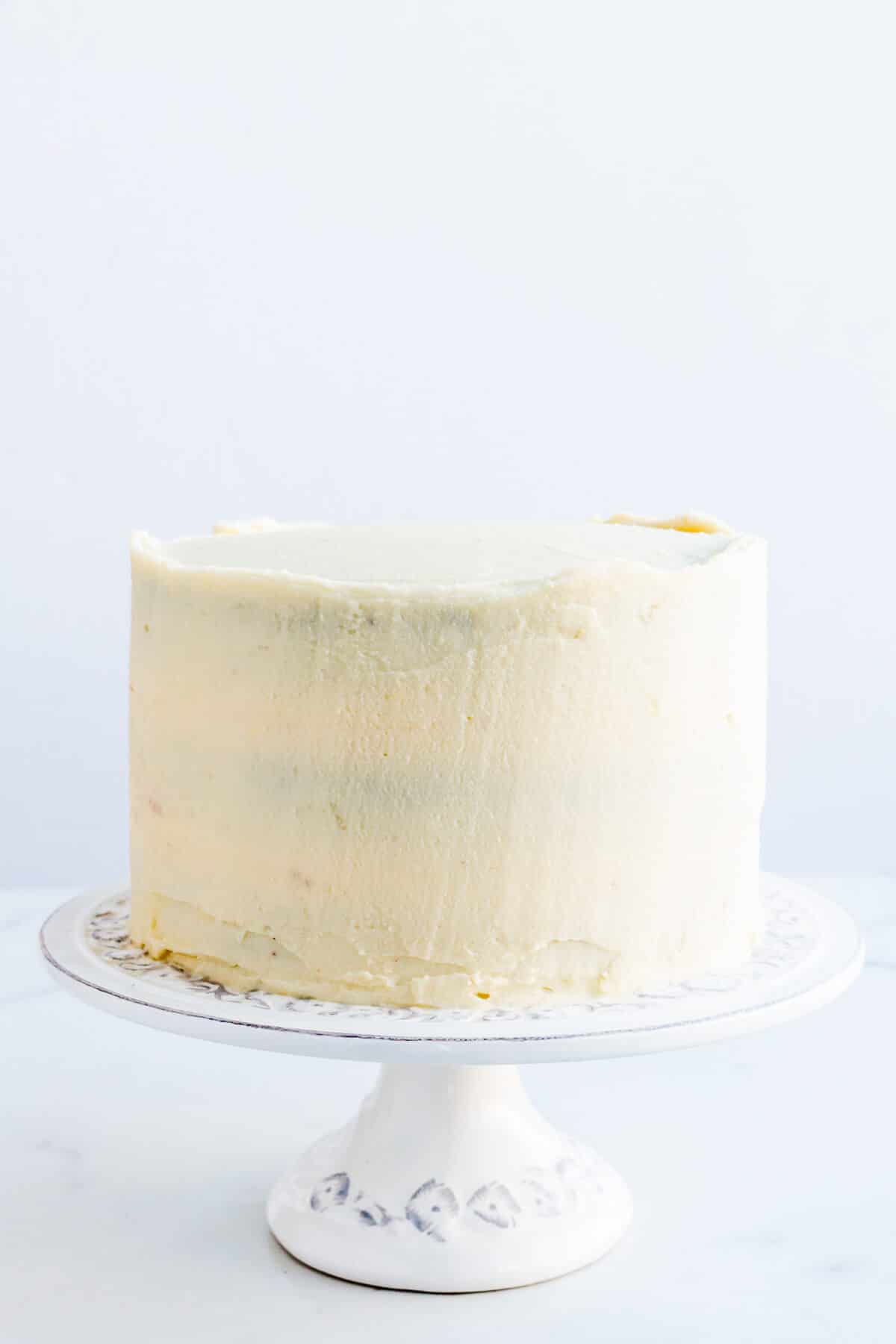 For the frosting, I recommend using a stand mixer with the paddle attachment, which will help you incorporate enough air into the frosting but also achieve a smoother texture. You may notice the cream cheese can sometimes form a couple of very small lumps. There's unfortunately not much you can do about. I like to run a silicone spatula through the frosting a few times to check for lumps and to manually smooth them out.
How it's made
This chocolate cake couldn't be easier to make because it uses the two bowl mixing method (also called the muffin mixing method). It's the same method as cake mix, actually, where the wet ingredients are added to the bowl with the dry ingredients, and stirred together to combine them.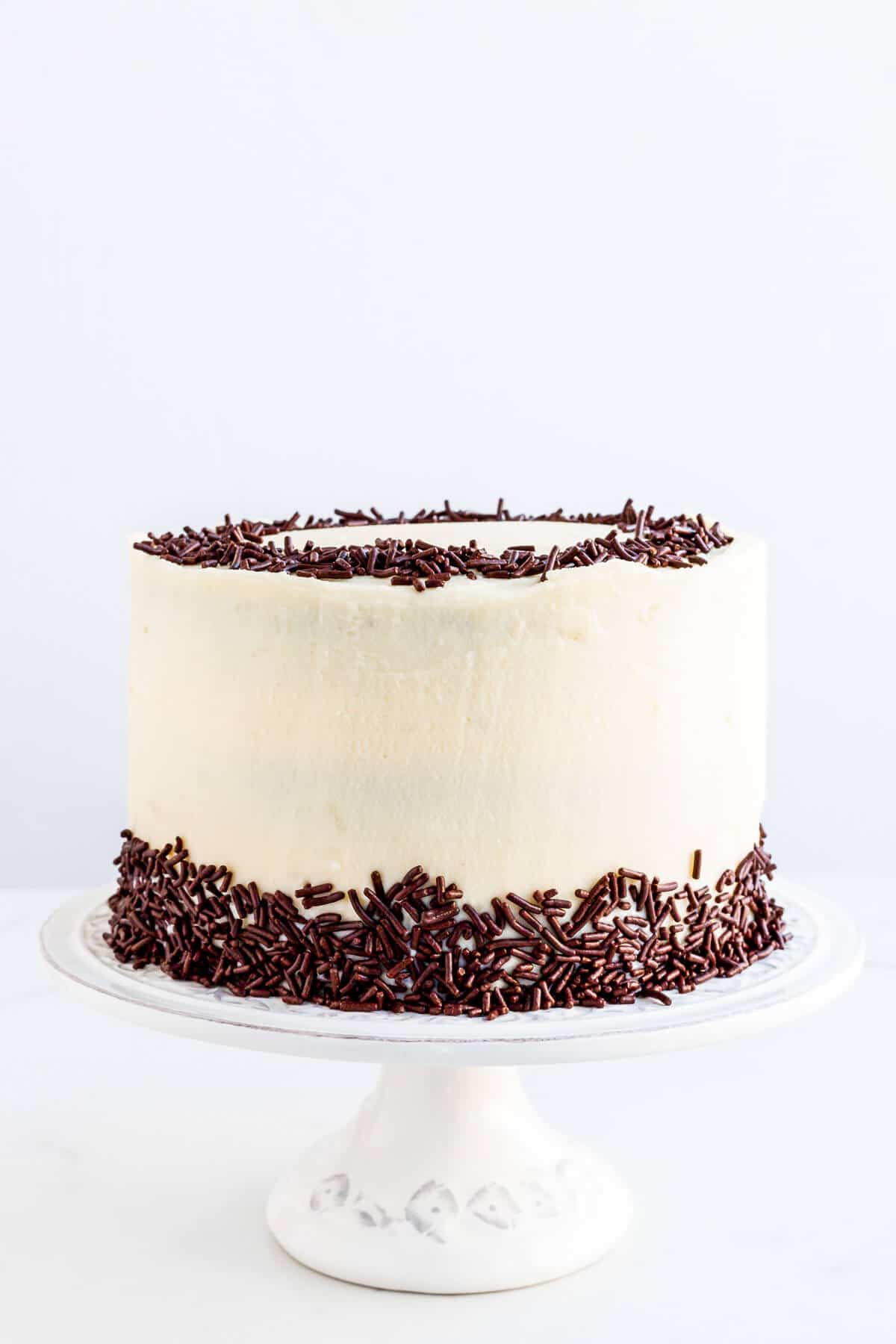 For the frosting, I use the same technique for thick cream cheese frosting, adding the cream cheese last to the creamed butter and sugar. This way, you use less icing sugar, but can still achieve a thick texture. This frosting is so thick you can use it for decorating and piping.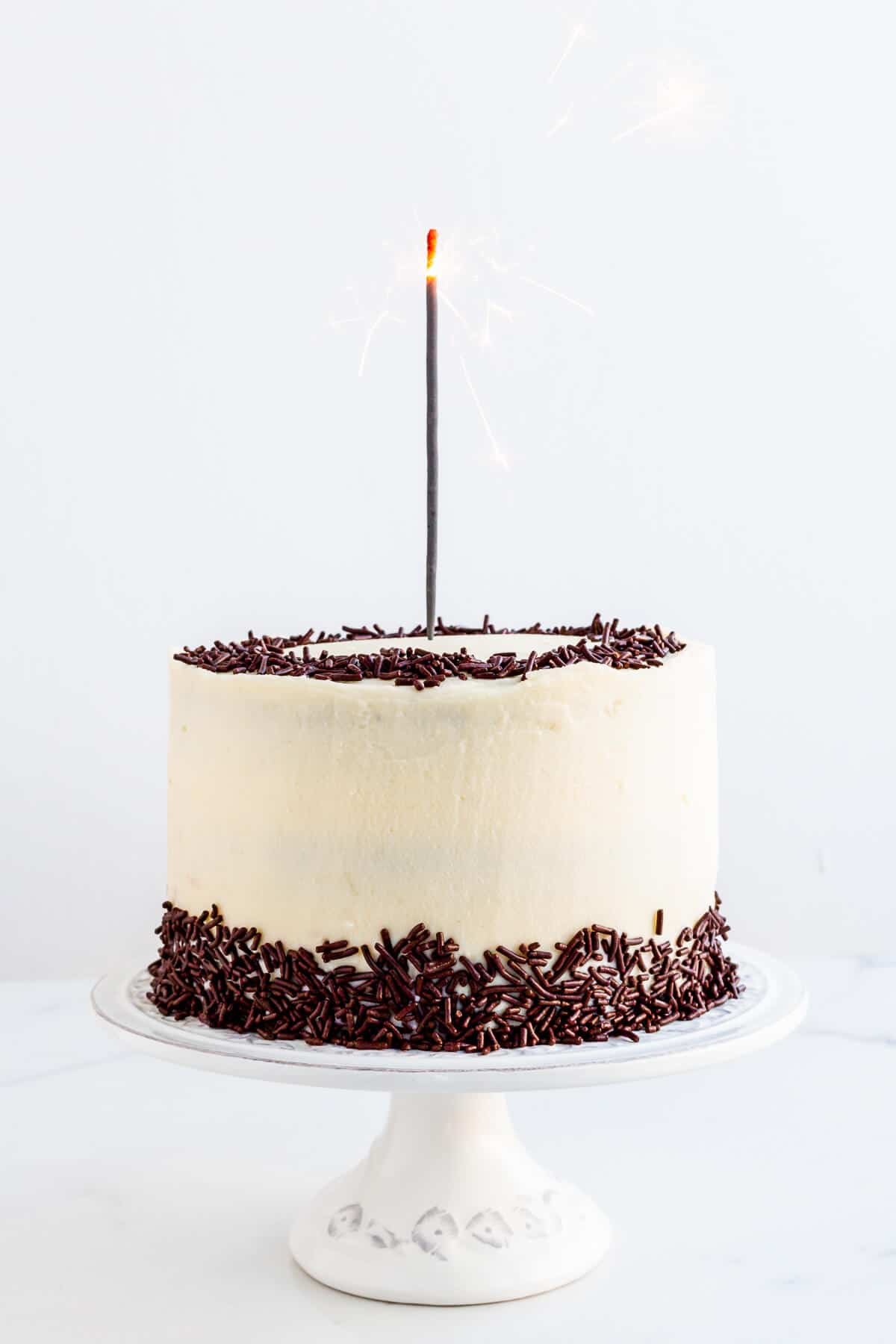 Cream cheese frosting alternatives
If you don't like cream cheese frosting, you can replace it with:
chocolate fudge frosting (made from butter, icing sugar, melted chocolate, cocoa powder, and sour cream)
Italian meringue buttercream (made from egg whites, soft ball sugar syrup, and butter)
American buttercream (made from icing sugar, butter, and vanilla)
peanut butter frosting (made from peanut butter, butter, and icing sugar)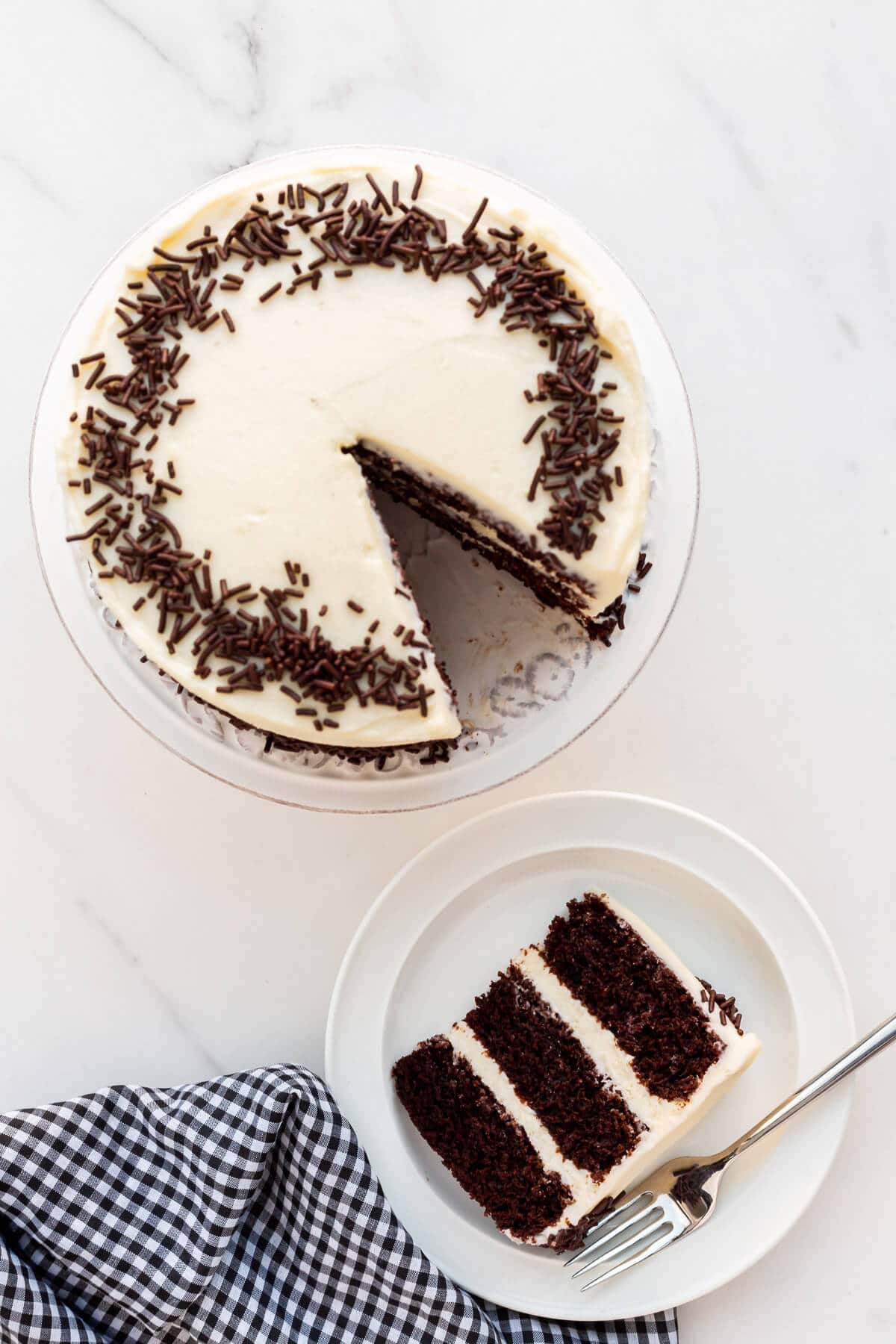 How to store this cake
Given this chocolate birthday cake is made with cream cheese frosting, it's best to store it in the fridge. If you've cut into the cake, just cover the cut edges with pieces of parchment to prevent them from drying out. Place the cake in the fridge until the frosting is firm and cold, then cover the whole thing with aluminum foil. You can store this cake for up to a week, or freeze slices for later.
For a detailed explanation, read about how to store cake.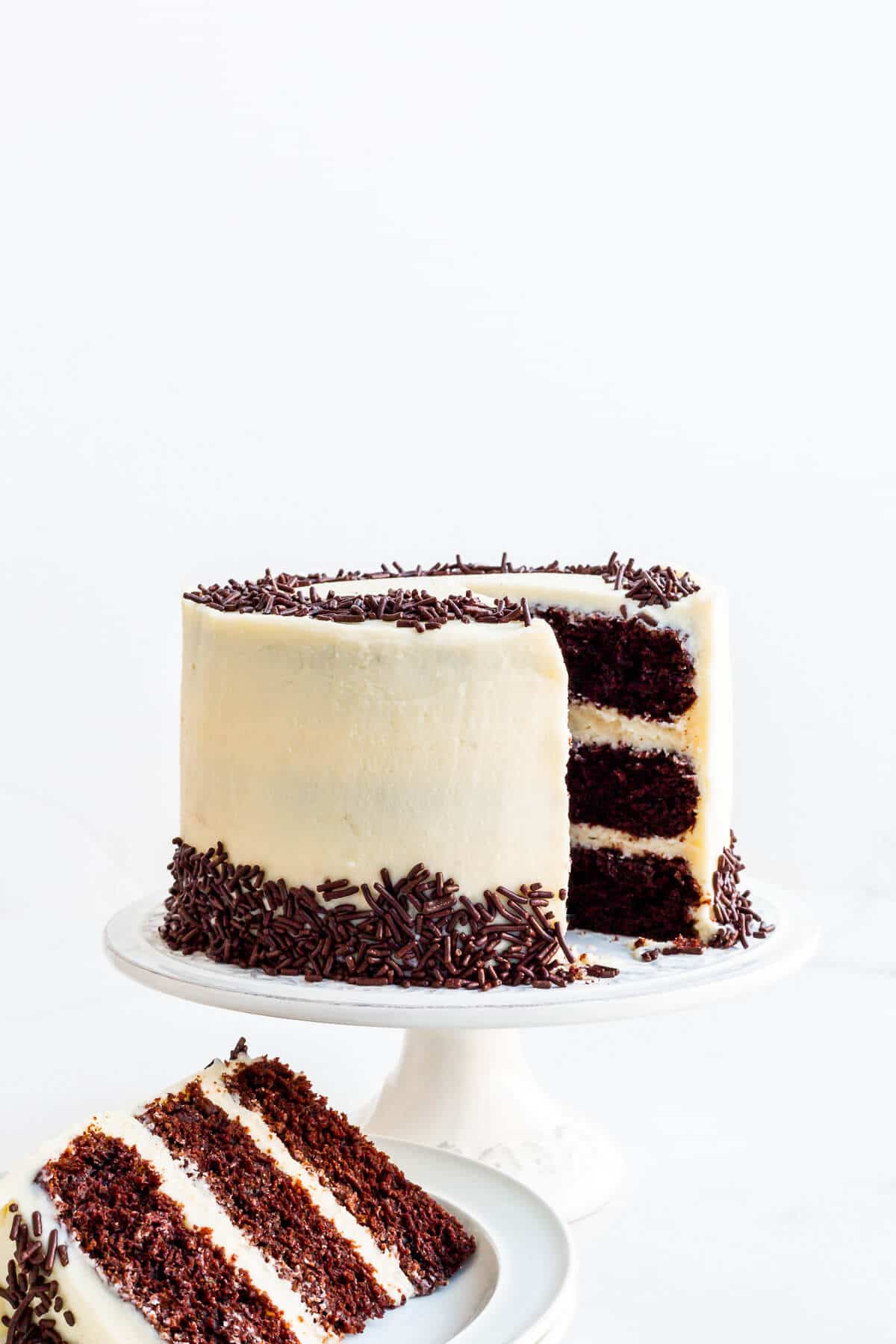 Serve this chocolate layer cake with ice cream, either vanilla ice cream, dark chocolate ice cream, or cookie ice cream.
📖 Recipe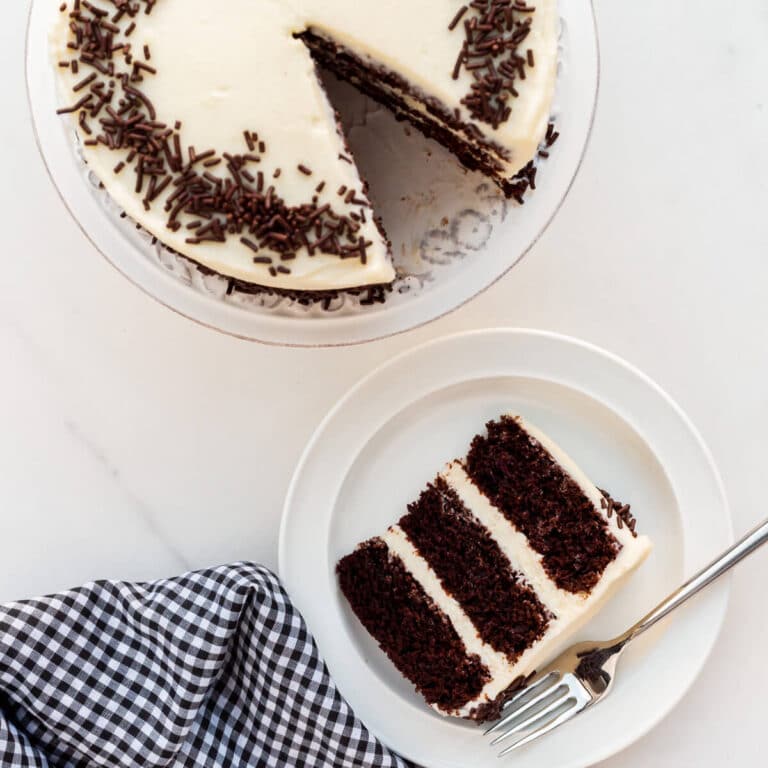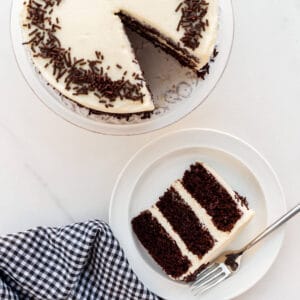 Chocolate Cake With Cream Cheese Frosting
This chocolate cake with cream cheese frosting is made from layers of eggless chocolate cake and thick cream cheese frosting for the best chocolate birthday cake.
Ingredients
Cream cheese frosting
218

grams

icing sugar

173

grams

unsalted butter

room temperature

500

grams

Philadelphia cream cheese (full fat, regular)

this is 2 blocks of Philadelphia cream cheese, cold

5

mL

pure vanilla extract
chocolate sprinkles

optional
Instructions
For the cake:
Preheat the oven to 350°F (175 °C). Prepare three 6x2-inch (15x5-cm) round cake pans by brushing the bottom and sides of each pan with butter (softened or melted), then line the bottoms with a round of parchment and dust the sides with cocoa powder. Set aside.

Sift or whisk together the flour, cocoa powder, baking soda, and salt in a large bowl and set aside.

Combine the milk, brown sugar, vinegar, canola oil, and vanilla in a separate bowl. Stir, then let it stand for a few minutes so that the sugar dissolves. The milk may curdle and thicken, and that's fine!

Add the wet ingredients to the sifted dry ingredients and stir until combined.

Pour the batter in the prepared pans and bake until a cake tester inserted in the centre comes out clean (about 30 minutes but keep an eye on it after 25 minutes).
For the frosting
The order of these steps is very important! First, in the bowl of an electric mixer fitted with the paddle attachment, beat together the icing sugar and butter until it is smooth.

Then, when the butter and sugar are nice and smooth, add in the cream cheese, and beat until you get a creamy, fluffy frosting, for at least 2 to 3 minutes, if not more.
To assemble
Trim the cakes to level them with a large, serrated bread knife.

Place the bottom layer on a cake turntable (find it on Amazon) or cake stand, and pipe on about ¼ of the frosting, smoothing it out with an offset spatula. Top with the second layer of cake, frost, and repeat with the third layer. Smooth the last of the frosting on the sides and top of the cake. Decorate with chocolate sprinkles (optional).

Store in the refrigerator, letting the cake come to room temperature for about an hour before serving.
Nutrition
Calories:
503
kcal
Carbohydrates:
58
g
Protein:
6
g
Fat:
29
g
Saturated Fat:
15
g
Cholesterol:
70
mg
Sodium:
350
mg
Potassium:
298
mg
Fiber:
5
g
Sugar:
39
g
Vitamin A:
905
IU
Vitamin C:
32
mg
Calcium:
102
mg
Iron:
2
mg