This easy chocolate fudge frosting is great for layer cakes and birthday cakes for adults and kids because it's not too sweet, yet not too bitter!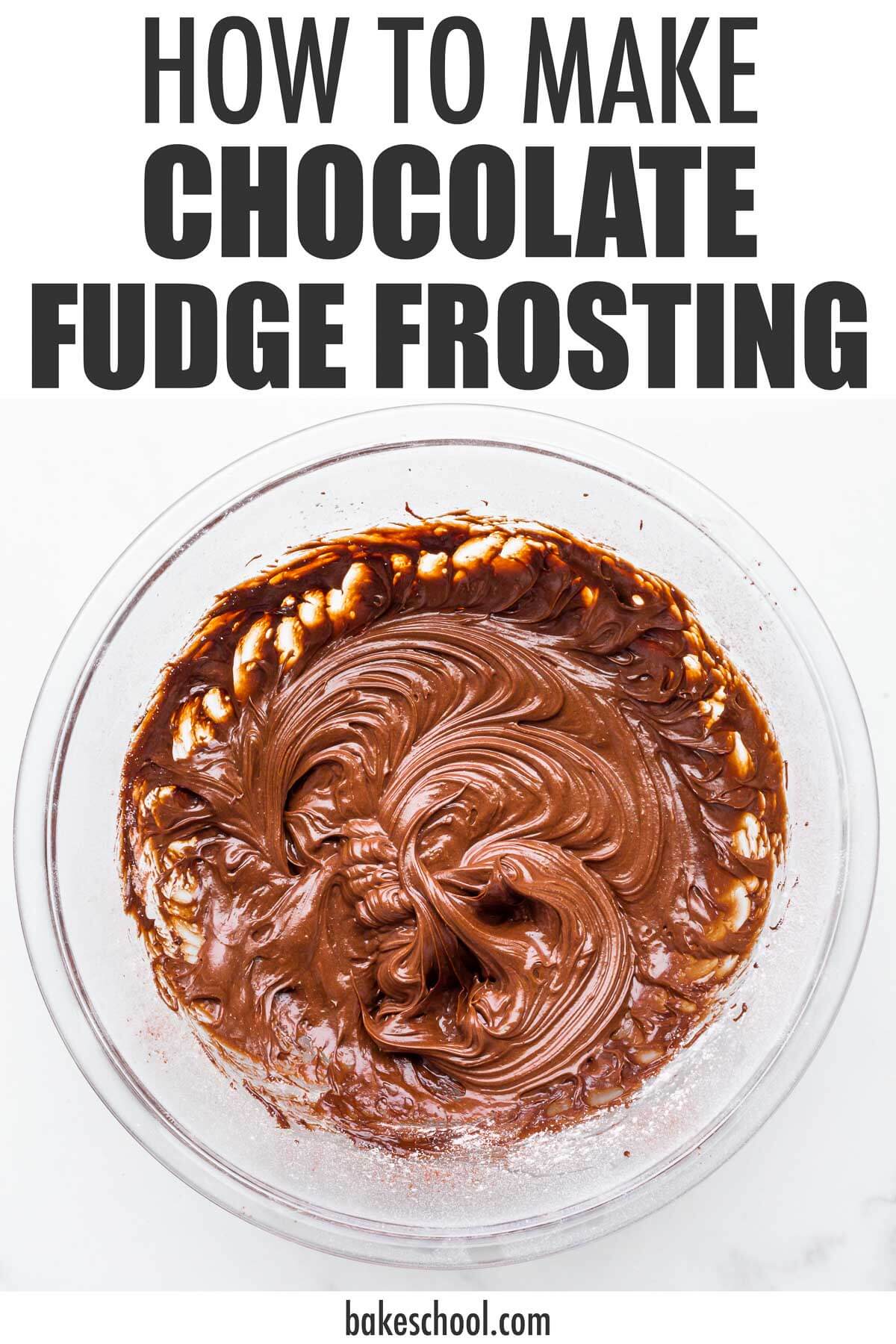 Disclosure: As an Amazon Associate, I earn from qualifying purchases.
If you don't like a chocolate frosting that is too cloyingly sweet, this one is for you.
Jump to:
What's in it
Most chocolate fudge frostings are made from cocoa powder, icing sugar, and butter, but for this recipe, we are also using melted chocolate, espresso powder, and sour cream, which add depth of flavour and a little acidity to balance out the sweetness of the icing sugar.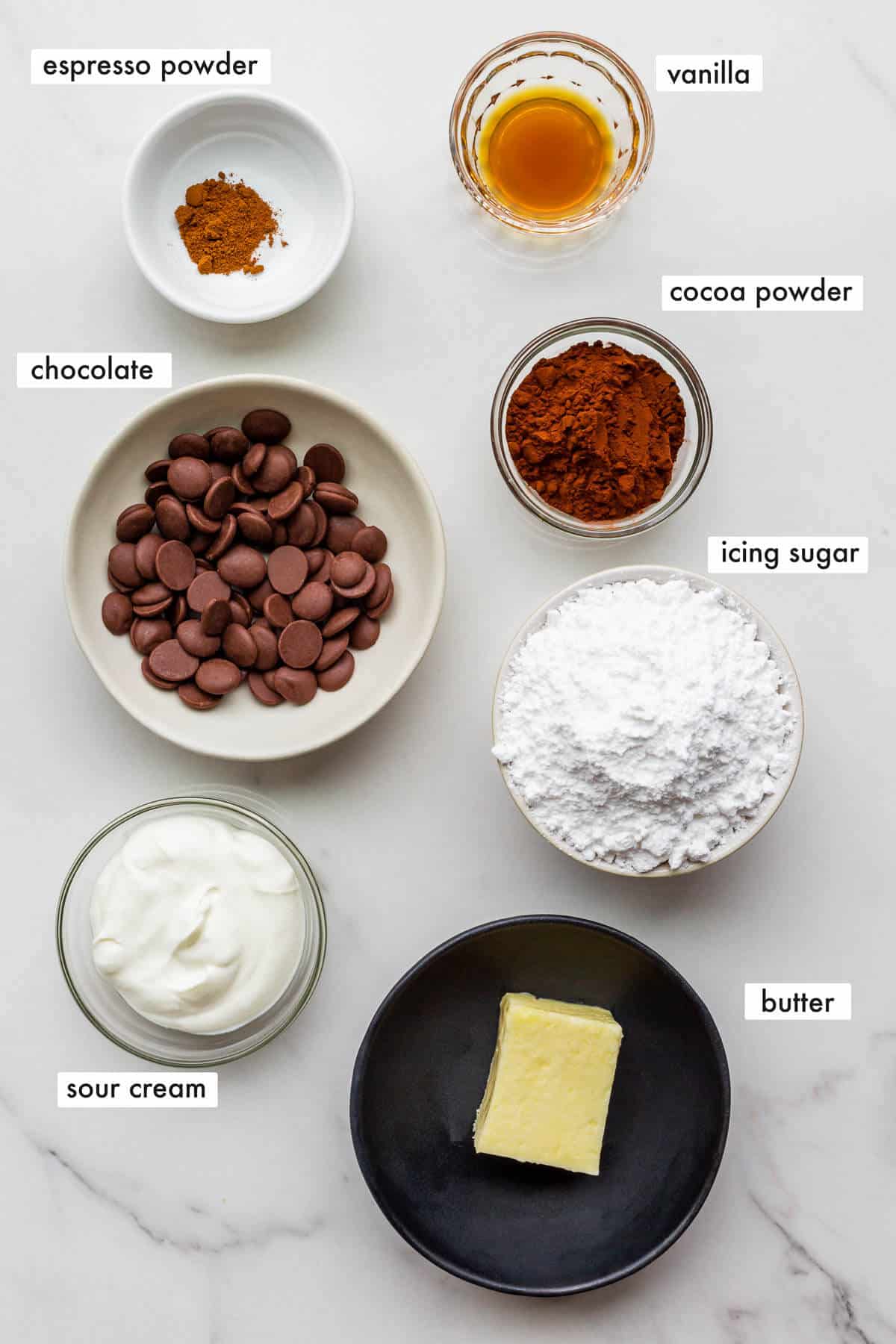 butter—both salted and unsalted butter will work. The salt in salted butter is a great way to offset the sweetness and add depth to the flavour.
cocoa powder—I always bake with cocoa powder that is Dutch-processed and has a higher fat content (usually around 22 % fat), providing more flavour than regular cocoa powder could, and a darker colour.
chocolate—I've tested this recipe with 41 % milk chocolate and 70 % dark chocolate. Both work.

icing sugar—don't use granulated sugar or brown sugar because the texture of your frosting will be different

espresso powder—instant espresso powder is optional but it can enhance the chocolate flavour in this recipe so I like to add it. The more you add, the more pronounced the coffee flavour will be, but in small quantities (5 mL or 1 teaspoon), the flavour will be more subtle
sour cream—use full-fat sour cream (14% fat) for the smoothest texture and the best flavour
vanilla—I use pure vanilla extract
See recipe card for quantities.
Tip: Not all chocolate is created equal and some brands include a lot of sugar in their milk or dark chocolate. There are many different types of chocolate for baking, so make sure to use the best you can. In this case, reach for bittersweet chocolate that is around 70 % cocoa solids and not too sugary or use dark milk chocolate with around 40 % cocoa content that isn't too sweet. This is especially important here because you will be adding a lot of icing sugar to make the frosting thick and pipeable, so you don't want the chocolate to contribute even more!
Balancing frosting flavours with sour acids
In this frosting, you'll notice there's sour cream in the ingredient list. This contributes a tangy flavour that isn't very noticeable, but it helps to balance out the sweetness of the frosting so that the chocolate frosting isn't just sugary.
Sour cream provides an acidity here that is hard to beat with any other ingredients. That acidity is what makes some canned frosting so addictive, actually! Remember, the frosting for Christina Tosi's Milk Bar birthday cake is made with citric acid powder, not so much that the frosting is sour, but just enough to brighten it, adding complexity to the flavour that you might not expect.
Enhancing the chocolate flavour with coffee
This chocolate fudge frosting relies on two sources of chocolate for flavour: melted dark chocolate (70 %) and cocoa powder. Using these two together leads to a rich, full-bodied frosting that has more depth than most. As always, make sure to use the best chocolate for baking that you can.
Remember that a great way of enhancing the chocolate flavour in baked goods is to incorporate a little coffee. You can use espresso powder, for example, which will contribute bitter notes to help balance out the sweetness of the frosting, without overpowering the chocolate flavour from the melted chocolate and the cocoa.
A little goes a long way and all you would need to add in this recipe is 5 mL (1 teaspoon), undissolved, along with the icing sugar.
How it's made
This frosting is made using the creaming method, where the ingredients are whipped together into a smooth, creamy, spreadable frosting for cakes.
This is a good chocolate frosting recipe for beginner bakers, unlike a whipped ganache frosting, because it's less prone to curdling or breaking. Plus, with ganaches and whipped ganache, the temperature can be an issue and there is a window where if your frosting is too warm, it will be too thin, but if it's too cold, you will have trouble icing your cake with it. Chocolate fudge frosting is more forgiving.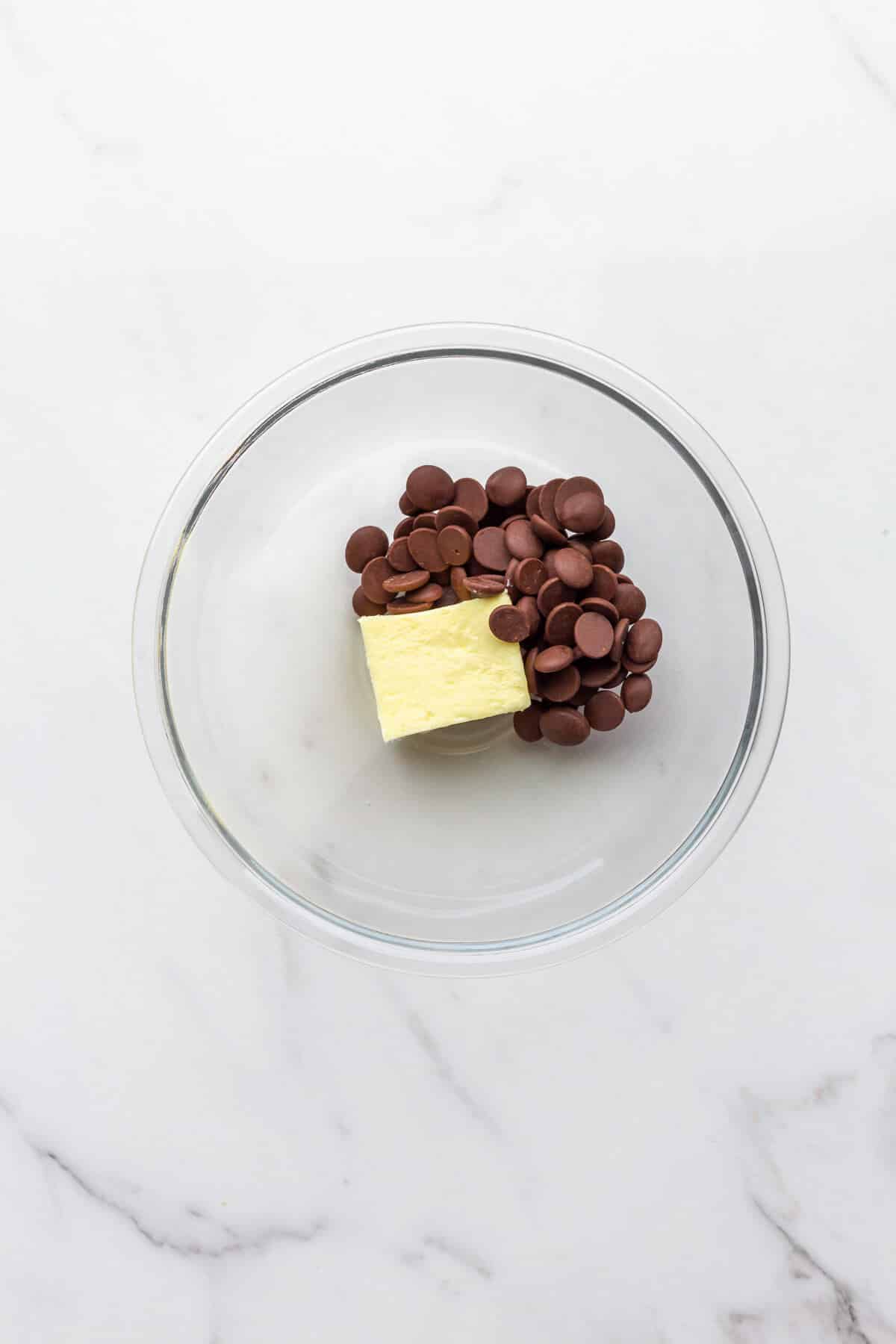 Combine the chocolate in a heat-proof bowl, like a glass or stainless bowl.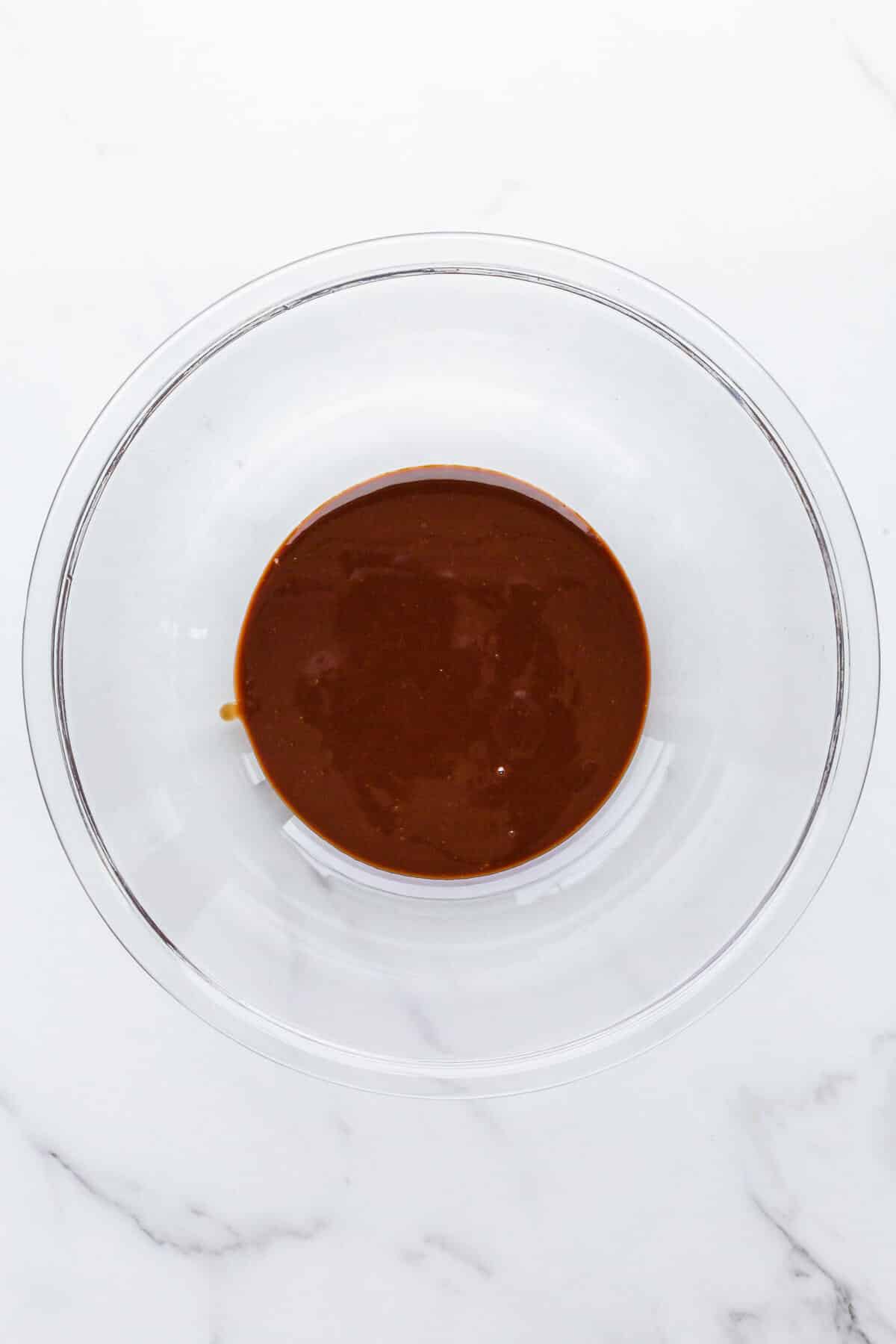 Melt the two together over a double boiler or in the microwave (the bowl needs to be microwaveable if you opt for the latter!).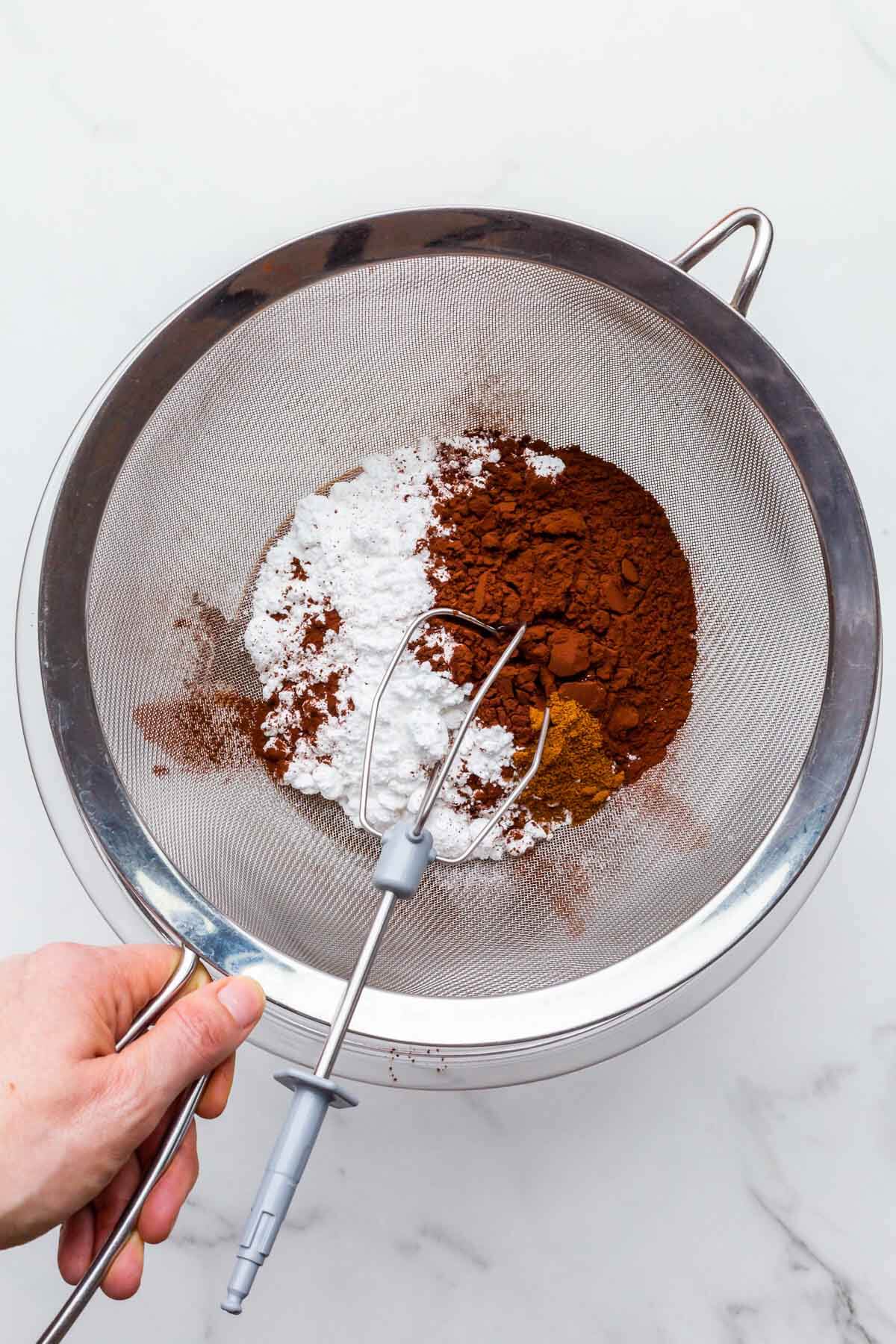 When the butter and chocolate have cooled down a little (but are still melted and fluid), sift the icing sugar, cocoa and espresso powders over top to remove any lumps.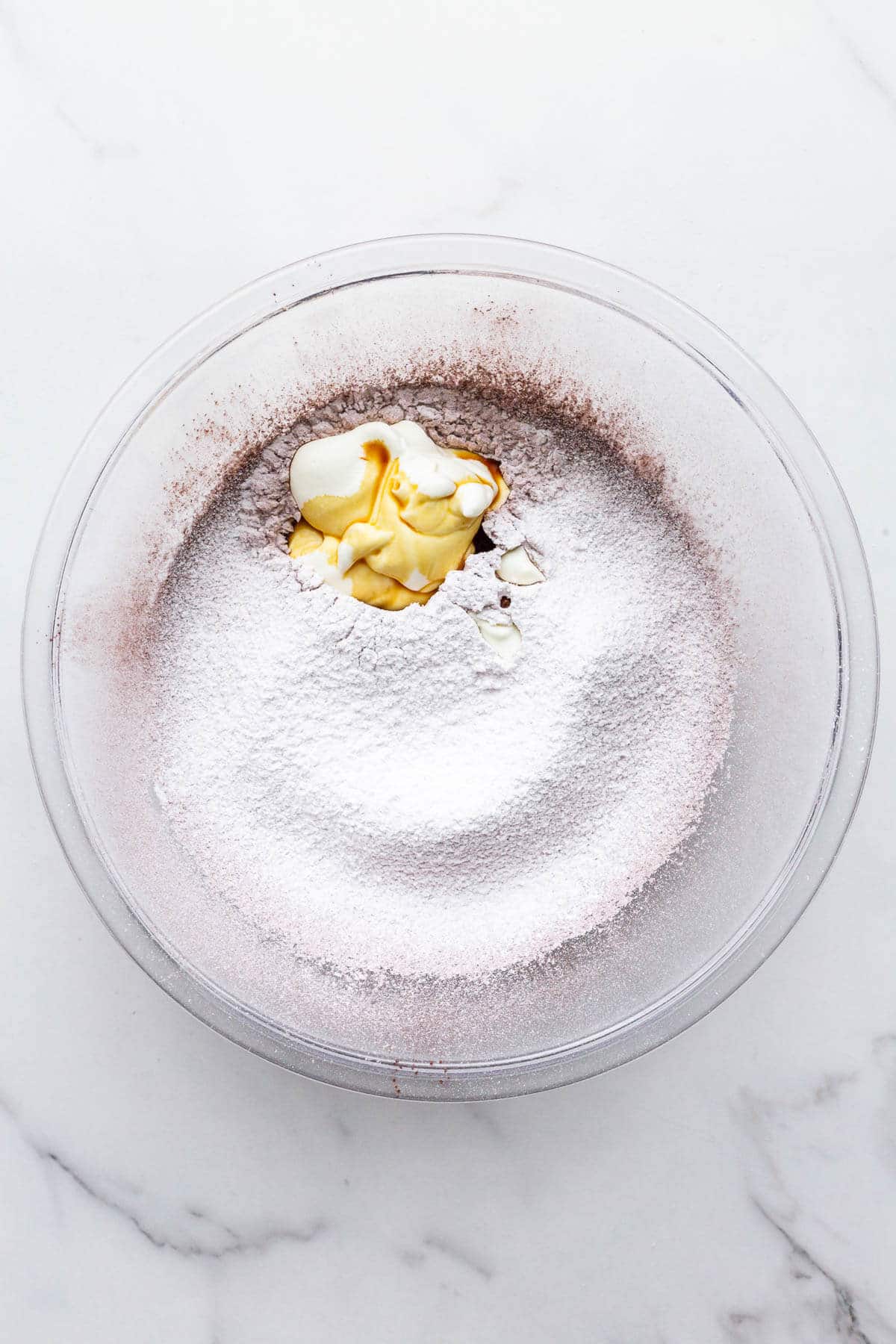 Add the sour cream and vanilla.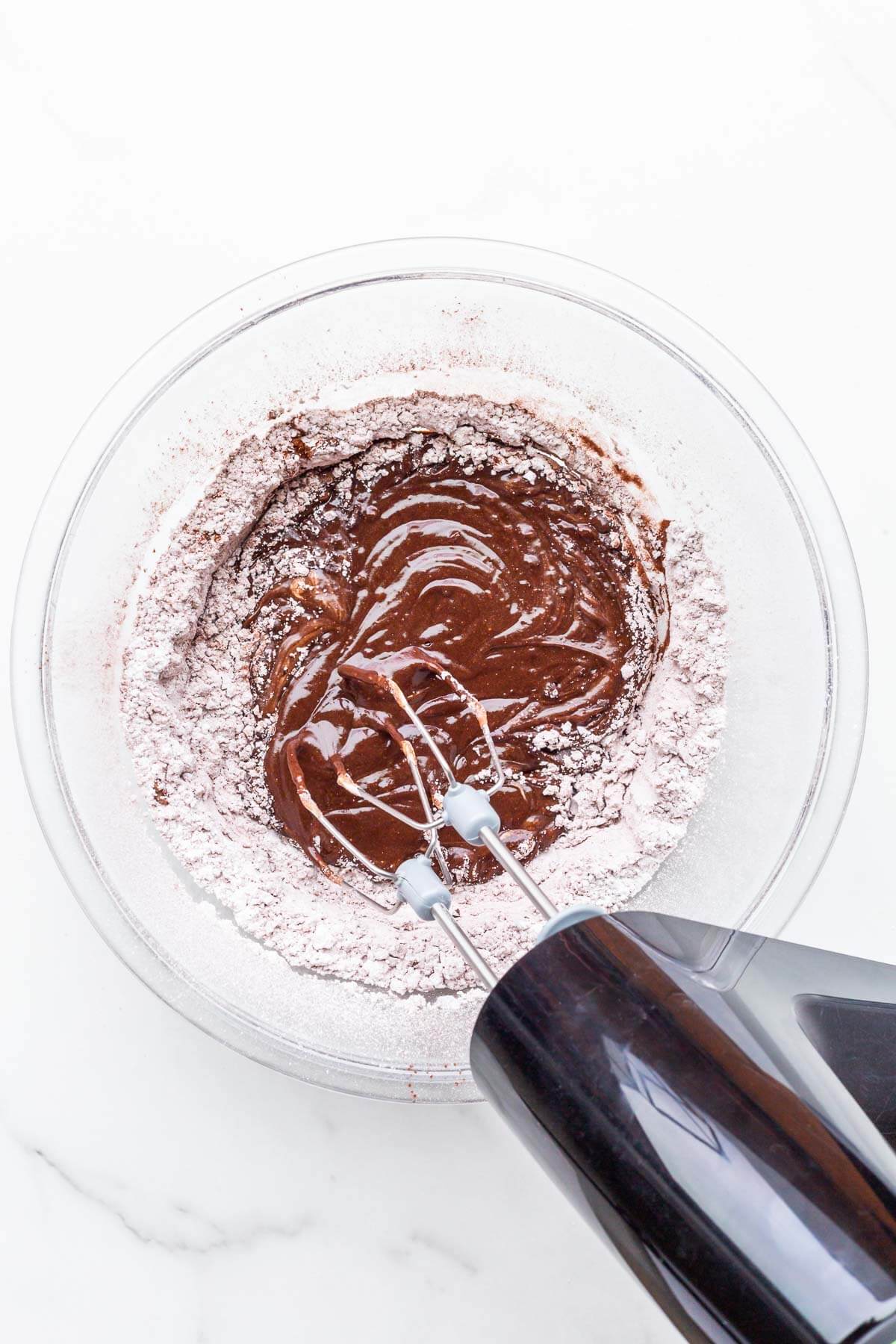 Slowly mix the ingredients at first to keep the powdery ingredients confined to the bowl.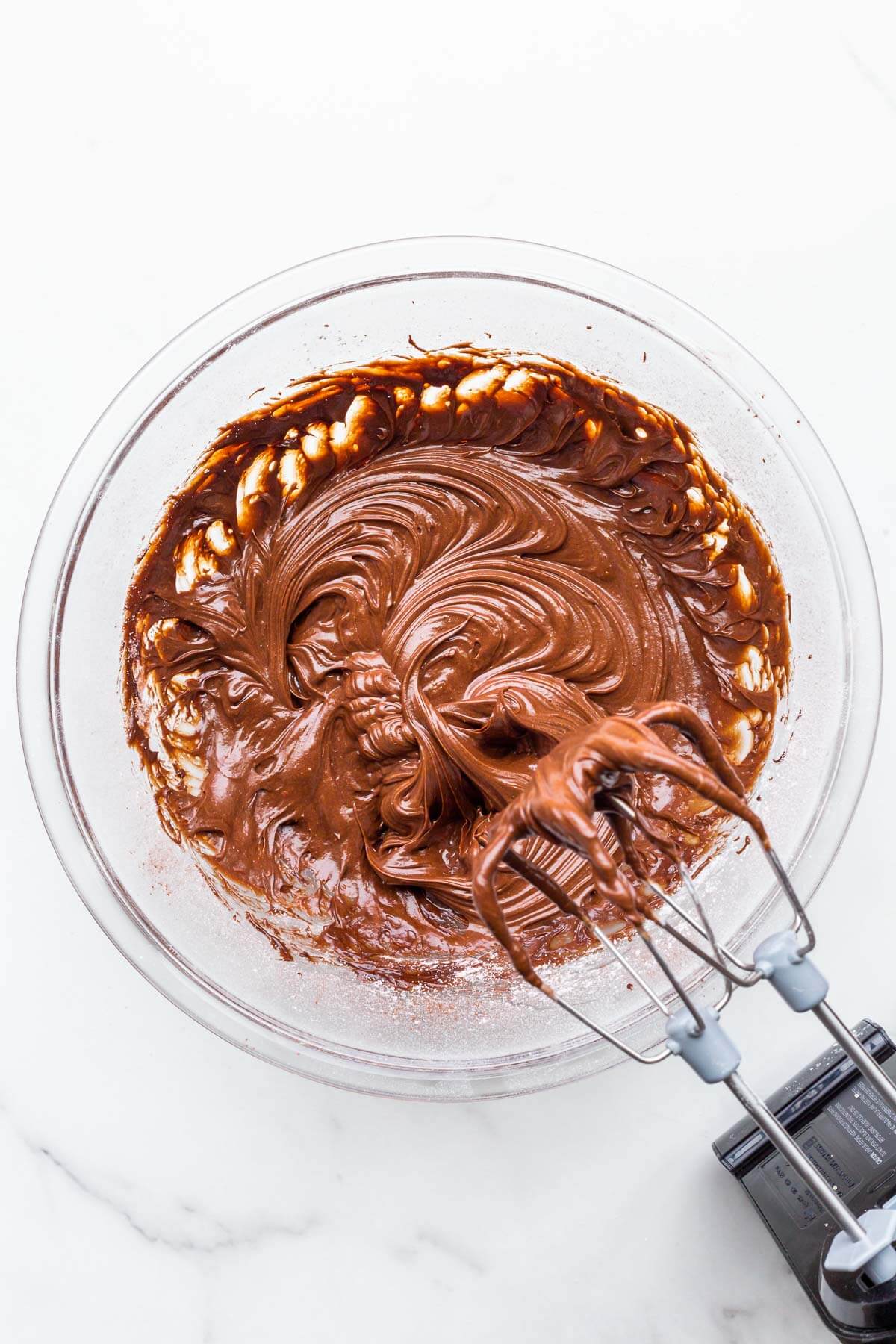 Increase speed and whip the frosting until glossy, smooth, and light.
For this recipe, the dark chocolate is melted with the butter until it's creamy, glossy, and smooth. This makes it easier to incorporate the icing sugar and the other ingredients, without the risk of the frosting curdling or breaking from temperature issues where the chocolate is warmer than the other components.
Special equipment
You can make this frosting in a stand mixer or with an electric hand mixer. I've tested both and didn't notice anything significantly different between the two batches. Obviously, the stand mixer allows you to make this more easily because you can let it whip while you clean up.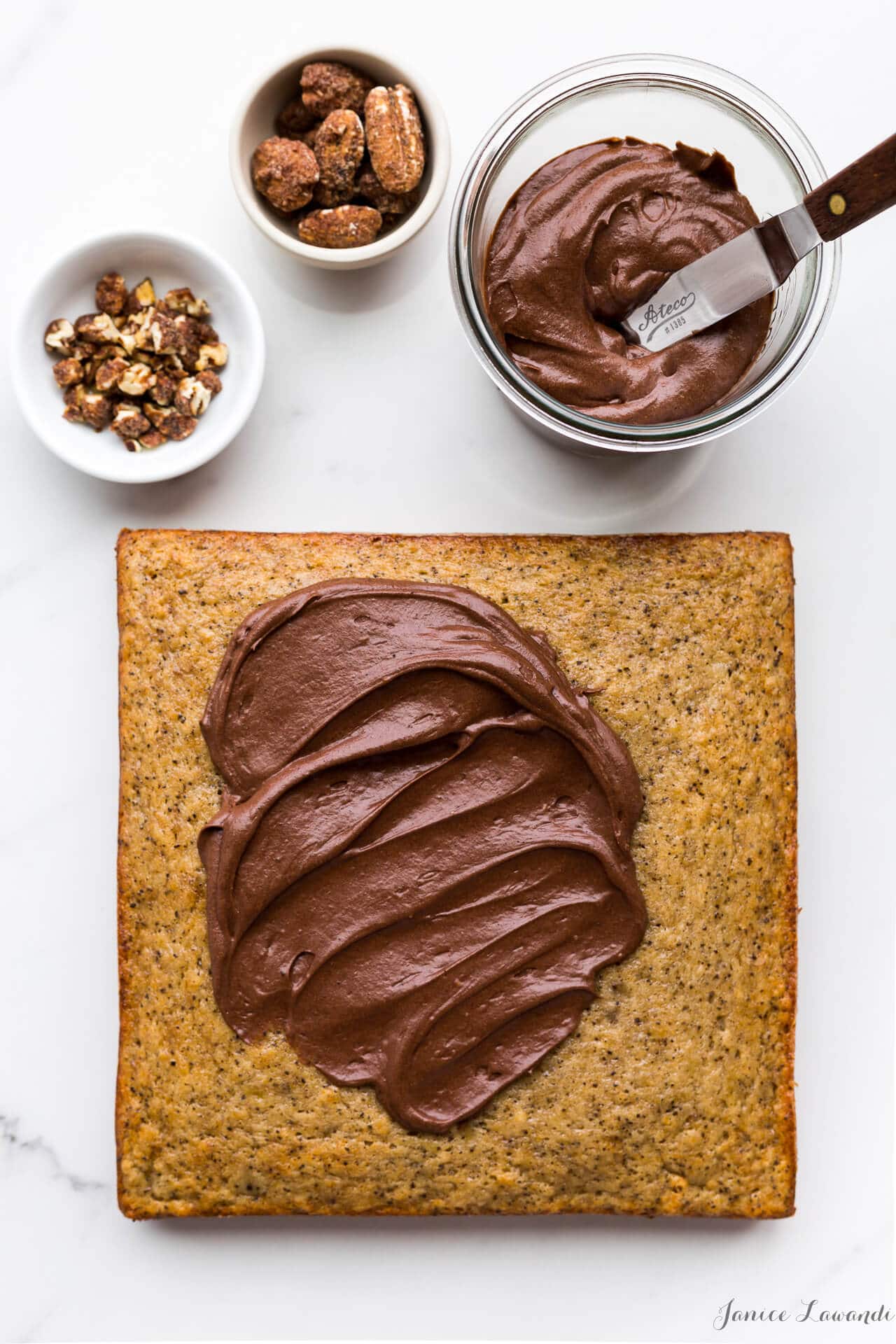 Where to use this frosting
This chocolate sour cream frosting is very versatile and can be used to frost and decorate all kinds of cakes: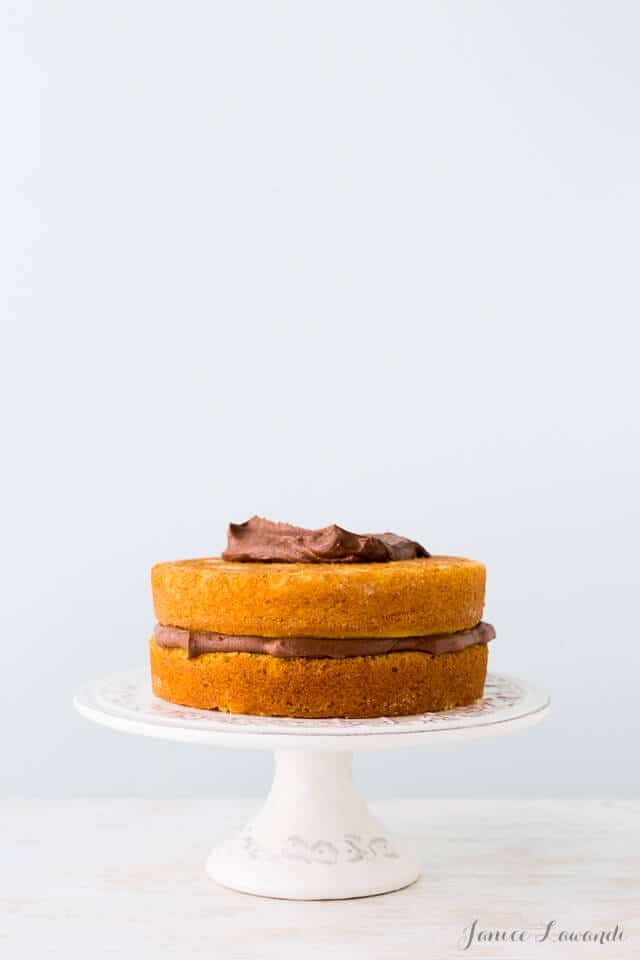 Frequently asked questions
What do I do if my frosting is too sweet?
Once the powdered sugar is mixed in, it's hard to adjust the sweetness. You can't take it back. This frosting should not be overly sweet given that it is made with bittersweet chocolate. If you made it with sweeter chocolate like a semi-sweet or milk chocolate, expect it to be sweeter.
Try adding a little espresso powder to the frosting to add a little bitterness, which may balance the sweetness. Also, a pinch of salt can do wonders in sweet frostings!
Can I make it without powdered sugar?
I do not suggest substituting any other type of sugar in this frosting recipe. The smooth texture of cream cheese frosting has as much to do with the butter and cream cheese as it does the icing sugar. You can't replace it here with anything else. This is not a baking substitution that I would recommend.
What do I do if my frosting is too soft?
If your chocolate and butter are still warm, the consistency may be on the softer side. If that's the case, put the mixer bowl in the fridge and let it chill for about 20 minutes, then mix it again. Chilling will firm up the chocolate and the butter, leading to a thicker, more sturdy texture that you can pipe and that will hold its shape.
What do I do if my frosting is too dry or stiff?
If your frosting is very stiff or seems dry, check the temperature. If you took it out of the fridge, it might need to warm up a little. Some pastry chefs will gently warm a frosting by applying heat to the outside of the metal bowl of the frosting with a hair dryer. Once a thin layer of frosting has warmed a little, you can then try whipping it.
In general, make sure to let your frosting come to room temperature before you try spreading it on your cakes, or you risk tearing the cake with the stiff, cold frosting. It will be a struggle to use!
If your frosting is room temperature and still too dry, make sure you measured out the icing sugar properly. It's possible you made a measurement error, which means, you may have to adjust with more butter and more melted chocolate... Freshly made, this frosting should really be smooth and creamy, not stiff, nor dry.
How do you store it?
Once the frosting is whipped into a creamy, smooth spreadable consistency, you can use it right away or store it in the refrigerator for later. If you are putting it in the fridge, make sure to cover it tightly with plastic wrap to prevent it from drying or crusting on the surface.
When you are ready to use it, you must let it warm up to room temperature before whipping it again. Otherwise, if it's too cold, you will have trouble spreading it and it may tear cake layers if you try, leading to a crumby finish that is less professional.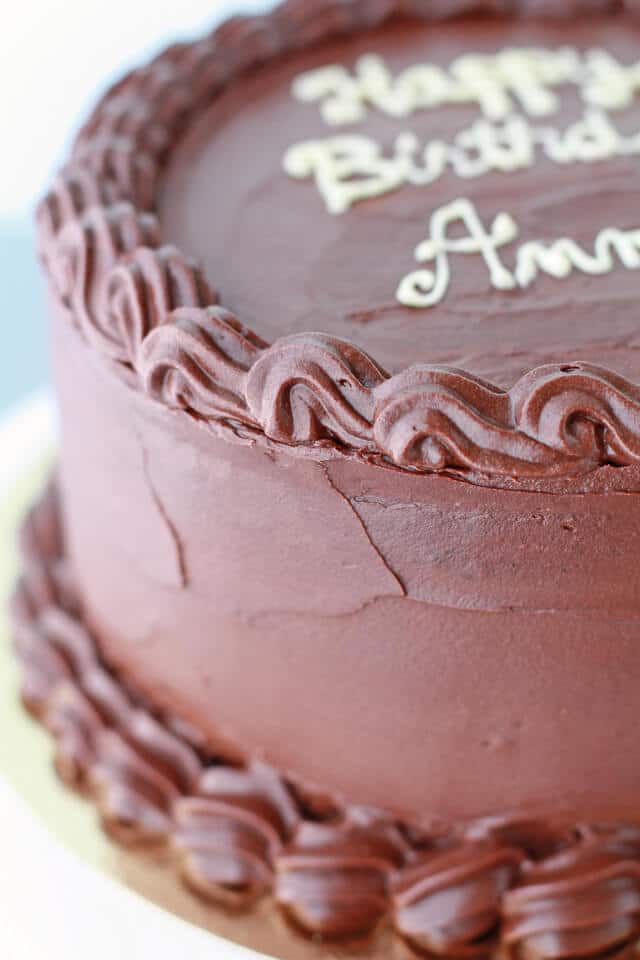 This chocolate fudge frosting is great with banana cake, like in this coffee banana cake where I used dark milk chocolate, and it's obviously perfect sandwiched between layers of vanilla cake for the classic birthday cake. Of course, it would also work perfectly with this eggless chocolate cake, or in this chocolate caramel cake.
📖 Recipe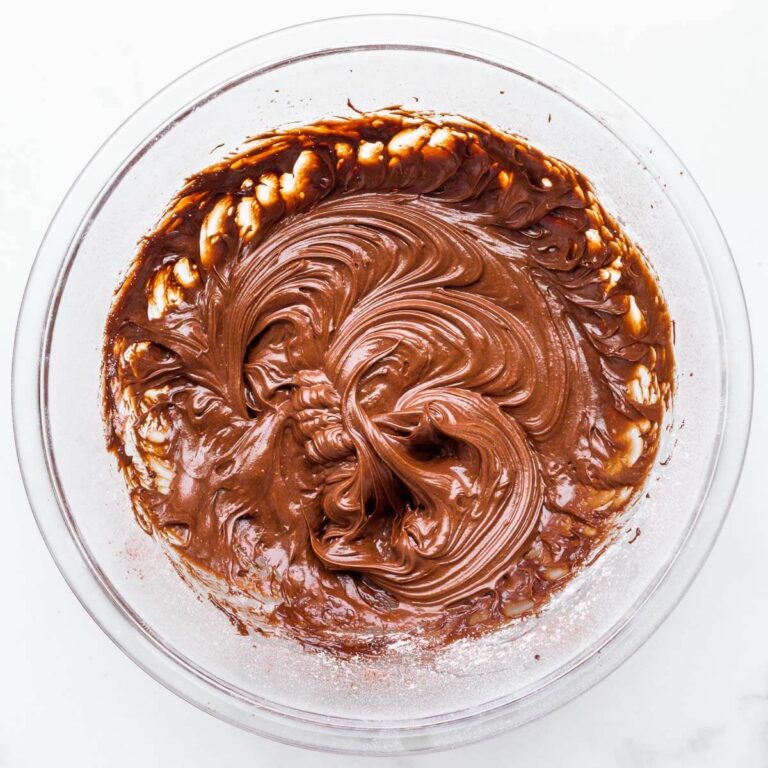 Chocolate Fudge Frosting
This recipe is for a dark chocolate frosting that is much like a fudge frosting. This is a great chocolate fudge frosting that is not too sweet.
Instructions
Melt the butter and the chopped chocolate together in a small bowl over a double boiler. When completely melted and uniform, set aside to cool to room temperature.

In the bowl of an electric mixer fitted with the paddle attachment, beat together (starting on low) the cocoa powder, vanilla, half the icing sugar, the cooled melted chocolate mixture, and the sour cream. When the mixture is smooth, add the rest of the icing sugar, and continue beating til it's smooth and fluffy.
Notes
Make sure to use 70 % dark chocolate or another bittersweet chocolate. If the chocolate is too sweet, the frosting will be sweeter, obviously.
Calories calculated based on 1 tablespoon (15 mL) serving of frosting
Nutrition
Calories:
42
kcal
Carbohydrates:
5
g
Protein:
1
g
Fat:
3
g
Saturated Fat:
2
g
Trans Fat:
1
g
Cholesterol:
5
mg
Sodium:
3
mg
Potassium:
23
mg
Fiber:
1
g
Sugar:
4
g
Vitamin A:
59
IU
Vitamin C:
1
mg
Calcium:
5
mg
Iron:
1
mg