Learn how to make the best banana cake with chocolate frosting. The banana cake is moist and flavourful, made with very ripe bananas and sour cream. The frosting is a variation of a chocolate fudge frosting, made with milk chocolate, a little sour cream, and some espresso powder, reinforcing the chocolate flavour and adding a slight coffee taste to it.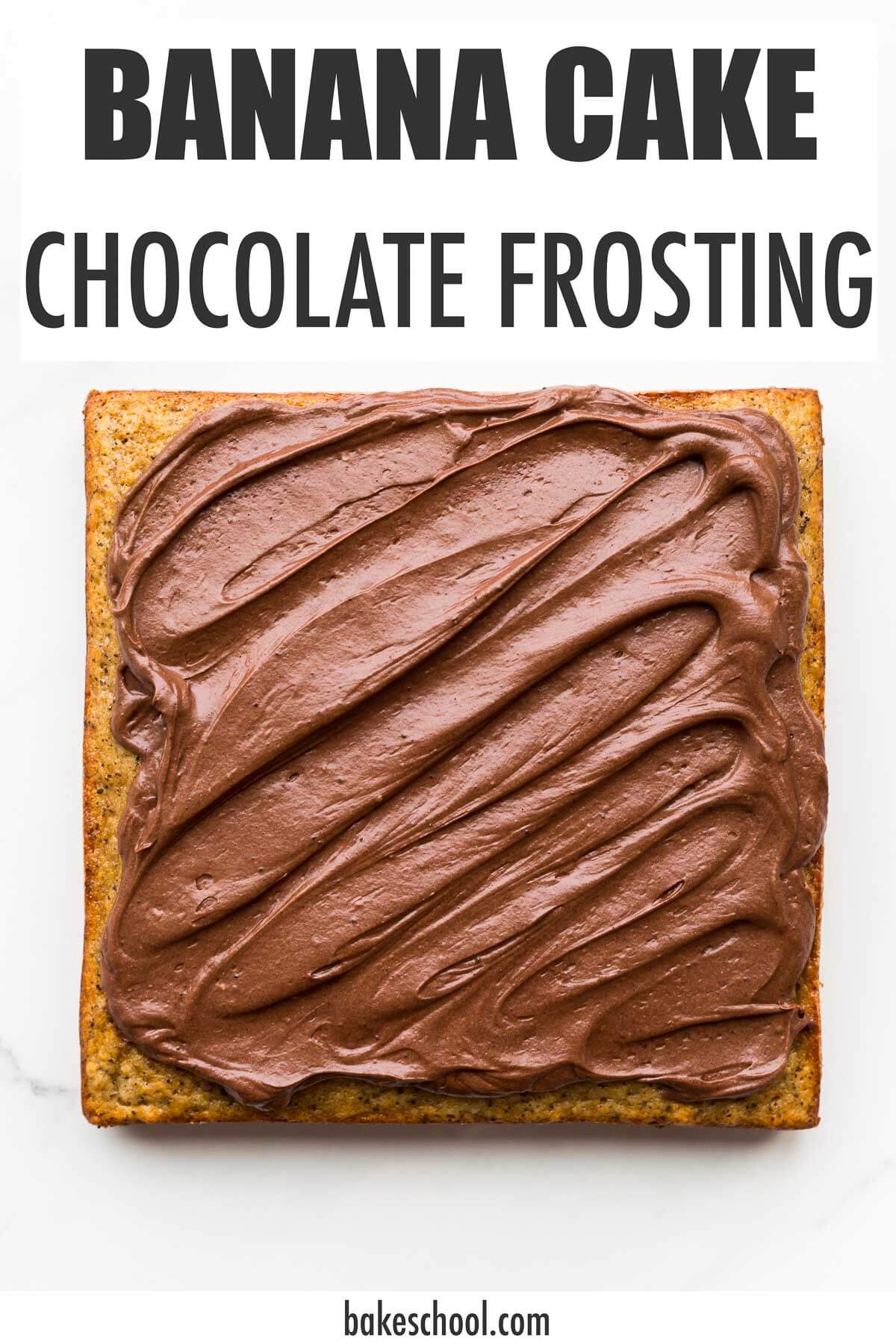 Disclosure: As an Amazon Associate, I earn from qualifying purchases.
I love the simplicity of single layer cakes, especially a comforting banana snack cake like this. They bake in less time than a loaf cake, though the ingredient quantities are comparable, which means you get to eat your cake faster. And since my love for combining coffee and banana is real (remember I turned that combination years ago into a coffee banana smoothie, still one of my all-time fave smoothie flavours), well, here we go again: coffee and banana together in cake form with a milk chocolate fudge frosting.
I resisted the urge to add cardamom to the cake batter, but please, don't let that stop you. Cardamom would be so awesome in this recipe, as I have proven in this cardamom banana bread recipe. Perhaps I need to make this one again with cardamom, you know, just to make sure.
Jump to:
This post is sponsored by Cacao Barry.
What you need to make this cake
Like banana bread, banana cake has a simple list of ingredients. You'll also need to plan for the frosting (so more butter and sour cream than if you were to make the cake unfrosted).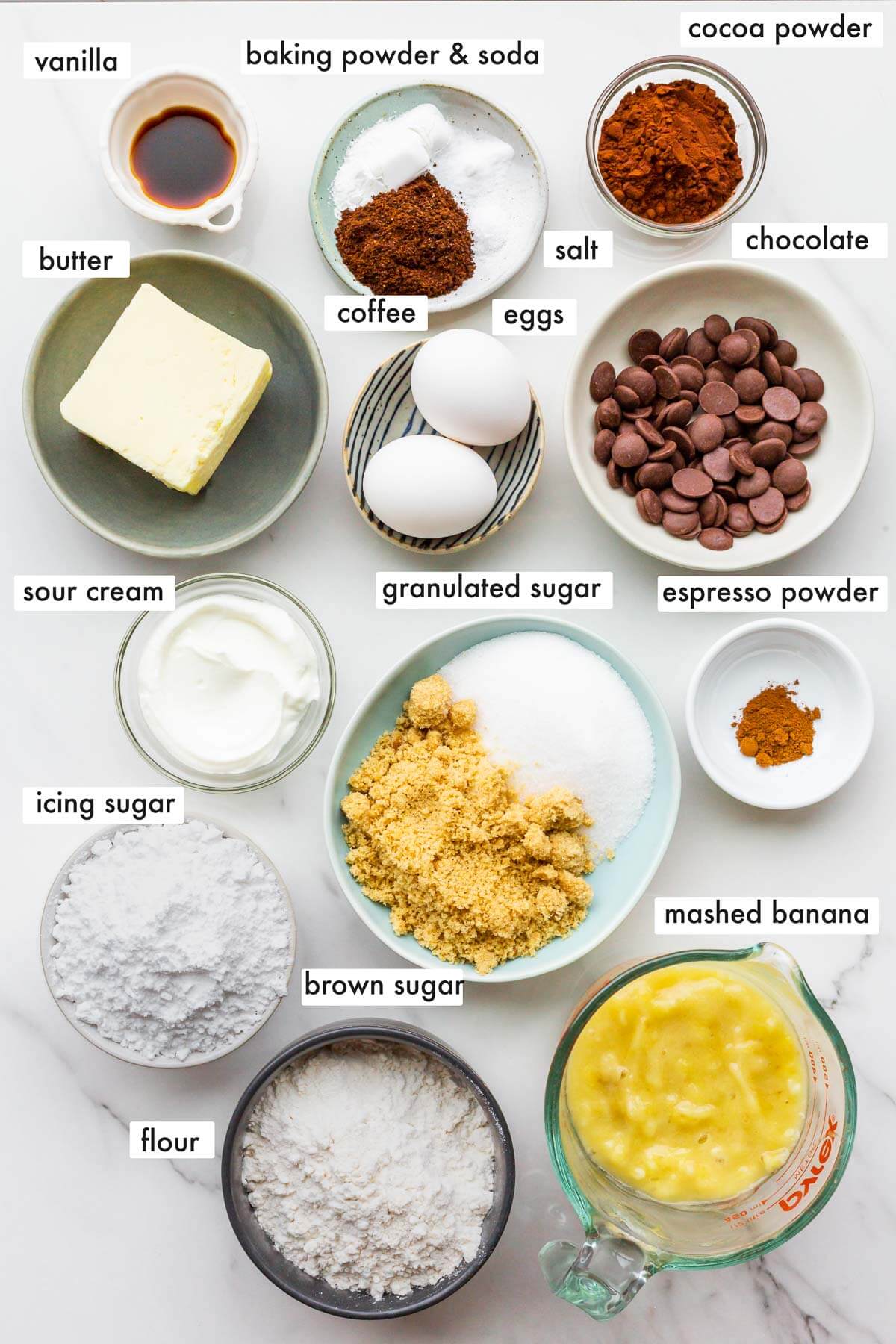 butter—preferably unsalted though salted will work in this recipe. You may adjust the salt in the cake batter if your salted butter has a lot of salt
sugar—both granulated sugar and light brown sugar
eggs—I bake with large eggs exclusively, which weigh approximately 56 grams (shell on) or 50 grams (shell off). Larger or smaller eggs may result in either a wetter cake or a dryer cake, respectively
mashed banana—mash very ripe bananas that are quite soft and with a blackened peel. If the bananas are too young, they are more starchy, which will have an impact on the taste and texture of the cake
sour cream—I bake with full-fat sour cream (14% fat). If you use lower fat sour cream, the texture of the cake may be dryer
all-purpose flour—I bake with bleached all-purpose flour. You can try unbleached, but the texture and rise of the cake may differ
chemical leaveners—you need both chemical leavening agents, baking powder and baking soda in this cake. If you aren't sure the difference, you can read about baking powder versus baking soda
ground coffee beans, as in coffee grinds (the kind you would brew to make drip coffee)—these don't add too much flavour to the cake, but they do give the cake a lovely speckled look reminiscent of the banana seeds. Feel free to skip it if you want!

chocolate

—I've tested the frosting with both milk and dark chocolate and both work. The flavour will obviously differ
icing sugar, also called powdered sugar or confectionner's sugar, not granulated sugar
Dutch processed cocoa powder—I bake with Cacao Barry extra brute cocoa powder, which is a dark cocoa powder with a little over 20 % fat.
instant espresso powder is a great way to add coffee to baked goods without adding water. Added to the frosting, it enhances the chocolate flavour but also add a subtle coffee taste that is so nice with chocolate and banana
See recipe card for quantities.
Type of chocolate for frostings
This coffee banana cake has the perfect texture, and it's not too sweet. It's just right for a thick slather of chocolate frosting made from the best chocolate for baking. I've tested the frosting with both 41 % milk chocolate and 70 % dark chocolate and both work great.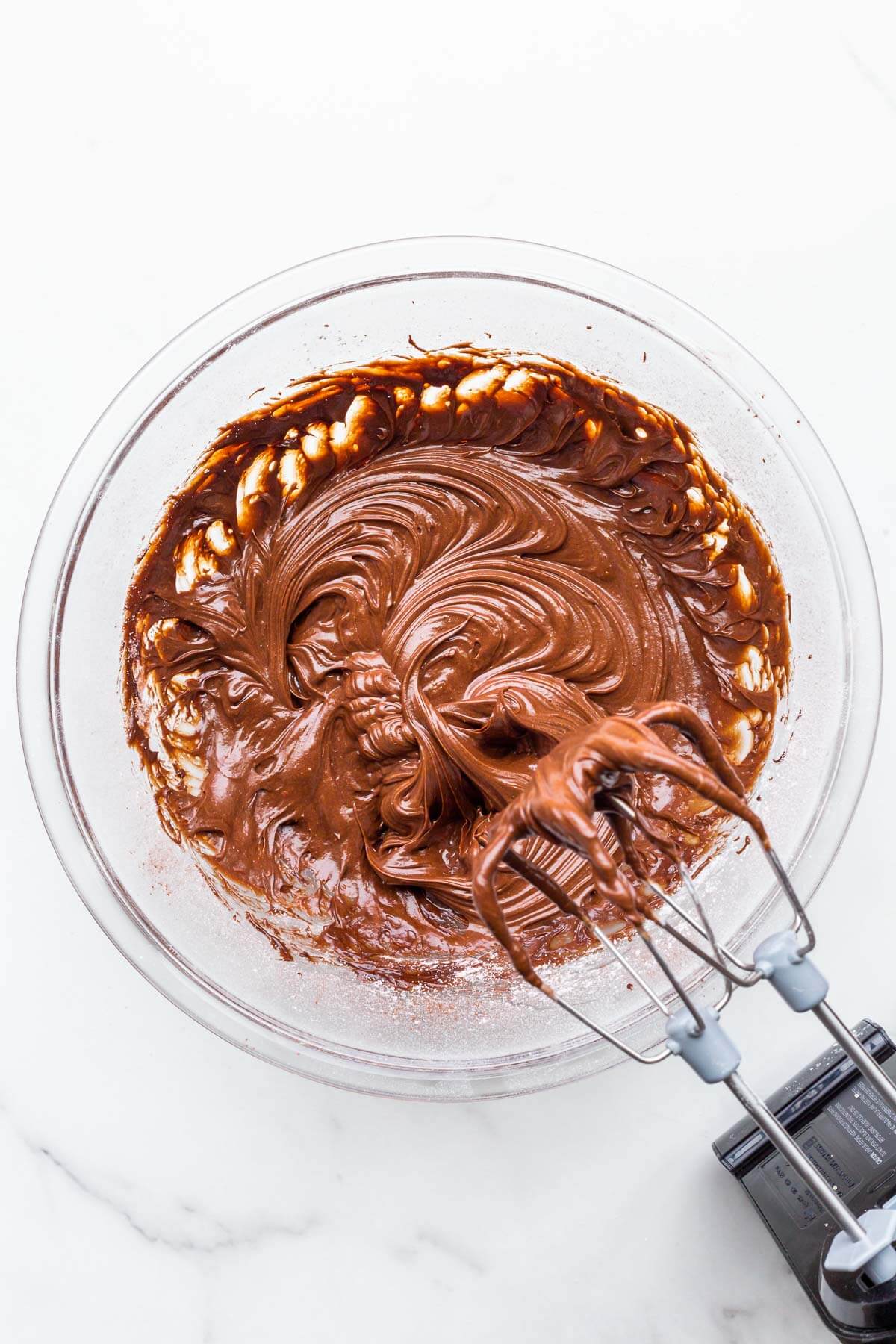 For this recipe, I went with Cacao Barry Alunga milk chocolate (41 % cocoa) to make a slightly sweeter chocolate frosting but not too sweet! Alungo is referred to as milk chocolate for dark chocolate lovers because it has a balanced flavour. Trust me, Alunga is a great milk chocolate and makes excellent chocolate fudge frosting with sour cream, whether it's for a simple banana snacking cake like this banana cake like this or for a tall layer cake like this tall 6-inch vanilla cake with milk chocolate frosting.
You can order Alunga milk chocolate and most Cacao Barry products online via the Vanilla Food Company website and they ship across Canada and to the United States! In Quebec, you might find them at certain IGA grocery stores, as well as Aubut in Montreal.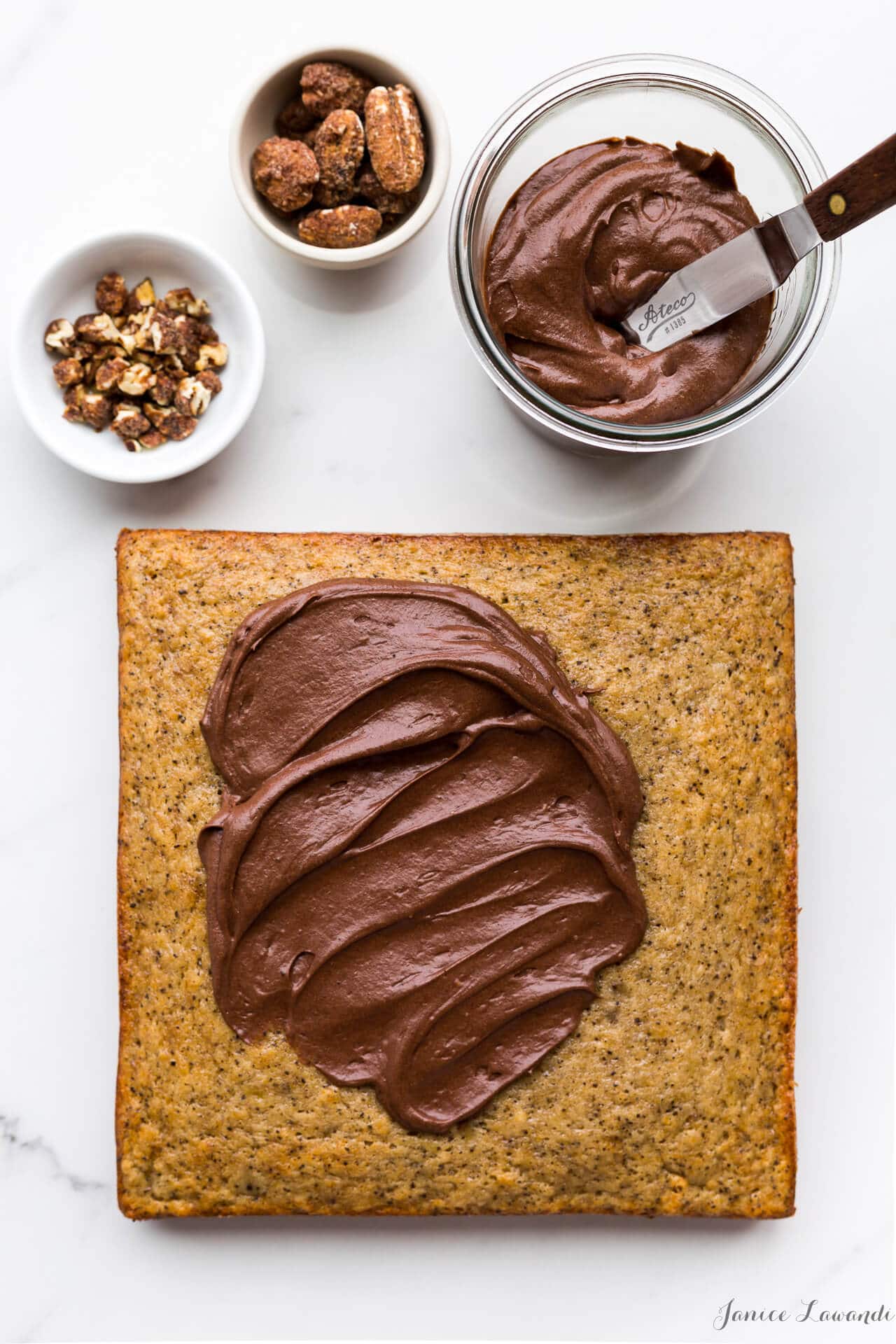 Substitutions and variations
Chocolate—the frosting can be made with milk or dark chocolate but please use high-quality chocolate with a higher percentage of cocoa solids (at least 40 %) otherwise the frosting may lack flavour and be too sweet
Nuts—you can add chopped nuts to the banana cake batter, for example chopped roasted peanuts or toasted walnuts would be excellent here
Coffee—don't like coffee? Skip the coffee grinds and the espresso powder.
Garnishes—I've topped this cake with candied pecans, chopped nuts, but also chocolate sprinkles. Use what you've got!
Special equipment
I baked this banana cake in a square 9x9 pan so that I could cut it into square portions for a fun afternoon snack.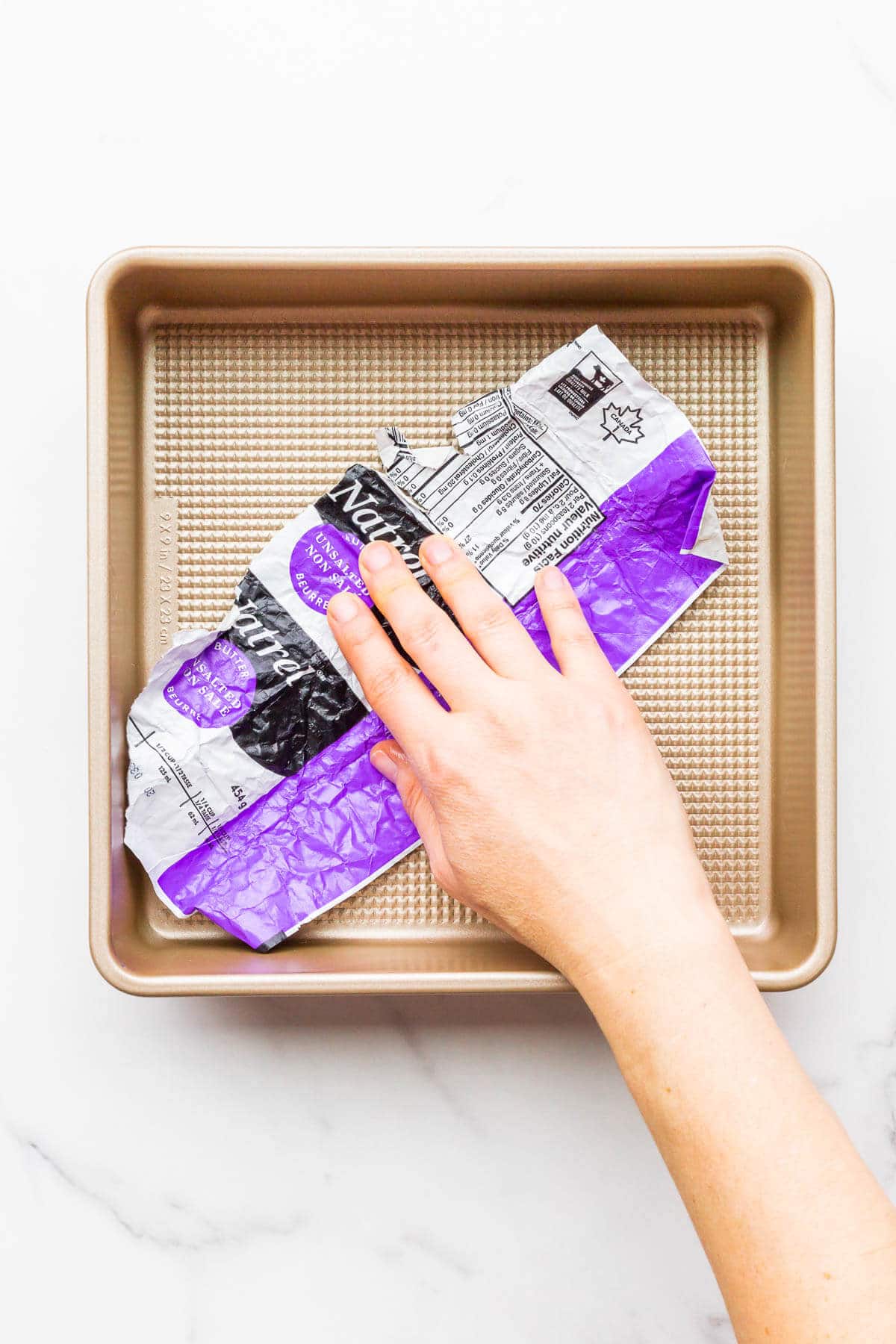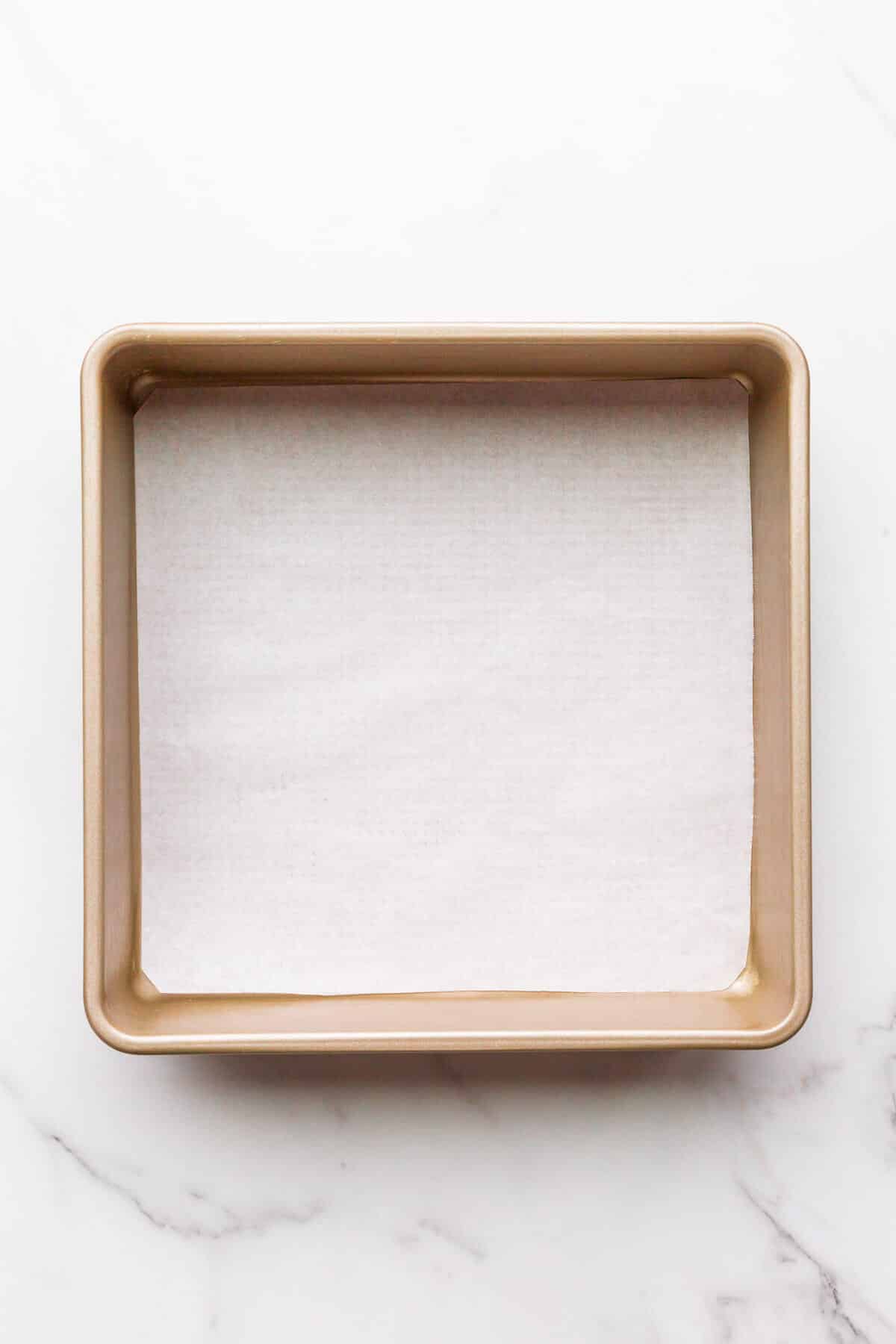 Make sure that you take the time to prepare the cake pan before transferring the batter into the pan: I like to butter the pan and line the bottom with parchment. If the pan isn't non-stick, flour the sides too! This way, the cake can be unmoulded and frosted very easily.
How it's made
There are two components to this recipe: the banana cake and the chocolate sour cream frosting. Start with the banana cake and while the cake is cooling, you can make the frosting.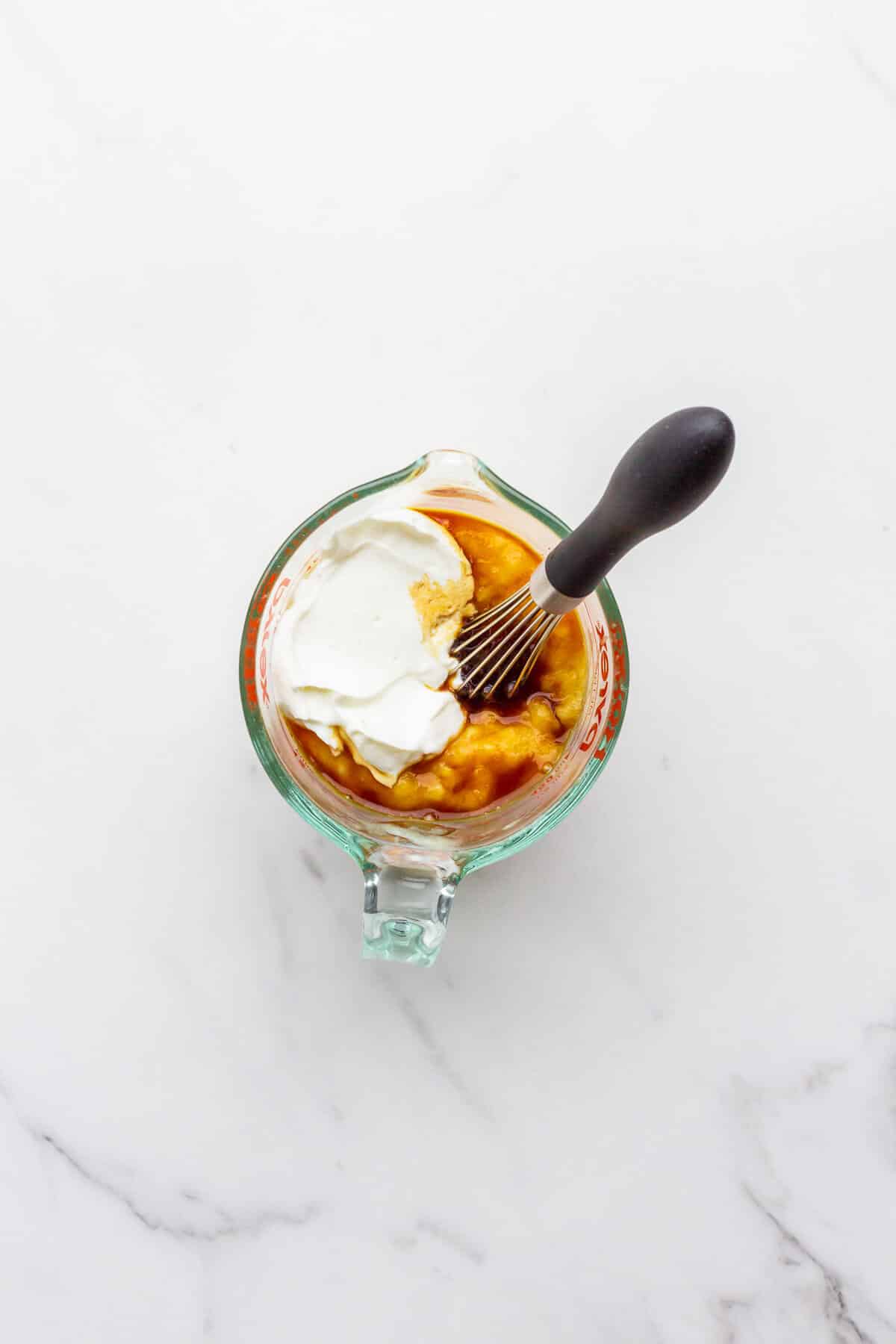 Combine the wet ingredients in a measuring cup or a bowl with a spout (banana, sour cream, and vanilla)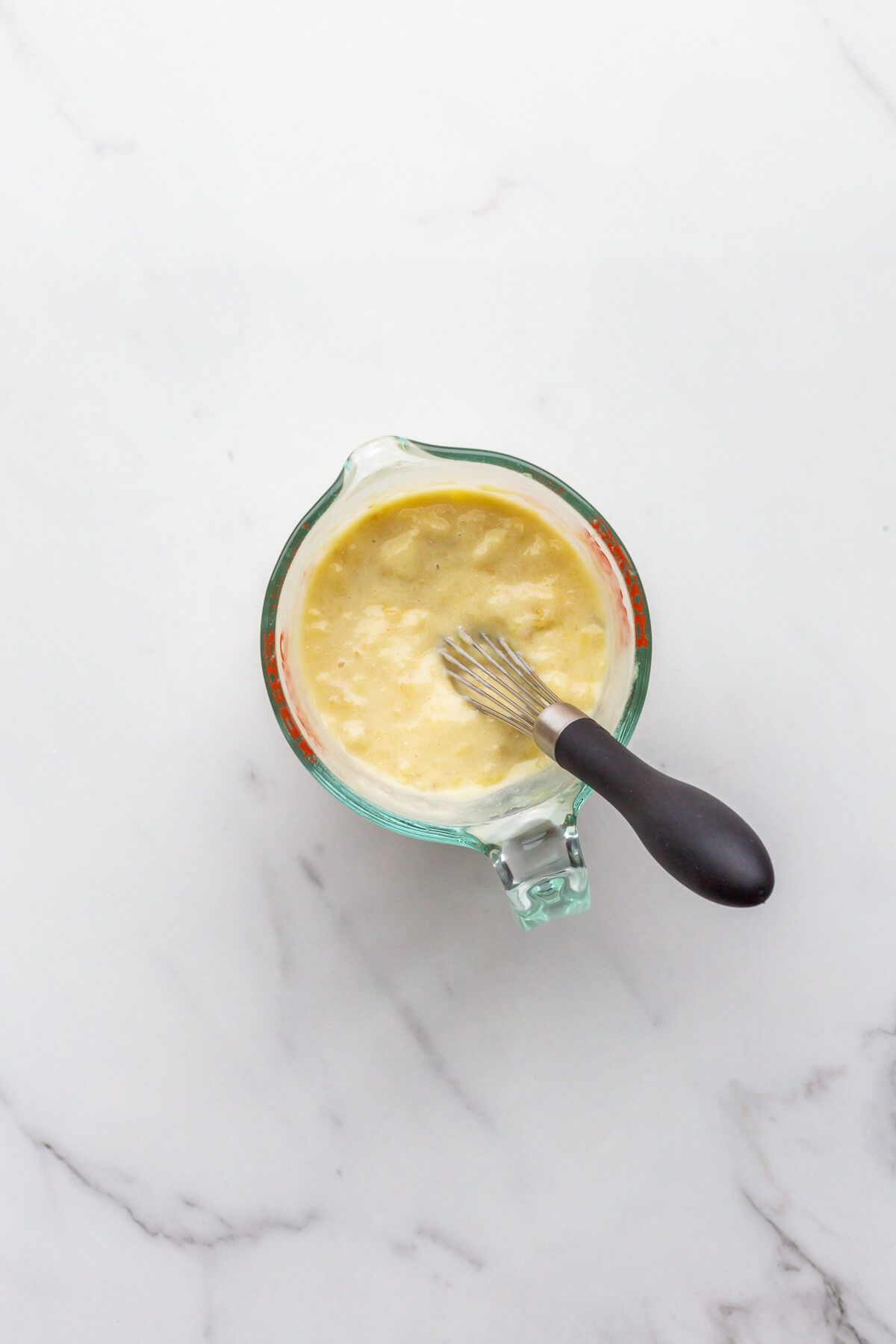 Use a small whisk to combine the wet ingredients until smooth.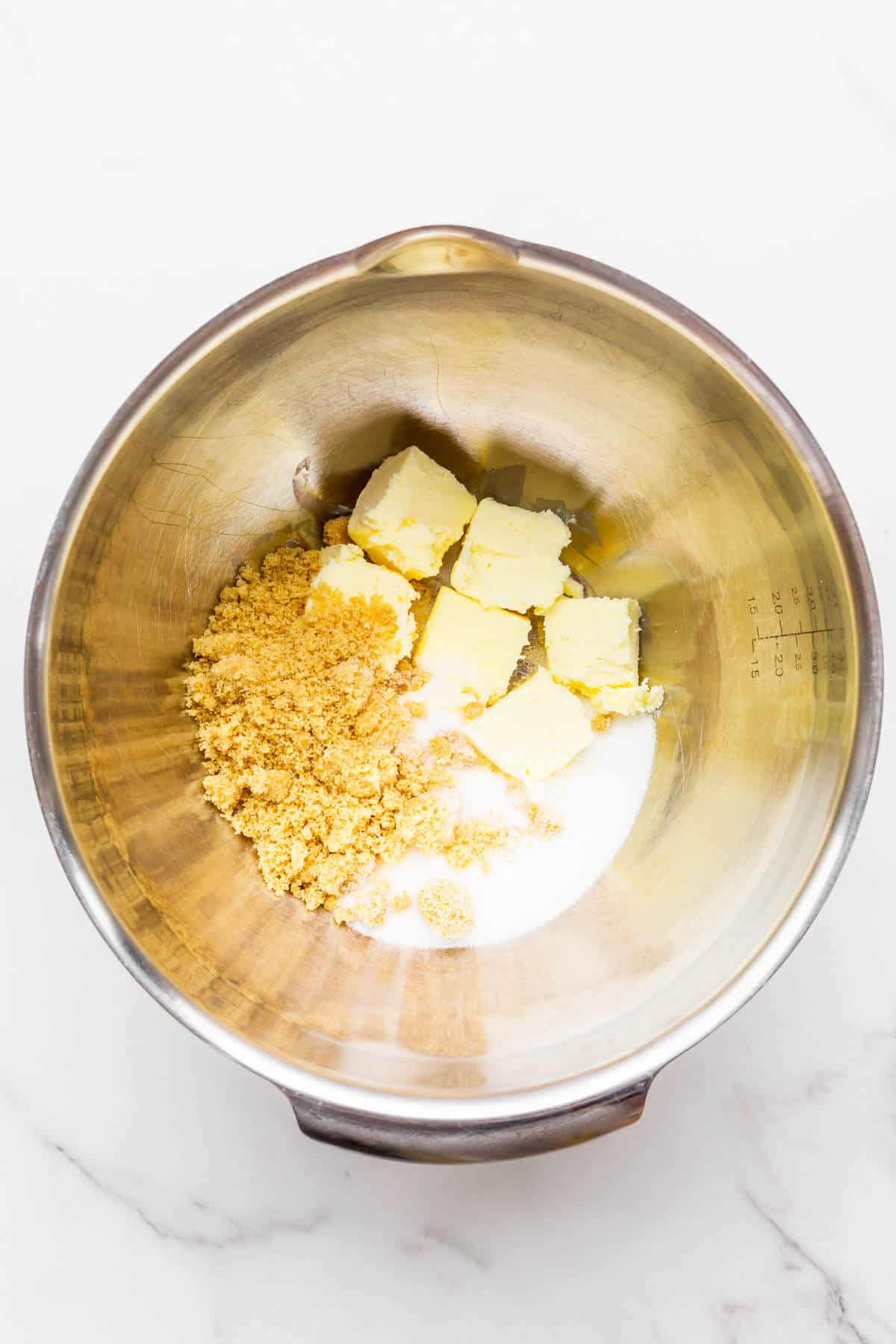 Combine the softened butter and sugars in your mixing bowl using an electric hand mixer (or in the bowl of a stand mixer fitted with the paddle attachment).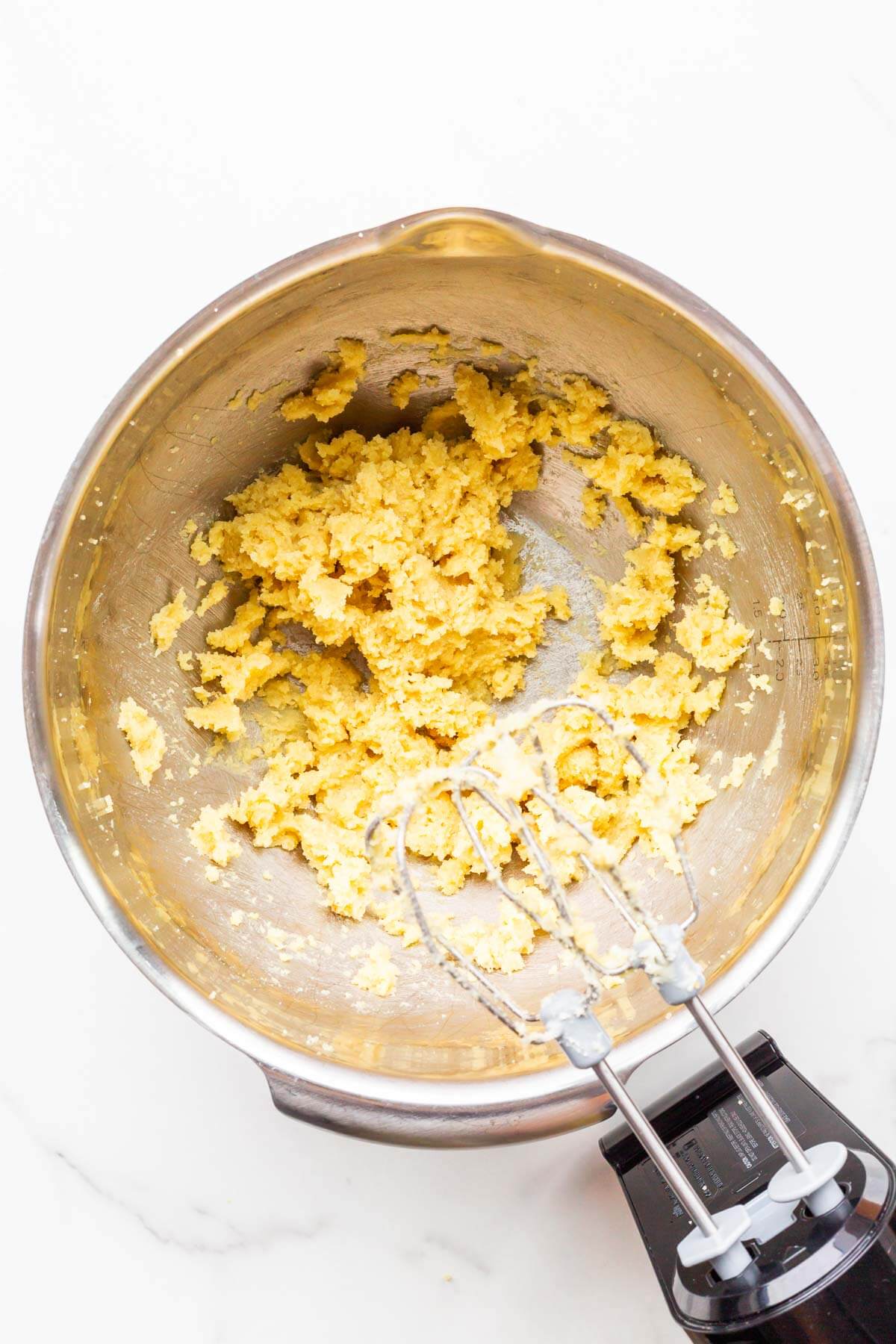 Mix the butter and sugar for several minutes until fluffy and smooth.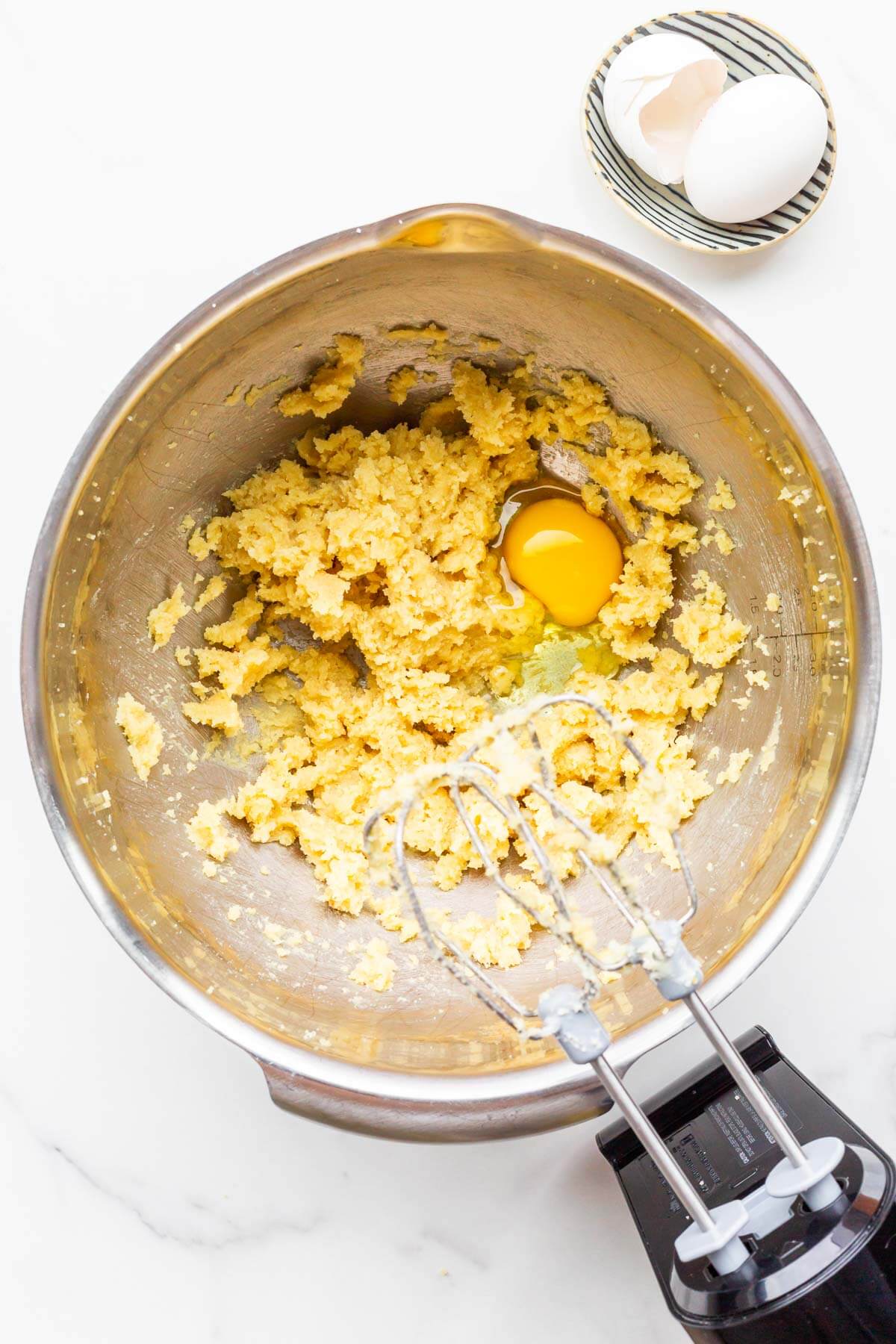 Mix the eggs in one at a time, mixing for at least a minute until each egg completely disappears into the batter.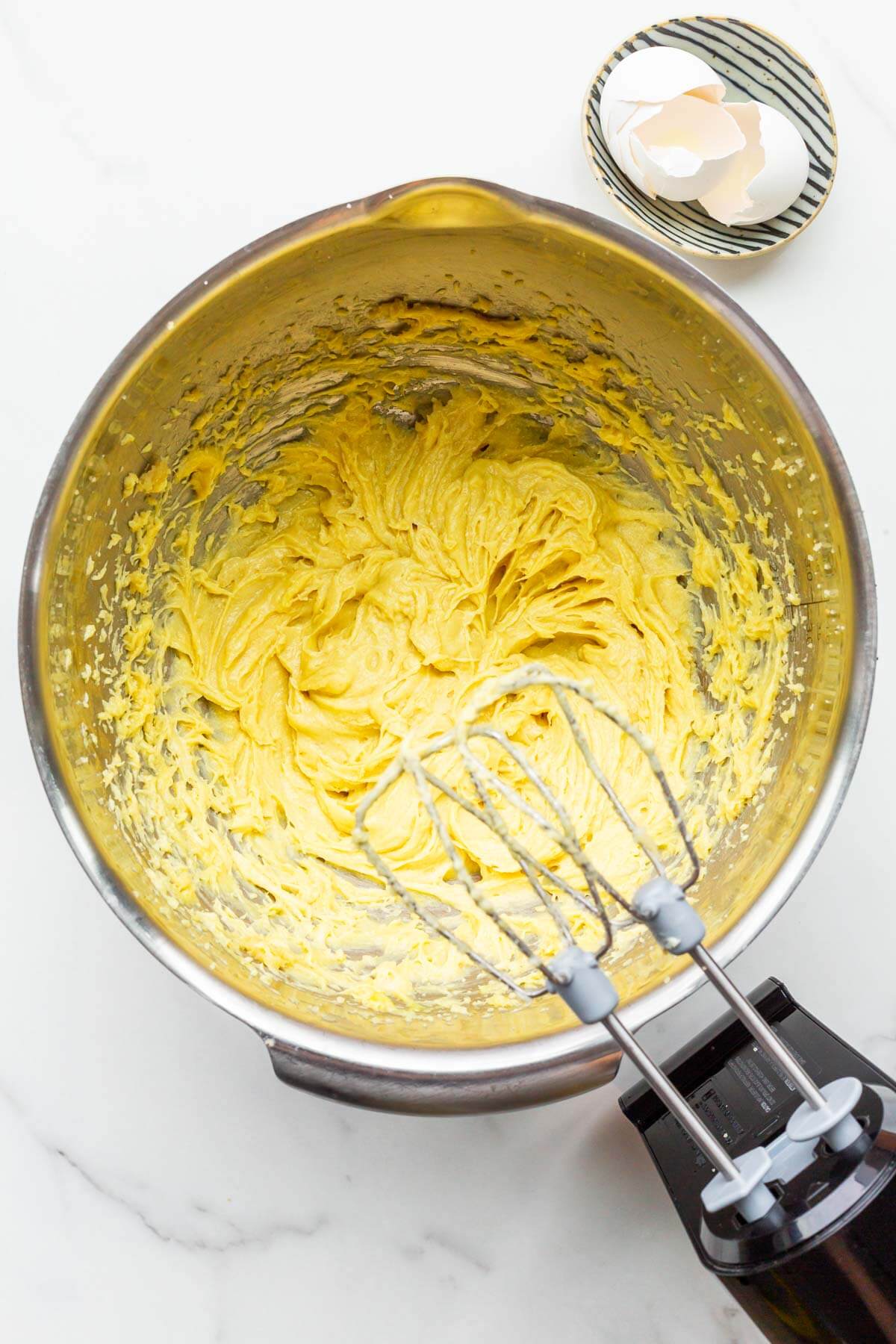 The batter should be smooth and fluffy at this stage.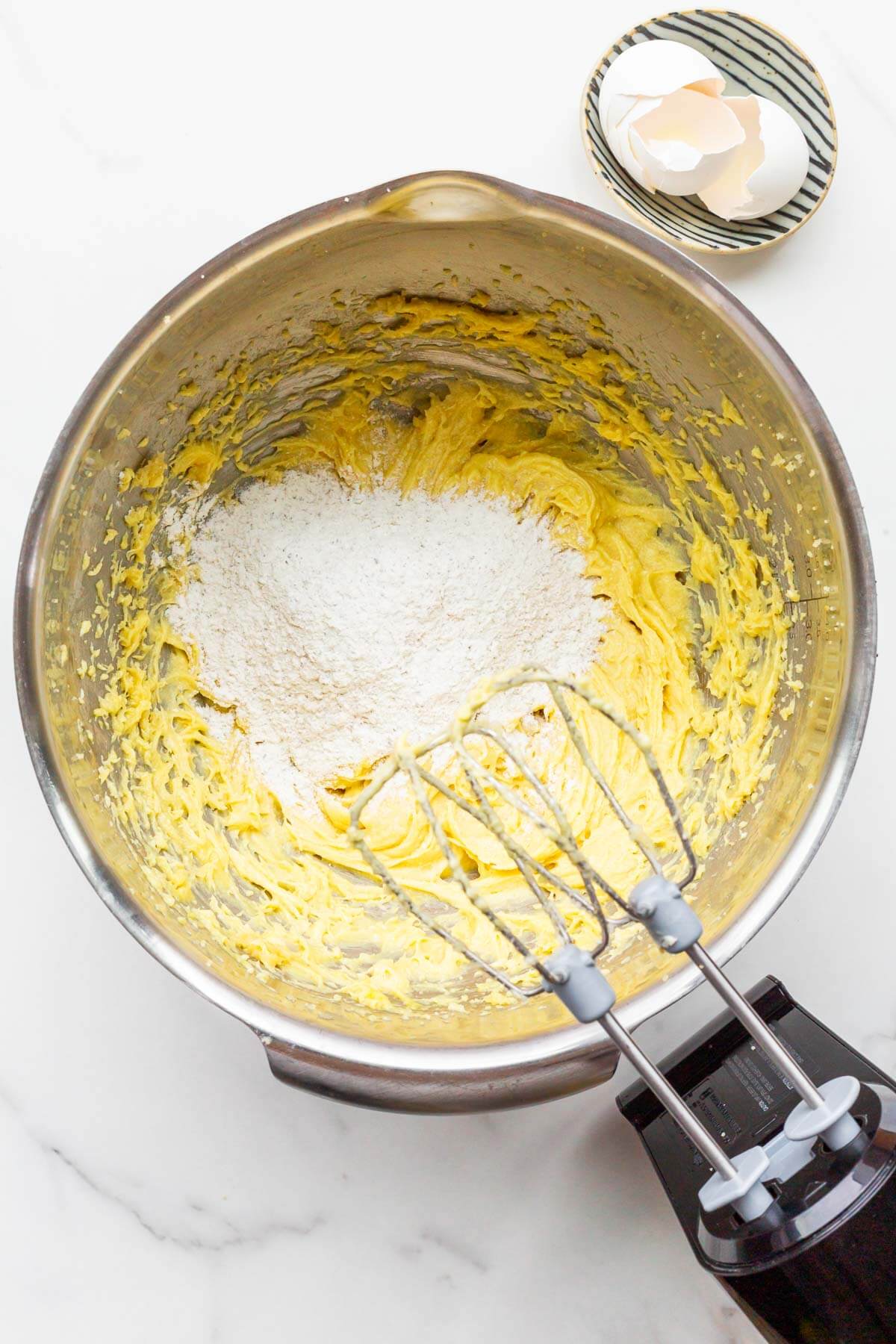 Start by mixing in a third of the dry ingredients.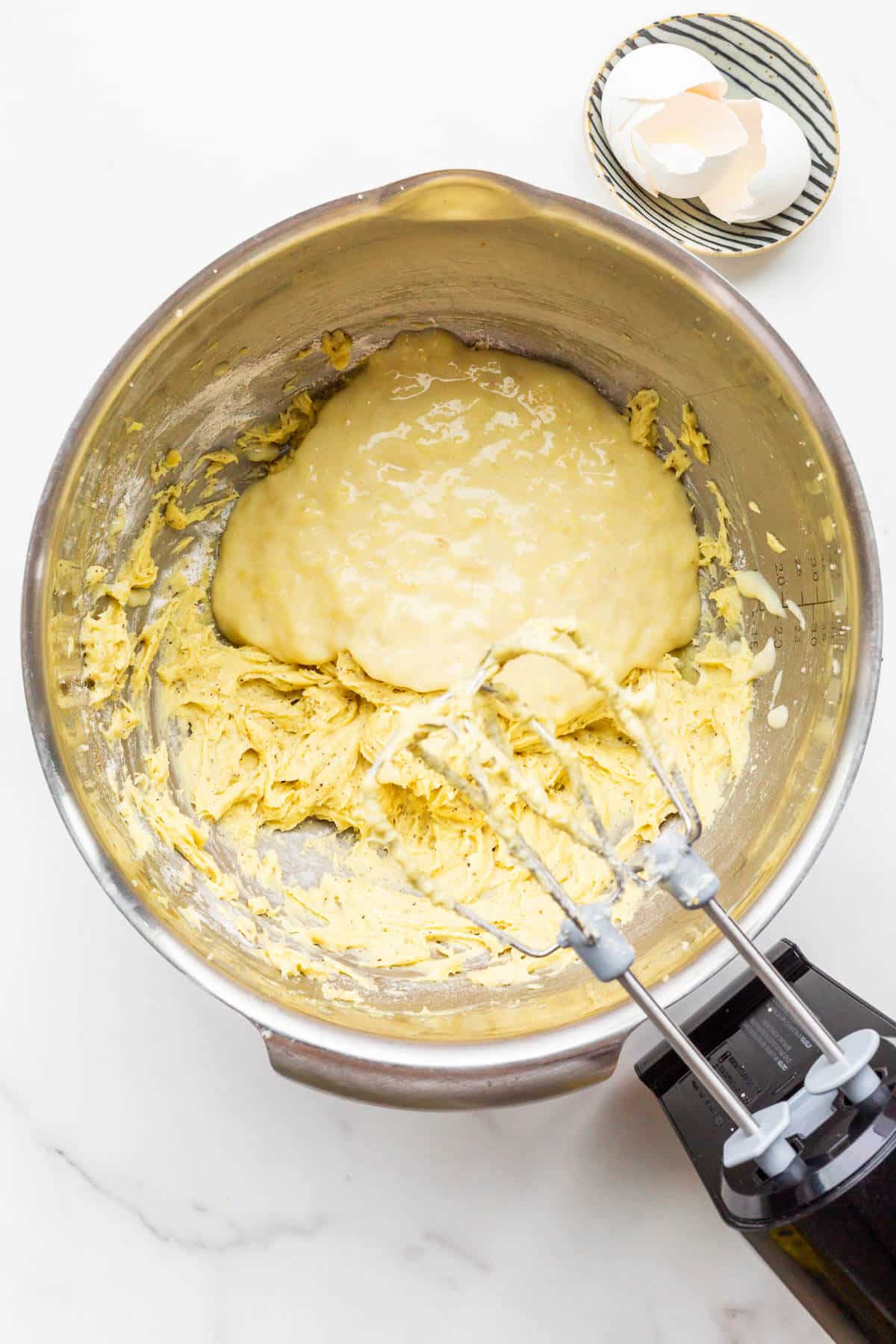 Mix in half the wet, then another third of the dry ingredients and the rest of the wet ingredients.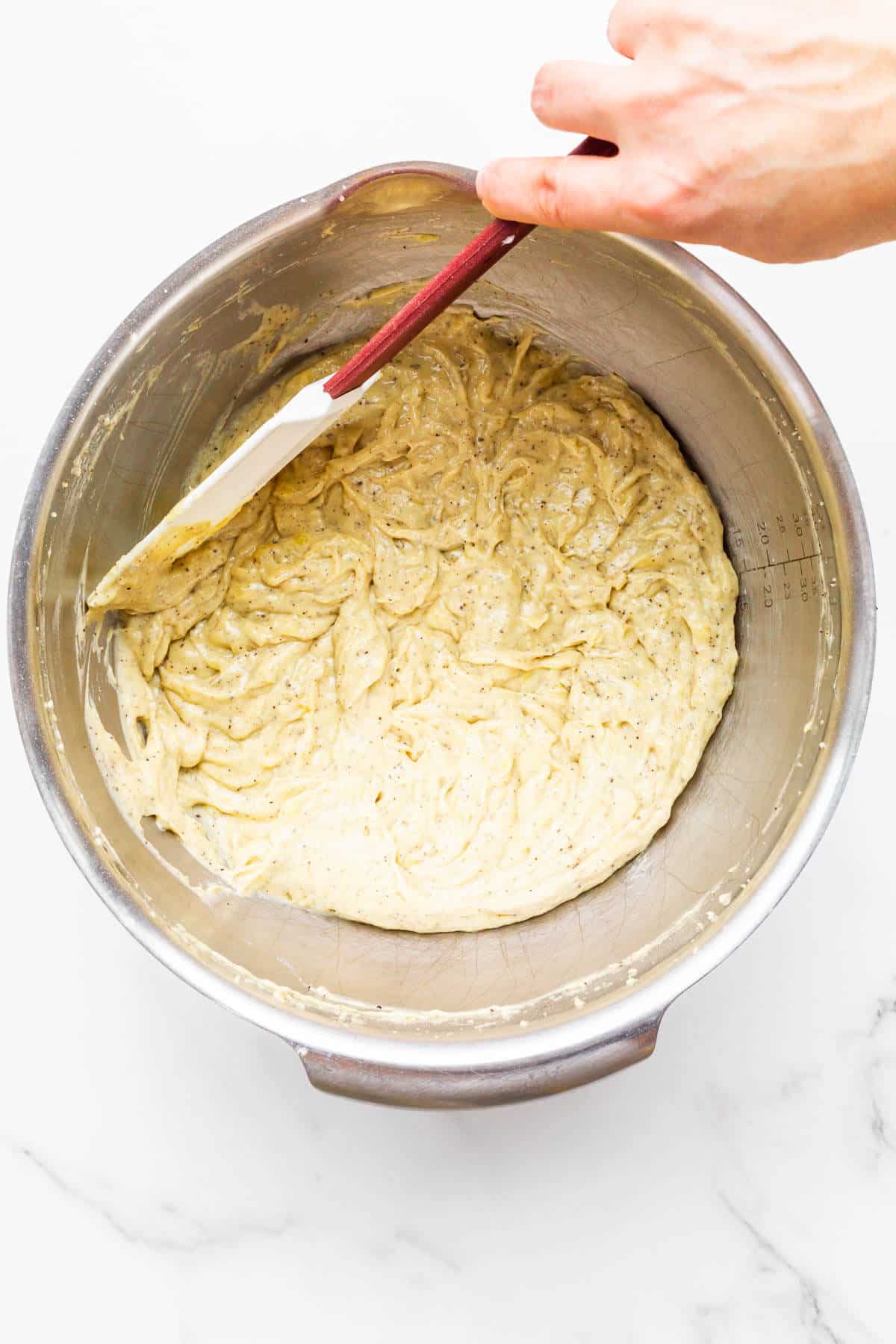 Use a spatula to scrape the bottom and sides of the bowl throughout the mixing process to ensure the ingredients are properly mixed.
Finish with the last of the dry ingredients. Do not overmix at this stage or the cake will be tough! You may want to switch to a spatula to finish mixing.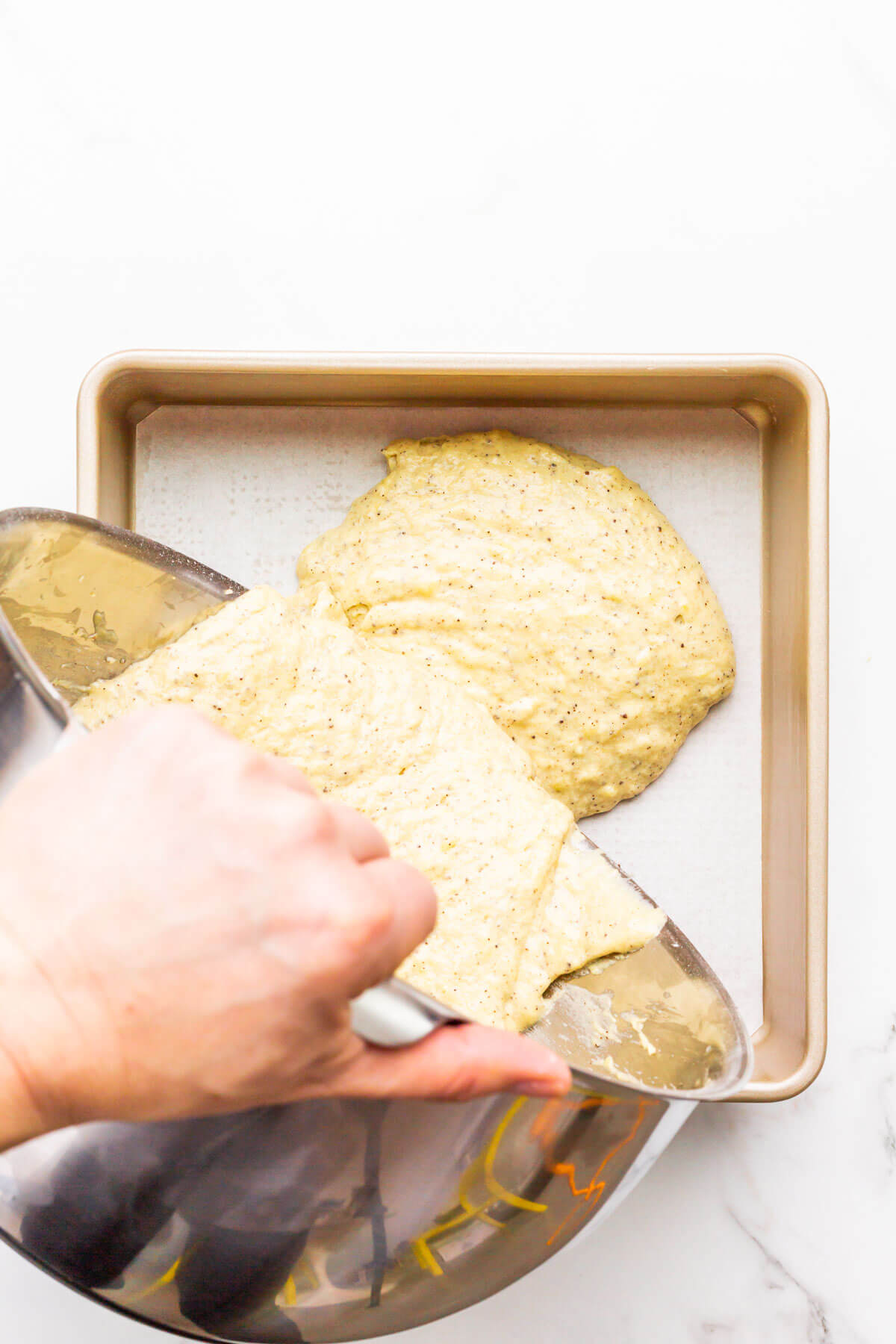 Pour the banana cake batter into a buttered square baking pan lined with parchment paper.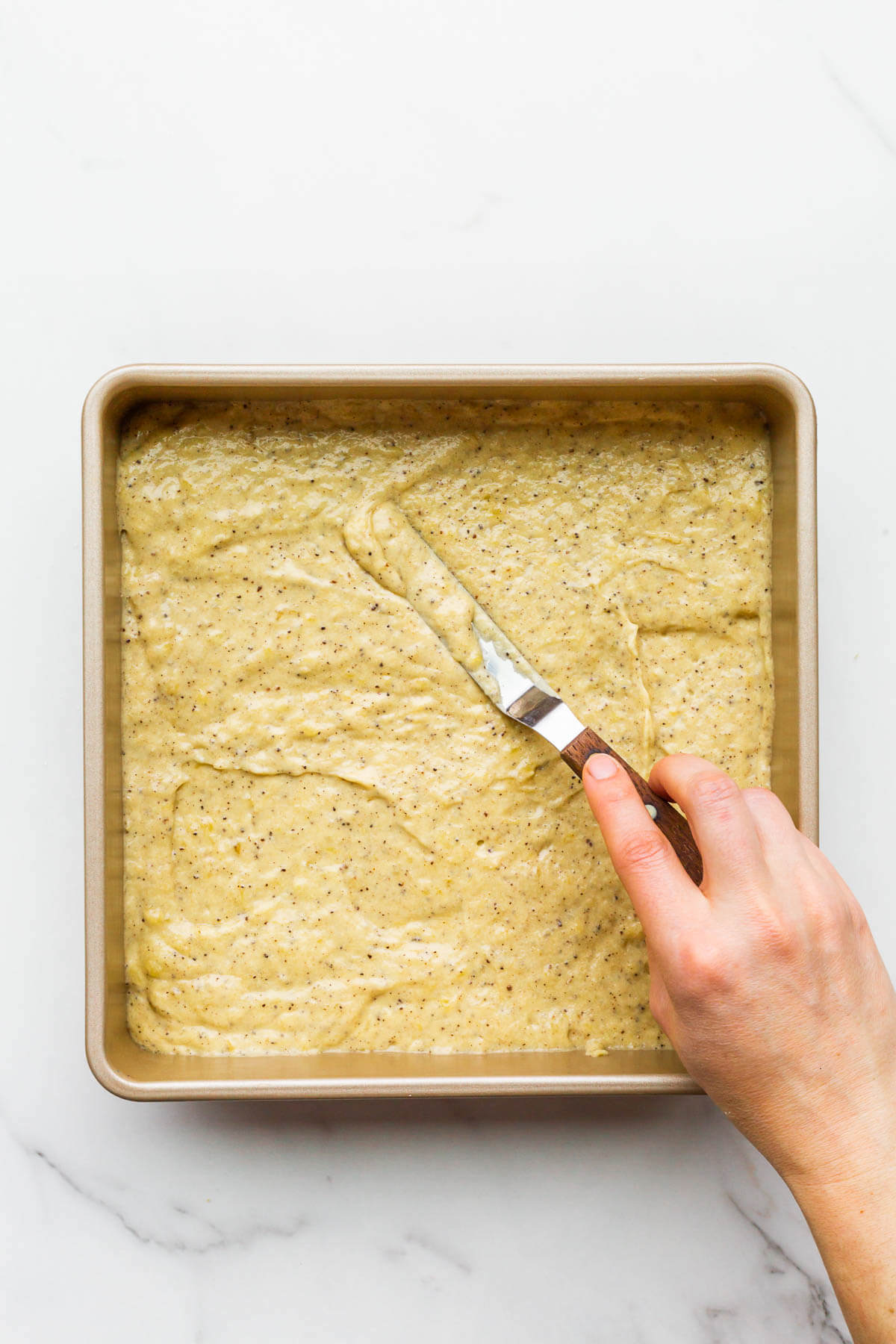 Use a mini offset spatula to evenly spread out and smooth the cake batter from edge to edge.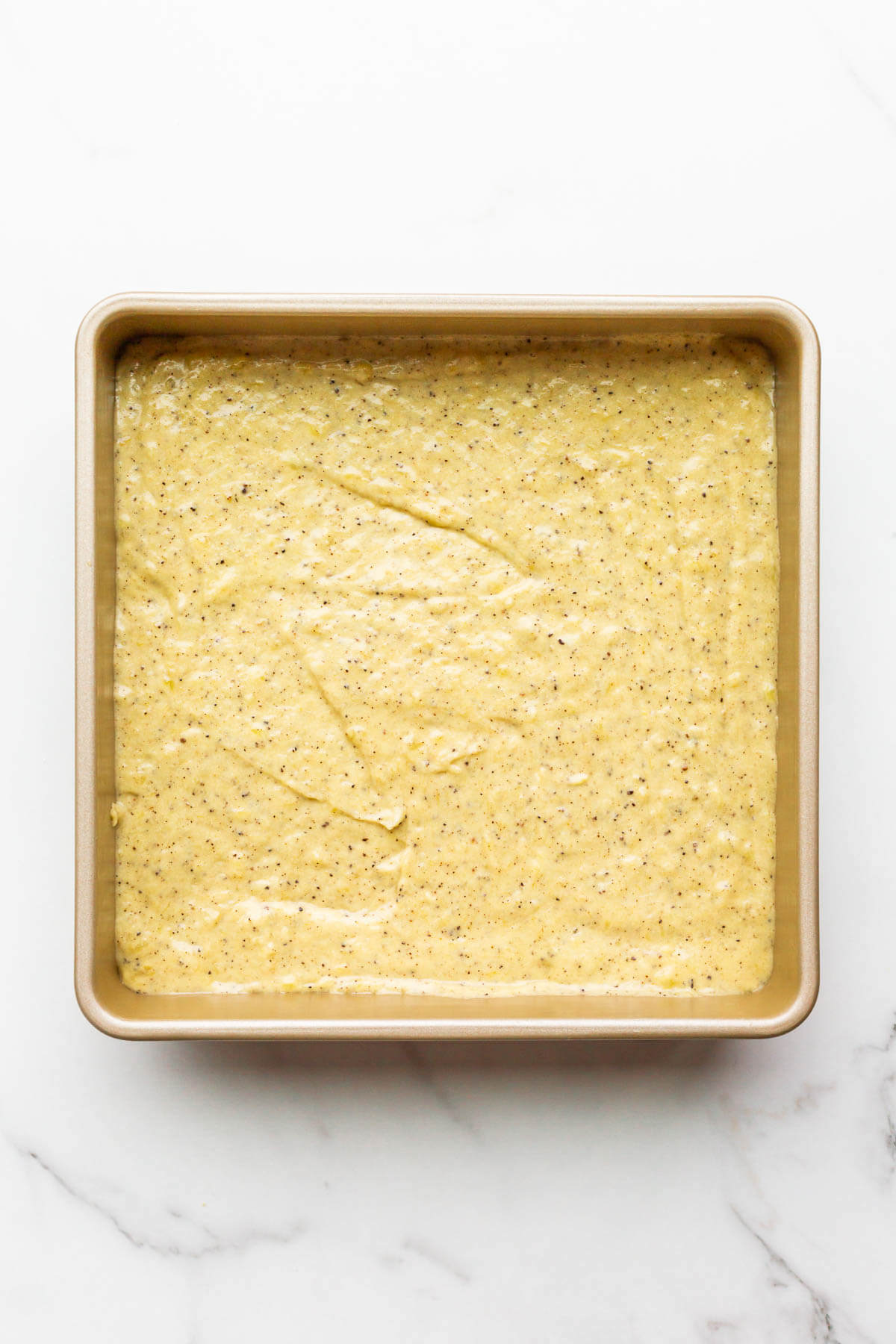 Bake the banana cake on the middle rack of a preheated oven.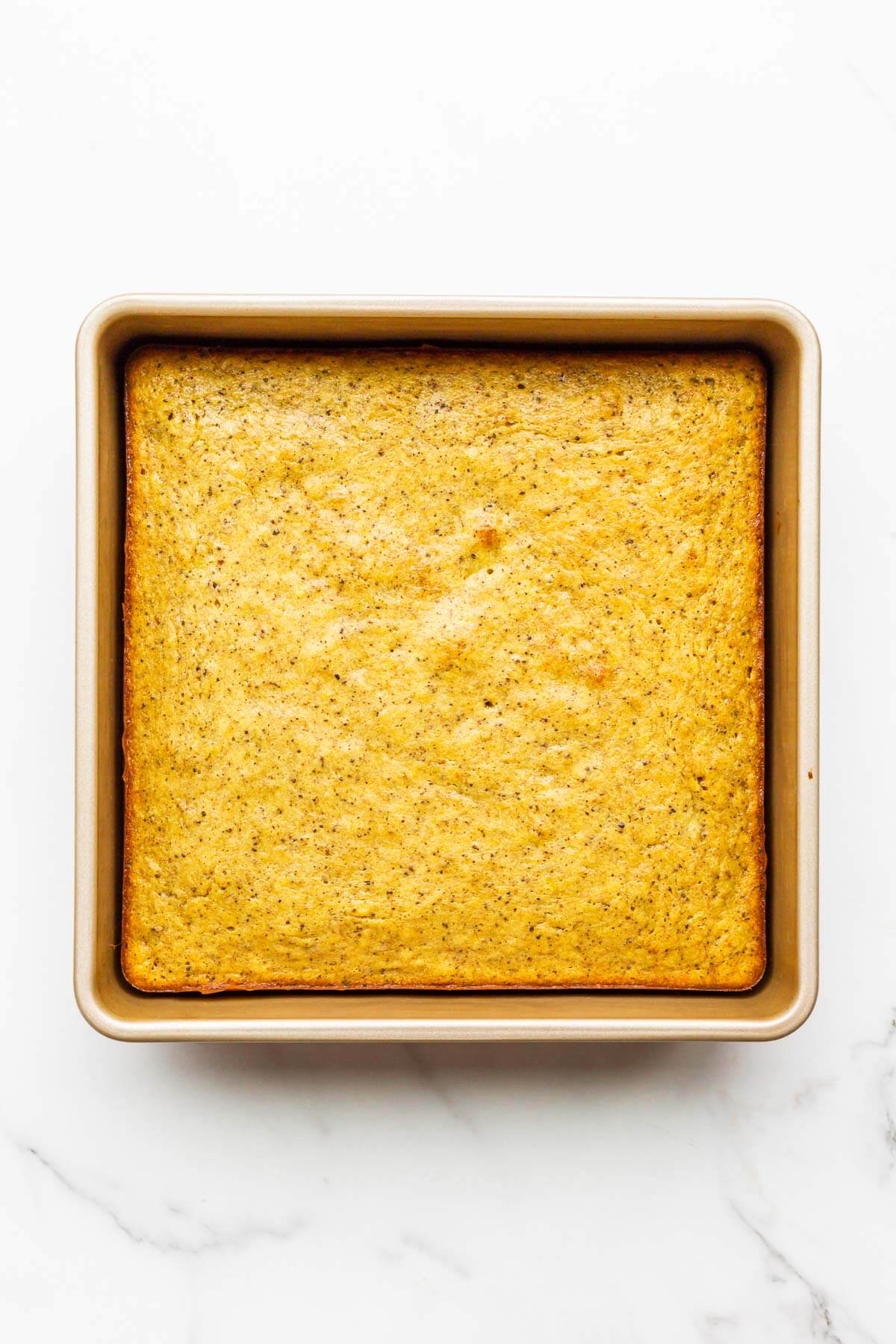 The cake is done baking when the edges are golden brown and pull away from the sides and a cake tester inserted into the middle of the cake comes out clean.
You can also use a Thermapen to check the internal temperature of the cake. It should be around 93–95 °C when it's baked.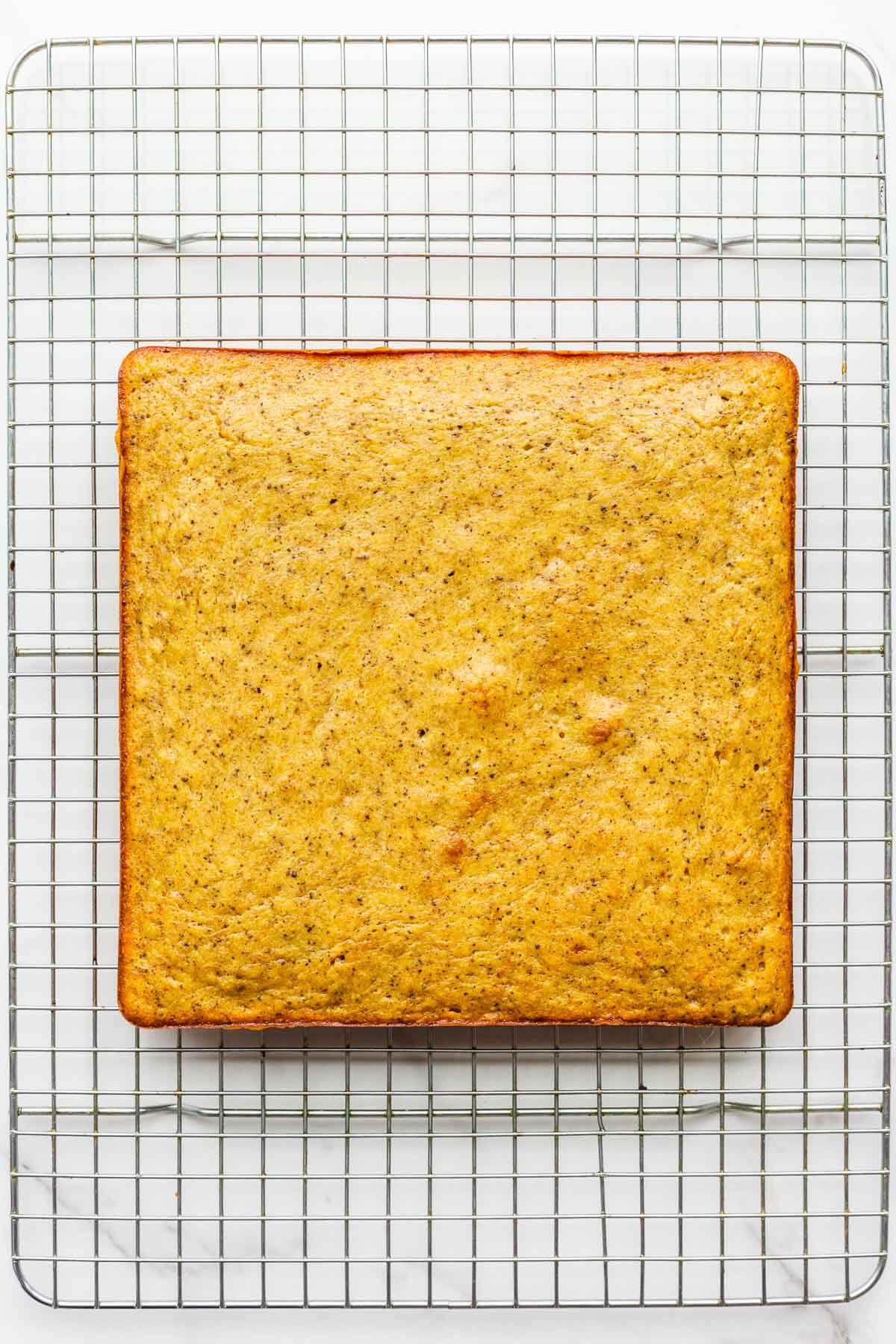 Unmould the cake onto a rack after it's cooled down for 10 minutes. This ensures the edges don't get damp from condensation.
If you aren't experienced at making frosting, please refer to this post about how to make chocolate fudge frosting for more details and lots of step-by-step pictures.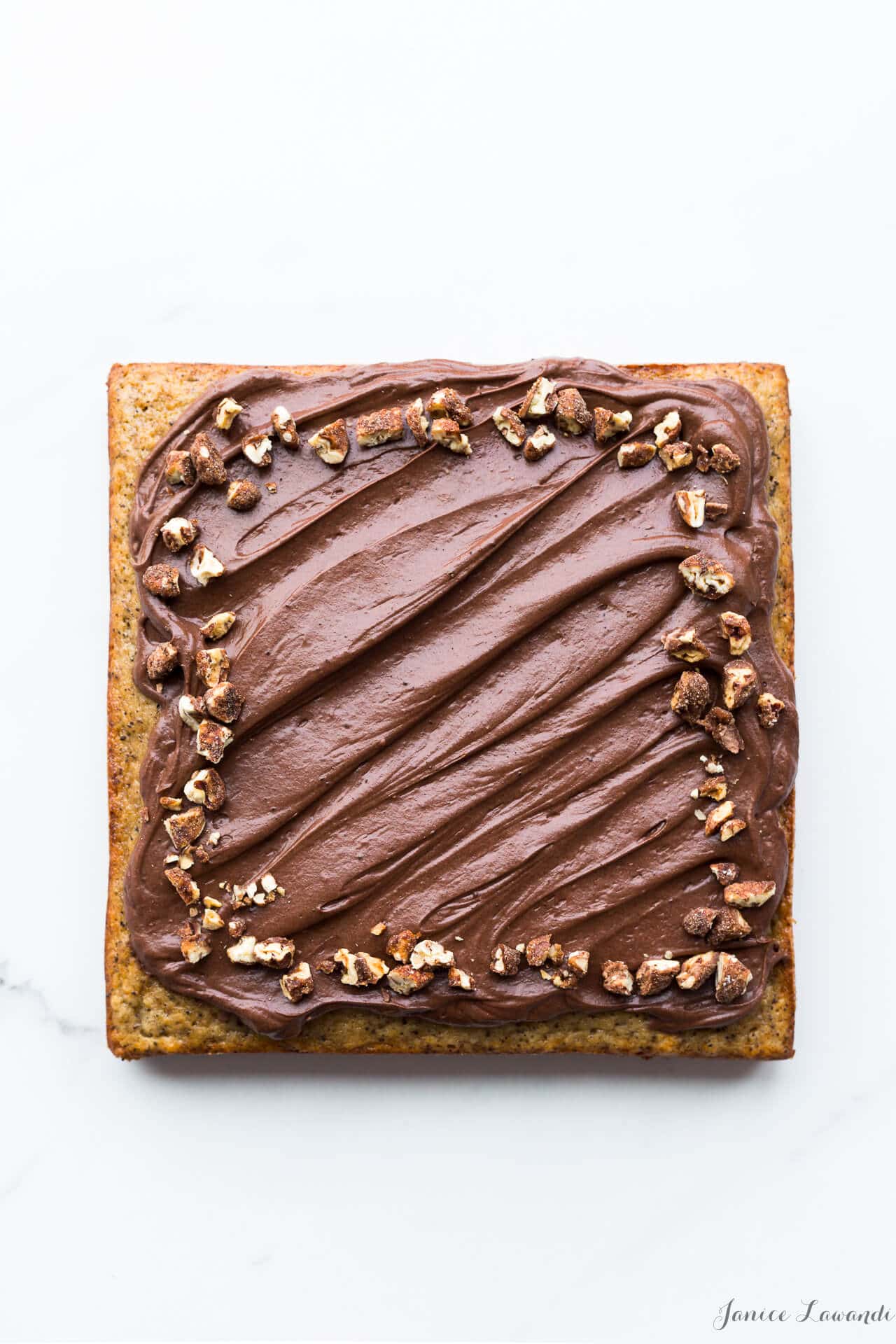 Storage
Store this cake covered in foil for up to one day at room temperature. For longer storage, refrigerate the cake. Let it stand at room temperature for 30 minutes to 1 hour before serving to let it warm up.
Top tip
Don't overmix the batter once you've incorporated the wet ingredients. If you do, the cake will be dense, tough, and possibly even gummy! You may incorporate the last of the dry ingredients by hand with a spatula to avoid developing the gluten in the cake batter.
Serving suggestions
This cake is great served with homemade ice cream! This dark chocolate ice cream or cardamom ice cream would be great here!
Other banana recipes to try
Want to bake more with bananas? Here are some other recipes to try, from an elaborate banana split cake to simple banana bread without baking soda.
Other ways to use this chocolate frosting
I love this chocolate frosting and I make it all the time! I highly recommend making a half batch to garnish this marble loaf cake or a larger batch for this vanilla cake with milk chocolate frosting. It would also work great with this eggless chocolate cake!
📖 Recipe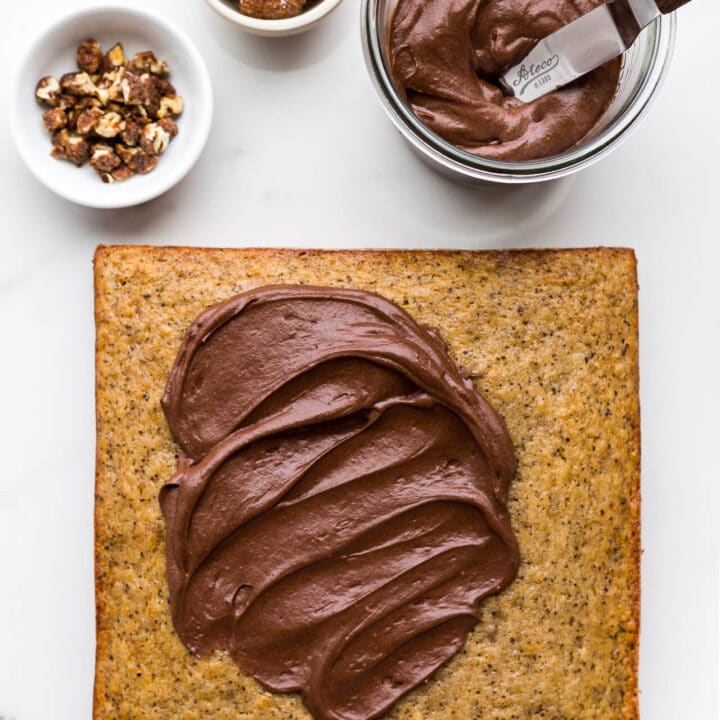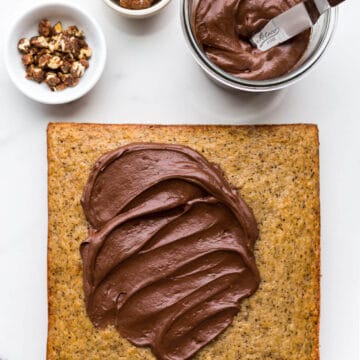 Coffee Banana Cake with Chocolate Frosting
Learn how to make the best banana cake with chocolate frosting with this easy recipe. The moist banana cake is made with sour cream and the chocolate fudge frosting is flavoured with espresso powder and sour cream for a very flavourful topping.
Ingredients
For the coffee banana cake
173

grams

unsalted butter

softened

100

grams

granulated sugar

100

grams

light brown sugar

2

large egg(s)

350

grams

mashed banana

from 3–4 large bananas

60

ml

sour cream (14% fat)

10

mL

pure vanilla extract

250

grams

bleached all-purpose flour

23

mL

ground coffee beans

10

mL

baking powder

1.25

mL

baking soda
For the milk chocolate frosting
Instructions
To make the coffee banana cake
Preheat the oven to 350ºF (175 °C). Grease a 9x9-inch (23x23 cm) metal brownie pan (I used a Chicago Metallic pan you can find on Amazon). Line the bottom with parchment paper. Flour the sides of the pan if you find your cakes stick. Set aside.

In the bowl of an electric mixer fitted with the paddle attachment or with an electric hand mixer, cream together the butter and the sugars. Scrape down the sides of bowls as needed.

Add the eggs one at a time and beat them in. The mixture should be fluffy and well mixed

Mash together the bananas with the sour cream and vanilla.

In a separate bowl, whisk together the flour with the baking powder, baking soda, the coffee grounds, and the salt. You can also sift the dry ingredients if they are very lumpy, but note the salt and coffee grinds won't go through the sieve, so add them after sifting or transfer what is trapped to the bowl of dry ingredients.

Alternate mixing into the cake batter the dry and wet, beginning and ending with dry ingredients. Mix until the batter ingredients are combined. Do not overmix!

Transfer the batter to the prepared pan and smooth the surface with a mini offset spatula . 

Bake the cake for about 35 minutes until the edges are golden brown and a cake tester inserted in the centre comes out clean. Let cool 10 minutes then unmold onto a wire rack.

To make the milk chocolate frosting
Melt together the butter with the Alunga chocolate on power level 5 of the microwave or over a double boiler. Set aside to cool slightly.

Beat together the melted chocolate mixture with the rest of the ingredients into a smooth frosting

Once the cake has completely cooled, smooth the frosting over top and decorate with candied or toasted nuts or even sprinkles.
Notes
Transfer the batter to the prepared pan and smooth the surface with a mini offset spatula (I like this Ateco spatula you can buy on Amazon).
Nutrition
Calories:
559
kcal
Carbohydrates:
75
g
Protein:
6
g
Fat:
28
g
Saturated Fat:
17
g
Polyunsaturated Fat:
1
g
Monounsaturated Fat:
7
g
Trans Fat:
1
g
Cholesterol:
101
mg
Sodium:
181
mg
Potassium:
411
mg
Fiber:
3
g
Sugar:
46
g
Vitamin A:
817
IU
Vitamin C:
3
mg
Calcium:
97
mg
Iron:
2
mg
This post is sponsored by Cacao Barry. I was compensated monetarily and with product. Thanks for supporting the companies that allow me to create content. As always, please know that I wouldn't work with a sponsor nor recommend a product if it wasn't worth it.
Please note this post contains affiliate links to Amazon. As an Amazon Associate I earn from qualifying purchases.