This easy recipe for an eggless chocolate cake is mixed by hand without a mixer, in one bowl, just like cake mix. This recipe is perfect for a chocolate layer cake or for cupcakes.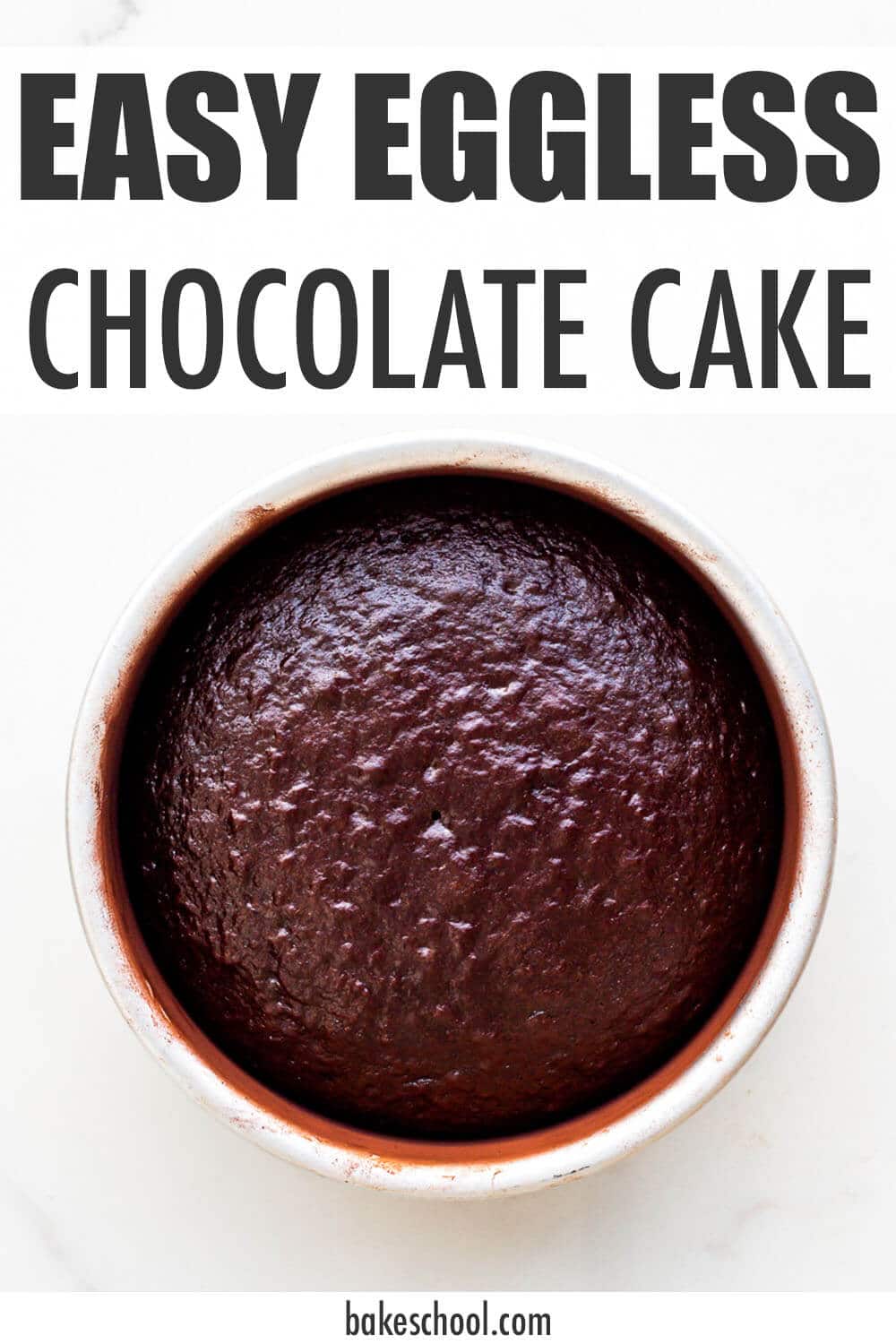 Disclosure: As an Amazon Associate, I earn from qualifying purchases.
Did you know that commercial cake mixes sold in grocery stores were actually developed to be made without eggs? But home bakers found it odd to make cake without using eggs, so cake mix brands quickly added eggs to the instructions to make home bakers feel more comfortable using cake mix.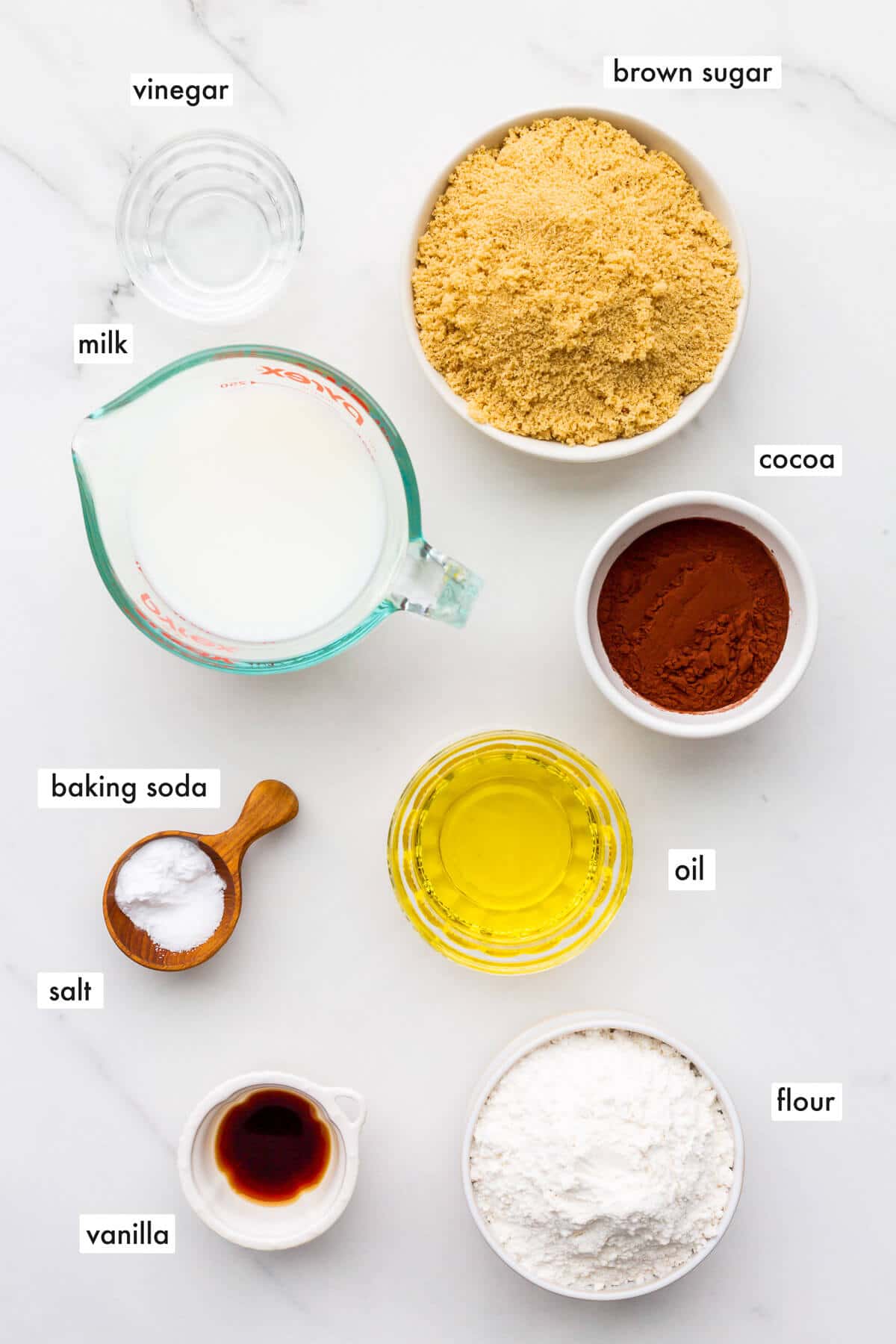 What you need to make this recipe
To make a chocolate cake without eggs, you actually don't need anything special, and you likely already have the ingredients in your pantry!
milk, non-dairy beverage (like soy milk), or even water will work in this recipe
vinegar, either plain white vinegar or cider vinegar, to react with baking soda to help the cake rise as it bakes
all-purpose flour to give the cake structure
baking soda to help the cake rise. Do not use baking powder here.
cocoa powder, preferably a high quality Dutch-processed cocoa powder like Cacao Barry extra brute cocoa powder, which is my favourite
salt, preferably Diamond Crystal fine kosher salt
sugar, specifically brown sugar, either light or dark, or even granulated sugar
neutral-tasting oil like canola oil, vegetable oil, or a very light-tasting olive oil. Don't use extra virgin olive oil which has too much flavour for this cake
vanilla extract to enhance the flavour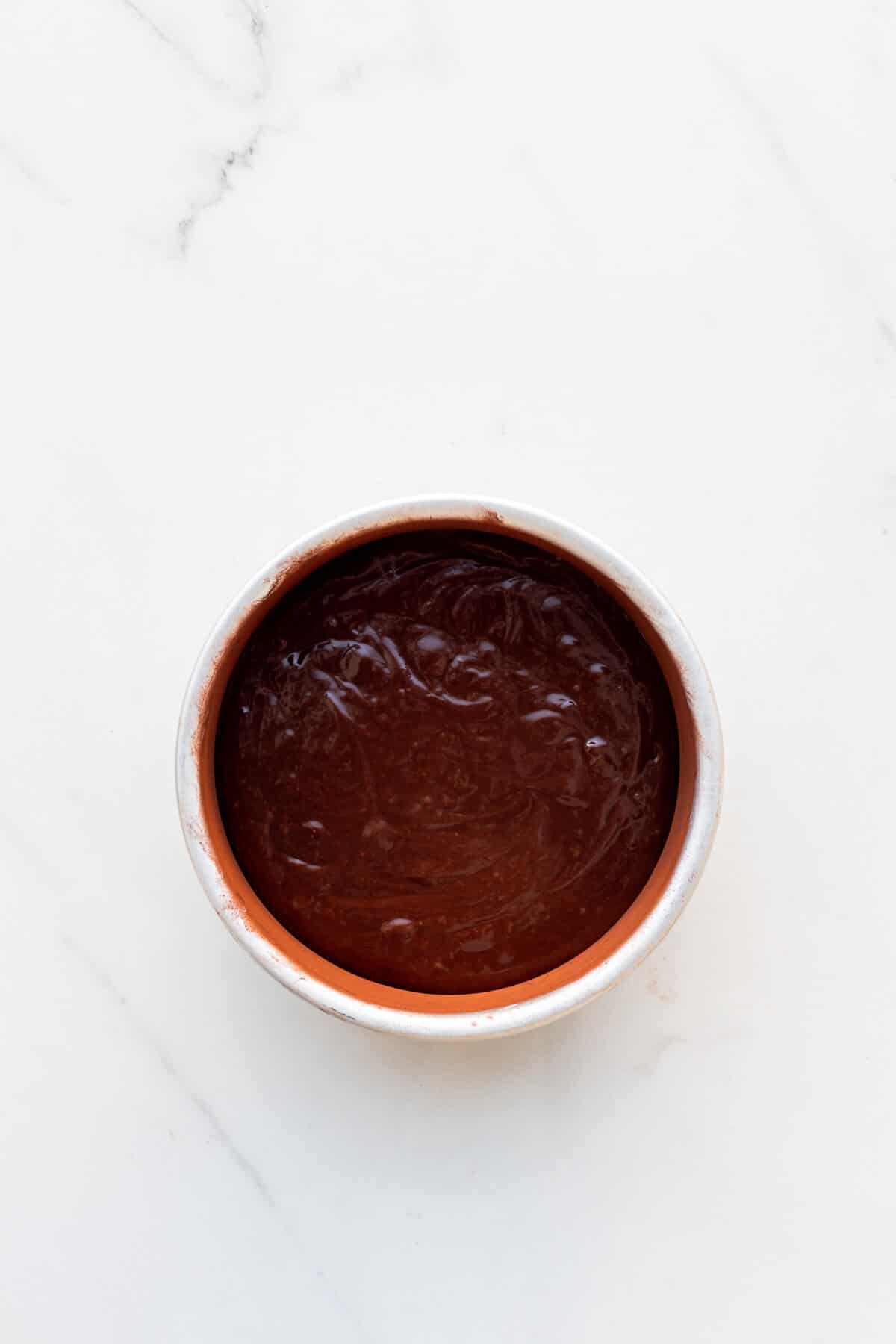 Substitutions
This eggless chocolate cake recipe is made with milk, so it's vegetarian, not vegan, but you could replace the cow's milk with your favourite non-dairy beverage, like soy milk, almond milk, or oat milk, if you want a vegan chocolate cake.
The brown sugar can be replaced with regular granulated sugar or granulated cane sugar. Either will work great! Do not use turbinado or a coarse sugar, which won't dissolve properly and will have a negative impact on taste and texture.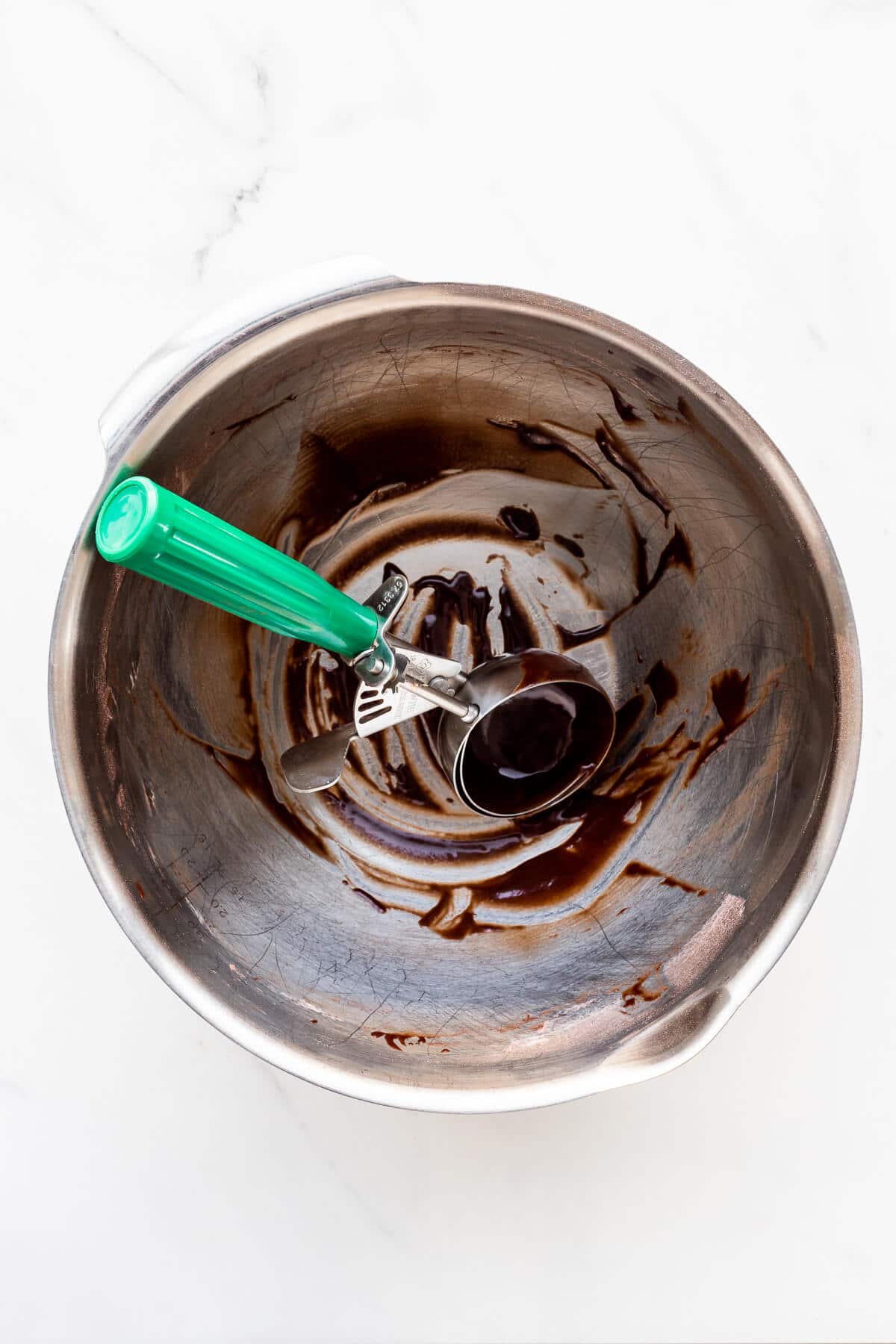 How it's made
This chocolate cake couldn't be easier to make because it uses the two bowl mixing method (also called the muffin mixing method). It's the same method as cake mix, actually, where the wet ingredients are added to the bowl with the dry ingredients, and stirred together to combine them.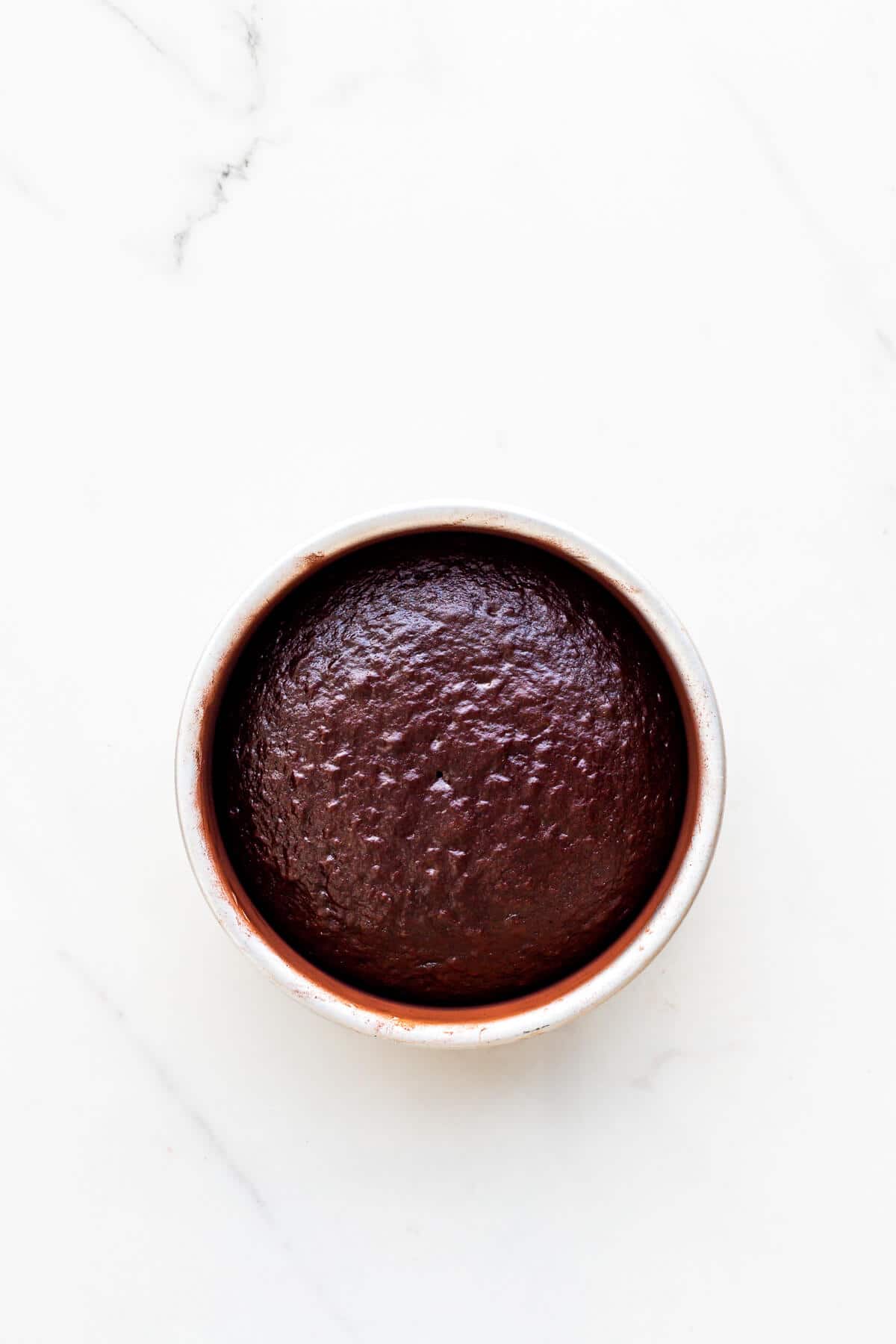 Special equipment
You don't need anything special to make this recipe. You don't even need a mixer! The ingredients are mixed in a bowl using a whisk or a Danish dough whisk.
This recipe fits three 6-inch round cake pans, or you can use two 8- or 9-inch cake pans, if you prefer.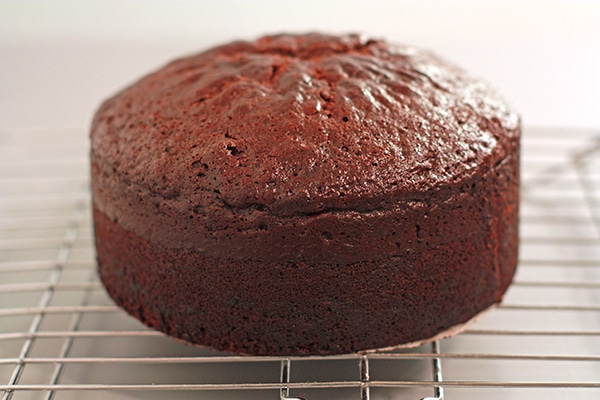 I have also baked this cake as a single layer, in a 3-inch tall 6-inch cake pan, but note that it will take almost double the time to bake the cake as one layer because it's so tall. You can top the cake with chocolate ganache poured when still warm, like a glaze, which adds a ton of chocolate flavour!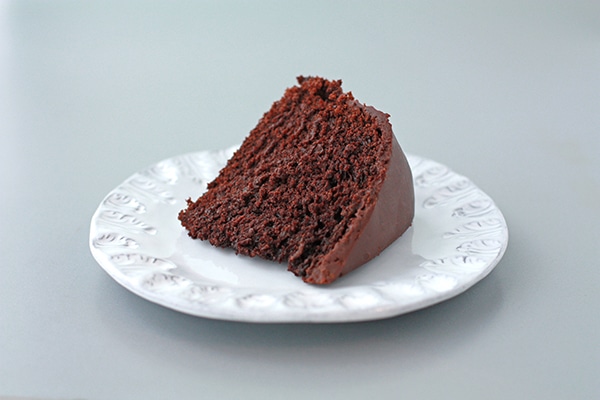 Another option for the ganache would be to let it firm up and then to whip it with a hand mixer or a stand mixer to make a whipped ganache frosting.
Make sure to invest in a good quality baking chocolate if you can, like this one from Cacao Barry. It yields a smoother ganache with an incredible flavour. Worth every penny!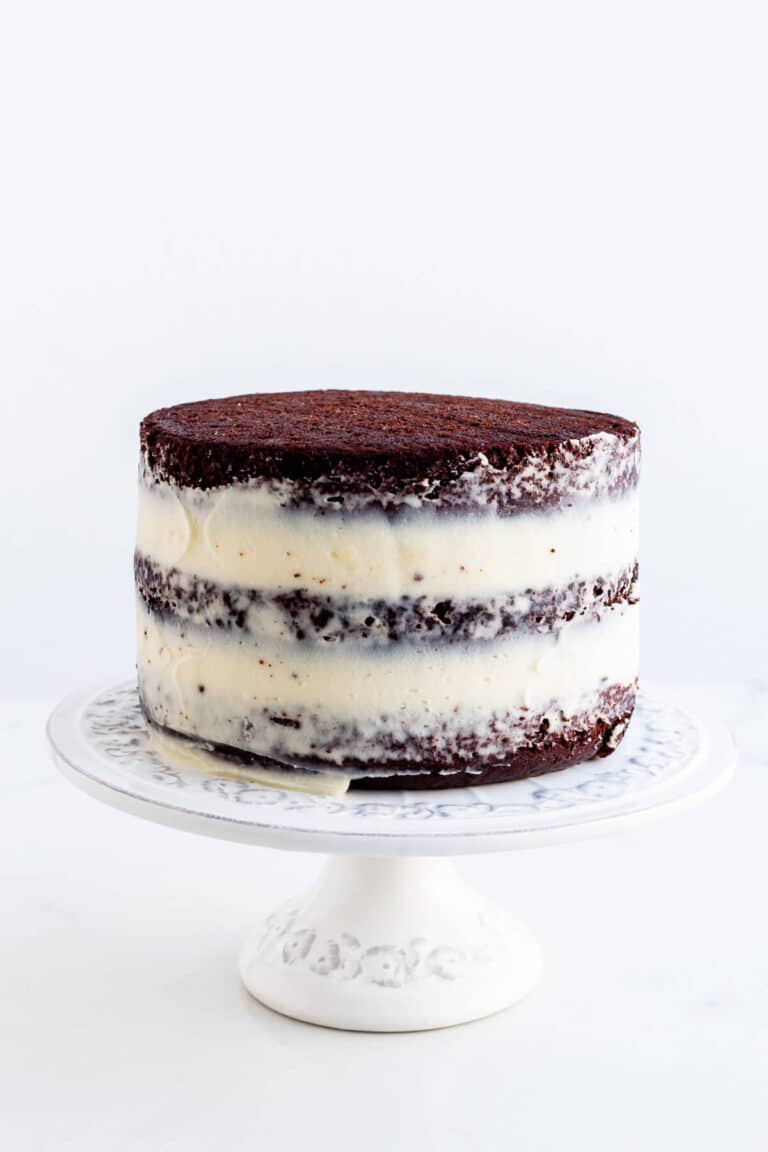 What to use this cake recipe for
Once you've mastered this recipe for chocolate cake without eggs, you can pair it with: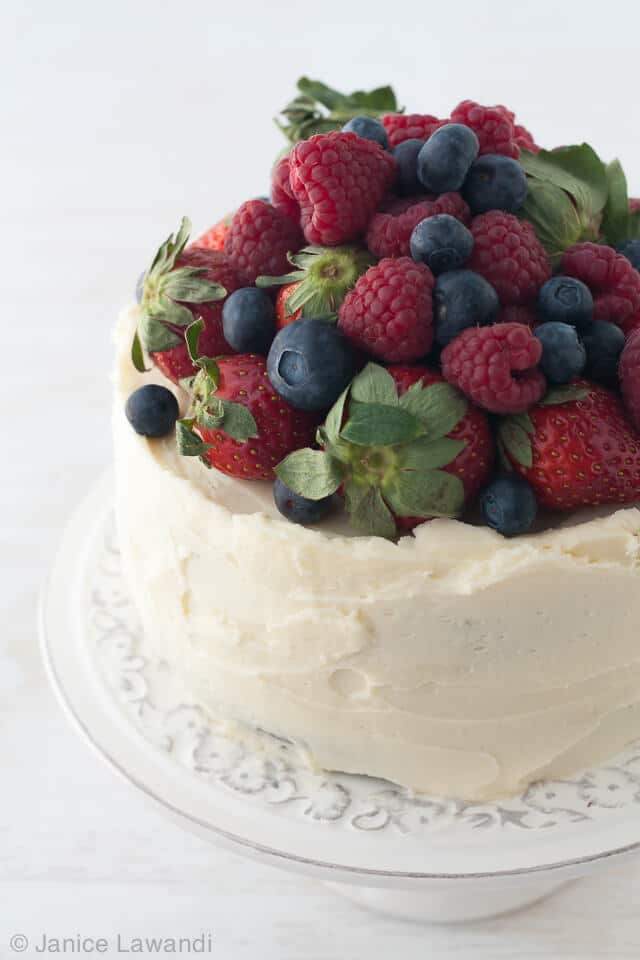 Use it to make:
Other eggless baking recipes to try
📖 Recipe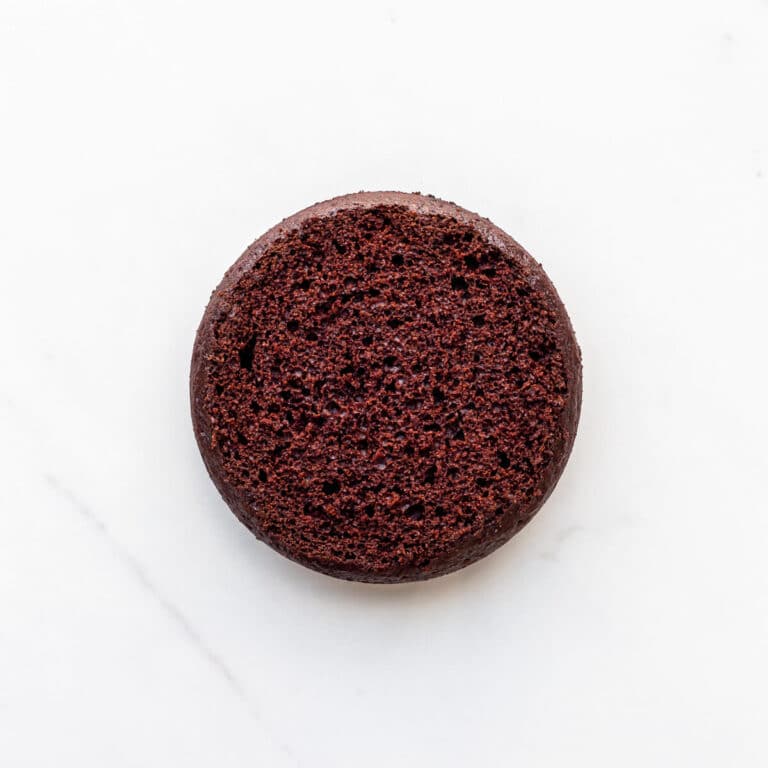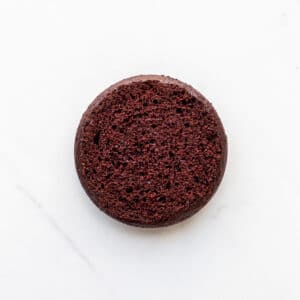 Eggless Chocolate Cake with Ganache Glaze
This is an egg-less cake recipe, and to make it vegan, you could substitute both with your favorite non-dairy beverage, like soy milk.
Ingredients
For the ganache
170

grams

dark chocolate

125

mL

whipping cream (35 % fat)
Instructions
Preheat the oven to 350°F (175 °C). Prepare a 3-inch (7.5 cm) deep 6-inch (15 cm) round cake pan Wilton pan from Amazon) by brushing the bottom and sides with melted butter and dusting it with cocoa, then lining the bottom with a round of parchment. Set aside.

Stir together the vinegar and the milk in a cup measurer and let it stand for a few minutes.

Sift together the flour, baking soda, salt, and cocoa into a large bowl. Whisk in the sugar.

Add the oil, the vanilla, and the soured milk to the bowl with the dry ingredients. Stir (or whisk) to combine, just like cake mix.

Pour the batter in the prepared pan and bake it until a cake tester inserted in the center comes out clean (about 45 minutes).

Let the cake cool for 10 minutes before unmolding it onto a cooling rack to cool completely.

While the cake is cooling, prepare the ganache by heating the cream til it is hot and steamy, then pour it over the chocolate in a medium metal bowl.

Let the mixture stand for one minute, then stir slowly with a wooden spoon until the chocolate is melted and the ganache is fluid and smooth.

Let the ganache cool slightly to thicken while you set the wire rack with cooled cake over a rimmed baking sheet.

When the ganache has thickened slightly, pour it over the cooled cake. Transfer the cake to a cake stand to serve.
Notes
Nutrition