This berry chocolate cake with cream cheese frosting is made with a moist eggless chocolate cake recipe, topped with a thick cream cheese frosting and fresh berries!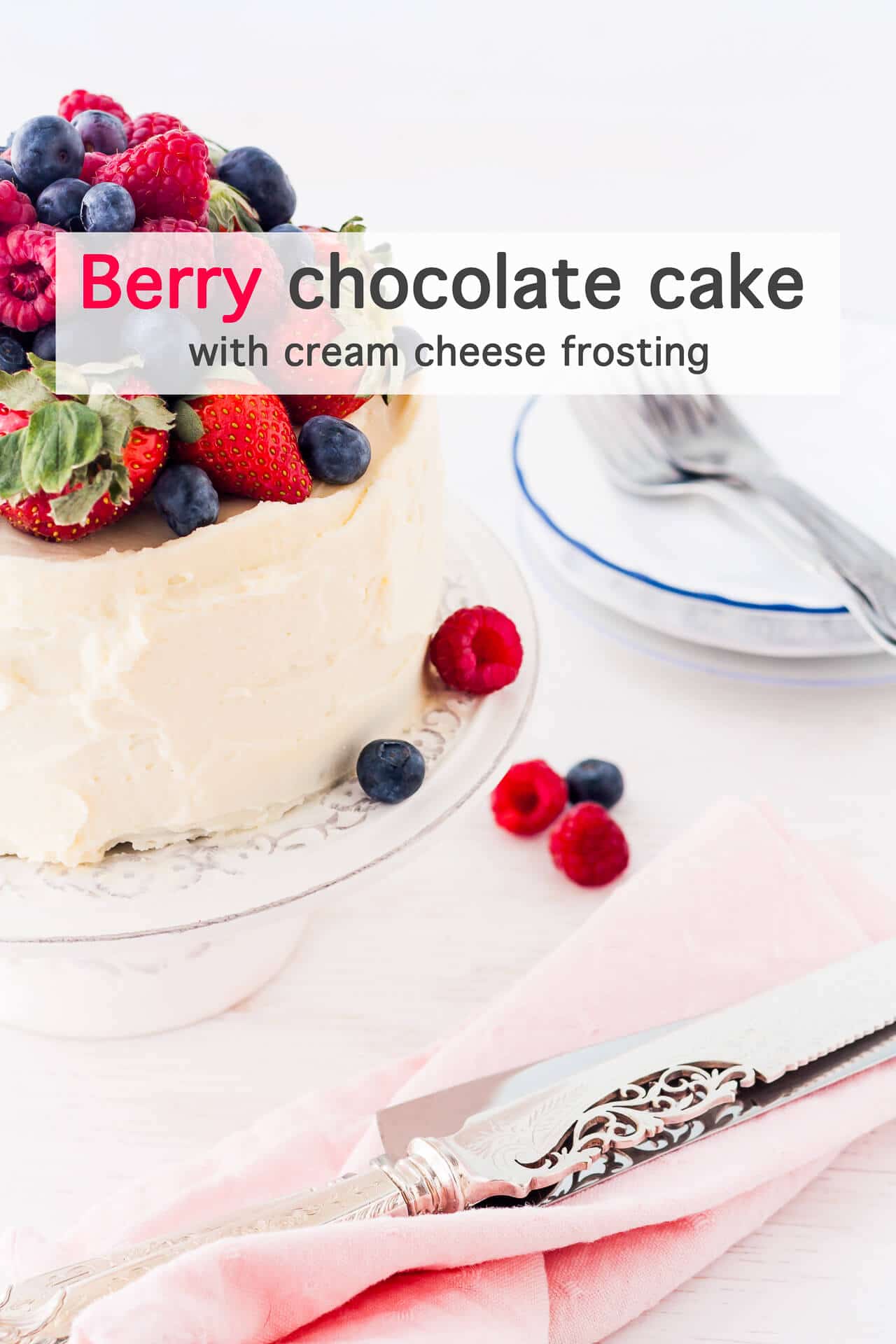 Disclosure: As an Amazon Associate, I earn from qualifying purchases.
I love layer cakes, and to me, this is the perfect cake: alternating layers of moist chocolate cake with cream cheese frosting, then topped with a mountain of berries. The cake layers are chocolaty, and the frosting tastes like cheesecake. Together, they are made even better paired with slightly tart, fresh berries.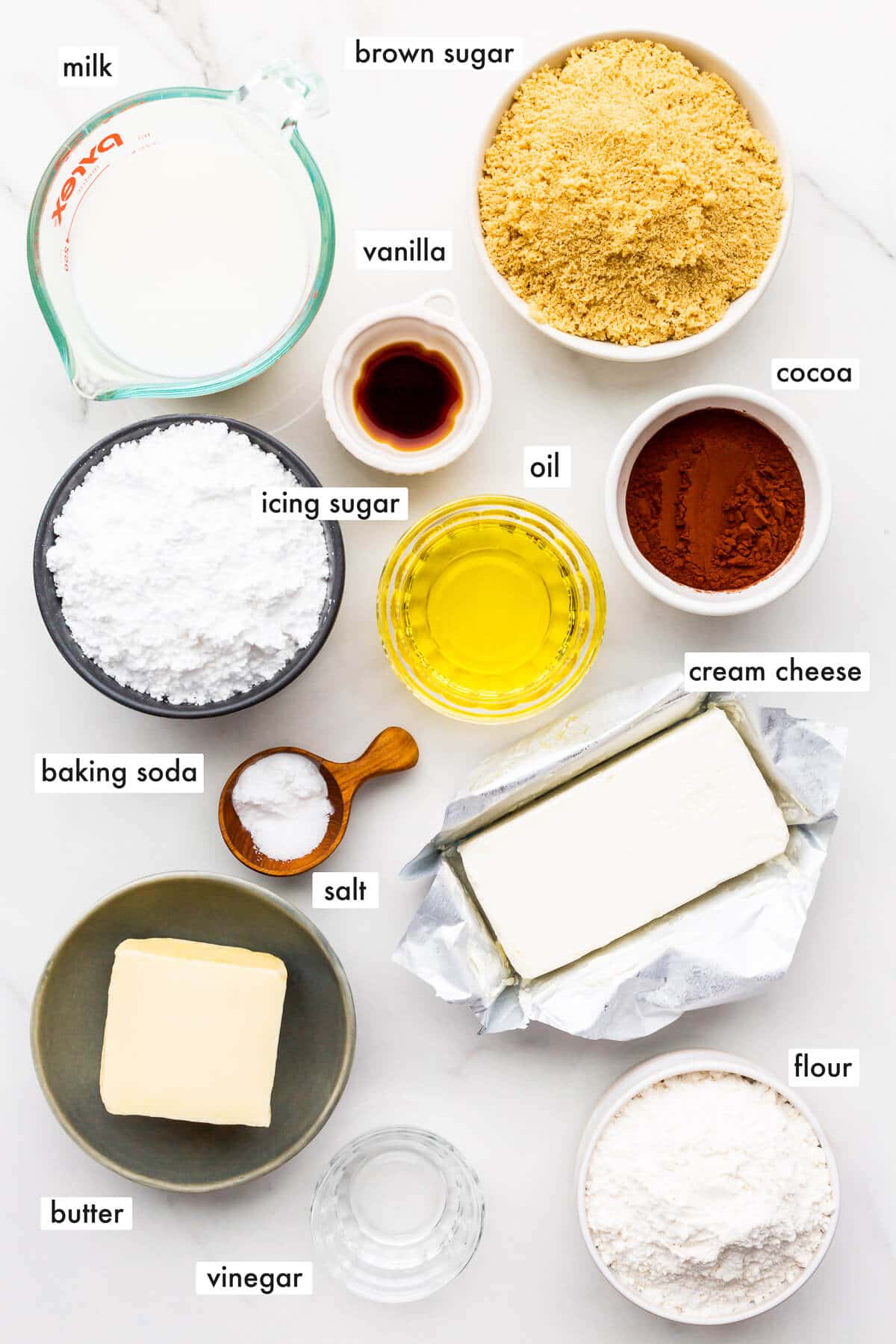 The chocolate cake recipe is based on this eggless chocolate cake that is so easy and the batter is mixed in one bowl, just like a cake mix. The cake is made with cocoa powder instead of dark chocolate so that it has a more pronounced, deep chocolate flavour.
Make sure you use Dutch-processed cocoa powder, which has a deeper more pronounced flavour and darker colour than natural cocoa powder, which has a flat taste and a red colour. If you aren't sure about the difference, you can read all about the types of chocolate used in baking.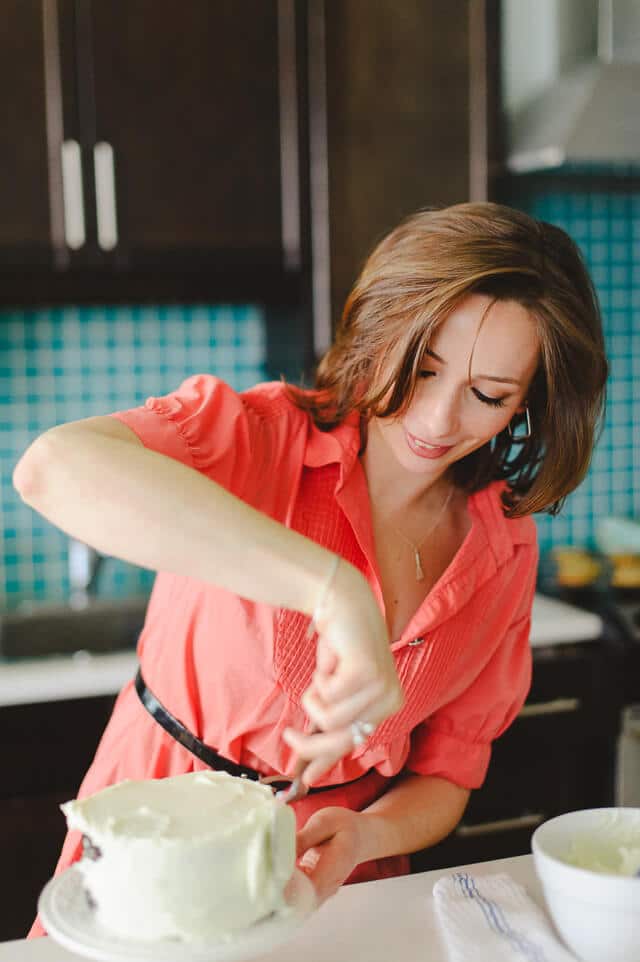 I baked the cake in three 6-inch cake pans so that it was easier to handle. The three layers bake faster separately than one tall cake that you would split in three equal layers after cooling.
To bake the cake layers, I split the batter between three 6-inch cake pans. Take the time to prepare the cake pans before baking, by buttering the pans, lining the bottom with parchment, and dusting the sides with flour. This way your cakes will slide right out of the pan, without any resistance.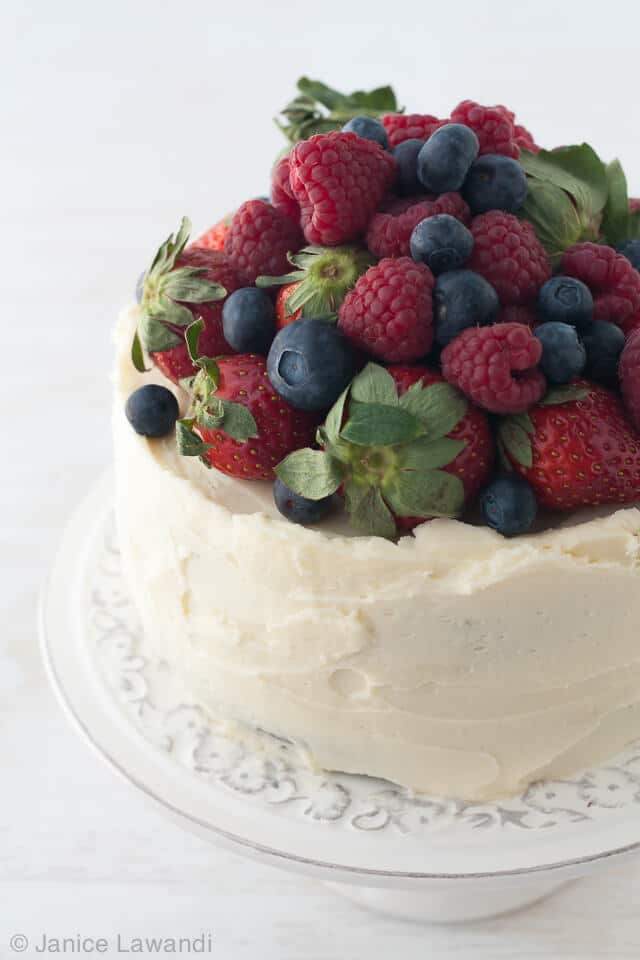 Trick for thick stable cream cheese frosting
As for the cream cheese frosting (taken from the beautiful book Miette: Recipes from San Francisco's Most Charming Pastry Shop), I cannot stress enough how important it is to start by beating together the butter with the icing sugar first, before adding in the cream cheese after. Otherwise, you will end up with a soupy mess.
This is the secret to making thick cream cheese frosting that's pipeable even though it has less than half the icing sugar of most recipes. This cream cheese frosting also tastes great on a poppy seed cardamom cake with cranberries.
Another option for a thick cream cheese frosting is this white chocolate cream cheese frosting that is sweetened with melted white chocolate instead of icing sugar!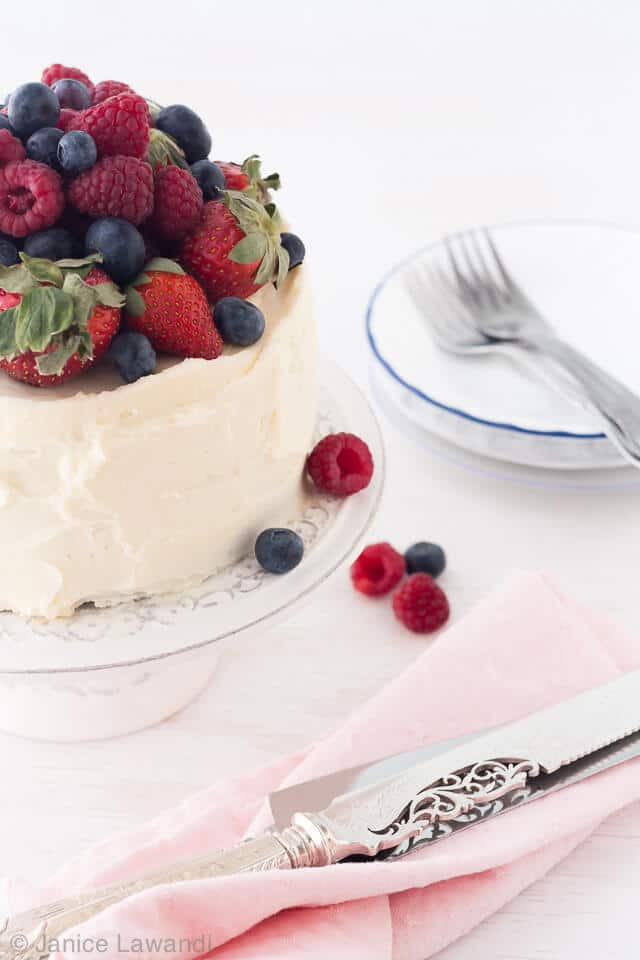 Easy summer cake decorating
In the summer, the easiest way to decorate this cake is by topping it with a mound of fresh berries (local strawberries, raspberries, and blueberries). In the winter months, you can top it with chocolate curls or even slices of orange. And if all else fails, you can always sprinkle liberally with sprinkles!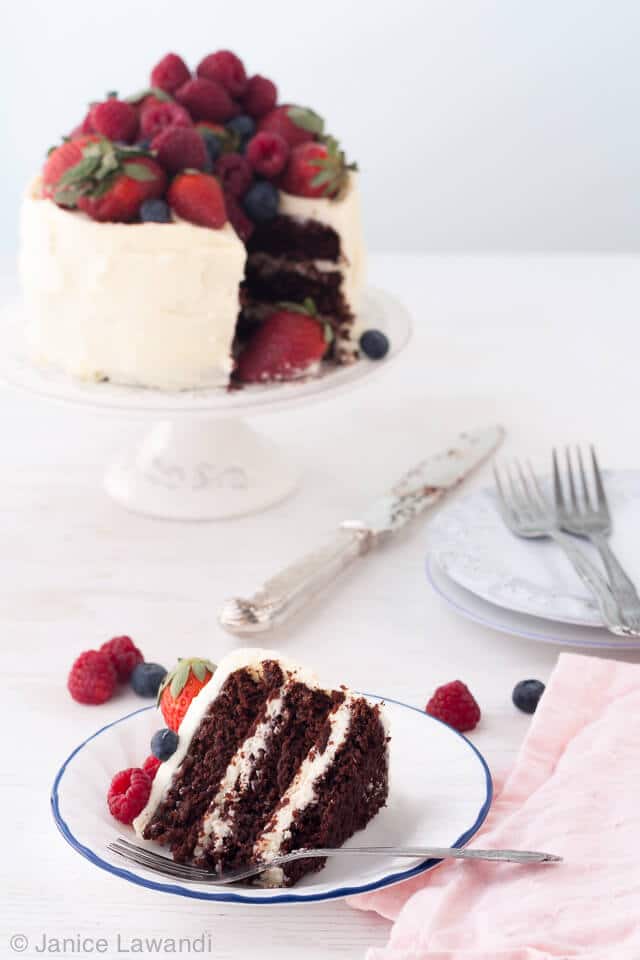 How to store this cake
Given this berry chocolate cake is made with cream cheese frosting, it's best to store it in the fridge. If you've cut into the cake, just cover the cut edges with pieces of parchment to prevent them from drying out. Place the cake in the fridge until the frosting is firm and cold, then cover the whole thing with aluminum foil. You can store this cake for up to a week, or freeze slices for later.
For a detailed explanation, read about how to store cake.
📖 Recipe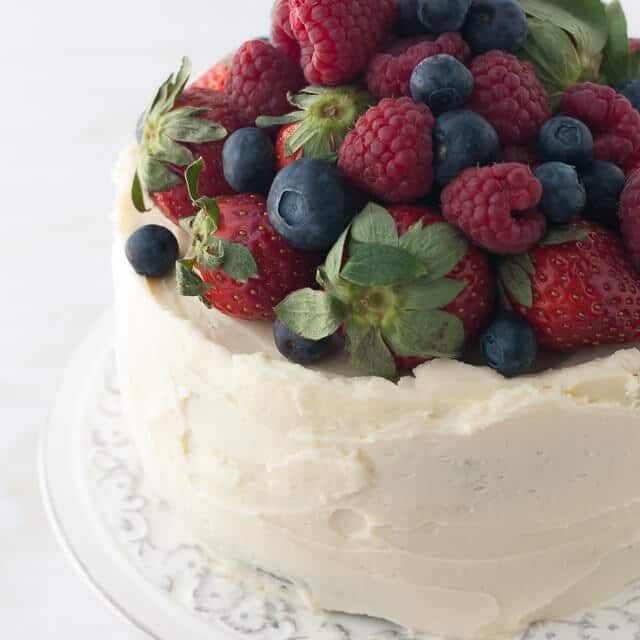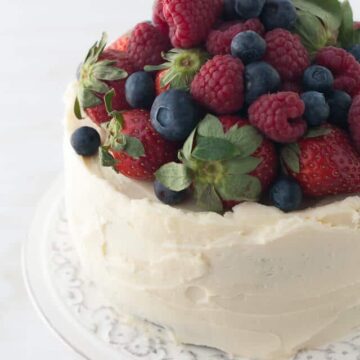 Berry Chocolate Cake with Cream Cheese Frosting
This berry chocolate cake with cream cheese frosting is made from layers of eggless chocolate cake and topped with berries.
Ingredients
Cream cheese frosting
218

grams

icing sugar

173

grams

unsalted butter

room temperature

500

grams

Philadelphia cream cheese (full fat, regular)

this is 2 blocks of Philadelphia cream cheese
Toppings (optional)
225

grams

fresh strawberries

225

grams

Fresh raspberries

225

grams

fresh blueberries
Instructions
For the cake:
Preheat the oven to 350 °F (175 °C). Prepare three 6x2-inch (15x5-cm) round cake pans by brushing the bottom and sides with melted butter and dusting it with cocoa, then lining the bottom with a round of parchment. Set aside.

Sift together the flour, baking soda, salt, and cocoa into a medium bowl and set it aside.

Combine the milk, vinegar, and vanilla in a separate bowl. Stir, then let it stand for a few minutes so that the milk curdles and thickens.

Whisk in the oil and brown sugar.

Add the wet ingredients to the sifted dry ingredients and stir until combined.

Pour the batter in the prepared pans and bake until a cake tester inserted in the centre comes out clean (about 30 minutes but keep an eye on it after 25 minutes).
For the frosting
The order of these steps is very important! First, in the bowl of an electric mixer fitted with the paddle attachment, beat together the icing sugar and butter until it is smooth.

Then, when the butter and sugar are nice and smooth, add in the cream cheese, and beat until you get a creamy, fluffy frosting, for at least 2 to 3 minutes, if not more.
To assemble
Trim the cakes to level them with a large, serrated bread knife.

Place the bottom layer on a cake turntable (find it on Amazon), and smooth on about ¼ of the frosting. Top with the second layer of cake, frost, and repeat with the third layer. Smooth the last of the frosting on the sides and top of the cake.

Top the cake with a tall mound of the berries.
Nutrition
Calories:
503
kcal
Carbohydrates:
58
g
Protein:
6
g
Fat:
29
g
Saturated Fat:
15
g
Cholesterol:
70
mg
Sodium:
350
mg
Potassium:
298
mg
Fiber:
5
g
Sugar:
39
g
Vitamin A:
905
IU
Vitamin C:
32
mg
Calcium:
102
mg
Iron:
2
mg