Learn how to store cake, whether that's on the counter, in the refrigerator, or the freezer so that your leftover cake never goes to waste!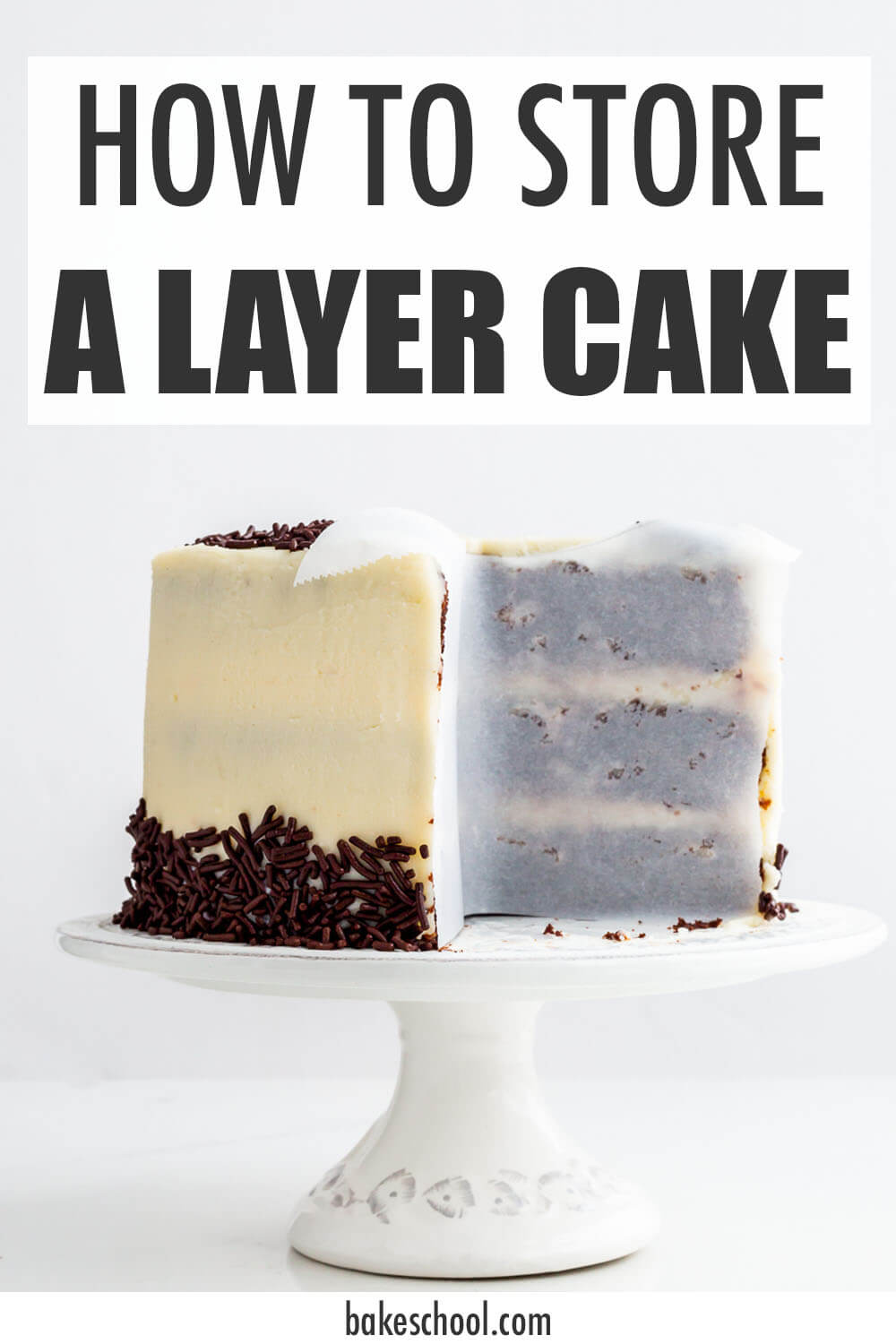 Disclosure: As an Amazon Associate, I earn from qualifying purchases.
Jump to:
What happens when you store baked goods
There are two important things that can happen when we store baked goods, and specifically cake:
the cake dries out from air exposure. Moisture evaporates and the crumb becomes dry and brittle, prone to crumbling and generally not as pleasant to eat.
the cake absorbs moisture and becomes gummy. Moisture on the surface of cake makes it sticky and can lead to the growth of microorganisms, which can be bad for your health or potentially dangerous.
Types of cakes more prone to drying out
You'll notice after a few years of baking and storing baked goods that some will dry out and others will go bad. Cakes that dry out are often lower in fat, and cakes that are lower in sugar are especially prone to drying out.
Remember that sugar is hygroscopic, meaning that it absorbs moisture from its surroundings. Sugar actually acts like a preservative for this reason.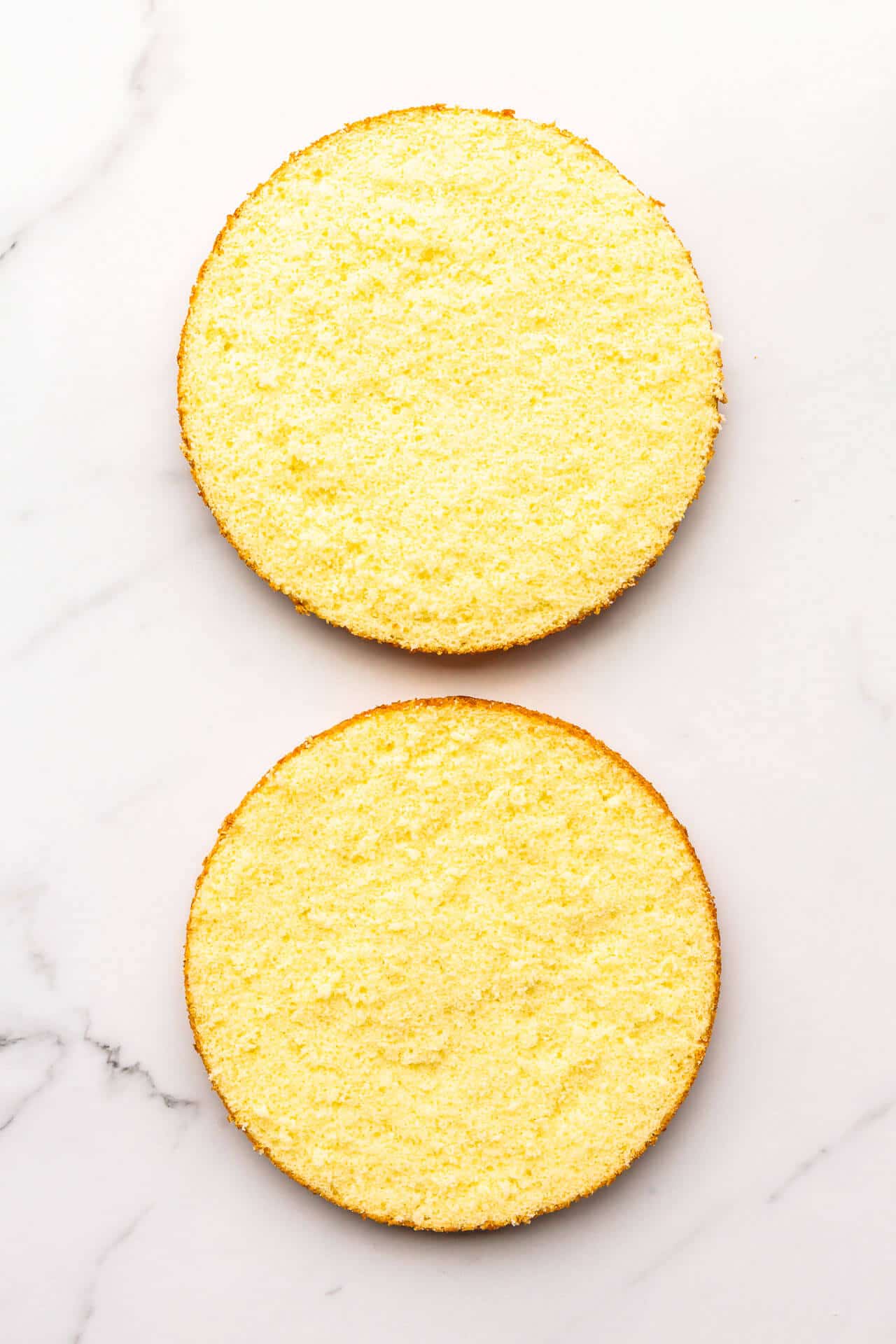 Types of cake prone to spoiling
The opposite of drying out can happen when you store cake: it can become so moist and gummy that microorganisms thrive and take over. This is especially true for cakes that have a high moisture content, made with fruit purées. These can spoil if incorrectly stored and go mouldy even, if you aren't careful.
General guidelines for storing cake
Regardless of the type of cake or baked good, it's very important to cool the freshly-baked cake to room temperature before storing. This allows the cake to firm up, making it easier to handle and less delicate. More importantly, cooling down a cake before storing it allows for evaporation of steam.
Never cover or wrap a cake that is warm because you will trap steam and moisture. The surface of the cake will absorb that water, creating a humid layer that is the perfect environment for the growth of microorganisms that cause spoiling and could be harmful.
Always store cakes wrapped or covered, whether that's in an airtight container, in a cake dome, or wrapped in aluminum foil or plastic wrap (depending on the item).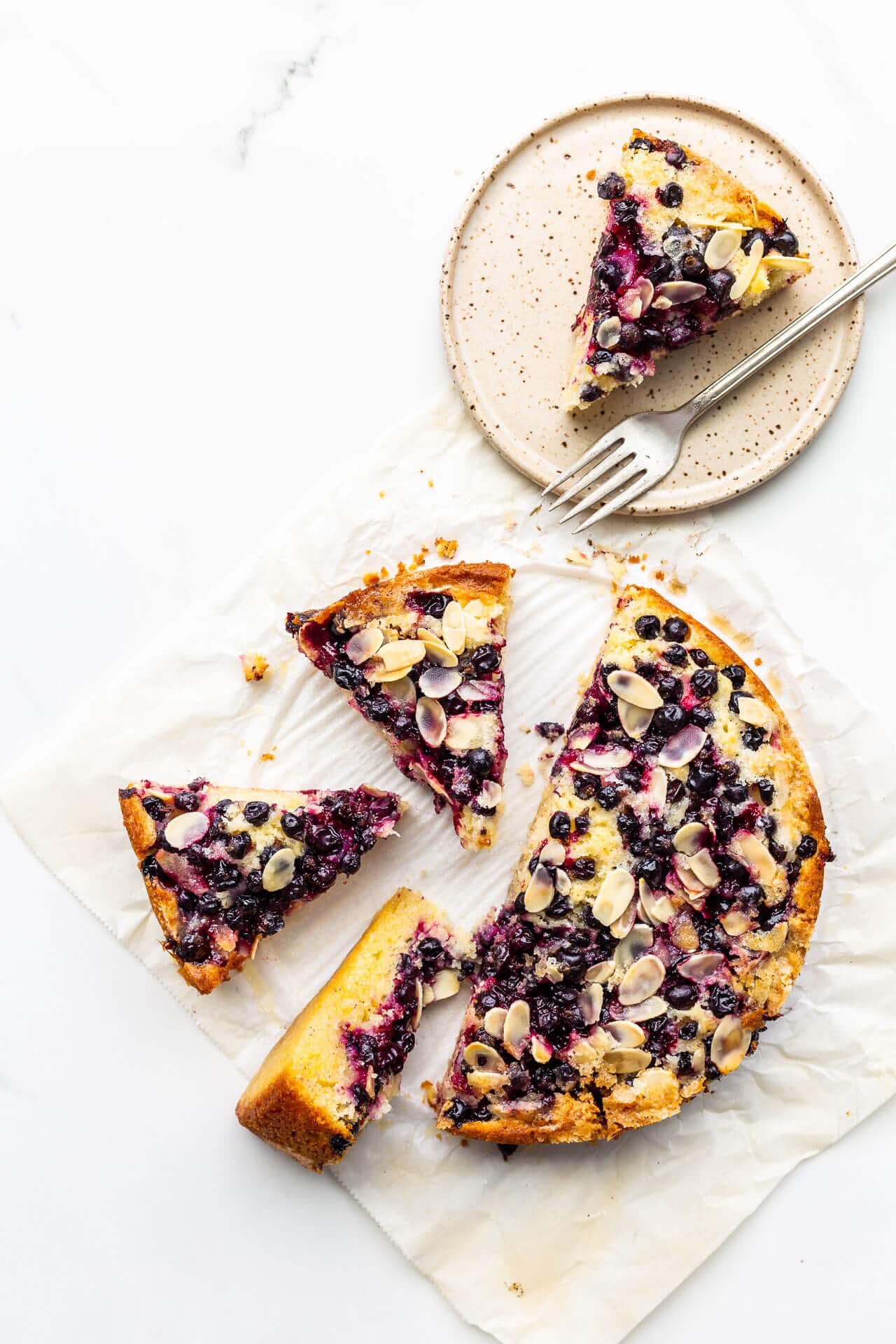 Short-term versus long-term storage
Choosing where to store a cake, whether on the counter, the fridge or the freezer, is entirely dependant on a few things:
are there ingredients in the cake that need to be stored in the fridge? Example cream cheese isn't designed to be left on the counter for a week, so you need to store anything with cream cheese frosting in the fridge or freezer, otherwise it will spoil. Fruit fillings can spoil very quickly at room temperature, as well.
how long do you want to store the cake for? Are you storing the cake to enjoy over the course of a week or are you storing the cake to serve it in a month? Longer storage will require cooler storage temperatures, if not freezing.
For short-term storage of baked goods that won't spoil quickly or go bad:
for everyday baked goods, for up to a week, store items covered on the counter at room temperature without a worry. Baked goods like quick breads, muffins, and pound cakes store well on the counter, wrapped.
for frosted cakes, for up to a week, store them in the refrigerator
for long-term storage of any these items, store these items in the freezer
Err on the side of caution and opt for cold storage if you are worried about spoilage. If it's a heatwave and your room temperature is creeping up above 23 ºC, you are safer storing baked goods in the refrigerator or the freezer.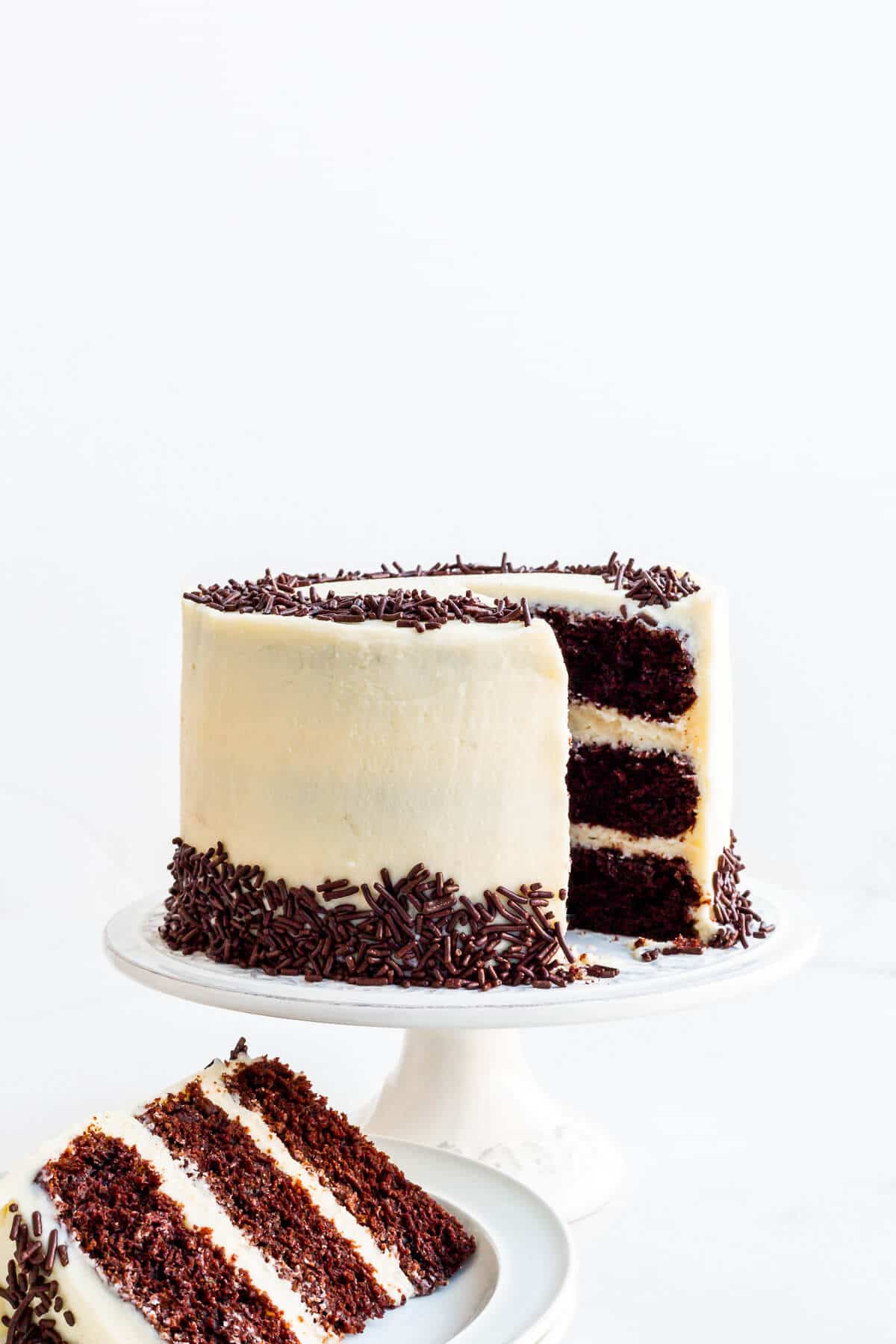 What you need to store cakes
To store a cake, you may need a few of the following items, depending on what type of cake you are storing and for how long:
parchment paper
aluminum foil
plastic wrap
cake dome
cake box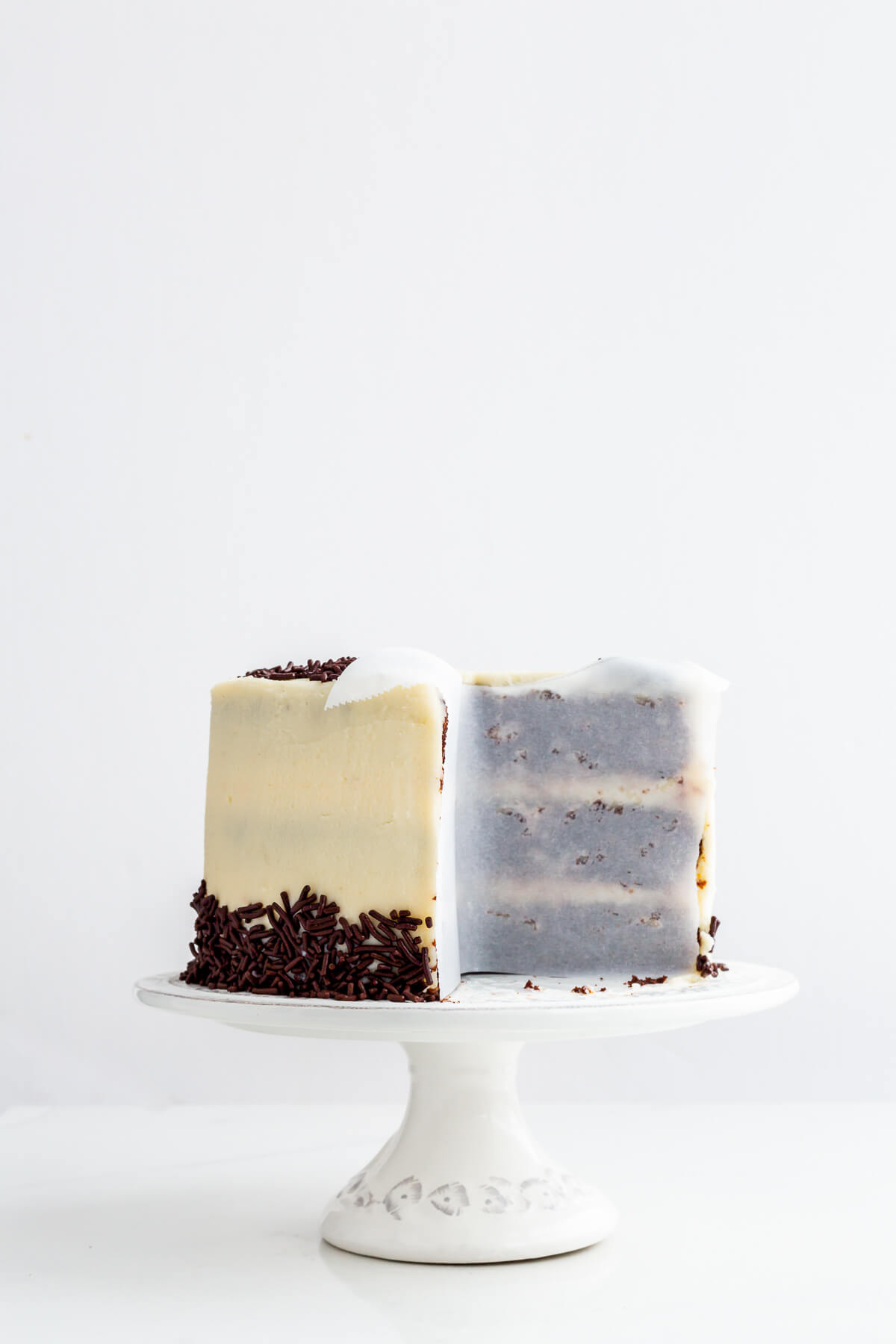 Short term storage—counter or fridge
For most quick breads and loaf cakes, I like to store them on a plate or a cutting board, and then wrap them in aluminum foil to store them at room temperature. I prefer foil, which is recyclable, though you may prefer plastic wrap. You could also consider large sheets of reusable and washable bees wrap, like Abeego wrap, which functions just like foil, but is even more environmentally friendly. Just make sure the cake is completely covered.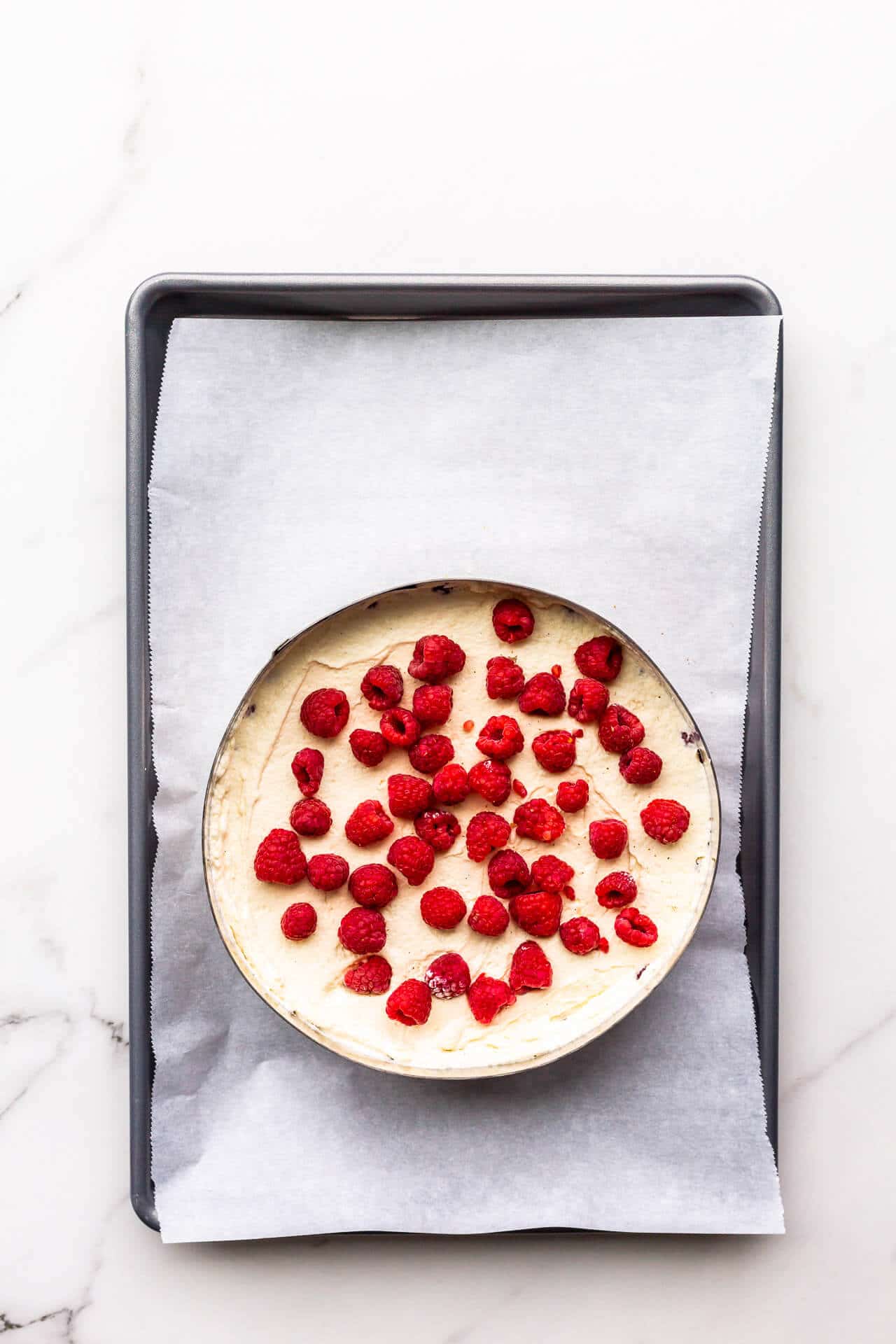 Long term storage—freezer
To store simple unfrosted cakes in the freezer, freeze them on a parchment-lined sheet pan, then wrap tightly in plastic wrap, and then aluminum foil. You could also store the frozen cake in a freezer bag.
Steps to store simple cakes, like unfrosted cake layers, bundts, etc.
Most cakes, like loaf cakes, quick breads, muffins, and bundt cakes, can be stored, covered, at room temperature. As long as room temperature isn't too warm (around 17–22 ºC), especially if they are ungarnished or unfrosted.
Above a certain temperature, depending on the moisture, fat, and sugar content of the cake, you will want to store cake in the fridge or the freezer to avoid mould. This is especially true for baked goods with fruit in them.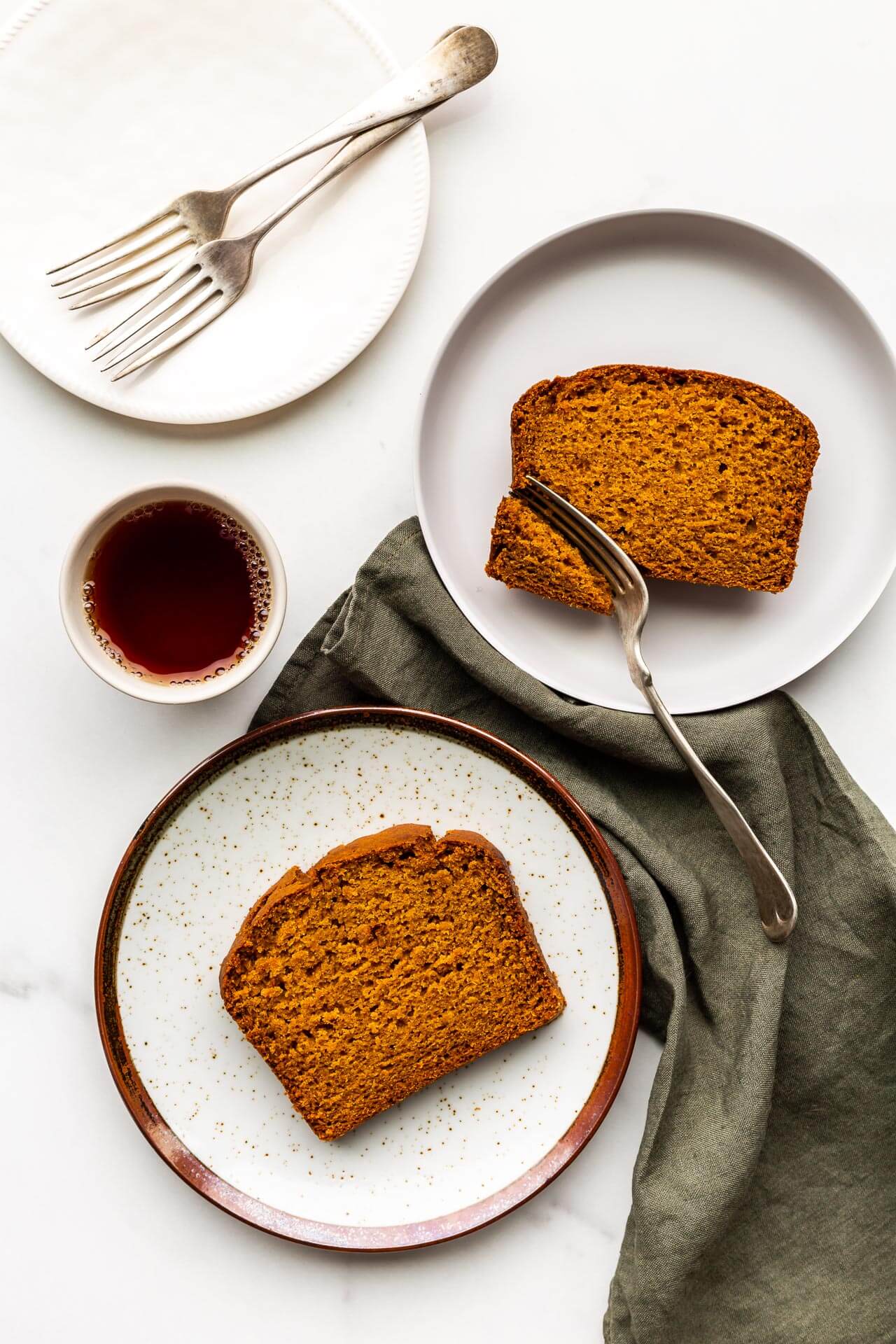 Freezing simple cakes
If you decide you need to freeze your cakes, muffins, or quick breads for later, like for longer storage, here are the steps you should take:
Cool the freshly baked completely to room temperature. You want the cake to be room temperature even in the middle before you store them away for later.

Not sure if it's cooled down completely? Use an instant-read thermometer and take the temperature of the middle of the cake, and compare it to room temperature. Your cake should be about 20 ºC in the middle if the room is 20 ºC.

Unmould the cake(s) and place them on a parchment-lined sheet pan.
Freeze the cake(s) until frozen solid and hard.
Take them out and wrap them tightly with a layer of plastic wrap.
Wrap the whole thing in foil.
Store for up to 3 months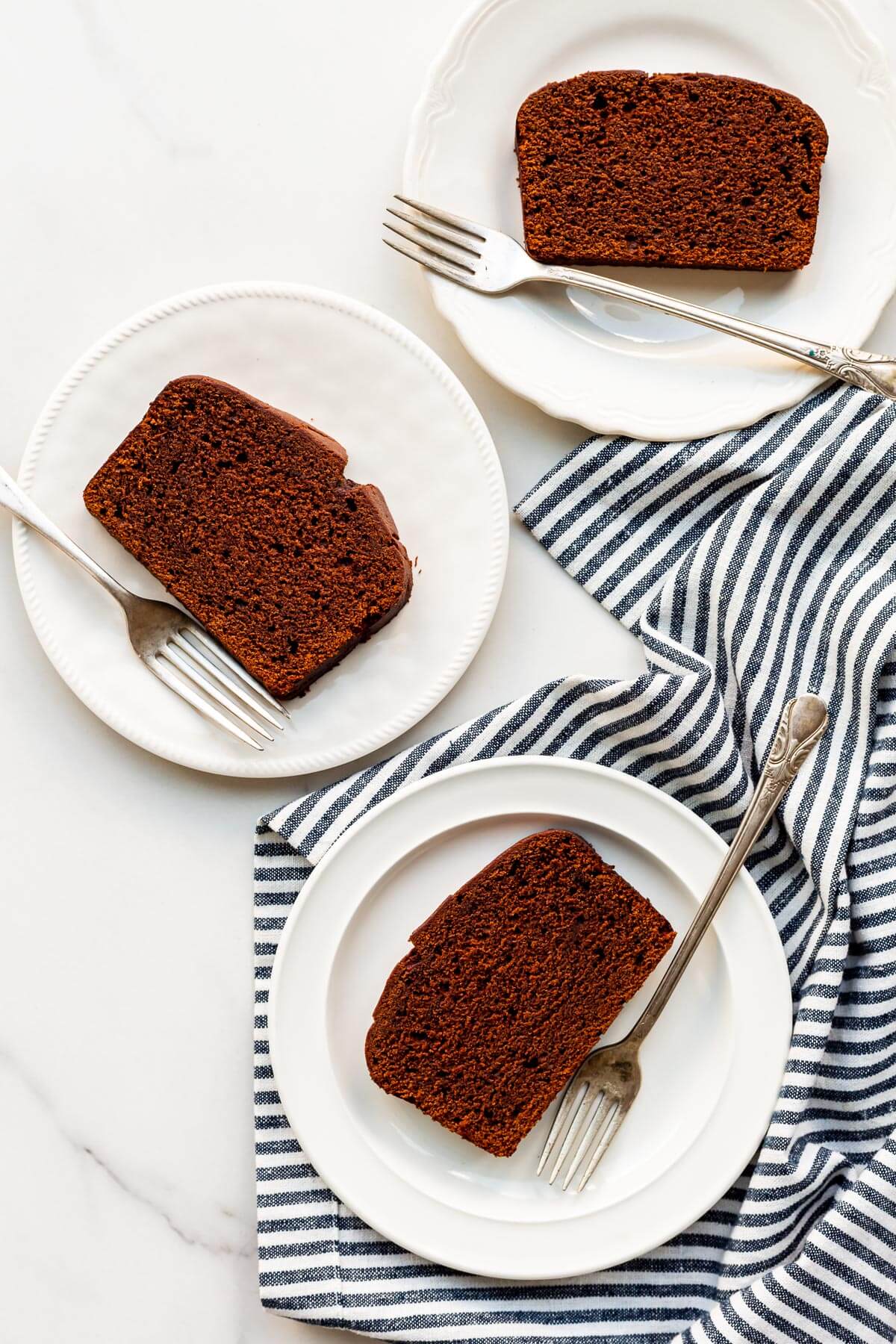 For quick breads or loaf cake, it might be nice to freeze the cake after slicing it. Freeze the slices on a parchment-lined sheet pan, then store them in a freezer bag. This way you can defrost one or two slices at a time when you want them, without defrosting the rest.
This banana bread without baking soda, eggless banana bread, pumpkin loaf cake, chocolate loaf cake, and healthier pumpkin bread are great for freezing sliced!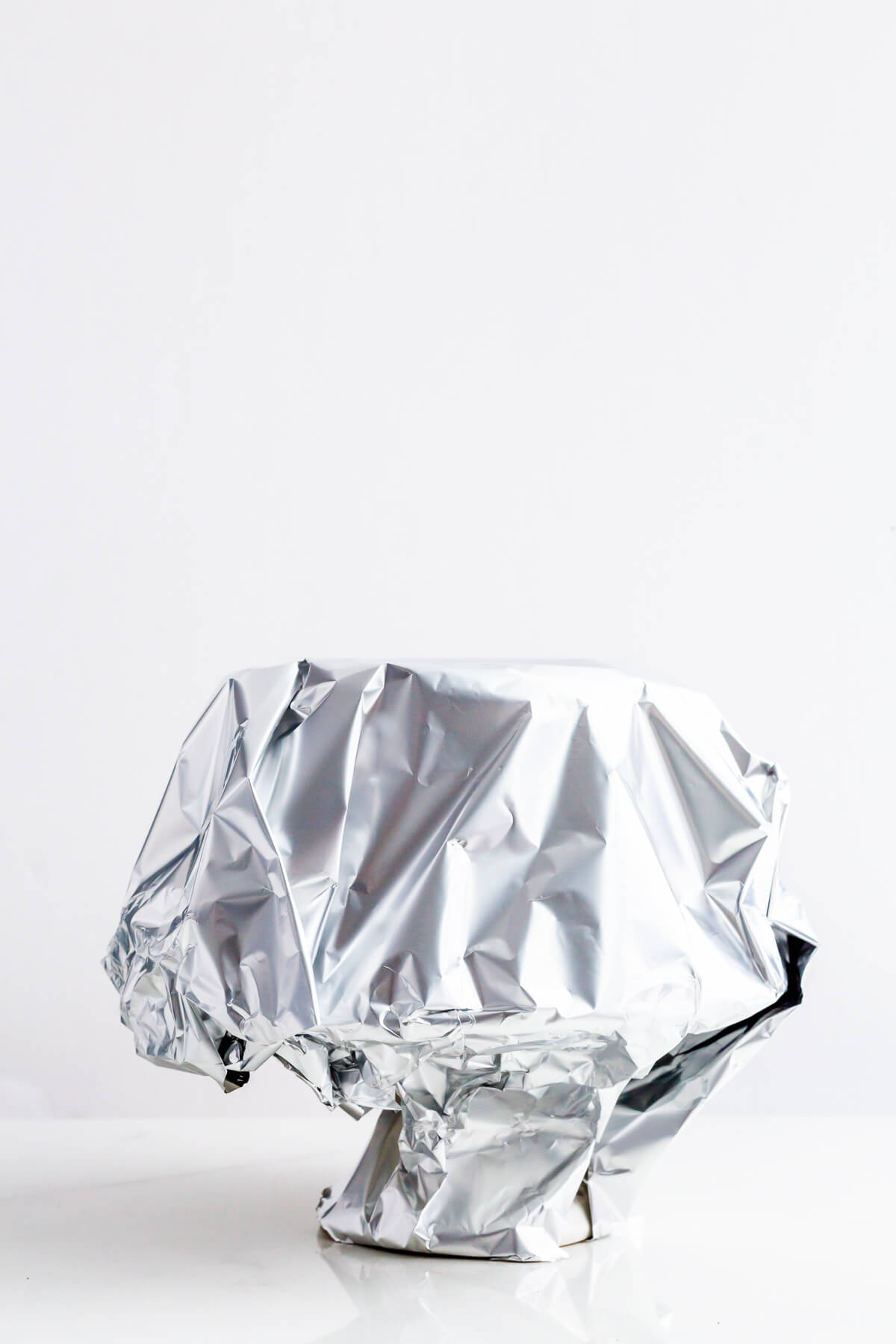 Steps to store a frosted layer cake
With any type of frosted cake that is covered in a butter-based frosting, I always recommend to chill the frosted cake, uncovered, in the refrigerator for several hours until doing anything to it. This allows the buttercream to harden, making it easier for you to move around, wrap, or store in a container, without damaging the frosting.
If the cake hasn't been cut into, store the layer cake in the fridge in a cake box or even—uncovered for short term storage or covered for longer term storage
If the cake has been cut into, then store the layer cake in the fridge until the frosting is cold and set, then press a piece of parchment against the cut edges to protect them from drying out, and wrap the whole cake in foil, loosely to cover it without crushing it.
Some cakes are designed to be frozen. For example, when you make the Milk Bar layer cakes, like the Milk Bar birthday cake or this blackberry almond cake, you will notice a key step in the process is to freeze the layer cake until frozen solid so that you have perfect distinct layers and so that you can unwrap the layer cake without disturbing the fillings, which may be soft when in the fridge.
Storing other types of cakes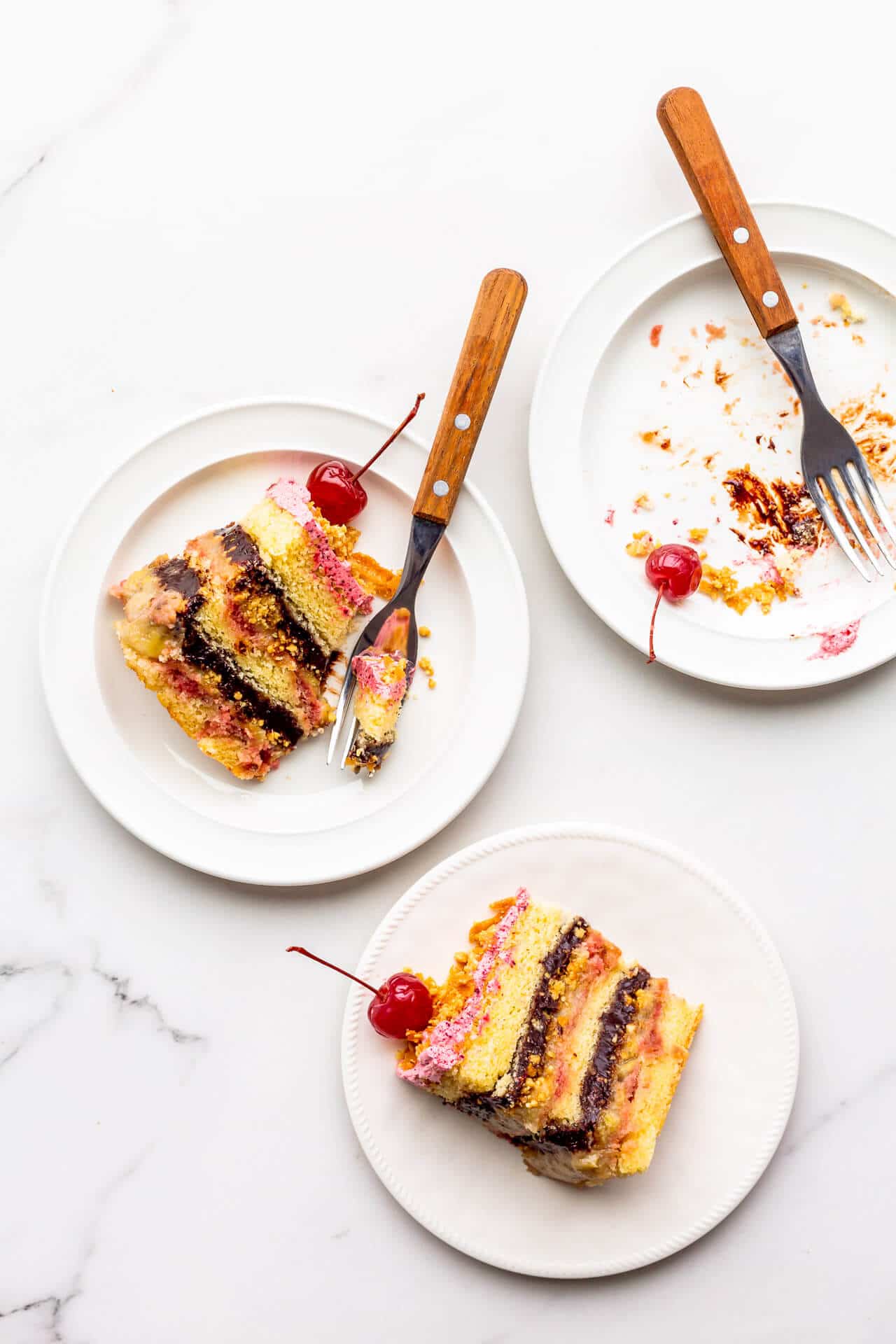 For a cake like a pavlova, storage is more complicated. Pavlovas are delicate with a thin crispy outer shell and a marshmallowy centre. The delicate shell makes it prone to cracking and breaking, so you can't really manipulate it much without damaging it.
Furthermore, meringues are prone to absorbing moisture because they are high in sugar. Moisture will ruin the crispy shell of a pavlova, making it soft or soggy.
For these reasons, pavlovas should be made the day before they are served and ideally, you can store the ungarnished pavlova in your oven (turned off), which is a more dry environment. Another option is to store it in an airtight container with silica packets designed to absorb moisture.
Longer storage
If you want to store cake for longer than a week, you need to freeze it. Otherwise, the cake may go stale, or go bad (think mold and other microorganisms that can cause harm). The exception to this is certain types of fruitcakes, which are made for long term storage, tightly wrapped and stored in a cold, dry place. Fruitcakes are usually brushed with alcohol repeatedly, to add flavour and also to preserve the cake.
Defrosting layer cakes
When it's time for you to take your frozen layer cake out of the freezer to enjoy it, you should:
completely unwrap the cake and place it on a cake stand or cake plate
set the cake in the refrigerator
defrost the cake in the refrigerator overnight or even for 24 hours if they are large
By taking the time to defrost it in the fridge first, you are giving the cake time to gradually warm up, thus avoiding issues like condensation, which can cause the cake to go bad prematurely.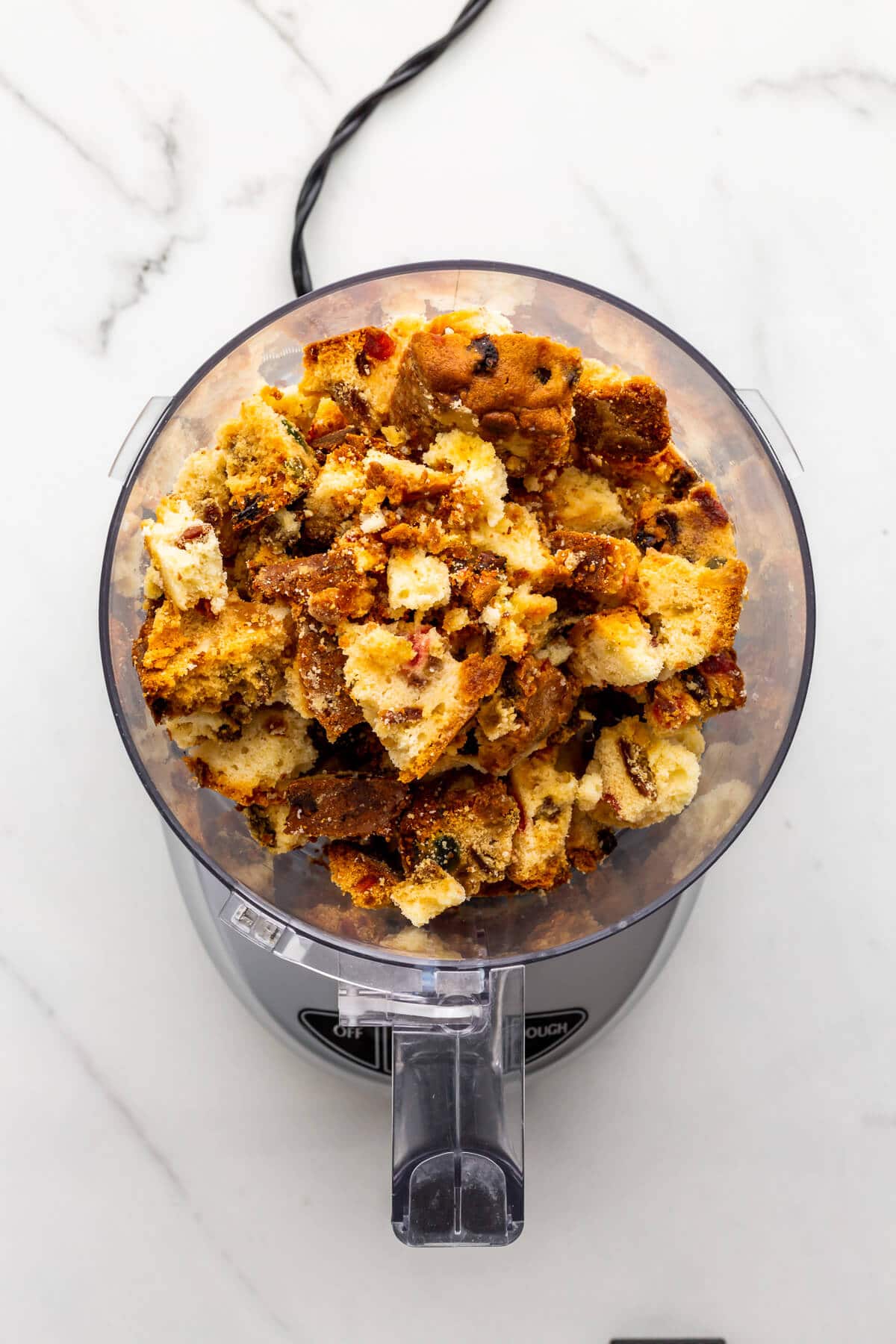 How to use up leftover cake
If your cake goes stale and dry, you can still save it! Transform it into cake truffles! Here are a few ways:
combine torn pieces of unfrosted cake with milk and vanilla in the food processor, like for these birthday cake truffles, dipped in melted white chocolate and coated in birthday cake crumbs
combine torn pieces of unfrosted cake with a little booze, like for these Christmas cake balls, dipped in melted white chocolate
Once you've made the cake truffles, you can store them in an airtight bag or storage container in the freezer and enjoy them for several months.
Key takeaways
How you store a cake is entirely dependant on the type of cake you are storing, whether it's a simple, ungarnished quick bread or loaf cake, or a frosted layer cake. You are always better safe than sorry, opting for cold storage over storage at room temperature, especially if spoilage is an issue and for long term storage.