Most quick breads and loaf cakes depend on baking soda to rise, but here's a recipe for banana bread without baking soda, that relies on baking powder.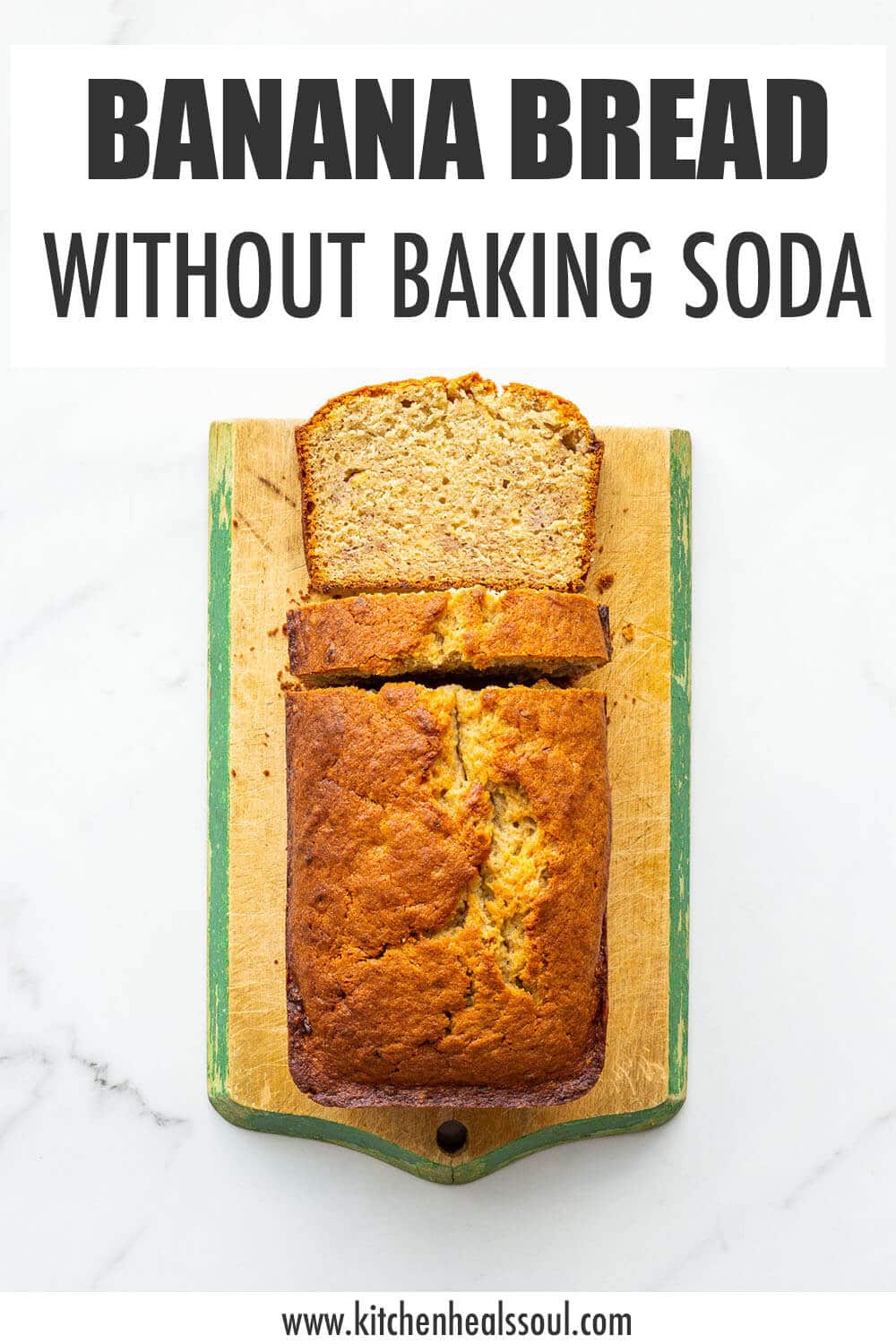 Disclosure: As an Amazon Associate, I earn from qualifying purchases.
Baking soda versus baking powder in banana bread
Old-school banana bread recipes are usually made with baking soda only and without baking powder. I gather that there was a time when baking powder wasn't as readily available, but also that the consistency of baking powder sold in grocery stores varied. Baking powder wasn't the reliable chemical leavener it is today.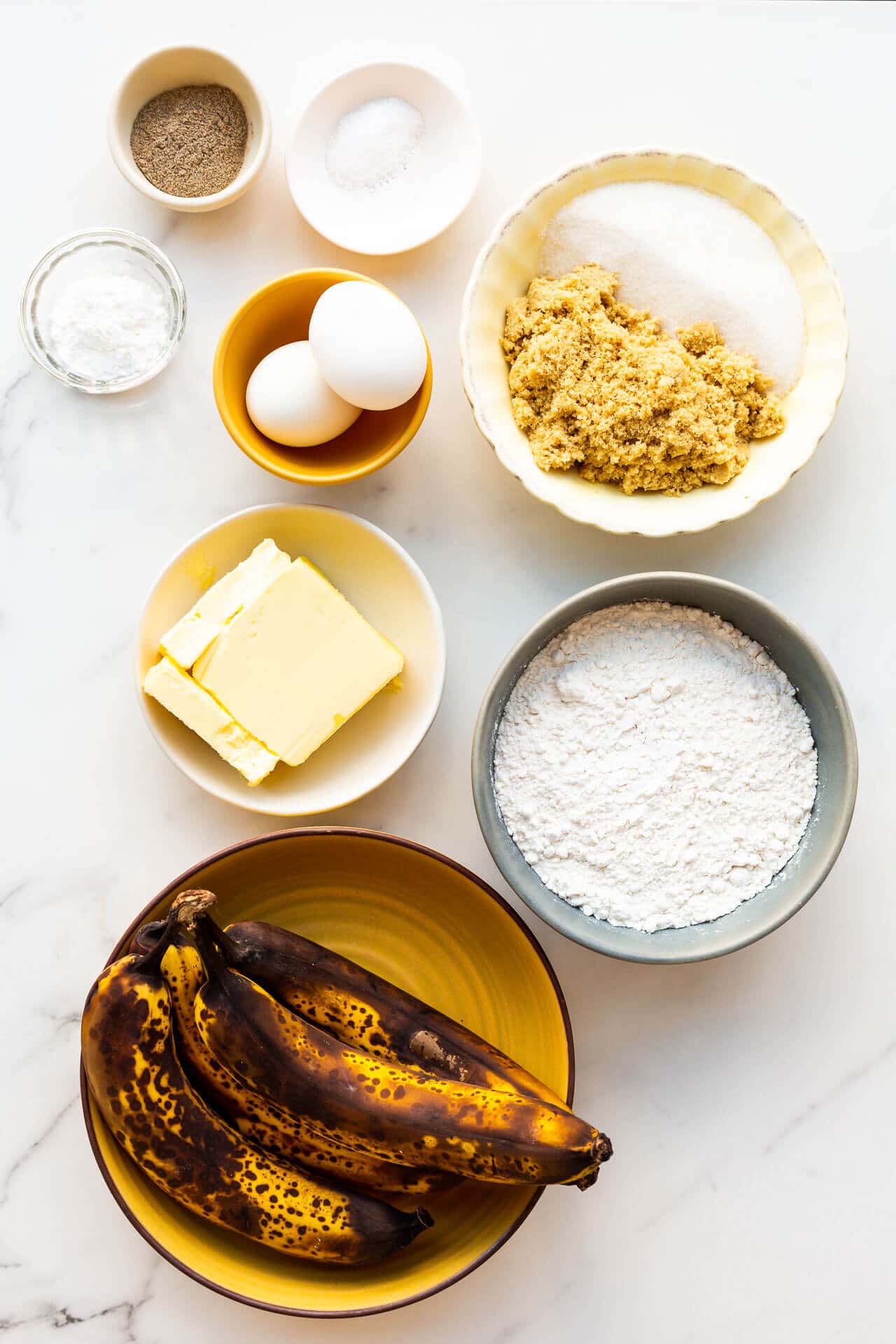 Remember that baking soda is sodium bicarbonate and requires acidic ingredients to react to form carbon dioxide. The acidity in banana bread could come from the mashed bananas, which have a pH that is between 4 and 5.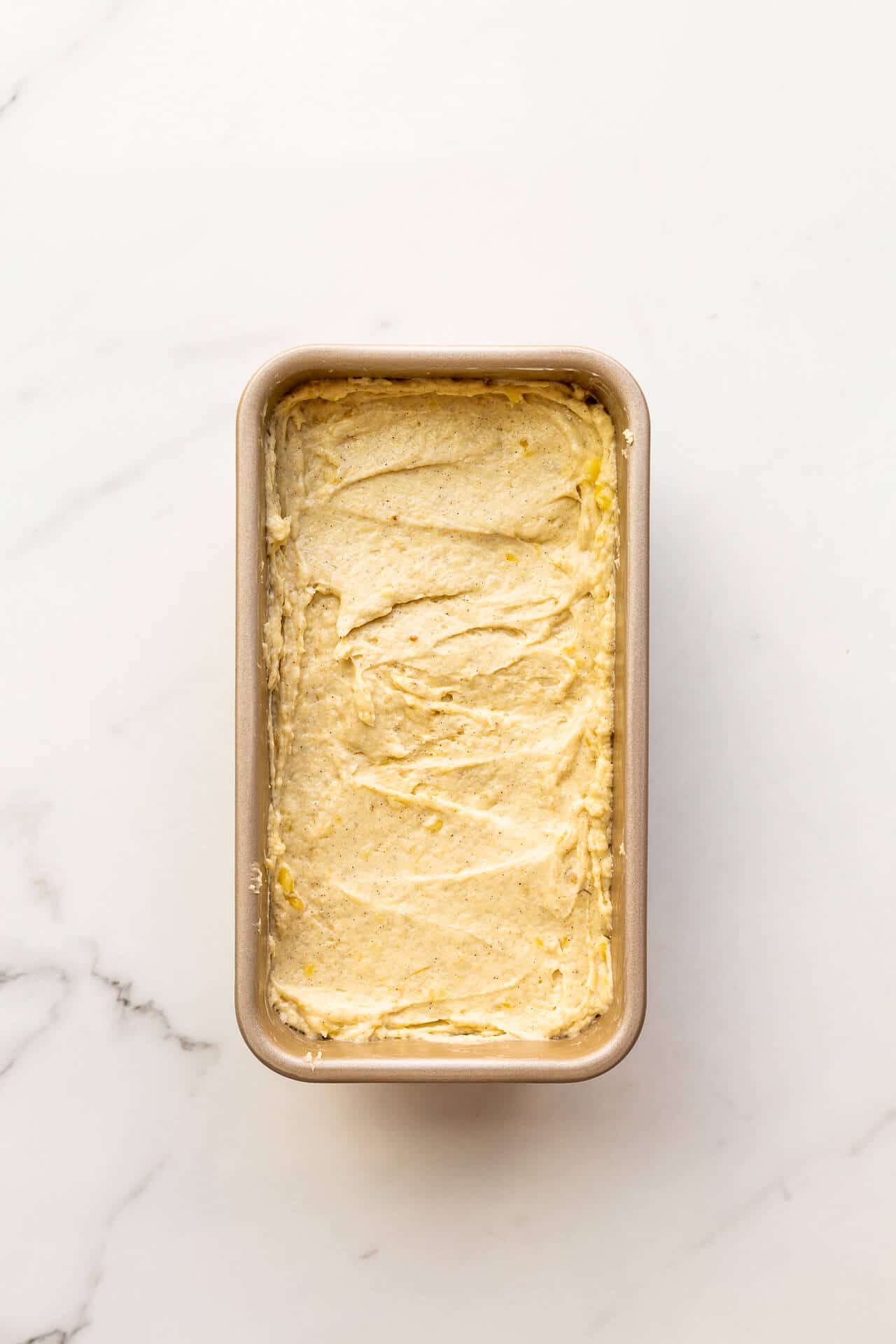 Baking powder is made from sodium bicarbonate, acid(s), and a drying agent (or anti-caking agent) like cornstarch. It's a complete leavening agent and all you have to do is wet it and apply a little heat to make it react.
What does baking soda do in banana bread?
In banana bread, baking soda does more than just help the loaf cake rise:
it increases the pH of the batter, leading to a browner, much darker crumb and crust
it tenderizes by reducing gluten formation in the batter
it adds flavour, especially since most banana bread recipes call for 5 mL (1 teaspoon) or more of baking soda, which is quite a lot for such a small quantity of flour and batter.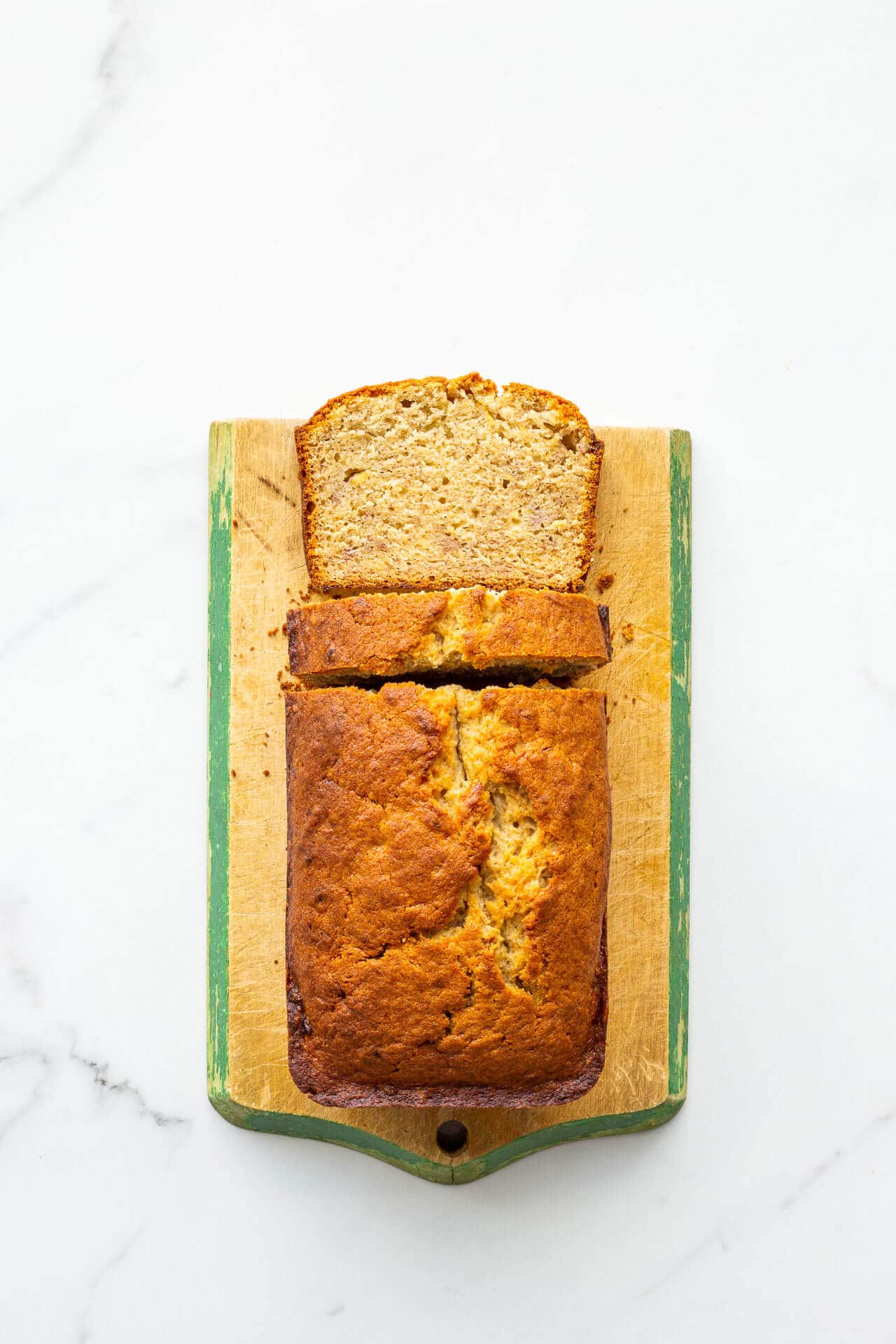 Examples of quick breads with baking soda
This eggless banana bread is made with baking soda only, as is this healthier pumpkin bread. And when I was working on this pumpkin bread, I found that I had no choice but to use both baking powder and baking soda, though I tried really hard to eliminate the baking soda. The pumpkin loaf cake required both leavening agents to rise properly and achieve the perfect texture.
Why bake banana bread without baking soda
I find baking soda, especially in some loaf cake recipes and quick breads, can provide too much flavour. While some tasters don't notice it, I find I'm particularly sensitive to it, and the flavour in some instances can verge on soapy.
Baking Soda Substitute In Banana Bread
Though in some recipes, it's inevitable, I prefer the taste of banana bread without baking soda, which has a milder more buttery flavour and a lighter, golden brown colour with a pale yellow crumb inside. Baking powder is a good substitute for baking soda in banana bread. A good rule of thumb is to use at least 5 mL (1 teaspoon) of baking powder for every cup of flour.
And though I couldn't get the pumpkin bread to work without baking soda, I am happy to report that banana bread without baking soda does work beautifully, with the recipe below.
📖 Recipe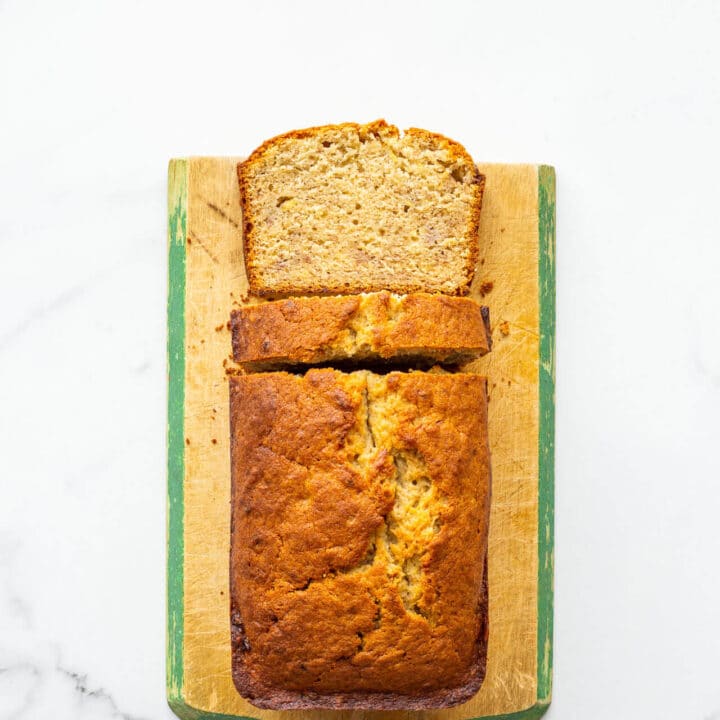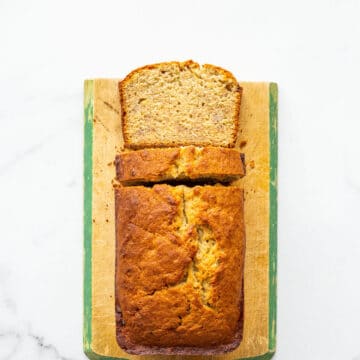 Banana Bread Without Baking Soda
This is a classic banana bread without baking soda. Instead this easy recipe uses baking powder and basic ingredients
Ingredients
250

grams

bleached all-purpose flour

10

mL

baking powder

175

grams

unsalted butter

softened

200

grams

granulated sugar

or a mix of brown sugar and granulated sugar

2

large egg(s)

room temperature

5

mL

pure vanilla extract

330

grams

mashed banana

roughly 3 ripe bananas, approximately 450 grams with peel
Instructions
Preheat the oven to 350 ºF (175 °C). Butter and flour an 8½ x4½-inch (21.5x11.5 cm) loaf pan OR a 9x5-inch (23x12.5 cm) loaf pan, then line the bottom with a rectangle of parchment paper. Set aside.

In a medium bowl, whisk together the flour, baking powder, and salt.

In a large bowl, using an electric hand mixer, cream together the butter and sugar for at least 5 minutes until light and fluffy. Be sure to scrape down the sides of the bowl often to make sure the mixture is evenly whipped.

Add the eggs, one at a time, mixing in between each addition. Mix in the vanilla, if using.

Add the mashed banana. Mix well, scraping the bottom and sides to incorporate everything.

Dump in the flour and fold it in with your spatula.

Pour the batter into the prepared loaf cake pan. Smooth the top to even it out.

Bake for 60–65 minutes for a 9x5" loaf or up to 75 minutes for an 8.5"x4.5" pan, until the edges are a deep golden brown and a cake tester inserted into the middle comes out clean.
Notes
Use the largest bananas you can find for this recipe: I used a pound of bananas and after peeling, I was left with roughly 330 grams of fruit, which works out to 330 mL (1

⅓ cups) but this recipe can accommodate up to

375 mL (1

½

cups) of mashed banana. Don't use more than that.
Make sure the bananas are very ripe (black even).
If you are using frozen bananas for this recipe, please make sure do the following:

defrost the bananas
peel the bananas and place in a strainer set over a bowl
press very gently to squeeze out the liquid
either discard the banana liquid OR place the liquid in a saucepan and boil it down to a couple tablespoons, stirring often so that it doesn't burn. Add this banana concentrate to the bananas and proceed with recipe.

If you want to make a fancier banana bread, add any of the following:

add 250 mL (1 cup) chocolate chips
add 250 mL (1 cup) chopped walnuts or chopped pecans
add 5 mL (1 tsp) ground cinnamon
add 10 mL (2 tsp) ground cardamom
add 5 mL (1 tsp) vanilla extract

You can also use a thermometer to check if your cake is done baking and the internal temperature should register around 212 ºF or 100 ºC when it's done.
If you don't have eggs or are allergic, try this eggless banana bread recipe.
Nutrition
Calories:
337
kcal
Carbohydrates:
47
g
Protein:
4
g
Fat:
15
g
Saturated Fat:
9
g
Cholesterol:
70
mg
Sodium:
210
mg
Potassium:
262
mg
Fiber:
2
g
Sugar:
24
g
Vitamin A:
506
IU
Vitamin C:
3
mg
Calcium:
58
mg
Iron:
1
mg
Frequently asked questions
Why is my banana bread dense?
If your loaf cake is dense, it could be that your ratio of wet ingredients to dry ingredients was off. Did you measure the bananas before adding them to the batter? Often people add too much banana, leading to a dense banana bread.
You may need to add more leavening agent if you want to try to add more banana to this recipe, but I don't recommend adding more than 375 mL (1.5 cups) of mashed banana with this recipe.
Why is there a gummy layer at the bottom?
Make sure to check if your cake is done with a cake tester and a thermometer (internal temperature around 212 ºF or 100 ºC when baked). If there's a gummy layer at the bottom of the banana bread, it could be that your ratio of wet to dry ingredients was off. Did you add extra banana? Or did you defrost your bananas to make the cake? If so, the mashed banana will end up very wet, and I recommend straining the liquid and cooking it down to evaporate some of the water before mixing it into the batter.