Make this eggless pumpkin bread with this easy recipe that's mixed by hand and that's also dairy-free and vegan! This pumpkin bread is great toasted for breakfast and freezes very well. It's made with less sugar so it's a healthier pumpkin bread than most!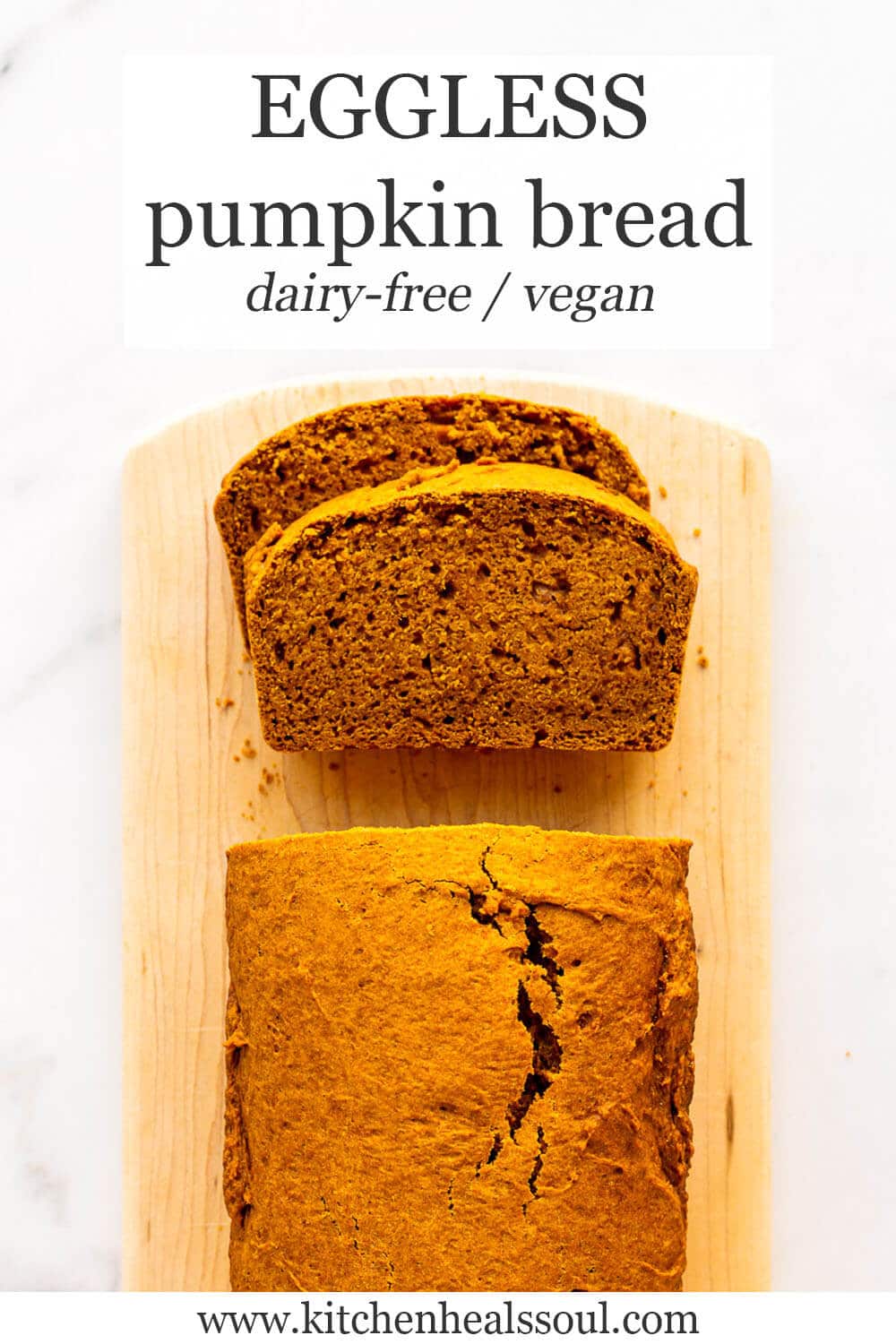 Disclosure: As an Amazon Associate, I earn from qualifying purchases.
How to make a pumpkin bread recipe without eggs
A typical pumpkin loaf cake recipe would have eggs in it, but it turns out that canned pumpkin makes a great egg replacer, as do other fruit purées, like mashed banana in this eggless banana bread. So you can actually easily make eggless pumpkin bread without changing much of anything and without having to resort to egg replacers, like chia eggs or flax eggs, among others. That's great news if you are looking for dairy-free or vegan fall desserts or recipes made with canned pumpkin.
You may notice holes in your cake when you slice into it: these might form because the batter is thick and so gaps in the batter will occur as you fill the loaf pan. If you over-mix the batter, this could also cause larger holes in your cake, so please be sure to mix just enough to form a cohesive, even batter, but not so much that you develop too much gluten. You'll also want to make sure that you take the time to whisk together the dry ingredients so that the baking soda disperses evenly throughout the batter.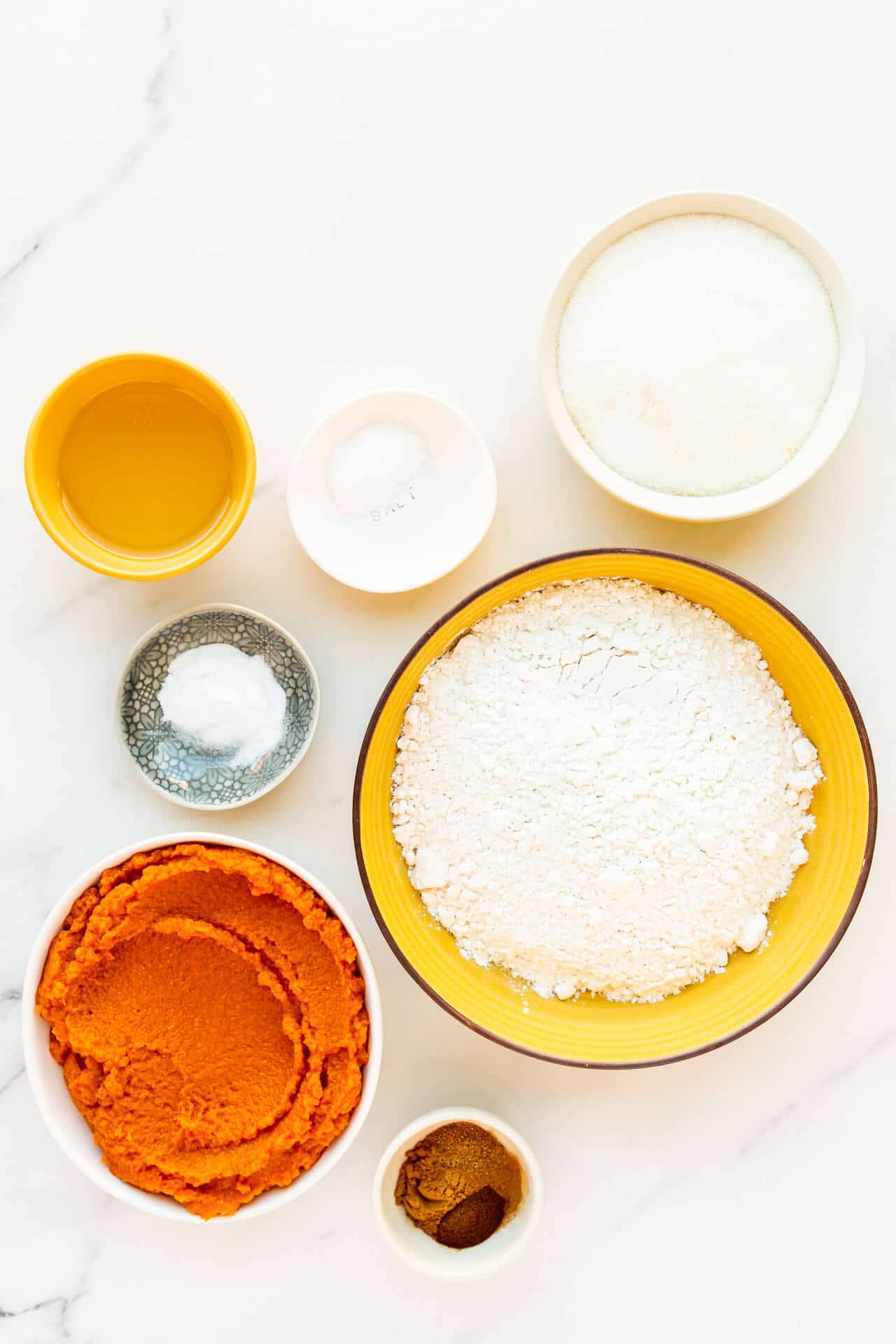 Canned pumpkin versus homemade pumpkin purée
Of course, if you feel like using your own homemade pumpkin purée, instead of canned pumpkin, you absolutely can in this recipe. However, I do have one recommendation for you: strain your homemade pumpkin purée through a few layers of cheesecloth in order to remove some of the water because sometimes homemade pumpkin purée may have an excess of water in it, and that can lead to a wet or gummy cake that might take a very long time to dry out properly. Feel free to keep that pumpkin water for other recipes, like for making smoothies, or you can also boil it down to a very thick syrup to remove the water so that you can add back to the pumpkin purée. This way, nothing is wasted! I use the technique of boiling down the liquid with defrosted bananas to avoid letting the banana juice go to waste. If you go this route, make sure to save the seeds so that you can make a batch of toasted pumpkin seeds to snack on later.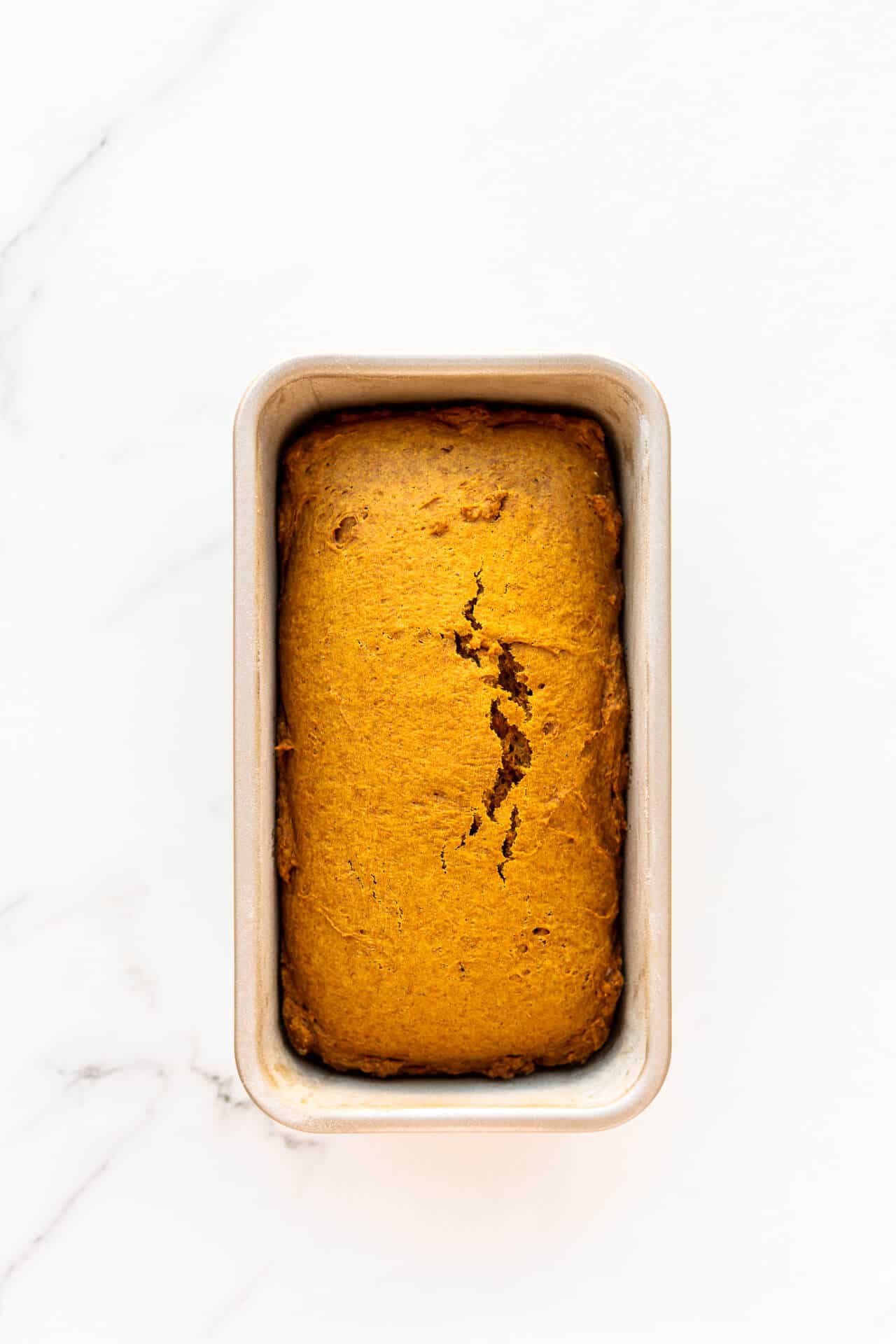 Because this pumpkin loaf cake is vegan, the recipe calls for canola oil (or your favourite neutral-tasting oil), which means the batter for this pumpkin bread can be mixed in a bowl with a whisk or a wooden spoon, instead of having to resort to the creaming mixing method. No mixer required here, which means this recipe is very easy to make because all you do is mix the ingredients together. Of course, if you prefer to bake with butter, a common baking substitution would be to replace the canola oil with the same amount of melted butter (which works out to 58 grams of melted butter). That would work just fine too!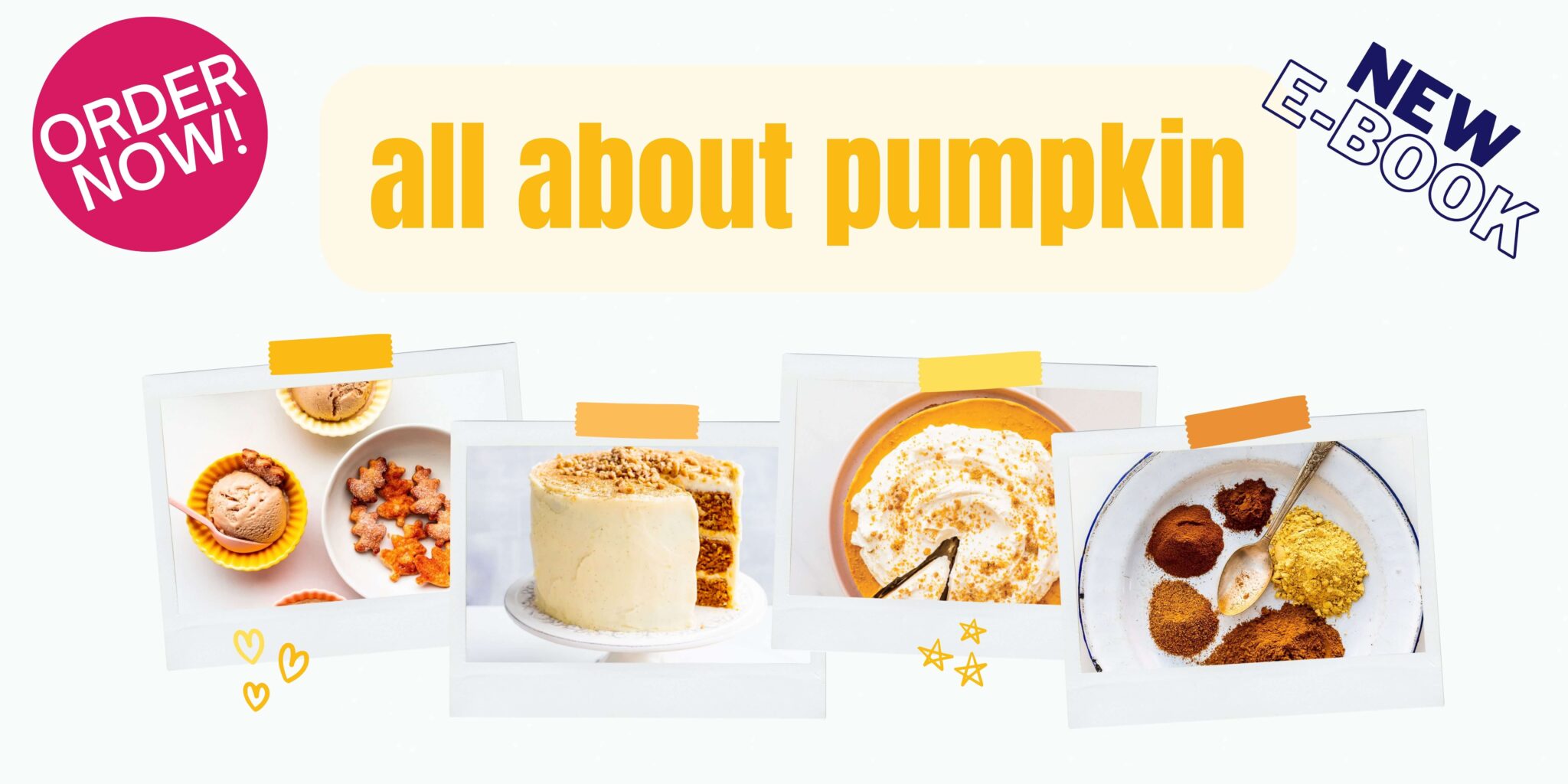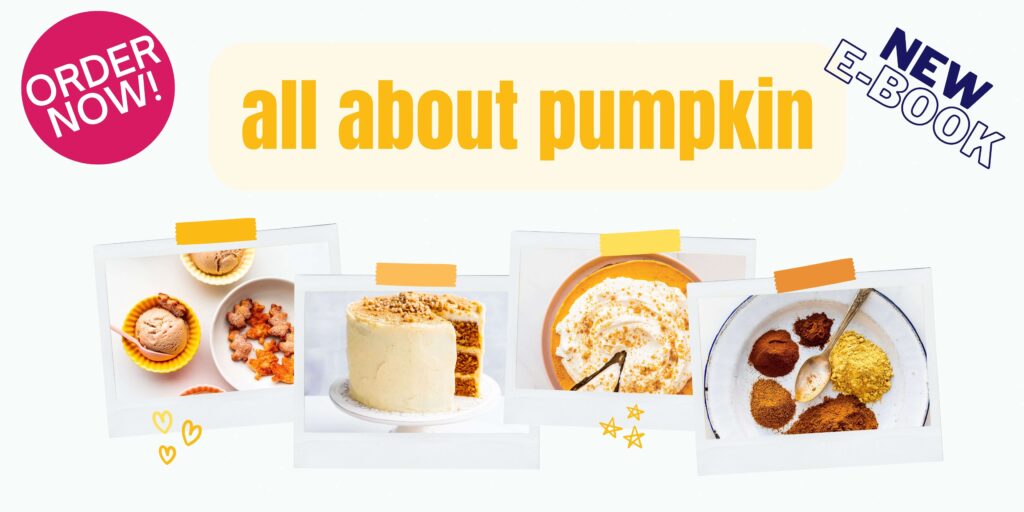 This is a healthier pumpkin bread because it's made with less sugar than most loaf cakes of this size, which would have at least 200 grams (1 cup) of sugar. Reducing the sugar by 50 grams (¼ cup) allows us to make this recipe a little healthier, without impacting the texture of the bread or how moist it is. This is another example to show that baking with less sugar is possible, just like with these blueberry bran muffins and these hearty apple blackberry muffins.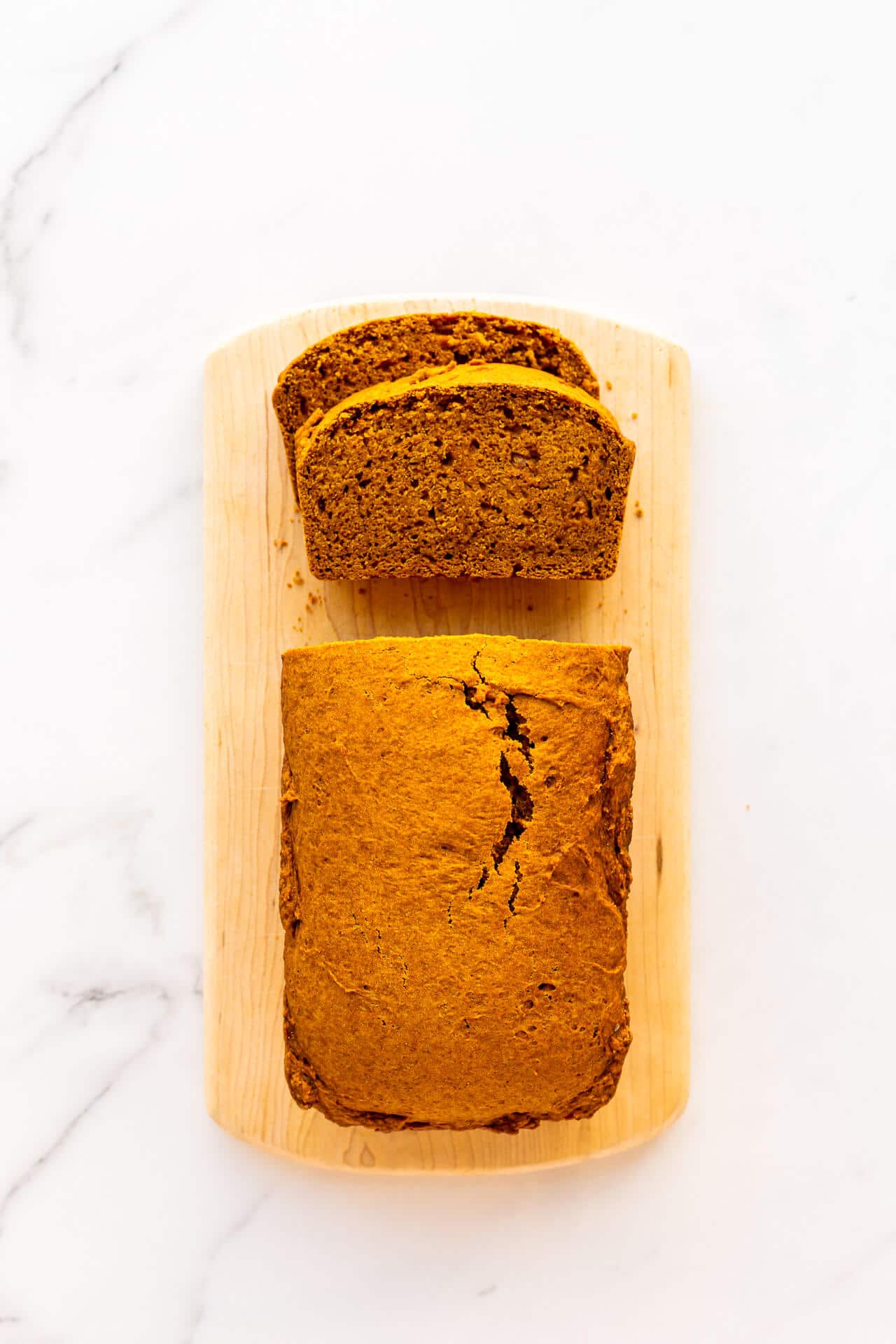 This eggless pumpkin bread makes a flavourful loaf that makes great toast in the morning. I also like to slice the whole loaf and then freeze it. Then you can pull out a slice when you want it and toast it in your toaster. If you want to use maple syrup instead of the sugar, make this maple pumpkin bread.
If you like to explore more recipes for baking with pumpkin, order your copy of the e-book All About Pumpkin so you can celebrate this star ingredient!
📖 Recipe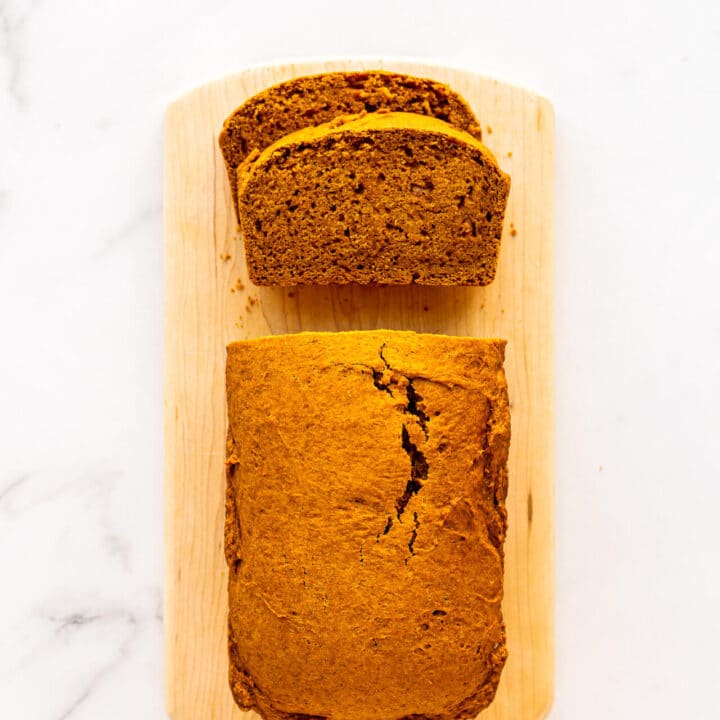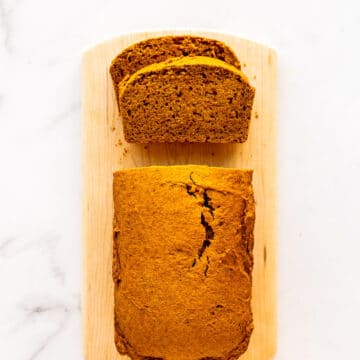 Eggless Pumpkin Bread
Here's a recipe for how to make healthier pumpkin bread. It's eggless, dairy-free, and vegan, and is also made with less sugar than other recipes!
Ingredients
375

mL

pumpkin purée or strained homemade pumpkin purée

60

mL

canola oil

or melted butter

150

g

granulated sugar

or brown sugar or a mixture of both

250

g

bleached all-purpose flour

5

mL

baking soda

5

mL

ground cinnamon

2.5

mL

ground allspice

2.5

mL

ground nutmeg
Instructions
Preheat the oven to 350 ºF (175 °C). Grease and flour a 9x5-inch (23x12.5 cm) or 8.5x4.5-inch (21.5x11.5 cm) loaf cake pan, then line the bottom with a rectangle of parchment.

In a large bowl, combine the canned pumpkin with the sugar. Whisk in the oil.

In a separate bowl, combine the flour with the baking soda, salt, and spices.

Fold the dry ingredients in the bowl with the wet batter and stir everything together to incorporate it and form a thick batter. Don't overmix.

Pour the batter into the prepared pan and bake for approximately 60–65 minutes or until a cake tester inserted into the centre of the bread comes out clean.

Let cool 10 minutes, then unmold onto a wire rack to cool completely.
Nutrition
Calories:
273
kcal
Carbohydrates:
47
g
Protein:
4
g
Fat:
8
g
Saturated Fat:
1
g
Sodium:
417
mg
Potassium:
130
mg
Fiber:
3
g
Sugar:
20
g
Vitamin A:
7295
IU
Vitamin C:
2
mg
Calcium:
25
mg
Iron:
2
mg