Did you slice into a cake and find there are large holes inside of it or uneven bubbles? Holes in cake and cake tunnelling are definitely a sign that something's off in your recipe or in your method. Let's see what causes large holes inside a cake.
I've listed all the possible sources for large holes and tunnelling in cakes that I've come up with so far, based on a lot of reading and a lot of thinking. If you have any thoughts on this (or if you also contemplate the bubbles in cake like I do!), feel free to leave me a comment because I would LOVE your opinion on the subject.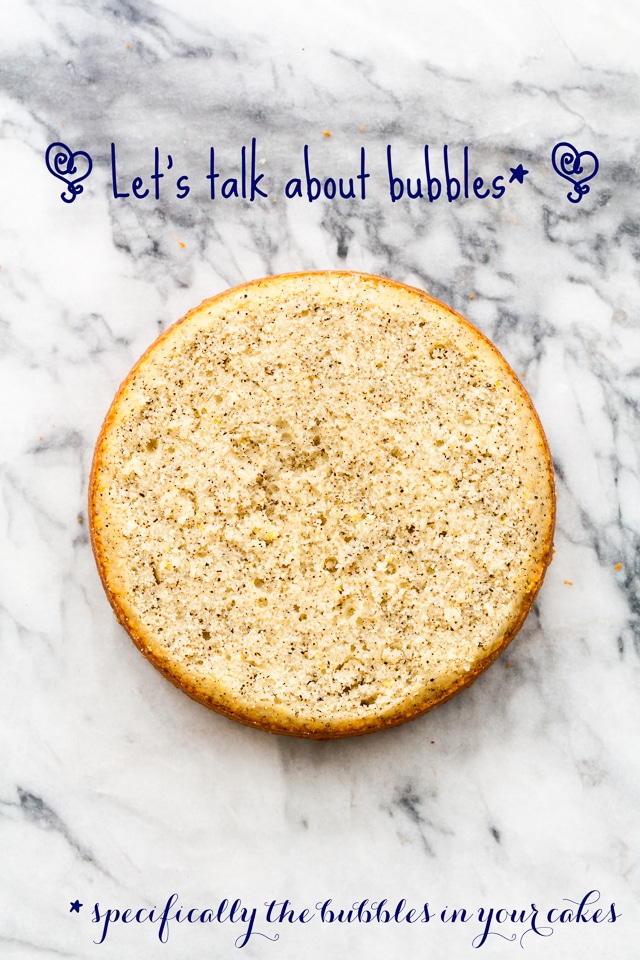 Disclosure: As an Amazon Associate, I earn from qualifying purchases.
Jump to:
What are the bubbles in cakes?
Like any sane person, I lie in bed at night wondering what the inside of a cake should actually look like. More specifically, I think about the bubbles and cake texture problems. Because every time I make a layer cake, when I cut off the tops of each layer of cake to level them and even them out, I get a glimpse of what the interior of the cake looks like, the bubbles, and the "crumb".
Sometimes the bubbles are teeny tiny, quite even, and hardly noticeable. Other times, the bubbles are uneven, mostly tiny but with a few larger holes, even though I was careful to bang the filled tins on the counter several times to push out trapped air before sliding the layers into the oven.
Every time I slice off the top of a cake, I ask myself: is this what cake is supposed to look like inside? I think, in a perfect world, every time we slice into a homemade cake, the bubbles would all be teeny tiny and quite even. We know the obvious source of bubbles in most cakes would be chemical leaveners, like baking soda and baking powder, which react to release a gas and make your cakes rise. So I had to ask the question: what's up with the bigger bubbles in some (but not all) of my cakes?
Gluten can lead to large air pockets in cakes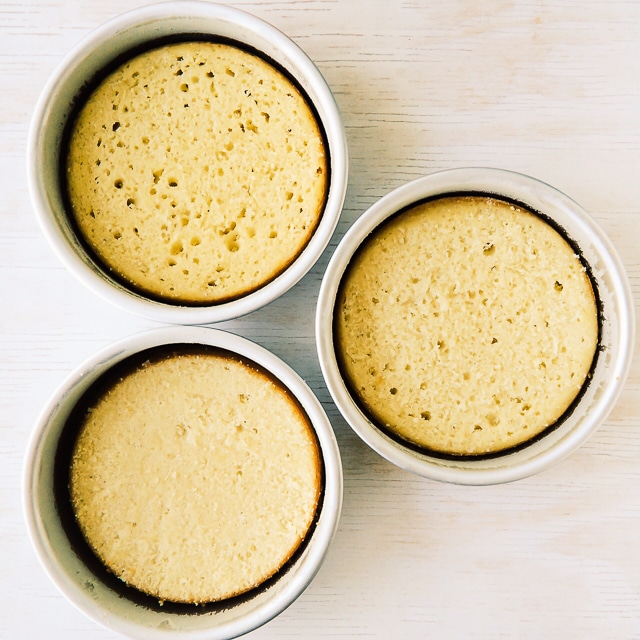 Consider the mixing method you are using. The number one culprit is, most likely, gluten. Gluten is a network of proteins (made up of glutenin and gliadin proteins). The network forms when all-purpose flour comes into contact with water and it's all mixed well together. The combination of stirring and water allow glutenin and gliadin to assemble into the gluten network, giving batters and doughs elasticity, plasticity, and strength.
We think of gluten mainly when we made bread doughs: you have to knead the dough and work it to "develop" the gluten, essentially to help those proteins assemble correctly into a strong network. That network is key—gluten helps bread doughs rise and stay risen (on the counter and in the oven). Without gluten, the pockets of air would break through the dough and escape too easily and your breads wouldn't rise as well as they should.
In bread, gluten is a good thing. In cakes, not so much.
Overmixing a cake batter can lead to gluten formation, especially if your cake recipe includes water or milk (remember gluten forms when you mix flour and water, and work them together). Gluten in a cake would mean that as the baking powder does its job of forming carbon dioxide so that your cakes will rise, that gluten network will trap those air bubbles and instead of forming lots of tiny bubbles, you will end up with bigger bubbles that stretch out and develop as gas forms and water evaporates.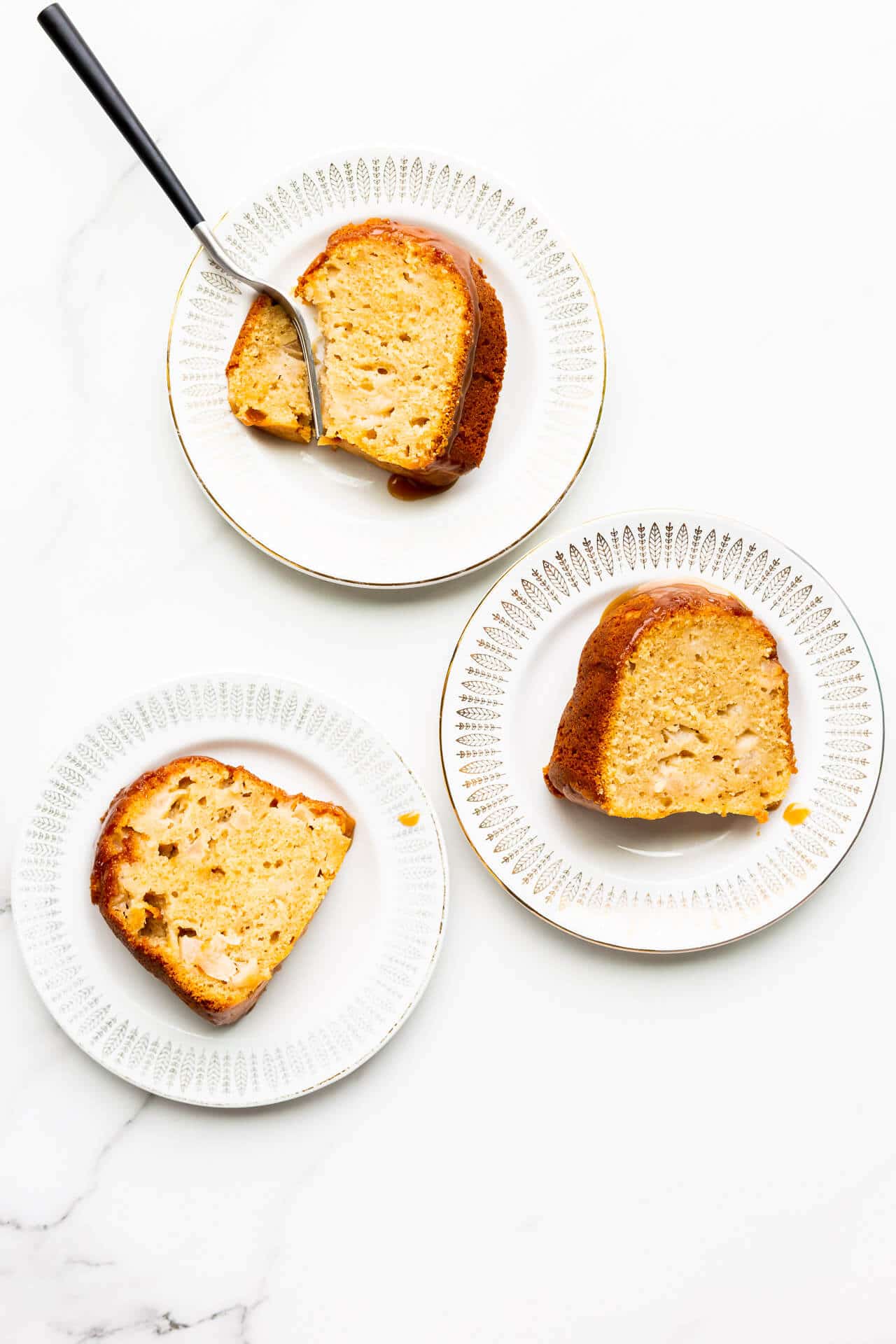 You know you've overmixed, when you see "tunnelling" in cakes and muffins because often if you slice into a cake baked from an overmixed batter, you will see tunnels where air bubbles were trapped and therefore pushed through the crumb, basically tunneling through your cake. Tunnelling is considered a bad thing, and from my experience, the more tunnelling you see, the harder (less fluffy and spongy) the cake is and the more gluten was formed from overmixing the batter. Soft, squishy cakes that were mixed just enough have less gluten formed from mixing.
Too much chemical leavener, like baking powder, can lead to large air bubbles in cakes
The other source of uneven holes in cakes could be the baking powder and the chemical leaveners you are using. If the baking powder (or baking soda) isn't mixed evenly throughout the batter, there could be pockets of it in your batter, which would lead to patches where more carbon dioxide is released, leading to bigger bubbles.
When I was at Le Cordon Bleu, they actually made us sift our dry ingredients 3 times, which seemed like a colossal waste of time considering I had 2 hours to somehow produce a beautiful, presentable cake from scratch. In hindsight, the chefs might have recommended triple sifting the dry ingredients together in order to evenly disperse the chemical leavener throughout the dry ingredients. Or they were just making our lives extra difficult. Either or.
Broken emulsion and inconsistent ingredient temperatures can cause air pockets in cakes
A lot of us bakers, myself included, brush over the importance of the emulsion in the first steps of cake making. An emulsion is a dispersion of tiny droplets of a liquid in another liquid, say oil in water, like when you are trying to make a vinaigrette with white vinegar (which is usually about 5% acetic acid in water) and olive oil, or mayonnaise from egg yolks and oil.
If your ingredients are at the proper temperature, and you cream the butter and sugar to aerate it before adding the eggs, slowly, to that mix, theoretically, you should end up with a light, fluffy, yellow-tinged batter that is well aerated and emulsified.
If you add the eggs too fast, you risk that the emulsion never form properly or that it breaks. You end up with glossy streaks of water/egg white separating out of the batter. The batter doesn't look even. Furthermore, if the eggs are too cold, it is highly likely that when you add them to the creamed butter and sugar, the butter will harden and form lumps.Either way, what this means is the batter is uneven, and the crumb/air bubbles in the baked cake will be too. Temperature is key and so is your mixing technique.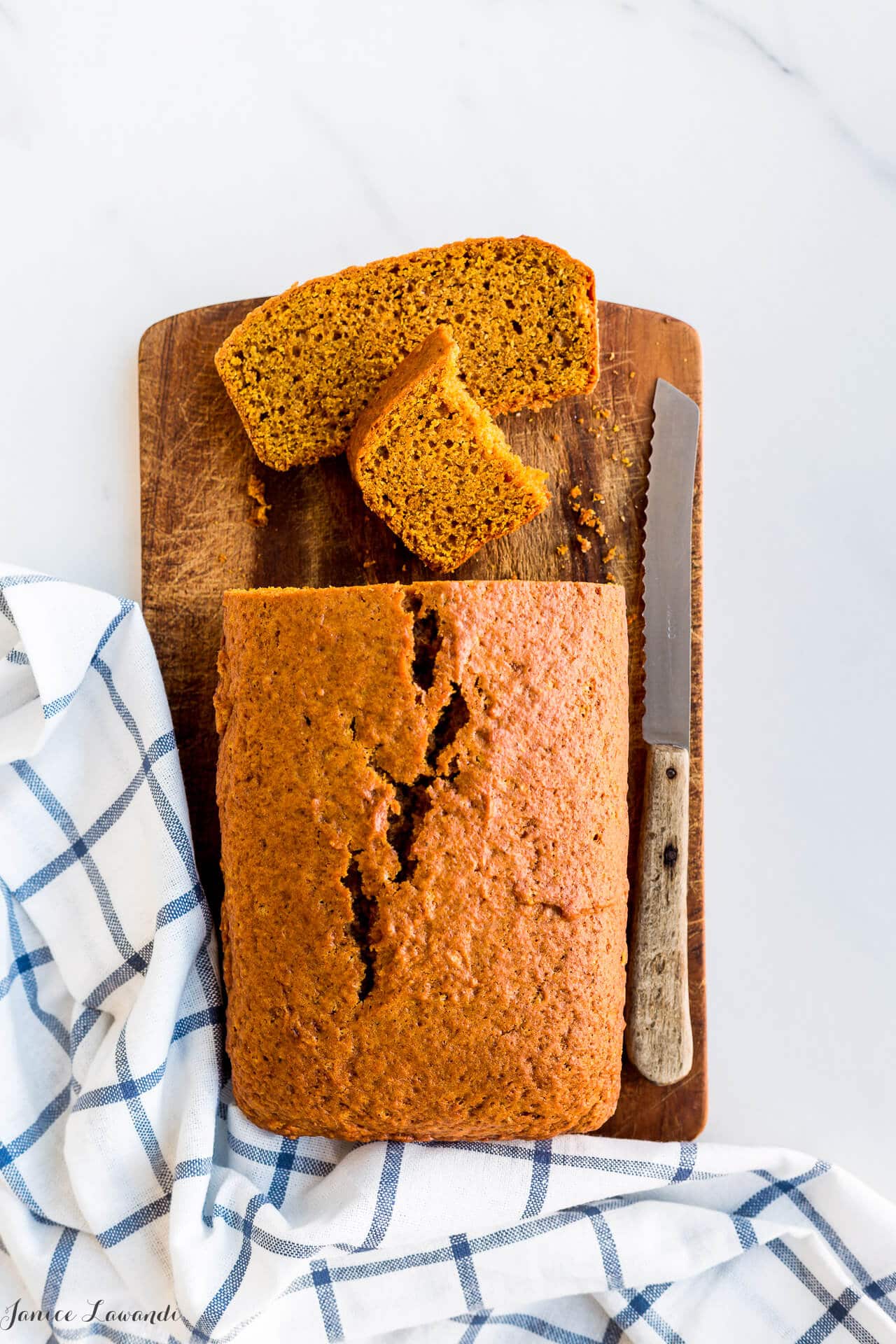 The way you fill your pan with cake batter can cause air pockets
You know when you watch a baker fill a cake pan and then bang the filled pan on the counter a few times? Banging/tapping your pan before popping a cake into the oven is actually a really important step. Firstly, the banging allows the cake batter to fall into all the nooks of the pan. This is very important for bundts with intricate designs. You want to make sure the batter fills all the ridges of the pan.
The banging also helps you push out any large pockets of air that may have come from whipping the batter but also from scooping the batter to fill the pan. In pastry school, we were taught to swirl the pan on the counter, especially with fluffy genoise or sponge cake batter: sponge cakes are particularly prone to large holes. Just give it a spin! I like to spin and bang now to make sure I've pushed out as much unwanted air as possible. Banging may deflate your batter a little so bang with caution.
There are other possible reasons, obviously....
I'm going to stop here, but there are other culprits for the uneven bubbles inside a cake, and some of them are related to what we've discussed above. For example:
Overwhipping the eggs when they are added to the creamed mixture isn't a good idea. Basically, mechanically incorporating too much air at this stage can lead to bigger bubbles in cakes.
Too much leavening agent can also be a problem, again because it's hard to disperse evenly, but also, it can lead to too much carbon dioxide forming in your cake as it bakes. Too much gas, means too many bubbles that may merge into bigger bubbles. Too much baking soda actually lead to browning, a denser cake that rises less and a firmer texture. This is why it's so important to be careful when measuring ingredients for baking.
Baking with the wrong type of flour, like bread flour, when making cakes: using a strong flour, like our beloved all-purpose flour that we use for everything. That AP flour has a higher protein content (in Canada, AP flour can have 11% protein or more!): it has more glutenin and gliadin hanging around, which means it's easier to form gluten when it comes into contact with the other ingredients in your cake batter. There's a reason why we don't use bread flour when we make cakes, but perhaps all-purpose isn't the best either? It's rather convenient though, and I have mixed feelings about making homemade cake flour from AP flour and cornstarch (but that's a whole other post altogether).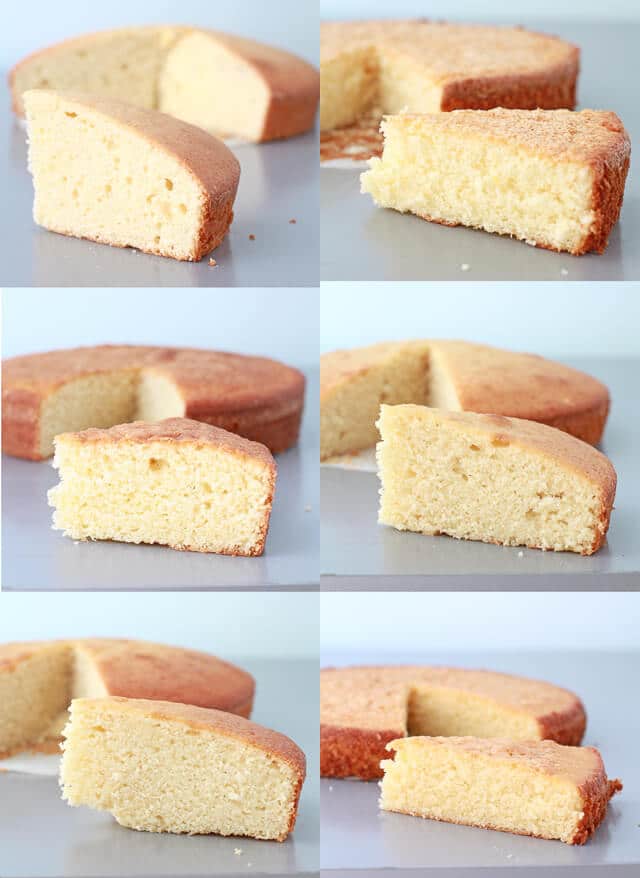 How to avoid large holes or air pockets in your cakes
Achieving an even crumb is simple, and yet it's not (as you can see, I haven't quite mastered it!).
make cakes with a lower protein flour, like cake flour: This way, your cake batter will be slightly less sensitive to overmixing because there are less gluten-forming proteins around to worry about. That's an easy fix.
bang the cake pan after filling it with cake batter: You should swirl the pan on the counter, also tap/bang it down on the counter to make sure the batter falls into all the nooks and crannies of the pan.
watch the temperature of your ingredients: make sure you are working with butter that is warm, but not too warm (it shouldn't be on the verge of melting). Don't work with eggs that are fridge cold because that won't help either. These two ingredients and their temperatures can literally break the emulsion and the evenness of the batter.
triple sift the chemical leavener with the flour and salt
revisit the quantity of chemical leavener necessary in the recipe: make sure you aren't using too much leavener in your cakes
contemplate adding a touch more liquid to the batter: thick batters are harder to spread in cake pans and a thick batter is more likely to trap air pockets as it is poured or dolloped into a cake pan, which can result in gaps in cake crumb. Consider thinning out your cake batter with a little milk to see if this helps improve the texture inside your layer cakes.
The good news is that all roads lead to cake. I guess practice makes perfect, even after years and years of baking. Sigh. This just means we all need to make more layer cakes, and eat more cake! Yay!
Recipe source for cake in 1st image: Earl Grey cake
Recipe source for cake in 3rd image: Cranberry cardamom cake with cream cheese frosting