If you love tea, this Earl Grey layer cake recipe is for you, made with three layers of Earl Grey cake and a creamy Earl Grey frosting.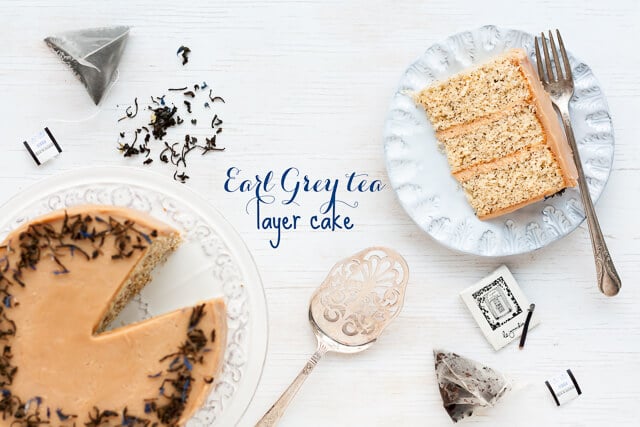 Disclosure: As an Amazon Associate, I earn from qualifying purchases.
I turned 33 on the 3rd (of January), but actually, I was saying I was 33 at least a couple of months before the big day. I don't think it happened overnight. I didn't just wake up one morning and feel 33. I think gradually over the last few months, I started to feel "older", and then one day, I just started saying I was 33, and I truly thought it. I felt older. I felt 33. People freak out over turning 30, and I wrote back in 2012 how I expected that turning 30 was going to be a big deal, but it wasn't in the end. I had baked myself the Milk Bar birthday cake to celebrate. Turning 33 wasn't a big thing either for me, but for once, I really felt that extra year. I was basically done with my 32nd year of age somewhere in November, and then I was 33.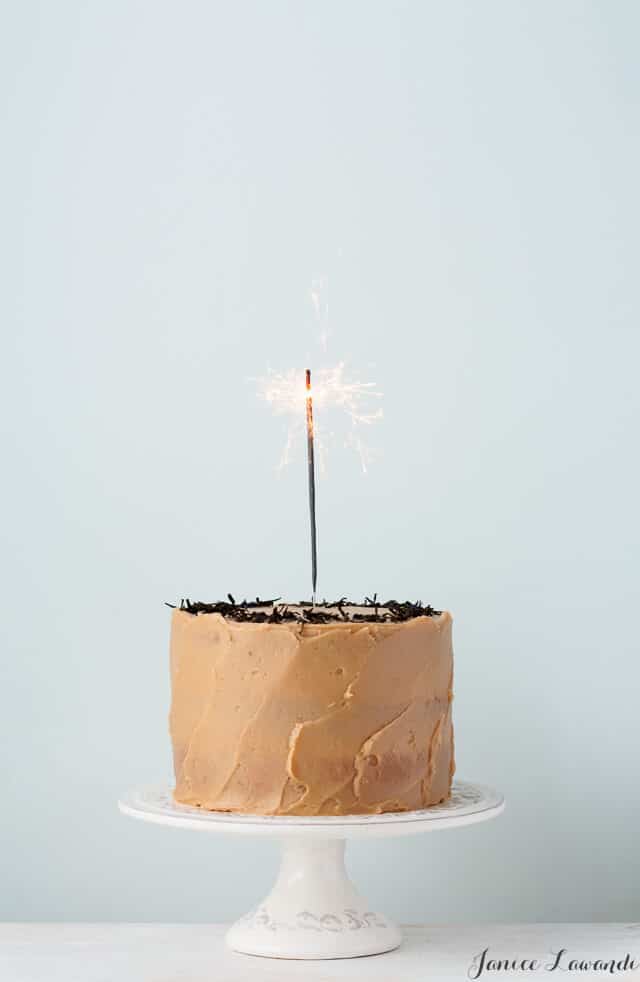 I turned 33 on the 3rd, and that's a lot of 3's. I worried before the big day that if 3 happened to be an unlucky number for me, then given the number of threes involved with this particular birthday, it could only mean bad news. But I don't have a lucky or an unlucky number, as far as I know, and I don't know if 3 is lucky or unlucky for me. Can I simply declare 3 as my lucky number and make this 33rd birthday year a great one? Perhaps it's that easy.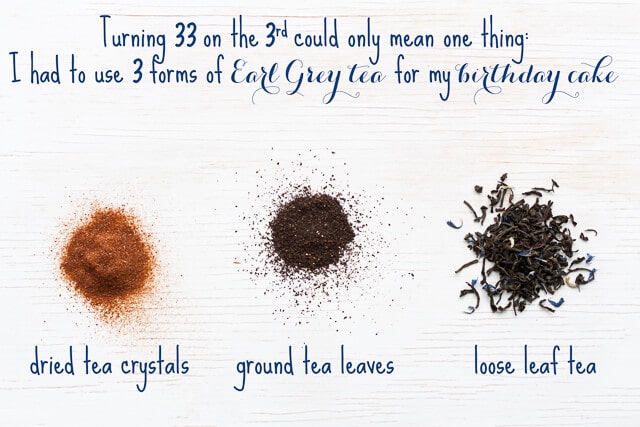 I spent the week following my birthday trying to decide what I wanted to make to celebrate all the threes of this year. I thought about all the cakes I'd made and blogged about over the last few years. For my 32nd birthday I made a spice cake with cream cheese frosting and for my 31st, I made a chocolate amaretti cake, which is not a layer cake but still satisfying for its chocolate and almond flavour, and I celebrated my 30th with the Bar birthday cake. I spent a lot of time thinking, but by mid-week, I still had made nothing. So I went to the bookstore, and I bought 3 cookbooks to inspire me (I'm not kidding: I really did buy three cookbooks last Wednesday), including Matt & Renato's 4th book (Baked Occasions on Amazon). In the end, after buying 3 cookbooks, of course I went back to my bookshelves and pulled Matt & Renato's first (Baked New Frontiers in Baking on Amazon), which got me thinking about making a tea frosting because I love sweet, milk tea. It's my favourite thing.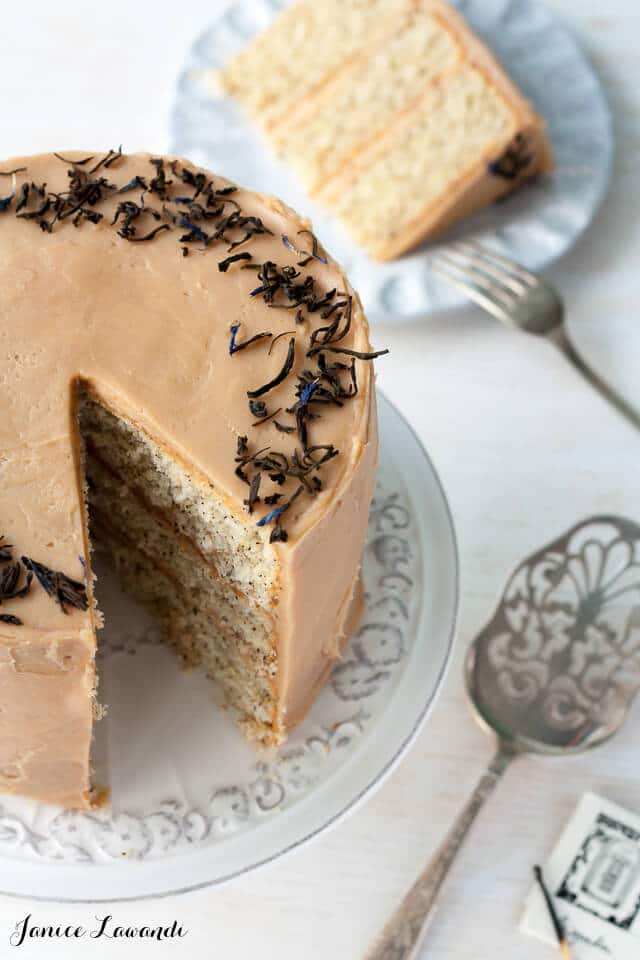 To celebrate my 33rd birthday a week after the 3rd, I took the best vanilla cake recipe (based on a Ricardo recipe), flavoured with lemon zest and speckled with finely ground Earl Grey tea (Earl Grey tea #1). To bake the cake layers, I split the batter between three 6-inch cake pans. Take the time to prepare the cake pans before baking, by buttering the pans, lining the bottom with parchment, and dusting the sides with flour. This way your cakes will slide right out of the pan, without sticking.
Between the layers, I slathered a milk tea frosting flavoured with instant Earl Grey crystals (Earl Grey tea #2) and based on a recipe for matcha frosting from Matt & Renato, and I decorated the cake with a ring of loose-leaf Earl Grey tea—a mixture that contains pretty blue flowers (Earl Grey tea #3). And thus, my "three Earl Grey teas" cake was born because "Three is a magic number. Yes it is, it's a magic number" (as sung by Shannon Hoon for Schoolhouse Rock!). I guess you could say it's quite like a London Fog cake, London Fog being a tea-based latte where the espresso in the latte is replaced with brewed tea. This Earl Grey cake is my favourite layer cake by far, but if you are more of a traditionalist, there's always vanilla cake with chocolate frosting.
How to store this cake
Given this Earl grey layer cake is made with buttercream frosting, it's best to store it in the fridge. If you've cut into the cake, just cover the cut edges with pieces of parchment to prevent them from drying out. Place the cake in the fridge until the frosting is firm and cold, then cover the whole thing with aluminum foil. You can store this cake for up to a week, or freeze slices for later.
For a detailed explanation, read about how to store cake.
Earl Grey tea layer cake recipe
Here are some of my favourite tools to make layer cake recipes like this one:
For more layer cake inspiration, check out my other layer cake recipes.
📖 Recipe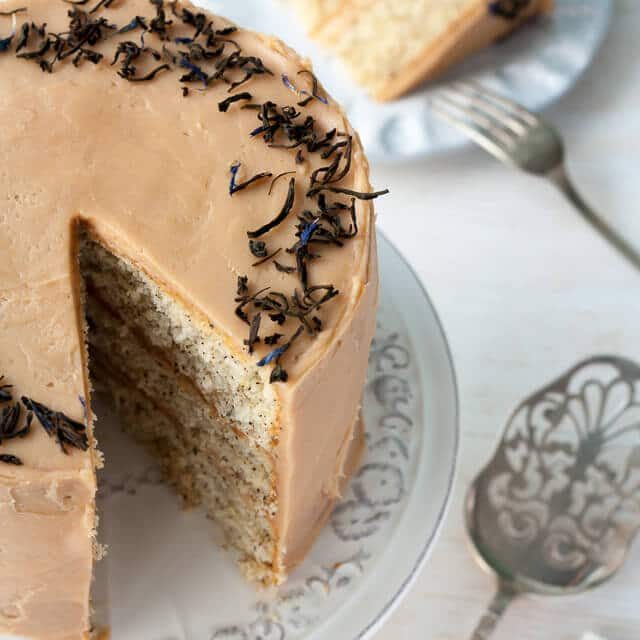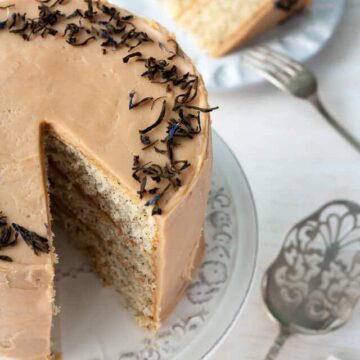 Earl Grey Tea Layer Cake
This Earl Grey cake is flavoured with tea throughout. The cake layers are made with ground Earl Grey tea and lemon zest, the frosting is infused with instant Earl Grey tea (from freeze-dried Earl Grey tea), and the cake is decorated with Earl Grey tea leaves with pretty blue corn flowers.
Ingredients
Earl Grey cake ingredients
250

grams

bleached all-purpose flour

10

mL

baking powder

1.25

mL

Diamond Crystal fine kosher salt

5

grams

finely ground Earl Grey tea leaves

173

grams

unsalted butter

room temperature

250

grams

granulated sugar

15

mL

finely grated lemon zest

3

large egg(s)

room temperature

5

mL

pure vanilla extract

188

mL

whole milk (3.25 % fat)

room temperature
Earl Grey frosting ingredients
150

grams

granulated sugar

21

grams

bleached all-purpose flour

7.5

mL

instant Earl Grey tea crystals

I used Guilin Dynasty brand

188

mL

whole milk (3.25 % fat)

42

mL

whipping cream (35 % fat)

173

grams

unsalted butter

room temperature
Instructions
To make the cake layers
Preheat the oven to 350 °F (175 °C). Butter, flour, and line with parchment three 6-inch cake pans (Wilton on Amazon)

Sift together the flour, baking powder, and salt, then whisk in the Earl Grey.

In the bowl of an electric mixer fitted with the paddle attachment, cream the butter and the sugar with the lemon zest for several minutes until it is well blended, creamy, and light.

Add the eggs, one at a time, beating for several minutes between each addition and scraping down the sides of the bowl every so often. The mixture should be super light in colour and very fluffy.

Add the vanilla.

Add one third of the flour mixture, mix it in on low speed, then half the milk. Continue with half the remaining flour and the last of the milk. Scrape down the bowl sides and then mix in the last of the flour.

Divide the mixture between the three pans, banging the pans to release any air pockets. Smooth the surfaces of the cakes with an offset spatula and bake them for about 25 to 28 minutes.

Let the cakes cool 10 minutes before unmolding to cool completely on a wire rack.
To make the frosting
In a medium saucepan, whisk together the sugar, flour, and instant tea powder, then whisk in the milk and the cream.

Heat the mixture on medium-high heat, whisking fairly often, especially when the mixture comes to a boil. I heated this mixture for a total of 11 minutes until it was super thick and gooey.

Strain through a sieve into the bowl of a mixer, working it through with your whisk, then beat the mixture to cool (this takes a long time) with the paddle attachment.

When you are sure the sweet tea mixture is completely cooled, add in the butter in dollops, while mixing on low, then when all the butter is added, increase the speed to medium-high and whip the frosting until it is light and fluffy.

Level the cakes with a serrated knife, then place the first layer on a cake stand. Top with a couple spoonfuls of frosting (~70 grams) and smooth it out. Stack on the second cake layer and another 70 grams of frosting, then top with the final layer and frost the sides and top with the last of the frosting.

Decorate with a ring of loose-leaf Earl Grey tea before serving.
Notes
Nutrition