This recipe for gluten-free chocolate cake with strawberries and cream was sponsored by Cacao Barry. This decadent chocolate cake is the best summer dessert and you can make the cake the day before because the flavour improves with time.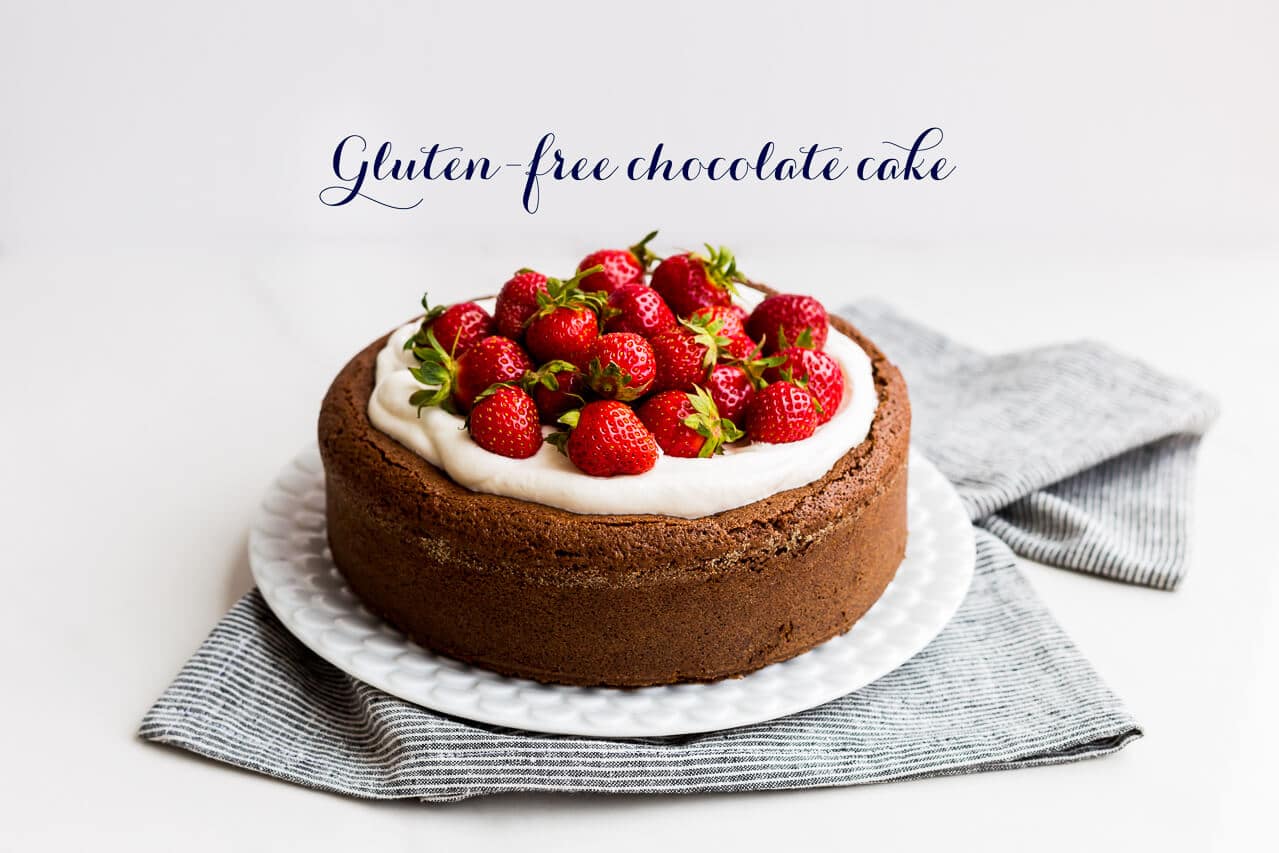 Disclosure: As an Amazon Associate, I earn from qualifying purchases.
There was one summer that I was so busy, I completely missed the local strawberry season. Considering the berry season lasts most of the summer, it was pretty pathetic. I have vowed to do better ever since.
Last week, I found a stand at the market that was selling the sweetest, tiniest, local Quebec strawberries and I went home with 2 pints of them, perfect for garnishing a strawberry cream tart, for stuffing into crepes with vanilla bean pastry cream, or for garnishing a simple single layer chocolate cake with lots of whipped cream. In my world, the best summer cake MUST involve a thick layer of whipped cream and a mound of fresh, local berries. Another good gluten-free summer cake would be this lemon cake with lemon curd and raspberries. I love the look of simple, single layer cakes topped with berries like these.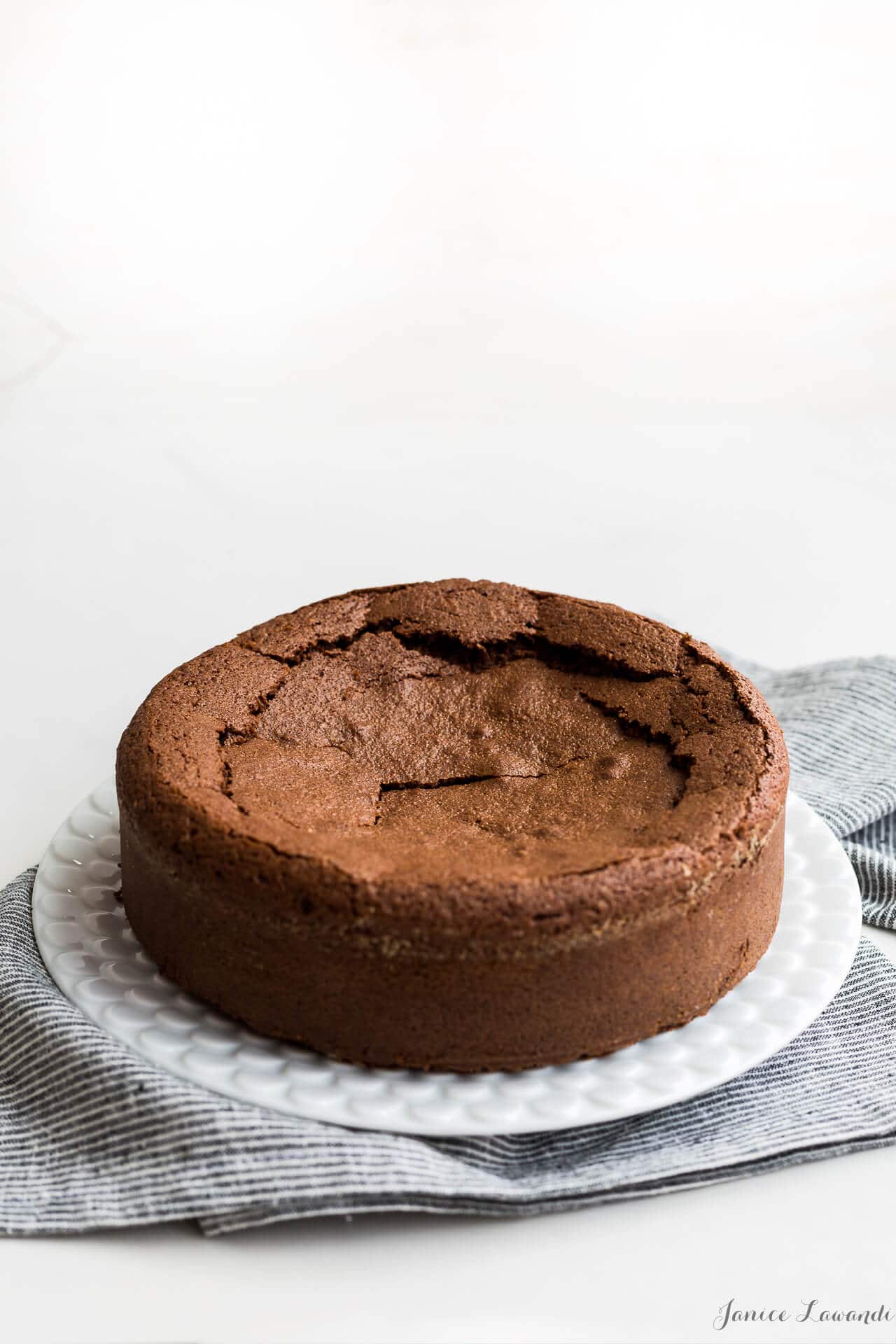 A riff on a flourless chocolate cake
When I worked on this recipe, I wanted a simpler chocolate cake than the typical chocolate layer cake with berries. I was aiming for a single layer chocolate cake that is quite similar to a flourless chocolate cake of sorts, but with a little (buckwheat) flour added to the mix. The buckwheat flour in this recipe not only gives this chocolate cake more flavour, it also helps give the inside of the chocolate cake a little more structure so that, when you underbake it just like you would a real flourless chocolate cake, the cake sinks and settles, but not too much, so it doesn't become overly dense like some other recipes.
Volume without separating eggs
A lot of flourless chocolate cake recipes have you separate the whites from the yolks so that you can whip the whites to stiff peaks and fold them into the batter to lighten the mixture. I hate that, and I bet you do too. So rather than beat the whites separate from the yolks, I opted to make this chocolate cake like I would make a génoise cake, whipping the whole eggs with the sugar until it's at the ribbon stage, a foam so stable, light, and thick that it forms a "ribbon" when drizzled off the beater onto the surface of the whipped mixture. This stable foam is perfect for providing enough rise to this easy gluten-free chocolate cake recipe. No separating of eggs is required.
Patience is a virtue
Like with flourless chocolate cakes, it's best to let this cake cool completely and then sit overnight before cutting into it. The cake will sink and settle, and the top will crack a little, and the texture inside of the cake changes and the flavour improves. This recipe makes a great make-ahead dessert. I stored it unwrapped overnight (in my microwave because my cat is a nuisance but feel free to store it under a cake dome). I served this moist chocolate cake with a thick layer of whipped cream and lots of berries. It's the perfect dessert to celebrate summer.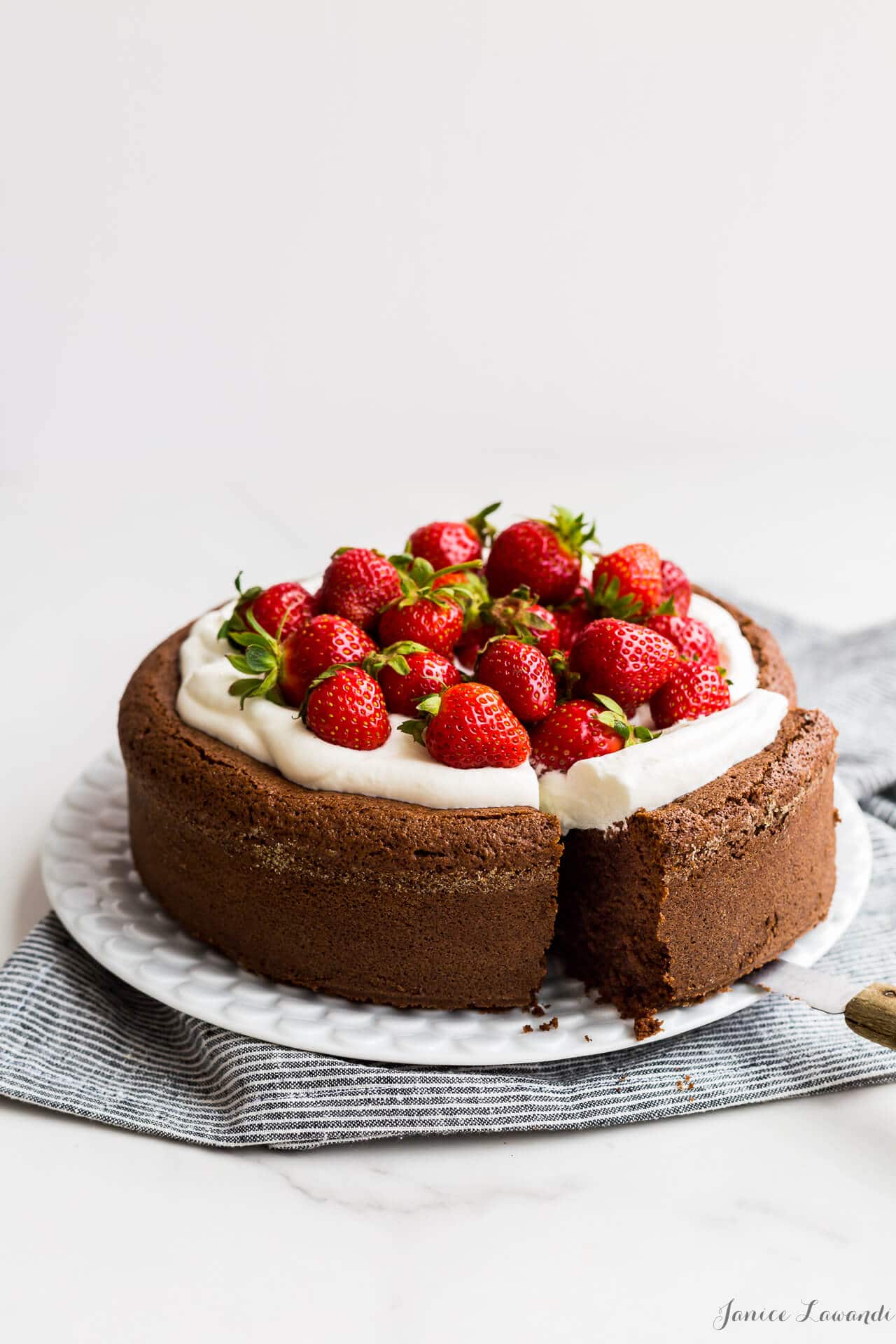 For the best chocolate cakes, use really good chocolate!
The major ingredient in an almost flourless chocolate cake like this is chocolate, which means you MUST use the best dark chocolate for baking because it is providing both flavour, structure, and texture to this dessert. For this recipe, I used Cacao Barry Ocoa 70% dark chocolate, which is a professional quality dark chocolate that you can buy in IGA grocery stores in Quebec and online from Vanilla Food Company. It comes in 1-kilo resealable bags as pistoles (which resemble giant chocolate chips) which makes most baking projects super easy because you don't even have to chop it to use it!
Because I wanted a taller chocolate cake, I opted to use an 8-inch springform pan. Make sure to take the time to prepare the cake pan properly: I buttered the pan all over, lined the bottom with parchment paper, and then dusted the sides with buckwheat flour to make sure that this cake would unmould perfectly from the sides, which it did, as you can see in the photos!
📖 Recipe
Simple Gluten-Free Chocolate Cake (single layer)
This moist chocolate cake topped with whipped cream and fresh strawberries is so good, you wouldn't believe it's gluten-free. The cake is quite similar to a flourless chocolate cake, but made with a little buckwheat flour and ground almond. It's perfect for serving as a single layer cake with summer berries and lots of whipped cream.
Ingredients
Gluten-free chocolate cake
Whipped cream
250

mL

whipping cream (35 % fat)

25

grams

icing sugar
Garnish
450

grams

fresh strawberries
Instructions
Gluten-free chocolate cake
Preheat the oven to 350ºF (175 °C). Butter the bottom and sides of an 8-inch springform pan, then line the bottom with a round of parchment paper. Use a tablespoon or two of buckwheat flour to flour the buttered sides of the pan. Set the pan aside.

Melt the butter with the chocolate in a bowl set over a pan of simmering water. Mix until perfectly smooth, glossy, and even. Take the bowl off the heat and let cool slightly.

Meanwhile, in the bowl of an electric mixer fitted with the whisk attachment, beat the eggs with the granulated sugar to the ribbon stage when the mixture is very pale in colour and extremely light in texture. This takes about 10 minutes.

In a separate bowl, whisk together the buckwheat flour, ground almonds, and salt. Fold this dry mixture into the fluffy egg mixture. Then fold in the melted chocolate and butter.

Pour the batter into the prepared springform pan. Smooth the top and tap the pan to remove any large air pockets.

Bake the cake for about 45 minutes until the surface is set but the inside is still a little underbaked.

Let the cake cool for 10 minutes then unmold it onto a plate and let it cool and rest overnight. The cake will crack and settle in this time. That's normal!
Whipped cream
When you are ready to serve the cake, whip the cold whipping cream in a large bowl. When the whipped cream is still a little soft, add the icing sugar and finish whipping the mixture to form thick whipped cream. Spread the whipped cream over the chocolate cake.
Garnish
Top the whipped cream layer with a pile of washed berries. Serve immediately.
Nutrition