Have you found the best vanilla cake recipe yet? I compared 6 different basic vanilla cake recipes to find which vanilla cake recipe makes the best layer cake, but also to explore what ingredients and techniques make a more moist vanilla cake, with a more even texture and crumb, and what techniques aren't worth the trouble.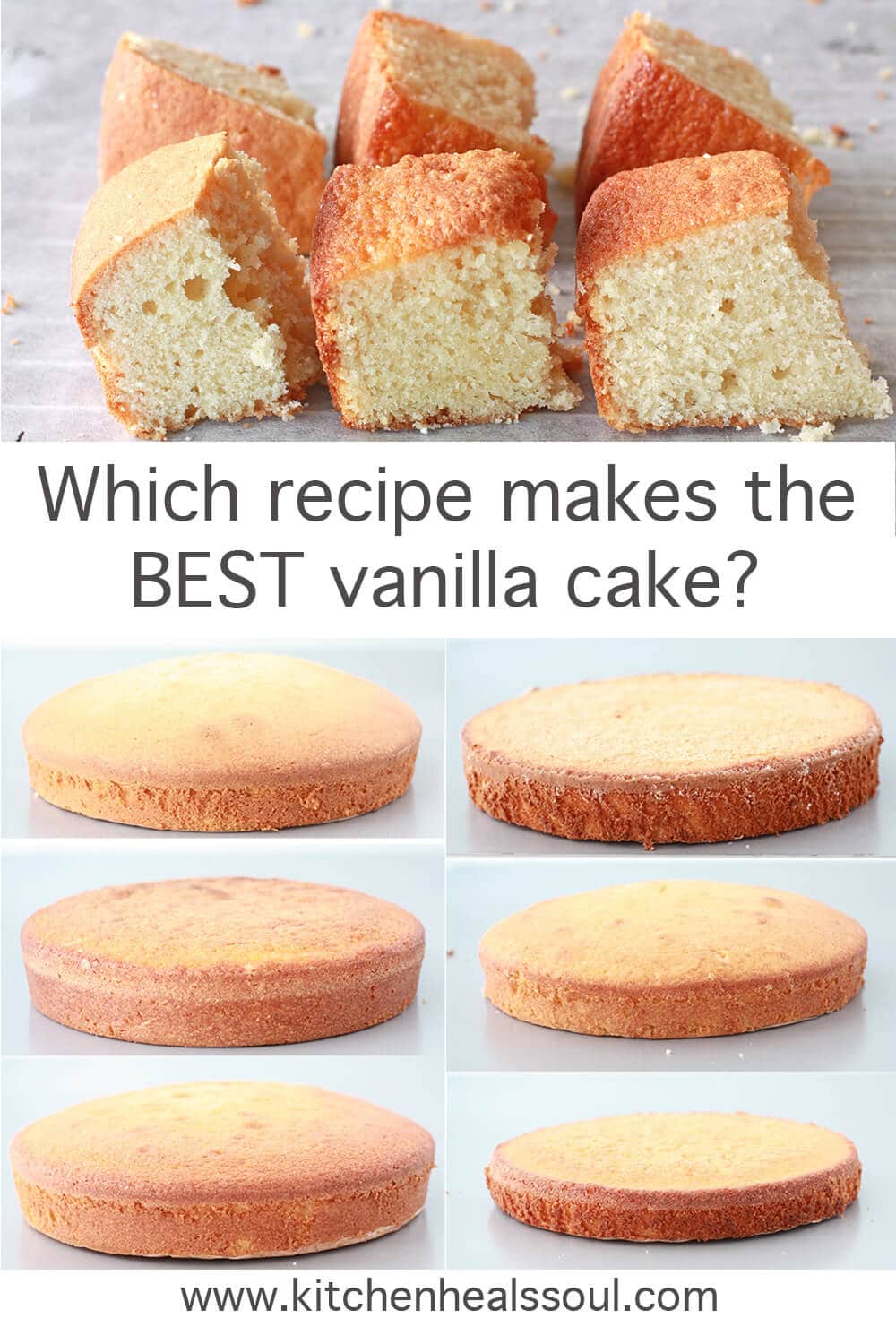 Disclosure: As an Amazon Associate, I earn from qualifying purchases.
What makes vanilla cake recipes different?
All basic vanilla cakes have the same ingredients: butter, granulated sugar, eggs, vanilla, flour, baking powder, salt, and milk. And yet there are so many vanilla cake recipes in circulation and they can yield very different results.
Variations possible with the ingredients in a vanilla cake:
There are two main ways to make different cakes from the same basic list of ingredients:
the baking ingredient ratios of butter to sugar to eggs to flour to milk have a huge impact on texture, as we've seen with the shortbread ratio, also the amount of chemical leavener (whether baking soda vs baking powder or both baking soda and baking powder)
the mixing method and whether the cake batter is made by

the creaming method (where butter and sugar are beaten together til light and fluffy before proceeding, like in this vanilla cake with milk chocolate frosting)
the sponge method (where eggs are whipped with sugar to incorporate air, like for chocolate génoise or the hot milk sponge cake)
the reverse creaming method (where all the dry ingredients and the sugar are combined; the butter is worked into this mixture to form a crumble before adding the liquids, eggs+milk whisked together first)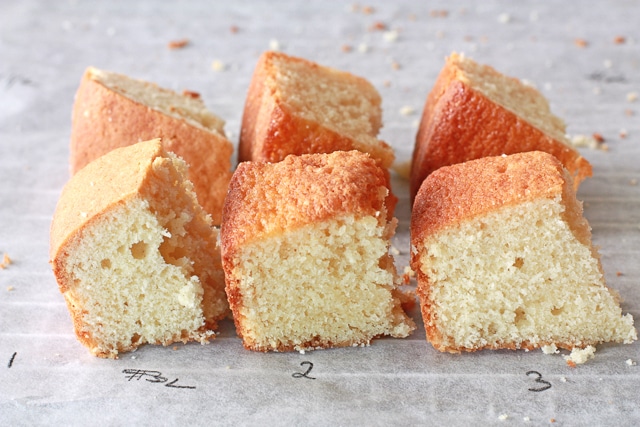 Other ways vanilla cake recipes vary
Besides using different ratios and mixing methods, there are other variations possible for basic vanilla cakes: the ingredients you use. For example,
using oil vs butter—remember oil is 100% fat whereas butter is about 80% fat and contains a fair amount of water (roughly 15%)
adding extra egg yolks (which adds fat and acts as an emulsifier) or egg whites instead of just whole eggs
using some brown sugar instead of granulated sugar—brown sugar adds a ton of flavour and a little more moisture compared to granulated sugar
using cream instead of milk, which will add more fat
using acidic dairy instead of plain milk, like buttermilk instead of milk, or even yogurt, sour cream, or crème fraîche
using cake flour (with lower protein content) vs all-purpose flour (with a higher protein content)
Comparing 6 vanilla cake recipes to find the best
It took me a lot of time to choose what recipes to compare. In the end, I tried to stick to recipes with the same basic ingredients, that differed by the way they were mixed or by the ratios. Only one recipe, #6, was VERY different from the others. Here are the cake recipes I tested:
Cake #1 is Martha Stewart Weddings' basic yellow cake, made with the traditional creaming method, made with butter, sugar, eggs, vanilla, cake flour, baking powder, salt, and milk
Cake #2 is a variation on the 1-2-3-4 yellow cake (adapted from here), very similar to cake #1 by the traditional creaming method with butter, sugar, eggs, vanilla, cake flour, baking powder, salt, and milk. However for cake #2, I used slightly more flour, and more importantly double the baking powder because I wanted to see with this cake if more baking powder makes a better cake
Cake #3 is a high ratio yellow butter cake, made using the reversed creaming method where all the dry ingredients and the sugar are first mixed with the butter and some of the liquid, before adding the rest. This cake is made with cake flour. I chose this cake to see if changing the mixing method made a difference, or not. This isn't a true high-ratio cake though given that it actually had the same amount of sugar and fat as the other recipes on my list, with only a little extra flour.
Cake #4 is a warm milk sponge cake, my grandmother's basic sponge cake recipe that we use for trifles, made by beating the eggs with the sugar to a ribbon, then stirring in the flour alternately with the warm milk/melted butter mixture. It's a family favourite and I was curious to see how a simple sponge cake compared to regular vanilla cakes. I made this cake with all-purpose flour like we always do
Cake #5 is Ricardo's basic vanilla cake, very similar to Martha's yellow cake (#1) but has slightly less sugar and slightly more baking powder, ⅓ tsp. It's also made with all purpose flour, not cake flour: I made this cake because I wanted to see if there's a big difference between cake flour and all-purpose flour, and also I wanted to see the impact of slightly more baking powder and slightly less sugar
Cake #6 is Shirley Corriher's magnificent moist golden cake, another reversed creaming method cake, but made with butter, oil and 35 % cream in the batter, as well as buttermilk instead of regular milk. It's also made with cake flour. I chose this cake because it was the most different of the bunch and I wanted to see if going crazy with the ingredients would make a better cake than the basic butter, sugar, vanilla, eggs, flour, milk combo.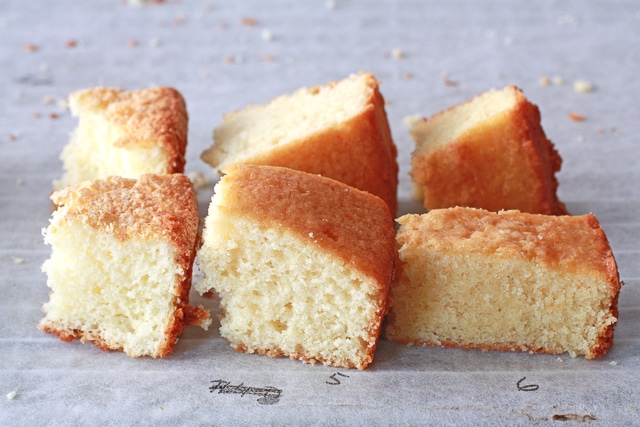 Which vanilla cake recipe is the best?
I can't believe how different these six cakes were when I pulled them out of the oven. Yet the cakes were all so similar, with just a few grams of one ingredient or another that differed between them.
Cake #1 was just like a pound cake. It was more dense than the others, but not right for layer cakes. It was the cake that was the most domed also, which would mean it needs a lot of trimming to use in a layer cake, which is a waste of cake though you could make cake truffles with this birthday cake truffles recipe. Cake #1 also had a thicker crust and a lot of large holes inside the cake
Cake #2 had a good texture, was more moist, and was very flavourful, but I just didn't like its flavour (was it the taste of more baking powder?). Interestingly, it also sank a little in the middle (if you notice your cakes sink apparently this is a sign of over-leavening, which also affects flavour)
Cakes #3 was a fave of mine. It was spongy, slightly domed (but not too much), lighter than cake #1 with a better flavour
Cakes #4 and #6 baked flat, which to me is a good thing if you want cakes to stack without having to trim them. No waste!
Cake #4 had a really nice spongy and airy feel, as expected, and it's definitely perfect for a trifle, but not what I was looking for. It's still my go-to sponge cake recipe
Cake #5 was spongier than cake #1 and also lighter. I definitely like this one better than the first two on the list
Cake #6, made with the oil, buttermilk and cream, was greasy. It had a fluffier, lighter texture which was awesome, but it left grease on my hands when I sampled it. This cake seemed too rich for a layer cake with frosting.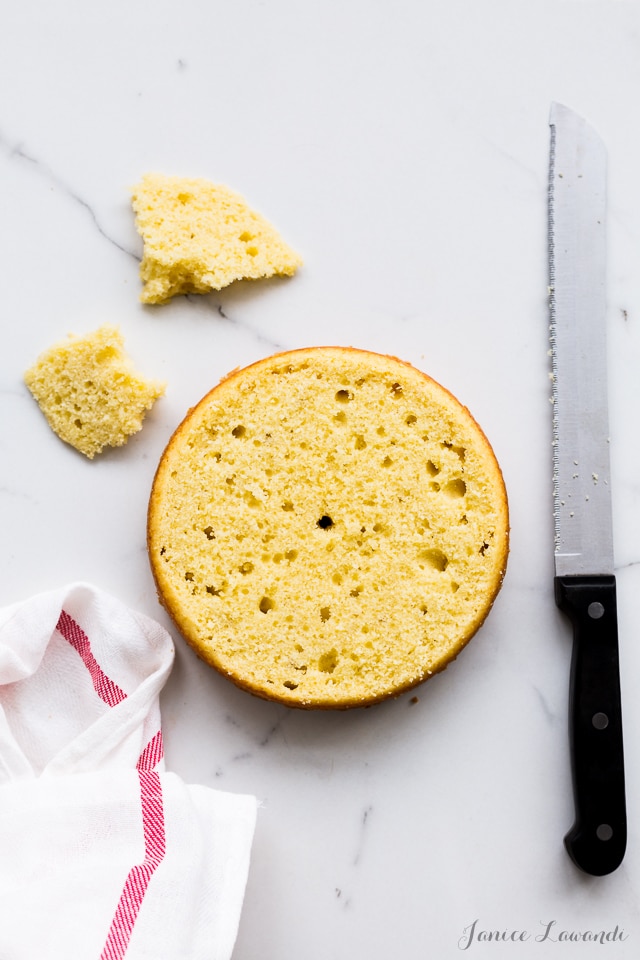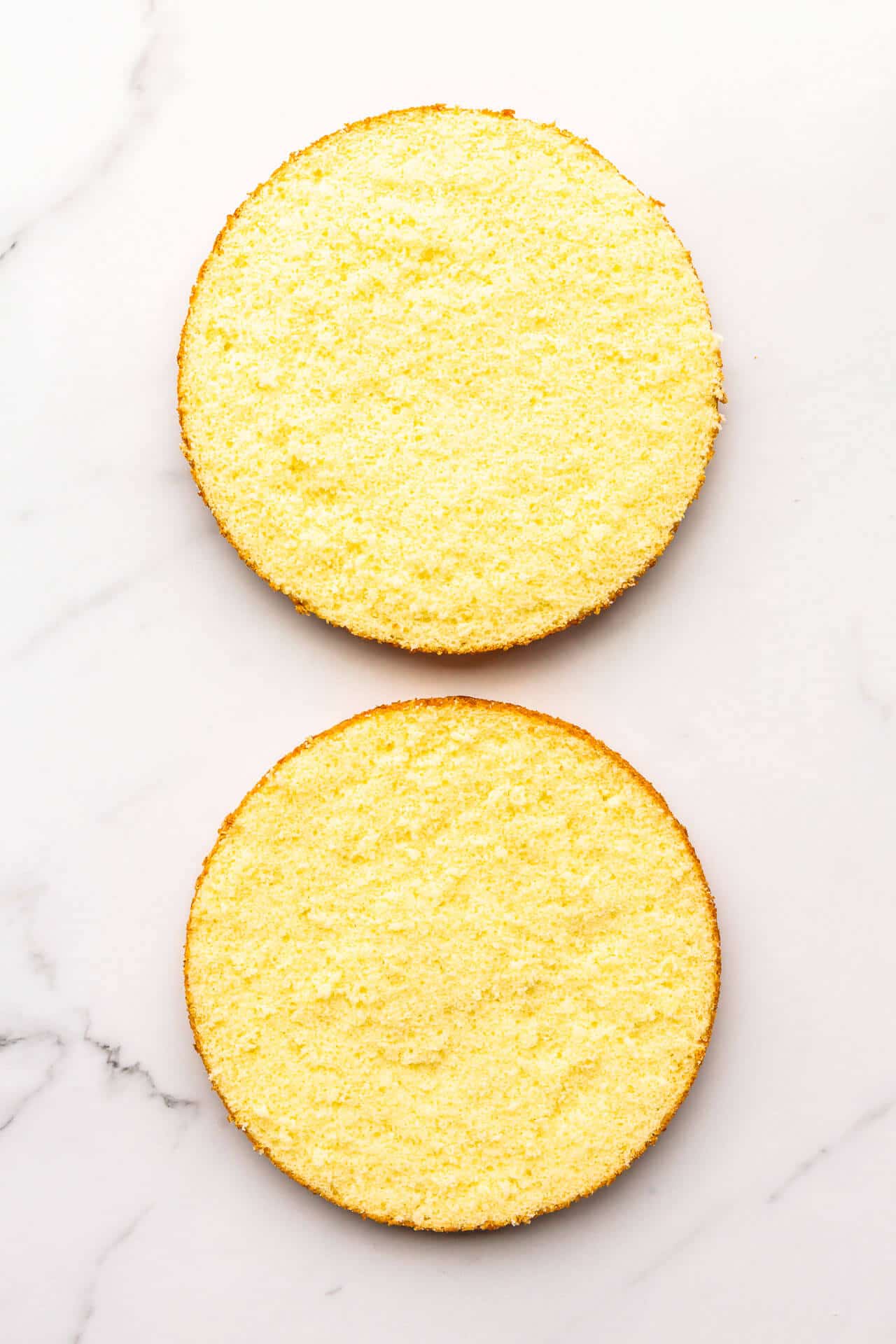 In the end, I felt #3 had a few less air bubbles and a more even texture and appearance, but #3 was also made with a less common mixing method: the reverse creaming method. In the end, the best vanilla cake was #5, and it's become my go-to vanilla cake. I've adapted it over the years to develop this vanilla cake with milk chocolate frosting, this Earl Grey cake with 3 layers of Earl Grey cake, the cranberry cardamom cake with 3 layers of cardamom poppy seed cake, and even a sesame layer cake with raspberries by adding tahini to the cake batter.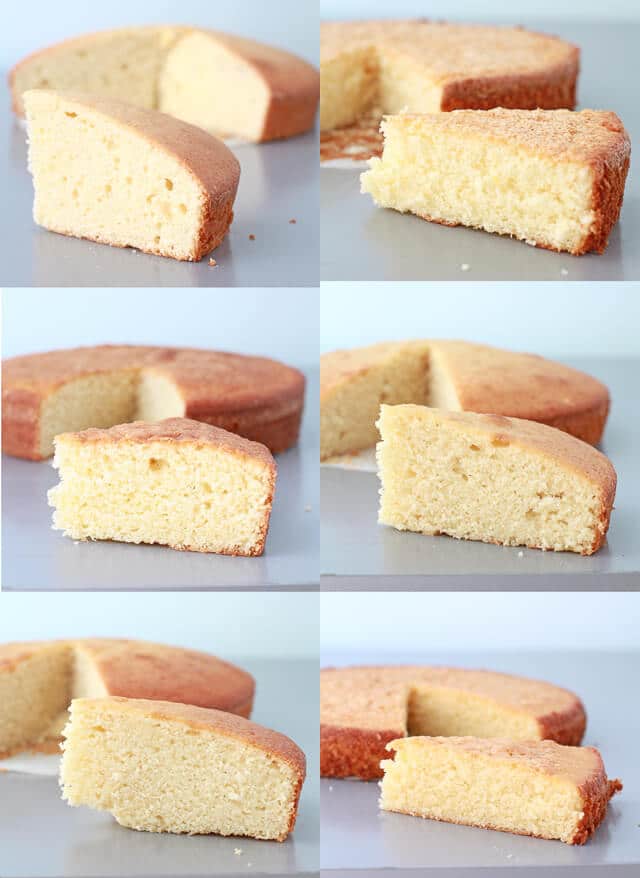 How do you make a vanilla cake better?
If you have a favourite vanilla cake recipe, but you still think it could use some improving, here's what can you do to make your recipe better:
Calculate the ratios in your recipe to better understand the recipe: the recipe ratios might help you figure out what you could change. You could

increase the sugar a little will lead to a better texture and a cake that is more moist
increase the fat a little will lead to a more delicate crumb
increase the liquid will lead to a more fluid cake batter, which may help the cake rise in the oven, opening up the crumb of the cake and leading to a fluffier cake

Try substitutions:

use an acidified dairy product in place of some or all of the milk. The acidity will impede gluten-formation when you mix your cake batter, which will lead to a softer cake
use cake flour instead of all-purpose: cake flour has a lower protein content. Less protein will mean a more tender cake and also less gluten formation
replace some or all of the butter with oil will make a softer, more tender cake and will also lead to a more even crumb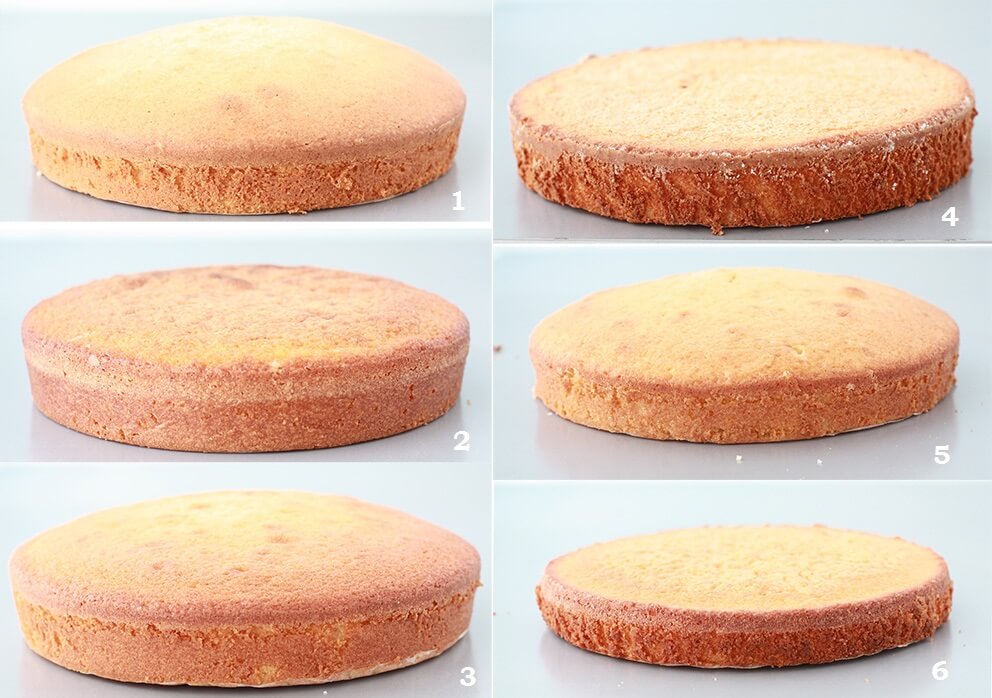 📖 Recipe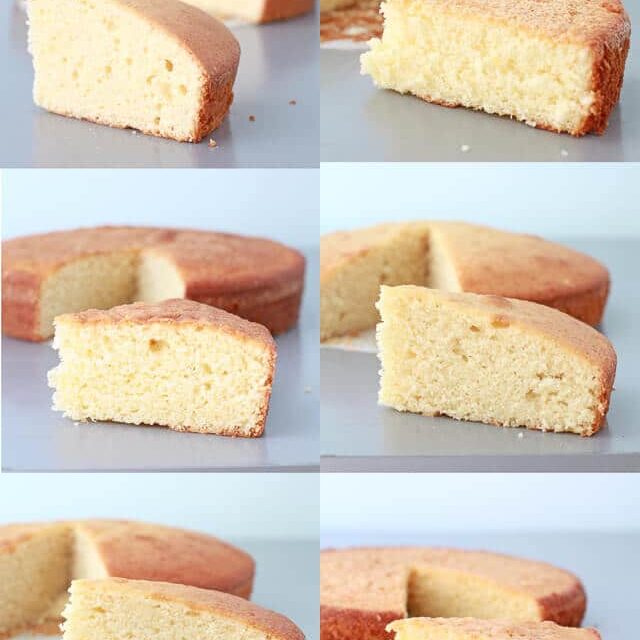 Best Vanilla Cake
After comparing 6 vanilla cake recipes, I decided this one was the best vanilla cake recipe
Instructions
Preheat the oven to 350°F (175 °C). Prepare an 8-inch (20-cm) pan by greasing and flouring it, then lining it with a parchment round. Set aside for later.

In a bowl, whisk together the flour, baking powder, and salt. Set aside for later.

In the bowl of an electric mixer fitted with the paddle attachment, cream together the butter and sugar on medium for several minutes until it is very light and fluffy, scraping down the sides of the bowl and the beater as needed.

Beat in the eggs, one at a time, being sure to work in the first completely before adding the second.

Add the vanilla extract. Whip the mixture until it is light and fluffy.

Incorporate the dry ingredients on low, alternating with the wet. Don't overbeat the cake batter at this stage!

Transfer the cake batter to the prepared pan and smooth it with an offset spatula. Tap the pan on the counter a few times to get rid of any air bubbles.

Bake the cake til a cake tester inserted in the center comes out clean (about 35 minutes).

Cool for 15 minutes before flipping the cake out of the pan onto a wire rack to cool completely.
Notes
Calories calculated for one-twelfth of the cake (one slice)
Nutrition
Here are some of my favourite tools to make layer cake recipes like this one (Note As an Amazon Associate I earn from qualifying purchases):