This easy 3 ingredient shortbread cookies recipe is made with granulated sugar, butter, and flour (plus salt) in a 1:2:3 ratio, so it's also referred to as a 123 shortbread cookie dough (or a 321 cookie dough).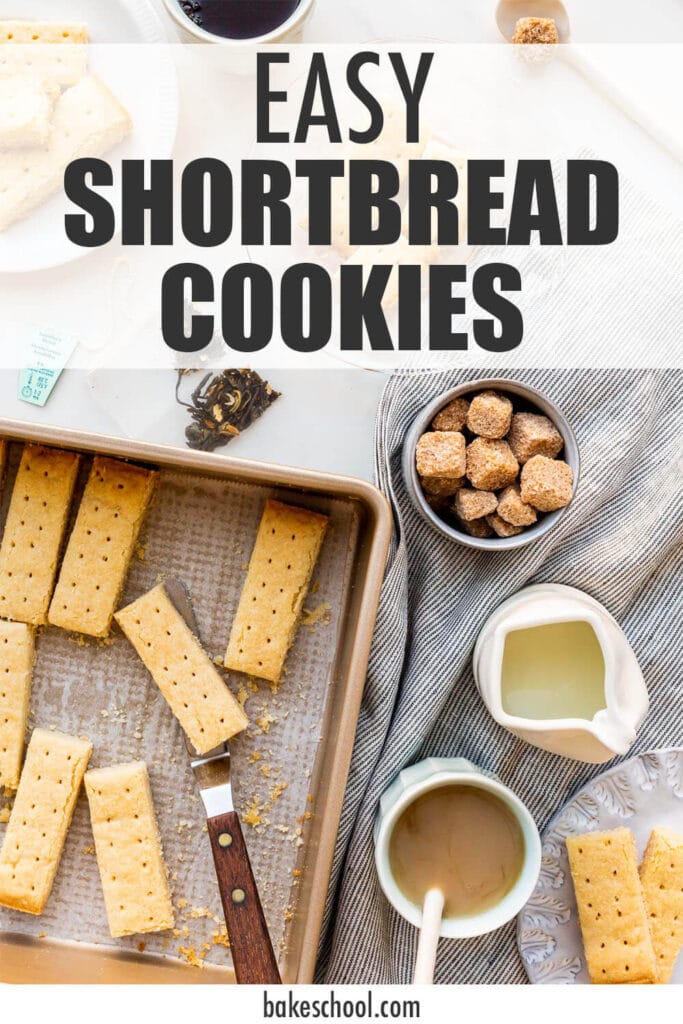 Disclosure: As an Amazon Associate, I earn from qualifying purchases.
This classic shortbread recipe is pressed in a baking pan and cut into shortbread bars before baking. Find out how to use this shortbread ratio and how to adapt this recipe to customize your shortbread cookies!
These walnut crescent cookies are a variation of classic shortbread.
Jump to: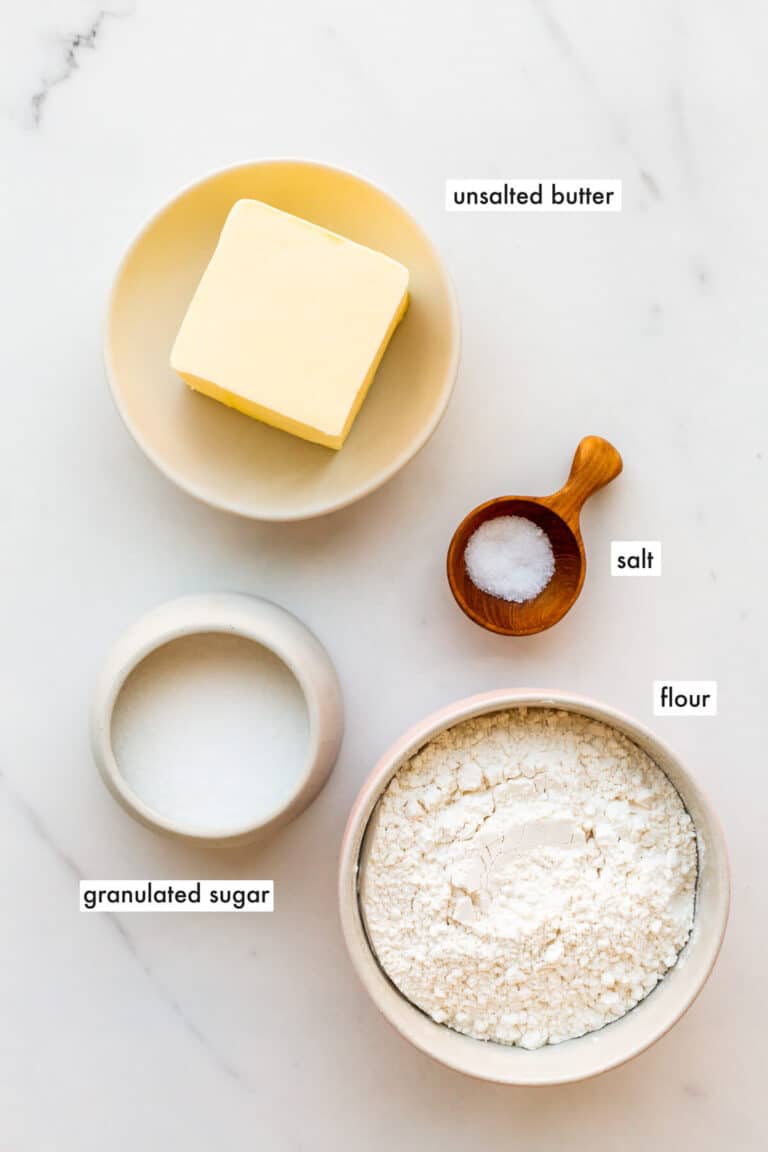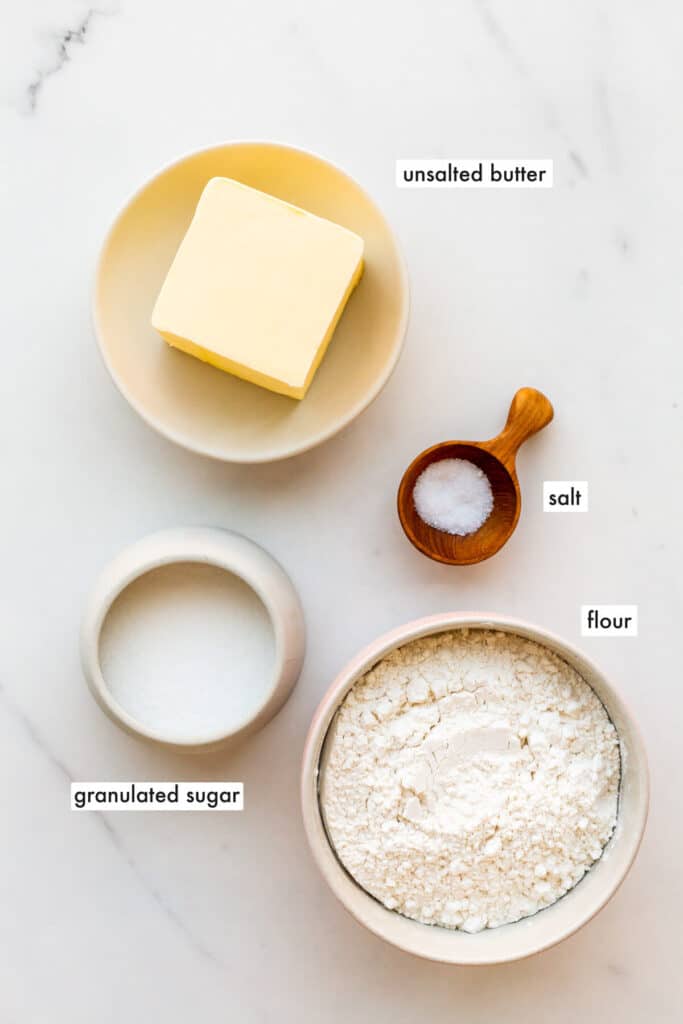 Ingredients
The beauty of shortbread cookies is that they don't call for special ingredients or trips to the grocery store. You likely have everything you need already! Here's what you need:
butter—opt for unsalted butter so that you can control the amount of salt that goes into your cookies
sugar—specifically granulated sugar in this recipe because you don't want any flavour to interfere with the delicate butter flavour in these cookies
flour—use all-purpose flour which will give these cookies a little structure and sturdiness without being tough, though I have mixed in some buckwheat flour in these shortbread cookies
salt is really important to balance out the sweet buttery flavour. Don't skip it. I like to use Diamond Crystal fine kosher salt, but table salt will work, though the cookies will be saltier and you may want to halve the salt in that case
Technically this recipe has four ingredients, not three ingredients like the classic shortbread cookie recipe, but I think the salt is important so I highly recommend this "upgrade" to the classic formula.
Working with ratios in baking?
When bakers talk about ratios, they are not just referring to the specific percentage of a particular ingredient in a recipe compared to the total: an ingredient ratio is a relationship between two or more ingredients.
Take a classic Scottish shortbread recipe made of butter, sugar, and all purpose flour. The shortbread recipe ratio would refer to the relationship between the weight of butter, the weight of sugar, and the weight of flour, giving you a better idea of the proportions of each ingredient relative to the others. The beauty of working with a ratio, you can easily scale up and down a recipe as needed.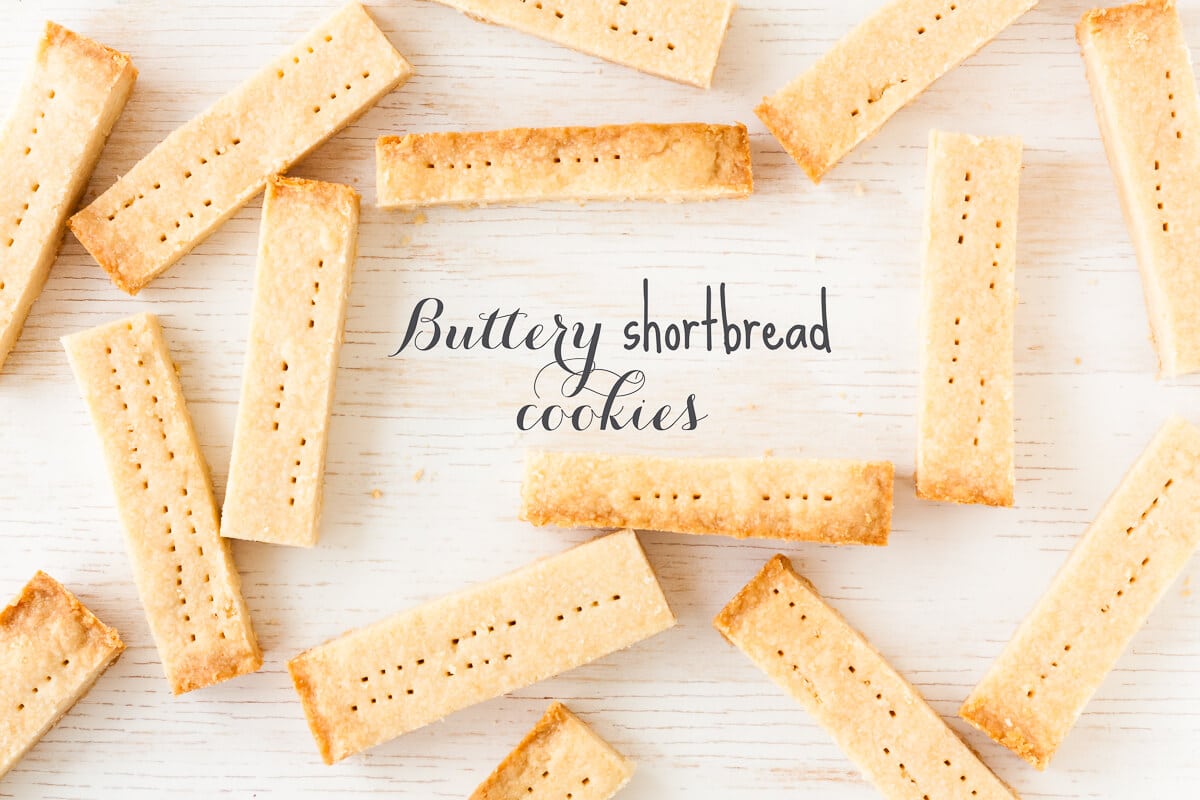 The classic shortbread ratio is 1:2:3, meaning it's 1 part sugar, 2 parts butter, and 3 parts flour, by weight. This means that you can make a small batch of shortbread with 100 grams sugar, 200 grams butter, and 300 grams of flour. Or you can make a big batch of shortbread with 1 kg of sugar, 2 kg of butter, and 3 kg of flour. Or you could make a very small batch of shortbread with 50 grams of sugar, 100 grams of butter, and 150 grams of flour. It truly is as easy as 1:2:3! You can read all about baking ratios and how to use them if you'd like to learn more!
Why ratios matter
Bakers and recipe developers spend a lot of time focusing on baking ratios. For example, I break down most baking recipes I encounter into ratios of butter-to-sugar-to-flour:(-to-egg-to-liquid, if the recipe has eggs and/or liquids). Breaking down a recipe into a ratio allows you to understand what makes the recipe function as it does.
Michael Ruhlman dedicated an entire book to to ratios and I highly recommend you check it out on Amazon, if you are obsessed with recipes and want to better understand the logic behind basic baking recipes and also the best ways to adapt and modify existing recipes. I want to know why certain recipes behave differently than others, and I believe the best way is to figure out the ratios so that I can truly evaluate each recipe.
When you know the basic recipe ratios of baking, you can safely be creative without worrying that you are going to mess up a recipe. Respect the ratio, and the results should be as expected! Just make sure you know if the ratio is by weight vs volume before proceeding.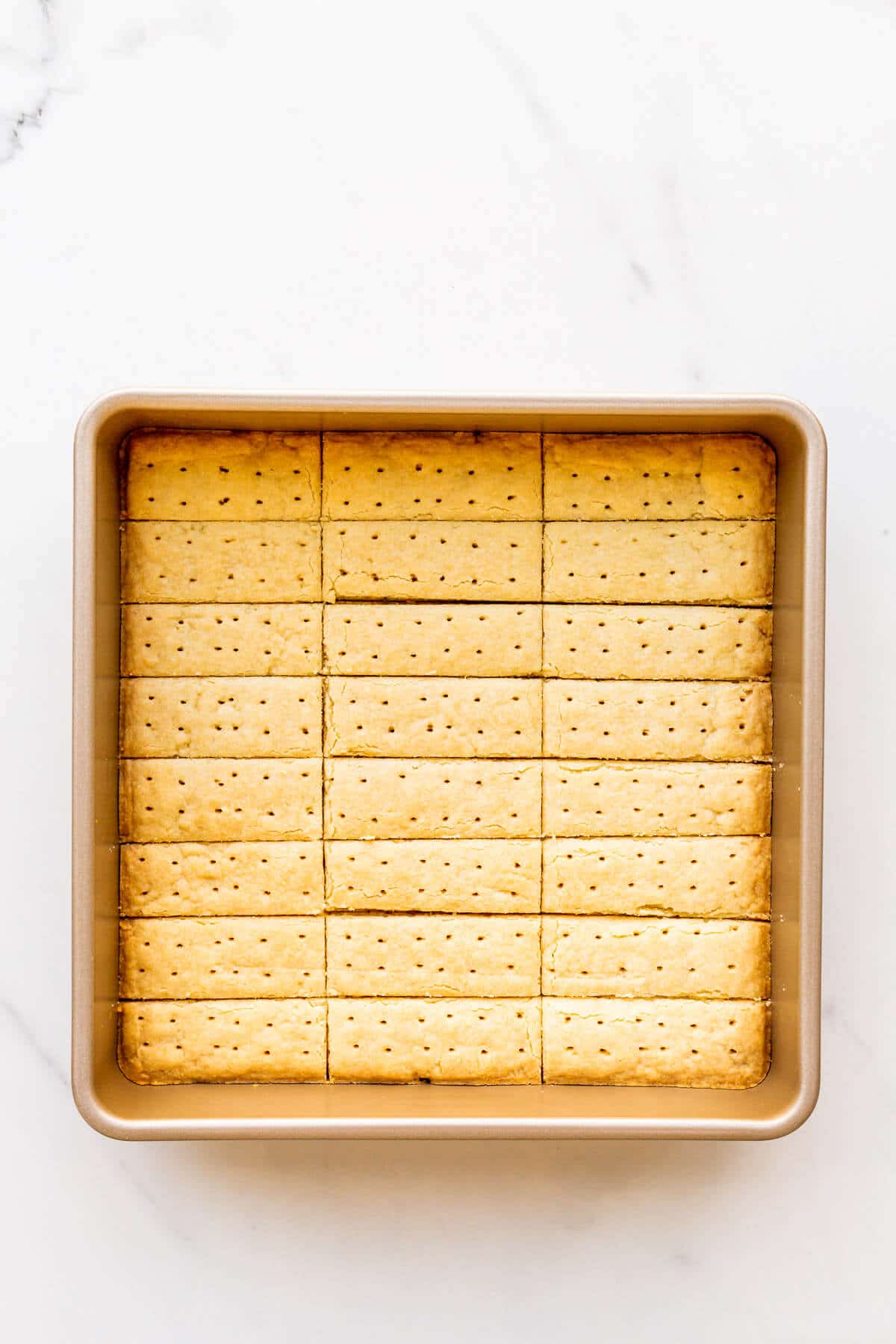 How to calculate ingredient ratios
To calculate a ratio of ingredients, you divide each quantity of ingredient by the smallest quantity in the recipe. In this classic shortbread recipe, we have 230 grams butter, 115 grams sugar, and 345 grams flour. The smallest quantity in the recipe is the 115 grams of sugar. So to determine the ratio of ingredients in a recipe, we must divide the quantity of each ingredient by 115 grams to determine the relative ratio compared to sugar.
The ratio of sugar to sugar is the quantity of sugar (115 grams) divided by the quantity of sugar (115 grams): 115 ÷ 115 = 1
The ratio of butter to sugar is the quantity of butter (230 grams) divided by the quantity of sugar (115 grams): 230 ÷ 115 =2
The ratio of flour to sugar is the quantity of flour (345 grams) divided by the quantity of sugar (115 grams): 345 ÷ 115 =3.
A buttery shortbread recipe made from 115 grams of sugar, 230 grams of butter, and 345 grams of flour has a 1:2:3 ratio of sugar/butter/flour by weight (side note: this is why people often refer to shortbread recipes as 1-2-3 shortbread recipes or 3-2-1 shortbread recipes).
You can use ratios for other recipes too: check out this cinnamon chocolate chip bundt cake which follows the classic 1-2-3-4 cake recipe and these homemade biscuits which also have a ratio of 1:2:3!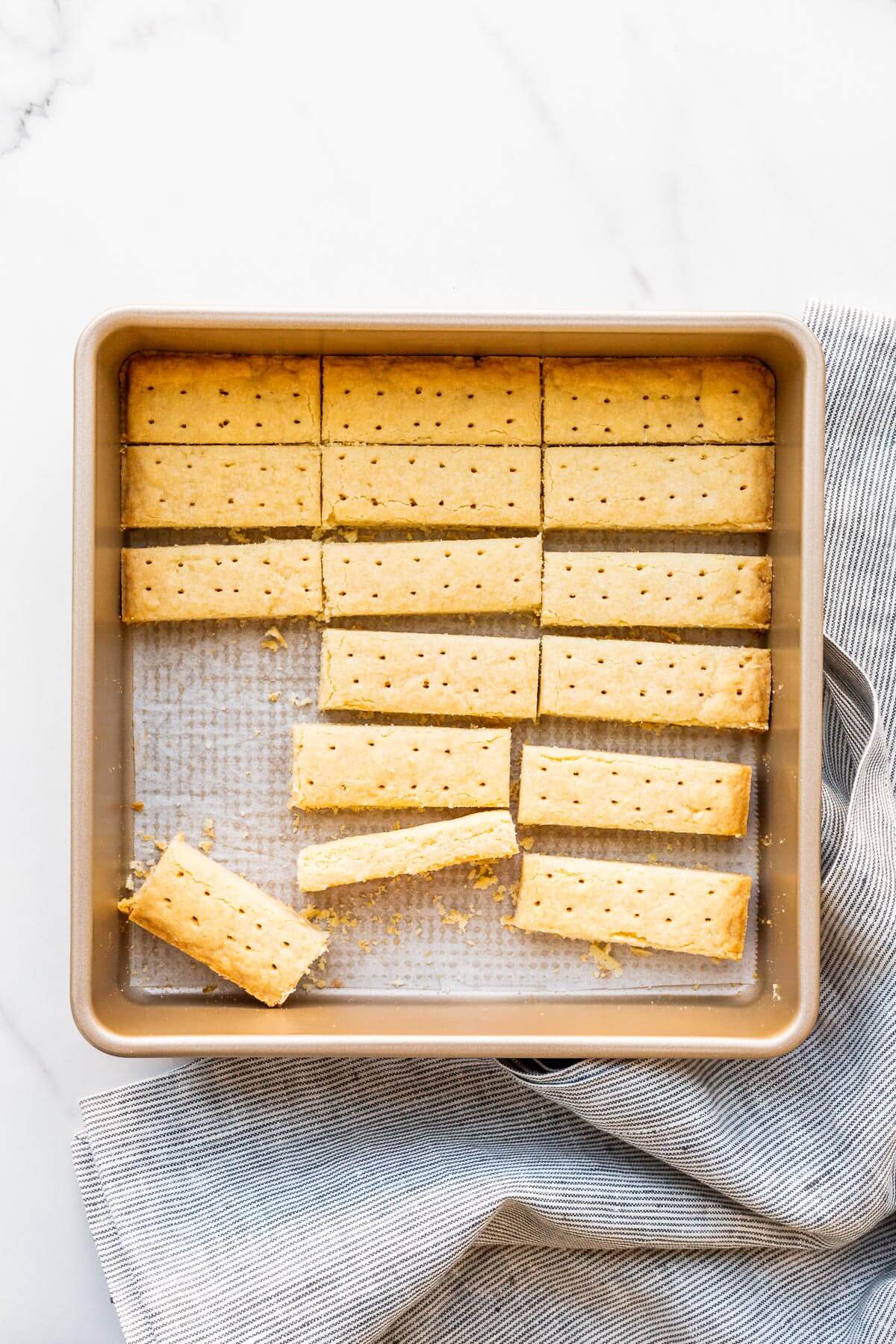 Reasons to bake with ingredient ratios rather than percentages
The total weight of cookie dough for the recipe is 690 grams. Of that 690 grams of dough, 230 grams (33%) is butter, but what about the other 67% of the dough, which is flour and sugar? A 33% butter shortbread recipe doesn't give us the full picture of what is going on and you can't make shortbread knowing only that it must have 33% butter. You need more information.
That's why I love ratios. If you know shortbread are 1:2:3 (1 part sugar, 2 parts butter, 3 parts flour, by weight), then you can make any quantity of shortbread you want.
In a sense, you don't need a recipe. You have a ratio and you can expand and contract the amounts to make any quantity of shortbread, as long as you come close to that ingredient ratio. It's as easy as 1:2:3, literally!
If you knew your shortbread had to contain 33% butter, that other 67% can still make or break your shortbread recipe and have a huge impact on the outcome of your recipe.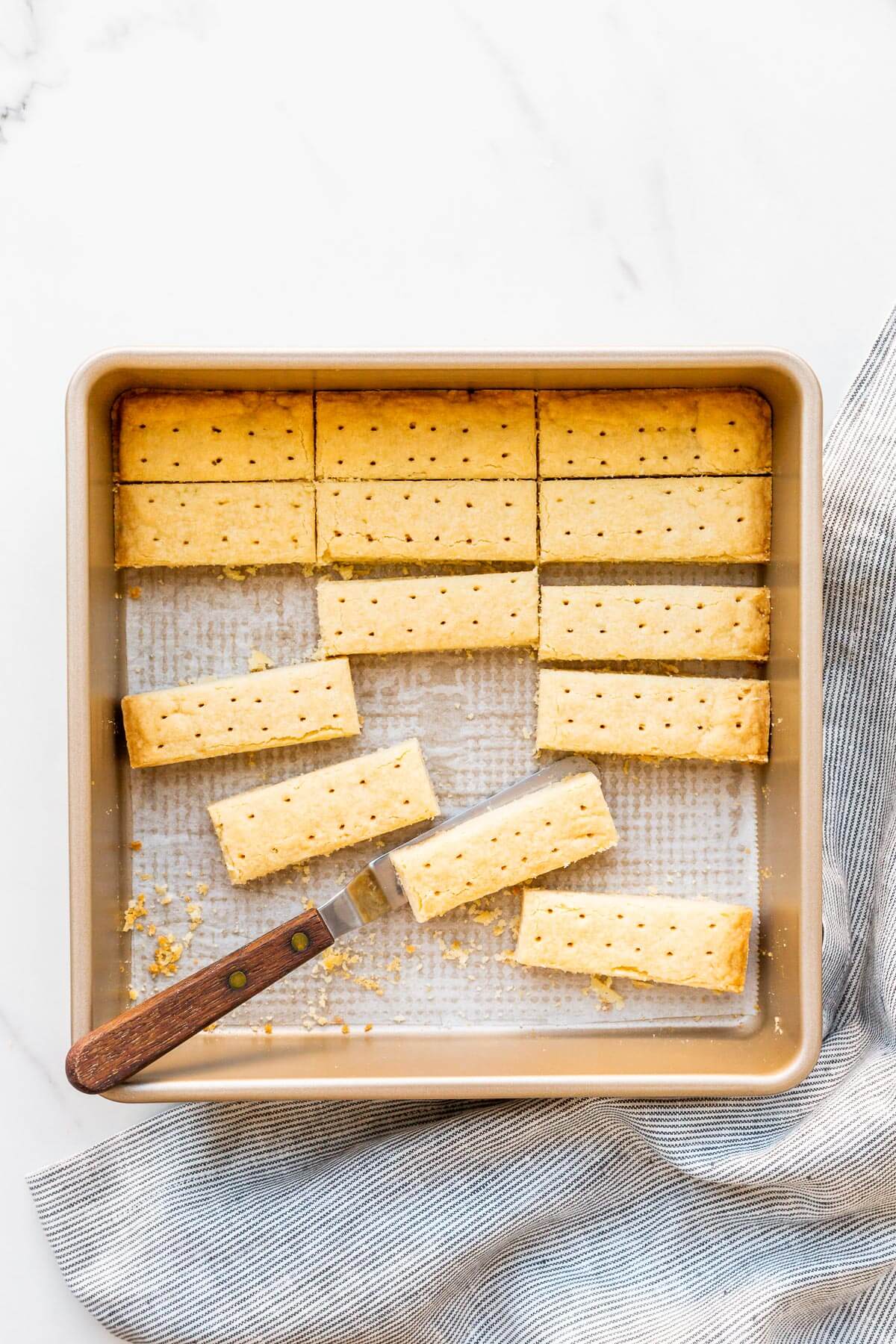 For example, not enough flour, and you will end up with a greasy batch of cookies that really aren't what you were going for and quite frankly, are the opposite of the best thing you've ever made. A shortbread recipe that is 1 part butter, 1 part sugar, and 1 part flour is 33% butter, but so is a recipe containing 2 parts butter, 1 part sugar, and 3 parts flour.
A 1:1:1 shortbread recipe becomes a real mess when you bake it. The butter separates out, and the shortbread become chewy and greasy. The dock marks melt away in the oven and the top becomes crackly. So it's not just the percentage of butter that is important, but actually, it's the ratio of butter to flour, the ratio of butter to sugar, and the ratio of sugar to flour that are crucial.
The ratios matter a lot. Of course, you could express the ingredient ratio of shortbread as percentages of the total weight of ingredients (meaning a shortbread recipe with a 2:1:3 ratio of butter/sugar/flour is equivalent to 33% butter, 17% sugar, and 50% flour) but personally, I feel more comfortable with the ratio. It feels less clunky and the math is certainly easier once you know shortbread are as easy as 1-2-3, rather than as easy as 33%-17%-50%. Right?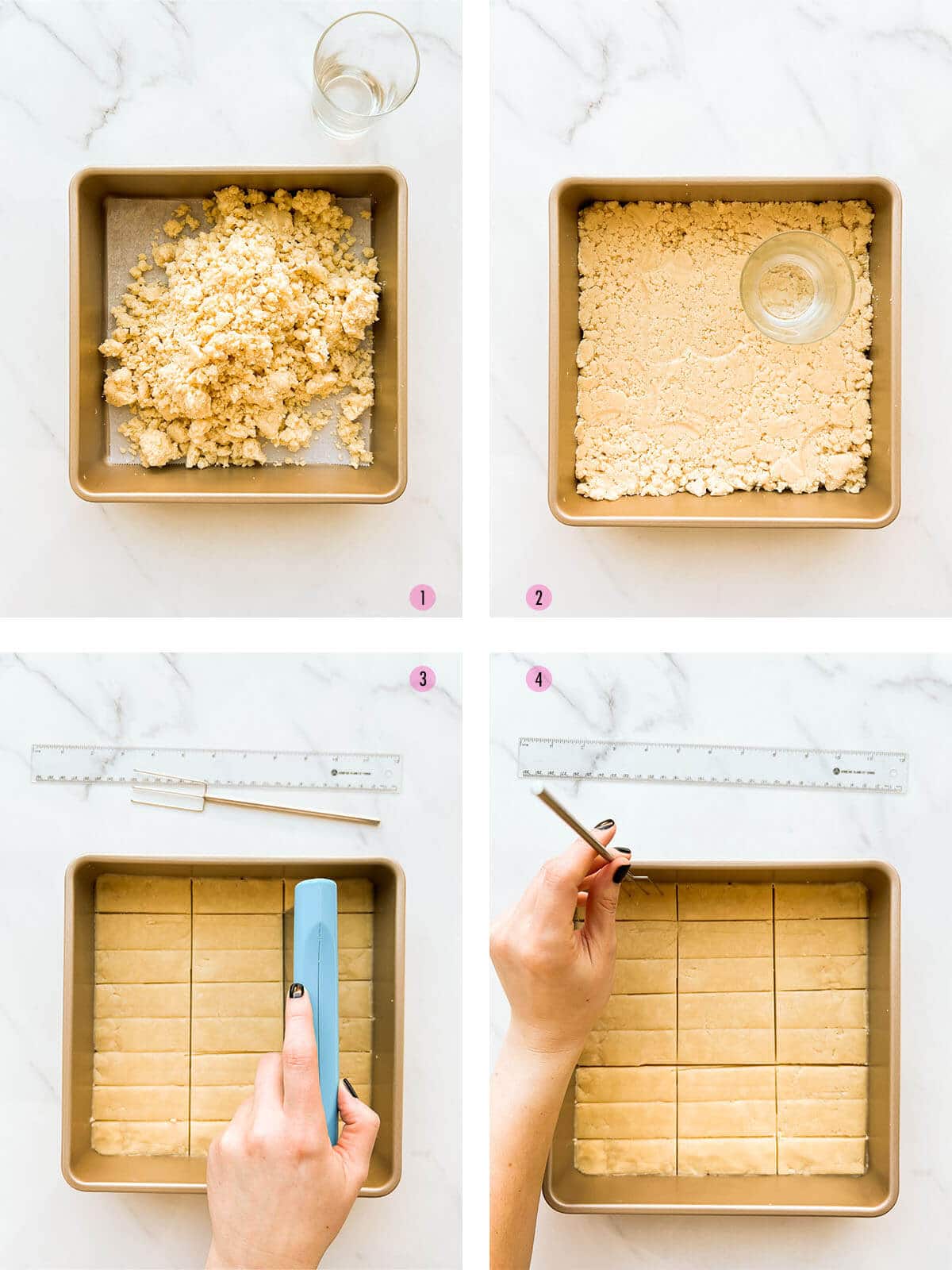 Directions
Shortbread cookies are easy to make and for this recipe, you will use the creaming method to combine the butter and sugar first before adding the flour to form a crumbly, evenly mixed dough that holds together well when pressed.
You press the dough into a baking pan to make cutting and baking so easy. Spread the crumbly dough in an even layer first before using a flat-bottomed glass to press the mixture and smooth out the cookie dough.
For cutting, I like to use a pastry cutter (also called a bench scraper) because it fits nicely within a brownie pan and there's less risk of damaging the edges. These cutters or bench scrapers are metal or plastic, and quite sturdy for cutting.
In order to make sure the shortbread sticks bake evenly and to release air and also moisture, you dock the cookie dough, poking holes into it before baking. You can do this with a fork or I used a chocolate dipping fork.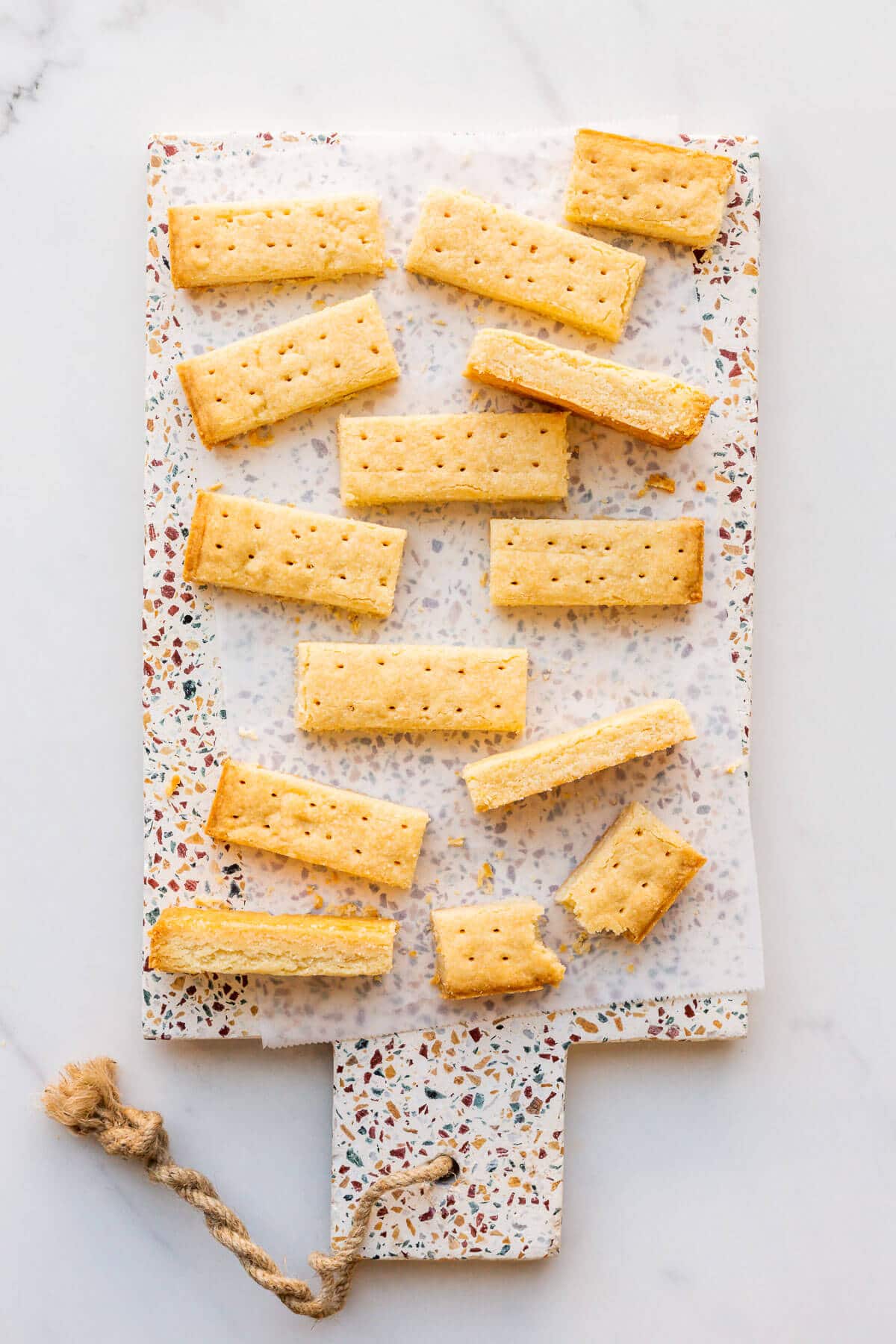 Ensuring the shortbread are baked properly
Everybody has a favourite, basic shortbread recipe, and most of them probably fit the 1:2:3 ratio (by weight, of course!). This is my basic shortbread recipe, in cups and in grams. This shortbread recipe is made with three basic ingredients—butter, granulated sugar, and all-purpose flour—with a little salt added for flavour. It's that simple.
Except, there's one extra step you can take to ensure the cookies have dried out properly: after you unmould the cookies, transfer them to a cookie sheet, and bake them again, kind of like biscotti. Why? Because under-baked shortbread can have a gummy texture or be slightly chewy, when they should be dry.
This is the best way I've found to achieve shortbread that are baked through. The cuts and dock marks, in this and most shortbread recipes, help the steam escape, but baking the shortbread a second time ensures that even the very middle parts are baked through, yielding a dry shortbread with a sandy texture, just like I always crave.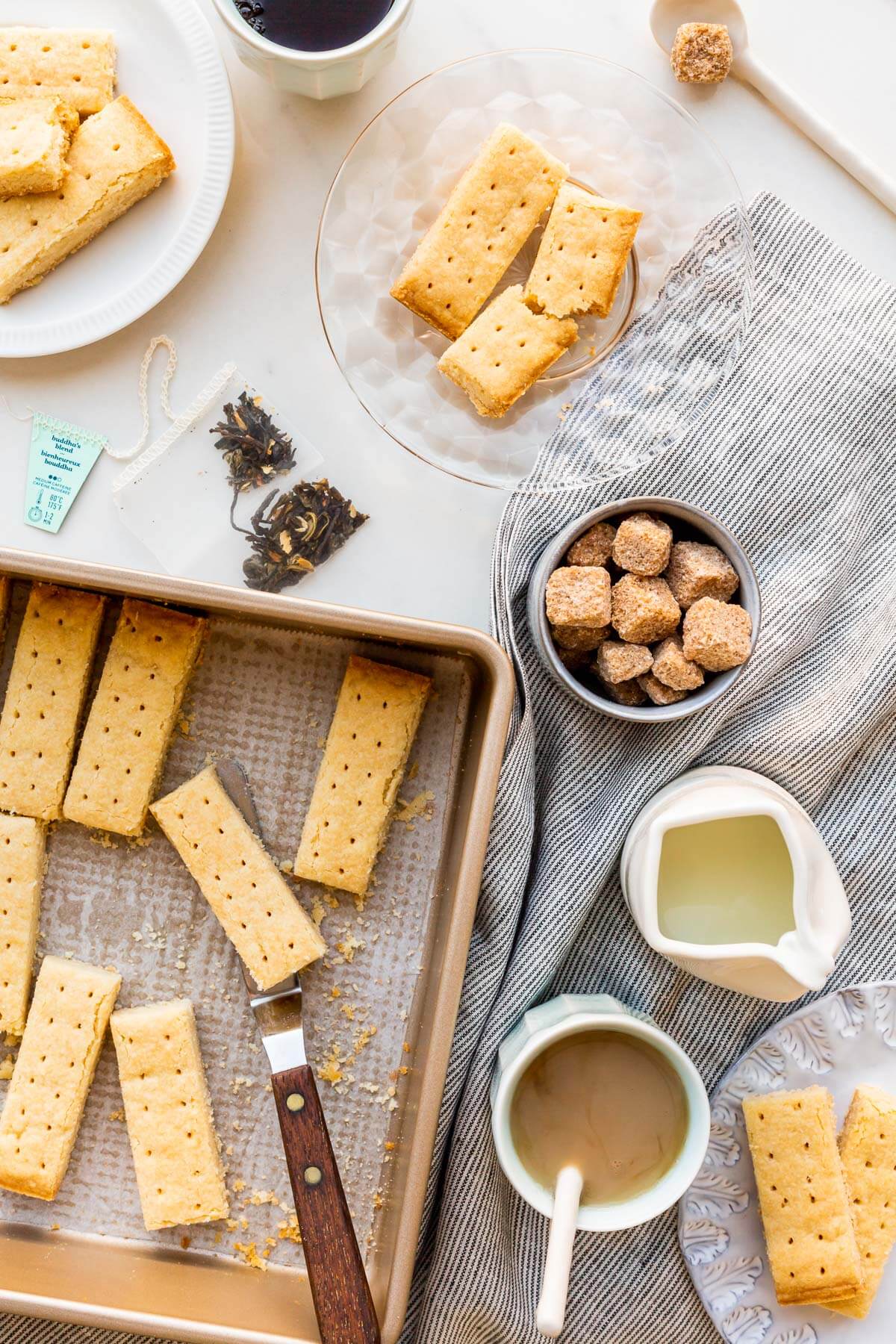 Variations
With a base recipe as easy as 1-2-3, there are a lot of variations you can try.
Make slice-and-bake shortbread with this shortbread ratio: Instead of pressing the dough into a pan and baking it right away, you can shape the dough into a log, wrap it in plastic wrap, and chill it overnight (or freeze it for longer storage). Then when you are ready to bake the cookies, simply slice and bake them! Slice the shortbread cookie dough into ¼-inch thick cookies and bake at 350°F for 8 minutes. Cool for 2 minutes on the cookie sheet before transferring the baked cookies to cooling rack to cool completely
Use this recipe as a base for bars, like these easy lemon bars or millionaires shortbread (also called caramel shortbread or caramel slice) with a 123 shortbread cookie base, a salted caramel filling and a chocolate coating!
Flavour the shortbread cookie dough: though purists will argue that shortbread can only have 3 ingredients (butter, sugar, and flour), that doesn't mean you can't jazz them up a little.

Vanilla shortbread: mix 1 teaspoon vanilla extract with the butter and sugar and ¼ teaspoon fine kosher salt along with the flour
Chocolate chip shortbread: add ½ cup of mini chocolate chips (preferably semi-sweet dark chocolate chips)
Citrus shortbread: add 1 tablespoon of citrus zest with the butter and the sugar (like lemon zest to make lemon shortbread cookies, lime zest, orange zest, or even grapefruit zest)
Tea-flavoured shortbread: add 2 tablespoons of ground tea leaves with the flour
Spiced shortbread cookies: add 1 teaspoon of ground cinnamon or cardamom with the flour (you can use more or less depending on personal preference)
Nut Shortbread: Finely chop ½ cup toasted nuts and add with the flour—these walnut crescent cookies are a variation of shortbread!
Sesame seed Shortbread: add 3 tablespoons of sesame seeds with the flour.
Poppy seed shortbread: add 3 tablespoons of poppy seeds with the flour.
Brown Sugar Shortbread: Replace half the sugar with the same weight of light or dark brown sugar. Note this substitution may yield slightly softer shortbread.
Maple shortbread: replace half the sugar with the same weight of maple sugar to make maple shortbread cookies. Use them to make the most delicious maple cream cookies.
Buckwheat Shortbread: Replace up to 95 grams (¾ cup) of the all-purpose flour with the same weight of buckwheat flour. Note this substitution may yield a more light, tender shortbread cookie because the final cookie has less gluten. You could also make shortbread more tender by replacing 95 grams (¾ cup) of the all-purpose flour with the same weight of rice flour.
Cocoa powder: A portion of flour is replaced with Dutch-processed cocoa powder to make chocolate shortbread cookies.
📖 Recipe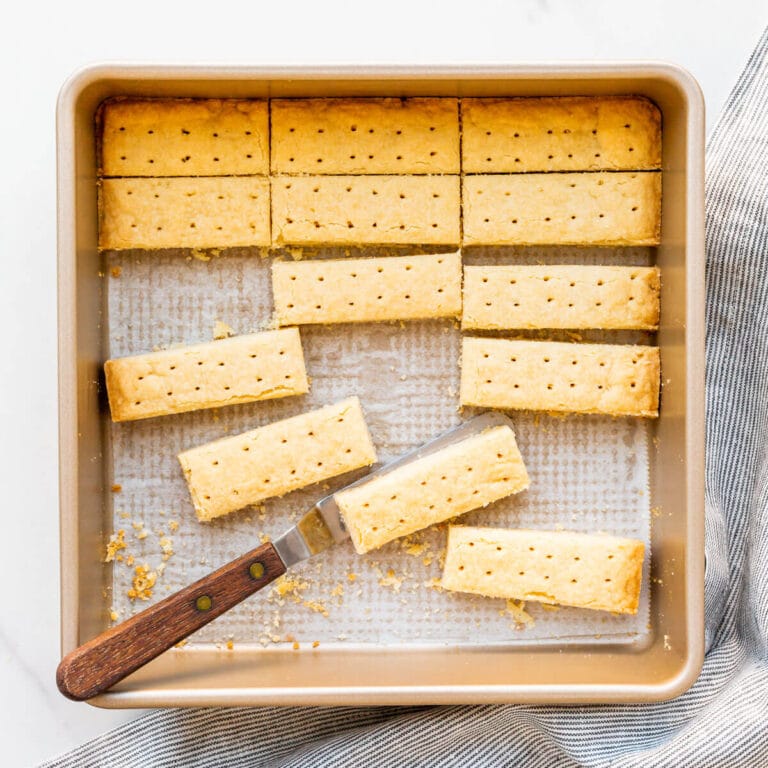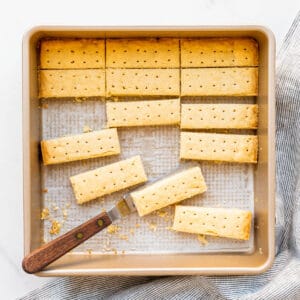 Shortbread Cookies
This classic shortbread cookie recipe is as easy to remember as 1-2-3 with its 1:2:3 ratio of sugar:butter:flour by weight!
Instructions
Fit a square of parchment to the bottom of a 9-inch (23-cm) square pan. You can butter the bottom of the pan to help the square of parchment adhere to the pan, if necessary. Preheat the oven to 350 ºF (175 °C).

In the bowl of an electric mixer fitted with the paddle attachment, cream the butter, sugar, and salt until it is smooth, light, and creamy. This takes 3–4 minutes. Scrape down the sides of the bowl with a spatula to make sure the ingredients combine properly.

Add the flour to the mixer bowl and mix it in until the mixture turns into a sandy crumble that holds together when pressed.

Spread the crumbly mixture evenly from edge to edge on the bottom of the prepared pan. Pat it out and press it down using a flat-bottomed glass to smooth it.

Cut the shortbread into 24 rectangles, and dock it with a fork. Bake for 35–40 minutes until the edges turn golden brown.

Let the pan of shortbread cool for 5 minutes, then cut them again. Let them cool 10 minutes before unmolding.
Notes
You can bake the shortbread a second time to ensure that even the very middle parts are baked through, yielding a buttery yet dry shortbread with a sandy texture, as it should be.

Transfer the shortbread to a parchment-lined baking sheet, 1 inch apart, and bake at 325 ºF for another 10–20 minutes or so until they are baked through.

Another option for making properly baked shortbread that aren't overly brown but still baked through: bake the shortbread at a lower temperature. Try baking shortbread at 300ºF for longer. Low and slow is the key to achieving perfectly baked shortbread that are evenly golden brown.
Nutrition
Calories:
139
kcal
Carbohydrates:
16
g
Protein:
2
g
Fat:
8
g
Saturated Fat:
5
g
Polyunsaturated Fat:
1
g
Monounsaturated Fat:
2
g
Trans Fat:
1
g
Cholesterol:
21
mg
Sodium:
62
mg
Potassium:
18
mg
Fiber:
1
g
Sugar:
5
g
Vitamin A:
239
IU
Calcium:
5
mg
Iron:
1
mg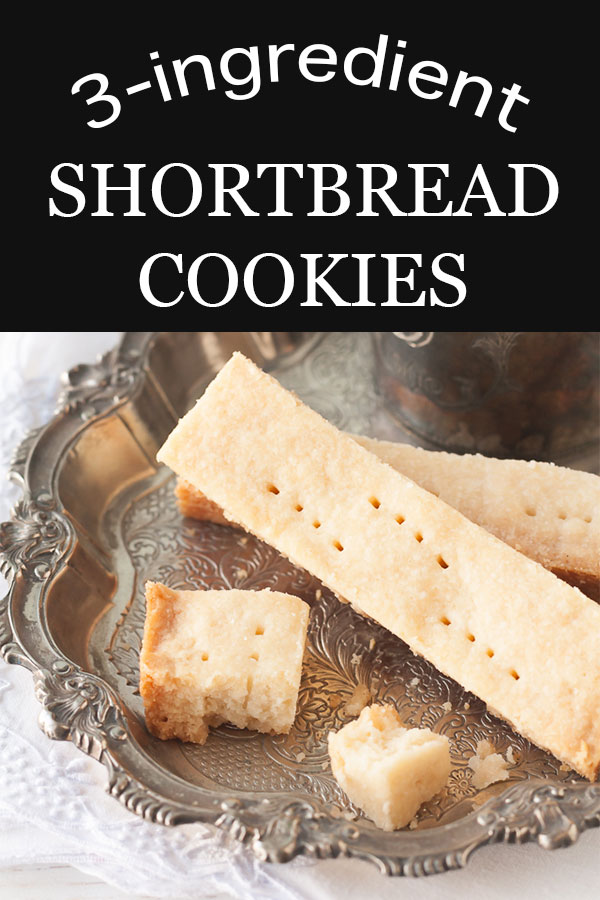 Classic shortbread cookies
I feel like a lot of us don't know what shortbread cookies are and sometimes we use the word shortbread incorrectly to name other types of cookies. Here's what you need to know about shortbread.
What are shortbread cookies?
Shortbread are traditionally made from only three (3) ingredients: butter, sugar and flour. Some shortbread aficionados won't even add salt. I do. Recent variations include adding an egg or two to the recipe, leading to a sturdier cookie, or even a little milk. Again, purists will argue that it's not a shortbread cookie if it contains eggs or milk. The ratio of the three main ingredients is the key to good shortbread.
Most good recipes follow a 1-2-3 shortbread cookie ratio, meaning 1 part sugar, 2 parts butter, and 3 parts flour, by weight. I've had a lot of success with this shortbread ratio, which yields what I believe to be the best shortbread cookies. To learn more about ratios, I highly recommend reading the book Ratio by Michael Ruhlman (get it on Amazon).
Shortbread cookies are not the same as sugar cookies. Sugar cookies often have an egg or even milk. These ingredients give more structure to sugar cookies, making them more appropriate for cookie decorating with royal icing. Sugar cookies are often so sturdy, they can be shipped in boxes (both decorated and undecorated). You can also flavour them to make spiced sugar cookies.
Why do they call them shortbread?
Shortbread are rich and buttery. And it's funny to think that the shorter the shortbread, the higher the butter content. Seems contradictory to me. However, according to the Oxford Dictionary, short actually refers to a high proportion of fat resulting in a crumbly pastry. So, the shorter the cookie, the more crumbly it is, and the more crumbly it is, the more butter it contains.
The amount of butter in a recipe is therefore crucial: a little "too much" and you may end up with cookies that, although sublimely buttery, just fall apart in your hands (if this happens, don't panic! Crumbly shortbread may be difficult to store and serve, but they are still highly edible. Or better yet, crumble over ice cream—nobody will complain!).
Shortbread can be made with either granulated sugar or icing sugar
The type of sugar you use to make shortbread cookies has a huge impact on texture:
Shortbread troubleshooting
Why are my shortbread chewy?
Shortbread are supposed to be buttery with a melt-in-your-mouth texture. Some shortbread are more crumbly and that's totally normal. But sometimes, shortbread end up chewy and that's not quite right. Here's why your shortbread might be chewy:
if the shortbread haven't dried enough in the oven: this is why I bake some batches of shortbread twice: to ensure they were cooked through and dried out well. Consider baking your shortbread longer next time
- if your shortbread aren't scored/poked with air holes, then your shortbread might not dry properly, again leading to chewy cookies, so make sure to dock or poke shortbread before baking to help air circulate and release moisture as they bake in the oven.
- if the shortbread contain too much sugar: sugar can lead to a more chewy texture. Look into the ratio of butter:sugar:flour that you are using. Consider reducing the amount of sugar in your shortbread next time
- if you've overworked the dough, perhaps too much gluten developed, rendering your shortbread more chewy and even tough: while many recipes recommend kneading shortbread, a little goes a long way. You don't want to overwork the dough. You want to knead the dough until the ingredients are evenly dispersed throughout and until the dough clumps or sticks together. After, press into pan, score, dock (poke holes), and bake OR press into a ball to chill before rolling and cutting out. Either way, don't overwork the dough!
If you aren't happy with the texture of your shortbread, consider using a lower protein flour (such as cake and pastry flour). Also consider using icing sugar (instead of granulated sugar) and/or a mix of flour+cornstarch (instead of just flour). This could help you achieve a better texture. Beware that too much cornstarch may lead to a starchy mouthfeel though so avoid being heavy-handed with the cornstarch.
Why are my shortbread cookies soggy?
Shortbread cookies are supposed to be a dry butter cookie. That's what makes them shortbread! Shortbread shouldn't be moist or soggy. Soggy or wet shortbread is not great and would indicate a problem with your recipe or the method. Here's why your shortbread might be soggy:
if the shortbread are underbaked, they might end up with a doughy, raw centre. Try baking your shortbread longer next time.
if the shortbread are pressed into a pan that is too small to accommodate the amount of dough or, to put it another way, if you have too much dough for the size of pan you are using, then your shortbread will not bake properly. If the pan size is incorrect, the shortbread will overbake on the edges and underbake in the middle, resulting in a doughy, soggy centre. For the recipe above, I used a 9x9 square metal pan. If you want to bake a 9-inch round pan of shortbread, try this lavender shortbread recipe.
if you are having trouble getting an even bake, perhaps the cake pan is to blame: bake shortbread in a metal pan which is better at conducting the heat so that the heat of the oven is properly transferred to the dough. This metal 9x9 pan would be perfect for the job.
What causes crumbly shortbread?
I honestly don't mind if shortbread cookies are a little crumbly, but some consider crumbly shortbread to be flawed. If you bake a batch of shortbread and you find they are too crumbly, here's why:
- if the shortbread recipe contains too much butter, your shortbread might be crumbly. Butter makes shortbread "short" and the shorter the shortbread, the less structure they have. Why? Because the fat of the butter interferes with gluten formation in the flour. You need just a little gluten to hold cookies together, but not too much. On the other hand, too little gluten, and your cookies may fall apart.
- if the shortbread are baked with a different fat source, you may end up with crumbly shortbread. Butter contains water, and that water is what helps gluten form. If you were to switch from butter to a 100% fat source (like canola oil or coconut oil), you may end up with crumbly shortbread from the lack of gluten. These might require a splash of milk to come together and hold their shape.
How can you tell when shortbread are baked?
Some shortbread purists will claim that shortbread cookies should be pale and light, without any colour or browning. Personally, I prefer when the edges are golden, so I bake them a little longer, until the edges are golden and the centre of the pan of shortbread isn't pale or raw looking, but very lightly golden, like it's just beginning to colour.
Further reading
Please note this post contains affiliate links to Amazon. If you buy a product I recommend, I will get a small commission, and the price you have to pay will not change in any way.