Are you a fan of classic shortbread? These lavender shortbread cookies are very easy to make because all you have to do is press the dough into a pan to bake them! No rolling pins are required! This twist on the classic shortbread recipe is made with lavender buds and dipped in white chocolate.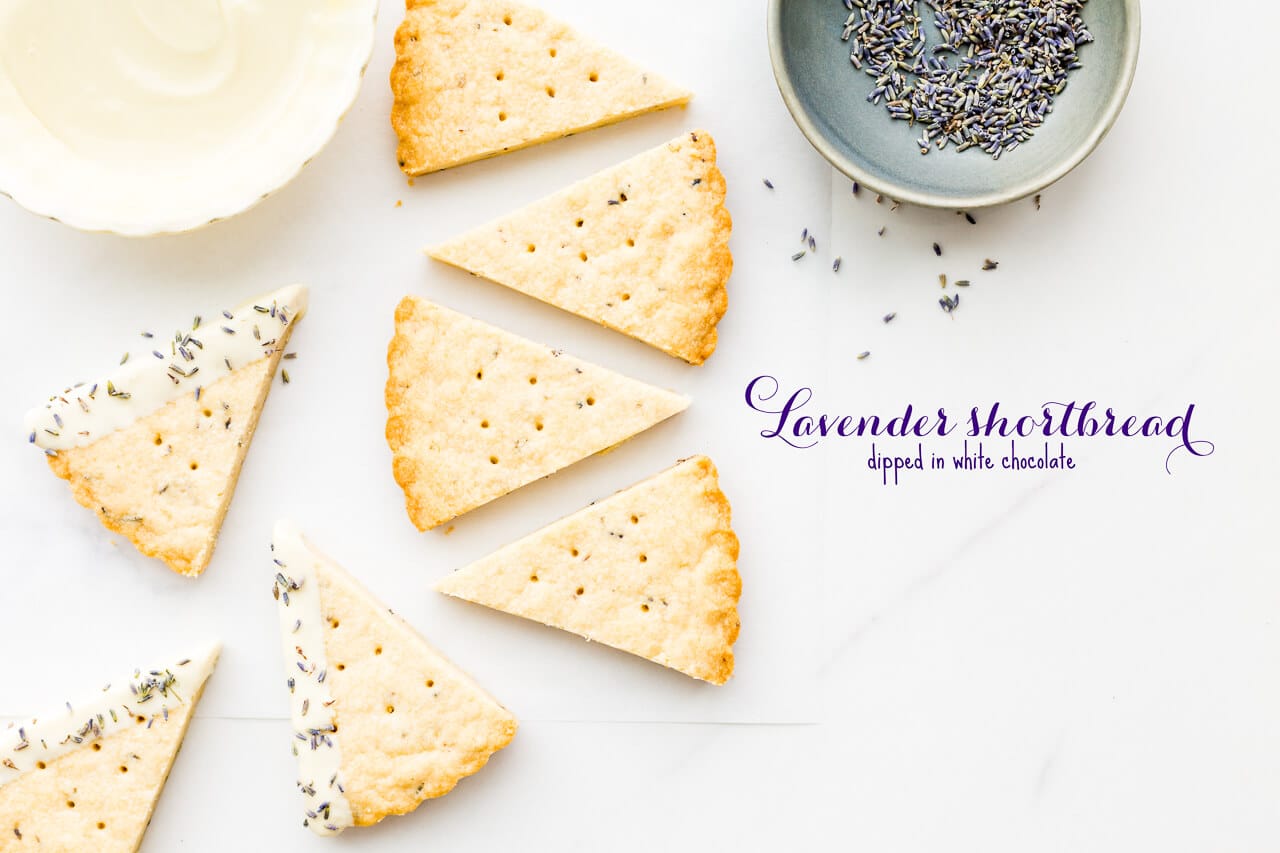 Disclosure: As an Amazon Associate, I earn from qualifying purchases.
I added lavender to the classic shortbread ratio. That's entirely optional. I love lavender, but not everybody is a fan and that's okay. Follow the recipe below but skip the lavender to make them plain if you prefer. Or you can try a different dried herb or spice, or even tea!
You can get creative with this basic shortbread recipe, as long as you keep the ratio of ingredients intact. You can read all about baking ratios and how to use them if you'd like to learn more!
Jump to: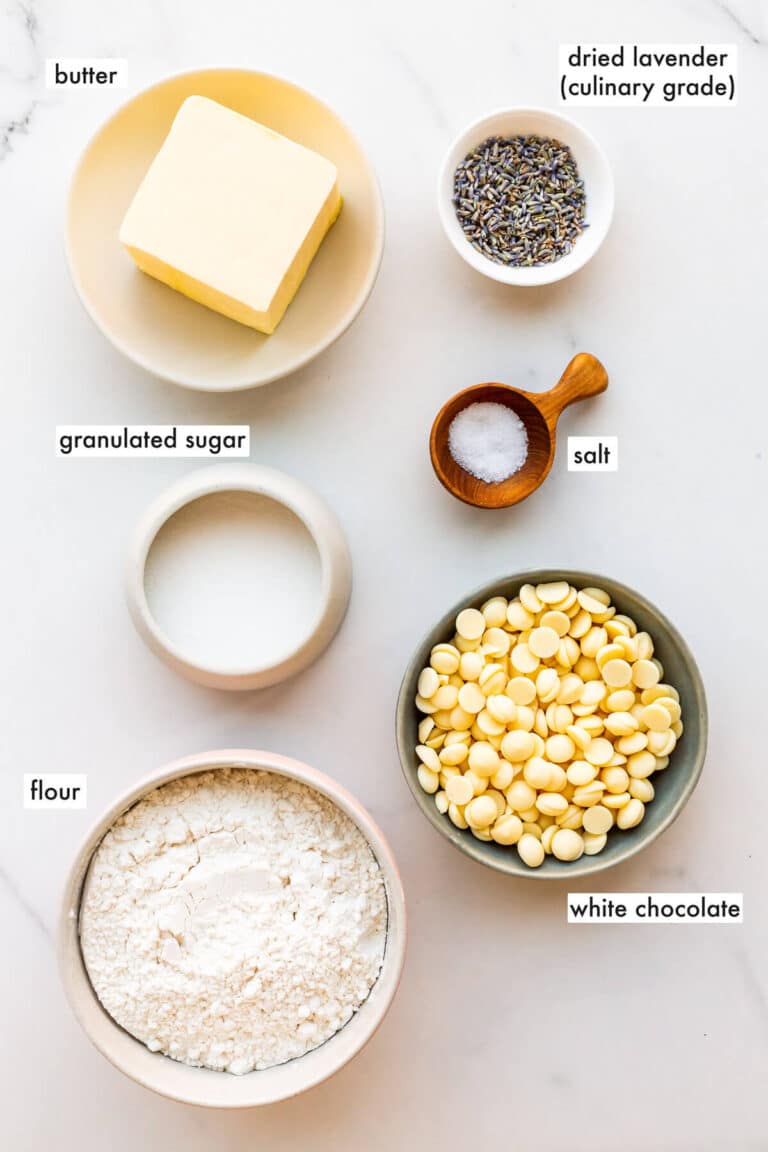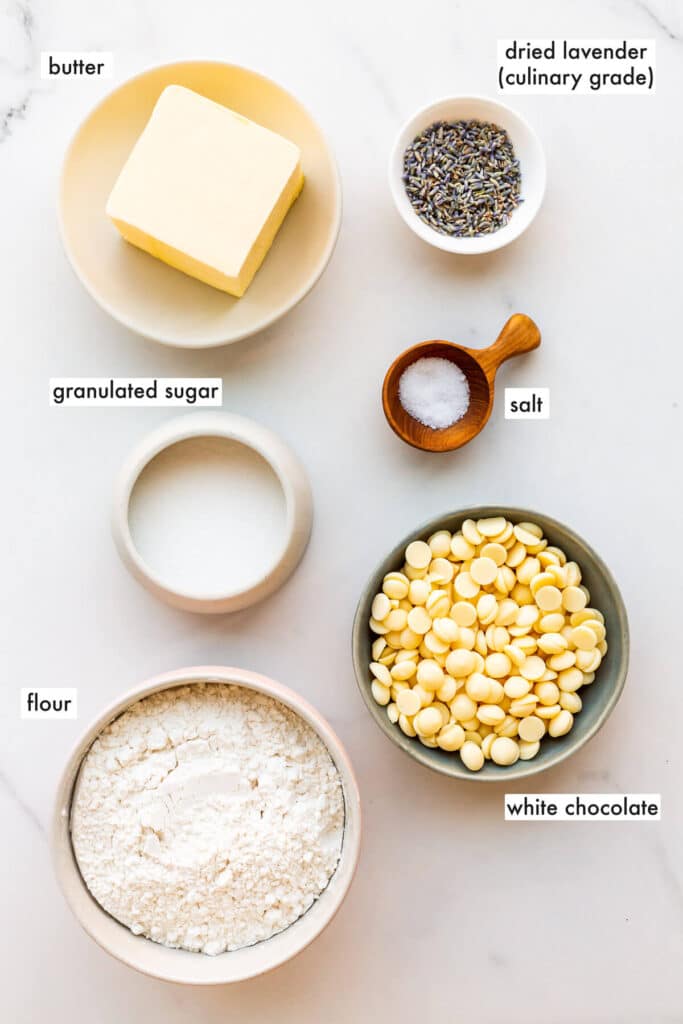 Ingredients
The beauty of shortbread cookies is that they don't call for special ingredients or trips to the grocery store. You likely have everything you need (except for the lavender buds). Here's what you need:
butter—opt for unsalted butter so that you can control the amount of salt that goes into your cookies
sugar—specifically granulated sugar in this recipe because you don't want any flavour to interfere with the delicate floral lavender and creamy white chocolate
flour—use all-purpose flour which will give these cookies a little structure and sturdiness without being tough
salt is important to balance out the sweet buttery flavour. Don't skip it. I like to use Diamond Crystal fine kosher salt, but table salt will work, though the cookies will be saltier and you may want to halve the salt in that case
dried lavender—make sure it's edible so use culinary grade only!
white chocolate—I like to use high-quality white chocolate like from the brand Cacao Barry.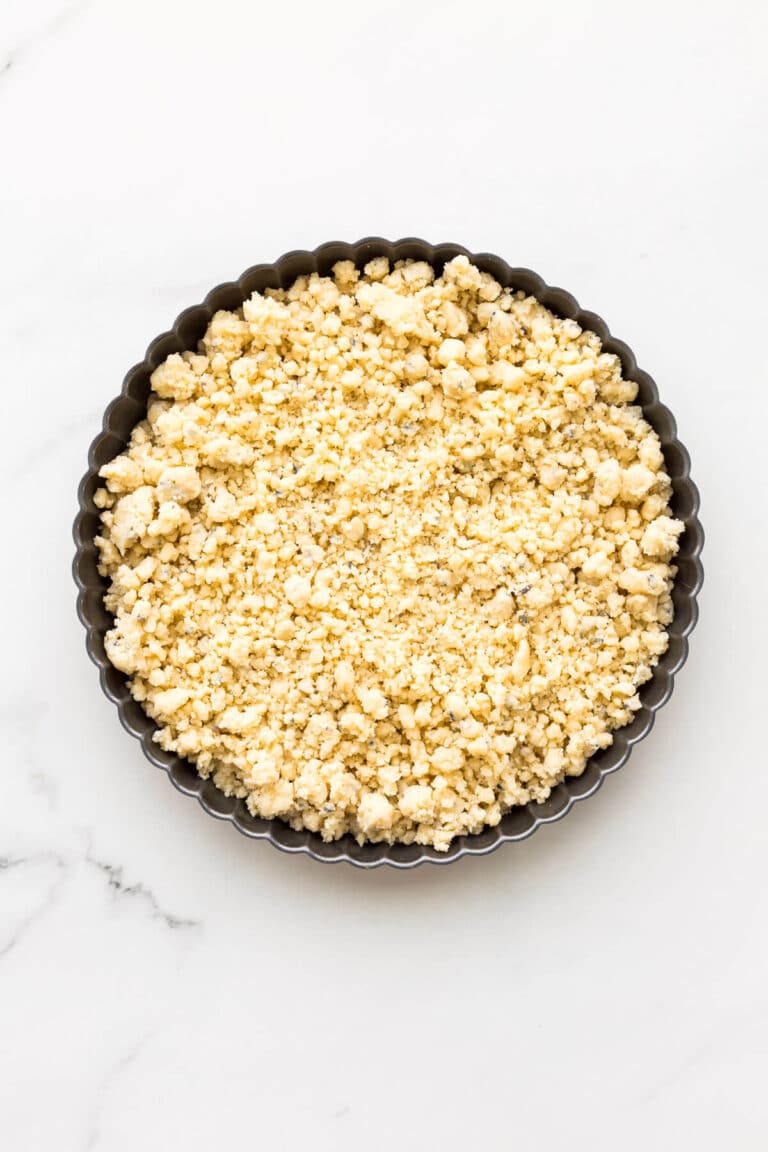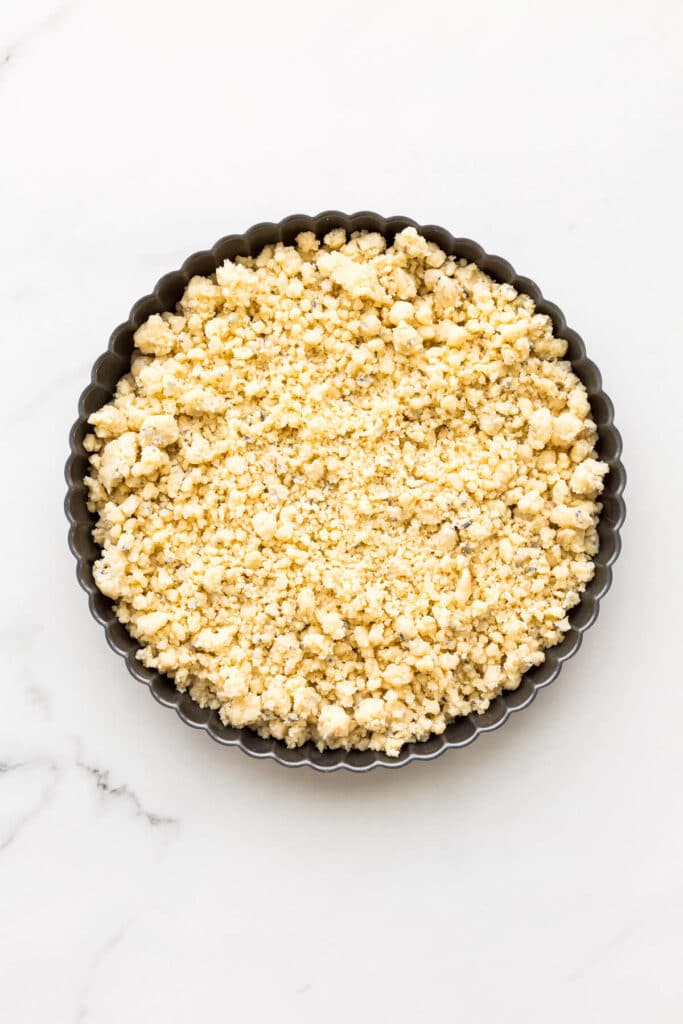 Baking with lavender
Is lavender edible?
Though lavender is used to scent sachets of potpourri, the flower buds are actually edible. Besides being used to make rooms and clothes smell good, dried lavender is often added to tea blends, and also to baked goods, such as cupcakes and icings. Make sure to buy culinary lavender so you know it's edible (and not laced with perfume). You can find culinary-grade lavender buds on Amazon.
Culinary lavender is sold as blossoms usually and you will probably find culinary lavender in the loose-leaf tea aisle or the spice aisle of many stores. The blossoms are tiny, their colour, a vibrant blueish-purple. They have a very floral aroma, which carries through when you bake with it.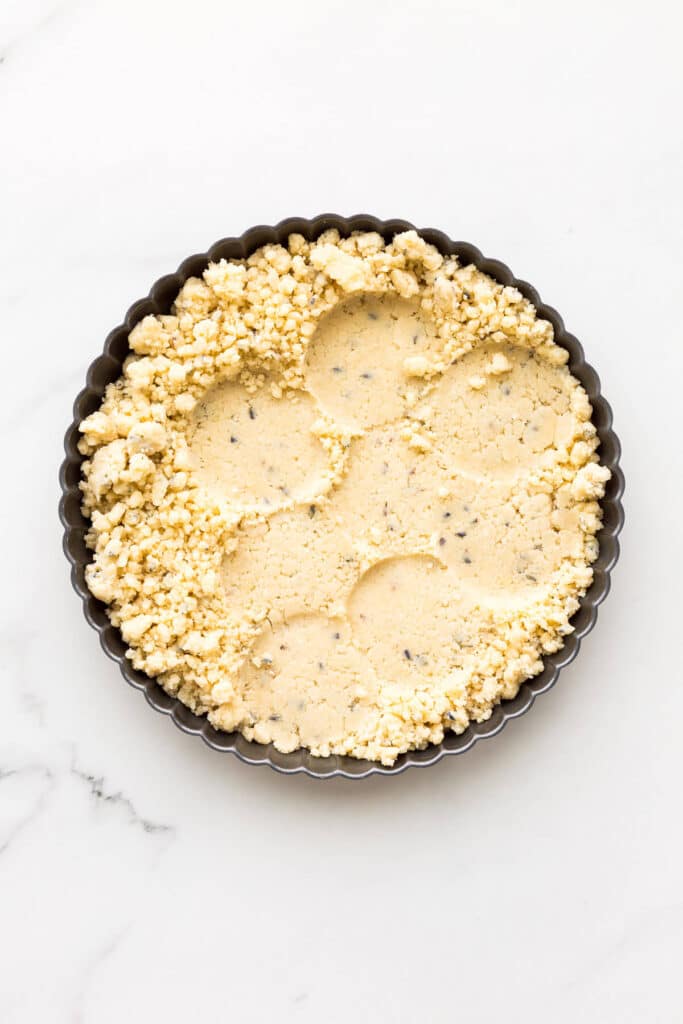 Infusing a dough with lavender flavour
I decided that the best method to get lavender into the shortbread would be to first cream the lavender and the butter together, hopefully lightly infusing the butter with some of the lavender essence, before adding the dry ingredients. I followed a basic 1:2:3 ratio of sugar/butter/flour to make these lavender shortbread cookies.
If you add lavender to cookies, it will impart a floral aroma (flavour and scent) to the cookies. Make sure to use the right amount. Too much lavender may go from a lovely floral flavour in baked goods to soapy if you are too heavy-handed.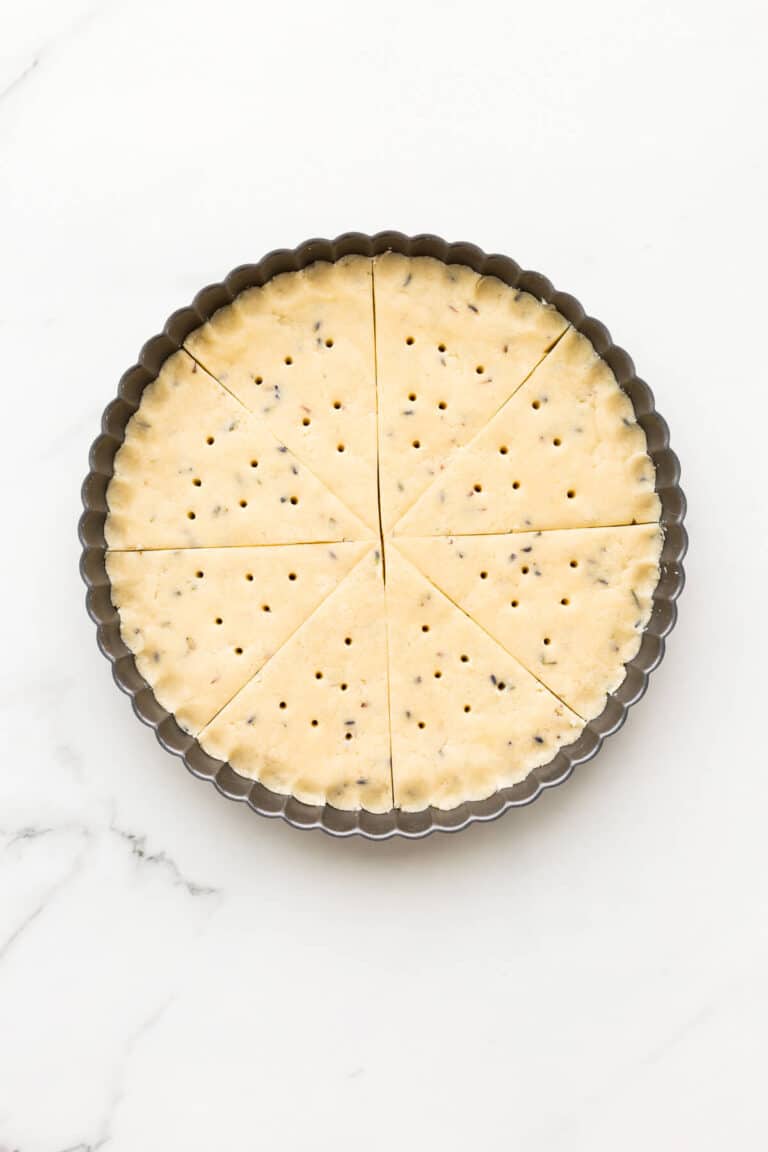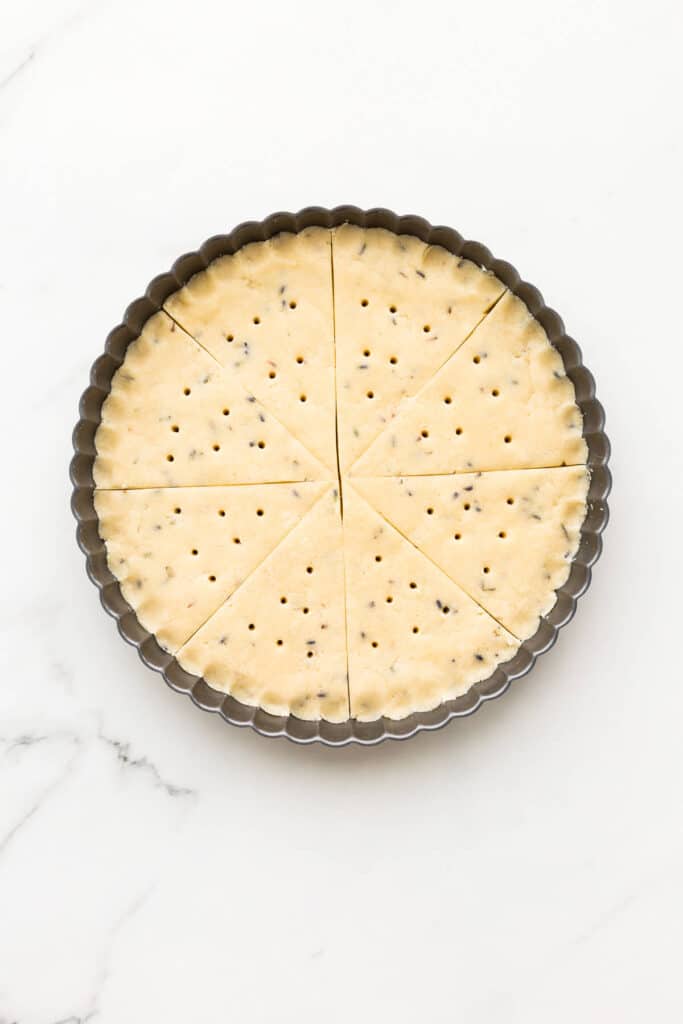 Special tools
To make shortbread cookie dough, I like to use either a stand mixer or an electric hand mixer to help cream the butter and the sugar so that they are well mixed. You can do this by hand too. Besides a mixer, you will also need:
The recipe yields a very crumbly-textured dough. All you have to do is dump the crumbs into the pan and press them down with a glass (watch the video below!).
I scored the shortbread (or rather I sliced through to the bottom just to be sure), docked them with a fork and popped them into my preheated oven. I baked these shortbread cookie wedges at 350ºF. Some shortbread purists may argue that shortbread should be baked at a lower temperature to keep them from colouring in the oven. I like my shortbread a little golden around the edges. Adds flavour.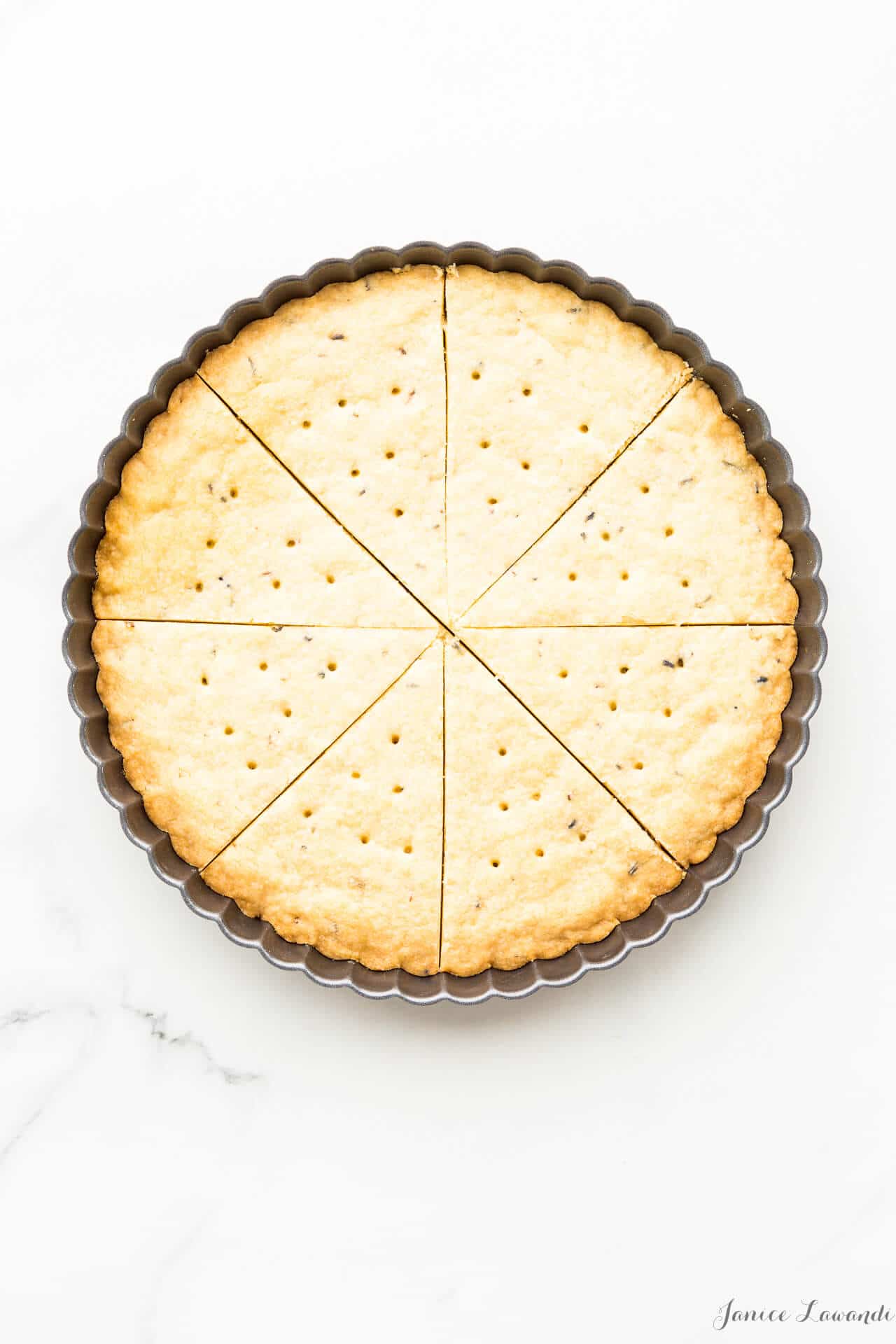 What else you can bake with lavender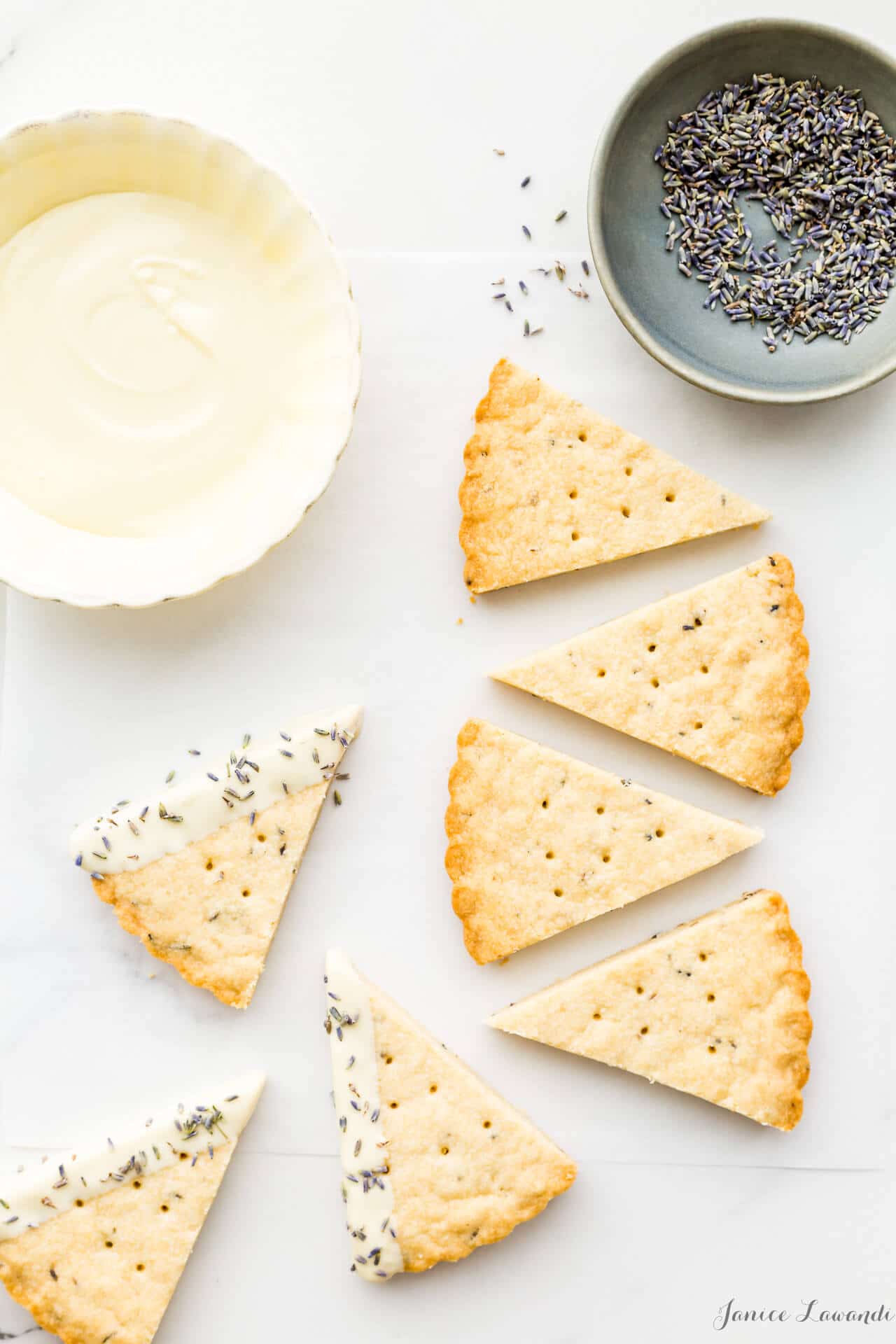 After 5 minutes of cooling in the pan on a wire rack, I re-cut the shortbread along the lines and let them cool completely before unmolding the shortbread wedges. I then dipped the sides of each shortbread triangle in melted white chocolate and sprinkled a few dried lavender blossoms on each. This is entirely optional. I happen to love white chocolate.
The lavender truly comes through in this shortbread cookie recipe: floral, but not too floral, buttery, not too sweet. These shortbread cookies have a crumbly, sandy texture, just the way a traditional shortbread should be.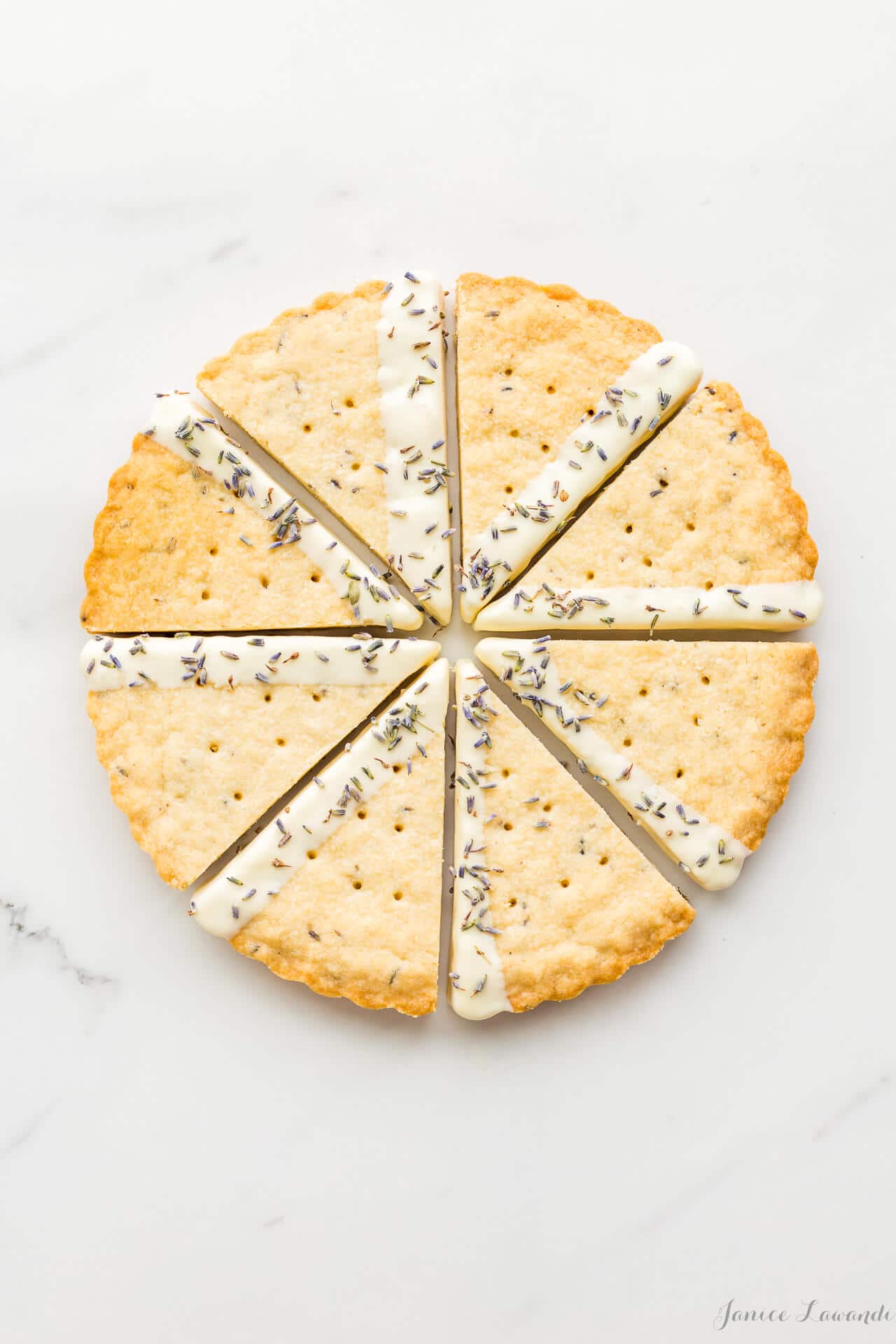 These lavender shortbread cookies are much easier to make than shortbread cookies with jam, but equally satisfying and just as stunning because the shortbread wedges are dipped in chocolate!
📖 Recipe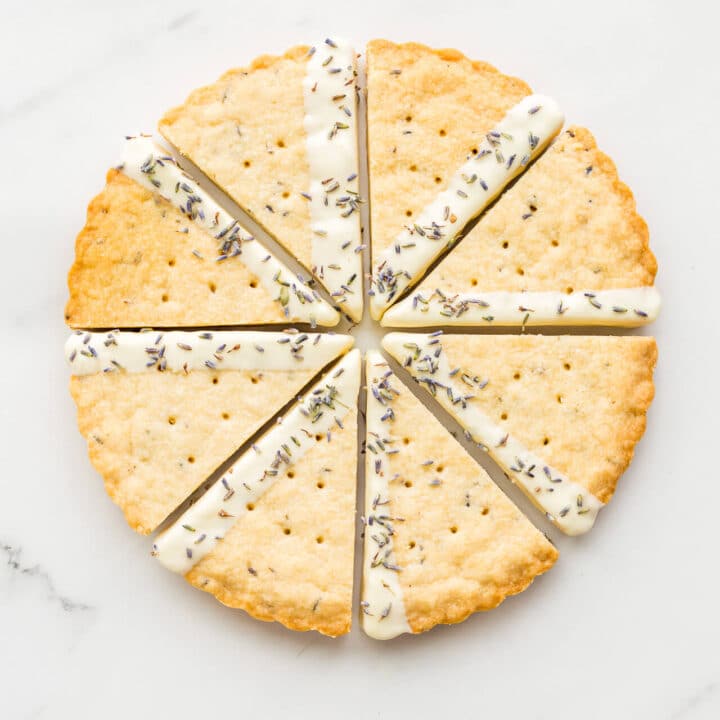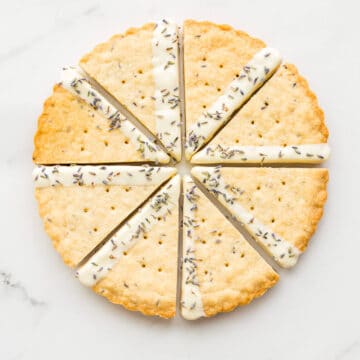 Lavender Shortbread Cookies Dipped in White Chocolate
This recipe is a fun lavender twist on the classic shortbread cookie and it's made in the easiest way possible! The dough is pressed into a scalloped edge tart pan and sliced into shortbread triangle wedges before baking for perfect shortbread cookies!
Ingredients
173

grams

unsalted butter

1

tablespoon

dried lavender

make sure it's edible, culinary grade lavender and not potpourri!

100

grams

granulated sugar

you can go as low as 88 grams of sugar for a less sweet shortbread cookie

255

grams

bleached all-purpose flour

½

teaspoon

Diamond Crystal fine kosher salt
Optional ingredients
175

grams

Cacao Barry white chocolate

melted
Instructions
Preheat oven to 350°F (175 °C).

In the bowl of an electric mixer, cream the butter and lavender for 1 minute.

Add sugar and mix, scraping down sides of mixer as needed, until mixture is creamy.

Add flour and salt, and mix on low until the dough is crumbly.

Pour crumbs into a 9-inch tart pan with removable bottom. Press with the bottom of a glass to form a firm, even layer.

Dock with a fork or metal skewer to poke holes through the shortbread cookie surface allowing steam to escape as the shortbread bake so that they dry out.

Bake for 30-40 minutes, rotating at least once to ensure that they bake evenly (keep an eye on them to make sure that they do not brown too much). The edges will be lightly golden.

Remove from oven and let cool slightly before re-cutting along the scored lines.

Let cool completely before removing the slices from the pans.

Dip or brush each slice with melted chocolate. Sprinkle with a few lavender blossoms.
Notes
For this recipe, I used the 9-inch tart pan from this Wilton set that you can buy on Amazon.
Nutrition