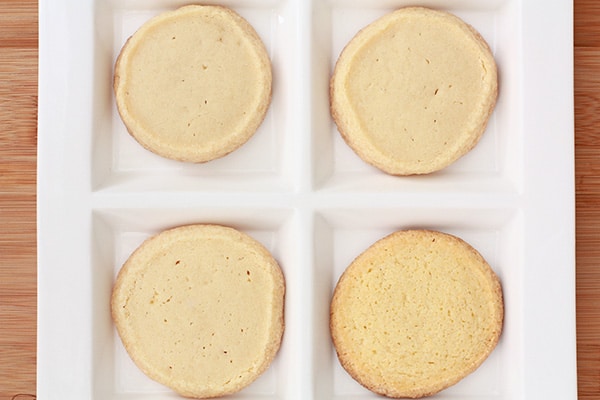 This last week has been all about recipe testing. Trying new recipes, changing up the order of ingredients, finding "the" recipes and methods that yield the texture and taste that I am looking for. It's seriously a lot of fun! I love comparing recipes and seeing for myself what an extra yolk will do to the flavor of a vanilla sablé recipe, or what replacing the icing sugar with granulated sugar does to the texture.
Of course, the "downside" is the number of cookies I end up making to do all these tests. And, if you happen to go to the gym with me, you will end up cornered in the locker room and swayed into following up your sweaty efforts with a cookie taste test that will annihilate all the efforts from that grueling bootcamp class (Sorry gym buddies! I love you!).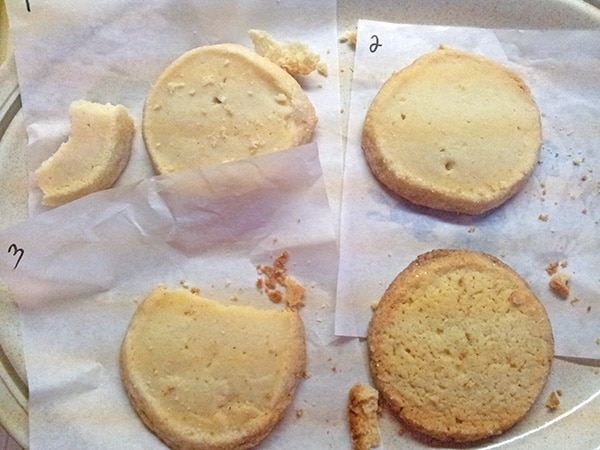 Disclosure: As an Amazon Associate, I earn from qualifying purchases.
What is a French sablé cookie?
The term "sablé" is French for "sanded" because sablé cookies have a sandy texture, much like real shortbread do. The recipes for sablé and shortbread are quite similar, but the French sablé usually contain an egg or an egg yolk and even milk and vanilla, while 1-2-3 shortbread traditionally is only made with three ingredients: flour, sugar, and butter. Sablé cookies can be made plain, or flavoured with cocoa powder or melted chocolate, ground almonds, dried herbs and spices, etc. Traditional sablés usually are vanilla, chocolate, or almond flavoured. Sablé cookie dough is very similar to pâte sucrée, which can also be rolled or pressed into a tart pan to make a lovely tart shell. You can even flavor it with matcha to make a tart shell.
In the search of my favorite vanilla sablé recipe, I tested 4 different recipes to find the best:
Dorie Greenspan recipe #1, featuring both granulated and powdered sugar
Dorie Greenspan recipe #2 from her Beurre et Sel bakery, featuring a slightly different ration of granulated and powdered sugar, but also an extra yolk
My own recipe, based on Dorie's second recipe, but in mine I eliminated the powdered sugar and replaced it with granulated sugar
Patrice Demers' (one of Montreal's top pastry chefs) recipe that features only granulated sugar, more yolks, baking powder, and a very different mixing method to make the dough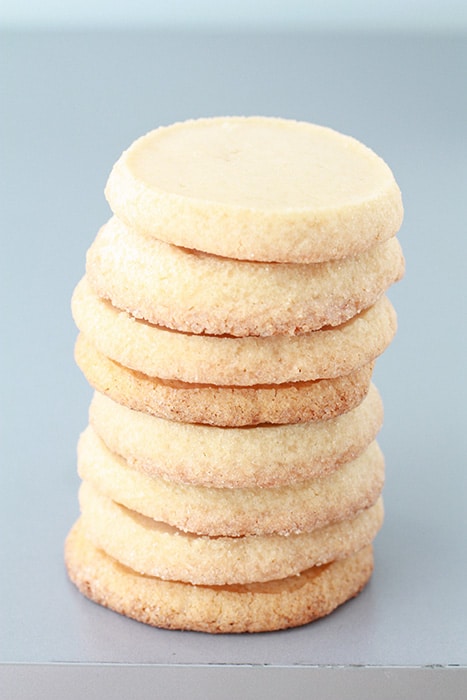 The gym girls preferred recipe #4, though K commented that it tasted eggy. Very true. Recipe #4 has more yolks. They liked the look of the #4 cookie as well, which is funny because I didn't like its look at all. Their choice: 4 > 3 > 2 > 1. #4 was the clear winner.
I also subjected my family to the same taste test. For them, #4 wasn't the winner. My family could tell apart the cookies made with a mix of granulated and icing sugar, from those made with just granulated sugar. The remark: the cookies made with icing sugar were more tender, and perhaps more like a shortbread. The results again were mixed, and there wasn't a clear winner, though once again, #1 was the loser. #2 and #3 were tied. 2 ~ 3 > 4 > 1
What do I think? Well, I didn't like #4. I found it too eggy. I didn't like it's look, and it was obvious that the egg yolks made it yellower, spread more, and I suspect the baking powder made it brown a little more than the others. I did appreciate the fact that #4 had a more "sablé" (sandy) texture though.
I honestly preferred #3, which was my recipe. I didn't like the extra tenderness from the icing sugar in #1 and #2. I didn't really like the look and taste of #4. I preferred the taste and texture of #3 so that's the recipe I'm sharing with you (the other three recipes are available online at the links I provided above).
This vanilla sablé cookie recipe calls for pure vanilla extract because it's the best way to add vanilla flavour to cookie doughs and cake batters. If you don't have vanilla, try replacing it with a little rum or some bourbon! Or if you want an alternative to vanilla extract so that you can see flecks of vanilla seeds in this cookie, use the same amount of vanilla bean paste!
Lately, I've been replacing the egg yolk in sablé cookies with milk instead (because I hate separating eggs) and I find that this results in a very light, buttery cookie with a lovely, sandy texture that is perfect. Here's my updated version of the slice-and-bake vanilla sablé cookies.
📖 Recipe
Vanilla sablé cookies (slice-and-bake)
Slice-and-bake vanilla sablé cookies are easy to make. Traditional recipes are made with an egg yolk or an egg, but this recipe is eggless, replacing the egg with a little milk
Instructions
Use a mixer to cream the butter and sugar+salt. Beat in vanilla.

Add the dry ingredients to obtain a dry crumble, and finally add the milk, which magically transforms it into a cookie dough.

Press/roll out the dough into a long 14-inch log, slice in half (for easier storage in fridge). Roll each log in turbinado sugar (~¼ cup) and then wrap in plastic and chill overnight.

Slice the cookies fairly thin and bake at 350ºF. I like to bake them around 16 minutes - edges should be golden.
Give back
If you enjoy the free content on this website, say thank you!
Nutrition
Calories:
45
kcal
|
Carbohydrates:
5
g
|
Protein:
1
g
|
Fat:
2
g
|
Saturated Fat:
1
g
|
Cholesterol:
6
mg
|
Sodium:
9
mg
|
Potassium:
6
mg
|
Fiber:
1
g
|
Sugar:
2
g
|
Vitamin A:
72
IU
|
Calcium:
2
mg
|
Iron:
1
mg