These Earl Grey panna cotta tarts are made from a sweet almond cookie crust and filled with Earl Grey tea infused panna cotta filling that sets in the fridge, so you can make this tea-flavored dessert a day ahead to serve later.
As an Amazon Associate I earn from qualifying purchases.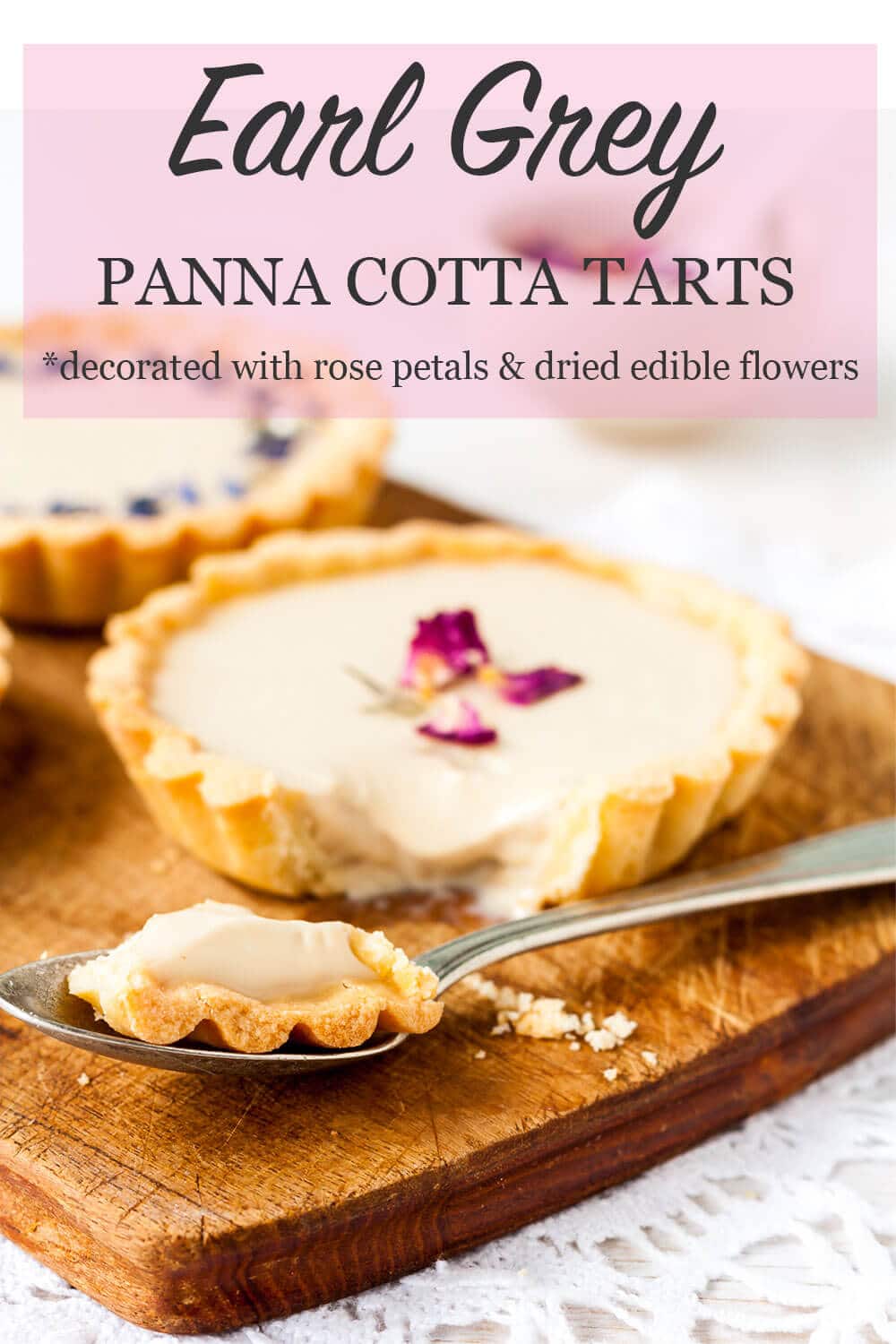 Disclosure: As an Amazon Associate, I earn from qualifying purchases.
How do you make panna cotta?
Panna cotta is such an easy dessert. Truly! For any panna cotta recipe, you will use a combination of milk and cream, or just milk for a lighter option. The milk is sweetened with your favourite sugar, whether that's plain old granulated sugar, maple syrup, brown sugar, etc., warmed, and set with gelatin.
Panna cotta is a blank canvas, mostly dairy, so panna cotta is perfect for playing with flavour: you can infuse the milk with herbs, spices, or even tea, like I did below. The flavoured panna cotta base can be poured into jars to set and served directly in these or unmolded onto a plate.
You can also pour the panna cotta mixture into baked tart shells to make panna cotta tarts, like in this recipe for Earl Grey panna cotta tarts.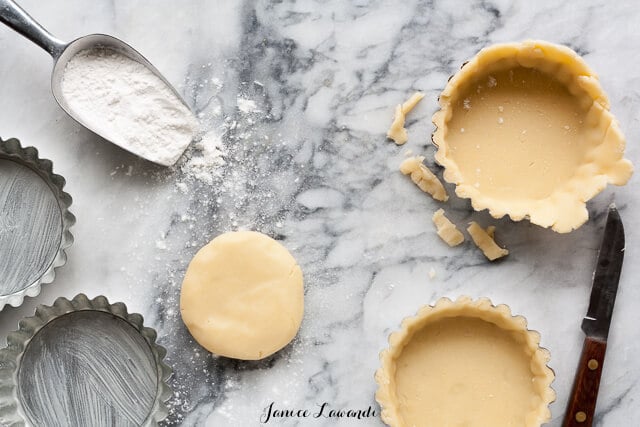 Steps to make flavoured panna cotta desserts
You can infuse milk with so many different flavours to make flavoured panna cotta. Here's how:
Infuse the milk with flavour by heating the milk with any of the following

vanilla bean, split in half, scrape the seeds, and add pod and seeds to the pot
tea leaves, like Earl Grey tea, black tea, also matcha tea
fresh herbs, like mint or basil
citrus, like orange zest or lemon zest, which will add flavour without the risk of the milk curdling from the acid of the fruit juice
spices, like cardamom, cinnamon, nutmeg, cloves, star anise, etc.
coffee, like Turkish coffee, instant espresso powder

Sweeten the milk: you can use a very flavourful sugar or a less flavourful sugar. If you are using granulated sugar, brown sugar, or coconut sugar, make sure the sugar is fully dissolved before proceeding. Panna cotta can be sweetened with:

granulated sugar (no flavour)
maple syrup
honey
brown sugar, the darker the sugar, the more caramel notes your panna cotta will have
coconut sugar, which has a very pronounced flavour (make sure you like it before you go with this one)

Melt the gelatin in the sweetened infused hot milk mixture
Pour into molds or tart shell (see below)
Chill in the fridge for several hours to set the panna cotta
Remove tarts from tart pan before serving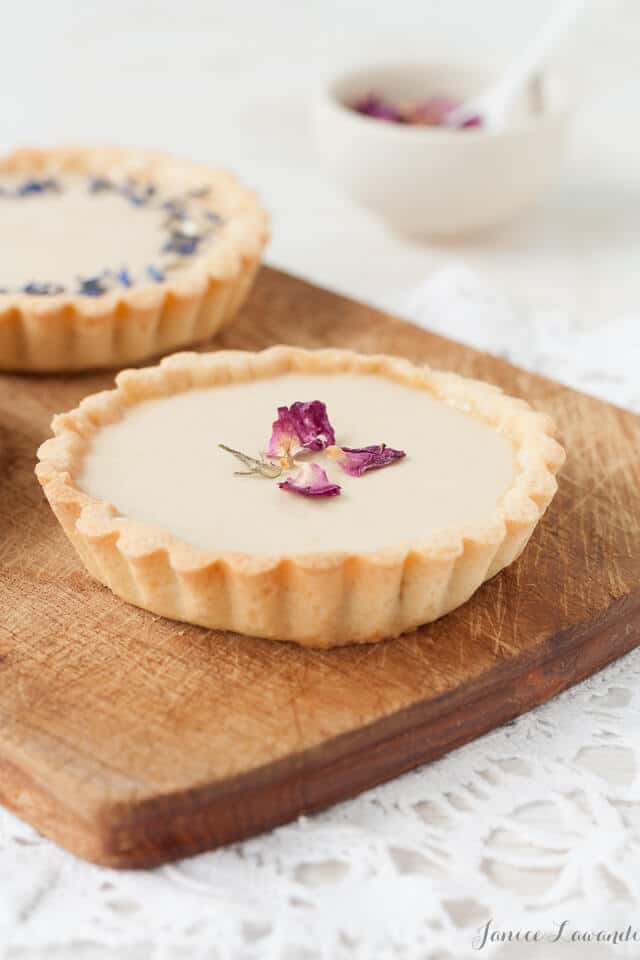 What to serve with panna cotta
I love panna cotta desserts and you should too! Take this vanilla bean panna cotta recipe: it's made in small Mason jars, glasses, or any small cups so that when it comes time to serving, all you need is a spoon and some fun toppings.
In general, I like to serve panna cotta topped with berries and fresh fruit, granola clusters, homemade milk crumbs, and simple cookies, like these slice-and-bake crystallized ginger cookies. You can also drizzle panna cotta with chocolate sauce, homemade jams, like plum jam in the late summer, rhubarb jam (no pectin) in the spring, spiced apple jam in the fall, or even three fruit marmalade or salted caramel sauce in the dead of winter when you are craving comfort.
Really, anything goes! And panna cotta makes a great tart filling too like in the recipe below.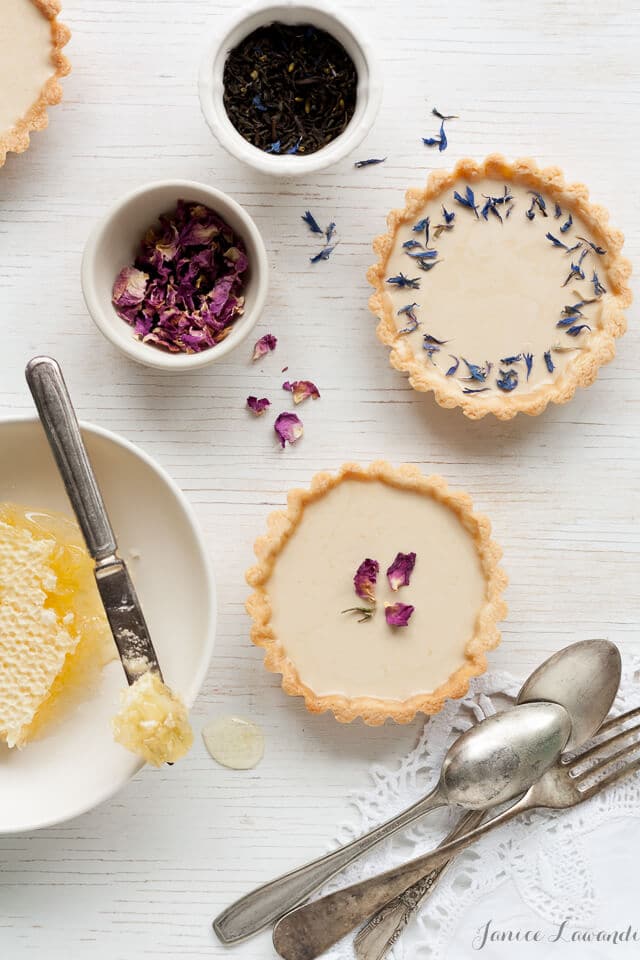 Pâte sucrée
These panna cotta tarts are made with blind-baked pâte sucrée. Pâte sucrée is one of my favourite tart doughs because it makes a great, not-too-sweet crust for these tarts, but it also makes yummy cookies. Pâte sucrée has quite a bit of fat and sugar, yielding a tender crust with a lot of flavour from ground almonds.
This also means it has less structure than traditional pie dough. Remember to use tart pans with a removable bottom (like these on Amazon) so you don't stress about unmolding the tarts from the tart pan: check out my tips for how to remove tarts from tart pans. If you prefer to have panna cotta without the tart shell, feel free to make the panna cotta and divide it into glasses (greased if you'd like to unmold them).
Pro tip: brush the inside of the baked tart shells with melted white chocolate
When I studied pastry at Le Cordon Bleu, I learned that it's important to protect tart shells from the filling by creating a barrier between the filling and the crust. This is to avoid the crust absorbing liquid from the filling, which would make the crust soft and transform the crisp shell into a soft, mushy mess.
To protect the tart shell from humidity, pastry professionals brush the inside of the tarts with a thin, even layer of melted white chocolate. The chocolate will set, creating an invisible barrier between the filling and the shell. The French verb for this step is "chablonner" which means to brush the surface of a cake or a tart with melted chocolate.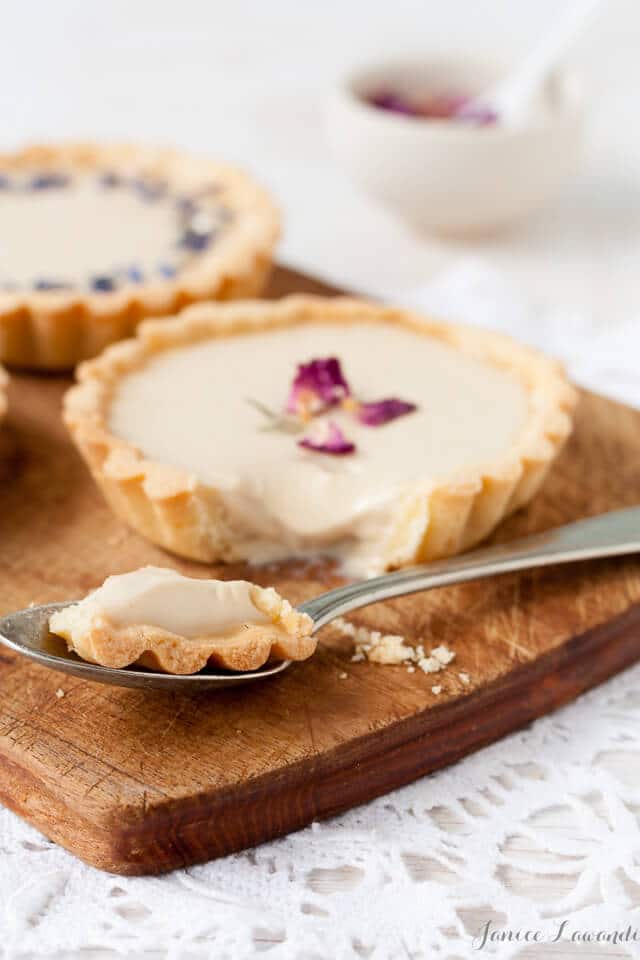 Want to bake more desserts with tea? Try these recipes!
Infusing recipes with tea is a great way to add unexpected flavour to desserts. You can add tea to layer cakes and frostings to make Earl Grey cake. You can add matcha to tart shells to make matcha tarts with passion fruit curd. You can infuse the cream with tea leaves to make ganache for lavender Earl Grey truffles or for a big Earl grey chocolate tart.
Earl Grey Panna Cotta Tarts Recipe
For these tarts, I originally tested a flavoured-panna cotta recipe with less gelatin (¾ tsp), but unfortunately, the resulting panna cotta filling was riding the line between set and unset, as you can see in the following picture. I liked it that way, but I don't think that it was "technically correct" so I retested the panna cotta filling with a little more gelatin (1 ¼ tsp) and the set was perfect.
The filling is still luxuriously creamy but properly set so it doesn't ooze when you cut into it. I think I could even have gotten away with just a teaspoon of gelatin. In any case, make sure to measure the ingredients for this recipe carefully, otherwise, there's a risk your panna cotta won't set!
📖 Recipe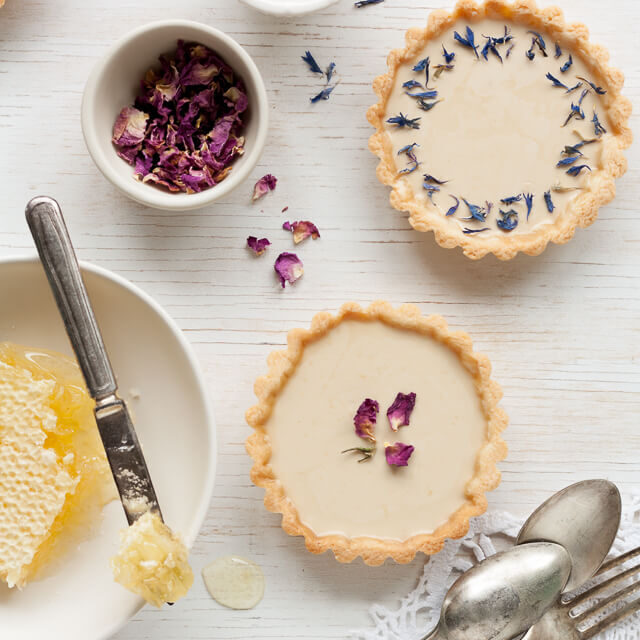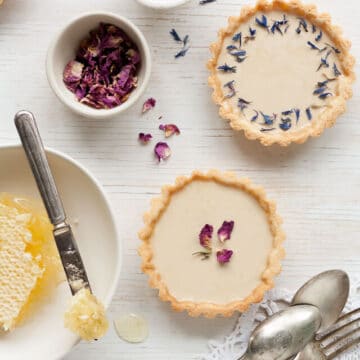 Earl Grey Panna Cotta Tarts
These little Earl Grey panna cotta tarts are made with a sweet almond crust and decorated with dried rose petals and dried cornflowers, served with honeycomb. The Earl Grey panna cotta is infused with loose-leaf Earl Grey tea for a gorgeous simple dessert
Ingredients
Sweet almond crust (pâte sablée)
115

grams

Stirling Creamery Churn 84 salted butter

room temperature

94

grams

icing sugar 

50

grams

ground almonds

1

large egg(s)

208

grams

bleached all-purpose flour

35

grams

Cacao Barry white chocolate

melted
Earl Grey panna cotta
250

mL

whole milk (3.25 % fat)

1

tablespoon

loose leaf Earl Grey tea

10

mL

finely grated lemon zest

125

mL

whipping cream (35 % fat)

28

grams

granulated sugar

1 ¼

teaspoon

Knox unflavoured gelatin powder
Garnishes for decorating finished tarts (optional)
Instructions
Make the dough
Add the egg and mix until smooth.

Add the flour and mix until the flour is blended in but don't over mix.

Pat the dough into a disk, wrap and refrigerate for at least 1 hour.
Blind bake the tart shells
Divide the disk of dough into 8 equal pieces and roll each piece into a ball.

Roll out each on a floured surface into a circle of about 5 to 6 inches and line removable bottom tart pans (like these on Amazon), trimming the edges as needed. I only needed 6 tart shells for the panna cotta tarts, so I made cookies with the rest of the dough, which you can also use to garnish the tarts.

Chill unbaked shells 1 hour.

Preheat the oven to 350 °F (175 °C). Dock pastry with a fork, top each with a square of parchment and fill with beans.

Bake 15 minutes with the beans, then at least 10 minutes without or until the edges are golden brown.

Just before filling the tart shells, brush the inside of the pre-baked tart shells with the melted white chocolate to coat completely and place on a rimmed sheet in the fridge to set.
Make Earl Grey panna cotta
Warm milk in a small saucepan with the looseleaf tea and lemon zest (heat but don't boil). When the milk is hot, remove from the stove and let infuse 1 hour.

Strain the tea-infused milk then place in a medium saucepan with the cream, sugar, and sprinkle the Knox gelatin overtop. Let stand 10 minutes, then heat the mixture while whisking on medium-low until the sugar and the gelatin have dissolved (I heated the mixture to 125ºF, knowing that gelatin melts at 104ºF).

Strain the mixture into a pouring jug or a big spouted measuring cup. Let cool 30 minutes at room temperature, whisking every so often, then in the fridge (still whisking intermittently) until the panna cotta is below 100ºF.

Pour the cooled panna cotta into the shells and refrigerate overnight to set.
Notes
Note that I used ¾ of the pâte sablée that I made. I made cookies with the rest of the dough.
Nutrition
Calories:
544
kcal
Carbohydrates:
55
g
Protein:
9
g
Fat:
33
g
Saturated Fat:
18
g
Cholesterol:
106
mg
Sodium:
193
mg
Potassium:
135
mg
Fiber:
2
g
Sugar:
26
g
Vitamin A:
934
IU
Calcium:
104
mg
Iron:
2
mg
I do my best to bake with the finest ingredients. Stirling Creamery, a Canadian company, has provided the butter for this post.