Drizzle salted caramel over an apple bundt cake with this easy recipe that is a simple, yet satisfying way to bake with apples.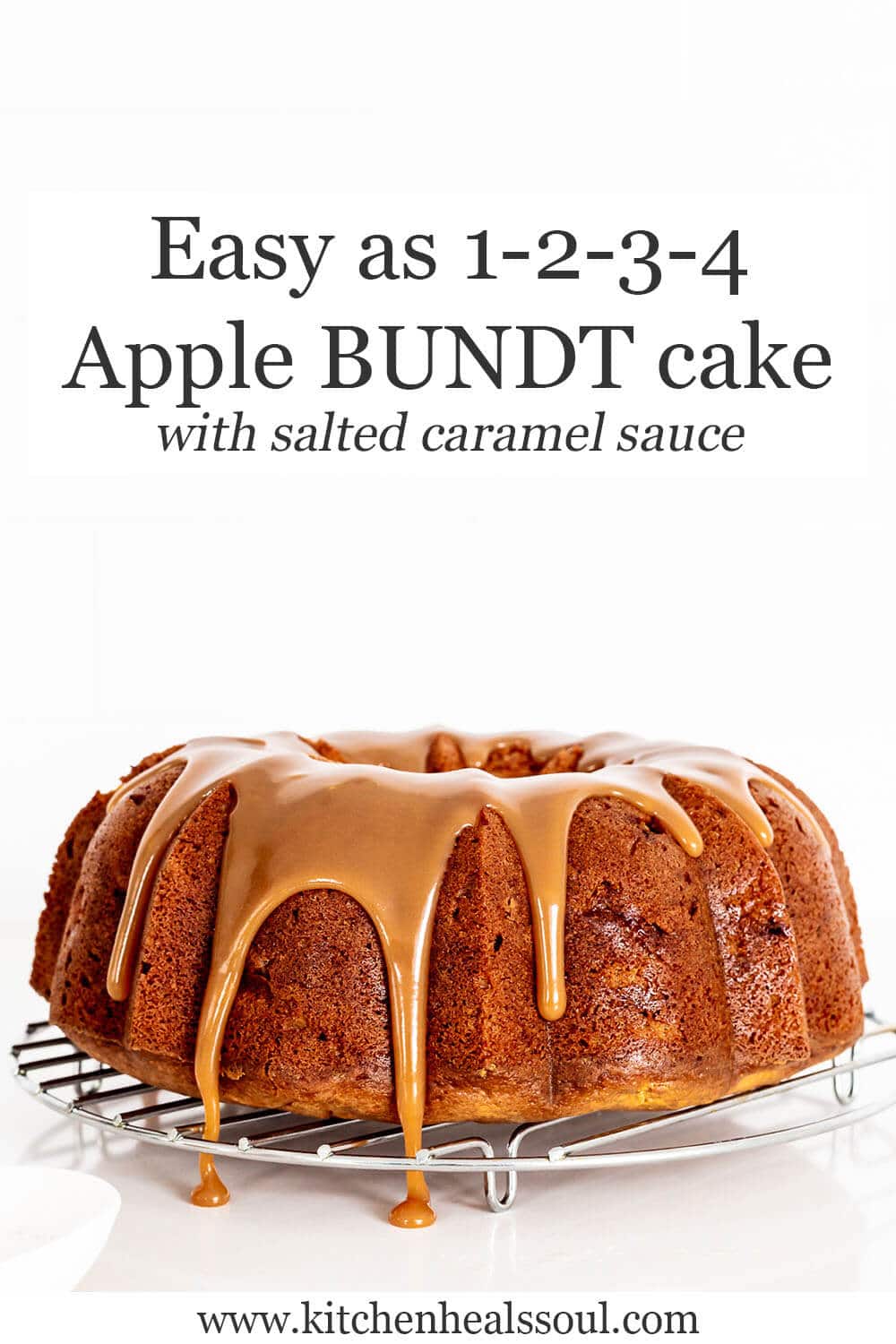 Disclosure: As an Amazon Associate, I earn from qualifying purchases.
I am a firm believer that apples are great for more than just pie. Sure, you will love this maple apple pie, but sometimes pie is a little too much effort for the time you've got. Cue apple crisps and apple cakes.
It's important to have a roster of apple recipes to fall back on, especially if you go apple picking with your family: you might end up with 20 pounds of apples that you're going to want to put to good use, whether that's by making an easy apple crisp for the family or a late-night apple crisp for one, ready in under 5 minutes. You can make an Italian apple yogurt cake with a simply crunchy sugar topping or an apple crumble cake, like apple crisp but in cake form. You could even throw sliced apples into a coffee cake, like in this cinnamon apple crumb cake.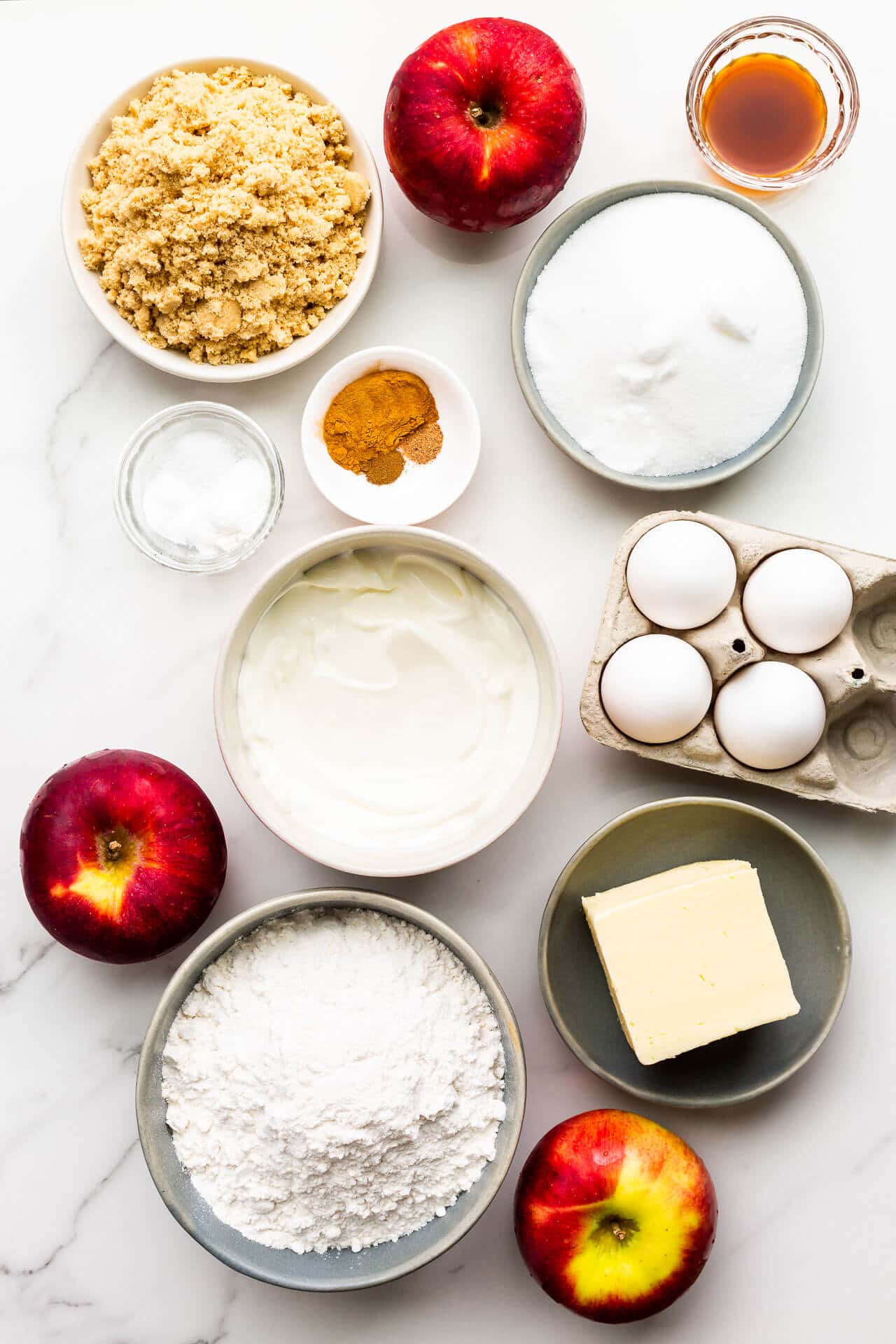 Apples vary in size
Most of us like to go apple picking in the fall. It's a great outdoor activity when the weather's just starting to cool. If you've ever gone apple picking and wondered just how many apples is in a 20 pound bag, I've done the math for you:
1 large apple weighs as much as 300 grams (⅔ lb)—big Honeycrisp apples fall into this category, as do Cortlands sometimes
1 medium apple weighs about 225 grams (½ lb)—Cortland apples are usually this size, but sometimes Granny Smith and Delicious Apples are as big as Cortlands
1 small apple weighs about 150 grams (⅓ lb)—McIntosh apples are usually this size, as are Empire apples, Spartan, Jonah Gold, etc.
10 pounds of apples is 4.5 kg and that works out to 15 large apples OR 20 medium apples OR 30 small apples
20 pounds of apples is 9 kg and works out to roughly 30 large apples OR 40 medium apples OR 70 small apples
Turns out 20 pounds of apples is A LOT OF APPLES, but I'm not here to tell you to pick less because I have consistently opted for the biggest bag when I go apple picking.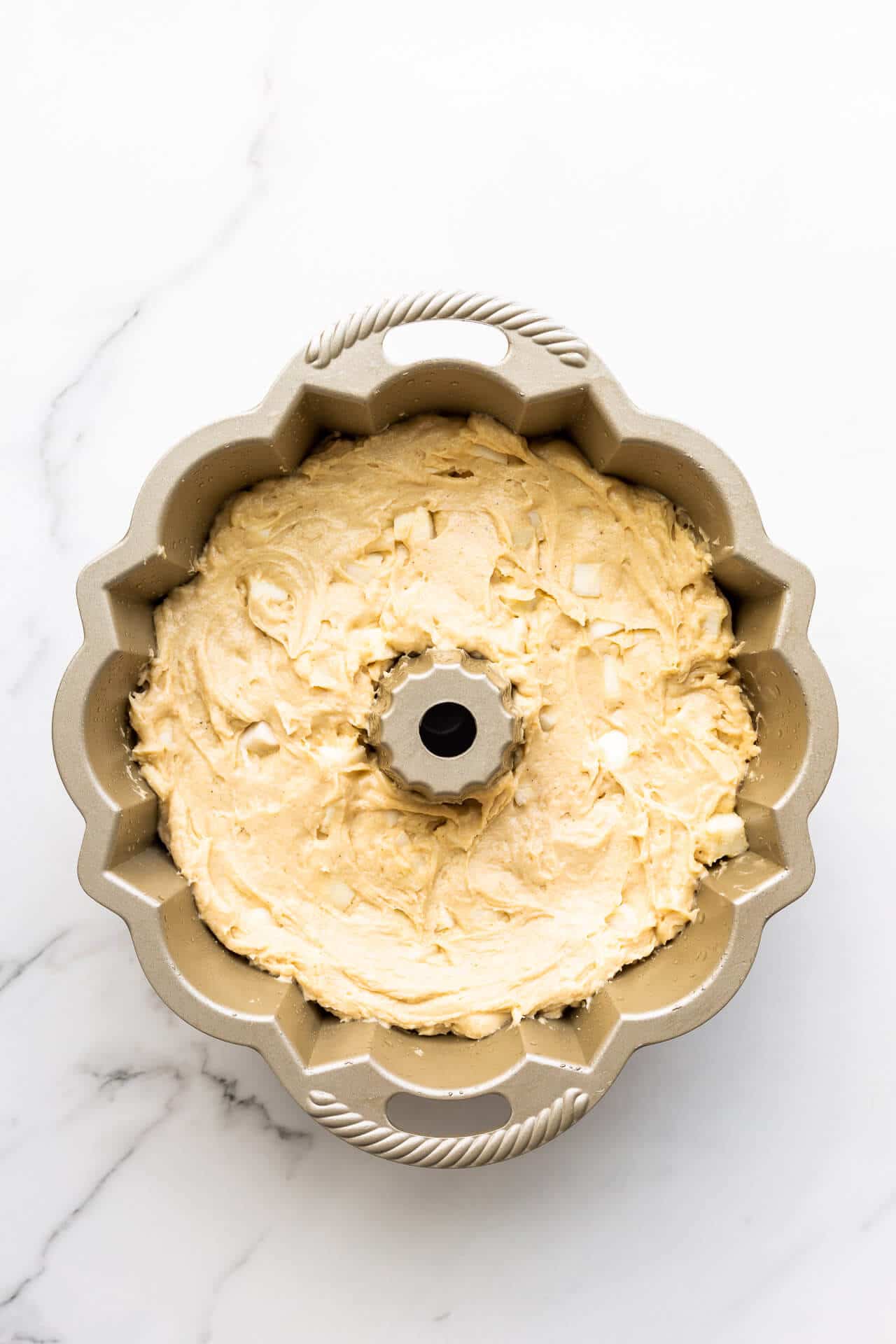 Which apple is best for baking a cake?
If you go apple picking and you have many varieties to choose from, try to decide what you plan on making with your apples. Buy or pick the right apple varieties for what you intend to do with them:
get McIntosh, Empire, or Lobo apples if you plan to make apple sauce (these apples are also great for snacking on)
get Cortland apples, Golden Delicious, Spartan, or Granny Smith if you want to make pies and cakes
get Honey Crisp apples for snacking on
For something like an apple crisp, I like to use a mixture of apples, and honestly, most apples will work out just fine in that kind of recipe. For an apple cake like this bundt cake, I bake with apples that aren't too watery and that hold their shape when cooked, which is why I like to use Cortlands for this recipe.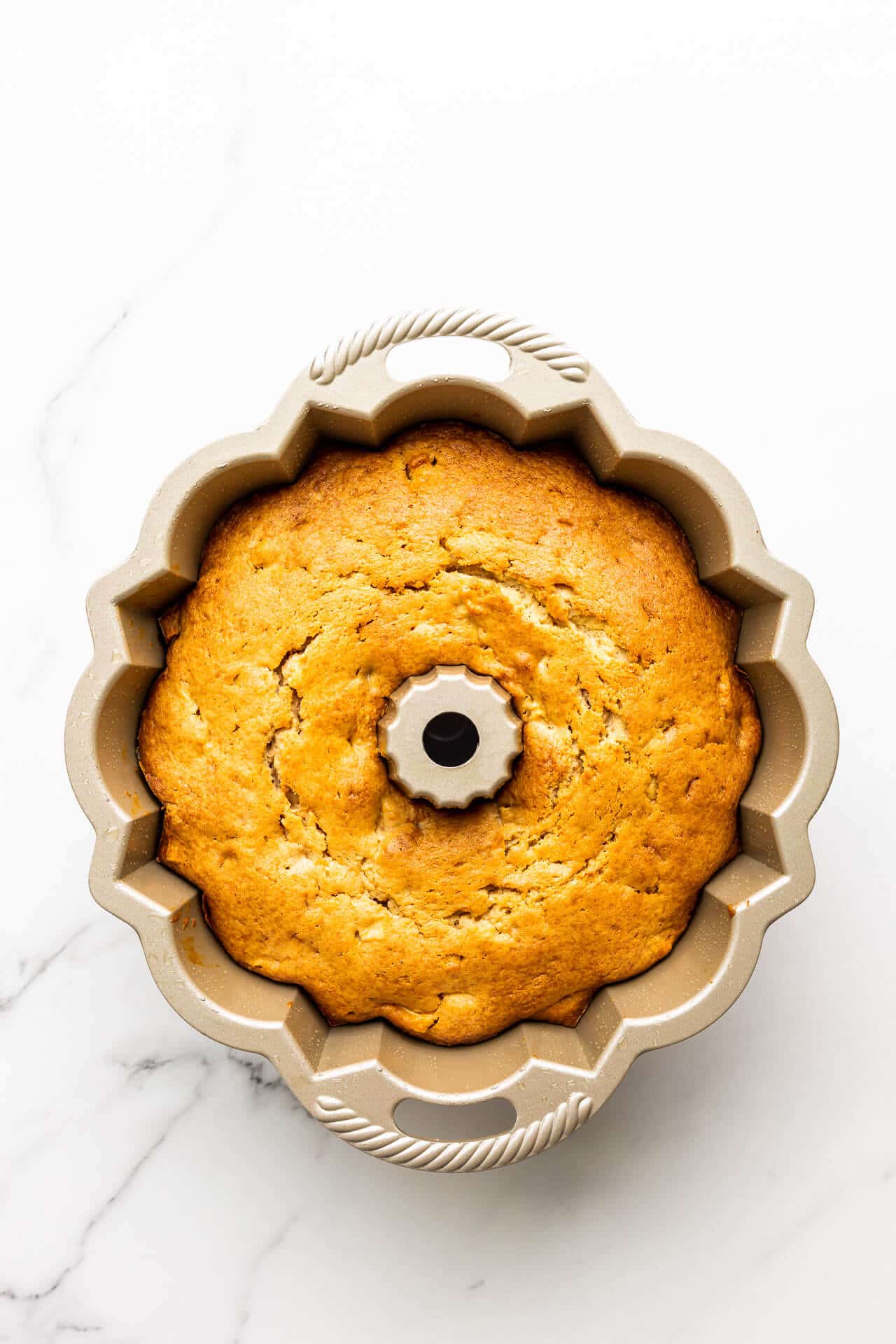 Making an apple bundt cake is as easy as 1-2-3-4
Bundt cake recipes are easy to remember because they follow the baking ratio 1:2:3:4, by volume: to make enough batter to fill a 10–12 cup bundt pan, use 1 cup butter, 2 cups sugar, 3 cups flour, and 4 eggs. You'll also want to add 1 cup of liquid (like milk or buttermilk) to thin out the batter or you could also use 1.5 cups of sour cream, as in the recipe below, which provides both moisture, acidity, and a little extra fat, which means your cake will have a great texture and it will store well.
For bundt cakes, the creaming mixing method is best because it allows you to incorporate air, mechanically, when you cream together the butter and the sugar for several minutes until it's light and fluffy. This way you aren't only relying on chemical leaveners, like baking powder and baking soda. And because we are making a large cake here, it's best to use a stand mixer like a 5 quart KitchenAid Artisan mixer, or even a 6 quart KitchenAid Professional mixer. Either of these models are big enough to make a bundt.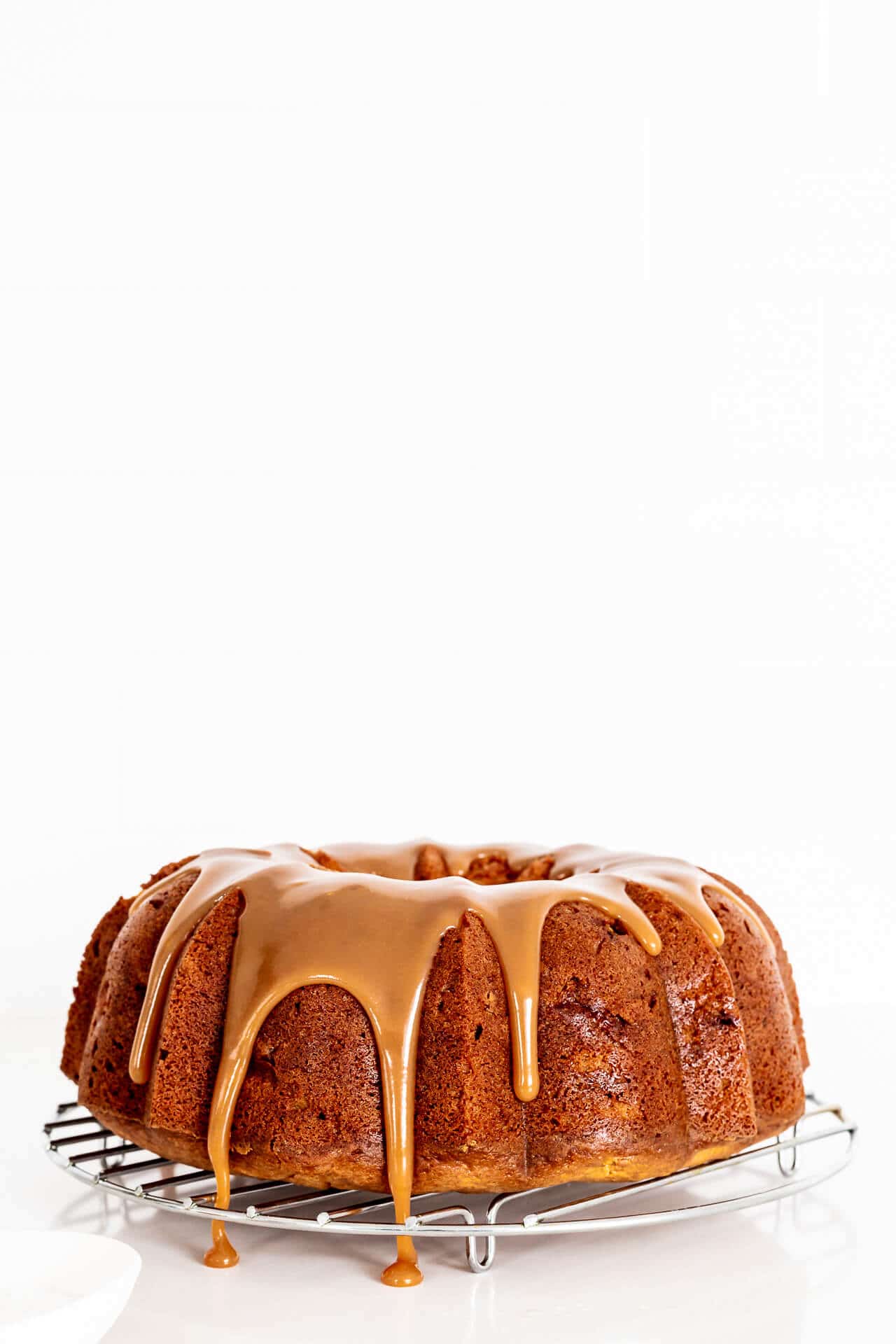 Baking in bundt pans
Since bundt pans often have intricate designs that lead to many nooks and crannies in the cake pan, it's very important to take the extra time to prepare the cake pan according to the manufacturers instructions. I bake my bundt cakes in the Nordic Ware Anniversary bundt pan, which is a 10 to 12 cup pan with a traditional design. Nordic Ware suggests to either use a baking spray that combines flour and oil to prepare your bundt pan or to use a solid fat, like butter or shortening, to evenly coat the inside with a pastry brush, then tapping in flour to evenly coat the entire surface of the pan.
Regardless of the brand of pan you are using, while a baker's spray that contains flour is acceptable, a cooking spray is not. These oil sprays will bake onto the pan and leave a gummy buildup that is hard, if not impossible, to remove, and that buildup can cause your cakes to stick to the pan. Opt for a spray like Baker's Joy non-stick spray.
Never use metal utensils, scouring pads, or abrasive cleaners on your bundt pans because if they have a special non-stick coating, you will ruin it with any of these. If your bundt cake sticks to the pan, it may have cooled down too much. Don't use a knife to try and release the bundt from the pan because you may ruin the finish on the pan. Try one of the following options:
heat the bundt in the oven at 325 ºF for 10 minutes to warm it up again, enough so that the fat and flour layer you used to prep the pan will warm up and your cake should slide right out.
set the bundt pan in a shallow dish of hot water to warm the outside, but there's a risk you splash water on the cake. Not ideal.
heat the pan with a hair dryer to get the metal hot enough that the edges of the cake slide out.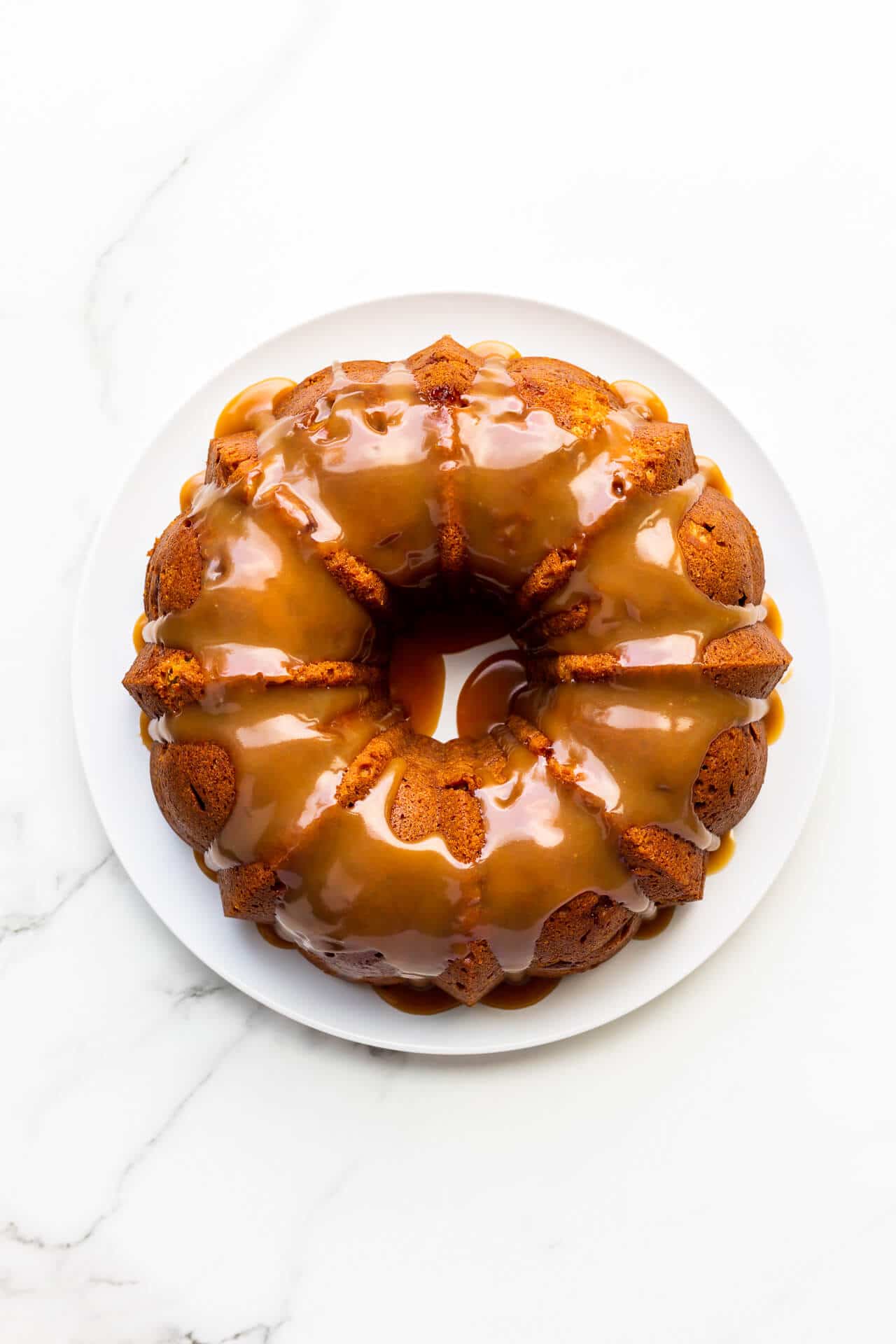 Checking if a bundt is done baking
Bundts are tricky because they are so big and it can be hard to know when they're done. When it's time to check if the cake is done baking, I use a combination of visual cues, touch, and a skewer to make sure the bundt is completely baked in the middle:
are the edges of the cake pulling away from the sides of the pan? If so, the bundt might be done
are the edges a deep golden brown? Because bundt cakes take a long time to bake through, expect the edges to be darker than on simple cake layers.
when you press your fingertips on the surface of the bundt, does it rise back up or leave an indent? an indent could mean the cake hasn't baked enough and is still a little raw
when you press your fingertips on the surface of the cake, does it feel firm and set? bundt cakes are usually pretty hefty cakes and they should feel firm to the touch, even when hot. If the cake surface feels too delicate, it might not be done.
when you insert a skewer into the cake, does it come out clean? The skewer test is always a great method to check if a bundt is done: it should come out clean. For a bundt like the apple cake below, make sure to poke the skewer through cake, not an apple. If it feels like you poked an apple, remove the skewer and poke somewhere else.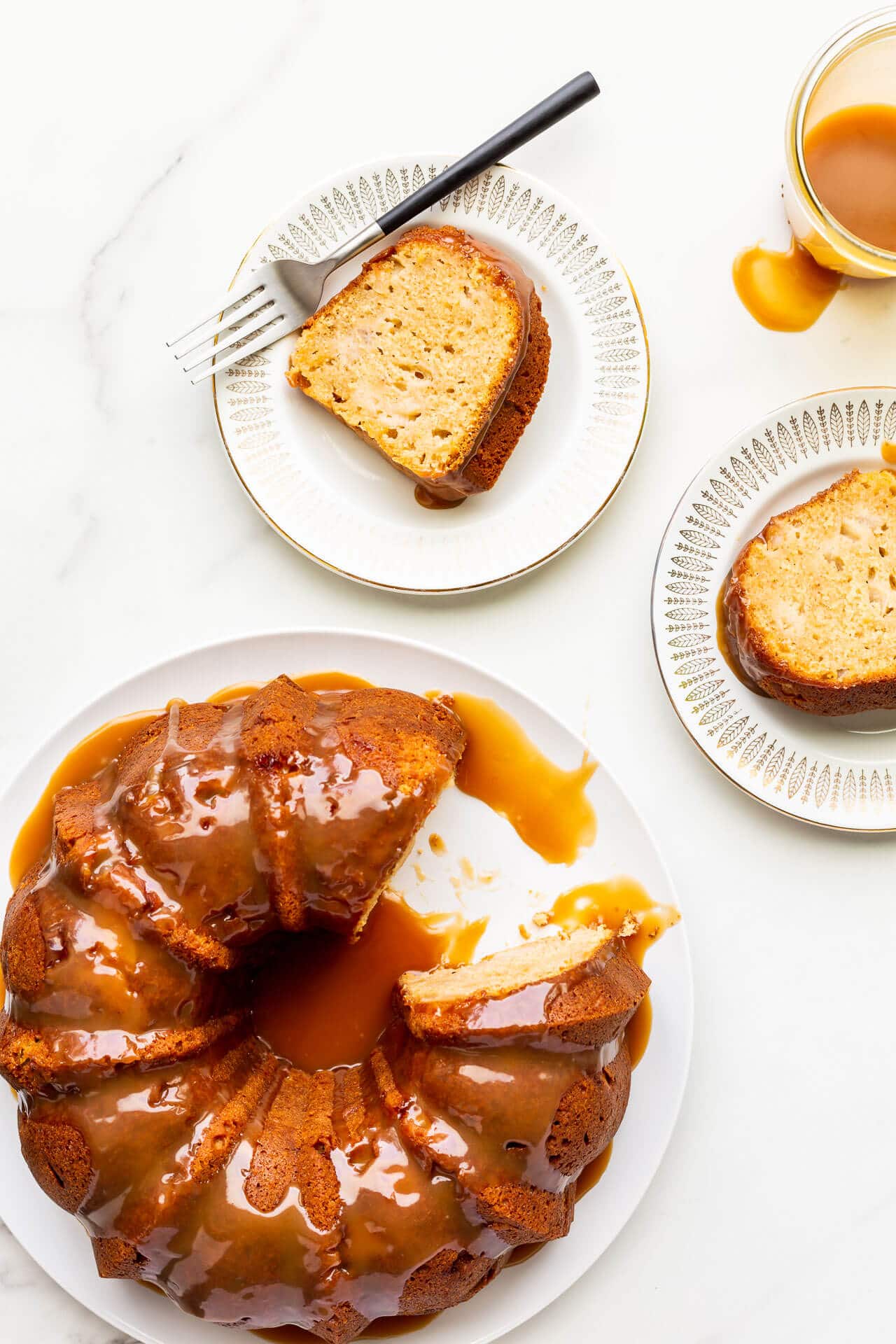 Bundt cakes are quite large, so they take a long time to cool down. Do not unmould a bundt pan when it's hot. Wait 10 minutes before inverting it onto a wire rack, just long enough so that the cake has firmed up but not so long that it sticks to the pan. If you have never used a one before, be sure to read this post on how to use a bundt pan before you begin!
Once unmoulded, make sure the cake has cooled completely before you attempt any glaze or frosting. It's very difficult to coat the inside of the cake with frosting. Personally, I prefer to finish bundts by pouring on a glaze of sorts, rather than attempting to frost the cake with an offset spatula. For example, I've poured on a thick dark chocolate ganache on this chocolate chip bundt cake and I used a sugar syrup to create a shimmery finish on this eggnog bundt. For this apple cake, I opted to drizzle on some salted caramel sauce, which is quite thick when cold, but as the caramel warms to room temperature, it will become more fluid and the surface of the cake will eventually absorb it.
If you want to freeze the apple sour cream bundt cake for later, you can, but I suggest freezing the cake unglazed. Then defrost it overnight in the refrigerator and drizzle it with salted caramel sauce before serving.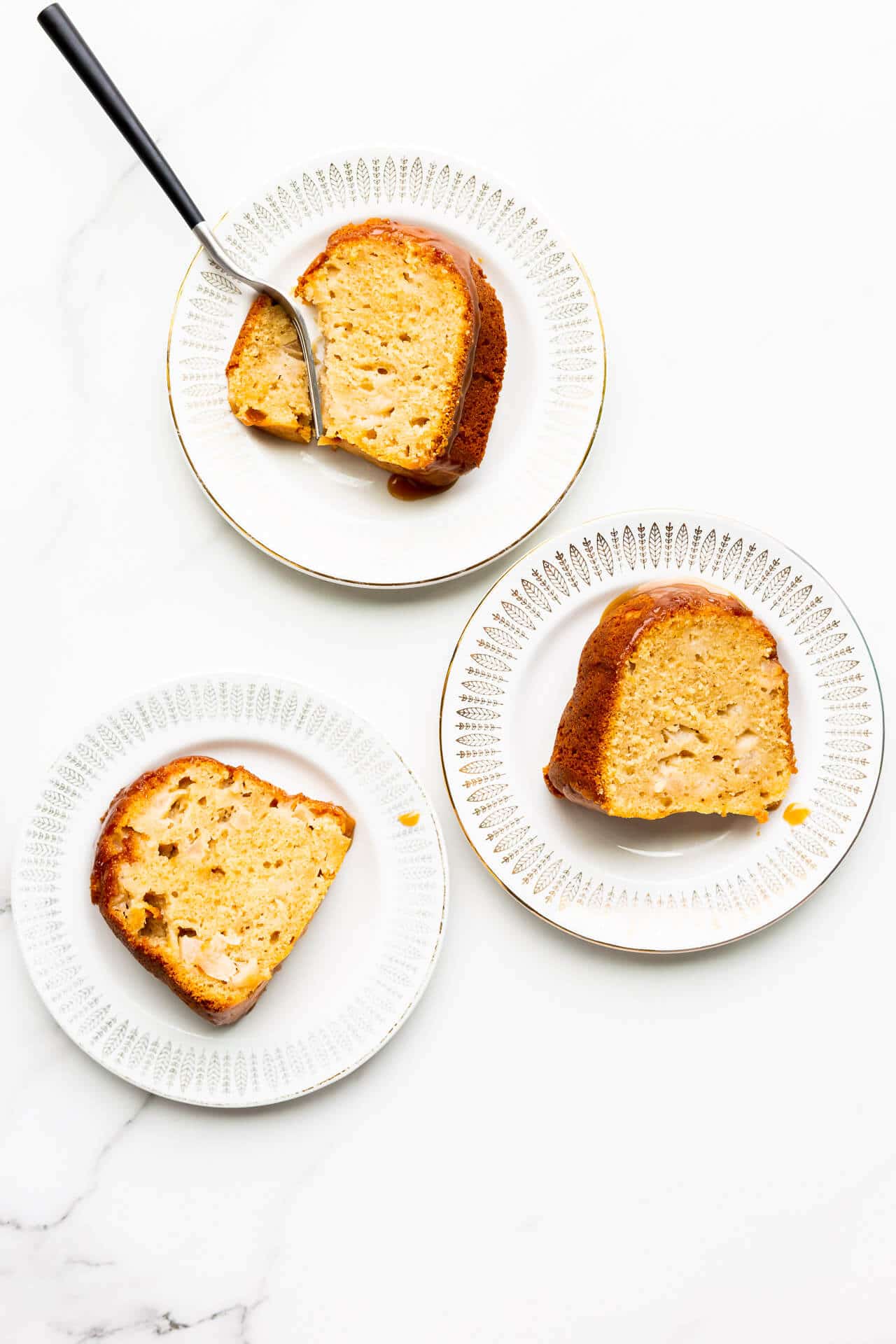 📖 Recipe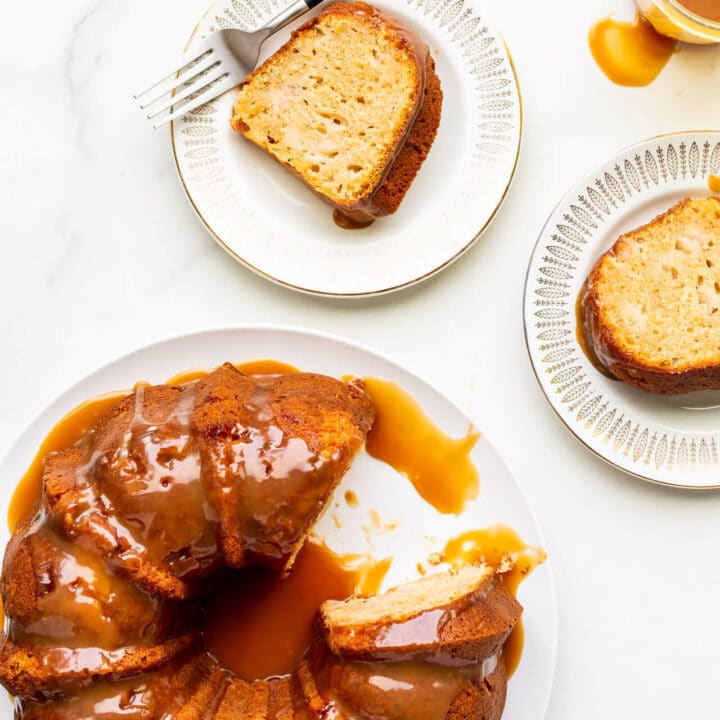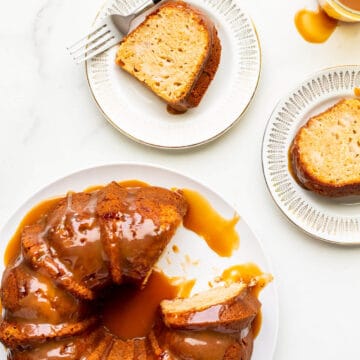 Apple Bundt Cake with Salted Caramel Glaze
This sour cream apple bundt cake topped with salted caramel glaze is anything but boring with this easy recipe
Ingredients
Apple bundt cake
375

grams

bleached all-purpose flour

10

mL

ground cinnamon

7.5

mL

baking powder

2.5

mL

baking soda

0.625

mL

ground nutmeg

0.625

mL

ground cloves

230

grams

unsalted butter

200

grams

light brown sugar

200

grams

granulated sugar

4

large egg(s)

15

mL

pure vanilla extract

375

mL

sour cream (14% fat)

600

grams

Cortland apple(s)

peeled, cored, and diced, which works out to 2–3 large apples or 3 cups chopped
Salted caramel glaze
125

mL

apple juice

or water, plus more for brushing sides of pan

400

grams

granulated sugar

115

grams

salted butter

cut into cubes

250

mL

whipping cream (35 % fat)
Instructions
Apple bundt cake
Preheat the oven to 325 ºF (165 °C). Prepare a 10-cup (2.4 L) bundt pan by evenly greasing the inside with a solid fat like shortening or butter, then dust with flour, OR you can spray the inside with a baking spray like Baker's Joy (NOT cooking spray). Set aside.

In a large bowl, whisk together the flour, cinnamon, baking powder, baking soda, salt, nutmeg, and cloves. Set aside.

In the bowl of an electric mixer fitted with the paddle attachment, cream together the butter, brown sugar and granulated sugar for at least 5 minutes, until the mixture is light and fluffy. Scrape down the bowl with a spatula.

Add the eggs, one at a time, mixing each one in very well before adding the next.

Add the vanilla extract and the sour cream, and mix them in for another minute.

Add the dry ingredients, half at a time, mixing on low to incorporate it without overmixing.

When the flour has almost disappeared into the batter, take the mixer bowl off the stand and remove the paddle. Switch to a spatula.

Drop in the chopped apples and fold them in with the spatula, making sure that the ingredients are evenly mixed, lifting the batter up from the bottom to ensure there's no flour hidden down there.

Dollop the batter into the prepared pan, smoothing the surface with an offset spatula. Bang the pan a few times, or run a knife through the batter to make sure that there are no air pockets.

Bake the cake on the middle rack for 90 minutes, checking after 75 minutes to see how it's doing. Use a skewer to test if the cake is done or not, making sure to poke through cake, not apple. The skewer should come out clean when the cake is baked. The edges of the cake will be a deep golden brown colour, and the surface will feel firm and slowly bounce back when gently pressed with your fingertips.

Let the bundt cake cool in the pan for 15 minutes, then invert it onto a wire rack to cool completely, then transfer it to a serving plate.
Salted caramel glaze
Measure all your ingredients before beginning and have them ready. This is very important.

In a deep 3 quart saucepan, pour the apple juice (or the water), and then the sugar. Don't stir it.

Bring the mixture to a boil over medium heat. If there's sugar stuck on the sides of the pan, carefully brush it with a heat-resistant silicone brush dipped in a little water. Feel free to swirl the pan to give the mixture a stir, but when you set it back on the burner, brush the edges of the pan with water to dissolve the sugar crystals from the walls of the pot.

Once the sugar is completely dissolved and the mixture starts to bubble, you can increase the heat on the stove to medium–high, or you can leave it on medium. The only difference is that on medium, it will take longer for the mixture to caramelize.

Continue to boil the caramel until it turns amber in colour. As soon as the caramel has reached the desired colour, slide the pan off the heat, and turn the burner off.

Slowly and carefully drop in the cubed butter (it will bubble and erupt so be careful!). Pour in the cream, slowly and carefully.

When the bubbling has calmed down, begin to gently whisk the caramel until it is smooth and homogeneous.

Poor the salted caramel in a large jar and cover loosely. When the caramel has cooled to room temperature, you can tighten the lid and store it in the refrigerator. It will thicken even more in the fridge.

When the bundt has cooled completely, you can pour half the salted caramel glaze over the top of the cake and let it slowly trickle down the sides. Serve slices of the cake with the rest of the salted caramel.
Notes
I highly recommend watching the colour change closely to determine if your caramel has cooked enough, but if you want to check the temperature, aim for somewhere between 350°F and 360°F with a candy thermometer before adding the butter and cream.
Nutrition
Calories:
657
kcal
Carbohydrates:
87
g
Protein:
6
g
Fat:
33
g
Saturated Fat:
20
g
Cholesterol:
138
mg
Sodium:
231
mg
Potassium:
232
mg
Fiber:
2
g
Sugar:
63
g
Vitamin A:
1136
IU
Vitamin C:
2
mg
Calcium:
103
mg
Iron:
2
mg