This delicious apple crumb cake is a play on an American coffee cake made with sour cream for a rich cake, topped with sliced apples and a thick layer of cinnamon streusel crumbled on top.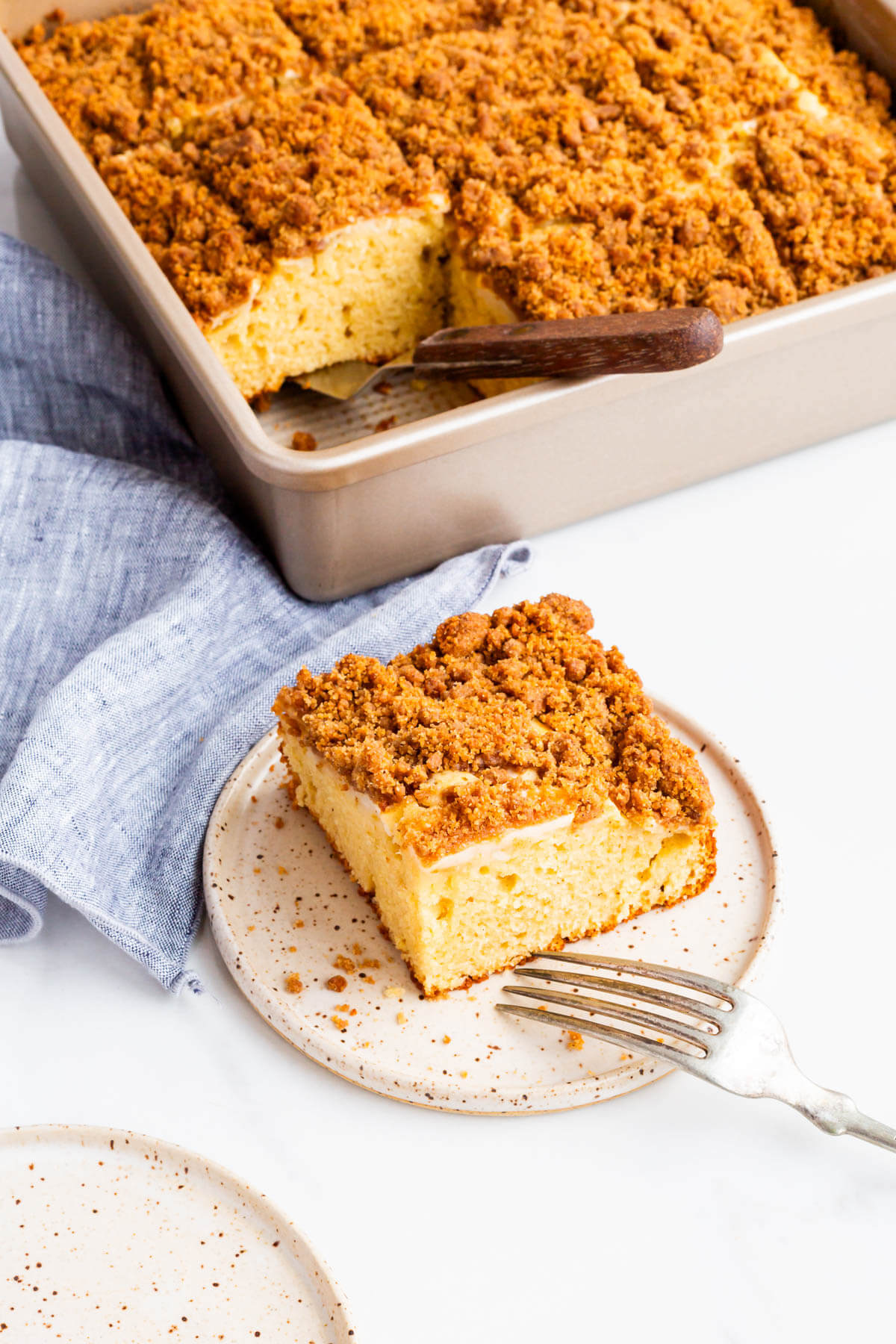 Disclosure: As an Amazon Associate, I earn from qualifying purchases.
Jump to:
How This is Different From Other Cakes
This coffee cake is light, moist and comforting. This cake has fewer apples than the apple yogurt cake to make room for the cinnamon streusel topping.
This cinnamon streusel topping is quite different from a crumble topping like on this apple crumble cake where the crumble topping is more clumpy and made with oats, like it might be on an apple crisp. Streusel is made with melted butter and the crumble is made with softened, room-temperature butter.
If you'd prefer to eat your coffee cake in the form of a muffin, give these coffee cake muffins with plum and cardamom a try!
What You Need to Make This Apple Crumb Cake
You likely have most, if not all the ingredients you need on hand! Here's what you need to make this crumb cake with sour cream and apple.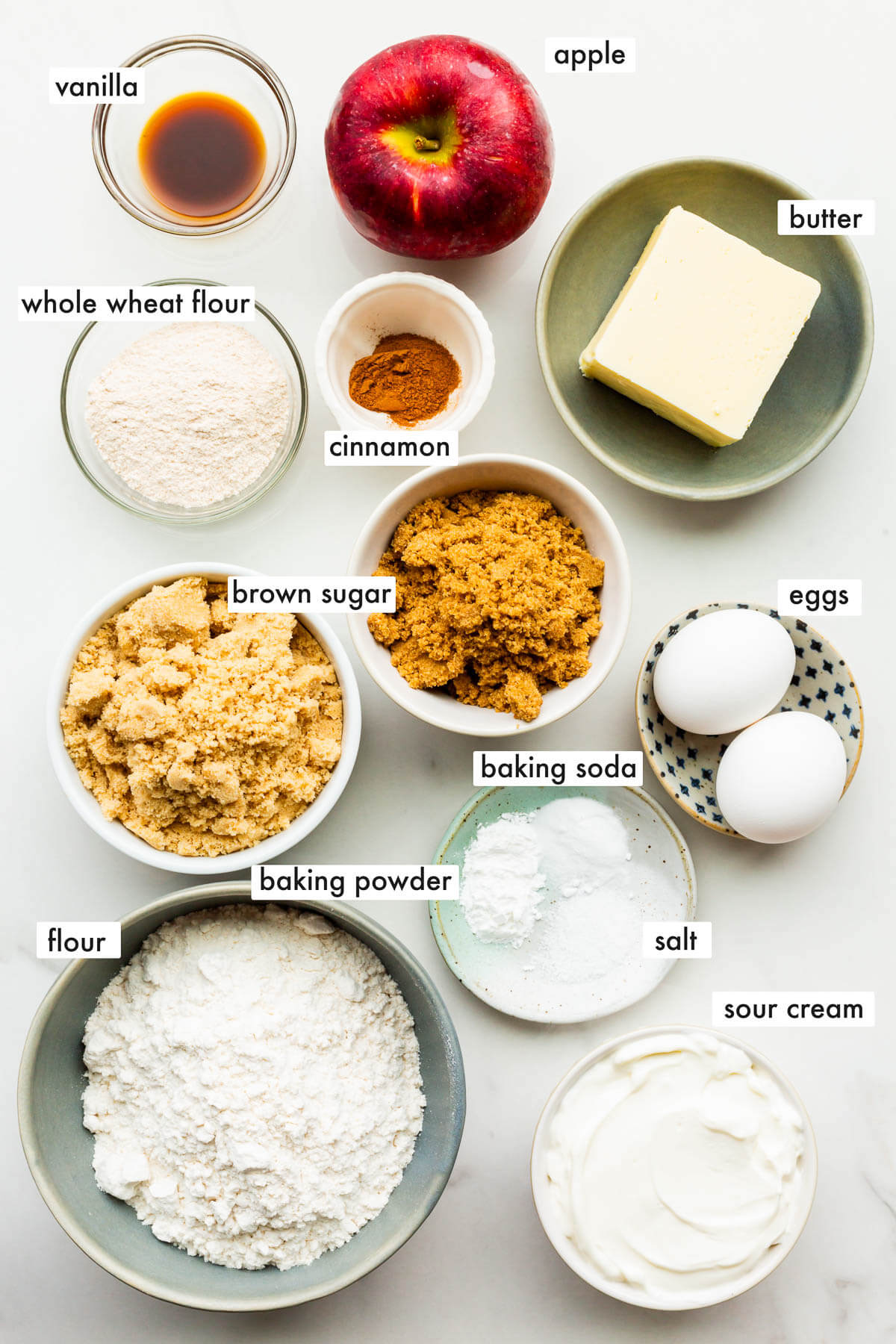 flour—bleached all-purpose flour and whole wheat all-purpose flour are used in the streusel topping, while only all-purpose is used in the cake batter
spices—I love ground cinnamon with apples, but a mix like pumpkin spice would work too!
brown sugar—both dark and light are used in this recipe
butter, preferably unsalted butter. If you use salted butter, reduce or omit the salt from the ingredients
leavening agents—baking powder and baking soda. Please read about baking soda versus baking powder if you aren't sure about the difference
salt—I use Diamond Crystal fine kosher salt. If using table salt, halve the amount
vanilla—use pure vanilla extract. If using artificial, you may use less since the flavour is more potent
eggs—use large eggs and make sure they are at room temperature to avoid curdling the cake mixture
sour cream—use full-fat sour cream (14% fat)
apple—I use Cortland apples, which are great for baking. Other varieties that would work include Gala, Golden Delicious, or even Honeycrisp.
Please see the recipe card for the exact ingredients and quantities.
Substitutions and Variations
Remember to always be careful when making substitutions in your baking recipes. Consider the role of the ingredients before doing so!
Sour cream—use crème fraîche instead of sour cream in this coffee cake recipe. This is a baking substitution I use whenever I can get crème fraîche at the grocery store. Another option could be a high-fat Greek yogurt (at 9 % fat or more). Remember to replace acidic baking ingredients with acidic baking ingredients!
Apples—replace them with sliced pears or even sliced canned pears (packed in syrup). Pat them dry before slicing them thinly and layering them over the cake batter.
Streusel topping—a shortcut would be to make the streusel topping with graham cracker crumbs and melted butter instead of flour (whole-wheat plus all-purpose) and cinnamon and sugar. The resulting streusel will be very similar in taste and texture!
How To Make Coffee Cake with Apples
Crumb cakes and coffee cakes are very easy to make! You will use the creaming mixing method to make the cake batter, and all you have to do is mix the streusel ingredients with a fork, then layer the two components in a cake pan. Here are a few photos and notes to help you with the basic steps: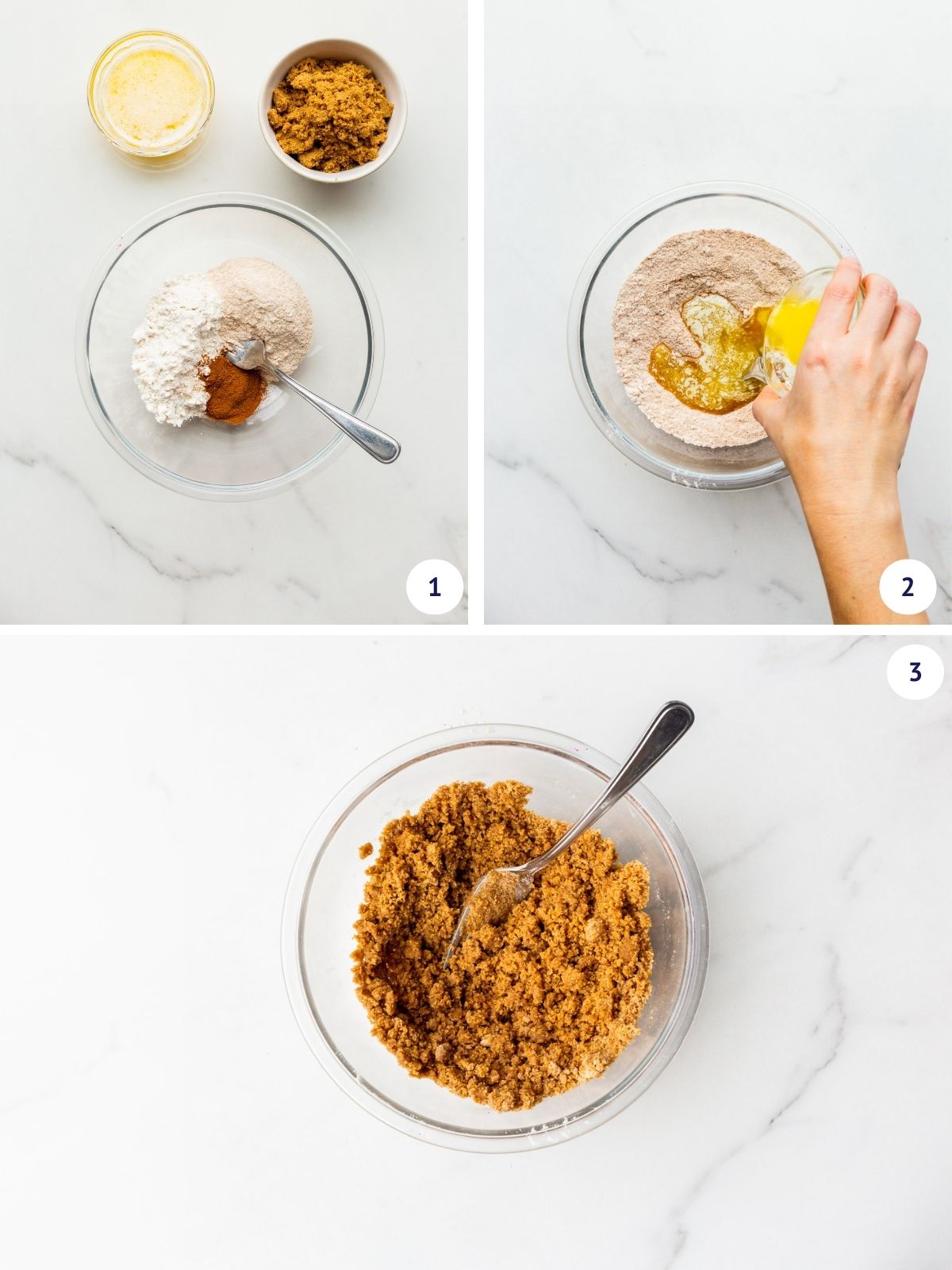 Step 1: Make the cinnamon streusel topping by combining all-purpose and whole-wheat flours with cinnamon (image 1), then adding melted butter (image 2) and stirring until all the ingredients are moistened and the mixture looks like wet sand (image 3).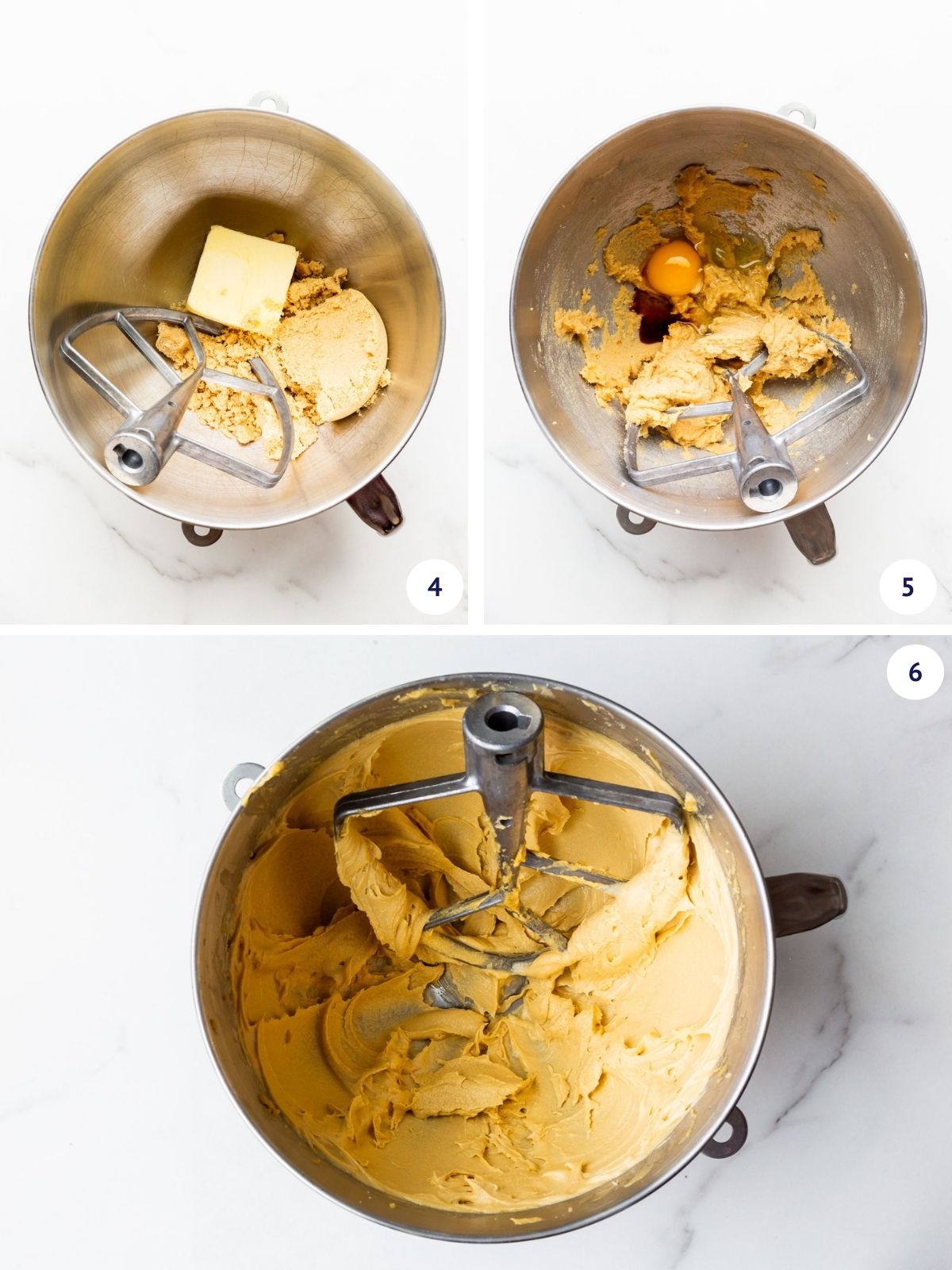 Step 2: Cream the butter and the brown sugar together (image 4), then add the eggs, one at a time, and the vanilla (image 5) and beat the mixture until light, fluffy, and emulsified (image 6).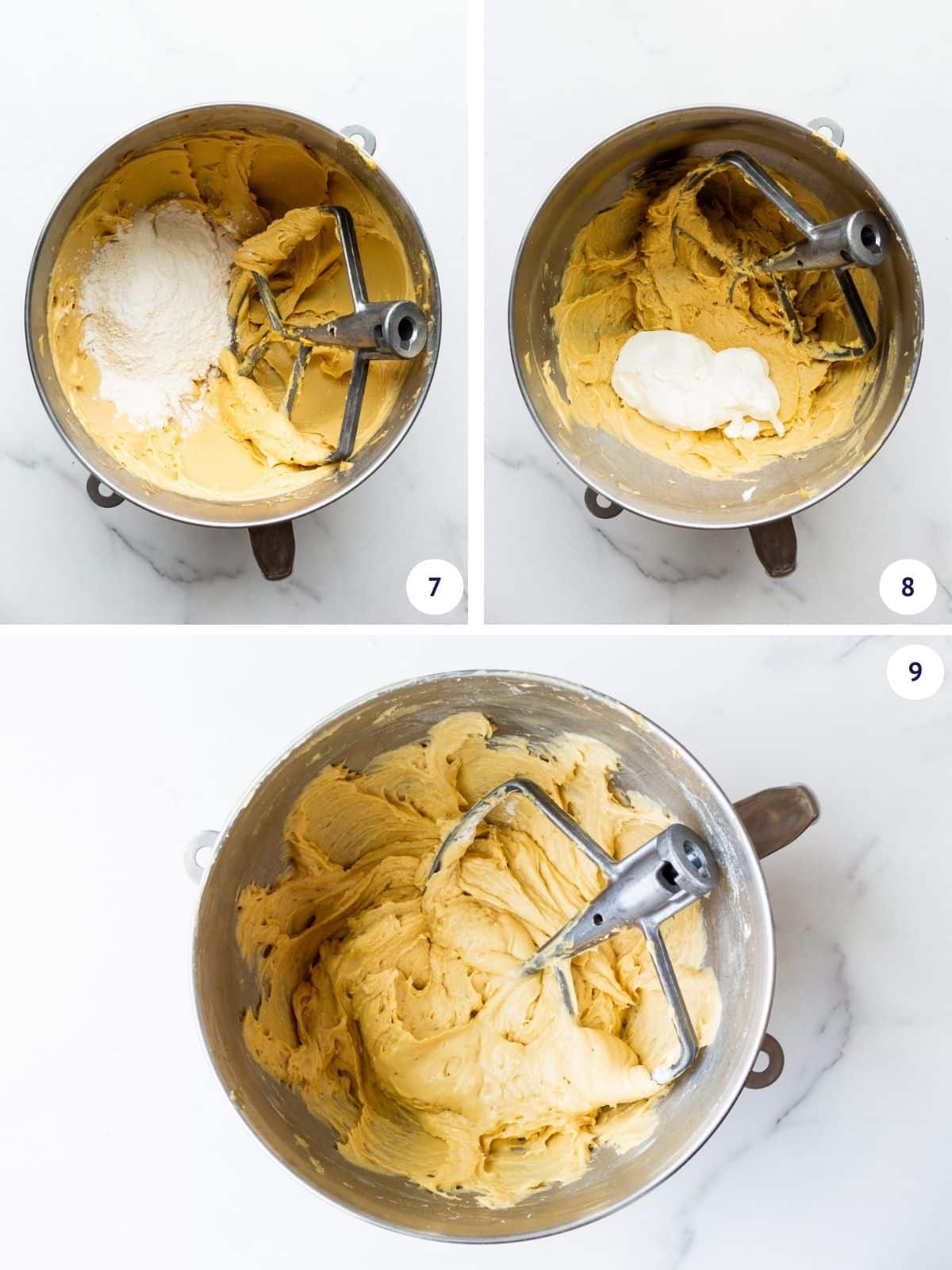 Step 3: Alternate mixing in the dry ingredients and the sour cream, starting with a third of the dry ingredients (image 7), then half the sour cream (image 8), then repeat this, ending with the last portion of flour. The batter will be thick and fluffy (image 9).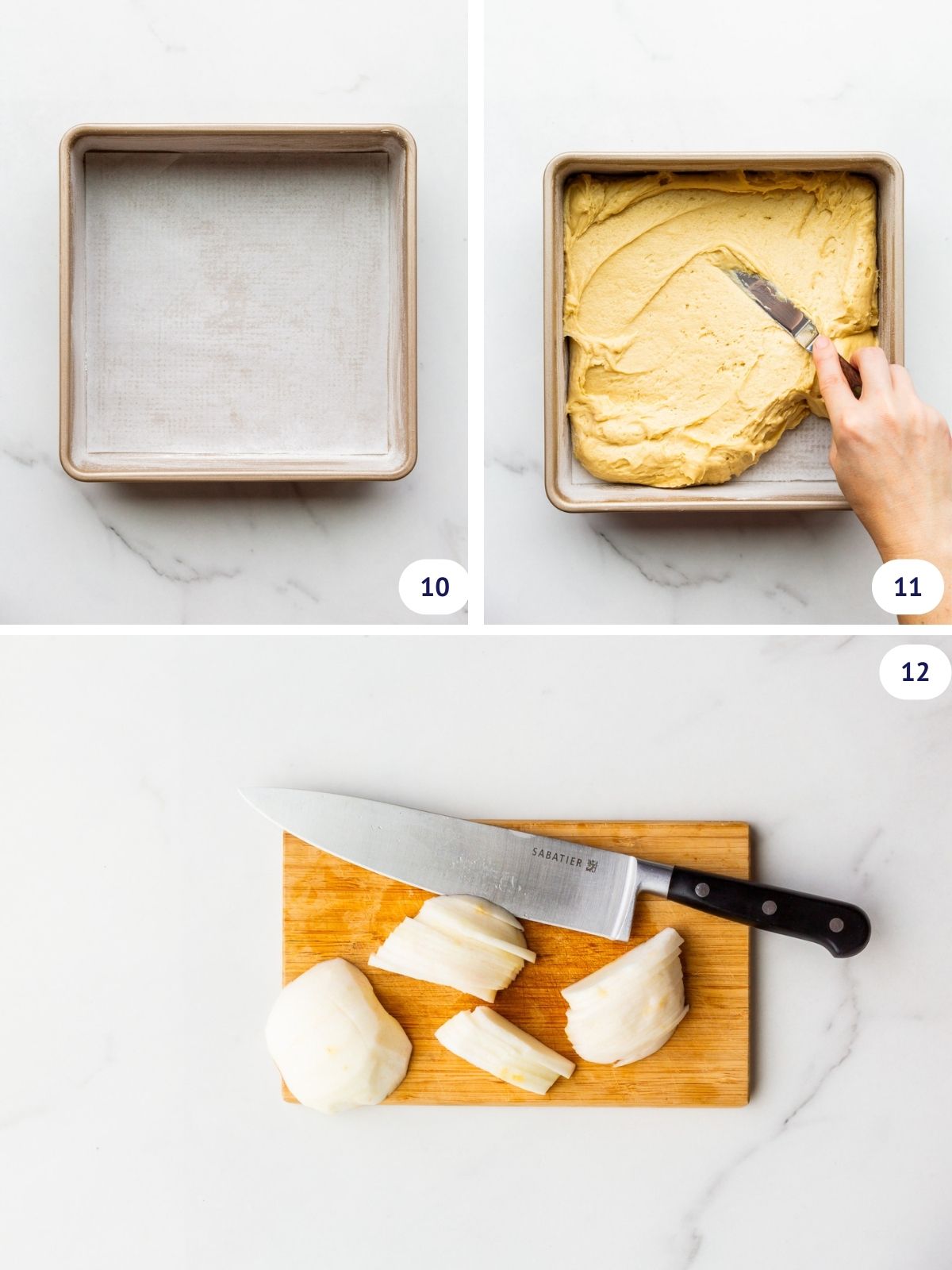 Step 4: Prepare a square 9x9 cake pan by buttering and flouring it, lining the bottom with a square of parchment paper (image 10). Spread the cake batter in the pan from edge to edge with a mini offset spatula (image 11). Meanwhile, slice the apples to use as a topping (image 12).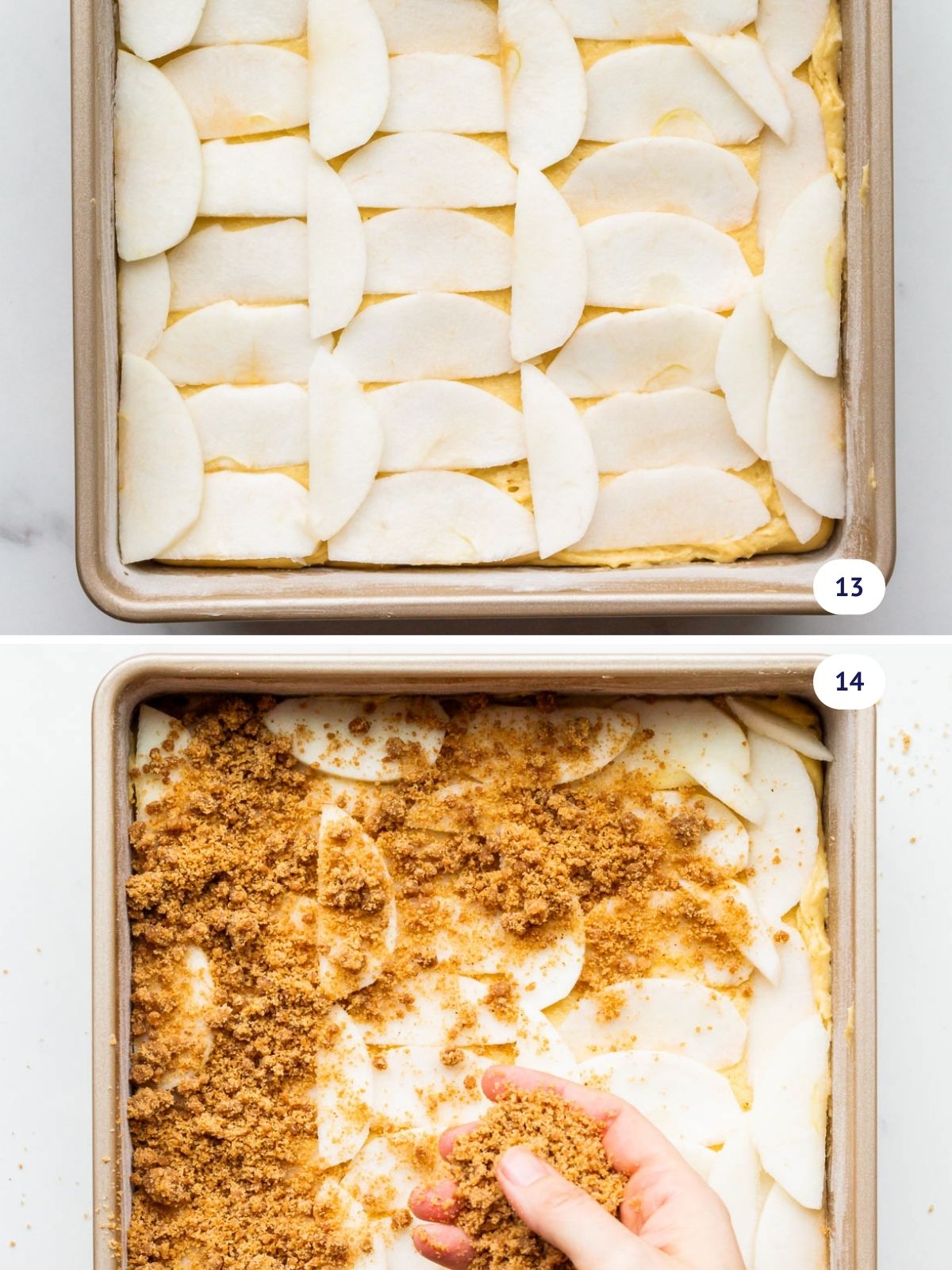 Step 5: Top the smoothed cake batter with the sliced apple creating an even layer (image 13), then sprinkle with the cinnamon streusel topping (image 14).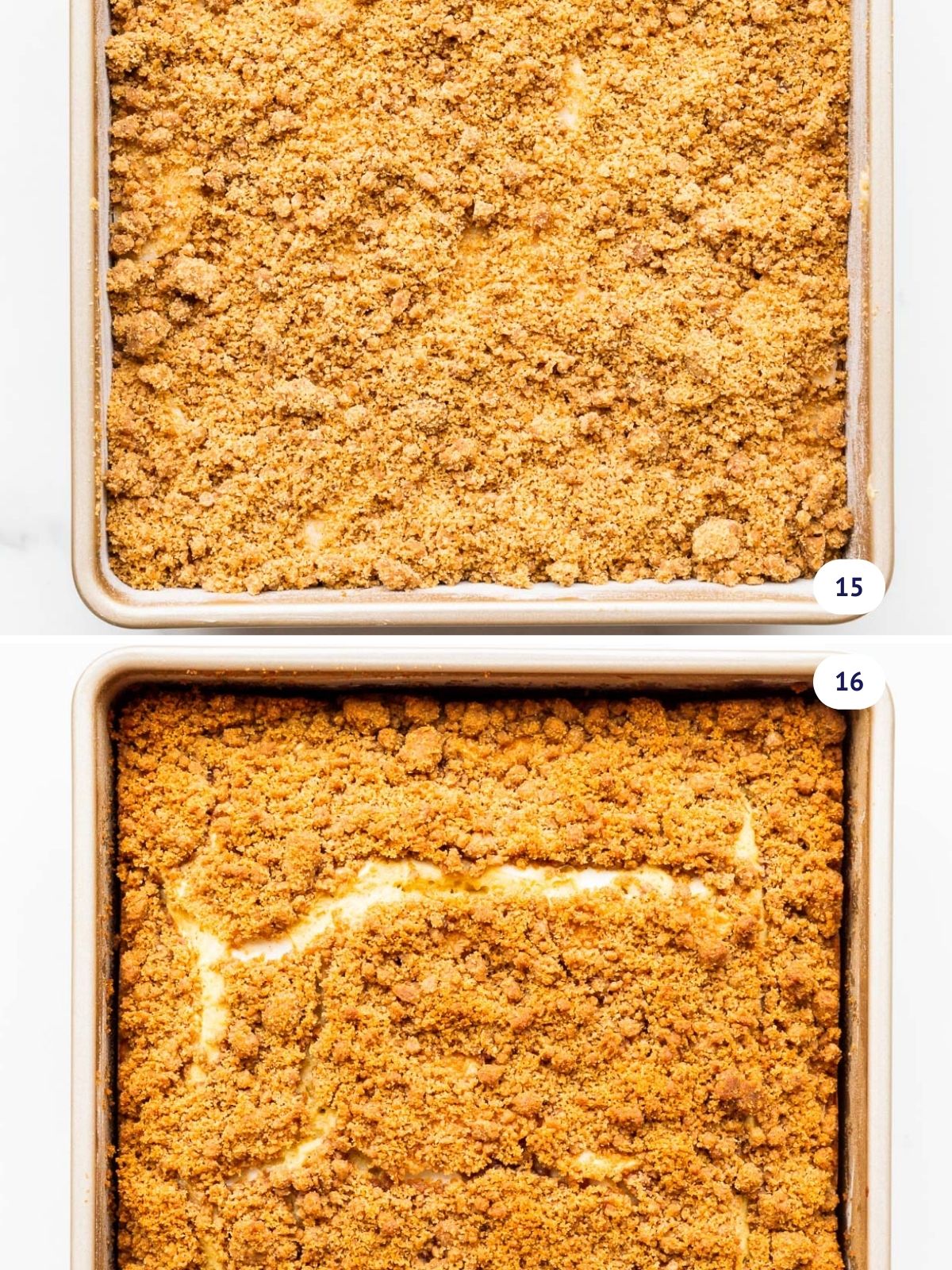 Step 6: Make sure to scatter the streusel evenly across the top, from edge to edge leaving no gaps (image 15). Then bake the cake in the oven until the edges pull away from the sides and a cake tester inserted in the middle comes out clean (image 16).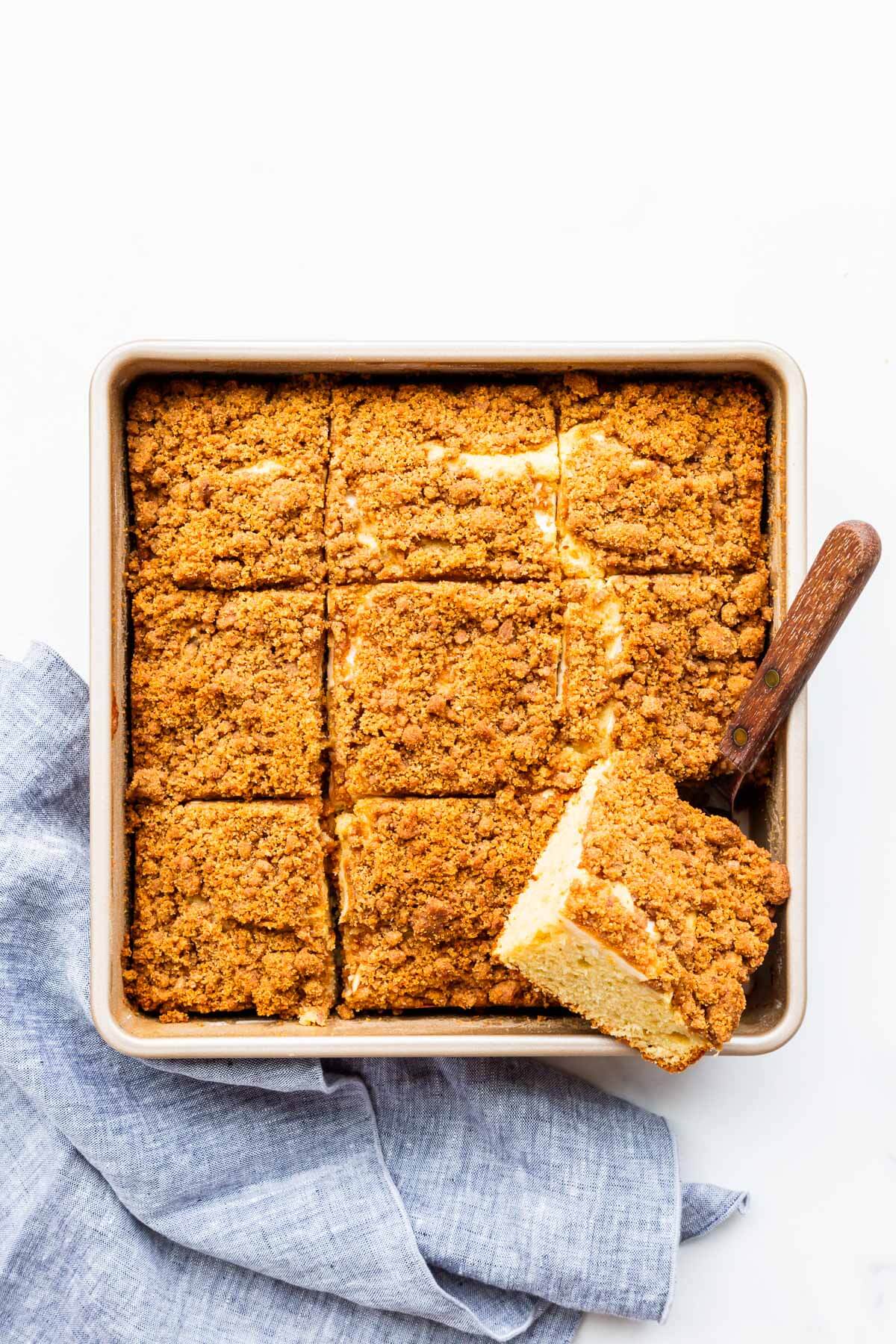 Cut the sour coffee cake into 9 equal squares. The pieces are quite large so you may slice them in half, creating 18 equal portions.
Baking FAQs
What is the best apple to use in a cake?
Use an apple that holds up to cooking and doesn't break down or turn to mush. Use Cortland, Granny Smith, Honeycrisp, Gala, and Golden Delicious apples in apple cake. An apple like a McIntosh is better suited for sauce and not a great choice for cakes or in this recipe.
What is crumb cake?
Crumb cake is also called coffee cake or streusel cake (streuselkuchen) referring to the fact that this cake is topped with a thick layer of sweet crumbly streusel made from butter, sugar, and flour.
Is melted or cold butter better for crumb topping?
You can make a crumb topping from either melted, softened, or cold butter. The results will be different. Melted butter creates a very sandy topping, while softened butter makes a more clumpy cookie-like topping, and cold butter creates more texture. Melted butter is the easiest to work with to make a streusel topping.
More Recipes with Streusel Topping
If you want more ways to play with streusel, make these strawberry rhubarb muffins with streusel topping, these rhubarb muffins with sour cream, or these honey blueberry muffins.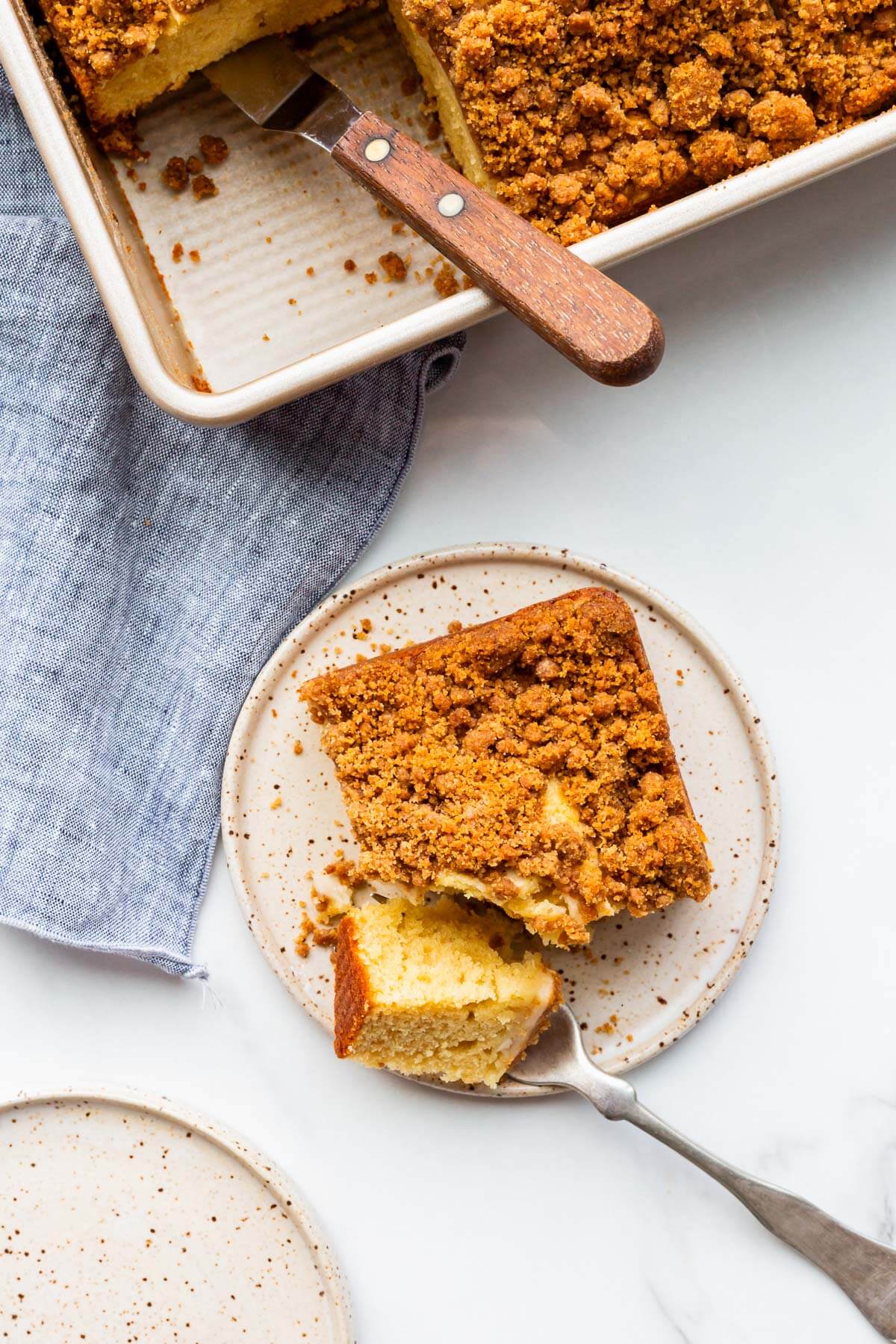 More Creative Ways to Bake With Apples
Fall apples are a real treat! Here are more apple recipes to try:
If you tried this apple crumb cake recipe (or any other recipe on my website), please leave a ⭐ star rating and let me know how it went in the comments below. I love hearing from you!
📖 Recipe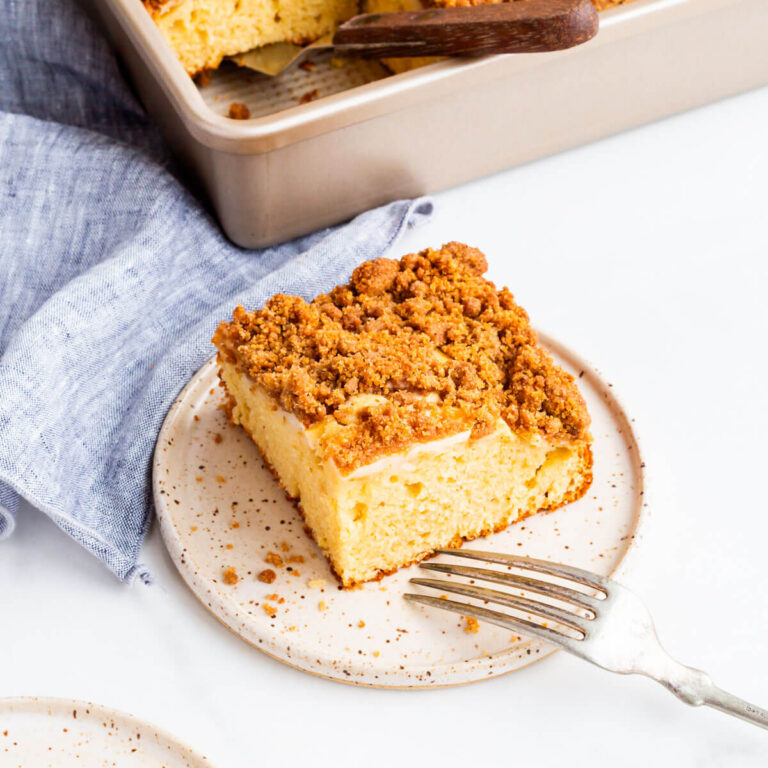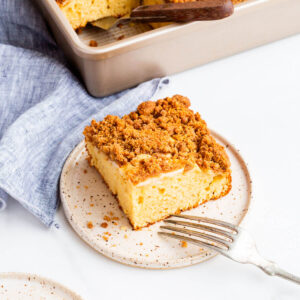 Apple Crumb Cake
This delicious apple crumb cake is very moist because it's made with sour cream and has a layer of apple tucked beneath the cinnamon streusel topping.
Ingredients
Cinnamon Streusel
60

grams

bleached all-purpose flour

40

grams

whole wheat all-purpose flour

7.5

mL

ground cinnamon

100

grams

dark brown sugar

58

grams

unsalted butter

melted
Sour Cream Cake
250

grams

bleached all-purpose flour

5

mL

baking powder

2.5

mL

baking soda

115

grams

unsalted butter

softened

250

grams

light brown sugar

7.5

mL

pure vanilla extract

2

large egg(s)

room temperature

250

mL

sour cream (14% fat)

1

Cortland apple(s)

peeled, cored and sliced thin
Instructions
Prepare a 9x9 inch square brownie pan (or cake pan) by buttering and flouring it, lining the bottom with a square of parchment. Set aside

Preheat the oven to 350 ºF (175 ºC).
Streusel
With a fork, stir together all the streusel ingredients in a small bowl. Continue mixing until the streusel clumps a little and all the dry ingredients are moistened. Set aside.
Cake
In a medium bowl, whisk together the flour, baking soda and salt. Set aside for later.

In the bowl of an electric mixer fitted with the paddle attachment, cream the butter and the light brown sugar. Add the vanilla, followed by the eggs, one at a time, scraping down the bowl as needed between each addition.

With the mixer on low, add the dry ingredients alternately with the sour cream, beginning and ending with the dry ingredients. Give the cake batter a couple stirs with your spatula to be sure all the ingredients have been evenly incorporated and the batter is smooth.
Assembly and baking
Spread the batter evenly in the prepared cake pan.

Top with a layer of the thinly sliced apple. Press them down gently.

Sprinkle the prepared streusel topping over the apples. Press the streusel down gently.

Bake the coffee cake for 40–50 minutes, checking it with a cake tester to be sure it is done.

Let the coffee cake cool completely in the pan on a wire rack before serving.
Notes
I bake with Cortland apples, which are a popular baking apple variety where I live. You may also try Golden Delicious, Gala, Honeycrisp, or even Granny Smith apples. Use an apple variety you are familiar with that doesn't break down when heated.
You can replace the sour cream with crème fraîche or full-fat Greek yogurt (with at least 9 % fat content). 
Do not use low-fat sour cream. The cake may be dry if you do.
If you'd like to use more apples, use two: dice one and fold it into the batter before transferring to the cake pan and slice the other as a topping, like in the recipe. 
Nutrition
Calories:
509
kcal
Carbohydrates:
73
g
Protein:
6
g
Fat:
22
g
Saturated Fat:
13
g
Polyunsaturated Fat:
1
g
Monounsaturated Fat:
6
g
Trans Fat:
1
g
Cholesterol:
94
mg
Sodium:
208
mg
Potassium:
245
mg
Fiber:
2
g
Sugar:
41
g
Vitamin A:
715
IU
Vitamin C:
1
mg
Calcium:
110
mg
Iron:
2
mg