Learn all about butter, including the different temperatures of butter you will work with when you bake. Find out what softened butter is, the temperature it should be, and how to soften butter for baking recipes mixed using the creaming method. You will also find the difference between melted and melted and then cooled butter. Lastly, you will find the recipes where cold butter is most appropriate, as well as the impact of butter temperature in baking.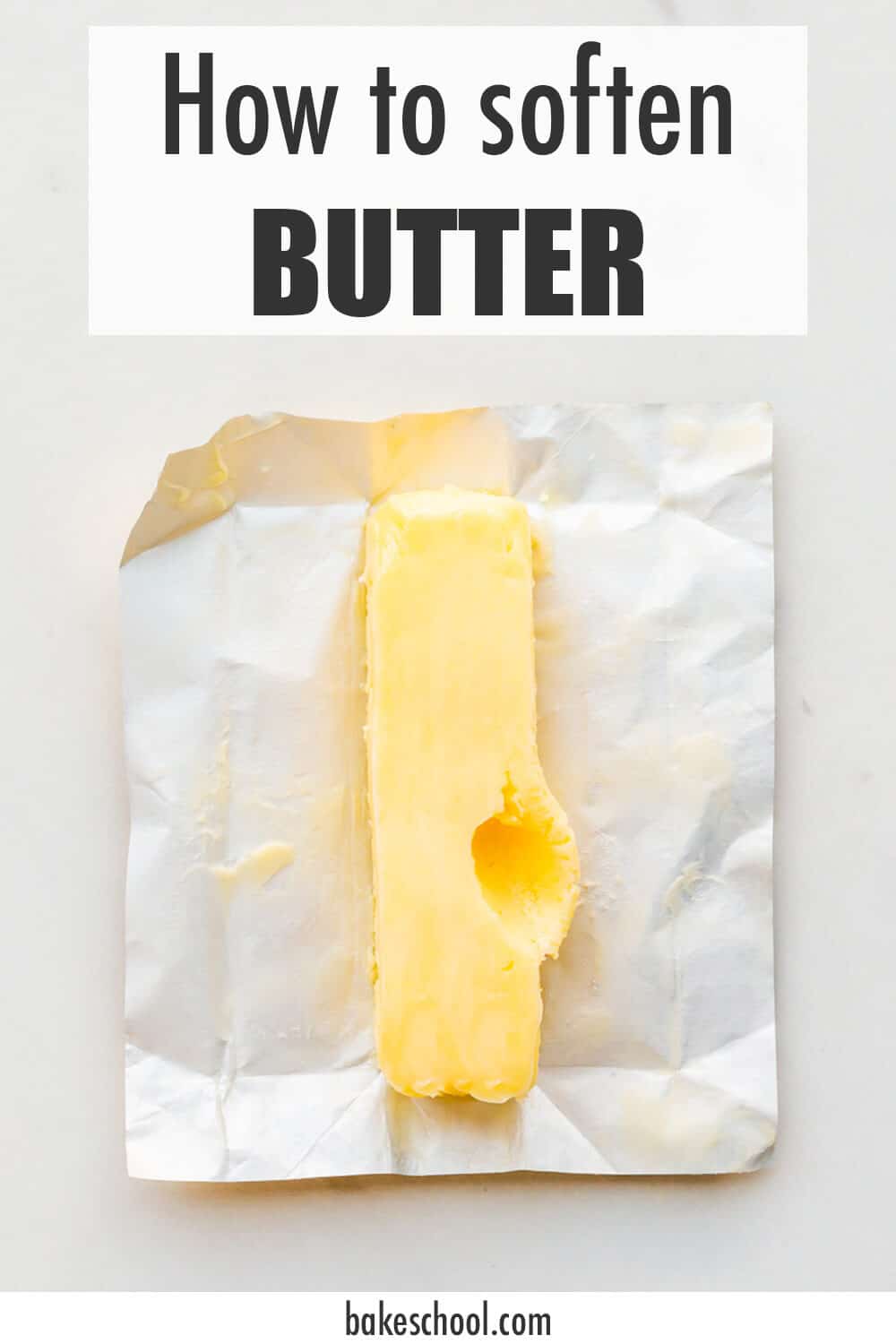 Disclosure: As an Amazon Associate, I earn from qualifying purchases.
Most baking recipes call for a little (or a lot) of butter. Some require cold butter, like croissants, pie dough, and puff pastry, while others require softened butter, like most cookies. Some recipes recommended salted, others unsalted. What's the difference and which do you use when?
Jump to:
What butter is
Butter is a dairy product, usually made from cow's milk. You can find butter made from other animal milks too. Remember that cream (like whipping cream) is an emulsion of fat and water, two substances that don't like to hang out together, but they can under the right circumstances.
The relationship between fat and water in an emulsion is fragile. If you whip cream for long enough, you can break the emulsion, causing the butterfat to separate from the water. You know this has happened when you are making simple whipped cream and it ends up looking lumpy and/or dense instead of light and smooth.
The water in the cream that separates from the butterfat is called buttermilk. Do not confuse the buttermilk extracted during the butter-making process with cultured buttermilk that you buy in the store. Buttermilk made during butter churning is high in protein, contains lactose, and is not as acidic. Cultured buttermilk is made by acidifying milk using live cultures (like lactic acid bacteria). These transform lactose into lactic acid, thereby lowering the pH of the product, souring it and leading to a thicker texture.
Rinsing the separated lumps of butterfat and squeezing them together, you can form the fat into a block of butter to bake with.
Improved shelf life
Churning cream into butter is actually a technique to prolong the shelf-life of cream. Removing the buttermilk from the cream slows and decreases spoilage caused by bacteria. When you make ghee by melting butter and boiling off the water, you can further extend its shelf life of it.
Adding salt to butter is another way to preserve it for longer. Culturing cream and souring it before making butter is another way to extend the shelf-life of butter.
Now, most of us don't have to go through the process of making butter at home. Butter is sold at most grocery stores, in blocks (usually by the half pound or pound) or in sticks (usually quarter-pound sticks).
Types of butter
You likely have noticed there is more than one type of butter in the dairy refrigerator case at your local grocery store. Where I live, you can usually find:
unsalted butter, made from cream with no salt added
salted butter, made from cream with salt added—usually contains 2–2.5 % salt
half-salted butter, made from cream with half the salt added
cultured butter, made from cultured cream where the cream was mixed with live cultures (including lactic acid bacteria). These transform lactose to lactic acid, leading to a tangier flavour (the same idea as yogurt made from cultured milk)
European or high-fat butter, made from cream with a higher fat content (82–84 %, if not even higher than that) and less water
light butter, made from cream with extra water added so that it is lower in fat than regular butter
spreadable butter, which has canola oil added to it to make the product softer, more malleable, and spreadable, even when cold.
The type of butter you buy and use will depend on the recipe you are following. In general, you shouldn't buy light butter for baking recipes because it contains less fat and more water, which may contribute to cookie spreading. I wouldn't recommend using spreadable butter to bake with either. Again, the ratio of fat to water will be different than what most recipes are developed with.
In North America and the UK, unsalted butter that is uncultured is sometimes referred to as "sweet cream" butter because it's made from cream that isn't soured or cultured. This type of butter is unsweetened, even though the name indicates otherwise.
The role of butter in baking
Butter does more than just add fat to your baking recipes. Actually, it plays a role well beyond taste, affecting moistness, flakiness, tenderness, rise, and spread of baked goods. Butter contributes:
Fat and flavour

Butter is around 80 % fat, which means that it contributes to tenderizing baked goods since fat inhibits gluten formation. But butter also contains milk solids, which contribute many dairy notes to certain recipes, and these milk solids can brown in the oven, lending a subtle nutty flavour to recipes and also golden colour.

Texture and leavening

Butter contains quite a bit of water (almost 20 %), which means that when it's heated, it releases water, which can then evaporate and contribute to the rise of baked goods, thus acting as a leavening agent. Butter contributes to the rise and flakiness of pie crust, homemade croissants and puff pastry.
Many recipes begin with creaming the softened butter with sugar. This is a crucial mixing method that incorporates air into the mixture and another reason why butter contributes to leavening and opening up the crumb of baked goods.

Spread

Since butter contributes both fat and water, it contributes to the spread of cookies, specifically.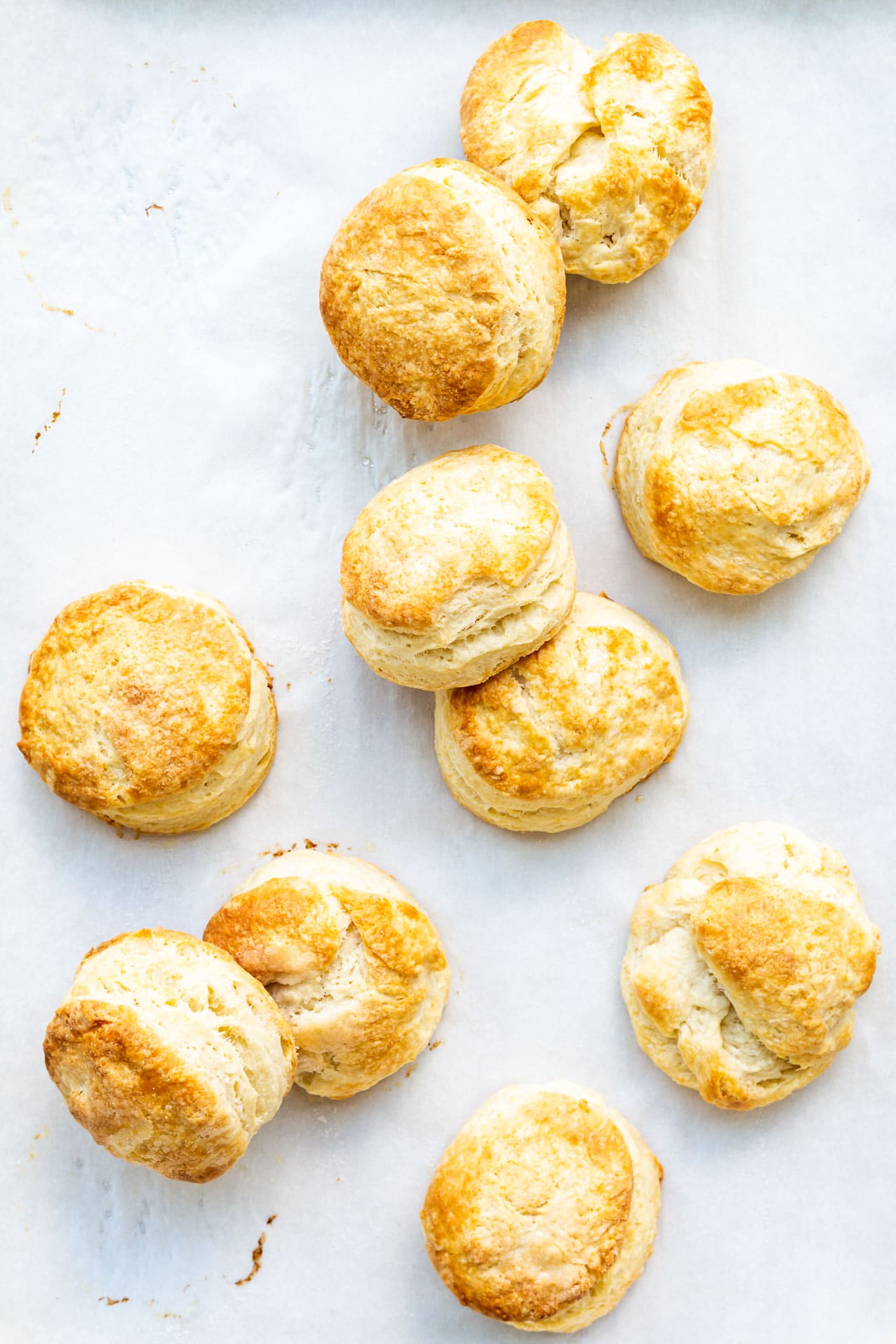 Why it's so special and unique
Just like gluten, butter has unique properties that make it hard to substitute. The number one difference between butter and other fats is its plasticity: the ability of butter to be malleable and bendable at certain temperatures so that it can hold its shape.
This is why butter works so well for the creaming mixing method. When you whip butter and sugar together, you are incorporating air into the butter. This gives the mixture a lighter colour and texture because it is aerated. You can't do this with other fats, like vegetable oils or even coconut oil that is solid at room temperature.
When to use each type of butter
Different types of butter are interchangeable in most recipes, but some products are better suited in specific recipes:
For laminated pastries, like puff pastry, croissants, and pie dough, you can use regular unsalted butter; if you can, invest in a higher-fat butter, like European butter, that would be even better.
For biscuits and scones, you can use a higher-fat butter, like European butter, for a more flaky effect; regular unsalted butter can also work.
For most cookies, like drop cookies or cut-out cookies, you can use regular unsalted butter, or even salted butter (depending on the recipe)
For shortbread cookies, you can use regular unsalted butter, a higher-fat European butter; even clarified butter can work for a richer flavour and more tender crumb.
For brioche bread, use regular unsalted butter
For cakes, use regular unsalted butter
Croissant-makers will often purchase a special butter specifically for croissants, flaky pastries, and viennoiseries, called "dry butter" (beurre sec in French). This is also called "Beurre de Tourage." This butter is supposedly dryer than regular butter. It's formulated to create more distinct layers of butter/fat between the sheets of dough.
Most "beurre sec" products on the market hover around 82–84 % fat, which is the standard butterfat content of European butter. I'm not sure this special dry butter is any dryer than European butter.
When to choose unsalted or salted butter
The quantity of salt in a block of butter will vary from one brand to another. Recipe developers cannot account for brand variation in the writing process. They can't test every brand of salted butter on the planet to validate that the quantity of salt it provides is sufficient for a recipe and not excessive. For this reason, most baking recipes recommend using unsalted butter and are developed specifically with unsalted butter. And to compensate for that lack of salt, you will add salt to these recipes.
There is an exception: Kouign Amann, a layered pastry from the Brittany region specifically made with salted butter. The Kouign Amann is known for having the contrast of salty and sweet flavours. Salt is very prominent and present in these recipes, coming from the butter and even extra added salt.
How to replace unsalted and salted butter in baking
The good news is that unsalted and salted butter can be interchanged fairly easily without too much effort.
If you are following a recipe with unsalted butter and want to use salted instead, do a 1:1 substitution. Replace unsalted with salted butter, gram-for-gram or cup-for-cup; omit the salt in the recipe, or reduce it
If you are following a recipe with salted butter and want to use unsalted instead, do a 1:1 substitution. Replace salted with unsalted butter gram-for-gram or cup-for-cup, and then add salt to the recipe.
A rule of thumb to guide you when adding salt to a recipe: use 0.625–1.25 mL (⅛–¼ teaspoon) per half cup of butter or per cup of flour. Use carefully and with the warning that the amount of salt you need in a recipe depends entirely on what you are baking!
How to replace higher-fat butter
In laminated dough recipes for croissants, flaky Danishes, and puff pastry, many chefs prefer to use higher-fat European butter or beurre de tourage (a.k.a. beurre sec). Many home bakers may have trouble finding this type of butter, which isn't available in all grocery stores.
Some bakers replace beurre sec and European butter in laminated doughs with a mixture of butter and flour to create a firmer butter for rolling and layering.
Butter temperature in baking
The temperature of butter plays an important role in the outcome of butter-based recipes: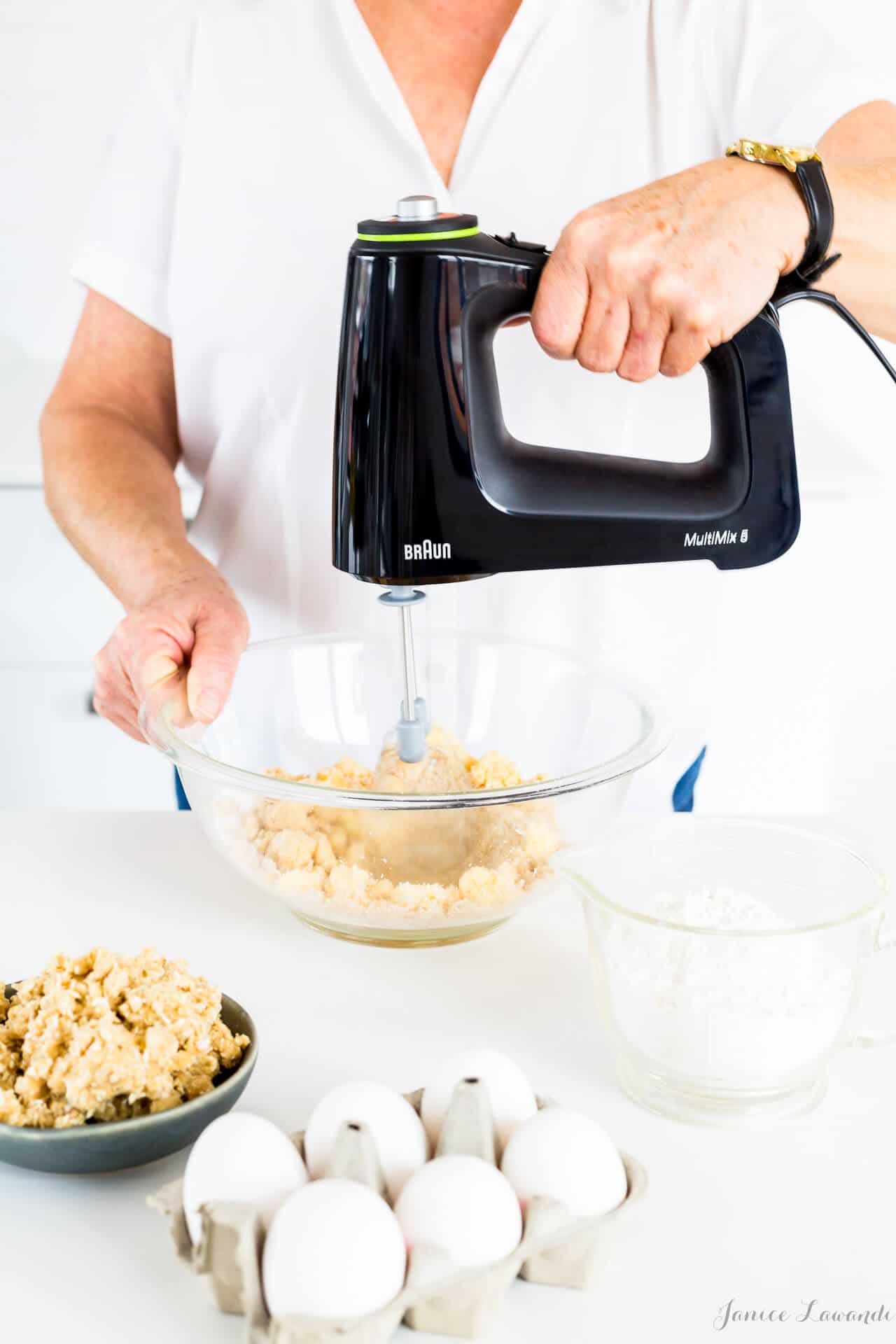 Butter versus shortening
Butter has a lower melting point than shortening meaning butter melts at a lower temperature:
The melting temperature of butter is around 27 °C (82 °F)
The melting temperature of shortening is 47 °C (117 °F).
The difference between these two melting points is twenty degrees! Butter melts at a lower temperature, likely before the edges of the cookie have had a chance to set. This means that cookie dough made with butter will spread faster in the oven than cookies made with shortening.
Cookies baked with shortening will likely bake thicker than with butter.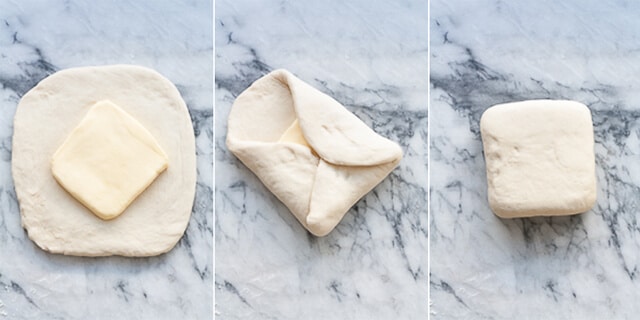 The importance of butter temperature in baking
It's surprising how important butter temperature is in baking. If your butter temperature is off (when compared to the recommended temperature), it can really mess with your recipe and the outcome.
For flaky pastries:

butter that is too warm will reduce the flakiness of the layers. The butter may melt into the dough instead of creating distinct layers.
butter that is too cold will crack into shards into the dough. This will have an impact on the layers and flakiness of the dough. Hard, cold butter can cause the dough to tear also, interfering with the layering.

For cookies:

butter that is too warm will make it impossible to incorporate air in cookie dough. Cookies may end up more dense or greasy. Butter that is too warm may also cause cookies to spread in the oven when baking. This is why many recipes ask you to chill your cookie dough.
butter that is too cold will impede the spread of cookies as they bake in the oven. This will make for a fatter, taller cookie when you bake drop cookies, which might not be your goal.

For cakes:

butter that is too warm will make it impossible to incorporate air if you are using the creaming method to combine butter and sugar until light and fluffy. Less air will mean a denser cake.
butter that is too cold will interfere with the creaming method. The butter isn't soft enough to incorporate smoothly into the batter. Cold butter may lead to pockets of butter in your batter, causing holes, textural defects, and fat pockets where butter melted.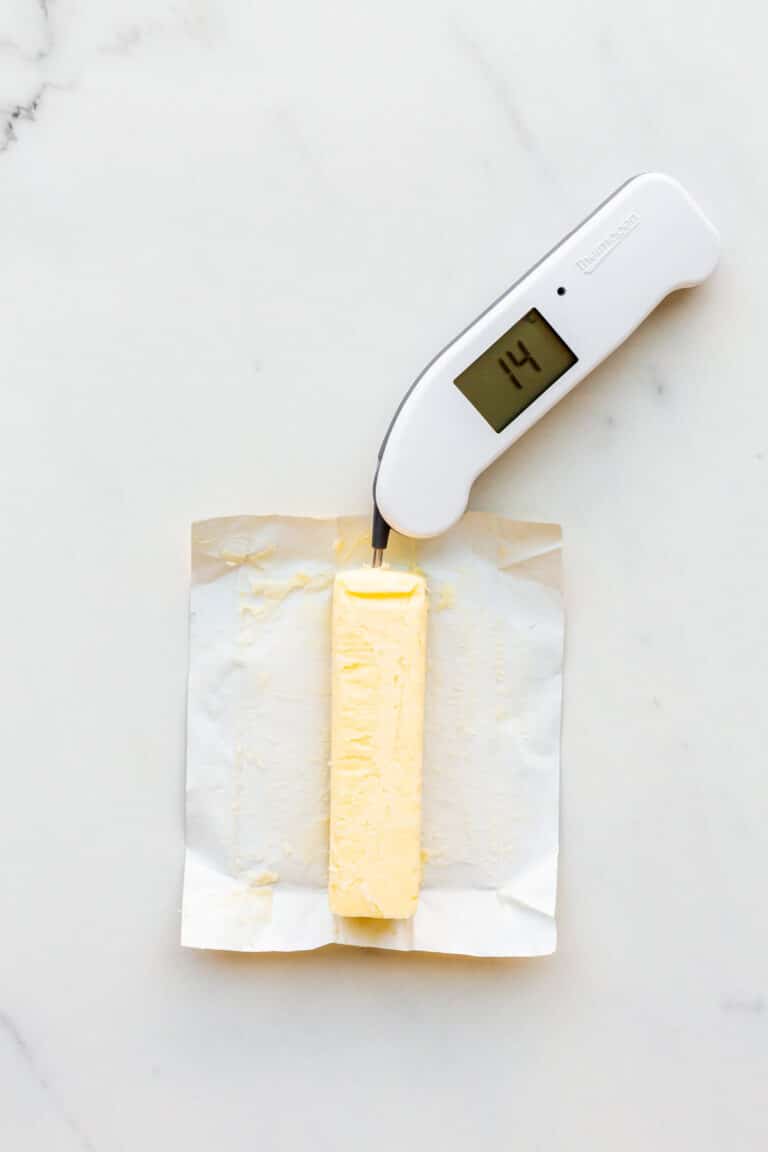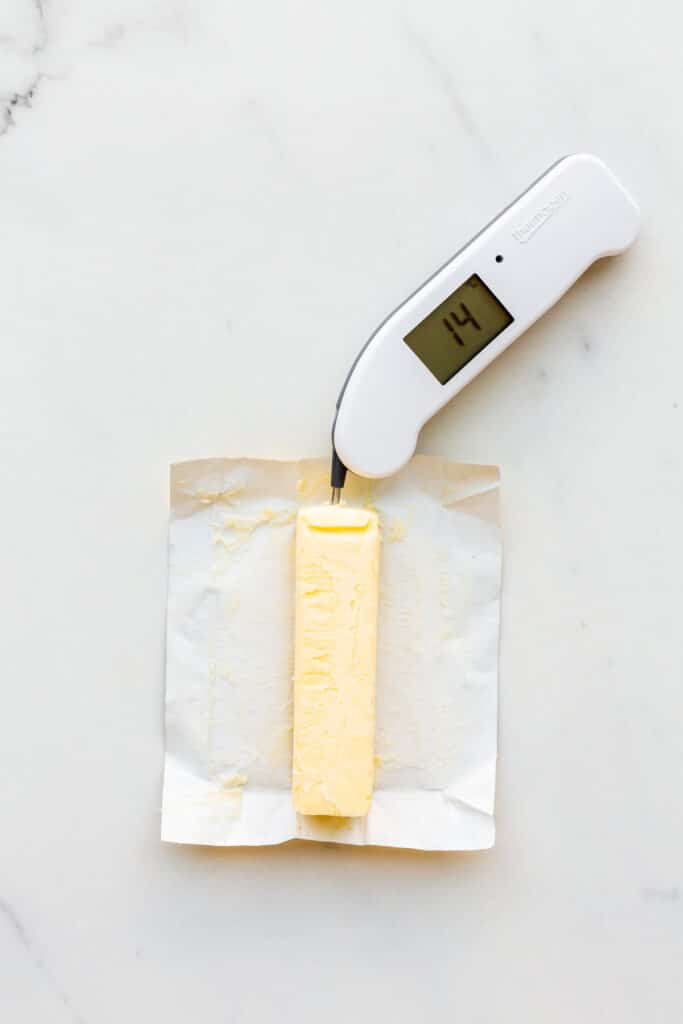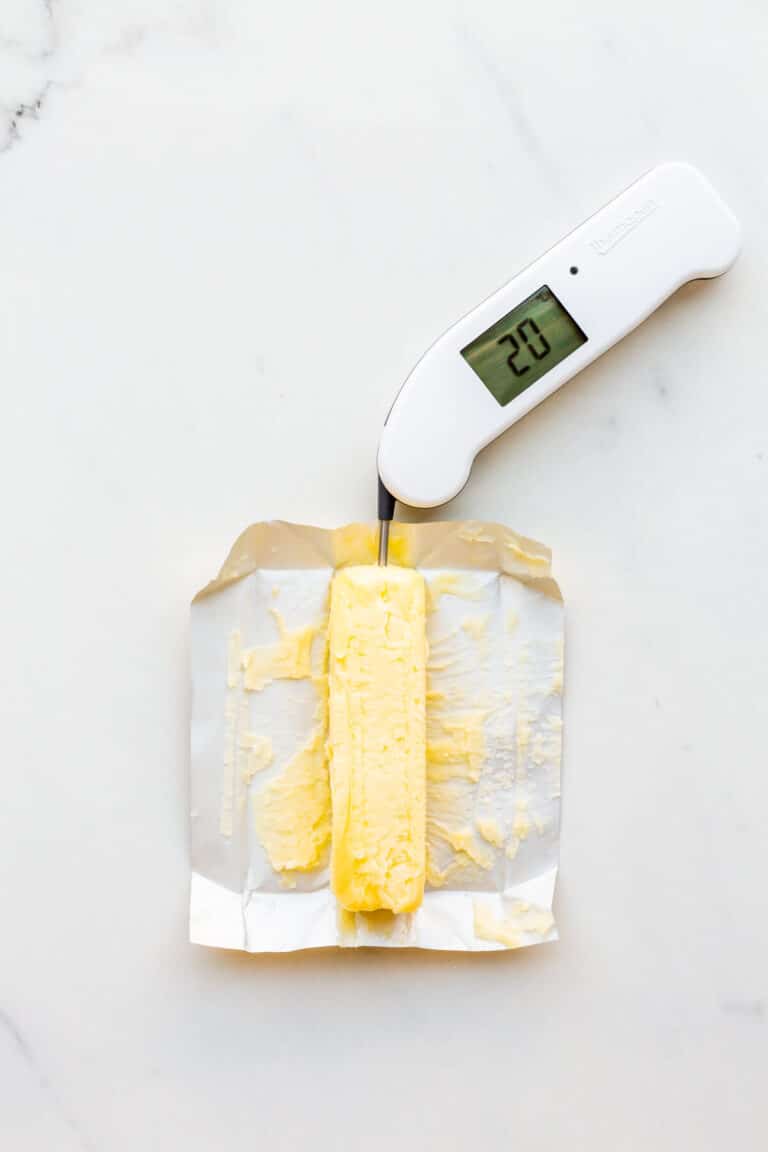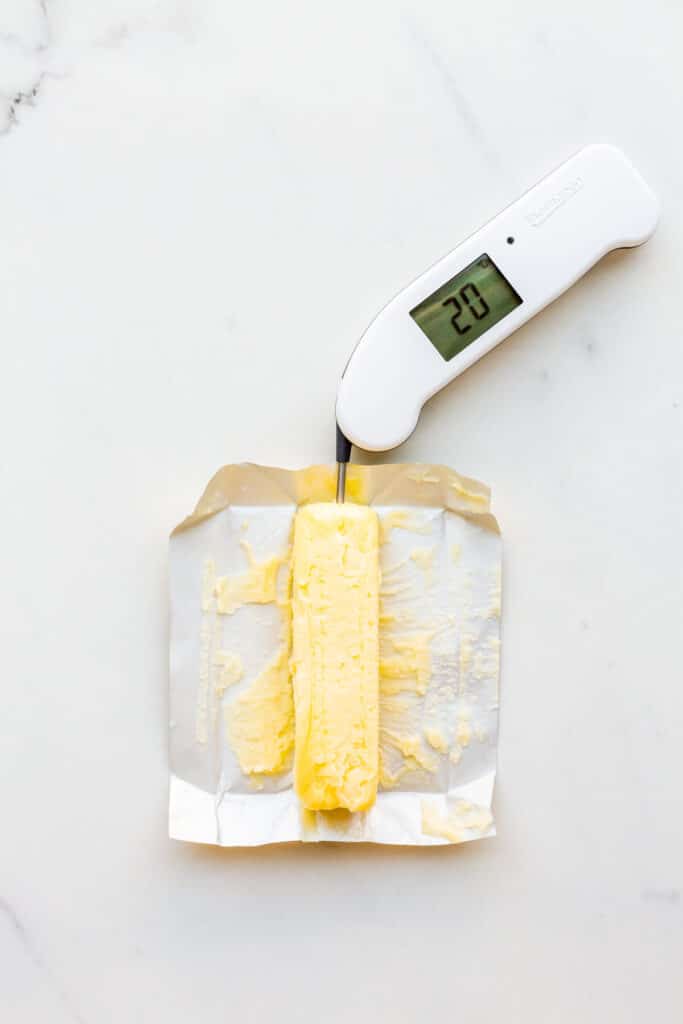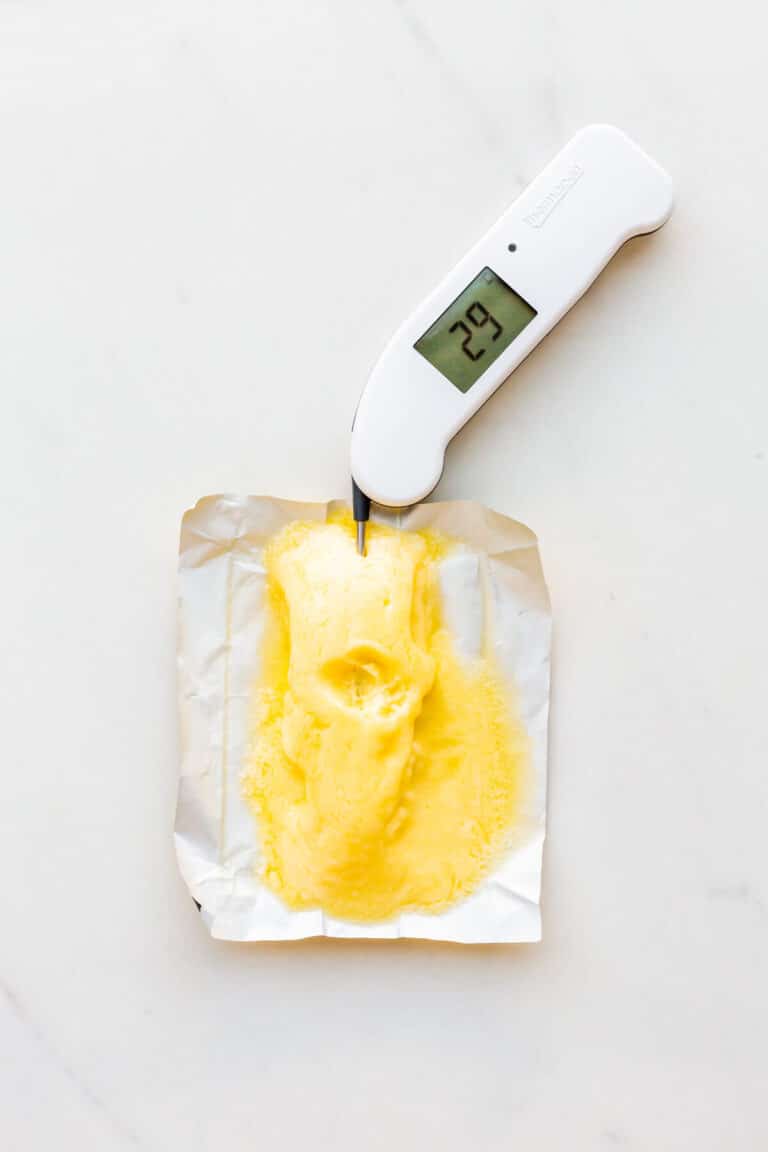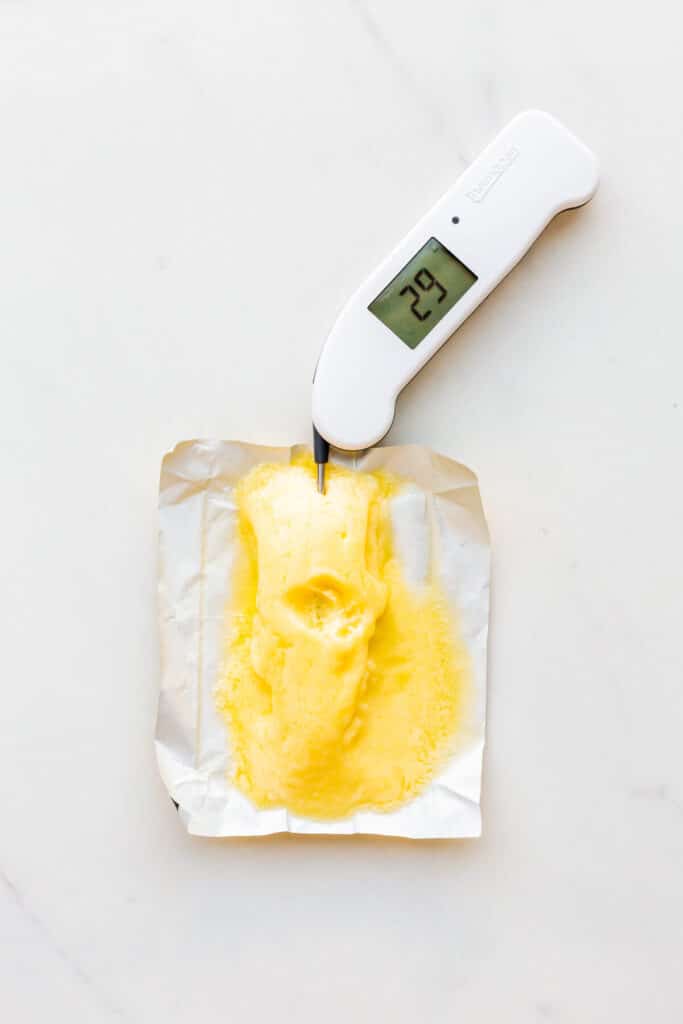 Ways to soften butter
How much time you have until you need your softened butter affects your options for softening butter. If you need it immediately, then you'll have to try a quick method. If you can wait a few hours or until the morning, try the slow method.
slow method (PREFERRED)

leave the block of butter out for several hours at room temperature (which should be around 20–22 ºC)

quick methods for when you need to soften butter in a hurry

grate the cold butter you need onto a plate in a thin layer (or directly into your mixing bowl); let it stand at room temp for 10–20 minutes.
slice the cold butter into thin pieces and arrange in a single layer on a cutting board or plate; let stand at room temperature for 30 minutes (more or less depending on the thickness of the slices). It will soften faster.
microwave the cold butter on a small microwave-safe plate. This is RISKY! The butter will warm up and melt unevenly. The water in the butter will cause it to heat up fast. Microwave at 50 % power or less, or on defrost mode, to hopefully soften it without melting it. Again, this is risky! The butter may be too soft or melted if you don't use small time increments to check it often.
use a heated glass or hot ceramic bowl and place the butter under the glass or bowl. The residual heat of it will warm the outside of the butter. This doesn't always work well, but worth a try. To heat the glass or ceramic bowl, fill it with very hot tap water or boiling water; let stand for a minute to heat up the bowl, then dump out the liquid. This works better with glass or ceramics because these are insulators, meaning they are good at holding heat. You could also try a thermos or insulated reusable mug for this trick.
I prefer the slow method, personally. I try to plan ahead for when I need butter and take it out of the fridge accordingly.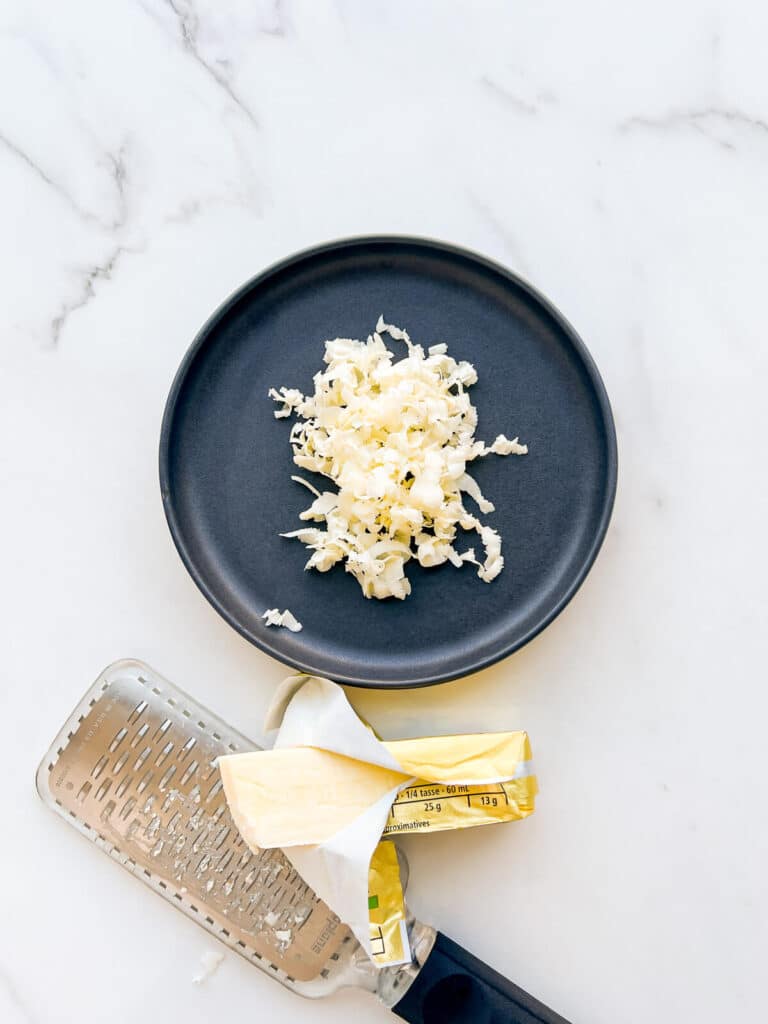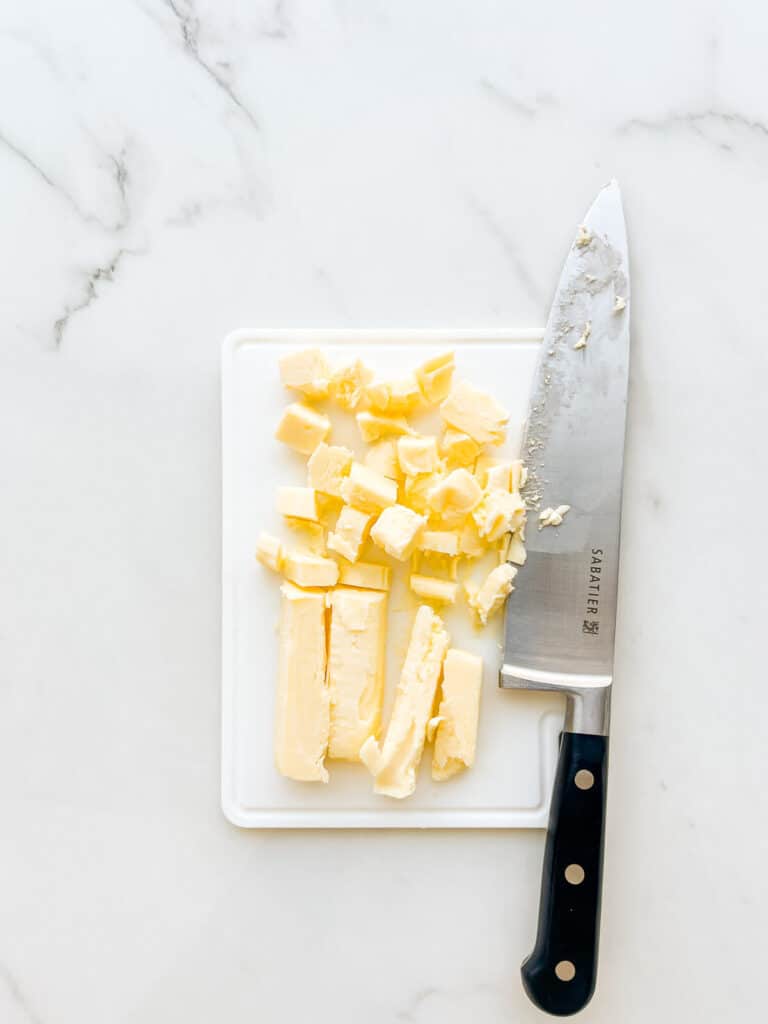 How to freeze butter
I tend to buy butter when it's on sale and load up my freezer for future baking projects. You can store blocks of butter in the freezer in the wrapper it comes in. It's so helpful to have a stash of butter in the freezer, but you may be wondering how to defrost butter when you need it?
You cannot simply take a pound of butter out of the freezer and set it on the counter to defrost. This is a big mistake! Condensation will form on the surface of the block of butter. This can lead to mold, especially with unsalted butter.
How to defrost butter
To defrost butter, you first need to defrost it in the refrigerator (this takes about 12 hours). Once defrosted, you can slice the amount you need to let that soften at room temperature.
Don't skip the fridge. If you do, the surface becomes wet from condensation and promotes the growth of pathogens!
Frozen butter can be an asset. If you are making scones, biscuits, or pie crusts, grate the frozen butter with a box grater. Work that grated frozen butter into the flour quickly. This will lead to a colder dough, which means potentially more a flaky pastry!
Frequently asked questions
What is a stick of butter?
A stick of butter is ½ cup, which is 125 mL or 115 grams.
How much is a pound of butter
A pound of butter is equivalent to 454 grams of butter, which is sold as either one block or as 4 individually wrapped sticks.
Making butter from scratch
A fun exercise to do at home is to turn cream into butter. The idea is that you overwhip the cream until the emulsion breaks. The butterfat will separate from the buttermilk, which you can squeeze out and rinse off.
To make large amounts of butter, it's best to use a stand mixer fitted with a whisk attachment. An electric hand mixer can work too or even a whisk and a lot of elbow grease.
You can also make butter by placing a cup of cream in a 500 mL (2 cups) Mason jar, closing the lid tightly, and shaking it like a cocktail shaker. This may take 30 minutes depending on how energetic you are with your shaking.
📖 Recipe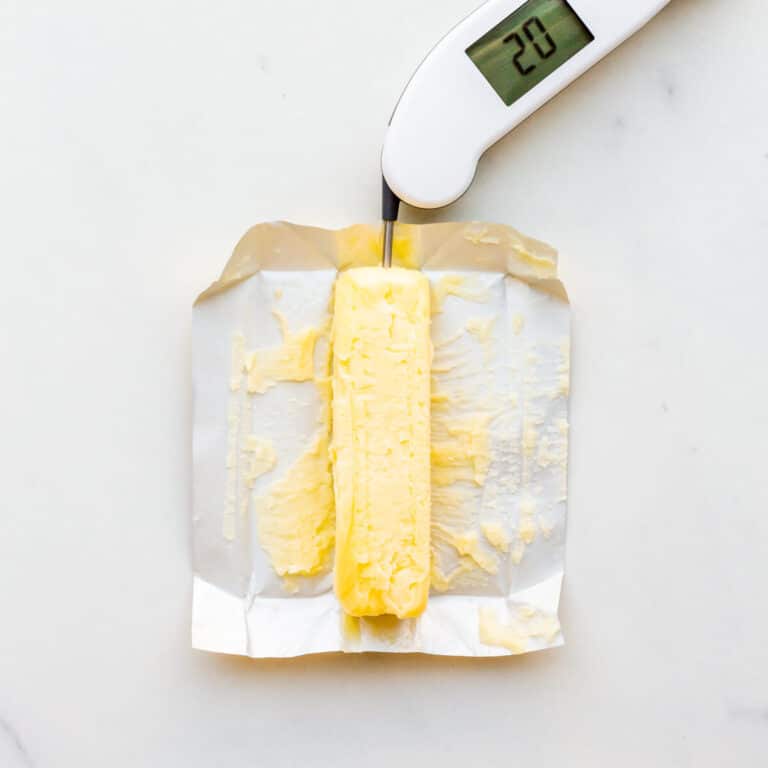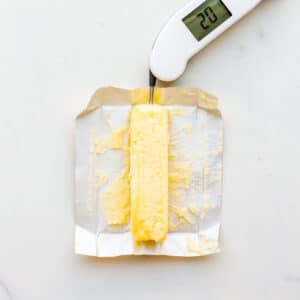 Homemade Butter
Learn how to make butter from whipping cream with this easy recipe!
Instructions
Place the cold whipping cream in the bowl of a stand mixer, fitted with the whisk attachment.

Whip the cream on medium–low to begin with to reduce splashing, and as it thickens, you can increase the speed to medium or even medium–high.

Whip the cream until it forms soft peaks, and then continue whipping past the point of whipped cream, where the cream becomes lumpy and the fat begins to separate. This takes about 5 minutes

Once the butterfat has separated out into clumps, whip in the ice water.

Strain the mixture through cheesecloth and a fine sieve, squeezing the butter to remove most of the water. You can rinse the butter with more ice water to make sure it's free of buttermilk.

Once you are sure you've strained away and squeezed out as much of the buttermilk and water as you can, transfer the butter to a bowl. You can use a paper towel to pat the butter and blot it to remove any moisture.

Store the butter in the refrigerator.
Notes
You can also do this recipe with an electric mixer. You could even do this with a smaller amount of cream in a large Mason jar, close the lid, and shake the jar until the butterfat separates out. I've done it and it works. It just takes a lot of effort!
This recipe yields about 25 tablespoons of butter, so 345 grams or 1.5 cups of butter, roughly.
Nutrition
Calories:
102
kcal
Carbohydrates:
1
g
Protein:
1
g
Fat:
11
g
Saturated Fat:
7
g
Polyunsaturated Fat:
1
g
Monounsaturated Fat:
3
g
Cholesterol:
34
mg
Sodium:
86
mg
Potassium:
29
mg
Sugar:
1
g
Vitamin A:
441
IU
Vitamin C:
1
mg
Calcium:
20
mg
Iron:
1
mg
Plant-based butter alternatives
Today, you can also find vegan butter at the grocery store, made from a blend of oils, among others canola, soybean, coconut, avocado, and palm. Depending on the brand, you may see other oils in the ingredient list, as well as water and soy lecithin. These create an emulsion of just the right percentage fat to replicate dairy butters. You may also see beta-carotene or other natural orange/yellow food dyes. These colour vegan butter so that it looks more like dairy butter.
How to substitute with non-dairy butter
Plant-based butter alternatives are formulated to replicate the consistency, fat content, taste, and properties of dairy butter. They are often sold in block or stick forms, just like butter. Be sure to read the product label. Often the manufacturer has instructions on how to replace regular butter with a plant-based product in recipes. Usually, you can substitute dairy butter for a plant-based butter, gram for gram (cup for cup).