If you are wondering how to make croissants at home with a stand mixer, here's how! This post has a few photos to show the butter block that you tuck inside the dough, as well as the rolling and folding process to create those flaky croissant layers (also known as laminating the dough). And there's also a recipe and a schedule to make the process easier so you can make these homemade croissants without any stress!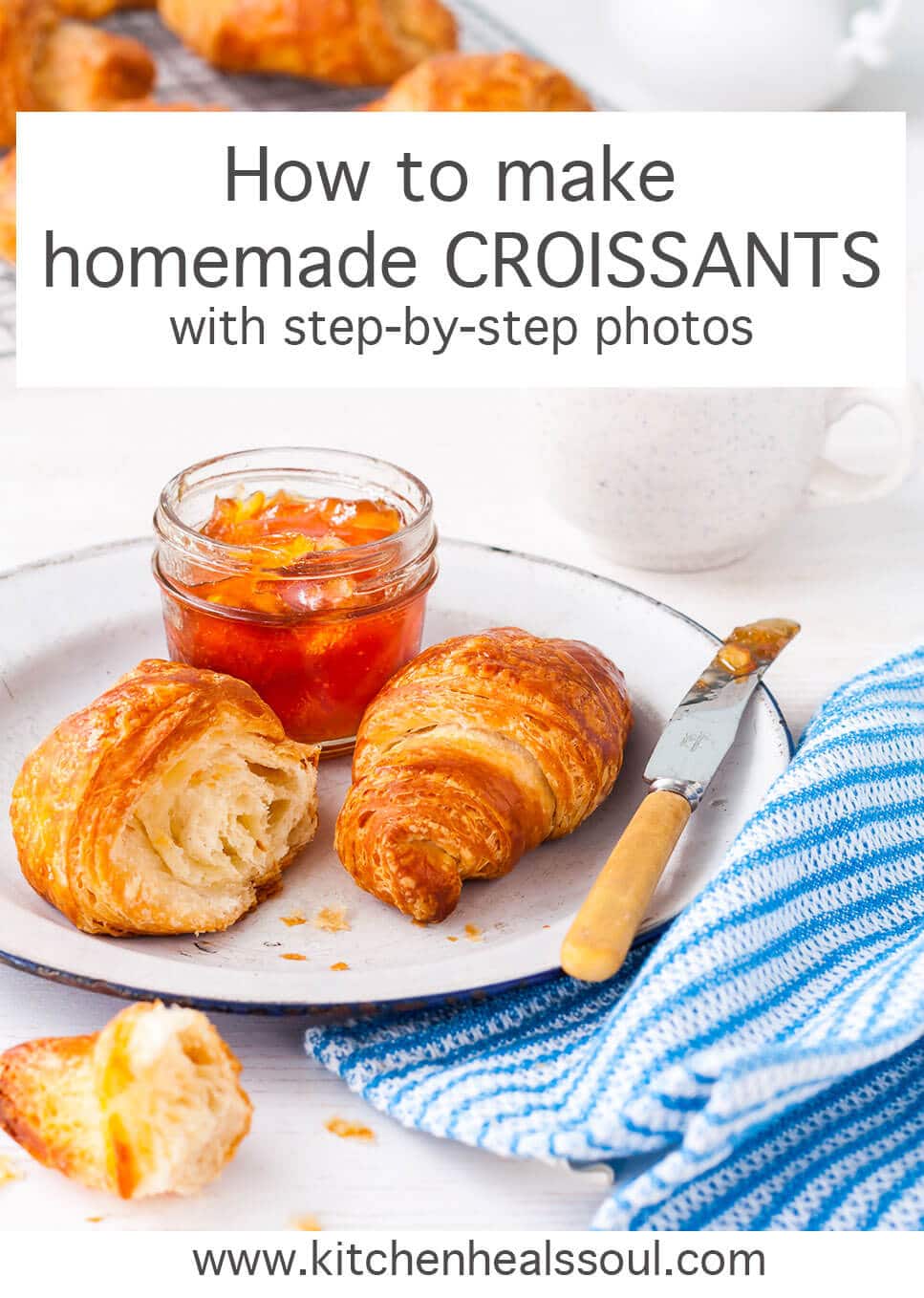 Disclosure: As an Amazon Associate, I earn from qualifying purchases.
What are croissants and why do they taste so good?
Croissants are my favourite buttery breakfast treat, along with brioche and maple brioche. Growing up, croissants were a weekend treat, fresh from the bakery, warmed in the oven and served with orange marmalade, a winning breakfast combination if you ask me. Butter + marmalade = love. Today, I still enjoy croissants with three fruit marmalade. Croissants have a flaky, airy texture, combined with the buttery flavour of the yeasted dough. Like with brioche, homemade croissants are made with a lot of butter, and yet they are flaky and light, not heavy, because of the leavening agents in the recipe: yeast works to aerate the dough and while baking, the butter melts and the steam rises, opening up the layers of dough. The buttery, flaky layers make croissants different than brioche, which is a pillowy bread. Those layers make croissants highly addictive.
Croissants are different from puff pastry and brioche
Both puff pastry and croissants are made from laminated doughs, meaning that they are made up of flaky layers that are made distinct by working fine long sheets of butter into the dough. Puff pastry and croissants are made by a very similar process, but they are different. Croissants are a yeasted dough, while puff pastry is not. Puff pastry depends entirely on butter and steam for leavening, while croissants get a little help from yeast, which also adds a distinct flavour to croissants. Both croissants and puff pastry are even more different than brioche. When you make brioche dough, the goal is to work the butter into the dough until it disappears. In the case of croissants and puff pastry, the flakiness depends on fine layers of butter. The layers of butter are what make croissants and puff pastry different from brioche.
How do you make croissants from scratch?
Croissants are made with a basic yeasted dough. The dough is wrapped around a flat block of butter to seal the butter inside the dough. At which point, the lamination process begins, where you roll out the butter-filled dough, fold it over, and roll it again. The goal of the rolling and the folding is to create very long, fine layers of butter:a very thin sheet of butter nestled within the dough is where the flakiness of croissants comes from.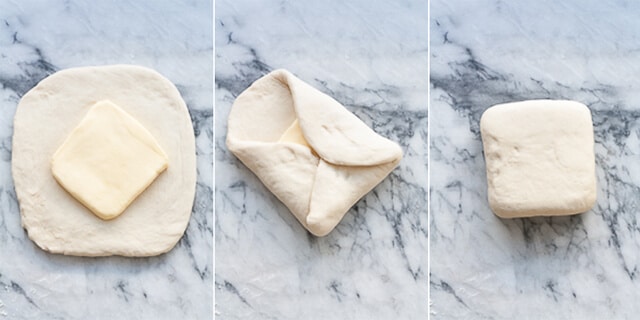 How many times do you fold croissant dough to make croissants?
In pastry school, we learned that croissants require 4 "turns" (1 turn = roll & fold), while puff pastry takes 6. I'm a bit lazy with my rolling and folding, so sometimes I roll the dough out a little thicker than I should but, not to worry, it still works out in the end! The fold is much like how you'd fold a letter, in thirds.
For more details on the rolling process, check out David Lebovitz's post on whole wheat croissants.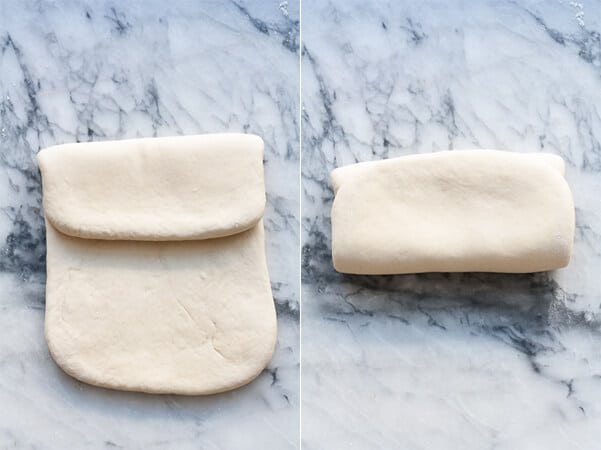 How hard is it to make croissants at home?
Croissants are much, much easier to make than kouign amann (which was a little bit of a traumatic experience when I tried). I spread out the croissant-making process over 3 days so that there was no stress at any point, and so that my dough was always properly chilled. This way, you only have about 20 or so minutes of work to do every day. Twenty minutes a day is manageable. You can do it. The key is to not dawdle when you are doing the layering and to work in a cool kitchen (so perhaps this is best done in winter, when your kitchen is NOT +30ºC!).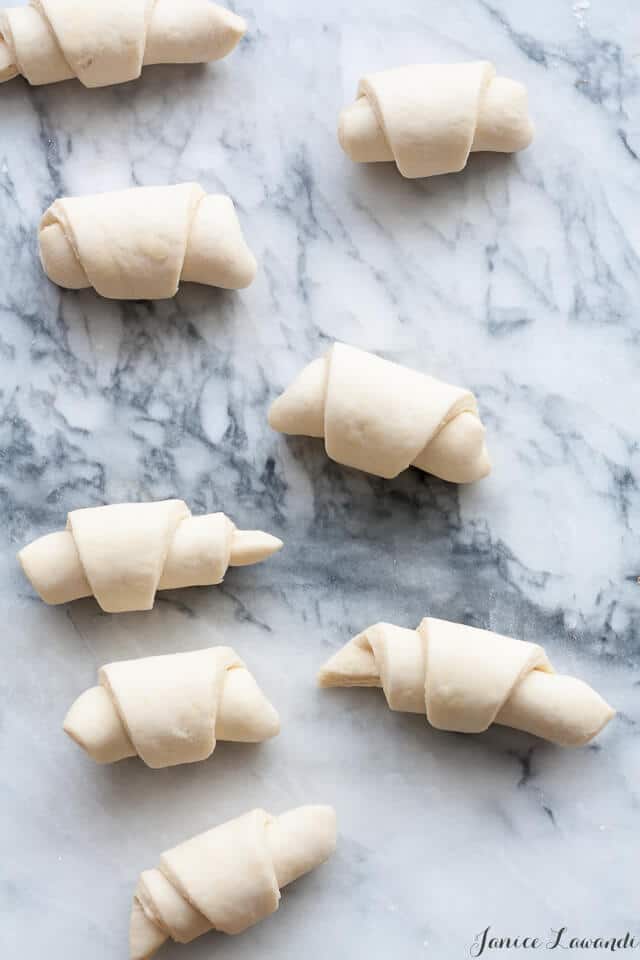 How long does it take to make croissants at home?
It doesn't take a lot of hands on time to make croissants, but there's a lot of chilling and waiting, so though it takes about 95 minutes to make croissants, there's hours and hours of wait time, which means you could be eating croissants for dinner. Not ideal. Here's my stress-free croissant-making schedule:
day 1: prepare dough | chill for 30 minutes while you form the butter block | chill the butter block while you roll out the dough, then wrap the butter block in the dough and seal | do 2 turns | wrap & refrigerate overnight
day 2: do 2 turns | wrap & refrigerate overnight
day 3: roll out & shape croissants | let rise 1.5–2 hours | bake | eat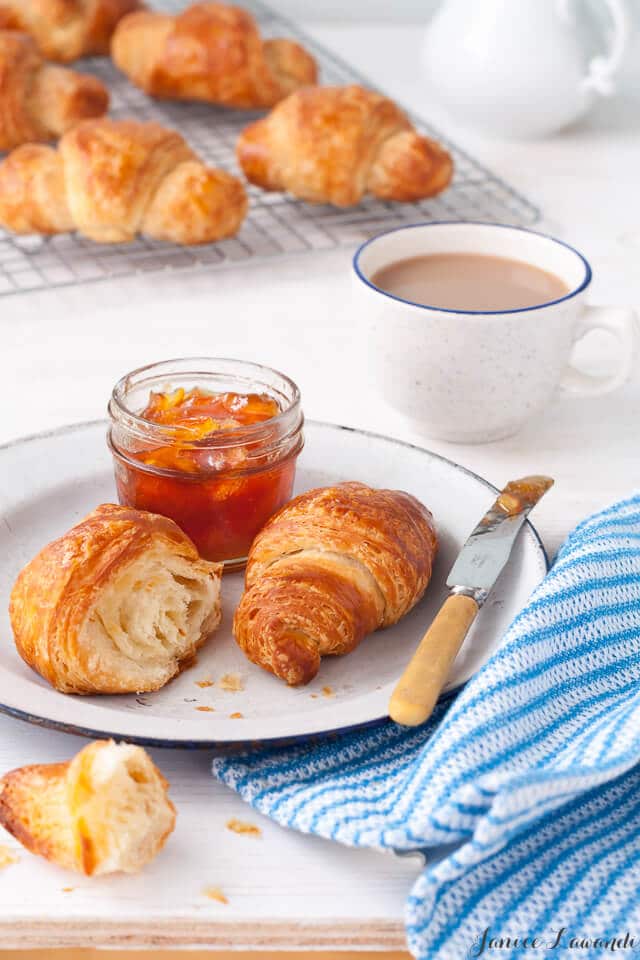 What to serve with croissants
Croissants are a butter, flaky breakfast treat that tastes great on it's own, but why not serve it with your favourite homemade jams or spreads. Here are a few examples of what to serve with croissants:
Easy homemade croissants recipe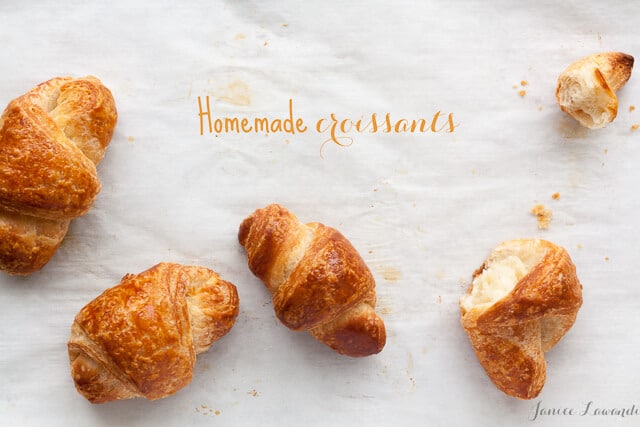 📖 Recipe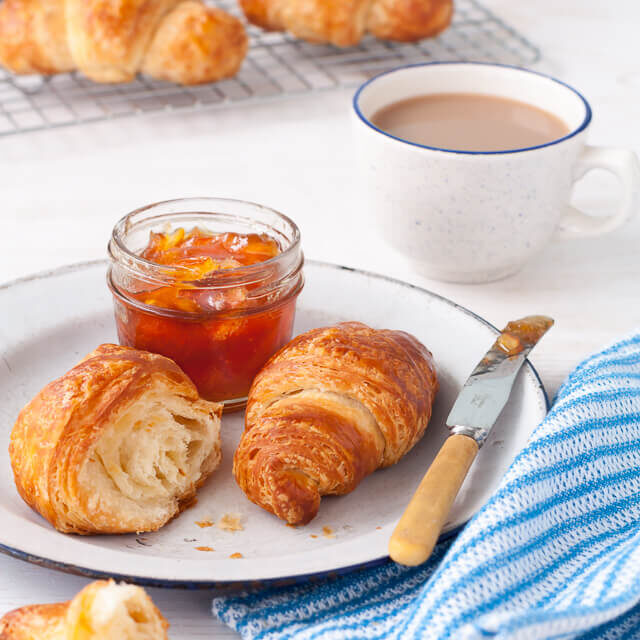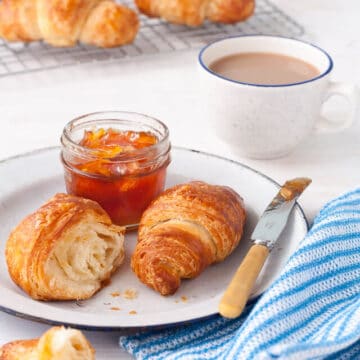 Easy Homemade Croissants
You can make buttery, flaky croissants at home from scratch with this recipe. Go through it step-by-step and split up the work over a few days to make it easier!
Ingredients
83

mL

water

⅓ cup

83

mL

whole milk (3.25 % fat)

⅓ cup

2

tablespoon

granulated sugar

2

teaspoon

active dry yeast

250

grams

bleached all-purpose flour

2 cups

1

teaspoon

Diamond Crystal fine kosher salt

125

grams

unsalted butter

½ package, cold

1

large egg(s)

beaten
Instructions
Warm the milk with the water to 100ºF, then add it to the mixer bowl with the sugar, the yeast, and half the flour. Let stand for 10 minutes.

Add the rest of the flour and the salt, and knead for 3 or 4 minutes until a dough forms. If you notice the dough is too hard/firm/dry, sprinkle in a teaspoon or so of water.

Place the dough in a bowl and refrigerate for 30 minutes covered with plastic wrap.

Meanwhile, place the butter between two sheets of plastic wrap and with your rolling pin, bash/roll/work the butter into a square block (4.5-x4.5-in). Transfer to the fridge to keep chilled.

Remove the dough from the fridge (it will have risen quite a bit in the fridge) and roll it out on a floured surface to form a 8.5-x8.5-in square. Unwrap and place the butter block overtop, "kitty corner", and then wrap & pinch the dough together to form an envelope around the block and seal in the butter.

Roll out the dough to a 12x9 rectangle on a floured surface, brush off the excess flour, and fold (1st turn).

Rotate the dough 90º, then roll out again to a 12x9 rectangle and fold (2nd turn). Wrap and refrigerate overnight.

Repeat the rolling and folding process twice more to complete the 3rd and 4th turns. Wrap and refrigerate overnight.

Roll out the dough to a 12x9 rectangle, trim the edges if they are very uneven, then cut into 8 triangles. Roll the triangles to form croissants, then place on two parchment-lined baking sheets. Carefully and evenly brush with the beaten egg. Top loosely with plastic wrap and let the croissants rise for 1.5–2 hours.

Preheat the oven to 350 °F (175 °C). Brush the croissants again with a thin, even layer of egg wash. Bake for about 35 minutes, rotating halfway until they are a deep golden brown.

Serve warm with marmalade.
Nutrition
I do my best to bake with the finest ingredients. Stirling Creamery, a Canadian company, has provided the butter for this post.