Making pistachio baklava might seem a little daunting, but it's actually quite simple, using store-bought frozen phyllo sheets from the grocery store!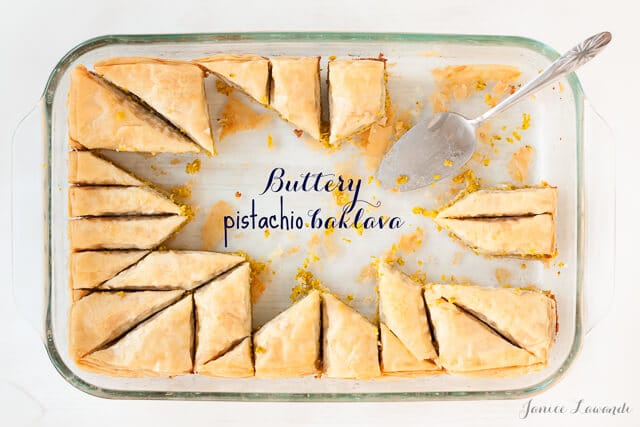 Disclosure: As an Amazon Associate, I earn from qualifying purchases.
Most people associate pie and ice cream with summer, and so do I. But I also associate summer with my dad's strawberry drink and tray-fulls of homemade Egyptian baklava that my mom made, always in the summer. My family is from Egypt and this is how I learned from them to make pistachio baklava, including my aunt's secret for ensuring a crispy phyllo top!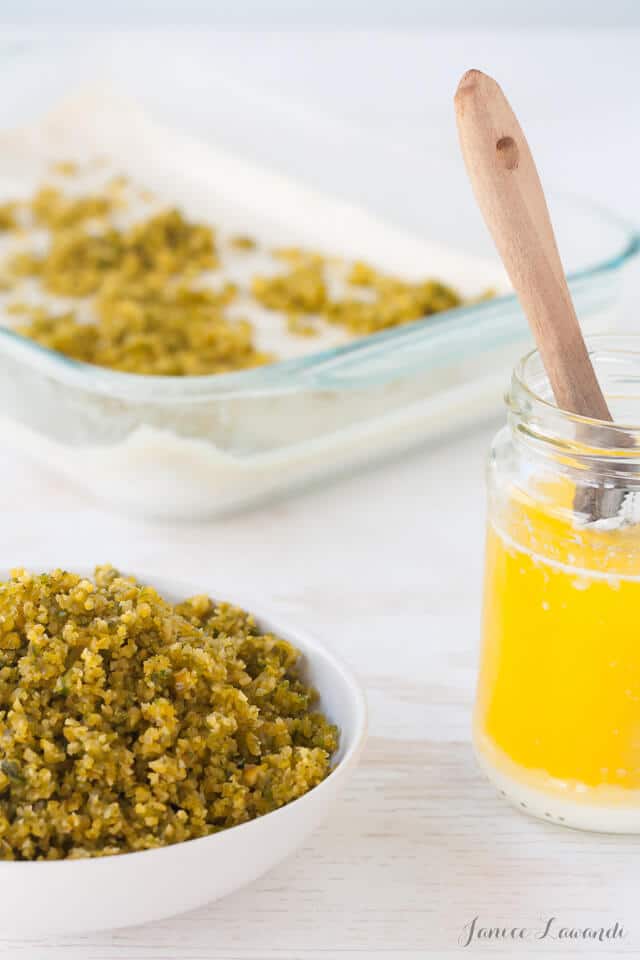 Baklava isn't difficult to make, but it does take time, patience, and care. It's a delicate exercise of layering thin sheets of phyllo and brushing them with melted butter. It's very calming once you get into the rhythm. It should never be rushed or thrown together. It's a sweet treat that is best served with tart, summer-fresh berries and a good cup of coffee (preferably Turkish coffee).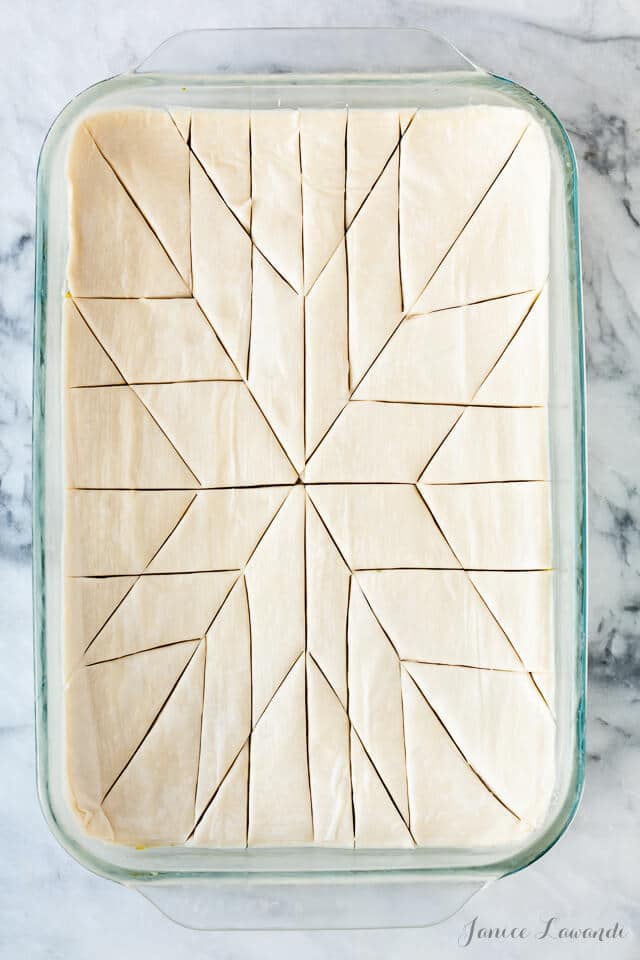 Substitutions and variations
Nuts
My mom used to make baklava with hazelnuts, but since I've developed an allergy to them, now we make replace baklava with pistachios. It's also quite common to make baklava with cashews, so feel free to replace the pistachios with the same weight of hazelnuts or cashews.
If you want to make baklava without nuts, one baking substitution to consider would be to use ground pumpkin seeds or ground sunflower seeds. The flavour will be different but this should work quite well! Replace the pistachios with the same weight of either.
Rose water and orange blossom water
Many countries add rose water or orange blossom to the syrup after cooking it, and sometimes even the nut filling, but we usually don't. A little goes a long way, though some home cooks and pastry professionals will use a lot to give the dessert a very floral flavour.
Sugar or honey
Greeks tend to use honey in their baklava syrup, but we use sugar and a splash of lemon juice. Both the lemon juice and the honey (an invert sugar) help prevent crystallization of the syrup, just like with caramel. So don't skip those ingredients.
Spices
Some countries add spices to the filling, like cardamom and cinnamon, and other use citrus zest. It all depends on the family and the country of origin. I've even seen chocolate nut fillings for baklava, but I'm a bit of a purist and I prefer all nut fillings.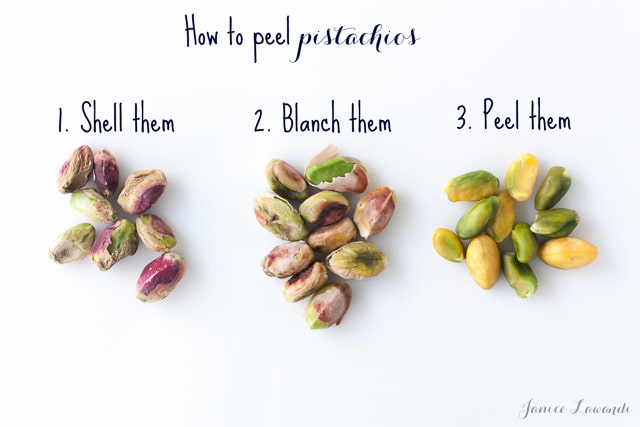 Ensuring pistachio filling is green
When baking with pistachios, you'll notice that sometimes the pistachios don't seem very green. To fix that, you can peel the pistachios to remove the skin from the nuts so that the filling of your pistachio baklava will be extra green (a labour of love in itself), but you really don't have to.
As pistachio nuts mature, the vibrant green becomes more and more golden yellow. Buy young green pistachios before they have matured to ensure your pistachio filling is a vibrant green. You may find these at Middle Eastern grocery stores.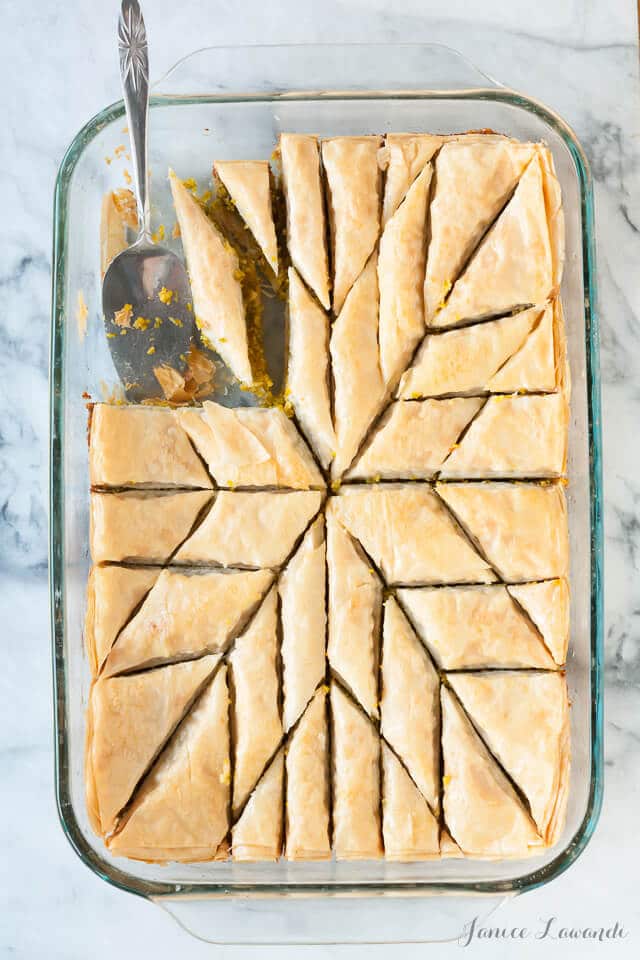 Decorative cutting patterns for baklava
How you cut the baklava is a matter of personal preference: squares, diamonds, bars, or even something a little more elaborate. It's very important to slice through the top layers of phyllo before baking to ensure you can get clean and neat cuts. This step is crucial and if you don't score the top layers before baking, the top layer will shatter when you cut it and your baklava will look messy.
Special equipment
When you take the time to make baklava, you might as well make a big tray of it. We often bake baklava in a 9x13 glass baking dish, but metal also works, like this OXO 9x13 pan.
Storage
This recipe yields a lot of baklava, but don't worry: baklava can be made ahead, because of the syrup, it's slow to go bad (in fact, I've never seen it happen!), and you can store it for days at room temperature or in the fridge for even longer. Just make sure to keep it covered. You can also freeze baklava, if you prefer, and it will keep for months.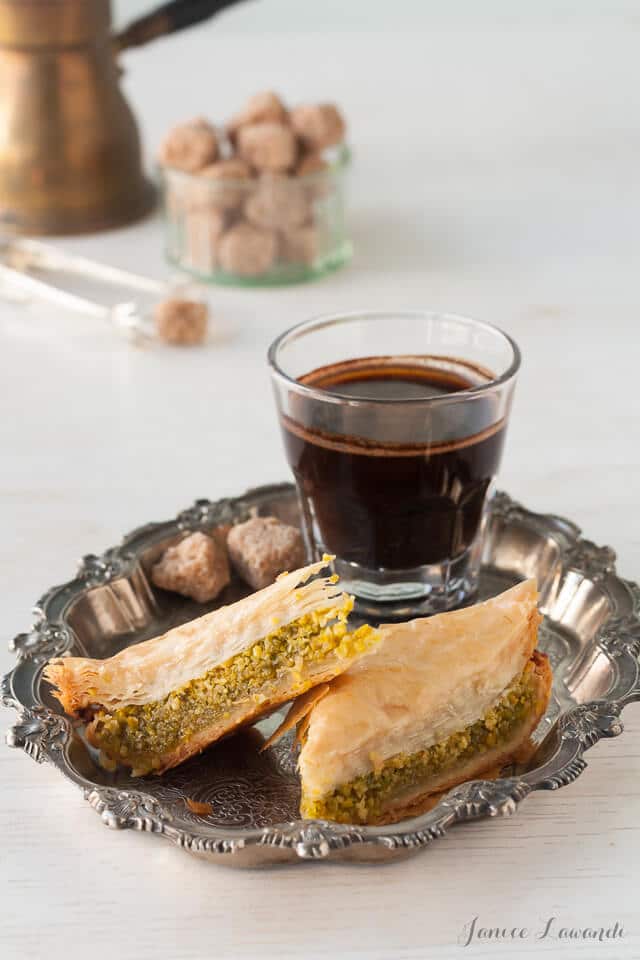 Pistachio recipes to try
Pistachios are my favourite nut and so fun to bake with because of their colour. Here are a few pistachio dessert recipes to try:
pistachio tart, plain or topped with fruit like raspberries and peaches
Other recipes to bake with phyllo
Phyllo is easy to use and so versatile. If you prefer something savoury to bake with phyllo, try my asparagus phyllo tart, which is a real treat with spring asparagus.
📖 Recipe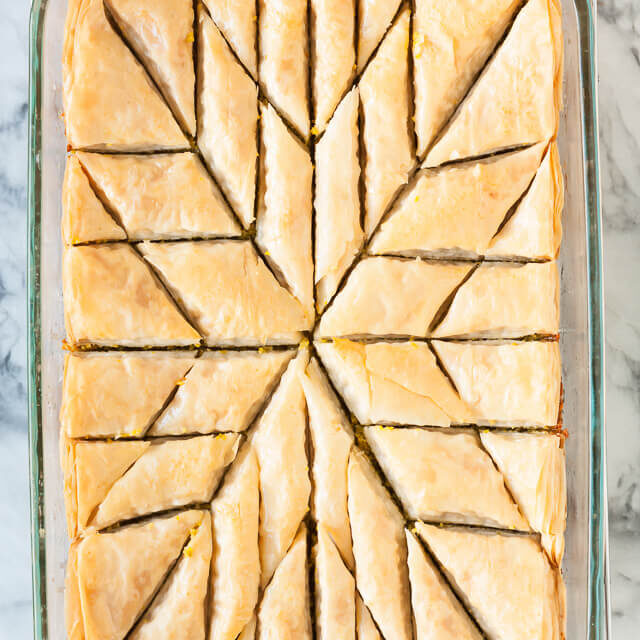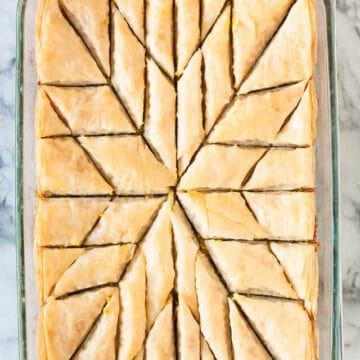 Pistachio Baklava
This pistachio baklava is made with blanched pistachios, so that the pistachio filling is more green, and a simple syrup for Egyptian baklava.
Ingredients
Syrup
375

mL

water

400

g

granulated sugar

1

teaspoon

fresh lemon juice
Assembly
454

g

phyllo

thawed overnight in the fridge

230

g

unsalted butter

melted
Instructions
For the syrup
Bring the ingredients to a boil in a small saucepan and continue to boil for about 15 minutes, until the syrup is thick and has reached a temperature of about 230 ºF (110 °C). Transfer to a container and cool completely (can be made the day before and stored on the counter, or chill it in the fridge for a few hours to speed up the process).
For the filling
Peeling the pistachios is optional, but whether you do or you don't, grind the pistachios with 2 tablespoon sugar in the food processor by pulsing, until the mixture forms a medium-fine grind.

Set aside
To make the baklava
Preheat the oven to 325ºF (165 °C). Be sure there is a rack in the middle of the oven, and one above.

Butter a 9x13 Pyrex glass dish (find it on Amazon).

Prepare the phyllo dough by unwrapping it and unrolling it. Cut the stack in half, width-wise so that you have two stacks of ~9x13" sheets. Set them aside, being sure to keep them covered with a slightly damp kitchen towel to prevent the sheets from drying and becoming brittle and flakey.

Begin layering the phyllo by placing 2 sheets in the bottom of the prepared pan, then brushing them with melted butter. Repeat this until you've used up half the package of phyllo, ending with melted butter.

Sprinkle the ground nut filling over top, then 2 tablespoon melted butter, and press everything down evenly in the pan.

Continue layering the phyllo on top, this time buttering every single sheet as you go.

End with butter.

Cut the baklava into squares, diamonds, or a more elaborate pattern. Drizzle the leftover melted butter over top, letting it run down in the cuts and grooves (if you've got more than a few tablespoons, drizzle a couple over top and store the leftovers in the fridge). Sprinkle water over top.

Bake the baklava for 30 minutes on the middle rack, then move it up and bake for another 30 minutes, until the top is nice and golden.

Remove the baklava from the oven and immediately pour over all of the syrup. The syrup will sizzle as it hits the hot pan.

Let the baklava cool completely, then recut it before serving.
Notes
When my mom would make baklava, she would go through the step of clarifying the butter to remove the milk solids. This will allow you to store the baklava for longer without the risk of the butter going rancid. It also leads to a cleaner flavour. I'm lazy, so I use straight melted butter.
This is a recipe for Egyptian baklava made with pistachios. If you want to use rose water or orange blossom water, remember to use them sparingly. Too much rose water will make the dessert bitter.
Note that the Greeks make the syrup for baklava with honey. 
Nutrition
Calories:
197
kcal
Carbohydrates:
22
g
Protein:
4
g
Fat:
12
g
Saturated Fat:
4
g
Cholesterol:
14
mg
Sodium:
28
mg
Potassium:
111
mg
Fiber:
1
g
Sugar:
13
g
Vitamin A:
188
IU
Vitamin C:
1
mg
Calcium:
13
mg
Iron:
1
mg
Some will use melted clarified butter instead of regular melted butter for longer storage, but I don't bother since I usually make baklava and serve it within a few days.