I baked this pistachio frangipane tart for my mom's birthday. It's adapted from Anna Olson's recipe for a grapefruit pistachio tart, which I have made a few times with my mom in winter, and, since grapefruits are not in season in August, I used pluots to garnish the tart. You could also use fresh plums, peaches, or apricots. Berries would also work great, like raspberries!
There are a few changes I made to the original recipe:
I halved the filling recipe: The original recipe for the filling yielded way too much for the size of the tart, and if you attempt to pour all the filling in the tart shell, it will overflow.
I pressed the dough into the tart pan because the dough is quite delicate to work with, as are most "pâte sucrée" doughs (the French baking term for sweet crust)
The recipe below has all these modifications in it already for you to use.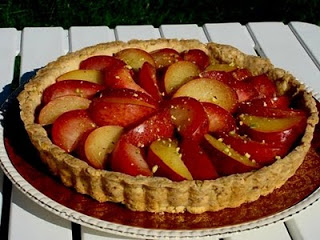 Traditionally frangipane is made with ground almonds, but actually you can make it with any nut, and so for this tart, we have a pistachio frangipane, which is a pistachio cream made from ground nuts, sugar, butter, and eggs. Frangipane is a favourite of mine and makes an excellent filling for tarts. It's also the topping used on bostock made from leftover brioche and frangipane.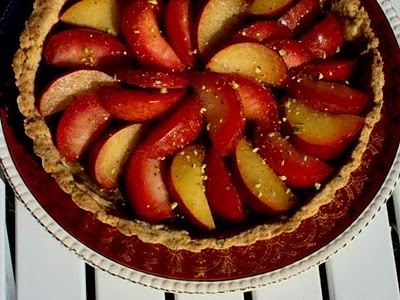 Pluot pistachio tart
Ingredients
Crust
1½

cups

(

190

g

)

all purpose flour

½

cup

(

60

g

)

ground pistachios

⅓

cup

(

70

g

)

granulated sugar

1

teaspoon

(

5

mL

) Diamond Crystal fine kosher salt

¾

cup

(

170

g

)

unsalted butter

cubed, frozen

4

egg yolk
Filling
¼

cup

(

60

mL

)

whipping cream (35 % fat)

¼

cup

(

50

g

)

granulated sugar

I know, I know, nobody has a cup measurer for ⅙ of a cup. I used 41 grams sugar to be exact, approximately half of a ⅓ cup measurer of sugar

1

egg

1

egg yolk

1

tablespoon

(

15

mL

) pure vanilla extract

¼

cup

(

30

g

) shelled unsalted pistachios

finely ground
Fruit and topping
3–4

pluots

basically have enough on hand so that you can cover the tart with sliced fruit, sliced

1

tablespoon

(

15

mL

) apple jelly

diluted with some water for glazing: this is optional—the fruits are so sweet and juicy, that the glaze really isn't necessary

1

tablespoon

(

15

mL

) shelled unsalted pistachios

for garnishing (either whole or chopped)
Instructions
To prepare the crust
Preheat the oven to 350°F.

In a large bowl, whisk together the dry ingredients. Add the cold butter, and work the mixture until you get a coarse crumb (I use my hands, but you can use a pastry cutter, 2 knives, or a food processor).

Add the egg yolks and mix until the dough just comes together when pressed.

Press the dough into a 9-inch tart pan (with removable bottom). Trim the edges and refrigerate until chilled (the dough will be hard).

Dock the dough with a fork several times and bake in the oven for 15 minutes. Remove from the oven to cool slightly.
To prepare the filling while the crust is baking
Whisk together all the ingredients. Pour into the pre-baked pie shell, and bake for an additional 18 minutes. The tart filling, including the center, should be set when it is done baking. Remove the tart from the oven and let it cool completely before chilling it for at least 1 hour.
To finish the tart
Top the tart with the sliced fruit. Then glaze with some diluted apple jelly.

Sprinkle with some ground pistachio. Refrigerate until you are ready to serve.