Learn how to make the most incredible pistachio tart with this easy recipe. To make this tart, you will make a pistachio tart crust from a pâte sucrée dough and a pistachio cream filling (sometimes referred to as frangipane). The nutty baked tart is topped with sliced peaches and fresh raspberries, but you could also serve it with a dusting of powdered sugar.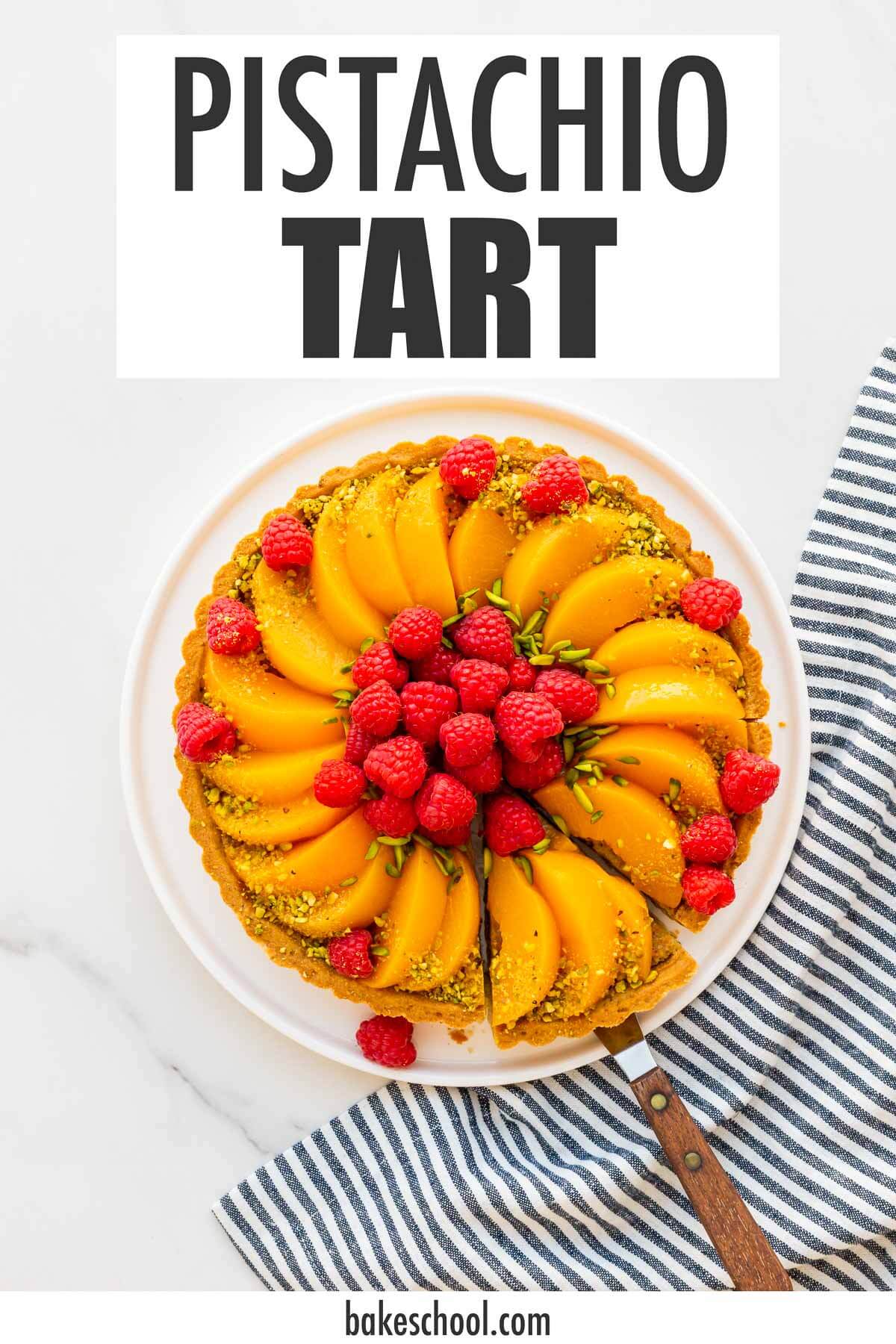 Disclosure: As an Amazon Associate, I earn from qualifying purchases.
Tarts filled with almond cream or frangipane are so easy and can be made into quite an elegant dessert that is both impressive in looks and taste!
When baking with pistachios, if you want them to be greener, you will need to learn how to peel pistachios to remove the darker skins. Also, read up on how to use a tart pan with a removable bottom if this is your first time baking with this type of bakeware.
Jump to:
Ingredients
Both the sweet pistachio tart crust and the pistachio filling are made with similar ingredients, so the list of things you need to make this pistachio dessert is quite simple.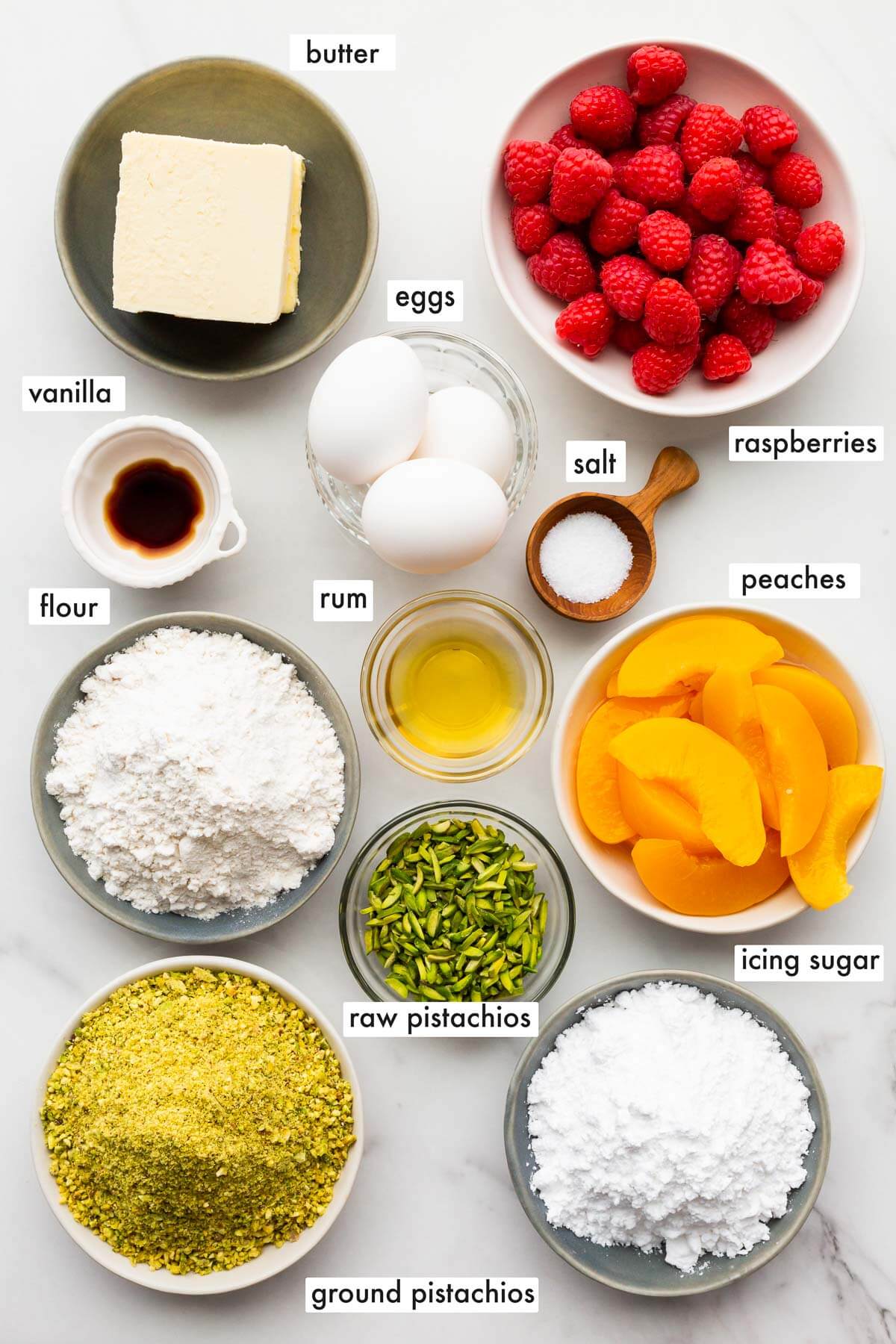 butter, specifically unsalted butter, though salted would also work here. You can either skip the salt in the pastry recipe if you use salted or lean into the salt because a little extra salt in the crust will bring a bigger contrast between the salty and the sweet
icing sugar, leading to a more tender cookie crust
pistachios, ground and slivered—ground pistachios make the dough more tender and contribute a ton of flavour to the filling, while the slivered pistachios add vibrant green pops of colour when you decorate the tart before serving.
eggs to bind the crust and the filling ingredients together, and also to make the dough more pliable and easier to roll out
flour holds the dough together and gives it structure, just like a rolled sugar cookie dough. You will also add a small amount of flour to the filling
vanilla extract and spiced rum to flavour the filling. For the vanilla, you can use homemade vanilla extract or store-bought.
salt, preferably Diamond Crystal fine kosher salt, which is less salty than table salt
fruit—I like to garnish pistachio tarts with a variety of fruit, picking what's in season, but also what fruits pair nicely with pistachios. For this tart, I used a combination of canned sliced peaches (choose fruits canned in sugar-based syrup or fruit juice because they taste better than any fruit canned in water, which is sweetened with sucralose!).
See recipe card for quantities.
Tip: For the greenest pistachios, bake with raw pistachios and pick raw shelled pistachios that are green. You may find them at Middle Eastern stores, for example. Vibrant green pistachios tend to be younger than yellow-green nuts.
Pistachio cream versus pistachio frangipane
Almond cream and frangipane aren't necessarily the same thing though sometimes the terms are used interchangeably. Technically in classical and French baking terms, "almond cream" refers to a mixture of equal parts by weight of butter, sugar, and ground almond, bound together with eggs, while frangipane is almond cream lightened with pastry cream. Both fillings are baked to set them. In many countries though, the terms frangipane and almond cream are used interchangeably and are made following the formula for almond cream.
In this recipe, we fill the pistachio crust with pistachio cream, though as mentioned above, some may refer to it as pistachio frangipane.
Substitutions
This recipe doesn't have many ingredients so your substitutions are limited
Icing sugar - the crust and filling recipe will work with icing sugar or granulated sugar. The textures may vary depending on which you use, but it will work.
Pistachios - grind some sunflower seeds or pumpkin seeds instead of the pistachios if you want to make a nut-free tart (obviously, it won't be pistachio anymore though if you replace the pistachios!) or use ground almond for a version featuring a different nut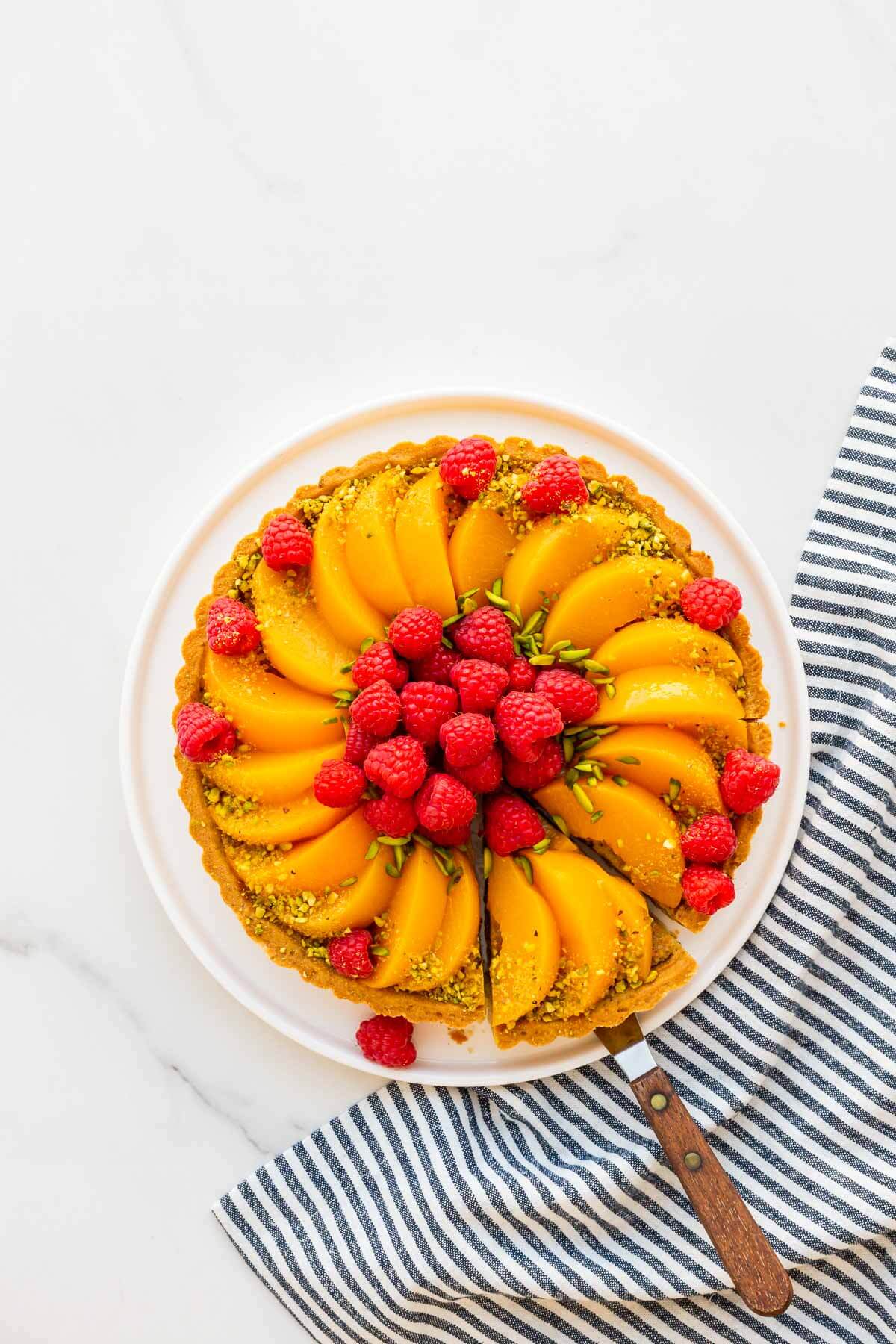 Variations
One common variation you may see in many recipes for pistachio and almond tarts is to nestle the fruit over the almond cream before baking. You can certainly do that with this recipe, but in this case, you will use significantly less fruit because you don't want to overload the filling, which can break down in the oven and release water into the filling.
There are many other ways to make this pistachio tart differently. Here are a few other options:
Pear—top this pistachio tart with poached pears instead of canned peaches
Plum or pluot—I've topped this pistachio tart with sliced fresh plums or pluots in season. Apricots would also be great (fresh or canned).
Lemon—skip the fruit and top the tart with a generous smear of homemade lemon curd from edge to edge
Bakewell style—spread a layer of homemade jam over the entire surface of the par-baked tart shell before spreading the pistachio cream
À la mode—skip the fruit on top and instead dust with icing sugar and ground pistachios to decorate the top, and serve with vanilla ice cream or either this cardamom ice cream or lemon custard ice cream!
Instructions
This recipe has two components: the sweet crust and the pistachio cream filling. You can work on the pistachio cream while the dough for the tart is chilling in the fridge, and then store the filling in the fridge while you line the tart pan with the dough. Or you could also make the filling while the tart shell is baking. Staggering the steps of each recipe will make the overall process faster and easier.
To make the tart shell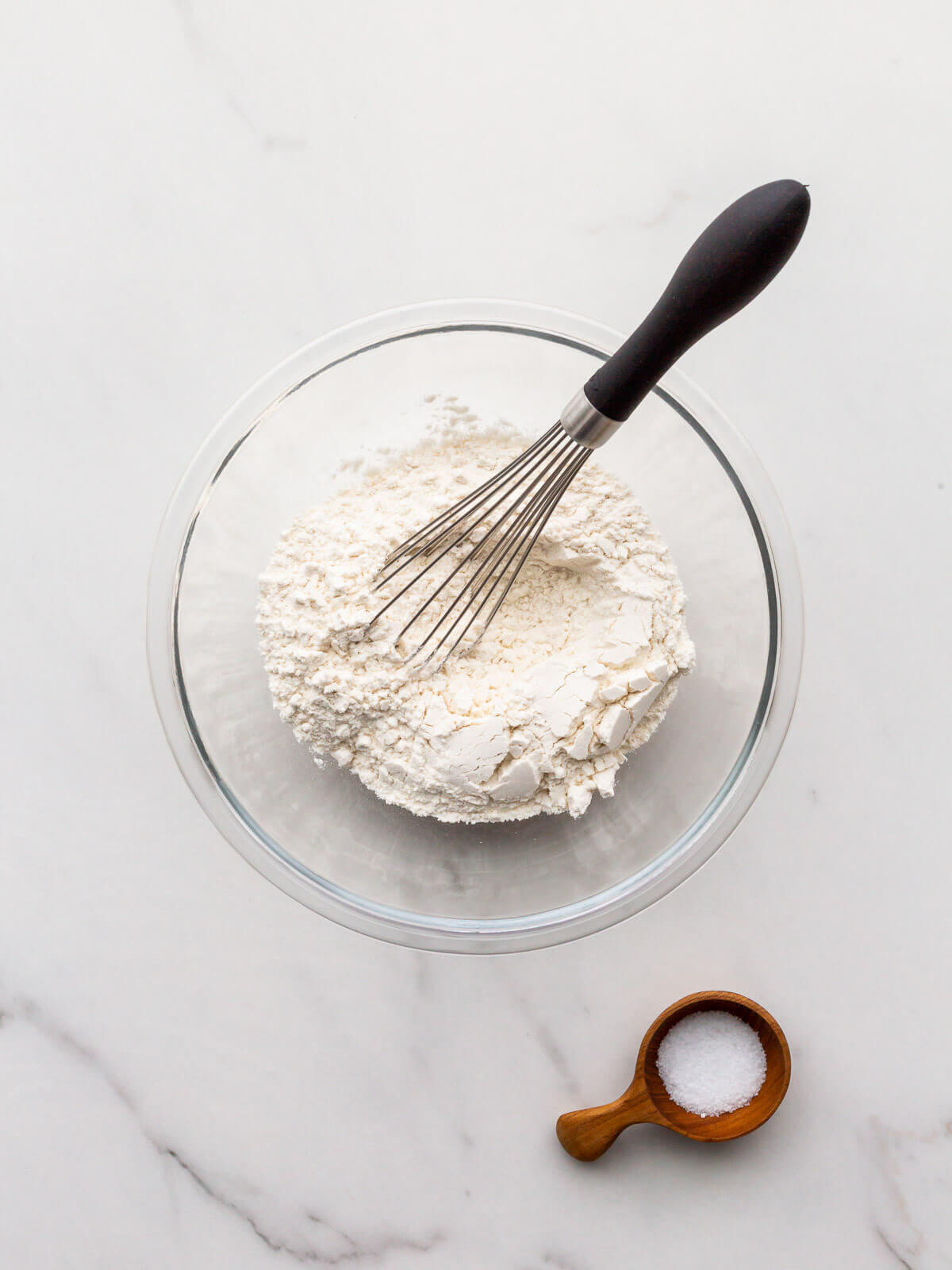 The dry ingredients (flour and salt) are whisked in a small bowl)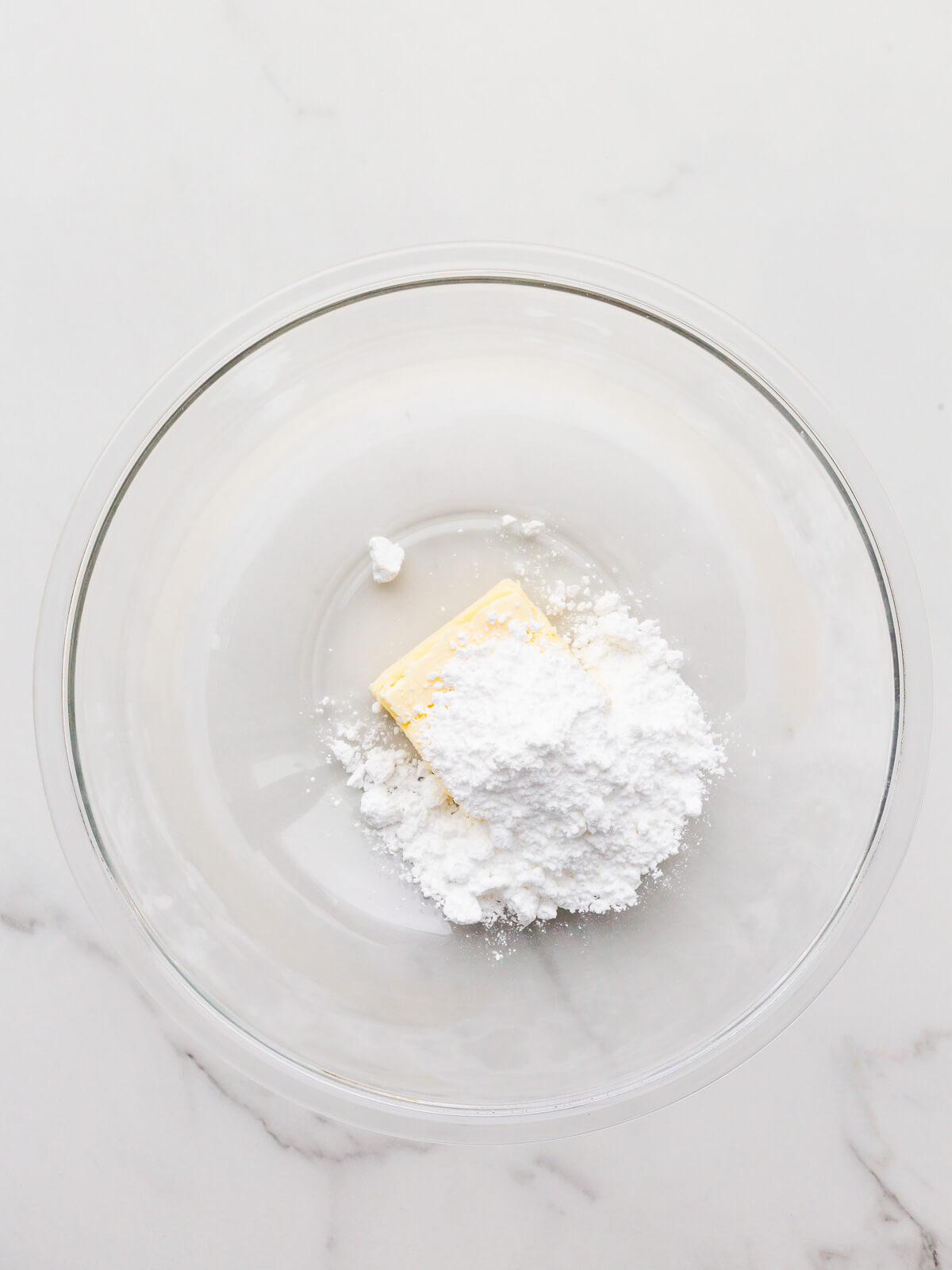 Cream the butter and icing sugar in a large bowl with an electric hand mixer or in the bowl of a stand mixer fitted with the paddle attachment.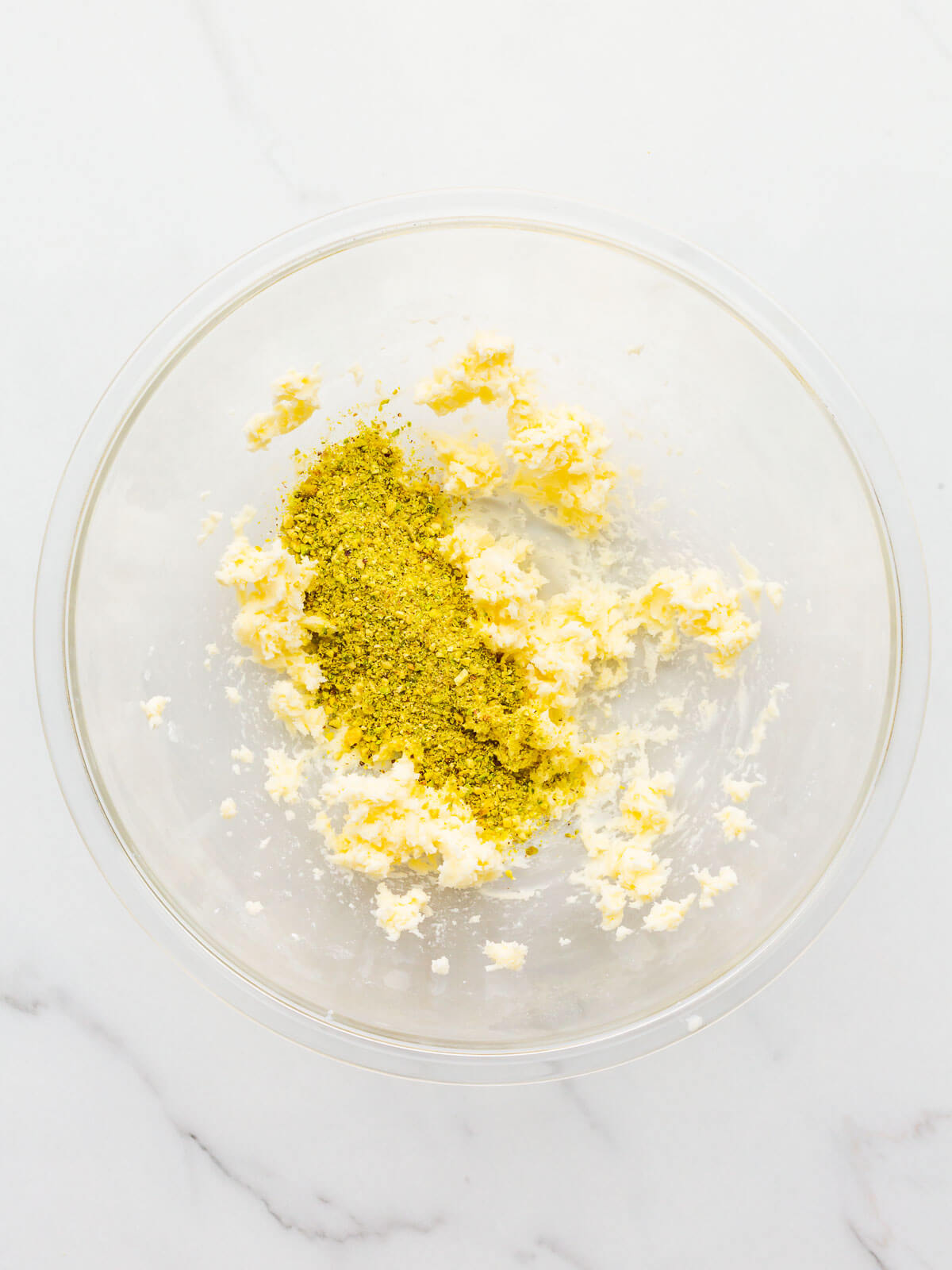 Mix in the ground pistachios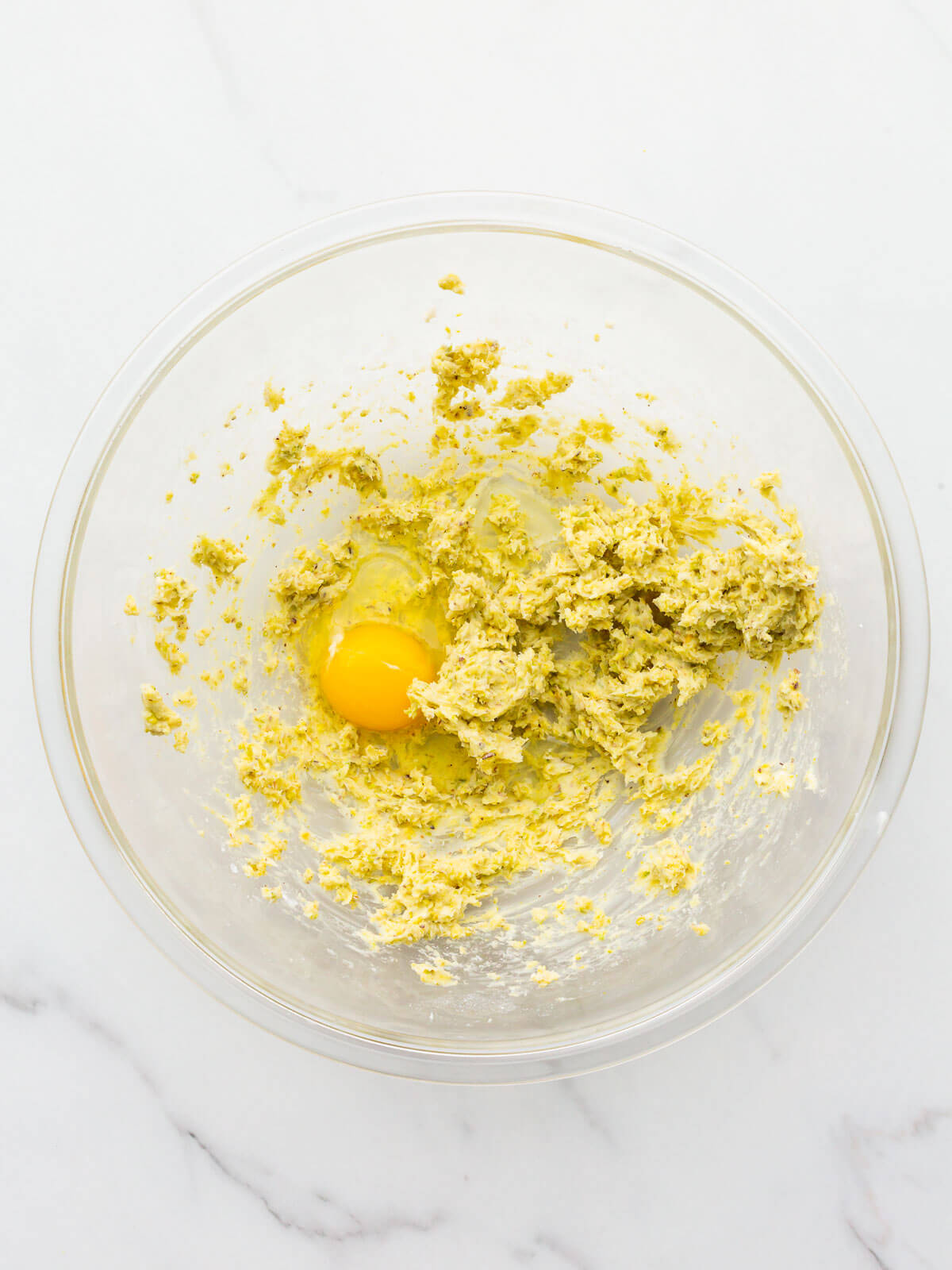 Mix in the egg to bind it all together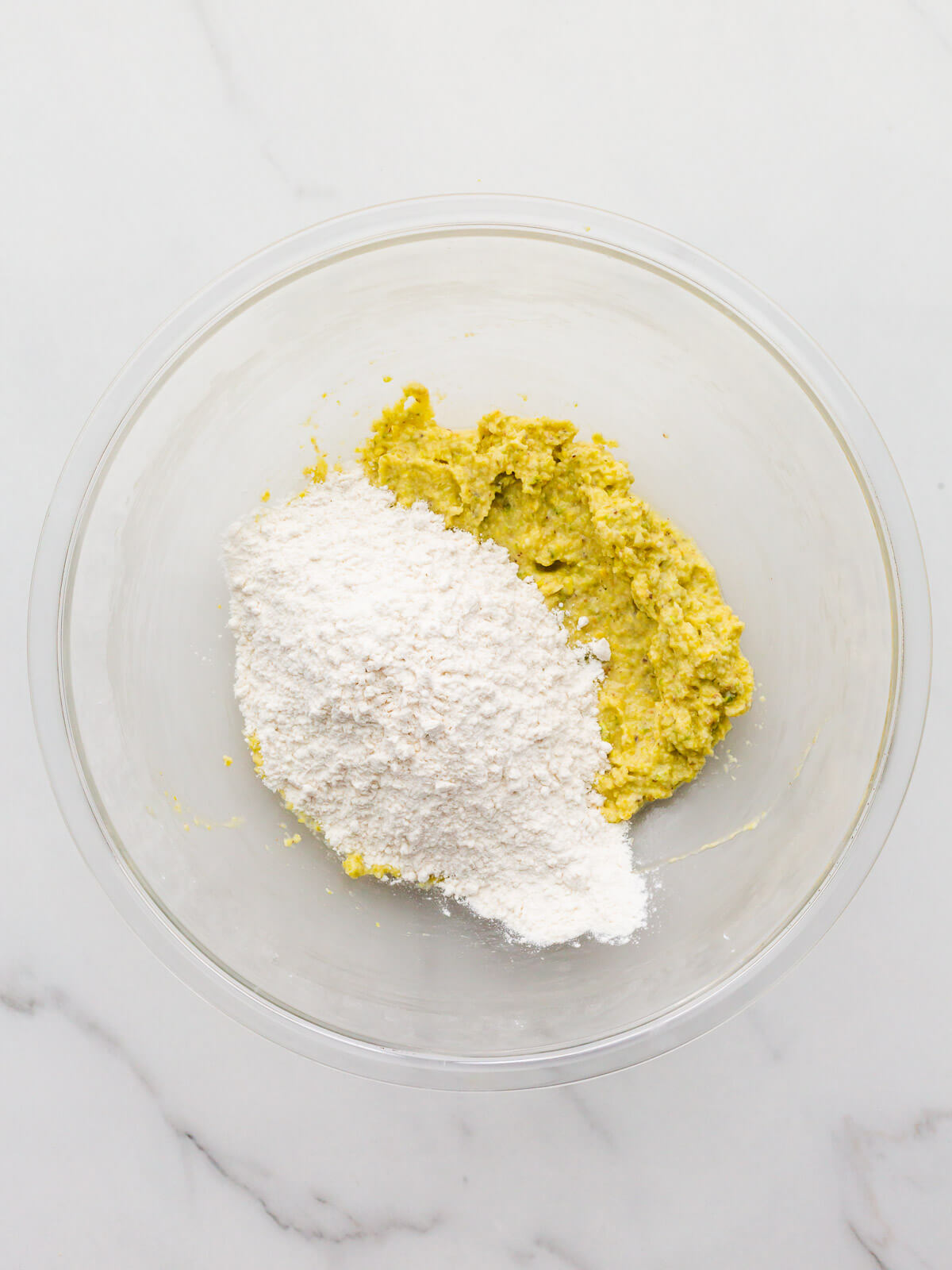 Stir in the whisked dry ingredients.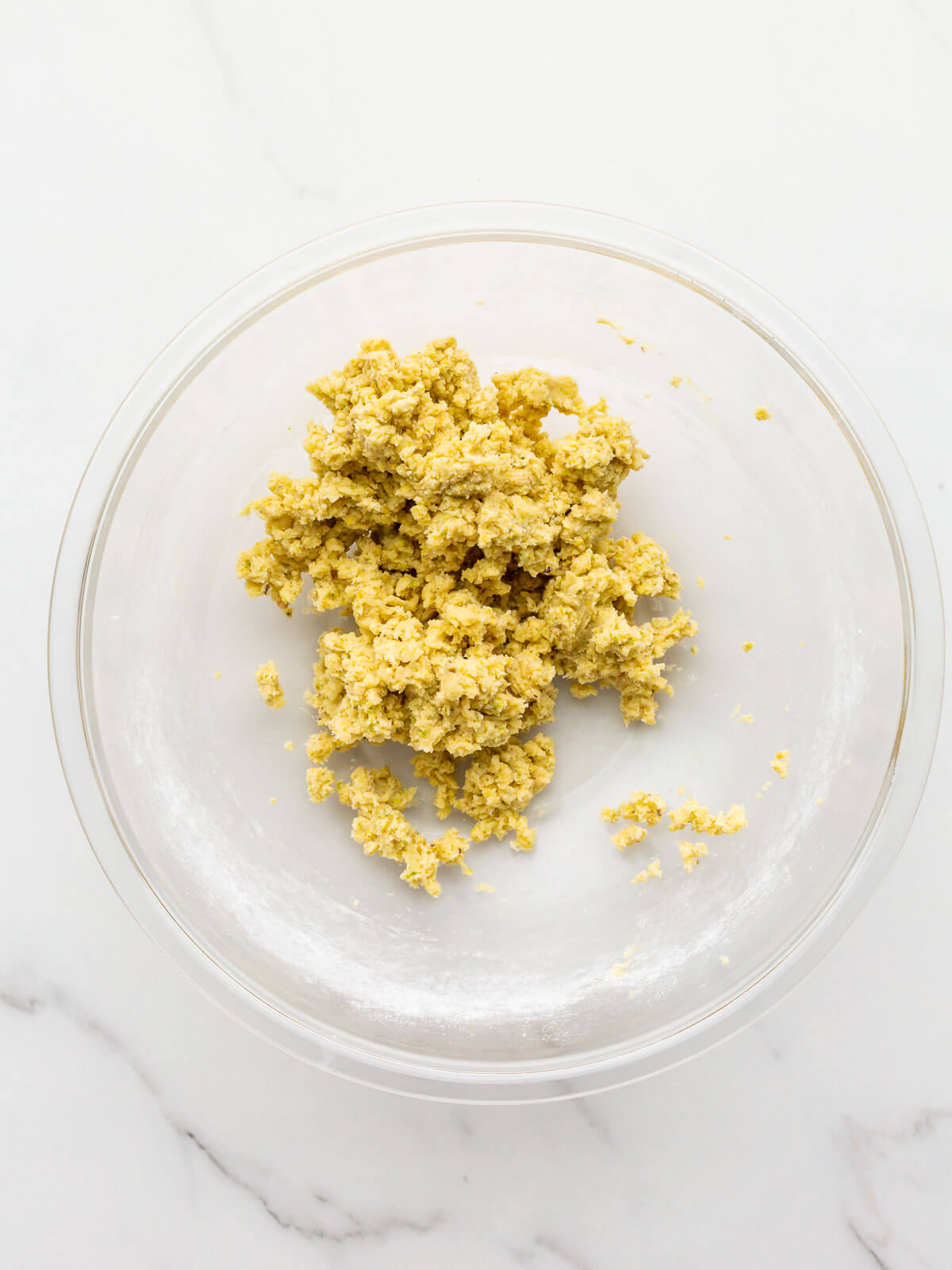 Stir it all together until it's evenly mixed and a dough forms.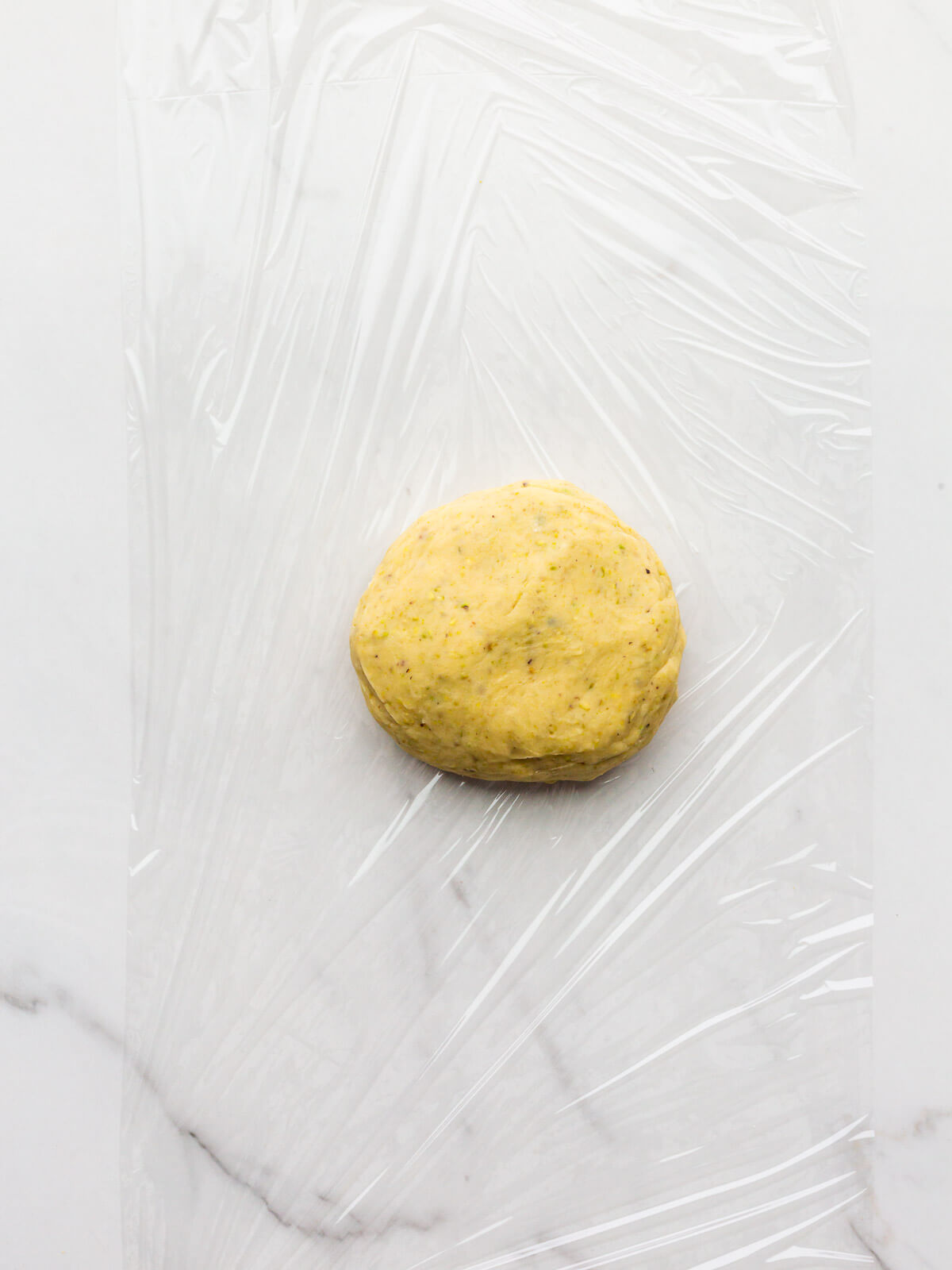 Shape the pistachio tart dough into a disk on a piece of plastic wrap.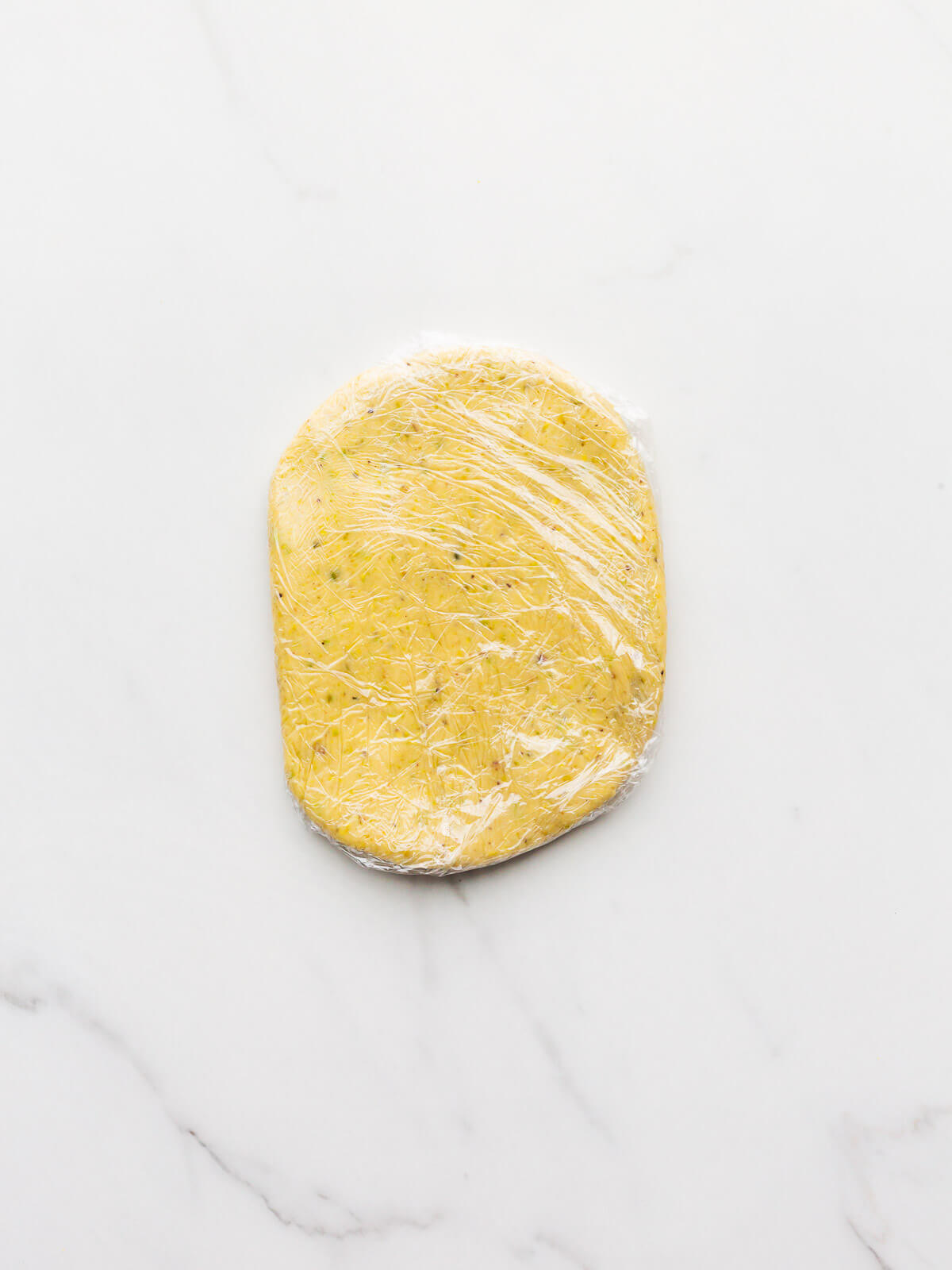 Flatten it out and wrap the dough tightly to refrigerate for an hour.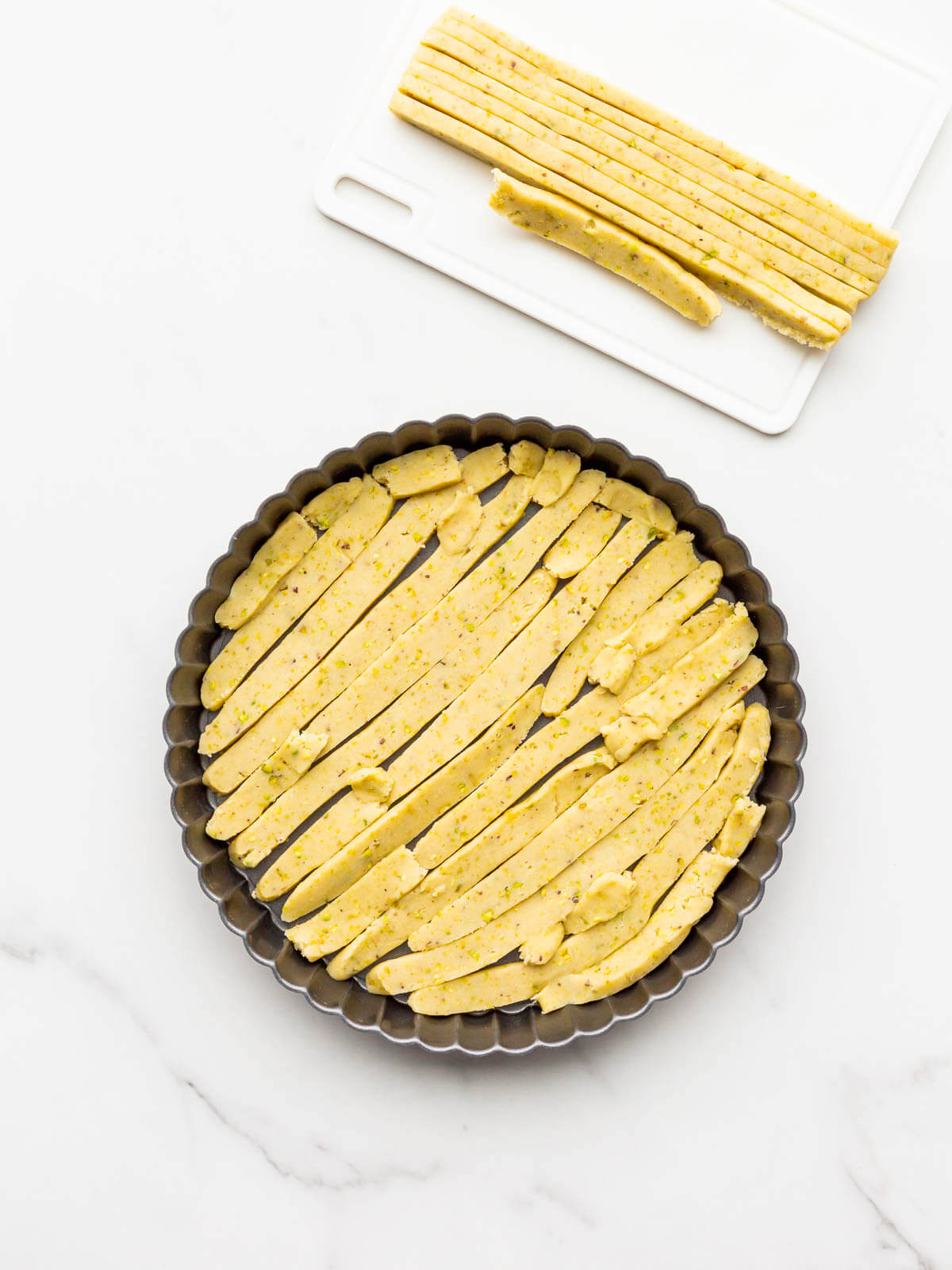 Slice the cold dough into thin strips to line the bottom and sides of a tart pan.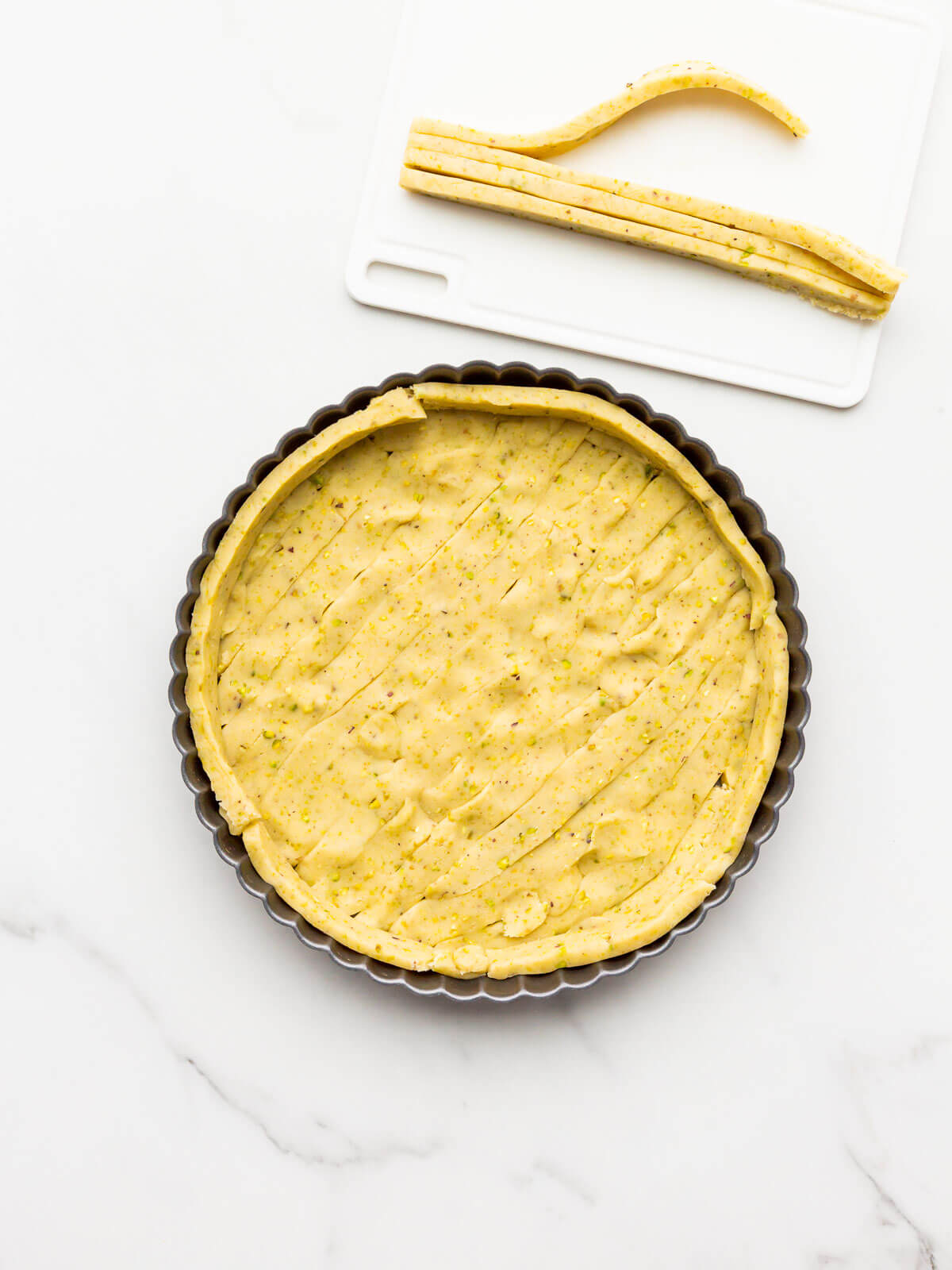 Press the dough strips together to form a smooth tart shell from edge to edge with no gaps or holes.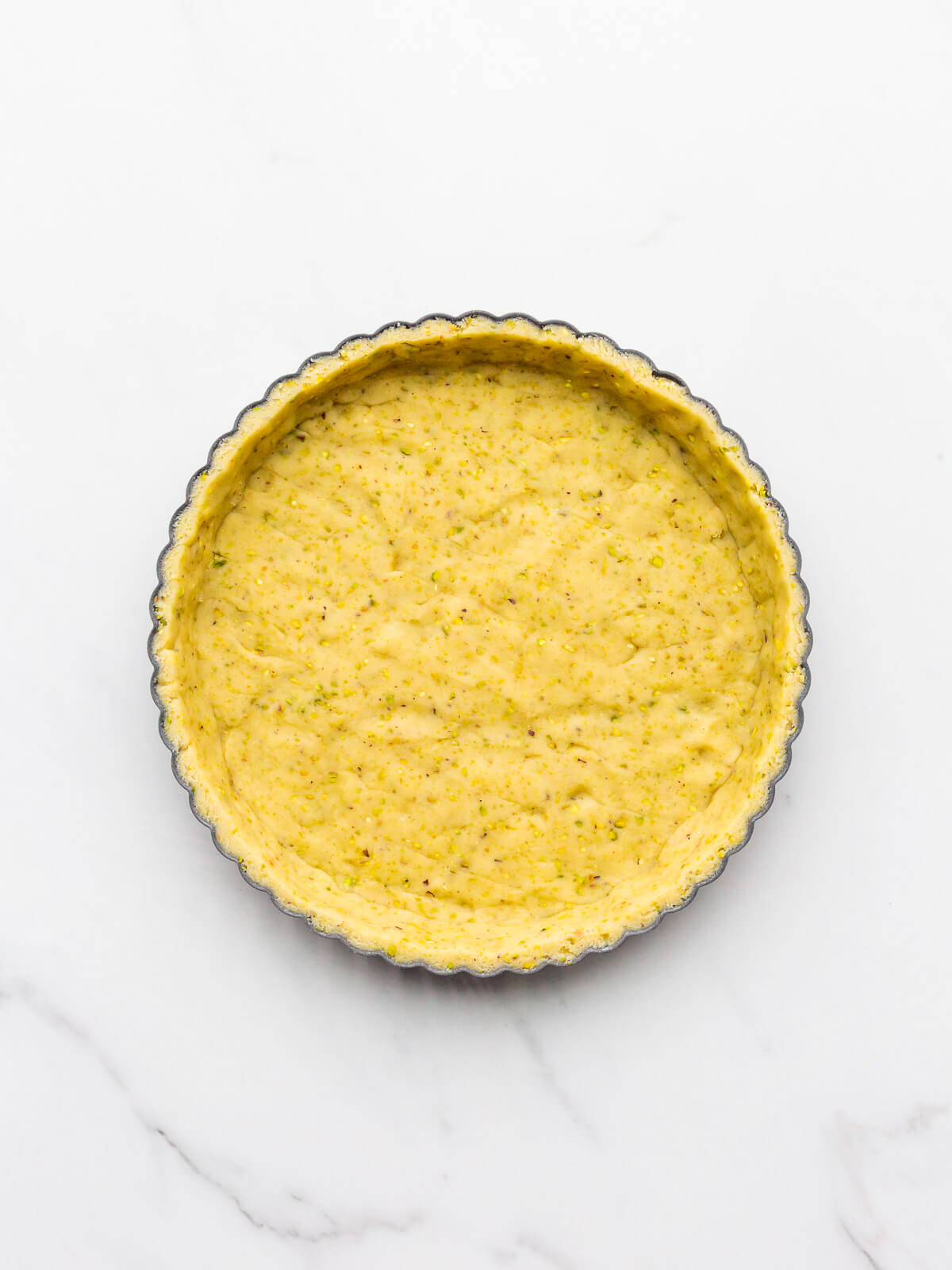 Press into patties on the tray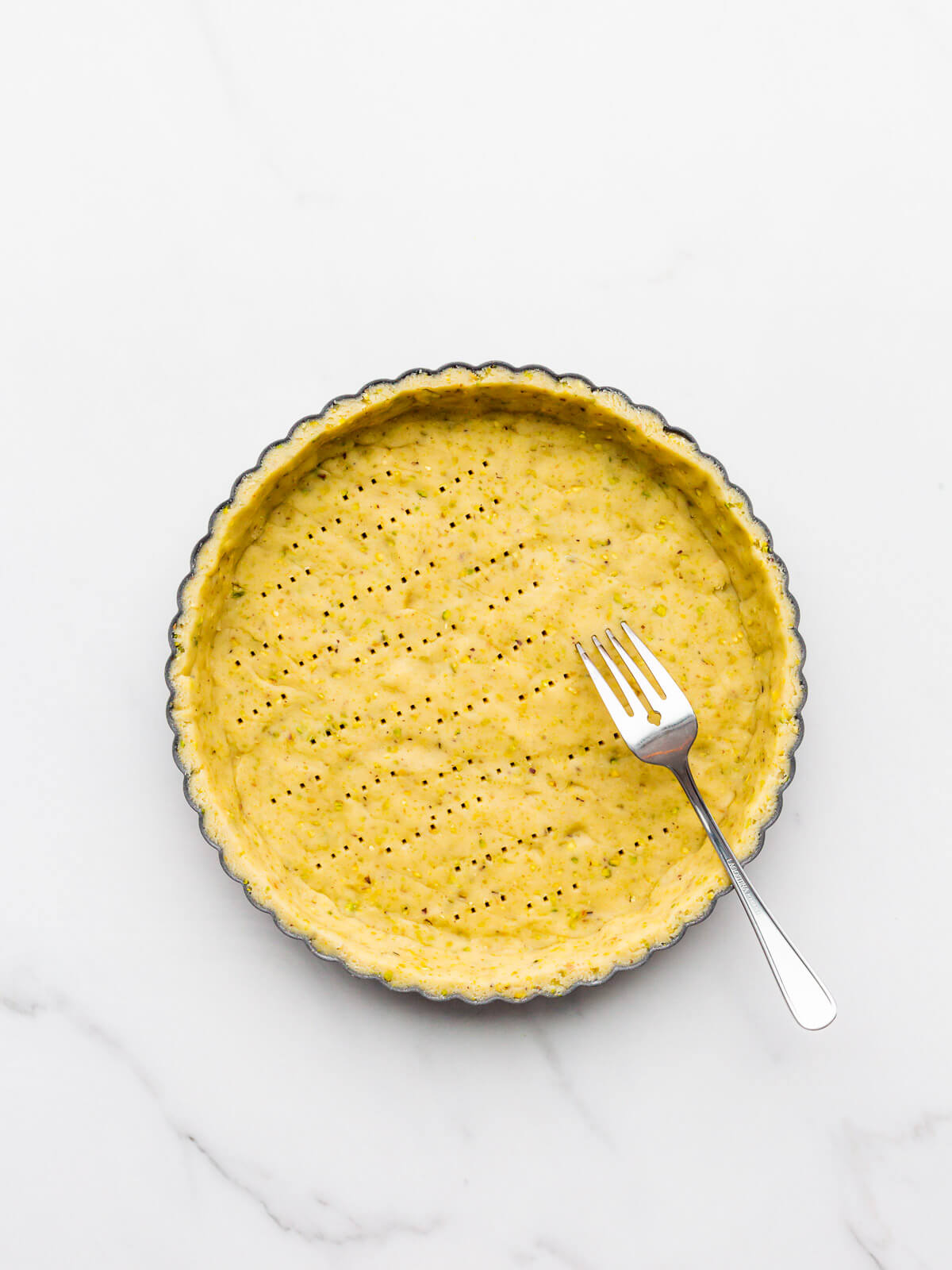 Use a fork to dock the pastry and poke holes that will act as steam vents as the tart shell bakes.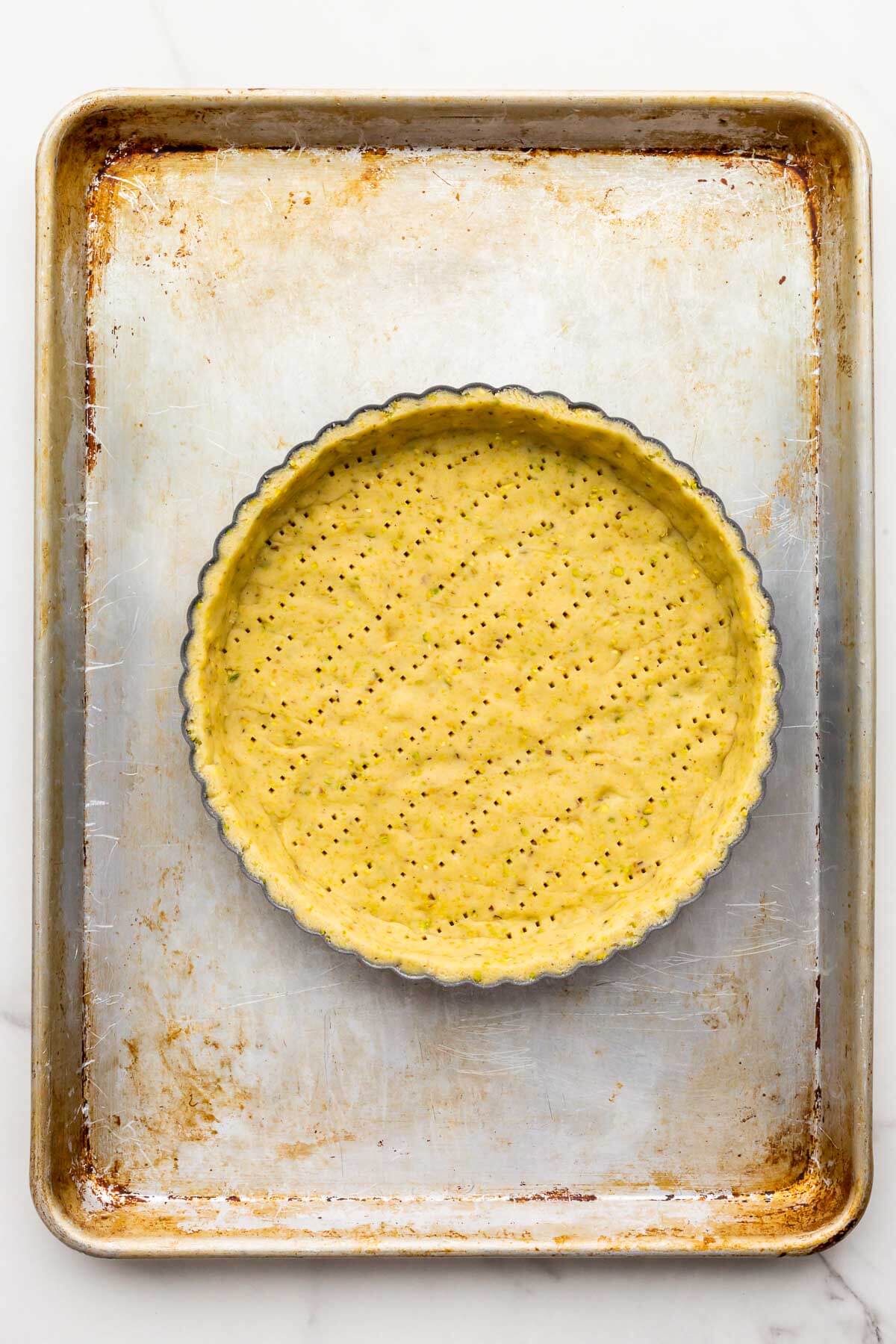 Place the unbaked tart shell on a sheet pan to make moving it in and out of the oven easier.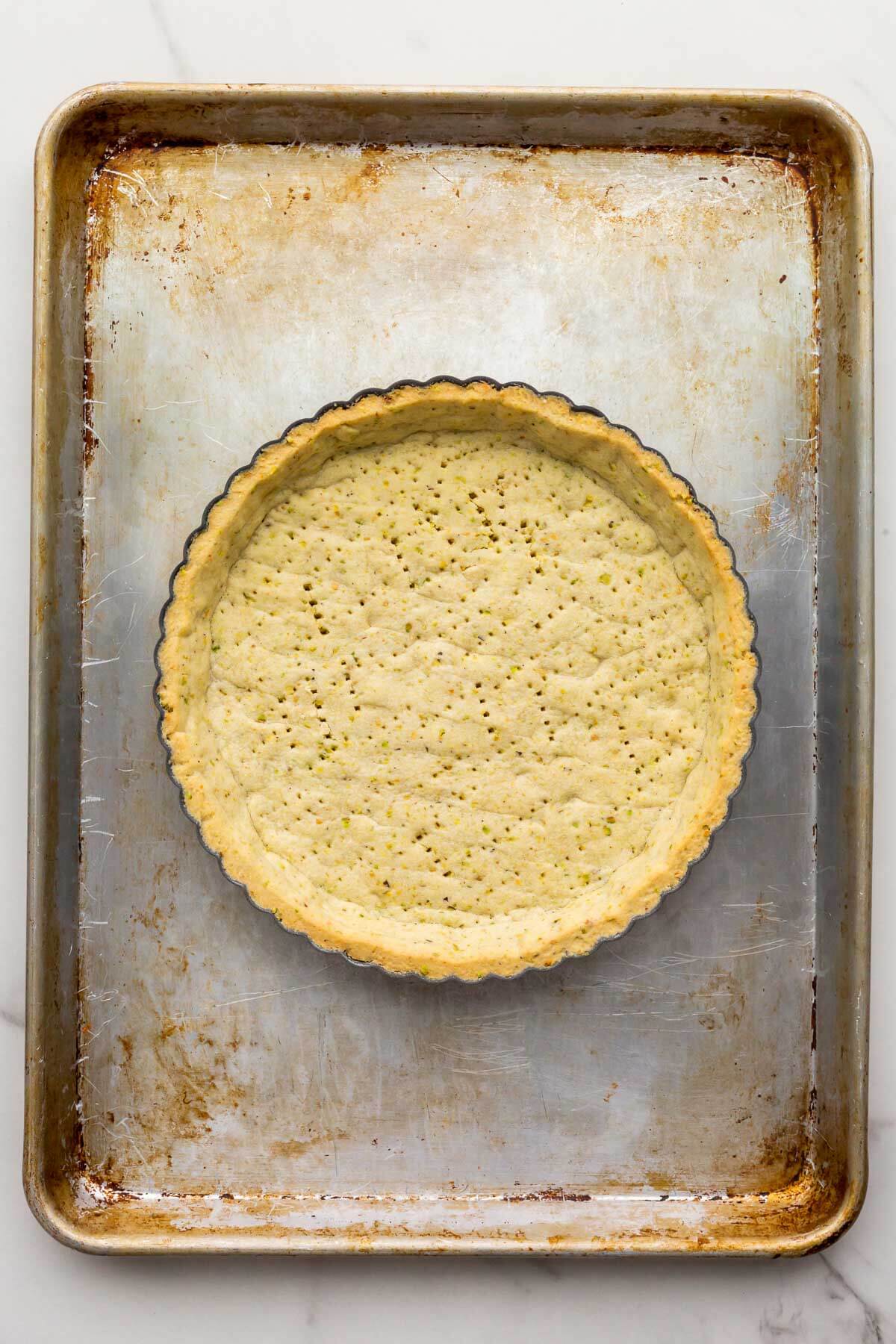 Bake the tart shell at 350 °F until set and dry. Let it cool before filling (about 20 minutes).
How to make pistachio cream and bake the tart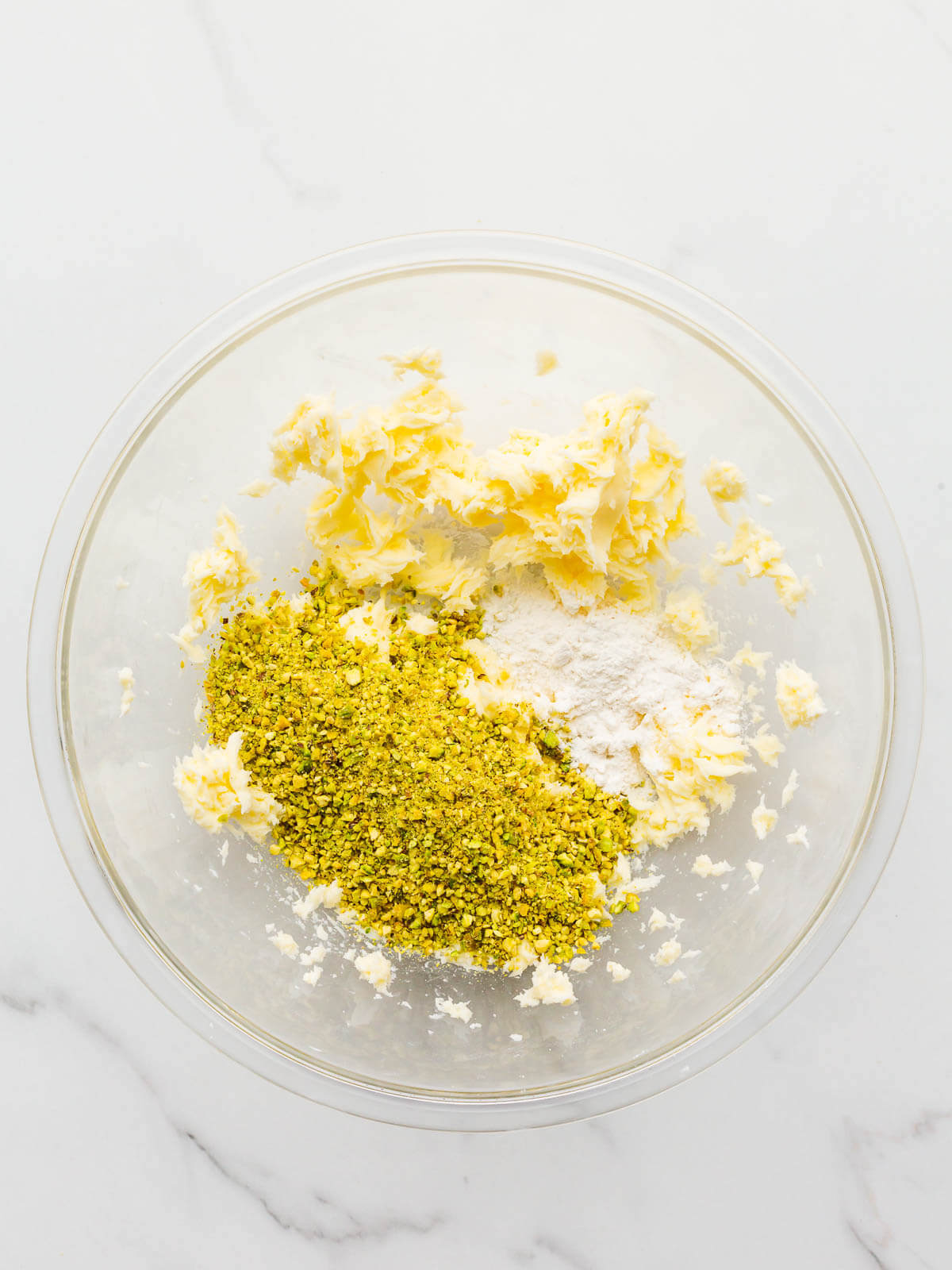 While the tart shell is baking, cream the butter, icing sugar, flour, and ground pistachios.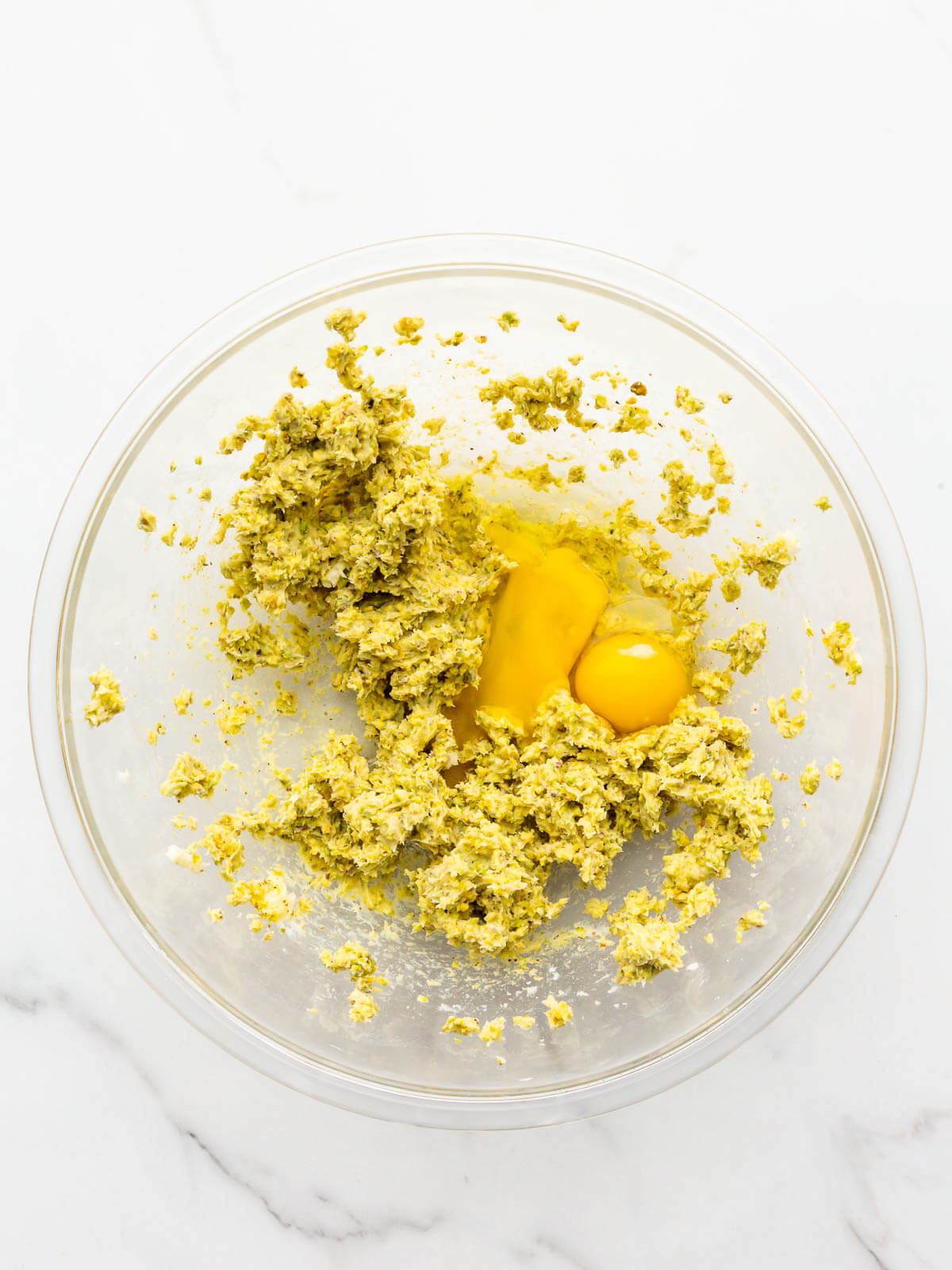 Add in the egg, rum, and vanilla to bind the filling ingredients together.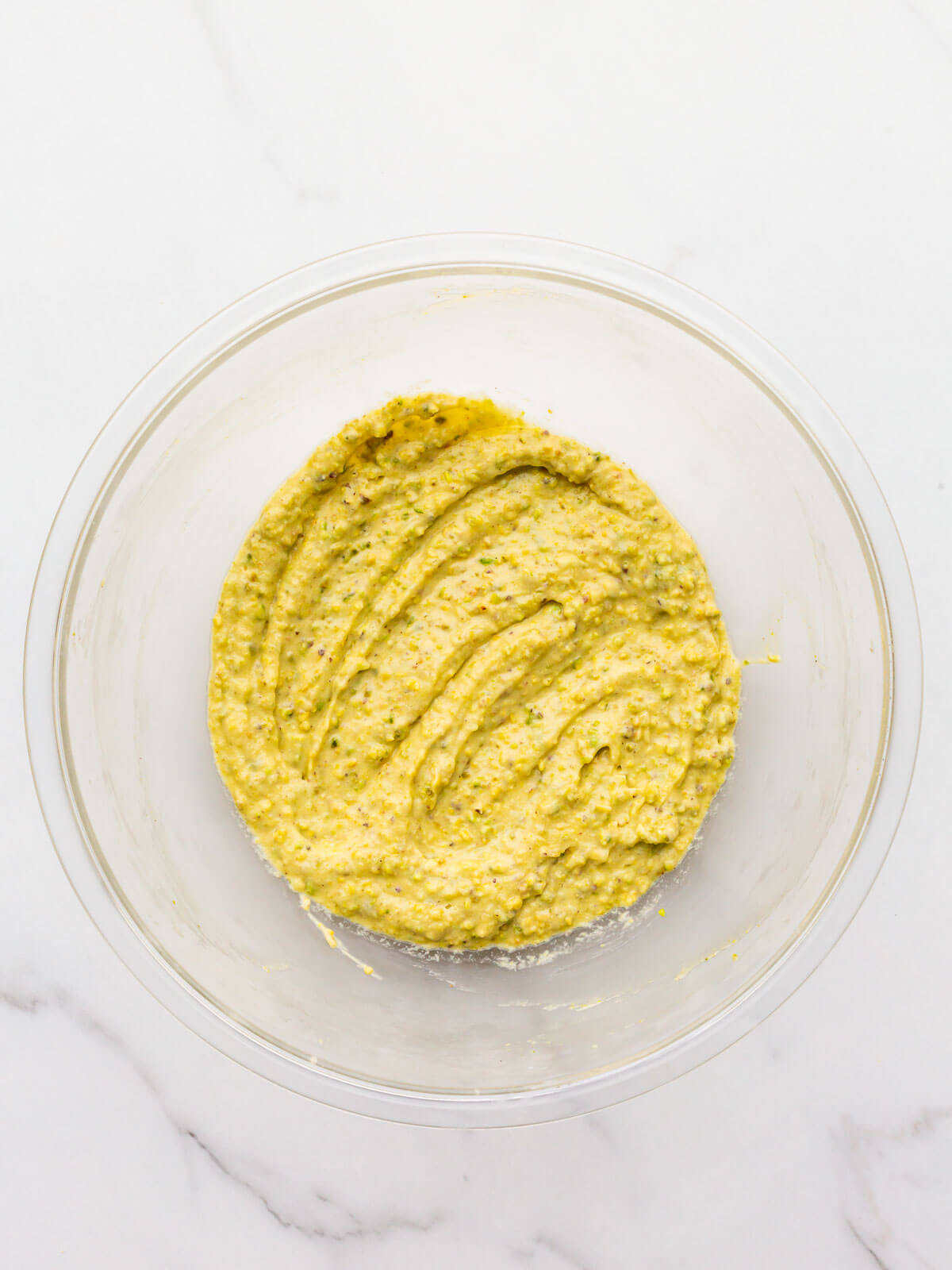 The pistachio filling should be creamy and evenly mixed.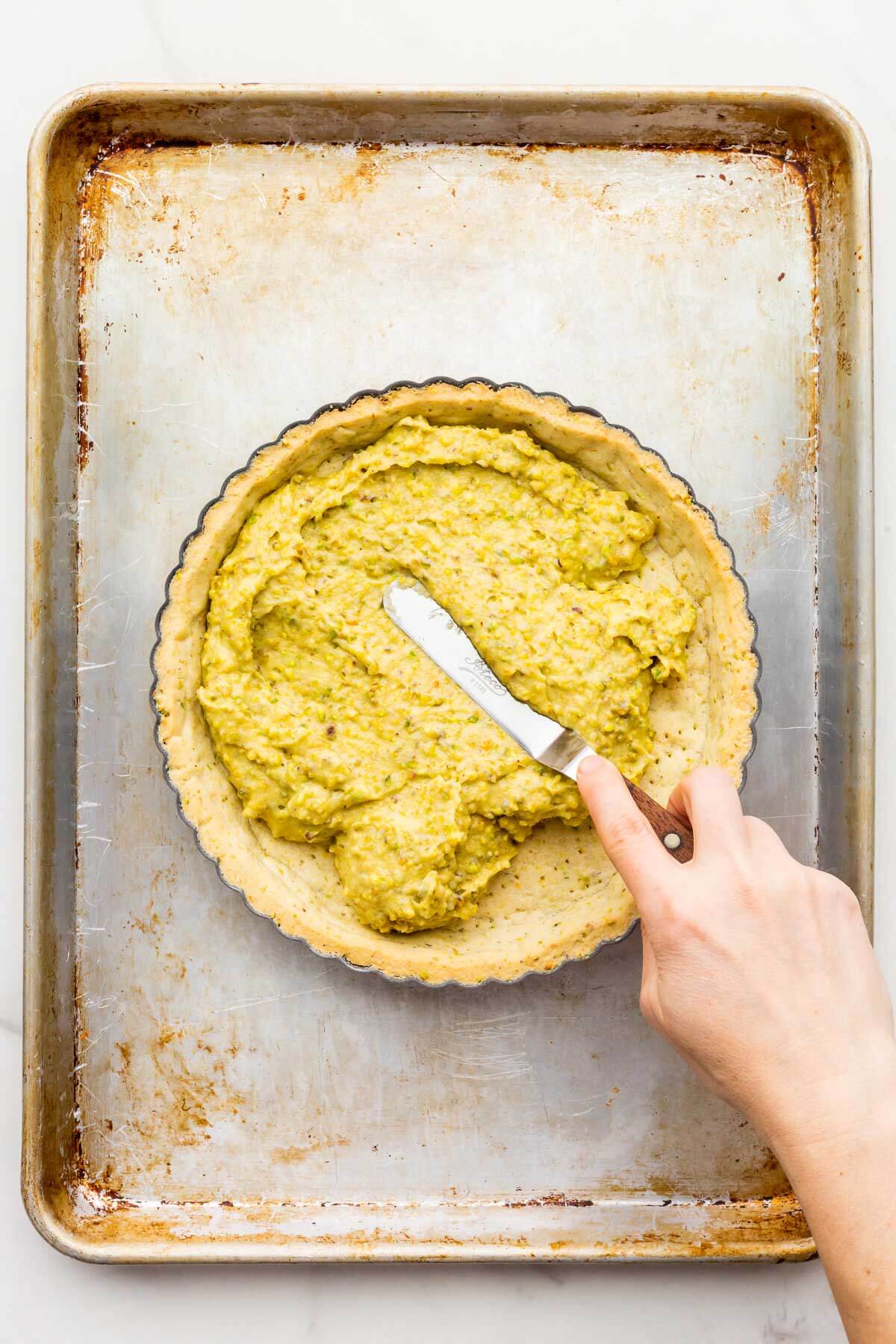 Fill the baked tart shell with the pistachio frangipane using a mini offset spatula.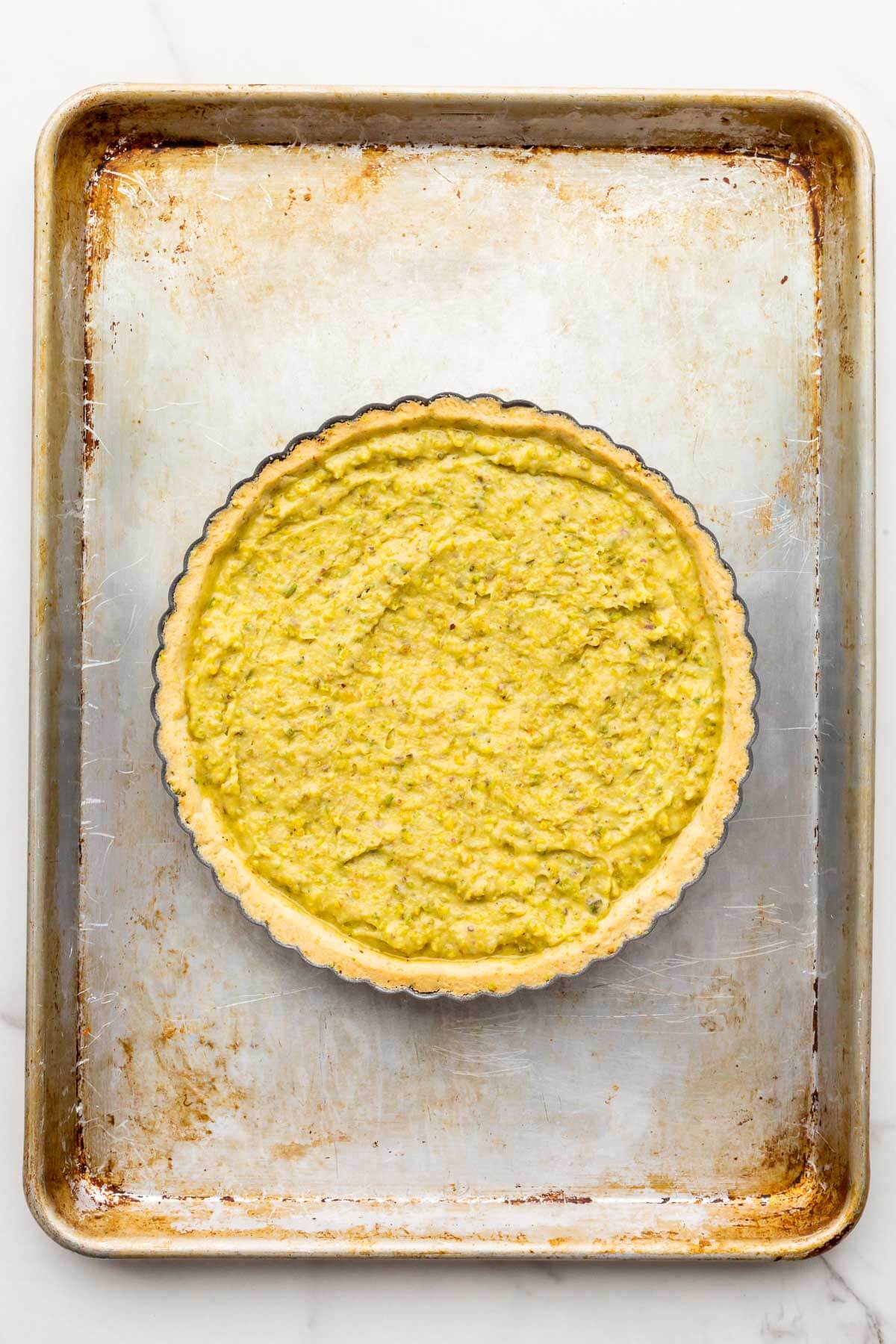 Smooth the filling from edge to edge.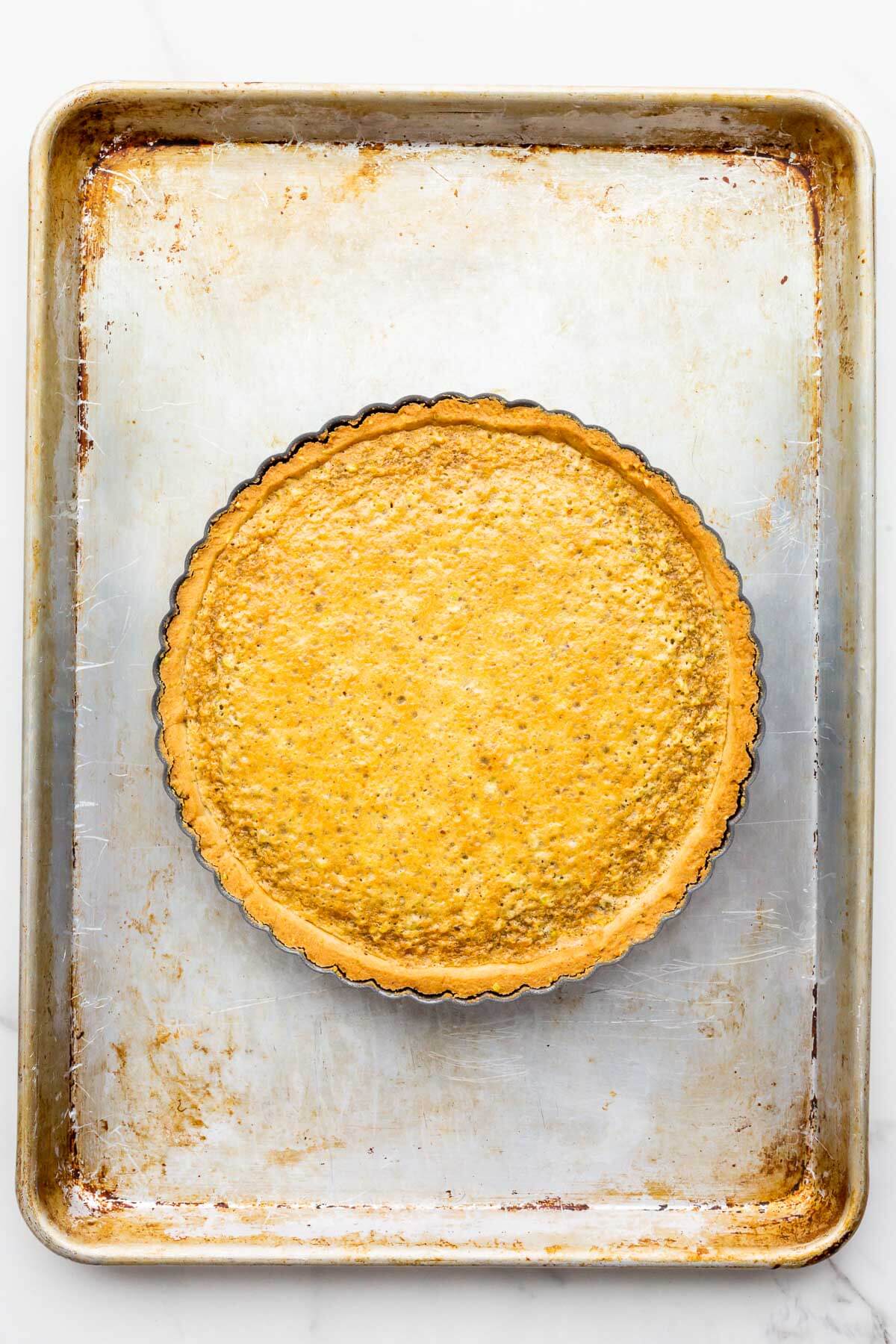 Bake the tart until golden brown and the filling is set.
Once the tart has baked and cooled completely, all you have to do is unmould it and then decorate it, either:
dusting the tart with powdered sugar and more ground pistachios
garnishing the top with fresh fruit or canned fruit (like slices of poached pears or canned peaches)
Tip: when buying canned fruit, read the ingredients and make sure to buy fruit packed in syrup or fruit juice. Verify that the ingredients feature sugar, as opposed to an alternative sweetener. Canned fruits packed in water are often sweetened with sucralose and the fruit tend to be cloyingly sweet, so much so that you can't taste the fruit as well.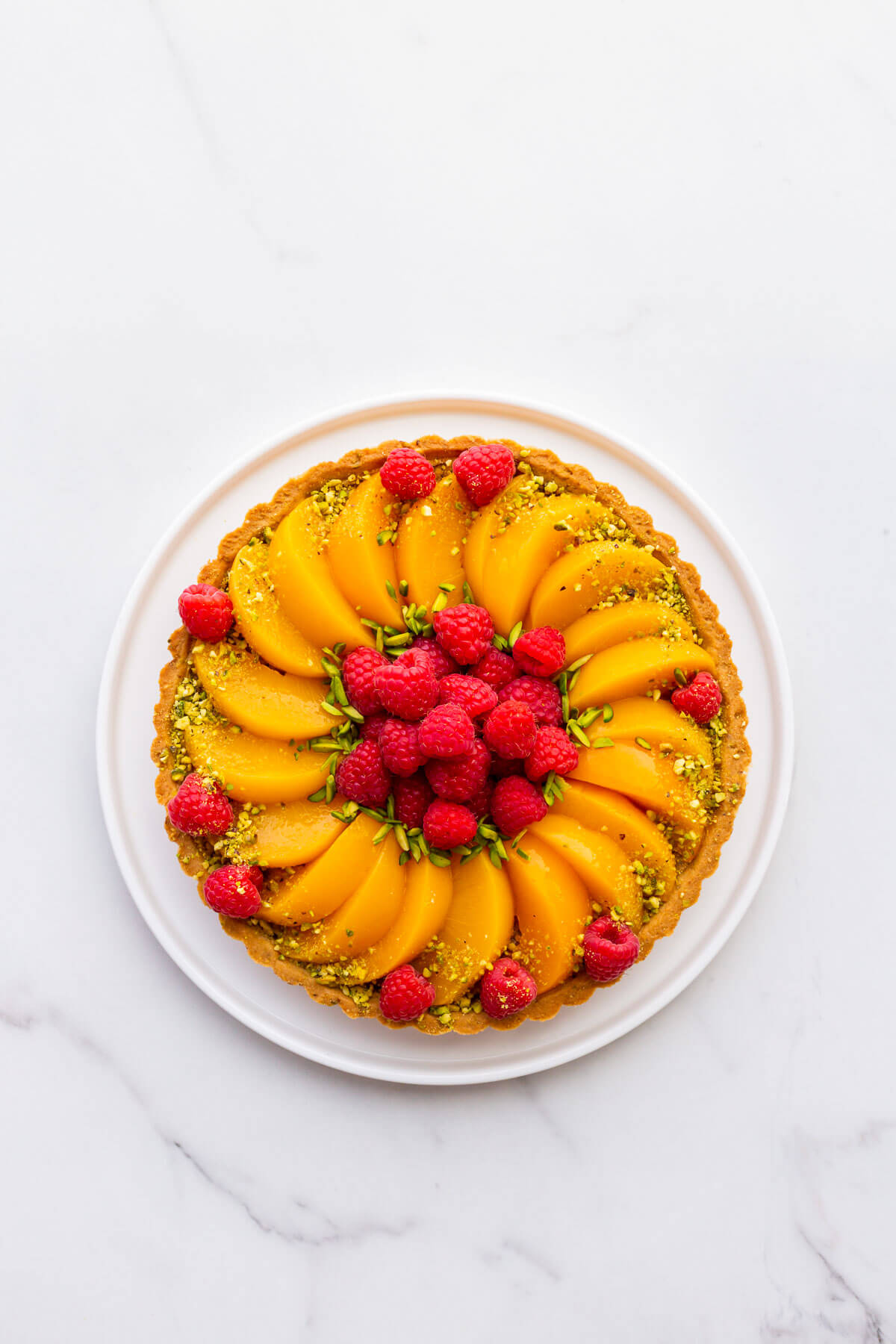 Equipment
You don't need any special equipment to make this recipe but you will definitely need a tart pan with a removable bottom so that you can easily get the tart out of the pan to serve it on a plate.
A tart pan is preferable to a pie plate for this recipe so that you can unmould the tart, and also get the pretty fluted edge. Remember, when it comes to unmolding the tart, use this trick to remove your tart from a tart pan with removable bottom.
Besides the tart pan, you will also need:
a sheet pan—because we bake tarts in tart pans with a removable bottom, there is a big risk that, if you aren't paying attention when loading it into and out of the oven, you may grab the pan in the wrong way, un-moulding or breaking the tart shell, especially if it's still hot and fragile. To avoid this, always place your tart pan on a sheet pan. This way, you move the sheet pan from the fridge to the counter and then to the oven, thus protecting your tart shell.
You can mix the dough and the filling by hand, but an electric hand mixer or a stand mixer will make the job easier!
If you can't find ground pistachios, you will need to grind the shelled raw pistachios in a mini food processor.
Storage
This pistachio tart should be refrigerated, once cooled, especially after garnishing with fruit.
You could also freeze the baked tart (ungarnished) after cooling completely. Once frozen solid, wrap it tightly in several layers of plastic wrap and then slip it into a freezer bag. Defrost the tart overnight in the fridge, then garnish with fruit just before serving.
Serving suggestions
This pistachio tart, whether garnished with fruit or not, would be great served à la mode with a scoop of ice cream. Browse through the ice cream recipes to find a flavour that would pair nicely with your version of this pistachio tart!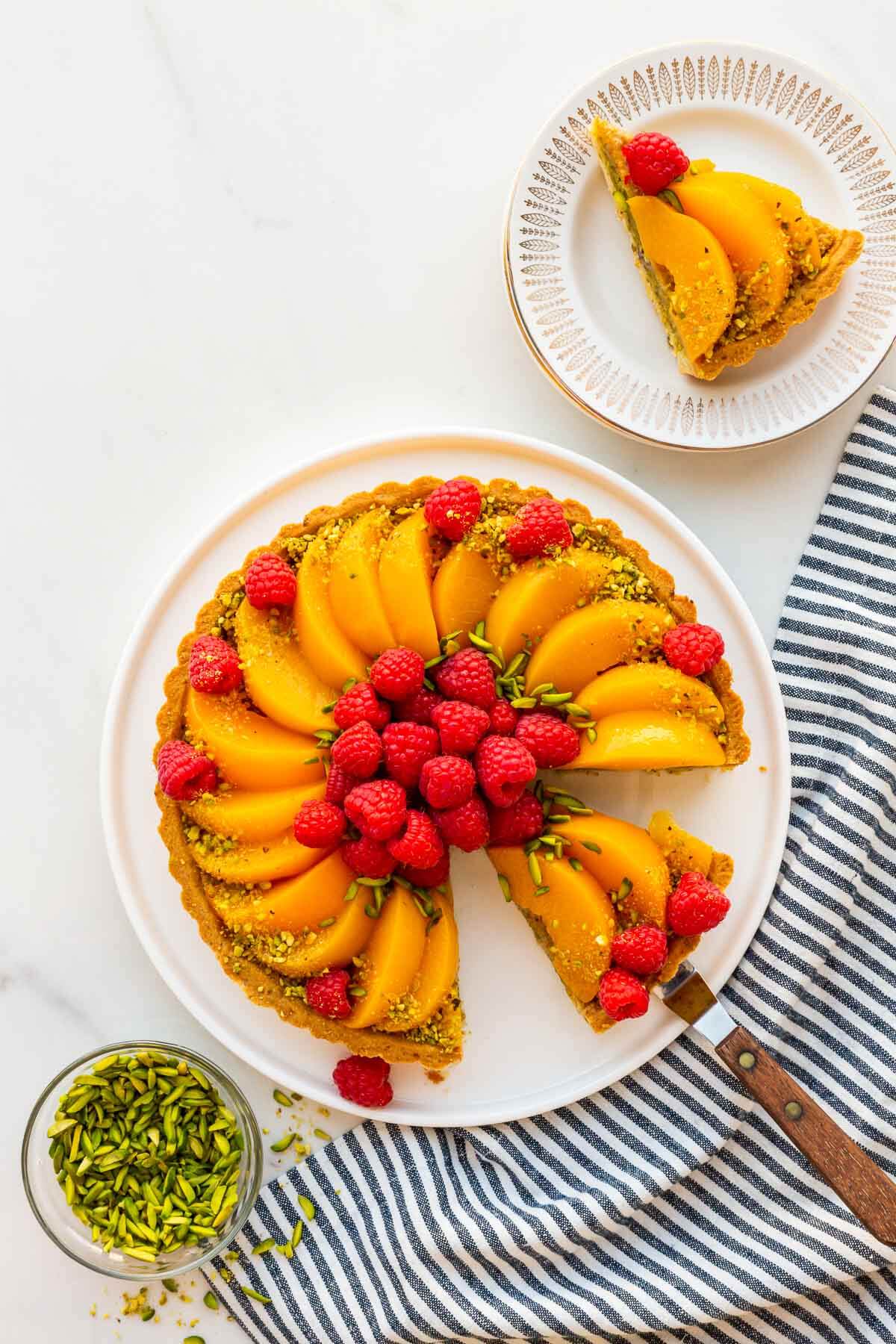 Frequently asked questions
Is tart dough the same as pie dough?
Most tart doughs are quite different from pie dough. Pie dough is unsweetened (or maybe has a tablespoon or two of sugar in it), whereas tart dough is often a sweet cookie dough similar to a sablé cookie dough or a sugar cookie dough. Pie dough and tart dough are not usually interchangeable.
Why is a tart called a tart?
In French, the word "tarte" refers to both pies and tarts, actually, though in English, a tart is usually a baked good with a single crust on the bottom and it's often decorated with fresh fruit (though not always)!
What is pistachio cream?
Pistachio cream can either refer to a sweet pistachio butter spread made from ground pistachios and sugar (similar concept to the chocolate hazelnut spread called Nutella) that can be eaten unbaked OR a filling made from butter, sugar, ground pistachios, and eggs that has to be baked. Pistachio cream is sometimes called pistachio frangipane.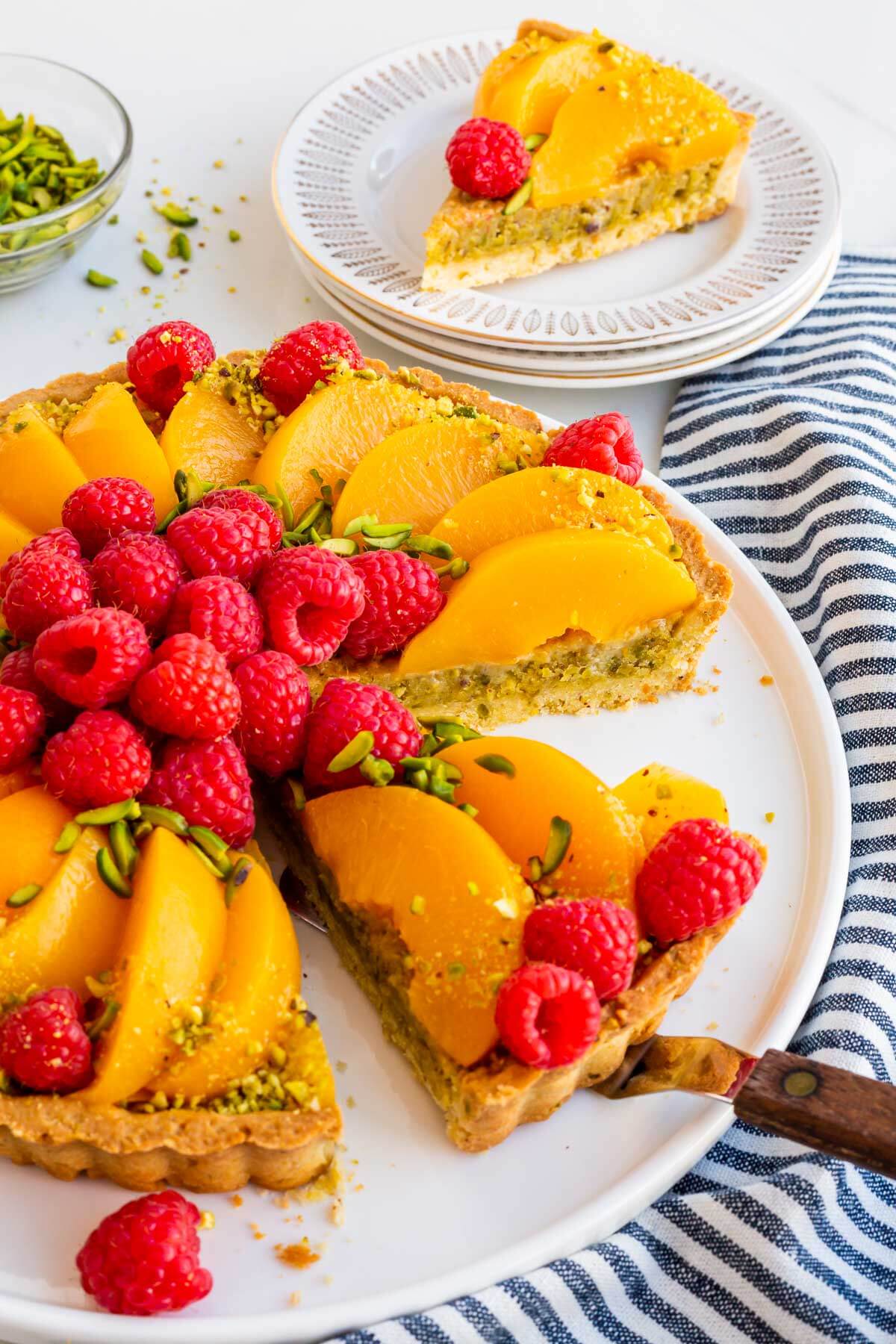 Related
Looking for other tart recipes like this? Here are some popular ones:
📖 Recipe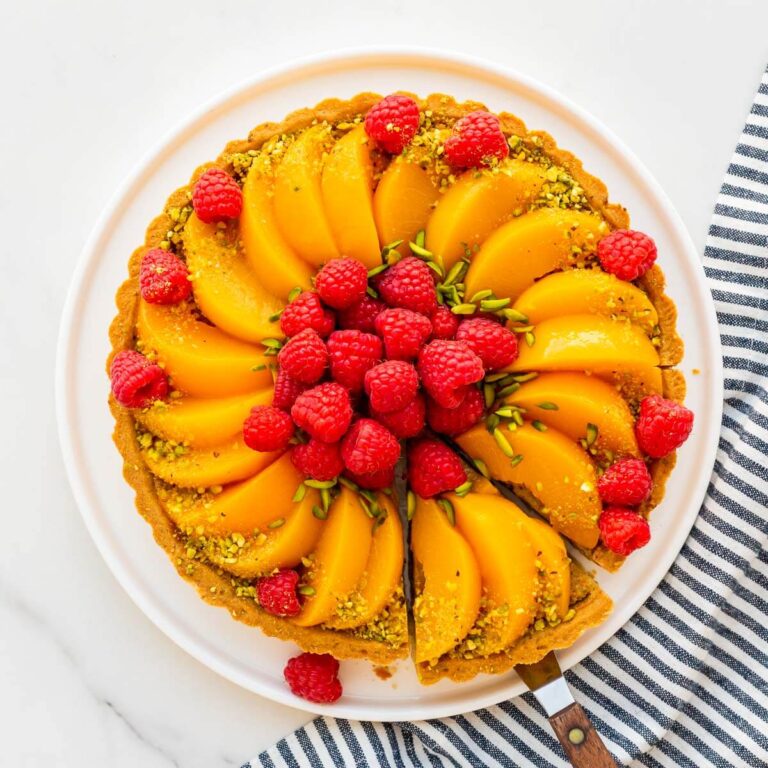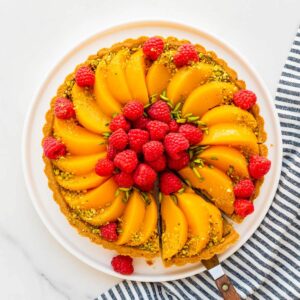 Pistachio Tart
This easy pistachio tart is made with a sweet pistachio cookie crust and a pistachio cream filling. You can serve it as is, or garnish it with fruit, like peaches and raspberries.
Ingredients
Pistachio tart crust
86

grams

unsalted butter

room temperature

63

grams

icing sugar

33

grams

ground pistachios

1

large egg(s)

156

grams

bleached all-purpose flour

1.25

mL

Diamond Crystal fine kosher salt
Pistachio cream filling (pistachio frangipane)
115

grams

unsalted butter

125

grams

icing sugar

120

grams

ground pistachios

12

grams

bleached all-purpose flour

2

large egg(s)

15

mL

spiced or dark rum

10

mL

pure vanilla extract
Garnish options
fresh raspberries

large peaches

sliced, or canned peaches

ground pistachios

or slivered pistachios
Instructions
To make the pâte sablée or coffee cookie crust
In the bowl of an electric mixer fitted with the paddle attachment, cream together the butter with the icing sugar, and the ground pistachios.

Add the egg and beat it in, then mix in the flour and salt on low. Mix until the dough clumps together.

Gather the dough into a ball and flatten into a disk. Wrap it in plastic wrap and chill for 1 hour.

You will be using a 9-inch (23 cm) tart pan with removable bottom. Slice the disk of chilled dough into thin, equal strips, roughly ¼ inch thick. Line the bottom and sides of the tart pan with the strips, pressing them together to flatten the surface so there are no holes or gaps. You will use all the dough to line the pan in this way.

Place the pan on a baking sheet and chill the unbaked pastry shell for about 1 hour until it is cold and firm. You can speed this step up by freezing teh tart shell for 15–20 minutes.

Meanwhile, preheat the oven to 350ºF (175 °C). When the pastry is very cold, remove the baking sheet with the tart from the fridge. Using a fork, poke holes all over the crust.

Bake the tart shell on the middle rack of the oven for 20 to 30 minutes, until the edges are golden brown and have pulled away from the sides just a little. As the tart shell bakes, check on it every 5 to 10 minutes to make sure there aren't any air pockets forming. If you see a lump of air, just poke it with a tooth pick, a fork, or a wooden skewer to release the air. Press the pastry gently to smooth it out.

When the tart shell is completely baked, remove the sheet pan from the oven.

Allow the baked tart to cool for at least 15 minutes before unmolding. Check out my trick for unmolding a tart for this step. Cool completely on a wire rack. Place the unmolded baked tart shell on a serving plate.
Garnish options
Decorate the cooled tart with fruit (like fresh raspberries and sliced fresh or canned peaches) and sprinkle with ground pistachios and/or slivered pistachios.

Alternatively, you can also simply dust the top with powdered sugar and ground pistachios for a simpler look.
Nutrition
Calories:
313
kcal
Carbohydrates:
34
g
Protein:
4
g
Fat:
18
g
Saturated Fat:
11
g
Polyunsaturated Fat:
1
g
Monounsaturated Fat:
5
g
Trans Fat:
1
g
Cholesterol:
92
mg
Sodium:
82
mg
Potassium:
69
mg
Fiber:
2
g
Sugar:
19
g
Vitamin A:
579
IU
Vitamin C:
4
mg
Calcium:
19
mg
Iron:
1
mg