Lemon custard ice cream is an egg-yolk-based ice cream, flavoured with lemon zest and lemon juice! If you can make a custard sauce, you can make this lemon ice cream.
Disclosure: As an Amazon Associate, I earn from qualifying purchases.
Ice cream falls into two categories:
custard-based, made with egg yolks (or sometimes whole eggs)—the recipe below, as well as this cherry bourbon ice cream are custard-based and they start with a crème anglaise
Philadelphia style, which doesn't contain any eggs—this popcorn ice cream falls into this category
I am a fan of custard ice creams because I like the taste the egg yolks bring even to a flavour is simple as vanilla ice cream. And in this lemon custard ice cream recipe, the flavour is a lot like a creamy lemon curd or a lemon-flavoured creamsicle.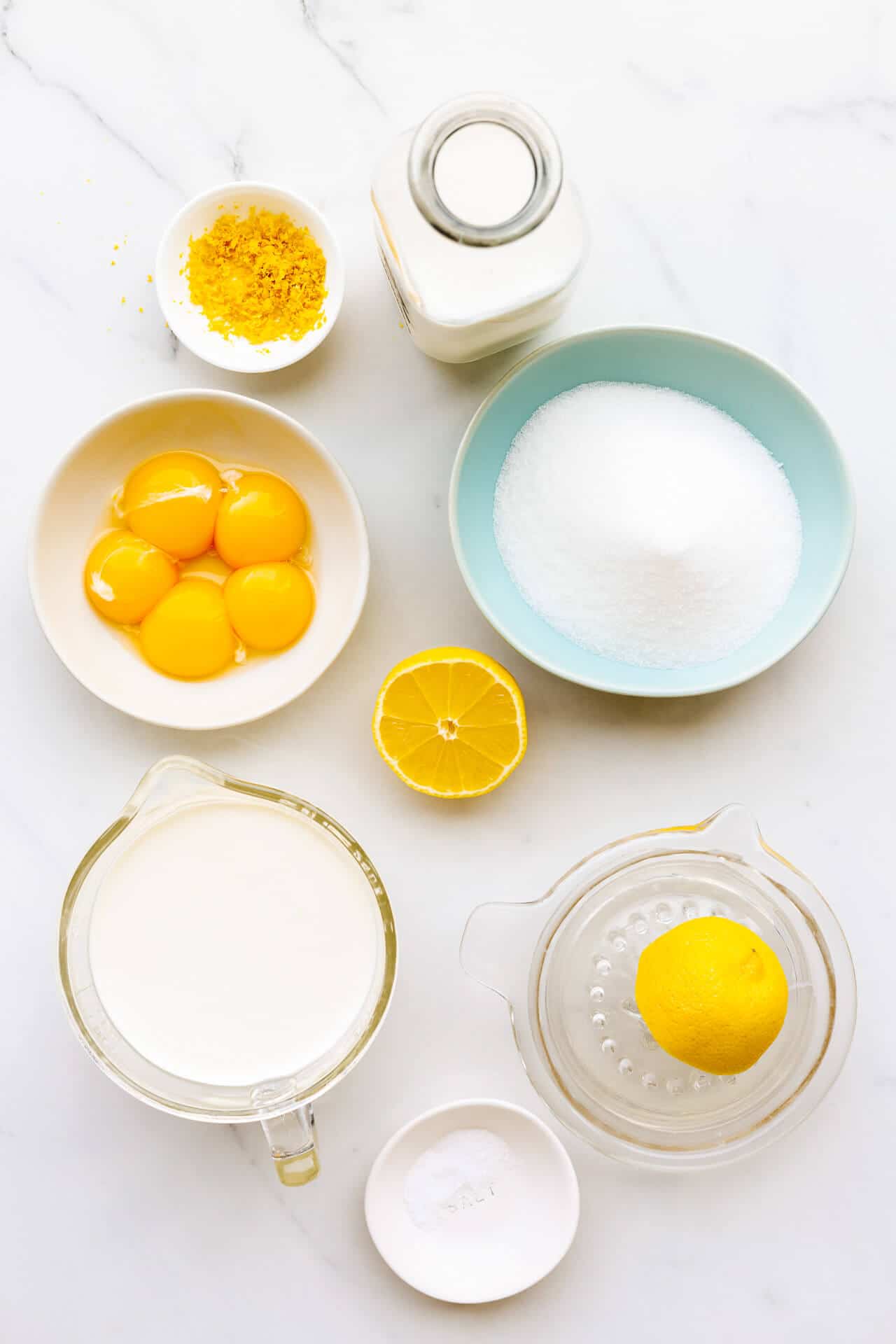 My starting point for this recipe came from 2 different sources: the Gourmet magazine lemon ice cream recipe from June 1993, and David Lebovitz's vanilla ice cream recipe, which uses egg yolks instead of whole eggs. This turned out to be a winning combination! I was eating it straight out of the ice cream maker because I couldn't hold back!
I opted to use egg yolks for the custard base because I wanted a real lemon custard flavour and the yolks would give a better colour to the ice cream, besides flavour and thickening power. Both lemon zest and lemon juice add a ton of flavour and a slight acidity that you would expect from a lemon curd or similar lemon-based dessert.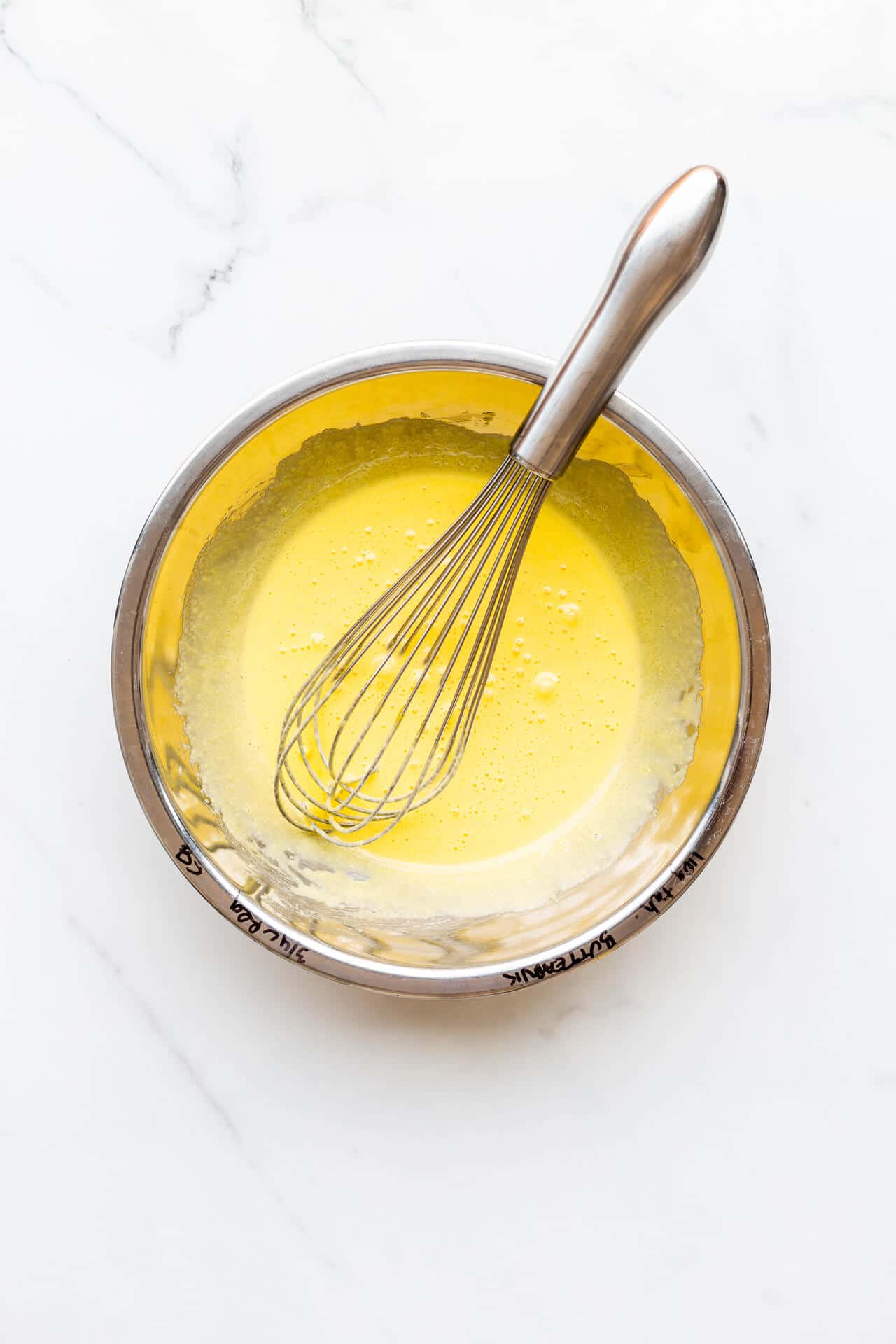 Custard-based ice creams are cooked on the stove first, like a crème anglaise (which is a French baking term for an egg-yolk based vanilla custard sauce). One vital step in the making of any custard or egg-based sauce is that you have to whip the yolks (or the eggs) with the sugar for several minutes, until the sugar has mostly dissolved and the mixture is lighter in colour: this steps is called "blanchir" because the egg yolks become very light in colour the more air you incorporate into them (see photo).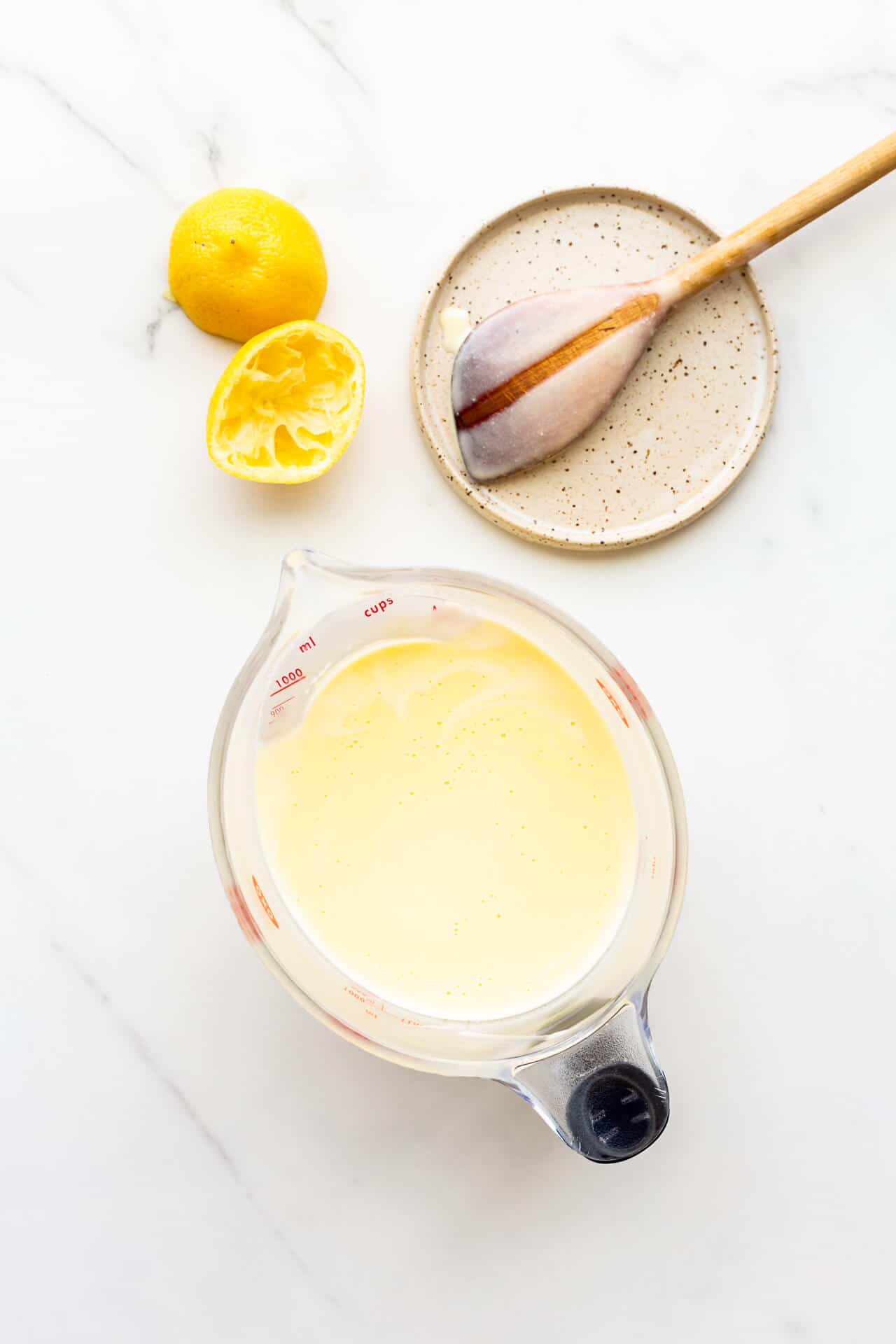 If you skip the step where you whip the yolks with the sugar, there is a big risk that your yolks will appear "cooked" and you will see little flecks of solid egg yolk when you go to incorporate them with the milk. And if that happens, the egg yolks can't do their job properly which is thickening and emulsifying the custard.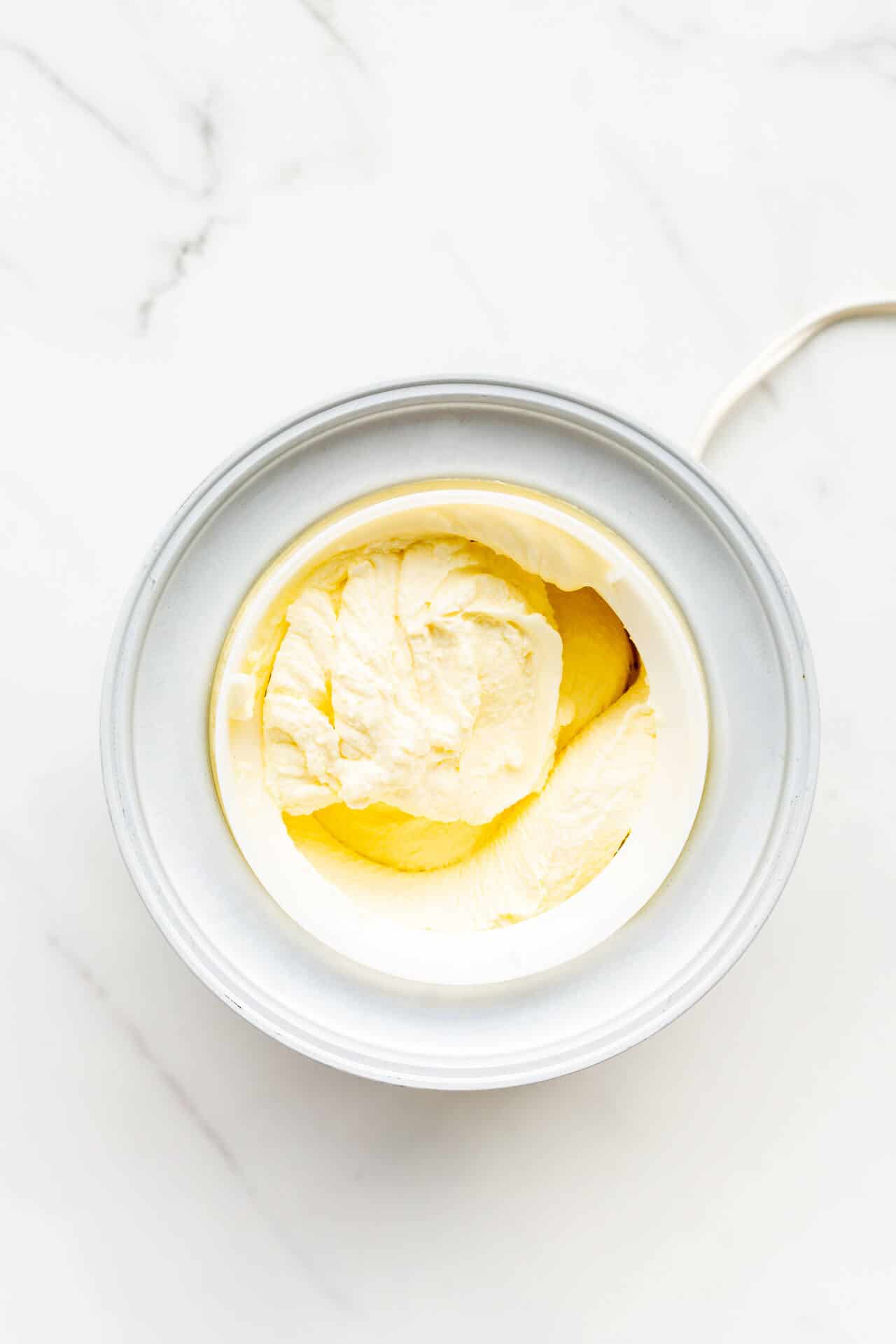 Remember with homemade ice creams that are custard based with milk and cream, these tend to freeze quite hard. Commercial ice cream has more air in it, especially the cheaper kinds that are sold by volume. Companies incorporate more air into the ice cream as it churns, thereby bulking it up so that less ice cream ingredients are needed to fill up a bigger tub. Sneaky!
All that to say, that higher end ice cream companies like Ben & Jerry's and Häagen-Dazs, among others, make ice cream that freezes hard, as does homemade ice creams like the recipe below. When it's time to scoop, take the ice cream out of the freezer 10 to 15 minutes before serving to give it time to soften.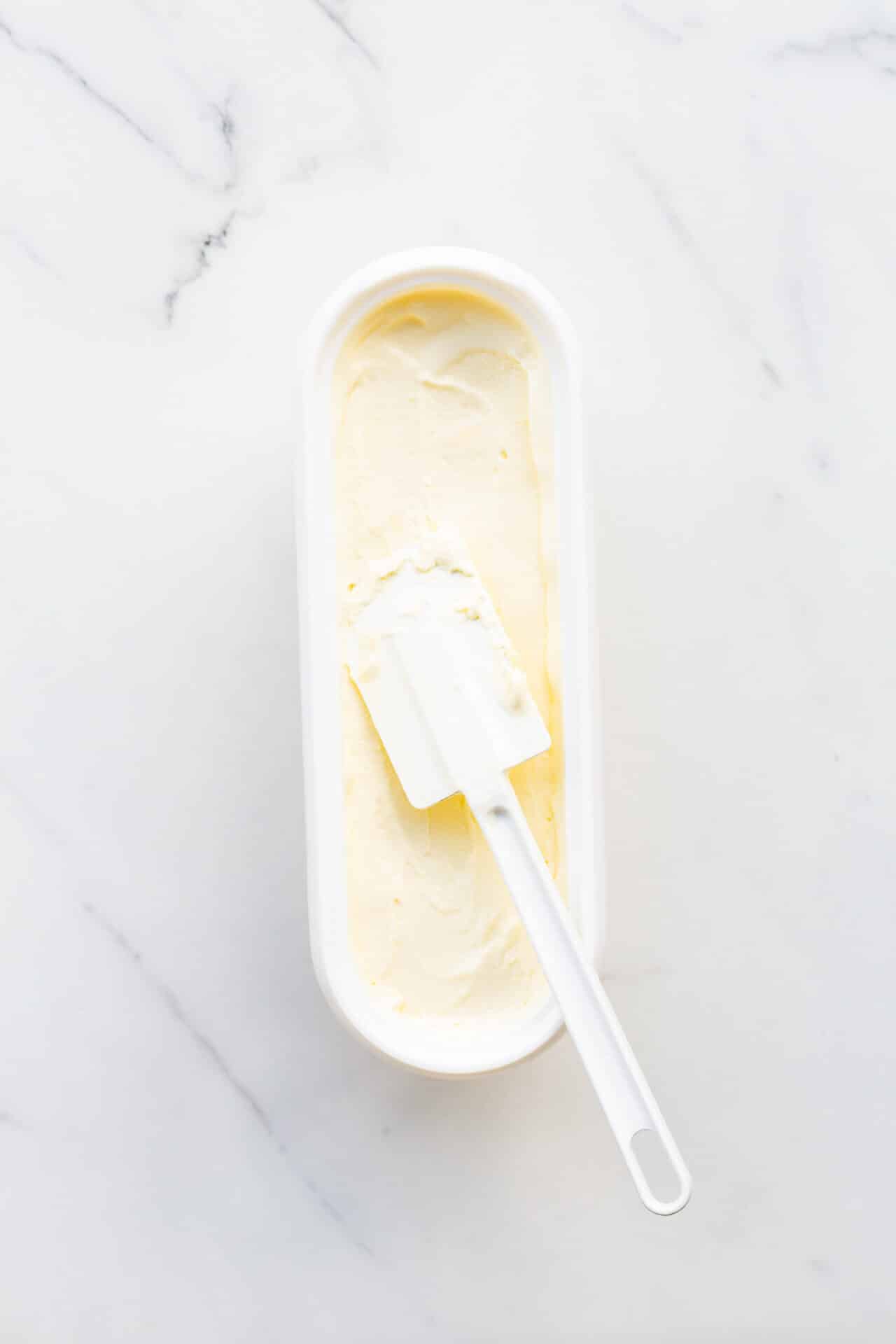 Here's the recipe that resulted from the combination of the two recipes. Feel free to use this recipe to make homemade ice cream sandwiches or ice cream strawberry shortcake! And for something different, try this popcorn ice cream or this cherry bourbon ice cream.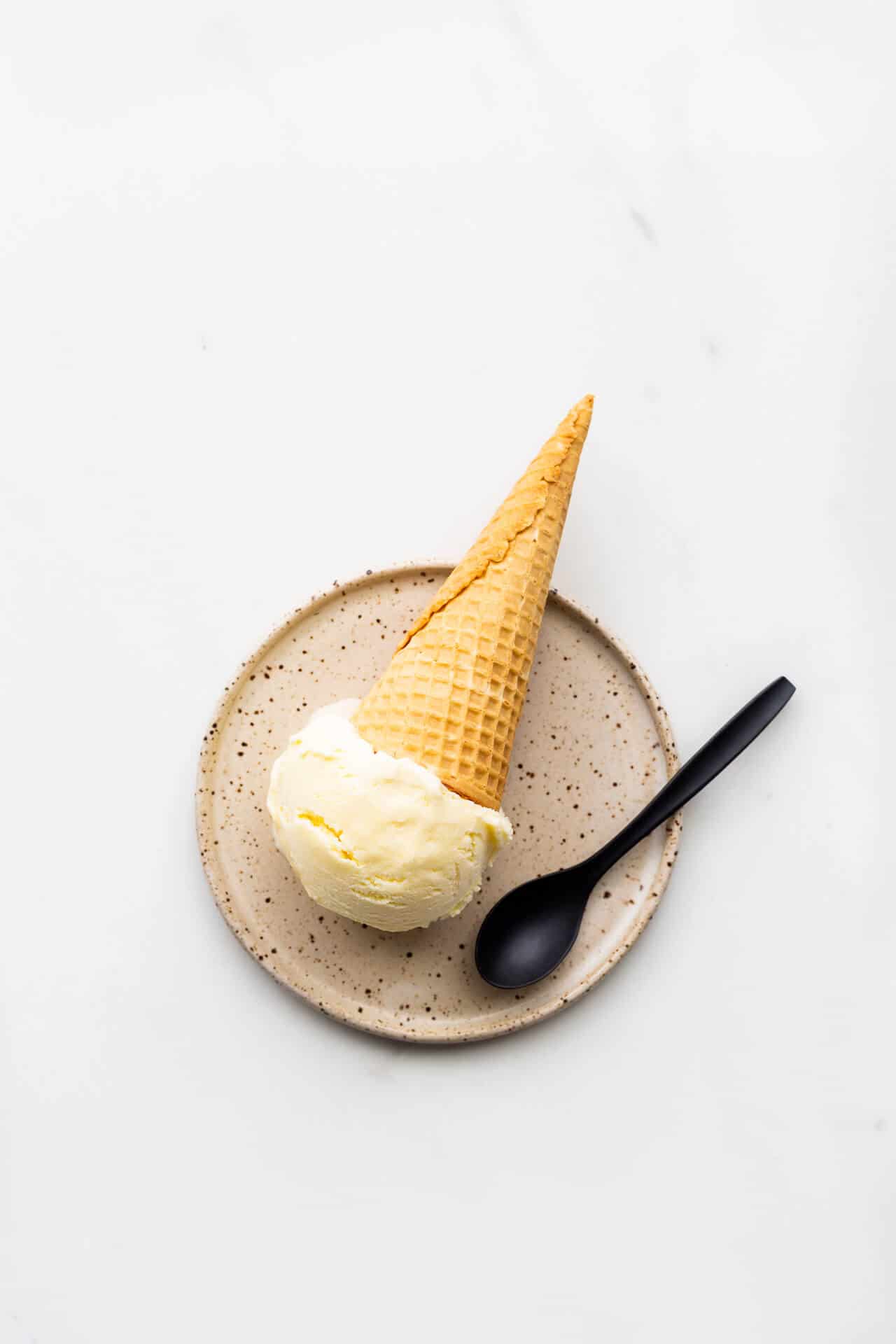 I used an old Krups La Glacière ice cream maker to churn this batch of popcorn ice cream, but it is no longer in production. Dana Cree (and many others) recommends this Cuisinart model that you can get on Amazon. If I had the budget, I'd probably invest in this Breville model (available on Amazon), which comes with a built in compressor so that you can avoid having to chill an ice cream drum for 24 hours. This machine chills itself!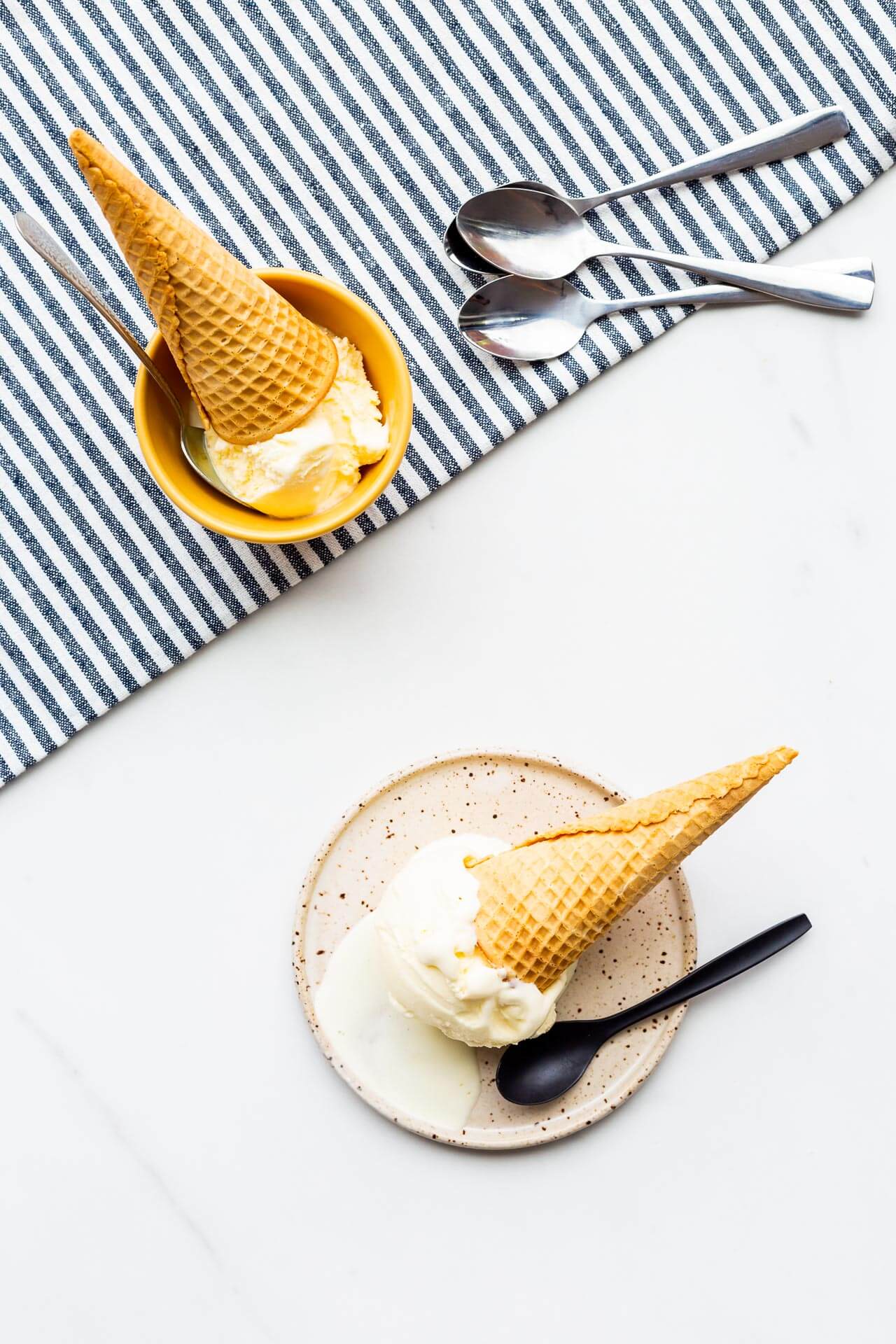 📖 Recipe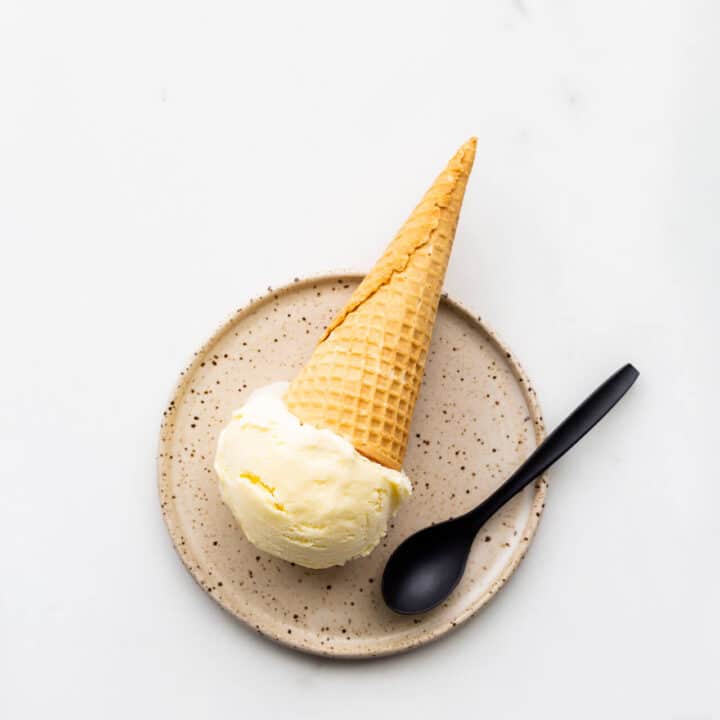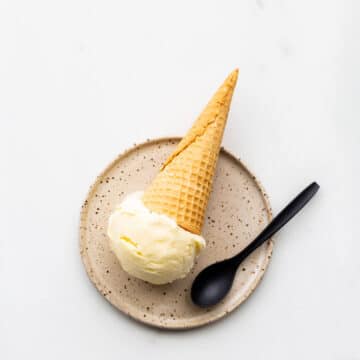 Lemon Custard Ice Cream
Homemade lemon ice cream is easy to make from a simple lemon custard with this recipe
Ingredients
375

mL

whipping cream (35 % fat)

divided

5

large egg yolk(s)

150

grams

granulated sugar

divided

375

mL

whole milk (3.25 % fat)

125

mL

fresh lemon juice

15

mL

finely grated lemon zest
Instructions
Freeze the ice cream drum in the freezer for at least 24 hours before attempting to make ice cream.

Before you begin to cook the ice cream base, place 250 mL (1 cup) of the cold whipping cream in a 1 L (4 cup) measuring cup. Set a strainer over top. Set aside

In a large bowl, whisk the egg yolks with half the sugar until the mixture is a very pale yellow and very light.

In a medium saucepan, whisk the rest of the sugar with the milk, the remaining 125 mL (½ cup) of the cream, the lemon juice, the lemon zest, and the salt. Heat the mixture until it is very hot and almost comes to a boil.

Pour the hot milk mixture over the whisked yolks to temper the eggs. Whisk continuously until the mixture is homogenous, then transfer it back to the saucepan.

Switch to a wooden spoon and, stirring constantly, heat the mixture on the stove over medium—low heat until the lemon custard has thickened and has reached 83 ºC (181 ºF).

Pour the mixture over the strainer, gently pushing the custard through, if need be.

Cover with plastic wrap, then refrigerate the lemon custard base for several hours to cool completely (overnight is best!).

Place the frozen drum on the ice cream maker, and churn the custard according to instructions. It can take over 15 minutes to churn the ice cream.

When the ice cream has reached the desired consistency. Turn off the machine, disassemble, and transfer the ice cream to a container. Place in freezer for a few hours to finish chilling.
Nutrition
Calories:
403
kcal
Carbohydrates:
32
g
Protein:
6
g
Fat:
29
g
Saturated Fat:
17
g
Cholesterol:
255
mg
Sodium:
381
mg
Potassium:
167
mg
Fiber:
1
g
Sugar:
29
g
Vitamin A:
1236
IU
Vitamin C:
8
mg
Calcium:
131
mg
Iron:
1
mg
If you want to learn more about making ice cream at home, check out this mega guide to how to make the best ice cream, with tips and tricks, and troubleshooting ideas if you run into problems along the way.