This ice cream strawberry shortcake is an easy recipe that's a twist on a classic summer dessert: replace the whipped cream with vanilla bean ice cream to make your strawberry shortcakes with homemade biscuits and fresh strawberries. Everybody will love this dessert!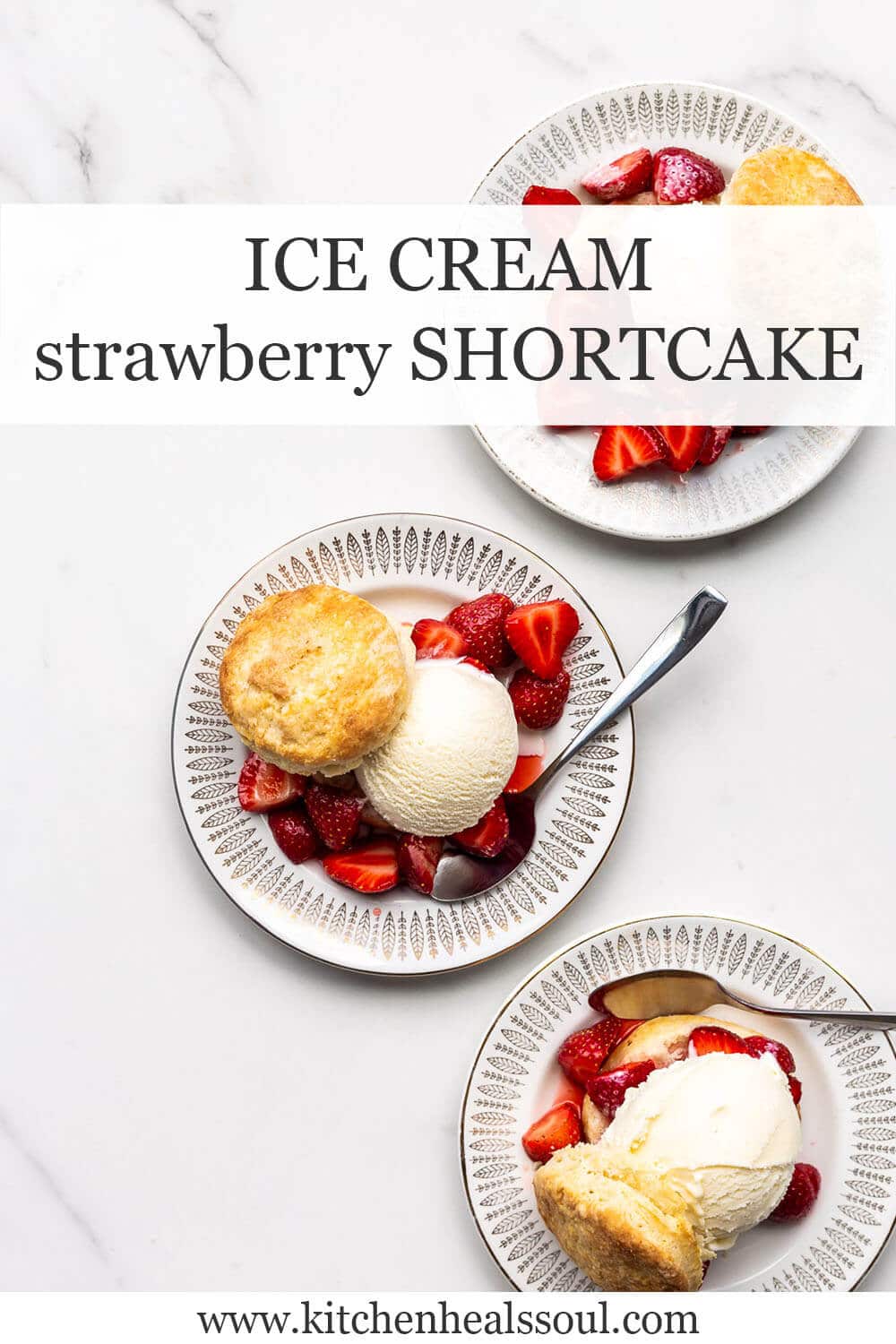 Disclosure: As an Amazon Associate, I earn from qualifying purchases.
What is a shortcake?
A shortcake is usually a butter biscuit which, like a scone, combines flour, butter, salt, and a liquid, and the mixture is leavened with baking powder. Sometimes if an acidic dairy ingredient is used, you may also add a little baking soda as an additional leavening agent to make sure the dough rises properly as they bake. Shortcakes are a simple treat to make, and like the best scones, they are great for breakfast and even as a sweet treat for dessert.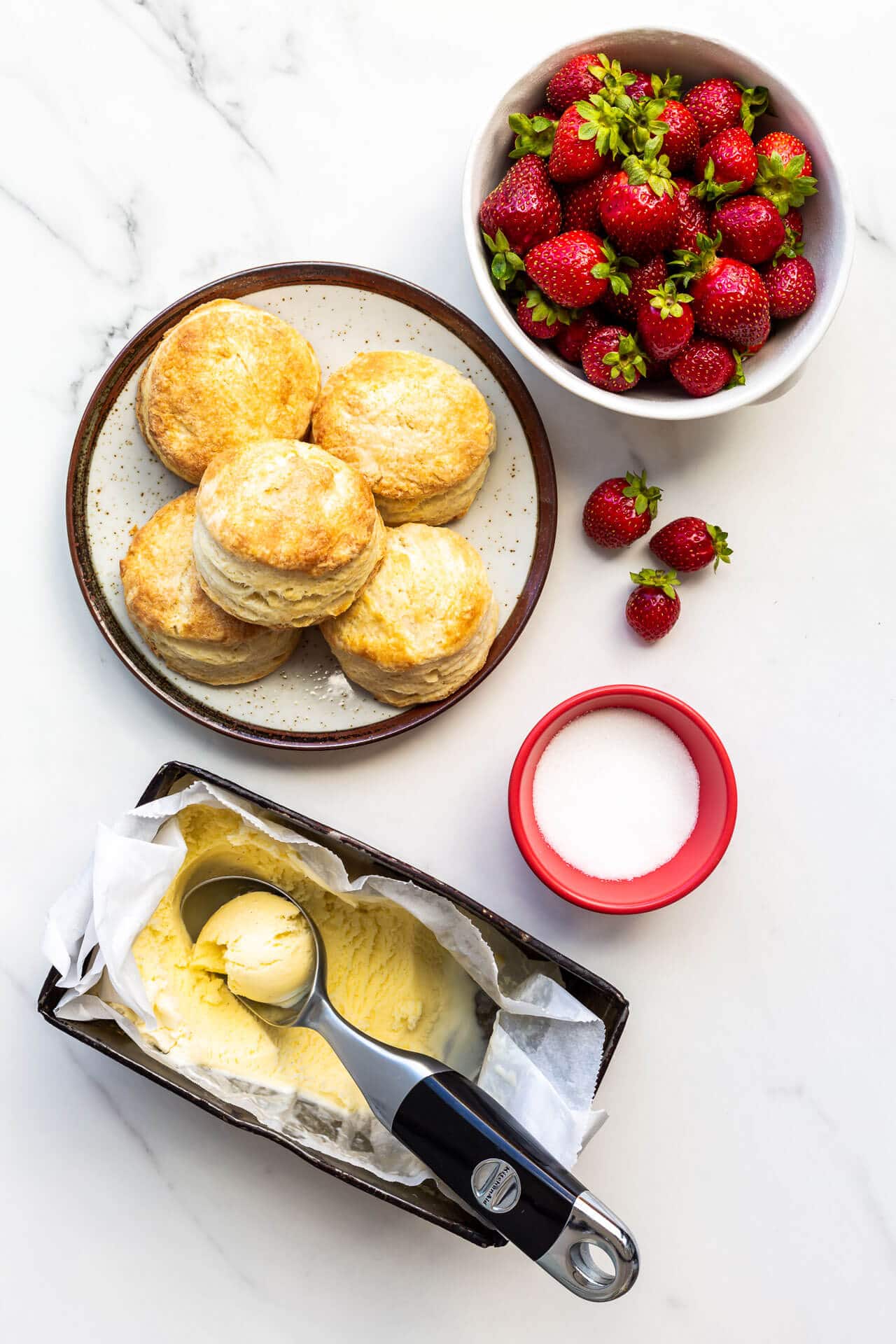 Depending on where you live, a classic strawberry shortcake dessert can mean different things. The dessert may refer to:
biscuits split in half and filled with whipped cream and berries and served individually (as with this raspberry shortcake recipe)
a big round vanilla cake split in half and filled with whipped cream and berries, a layer cake of sorts that is sliced to serve it
Where I live, we are usually referring to the biscuit-based dessert when we think of strawberry shortcakes. And to make this summer dessert even easier, why not replace the whipped cream with vanilla bean ice cream or even cardamom ice cream or lemon custard ice cream? Filling strawberry shortcakes with ice cream makes the dessert that much easier to get on the table, but equally as satisfying and impressive. This way, you can make the components ahead of time.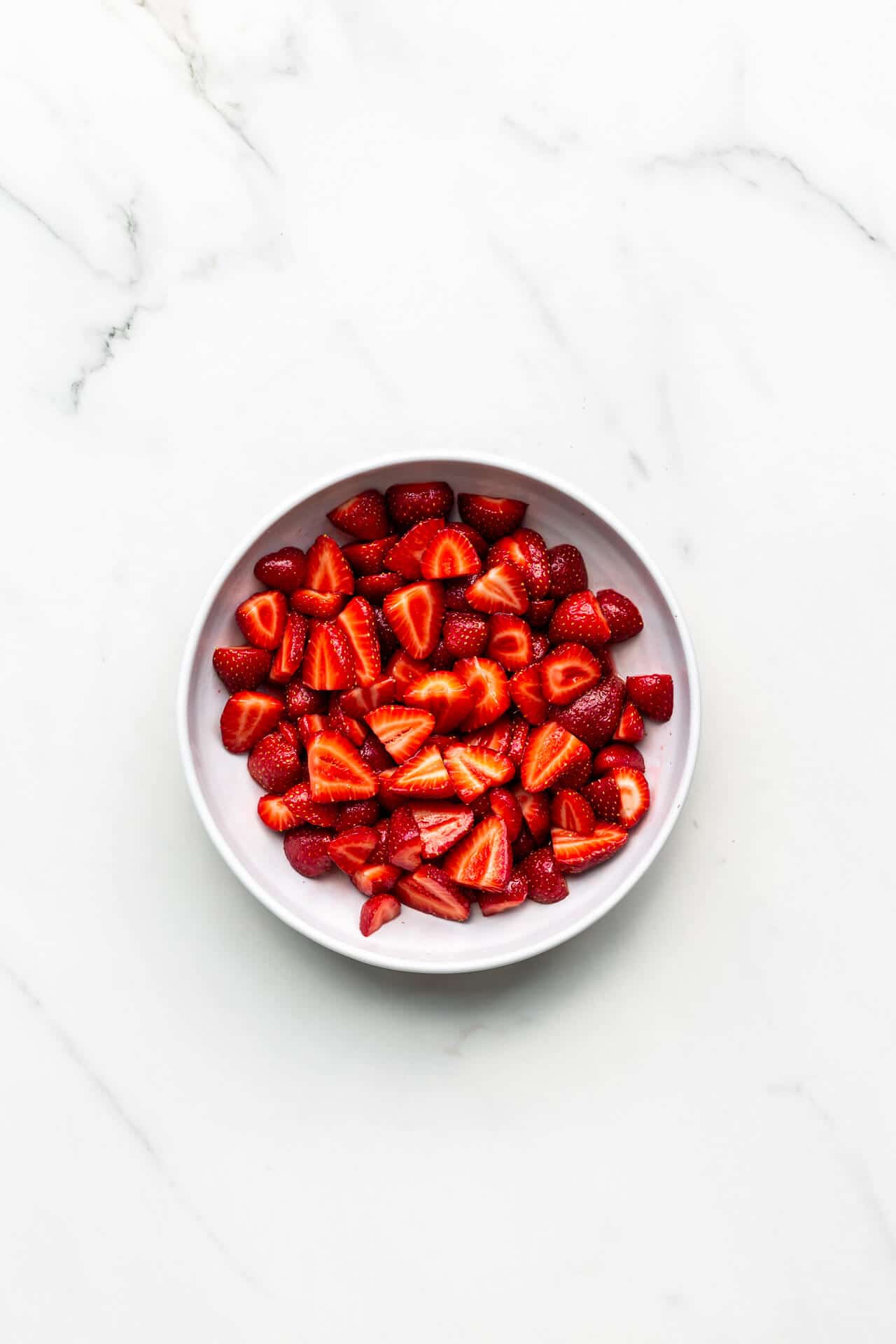 How to prepare the strawberries
Fresh summer strawberries are a beautiful thing, but you should handle them with care because they are easily bruised or crushed. When I bring home fresh strawberries, I store them in the fridge, as is. When it comes time to eat them, at that point, I rinse them off and gently pat them dry before eating them. It's important to handle fresh berries with care because they are delicate, and I avoid washing them before storing them because sometimes that extra moisture can lead to the berries going bad faster.
For desserts, you can use sliced strawberries or plain, and if your strawberries are in season, you may want to skip the step of mixing them with a little granulated sugar, but I encourage you to give it a try anyways: the sugar will draw out the juices from the fresh cut berries (in a process called maceration), transforming the berries into a saucy strawberry topping that is perfect paired with vanilla ice cream, and then the biscuit can soak up the juices, making the dessert even better. The sugar mellows the acidity of fresh berries, which can be a little sharp without the addition of a little sugar.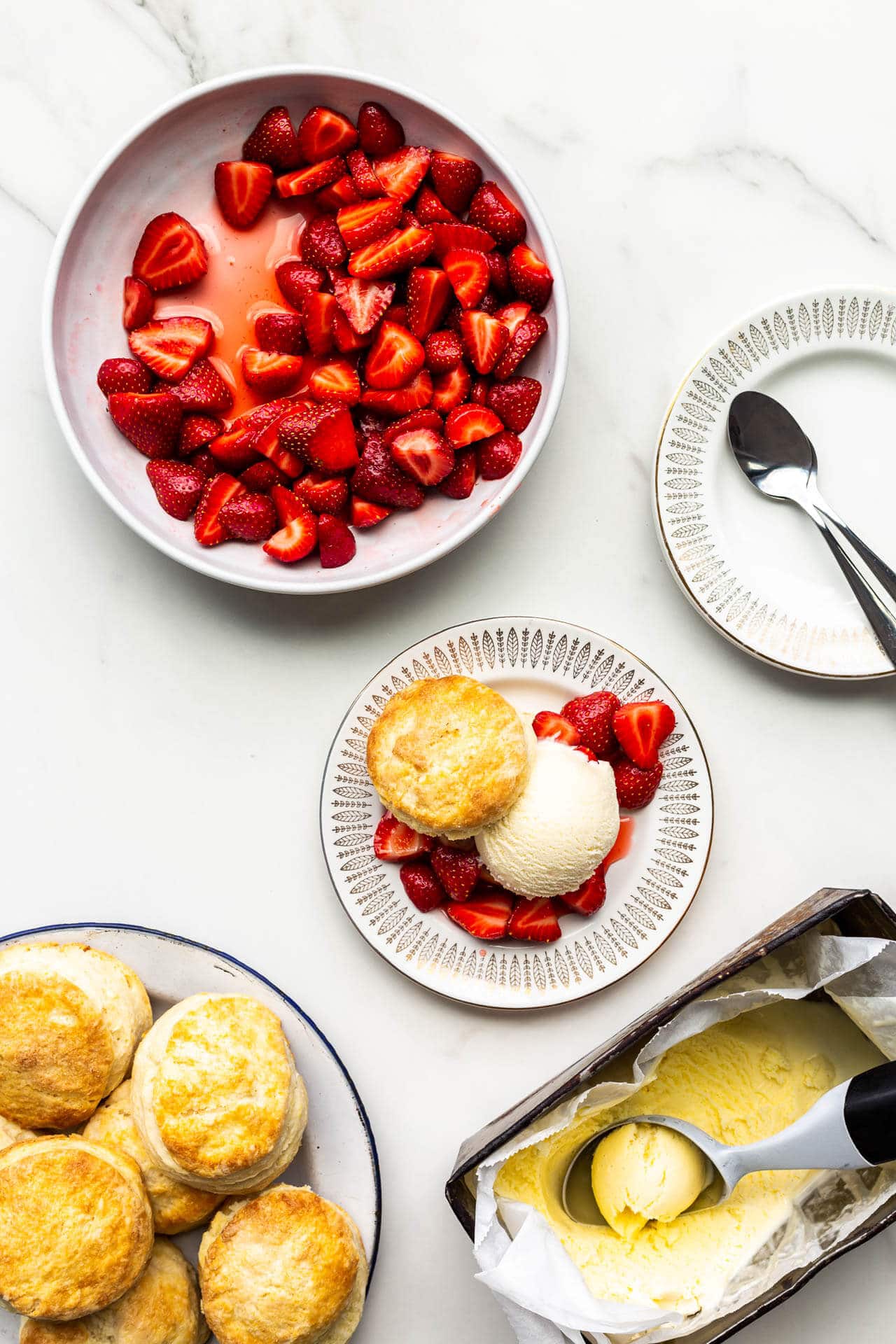 This extra step of macerating the strawberries is worth it and you can do it ahead of time and store the berries in the fridge until you are ready to serve. And a little sugar goes a long way, especially with naturally sweet strawberries, so you don't have to add much sugar to have a big impact on them.
Served at strawberry socials, the classic strawberry shortcake dessert was often made with mashed and sweetened berries, but it seems a shame to mash summer strawberries when they are in season and at their best. I much prefer to keep them intact, simply sliced and macerated.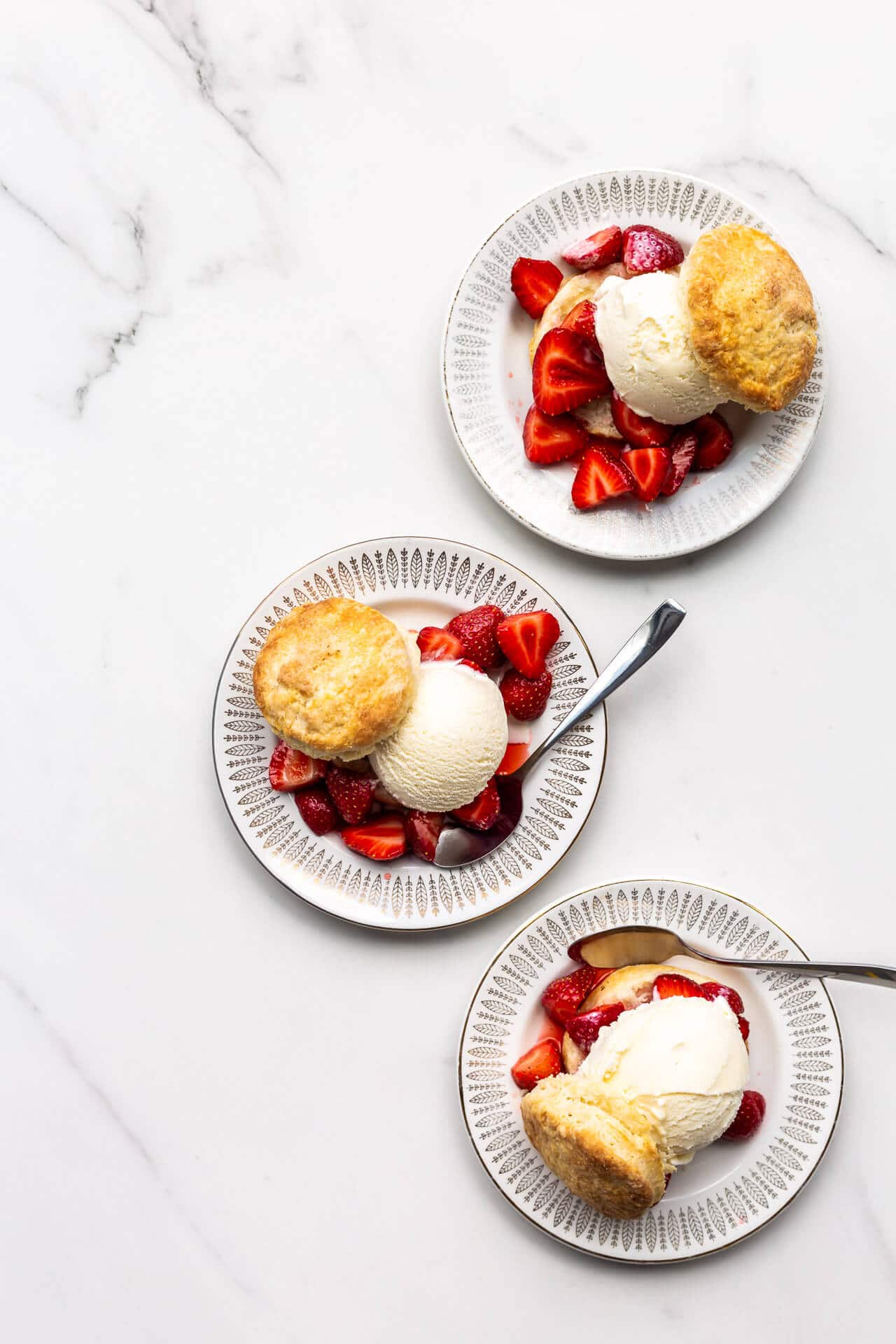 The ice cream
The ice cream represents a major element in this summer dessert, and you should choose wisely. You can use either store-bought ice cream or homemade. For store-bought ice cream, if you don't have a local ice cream parlour in your area, I'd recommend splurging on Haagen Dazs vanilla bean ice cream or Ben & Jerry's vanilla ice cream. You can't go wrong with either of these brands and they are available at most grocery stores. These brands are higher in fat and contain less air than cheaper brands, and they are known for producing quality products.
Better yet, if you plan ahead and you have an ice cream maker, consider churning a batch of homemade ice cream.
Whatever you decide to do, choose the flavour wisely because you are pairing the ice cream with berries, so flavours like vanilla bean ice cream, lemon custard ice cream, or even cardamom ice cream would be perfect with this strawberry dessert.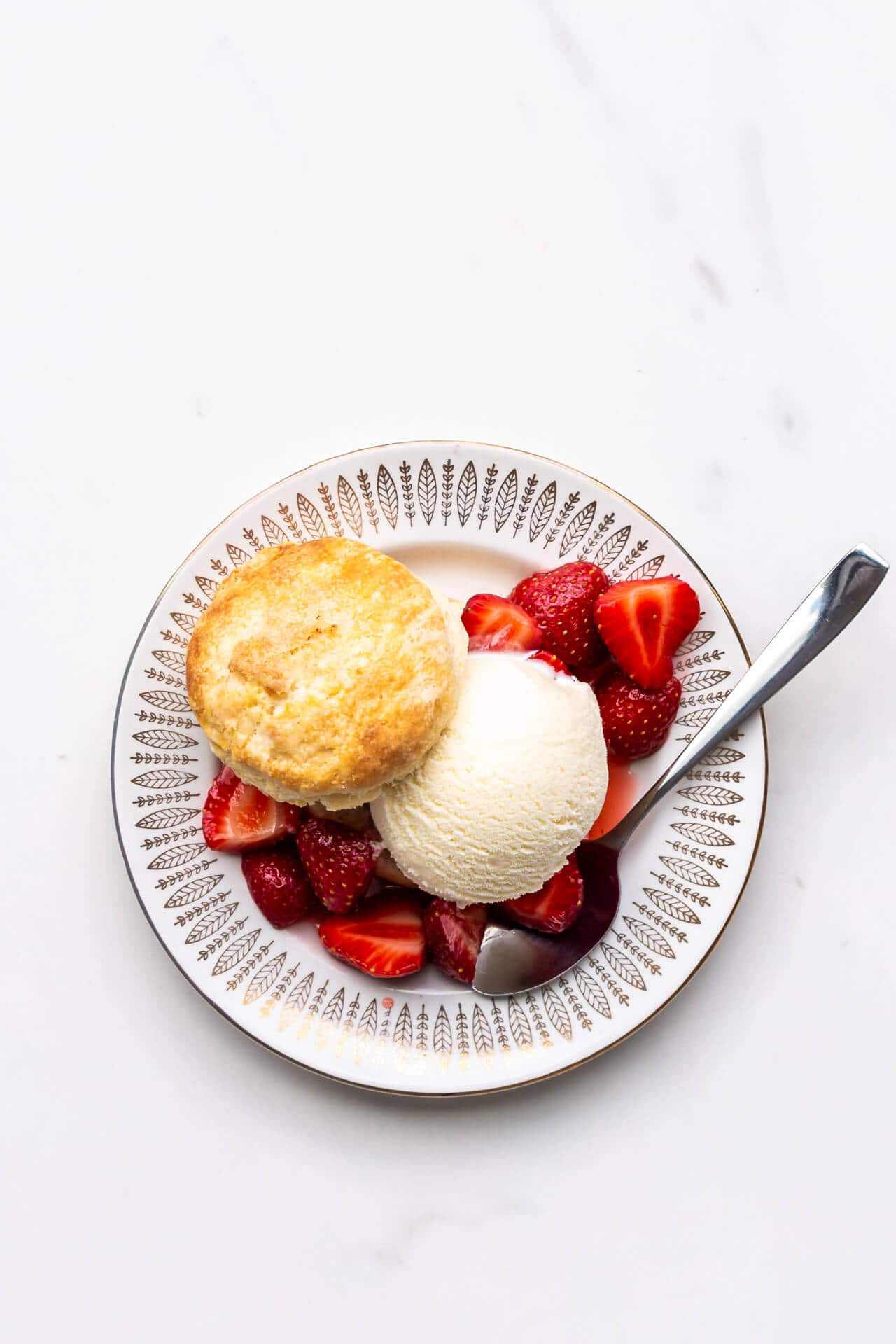 This ice cream strawberry shortcake is an ideal summer dessert to make. It's cooling and comforting, and it's a great way to celebrate the local berries in season.
More strawberry desserts to try
Make the most of the short time when berries are in season by making these other strawberry recipes:
Want more? Check out these berry recipes.
📖 Recipe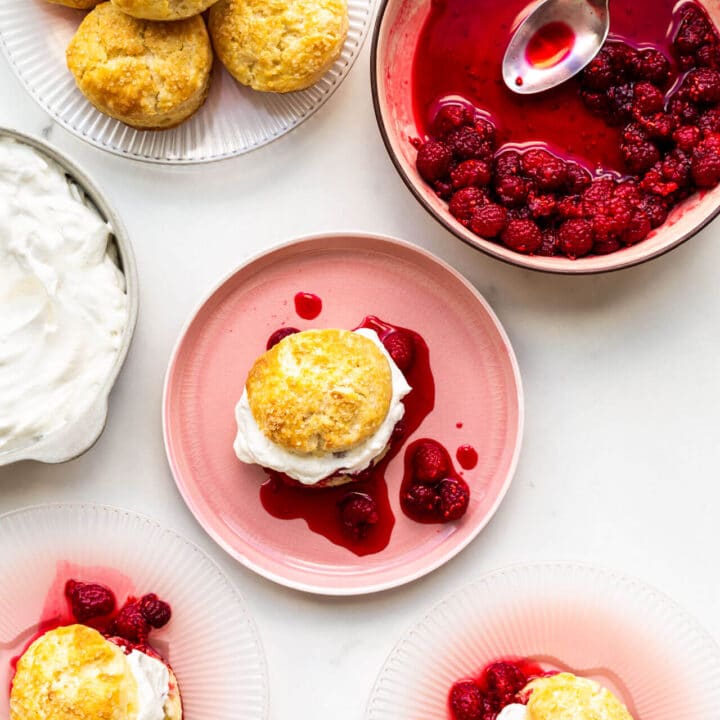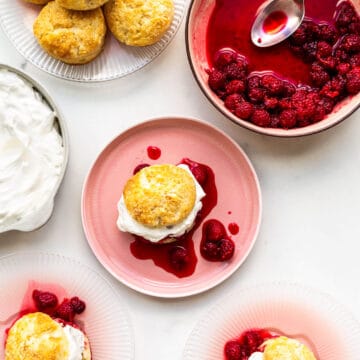 Ice Cream Strawberry Shortcake
This beautiful summer ice cream strawberry shortcake dessert is an ice cream twist on the classic recipe, made with all butter biscuits, ice cream, and strawberries
Ingredients
All-butter biscuits
250

grams

bleached all-purpose flour

30

grams

granulated sugar

10

mL

baking powder

3.75

mL

Diamond Crystal fine kosher salt

78

g

unsalted butter

cut into small chunks, very cold

170

mL

half-and-half cream (10 % fat)

plus more for brushing on top of the biscuits

*see notes

Turbinado sugar

for garnishing
Macerated strawberries
450

grams

fresh strawberries

washed, hulled, and sliced

50

grams

granulated sugar

use more granulated sugar if your strawberries are very tart (you'll have to taste and adjust)
Instructions
Biscuits
Preheat the oven to 400ºF (200 °C). Line a baking sheet with parchment.

In a large bowl, whisk together the flour, baking powder, salt, and the sugar.

Add the butter and work it into the flour with either your hands or a pastry cutter until the mixture resembles a coarse crumble.

Add the milk and cream. Stir it in with a fork, then dump out the biscuit mixture onto the counter and knead it 2 or 3 times til it comes together.

Press the biscuit dough to 1 inch thick on a very lightly floured surface. Cut into four pieces and stack them to make a tower

Press out the dough again until it's 1 inch thick and cut out circles with a 2.5 " round cookie cutter. Press the scraps together gently enough to cut out the rest of the biscuits. You should have 6 or 7 biscuits, depending on how thick the dough is.

Place the biscuits on the baking sheet. Brush with a little milk and sprinkle with turbinado (if using).

Bake until the edges and tops of the biscuits are golden brown, about 25 minutes. Let cool completely before assembling your shortcakes.
Macerated strawberries
In a medium bowl, combine the sliced strawberries with the granulated sugar. Stir well so that all the berries are evenly coated.

Let the berries macerate for at least 30 minutes until the sugar has dissolved and the berries are saucy, stirring every 10 minutes to evenly distribute the sugar. You can do this ahead and store the berries in the fridge.
Assembly
Split opened the cooled biscuits.

Place the bottom of each biscuit on a plate.

Top with a generous mound of macerated strawberries and a big scoop of ice cream. Place the biscuit top over the ice cream.
Notes
For the biscuits, you can replace the half-and-half cream (10 %) with a mixture of 35 % whipping cream or heavy cream and milk:

to replace 250 mL of half-and-half cream (10 % fat): combine 80 mL of whipping cream (35 %) and 170 mL of milk as a substitute 
to replace 170 mL (⅔ cup) of half-and-half cream (10 % fat): combine 3 tablespoons of  whipping cream (35 %) with 125 mL of milk as a substitute

For this recipe, I baked with Stirling Churn 84 unsalted butter
Nutrition
Calories:
563
kcal
Carbohydrates:
77
g
Protein:
9
g
Fat:
25
g
Saturated Fat:
15
g
Cholesterol:
83
mg
Sodium:
347
mg
Potassium:
571
mg
Fiber:
3
g
Sugar:
44
g
Vitamin A:
860
IU
Vitamin C:
45
mg
Calcium:
253
mg
Iron:
2
mg