Celebrate summer berries with this easy recipe for raspberry shortcake made with homemade biscuits, vanilla bean whipped cream, and macerated raspberries.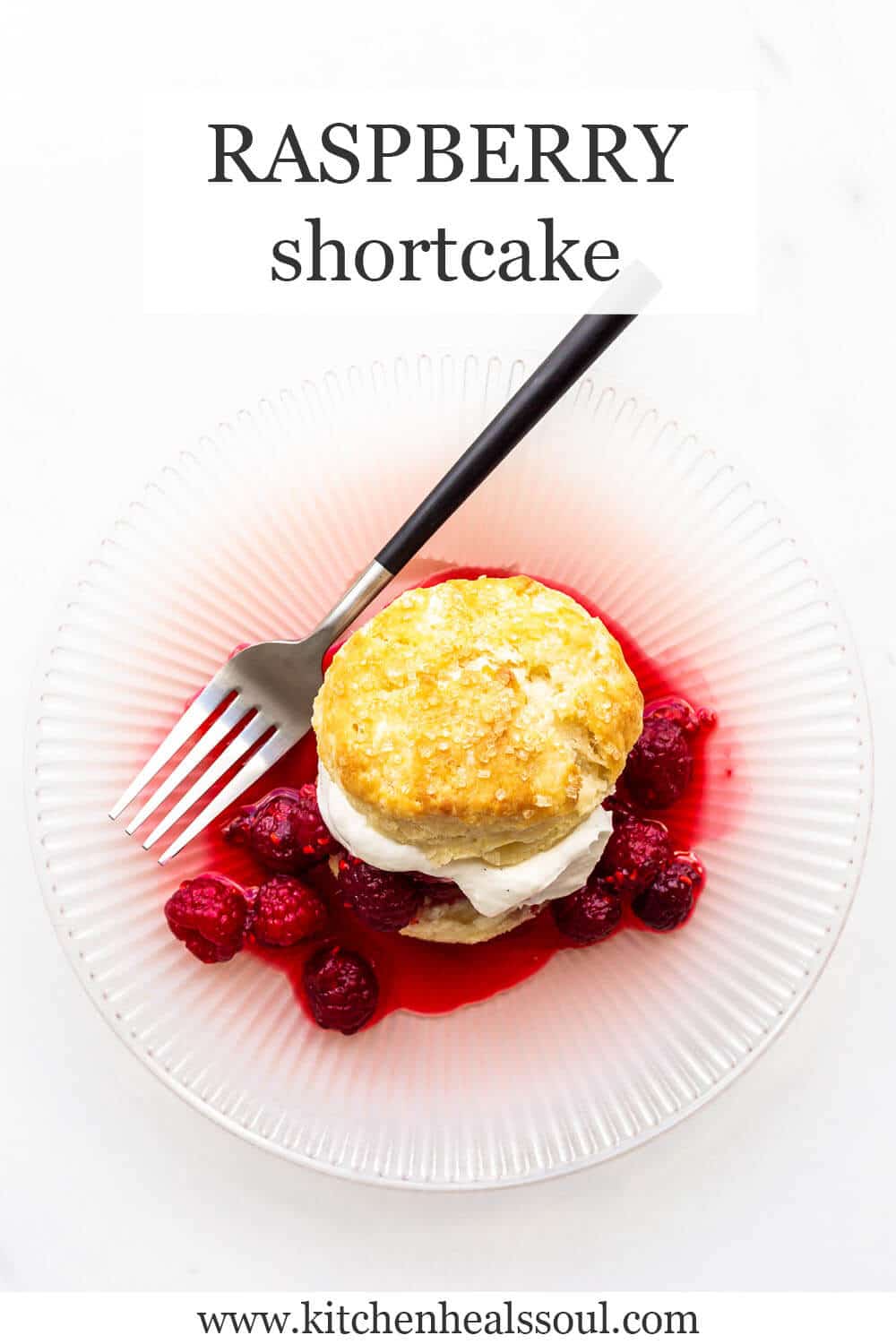 Disclosure: As an Amazon Associate, I earn from qualifying purchases.
Depending on where you live, a shortcake could be a layer cake made from two round layers of vanilla cake with whipped cream and strawberries sandwiched in between.
A shortcake is also a dessert made from baking powder biscuits like these 1-2-3 biscuits sandwiched with lightly sweetened whipped cream and fresh fruit. The most popular of these would be the strawberry shortcake, which is made with sliced strawberries that are either fresh or macerated with a little sugar so that they become a little softer and saucier.
Shortcakes are not to be confused with shortbreads. Shortbread cookies are made from butter, sugar, and flour in a 2:1:3 ratio. Although, interestingly enough, some older versions of the strawberry shortcake were made with baked rounds of sweetened pie crust or even round cookies, not biscuits, and they weren't garnished with whipped cream. Few people think of this version of the dessert when they think of a shortcake.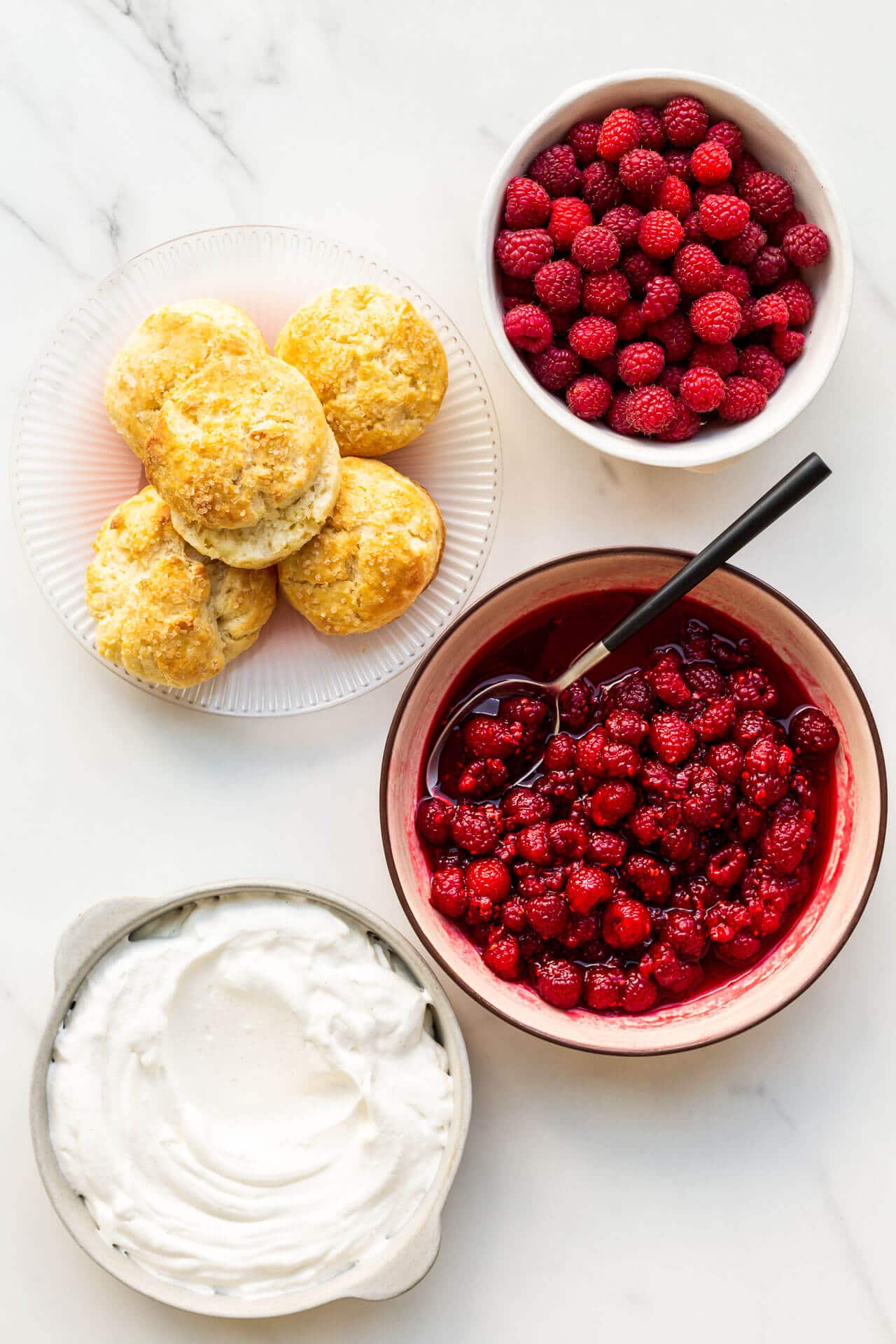 Once you've mastered making homemade biscuits and scones, the logical thing to do is to make shortcakes, a classic fruit dessert that everybody loves. This raspberry shortcake is a variation on that theme, made with homemade butter biscuits, macerated raspberries and vanilla bean whipped cream.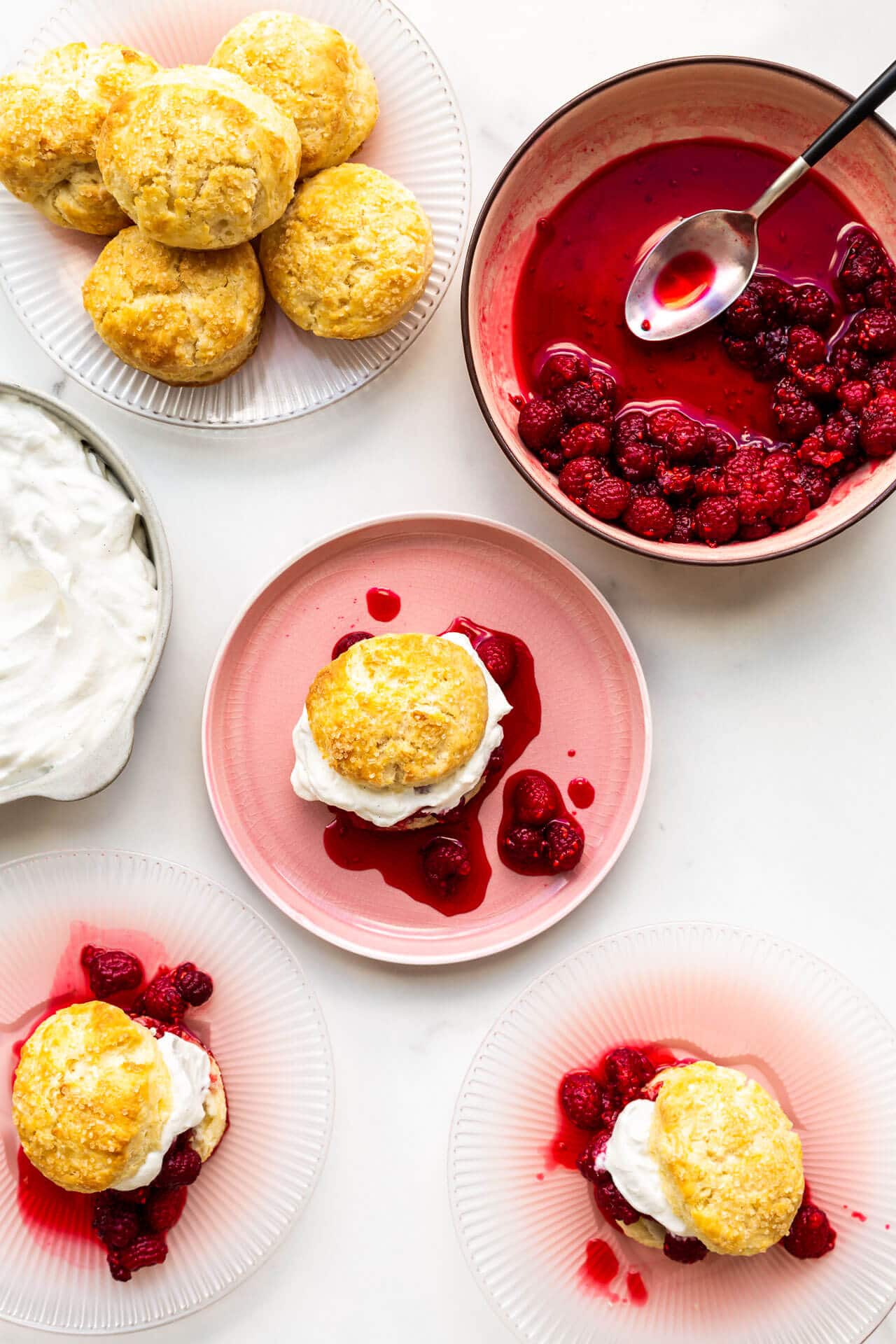 The biscuits
I opted to use plain butter biscuits (American style biscuits, not to be confused with European biscuits that are essentially sablé cookies). You could also use these lavender white chocolate scones because lavender and white chocolate pair nicely with fresh berries.
Whatever you decide to use as your biscuit component, make sure to cut them to a size appropriate for a dessert portion. I cut biscuits with a 2.5" cookie cutter, roughly, but you can easily cut your dough into squares with a knife or even a bench scraper!
Some will cut massive biscuits to make this dessert, but I prefer a more "dainty" size portion. Plus, the biscuit is there to soak up the juices and bring the dessert together, it shouldn't represent 75 % of what's on your plate because the shortcake is a summer dessert celebrating berries!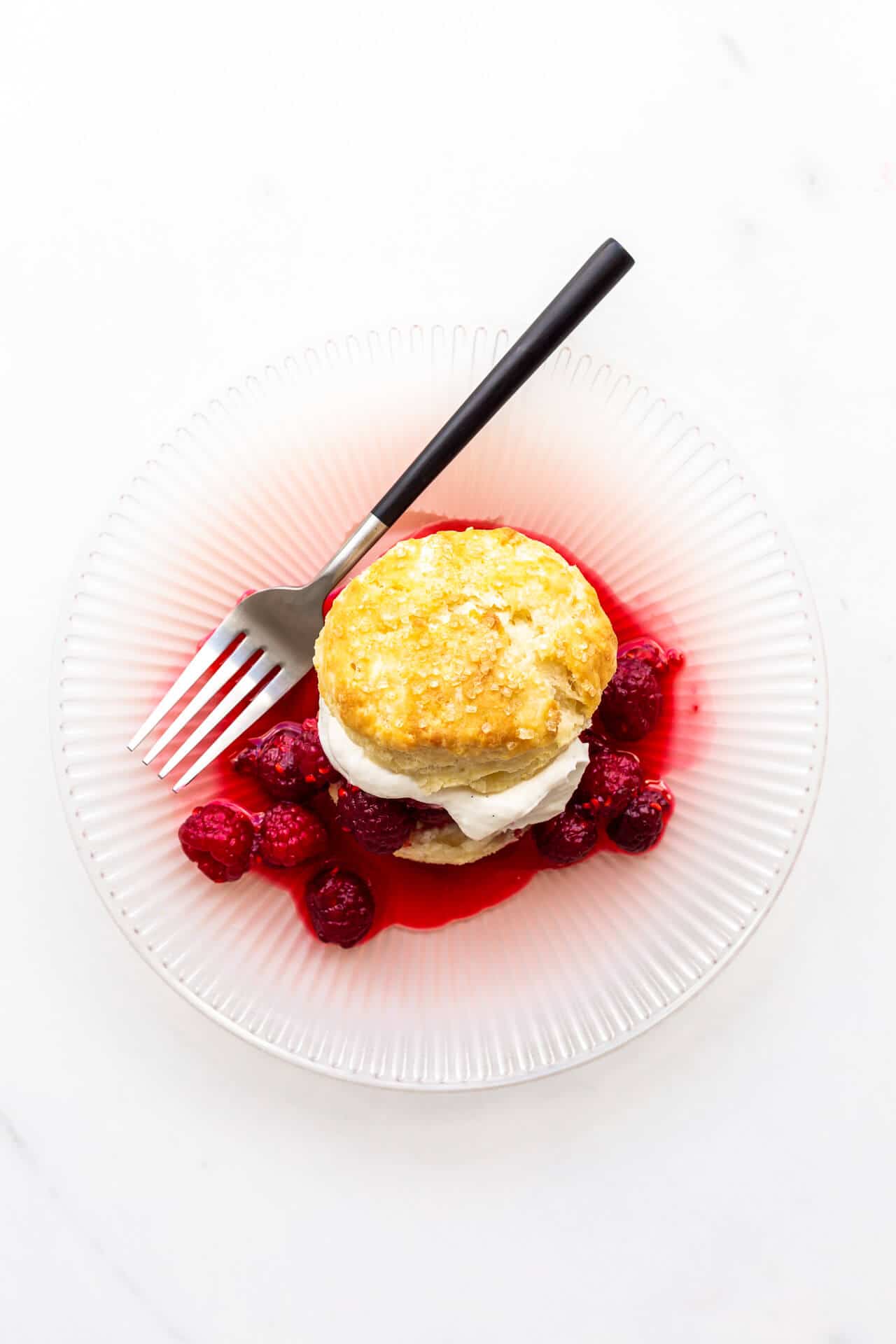 Macerating raspberries in sugar
For the raspberries, obviously depending on the season, your raspberries may be more or less sour so feel free to taste the berries and adjust how much sugar you use. Biscuits aren't very sweet and the whipped cream is only a little sweet, so you will need to add enough sugar to the fruit filling to sweeten the berries if they are very tart.
You can also use plain raspberries without any sugar if you prefer, especially if your raspberries are sweet enough. But know that adding sugar to the fruit brings out the juices, transforming the raspberries into a saucy topping that give the biscuits something to soak up. You can help the raspberries become saucy by mashing just a few before stirring them with the sugar. This will get the juices flowing to help them become a saucy mixture.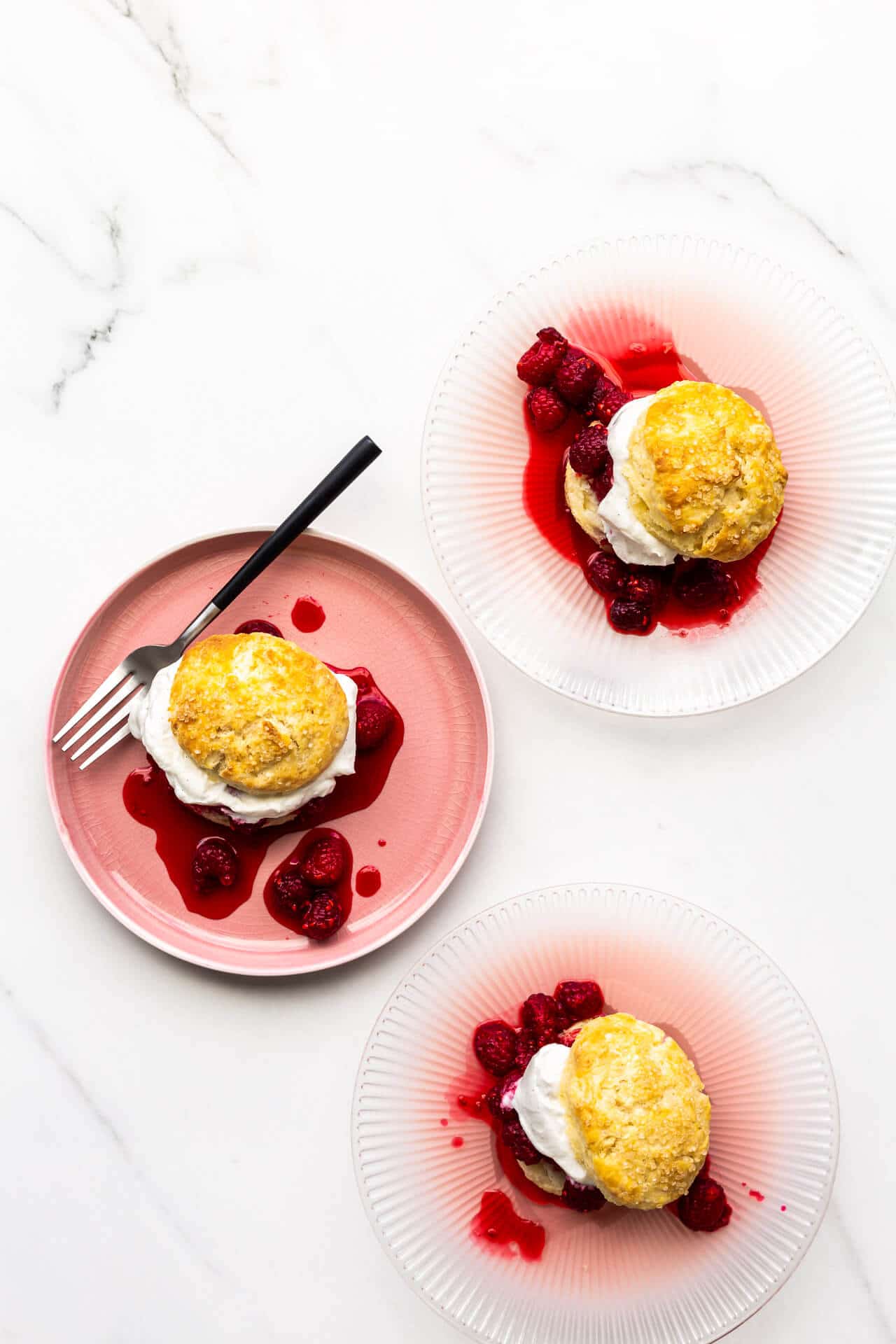 Vanilla bean whipped cream
I like to flavour whipped cream with a little vanilla bean paste, which is vanilla extract laced with flecks of vanilla bean. You can replace the vanilla bean paste with the same amount of vanilla extract if you prefer. Remember the ratio for making perfect, lightly sweetened whipped cream: calculate 10 % of the weight of cream and that's how much icing sugar you should use. So if you want to use 250 mL (1 cup) of cream, use 25 grams of icing sugar.
Though you can't assemble shortcakes in advance, you can get the components ready. The beauty of serving shortcakes for dessert is that you can make the biscuits in the morning and you can prep the berries in advance by mixing them with granulated sugar so that they get extra saucy. Then when you are ready to serve, all you have to do is whip the cream. Make sure to whip them to soft peaks, then add the icing sugar and vanilla, and continue whipping until it's thick, but still soft, yet holds it's shape
If whipping cream seems like too much, consider replacing the whipped cream with scoops of cardamom ice cream, lemon custard ice cream, or even vanilla bean ice cream, as for these ice cream strawberry shortcakes.
📖 Recipe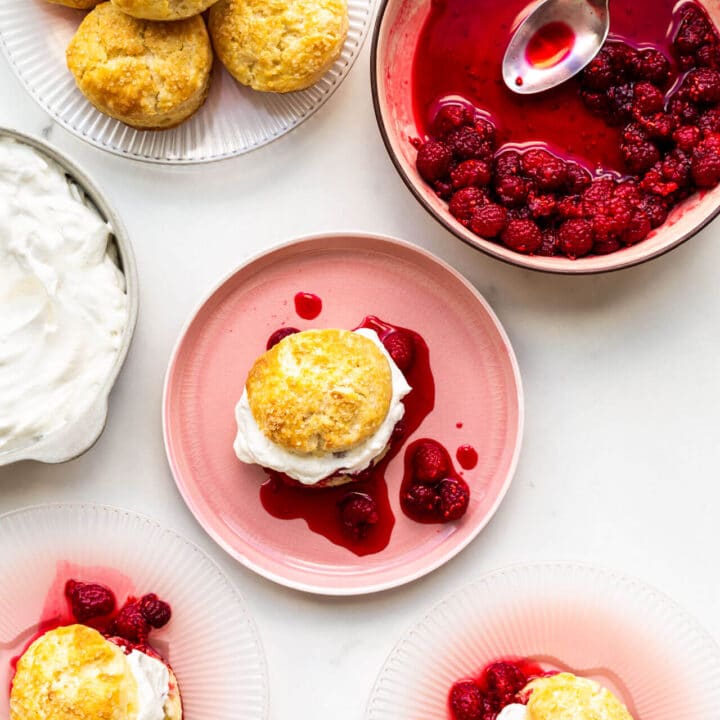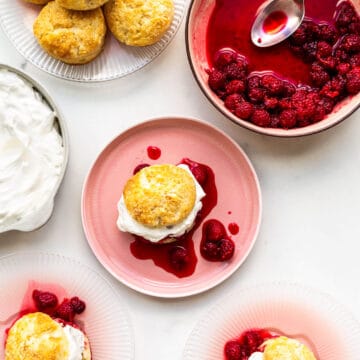 Raspberry Shortcake
This beautiful summer raspberry shortcake dessert recipe couldn't be easier, made with all butter biscuits, vanilla infused whipped cream, and raspberries
Ingredients
All-butter biscuits
220

grams

bleached all-purpose flour

30

grams

granulated sugar

10

mL

baking powder

3.75

mL

Diamond Crystal fine kosher salt

77

g

unsalted butter

cut into small chunks, very cold

170

mL

half-and-half cream (10 % fat)

plus more for brushing on top of the biscuits

*see notes

Turbinado sugar

for garnishing
Macerated raspberries
340

grams

Fresh raspberries

50

grams

granulated sugar

use more granulated sugar if your raspberries are very tart (you'll have to taste and adjust)
Instructions
Biscuits
Preheat the oven to 400ºF (200 °C). Line a baking sheet with parchment.

In a large bowl, whisk together the flour, baking powder, salt, and the sugar.

Add the butter and work it into the flour with either your hands or a pastry cutter until the mixture resembles a coarse crumble.

Add the milk and cream. Stir it in with a fork, then dump out the biscuit mixture onto the counter and knead it 2 or 3 times til it comes together.

Press the biscuit dough to 1 inch thick on a very lightly floured surface. Cut into four pieces and stack them to make a tower

Press out the dough again until it's 1 inch thick and cut out circles with a 2.5 " round cookie cutter. Press the scraps together gently enough to cut out the rest of the biscuits. You should have 6 or 7 biscuits, depending on how thick the dough is.

Place the biscuits on the baking sheet. Brush with a little milk and sprinkle with turbinado (if using).

Bake until the edges and tops of the biscuits are golden brown, about 25 minutes. Let cool completely before assembling your shortcakes.
Macerated raspberries
In a medium bowl, combine the raspberries with the granulated sugar. Stir well so that all the berries are evenly coated. Don't worry if a few berries get a little mashed. That's okay because that will help the mixture become saucy.

Let the berries macerate for at least 30 minutes until the sugar has dissolved and the berries are saucy, stirring every 10 minutes to evenly distribute the sugar. You can do this ahead and store the berries in the fridge.
Whipped cream
In a big bowl, whip the cream until soft peaks form. You can do this by hand with a whisk or use an electric hand mixer.

Add the sugar and vanilla bean paste. Continue whisking until the whipped cream is fairly firm, but don't whip too much or you may form butter!
Assembly
Split opened the cooled biscuits.

Place the bottom of each biscuit on a plate.

Top with a generous mound of macerated raspberries and a big dollop of whipped cream, then place the biscuit top over the whipped cream.
Notes
For the biscuits, you can replace the half-and-half cream (10 %) with a mixture of 35 % whipping cream or heavy cream and milk:

to replace 250 mL of half-and-half cream (10 % fat): combine 80 mL of whipping cream (35 %) and 170 mL of milk as a substitute 
to replace 170 mL (⅔ cup) of half-and-half cream (10 % fat): combine 3 tablespoons of  whipping cream (35 %) with 125 mL of milk as a substitute
Nutrition
Calories:
473
kcal
Carbohydrates:
55
g
Protein:
5
g
Fat:
27
g
Saturated Fat:
16
g
Cholesterol:
85
mg
Sodium:
263
mg
Potassium:
324
mg
Fiber:
5
g
Sugar:
21
g
Vitamin A:
952
IU
Vitamin C:
15
mg
Calcium:
122
mg
Iron:
2
mg