This is an easy recipe for lavender scones made from a cream scone base recipe with added lavender buds (culinary grade) and white chocolate chips. These lavender scones are tender and rich, with a subtle lavender flavour and lightly sweetened from the white chocolate—the perfect treat for breakfast or for afternoon tea.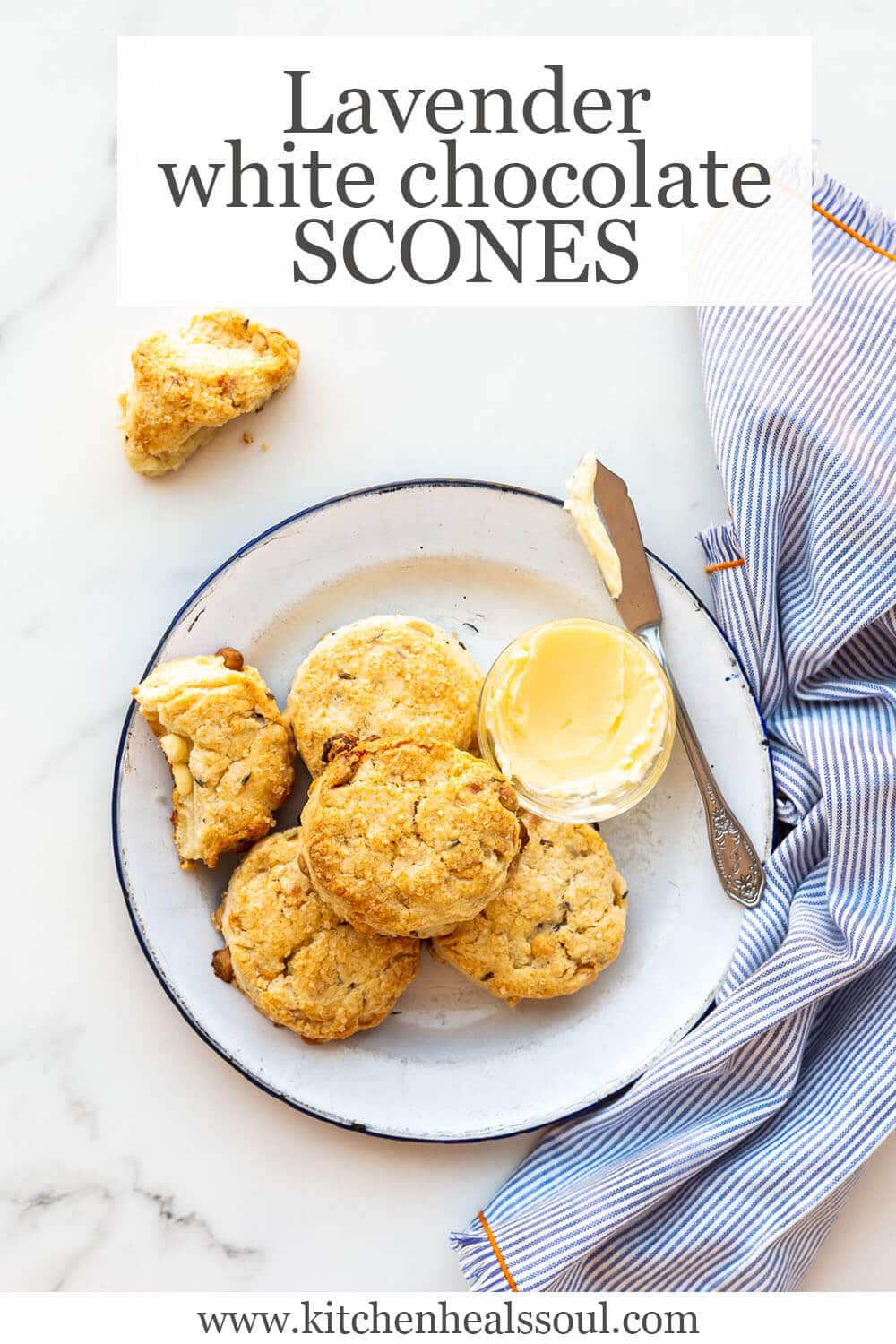 Disclosure: As an Amazon Associate, I earn from qualifying purchases.
Some scone recipes are aiming for a flakier scone using a folding technique, similar to homemade croissants or puff pastry. I've used the rolling and folding technique for these pear and chocolate scones, which were made with a more wet dough that benefitted from the rolling and folding in flour, without toughening them.
On the other hand, for these mini rhubarb scones and the scones recipe below, I kept the recipe and method simple, like for this recipe, no folding necessary.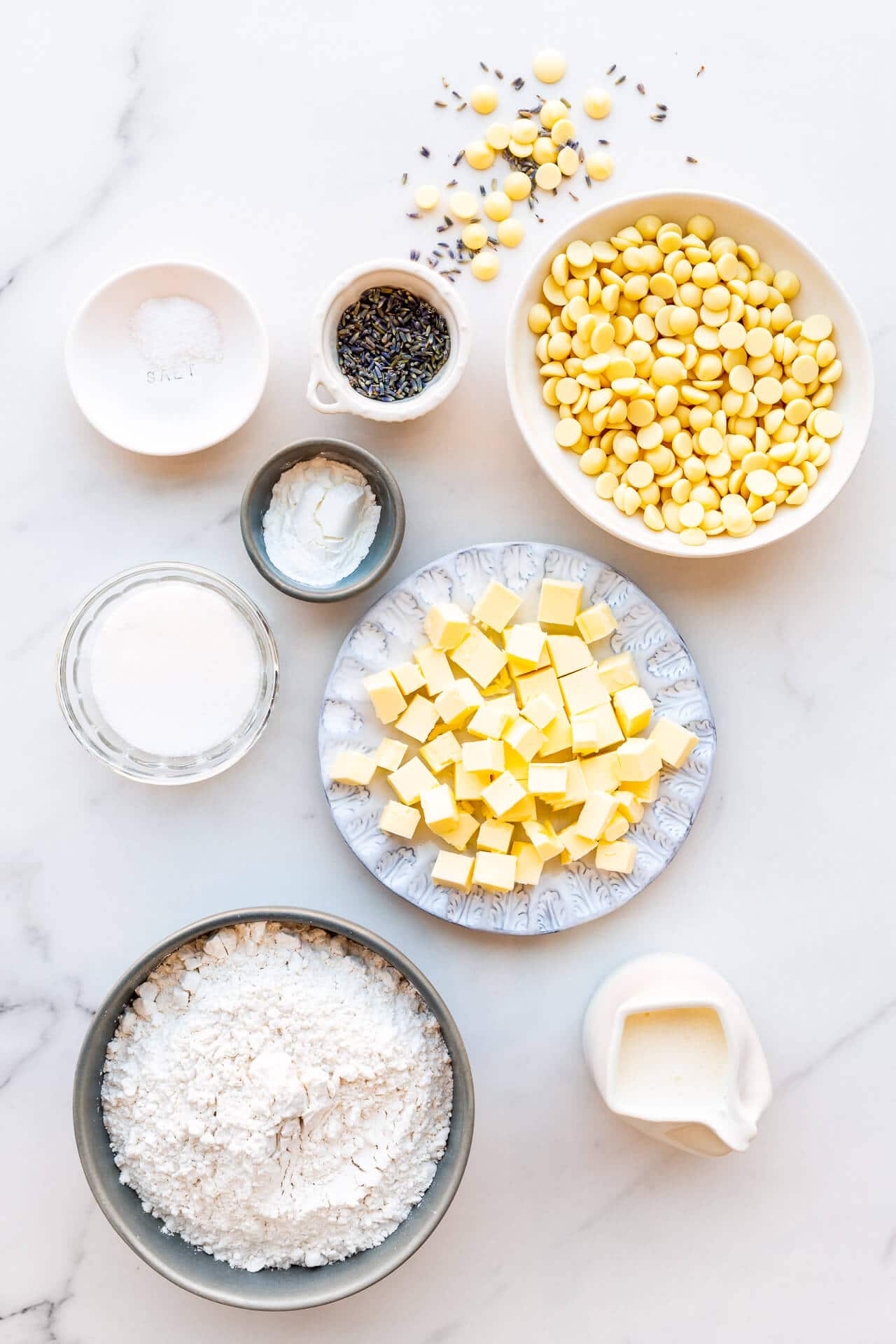 What are these scones made of
If you want to make cream scones with lavender and white chocolate, you will need the following ingredients:
all-purpose flour is needed to bind all the ingredients together and give the scones structure. If you don't use enough flour, your scones may spread too much as they bake
granulated sugar though used sparingly in this recipe is important to help tenderize the scones and preserve them so they don't dry out too fast.
baking powder is a complete chemical leavening agent that doesn't require any special ingredients to work, as long as you add moisture (in this case from butter and cream) and heat (when you bake the scones in the oven). Do not use baking soda, which requires adding an acid to help baked goods rise. Read up on baking soda vs baking powder if you are unsure of the difference.
salt is really important to balance out the sweet flavour. Don't skip it. I like to use Diamond Crystal fine kosher salt, but table salt will work, though the cookies will be saltier and you may want to halve the salt in that case.
butter, preferably unsalted butter because you will add salt to the dough, but if you have salted, it will work. Just adjust the salt in the recipe accordingly, otherwise your cookies may be too salty
white chocolate adds a sweet creamy flavour to these, and it also caramelizes as the scones bake. I like to use white chocolate chips or chopped white chocolate bar (like Lindt) or Cacao Barry Blanc Satin or Zéphyr.
dried lavender buds add a floral taste to these, but make sure to use culinary grade lavender. This isn't a place for lavender that goes in closet sachets!
whipping cream (35 % fat) adds moisture and fat to the dough, leading to a more tender and light scones.
Scone texture
Personally, I don't think scones need to be layered or overly flaky. We aren't making homemade croissants! It's more important that they be moist and tender, almost delicate. The perfect scone should be easy to pull apart with your fingertips with only the slightest tug and it should melt in your mouth. Plus that rolling and folding is a little extra work that I'd avoid, especially since there's always a risk of overworking the dough, making the scones tough, chewy, or hard.
For this white chocolate scones recipe, I've kept the method as simple as possible, the same simple method I used for these rhubarb scones. If you are looking for a stuffed scone, try these apple pie scones, which are a little more elaborate, but taste really great in the end!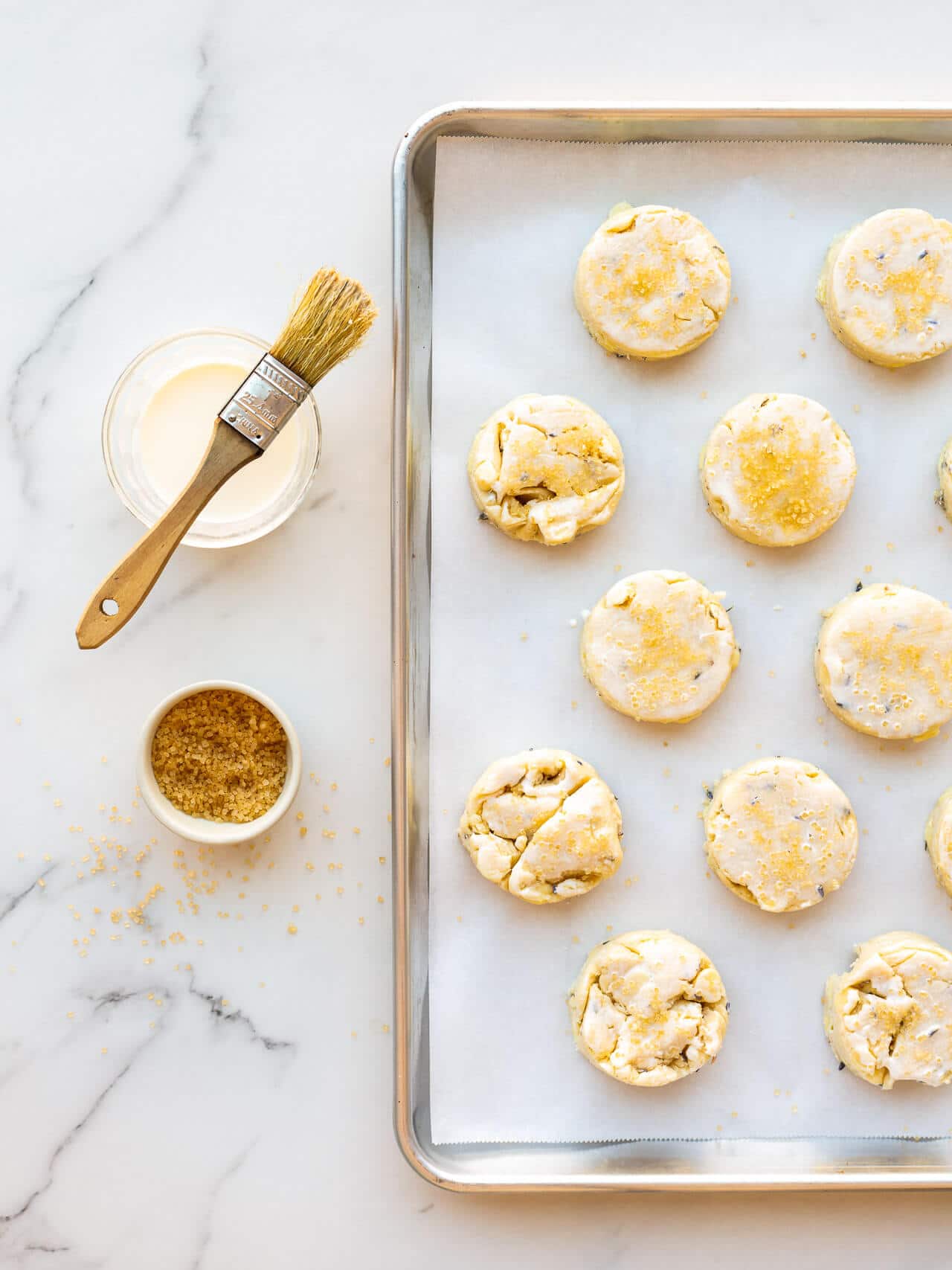 Adding lavender to scones
These scones are flavoured with lavender buds. Make sure to always buy culinary grade lavender or lavender tea, and not potpourri, which isn't edible! There are different ways you can go about infusing baked goods with lavender (or tea leaves like Earl Grey):
Heat the liquid in the recipe and infuse that liquid with lavender buds (or tea leaves), just like you would if you were steeping a pot of tea. Once steeped, strain and chill overnight before making your scones.
Add lavender buds to the dry ingredients (flour, sugar, baking powder, and salt). That's it. This is what I did with Earl Grey tea leaves to make this Earl Grey cake, for example.
I've tested both ways and honestly, adding lavender buds straight to your dry ingredients works great. You can taste the lavender in the baked scones. The flavour comes through, without it tasting soapy.
A different way of adding a floral taste to scones would be using glaze, like with these date scones, which are a fruit scones recipe glazed with orange blossom icing.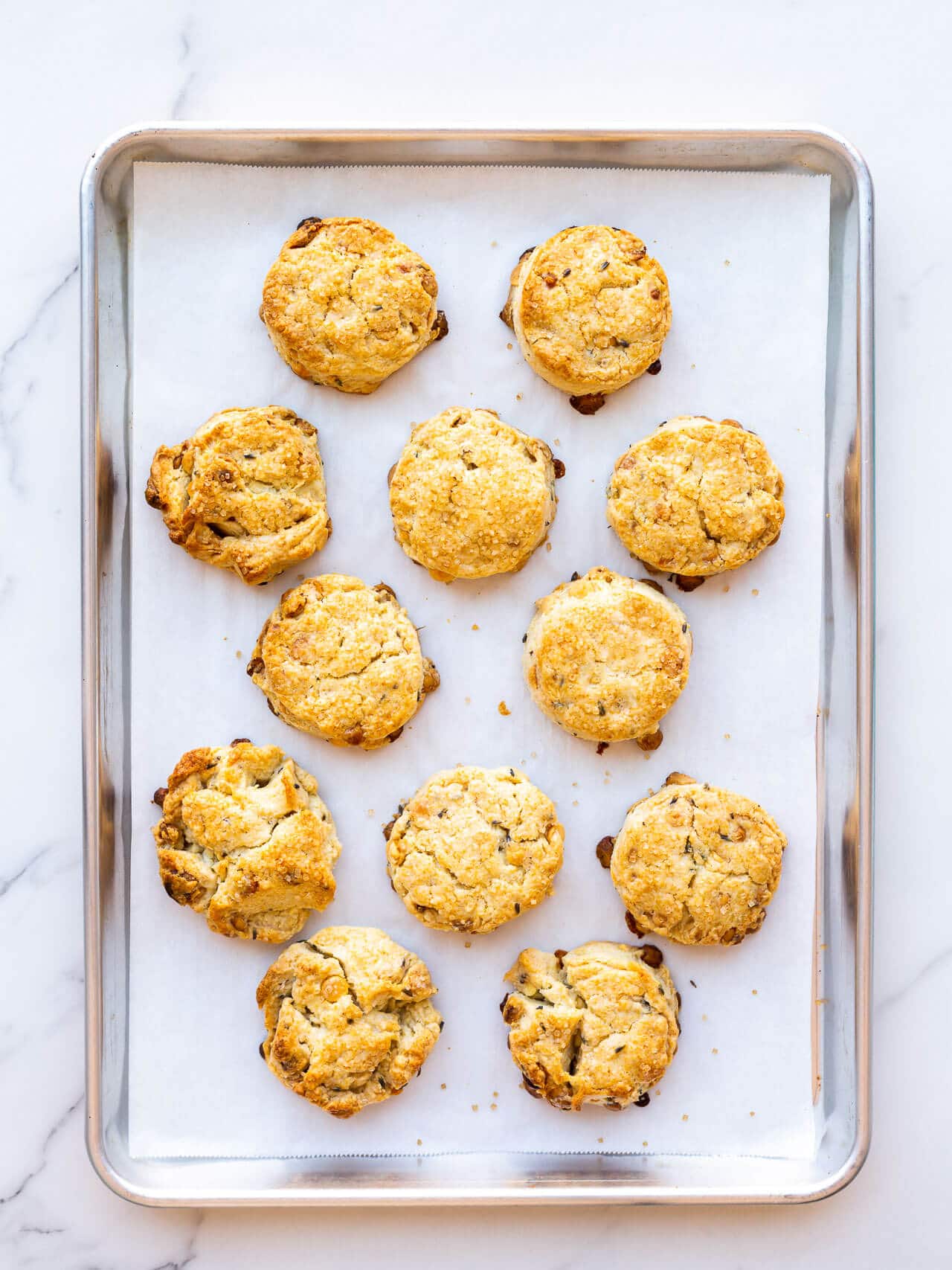 These lavender scones have a delightfully crunchy exterior with a tender, soft interior that is infused with just enough lavender flavour without being overpowering. The scone dough isn't too sweet, which is why the white chocolate chips are a nice touch. And you will notice that, because the best scones are baked at a higher temperature, the white chocolate caramelizes, which makes these white chocolate scones even better!
For the white chocolate, you can use either white chocolate chips or chopped white chocolate.  And though some might not consider it chocolate, white chocolate is a type of chocolate that I encourage you to explore for it's sweet, creamy flavour.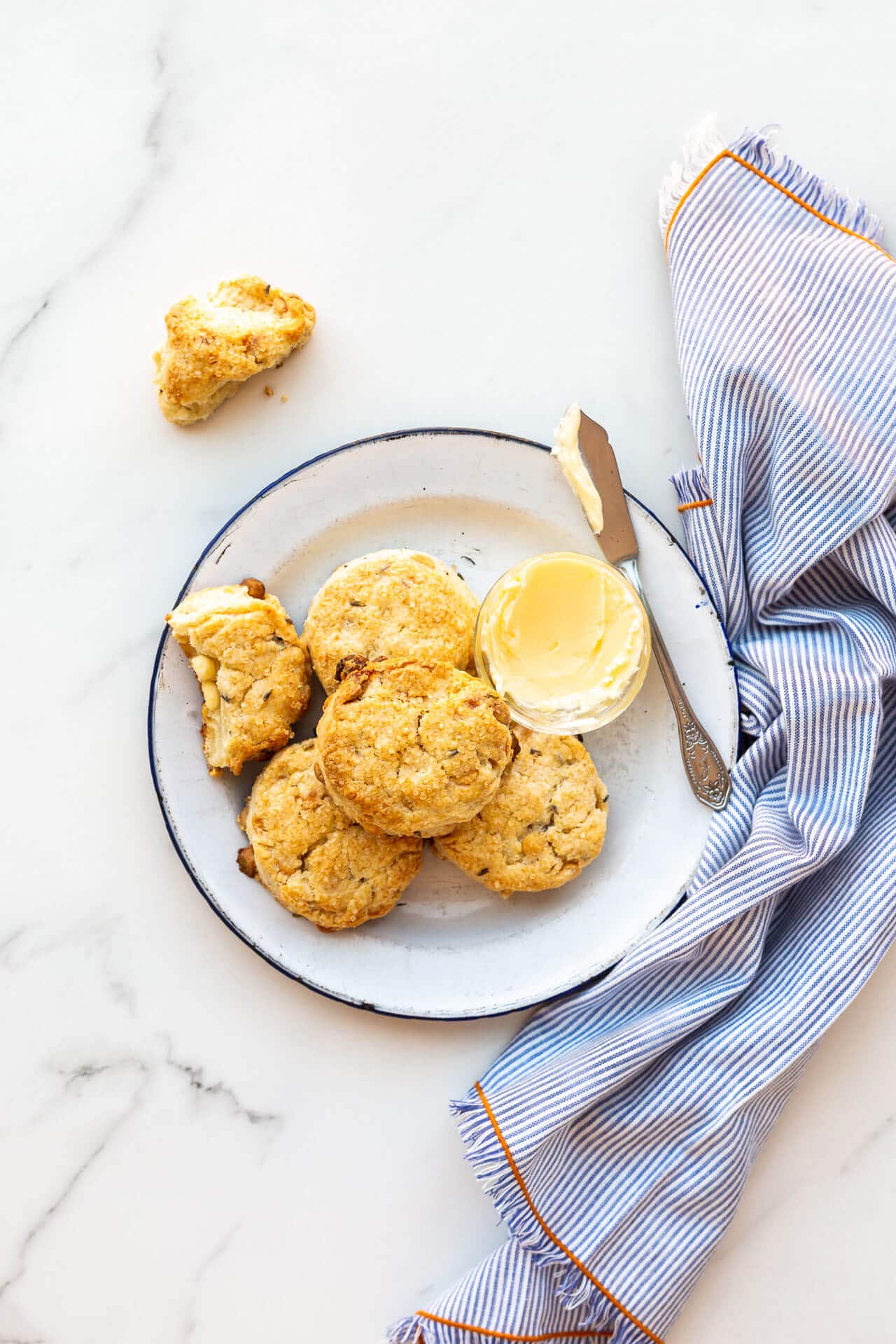 This scones recipe is made with all-purpose flour, also known as plain flour, which is why we have to add baking powder and salt to the dry ingredients. If you are in the UK or other countries that regularly use self-rising flour, use 375 grams self-rising flour and do not add the baking powder and the salt.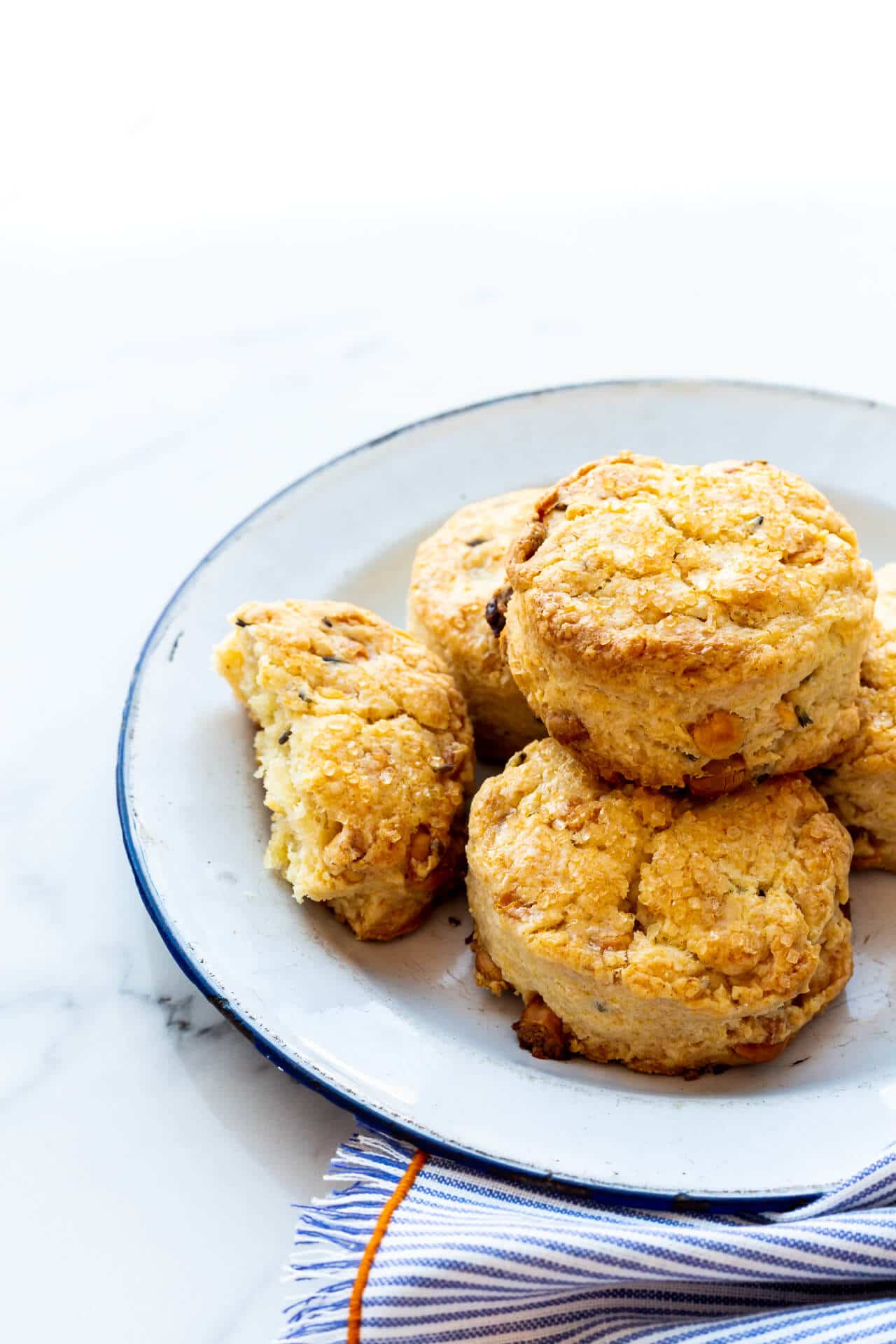 📖 Recipe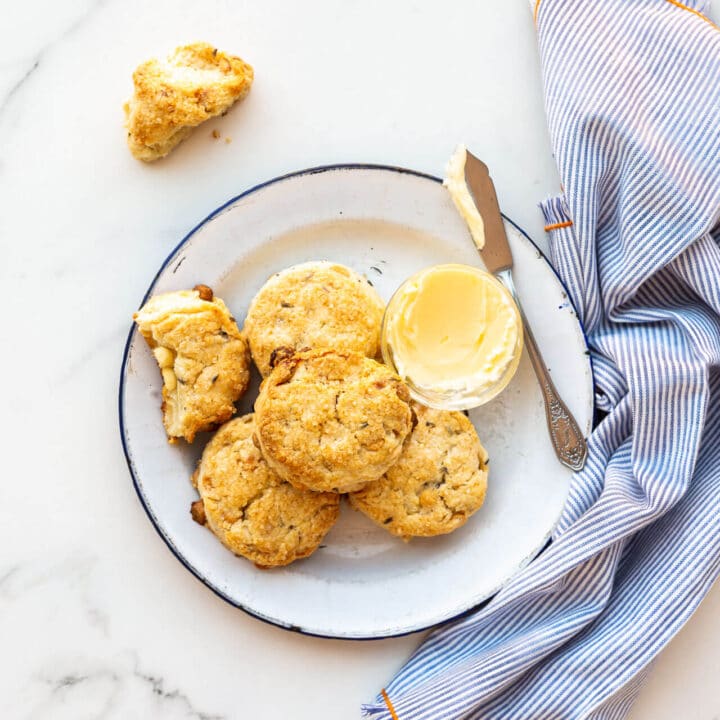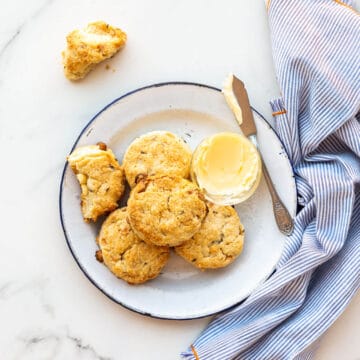 Lavender Scones
These tender lavender scones are made with cream, lavender buds, and chunks of white chocolate, yielding a rich scone that has a light texture and isn't too sweet.
Ingredients
375

grams

bleached all-purpose flour

50

grams

granulated sugar

15

mL

baking powder

10

mL

dried lavender

food grade

115

grams

unsalted butter

very cold, cut into small pieces

175

grams

Cacao Barry white chocolate

chopped (or white chocolate chips)

310

mL

whipping cream (35 % fat)

plus a little extra for brushing on the scones before baking

15

mL

Turbinado sugar

or a sanding sugar that doesn't melt
Optional for serving
unsalted butter

softened

clotted cream

jam or marmalade
Instructions
In a large bowl, whisk together the flour, baking powder, lavender, and salt.

Drop the cold butter cubes into the dry ingredients, and press the cubes of butter into the flour with your fingertips to get large flour-covered flakes (approximately the size of corn flakes).

Mix in the chopped white chocolate

With a big fork, stir in the cream just until the dough clumps (don't over-mix it!). The dough should be a clumpy, floury mess at this point.

Using your hands, press and gently squeeze the dough together, working it just enough to be able to gather the dough into a fat disk.

Transfer the disk of dough onto a lightly floured work surface.

Using a rolling pin, roll the disk into a bigger disk between 18 and 20 cm (7 and 8 inches) in diameter. The thickness should be a little over 2.5 cm (almost 1 inch).

Cut the dough into 10 round scones with a cookie cutter that has a diameter around 6.5 cm (2.5 inches). Gather the scraps of dough and gently press them together to be able to cut out 2 more scones. You will have 12 scones in total.

Place the scones on a parchment lined sheet pan. Freeze for 15 minutes.

Preheat the oven to 400°F while the scones are freezing.

Just before baking, you can brush the tops of the scones with a little cream and sprinkle with turbinado sugar.

Bake the scones for 25 to 30 minutes, until the edges and tops are golden brown.

Serve warm or at room temperature with a dollop of cream.
Notes
This scones recipe is made with all-purpose flour, also known as plain flour, which is why we have to add baking powder and salt to the dry ingredients. If you are in the UK or other countries that regularly use self-rising flour, use 375 grams self-rising flour and do not add the baking powder and the salt.
Nutrition
Calories:
356
kcal
Carbohydrates:
39
g
Protein:
5
g
Fat:
20
g
Saturated Fat:
13
g
Cholesterol:
52
mg
Sodium:
105
mg
Potassium:
217
mg
Fiber:
1
g
Sugar:
14
g
Vitamin A:
550
IU
Vitamin C:
1
mg
Calcium:
106
mg
Iron:
2
mg