Learn how to make rhubarb scones with this easy recipe. These rhubarb tea biscuits are made from a scone dough with chopped fresh rhubarb mixed in. Scroll to find my recipe for homemade scones with rhubarb below.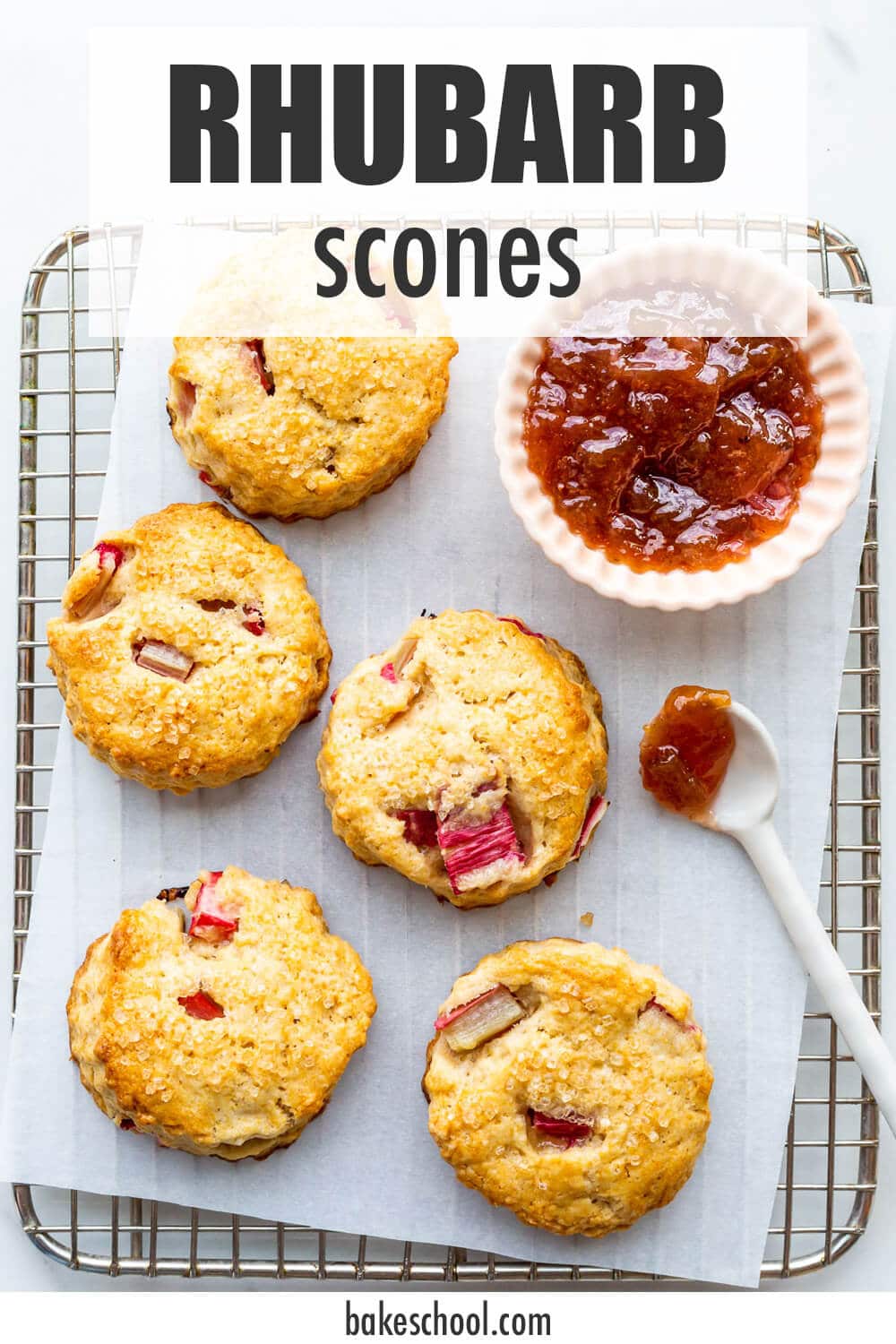 Disclosure: As an Amazon Associate, I earn from qualifying purchases.
These little rhubarb scones are among the best rhubarb recipes I've baked. Scone dough is so rich and lightly sweetened. It is a lovely complement to tangy pink rhubarb. Once baked, they are tender on the inside with a slightly crunchy exterior.
Jump to: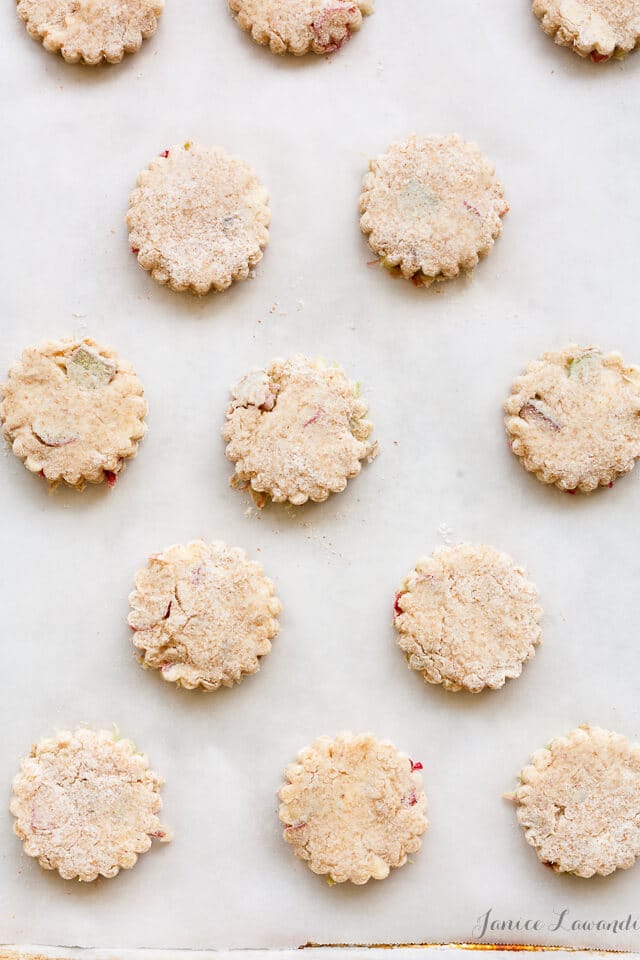 The baking ratio to make scones
The baking ratio for the basic scone dough is very close to the 1-2-3 biscuit ratio. I wanted something a little daintier that you could serve with lightly-sweetened whipped cream and a cup of tea.
What you need to make these fruit scones
If you want to make cream scones with rhubarb, you will need the following ingredients:
flour is needed to bind all the ingredients together and give the scones structure. If you don't use enough flour, your scones may spread too much as they bake. I used a combination of all-purpose and whole wheat, but you can stick to using just all-purpose, if you prefer
granulated sugar though used sparingly in this recipe is important to help tenderize the scones and preserve them so they don't dry out too fast.
baking powder is a complete chemical leavening agent that doesn't require any special ingredients to work, as long as you add moisture (in this case from butter and cream) and heat (when you bake the scones in the oven). Baking powder is different than baking soda. Do not use baking soda, which requires adding an acid to help baked goods rise. Read up on baking soda vs baking powder if you are unsure of the difference.
salt is really important to balance out the sweet flavour. Don't skip it. I like to use Diamond Crystal fine kosher salt, but table salt will work, though the cookies will be saltier and you may want to halve the salt in that case.
butter, preferably unsalted butter because you will add salt to the dough, but if you have salted, it will work. Just adjust the salt in the recipe accordingly, otherwise your cookies may be too salty
fresh rhubarb, chopped into small pieces.
whipping cream (35 % fat) adds moisture and fat to the dough, leading to a more tender and light scones that doesn't go stale too quickly.
Substitutions
Scone recipes are pretty simple at their core, so substitutions are limited. Here are some options to explore:
cream vs milk: I like using whipping cream instead of whole milk to make scones because I want richer scones. Half-and-half or even whole milk can work here, but I find the extra fat in cream helps prevent these from going stale too quickly. All roads lead to making the best scones! If you want to use buttermilk, you will have to make other adjustments (see below).
baking powder: because you will use cream as the liquid in this recipe, baking powder is the chemical leavener of choice. If you prefer to use an acidic dairy, like buttermilk, you will likely need to add a small amount of baking soda to balance out that acidity and to ensure the dough has enough leavening once in the oven.
flour type: this recipe works with all-purpose flour, or half whole wheat, half all purpose.
sugar: I use granulated sugar in these scones because I don't want to add too much flavour. That being said, maple sugar would be amazing in this recipe and a great compliment to the rhubarb.
Technique
Scones are easy and the list of ingredients is short, that's for sure. Still, it's important to do the steps correctly because the method to mix the ingredients has an impact on the texture of them. Overwork the dough, and they may be tougher than you would like.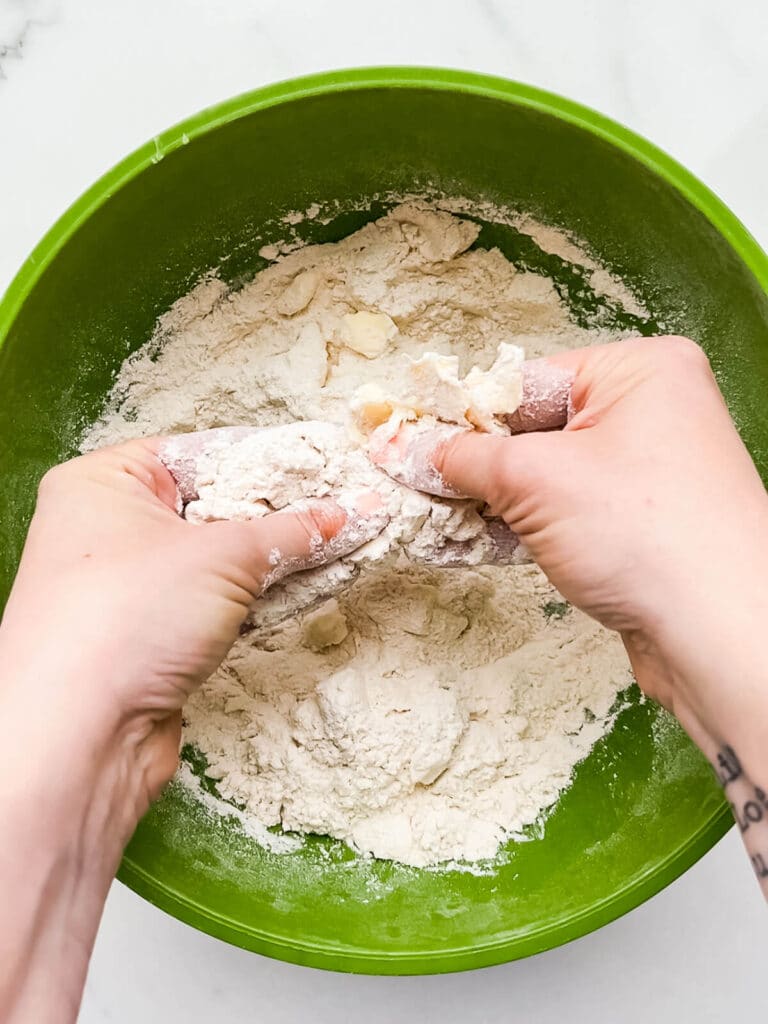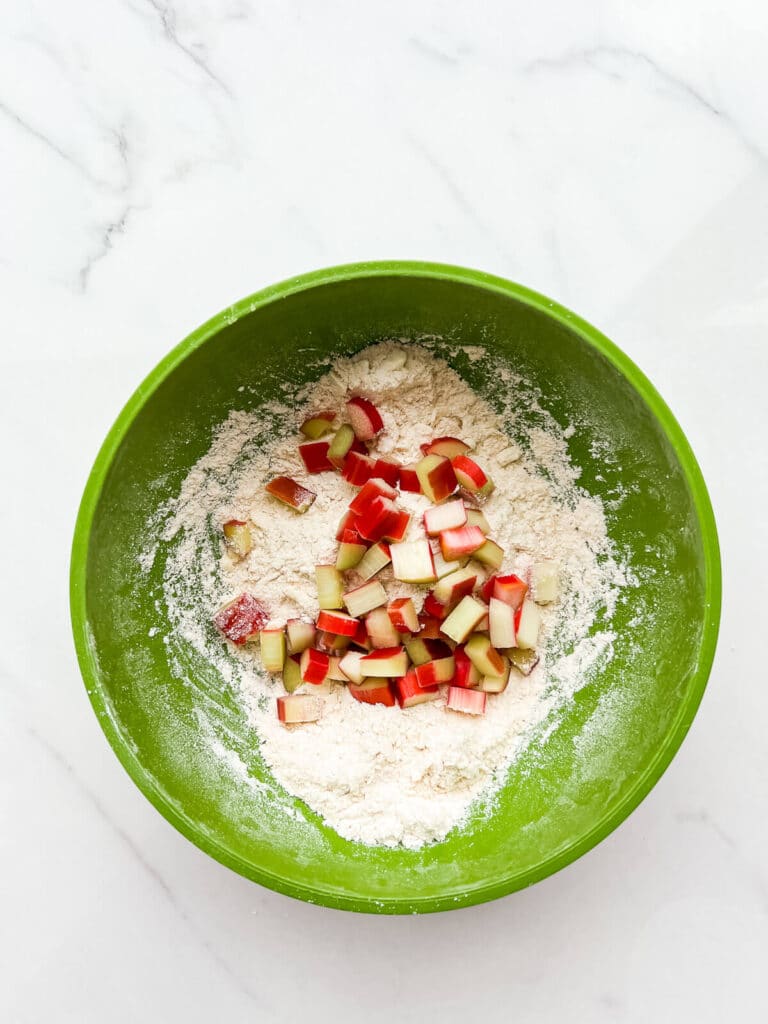 Start by mixing the dry ingredients together (flour, leavening agents, and sugar) together so that they are evenly combined. Then you can add in the cubes of cold butter. Work them into the flour with your finger tips. Alternatively, you can use a pastry cutter to cut the butter into the dry mixture. The goal is to work the butter into the flour enough so that you have a crumbly mixture with pieces of butter of different sizes.
I like to add the fruit at this stage because I find it easier to mix it into the dough evenly at the dry stage, before adding the wet ingredients.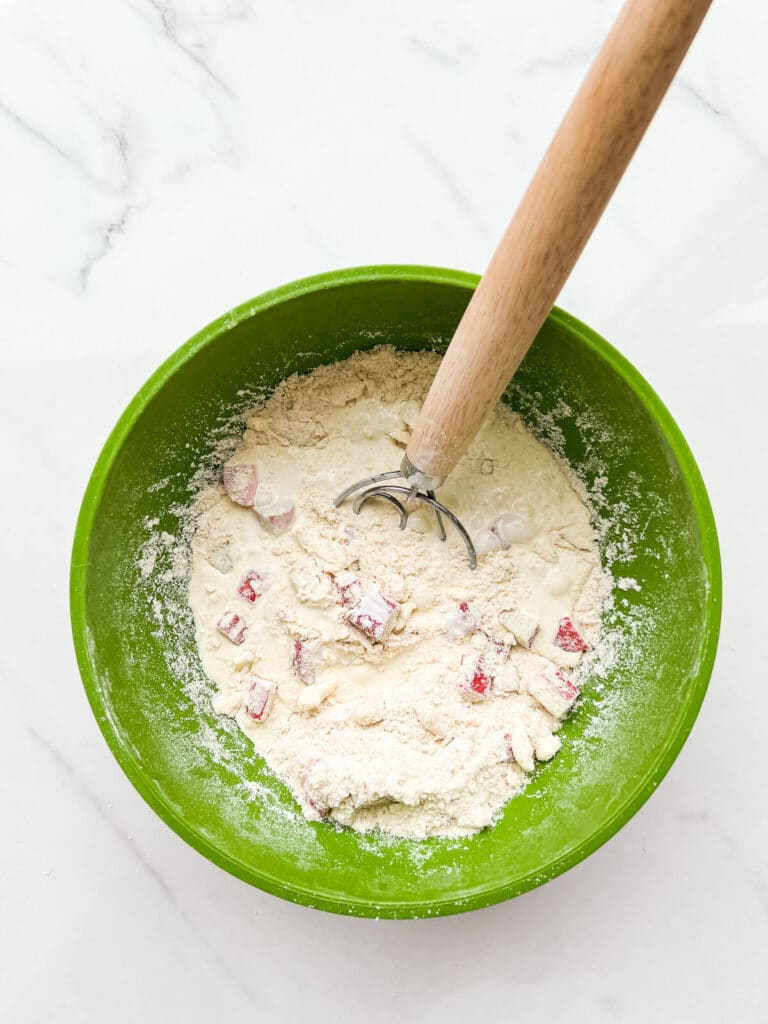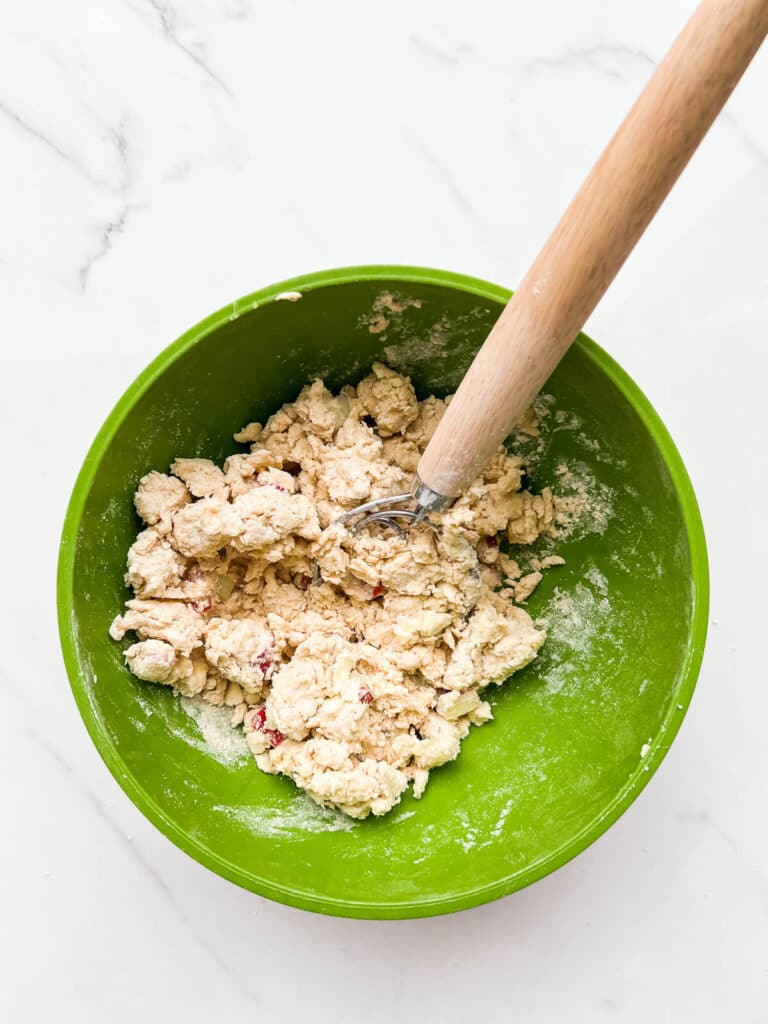 Once your fruit is evenly mixed in, you add the wet ingredients, in this case cream, and work it into the mixture to form a shaggy dough. There will be flour at the bottom still that hasn't been hydrated yet.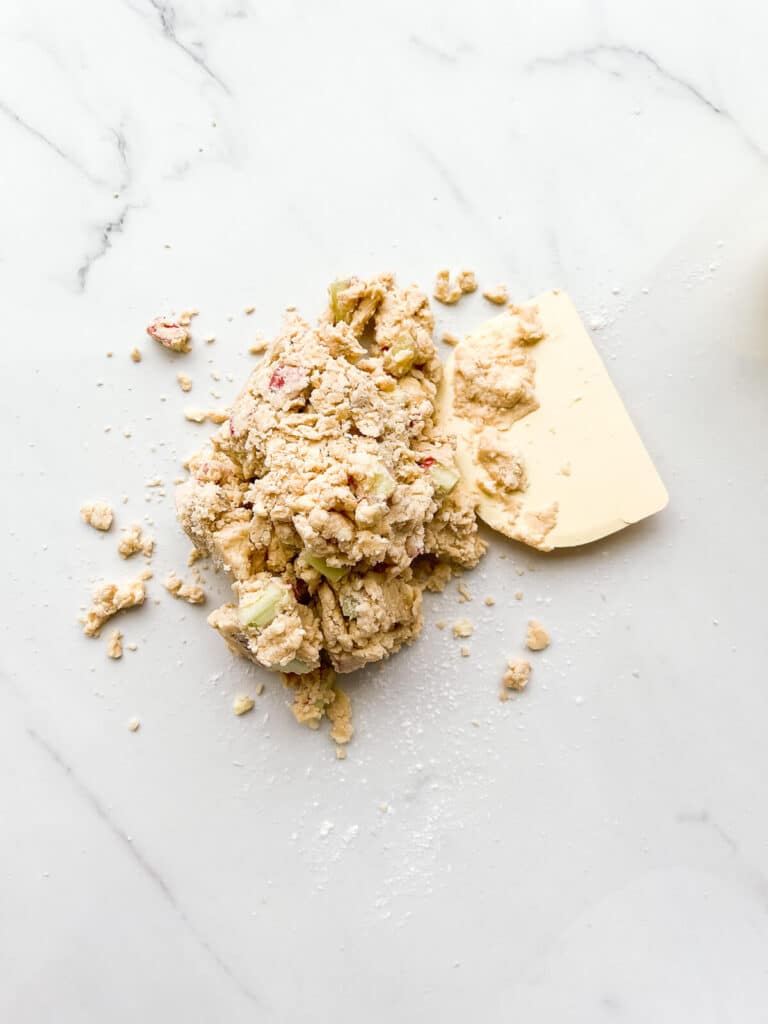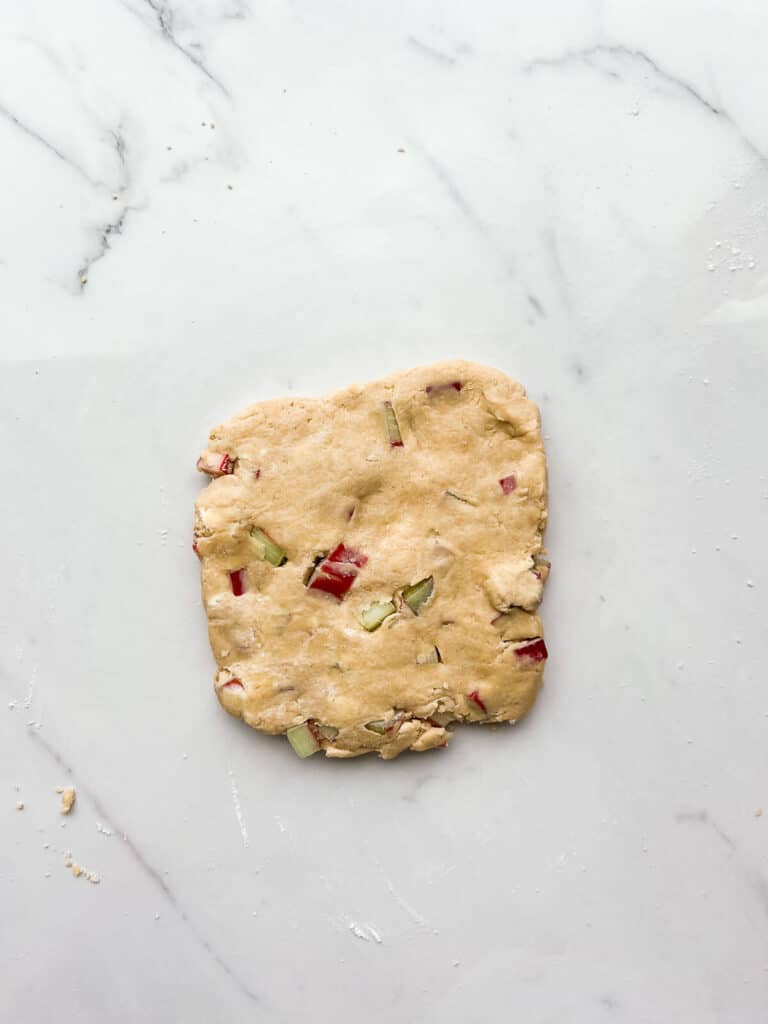 Dump the dough onto your work surface and use your hands or a bench scraper to help you draw the dry bits into the dough to form an even dough. You can then pat out the dough to the desired thickness. If the dough is sticking to the work surface, flour it very lightly. I usually pat it out to a little under an inch thick, which should give you 12 small scones.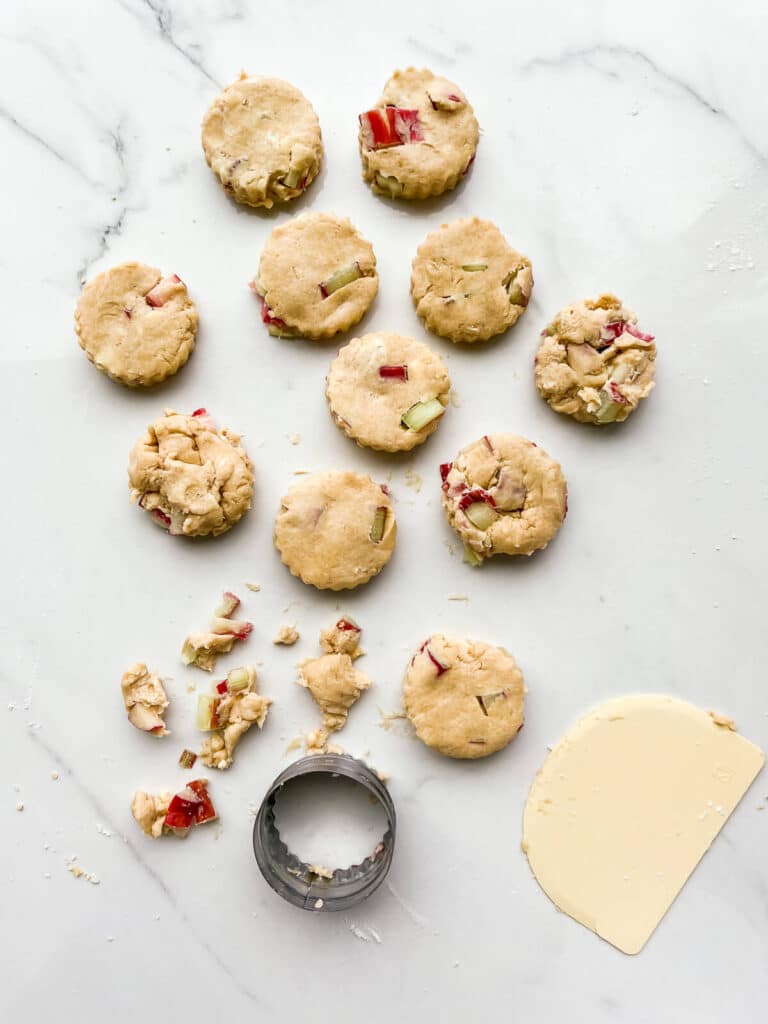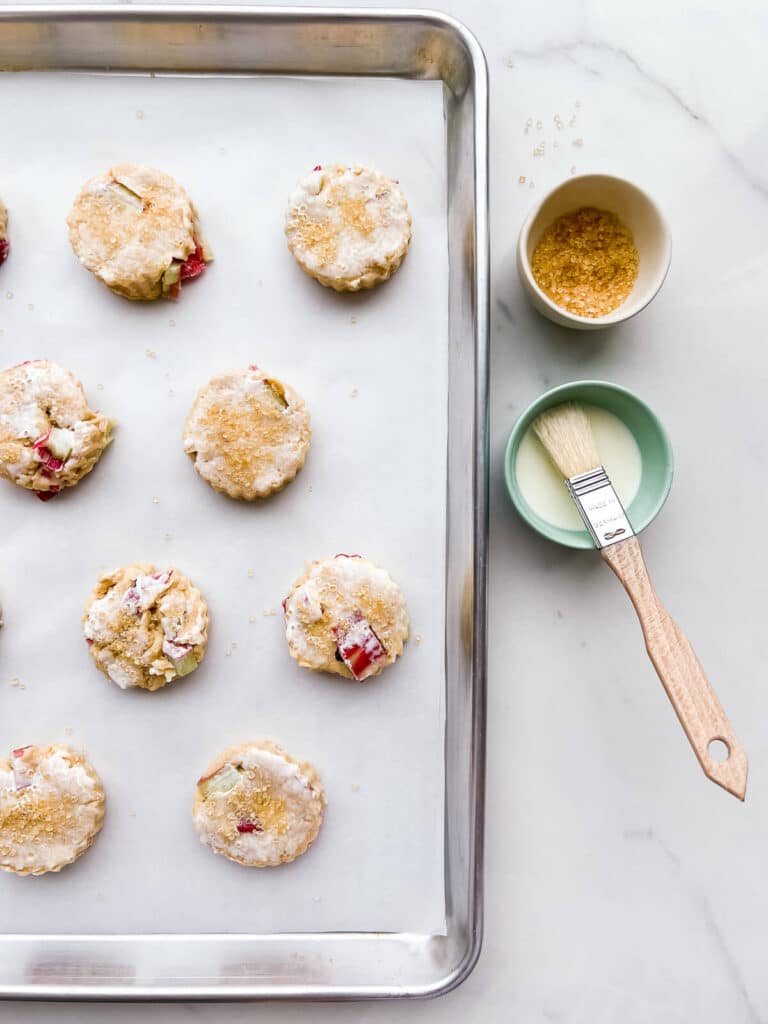 At this point, you can cut out your scones with a cookie cutter or use a knife to divide into 12 equal pieces (they can be square or round scones). Then once you transfer them to your parchment-lined baking sheet, brush the tops of the scones with a little cream or milk, and the sprinkle them with turbinado sugar to add a little crunch and sweetness to the tops.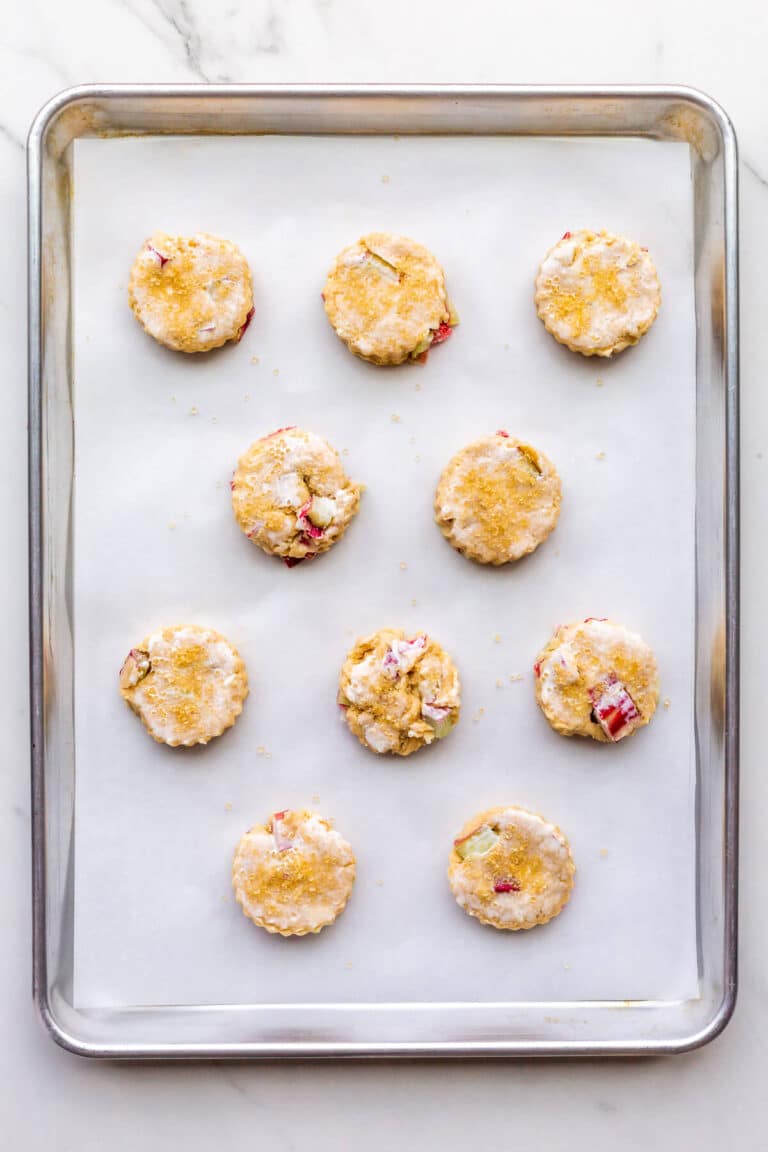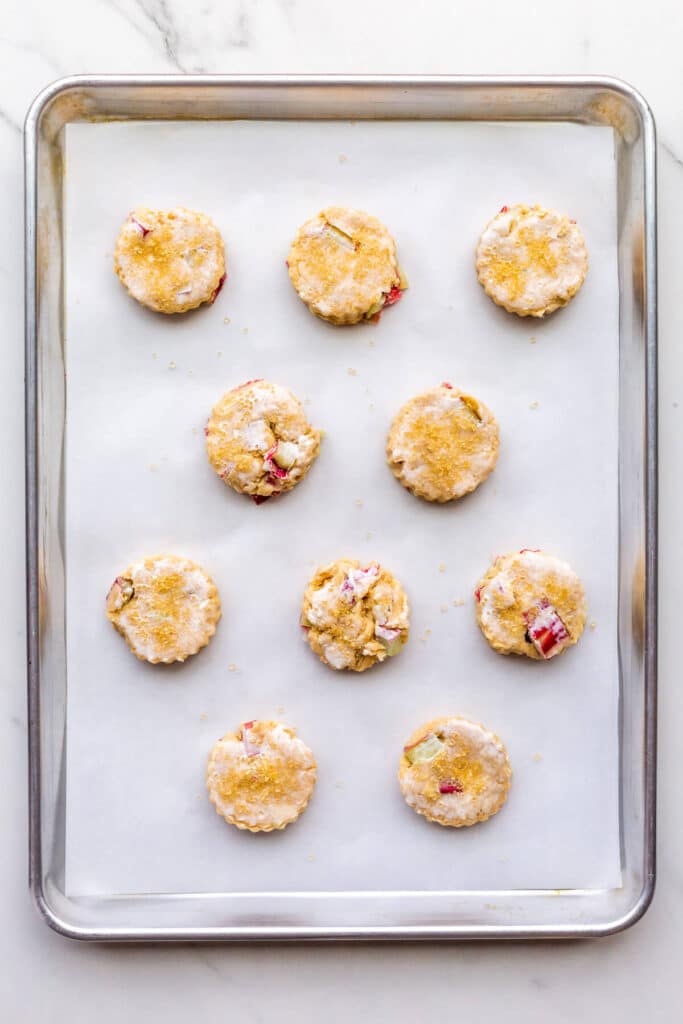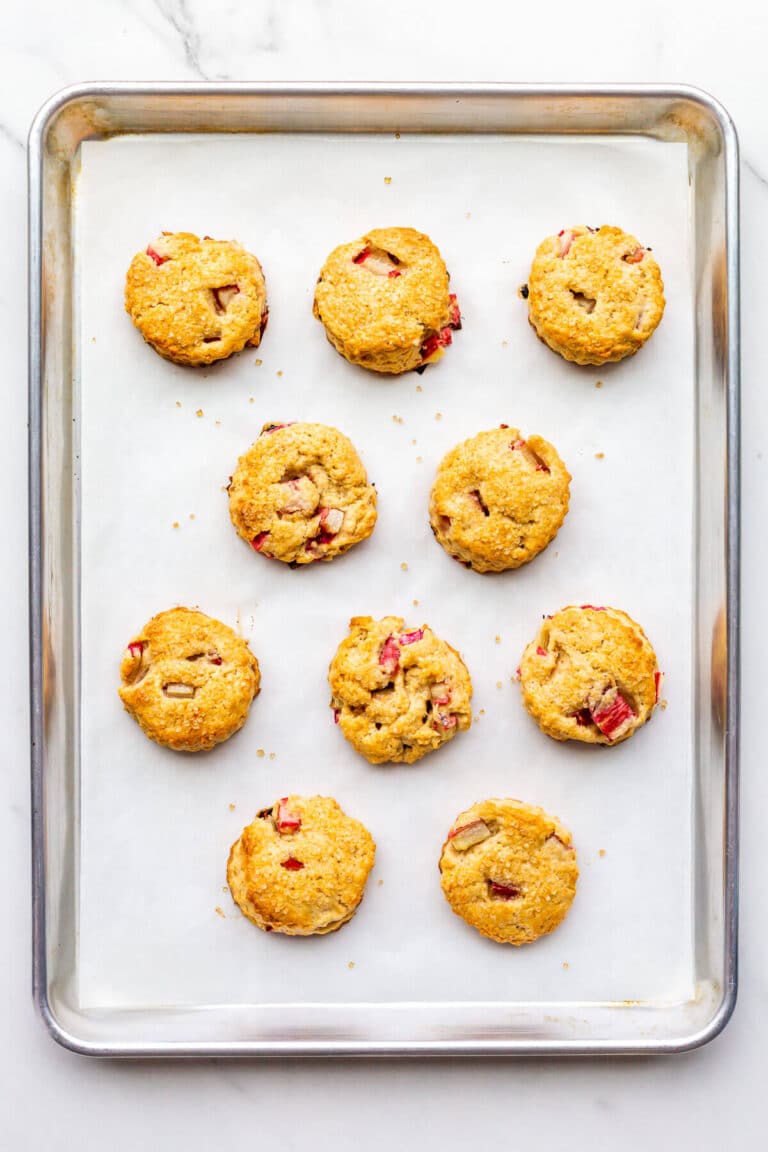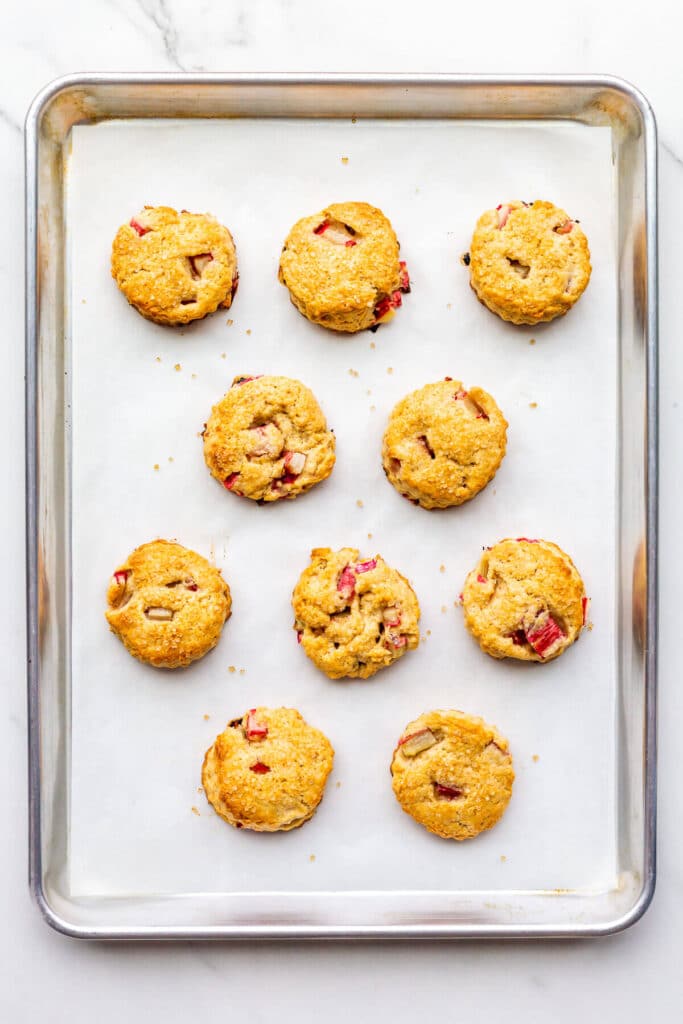 Adding fruit to scones
To incorporate fresh fruit in a recipe for scones, ideally, you would mix the fruit with the dry ingredients before adding in the liquid. So in this case, once the butter and dry ingredients are incorporated to form a crumbly mixture, then you mix in the chopped rhubarb, and finally the cream (or milk). This is the same technique used for the pear and chocolate scones and for the scones with blueberries.
Another option is to stuff the scone dough with fruit, like in these apple pie scones. This method creates a distinct fruit layer in the middle of the scone, which is quite interesting. However you choose to incorporate fresh fruit in your scones, the contrast between the rich sweet scone dough and the fresh fruit pieces is really lovely and I'm sure you'll enjoy it.
If you prefer to bake scones with dried fruit to make a more traditional fruit scone, try these date scones, which have the most delicious orange blossom icing drizzled on top.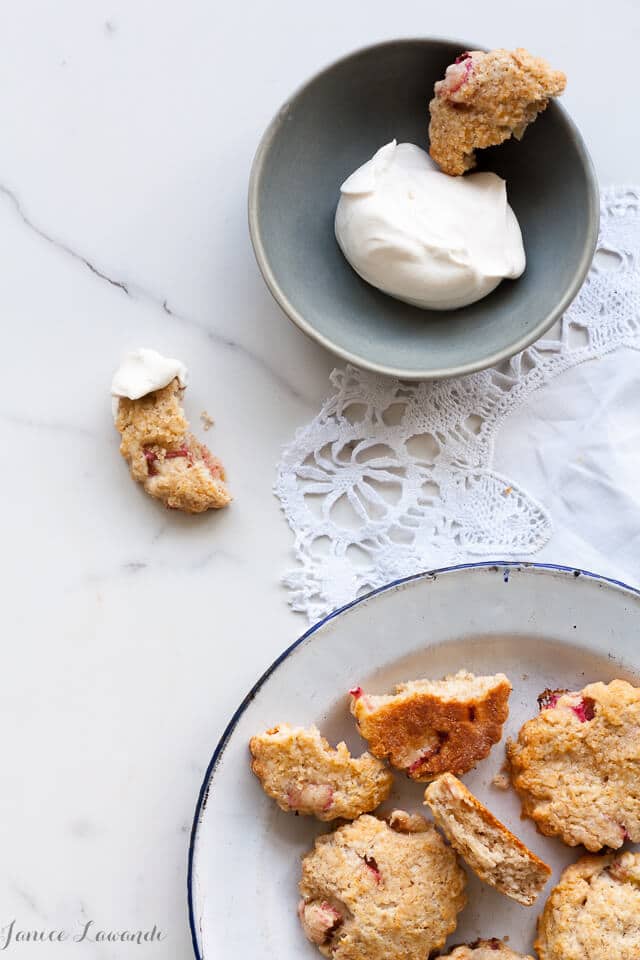 Special equipment
Scones are easy and you don't need any small appliances to make them. Just a bowl and a whisk, and an oven to bake. It's likely you have everything you need, but here's a rundown of the tools I use to make scones:
What to serve with scones
Once you've made these rhubarb tea biscuits, you can serve them with:
whipped cream (lightly sweetened or even unsweetened)
homemade rhubarb jam
Really any homemade jam will work with these, but my preference is rhubarb jam or lime marmalade. Blueberries work surprisingly well with rhubarb, as you can see with this blueberry rhubarb crumble.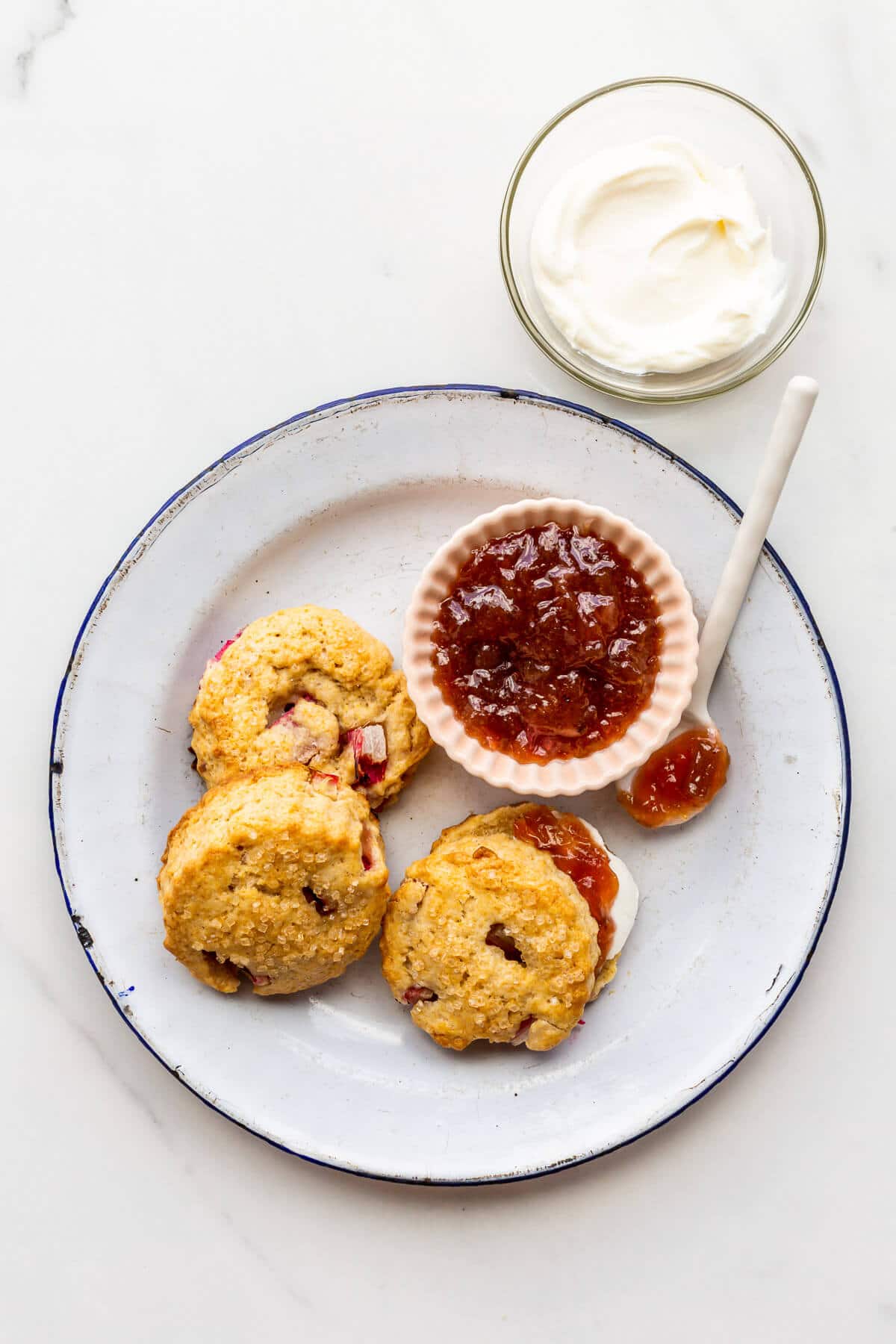 Storing scones
Cream scones like this recipe with rhubarb can be stored at room temperature. You can reheat them in the oven or a toaster oven to serve them warm, but I find that scones made with heavy cream, butter, and some sugar, don't go stale too quickly. They will last a couple of days stored in an airtight container in a cool, dry place.
You can also freeze the unbaked scones:
Freeze the unbaked scones on a parchment-lined sheet pan until frozen solid
Transfer to a freezer bag to store long term
Bake from frozen—note that they will take longer to bake from frozen
You can also freeze baked scones in a freezer bag. Defrost them overnight in the refrigerator and warm in a toaster oven to serve or defrost and warm the frozen scones directly in the oven.
📖 Recipe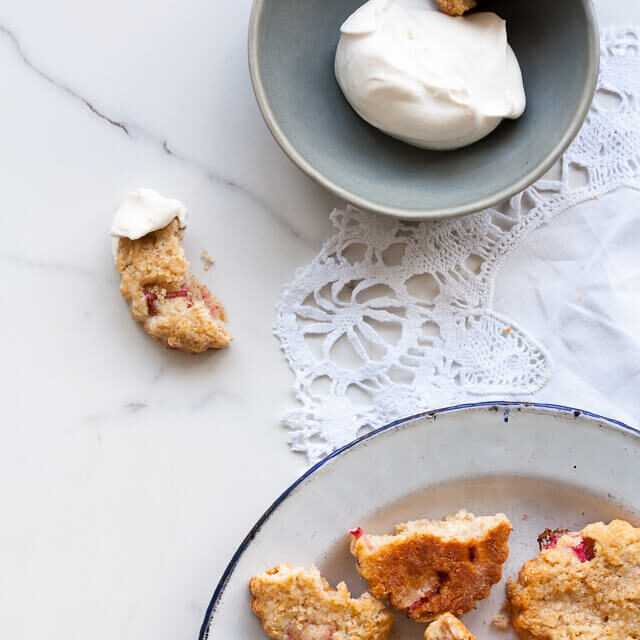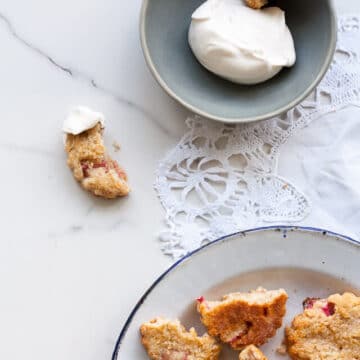 Rhubarb Scones
These mini rhubarb scones are tiny rich buttery scones with fresh pink rhubarb in them!
Ingredients
94

grams

whole wheat all-purpose flour

94

grams

bleached all-purpose flour

7.5

mL

baking powder

1.25

mL

Diamond Crystal fine kosher salt

50

grams

granulated sugar

77

grams

unsalted butter

cold, diced

100

grams

fresh rhubarb

~1.5 stalks, sliced

170

mL

whipping cream (35 % fat)

plus more for brushing on the tea biscuits before baking

2.5

mL

pure vanilla extract
Turbinado sugar

for sprinkling on top
Instructions
Preheat the oven to 400 °F (200 °C). Line a couple of baking sheets with parchment paper.

Mix together the flours, baking powder, salt, and sugar in a large bowl with a whisk.

Drop in the butter and work it in with your hands until you get a coarse crumb. Stir in the rhubarb.

Add the cream and vanilla, and mix it in with a fork to form a rough dough. Don't overwork it.

Drop the dough onto a lightly-floured work surface and work it with your hands just enough to gather in the dry bits and incorporate them. You can pat out the dough and fold it over a couple of times to create a little layering.

Pat out the dough to about ¾–1 inch thick and cut with a 2-¼" cookie cutter.

Transfer the scones to the baking sheets. You can press the scraps together gently to make a few extras and use up all the dough.

Brush the scones with a little cream and sprinkle with turbinado.

Bake for about 25 minutes until the bottoms begin to turn nice and golden. Let cool slightlly before serving with a little whipped cream and jam.
Notes
You can also use this recipe to make 6 regular sized scones, by patting the dough into a disk and cutting into wedges. Note the baking time will be more, closer to 25 or even 30 minutes.
Nutrition
Calories:
126
kcal
Carbohydrates:
17
g
Protein:
2
g
Fat:
6
g
Saturated Fat:
4
g
Cholesterol:
15
mg
Sodium:
46
mg
Potassium:
96
mg
Fiber:
1
g
Sugar:
5
g
Vitamin A:
186
IU
Vitamin C:
1
mg
Calcium:
33
mg
Iron:
1
mg
Frequently asked questions
Can I freeze scones?
Scones freeze well and you can freeze them unbaked or baked. If you freeze them unbaked, bake the frozen scones at 400 °F for at least 25 minutes, but it will likely take 30 minutes. To rewarm frozen baked scones, preheat the oven to 350 °F and heat them on a sheet pan.
Why are my scones flat?
The ratio of liquid to flour and butter is what allows scones to keep their shape. Too much liquid and they will spread. If the scone dough is too warm, they may also spread. To keep scones from baking flat, make sure to pat out the dough thick, at least ¾ inch thick, or even thicker. Make less scones if you want them to be really tall! Another trick is to freeze scones briefly before baking to set them in place so that the outer edges of the scone bake faster than the centre. This is also why some cookie recipes chill the dough before baking. I also bake scones at a higher temperature, 400 °F, instead of baking at 350 °F. This is to minimize spreading.
Why are scones so dense?
If your scones seem dense or dry, it's possible that you overworked the dough. You need to work it enough that it comes together somewhat cohesively, but you do not want to knead the dough. This would develop more gluten. The fat in this recipe helps prevent the gluten network from forming, but you still shouldn't knead or handle the dough more than necessary.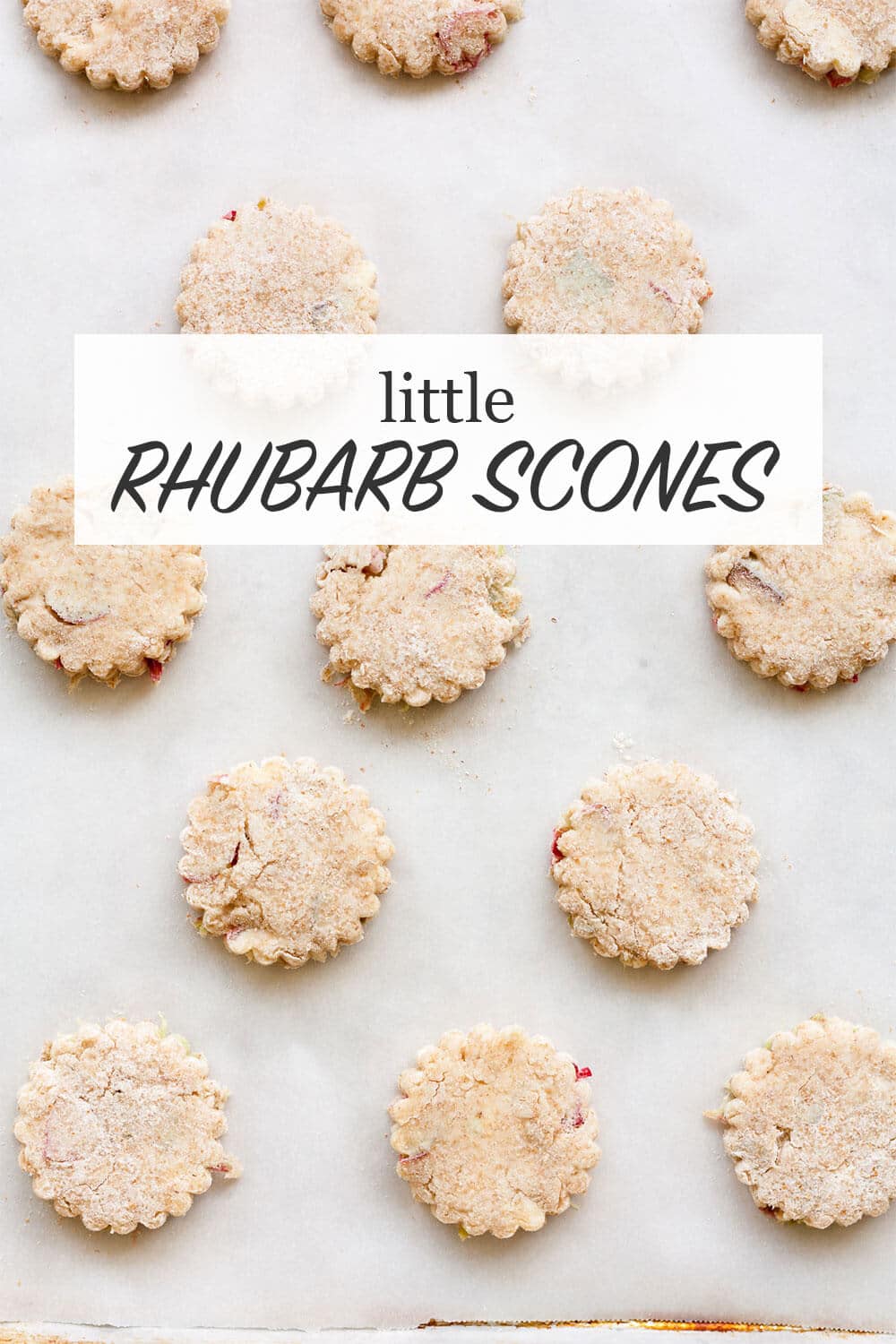 Other fruit scones to try
Adding fruit to scones is a great way to jazz them up. Here are some other recipes to try: