This post was sponsored by Cacao Barry. As an Amazon Associate I earn from qualifying purchases.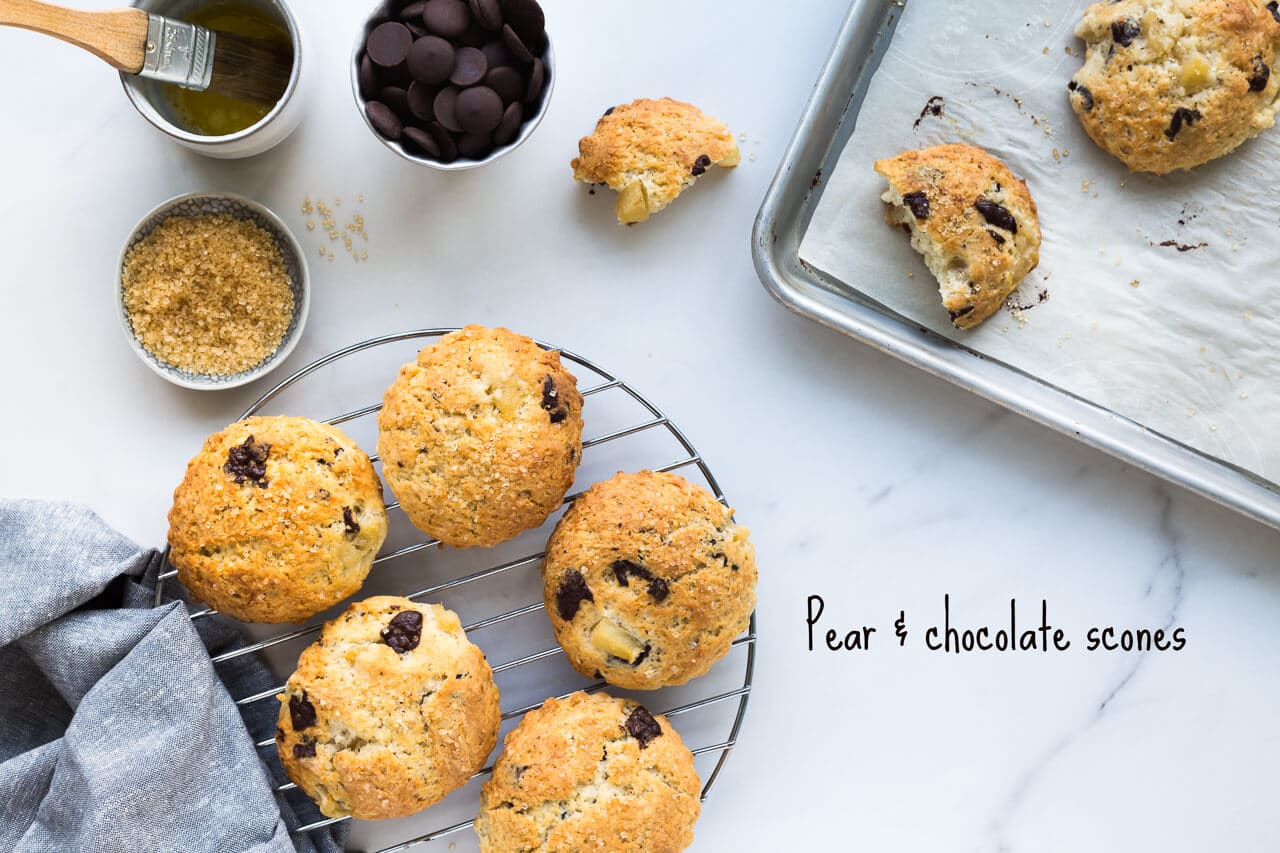 I have a love-hate relationship with scones. Most of the time, when I buy scones from the average cafe, they are... mediocre. Am I allowed to say that? Whatever. I just did! I can't be the only one who feels this way. I pretty much avoid scones when I go out, even if there are chocolate scones, loaded with chocolate chunks. A bad scone is downright disappointing.
So, how do you make the best scones? The secret to amazing scones: use good quality ingredients, use as little flour as possible, add cream (and butter!), do not overwork the scone dough, gentle touch. This pear and chocolate scone recipe is so good that it stands up to freezing: make a batch, bake and freeze them, and you'll see. All you need to do is reheat them in an oven for about 10 minutes to enjoy fabulous warm scones.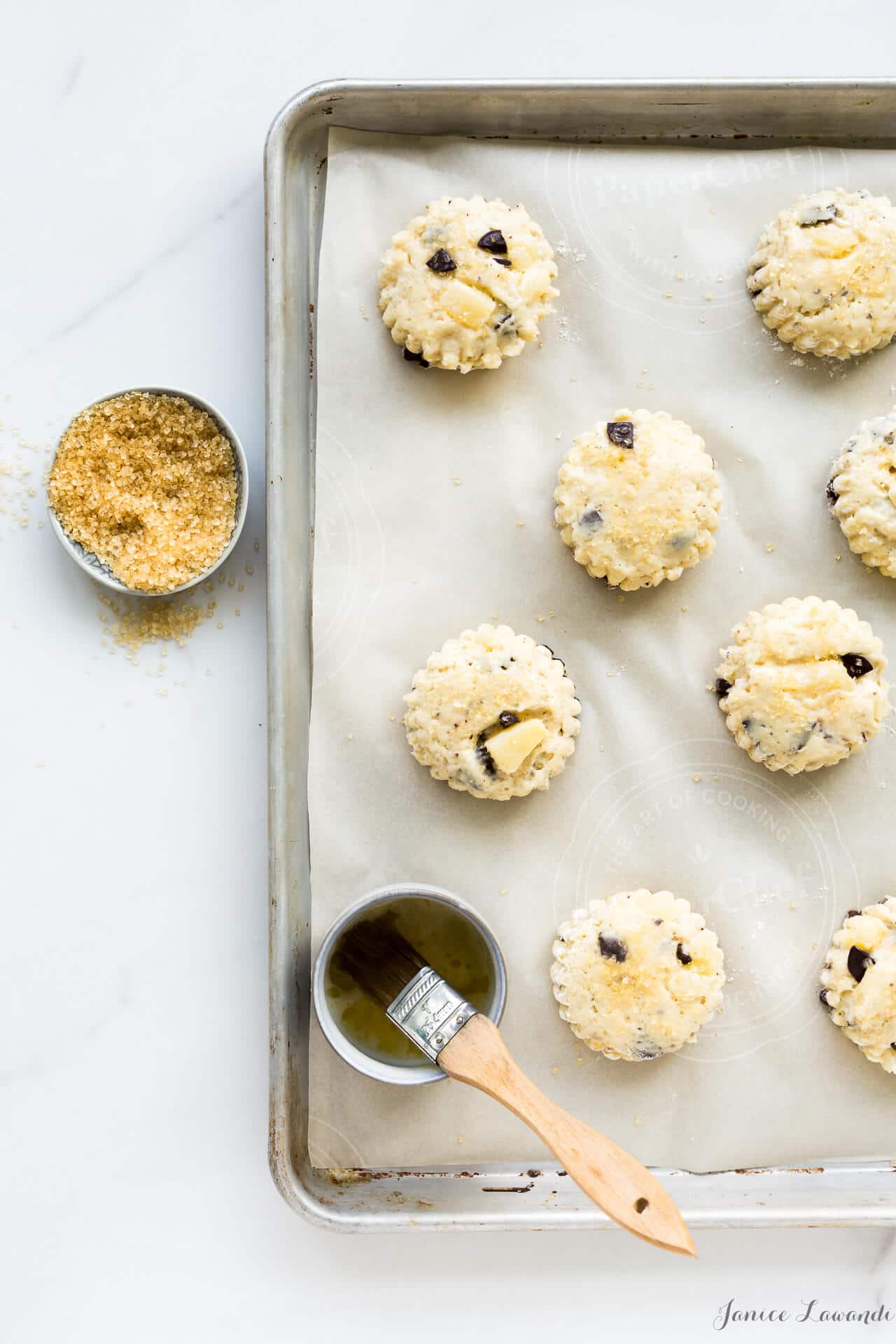 Disclosure: As an Amazon Associate, I earn from qualifying purchases.
When you incorporate fruit into scones, you have a few options:
add fresh fruit, like chopped rhubarb as in this rhubarb scone recipe, or chopped apple like in these apple pie scones
add canned fruit, like in the recipe below
add dried fruit, which is a very traditional way that is common in the UK where fruit scones actually refers to scones made with dried fruit, like raisins or currants.
For these scones, I used Ocoa chocolate from Cacao Barry, which is a 70% cocoa dark chocolate with a deep cocoa flavour that's not too sour and not too sweet. You can find it at IGA grocery stores in Quebec in 1-kilo resealable bags. If you aren't living in Quebec, you can order it and most Cacao Barry products online via the Vanilla Food Company website and they ship across Canada and to the United States! This means that we all have access to professional quality chocolates so we can make better baked goods at home. There are many different types of chocolate for baking, so make sure to choose the best.
If you prefer white chocolate, check out these lavender scones with white chocolate.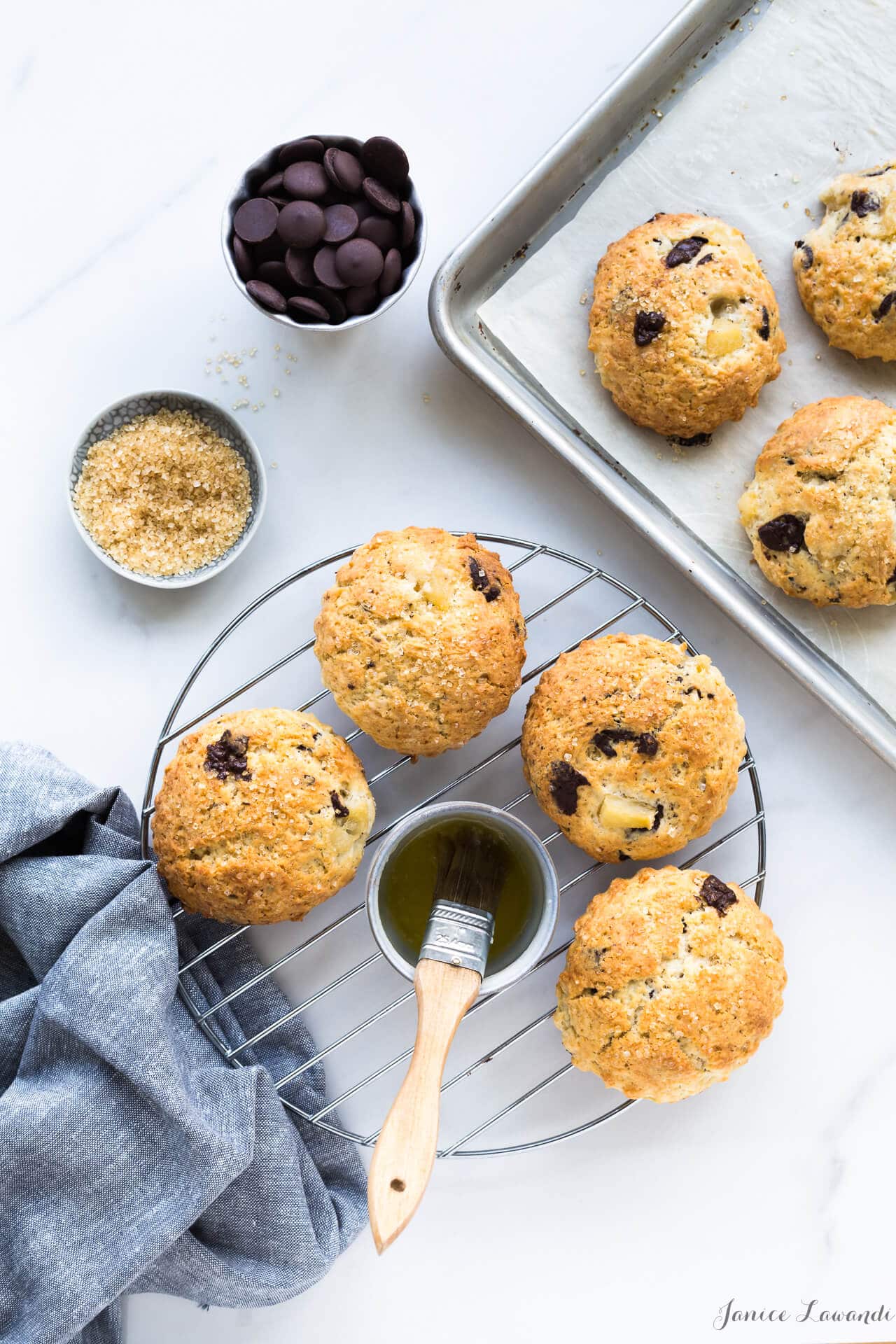 This scone dough is a little sticky, so you are going to want to keep a pastry scraper handy to help you out. I tend to reach for plastic pastry scrapers (like this one on Amazon), but if you prefer a more sturdy metal bench scraper, go with one from Oxo, which you can also find on Amazon. A pastry scraper will help you fold the scone dough and seal in the chocolate and pear chunks. I also used a set of nesting cookie cutters that are crinkled on one side (like these on Amazon) to cut out the scones.
After much research, I noticed that for flakier scones, the scone dough is worked much like a puff pastry—rolled, folded, and turned several times to produce a layered interior that will bake up light, but moist. Rose Levy Beranbaum uses this rolling and folding technique in her flaky scones in the Bread Bible. I've used the rolling and folding technique for these 1-2-3 biscuits, where the technique added layering and structure to the dough. It's very similar to the technique used for homemade croissants and puff pastry.
If you prefer to skip this, feel free to use a disher or muffin scoop to drop portions of the scone dough on a parchment-lined sheet to bake them like drop scones.
📖 Recipe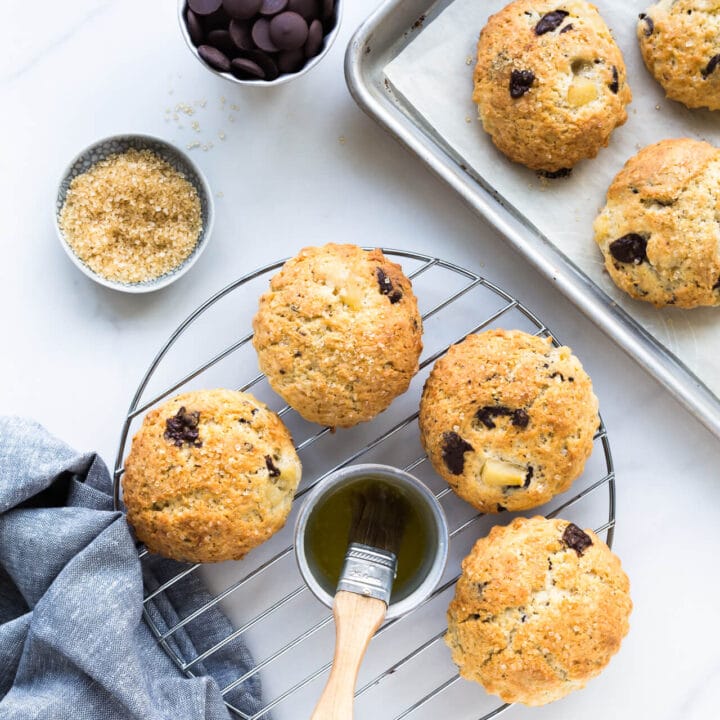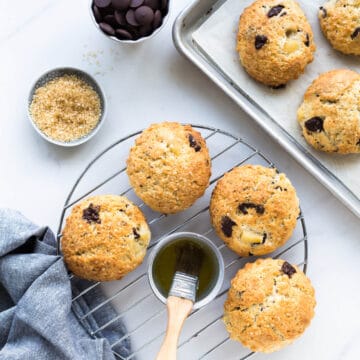 Pear and Chocolate Scones
The chocolate chip scones are made with chunks of dark chocolate and pear for the perfect breakfast treat.
Ingredients
312

grams

bleached all-purpose flour

100

grams

granulated sugar

15

mL

baking powder

5

mL

ground cardamom

77

grams

unsalted butter

cold

250

mL

whipping cream (35 % fat)

1

large egg(s)

30

mL

unsalted butter

melted

15

mL

turbinado sugar

75

grams

Cacao Barry Ocoa 70% dark chocolate

chopped

160

grams

diced canned pears in fruit juice
Instructions
Preheat the oven to 400ºF (200 °C). Line a couple baking sheets with parchment paper.

In a large bowl, whisk together the flour, sugar, baking powder, salt, and cardamom. Set aside.

Chop the cold butter into cubes, then dump it into the bowl with the dry ingredients. Work it into the flour rubbing/pressing gently until the mixture ressembles a coarse crumble and the flour has changed colour slightly.

In a separate bowl, whisk together the cream and the egg. Pour it over the buttery dry ingredients in the large bowl and mix it into the bowl. You can also use your hands. The dough will be sticky.

Generously flour your work surface and then scrape the scone dough onto it. Pat flour over the surface of the dough as you pat it out. Dump the chopped chocolate and the pear chunks onto the dough and using a big pastry scraper, fold the dough onto itself like a letter. This will be messy, and a little sticky, but don't worry. Use a little flour if you need to. Press and fold a couple times to get the chocolate and pears into the scone dough, using a little flour if necessary. You don't want to overwork or over-handle the dough, and you don't want to incorporate too much flour.

You can either use a very large cookie or ice cream scooper (like this on Amazon) to form divide the scones OR pat the dough out to a 1 inch thickness and cut out circles with a floured 2.5 inch cookie cutter. Place on parchment-lined sheets. Brush with melted butter and sprinkle with turbinado. Gently pat together scraps to cut out as many scones as you can. You will probably get 10 to 12 scones.

Bake the scones one sheet at a time in middle of oven for 25 to 30 minutes, rotating the sheet after about 20 minutes.

Feel free to brush the scones with more melted butter and sprinkle with more turbinado when they come out of the oven.
Notes
I baked these muffins with Cacao Barry Ocoa chocolate, which you can find at IGA grocery stores in Quebec, or online at Vanilla Food Company.
Freeze the cooled freshly baked scones on a parchment-lined sheet until frozen through, then transfer to a freezer bag to store.
Reheat frozen scones at 350ºF for a good 10 minutes to warm them through.
Nutrition
This post is sponsored by Cacao Barry. I was compensated monetarily and with product. Thanks for supporting the companies that allow me to create content for Kitchen Heals Soul. As always, please know that I wouldn't work with a sponsor nor recommend a product if it wasn't worth it.
Please note this post contains affiliate links to Amazon. If you buy a product I recommend, I will get a small commission, and the price you have to pay will not change in any way.