Learn how to make chocolate shortbread cookies with this easy recipe. You can press this dough into a pan or roll it out and cut it with cookie cutters for cutout shortbread cookies. These bittersweet chocolate cookies are best dipped in melted white chocolate for the ultimate chocolate cookie!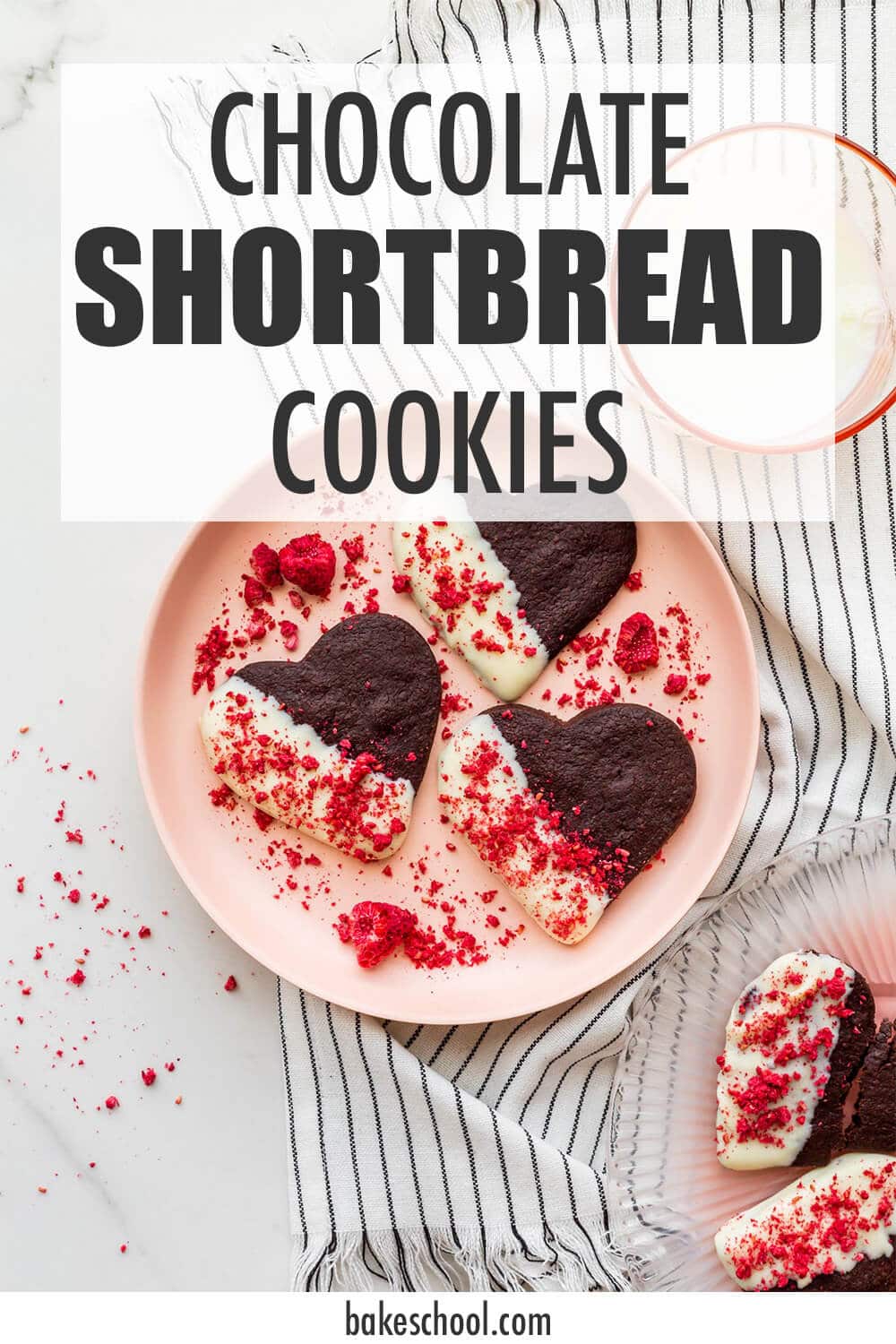 Disclosure: As an Amazon Associate, I earn from qualifying purchases.
The basic recipe for shortbread cookies is easy to remember because it follows a 1:2:3 ratio of ingredients with 1 part sugar, 2 parts butter, and 3 parts flour, by weight. We take the classic shortbread cookie ratio and substitute a portion of the flour for cocoa powder to transform them into chocolate shortbread. It's that easy! Here's how to make them.
Jump to: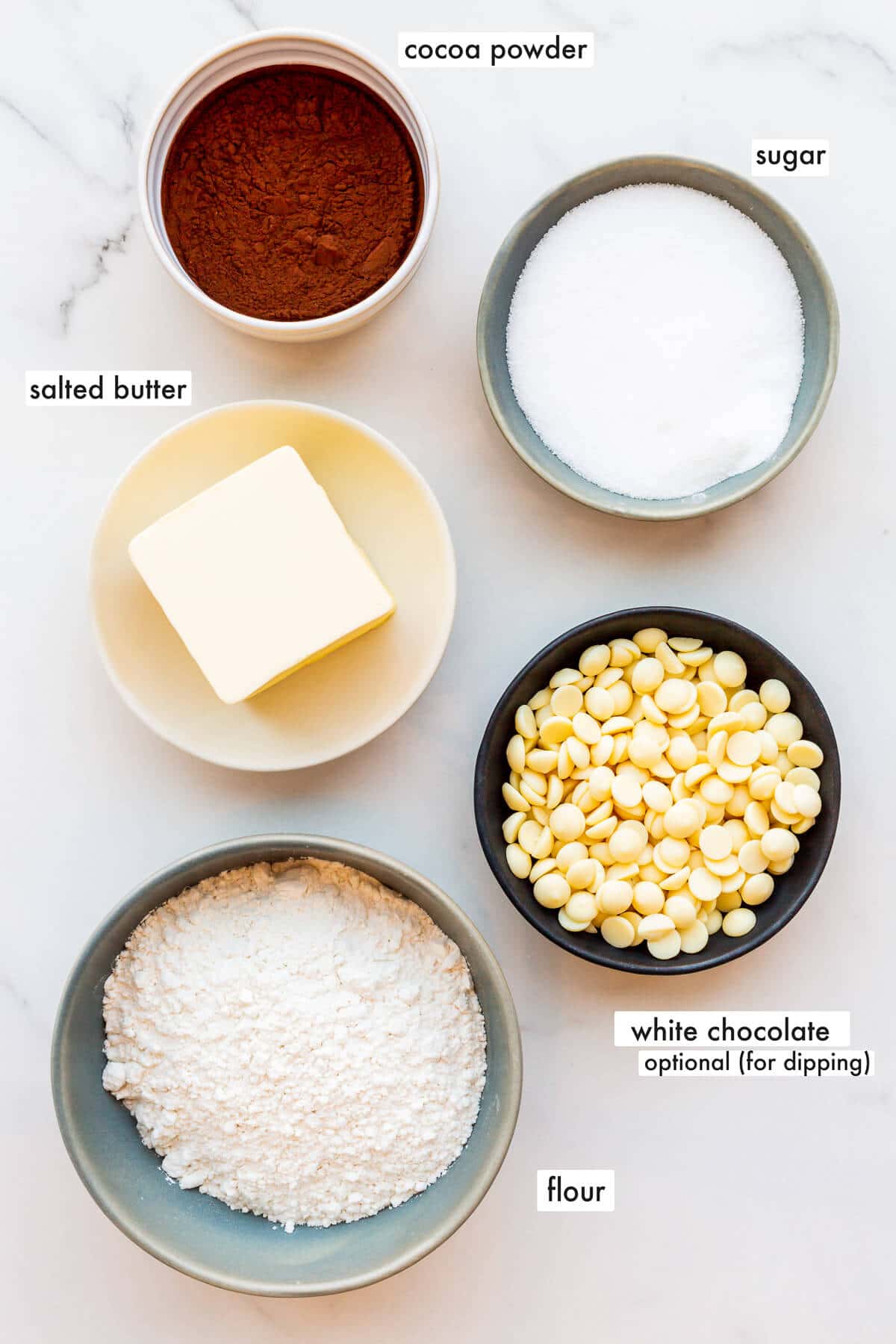 Ingredients
You only need butter, sugar, and flour to make plain shortbread cookies. Here's what you need to bake the chocolate version:
butter—use salted butter and you won't need to add salt
sugar—I like to use granulated sugar for its texture
flour to give them structure and reduce spreading
cocoa powder to infuse the cookies with an intense deeply chocolate flavour without contributing more sugar which could cause spreading—use Dutch-processed cocoa powder because it has a more intense flavour and darker colour, not natural cocoa powder (read up on the different types of chocolate for baking if you aren't sure what the difference is)
Optional ingredients for jazzing them up include melted chocolate and some form of sprinkle, freeze-dried berries, or chopped nuts for dipping and coating the baked cookies
See recipe card for quantities.
Instructions
Shortbread cookies are mixed using the creaming mixing method, so you start by whipping together softened butter and sugar. You want the ingredients to be evenly mixed at this stage before introducing the flour to avoid overworking the dough after.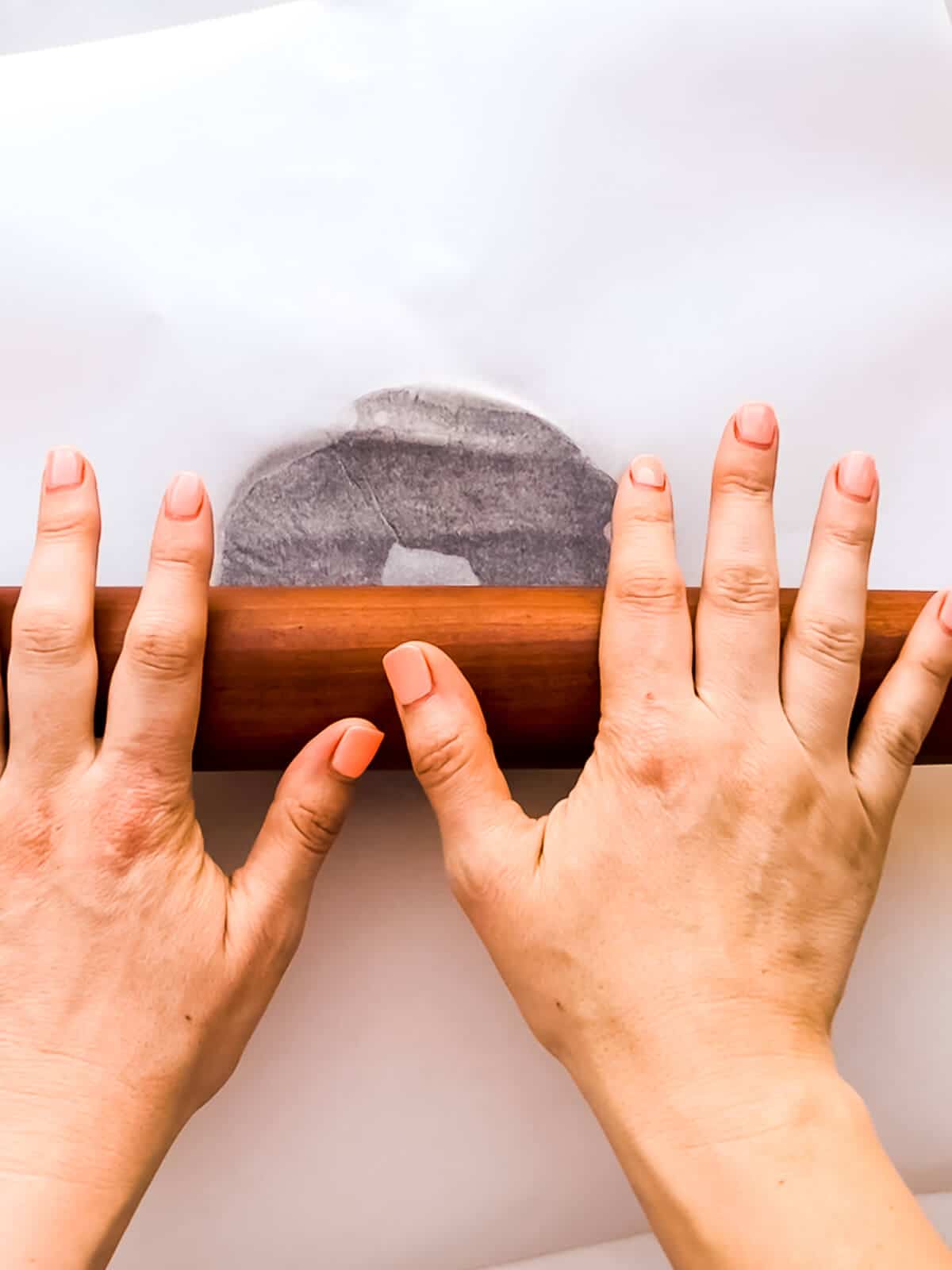 Rolling the dough between sheets of wax paper or parchment prevents sticking.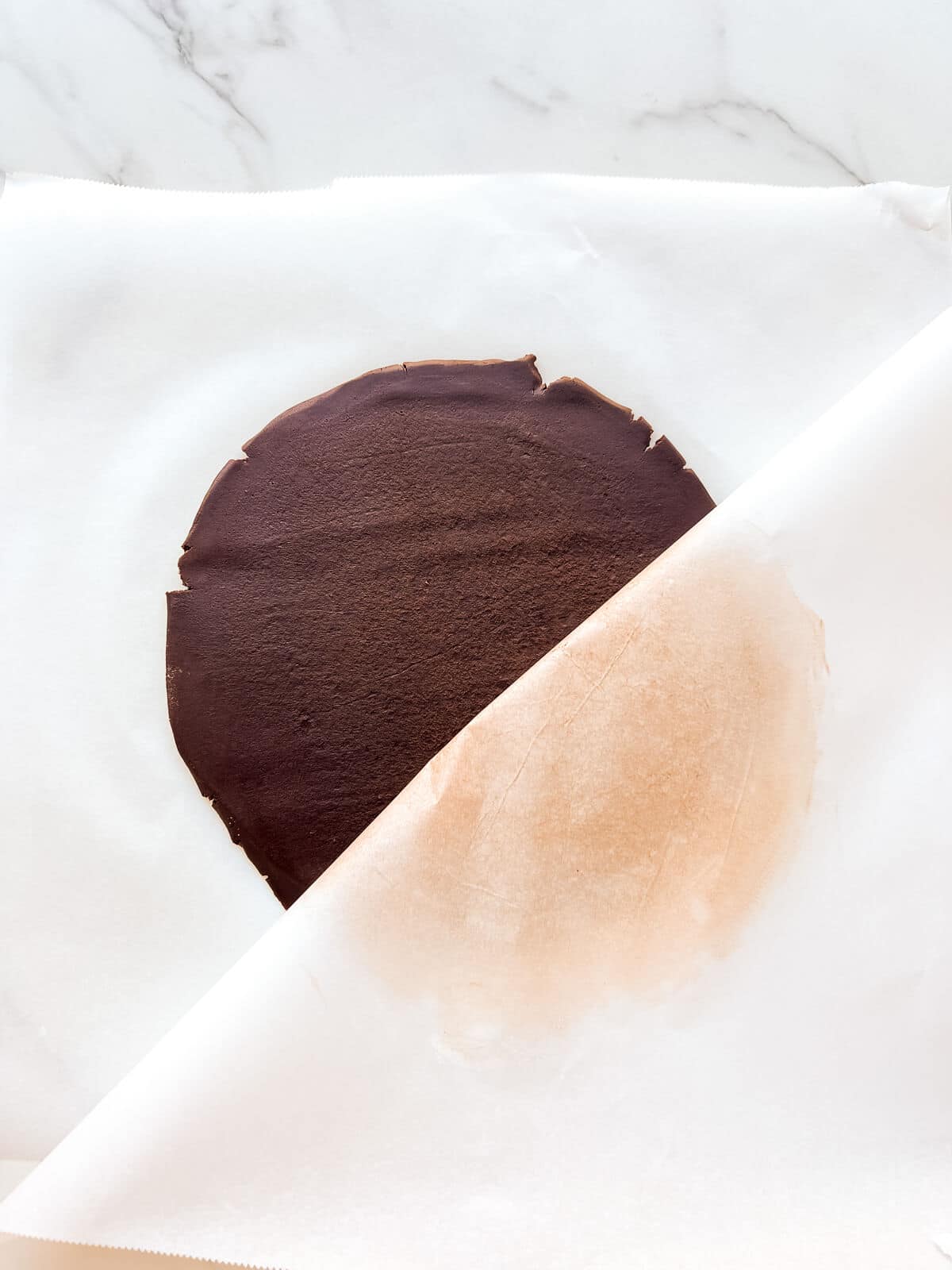 The paper peels away fairly smoothly from the chocolate dough.
For rich butter cookies, you don't want to add more flour. Instead make sure to chill the dough and roll it out between sheets of parchment or wax paper. This allows you to make the dough thin without adding more flour so the rolling pin doesn't stick.
Rolling between parchment or wax paper also allows you to easily transfer the dough to the fridge to chill whenever it gets too soft. All you have to do is slide it on a sheet pan or a large cutting board to get it back into the fridge when you need to.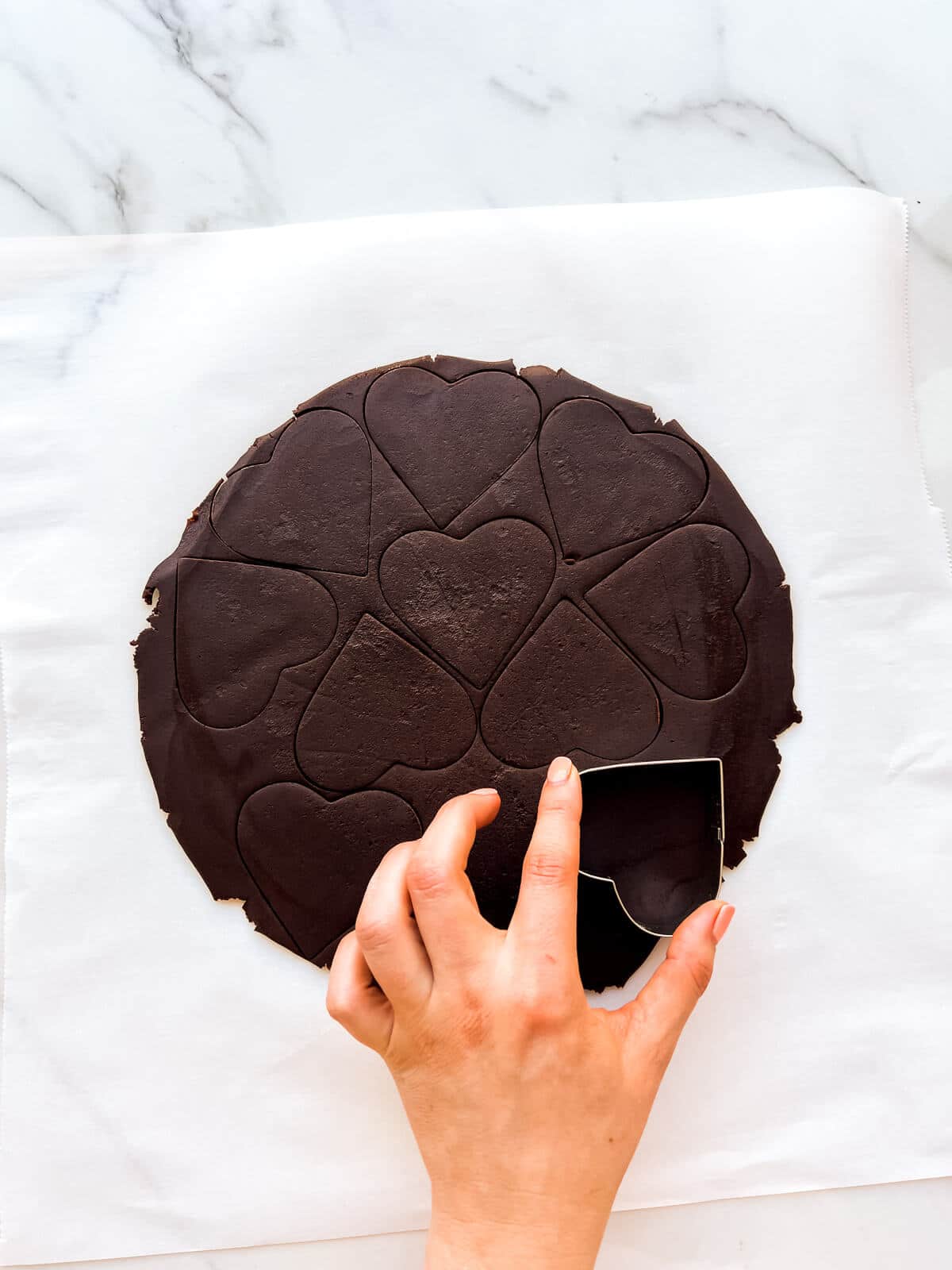 Use cookie cutters to cutout cookies.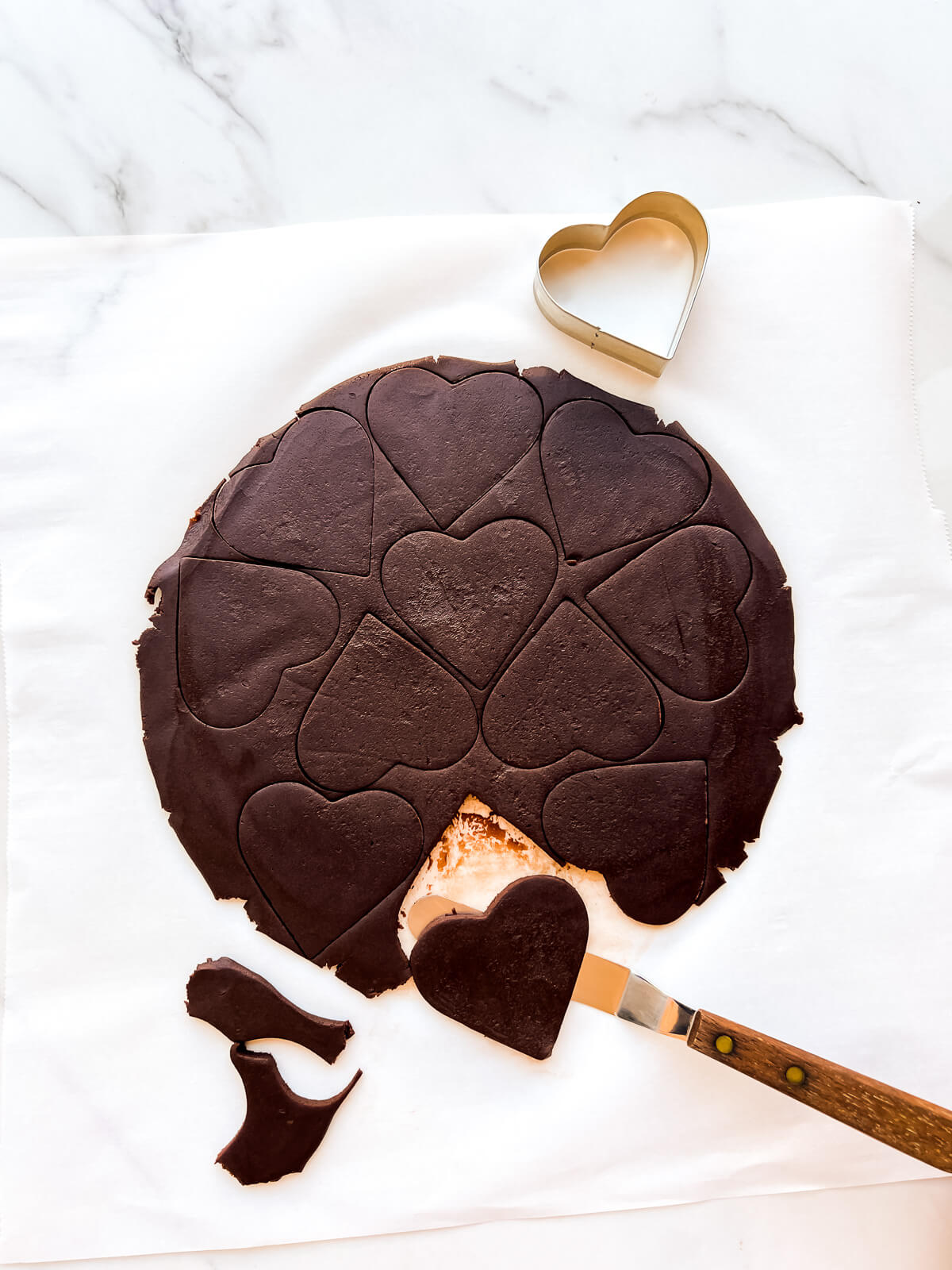 A mini offset spatula helps unstick the cookies so you can transfer them to a sheet pan to bake on.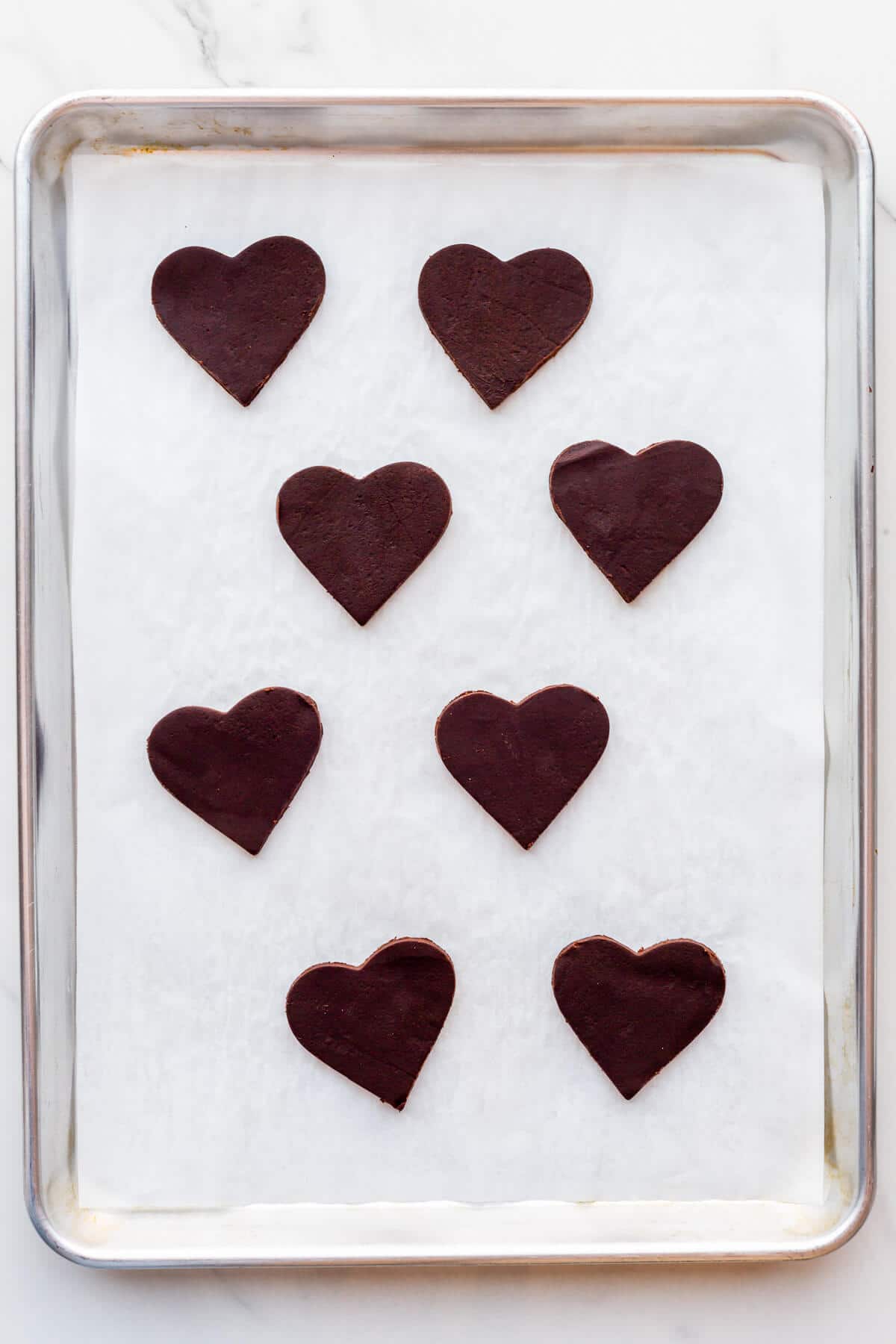 The cookies are baked on a parchment-lined sheet pan.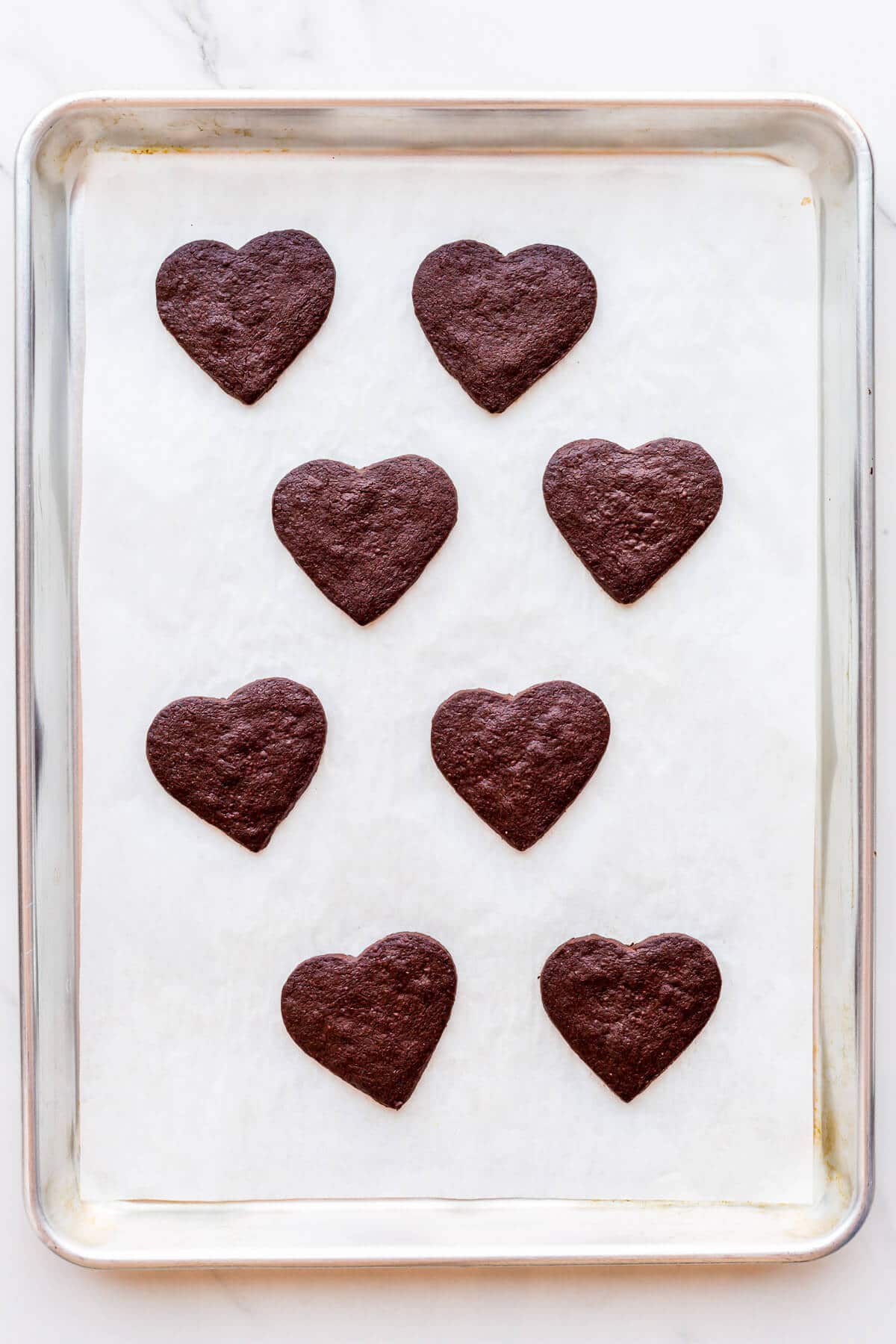 Place into oven at 350 °F.
Hint: if the dough gets too warm or soft to handle, transfer it to the refrigerator. Chilling cookie dough prevents spreading too!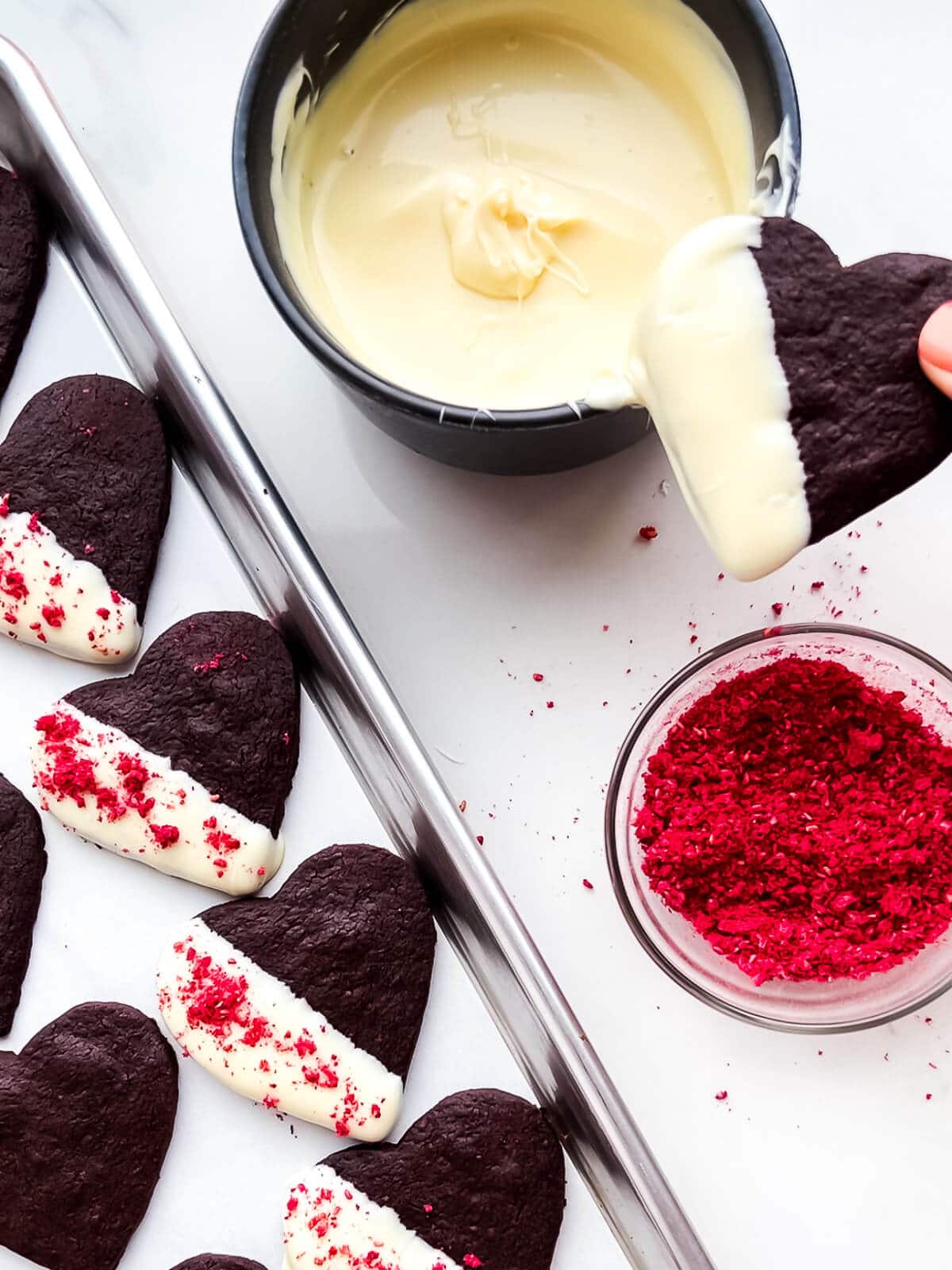 Substitutions
Because of the simplicity of the short list of ingredients, substitutions are few. Proceed with caution:
Sugar—I used granulated sugar but you can make shortbread with icing sugar (also called confectioner's sugar or powdered sugar). Replace gram for gram.
White chocolate—you can either skip the white chocolate dip or dip in a different melted chocolate, like milk or dark chocolate. The cookies themselves are not very sweet, so use a sweeter chocolate, like a semi-sweet chocolate or milk chocolate to balance out the bitter notes.
Garnish—I used crushed freeze-dried raspberries, but feel free to use other freeze-dried fruit, sprinkles, chopped nuts, or skip the garnish altogether.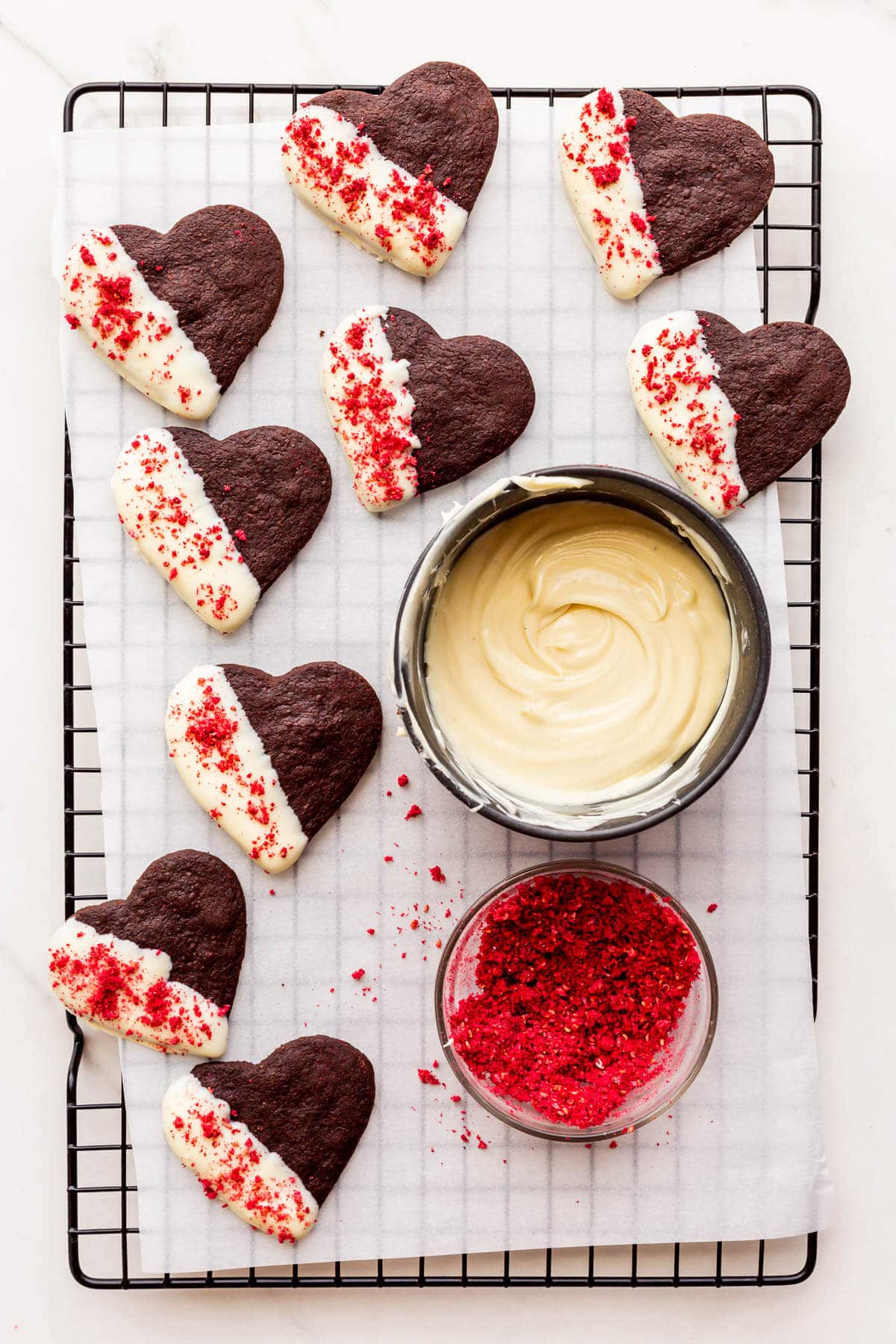 Variations
Giving the visitor ideas on how they can change this recipe to better suit their dinner guests, or their cultural cuisine, is a great way to increase the chances they make the recipe
Spicy—chilli and chocolate go hand-in-hand. If you are a fan of the combination, try adding a little cayenne chilli powder to the dough along with the other dry ingredients.
Sweet spices—try incorporating a little cinnamon in the dough for another spiced variation
If you aren't a fan of rolling and cutting out cookies, try these slice-and-bake chocolate sablé cookies, which are very similar to shortbread cookies, but with chocolate chips in the dough and a crunchy turbinado sugar edge. Or try these buckwheat cookies with cocoa nibs. The cocoa nibs add a deep chocolate flavour to the slice-and-bake shortbreads without extra sweetness.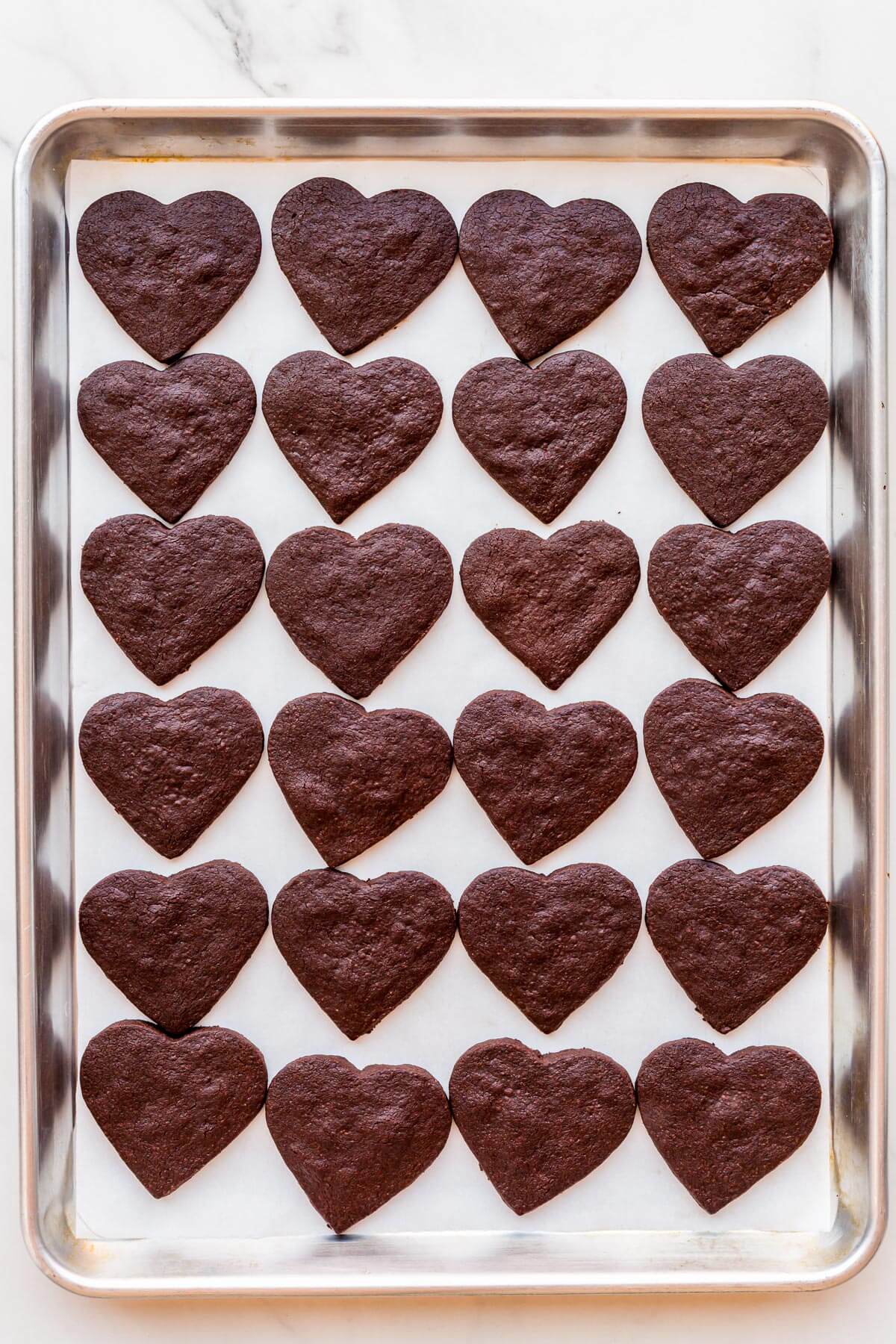 Equipment
Though you could make the dough by hand, I prefer to use a stand mixer. Here are my baking tool recommendations for this recipe: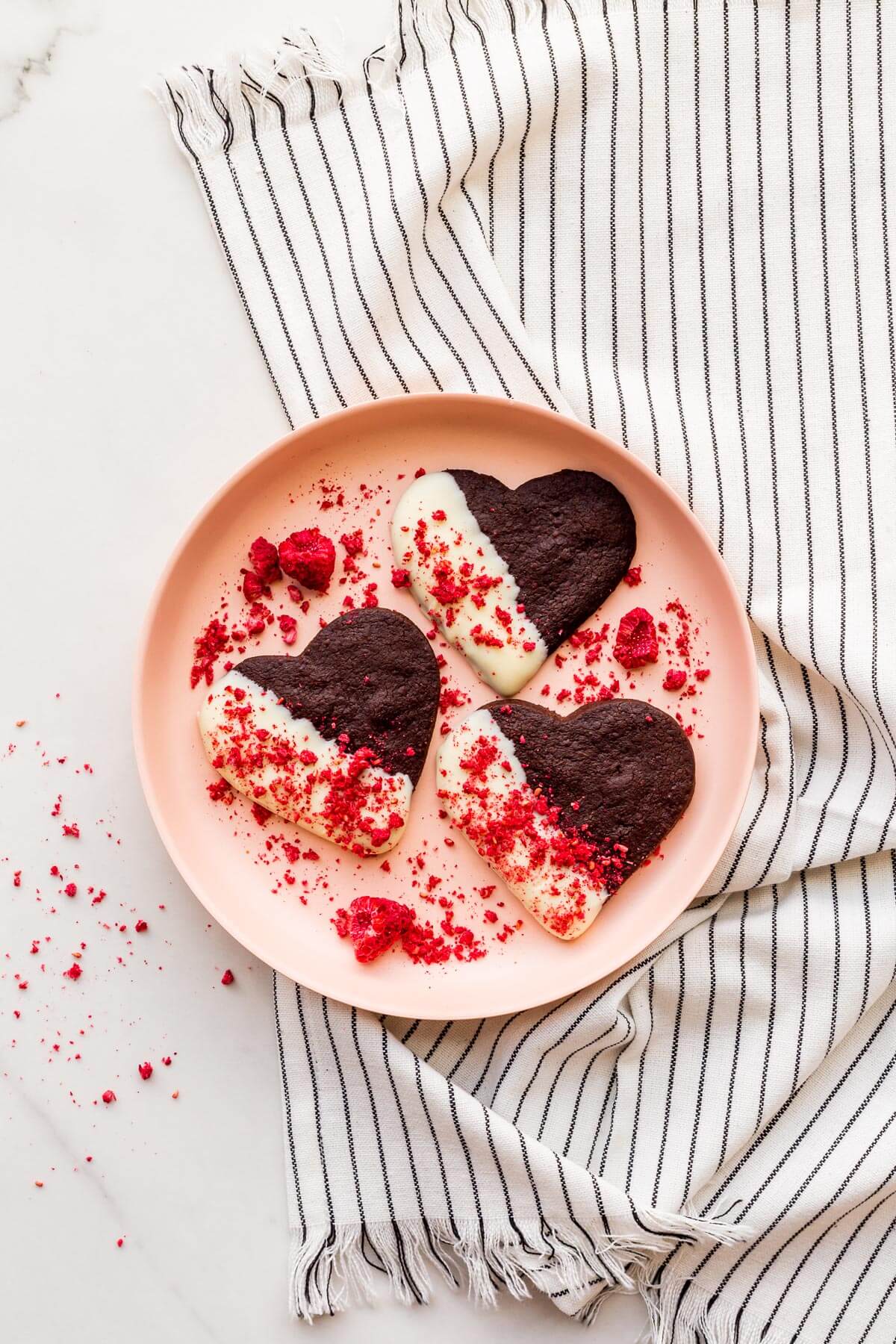 Storage
Store all butter cookies, including these chocolate shortbread cookies in an airtight container in a cool, dry place. Humidity will make them softer. Shortbread cookies tend to be rather delicate, especially when rolled thin, so treat them with care.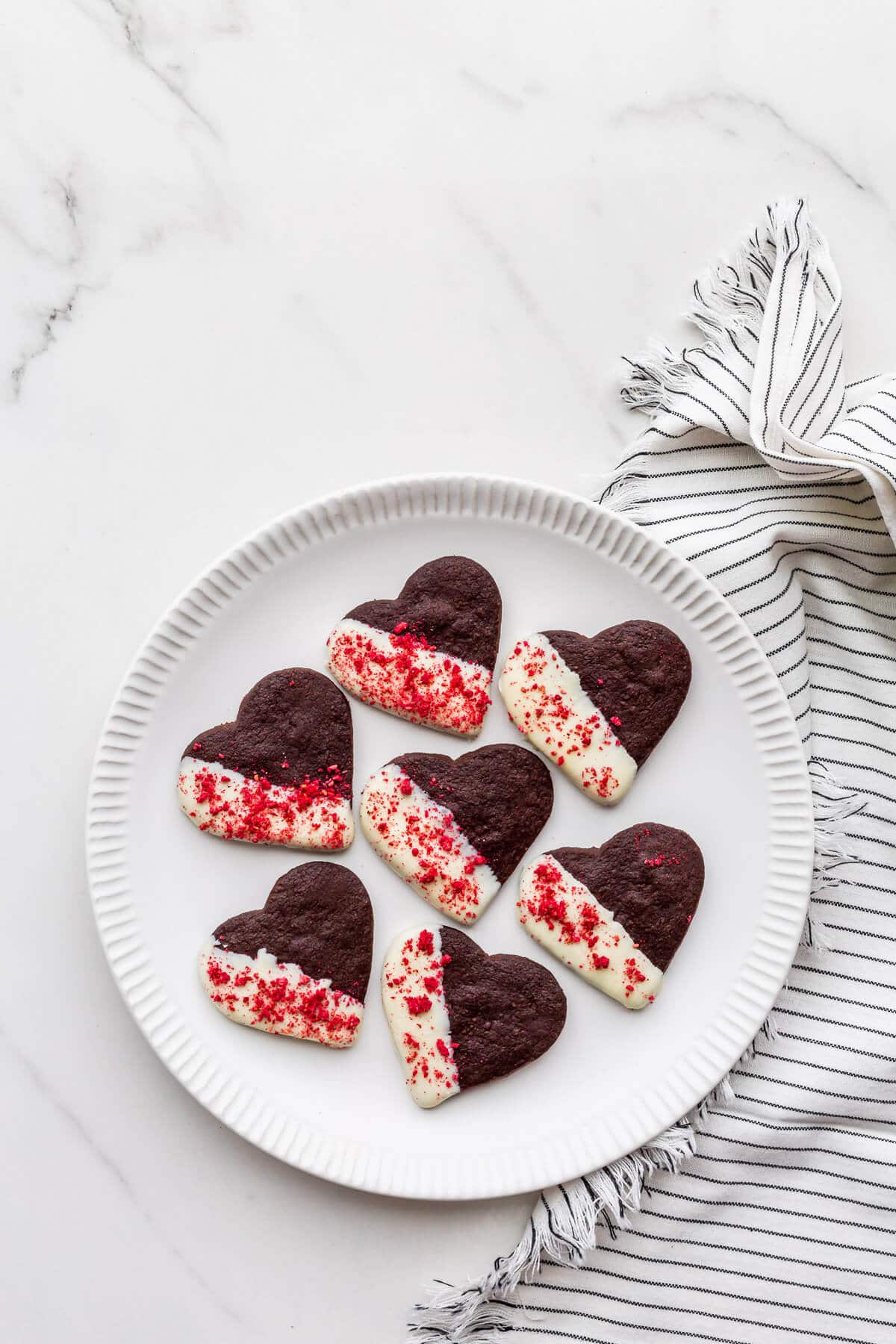 Top tip
Chill the dough so it's easier to roll out and manipulate. Chilling hardens the butter, which makes the dough less soft. You can roll out the dough between wax paper or parchment paper sheets, allowing you to roll it thin without using flour, which will alter the ratio of butter to flour, leading to a dryer or tougher cookie otherwise.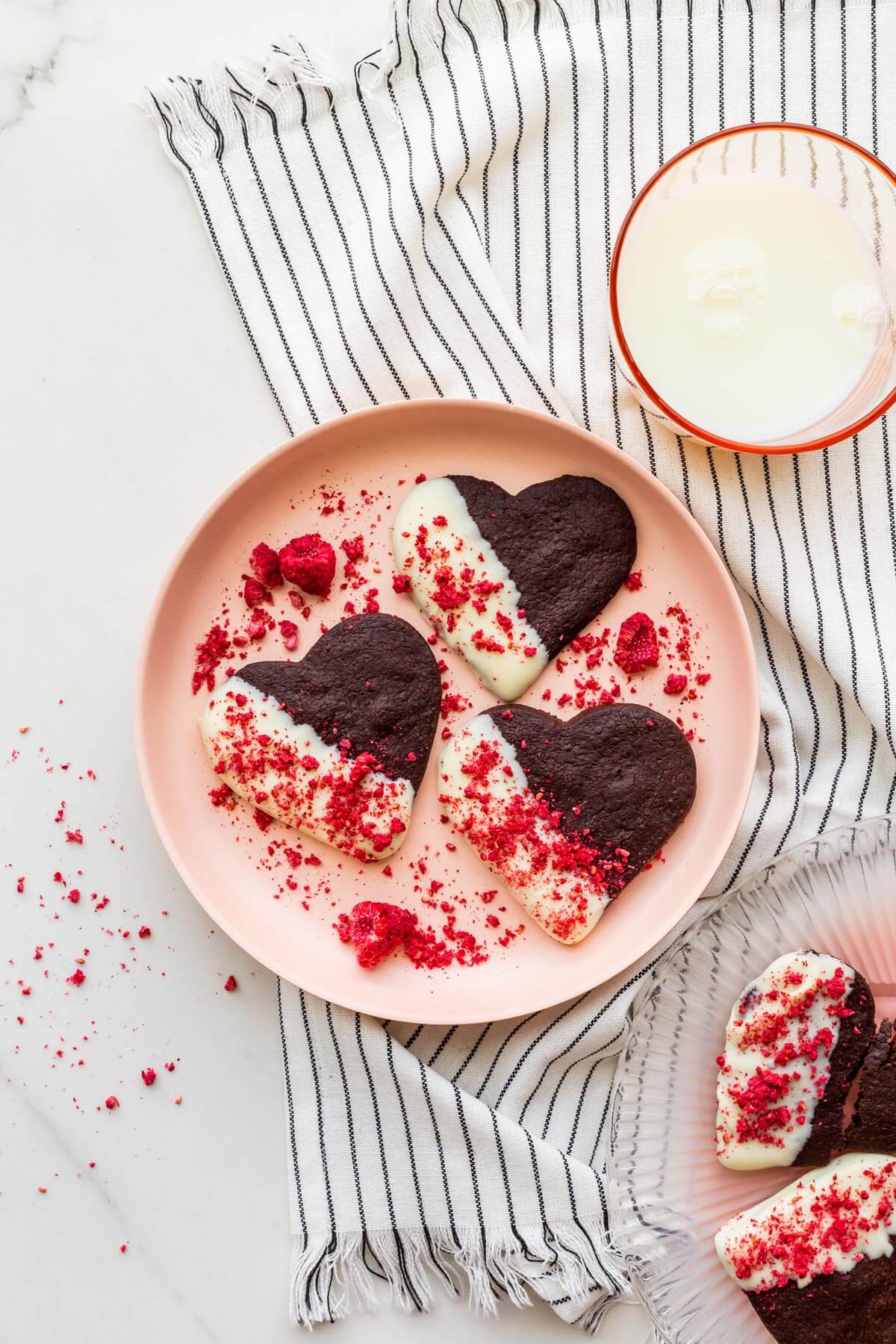 Take this recipe one step further
You can use this chocolate cookie dough to make the chocolate version of these jam-filled shortbread cookies.
📖 Recipe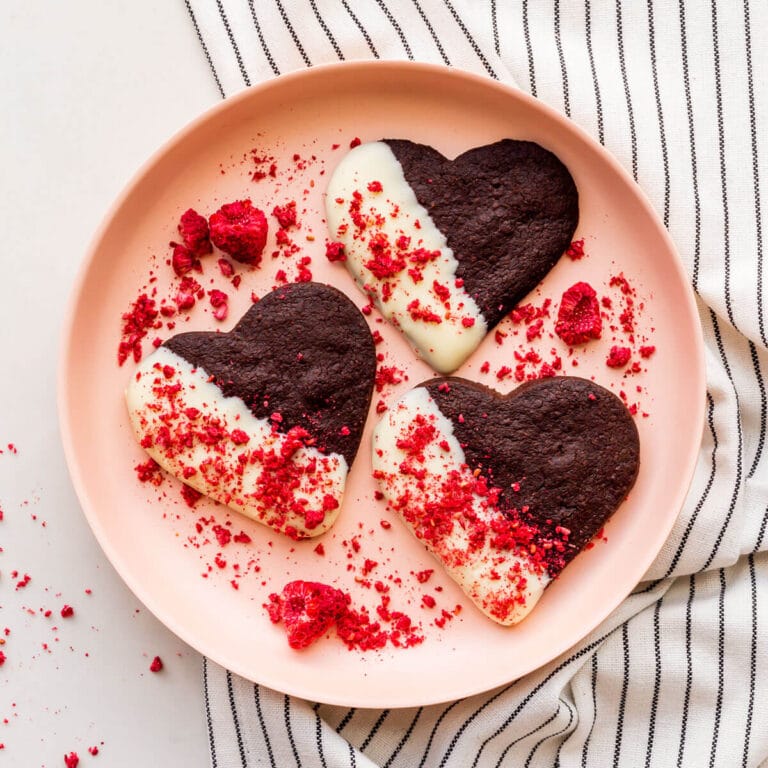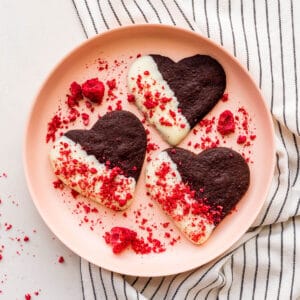 Chocolate Shortbread Cookies
Learn how to make the best chocolate shortbread cookies with this easy recipe! These are a variation on 1-2-3 shortbread cookies, made with cocoa powder in the dough, and dipped in melted chocolate after baking
Ingredients
Optional garnish
175

grams

Cacao Barry white chocolate

freeze-dried raspberries

crushed
Instructions
Sift into a medium bowl the flour, cocoa powder, and salt. Use a whisk to make sure the ingredients are evenly mixed. Set aside.

In the bowl of a stand mixer fitted with the paddle attachment, cream together the butter and sugar until they are well mixed and soft, but aerated.

Add the dry ingredients to the mixer bowl and stir on low until the dough comes together.

Divide the dough into two disks, and wrap in plastic wrap to chill until firm (for 30 minutes to 1 hour).

Using a rolling pin, roll out the chilled dough, one disk at a time, between sheets of wax paper or parchment. You can also use flour, if you prefer. Transfer the dough to the refrigerator if it gets too warm. You want the dough to be fairly thin (⅛–¼ inch thick).

Cut out cookies using a 2-½ inch cookie cutter

Place all the cutout cookies on a large sheet pan lined with parchment to chill again until firm, about 20 minutes. This is to prevent the cookies from spreading when they bake.

While the cookies chill, preheat the oven to 350 °F (175 °C). Line a couple of half sheet pans with parchment.

When the cookies are cold and firm and the oven is preheated, transfer a few of the chilled cookies to a new sheet pan to bake. You should be able to fit 6–8 cookies on a half sheet pan.

It takes 13–15 minutes to bake the cookies. Let cool completely before garnishing.

Repeat the baking with rest of cookies.
Garnish (optional)
Once all the cookies are baked, you can garnish them, if desired.

Melt the white chocolate in a bowl. Then dip each cookie in white chocolate to coat half, then sprinkle with a little freeze-dried raspberries. Set aside on parchment paper until the chocolate sets.

Store in an airtight container.
Nutrition
Calories:
129
kcal
Carbohydrates:
14
g
Protein:
2
g
Fat:
8
g
Saturated Fat:
5
g
Polyunsaturated Fat:
1
g
Monounsaturated Fat:
2
g
Trans Fat:
1
g
Cholesterol:
17
mg
Sodium:
25
mg
Potassium:
63
mg
Fiber:
1
g
Sugar:
7
g
Vitamin A:
181
IU
Vitamin C:
1
mg
Calcium:
17
mg
Iron:
1
mg